This post may contain affiliate links to things like tours, hotels, Amazon associates and products. These help me earn a small commission at no additional charge to you.
Last week, I had a fantastic new experience: wine tasting in Ljubljana! I was only two days into my Slovenia trip, having crossed the border from Croatian Istria to Slovenian Istria and spent a night in idyllic Piran before heading to Ljubljana.

To summarise, it didn't take me long to try the local wine! It rarely does. Having 3 months in Portugal enjoying port and vino verde, 3 months in Croatia familiarising myself with Pošip, Plavac Mali and rare Grk wine from Korčula Island, and a wonderful time making my own Moravian wine in the Czech Republic, I'd had some fantastic vino experiences of late.
Read next: 38 things to do in Ljubljana, Slovenia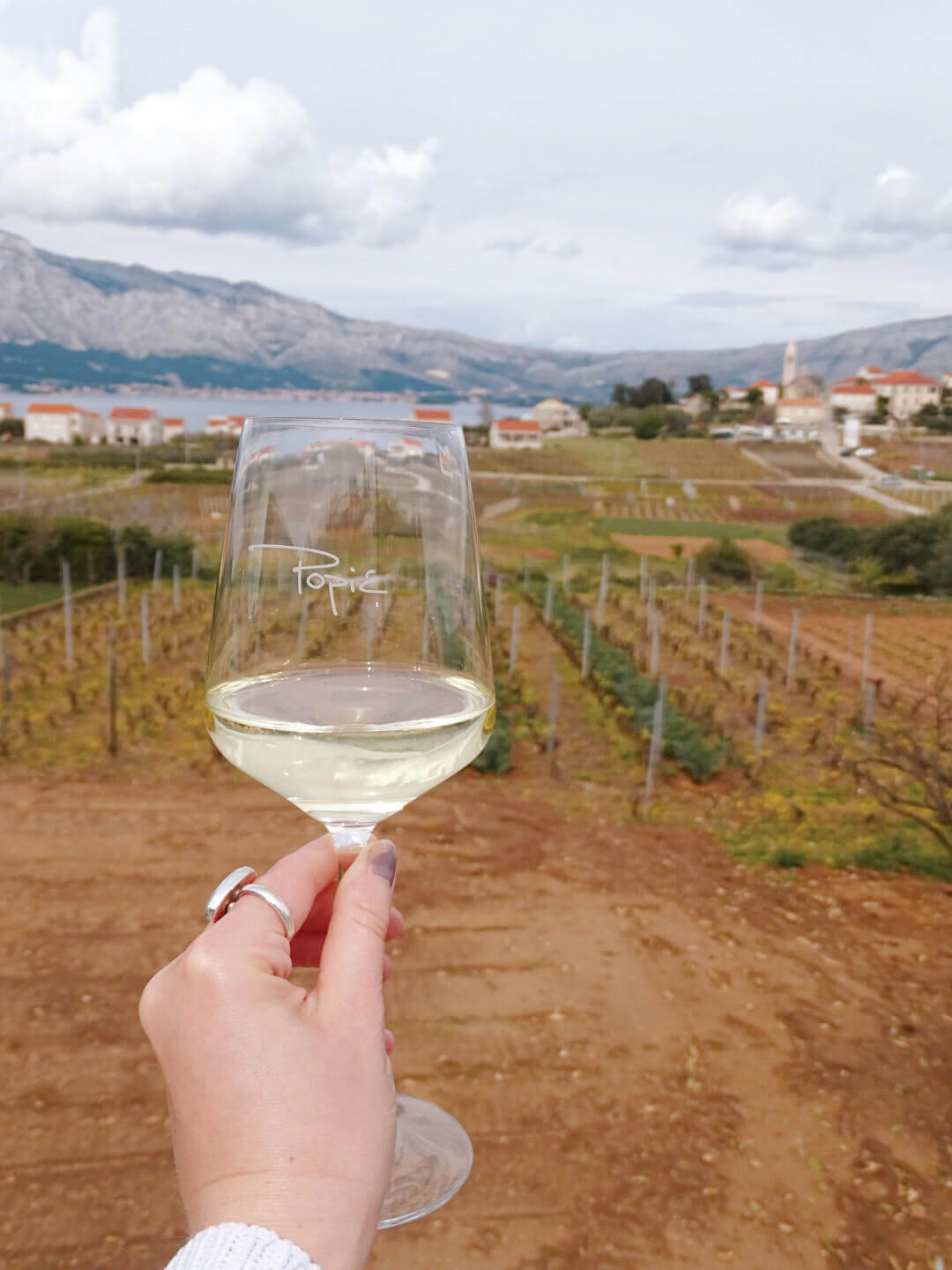 Could Slovenian wine compete?
The short answer: yes. Slovenian wine is delicious!

The long answer? Let's get stuck in…
Who are Wine Tasting Ljubljana?
Wine Tasting Ljubljana are a small, dedicated bunch of wine fanatics who welcome local and foreign travellers in their Ljubljana-based cellar.
Below Dvorni Bar in the centre of Slovenia's vibrant capital, this 300-year-old cellar is the epitome of cosy. The exposed brick, twinkling fairy lights and endless empty bottles don't give the feeling you're in a commercial bar; more that you're in a friend's (extremely lovely) cellar.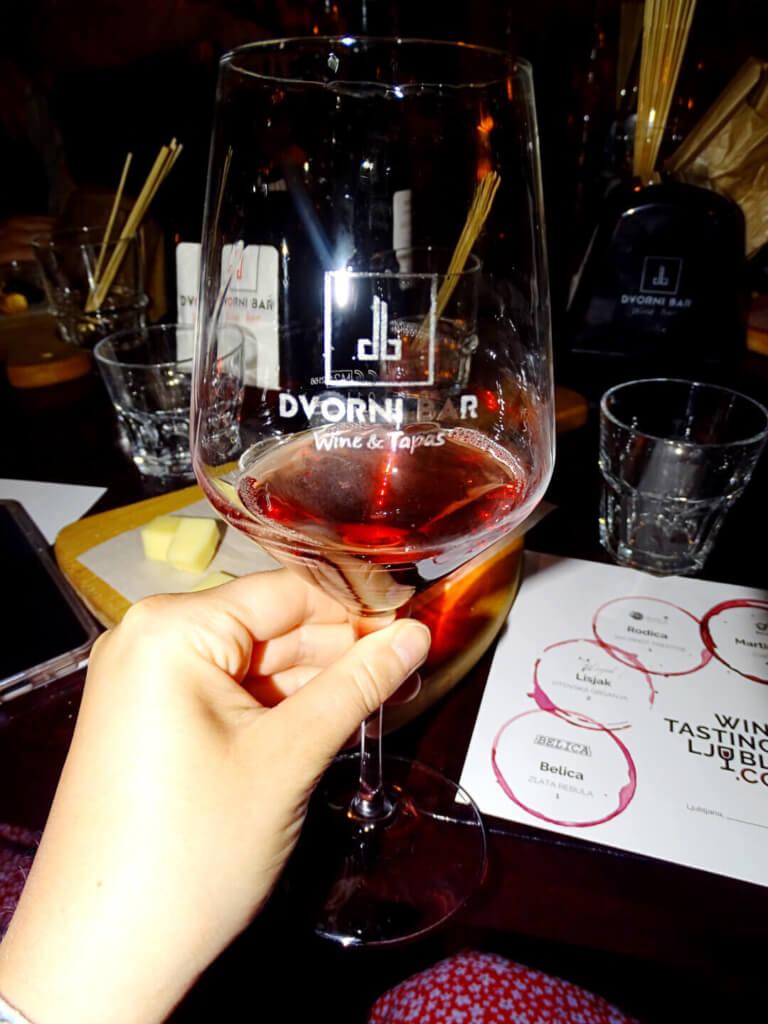 I'd emailed the manager, Simona, before visiting. Although I didn't meet her in person, she'd been very friendly and accommodating. The guide who led our tasting, Boris, was also fantastic! I'd noticed some reviews about him which I can now vouch for being totally accurate.

Boris was incredibly entertaining and friendly, making the whole experience feel fun and informal. Combined with the cosy atmosphere, it was easy to relax and bond with the other guests.

It wasn't all jokes, though: Boris is a fountain of knowledge when it comes to wine. Slovenian wine is obviously his speciality but he was able to provide context about the wider world of wine which was useful for a relative novice like myself.
Facts about Slovenian wine
Slovenia is divided into 3 different wine regions
Wine has been made in Slovenia since approximately the 4th century
There are 52 varieties of grape found in Slovenia
According to Wine Tourism, 'Slovenia has several vineyards listed in the top 5% worldwide'
In the recent World Wine Awards, there were record wins for Slovenian wine producers
The most expensive brand of Slovenian dessert wine, Refošk, was sold for half a million Euros. Now that's a wine I would sip VERY slowly!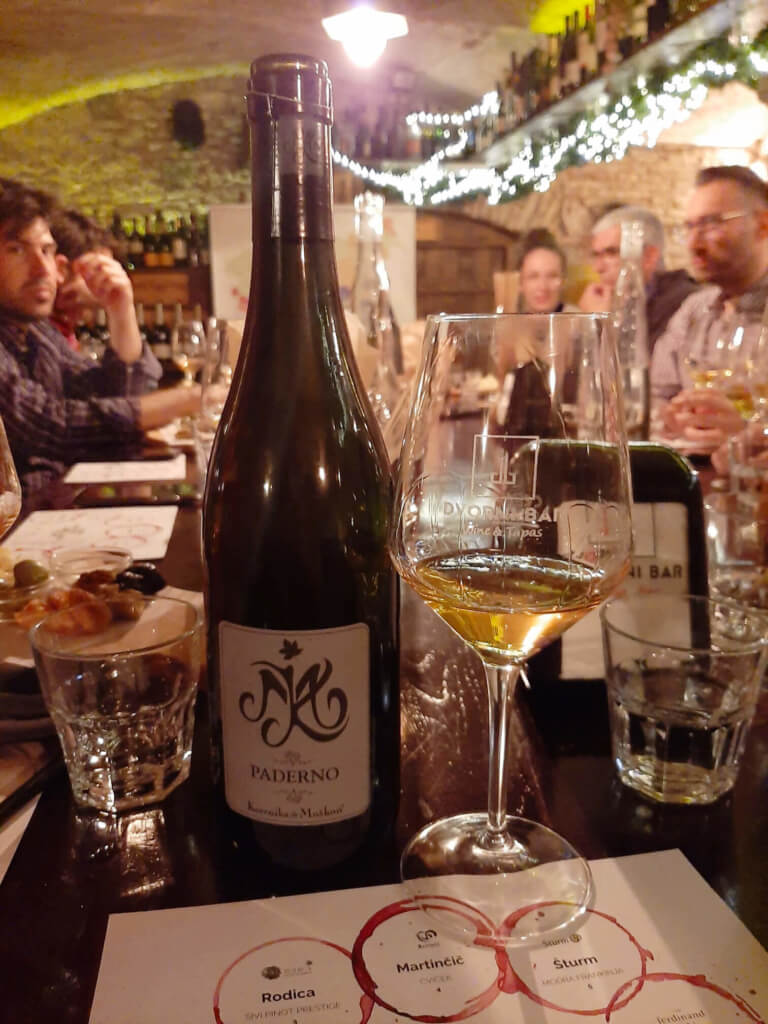 Quality over quantity
Boris provided some background on the production of Slovenian wine which seemed to match what I'd learnt about Croatian wine. Both countries produce on a small scale, prioritising quality over quantity. When the countries were part of former Yugoslavia, vineyards were state-owned without focus on experimentation or quality.

When the countries became independent, businesses were returned to their original owners. In the last 30 years, Slovenian wine production has gone from strength to strength.

Due to the small-scale production, Slovenian wine is rarely seen on supermarket shelves overseas. Around 85% is drunk by the locals rather than exported. After trying it, I can't say I blame them!

With all the best produce staying in the country, you'll have to come wine tasting in Ljubljana to savour it for yourself!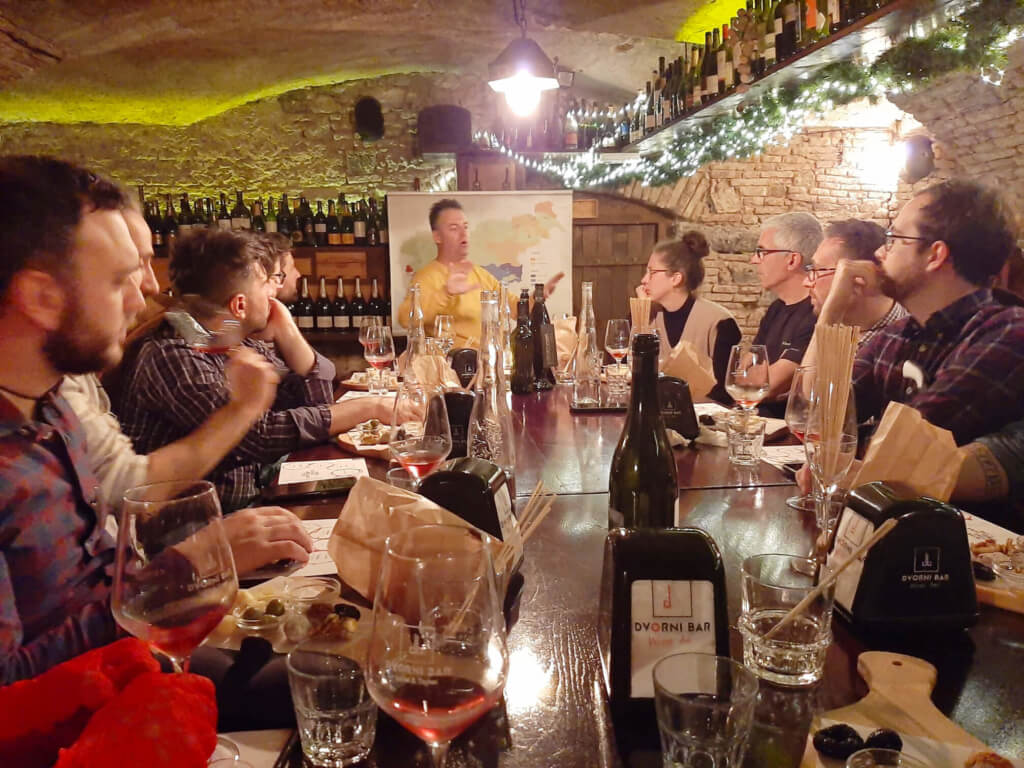 What can you expect during a Wine Tasting?
Firstly, you can expect to try seven wines that, if it's your first time to Slovenia, you've probably never had before.

Each wine comes with a commentary covering its history, key aromas and what it can be eaten with. As you can see from the photo below, there's an explanation to both the wine and grape varieties.

I particularly enjoyed Lisjak (tasting #1) a light and fresh white and Martinčič (tasting #4), a red with notes of strawberry and cherry.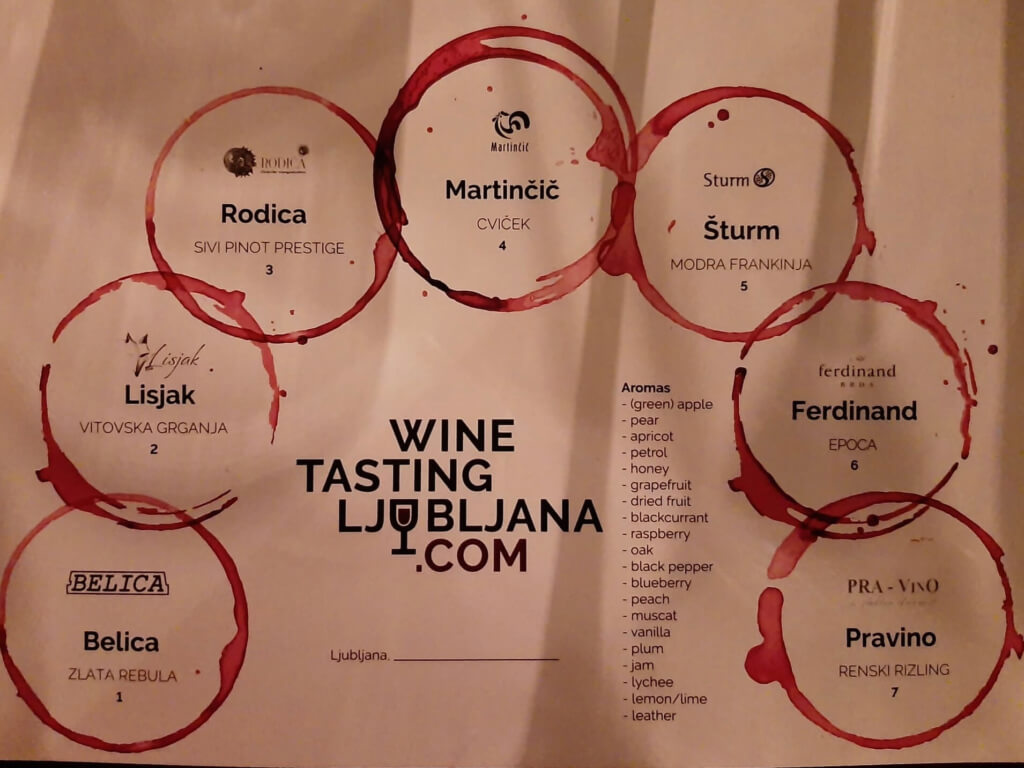 Tasty snack pairings
Another thing you can expect is a selection of tasty snacks to accompany your wine. We had cheese, olives and dried fruit including my favourite, dried figs. They were unbelievably sweet and delicious.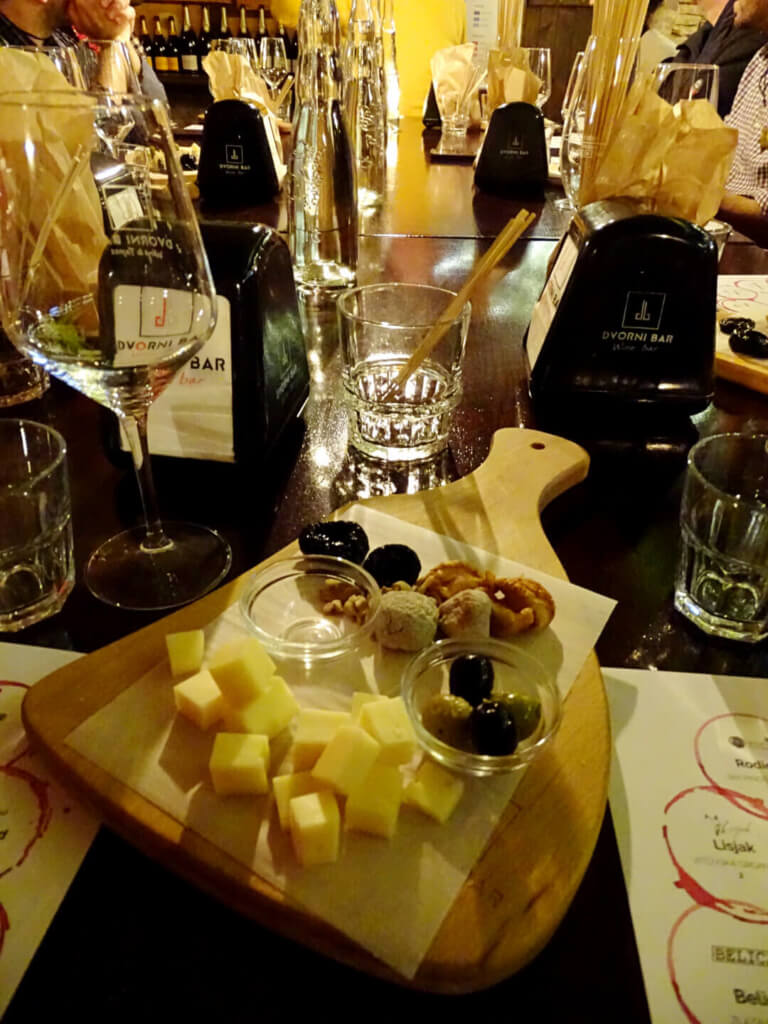 I tried to pair the snacks with the wine I thought would be most appropriate (white with cheese and red with figs?) but honestly after a couple of glasses, I was enjoying it too much to care.
Guessing red or white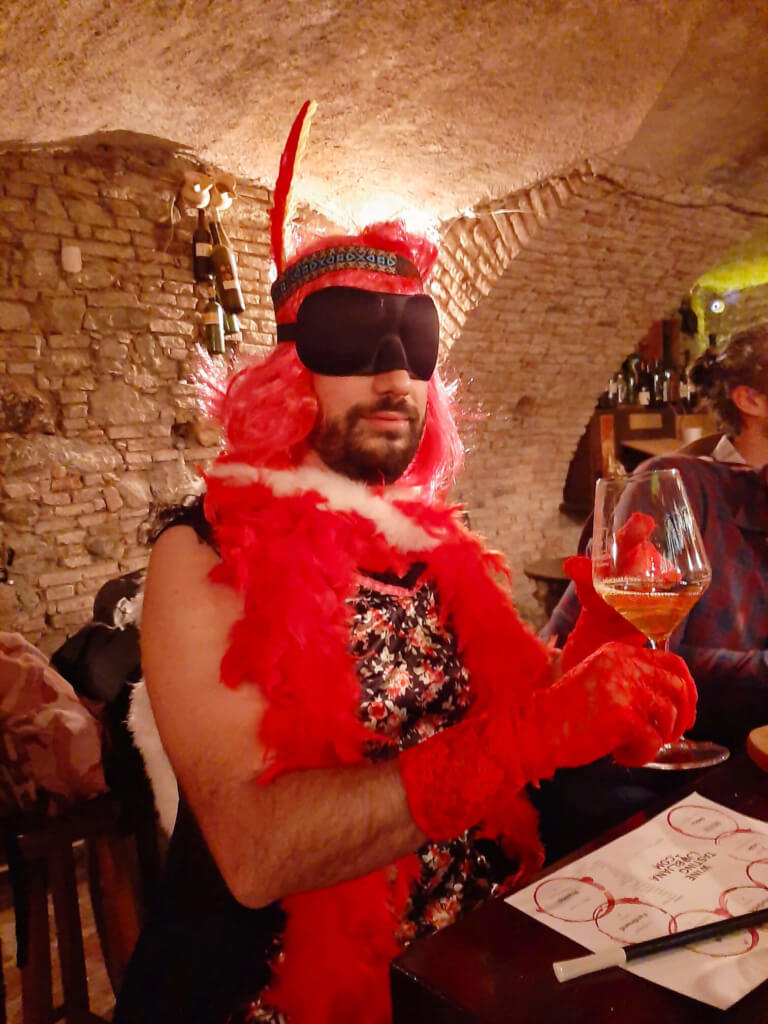 A bachelor party from Italy joined us at the wine tasting. They were great fun and seemed to have a solid knowledge of wine (must be an Italian thing!). Boris whipped out a blindfold and got the groom to guess whether the next wine was red or white.

I'm not sure I'd have got it right!
My Ljubljana wine tasting highlight: orange wine!
I'd never tried this delectable type of wine before and, although I'd heard of it, I wouldn't have been able to tell you anything about it. That's all changed because I'm now a self-confessed orange wine fanatic after wine tasting in Ljubljana!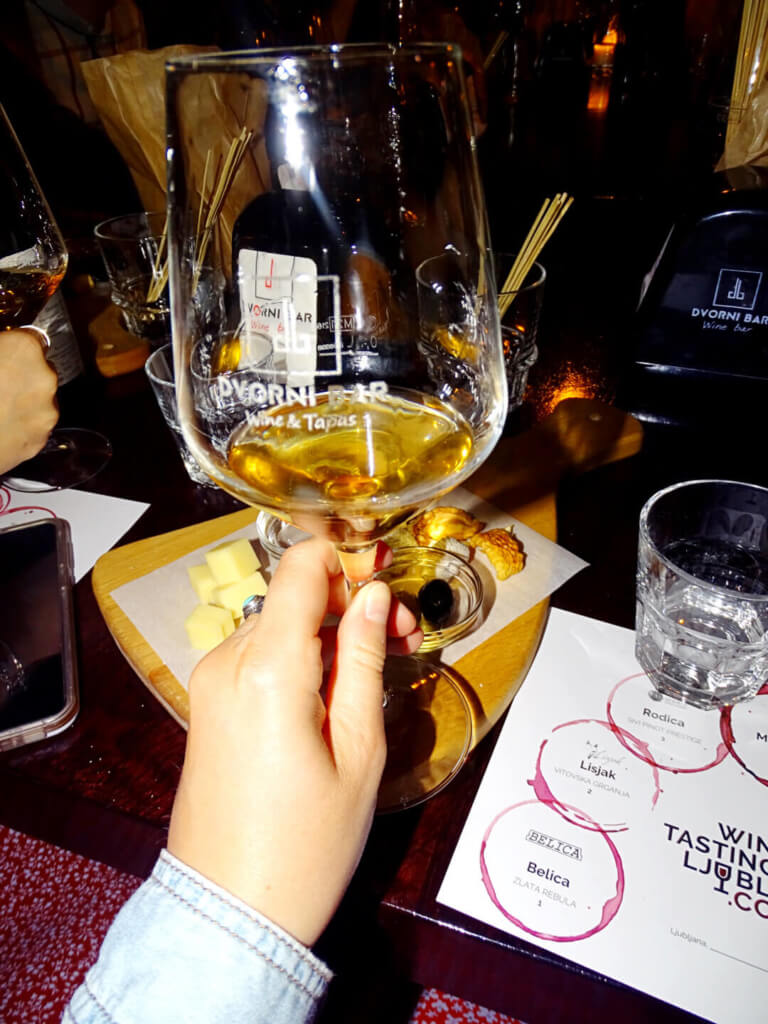 Produced in the Primorska wine region (Slovenia's oldest), delicious orange wine has enjoyed increasing popularity during the last couple of decades. Actually, it's considerably older… 6,000 years older, in fact!

Boris explained that orange wine was first made accidentally in Georgia as the locals didn't have the types of equipment we now use. It was certainly a very happy accident because this delicious beverage came out of it.

Boris told us that, in other places, orange wine is a trend but in Slovenia, it's a tradition!

I'd describe orange wine as a deeper, more flavoursome white wine: fruity, refreshing and full-bodied. As we learnt, orange wine is technically a white wine made in the style of red using maceration or contact with grape skins. This contact can last from days to months.

My friend, Kerrie, and I ended up drinking orange wine all around Ljubljana for the next few days. Obsessed.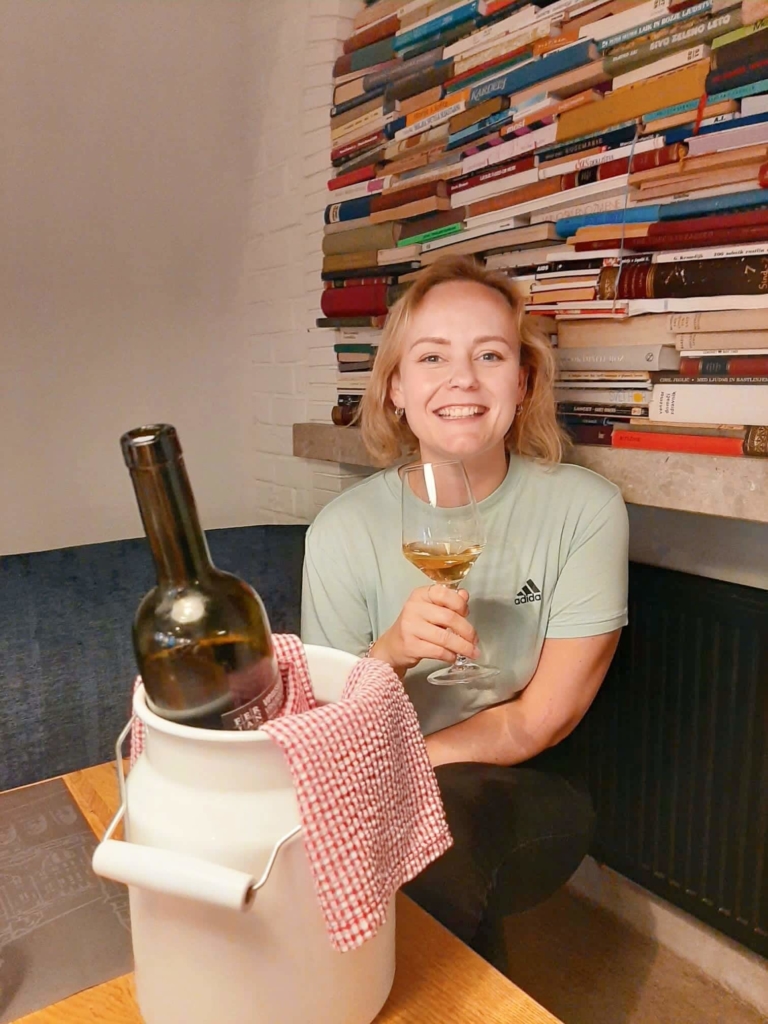 Final thoughts on the Wine Tasting Ljubljana experience
One – Boris is a legend!

Two – Orange wine is sent from the heavens.

Three – Slovenian wine is well worth trying when visiting Ljubljana. I don't think you'll be disappointed.
Read next: 30 best Ljubljana restaurants
Useful details for booking a wine tasting tour
It runs every day at 5pm
Sign up in advance is required
You must be over 18
The tour is in English.
Thanks for reading!
Read my other Slovenia posts:
For more UK content, follow me on Instagram, Facebook, Twitter and YouTube.
Note – although I was hosted as a guest of Wine Tasting Ljubljana, all opinions are my own.