This post may contain affiliate links to things like tours, hotels, Amazon associates and products. These help me earn a small commission at no additional charge to you.
If you've read any of my food blogs before, you already know: food is my life. Would I travel if it weren't for it? Probably, but I'd experience at least 60% less joy.

Food isn't simply about filling your stomach; it's about being a guest in another culture, uncovering the history and lesser-heard stories, morsel by morsel and bite by bite.

And ok, also because I'm incredibly greedy! We can't be poetic all the time, can we?

Note – I was hosted on this tour by Taste Porto but, as ever, all opinions are my own.
Who are Taste Porto?
Taste Porto is the oldest food tour in the beautiful city of Porto, Portugal where I've spent the last 3 months living. Knowing they'd been featured by Lonely Planet, the Guardian and Parts Unknown (by Anthony Bourdain), I was keen to see what the fuss was about.

The company was started by a bunch of like-minded friends who wanted to continue drinking and eating professionally, sharing their passion for Portuguese food with guests.

As someone who runs a website dedicated to their insatiable love of travel and food, I think I can just about relate to that 😉

In all seriousness, I do believe the best businesses are founded not with money in mind but with a true passion for what they do. Our guide, Joana's enthusiasm for the local food and drink was contagious (a word that's lost some glory since 2020 but I mean it in the healthiest possible way!).
Like Portuguese food? See my Lisbon food and Madeira food guides
Things I liked about the Taste Porto tour:
That we didn't just visit cafes and restaurants: we had special tables set up in markets and shops that we wouldn't have had without the tour
We ate little and often with enough walking in between to stay hungry
That we learnt about the history of Porto and Portugal rather than just the cuisine
That we supported local businesses rather than big brands, and a portion of the ticket price is donated to a local NGO.
Things I disliked about the Taste Porto tour:
I took their vintage food tour priced at €72.
Here's an insider's look at what was included…
OG grocery stores – 100 years of history (devoured by me in 100 seconds!)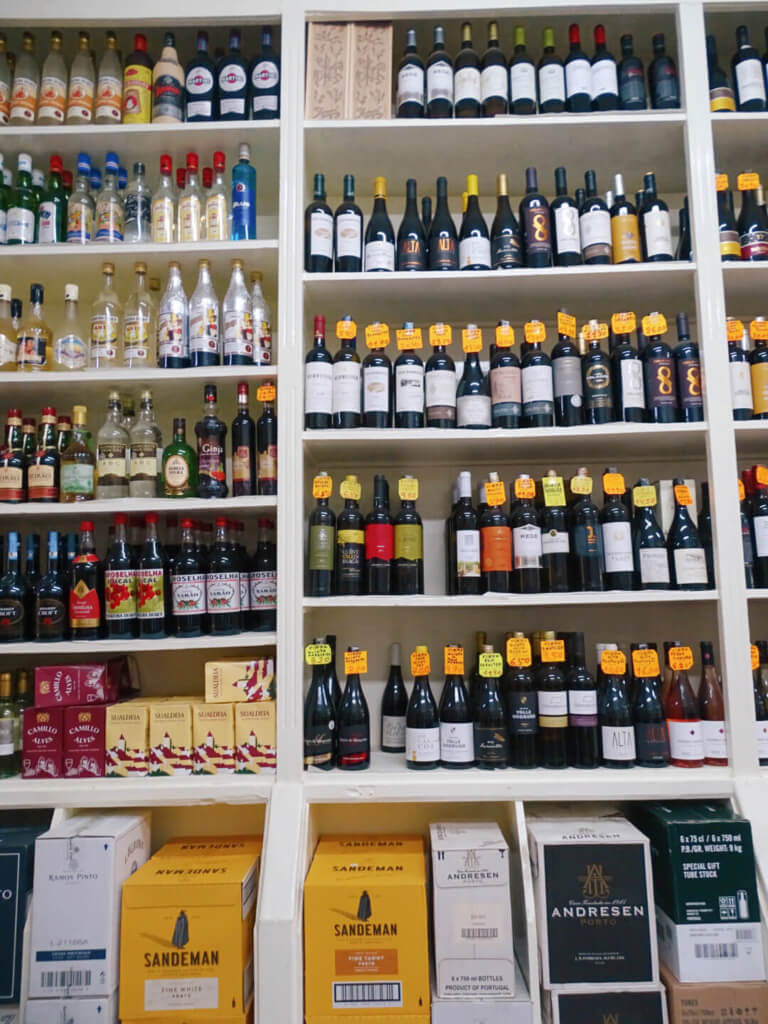 Our first stop of the day was a modest grocery store that I'd previously overlooked in favour of the many cafes on the same street. Although another round of coffee and pastel de nata wouldn't have been the worst thing in the world (far from it!), I was glad to discover somewhere I wouldn't have otherwise.
Joana explained these traditional grocery stores have been feeding the people of Porto for over 100 years. Due to supermarkets arriving in Portugal in the 1970s, they briefly dipped in popularity due to the convenience of having all your groceries in one location.

Luckily, the young generation of Porto are keen to support local businesses meaning that grocery stores have made a comeback.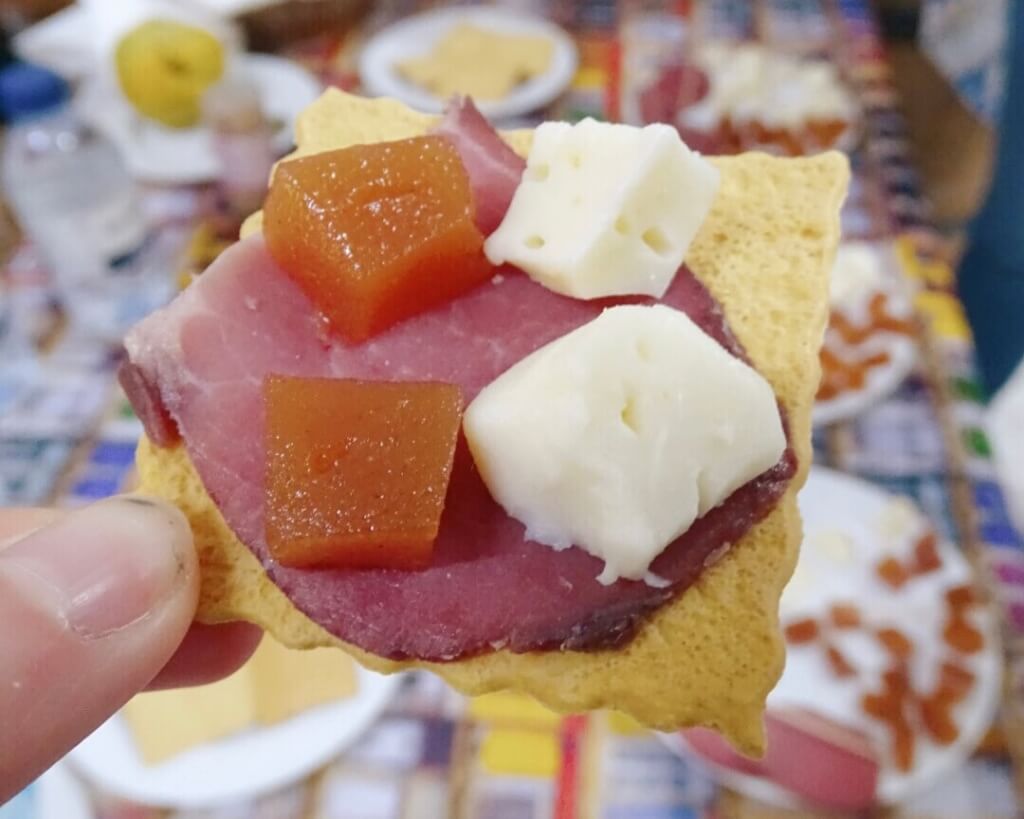 A table was waiting for us with platters of ham, cheese and marmelada, a quince-based jelly served in cubes (not dissimilar to the spread we'd call marmalade at home). Joana told us that cheese and marmelada together are such an iconic duo that they're nicknamed 'Romeo and Juliet'.

Now, there's a rom-com I could get behind!

Not having eaten breakfast, I devoured my platter quicker than Romeo swigging down that poison. I'm a very hungry morning person!

There are several of these traditional grocery stores in Porto but I'll let Taste Porto reveal their locations.
Bolhão Market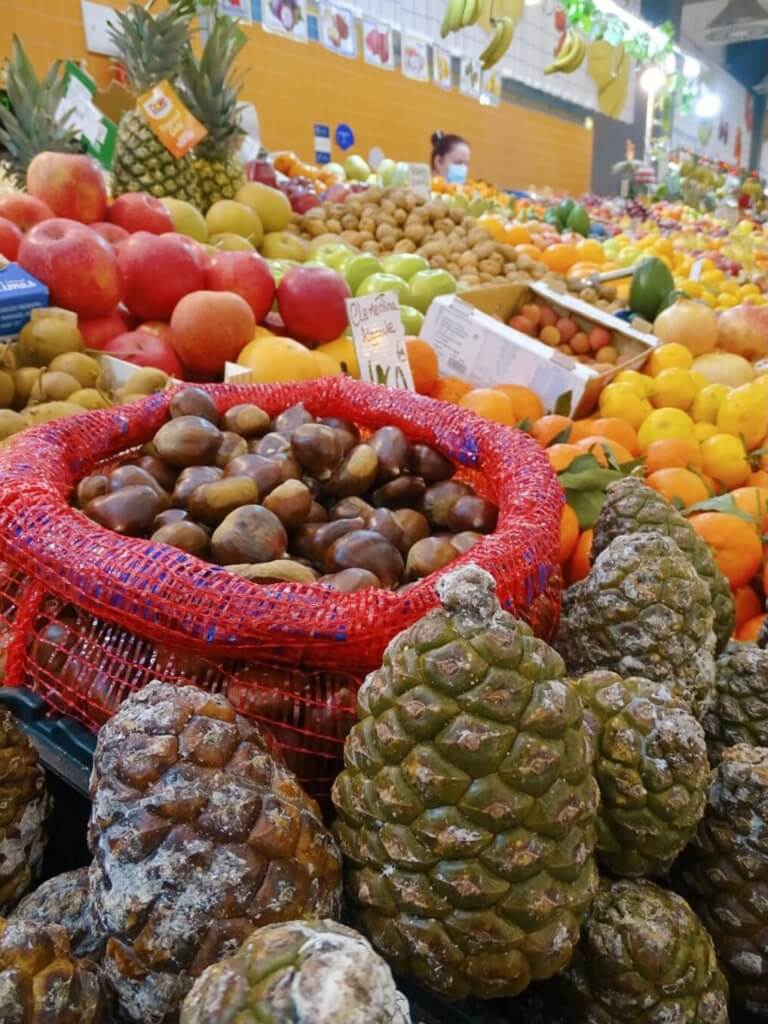 Sadly, the iconic Bolhão Market is closed for renovation, due to reopen in summer 2022. We headed to see the vendors who are temporarily located in the basement of La Vie Shopping Centre, just around the corner.

I'm told this venue isn't half as atmospheric as the original market building but at least the important thing was there: food!
Sampling sardines and fresh wine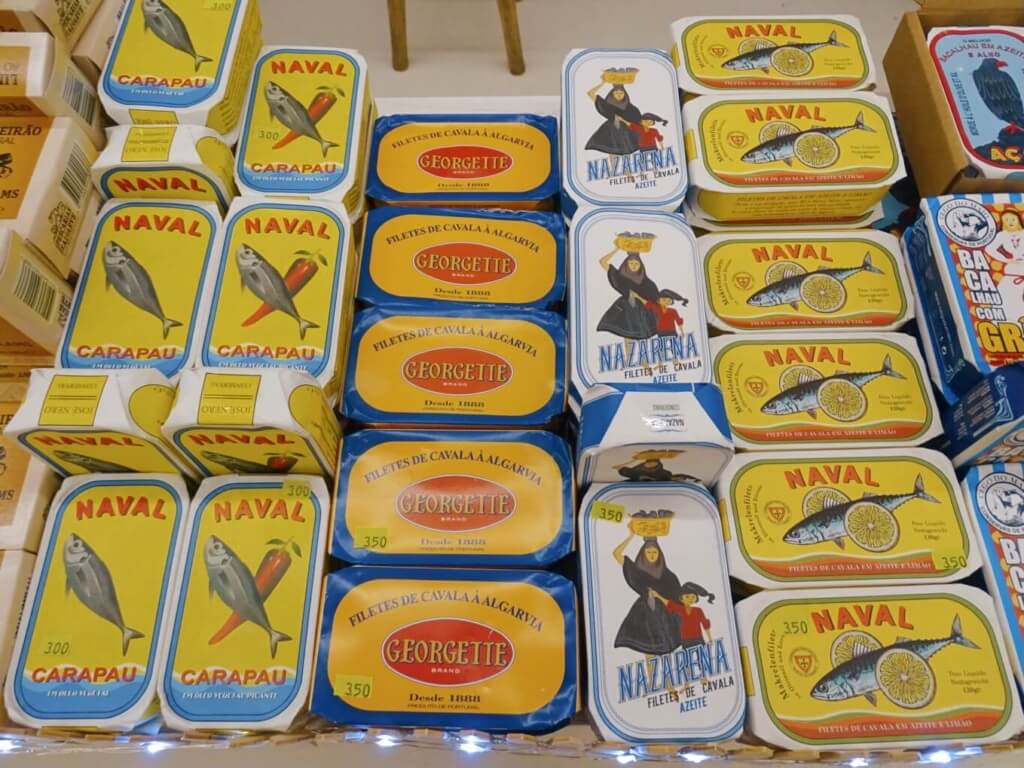 Again, a table was set up for us, complete with ceramic bowls containing sardines, cod and fish pâté on crackers. It was the perfect amount of food to keep me going without getting full.

We learnt that canned fish is a popular Portuguese export NOT diminished in quality like some of the canned foods you get in countries like the US. High-quality seafood from sardines to tuna and octopus have been canned in Portugal since the 1800s.

Canned fish was a staple for soldiers during WWII and again during the 48 years of Portuguese dictatorship. These days, it's just as popular and has become a popular souvenir with tourists thanks to its colourful packaging which would now be described as 'retro'.

We also had the pleasure of meeting a market vendor whose grandma had started working there aged 7! You couldn't make it up.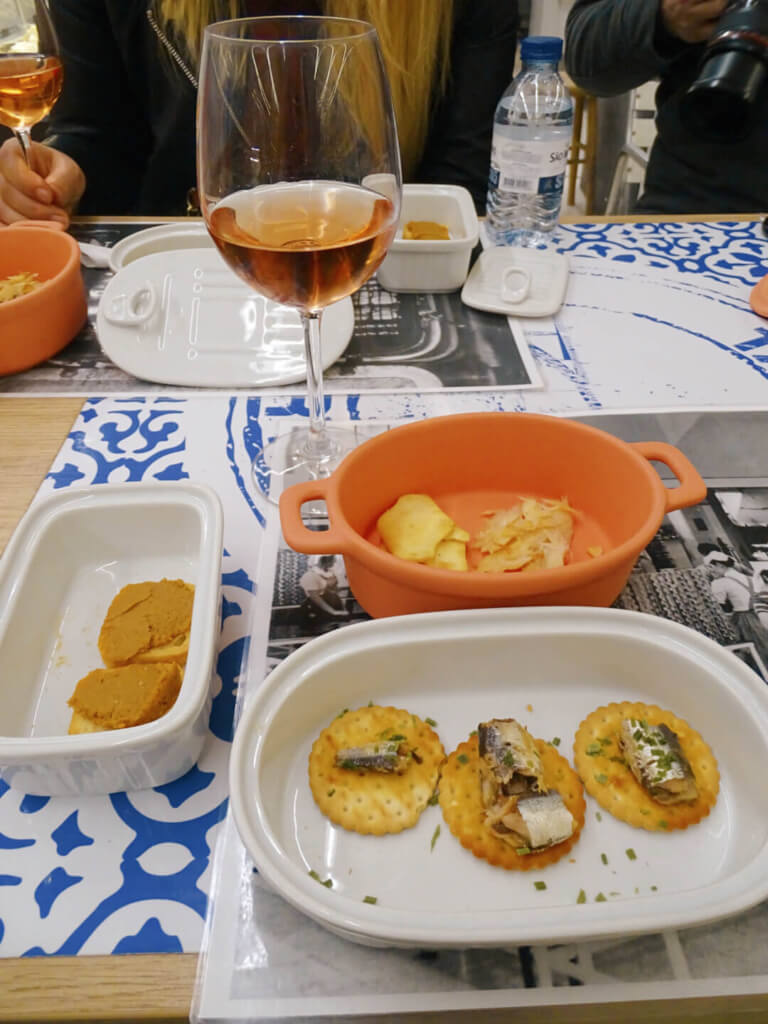 We also got to try a rose 'vinho verde', in other words a fresh wine fermented for less than three months. These light wines are one of my favourite Portuguese beverages. I've had plenty of time to consume them but I imagine if you were visiting Porto as a quick trip, you might miss them without a local recommending them.

This was a still, bottled version of vinho verde made following the optimum brewing procedure. We were told we'd try a homemade one to compare later…
Traditional pastries (Jesuítas)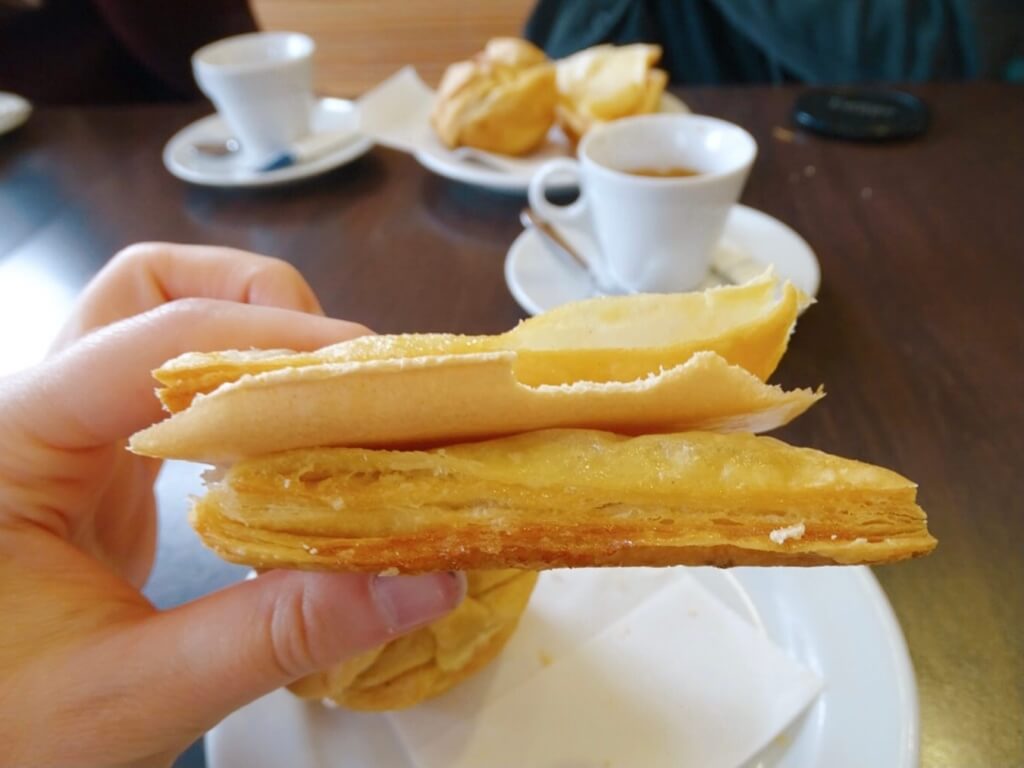 Next, we headed to a famous Porto cafe serving Jesuítas: triangles of puff pastry with sweet icing. I was initially sceptical because I'd tried them before and found them hard and flavourless.

However, these were served at the OG cafe with 125 years' experience and a closely-guarded recipe. They were light and sweet, nothing like the bad batch I'd had elsewhere.

No clues from me as to the location, you'll have to take the tour and find out!
Bifana and fizzy wine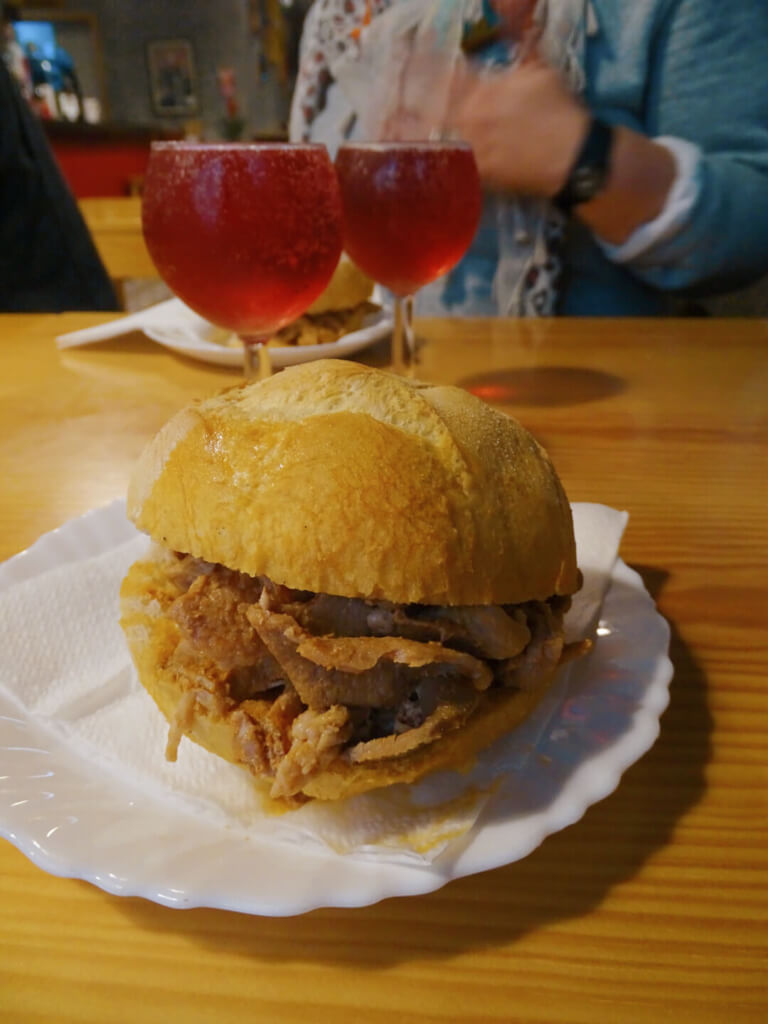 Our next venue was in the style of a traditional tavern, serving piping-hot bifanas (Portuguese pork sandwiches). I love how flavoursome these are; even the bread is dunked in rich, meaty juice.

We washed them down with a slightly fizzy vinho verde. It was interesting to compare this homemade version to the more perfect, bottled variety we'd tried earlier. It may not be gourmet but I actually preferred this type.
Private port tasting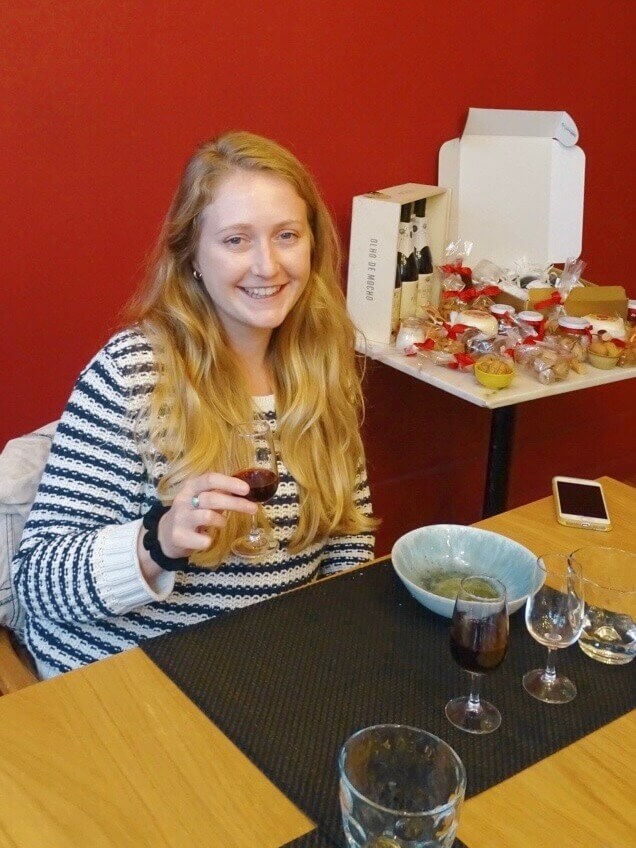 We finished the Taste Porto food tour with a real treat: a port-tasting masterclass inside an atmospheric garrafeira (bottle shop). While you can ask to try before you buy in such venues, we had the added benefit of a private tasting set up ready for us.

As a newly-converted port fanatic after my day trip to the Douro Valley, I loved the lesser-known varieties we tried. For a visitor to Porto, it's hard to get past the big names like Taylor's so I was glad to try a few other brands.

Is it bad that my highlight was lapping up the olive oil with bread? Now I've reached the ripe old age of 30, I seem to have become appreciative of the little things…

But only if they're food-related, obviously!
Final thoughs on the Taste Porto food tour
I hope you've enjoyed this honest review of Porto Food Tour.

They also offer private custom tours in Porto (tailored to your individual interests, schedule and budget), a 'downtown food tour' and a 'craft beer and food tour' but, since I don't know the first thing about beer (or particularly enjoy it), this wouldn't be the one for me.

The 'vintage tour' tour that I took is a great option if you want to learn about traditional Portuguese dishes that have been around for centuries. As I'd already been in Porto a month, I was worried we'd visit places I'd already been but this wasn't the case. They skip the better-known cafes you could find through Google in favour of places you're unlikely to know about as a foreigner.

Now, how do I start a new life as a Portuguese food taster?
Read my other Porto blogs:
For more travel content, follow me on Instagram, Facebook, Twitter and YouTube.