Planning a Romania road trip? You're going to have a blast. I can't wait to share my Romania itinerary including all my tips and tricks from my 2 weeks in Romania.
Best time of year for a Romania road trip
The best time of the year to visit Romania is subjective depending whether you're a sun-seeker or skier. I enjoyed my summer visit but you can visit year-round as long as you're prepared.

Spring (March-May) – the weather can be grey and unpredictable until May when temperatures rise to averages of 23°C.

Summer (June-August) – average temperatures rest between 26 and 35°C. The sun is shining and Romania is busy with increased prices. You could consider squeezing the Black Sea beaches into your Romania itinerary.

Autumn (September-November) – days get shorter and temperatures drop but it's a good season to explore Romania with fewer crowds and cheaper prices.

Winter (December-February) – temperatures hover around 0°C. It's the perfect season for mulled wine, hearty Romanian food and skiing in mountain resorts. Romania looks straight out of a fairytale when dusted in snow.
Where to begin your Romanian road trip?
Bucharest: The most common way to arrive in Romania is by flying into Bucharest. I use Skyscanner to find the best flight prices.

Cluj Napoca: Known as the 'capital of Transylvania', many travellers hire a car in Cluj and return it in Bucharest, stopping at destinations along the way.

Timisoara: If you've been travelling in Central Europe previously, you might be coming overland from Hungary or Slovakia. In this case, you'll likely arrive into Romania's most western city, Timisoara by land. I arrived via the FlixBus (but there's also an international airport).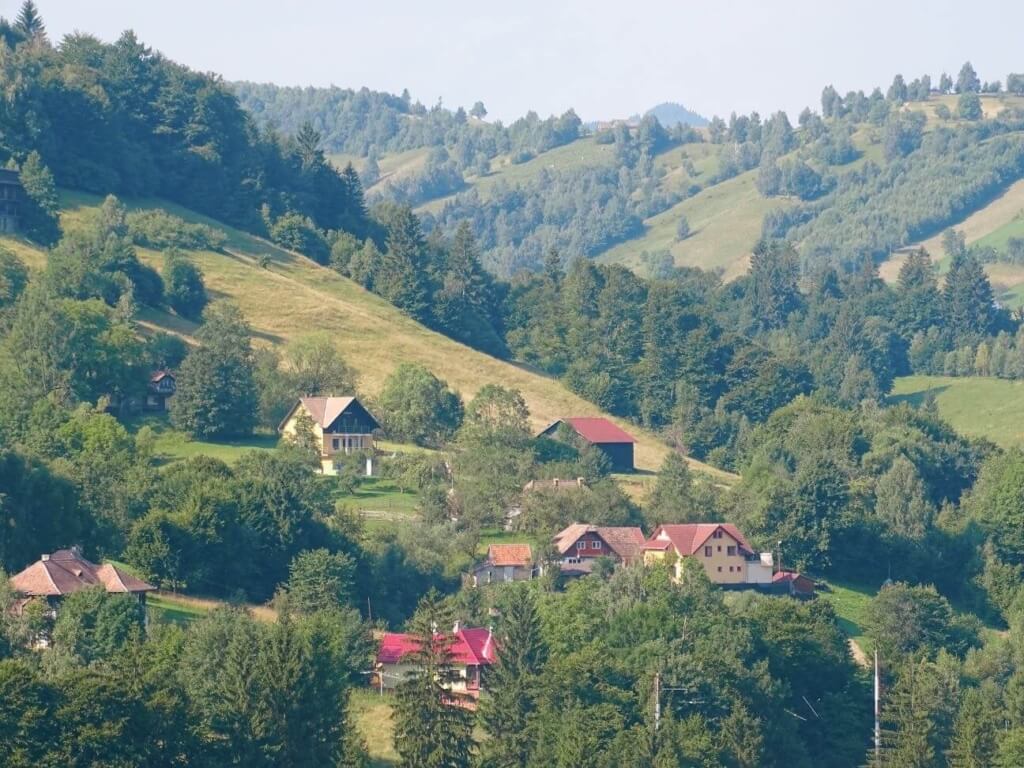 Romania car hire requirements
You must be at least 21 years of age
There will be a surcharge if you're under 25
You must have held your licence for a minimum of 12 months
An international drivers licence is required for non-EU citizens
You must show proof of identity for example a valid passport
The same documents are required for each additional driver
The maximum age for renting a car is usually 70.
Romania car hire tips
Romania driving tips
Romanians drive on the right.
The speed limit in cities is 30mph/50kph.
The speed limit on highways is 74mph/120kph.
The World Economic Forum ranked Romania 120 out of 137 for road quality – i.e not very good!
Roads in urban areas are in good condition but those in rural areas aren't so good.
Snow removal is intermittent so drive with caution during the winter. Ensure you have winter tyres for icy roads.
You can only park on the right, facing in the direction of traffic.
Traffic laws are strict in Romania. Police can serve on-the-spot fines and confiscate a driver's licence for up to 3 months.
Children under 12 may not sit in the front seat.
There's plenty of parking in Romania. Expect to pay around €1 (5 RON) per hour.
Read more Romania driving tips here.
Can you enjoy this Romania itinerary by public transport?
How long to spend on a Romanian road trip?
Of course, I would recommend two weeks in Romania. This is how long I spent and there's still loads I missed.

But if time's tight, you can spend one week in Romania and still catch the highlights. With this amount of time, I'd suggest taking a Transylvania road trip rather than going off the beaten track. 10 days in Romania is an even better amount of time.
DAYS 1-2: BUCHAREST
Day 1: Begin your day in Bucharest by taking a morning walking tour with Walkabout Free Tours. This is the perfect introduction to Romanian history and the events centred in Bucharest during the last few decades. You'll see and learn plenty during this 3-hour tour.
In the afternoon, pay a visit to the Palace of the Parliament, the world's second-largest administrative building. Commissioned by dictator Nicolae Ceauşescu in 1984, this 3,000-room building was left unfinished after he was executed by firing squad for crimes against humanity.

A tour costs 40 RON (20 for students) and can either be booked by phoning them a day in advance or – the easier option – getting an online skip-the-line ticket from GetYourGuide.
Where to stay in Bucharest
Hostel: I was keen to stay at Podstel Bucharest but sadly it was booked up. This is known as the best hostel in Bucharest with comfy and clean dorm rooms, group meals and evening activities.

Another option is First Hostel Bucharest, 5 minutes walk to Unirii Metro Station (Piata Unirii), 7 minutes walk to the Old Town and 10 minutes walk to our famous Palace of Parliament. Dorm beds starts from €8. Also check out Sleep Inn Hostel in the middle of Bucharest with all attractions in easy walking distance. Dorm beds starts from €7.

Apartment: For a modern, central apartment with all your amenities, stay at Black & White Apartments for €35 a night.

Hotel: For a luxurious old-school mansion feel, delicious breakfast and rave reviews, check out Grand Boutique Hotel (rooms from €50 a night).
DAYS 3-4: SINAIA
Next, we really begin our road trip through Romania as we leave the big city behind!

I'm taking you a million miles from the capital. Well actually it's only 86 miles away but it certainly feels like another world.

Distance from Bucharest: 148km, 2 hours by car.

Public transport alternative: Catch a direct train from București Nord station taking 1.5 hours.

Short road trip alternative: If you have just 1 week or 10 days in Romania, visit Sinaia as a day trip en route from Bucharest to Brasov. Park in Sinaia, tour Peles Castle then get back on the road for another 1.5 hours to reach Brasov.
Nestled in the mountains, the beauty of Sinaia is undisputed. Not only will the craggy mountains leave you breathless, but the region is home to fairytale castles to set your imagination alight.

Day 3: After arriving in Sinaia, explore Peles Castle built in 1873. Those who have been to Germany might recognise the German Renaissance style in the dark woods and rafters. There are 160 rooms and over 2,000 paintings. Oh, and it looks straight out of a fairytale!

Day 3: In the summer, go hiking in the Bucegi mountains. There are plenty of well-marked hikes from Sinaia ranking from easy to difficult. In the winter, you can go skiing in Sinaia or admire the old 1,500m bobsleigh track.

Where to stay in Sinaia: For excellent value in a homey B&B base, stay at Vila Floare de Colt.
DAYS 5-6: BRASOV
Day 7: Transfăgărășan Road
DAY 7-8: SIBIU
Where to eat in Sibiu: Sample local dishes at Crama Sibiul Vechi. This is a traditional Romanian restaurant with huge banquet-style tables (slightly awkward dining for one!). To save money, eat at Cibin Market. I found a stand run by a friendly gentleman serving delicious mici sausages and fries.

Day 10: Spend a second day exploring and eating in Sibiu or continue your Romania road trip to the surrounding region. If you didn't already drive the scenic Transfăgărășan Road, do so today by car or guided day tour.
Where to stay: I went for B13 Hostel which is right in the centre of town with a large lounge, games area and kitchen. A basic but comfy base with rooms for €13 a night.

Guesthouse option: you can't beat Gasthof Clara inside a period property with spacious rooms, outdoor space and a generous buffet breakfast.
DAYS 9-10: SIGHISOARA
Distance from Sibiu: 93km, 1 hour 40 minutes by car.

Public transport alternative: Take a 2-hour train from Sibiu.
Where to stay in Sighisoara: The only hostel is Burg Hostel where I stayed. It was passable, nothing amazing but definitely the cheapest place to stay and just a moment's walk from the centre.

Guesthouse option: The period double rooms at Casa Wagner look comfier if you have the money to spend (€30 a night including breakfast).
Day 12: Spend more time in Cluj or why not take a day trip? Journey to Turda Gorge and explore underground in these old salt mines.

Where to stay in Cluj: Retro Youth is on a quiet street near the main square with dorms and private rooms from €22. For a sunny yellow apartment with your home comforts, check out House Apartment Minerilor.
DAYS 13-14: TIMISOARA
Distance from Cluj-Napoca: 314km, 4.5 hours driving.

Public transport alternative: 6 hours by train. There's a daily 3.39pm train that you could take on day 12 after a day of sightseeing or an early one departing just before 6am.
Where to stay in Timisoara: certainly at InVerve Hostel! The modern, fully-equipped apartment inside a period property has dorm rooms with curtains and private sockets, plus each guest is given eye masks and earplugs by the friendly owners, Dan and Simone who personally showed me around the city!

For a hotel option, the Mercure is easily the best in town.

Day 14: It's the end of your 2 weeks in Romania. Boo!
More Romania road trip destinations
This itinerary covers a lot but there's always more in this beautiful country. Here are a few places for extra inspo if you have time or fancy swapping these into your Romania road trip itinerary:
Take a trip on the Danube Delta home to fascinating wildlife. Book a slow boat tour from Bucharest.
Fancy some beach chills? Romania may not be well known for its beaches but it should be. Visit Mamaia located on the Black Sea for plenty of sandy white beaches.
Painted Monasteries – head to northeastern Romania and you'll find these otherworldly buildings painted with scenes from 15th-century life.
The Merry Cemetry of Sapanta – a bizarre place where colourful graves depict how the deceased passed away.
Budget for a Romanian road trip