This post may contain affiliate links to things like tours, hotels, Amazon associates and products. These help me earn a small commission at no additional charge to you.
Planning a Romania road trip? You're going to have a blast. I can't wait to share my Romania itinerary including all my tips and tricks from my 2 weeks in Romania.
However beautiful Romania looks in photos, it's even more picturesque up close. Romania is about wild untouched wilderness and charming, cobbled cities dating back centuries.

As I travelled through the countryside, watching people using horses and carts for agriculture, I realised how traditional Romania really is. It's like stepping back in time!
ROMANIA ESSENTIALS

Car hire: Rentalcars.com

Tours & activities: GetYourGuide / Viator

Accomodation: Booking.com / Hostelworld.com

Food activities: EatWith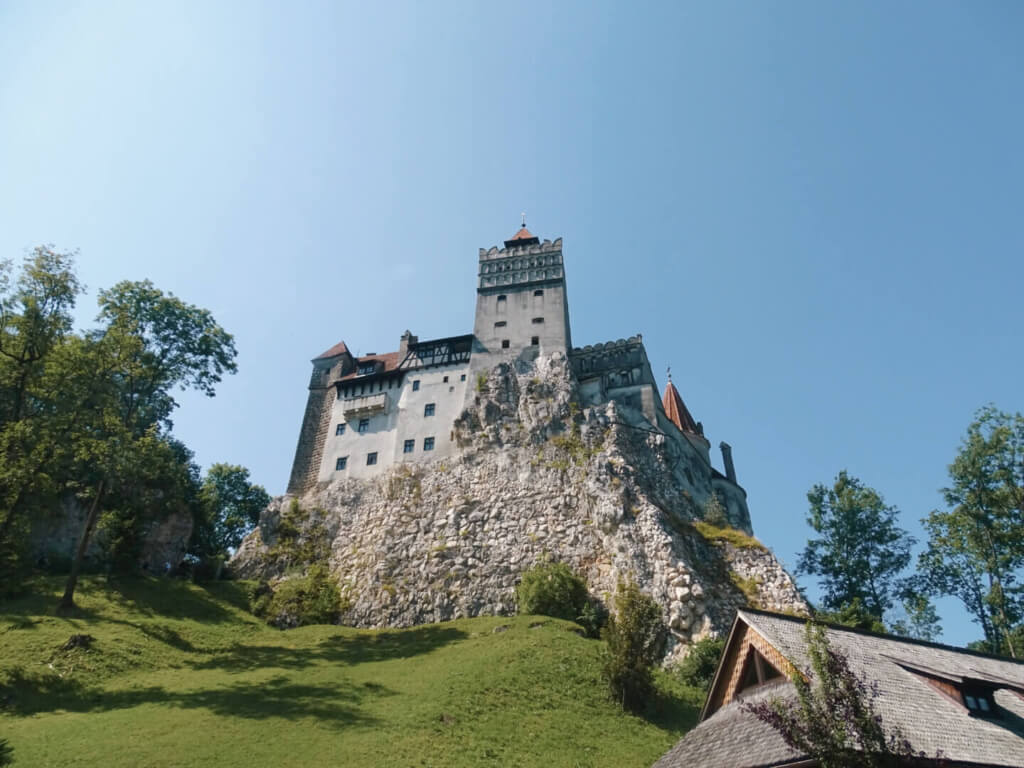 Romania's recent history is dominated by Communist rule, dictators and corrupt governments. Only in recent years has life started getting better for the locals and they're happy to talk to you about it. Learning about the history and culture was a highlight of my 2 weeks in Romania!

I believe a 2 week Romania road trip is optimum to get the most out of this beautiful nation. But if you don't have that long, I'll also be sharing a Romania itinerary for 1 week and another for 10 days.

Overall, Romania is a safe, friendly and beautiful country to explore. What are you waiting for?
Read next: 18 Romania travel tips from a solo female traveller
Best time of year for a Romania road trip
The best time of the year to visit Romania is subjective depending whether you're a sun-seeker or skier. I enjoyed my summer visit but you can visit year-round as long as you're prepared.

Spring (March-May) – the weather can be grey and unpredictable until May when temperatures rise to averages of 23°C.

Summer (June-August) – average temperatures rest between 26 and 35°C. The sun is shining and Romania is busy with increased prices. You could consider squeezing the Black Sea beaches into your Romania itinerary.

Autumn (September-November) – days get shorter and temperatures drop but it's a good season to explore Romania with fewer crowds and cheaper prices.

Winter (December-February) – temperatures hover around 0°C. It's the perfect season for mulled wine, hearty Romanian food and skiing in mountain resorts. Romania looks straight out of a fairytale when dusted in snow.
Where to begin your Romanian road trip?
Bucharest: The most common way to arrive in Romania is by flying into Bucharest. I use Kayak to find the best flight prices.

Cluj Napoca: Known as the 'capital of Transylvania', many travellers hire a car in Cluj and return it in Bucharest, stopping at destinations along the way.

Timisoara: If you've been travelling in Central Europe previously, you might be coming overland from Hungary or Slovakia. In this case, you'll likely arrive into Romania's most western city, Timisoara by land. I arrived via the FlixBus (but there's also an international airport).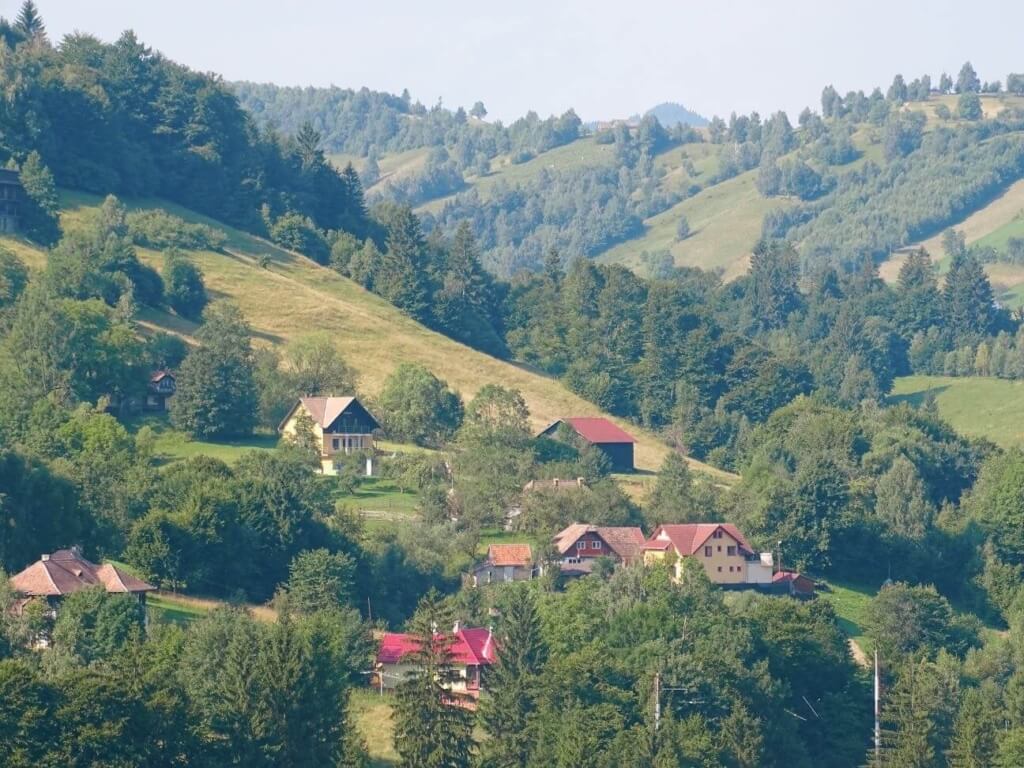 Romania car hire requirements
You must be at least 21 years of age
There will be a surcharge if you're under 25
You must have held your licence for a minimum of 12 months
An international drivers licence is required for non-EU citizens
You must show proof of identity for example a valid passport
The same documents are required for each additional driver
The maximum age for renting a car is usually 70.
Romania car hire tips
Use Rentalcars.com to find the best value car rentals. Prices start from €110 a week.
Expect to pay an extra third to drop off at a different location (but it's worth it for the convenience).
Expect to pay extra per additional driver.
Manual cars are the norm in Romania. You may be able to hire automatic cars for a surcharge.
Make sure to book early in peak season to get the best prices.
There are usually fees involved when it comes to crossing European borders.
Make sure to get travel insurance. I use World Nomads. They cover 150 countries and have 24-hour emergency assistance.
Take photos of the car, mileage and petrol gauge before leaving the rental place
Have your proof of insurance and ID close at hand when driving in Romania.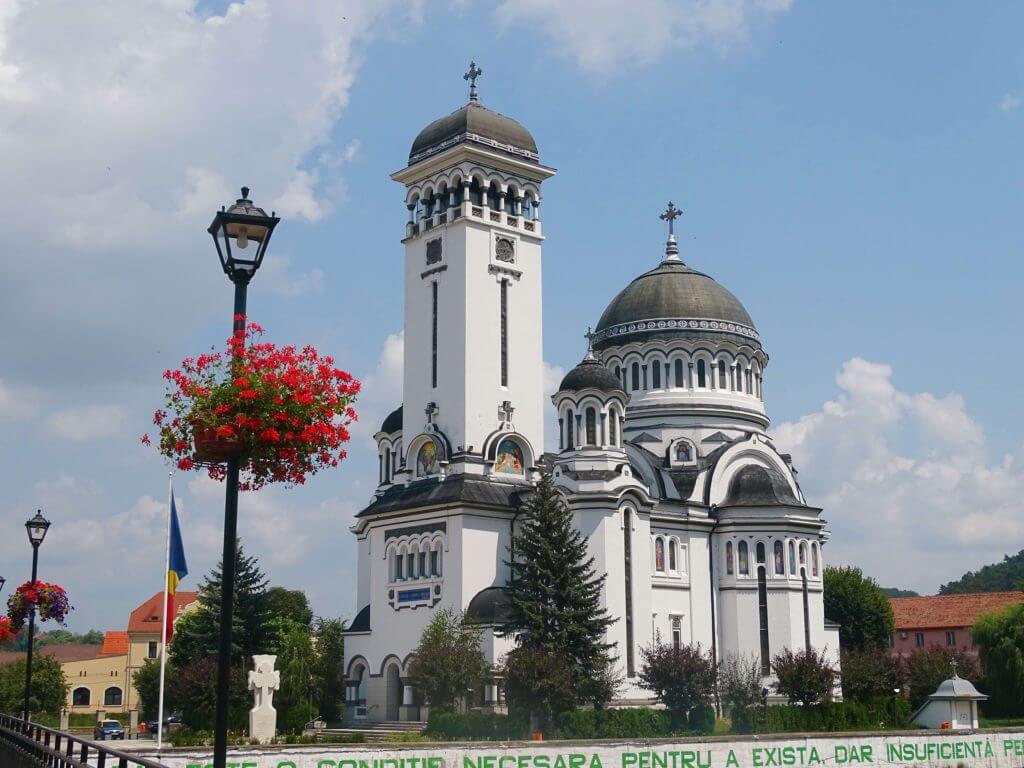 Romania driving tips
Romanians drive on the right.
The speed limit in cities is 30mph/50kph.
The speed limit on highways is 74mph/120kph.
The World Economic Forum ranked Romania 120 out of 137 for road quality – i.e not very good!
Roads in urban areas are in good condition but those in rural areas aren't so good.
Snow removal is intermittent so drive with caution during the winter. Ensure you have winter tyres for icy roads.
You can only park on the right, facing in the direction of traffic.
Traffic laws are strict in Romania. Police can serve on-the-spot fines and confiscate a driver's licence for up to 3 months.
Children under 12 may not sit in the front seat.
There's plenty of parking in Romania. Expect to pay around €1 (5 RON) per hour.
Read more Romania driving tips here.
Can you enjoy this Romania itinerary by public transport?
Yes! All the destinations listed in this blog are connected by train or bus. Book trains on the CFC Calatori website and buses on the Autogari website.

The only inaccessible location is the Transfagarasan Highway. But you can take a Transfagarasan highway day tour from Brasov or Bucharest.

You can also use BlaBlaCar which is a carpool service, great for getting about cheaply in Romania.

Romania public transport tip: be smart with your journeys. Romanian trains may be notoriously slow but most of the places in this Romania itinerary are close together. Travel early in the morning or during the evening to see a city the day you arrive.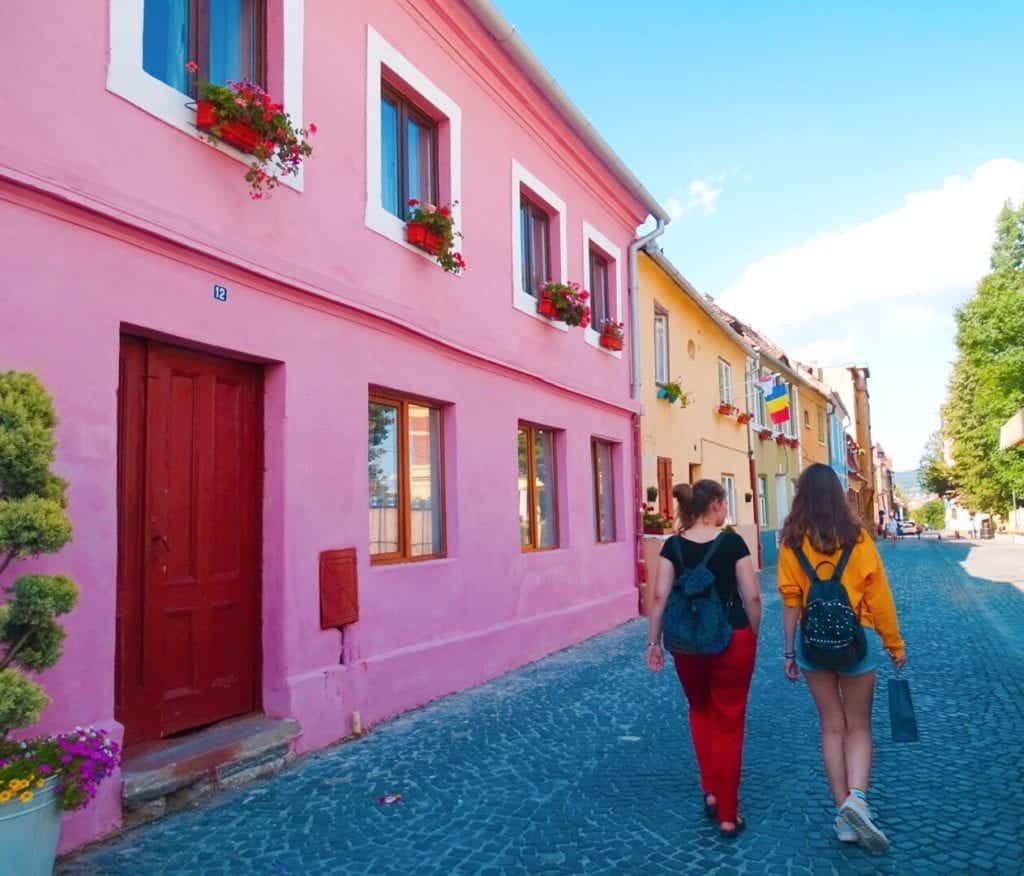 How long to spend on a Romanian road trip?
Of course, I would recommend two weeks in Romania. This is how long I spent and there's still loads I missed.

But if time's tight, you can spend one week in Romania and still catch the highlights. With this amount of time, I'd suggest taking a Transylvania road trip rather than going off the beaten track. 10 days in Romania is an even better amount of time.
1 week Romania road trip itinerary
Start in Bucharest or Cluj Napoca and tour Transylvania. Brasov is a must. For a 7 day Romania itinerary, I'd suggest picking Sibui OR Sighosoara or visiting one as a day trip from the other.
Days 1-2 – Bucharest
Days 3-4 – Brasov (visit Peles Castle en route)
Days 5-6 – Sibui (or Sighisoara)
Day 7 – Cluj Napoca.
10 day Romania road trip itinerary
During a 10 day Romania itinerary, you'll have time for both Sibiu and Sighisoara. You can relax and take your time.
Days 1-2 – Bucharest
Dasy 3-4 – Brasov (visit Peles Castle en route)
Days 5-6 – Sibui
Days 7-8 – Sighosoara (drive Transfăgărășan Road en route from Sibui)
Days 9-10 – Cluj Napoca.
2 week Romania road trip itinerary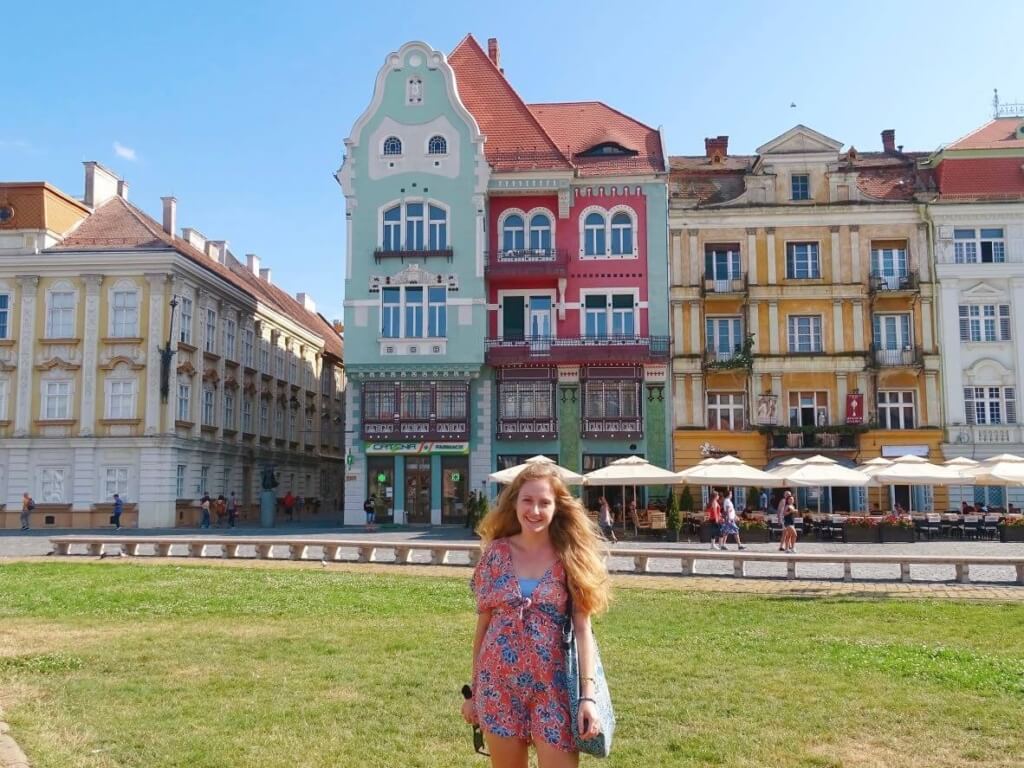 This is the Romania itinerary I followed. The main difference is that it includes Timisoara, a beautiful city in west Romania. Although it's quite far from Transylvania, this was one of my favourite stops during my summer Europe trip.

If you're travelling from or onwards to Central Europe (like Hungary, Slovakia or Austria), it's a convenient stop. Since I'd just come from Budapest on the FlixBus, it was perfect for me. There's an international airport in Timisoara, too.

Also, this 2 week Romania itinerary allows you to stay overnight in Sinaia rather than visiting Peles Castle en route from Bucharest to Brasov.
Days 1-2 – Bucharest
Days 3-4 – Sinaia
Days 5-6 – Brasov
Days 7-8 – Sibui (drive Transfăgărășan Road en route from Brasov)
Days 9-10 – Sighisoara
Days 11-12 – Cluj Napoca
Days 13-14 – Timisoara.
How this Romania itinerary works
I'll share my full Romania road trip itinerary for 2 weeks. If you have less time, use the bullet-pointed itineraries above to plan your route. Use the information below for what to do in the destinations and travel tips for getting between them.
DAYS 1-2: BUCHAREST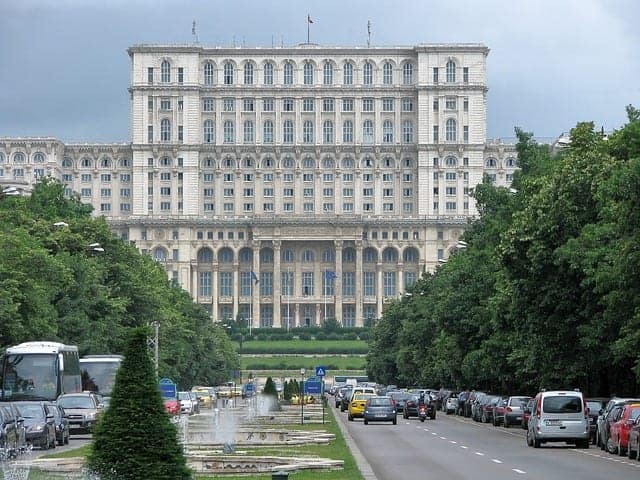 I have to be honest: Bucharest isn't my favourite city. In fact, it's one of my least favourites. But, if you're taking a Romanian road trip, you'll likely wind up there at some stage.

Bucharest boasts the 'newest Old Town in the world'. I was initially intrigued by this, but soon discovered the problem with the Old Town is indeed its newness. Overpriced American burger joints and sleazy bars rule the roost.

Saying this, Bucharest has a few worthwhile attractions so I'd still recommend spending at least a day here.

Day 1: Begin your day in Bucharest by taking a morning walking tour with Walkabout Free Tours. This is the perfect introduction to Romanian history and the events centred in Bucharest during the last few decades. You'll see and learn plenty during this 3-hour tour.
In the afternoon, pay a visit to the Palace of the Parliament, the world's second-largest administrative building. Commissioned by dictator Nicolae Ceauşescu in 1984, this 3,000-room building was left unfinished after he was executed by firing squad for crimes against humanity.

A tour costs 40 RON (20 for students) and can either be booked by phoning them a day in advance or – the easier option – getting an online skip-the-line ticket from GetYourGuide.

Don't forget to pay a visit to Cărturești Carusel, voted the world's prettiest bookshop!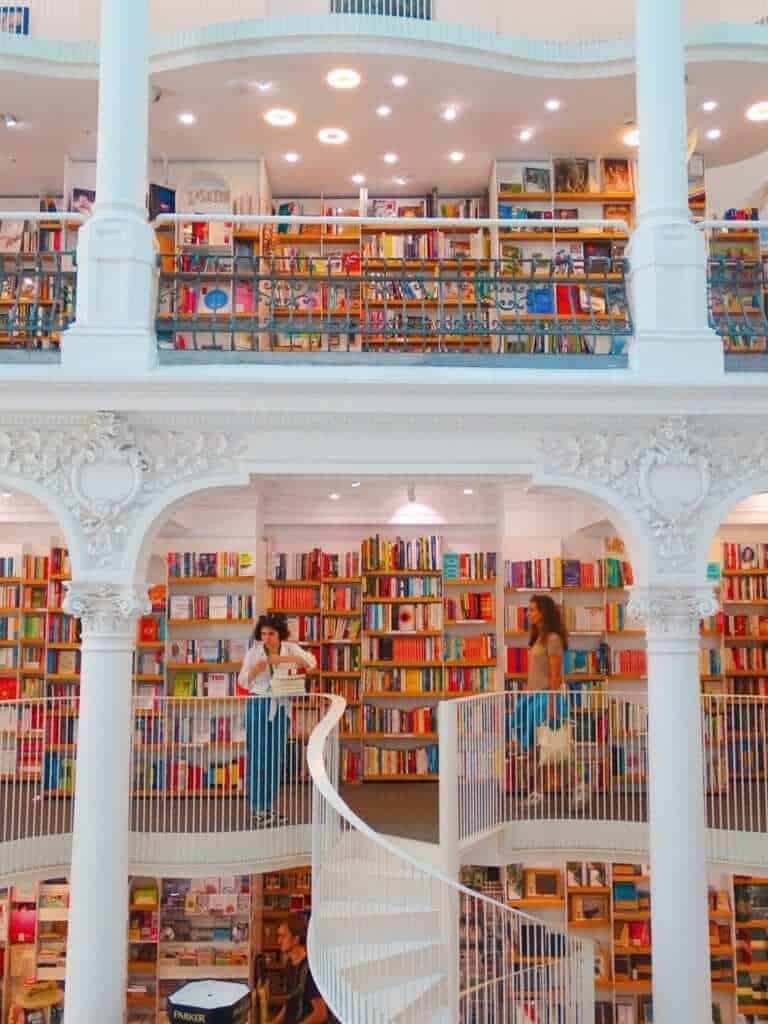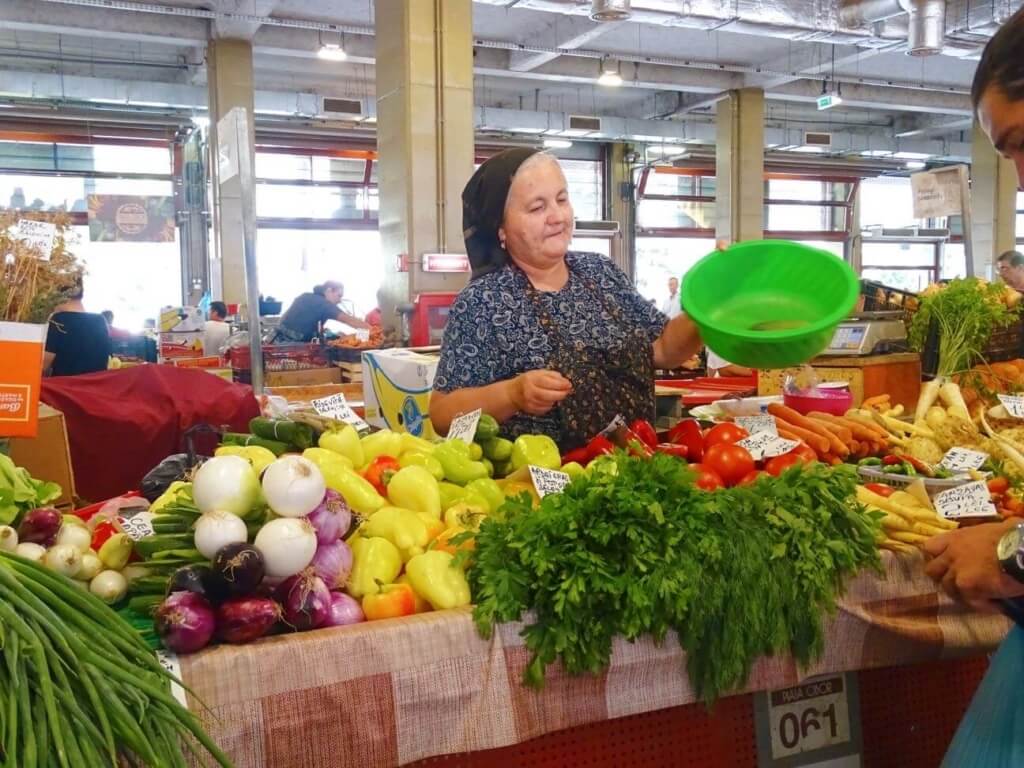 Where to stay in Bucharest
Hostel: I was keen to stay at Podstel Bucharest but sadly it was booked up. This is known as the best hostel in Bucharest with comfy and clean dorm rooms, group meals and evening activities.

Another option is First Hostel Bucharest, 5 minutes walk to Unirii Metro Station (Piata Unirii), 7 minutes walk to the Old Town and 10 minutes walk to our famous Palace of Parliament. Dorm beds starts from €8. Also check out Sleep Inn Hostel in the middle of Bucharest with all attractions in easy walking distance. Dorm beds starts from €7.

Apartment: For a modern, central apartment with all your amenities, stay at Black & White Apartments for €35 a night.

Hotel: For a luxurious old-school mansion feel, delicious breakfast and rave reviews, check out Grand Boutique Hotel (rooms from €50 a night).
DAYS 3-4: SINAIA
Next, we really begin our road trip through Romania as we leave the big city behind!

I'm taking you a million miles from the capital. Well actually it's only 86 miles away but it certainly feels like another world.

Distance from Bucharest: 148km, 2 hours by car.

Public transport alternative: Catch a direct train from București Nord station taking 1.5 hours.

Short road trip alternative: If you have just 1 week or 10 days in Romania, visit Sinaia as a day trip en route from Bucharest to Brasov. Park in Sinaia, tour Peles Castle then get back on the road for another 1.5 hours to reach Brasov.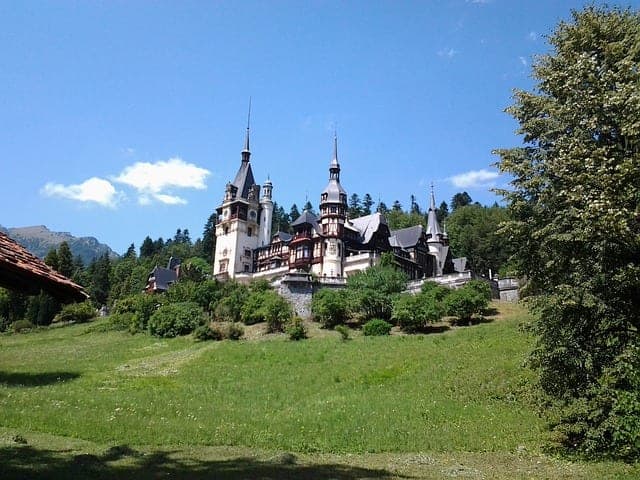 Nestled in the mountains, the beauty of Sinaia is undisputed. Not only will the craggy mountains leave you breathless, but the region is home to fairytale castles to set your imagination alight.

Day 3: After arriving in Sinaia, explore Peles Castle built in 1873. Those who have been to Germany might recognise the German Renaissance style in the dark woods and rafters. There are 160 rooms and over 2,000 paintings. Oh, and it looks straight out of a fairytale!

Day 3: In the summer, go hiking in the Bucegi mountains. There are plenty of well-marked hikes from Sinaia ranking from easy to difficult. In the winter, you can go skiing in Sinaia or try your luck on the 1,500 bobsled run.

Where to stay in Sinaia: For excellent value in a homey B&B base, stay at Vila Floare de Colt.
DAYS 5-6: BRASOV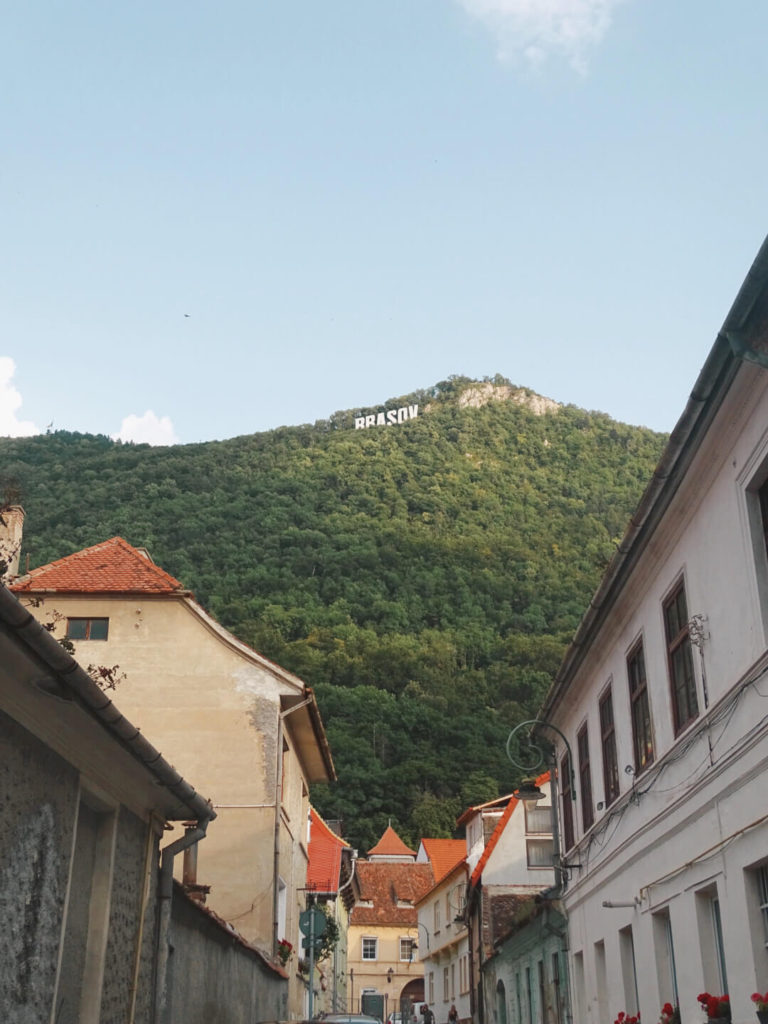 Distance from Sinaia: 48km, 1.5 hours by car.

Distance from Bucharest: 184km, 3.5 hours by car.

Public transport alternative: Catch a direct train or bus.

Pretty Brasov was one of my favourite places during my road trip in Romania. It's a little bigger and busier than the smaller towns of Transylvania (which we'll get to next) which I liked.

It's also the best place from which to visit Dracula's Castle, something I was very excited about (although turned out to be slightly anti-climatic).

I was also awestruck by the Hollywood-style Brasov sign emblazoned on the hillside. This city certainly has character so I recommend at least 2 nights to explore it properly.
Read next: 20 best things to do in Brasov, Romania
Day 5: Take a free walking tour with Walkabout Free Tours in the morning or afternoon and explore the sights at your leisure during the rest of the day. The best things to do in Brasov include:
Sightsee or eat ice cream in Council Square
Visit Catherine's Tower
Squeeze down Rope Street (Romania's smallest street) and learn about it at Rope Street Museum
Tour Romania's oldest school (beside Biserica Sfântul Nicolae church)
Take a forest walk to the Black & White Towers
Hike to the Braşov sign (or take the cable car).
Where to stay in Brasov: For hostel accommodation, you can't beat JugendStube Hostel with clean, colourful dorm rooms and a hearty breakfast. For a spacious and stylish boutique hotel complete with sofas and flat-screen TV (as well as family suites), look no further than Nani Nani Boutique Hotel for €60 a night.

Where to eat and drink in Brasov: Dine at La Ceaun for authentic Romanian fare and Le Birou Bistro for tasty brunch and coffee. Brasov has a surprisingly good speciality coffee scene which you can explore on a coffee tour!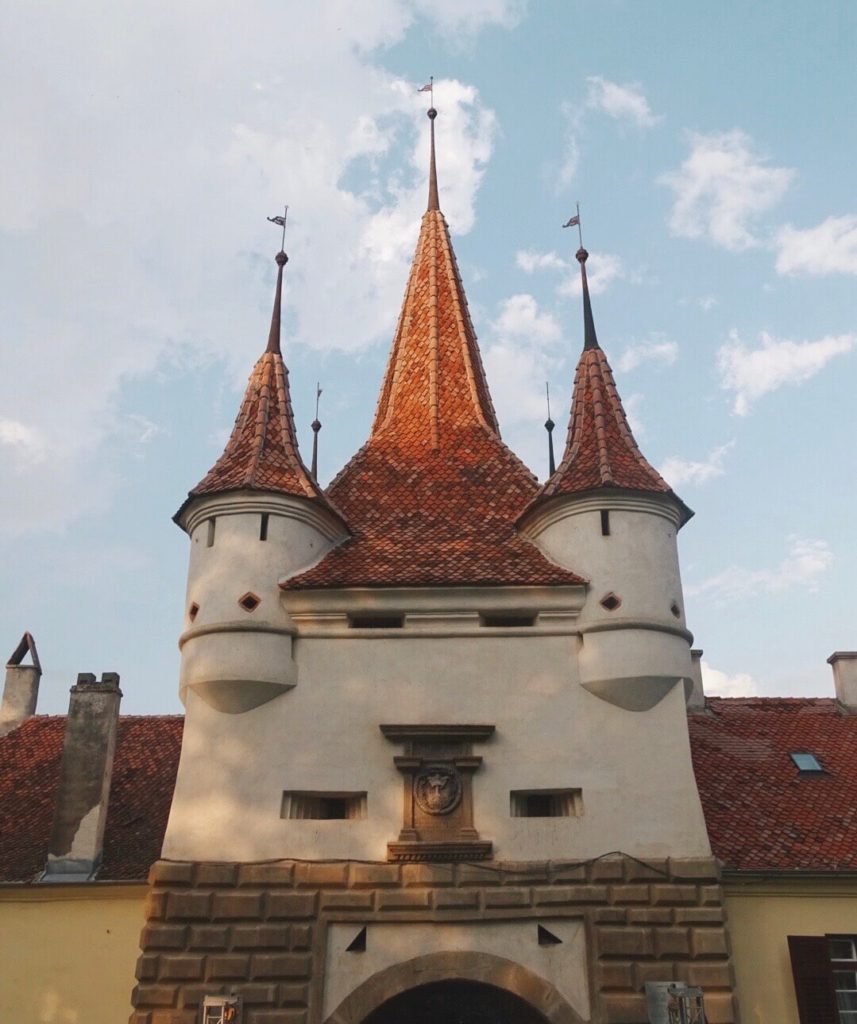 Day 6: Take a day trip to Bran Castle, stopping off at Rasnov Citadel on the way home.

This iconic location is famed as Dracula's Castle but I learnt this is a slight exaggeration. Although Bram Stoker based the character of Count Dracula on Vlad Tepes, the ancient Romanian ruler nicknamed 'Vlad the Impaler' due to the gruesome ways he killed his enemies, the author never actually visited Bran Castle.

It was rumoured Vlad Tepes was imprisoned at Bran Castle but scholars argue this is untrue.

Sorry to be a downer! Despite not really being Dracula's Castle, it's still well worth visiting Bran Castle from Brasov. My top tip is to arrive early to beat the crowds.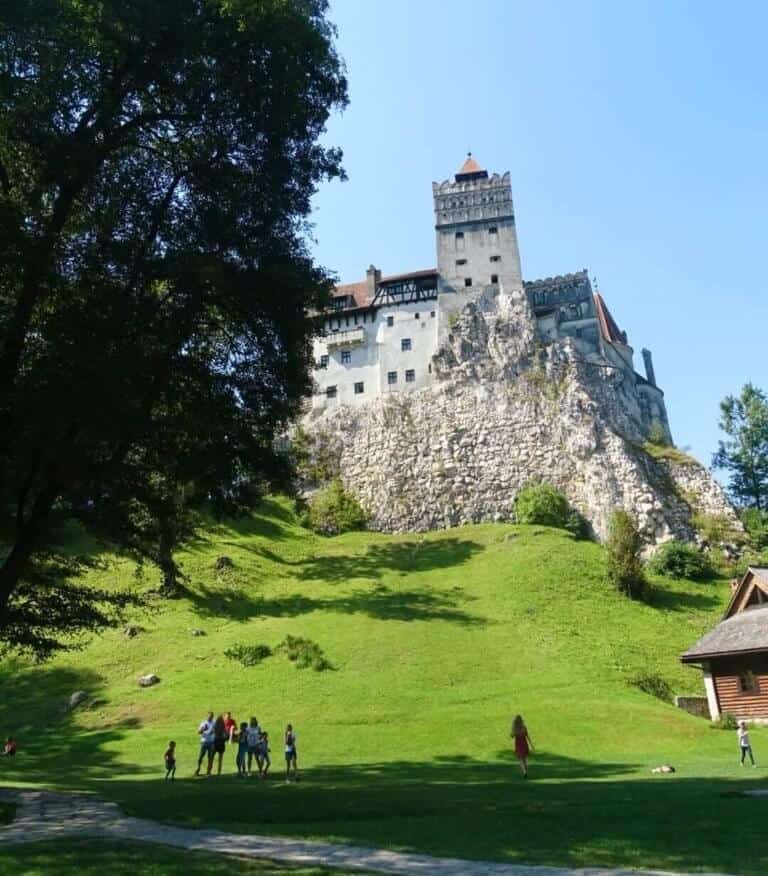 Read next: Visiting Dracula's Castle from Brasov
Day 7: Transfăgărășan Road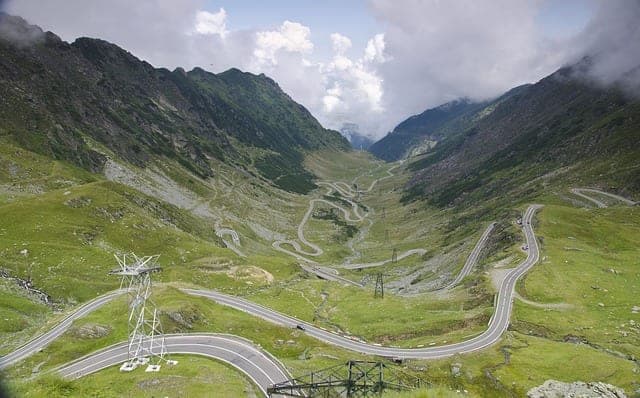 Some would say that it's not a road trip in Romania without a visit to the Transfăgărășan Road, famously featured on British TV show, Top Gear.

Although it's not directly en route between the typical Transylvania road trip stops, it's worth going out of your way for.

The building of Transfăgărășan was ordered by ex-Romanian dictator, Nicolae Ceausescu. It took four years, and 38 workers died in the process. Since it's far from the most practical road, it's unclear why he wanted it… But then, who can ever get inside the head of an evil dictator?

This famous road is part of 7C Highway connecting small towns, Bascov and Cârțișoara. Here it joins the E68 connecting Brasov and Sibiu. For that reason, it makes sense to drive Transfăgărășan en route between these two places.

If you'd rather do it as a day trip, it's closest to Sibiu. Organised day tours run if you're not confident about driving it.

Seasonal note – you can drive the highway from June to October. It's closed during the winter months as it would be too hazardous.

Driving distances: It should take 3 hours to reach from Brasov and 2.5 hours from Sibiu. This Transfăgărășan guide has some useful details about driving from each city.
DAY 7-8: SIBIU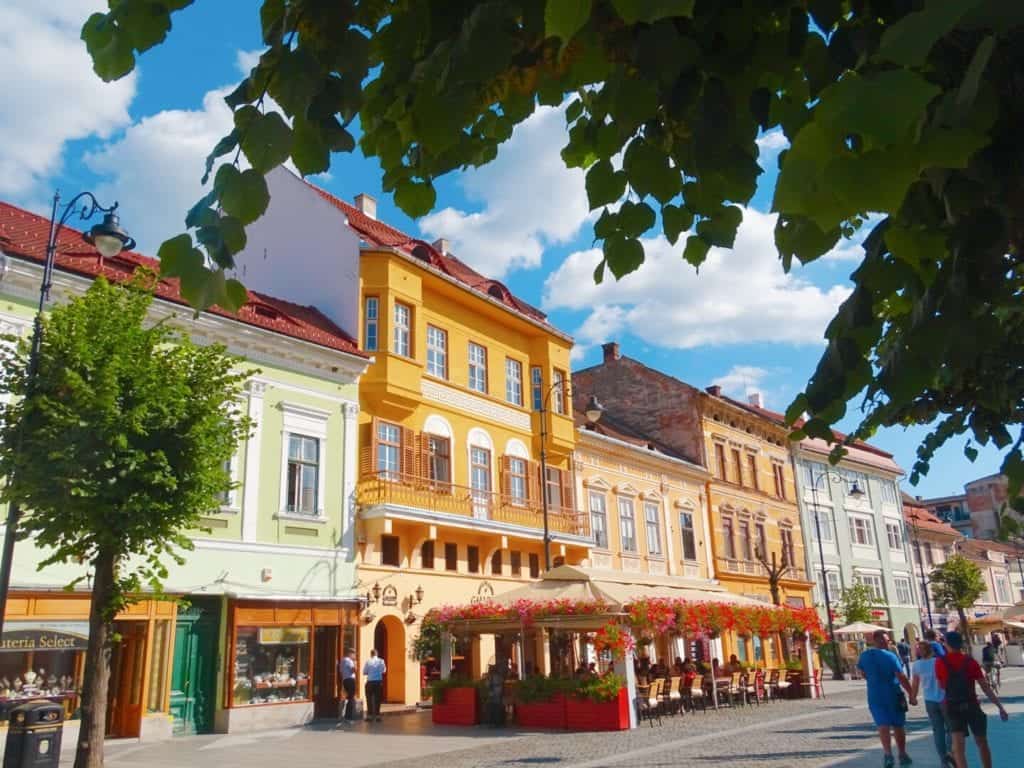 Distance from the Transfăgărășan Road: 2.5 hours by car.

Public transport alternative: From Brasov to Sibiu, take a 2-hour bus from €8. The train takes 3 hours.

Bored of pretty traditional towns yet? I hope not because Sibiu is as enchanting and old-school as they come. Saying that, it's unique in one sense: the houses have eyes!

Say what? Check this photo below if you don't believe me. These eye-like slits were apparently invented to provide ventilation to attics but I often felt their real purpose was judging me for eating my 5th mici sausage of the day…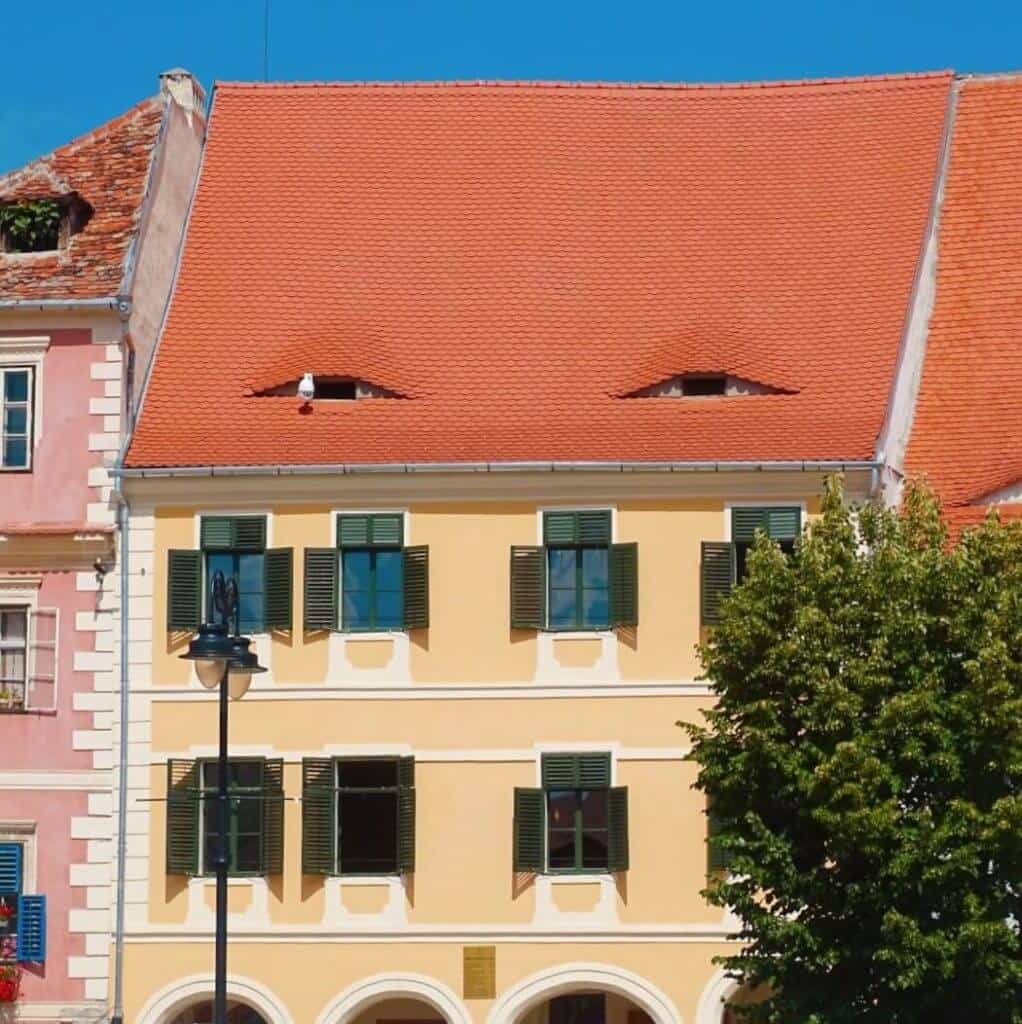 Day 9: Explore Sibiu during your first day. Things to do:
Wander the Bridge of Lies and learn about its morbid history
Admire Strada Cetăţii and its colourful houses
Climb the Council Tower
Walk from pretty pedestrian street, Strada Nicolae Bălcescu, to Piața Mare (Large Square)
Where to eat in Sibiu: Sample local dishes at Crama Sibiul Vechi. This is a traditional Romanian restaurant with huge banquet-style tables (slightly awkward dining for one!). To save money, eat at Cibin Market. I found a stand run by a friendly gentleman serving delicious mici sausages and fries.

Day 10: Spend a second day exploring and eating in Sibiu or continue your Romania road trip to the surrounding region. If you didn't already drive the scenic Transfăgărășan Road, do so today by car or guided day tour.
Where to stay: I went for B13 Hostel which is right in the centre of town with a large lounge, games area and kitchen. A basic but comfy base with rooms for €13 a night.

Guesthouse option: you can't beat Gasthof Clara inside a period property with spacious rooms, outdoor space and a generous buffet breakfast.
DAYS 9-10: SIGHISOARA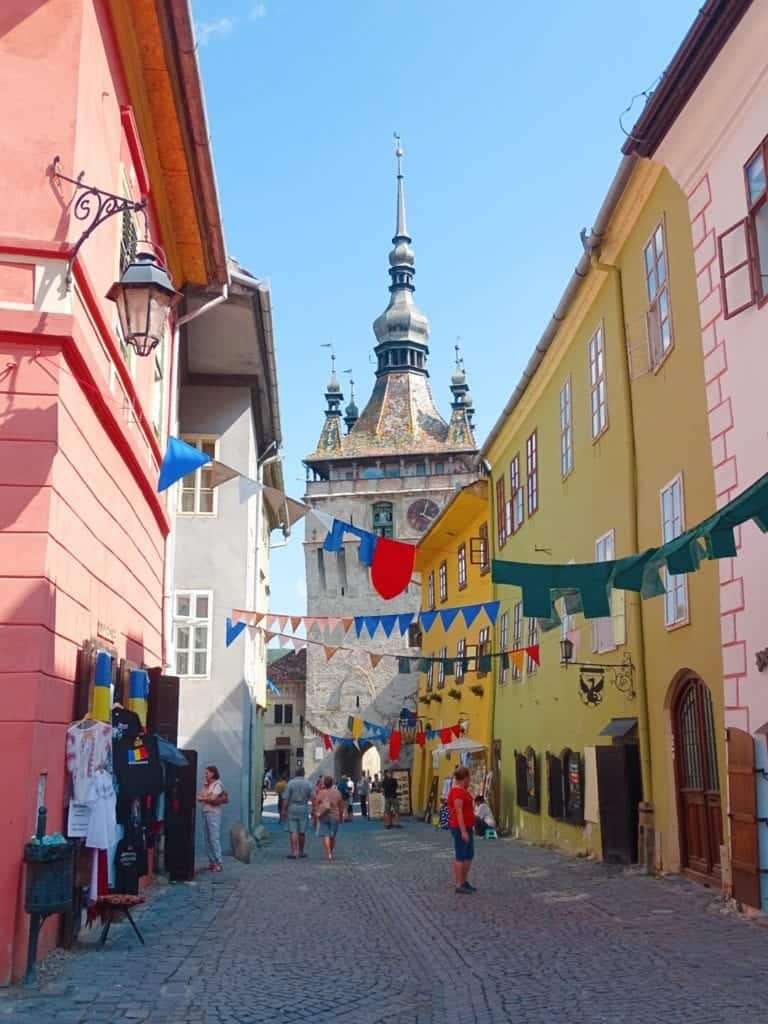 If you're keen to add Transylvania to your Romania road trip itinerary, there's nowhere more idyllic or picturesque than Sighisoara. It's often described as the last inhabited medieval city in Europe.

I confess I was getting slightly bored of quaint towns by the time I got to Sighisoara. It's the smallest of the lot so don't expect much by the way of evening activities.

Distance from Sibiu: 93km, 1 hour 40 minutes by car.

Public transport alternative: Take a 2-hour train from Sibiu.
Day 7: Arrive in Sighisoara, get your bearings and tuck into hearty Romanian cuisine. After a week in bigger cities, it's the perfect place to unwind.

Day 8: Spend a leisurely day in Sighisoara. Things to add to your Romania itinerary include:
Casa Vlad, the birthplace of Vlad Tepes (the character Dracula is based on). This is one of the few places Romania capitalise on vampire tourism and it's as cheesy as it sounds! Give it a miss if that isn't your scene.
Climb the Clock Tower for surrounding views and visit the History Museum at the top
Climb the Scholar's Staircase and visit the Church on the Hill
Visit the various guildsmen's towers such as the Tinsmith's Tower and the Roper's Tower
Wander the colourful backstreets.
Where to stay in Sighisoara: The only hostel is Burg Hostel where I stayed. It was passable, nothing amazing but definitely the cheapest place to stay and just a moment's walk from the centre.

Guesthouse option: The period double rooms at Casa Wagner look comfier if you have the money to spend (€30 a night including breakfast).
DAYS 11-12: CLUJ-NAPOCA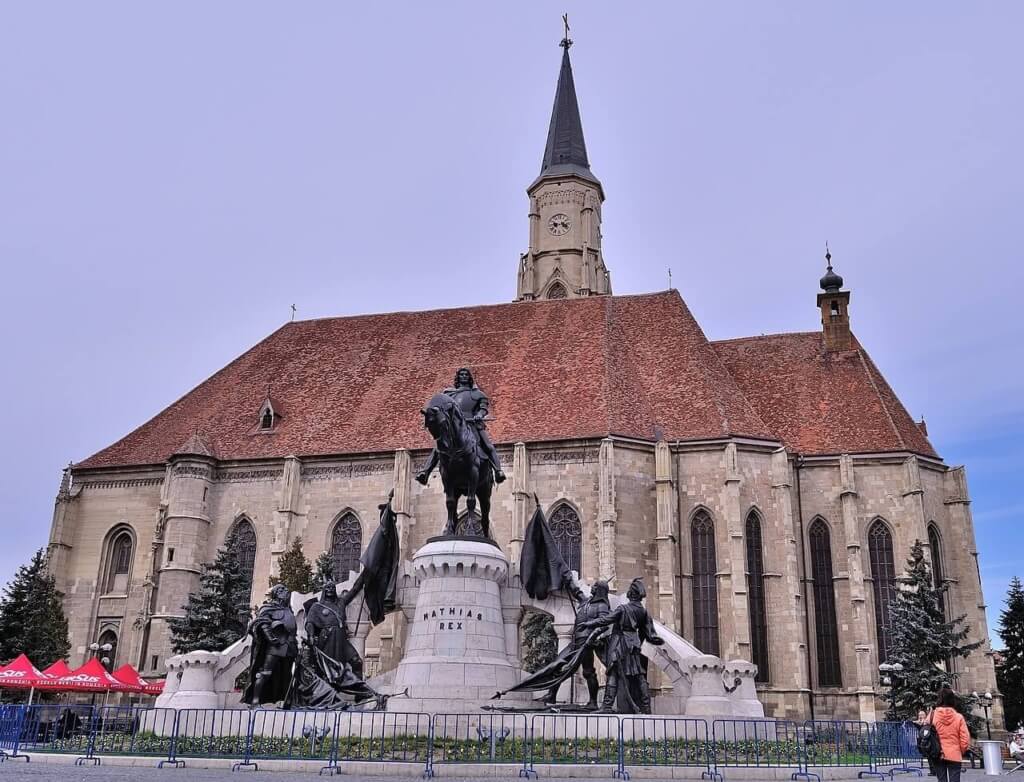 Romania's second-largest city has the country's biggest population of students which makes it a fun and lively addition to your Romania itinerary.

Despite being in the heart of Transylvania, it's somewhere to shake off the small-town vibe and appreciate the nightlife and arts scene.

Distance from Sighisoara: 155km, 3 hours driving.

Public transport alternative: Take a 3-hour bus or 3.5-hour train.

Day 11: Arrive and start exploring the city. Things to do in Cluj include:
Get panoramic views from Parcul Cetátuia
Admire the fancy National Opera House
Relax in the Botanical Garden
Wander Central Park
Go inside the Gothic St Michael's Church
Visit the National Museum of Transylvanian History and the Pharmacy Museum
Check out art galleries including Bánffy Palace (traditional art) or IAGA Contemporary Art Gallery.
Day 12: Spend more time in Cluj or why not take a day trip? Journey to Turda Gorge and explore underground in these old salt mines.

Where to stay in Cluj: The Spot Cosy Hostel has colourful rooms, free tea and coffee, breakfast and friendly staff. For a sunny yellow apartment with your home comforts, check out House Apartment Minerilor.
DAYS 13-14: TIMISOARA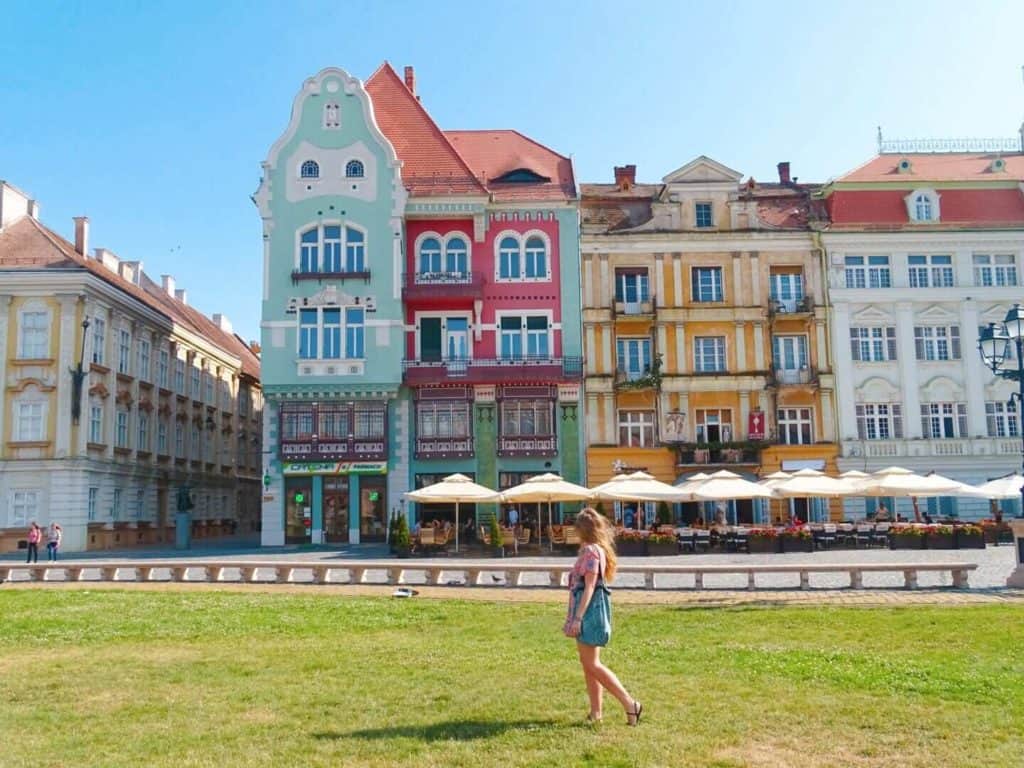 Beautiful Timisoara is a relaxed city with an open feel and friendly locals, the perfect end to your road trip in Romania.

Things feel a little more modern than in sleepy Transylvania so I was thrilled to find an avocado brunch and hipster flat white. As you're on the border with Serbia, you can even sample Serbian food in Timisoara. To summarise, it's a diverse and pretty city that shouldn't be missed from your Romania itinerary.
Distance from Cluj-Napoca: 314km, 4.5 hours driving.

Public transport alternative: 6 hours by train. There's a daily 3.39pm train that you could take on day 12 after a day of sightseeing or an early one departing just before 6am.
Day 13: Explore Timisoara starting with a free walking tour. Can you tell I love these by now? Options for the afternoon include:
Explore Union Square's different houses of worship, art gallery and quirky Casa Brück
Go inside the enormous Orthodox Cathedral capable of holding 5,000 guests at one time
Explore the other squares, Victory Square and Liberty Square
Learn about days gone by at the Communist Consumer Museum
Take photos on colourful umbrella street
Where to stay in Timisoara: I was hosted at InVerve Hostel which was amazing. The modern, fully-equipped apartment inside a period property has dorm rooms with curtains and private sockets, plus each guest is given eye masks and earplugs by the friendly owners, Dan and Simone who personally showed me around the city!

For a hotel option, the Mercure is easily the best in town.

Day 14: It's the end of your 2 weeks in Romania. Boo!
More Romania road trip destinations
This itinerary covers a lot but there's always more in this beautiful country. Here are a few places for extra inspo if you have time or fancy swapping these into your Romania road trip itinerary:
Take a trip on the Danube Delta home to fascinating wildlife. Book a slow boat tour from Bucharest.
Fancy some beach chills? Romania may not be well known for its beaches but it should be. Visit Mamaia located on the Black Sea for plenty of sandy white beaches.
Painted Monasteries – head to northeastern Romania and you'll find these otherworldly buildings painted with scenes from 15th-century life.
The Merry Cemetry of Sapanta – a bizarre place where colourful graves depict how the deceased passed away.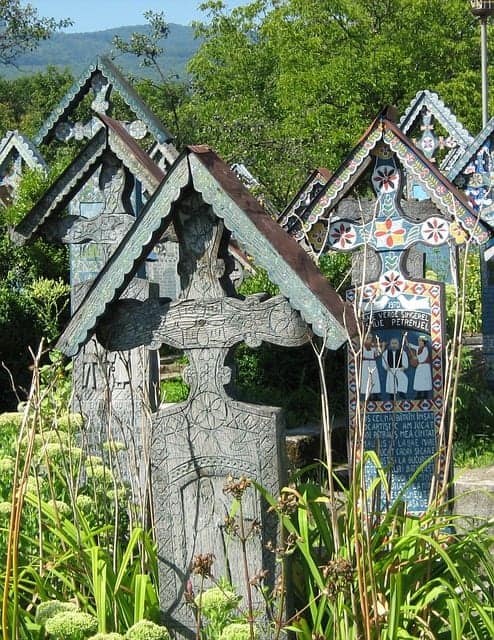 Budget for a Romanian road trip
How much did I spend during 2 weeks in Romania?

Not a lot! My total spend from 2 weeks in Romania was €460, comprised of staying in hostels and eating a mix of restaurant and home-cooked meals.

Here's a rough breakdown of Romania travel costs:
Accommodation – beds in hostel dorms start at €13 per night / modest guesthouses start at €25 per night
Car hire – expect to pay around €200 per week (or less if you're collecting and dropping off from the same location)
3-course meal and drink in a modest restaurant – €10
3-course meal and drink in a nicer/touristic restaurant – €18
Meal at a market – €3
Supermarket – litre of milk (€1), loaf of bread (€0.50), dry pasta (€0.50).
Read more Romania food costs here.
Foodie visiting Romania?

Eatwith is the world's largest community for unique culinary experiences. With cooking classes and workshops, Eatwith connects guests with friendly, hand-selected hosts for unique, immersive experiences. Browse food activities in Romania.
Thanks for reading my Romania itinerary!
I had such a great time exploring the traditional, friendly and beautiful land of Romania. If you have any questions, drop them in the comments below and I'll get back to you.
Check out my other Romania blogs:
Check out my other Europe blogs:
For more travel content, follow me on Instagram, Facebook, Twitter and YouTube.
See you next time for more adventures,
Rose
Ps. Liked this Romania road trip? Pin it for later!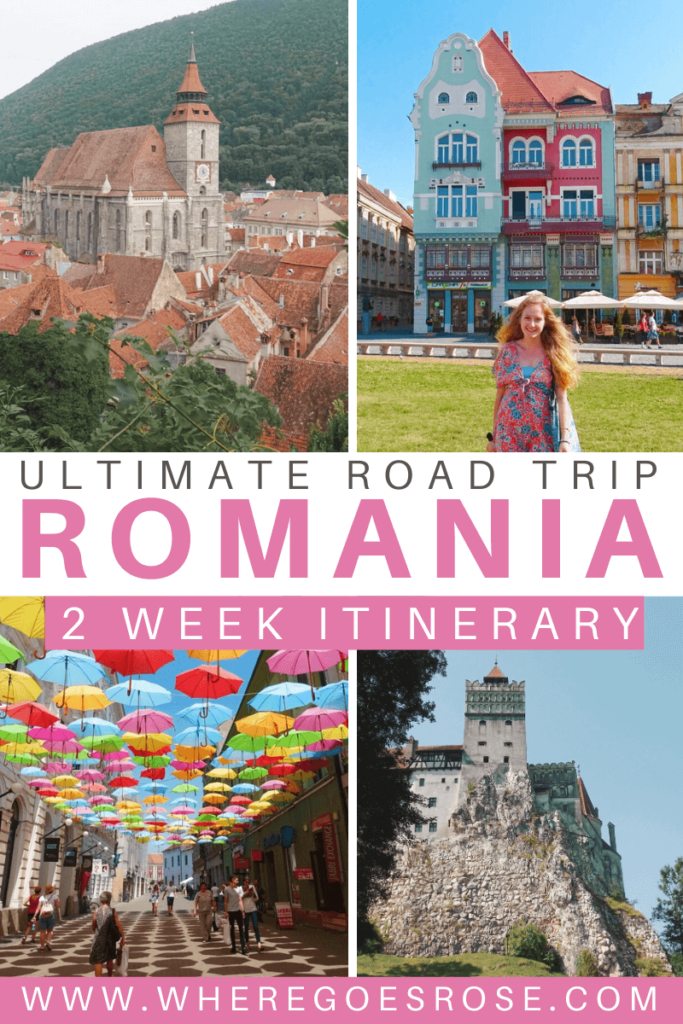 TRUSTED RESOURCES FOR VISITING ROMANIA

Getting around by air – I use Skyscanner and Kayak and search by month to see the cheapest dates.

Driving in Europe – use Rentalcars.com to compare car rentals in European countries (and all around the world).

Confused about visas? I use iVisa to check visa requirements and apply for visas online.

For trains, use CRF Calatori to search times and book tickets. For buses, book at Autogari.

To catch buses in and out of Romania (from Bucharest and Sofia), use FlixBus. Find journeys between European countries from €1!

For hotels and self-catering apartments, I use Booking.com. You can filter by review score and price to find the best-rated budget places. For hostels, I use Hostelworld.com.

Browse tours and activities on GetYourGuide.

Need travel insurance? I use World Nomads. They cover 150 countries and have 24-hour emergency assistance.

Check out my resources page for more travel discounts and budget tips from my 10+ years on the road!