This post may contain affiliate links to things like tours, hotels, Amazon associates and products. These help me earn a small commission at no additional charge to you.
The city was already awake as I waited for my tour pick up. In fact, it seemed like Saigon had been alive and kicking for several hours.

From my base in District 1, food vendors were serving bahn mi and pho from street carts, and merchants were coercing tourists into their stores with talk of massages and mani-pedis.
My Trip Guru tour guide, John, pulled up to my hostel at 8am to begin our tour. He asked if I'd been on a scooter before and I explained I love going on the back but wouldn't want to navigate Saigon's hectic roads myself!
He made me feel very secure, checking if my helmet was tightly fastened and whether I was comfortable before pulling off. As soon as we hit the tarmac, I knew I was in for a taste of the real Saigon. Families of four were piled on the back of scooters, the swerving traffic waited for no man, and the city was alive with sights and smells.

I couldn't wait to see what it had to offer, and learn about the history from a local.
For an Asian city that was ruled by the French for over 60 years, Saigon is full of stunning architecture and quirky character. Known as Ho Chi Minh and Saigon interchangeably, its history is closely tied to the American-Vietnamese War, during which it was the US headquarters.

For as many historical facts as there are to learn about Saigon, there are just as many cool spots to explore. Here are the ones I experienced during my half-day adventure with Trip Guru…
Local life at Ban Co Market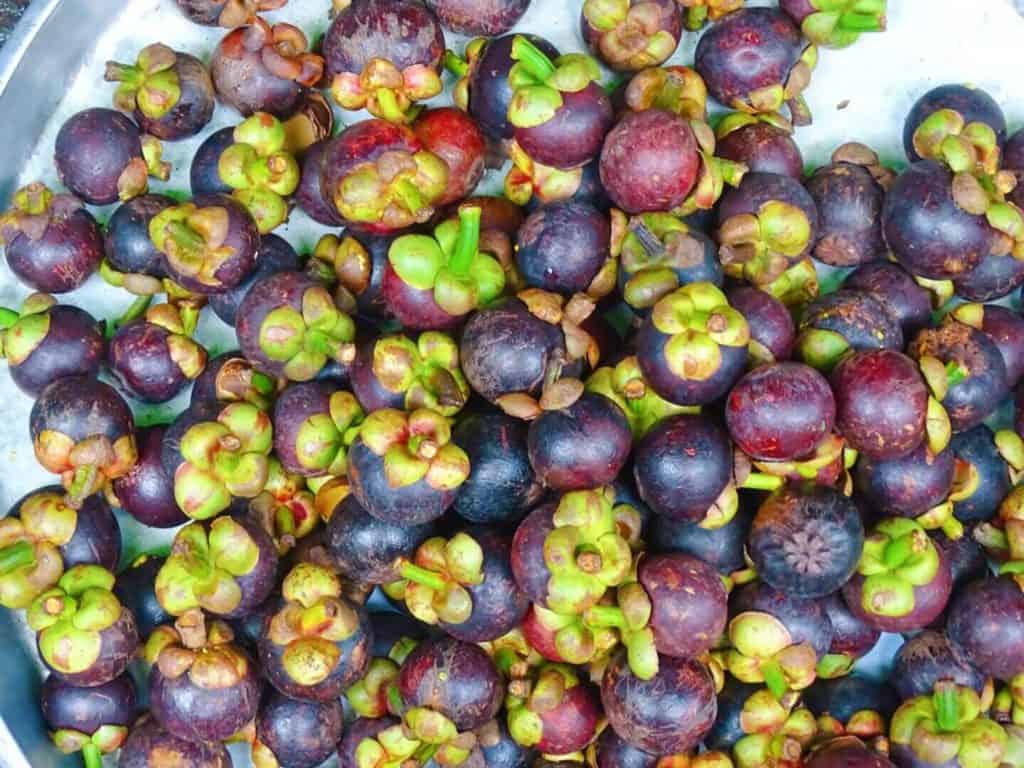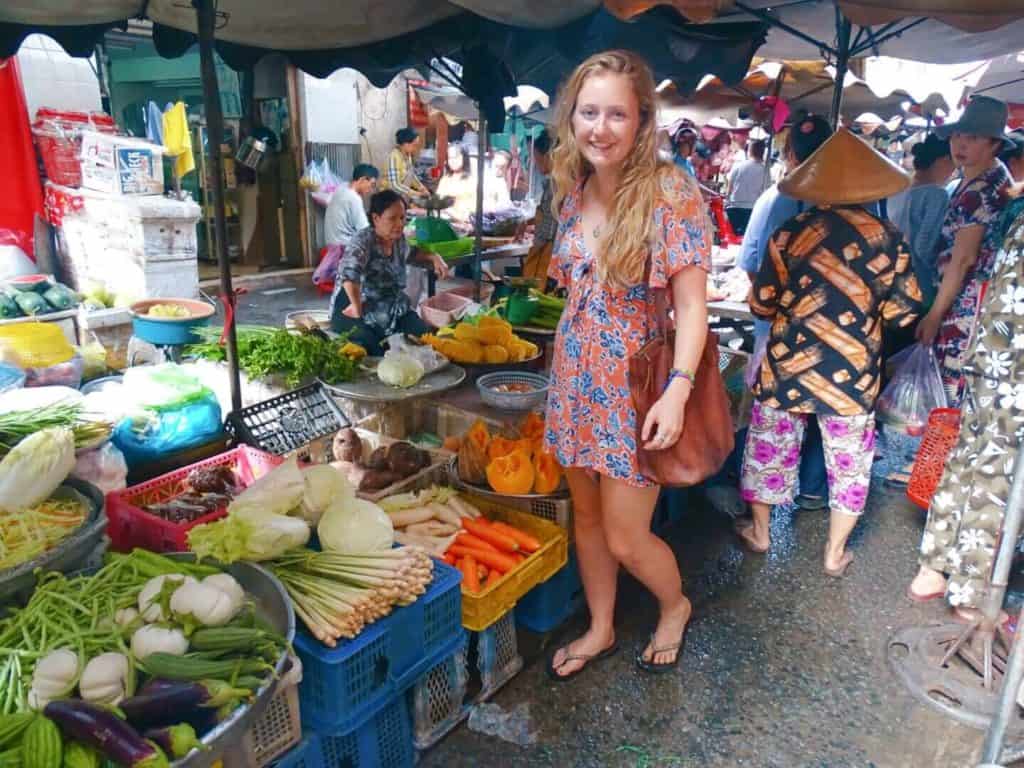 The day started on a high as John explained we were off to a local market. I didn't realise just how local this would be and it turned out to be right up my (very crowded) street. Personally, I love ditching the more touristic areas when I travel and hanging out where the locals do.

John's in-depth knowledge of Saigon was great as I'd have never known about Ban Co myself, and we didn't see one other tourist there!

As soon as we reached the crowded entrance, I braced myself for the sea of sounds and smells inside. Cleavers hit chopping boards silenced by slabs of meat; fish splashed in plastic tubs unaware of their fate; and voices were raised amongst the clamour. If the locals were surprised to see me, they didn't show it.

They smiled warmly as I called out 'xin chào!' and squeezed through the tight alleyways under low-hanging awnings. Purple potatoes, bright yellow mangos and colourful spices were some of the many goods I spied before we emerged, blinking into the bright daylight on the other side.
French history at Notre Dame Cathedral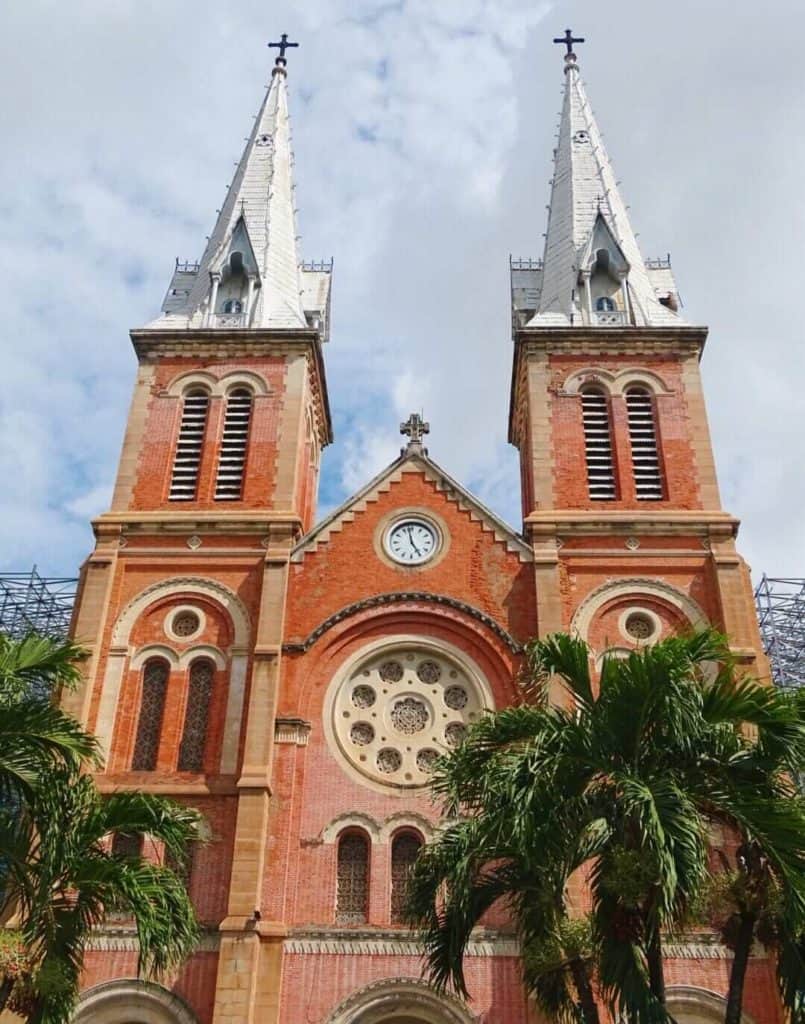 From a hidden gem to one of Saigon's most famous sights, John and I continued to our next stop. You might be wondering what the sister of a Parisian cathedral is doing in Vietnam, and the answer comes down to French rule.

This impressive place of worship was completed in 1880 when Vietnam was a French colony and, despite the fact that Buddhism is the most common religion today, it remains a well-loved feature of the city. In 2005, it was reported that the Virgin Mary statue shed a real tear.

While this remains unverified, the crowds it attracted were in the thousands and police even had to stop traffic to the area.
The beautiful Central Post Office, Opera House and City Hall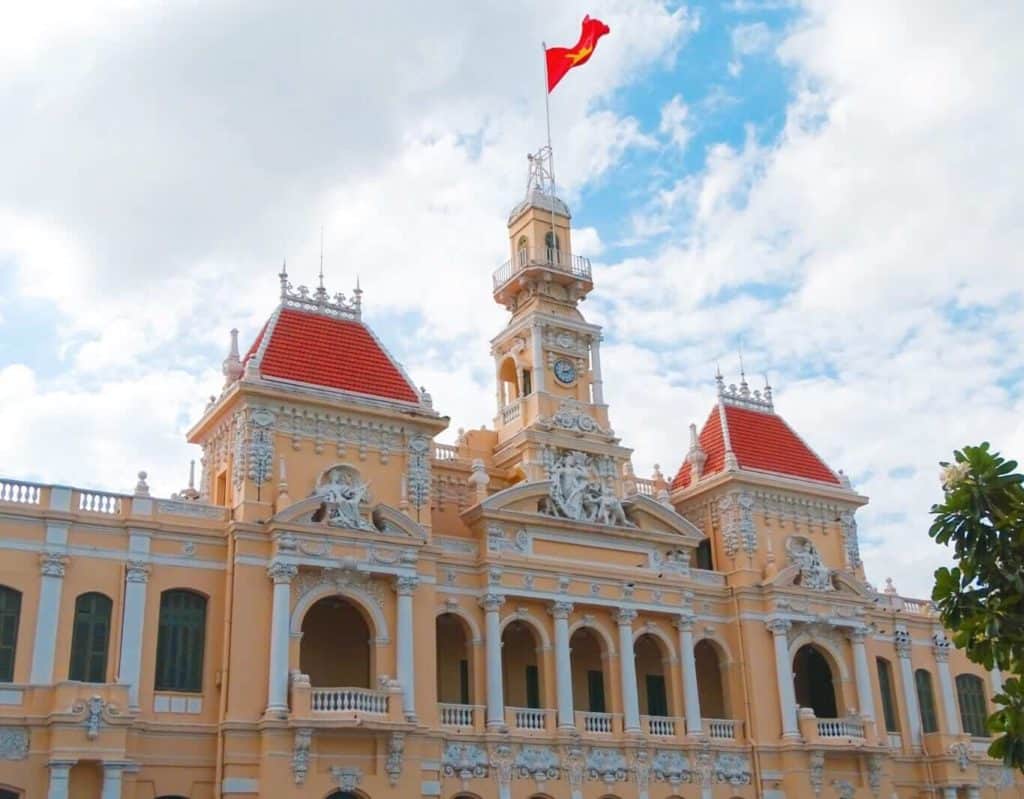 En route to our next stop, we whizzed through the Bến Nghé area which is home to some favourite tourist spots. The Central Post Office, Opera House and City Hall are all built in spectacular French colonial style, perfectly preserved to look as they did 100 years ago.

Whether you opt to spend time at one or all three, you won't find many spots in Saigon that are easier on the eye. They may be totally different to the rest of the city, but one of the things I love most about Ho Chi Minh is its sense of diversity!
Ben Thanh Market AKA shopping heaven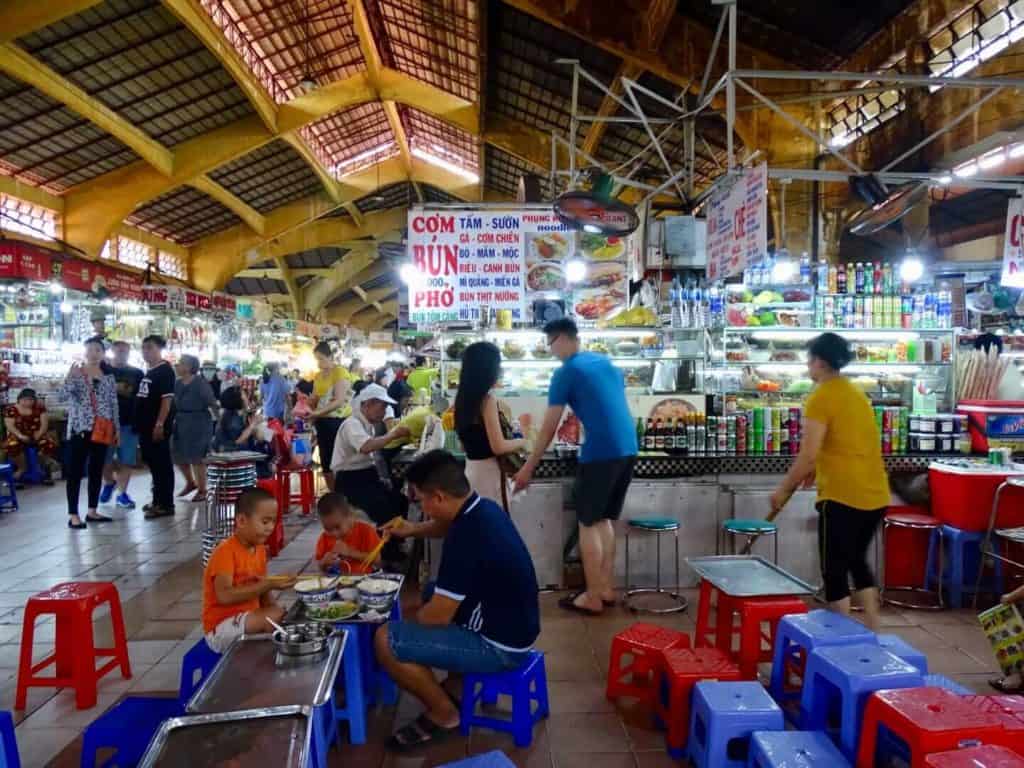 I hopped back on John's scooter and we swung by the most popular market in Saigon, the Ben Thanh Market. Here you can buy almost anything under the sun, be it elephant pants or authentic Vietnamese handicrafts.

I'd admit after my local market experience that morning, Ben Thanh felt a little touristic and pricey – but John did provide me with a helpful tip which was to always start haggling at half the quoted price! Since 2015, there's also been an atmospheric street food section of Ben Thanh just across the road.

Later that afternoon, I chilled out there with a smoothie and a couple of fresh spring rolls – heaven!
The War Remnants Museum (tissues at the ready!)
My top tip for the War Remnants Museum? Bring a solid wad of tissues. The museum details the 3 million lives lost during the American-Vietnamese War and the effects of Agent Orange chemicals which still affect individuals today.

It's not an easy or comfortable place to visit, but it could be described as an 'essential' for any trip to Vietnam. In my opinion, a quick visit as part of a tour provides a good introduction, but I'd personally recommend coming back to spend a half-day if you have time – there's a lot to take in.
Finding peace at Jade Emperor Pagoda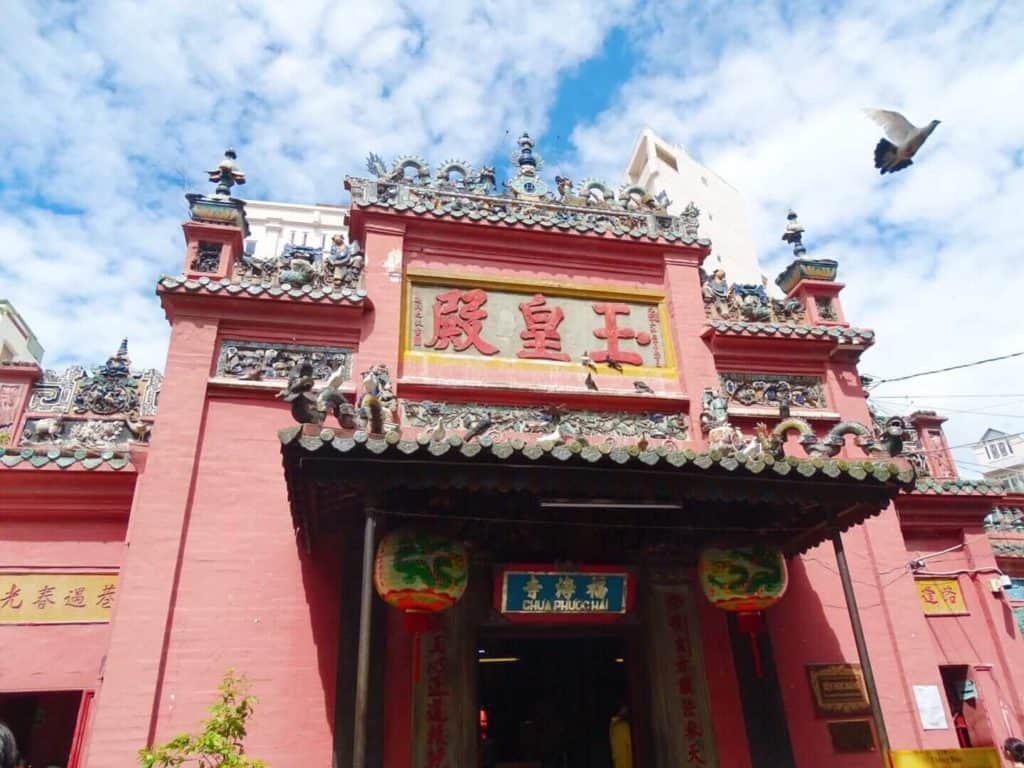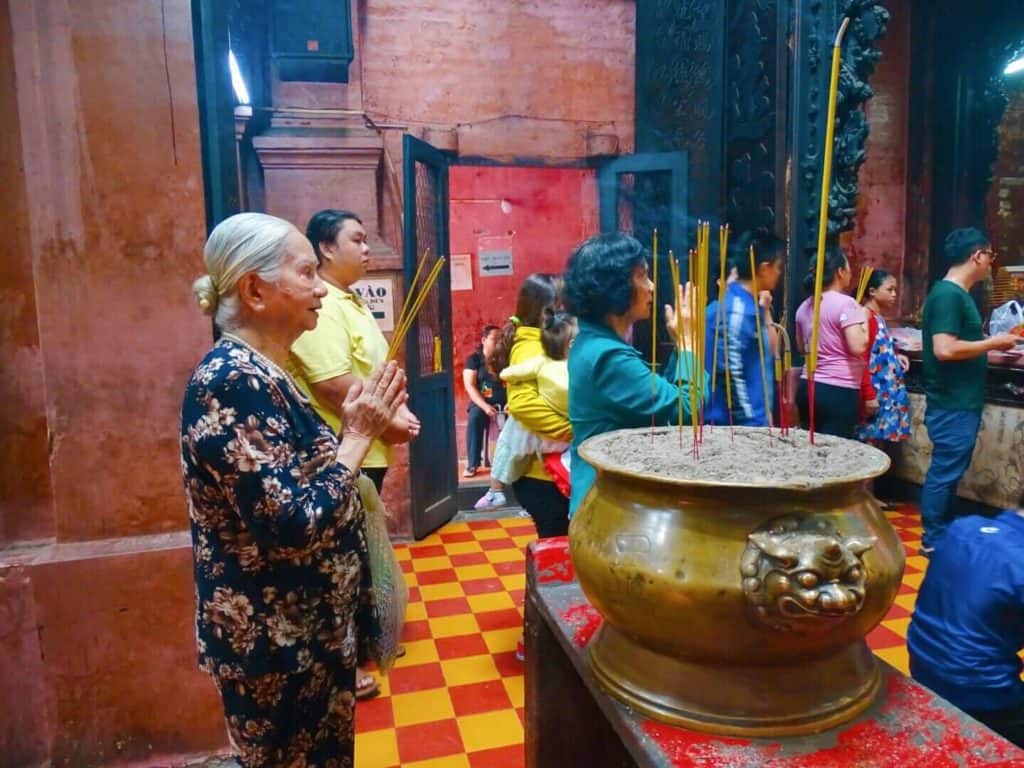 Next, I was in for a real treat. We headed to the Jade Emperor Pagoda, locally known as the Ngoc Hoang Pagoda. Not only was it a beautiful and peaceful stop, I gleaned a wealth of local knowledge from John. These are just a couple of facts I learnt:
Pagodas and temples are different. A pagoda is a place where the Buddha is worshipped, whereas a temple is a place that may worship many different gods.
Straight sticks of incense are burned only for those who have died, whereas incense spirals are designed for those still living. It's thought that praying under these spirals will make your wishes come true.
Locals believe that the dead still need all the things they do on Earth, so people often burn paper iPhones and cars so that they will materialise into the real items when they reach the heavens.
Surprise stops – Chinatown and Ho Thi Ky Flower Market
A perk of being in a small tour group (in fact, I was the only one on the tour that morning!) was that it could be tailored around what I wanted. John got a feel for my interests and suggested we head to Chinatown to see some more local life.
I didn't even know Saigon had a Chinatown but as we whizzed through streets adorned with lanterns and dragon costumes, I realised it was thriving! We stopped at the area's Thien Hau Temple, which John explained was dedicated to the goddess of the sea.

It was a little quieter than the Jade Emperor Pagoda and just as beautiful with hundreds of incense spirals hanging from the ceiling, and intricate, colourful carvings decorating the walls.
We also pulled in at Ho Thi Ky Flower Market where I snapped some photos and John picked us up a refreshing sugarcane juice each – perfect for sightseeing in the heat!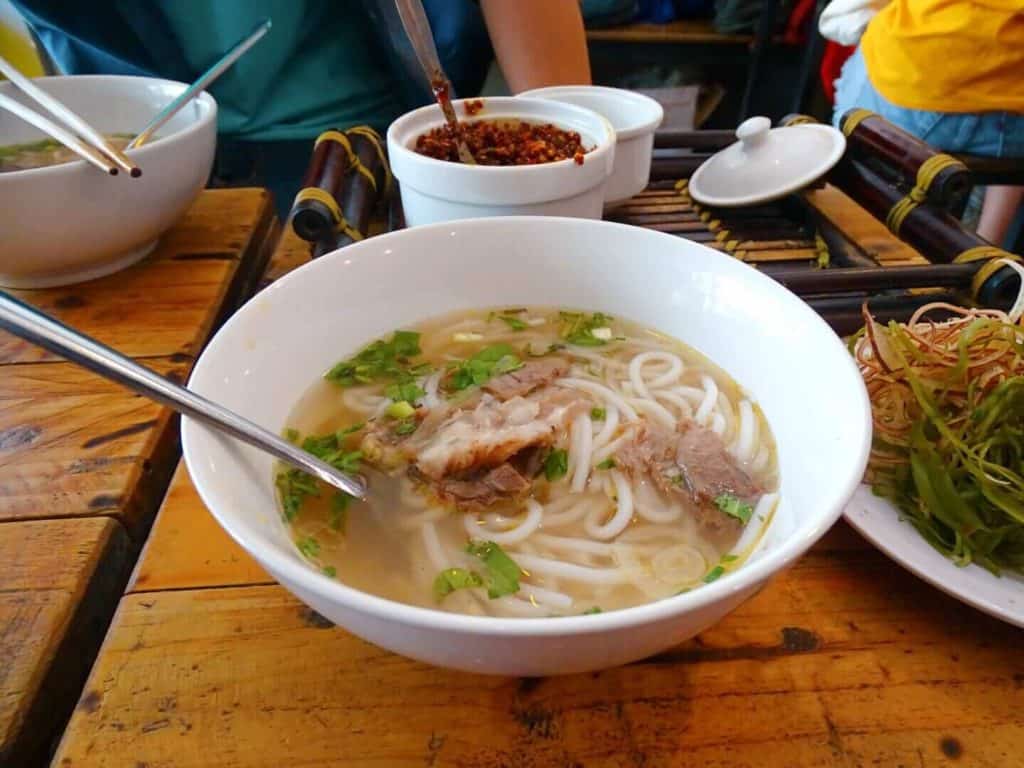 A pho-nomenal lunch
Phew – after a busy morning I was ready for lunch. John announced we would be having beef noodle soup to which I exclaimed 'pho!'… and was only half wrong. My mind was blown to learn that the two are not entirely the same. Apparently, pho is served with flat noodles whereas noodle soup comes with round noodles and a broth flavoured with lemongrass and citrus.

This dish originated in Hue in the centre of Vietnam and is now popular in Saigon, too. I can see why as it was absolutely delicious!
This wasn't the only pho fact I learnt as John told me that pho is pronounced quite differently to how Westerners usually say it. It's said 'fff' and isn't followed by an 'o' sound. When you say it this way, it actually translates as 'prostitute'. John told me the locals find it quite funny when Westerners get this wrong, which apparently is about 98% of the time!
Over lunch, John and I chatted a little more about life in Saigon. It was great to get local insight especially from someone my age. Even though we packed loads into our morning, John left me feeling inspired to visit plenty of other spots around Saigon… Will my wanderlust ever end?

Probably not, but at least I can now order pho without embarrassing myself. That basically makes me a local, right?
Looking for more things to do in HCM + itineraries? Read my guide to the 20 best things to do in Ho Chi Minh.
Thanks for reading!
Note: while I travelled as a guest of Trip Guru, all opinions are my own.
If you liked it, please share it 🙂
See you next time for more adventures,
Rose