This post may contain affiliate links to things like tours, hotels, Amazon associates and products. These help me earn a small commission at no additional charge to you.
How much did I love Seoul street food? I'm considering moving there just to eat it all. It's spicy, meaty, calorific and, unlike many other Asian cuisines, is heavy on the cheese. What's not to love?

You could say Korean food is an acquired taste. When I first arrived into South Korea from Taipei, I wasn't blown away. I liked bibimbap but some of the other foods didn't grip me at first try. Fish cakes and rice cakes had a texture I wasn't used to, plus many things were fermented or very fiery.

Little did I know I was going to become addicted to these textures and flavours during my trip. My best Korea tip is to embrace spiciness if possible!
SEOUL ESSENTIALS

Accommodation: Booking.com / Hostelworld

Activities: Viator / GetYourGuide

Getting there: air (Skyscanner) / Train (Trip.com) / bus

Food experiences: EatWith

Getting around: Subway, bus, taxi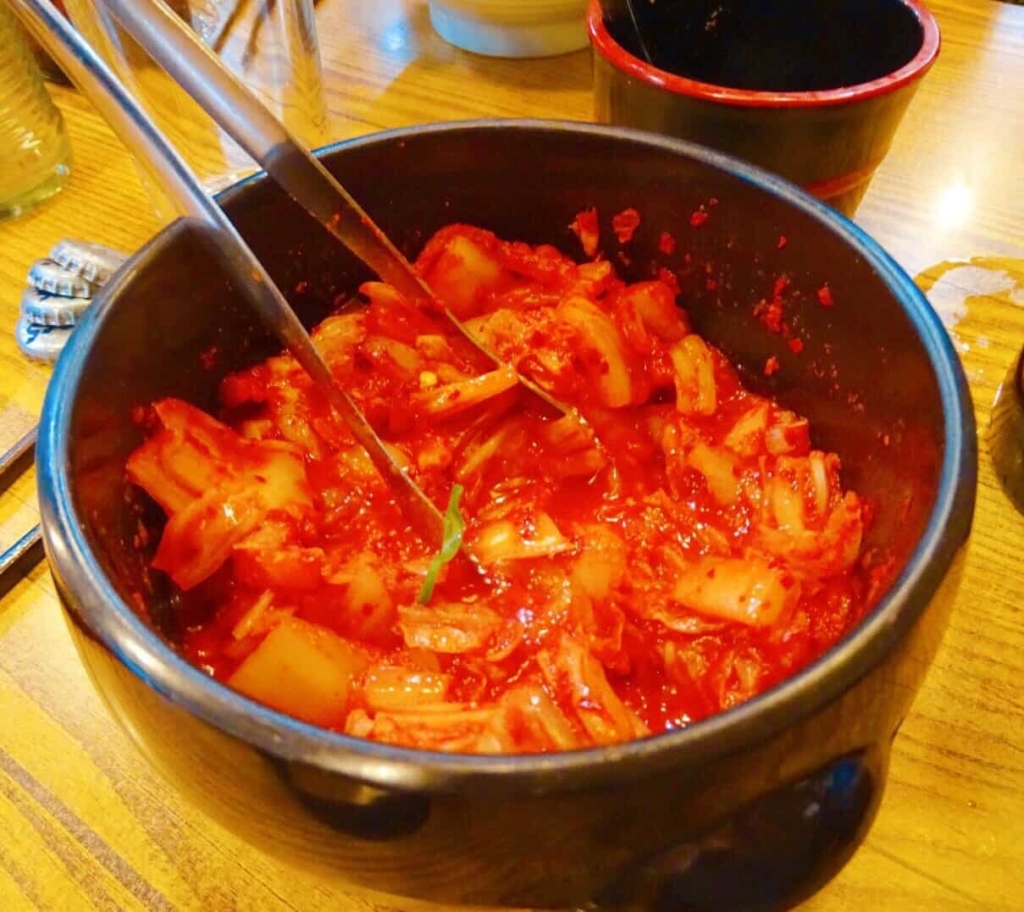 It was the street food in Seoul that really got me hooked. There are an abundance of world-class street food markets that won't be found elsewhere in the country.

In smaller Korean cities like Jeonju, Daegu and Gyeongju, there were more cafes and restaurants than street food. There were a few food markets in Busan but nowhere near as many as Seoul. You can't beat the capital for affordable, delicious cuisine!
If you love food around the world, I would suggest you explore the Seoul street food and add the many excellent day and night food markets to your Seoul itinerary.
If you need more reasons to suss out the Seoul street food scene, here they are:
Eating street food is the best way to save money, often less than a quarter of restaurant prices
Seoul night markets are exciting and vibey places to experience the culture and meet locals
Grabbing food on the go leaves you more time for sightseeing and nightlife.
Best Korean street food in Seoul
First, let's run through the best dishes found on the streets of Seoul. Once you know what to look out for, you'll be better equipped to get stuck into the food markets and at least be able to guess what you're ordering. Although saying that, ending up with a mystery dish can be half the fun!
Tteokbokki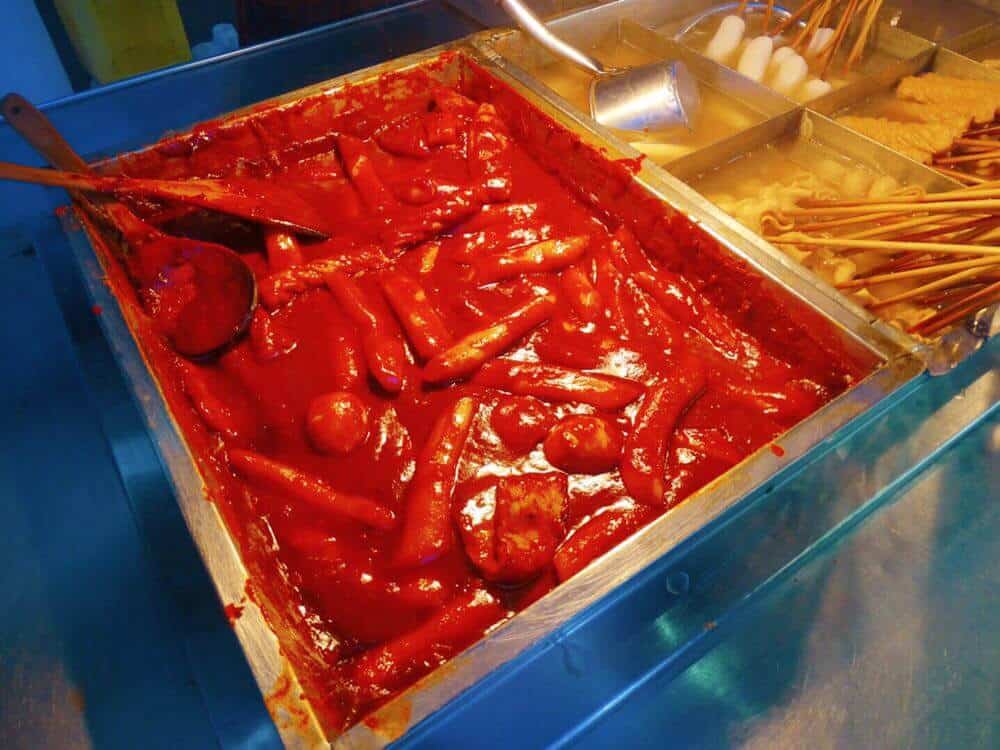 When I first tried tteokbokki, it wasn't what I expected. The luminous red sauce looked like it would be sweet and sour but actually it was hot and fiery with a kick that left me craving a milky drink.

Tteokbokki contains rice cakes and fish cakes with an unusual chewy texture. They don't have a strong flavour but they don't need to, they're more for texture and sustenance in this already flavoursome dish. When eating tteokbokki as street food, it usually just includes the sauce and rice cakes, but restaurants often serve it with noodles and melted cheese, too.

Tteokbokki is super, often served for 3,000 won. If you're travelling Korea on a budget, this dish might not keep you healthy but it will keep you full for hours. Even though I wasn't sold at first, I became a bit addicted to the spicy kick and chewy texture. I haven't seen it since leaving Korea.
Gimbap
These snackable morsels are served are an affordable Seoul street food served everywhere from supermarkets to Seoul food markets. Cooked rice is served inside sheets of dried seaweed along with other ingredients like ham, cucumber, carrot and cooked egg.

They're usually made into cylinder-shaped rolls and cut into bitesize pieces. Yes, it's like sushi but you won't make any friends by mixing the two up! Gimbap doesn't have an overwhelming flavour so I love these served with some kimchi or dipping sauce.
Tempura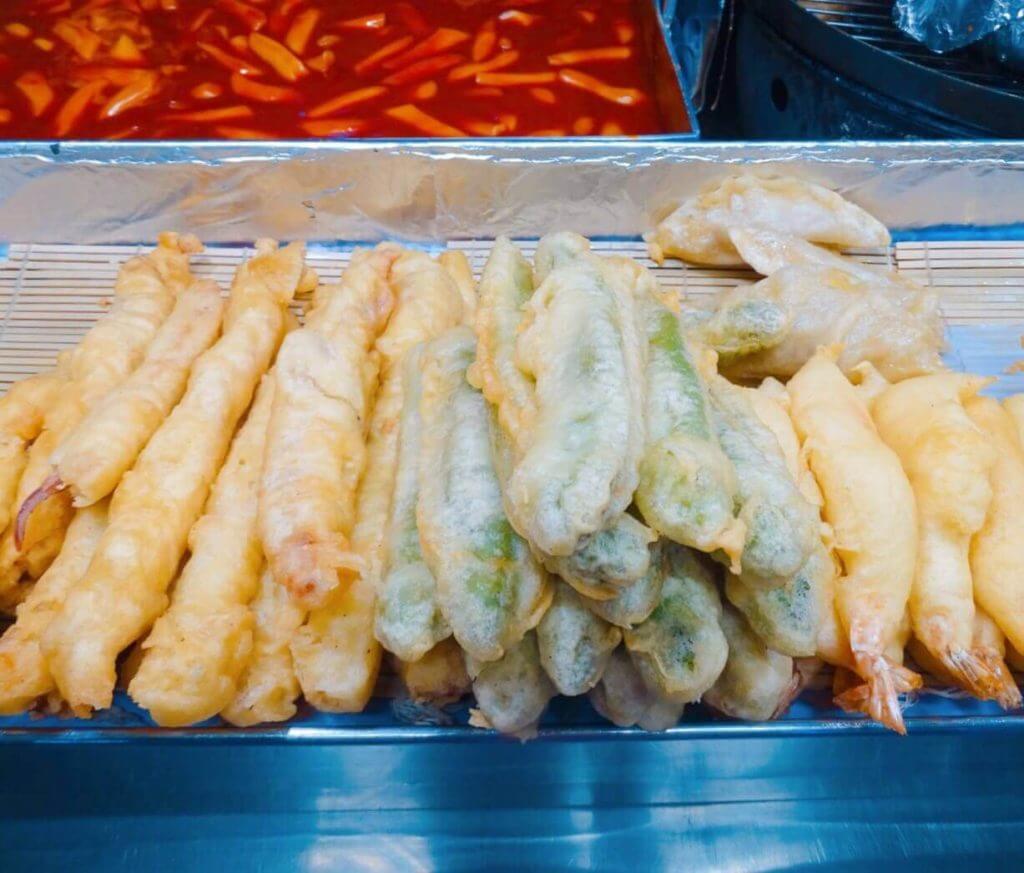 By the time you've been to one or two Seoul night markets, you'll have seen tempura. These deep-fried delicacies are cheap and tasty, if not particularly healthy.

Pretty much anything can be made into tempura: veggies, seafood, potatoes, taro. You can usually point at what you fancy and get a mix of tempura goodies to eat there and then (tempura never tastes good cold).
Haemul pajeon
Yet another oily and indulgent Seoul street food is haemul pajeon, what we might call it a scallion pancake. These are a type of buchimgae which basically means any kind of Korean pancake. Haemul pajeon is a variation that includes spring onion but, aside from that, it can be made with any number of ingredients like pork, leek, kimchi and squid.
Bindaetteok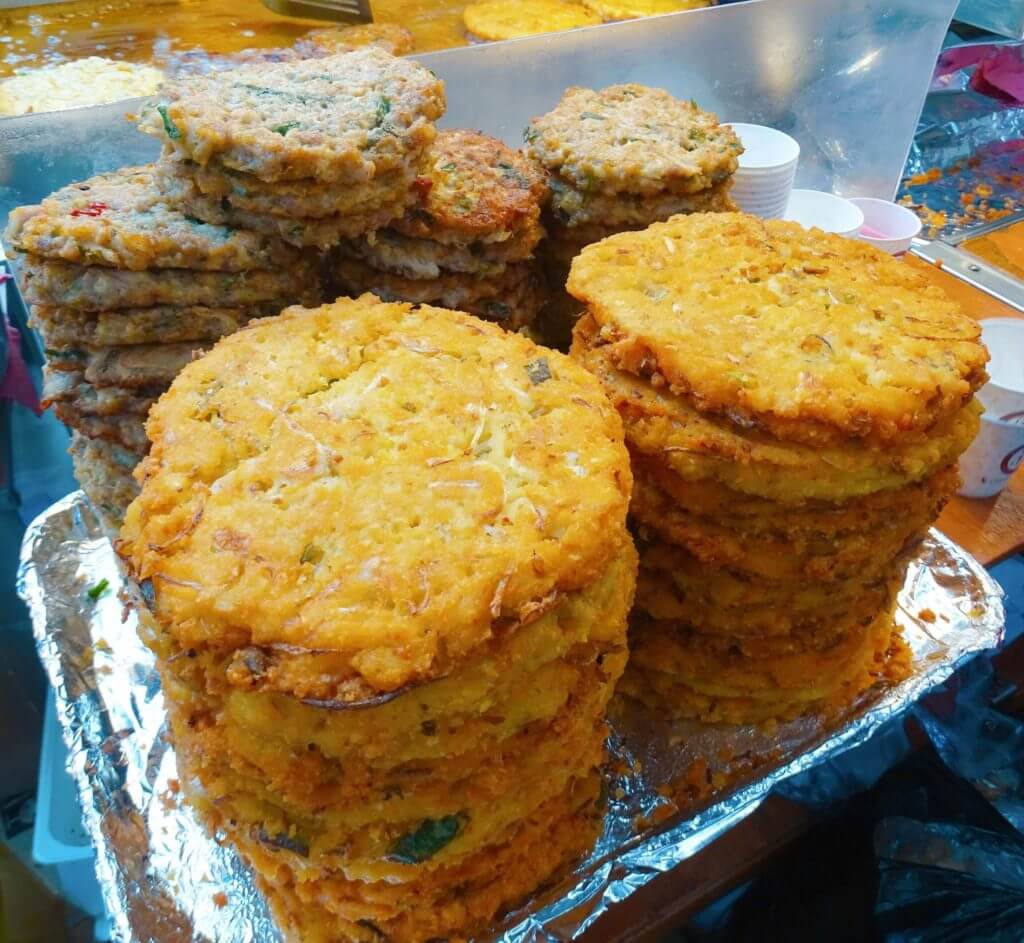 As an old proverb (that I just made up) says, why settle for one pancake as you could have two? Bindatteok are mung bean pancakes fried with meat or veggies. They originate from North Korea but today they're a popular Seoul street food sold for a few thousand won at night markets.
Hotteok
To cancel out all the sweet pancakes I've just discussed (and that I hope you're planning to eat), sample the sweet Korean dessert called hotteok. These are shaped like a pocket and stuffed with honey, nuts and seeds. You can buy these for as little as 1,000 won. Why not get five?
Hot dogs
You probably didn't expect hot dogs to make a list of best Korean foods but here we are! These hot dogs are called gamja and they're often stuffed with potato, oozy cheese and even French fries. After a night out, I really craved one of these battered cheesy hot dogs dipped in spicy sauce.
Soft serve ice cream
Young Koreans love the trend of soft-serve ice cream in a range of fantastic flavours. Obviously, my favourite was matcha but you can also get charcoal, taro and all your usual fruit flavours.
KFC (Korean fried chicken)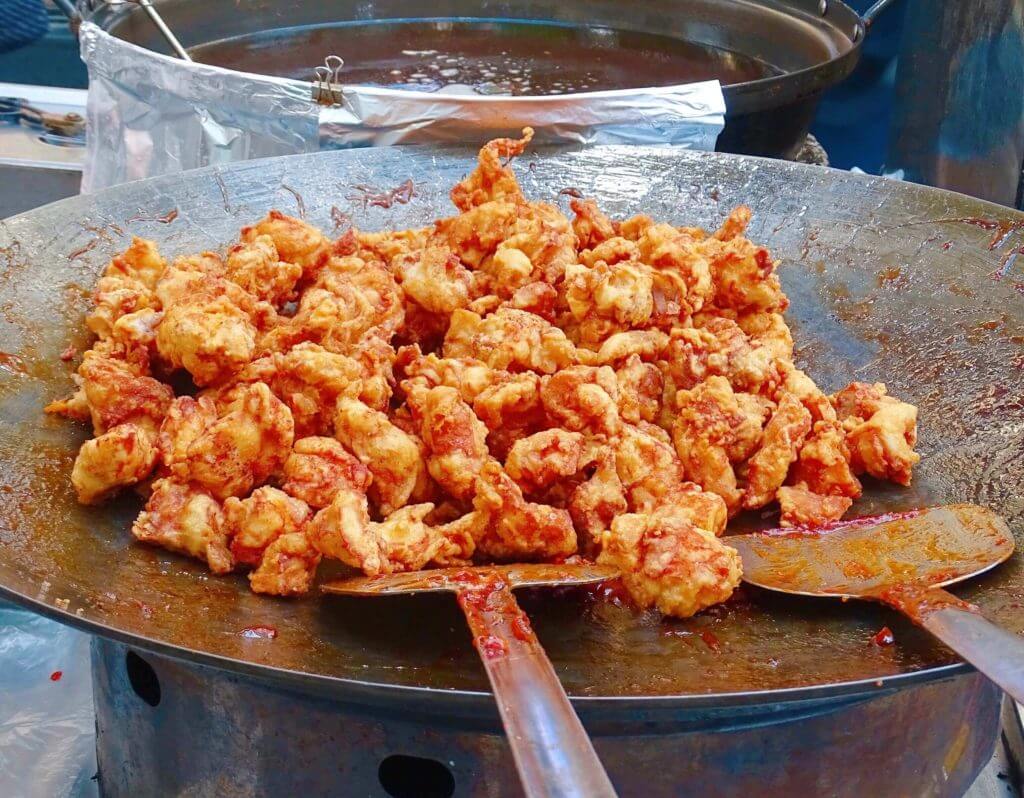 As you can tell from these last few items, Seoul street food isn't all about traditional dishes. Koreans love modern foods from around the world but always serve them with a twist. Rather than buttermilk batter, Korean chicken is usually coated in a sticky glaze.

Eat it as a starter or anju which means 'food with alcohol'. Chimaek means fried chicken and beer.
Where to eat Seoul street food: Seoul night markets
Since there's no point telling you what to eat but not where, this next section is all about the Seoul street food markets.

Depending what time of day you're exploring and whether you want lunch or dinner, you can check out any of these atmospheric food markets in Seoul.
Myeondong Night Market
Seoul's beauty district, Myeondong, will likely be on your radar when visiting Korea. An added bonus is this vibey Seoul night market. The world-famous beauty stores of Myeondong are joined by hundreds of open-air food stands serving every type of Korean street food imaginable.

When the avid shoppers and hungry diners are combined, Myeondong Night Market is one of the most lively and atmospheric corners of Seoul. Visit for the shops and stay for dinner!

Best things to eat: The tteokbokki I ate at Myeondong Night Market was delicious. You should also try the kimchi and seafood pancakes at this street stall if you can find it.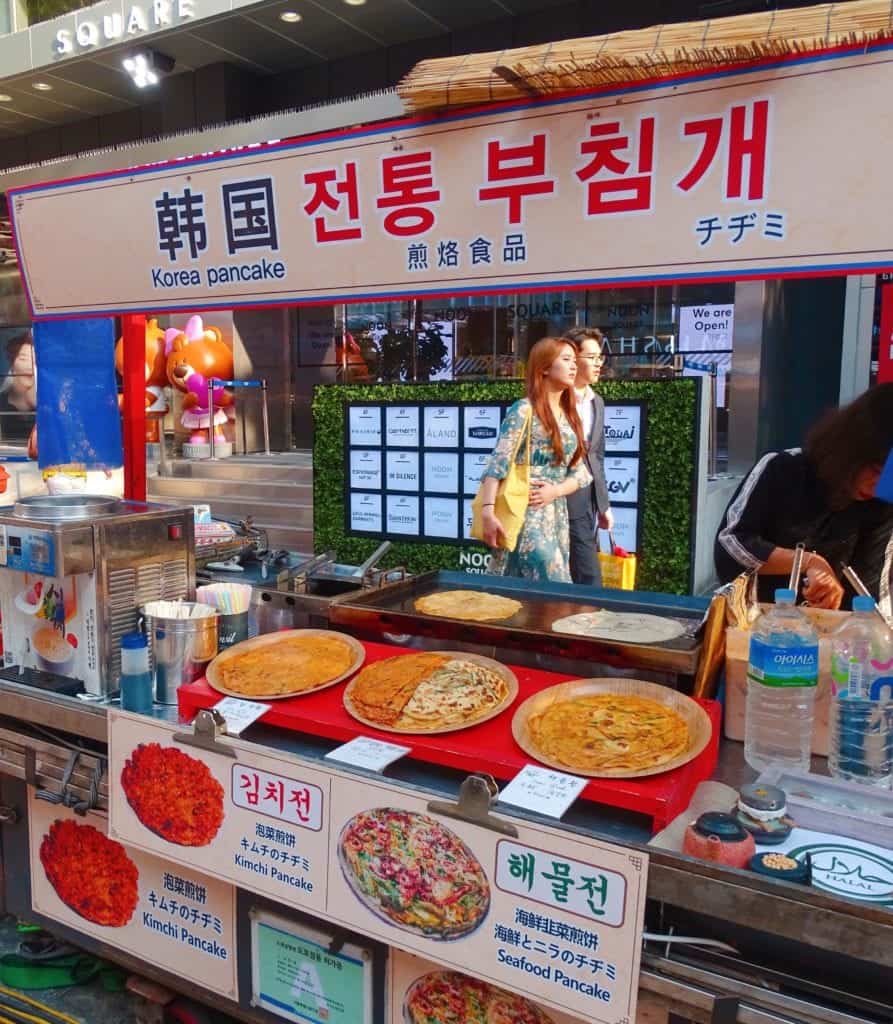 When to visit: From 4pm 'til late Monday to Friday and from 2pm at weekends. I'd recommend visiting at dinner time when it's most atmospheric.

How to get there: Exit Myeondong Station and you're there.
Hongdae Food Stands
No evening strolling crazy Hongdae would be complete without dining on authentic street food at a Seoul night market. While I'd suggest spending at least one evening strolling Myeondong's maze of beauty stores, I'd recommend spending at least one more in Hongdae.

Here you'll find live music, open-air entertainment, quirky cafes, busy restaurants and plentiful street food. Hongdae is mad but I love it!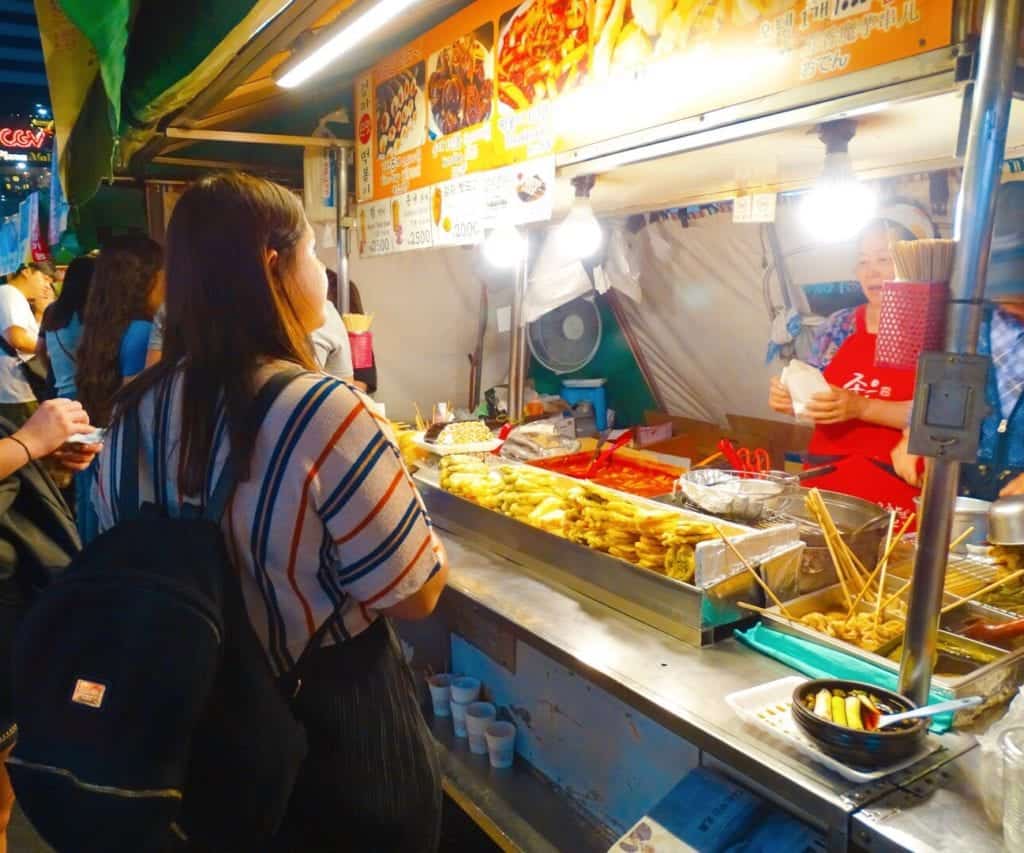 Best things to eat: I tucked freshly-battered tempura for 2,000 won. You'll get a generous portion of seafood or vegetables which you can mix and match. Clutching a paper bag oozing greasy morsels, I knew this wasn't healthy but I didn't care!
How to get there: Arrive into Hongik University Station and follow signs and noise to the busy heart of Hongdae. Once you're there, you'll find this Seoul night market in front of you. I'd recommend finding the alleyway across from H&M where I had some excellent bingsu.
When to visit: From 7pm when Hongdae is alive and bustling.
Dongdaemun Night Market
Rather than just one market, Dongdaemun is a giant shopping district with many shopping malls. Visit in the evening and head to Gwanghui Market or Jeil Pyeonghwa Market where there are countless food vendors serving some of the best street food in Seoul.

These stands apparently stay open until 2am but I wasn't there to verify this. Unlike more traditional Seoul night markets, there are lots of modern & western foods to try as well as local favourites, too.
When to visit: From dinnertime to the early hours.
How to get there: Exit Dongdaemun Station and you're in the thick of it.
Namdaemun Market
Namdemun is one of the biggest Seoul night markets, as well as the most authentic. There's a giant outdoor section that's open all night and mainly sells clothes and accessories. There's also a tightly-packed indoor section where vendors serve their local food passed down through generations but this closes at 6pm.

Rather than the modern dishes found at other Seoul street food markets, the fare at Namdemun Market is more traditional. Prepare to see butcher stalls and all parts of the meat – not for the faint-hearted!
When to visit: My friends and I made the error of visiting for dinner when things were beginning to close. We'd heard Namdemun Market was open all night but it this only applies to the outside section. The indoor section with the best street food shuts at 6pm. Visit earlier for food or anytime for shopping and exploring!
How to get there: Exit via Hoehyeon Station and follow signs.
Where to eat Seoul street food: day markets
The following Seoul food markets are best for grabbing breakfast or lunch and rubbing shoulders with the locals before they shut in the late afternoon. Don't miss…
Gwangjang Market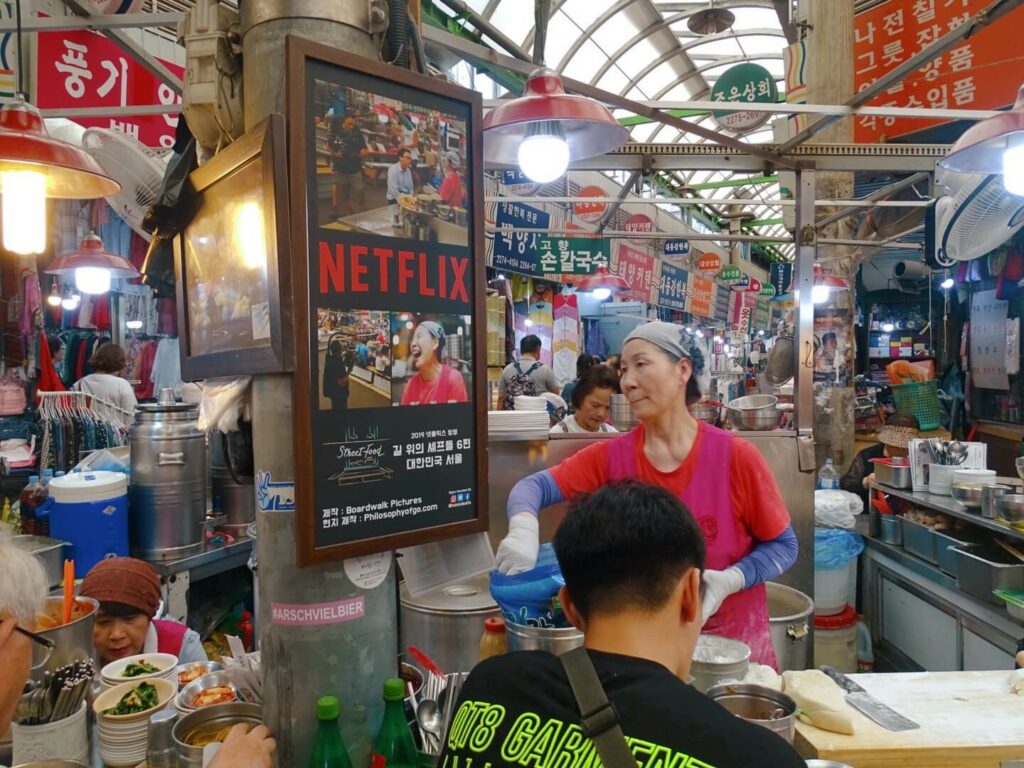 For an authentic Seoul street food market that serves tasty local delicacies all day long, you really can't do better than Gwangjang Market. This indoor food hall is enormous so don't tuck into the first thing you see otherwise you'll have food FOMO later.
I had a lucky break at Gwangjang Market. I'd loved the Netflix Street Food documentary which I'd seen a few months before had but totally forgotten that the South Korea episode had been set at this very market.
Luckily, I stumbled across Cho Yonsoon's knife-cut noodle stall by accident and the memories came rushing back. Despite the fact I'd just eaten delicious Korean fried chicken, I tucked into a steaming bowl of soup dumplings made with freshly-rolled dough.

They were delicious and went nicely with a side of tangy kimchi. But what doesn't go well with kimchi? I'm obsessed.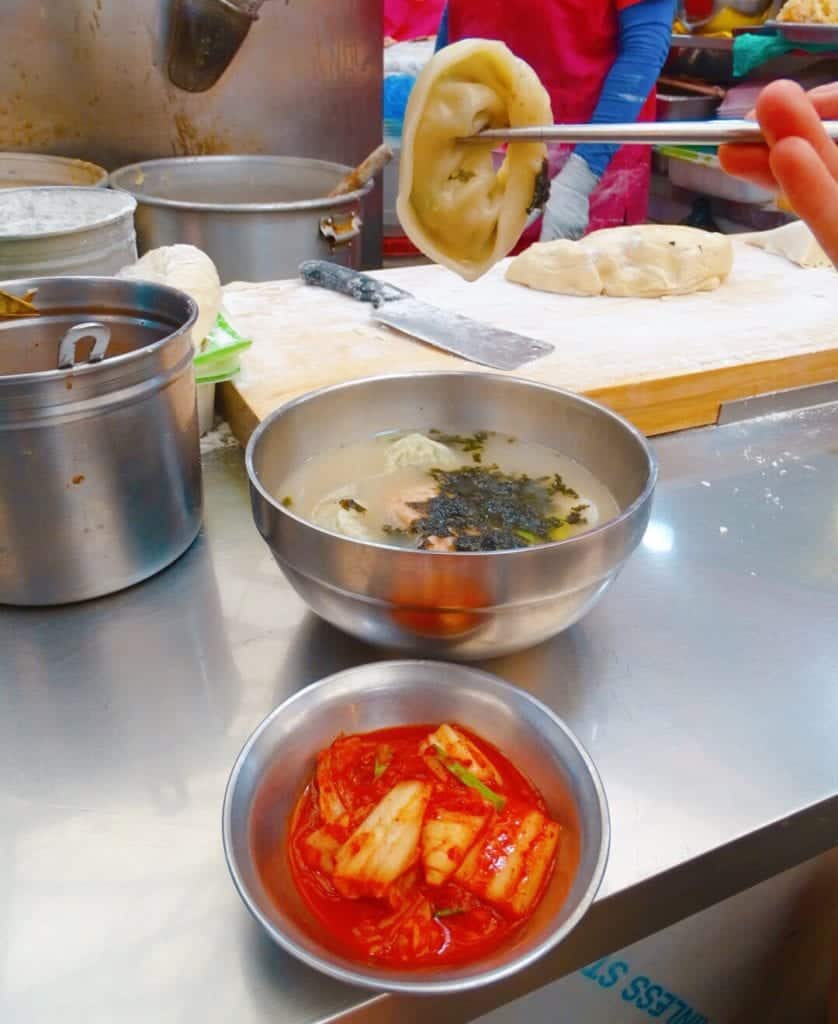 Related activity: Gwangjang Market tour & Seoul fortress walk
How to get there: Jongno 5-ga is the closest subway station. Exit and follow signs to Gwangjang Market which is only a few metres away.
Best dish: I think we covered this already, definitely the knife-cut noodles or dumplings from the Netflix Lady's stand.

When to visit: Gwangjang Market is open from 8.30am to 6pm so the best time to visit is over lunch. The market is busy and atmospheric but you can still grab a seat.
Tongin Market
Another of the best street food markets in Seoul is Tongin Market. This daytime market is smaller than the others and much calmer. While the atmosphere might not be as exciting, I loved the unique way of dining.
When you arrive at Tongin Market, the first thing you need to do is purchase a lunchbox at the entrance to the market (I arrived at the back entrance and initially was quite confused about where everyone had got them).

Pay 5,000 won and you'll be presented with a lunchbox and stack of six coins which you use as tokens to exchange for food.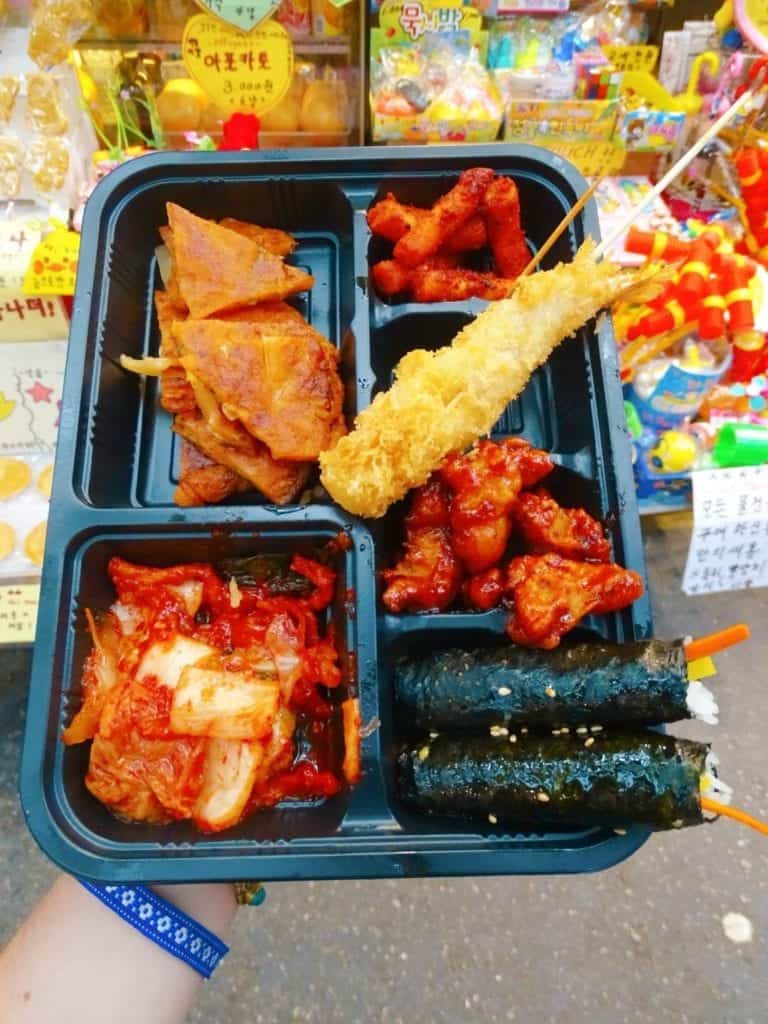 Using my six tokens, I managed to get:
Two gimbap rolls
A tempura prawn
A scoop of tteokbokki
Sliced bindaetteok (Korean pancake)
A portion of fried chicken
Kimchi.
How to get there: There's no subway station closeby to Tongin Market so your best bet is to arrive by bus (they stop at the front) or exit at Gyeongbokgung Palace station and walk 10 minutes to the market.
When to visit: Tongin is open 7am-9pm. If you want to eat somewhere more atmospheric for dinner, I'd suggest visiting at lunchtime. Time it around your visit to Gyeongbokgung Palace since it's not far away.
Best things to eat: The gimbap and tempura prawns were tasty. Honestly, there's better food in the city but Tongin is one of the best Seoul street food markets for an experience.
Other cheap eats in Seoul
You don't necessarily have to eat street food or at night markets in Seoul to save money and dine well. I found a few other budget eats which include:
Dumplings beside Ssamziegil Centre
If you visit traditional Insa-dong neighbourhood famous for its traditional tea shops, you'll probably also check out Ssamziegil which is a multi-level market known for its handicrafts and souvenirs. Right beside it in a sleepy alleyway is an excellent restaurant that doles out various types of meat and veggie dumplings.

I tucked into a plate for 3,000 won.
Order at-screen Japanese restaurants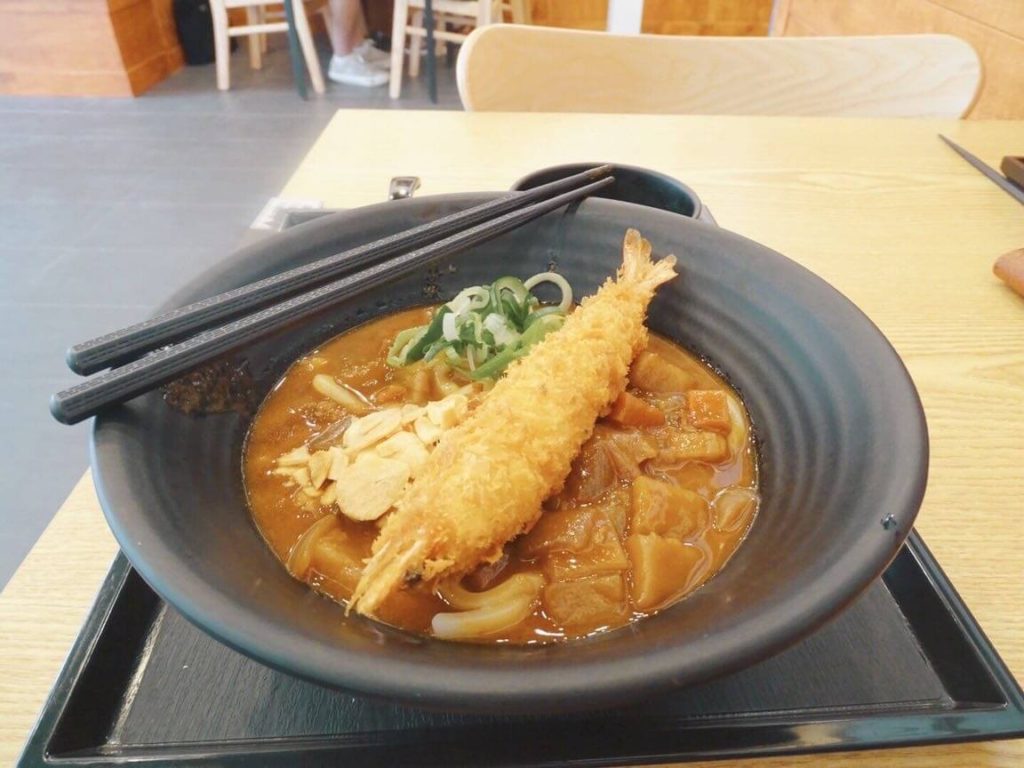 One of the cheapest ways to eat in Seoul is at Japanese restaurants. Here, you'll order your meal as soon as you walk in thanks to a touch screen at the door. Kitchen staff will place food on the bar when it's ready; it's up to you to recognise your dish and grab it.

This is a fun way to eat and very affordable. I usually paid 5,000 won for tempura chicken or seafood with udon noodles or rice and a scoop of katsu sauce.
Thanks for reading my Seoul street food guide!
Check out my other South Korea blogs:
See you next time for more adventures,
Rose
For more travel content, follow me on Instagram, Facebook, Twitter and YouTube.
Ps. Liked this Seoul street food guide? Pin it for later!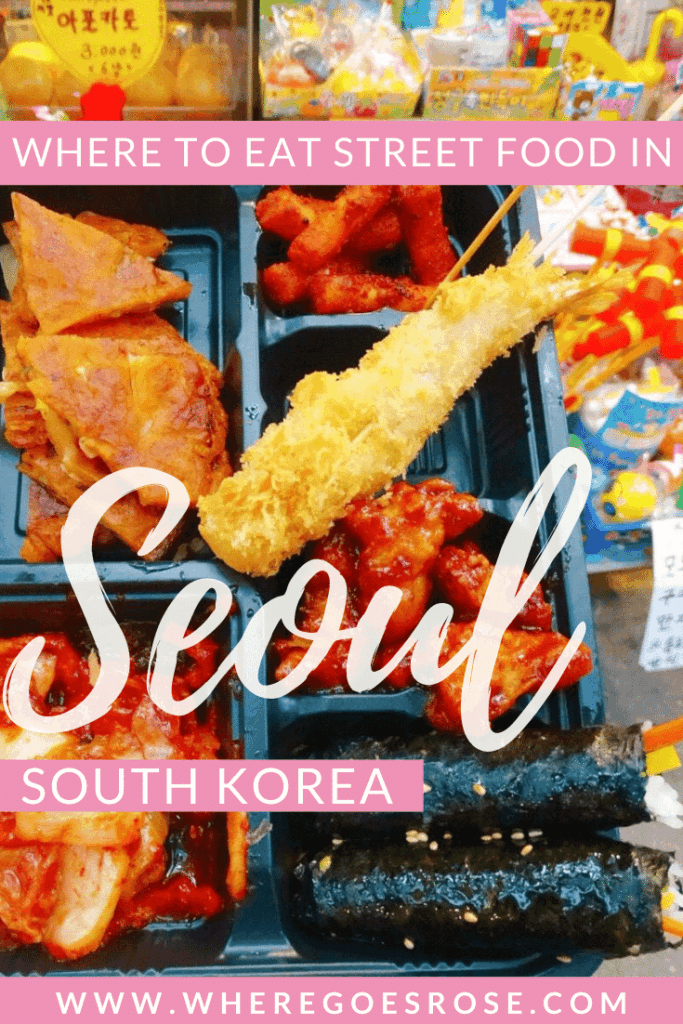 VISITING SOUTH KOREA?
These are my trusted resources:

Getting around by air – I use Skyscanner to find the best-value flights, using the 'search by month' tool to find the cheapest dates. You can also use the 'to anywhere' feature if you're flexible on where you're going.

Buses – buses are comfy and efficient. It's tricky for foreigners to book online so it's best to turn up on the day.

Trains – use Trip.com, partner of Korail (the official railway network of Korea) to book your tickets in advance. The website accepts international payment options, unlike Korean rail websites. Click the three stripes in the top right corner then the flag to change it to English.

Driving in Korea – use Rentalcars.com to compare car rentals. Hiring a car will be especially useful on Jeju Island.

For hotels in Korea, I use Booking.com – they also have self-catering apartments. You can filter by review score and price to find the best-rated budget places. For hostels, I use Hostelworld.

Browse South Korea tours and activities on GetYourGuide. I also check Viator and Klook in case they have a better price.

For food tours with passionate local chefs and foodies, check out EatWith.

Need travel insurance? I use True Traveller (for UK & Europe residents) since it's affordable but covers everything you'd need including various activities, valuables and pre-existing conditions. Unlike some companies, they insure you if you're already travelling / don't yet have your flight home booked. Get a quote.

For travel insurance for other nationalities, I recommend Hey Mundo and for long-term digital nomad travellers, I suggest Safety Wing.

Check out my resources page for more travel discounts and tips!