This post may contain affiliate links to things like tours, hotels, Amazon associates and products. These help me earn a small commission at no additional charge to you.
What a place! When I think back on the most amazing experiences of my life, it's hard for the rolling plains of the Serengeti not to spring to mind. The horizon was literally always moving – not with a heat haze but with masses of animals moving right into the distance.
I travelled to Tanzania during an overlanding tour with G Adventures and the trip included a three-day excursion to the Serengeti. We camped on basic, exposed sites knowing (and hearing!) that big wild animals were all around. While this was unnerving, it also made the experience so much more magical!
I had high expectations but was still blown away by our safaris. One of the very first sights we saw as we drove into the park was a mother leopard and her two young cubs up in a tree. They'd acquired a carcass for dinner which one of the babies knocked down by mistake… Watching the mother stealthily climb down and drag it back up was something I never expected to see with my own eyes. For this reason, I'll start my photo blog with:
Big cats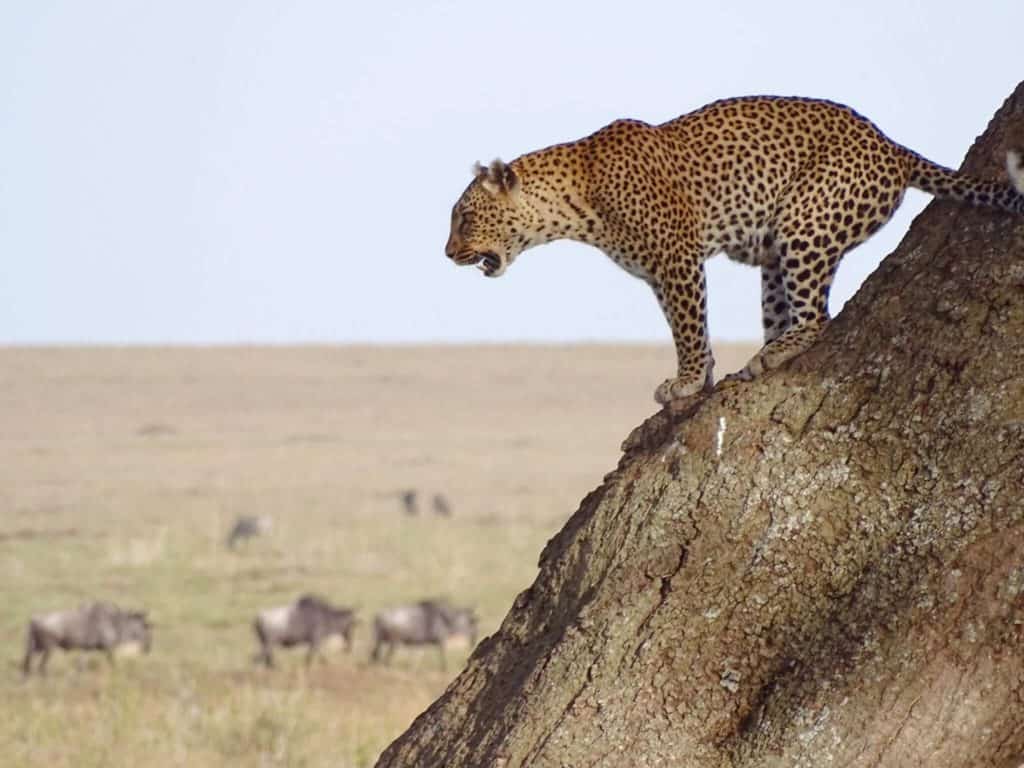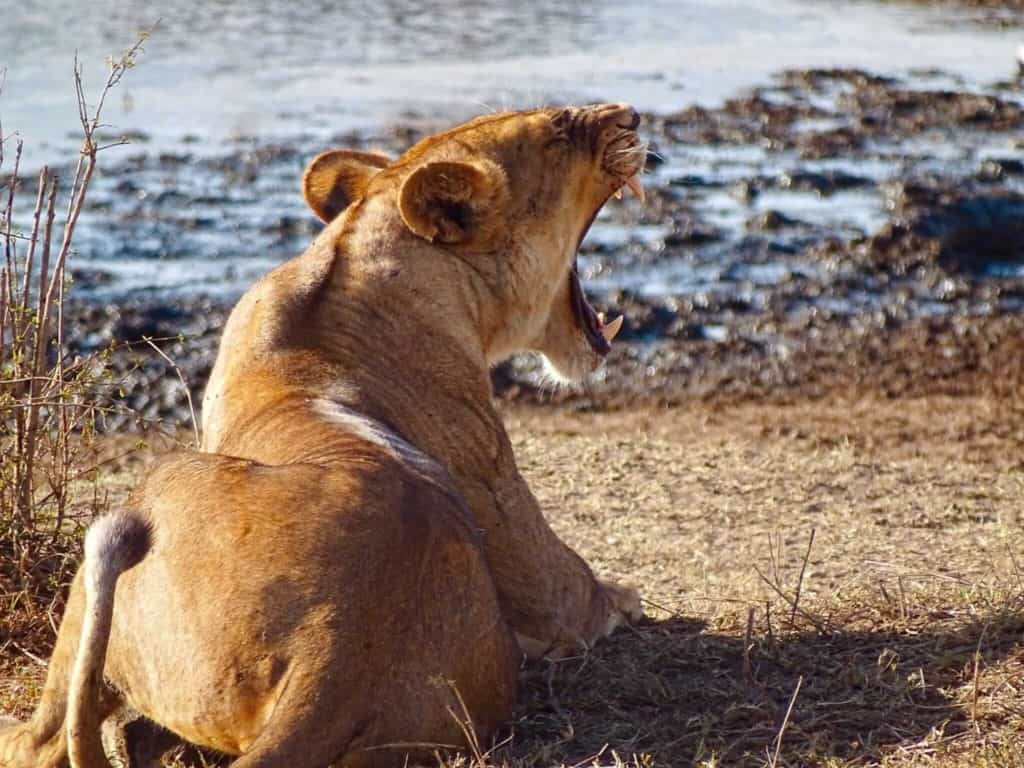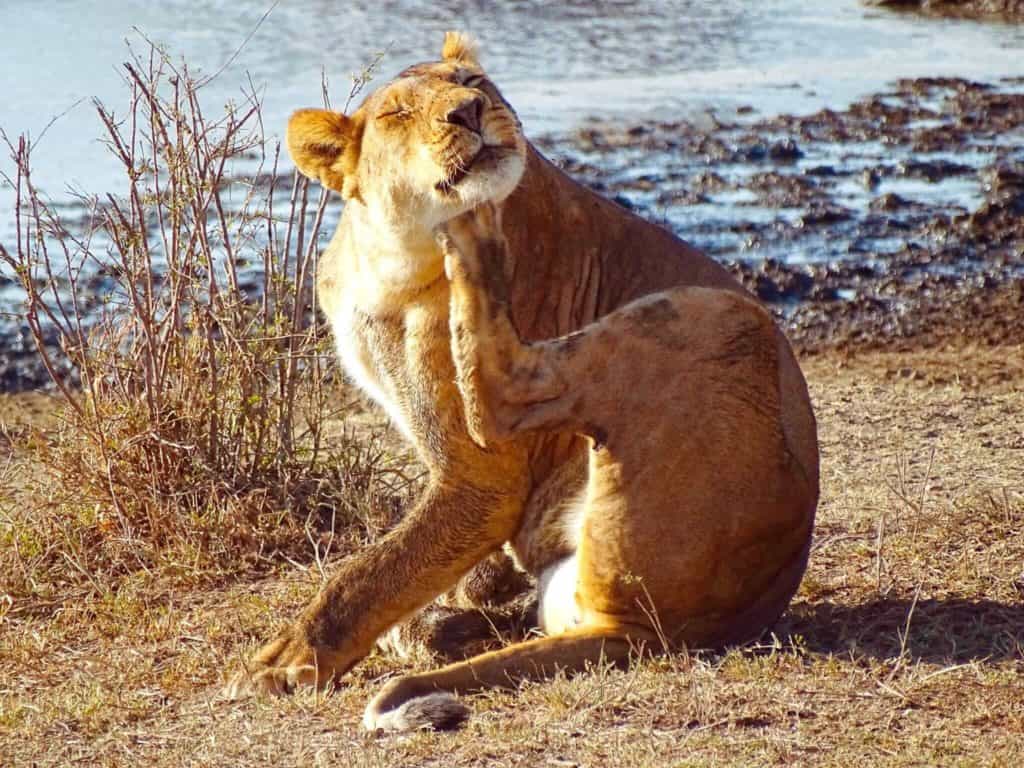 We were lucky enough to be able to approach a male and female lion sleeping under a tree and spend a good ten minutes just metres away from them.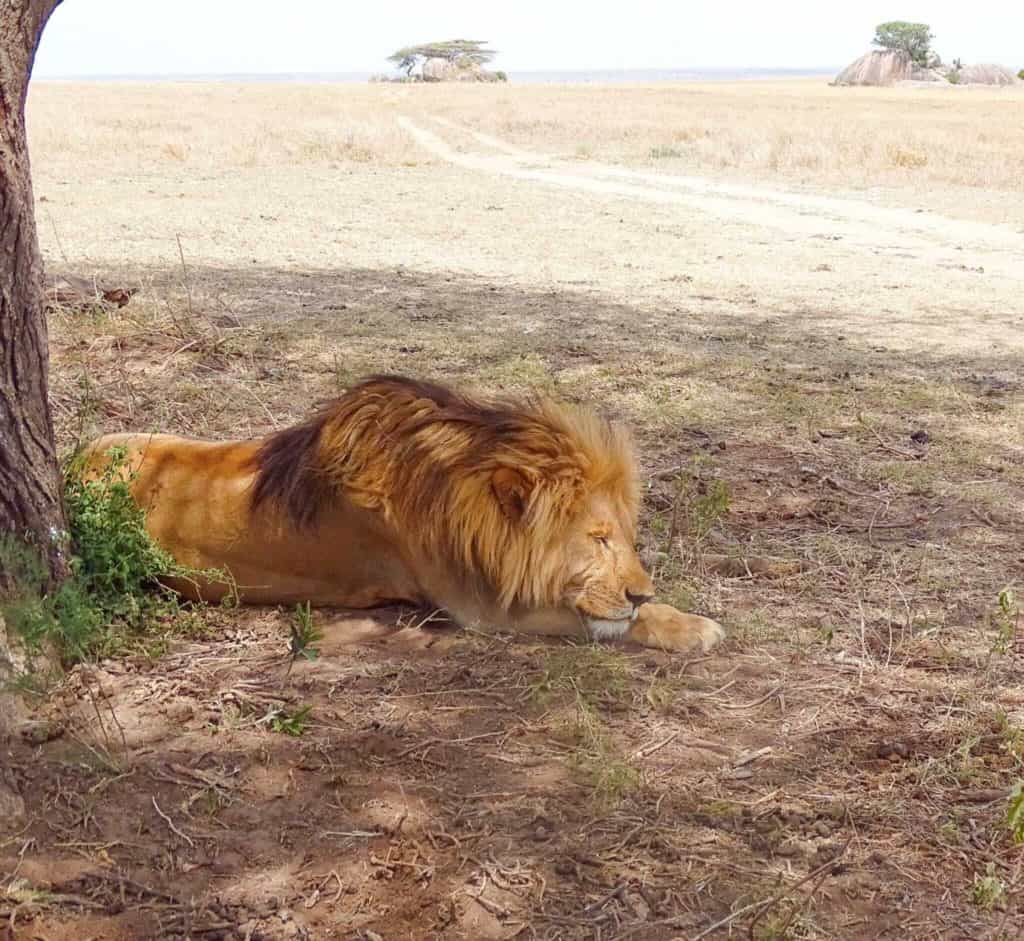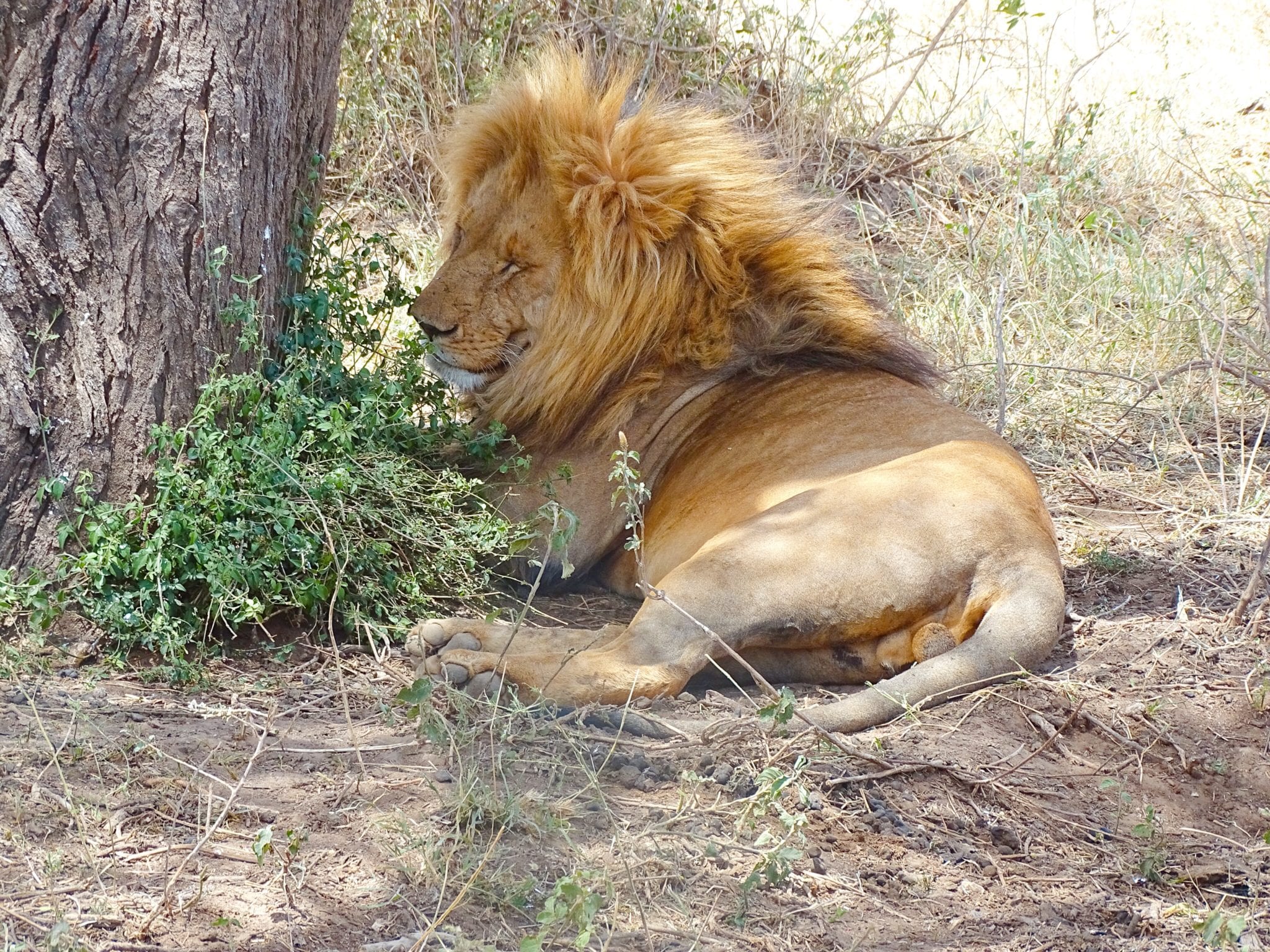 One particularly memorable moment was watching a pack of lionesses attempt to hunt.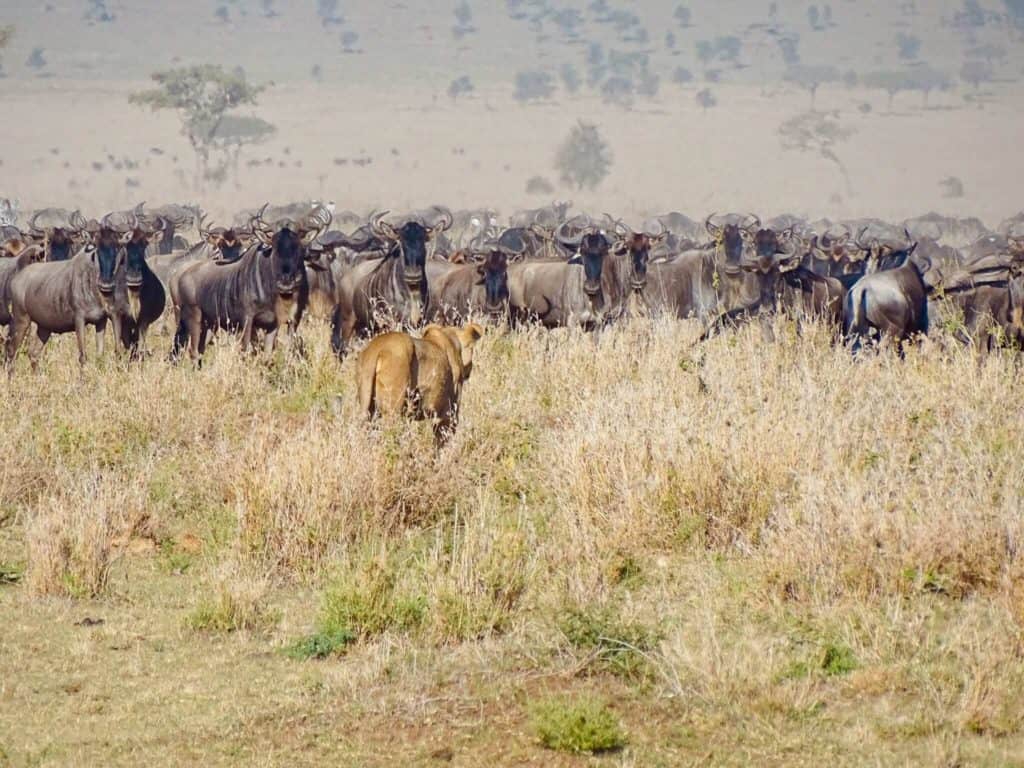 Elephants
I recently wrote a blog on why you shouldn't ride elephants anywhere, semi-inspired by how blown away I was by seeing wild elephants in their natural habitat. I've always thought of them as gentle giants but seeing them in the Serengeti and Ngorongoro reminded how incredibly powerful they are – it's a privilege they let us admire them from our safari cars!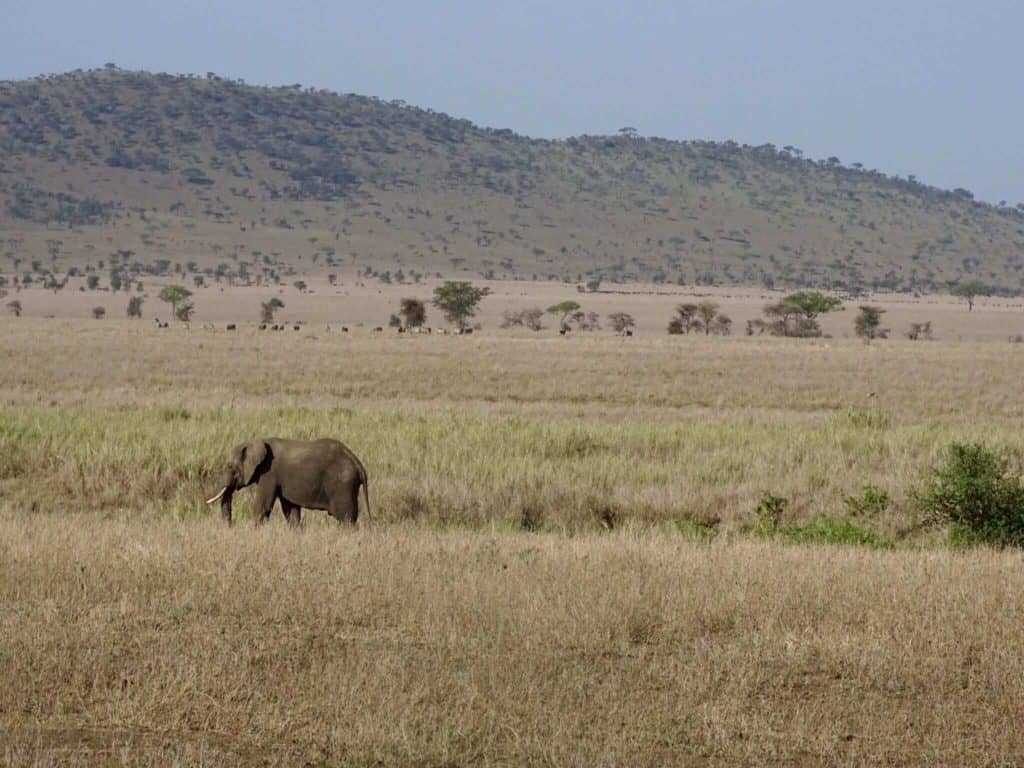 Wildebeest, buffalo and zebra
Think these aren't as exciting as big cats and elephants? Maybe not BUT I'd argue the sheer volume we saw made my safari experiences seriously incredible: every way we looked we saw masses and masses of animals moving all the way to the horizon.

This was mainly because it was migration season. I think I must have set my eyes on 10,000 just in one day! This image below is part of probably my all-time favourite life experience – watching a pack of lionesses prey on these wildebeest, bursting out from behind the bushes and sending the wildebeest scattering.

They didn't make a catch but watching the circle of life in REAL life was amazing!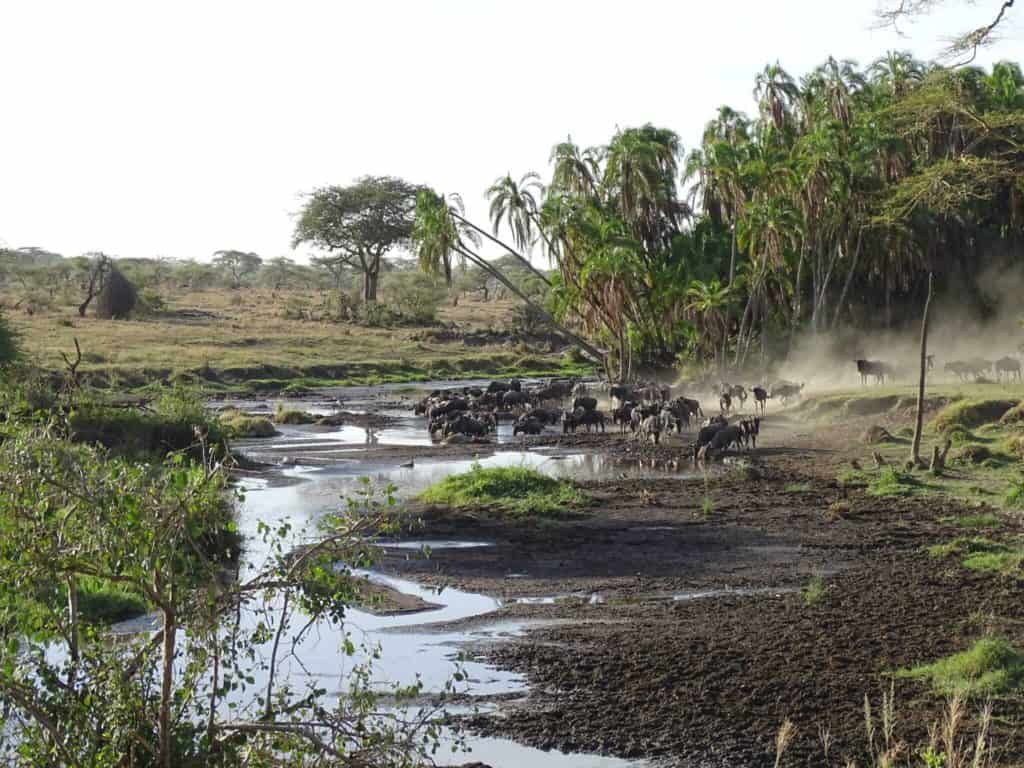 The migration season meant we saw various LITERAL zebra crossings, as well as wildebeest and buffalo crossings.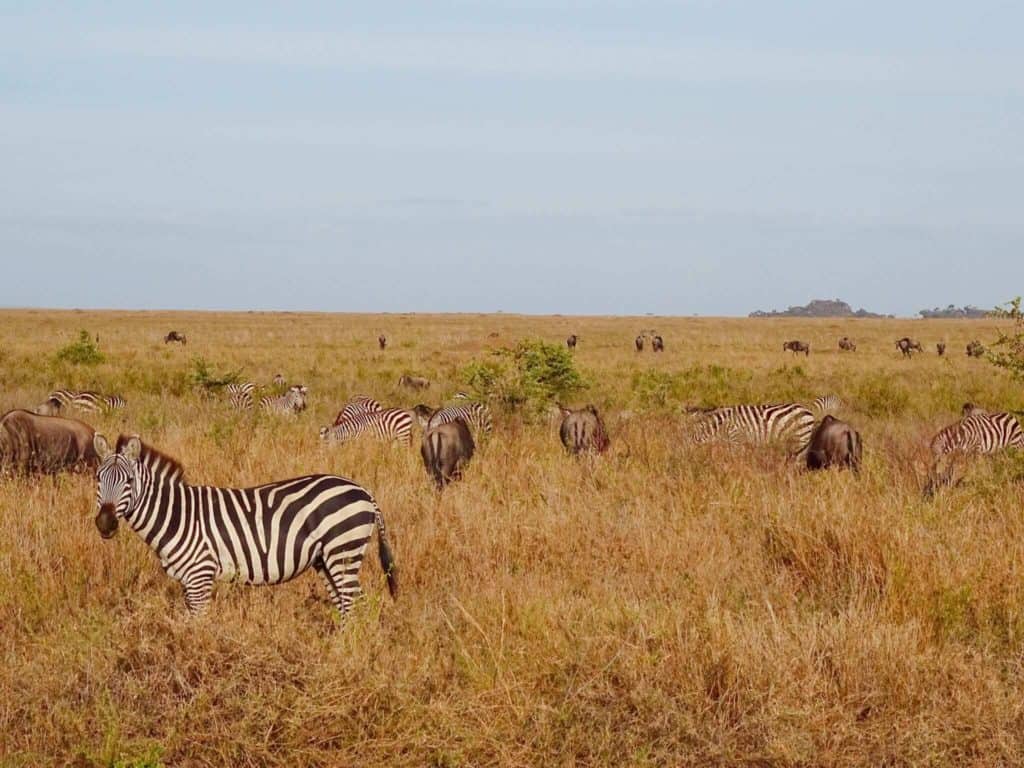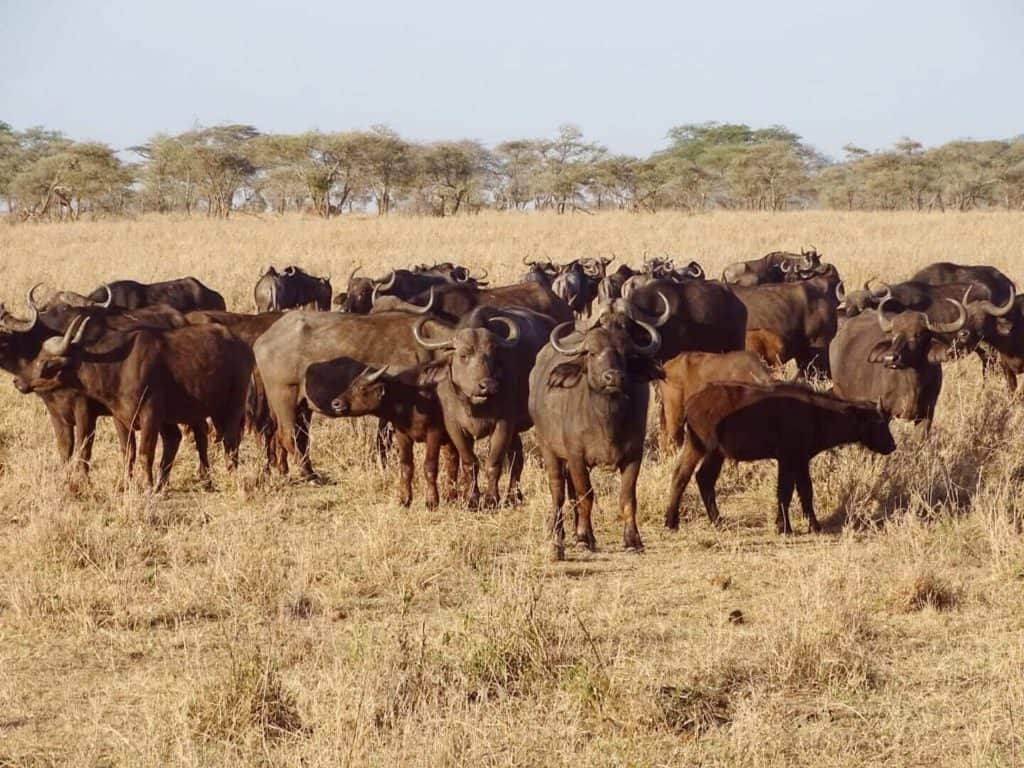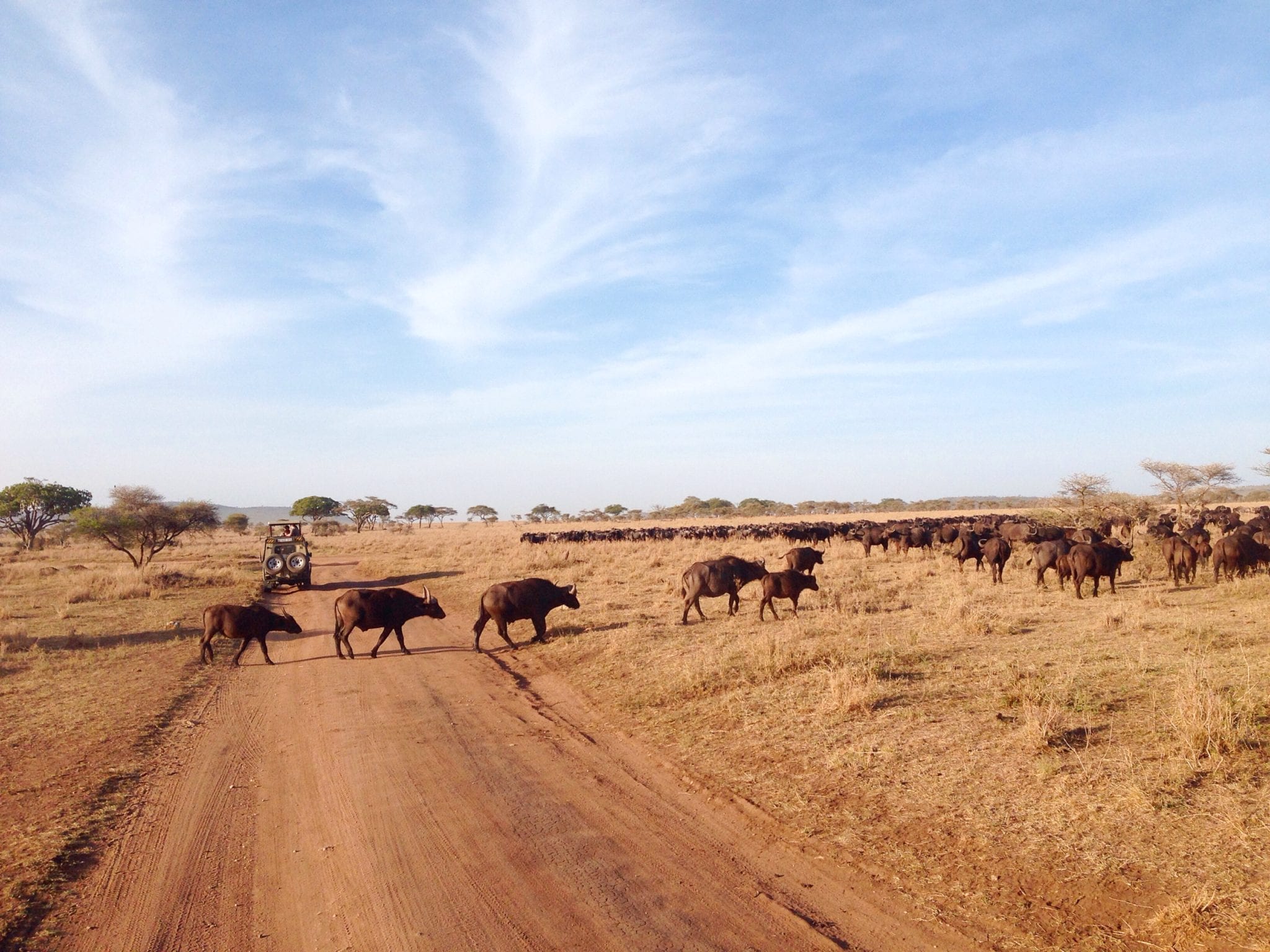 Hippos
Hippos really are the world's weirdest animals – their eerie gurgles, furious nature and enormous weight make them pretty threatening – but also fascinating to view from afar.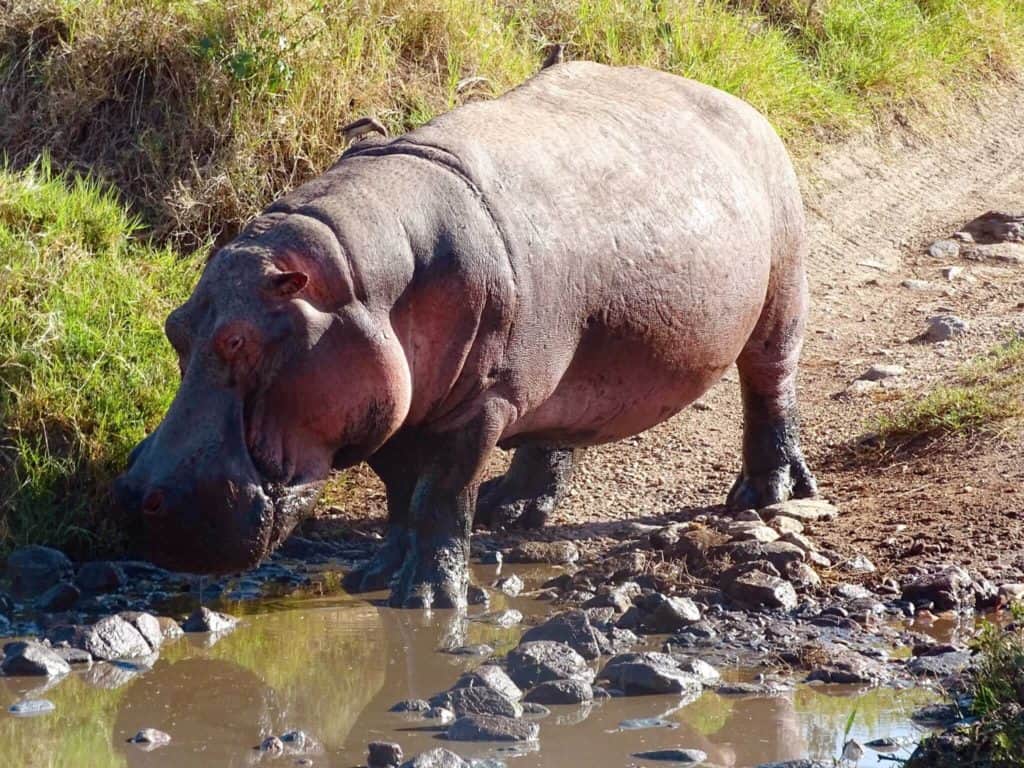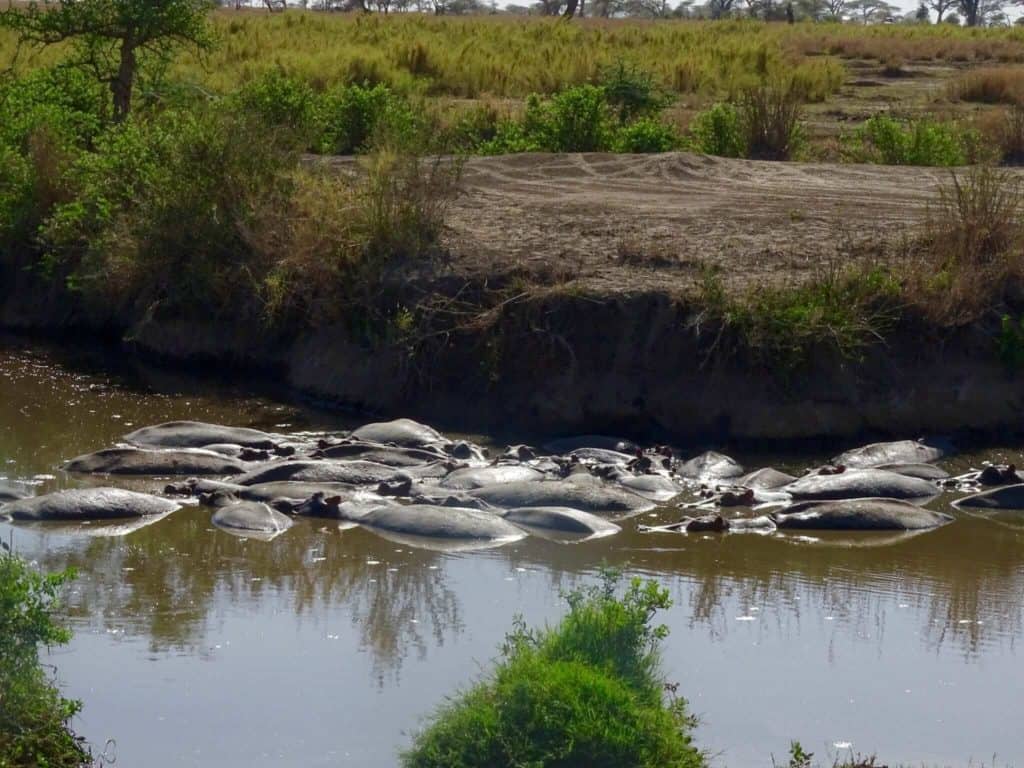 Giraffe
Sadly I didn't get the best giraffe photos in the Serengeti, mainly because we only happened to see them in the early morning or evening – like this 5.30am shot below!

Saying that, walking to the toilet in our open-air campsite and seeing a giraffe saunter by in this distance was a very surreal experience. I got lots of better giraffe photos in Namibia which I'm sure I'll be sharing with you soon!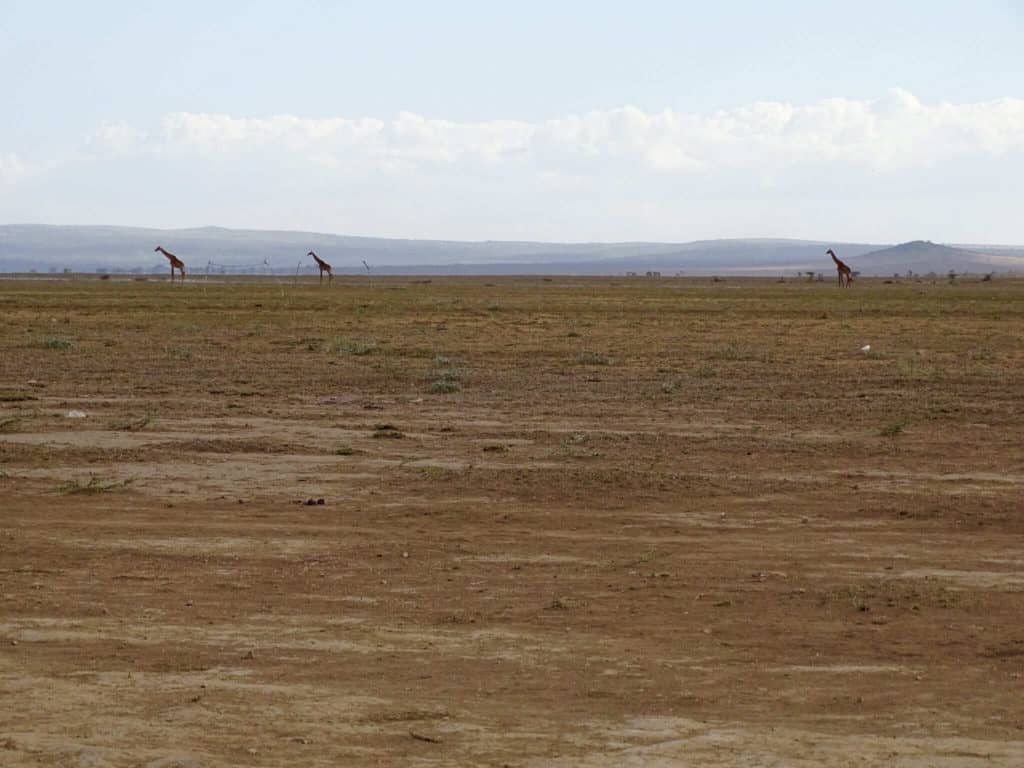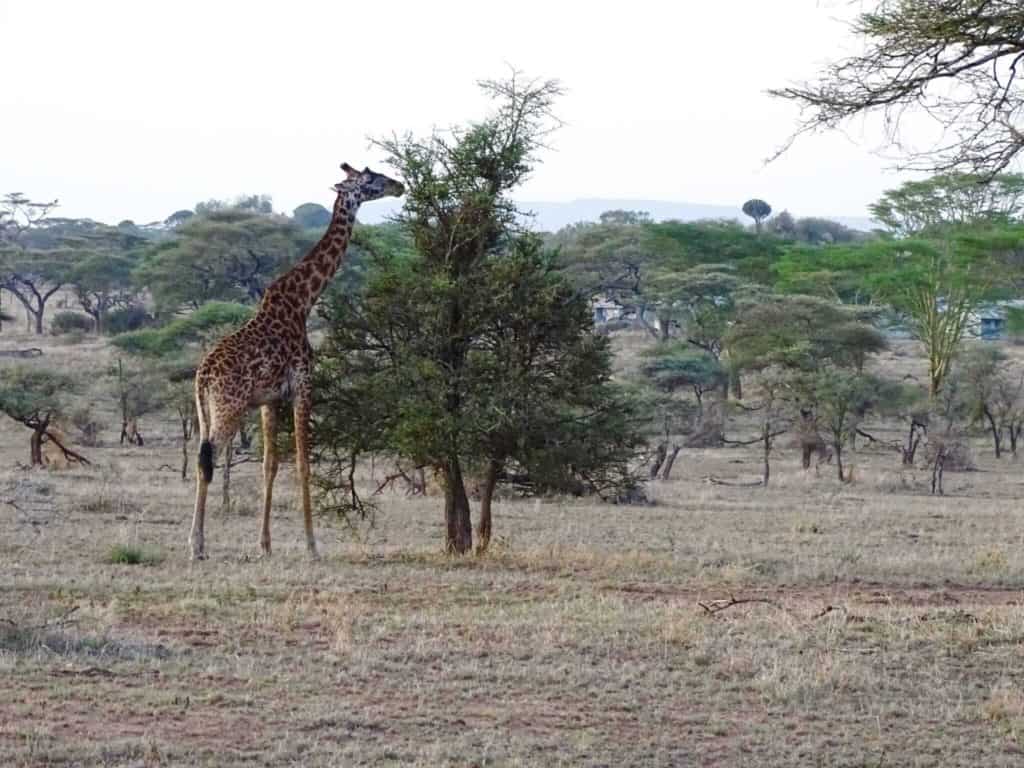 Other animals
As I mentioned earlier, the volume of animals and variety of species was insane – the Serengeti is absolutely teeming with natural life. We were spoiled with birds aplenty, gazelle and reptiles.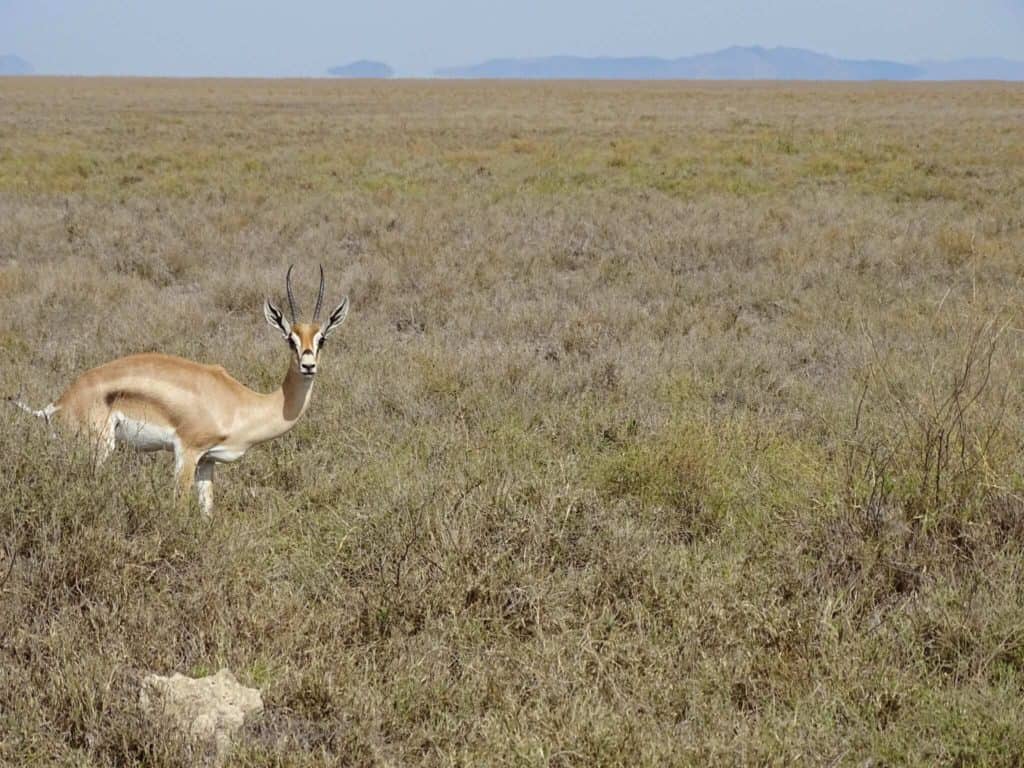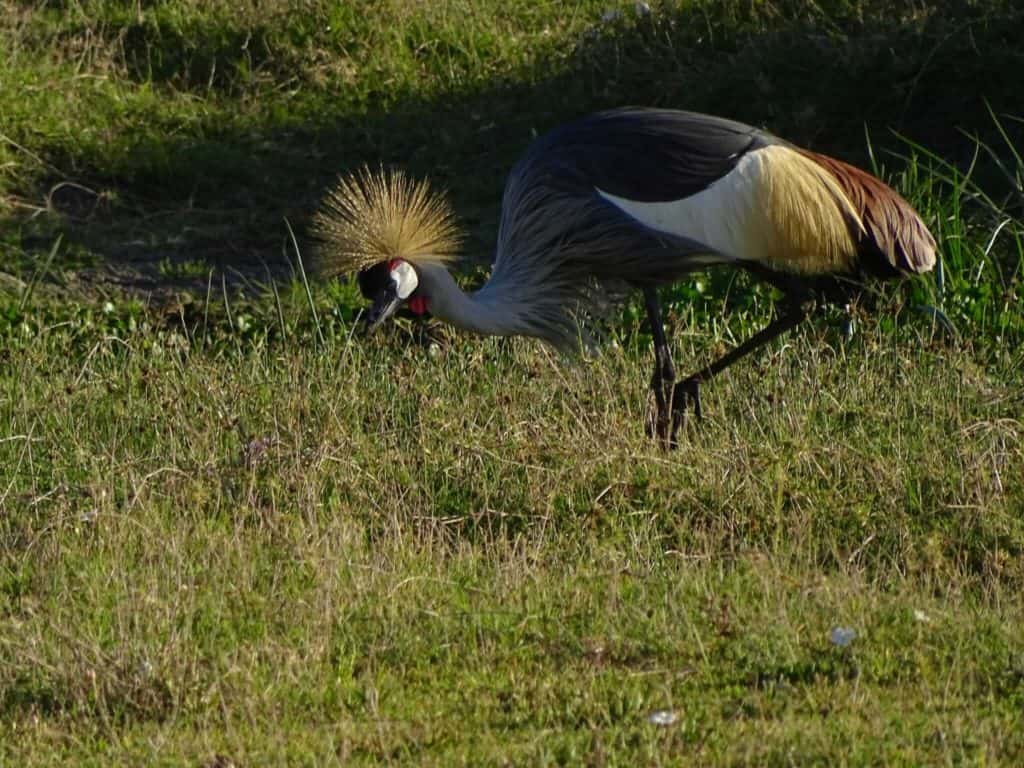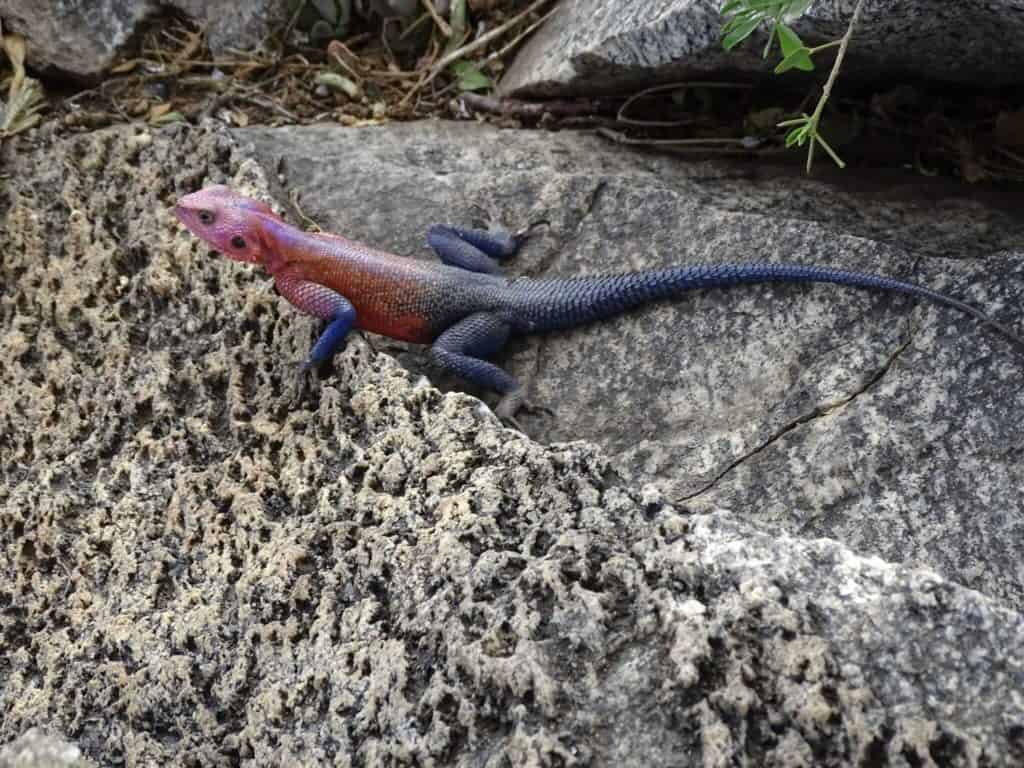 How's that as inspiration to visit Africa? I really hope I'll be back one of these days….
Thanks for reading!
See you next time for more adventures,
Rose