This post may contain affiliate links to things like tours, hotels, Amazon associates and products. These help me earn a small commission at no additional charge to you.
The street art in Shoreditch is some of the best in the world. The Brick Lane street art is a real highlight of the area with countless murals and works of graffiti art in a condensed space. A walking tour (guided or self-guided) lets you see most of it in just a couple of hours.
I've become obsessed with street art after all the amazing examples I saw in Cape Town earlier this year. I learnt about marginalised groups through their art and storytelling. I'd never have gleaned the same information from visiting a traditional gallery.

Since then, I've explored the street art in Vienna during a weekend in Austria, the Manchester street art while visiting my sister and better yet, the home of Banksy by way of the Bristol street art.

As London is only an hour from me, the London street art was my natural next destination. During my trip, the Brick Lane London street art exceeded my expectations and then some. I can't wait to show it off!
Read next: Camden street art guide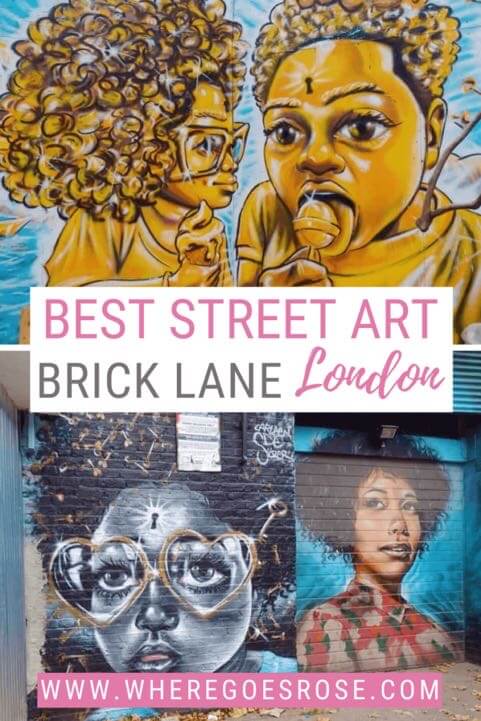 Brick Lane intro
Brick Lane is a vibrant multicultural part of London known for its fantastic Indian food, iconic Brick Lane Beigel Bake and the countless East London food markets.

If possible, I'd highly recommend visiting East London on a Sunday for the countless thrift and antique markets. However, the best thing to do in Brick Lane in my humble opinion is finding the colourful street art!
Brick Lane street art tour (guided)
I took an awesome tour of the street art in Shoreditch with Free Tours by Foot. The facts and info shared by our guide really boosted my street art knowledge. These tours are free (but a tip is recommended – I usually give £5) so it's a great way to see the sights for minimal expense.

If you're travelling England on a budget, you can't beat finding street art as a free/cheap activity!

Although I loved the tour I took, it's not hard to find street art around Brick Lane if you know where to look, plus I often prefer doing things without a group so I can take as long as I want.
Feeling arty? Tour the street art and paint your own mural with GetYourGuide.
Brick Lane street art map
Self-guided Brick Lane street art walking tour
If you're like me and want to seek out the Shoreditch street art solo, you're in the right place. Link the locations of my Brick Lane graffiti map to the images below. Good luck finding them all!
Wentworth Street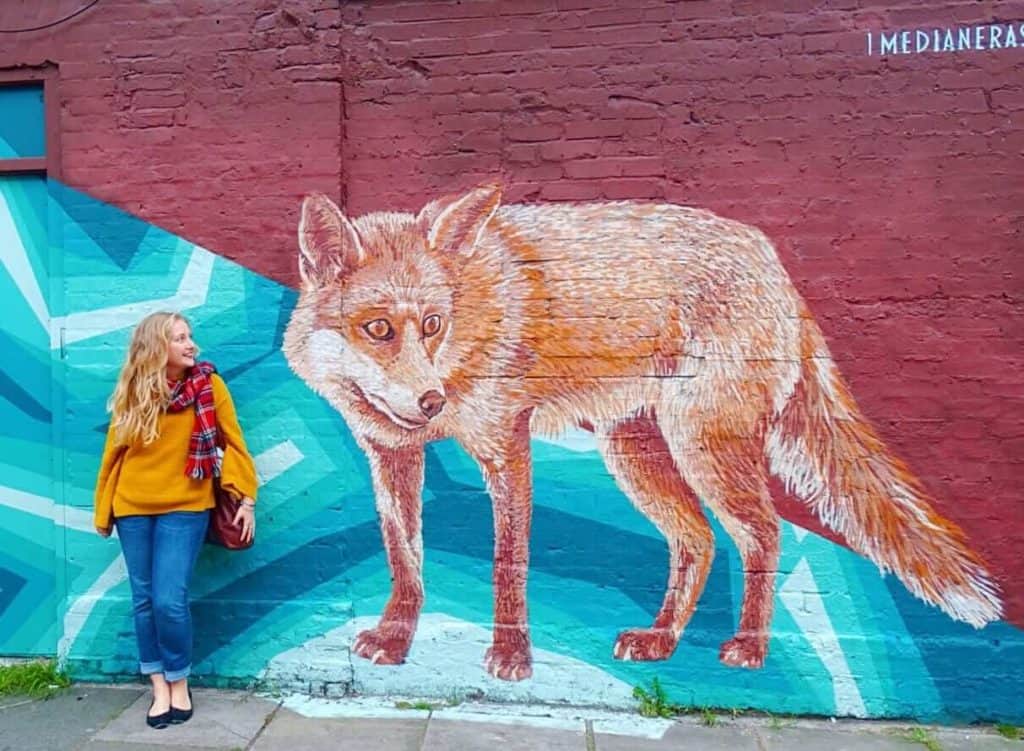 We departed Whitechapel Gallery as a group and walked around the corner to Wentworth Street where the first thing we saw was this lifelike fox mural.

I usually enjoy abstract, colourful art (I'm no minimalist – the brighter and more fun something is, the more I'm usually drawn to it) but I liked how real this fox looked.

I marvelled at the skill that must have gone into it and how all the strokes making up the fur were different shades of red and brown.
On the other side of the road is a little enclave (okay, a bin alley – I don't know why I'm trying to make this sound more glam) with a few Brick lane murals including this one.

Apparently, the artist, ARTiSTA, likes to paint toast with feet. As my fellow bloggers will know, there's nothing like a niche!
Fashion Street
From Wentworth Street, make a turn onto Fashion Street where you'll probably spend ages as there's so much street art to be found. My all-time favourite was this sassy looking purple woman.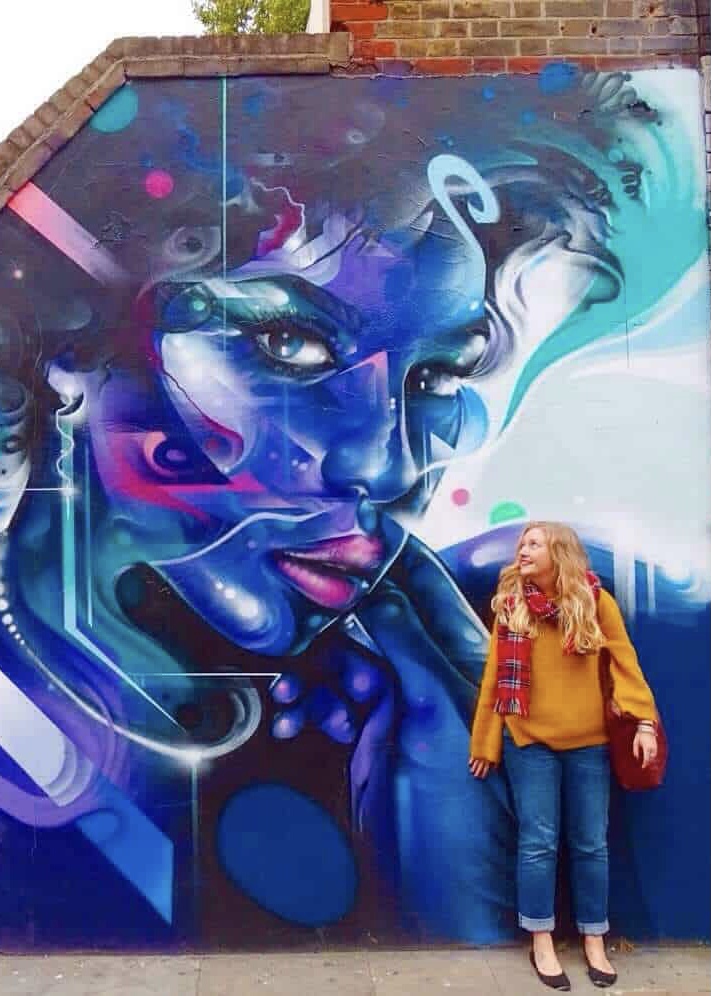 Right at the end of Fashion Street as you're about to join Brick Lane, you'll find this Shoreditch street art image of a father and daughter on a Pho shop (update in 2021 – this restaurant has now closed but to my knowledge, the art is still there).

Below the mural, I've included a close-up of the paint splats. It's crazy how many shades and how much detail go into just one design.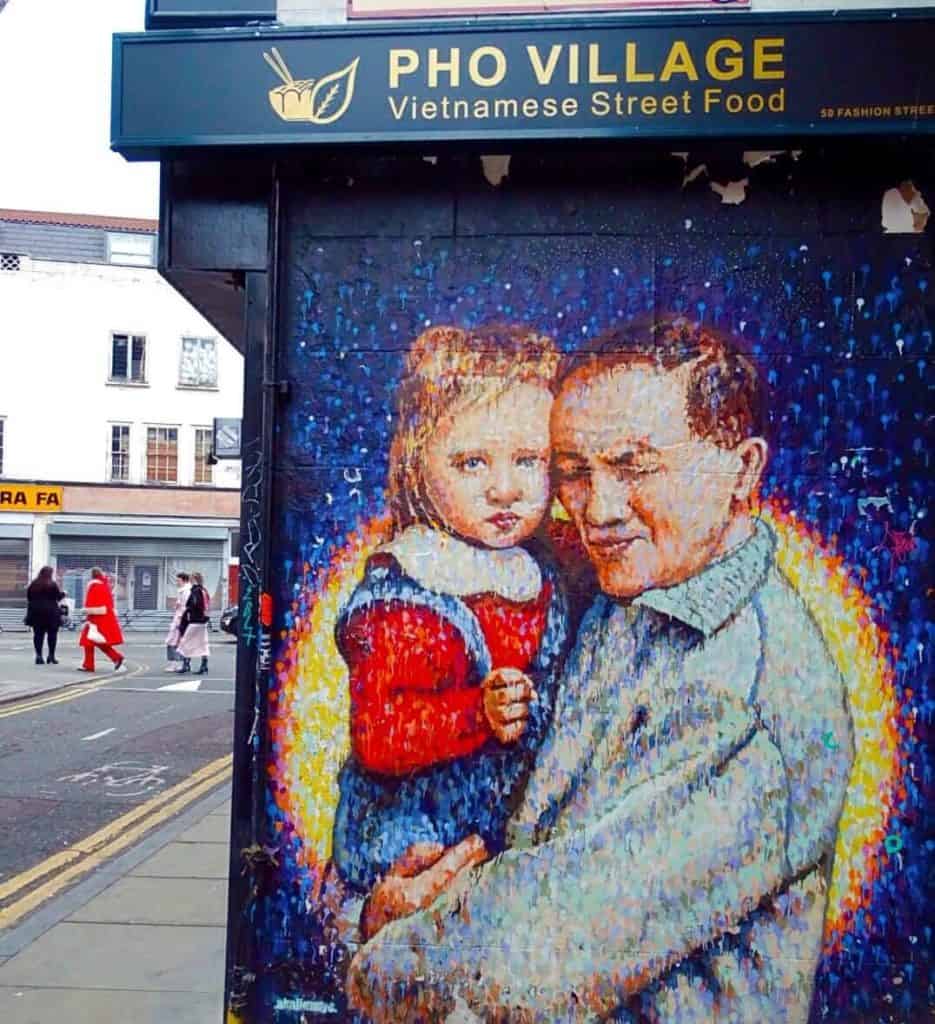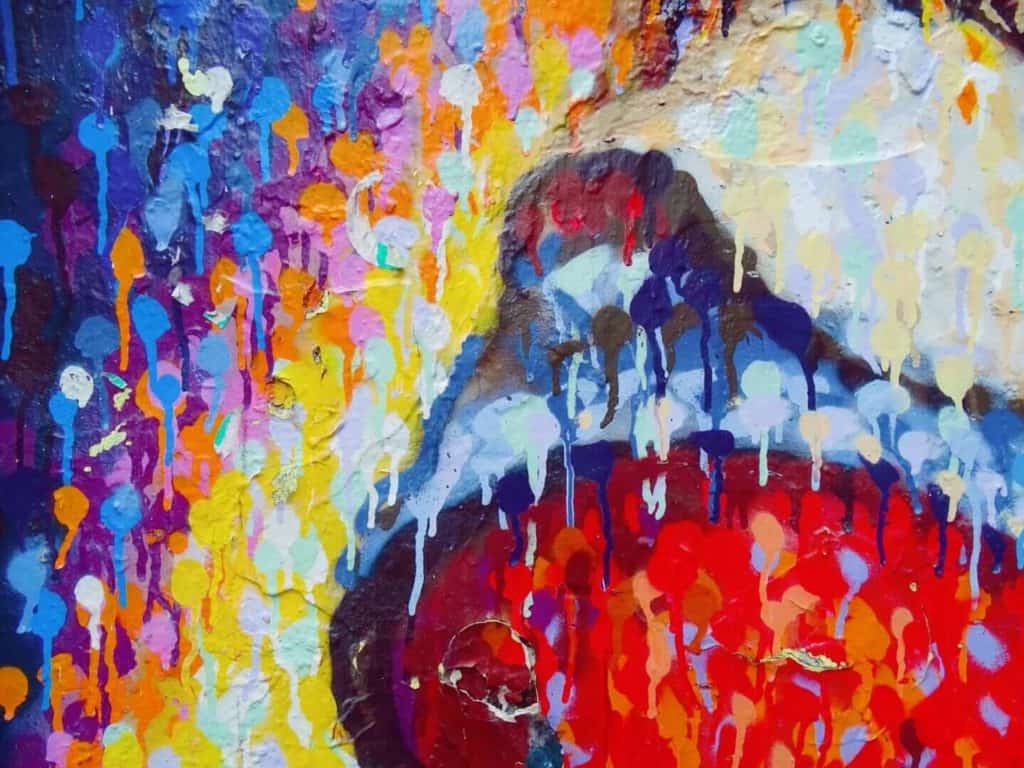 Heneage Street
At the end of Fashion Street, you'll meet Brick Lane home to food, shopping and Brick Lane graffiti galore. Instead of getting sucked in right away though, cross over to Heneage Street.

This gold woman by artist Ben Slow was freshly painted when I visited.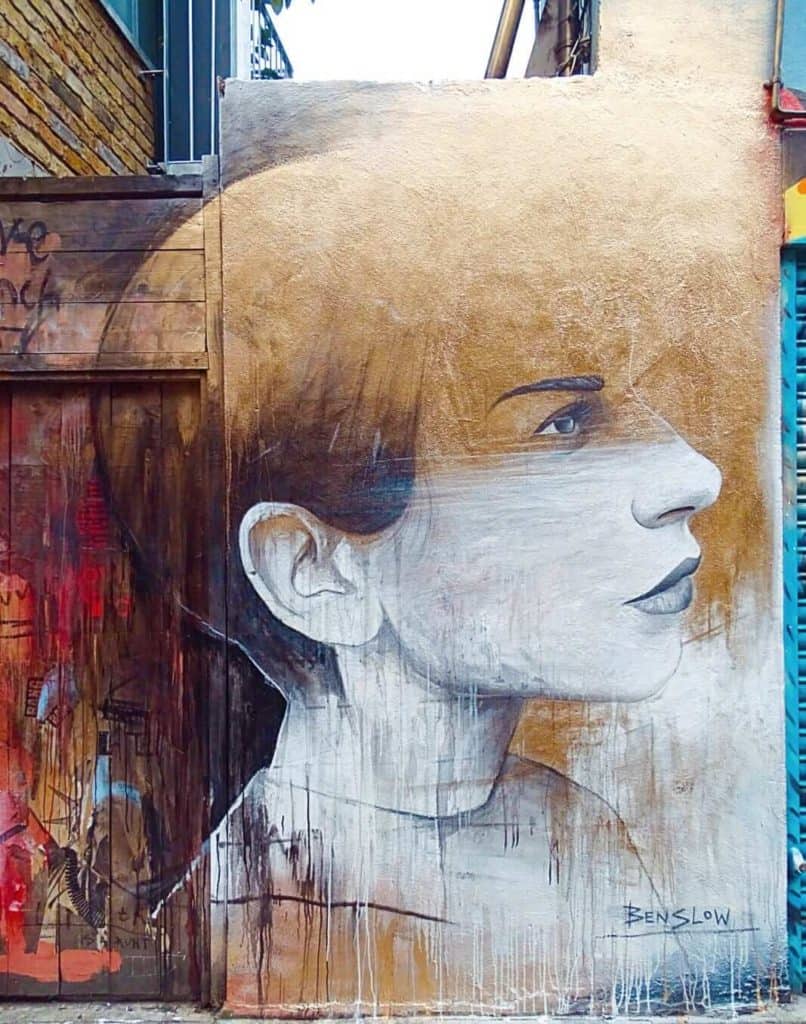 Brick Lane street art & secret best alley
Brick Lane runs for miles so wander at your leisure. But there's one place you shouldn't miss!

The best street art in Brick Lane can be found down this secret alley, used mainly for car parking and bin storage.

It doesn't have a name but, if you're walking on Brick Lane, it's the left turning between Fashion Street and Fournier Street. The entrance is right by Saffron Restaurant.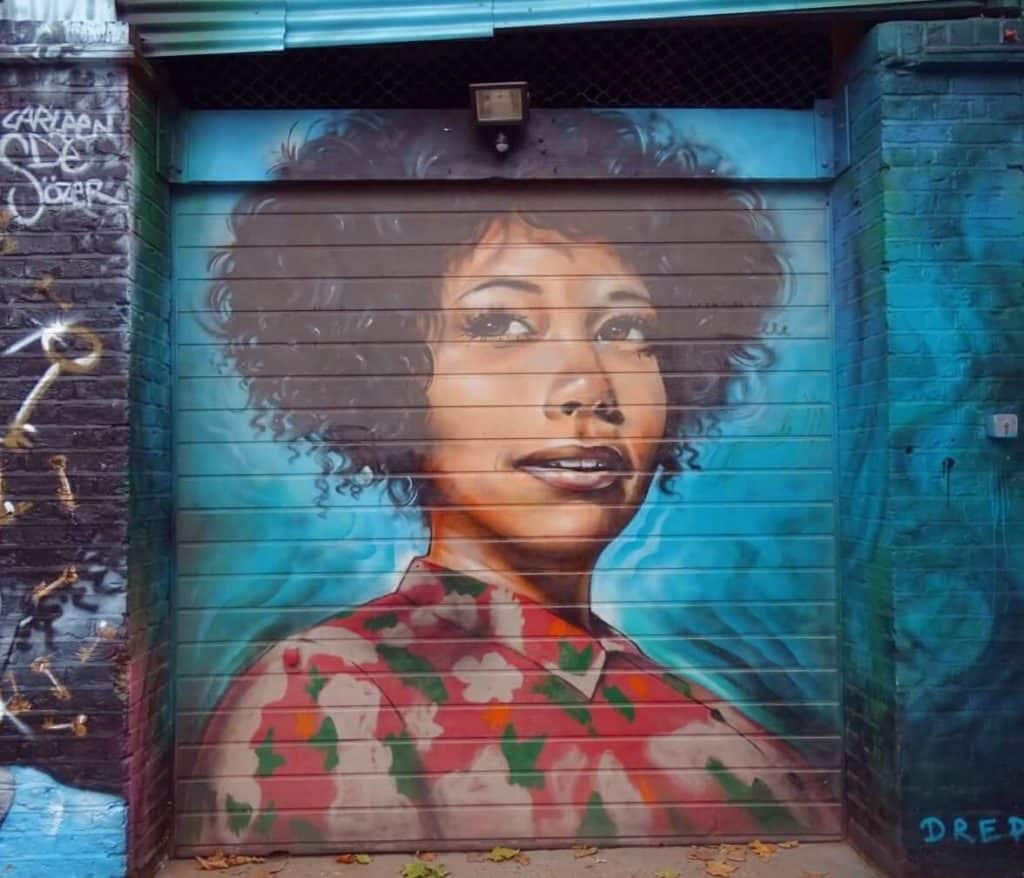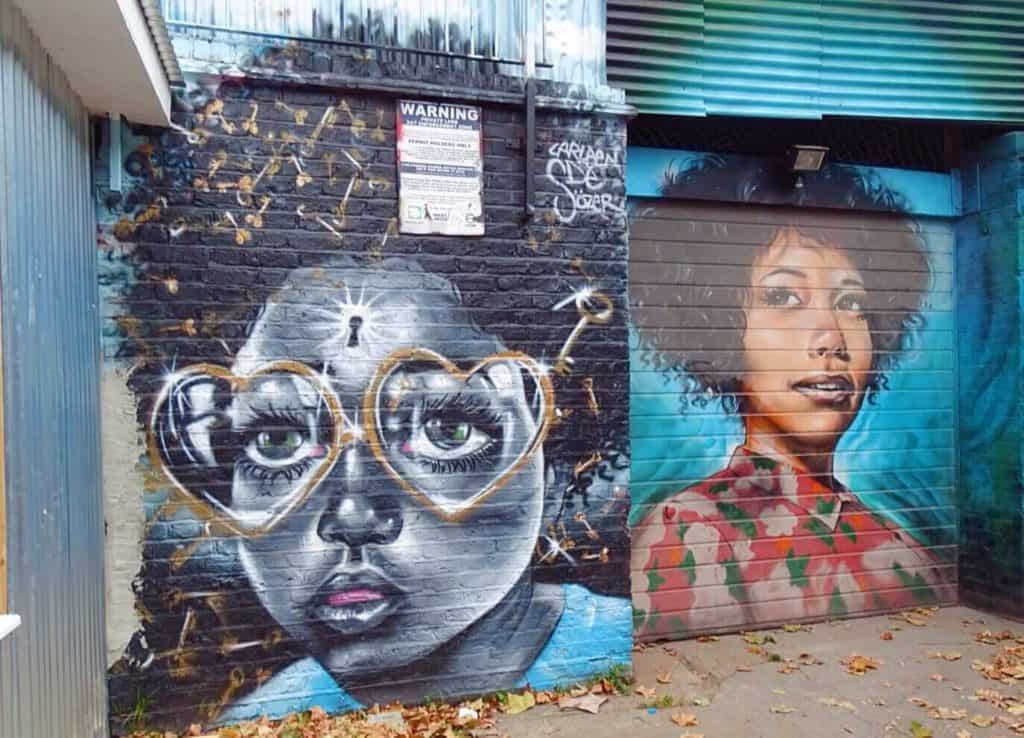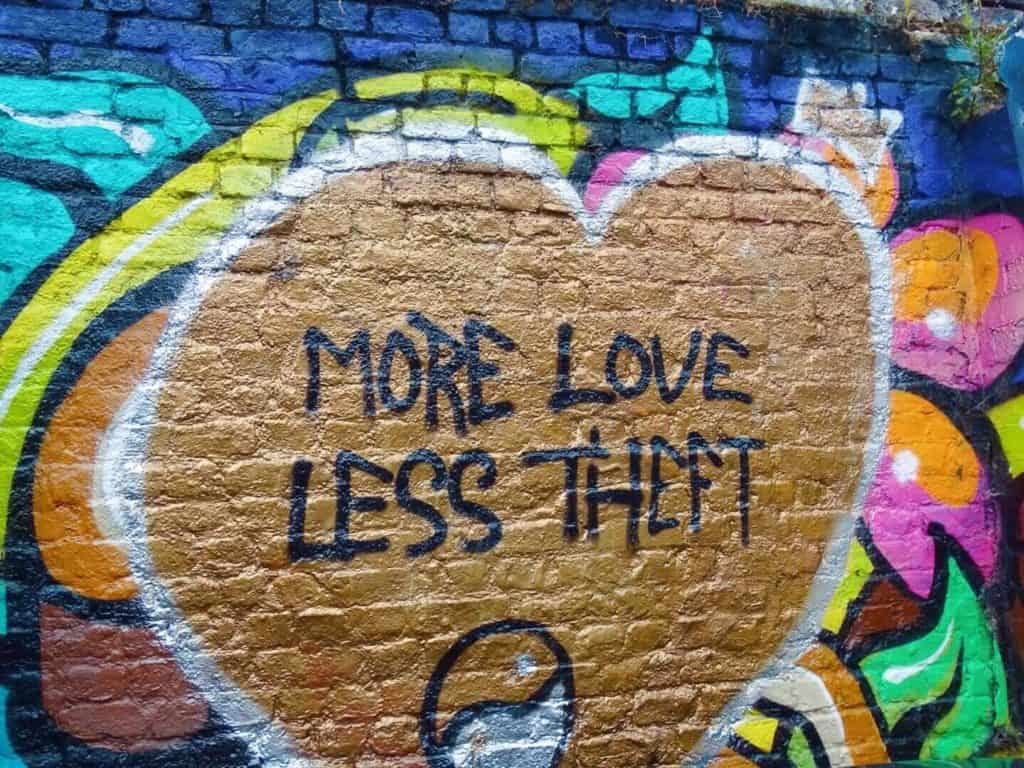 As the final piece indicates, the Brick Lane art has a social conscience, like the best street art. 'More love, less theft' says it all!
Fournier Street
Just metres from the Brick Lane street art alley, you'll find Fournier Street. This piece of Shoreditch street art by SHOK-1 is one of a few in the area showing bones, this one including a peace sign (or is it a rude sign? Art is how you interpret it, I guess).

I also really liked the colourful monkey and space-themed girl on this street.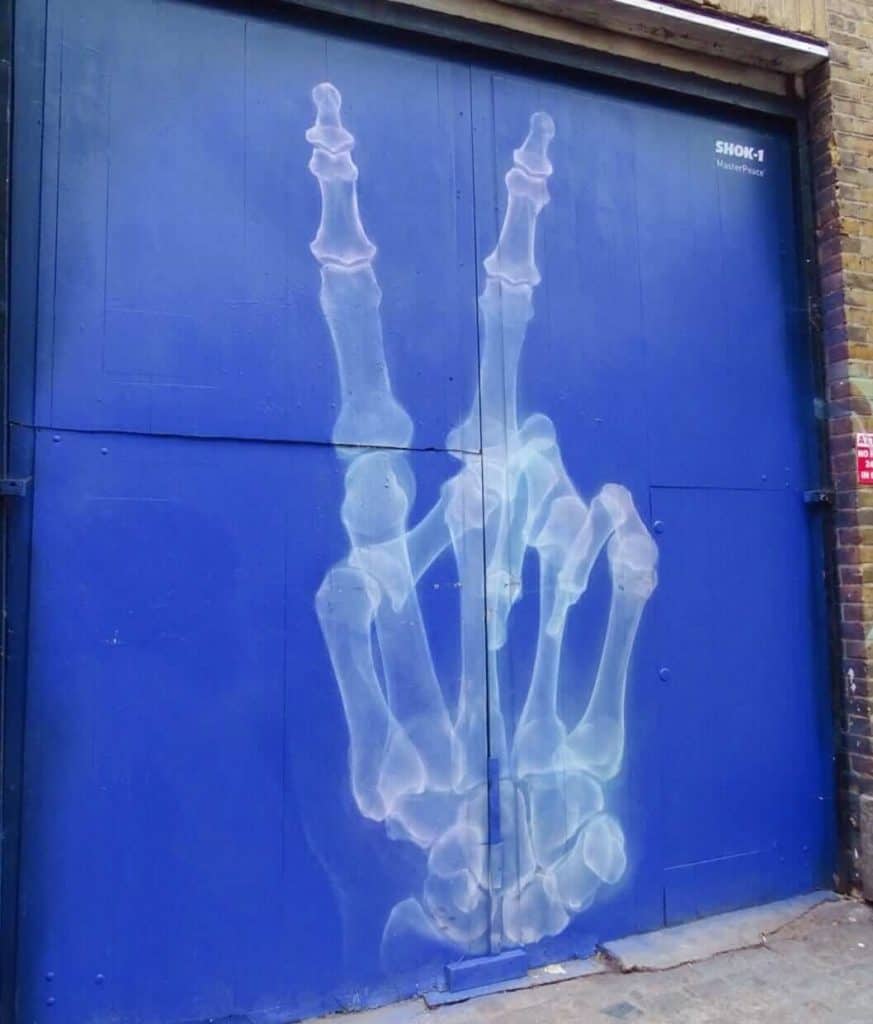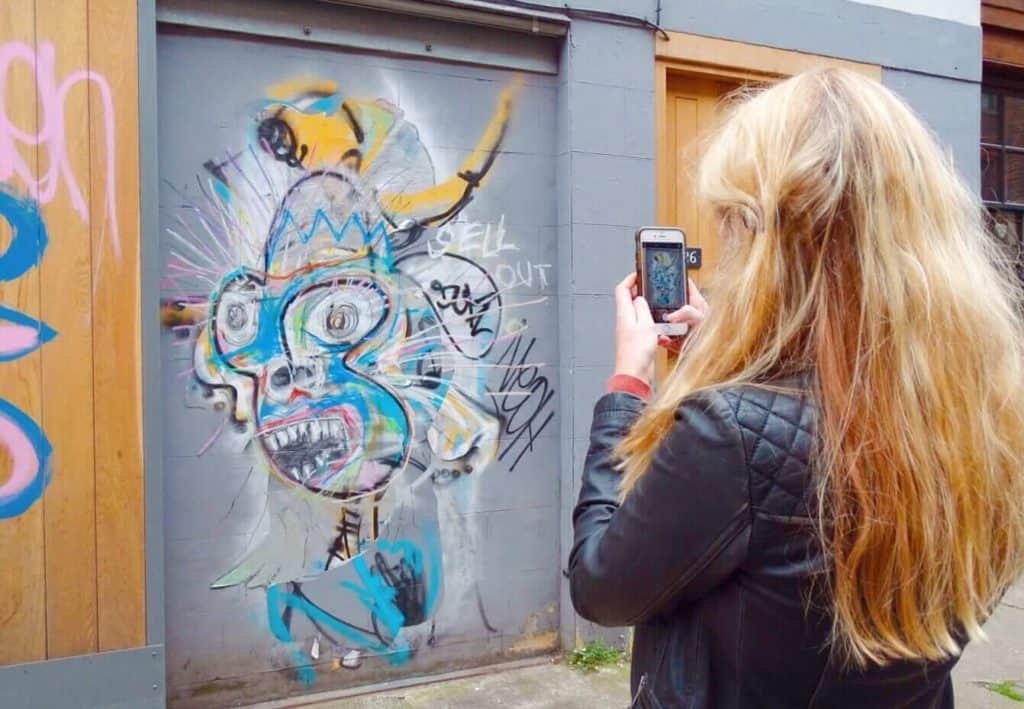 Hanbury Street
What I love about the Brick Lane art is that almost no walking is required. Hanbury Street is on the other side of Brick Lane from Fournier Street, two turns down from Heneage Street.
Here you'll see a big crane and in the next image, an abstract painting that includes a giant ice cream and what I think is a man lying underneath it. This isn't a realistic piece but I quite like trying to figure out what my eyes are seeing – a bit like a puzzle.
Don't miss the little area beside this WHATISADAM mural of two people sharing a can of maple syrup (no prizes for guessing the artist is Canadian). In there, you'll find a couple of stalls serving jerk chicken and these glorious gold and blue faces. I'm not sure who created these Brick lane murals but they're incredible!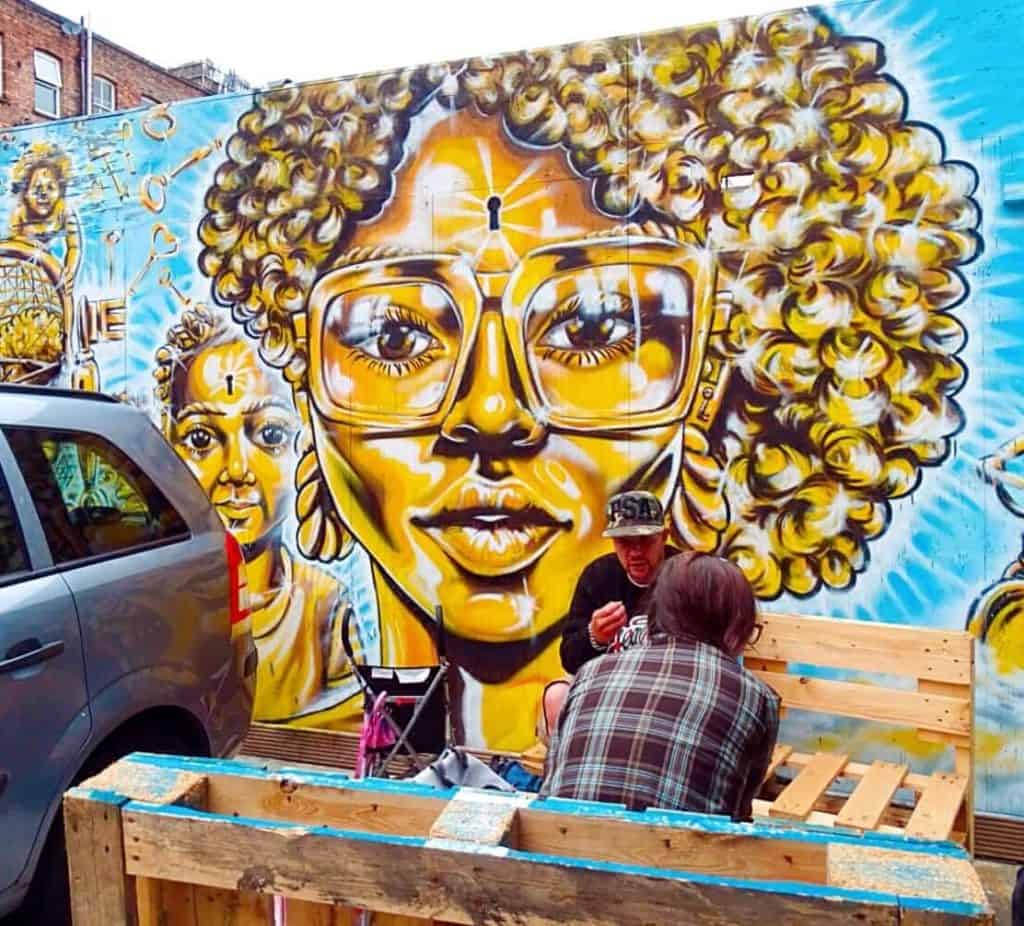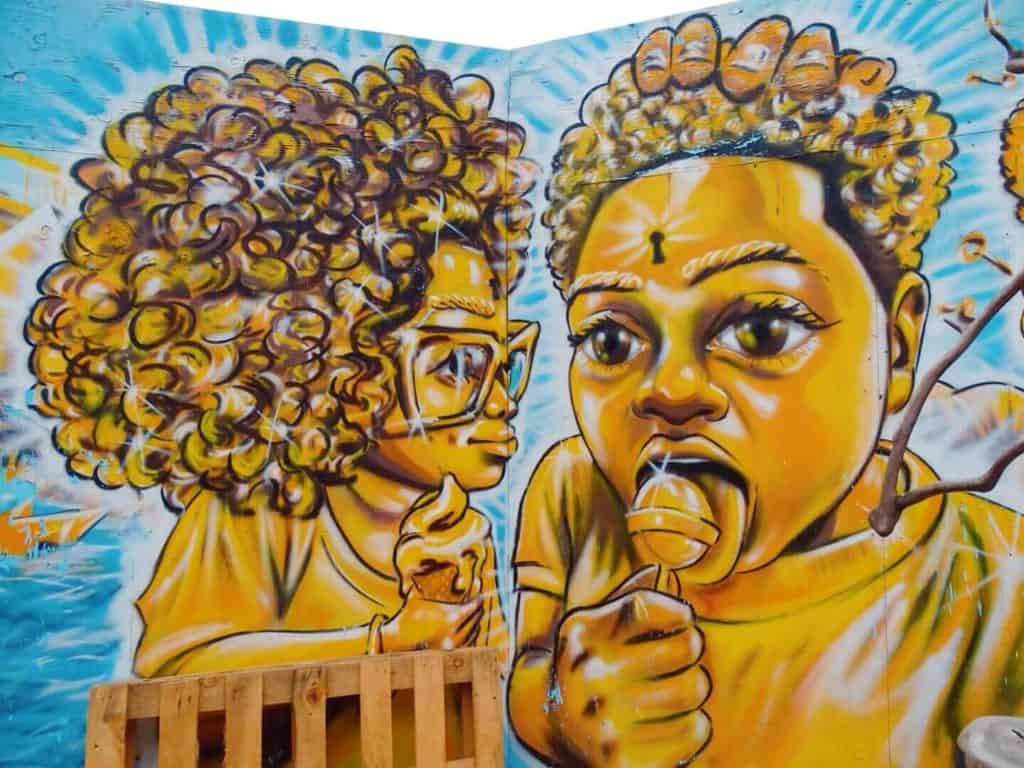 Corbett Place
We ended our tour of the Brick Lane street art at the food truck area next to Corbett Place (off Hanbury Street) where we saw a final SHOK-1 mural.
Honestly, this tour put me in the best mood full of creative energy and colourful visual stimulants. Whatever light bulb doesn't get switched on in me by traditional gallery art, I get strobe lights, disco balls and fireworks from street art.

While many people still think of the murals on Brick Lane as graffiti, I know they're so much more than that!

If you're keen for a guide, I would recommend the street art Brick Lane London tour with Free Tours by Foot. Otherwise, follow the stops in this blog and have a great day!
Useful info – getting to Brick Lane
Tube: The nearest tube station is Aldgate East connecting to the Hammersmith and City line.

Overground: Catch the orange overground line to Shoreditch High Street which is just a short walk to Brick Lane.

National Rail: You can catch a train from several UK cities into London Liverpool Street which makes it easy to explore the Brick Lane murals; they're just a short walk away.
Thanks for reading my Brick Lane London street art guide
Like London / street art? Check out my other posts:
See you next time for more adventures,
Rose
For more travel content, follow me on Instagram, Facebook, Twitter and YouTube.
Ps. Liked this self-guided street art Brick Lane tour? Pin it for later!