This post may contain affiliate links to things like tours, hotels, Amazon associates and products. These help me earn a small commission at no additional charge to you.
I recently spent 2 days in Sofia, somewhere I didn't have huge expectations for but totally blew me away. For that reason, I want to share my weekend in Sofia itinerary so you can enjoy it, too!
My main reason for visiting Sofia? The flight home at the end of my month backpacking Eastern Europe was £30 cheaper than it was Romania, where I'd been for 2 weeks previously.

I'd been so excited for Romania and not thought much about Bulgaria but actually, I think I preferred Bulgaria. Sofia is a lovely underrated city and the sights in the surrounding countryside are absolutely stunning. There are plenty of hiking trails around Sofia, not to mention excellent cafes, restaurants, religious sites and museums.

Throw in tasty food, affordable prices and friendly locals – what else could you need from your city break?
SOFIA ESSENTIALS

Accommodation: Booking.com // Hostelworld

Tours & activities: GetYourGuide // EatWith

Getting there: Flight (Skyscanner), train (RailEurope), bus (Flixbus)

Sofia airport to accommodation transfer
In this guide, I'll sum up the best things to do in Sofia and share my 2 day Sofia itinerary. As a foodie, I'll also share my favourite dishes, cafes and restaurants, too.
Check out my other Bulgaria blogs:
Getting to Sofia
Sofia seems to be one of Europe's most affordable cities to fly in and out of: my flight to London was only £25. I use Skyscanner to find the best flight deals.

The journey from Sofia airport to the city centre is also a bargain at 1.60 lev, less than €1.

If you're arriving late or want the convenience, book a Sofia airport to accommodation transfer in advance.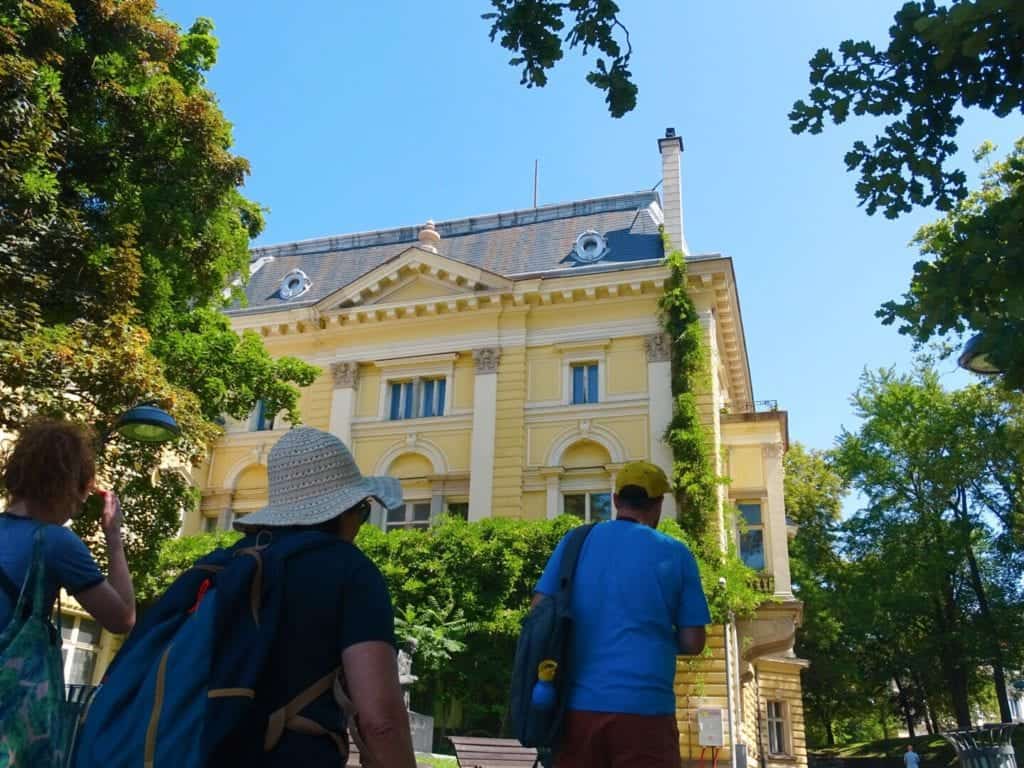 Bus: If you're coming overland from Bucharest like I was, you can catch a seven-hour FlixBus for around €15. You can also catch a bus to Skopje, Macedonia or Thessaloniki, Greece.

Train: A train runs from Sofia to destinations including Istanbul and Belgrade. Use RailEurope to book train tickets in Europe.

To Istanbul: You can travel between Sofia and Istanbul in 11 hours. Book your train at the station or your bus here.

Europe transport tip – use Omio to compare the price and duration of flights, buses and trains between any two destinations.
Where to stay in Sofia
In Sofia I stayed in one of my favourite hostels ever, Hostel Mostel. Not only do you get a free all-you-can-eat breakfast, you also get a free dinner every night. Each evening there was a choice of three dishes: either a curry, pasta or an egg and potato dish, washed down with a beer. Bearing in mind that beds start from €9, it's a major bargain.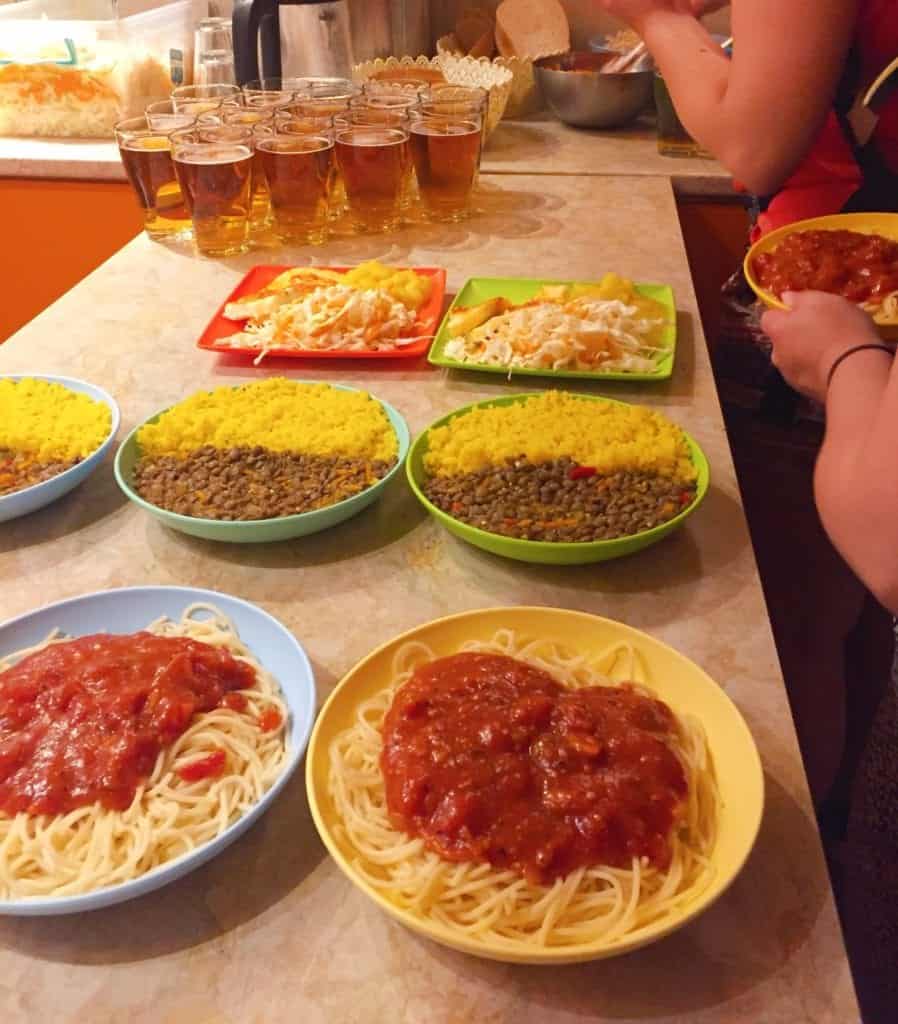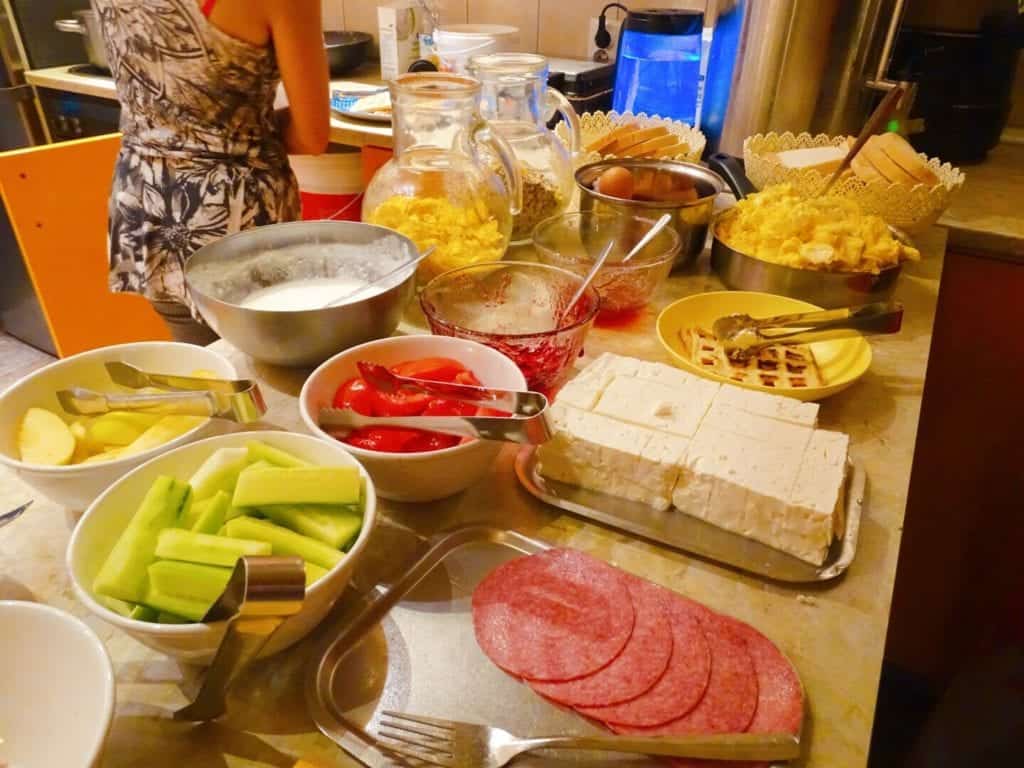 At Hostel Mostel, there are dorms, single and double rooms. All the dorm beds have their own privacy curtain, lamp and charger socket which I find makes such a difference to a hostel stay.

The shared meals made it really easy to meet other travellers, plus there's a pub crawl that runs every evening at 10pm. It's a great place to stay if you're looking to make friends while travelling solo.
Hotels in Sofia
I get it. Not everyone loves a hostel. Some of the best hotels and apartments in Sofia include:

Central Hotel Sofia: a luxurious place to stay in the centre of the city, perfectly placed for walking between the main attractions. There are double and twin rooms, many with seating areas and mini kitchen areas, as well as ensuite bathrooms, a generous buffet breakfast, hot tubs and a spa. Check availability from €90 per night.

Art 'Otel: If you'd prefer a more of a quirky hotel in central Sofia, this converted period property has modern art everywhere, as well as a garden rooftop balcony where you can relax and look over the city. Breakfast is included. Check availability from €65 per night.

Bohemian Lux Apartment: This private apartment in the heart of town has Wi-Fi, living area, balcony, breakfast, toiletries, security box and washing machine, all decorated in Bohemian grandeur style. Check availability from €60 USD night.

Apartment Audrey by SofiaSpot: This modern apartment has a bedroom, living room, kitchen, dishwasher, bathroom, balcony and flat-screen TV, located just a short walk from Saint Alexandar Nevski Cathedral. Check availability from €60 per night.
Things to do in Sofia
I met a handful of travellers in Bucharest who said there wasn't much to do in Sofia, but I disagree. Perhaps because of their comments, my expectations were fairly low. Sure, it's a relatively small city and there aren't hundreds of activities but I really enjoyed myself.

There's more than enough to do during a weekend in Sofia, plus so many cool cafes and places to hang out.

These are my top things to do in Sofia. Keep reading for my 2 day Sofia itinerary.
Alexander Nevsky Cathedral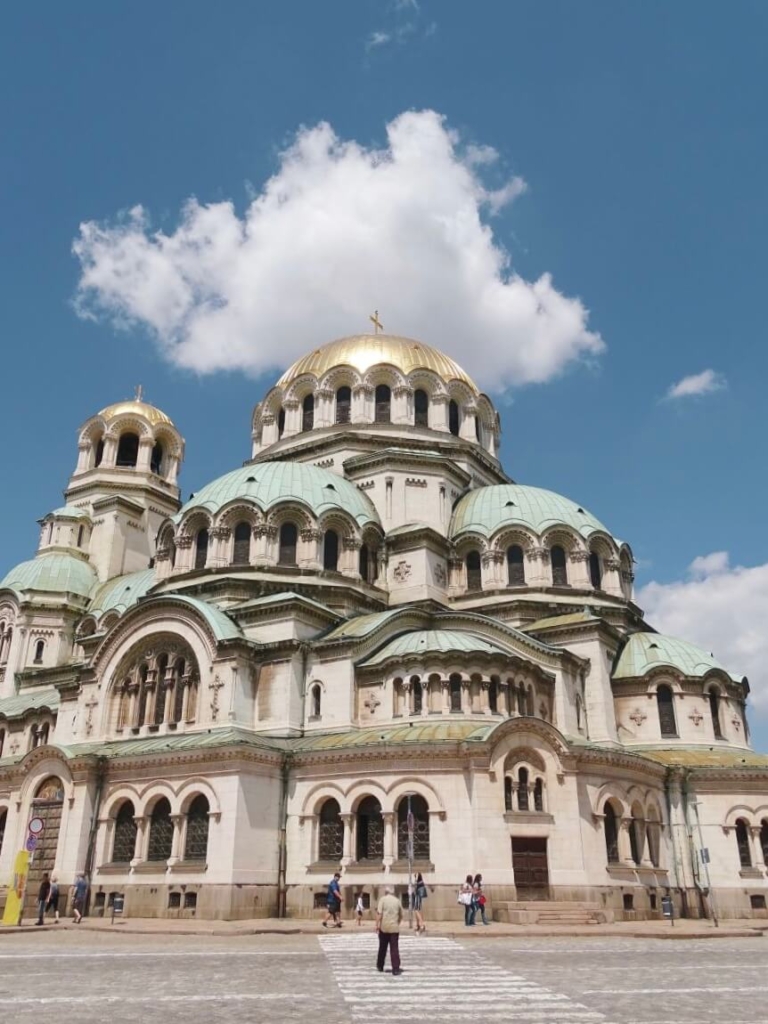 When you Google 'Sofia', the first image to come up is Alexander Nevsky Cathedral. It's become a symbol for the city and I'll admit I was very excited to see it myself.

It was built to honour the Russian soldiers who helped liberate Bulgaria from the Ottomans who had ruled the city for 500 years. This must have been an incredible period of history but the Russians probably didn't stay high in Bulgarian opinions once the communist era began.

This enormous cathedral was pieced together with materials from everywhere: marble from Munich, metal from Berlin and mosaics from Venice. Word has it that the building can hold 10,000 people at one time.

Entrance is free, thankfully because I didn't find it nearly as impressive from the inside as the outside.
Free food tour with Balkan Bites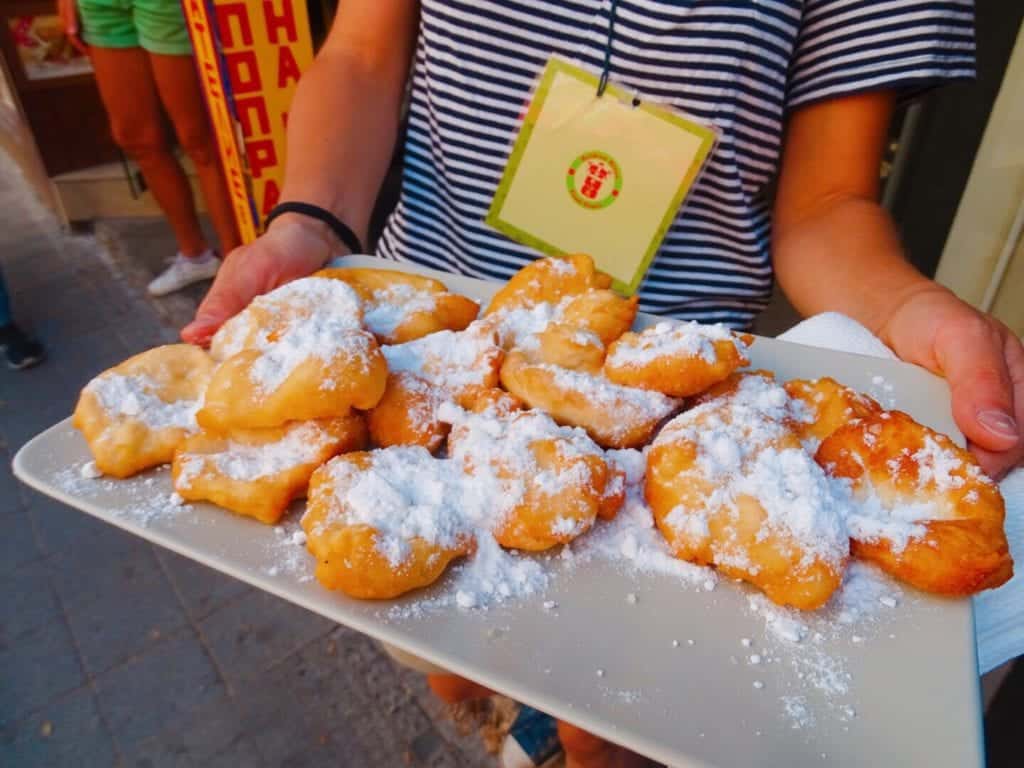 A must for a weekend in Sofia is the Balkan Bites free food tour.

Yep, you heard that right, an actual free food tour with dishes included! How can this be?

The Balkan Bites concept is an ingenious one: they provide the tour and share local knowledge while the cafes and restaurants provide free platters and tasters of their food as a method of advertising. It certainly works since I've been promoting them all over Instagram and via word of mouth.

The tour lasts 2 hours and visits a gorgeous cafe, wine bar, sit-down Bulgarian restaurant and an authentic bakery. Our guide was fantastic, filling us in on the history of the dishes we were trying. While the tour is free, you're encouraged to give a tip if you enjoy it.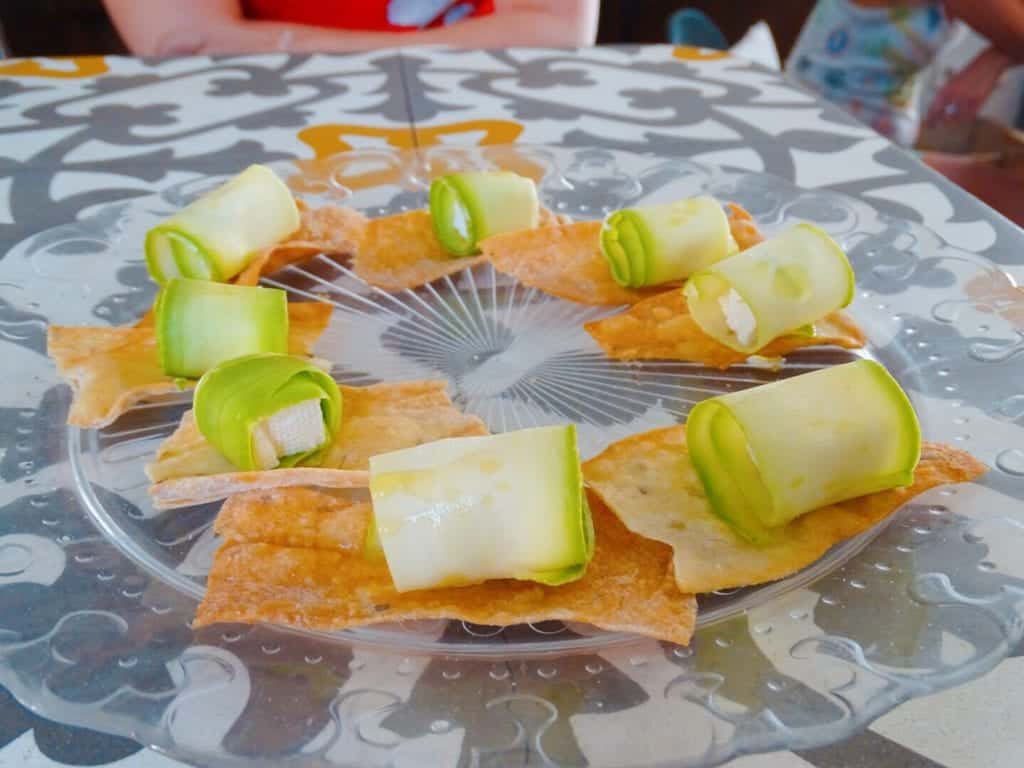 Tip – book a place online via Facebook or arrive 20 minutes early at the meeting point. Some people were arriving 5 minutes before and getting turned away as the tour was full which, quite frankly, would suck if you had a tight Sofia itinerary and couldn't try again.

The tour runs at 2pm daily, departing from the Crystal Garden beside the giant head statue.
The Central Mineral Baths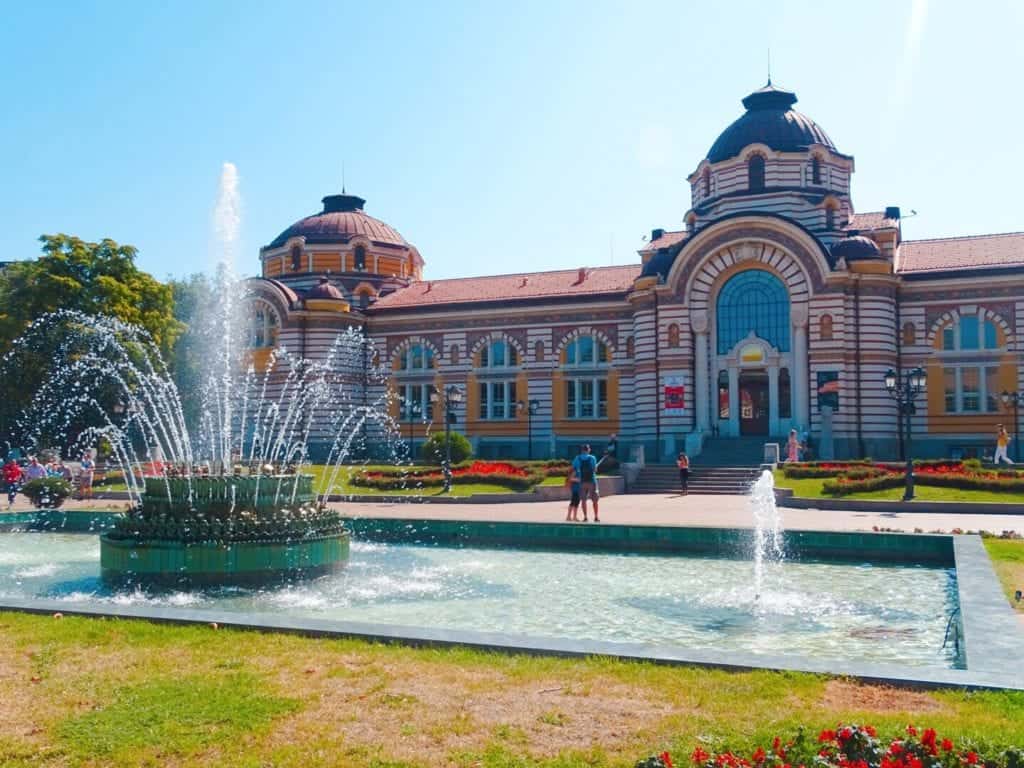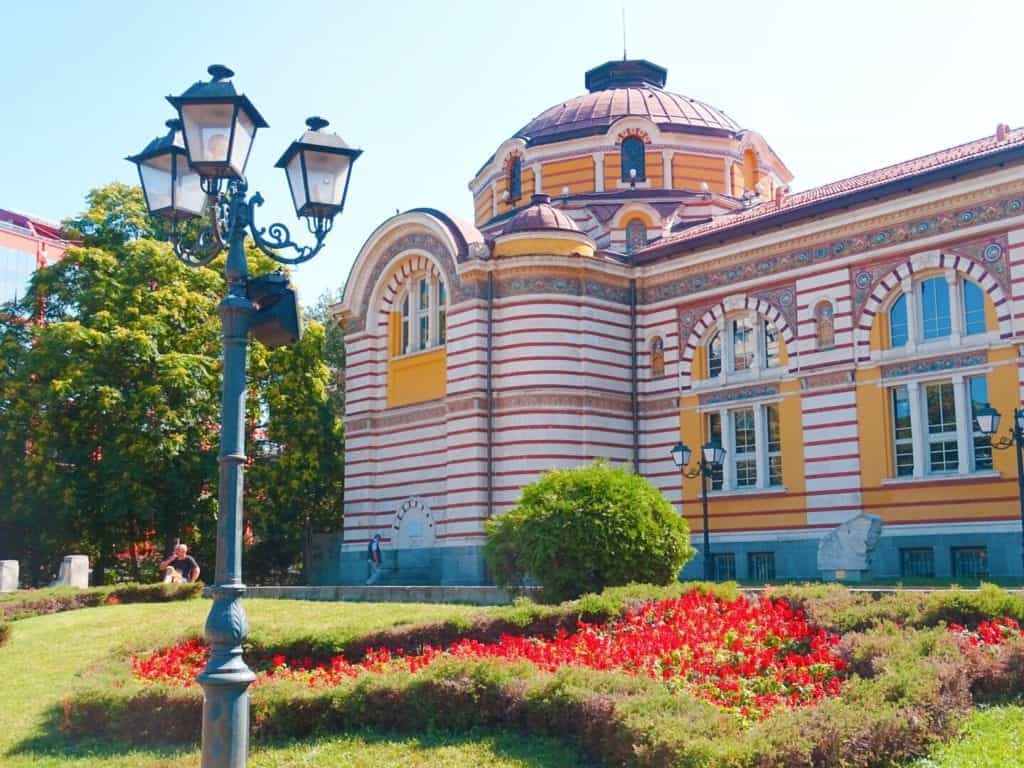 Bulgaria is a land of thermal activity and bubbling mineral springs, something I had no idea about before my 2 days in Sofia.

These hot public baths were used for the locals for decades but sadly they've been closed for the past 40 years; a shame as I'd have loved a dip.

However, a free thing to do in Sofia is stroll the colourful grounds of the Central Mineral Baths building and imagine how it would have been in the past. Don't forget to…
Fill up your bottle with natural spring water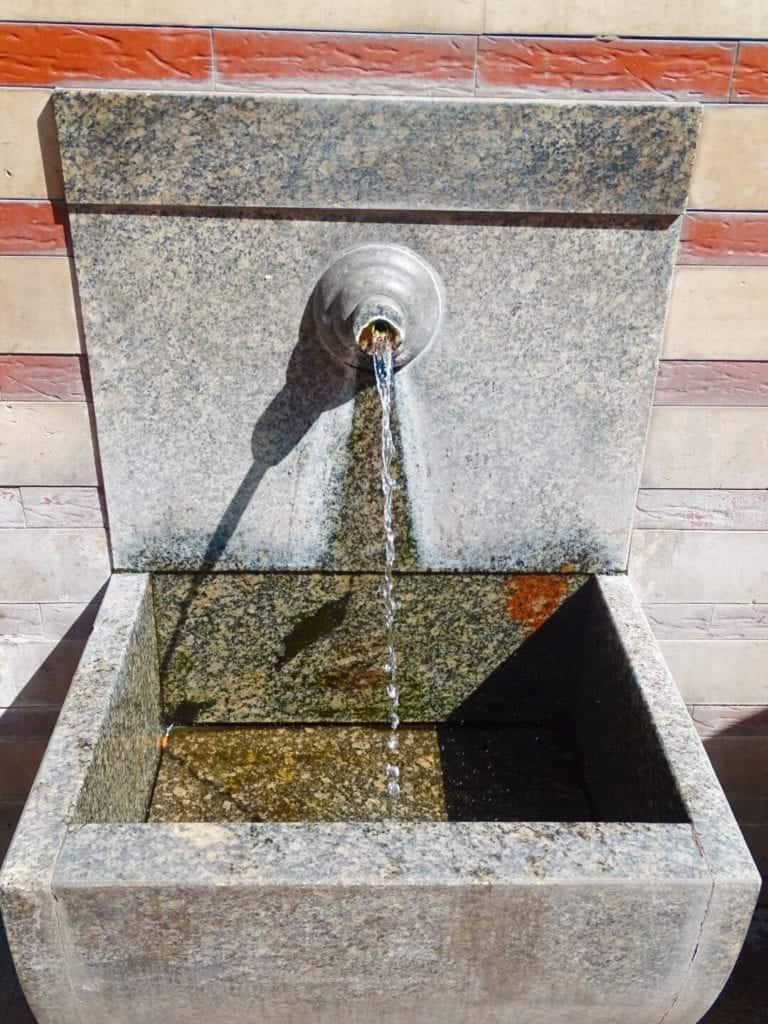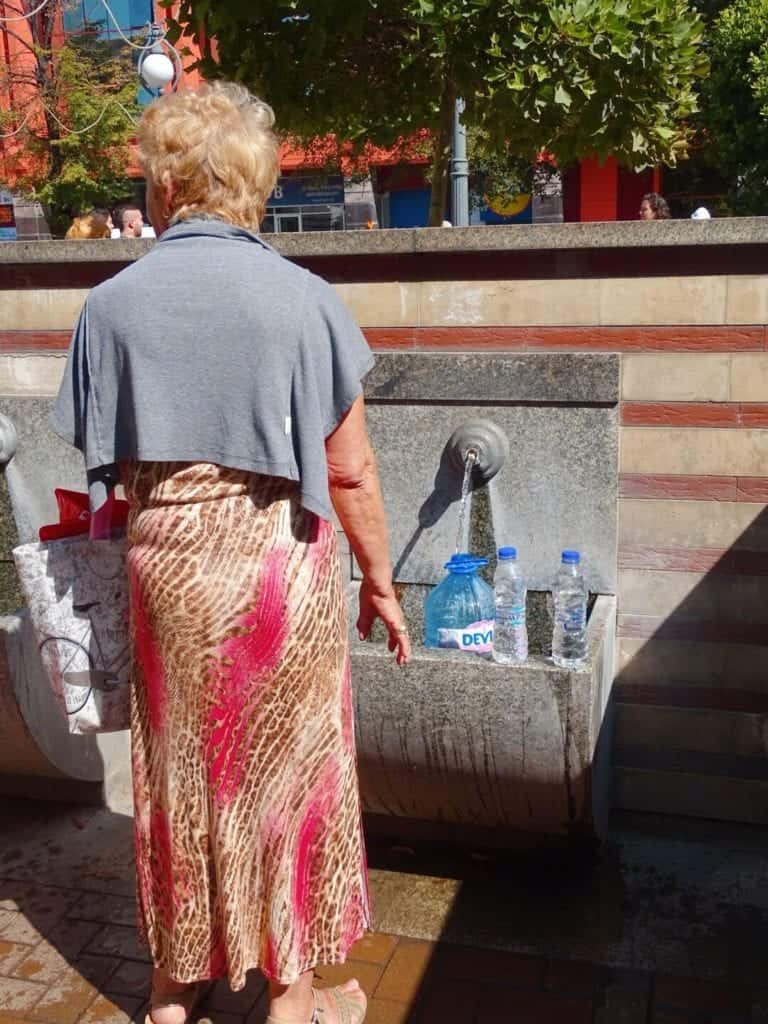 Cross the road from the Central Mineral Baths and you'll find an open square full of fountains. You'll notice an abundance of locals filling up large water bottles with warm mineral water straight from the natural springs.

I wouldn't recommend tipping away your drinking water, however – not only is the water lukewarm, but it tastes notably of egg. I took a gulp of the sulphur-ey goodness and decided not to again!
Journey up Vitosha Mountain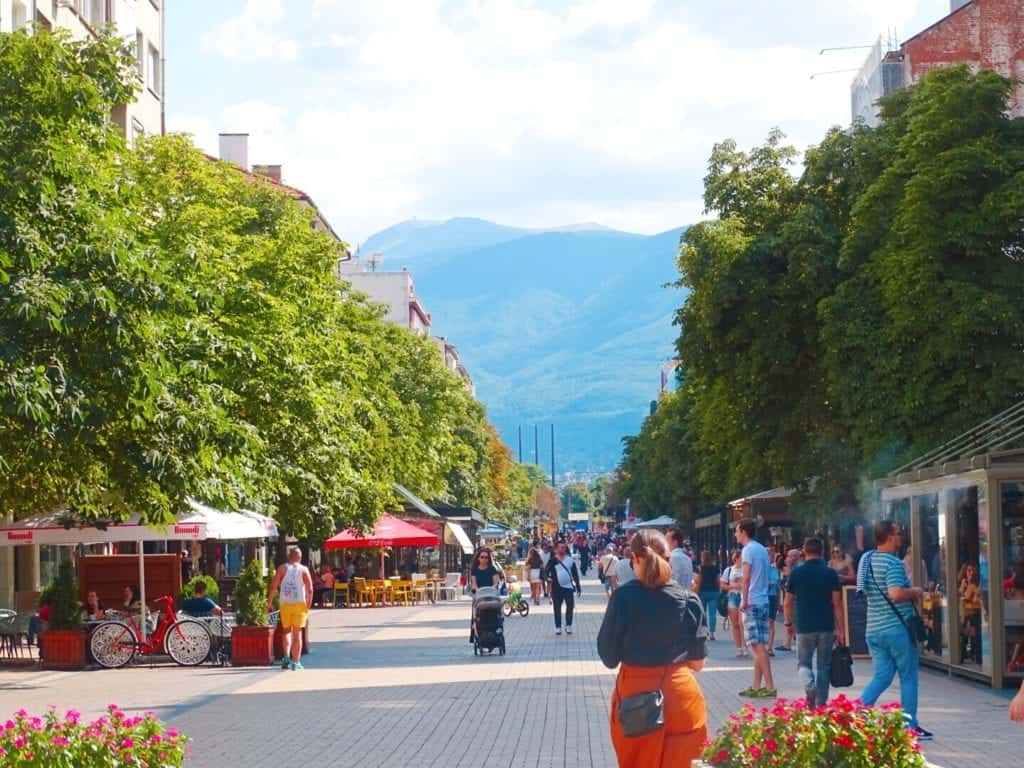 One thing I loved about Sofia was the mountain scenery that acted as a backdrop the whole time. Sitting with a coffee at an outdoor cafe while admiring the skyline was the perfect way to spend a summer afternoon.

A popular thing to do in Sofia is take a trip up Vitosha, the best-known mountain in the area. Here you can hike or even go skiing in the winter. If you're looking for an active Sofia itinerary, this could be the one.

If you have a weekend in Sofia and you're feeling sporty, there are several ways to get to Vitosha Mountain from Sofia. You can even hike there, starting from the dedicated stone at the National Theatre.

Alternatively, buses 122 and 93 depart Hladilnika Station (opposite Paradise Mall) and journey up Vitosha, dropping at the start of a ski lift route to the very top.
Step back in time at the Red Flat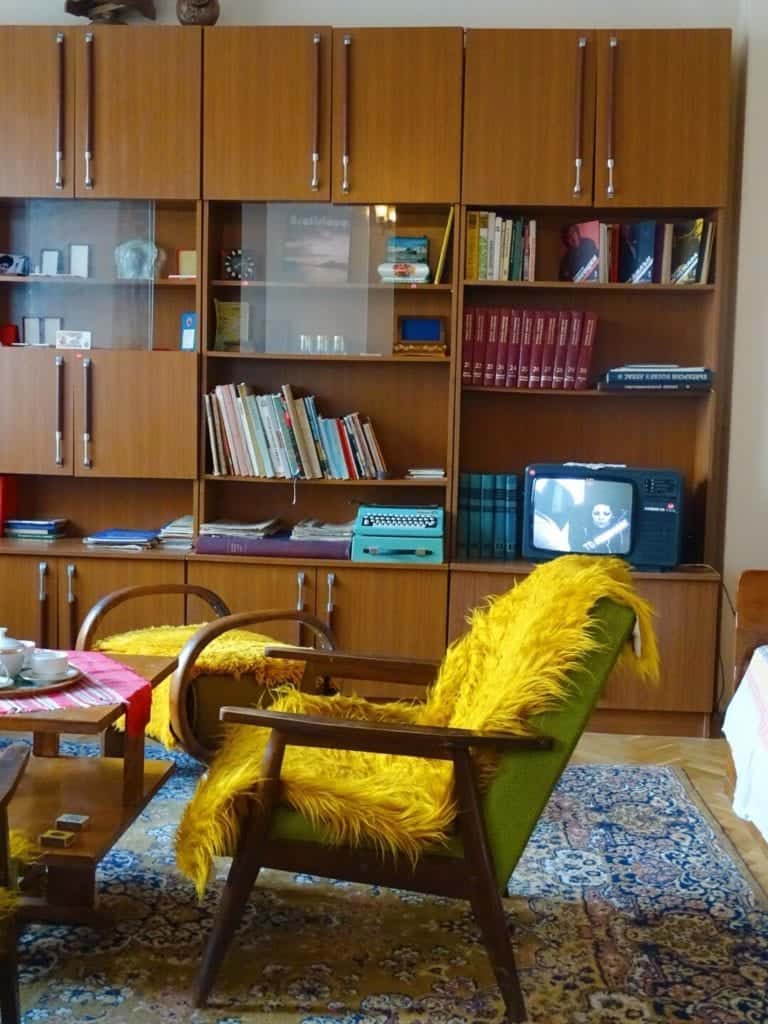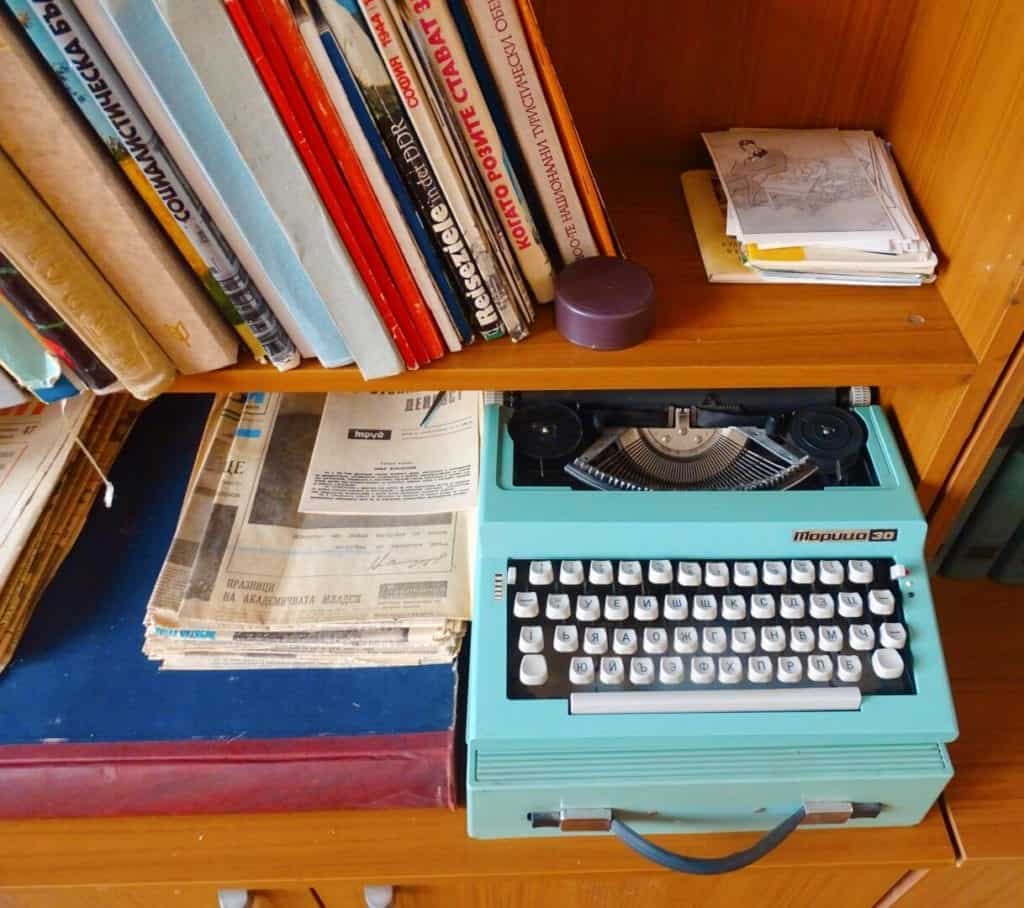 The Red Flat was by far the most interesting stop during my weekend in Sofia. Sure, the churches and religious buildings are nice but none of them offer an insight into authentic Bulgarian life.

I find the communist period so fascinating because it was so recent and undoubtedly still affects life today.

I ummed and ahhed because the Red Flat was 18 lev entry and I didn't have much cash left before leaving Bulgaria the following morning. In the end, I was so glad I went inside.

The Red Flat is designed to look like an average home in the communist era: no greater than 120 square feet and decked out with the foods, brands and home items that people would have owned.

Each item in the house relates to an audio story on the headset you're given on arrival. I loved listening to realistic stories about a fictional family who lived in the apartment.

To visit the Red Flat, locate the Gifted store and purchase your ticket. If you've been on a Sofia Free Tour that day you'll get 2 lev off the price. I'd highly recommend squeezing this gem into your Sofia itinerary!
Interested in Sofia's history? Take a communist walking tour with a local guide for €10.
Seven Rila Lakes hike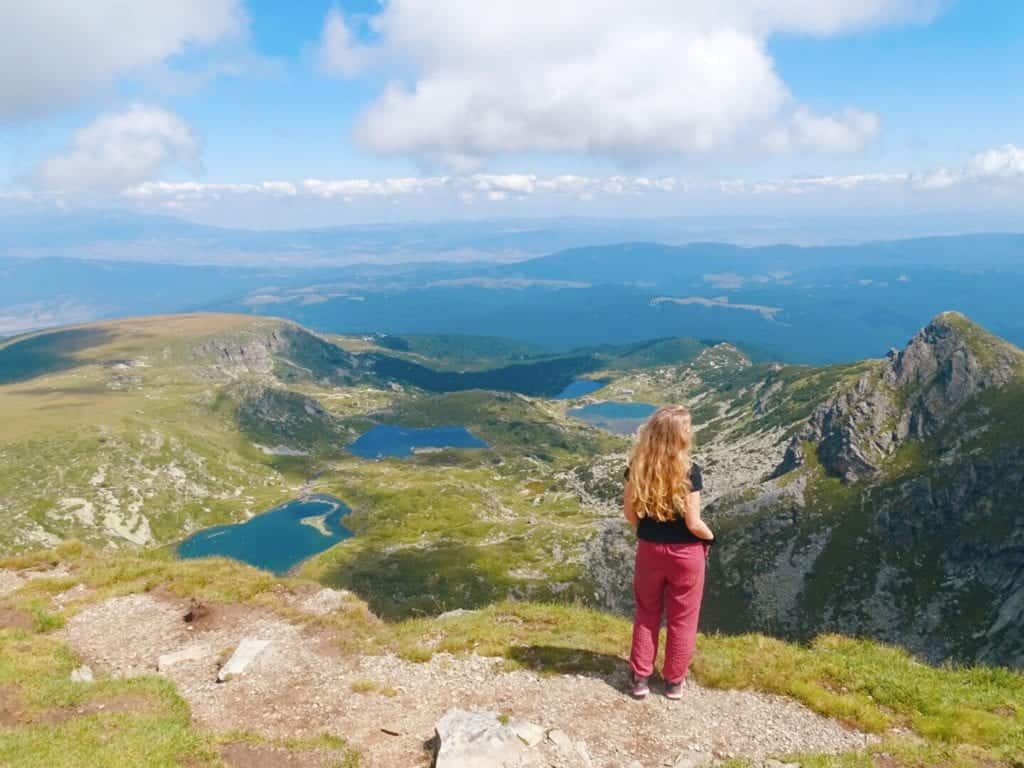 My favourite part of my recent trip to Sofia? Easily the Seven Rila Lakes hike!
Read next: Hiking Seven Rila Lakes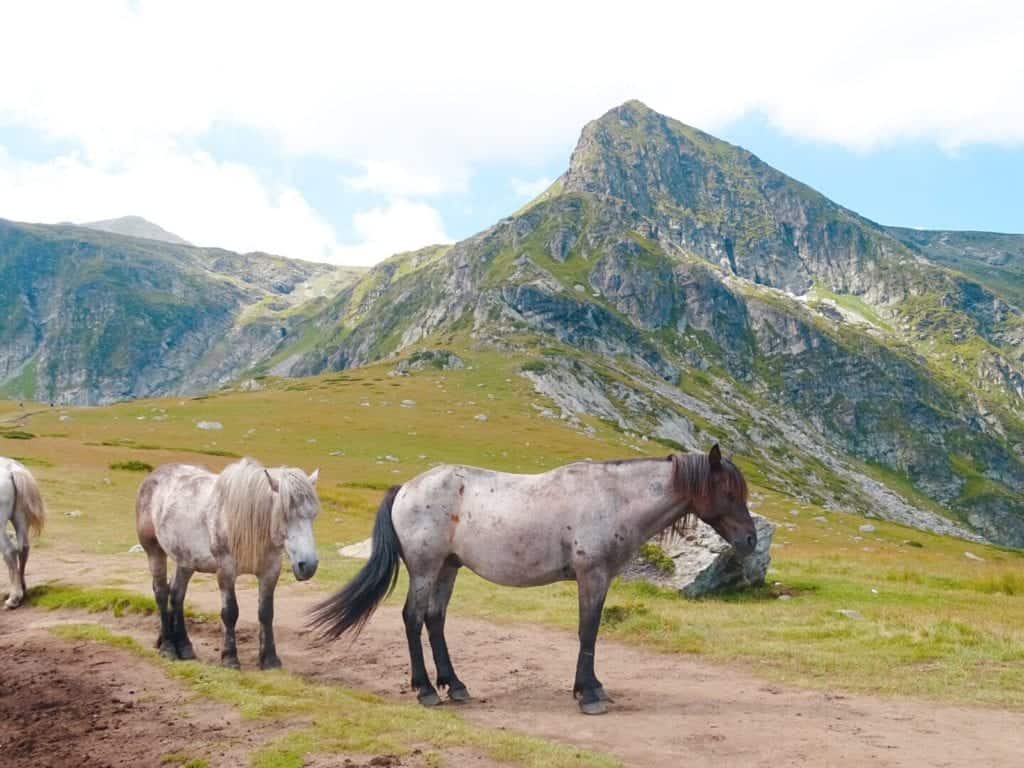 The Seven Lakes are a series of glacial lakes dating back over a million years. My step app informed me by the end of the hike that I'd climbed 130 flights of stairs though I'd say it wasn't actually as hard as it looked. Perhaps the prospect of seeing all seven lakes in one panoramic view spurred me on!

There's a shorter and longer route you can hike; I did the shorter 'red route' which took 3 hours return. Scenery-wise, I can't imagine anything better but it would have been nice to spend even more time in the country air.

Whether you drive or take a tour to Seven Lakes, you'll begin your day at the base of the cable car. This 20-minute ride costs 20 lev return but saves you an extra 2 hours of hiking.

Book a Small group, full-day Rila Lakes hiking tour (€25) or a self-guided trip including Rila Monastery (€34). I took the latter and can highly recommend it.
Free walking tour with Sofia Free Tours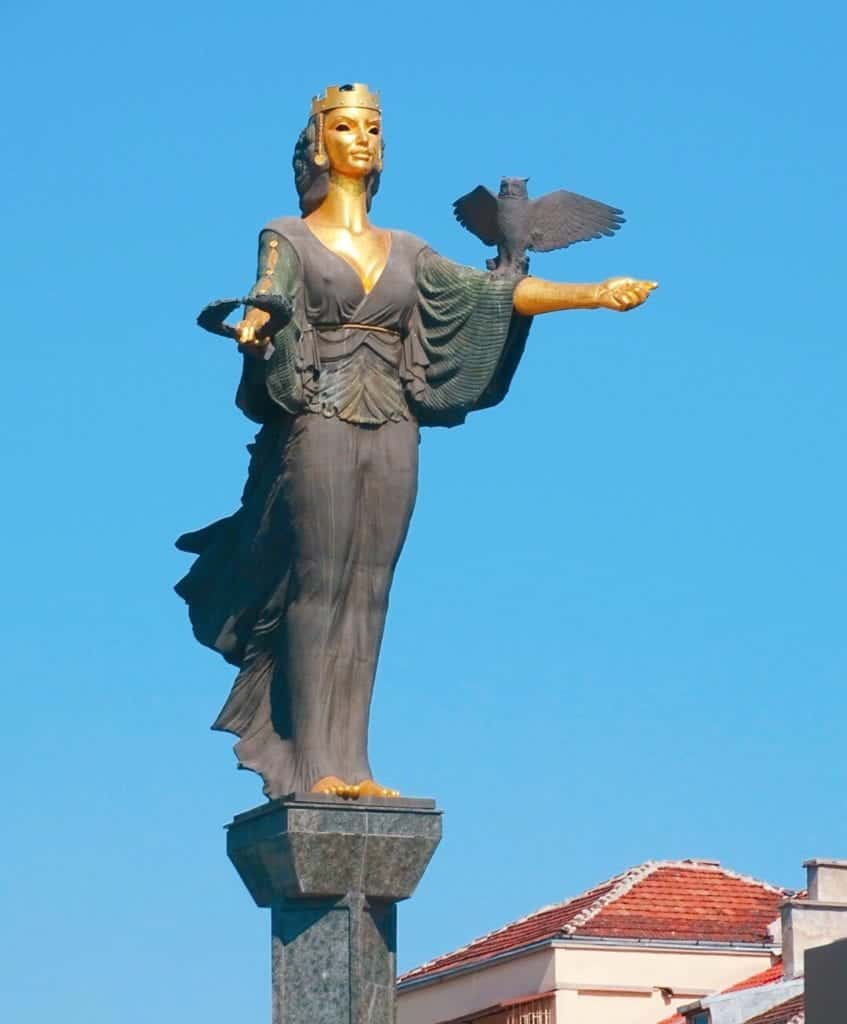 Read my Europe blogs and you'll realise I love a free tour. What's not to like?

The best thing to do in Sofia in order to understand the history of the city is learn from a local.

Tours depart daily at 10am, 2pm and 6pm from the Palace of Justice. There's no reservation needed so you can just rock up. The tours are free but you can give a donation, plus there are a couple of paid-for tours available including a Jewish history tour.

Visit Sofia Free Tour for more info.
Rila Monastery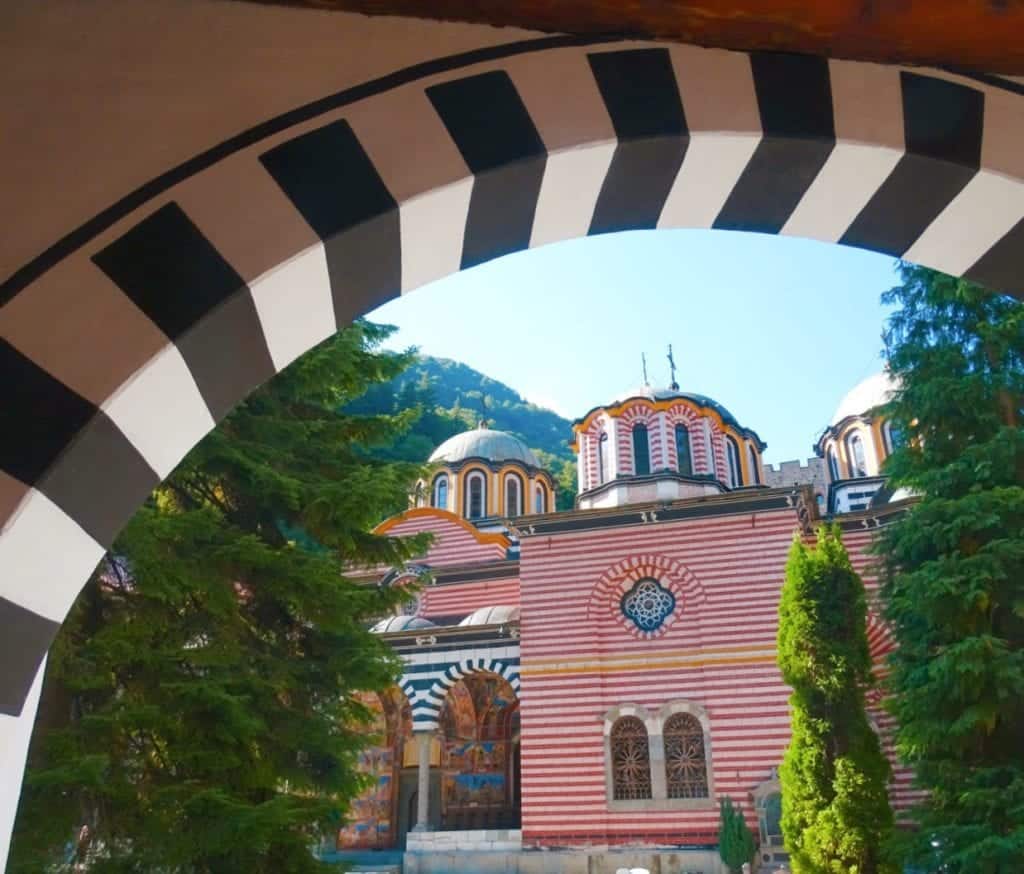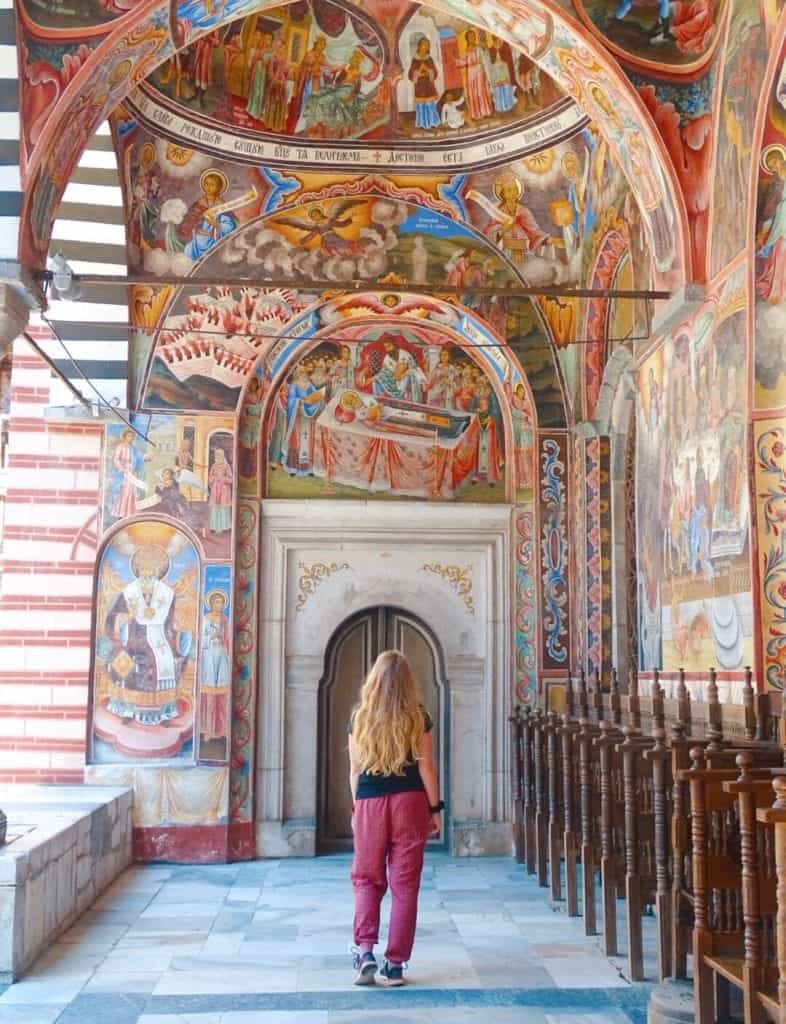 Rila Monastery is a trek from the city but I wanted to include it in this 2 day Sofia itinerary regardless. This impressive monastery surrounded by mountains is an important pilgrimage site for Bulgarians as it safeguarded Christianity throughout days of Ottoman rule.
Whether or not you're a believer, Rila Monastery is a gorgeous place to visit. I headed there in the afternoon of my Seven Rila Lakes day tour but you can also catch a public bus at 10.20am from Ovcha Kupel bus station, returning to the city at 3pm.
For a quicker ride and guided tour, book a return Rila Monastery tour from €25.
Check out the street art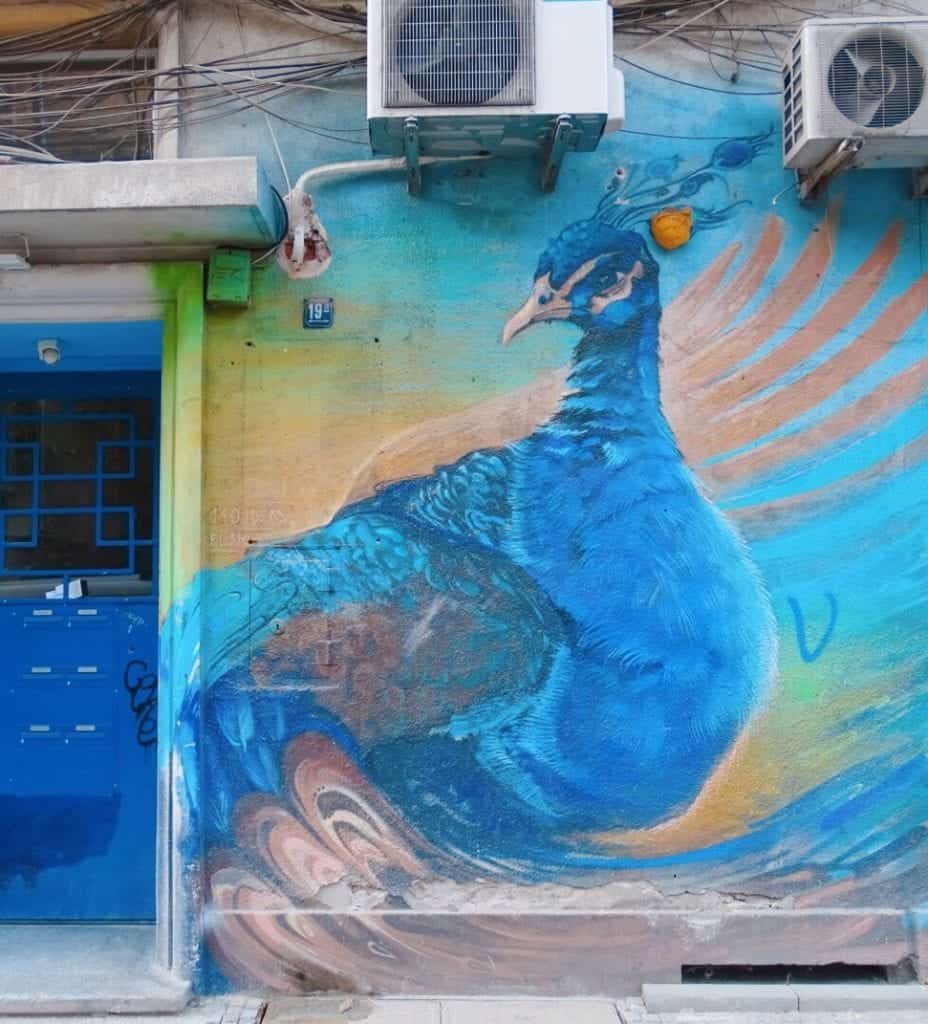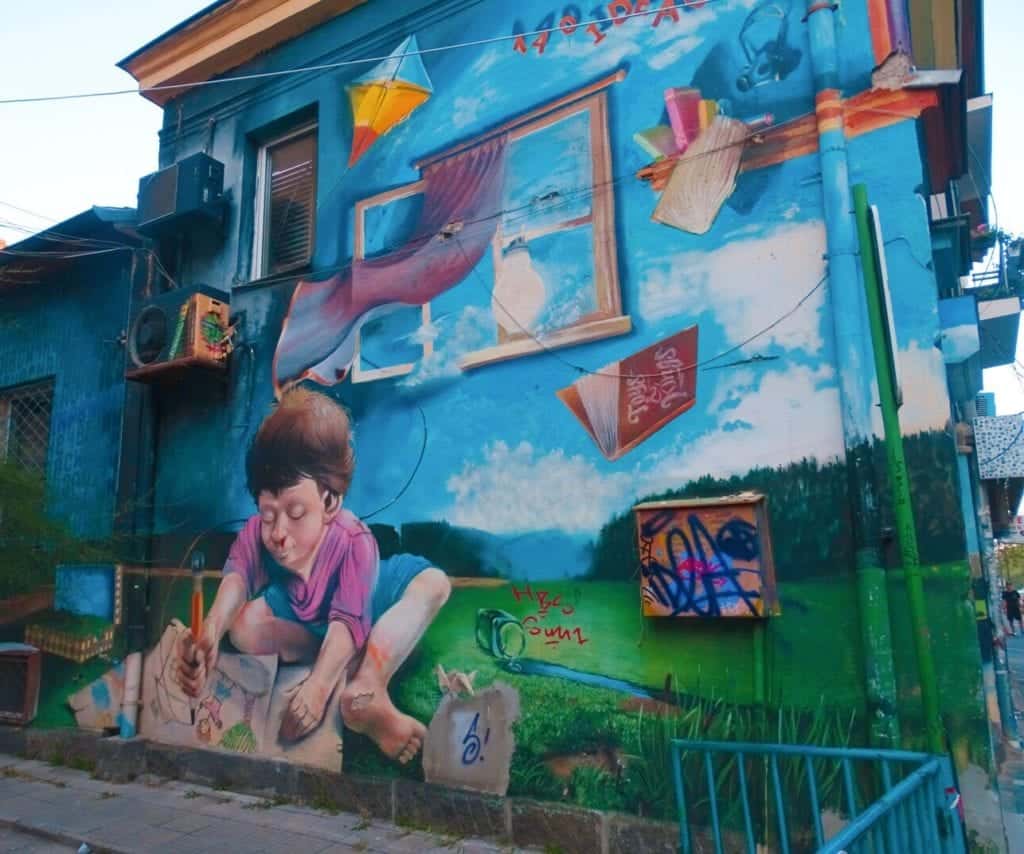 I didn't have Sofia on my radar for street art but I was pleasantly surprised. There were plenty of creative, captivating pieces dotted around.

If you head to Garafa Wine Shop or Skaptoburger (spoiler, you should) near Serdika Station, you'll find these two blue pieces pictured above. Check their location here.

To get shown all the best bits by the locals, take a 2.5-hour Sofia street art tour with a local guide.
Weekend in Sofia itinerary
If you're unsure about how to squeeze in the above attractions, follow this itinerary below. For day two, you can just visit Rila Lakes or try to squeeze in Rila Monastery, too.
Day 1 Sofia itinerary
10am: take a walking tour with Sofia Free Tour. If you don't fancy the structure of an organised walking tour, create your own and stop at Alexander Nevsky Cathedral and the Central Mineral Baths during the morning.

2pm: After a very light lunch, join the free food tour with Balkan Bites (remember to book a place on Facebook).

4pm: Finally, visit the Red Flat before the closing time of 6pm. If you have any extra time in Sofia, you could visit the Red Flat a different day to ensure you have time to do it properly.

9pm: Explore the nightlife with a Sofia hidden bar crawl.
Day 2 Sofia itinerary
7am: Head on a day trip to The Seven Rila Lakes. Choose a tour that includes Rila Monastery if you're keen to check it out, too. Otherwise, take a full-day guided tour to get immersed in the countryside surroundings.

If you happen to have a third day in Sofia, you could visit Rila Monastery the following day. It depends how much time you want to dedicate to each location.

7pm: Reward yourself for your day hiking by eating dinner at Skaptoburger when you return to Sofia. I didn't even feel guilty for the huge burger and cheesy patty (not that I ever do!) because I'd done so many steps during the day.
Best Bulgarian foods to try in Sofia
In my opinion, the Bulgarian cuisine is one of the tastiest in Eastern Europe. It's a little lighter than Romanian and Czech food with influences coming from Turkey and Greece.

It's meat and dairy-heavy yet I think veggies will have better luck than in many places in Eastern Europe. Two days in Sofia wasn't enough to try it all but I enjoyed sampling some of the most popular dishes.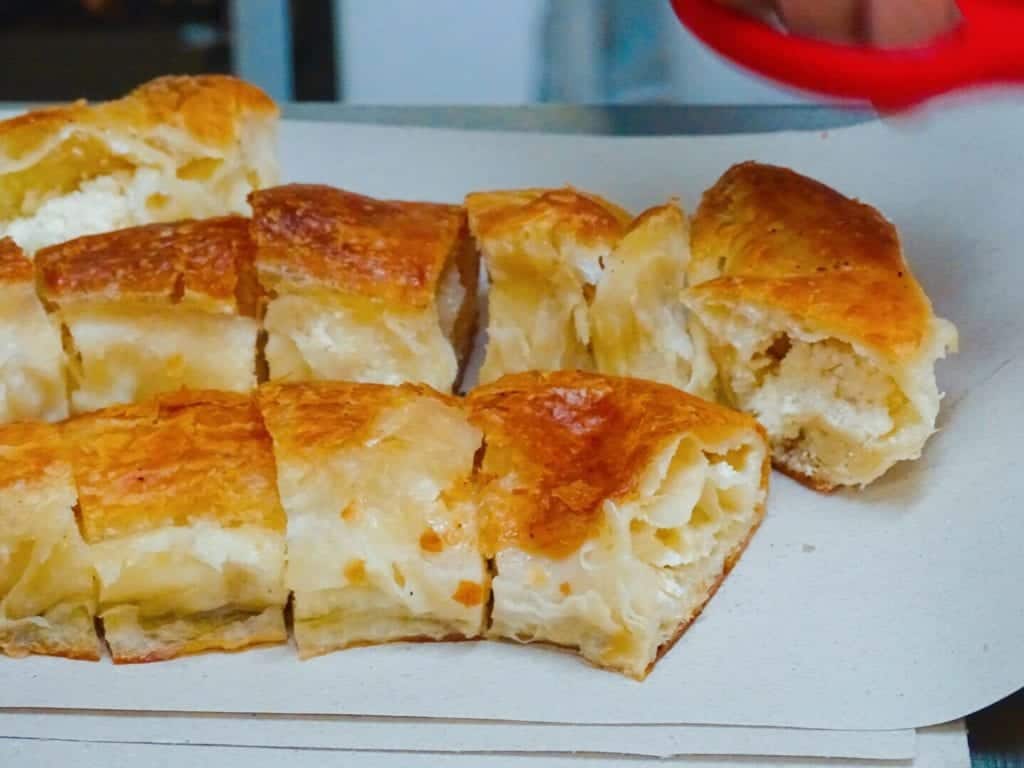 Some of the best foods to try during a weekend in Sofia include:
Mekitsa – this fried dough dessert is warm, crispy and served with jam, honey, yoghurt or icing sugar. Those who've experienced the Budapest food scene might compare it to langos.
Banitsa – the most famous baked good from Bulgaria is made with flaky, buttery pastry and filled with rich white cheese, a bit like feta. You might also find it made with bacon or spinach.
Shopska salad – the most simple yet beloved Bulgarian dish is made with red peppers, cucumbers, onion, parsley and shaved white cheese.
Moussaka – this dish layered with aubergine or mincemeat is popular in Middle Eastern countries as well as Bulgaria.
Kebapche – grilled pork or beef is served as sausages and accompanied with fries or salad. Simple yet delicious.
Tarator – a light and milky cucumber soup is eaten as a starter. It's an acquired taste.
Yoghurt and white cheese – the Bulgarians are big dairy eaters. Yoghurt might be their most prized national treasure, patented as a probiotic health supplement. White sheep's cheese (similar to feta) is also popular.
Restaurants and cafes in Sofia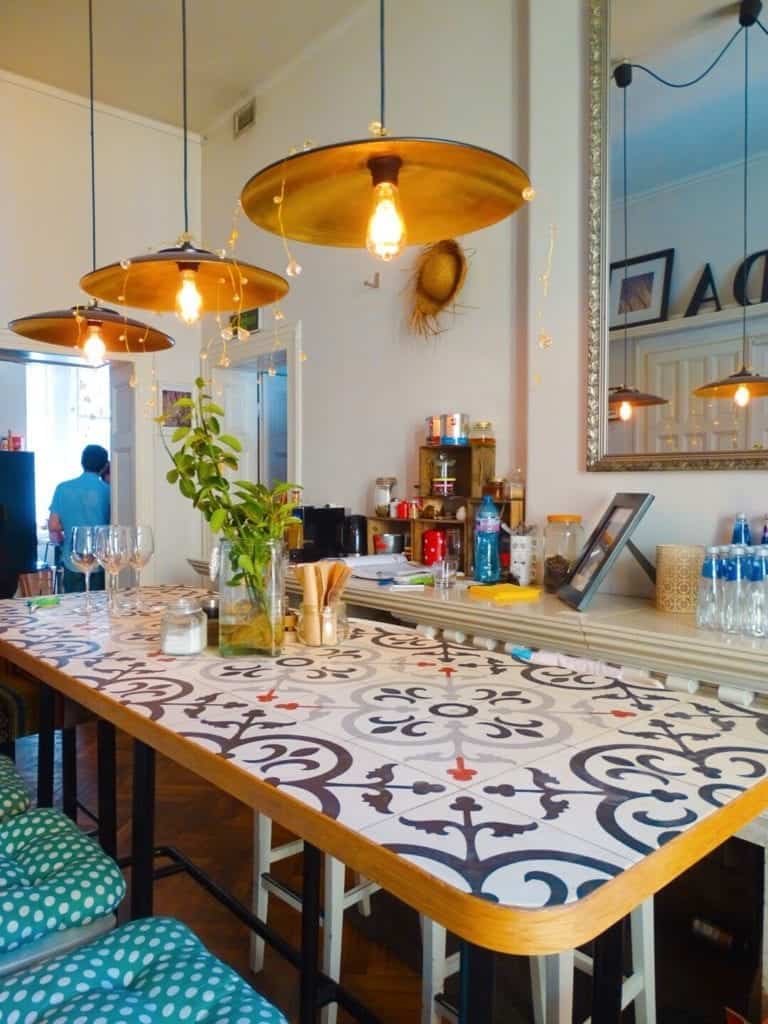 I loved the number of cool cafes, wine bars and hipster venues opening up in Sofia. But that doesn't mean there's any shortage of authentic Bulgarian food either; it's really a city where you can have it all. Must-visit restaurants for the best food in Sofia include: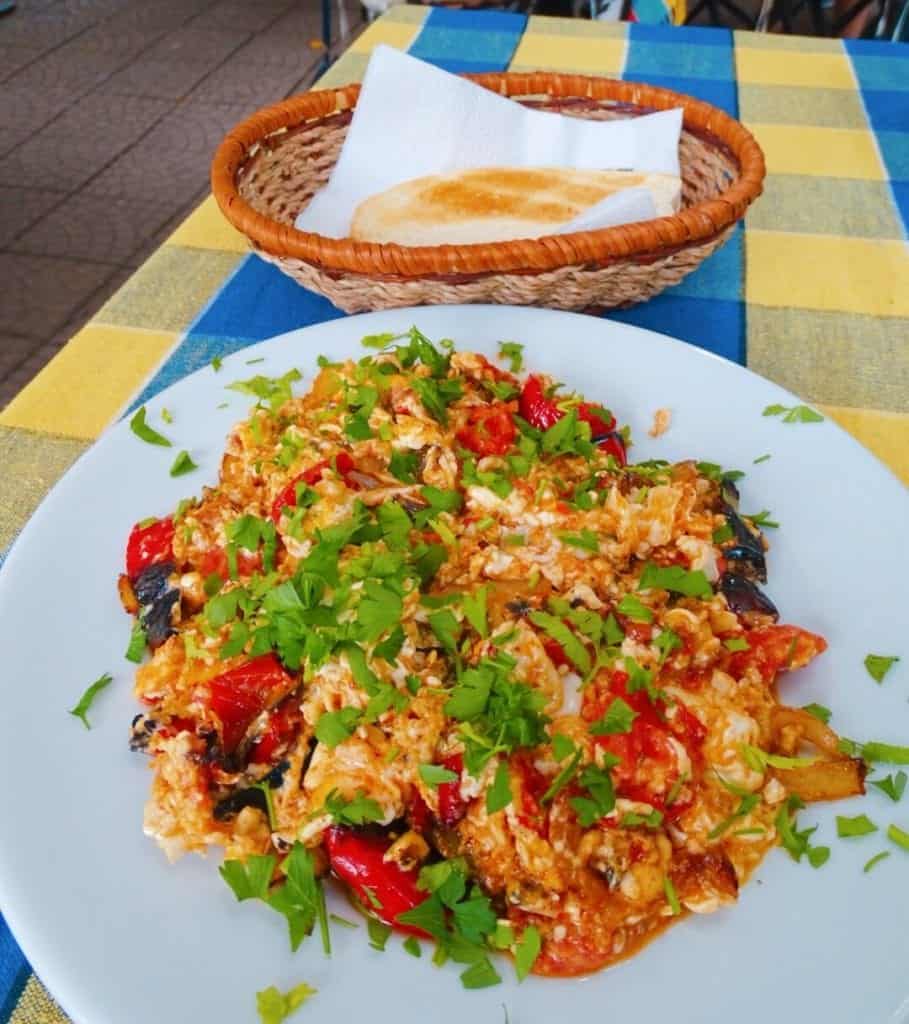 Bars in Sofia
Sofia has a lively nightlife that you can enjoy while spending a weekend in the capital. From quirky underground bars to upmarket bars and clubs, there are lots of places to go for drinks.

I took a Sofia hidden bar crawl which took us to unusual places I'd never know known about otherwise. Highly recommended!
Thanks for reading!
TRUSTED RESOURCES FOR VISITING BULGARIA

Getting around by air – I use Skyscanner to find the best-value flights, using the 'search by month' tool to find the cheapest dates. You can also use the 'to anywhere' feature if you're flexible on where you're going.

Driving in Europe – use Rentalcars.com to compare car rentals in European countries (and all around the world).

For trains, I use RailEurope. The search feature allows you to compare prices, and they show live departure times on the website.

For buses, I use FlixBus. Find journeys between European countries from €1! 

For hotels and self-catering apartments, I use Booking.com. You can filter by review score and price to find the best-rated budget places. For hostels, I use Hostelworld.com.

Browse tours and activities on GetYourGuide.

For food tours pairing travellers with passionate local chefs and foodies, check out EatWith.

Need travel insurance? I use World Nomads. They cover 150 countries and have 24-hour emergency assistance.

Check out my resources page for more travel discounts and budget tips from my 10+ years on the road!
Where next? Read my other Central/Eastern Europe blogs:
See you next time for more adventures,
Rose
For more travel content, follow me on Instagram, Facebook, Twitter and YouTube.
Ps. Liked my weekend in Sofia itinerary? Pin it for later!