While some people might question your decision to travel India alone, I won't. I had a wonderful trip to India and can't wait to do it all again one day. I'm going to tell you all about the best places for solo travel in India from the Northern Himalayas to the Southern beaches.
Read my other solo travel guides to Mexico, Vietnam, Bali, Thailand, Malaysia, South Africa, Cuba, Lisbon and Croatia.
How to travel solo in India
Best places to travel solo in India – Rajasthan
Pushkar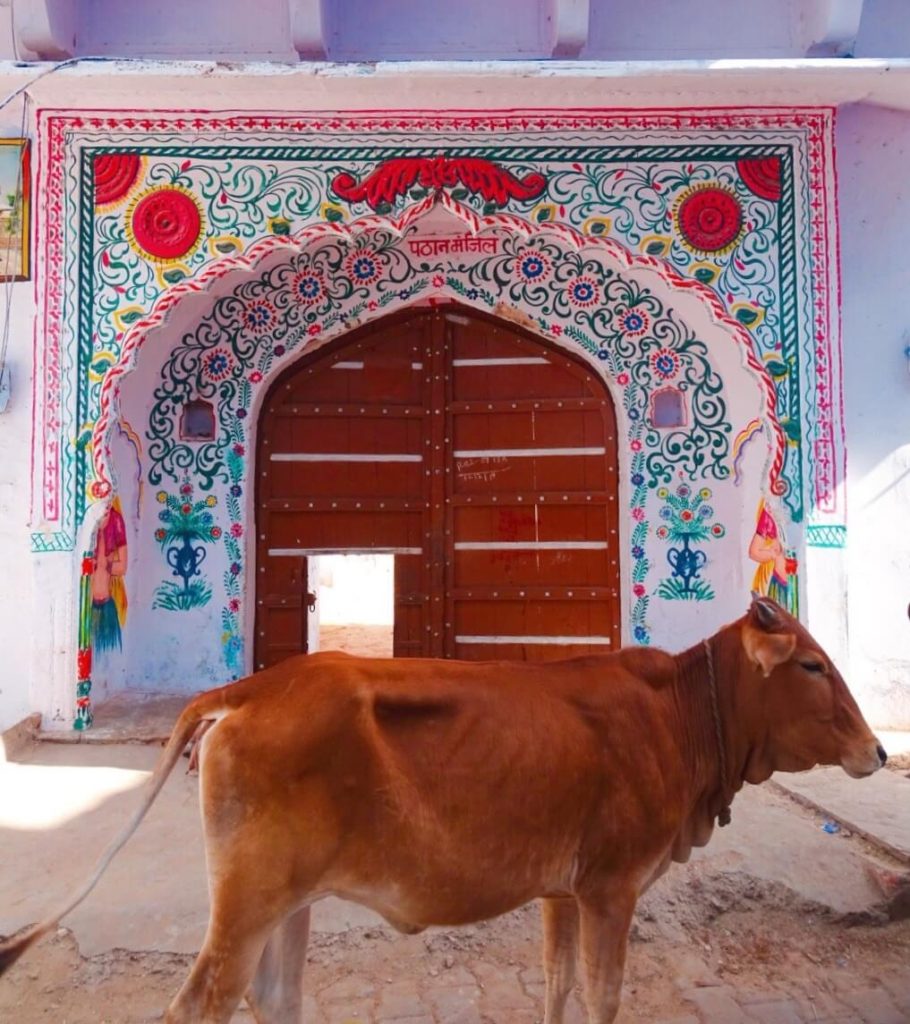 Ah, Pushkar. Is there a more perfect little place? I first visited in 2015 and came back in 2019 and 2023. I felt a flutter of sadness as I noticed how tourism had taken over, but I had to remind myself this happens: places can't stay hidden just for me.

Regardless, Pushkar is an ideal place for solo female travel in India. This sleepy Rajasthani town all set around a lake is peaceful and relaxed with lots of veggie cafes and colourful hostels. You might want to position your visit in the middle of your India trip for some much-needed downtime.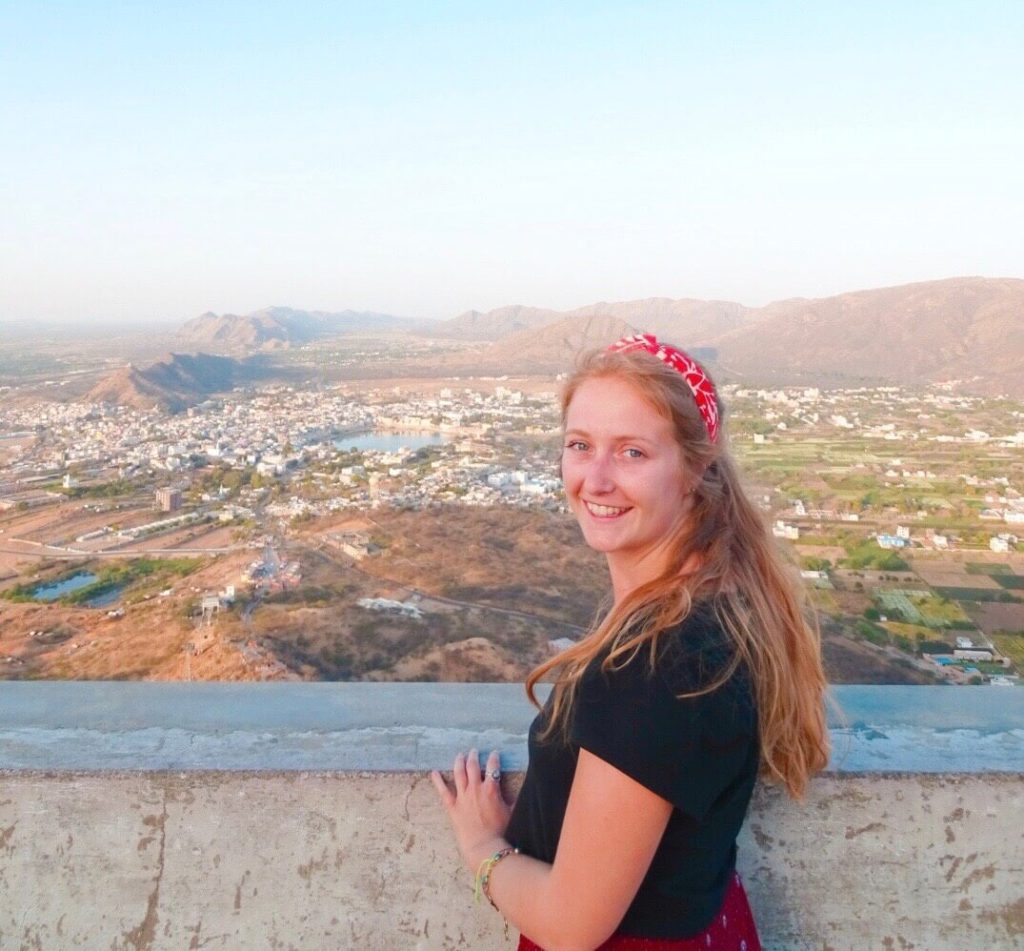 A fun thing to do in Pushkar is take the cable car to the top of the hill and watch sunset over the desert. If you need a break from curry, you can explore the Pushkar restaurants including Laughing Buddha Cafe for veggie burgers and Coffee Temple for gorgeous lakeside views.

How to get to Pushkar: Catch a bus from Jaipur in 4 hours or arrive into Ajmer Junction Train Station, a 30-minute taxi ride from Pushkar.

Where to stay in Pushkar: Backpackers can stay at Madpackers inside a period artsy building with a common space, rooftop cafe and yoga area. For an upgrade, stay at Inn Seventh Heaven which is a beautiful heritage hotel with funky artwork and one of Pushkar's best (most affordable restaurants) inside.
Jaipur
Jaipur is a city I had a love-hate relationship with but it's still a good place for solo travel in India. My main issue with Jaipur is that it's not walkable; something I value in a place. There just don't seem to be pavements!

You're best off organising a taxi tour for the day. Once you've accepted your mode of transport, there are fantastic sights to see including a few famous Jaipur Instagram spots.
Top destinations in Jaipur include the City Palace, Amer Fort, Hawa Mahal, Jal Mahal and Nahargarh Fort. Since there's a lot to see and do (and you'll probably need at least half a day off to relax), I would recommend setting aside 3 days in Jaipur.

It's a busy but safe place in India for female travel thanks to its plentiful hostels and availability of Uber and Ola taxi apps. However, you'll soon be ready to escape somewhere more relaxed where you can leisurely wander around.

How to get to Jaipur: You can arrive and leave by plane, train or bus.

Where to stay in Jaipur: For backpackers, The Hosteller has a lovely sunny roof terrace and social tours and events, although the rooms are kinda basic. For a more comfortable base, check out Hotel Rashika Palace with double rooms, Wi-Fi, desk and 24-hour security.
Udaipur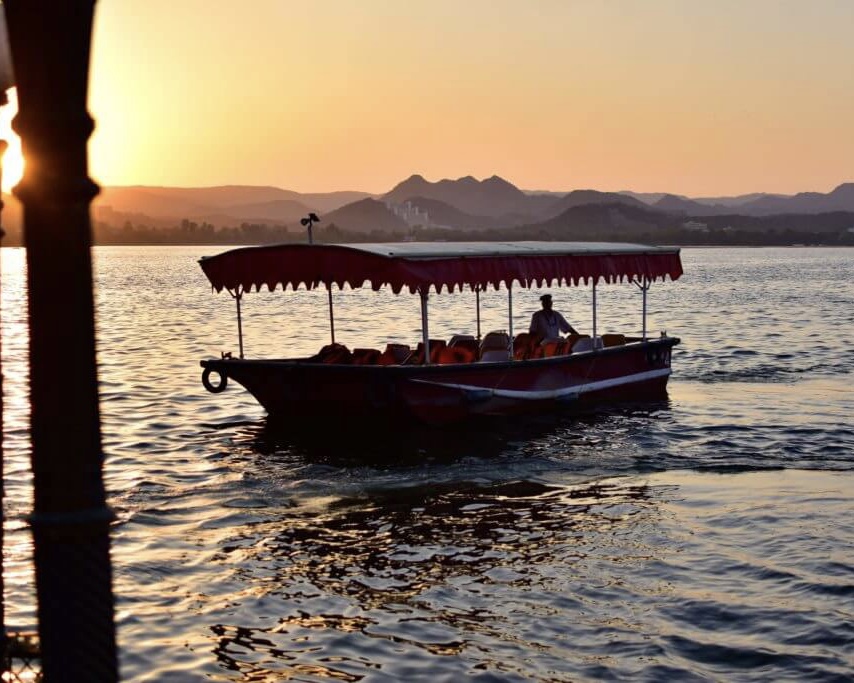 The City of Lakes is another of Rajasthan's most serene and peaceful destinations. No, you won't completely escape the beeping horns but there are notably less of them. While taking a boat trip across Lake Pichola or drinking tea from a rooftop cafe, you'll feel relaxed… A rare sensation for India!

As well as the gorgeous lakes, other places to visit in Udaipur include the 11 palaces and winding whitewashed streets. There are plenty of comfy hostels and tourist restaurants in Udaipur although of course, you can also dig into the street food.

How to get to Udaipur: There's a domestic airport and a train and bus station.

Where to stay in Udaipur: I would recommend Zostel with its gorgeous roof terrace and cafe overlooking the lake. It's the perfect place to spend a day relaxing if you need it, as well as a good base to meet other travellers. If you don't fancy a dorm, there are private rooms with lake views.
Jodhpur
Jodhpur lies in the Thar Desert and is locally known as the Blue City due to the dreamy hues of the houses. It's another safe and popular destination for solo female travel in India due to its developed tourist infrastructure and friendly hostels and guesthouses.

The Blue City is set around Mehrangarh Fort, dating back to the 15th century. Enjoy panoramic views from the top or soar through the skies on the Flying Fox zip wire. Other impressive sites in Jodhpur include Jaswant Thada and Umaid Bhawan Palace.

How to get to Jodhpur: There's a domestic airport and a train and bus station.

Where to stay in Jodhpur: For a friendly backpackers hostel with rooftop views of the fort, you can't do better than Moustache Jodphur.
Jaisalmer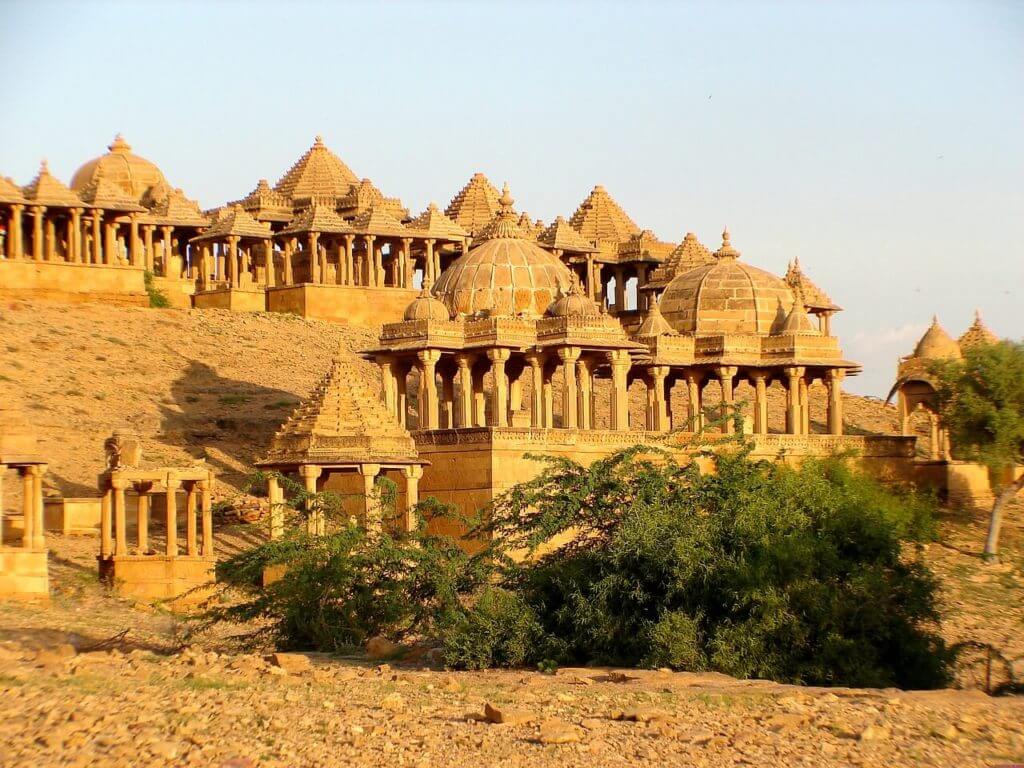 If you're wondering where to travel solo in India, I would suggest Jaisalmer over in the west of Rajasthan: a golden city in the heart of the desert. From Jaisalmer town, you can book desert camel trekking and camping excursions, however I'd discourage these for ethical reasons; the camels are treated notoriously badly. Keep an eye out for camping tours by Jeep instead.
Another fascinating excursion from Jaisalmer is Kuldhara, a mysterious abandoned city. Travel there by autorickshaw along a single road through the desert to explore about this supposedly haunted settlement. Don't worry, it doesn't feel too creepy in the daytime especially since you'll be with a guide!

How to get to Jaisalmer: It's admittedly a bit of a trek from the other Rajasthan destinations but don't let the 7-hour train from Jodhpur deter you.

Where to stay in Jaisalmer: The best place to stay in Jaisalmer for solo female travellers to India is Zostel Jaisalmer. There are lots of relaxed chill-out areas and places to meet people if you fancy it. There are dorms, private rooms and an in-house restaurant. For a luxurious desert camp in comfy glamping pods, stay at Desert Dream Royal Camp.
Rishikesh, Uttarakhand (best for spiritual solo female travel in India)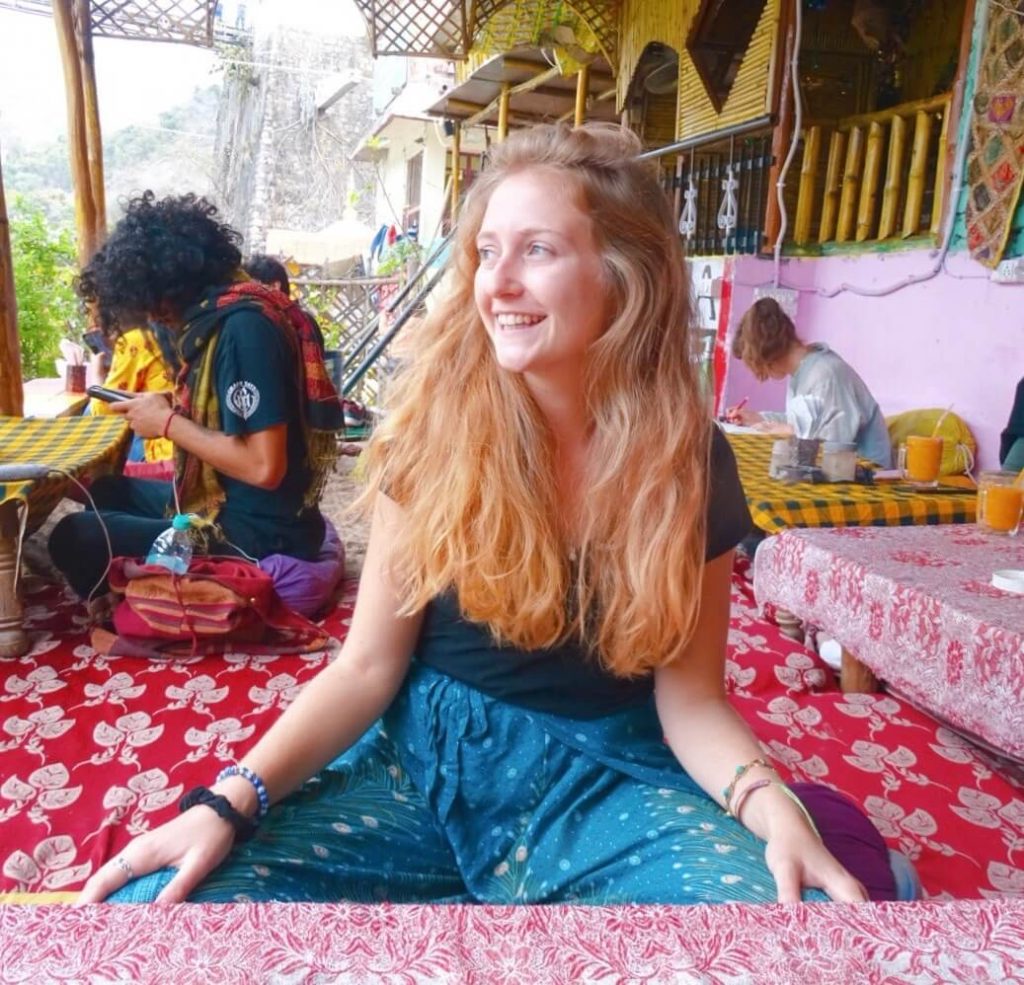 Amritsar, Punjab
How to get to Amritsar: I flew into the international airport from Bangkok or you can catch a train from Delhi.

Where to stay in Amritsar: The best place to meet other people and explore the hectic city of Amristar together is goStops Amritsar. Not only is it centrally located but there's a pillow pit!
Delhi
Delhi, the capital of India, is a sprawling metropolis with more history than you can shake a samosa at. It's a fascinating and exciting destination, and unfortunately, it also comes with a lot of baggage. Delhi has a reputation for being the least safe city in India based on crime statistics.

However, most travellers begin their India journeys in Delhi and it's well worth a visit of at least three days. From street food tours to majestic palaces, there are amazing things to do in Delhi so it would be a shame to miss it!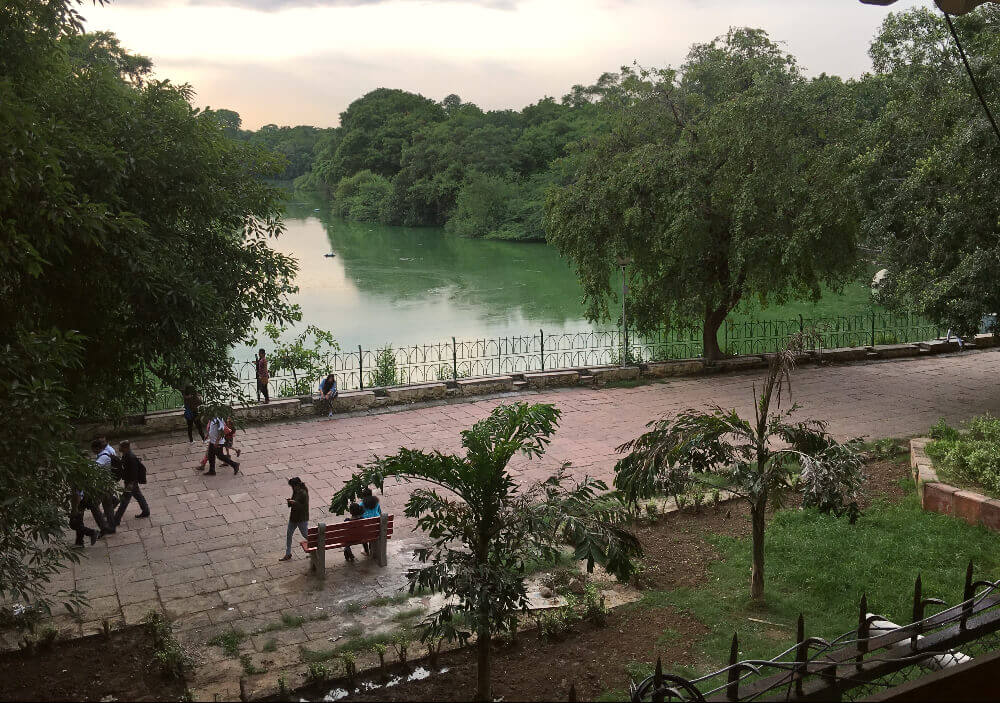 Hauz Khas
The best strategy to do Delhi right is to stay in a hip neighbourhood like Hauz Khas, located in the middle of posh South Delhi. This leafy, residential area is one of the best places in India for female travellers, far from the crowds and touts of central Delhi. In South Delhi, you can relax and enjoy cool cafes, high-end stores and green parks.

Hauz Khas is known for shops, cafes and art galleries. Favourite restaurants include Naivedyam for South Indian food and Pot Belly Cafe in nearby Shahpur Jat for Bihari cuisine.

You can wander safely in this neighbourhood, home to many expats and well-heeled locals. Walking or grabbing an autorickshaw are both safe during the day. After dark, take an Uber or Ola taxi. As South Delhi is a modern, cosmopolitan area, you can wear Western clothing. But as always in India, steer clear of skimpy or revealing clothing; best to err on the side of caution.

How to get to Delhi: However you want – there are trains, buses and an international airport.

Where to stay in Delhi: The south, especially Hauz Khas is a relaxed, upscale neighbourhood. Bloomrooms with beautiful rooms, 24-hour front desk, laundry facilities and daily breakfast, while Prakash Kutir B&B is a lovely hotel with spectacular rooftop views.

For hostels, try J House with beds from €8 inc breakfast & dinner or Joey's Hostel in the centre with free Wi-Fi and rooftop views from €4.

Delhi entry submitted by Mariellen from Breathedreamgo.
Varanasi
Your trip to India is incomplete without visiting spiritual capital, Varanasi. This is one of the oldest cities in India where death is celebrated by the Ganges. As a solo female traveller in India, you may sceptical after hearing stories about scams and narrow lanes full of cow dung. However, all the fears will vanish when you arrive. The city is chaotic yet charismatic in every sense.

Varanasi has more than 80 ghats by the Ganges. One of the easiest ways to get around the city is on foot. The city has lots of temples famous with Hindus. Don't forget to take a boat tour upon the Ganges. You can also attend a Ganga aarti ceremony or simply watch the activities on the ghats.

If you're a food lover, take a Varanasi Food Tour and try a bhang lassi if you're feeling brave (it contains weed which is legal in Varanasi). There are plenty of cafes along the ghats but Pizzeria Vatika and Brown Bakery are most famous among travellers.
Safety tips for Varanasi
The lanes of Varanasi are tricky and you can easily get lost, so don't venture out at late night alone. The ghats are crowded: keep your belongings safe when you venture out. Being a spiritual city, you should wear clothes modestly and cover yourself to avoid unwanted attention. If you're visiting India for the first time, save Varanasi until last – you'll have got used to India's chaotic nature!

How to get to Varanasi: There are plenty of taxis running from Varanasi airport to old city. You can also arrive by train but it's a long 17-hour journey from Rajasthan.

Where to stay in Varanasi: The ghat area where most of the activities happen. You can't do better than Wander Station hostel which is a great place to meet other travellers to explore with.

Submitted by Mayuri from Fernwehrahee.
Shillong, Meghalaya
Where to stay in Shillong: Stay at Hotel Woodland hill stay in Shillong. Very rarely do hotels offer single rooms, but double rooms are reasonably cheap.

Meghalaya entry submitted by Smita from Smita Bhattacharya.
Mussoorie, Uttarakhand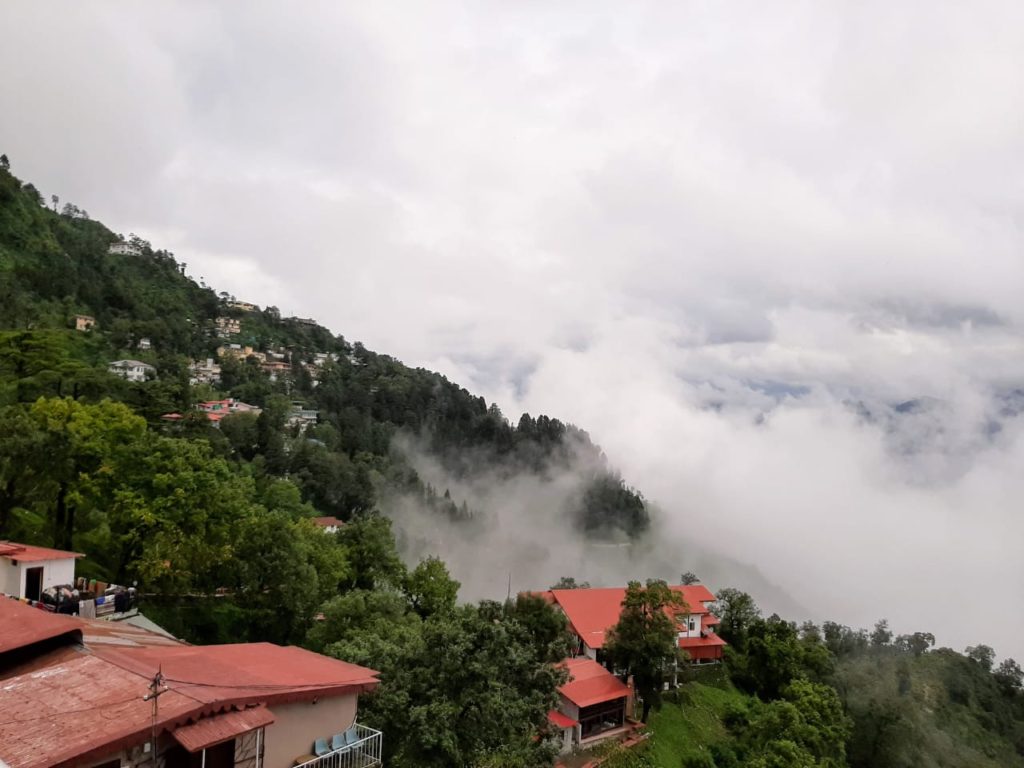 Mussoorie is a cosy hill station in Uttarakhand that you'll fall in love with. It's a popular destination in India for female travellers due to the cooler temperatures that give respite from India's hotter and busier cities.

Take a leisurely stroll along the mall road where there are plenty of cafes and restaurants. Don't miss the cable car from Gun Hill for a bird's-eye view of Mussoorie and the Doon Valley. If adventure sports are your thing, Mussoorie offers opportunities for parasailing, rock climbing and paragliding. When it comes to eating out, Momo's Tibetan Kitchen has some great soups and momos.

The locals in Mussoorie are well accustomed to tourists from all over the world, so you don't have to worry too much about what to wear. If you're a woman travelling to India alone, you will love how hospitable people are. Mussoorie is one of those places that feels safe even at night.

How to get to Mussoorie: It's two hours north of Dehradun where the nearest airport is located. It's also a 2-hour drive from Rishikesh. From Dehradun, you can take a taxi or bus to Mussoorie. There are also direct buses from Delhi to Mussoorie.

Mussoorie entry submitted by Claudia from The Visa Project.
Landour, Uttarakhand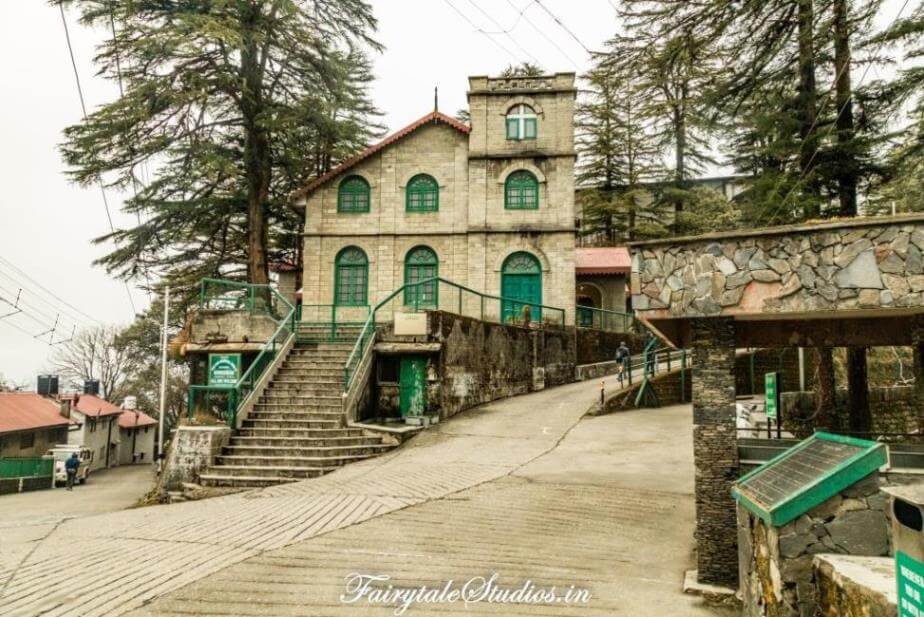 Landour is another optimum destination for solo travel in India. It's become quite popular because of its incredible vistas and peaceful atmosphere. It's an offbeat destination just 7km from Mussoorie but it feels like a different world altogether.

Landour is best explored on foot. A perfect visit includes walking, eating and exploring. Everything to see and do is located on Upper Chakkar Road which is 3.5 kilometres long and easily walkable. You can start the walk from Kellogg's Memorial Church and move towards Sister's Bazaar, Char Dukaan area, St. Paul's church and Lal Tibba viewpoint.

Don't miss out on savouring the delicious crepes at Landour Bakehouse, sticky toffee pudding at Emily's Restaurant, Maggi noodles at Klick Cafe, vegetable fritters at Char Dukaan and finally, buy homemade jams and preserves from Anil Prakash store at Sister's Bazaar.

Landour is extremely safe for solo female travellers and you can roam around without worrying about your dress code. But do cover up to keep yourself warm as it's cold most of the year.

How to get to Landour: Take a flight or a train to Dehradun (60km away), then a bus to Mussoorie. Get a taxi the final 7km to Landour.

Where to stay in Landour: La Villa Bethany is a friendly homestay. There are limited accommodation options in Landour but staying in the Hobbit House room at La Villa Bethany is a fantastic option. It has amazing views and lovely hosts.

Entry submitted by Pooja from Fairytale Studios.
Best places for solo female travel in India – Himachal Pradesh
If you're wondering where to travel solo in the north of India, Himachal Pradesh offers the chance to trek, hike and admire the snowy mountains in winter. The best places to visit in Himachal Pradesh state include…
Mcleod Ganj, Dharamsala
Parvati Valley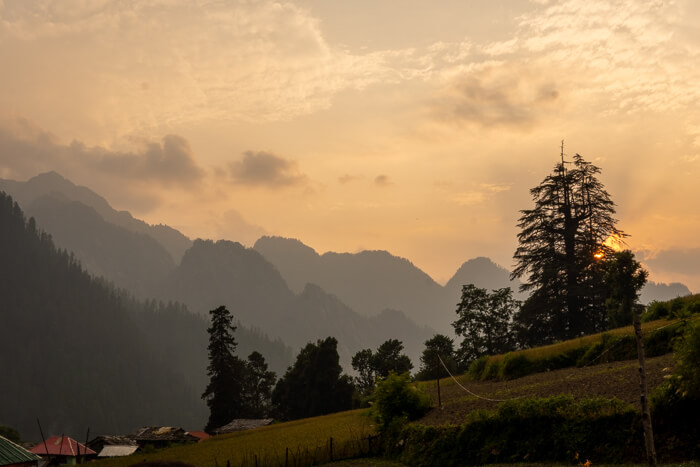 The valley as a whole is incredibly safe. The most important things to keep in mind are to be mindful of your personal limits when attending a party or dance function (psytrance is popular in these parts) and avoid getting too close to the powerful Parvati River that flows through the valley.

How to get to Parvati Valley: Travel by air or train to Kullu and catch a taxi the final 35km.

Where to stay in Parvati: The best place for travellers is Hosteller Kasol with a gorgeous outdoor seating area overlooking the mountains. Solo travellers can enjoy evening events and group hiking trips. There are dorms and private rooms. Blue Heaven Hotel & Restaurant in Pulga is also fantastic; the Nepali chef prepares tasty food served to epic views.

Parvati Valley entry submitted by Samantha of Intentional Detours.
Kullu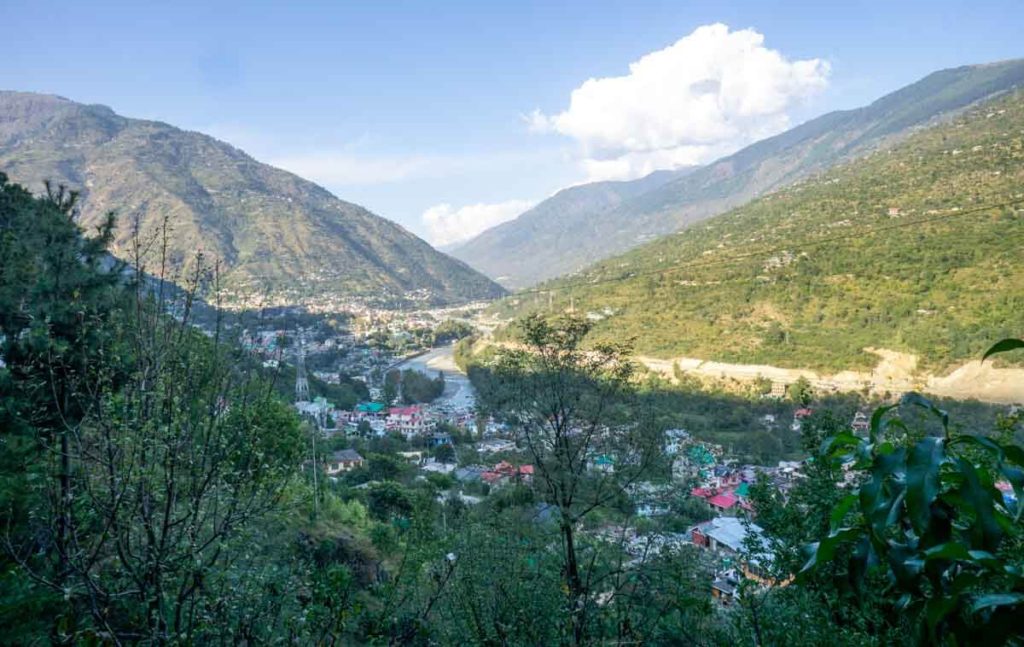 Kullu in Himachal Pradesh is a popular destination for solo travellers in India as it has some of the best scenery in the country, as well as friendly locals who will go out of their way to help you.

Kullu is situated between the River Beas and Himalaya mountain ranges, making it the perfect outdoor destination. Some of the best things to do in Kullu include paragliding over the Himalayas, trekking Chandrakhani Pass and admiring wildlife in the Great Himalayan National Park. After all that adventure, you can relax by soaking in Manikaran Hot Spring.

How to get to Kullu: Arrive by bus or plane. From Delhi, it takes about 12 hours on the bus. There is a small airport in Kullu and the views are magnificent as you fly into the valley.

Kullu entry submitted by Lora from Explore With Laura.
Best places for solo female travel in India – Central India
Many solo travellers to India stick to the popular northern regions and the beaches of the south, missing Central India. However, there are some safe and captivating places for solo travellers in Central India which include…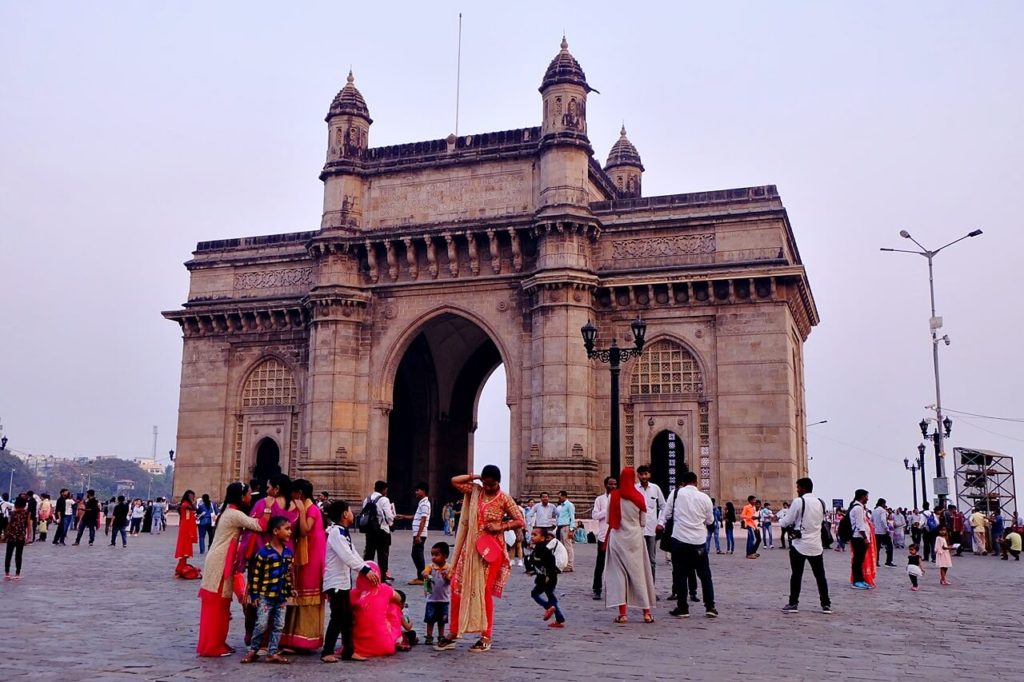 If you have time, make sure to visit Bandra as well to get a different perspective of the city. This upscale neighbourhood near the coast is very hip with lots of cool cafes, cocktail bars and craft breweries.

While Mumbai is a modern city, it's still best to dress conservatively. Beat the heat with local dresses called kurta that you can buy cheaply at Crawford Market. Always use the ladies-only cars in the trains. Download offline maps as well to guide you on your walks.

Check out nearby Colaba Causeway for shopping (make sure to grab a table at Café Mondegar).

How to get to Mumbai: You can fly, catch a train or bus. Mumbai is a huge transport hub.

Where to stay in Mumbai: Since there are limited budget options downtown, a good idea is to stay in the safe, pleasant suburb of Bandra and travel into the city for sightseeing. The best options are Namastey Mumbai Backpackers, Locomo and Cohostel.

Mumbai entry submitted by Aleah from The Solitary Wanderer.
Bangalore, Karnataka (best modern city for solo travellers in India)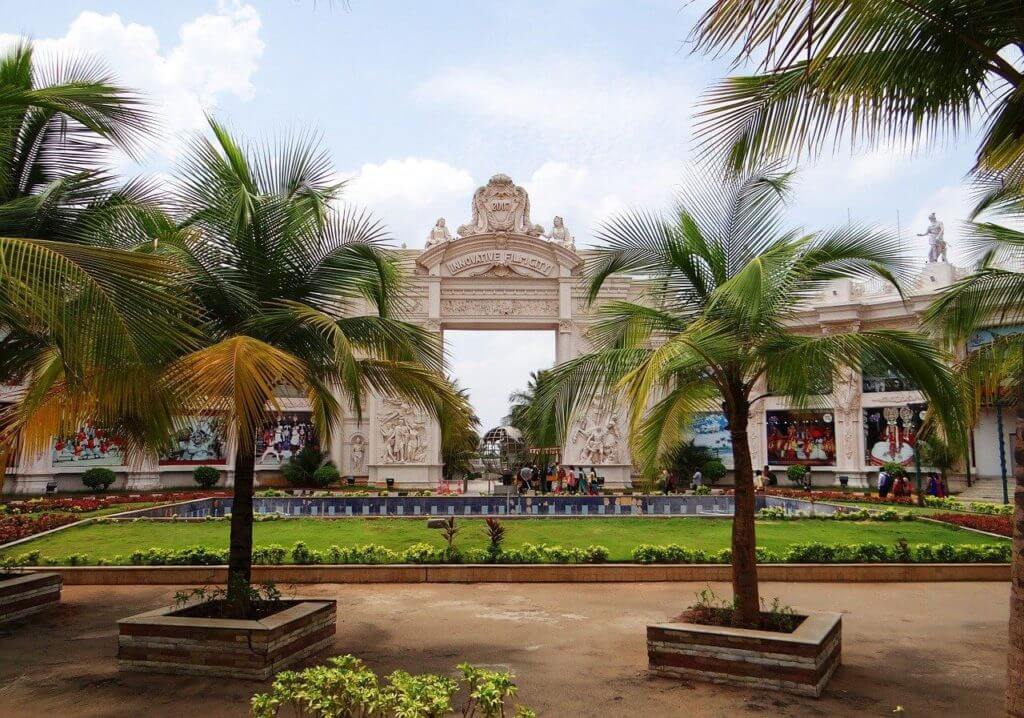 Bangalore, also known as the Garden City of India, is one of the safest places for female travellers in India. As one of the most populated cities and the IT hub of the country, many Indians move to Bangalore making it a great place to witness the coming together of different cultures. Here modernisation and traditions go hand in hand.

There's a lot to explore in Bangalore (also called Bengaluru) including Lal Bagh Botanical Garden, Cubbon Park, the Government Museum, Tippu Sultan's Summer Palace, Bangalore Palace and Bannerghatta Biological Park and Butterfly Garden.

You can find a variety of restaurants and cafes serving authentic local dishes and cuisine from around the world. Make sure to taste some delicious street food like chaat and momos. Summers in Bangalore can be warm and winters are chilly so pack your bags accordingly.

Moving around in Bangalore as a solo woman is easy as there's a good metro service accessible throughout the day. In terms of your next stops, Mysore, Hampi and Coorg are some of the best places to visit from Bangalore.

How to get to Bangalore: The best way to reach Bangalore is by flying to Kempegowda International Airport. You can also take buses or trains from any part of India.

Where to stay in Bangalore: From homestays to luxury resorts and hotels, Bangalore has them all. Woke HSR Layout is a stylish hostel with dorms, privates and co-working facilities should you need them.

Bangalore entry submitted by Neethu from Our Backpack Tales.
Agonda, Palolem and Panjim, Goa (best for relaxing solo female travel in India)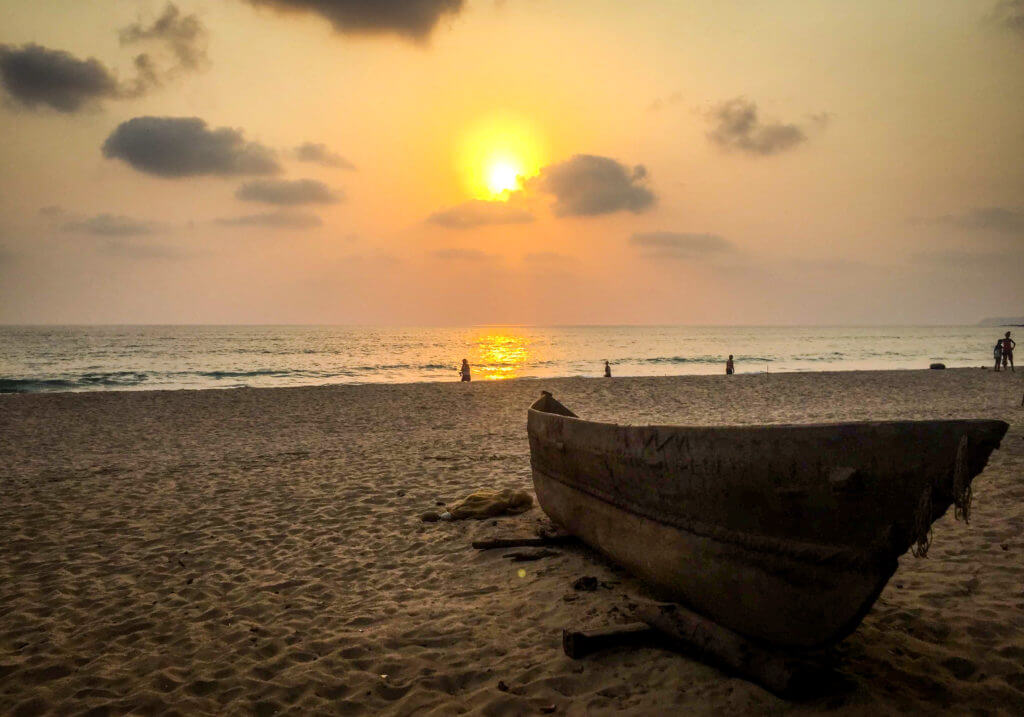 Goa is a wonderful place in India for solo travel: you can wear whatever and travel freely without attracting stares. You will be welcomed by a plethora of solo backpackers and never feel out of place.

From a safety perspective, it's best to visit a beach in South Goa. Beautiful Agonda and Palolem is ideal with a laid-back vibe. Spend your days sunbathing, reading, indulging in relaxing massages, taking a Goan cooking class and buying handicrafts from all over India.

Throw in a bit of culture by visiting the UNESCO World Heritage Sites in and around Panjim. Explore the colourful lanes of Goa's Portuguese Quarter, Fontainhas, on foot, visit the Lady of Immaculate Conception Church and take a walking tour of the Churches of Old Goa. Finally, treat yourself to a delicious meal at Black Sheep Bistro.

A solo trip through offbeat Goa will not only make you sense the soul of the place but also rejuvenate you.

How to get to Agonda Beach: Canacona Station is 20 minutes away.

Where to stay in Agonda Beach: Opt to stay at a beachfront hut at Jardim-a-Mar or Simrose.

Where to stay in Panjim: Old Quarter, a charming hostel located in the heart of Fontainhas.

Goa entry submitted by Trisha from Try Wandering More.
Palolem Beach, Goa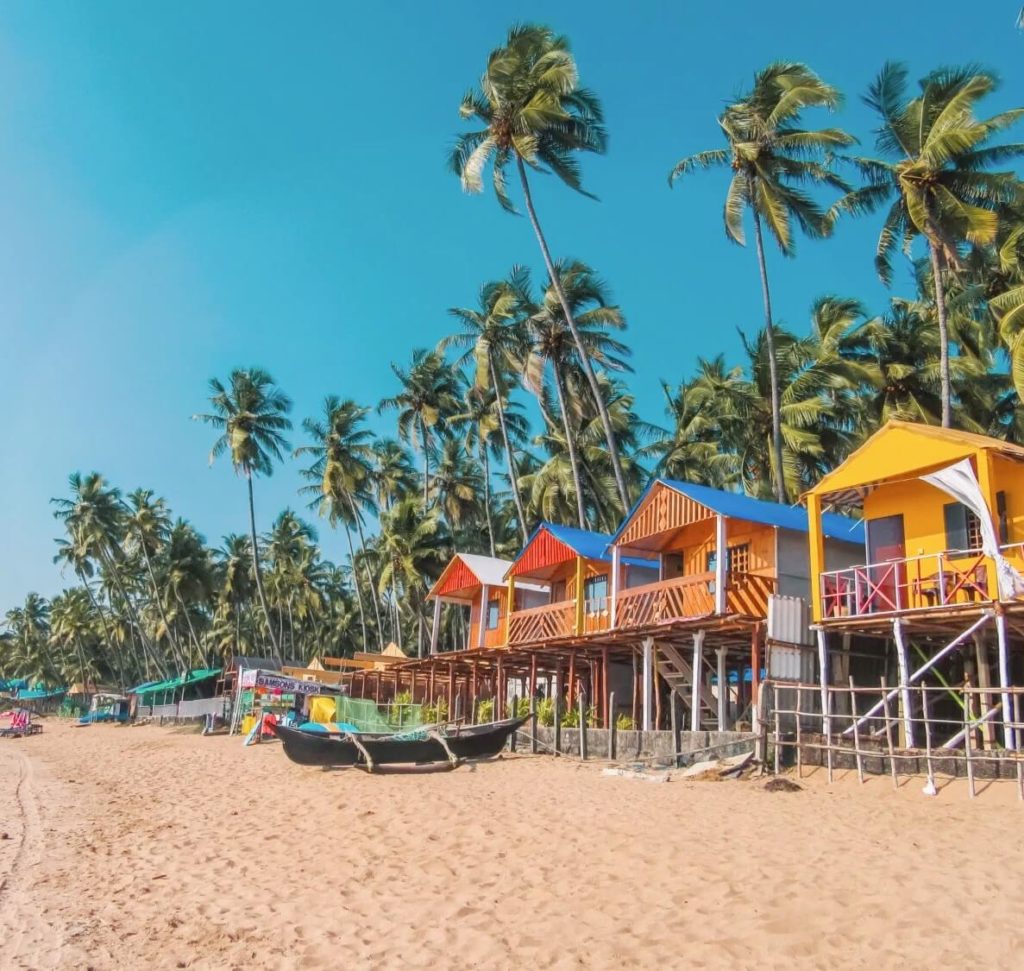 Palolem Beach and its surrounding streets are easy to explore on foot, but renting a motorbike is a great way to explore further afield. If riding a motorbike isn't for you, taxis are available everywhere – just be sure to agree on a price beforehand as there's no meter system.

How to get to Palolem Beach: Fly into Goa Dabolim Airport or catch a train to Margao station and catch a taxi the rest of the way.

Where to stay in Palolem Beach: You can't do better than Rainbow Linings Hostel with private and dorm rooms and a social vibe in the evenings.

Palolem entry submitted by Lauren from The Planet Edit.
Hampi, Karnataka (best for cultural female travel in India)
Mysore, Karnataka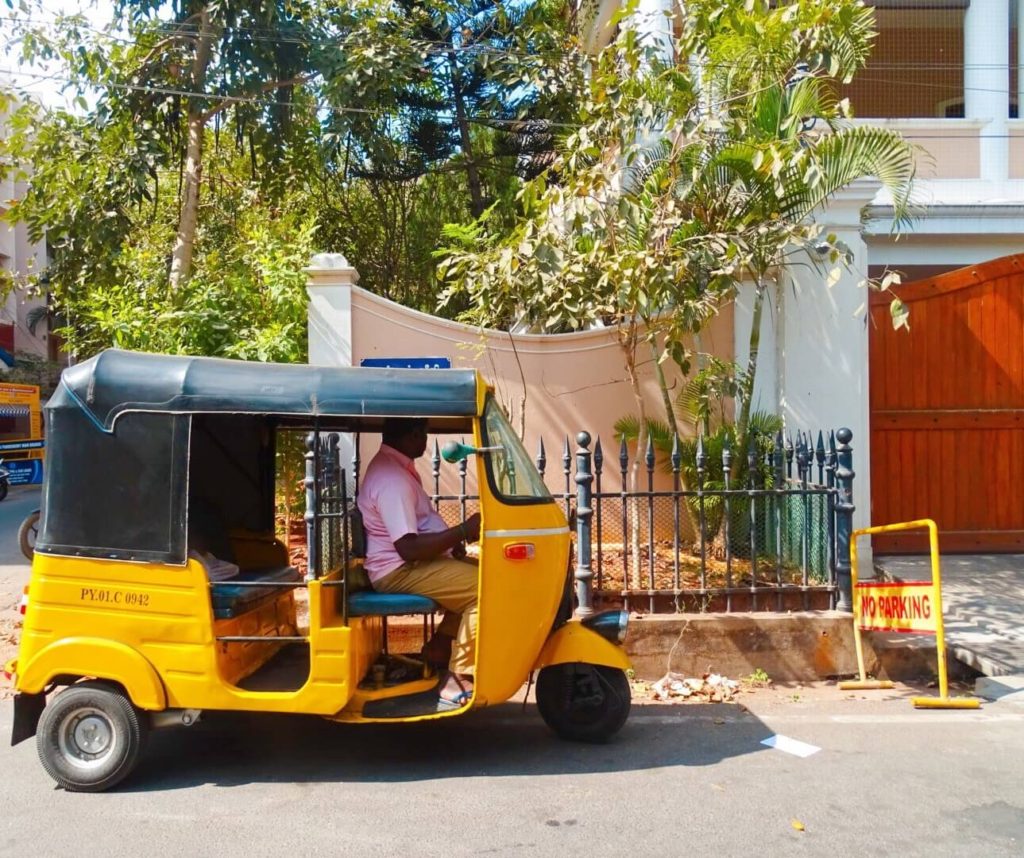 A solo trip to Pondicherry is a way to combine two destinations in one. Take a day trip to Auroville from Pondicherry – this alternative community is recognised by UNESCO and the Indian government. Go inside the other-worldly Matrimandir, their futuristic place of worship.

How to get to Pondicherry: Catch a bus from Chennai in 3 hours.

Where to stay in Pondicherry: I stayed at Nomad House which is clean, modern and central.
Varkala, Kerala
Varkala is a great solo trip destination in India where you can relax and meet others. There's an active yoga, meditation and Ayurveda scene so lots of travellers stay put a while. Although Varkala is not a party destination, the cliff has a bit of nightlife with some places staying open throughout the night.

Besides being a tourist hotspot, Varkala is still a sleepy fishing village and a holy pilgrimage site for Hindus. If you're interested, you can see the religious ceremonies being practised right at the beach. In the early morning, you can see the fisherman returning with their catch of the day.

How to get to Varkala: Thiruvananthapuram Airport is 45km away by bus, train or taxi.

Where to stay in Varkala: There are lots of hotels that cater for solo female travel in India whether it's on the busy cliff or a quieter place in town. Hippie-style Zostel is a great place to meet other travellers.

Varkala entry submitted by Ellis from Backpack Adventures
Fort Kochi, Kerala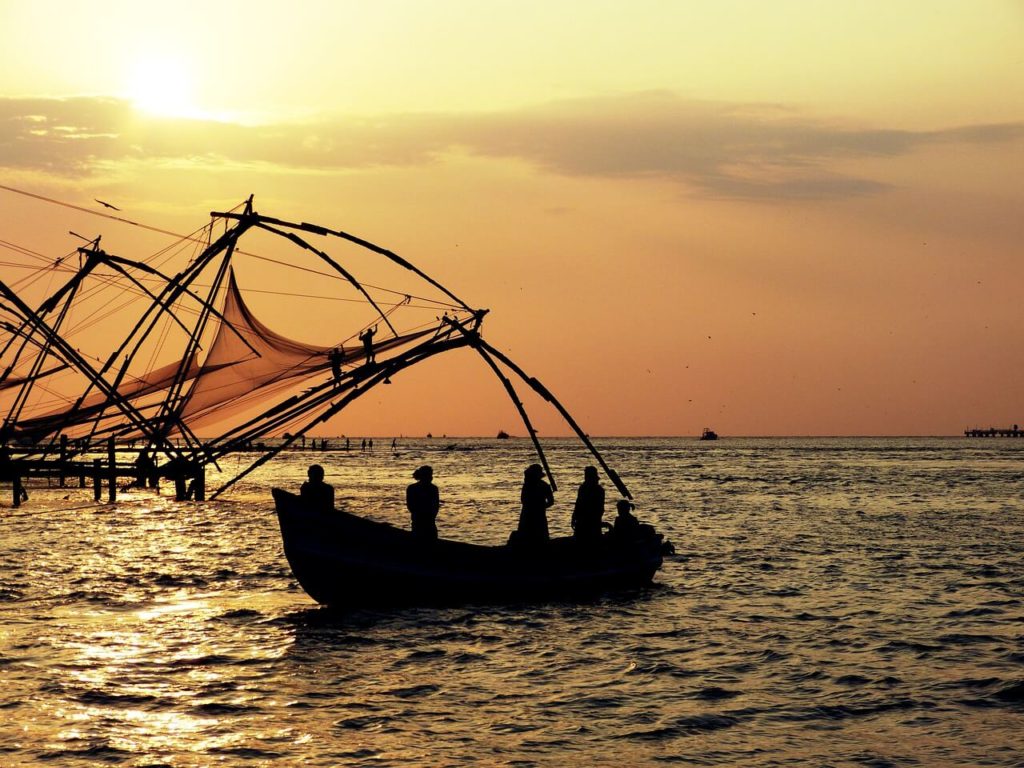 Fort Kochi is a fairly safe town with friendly locals and many cute cafes and Ayurveda centres. The main attractions in Fort Kochi are the traditional fishing nets which are mesmerising at sunset and one of the most iconic landmarks for the city.

Fort Kochi is also known for quality spices, so be sure to visit the spice market. The best beach is Cherai Beach over on Vypeen Island. Other attractions are Bishop's House and Museum, St. Francis Church, the Dutch Palace and the beautiful Santa Cruz Cathedral.

How to get to Fort Kochi: Fly into Cochin International Airport just 25km away. Ernakulum Rail Station is also nearby.

Where to stay in Kochi: Stay around Princess Street which is within walking distance from the Chinese fishing nets, ferry stop, restaurants, cafes and Ayurveda places.

Contributed by Linn Haglund of Brainy Backpackers.
Alappuzha Backwaters, Kerala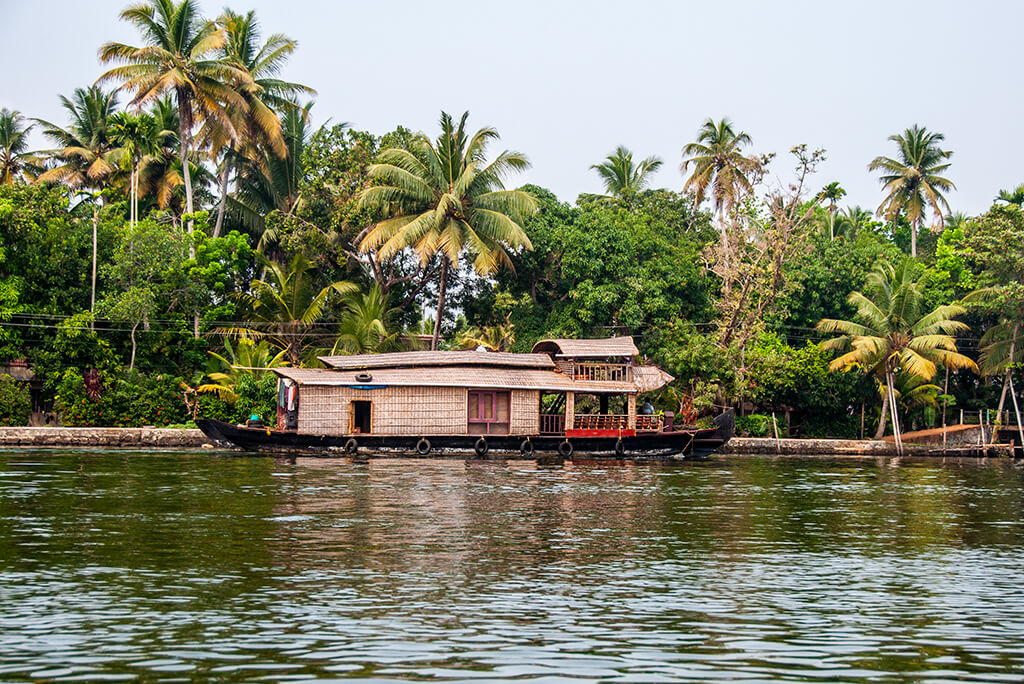 Alappuzha (Alleppey) is an amazingly green city on the Arabian Sea. Cut by canals, backwaters, beaches and lagoons, Alappuzha is nicknamed 'Venice of the East'. In 2016, the city was rated as the cleanest in India.

The Backwaters of Alappuzha is one of the best tourist attractions in Kerala. This network of canals measuring over 1,500 km is separated by scraps of land, creating a fantastic labyrinth of tropical vegetation and local life. If you have the budget, spend a night on a luxury houseboat. It's also possible to book a small boat or canoe trip to squeeze through narrow canals.

Other tips for visiting include sampling fresh fish caught in the backwaters and served in local restaurants. It's best to cover your shoulders and wear trousers or a skirt that covers your knees.

How to get to Alappuzha: The easiest way to reach Alappuzha is by bus from Kochi or Trivandrum. A public boat takes a picturesque route between Alappuzha and Kollam. The town has public ferries including a ferry to Kottayam.

Where to stay in Alappuzha: The best idea is to book your houseboat ahead of time so it's ready when you arrive. You can also find budget accommodation in picturesque houses by the beach.

Alappuzha entry submitted by Agnes from The Van Escape.
Munnar, Kerala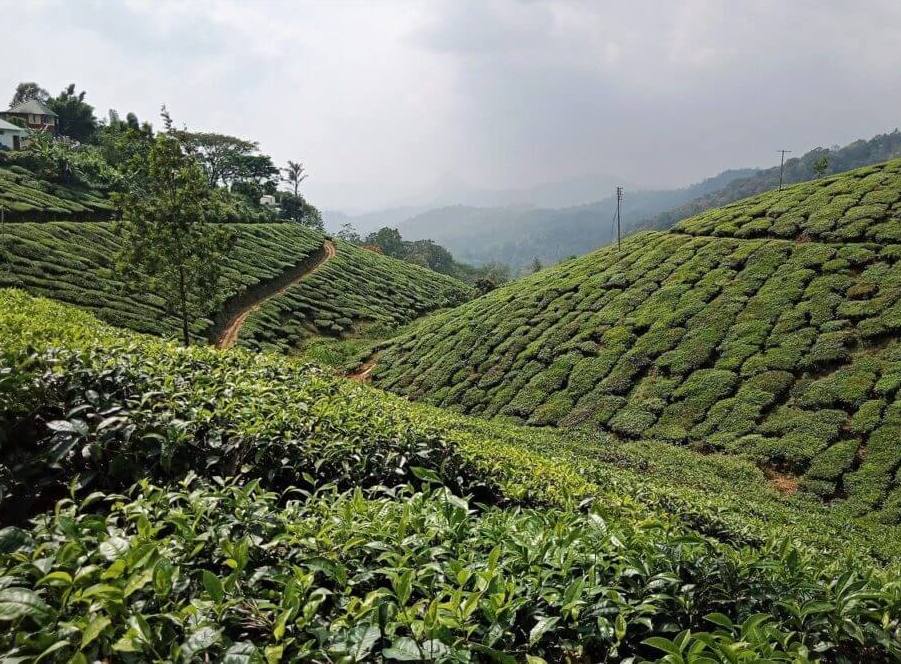 Munnar is a beautiful hill station in Kerala, nestled around 5200 feet above sea level in the western ghats. Being at a higher altitude, Munnar is cool and relaxing. Although Munnar is one of the most sought after places to honeymoon in Kerala, it's also a great place for solo female travellers in India. It's very safe and you don't need to dress conservatively unless you're entering a temple.

In addition to the tea plantations and estates, which can be seen everywhere, there are plenty of gorgeous places to visit. Some of the best are Mattupetty Dam, a huge water reservoir with scenic views and Echo Point, a mystical location with alluring beauty.

Munnar has many waterfalls such as Lakkom Waterfall, Attukad Waterfalls and Cheeyappara Waterfall. You can also take a trip to Eravikulam National Park, a UNESCO World Heritage Site full of deer, antelopes and endangered Nilgiri Tahrs.

How to get to Munnar: The region is 125 km from Cochin International Airport and can be reached easily by road. The nearest railway station, Ernakulum, is also well-connected with all major cities like Chennai, Mumbai and Bangalore. For getting around in Munnar, female travellers in India may want to take a taxi tour for convenience, although there are also local taxis and buses.

Where to stay in Munnar: For a stunning place to stay with a roof terrace surrounded by forest, Zostel Munnar has private and dorm rooms.

Munnar entry submitted by Sonakshi from Places In Pixel.