This post may contain affiliate links to things like tours, hotels, Amazon associates and products. These help me earn a small commission at no additional charge to you.
Before my trip, I was wondering is Korea expensive? and I have to say the answer is yes… but it depends where you're comparing it to. In this guide, I'll share my Korea trip budget as well as my South Korea budget tips and tricks.

Before my 2 weeks in Korea, I'd heard it was an expensive place to travel. I was expecting high prices and for that reason, it wasn't as bad as I'd anticipated. Maybe if I'd expected Southeast Asia costs, I'd have been horrified.

Hopefully, by the end of this guide, you should have a good idea of what to budget for a Korea trip.
KOREA ESSENTIALS

Accommodation: Booking.com / Hostelworld

Activities: Viator / GetYourGuide

Getting there: air (Skyscanner)

Getting around: Train (Trip.com) / bus

Pre-book private airport to hotel transfer

Travel insurance: True Traveller (European travellers) / Hey Mundo (other nationalities) / Safety Wing (digital nomads)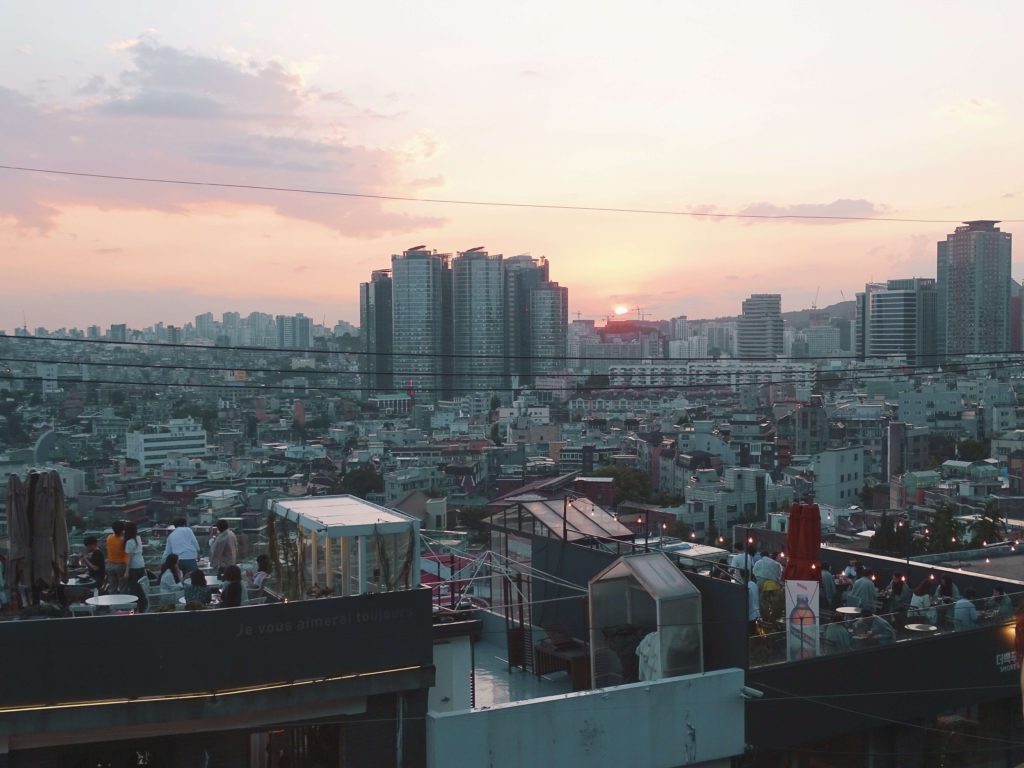 Is South Korea expensive?
Without doubt, South Korea is expensive to visit when accommodation is concerned. Food and transport aren't dirt cheap but also aren't bank-breaking. Your South Korea trip budget will be increased if you eat in upmarket areas of Seoul like Hongdae.

With a little effort and my South Korea budget tips, you can find ways to travel affordably.
Read next: 30 South Korea travel tips
Korea budget travel compared to other Asian countries
If you're used to travelling in Southeast Asia, the cost of Korea travel will hit hard. Calculate your Korea trip budget by doubling what you'd take to Thailand, Vietnam or Indonesia. It's well over double the cost of travel in India!

Travelling in Korea is also double the cost of travelling in Taiwan, despite the two islands being so close together. The cost of travelling in Japan is similar to South Korea although, having been to both, I consider Japan slightly more expensive. If you've been to Japan before, consider a similar Korea travel budget.
Korea travel budget overview
So let's get down to the nitty-gritty, how much did I spend during 3 weeks in South Korea?
My South Korea trip budget for 3 weeks was 1,300,000 KRW (£860 / $1,100).

Korea budget travel is possible at 60,000 KRW (£41 / $51) per day.
This figure is based on a budget travel style of staying in dorms, eating cheaply where possible, and doing activities independently rather taking day tours. You'll need to add to this figure if you plan to eat in restaurants each night and stay in hotels.
Note – this total doesn't include return flights to Jeju Island from Seoul, a day tour to the DMZ and two day tours on Jeju Island which were hosted thanks to this blog.
Things that make Korea affordable
1. There are hostels everywhere. If you want to keep your Korea budget down, you can usually find dorms even in smaller cities.

2. There's lots of street food in Seoul. Despite the high prices of the city, eating cheaply is something you don't have to worry about.

3. Efficient public transport. Seoul has one of the most efficient subways in Asia with over 23 lines. There are also underground train networks in Incheon, Busan, Daegu, Gwangju and Daejeon. You never need to pay for taxis.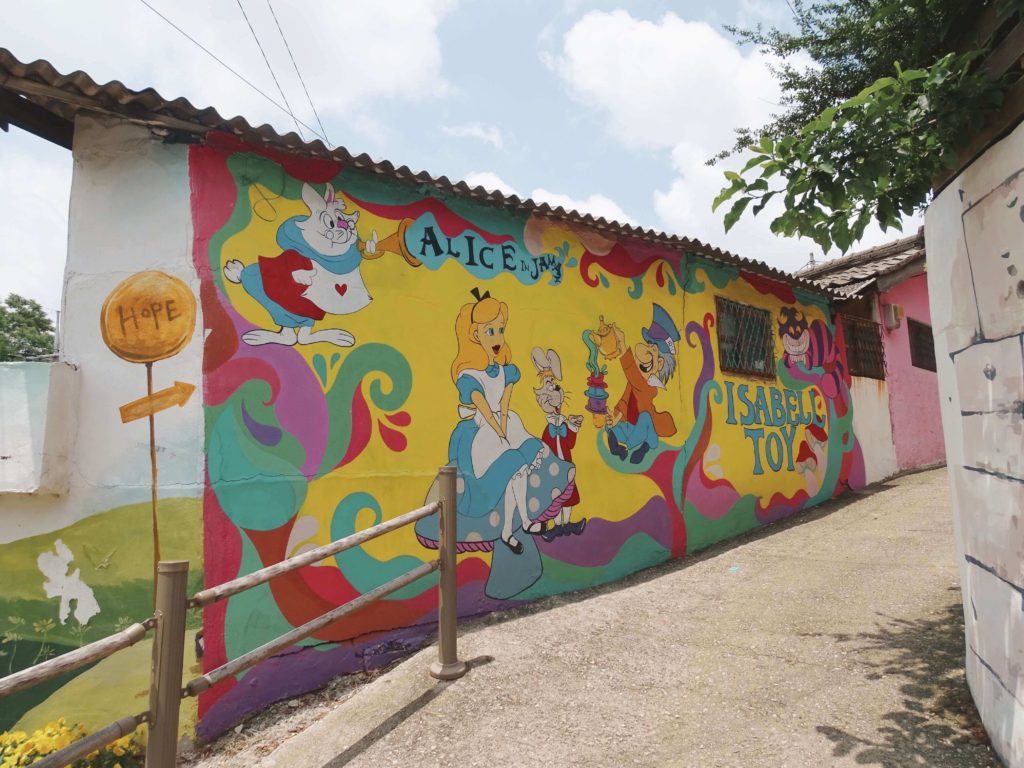 Things that make Korea expensive
1. In cities outside of Seoul, there wasn't as much street food as I'd expected. Markets were more like wet markets selling fresh produce rather than ready-to-eat street food.

2. Some meals are more expensive for solo travellers. At Korean barbecue restaurants, they'll only seat tables of two or more, although luckily you can find places that charge a solo surcharge. For that reason, dining out can be expensive unless you're travelling with another person.

3. Visiting the DMZ is impossible without paying for a DMZ tour. On Jeju Island, the public transport is limited so hiring a car or taking day tours will increase your Korea budget.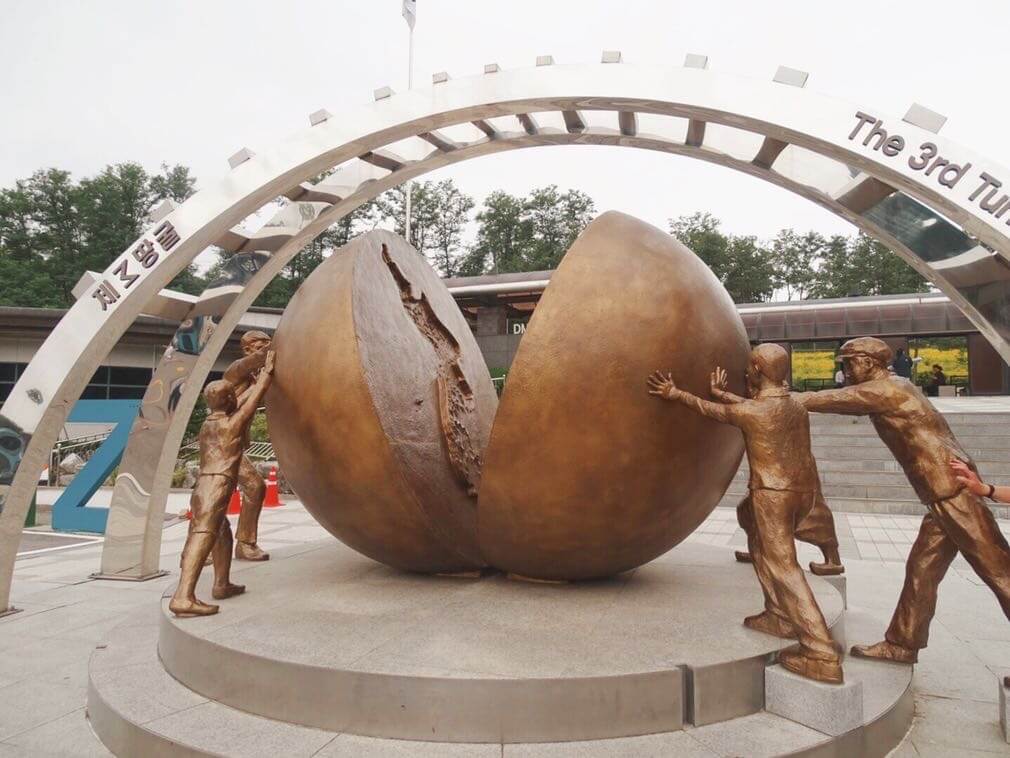 Next, let's break down your Korea budget by category…
Cost of a South Korea visa
This varies depending on what passport you're travelling with. UK citizens can enter South Korea for 90 days visa-free.
South Korea budget travel – accommodation
So we can fully answer the question, is Korea expensive?, let's start with accommodation as this will be your greatest expense.

The average price of a hostel bed per night: 22,000 KRW (£15 / $19).

The average price of a private room in a hostel per night: 32,000 KRW (£22 / $30)

Hotels in South Korea start at 45,000 KRW per night (£30 / $40) a night and like anywhere, go up into the hundreds.
Best hostels in South Korea
If you're taking a South Korea budget trip, you'll probably want to stay in hostels. These were some of my favourites…

Bunk Guesthouse, Hongdae, Seoul – This is one of my favourite hostels I've ever stayed in. The friendly owner, Brian, learns every guest's name and offers helpful recommendations and group Korean bbq and soju nights. There are small dorm rooms with private kitchens and lounge rooms, right in the middle of the coolest neighbourhood in Korea. Check availability for 22,000 KRW (£15 / $19) per night.

Blue Backpackers, Seomyeon, Busan – I enjoyed my stay in this friendly, family-run hostel which is located down a peaceful side street in the coolest area of Busan which has lots of shops, street food, markets and restaurants. Check availability from 17,000 KRW (£12 / $16).

Rainbow Inn, Jeju Island – this hostel in Jeju City was a good base for exploring the island. It was pretty swish with a comfy lounge area, private bunks with their own curtains and chargers and a delicious buffet breakfast. Check availability.

Santa Guesthouse – in Korea's ancient capital, Gyeongju, this guesthouse is pretty basic but definitely the best place to meet other backpackers. The friendly owner offers lots of local tips. Check availability for 15,000 KRW (£10 / $13).
I use Hostelworld to browse hostels and find the best-priced accommodation.
South Korea budget travel – transport
You can get around fairly cheaply in South Korea providing you don't take the fast train. Here's a breakdown of transport prices in Korea:
Korea budgets for getting between cities
Slow train: I was pleased with the low cost of transport as my first couple of journeys cost just 5,000 won each (£3.30 / $4). This included a ride from Gyeongju to Daegu on the slow train which took just under 2 hours.
Fast train: Increase your Korea trip budget to take the fast train. I paid 30,000 won (£20 / $30) from Jeonju to Seoul on the fast train. I could have travelled cheaper on a slow train or bus but wanted to meet friends for lunch so had an ah, screw it moment. It took less than 2 hours to travel 200km and included snacks.
Bus: There's also an efficient bus network running around South Korea. I took two: one from Busan to Gyeongju (5,000 KRW) and one from Daegu to Jeonju (10,000 KRW). These are similar in price to the slow train so I weighed up the prices for individual journeys and took whichever was cheaper.
Booking tip – you can usually just show up at the station and get a ticket. But to secure a seat on trains, use Trip.com, partner of Korail (the official railway network of Korea). The website accepts international payment options, unlike Korean rail websites. Click the three stripes in the top right corner then the flag to change it to English.
To summarise, shorter journeys of a few hours are affordable in South Korea whereas longer journeys on fast trains are more expensive. If you have enough time when it comes to these longer journeys, taking a bus will cost half the price of a fast train.
Korea budget for travelling around cities
Getting around Korean cities is affordable and straightforward although it's worth noting Google Maps doesn't work properly anywhere in South Korea. It's best to use a Korean app like Naver instead.

Over all, in terms of public transport and affordability, South Korea is great for budget travellers. The only places without efficient public transport networks are those small enough to explore on foot.

The main ways to get around include:
Metropolitan Subway: In cities like Seoul and Busan, you can travel around affordably via underground train. Tickets operate on a tier system and cost 1,250 KRW for journeys of 10km or less (teenagers 720 / children 450). Faires go up 100 won for every addition 5 km travelled. Purchase a ticket by selecting your destination on touch screen machines.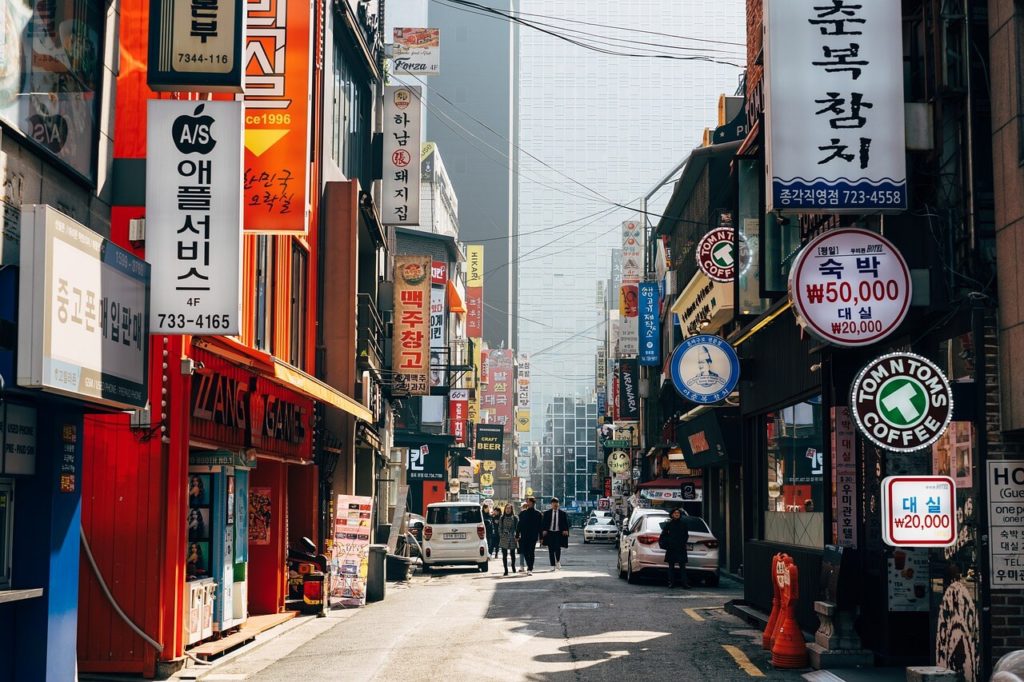 Bus: In Seoul, buses cost either 1,000 or 1,300 won depending on the colour of the bus. When you board, there will be a metal bucket next to the driver specifying the amount. Pay in coins or notes but don't expect any change.

Unlike the subway with its clear map and colour-coded lines, buses can feel confusing but I'd encourage you to hop on them. They're efficient and a great way to see the city as you move about. The schedules are listed on Google Maps.
South Korea budget travel tip – pick up a Korea Tour Card, cashbee or Tmoney card. These save you 100 won per journey. You pay a 4,000 won deposit (of which 3,500 is refundable) and top up via subway station machines. Queuing to buy individual tickets is time-consuming so it's really convenient to tap in and out quickly as you travel. You can use them on buses, too.
Korea travel budget – flights
Major airports in Seoul and Busan are well-connected globally.

From London – flights begin at £500 return. These take 11 hours.

From Australia – flights begin at $100 (AUD). They take 15 hours.

From the US – return flights begin at $600. They take 15 hours.

If you're visiting Korea from elsewhere in Asia, you can get affordable tickets with various Asian airlines. I flew from Taipei (Taiwan) to Busan for $100 and departed Seoul for Hanoi (Vietnam) for $150.

Use Skyscanner to browse deals on flights.
Cost of getting to & from the airport
I've been including this section in my blogs since my Cuba budget was blown by spending $50 getting to and from the airport in Havana! In comparison, getting to and from the airport won't blow your Korea travel budget.

Gimhae Airport to Busan: This costs 2,800-3,300 KRW (depending where you're staying) on Line 2 Metro, or 6,000 KRW on a bus.

Incheon Airport to Seoul: It costs 8,000 KRW to get from Incheon to Seoul on the Airport Railroad Express (AREX) which runs until 9.45pm or 9,000 KWR on the bus. A taxi costs around 45,000 KRW so avoid this if travelling Korea on a budget.
South Korea travel budget – food & drink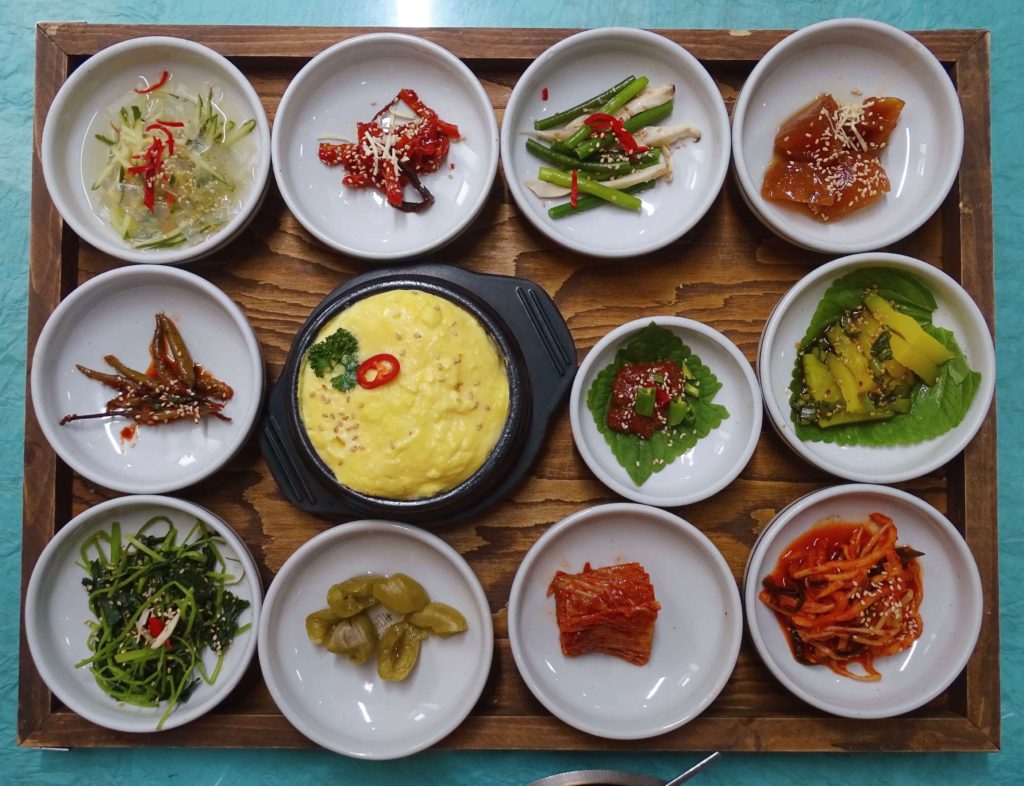 My favourite topic – Korean food! The cost of this varies a lot in South Korea. I found restaurants to be much more expensive in Seoul which isn't surprising given that capital cities are often more expensive.

Street food prices: You can eat street food for as little as 2,000 KRW (£1 / $1.50) which is ideal if you want to keep your Korea budget low. I can't promise you'll have the most nutritious diet but it'll still be tasty. Cheap street food dishes to look out for include tteokbokki (sticky rice cubes in a hot chilli sauce), gimbap (sticky rice rolled in seaweed with fillings like ham and kimchi), tempura and Korean pancakes made with leek, kimchi or seafood.

Restaurant prices: In modest local restaurants you can eat sit-down dinners like bibimbap for as little as 5,000 KRW. This dish usually includes a few veggies so it was my go-to when I wanted to eat cheap while still getting some nutrients. If you want a wider variety of dishes at better quality restaurants, dishes go up to 20,000 KRW.

For another affordable option, seek out Japanese restaurants where you order at the screen then grab a table until the chefs call out your number. Not only is this an informal and affordable way to dine with dishes for 5,000 KRW, but Japanese food is delicious and doesn't carry the same guilt as eating pizza in Asia.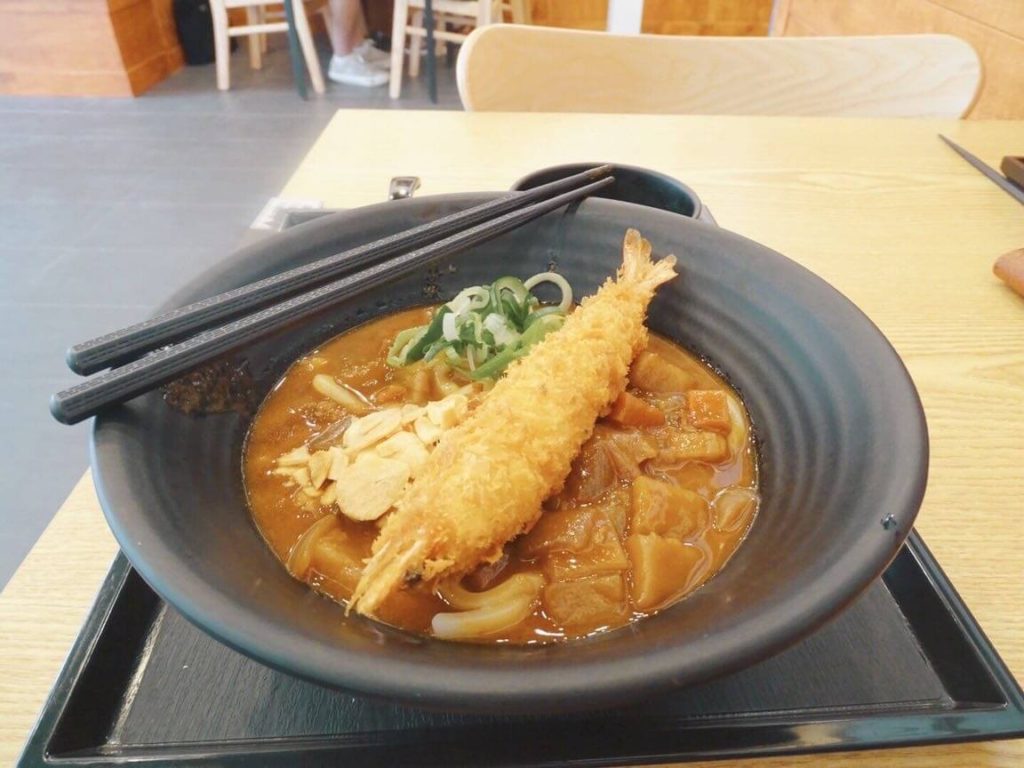 Stylish restaurants in Seoul: I can't tell you anything about fine dining or Michelin star restaurants but I can tell you about quirky cafes and modern eateries. I was surprised by the cost of these. Dishes popular with young people like fried chicken is served with beer at Chimeak restaurants for as much as 20,000 KRW.

If you're travelling Korea on a budget, I would suggest escaping hip neighbourhoods like Hongdae unless you're eating street food!
Tipping in South Korea
Something that will reduce your South Korea dining budget is the fact that tipping isn't customary. It's just not part of the culture in the same way it is in the US or Europe. Even if it feels rude by your standards, don't sweat it – no one in Korea will think you're being rude.
South Korea trip budget – SIMs and data
SIM cards nearly blew my South Korea travel budget! I assumed they'd be affordable like elsewhere in Asia but on my first day, locals told me the only place I could get one was the airport… where I'd just been. Ahh. This is because SIMs aren't really available for foreigners unless they have a residency card. I ended up not getting one as I couldn't afford it.

If you really want a SIM, you're best off getting a tourist one at a major airport.
Click here get a tourist SIM (4g) to collect at Seoul airport.
A cheaper option is to rent a portable pocket Wi-Fi (also from the airport) which you rent and return at the end of your trip.
Rent a pocket Wi-Fi device to collect at Seoul airport.
Cost of South Korea travel – tours & trips
Is South Korea expensive when it comes to tours? It depends. Many half-day tours start from $30 but can go up to $200 for bucket list experiences in South Korea including transport and food.

There are plenty of day tours on offer in South Korea but it's easy to go without them. I took a day tour to the DMZ which was essential because you can't visit unless you're in an organised tour group. Other than that, I travelled independently to keep the cost of travel in South Korea down.
South Korea travel budget – Jeju Island
I found the cost of travel on Jeju Island more than the cost of travelling South Korea generally. Firstly, you'll have to budget for flights which cost around $50 return and secondly, getting around on Jeju is tricky as public transport is limited.

Hiring a car on Jeju Island costs around $40 a day, which is indeed cheaper than taking day tours. As I don't drive and was travelling solo, I took a couple of day tours for $90 (100,000 KRW) a day.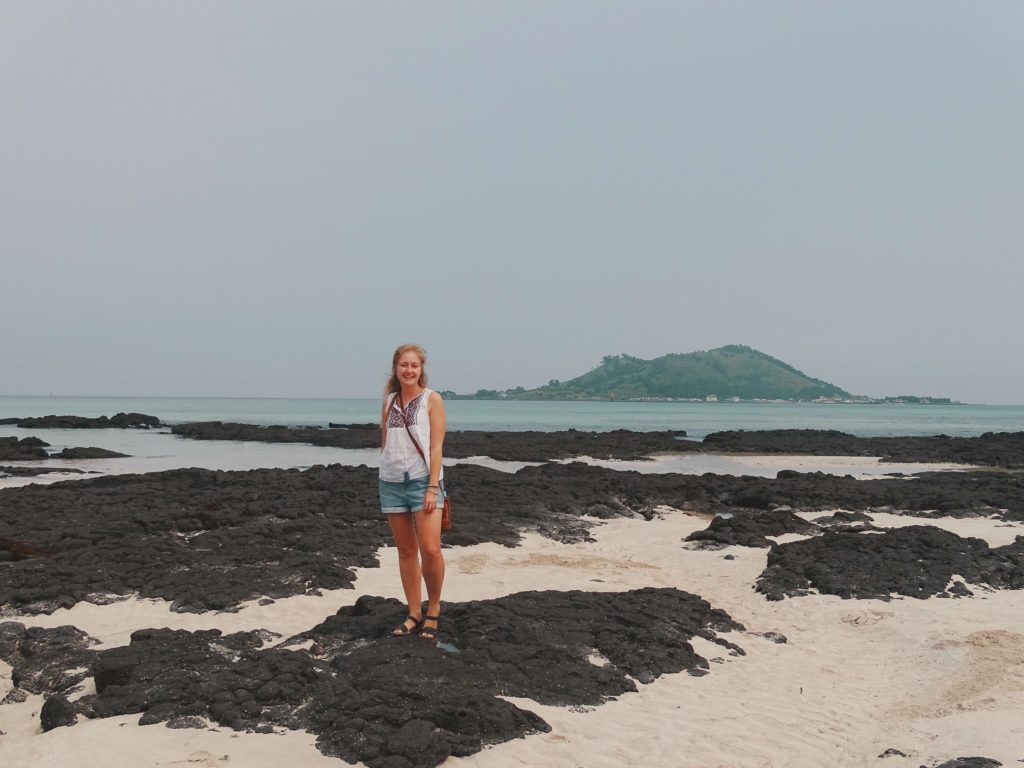 Read next: How to visit Jeju Island without a car
Bottom line – if you want to visit Jeju Island, consider increasing your Korea budget!
South Korea budget tips
1. Use Wi-Fi rather than a SIM card. There are public hotspots everywhere in South Korea.

2. Find hostels with kitchens! These are much more common than in other places in Asia.

3. Seek out local produce markets. Here you can pick up sweet potatoes and other healthy veggies for your meals. You can't find much fresh stuff in convenience stores like the 7-Eleven unless you want a lone banana swapped in styrofoam.

4. Although they don't sell much healthy food, don't overlook the 7Eleven for Korea budget eats. Gimbap rolls are only 2,000 KRW; two make a decent lunch. You can even buy lunchboxes and ready meals. I can't promise they're healthy but I can promise they're cheap!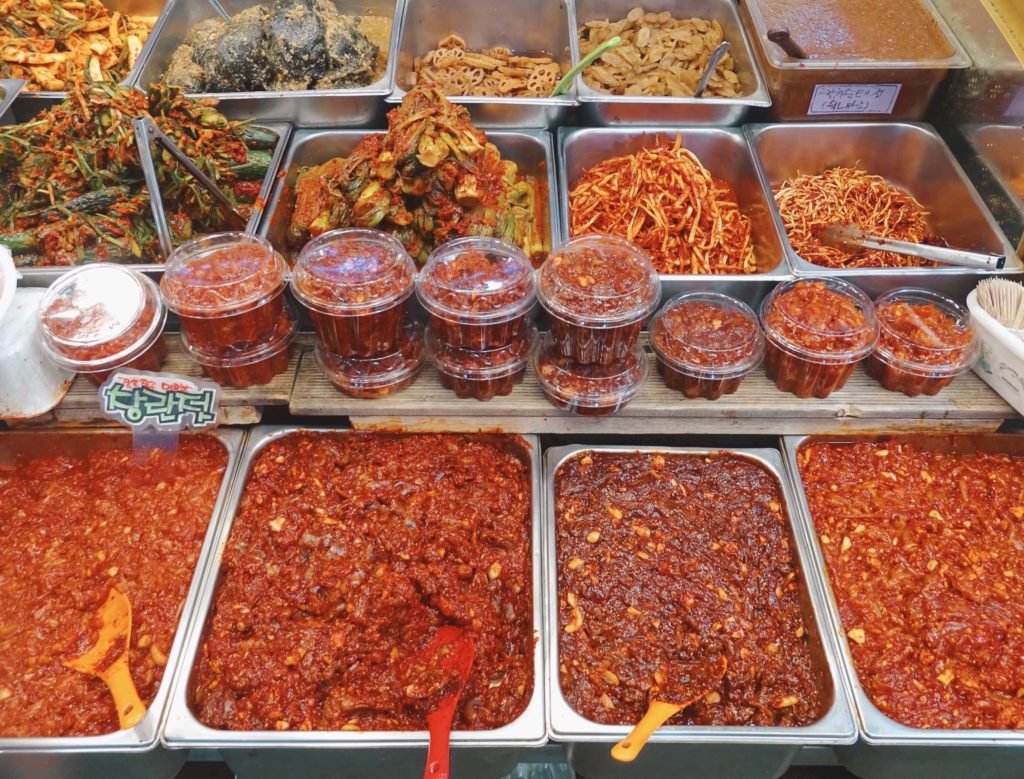 Best places to travel on a South Korea budget trip
There's one place I'd say not to visit on a Korea budget trip which is Jeju Island. Better options include:

Daegu – this was one of the cheapest places I visited in South Korea, partly because I filled up on free pastries at Schumann and Clara cafe (they're unlimited when you buy a coffee!). There are a few free hikes around Daegu including to Apsan Observatory in Apsan Park and Gatbawi Rock at Mount Palgong. Both these can be reached cheaply by local bus.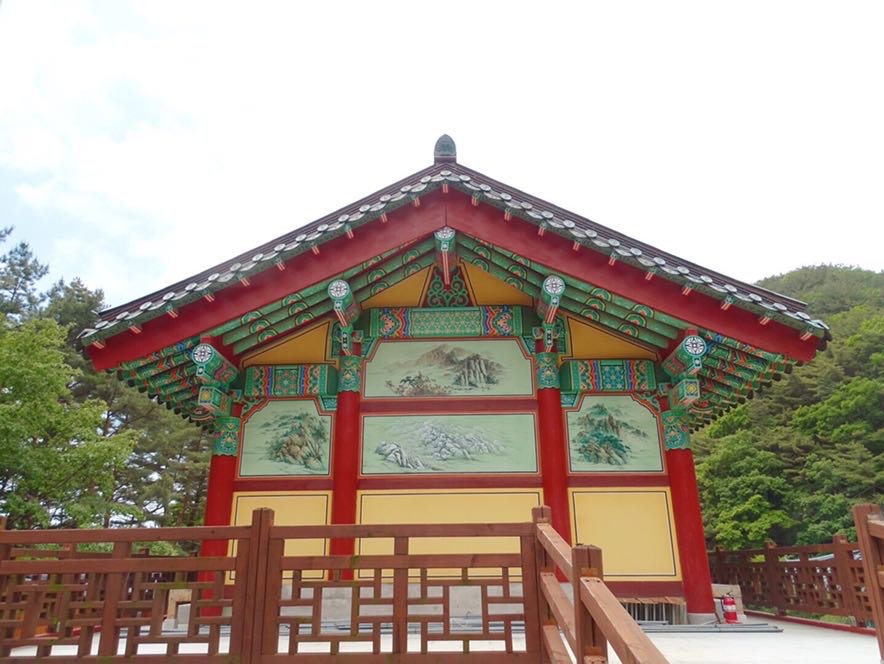 Gyeongju – this city on the east coast of South Korea is walkable so you never need to pay for taxis. As the historical capital, there are plenty of palaces and tombs, few costing more than 5,000 KRW to enter. You can also take a cheap bus ride to Buddhist temple, Bulguksa, and hike to the giant stone Buddha at Golgulsa Temple. Overall, it's a great destination to keep your Korea travel budget low.

Seoul – even though Seoul is an expensive city, there are lots of free things to do during a South Korea budget trip. If you're visiting Seoul on a budget, you can visit many various museums and eat cheap street food at the many markets.
Free things to do in Seoul on a budget
Visit museums like the National Folk Museum of Korea and Seoul Museum of Art
Wander around the colourful murals at Ihwa Mural Village
Go hiking in Bukhansan National Park
Wander around Bukchon Hanok Village
Hang out by the Han River
Walk along Cheonggyecheon Stream
Hike along the 19km city wall
Tour ancient Bongeunsa Temple (pictured below).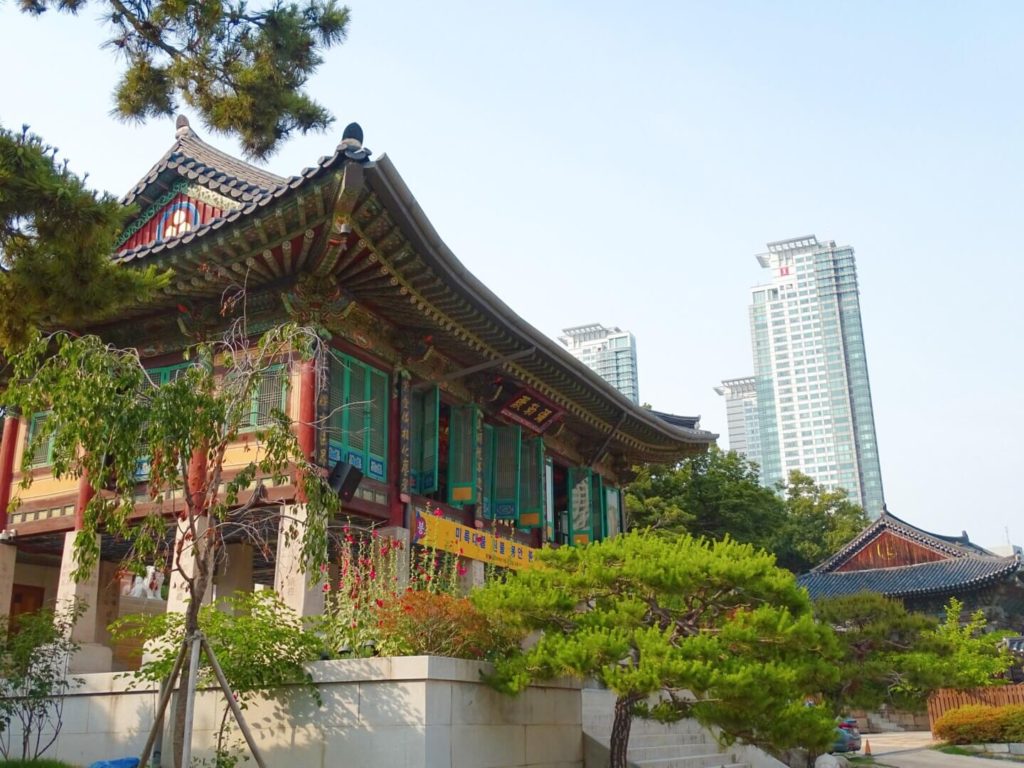 Free things to do in Busan on a budget
Hang out on Haeundae Beach and check if you're visiting for a free festival like the Sandcastle Festival
Explore colourful houses, murals and outdoor art exhibitions at Gamcheon Culture Village
Take a cheap bus to Yonggungsa Temple by the bus
Hike along Igidae Coastal Walk.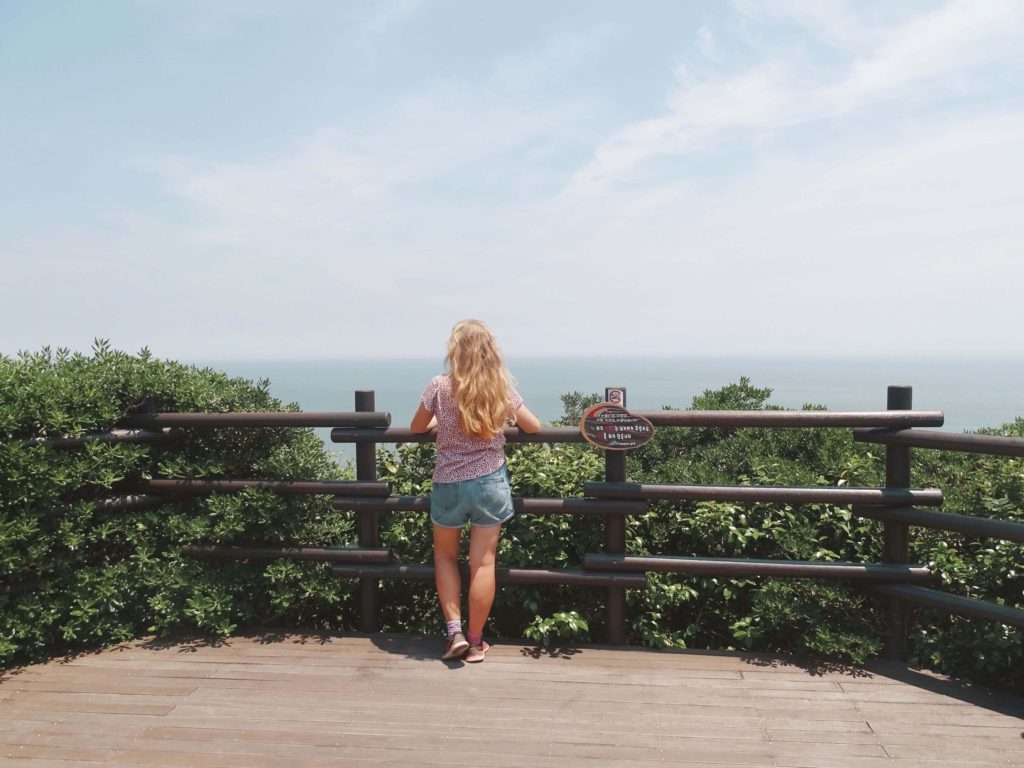 Mini Korea budget itinerary
Days 1-5: Seoul. While spending 5 days in Seoul, I would suggest a day visiting the DMZ, a second day visiting Bukchon Hanok Village and hiking in Bukhansen National Park, a third day at Iowa Mural Village and Gwangjang Market, a fourth day exploring cool neighbourhoods like Gangnam and Hongdae, and a final culture day exploring the museums and galleries.

Days 6-7: Visit Sokcho and spend a couple of days hiking in Seoraksan National Park OR visit Jeonju and explore its picturesque Hanok Village.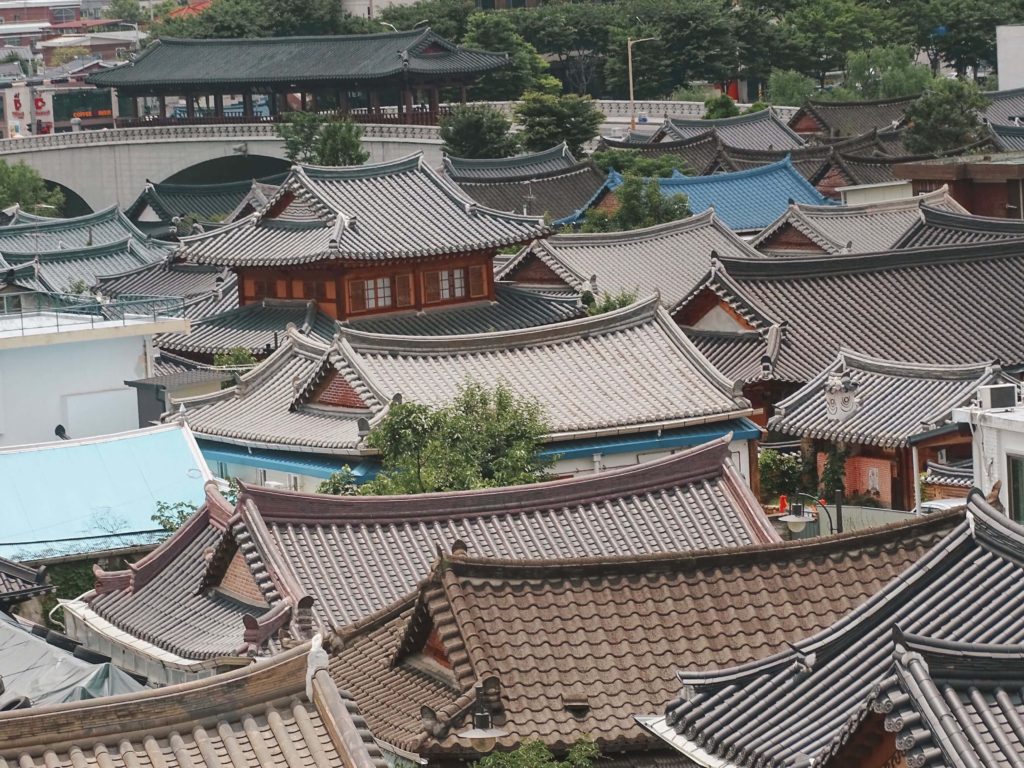 Days 8-10: During 3 days in Busan, you can visit Gamcheon Culture Village, relax on Haeundae Beach, explore Nampo neighbourhood, hike along Igidae Coastal Walk or within Taejongdae Park and finally, unwind at a Korean jjimjilbang (nude hot pool area) such as Spa Land in Shinsegae Centum City. You can also take a few fun day trips from Busan.

A specific Korea budget tip for Spa Land – visit after 8pm or before 9am on weekdays for discounted tickets. Visiting on a weekday is cheaper than a weekend generally; you'll pay 15,000 KRW rather than 18,000 KRW.
Essentials for a budget Korea trip
Thanks for reading my South Korea budget guide!
I hope I've answered your questions and got you excited about your South Korea budget trip 🙂 Ask me any questions in the comments.
Follow for more Korea content on Instagram, Facebook, Twitter and YouTube.
Check out my other South Korea blogs:
See you next time for more adventures,
Rose
For more travel content, follow me on Instagram, Facebook, Twitter and YouTube.
Ps. Liked South Korea budget guide? Pin it for later!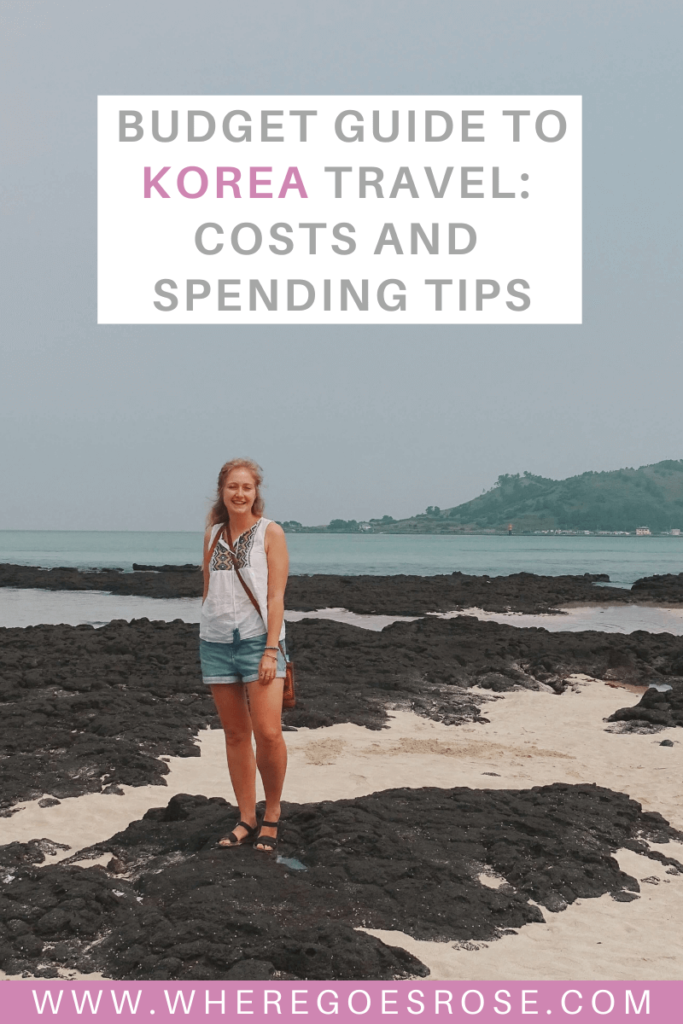 VISITING SOUTH KOREA?
These are my trusted resources:

Getting around by air – I use Skyscanner to find the best-value flights, using the 'search by month' tool to find the cheapest dates. You can also use the 'to anywhere' feature if you're flexible on where you're going.

Buses – buses are comfy and efficient. It's tricky for foreigners to book online so it's best to turn up on the day.

Trains – use Trip.com, partner of Korail (the official railway network of Korea) to book your trains in advance. The website accepts international payment options, unlike Korean rail websites. Click the three stripes in the top right corner then the flag to change it to English.

Driving in Korea – use Rentalcars.com to compare car rentals. Hiring a car will be especially useful on Jeju Island.

For hotels in Korea, I use Booking.com – they also have self-catering apartments. You can filter by review score and price to find the best-rated budget places. For hostels, I use Hostelworld.

To save money on accommodation, I use Trusted Housesitters, a website that connects homeowners going away and travellers who can sit their homes & pets.

Browse South Korea tours and activities on GetYourGuide. I also check Viator and Klook in case they have a better price.

For food tours with passionate local chefs and foodies, check out EatWith.

Need travel insurance? I use True Traveller (for UK & Europe residents) since it's affordable but covers everything you'd need including various activities, valuables and pre-existing conditions. Unlike some companies, they insure you if you're already travelling / don't yet have your flight home booked. Get a quote.

For travel insurance for other nationalities, I recommend Hey Mundo and for long-term digital nomad travellers, I suggest Safety Wing.

Check out my resources page for more travel discounts and tips!