This post may contain affiliate links to things like tours, hotels, Amazon associates and products. These help me earn a small commission at no additional charge to you.
As a dedicated coffee fanatic, I love to write cafe guides wherever I go. After writing about the coffee in Zagreb, I headed to the cafes of Split where I spent two months living and working online.

Croatia isn't known for its fast-paced lifestyle that requires coffee to power. The word 'pomalo' means chilled or relaxed and refers to every area of life, right down to the coffee scene. Coffee in Split is lingered over by the locals who are rarely in a rush. However, during a busy Croatia itinerary, you'll need the extra energy!

As well as local cafes, there are now a couple of speciality coffee roasters in Split Old Town. I'll share them all in this guide…
SPLIT ESSENTIALS

Accomodation: Booking.com / Hostelworld

Getting there: flight / car hire / bus (Flixbus)

Food activities: GetYourGuide / Viator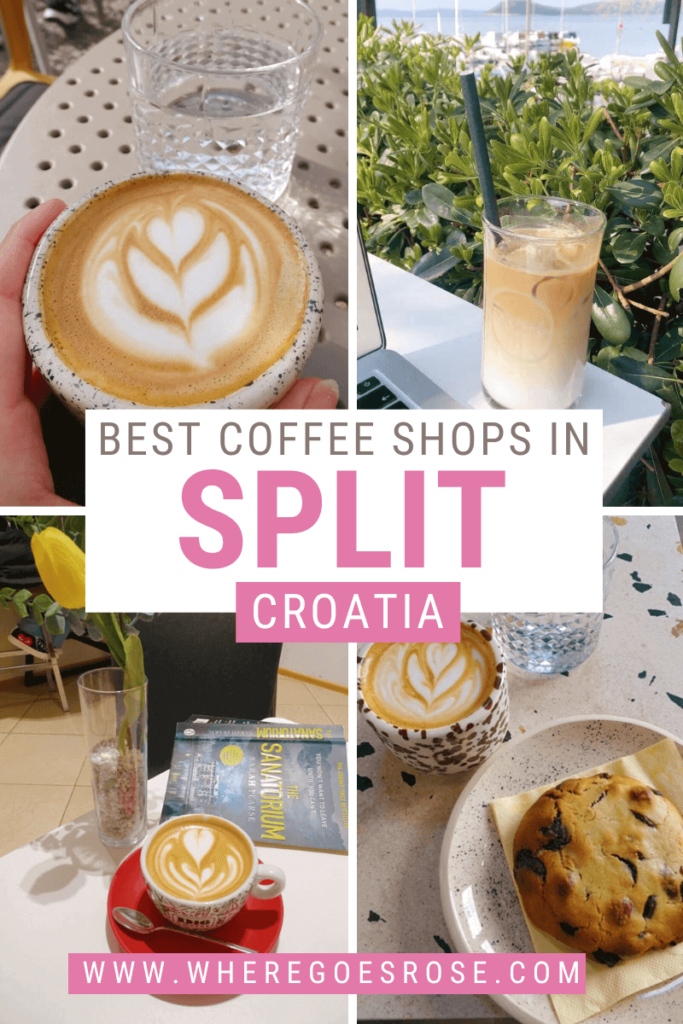 Read next: 35 best things to do in Split
Useful tips for drinking coffee in Split, Croatia
Coffee always comes with a free glass of water. I love this!
It often costs as little as 8 kuna (€1) for a cup of the good stuff. The most expensive flat white at a third-wave coffee shop in Split will cost max. 25 kuna
Kava means coffee and čaj means tea in Croatian. Most people speak English in tourist areas but it's always good to know.
Foodie visiting Croatia? Don't miss my Split restaurant guide with 18+ options for all palettes and budgets
Speciality coffee in Split
There aren't endless Split cafes serving speciality coffee; you just have a few places to choose from. Whenever I need a decent flat white, I head to one of the following…
D16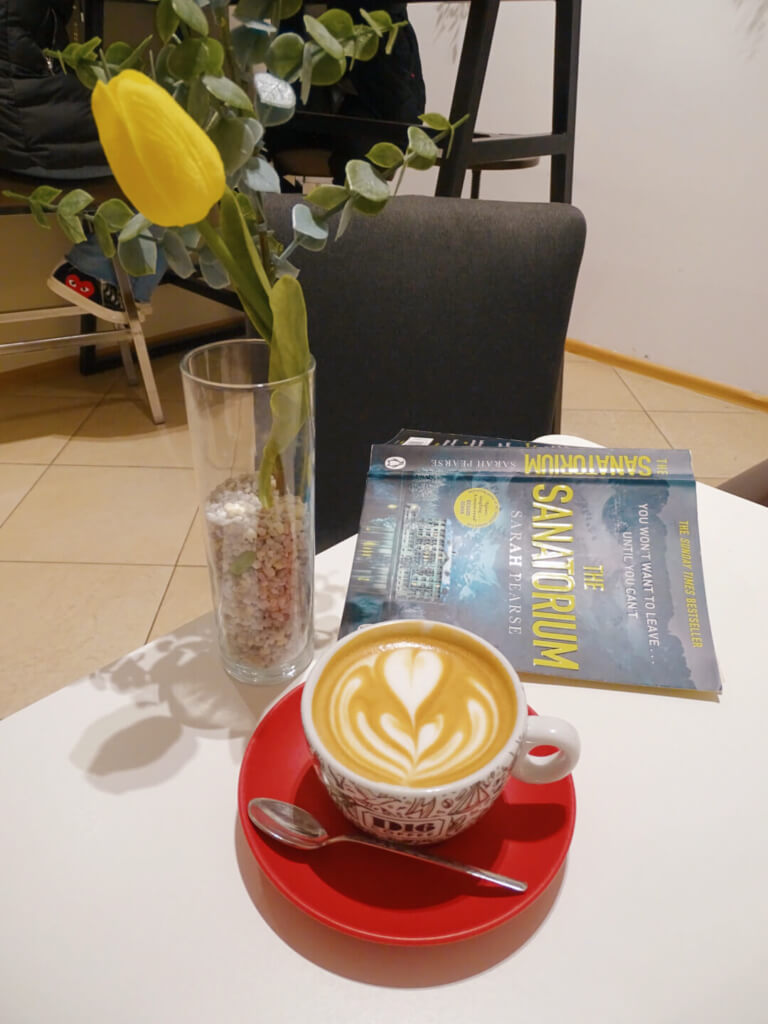 There are two D16 cafes in Split: a cosy coffee shop down a small street in the Diocletian's Palace complex and an espresso bar not far from the Old Town. I've only visited the first branch which is a cool cafe with all your usual drinks on offer.
They serve only the best coffee made with 100% arabica beans complying with quality farming and drying standards.

The OG cafe is named after its address, Dominisova 16, a street honouring medieval scientist, Marco Antonio de Dominis, who devised the theory of light and the rainbow! Ironically, there's not much natural light in the cafe (such is the nature of the Diocletian Palace alleyways) so there are spots I prefer for hanging out.

If you're spending longer in Split (or you just really love the coffee) they sell products to take home including bottles of cold brew and bags of single-origin blends from Peru or Brazil, plus their signature Dominus blend.

Co-work potential: I've seen people co-working however the music can be quite loud and distracting, for example when I visited and they were blaring Gangster's Paradise! Not your usual coffee shop playlist 😉

Address: the main cafe is at Dominisova ul. 16, 21000, Split (Diocletian's Palace) and the espresso bar is at Trogirska ul. 8, 21000.
Kava2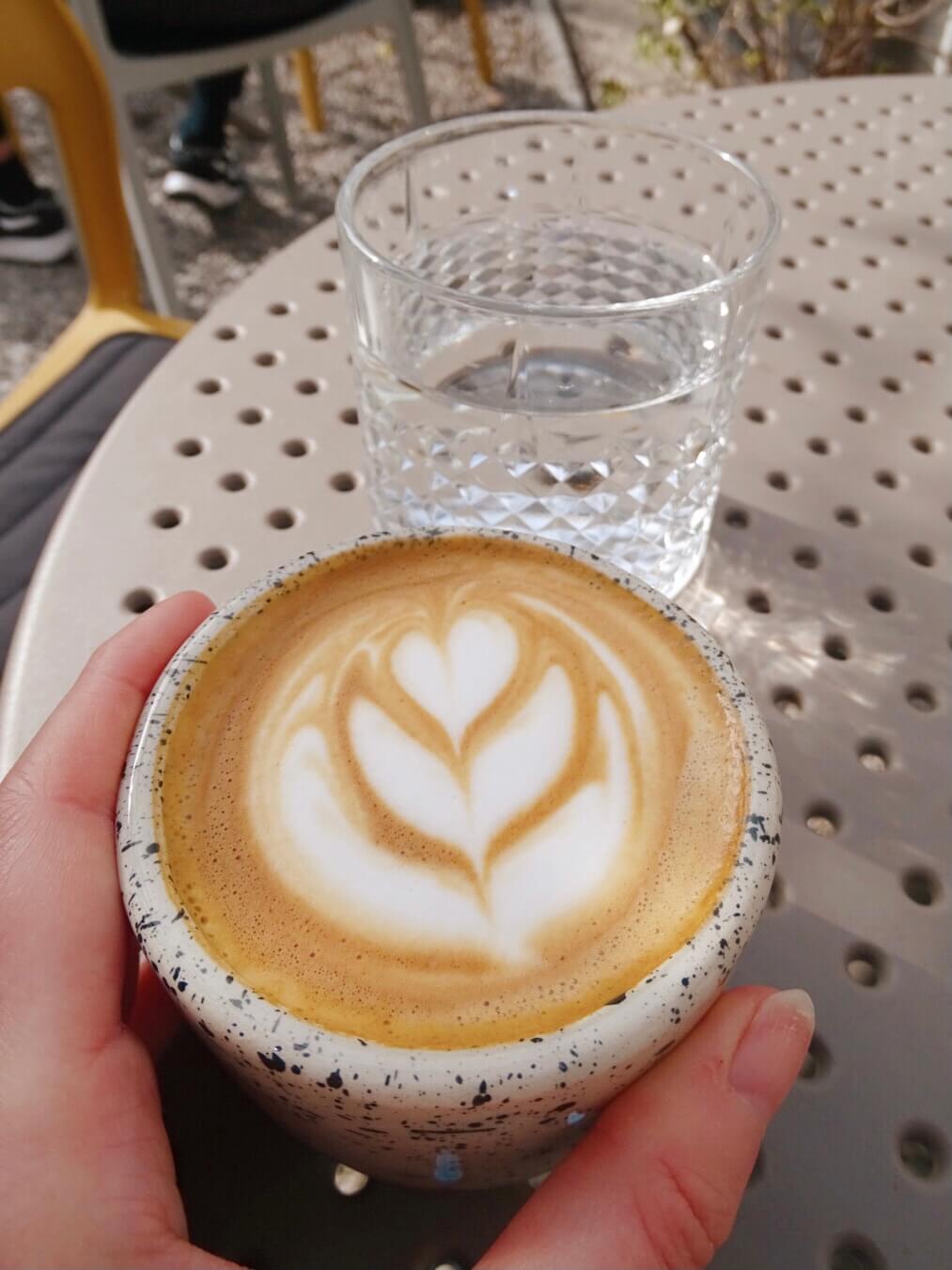 If I had to pick my favourite coffee shop in Split, I would definitely choose Kava2 and about 85% of the reason would be the peanut cream croissants! They are to die for.

Kava2, named after the Croatian word for coffee, has a great aesthetic and I seriously want to buy their cow-spot coffee mugs. The colours and details relate to family memories of the owners and Croatian culture.

Fresh from their Split coffee roastery, Kava2 serves fantastic coffee from flat whites to macchiatos. The knowledgeable barista asked me whether I wanted the Brazilian or Ethiopian blend, explaining the first is more chocolatey and the latter more fruity.

There are just a few seats inside and a large garden area. Since there's no cover, it may not be the best in bad weather or baking hot sun.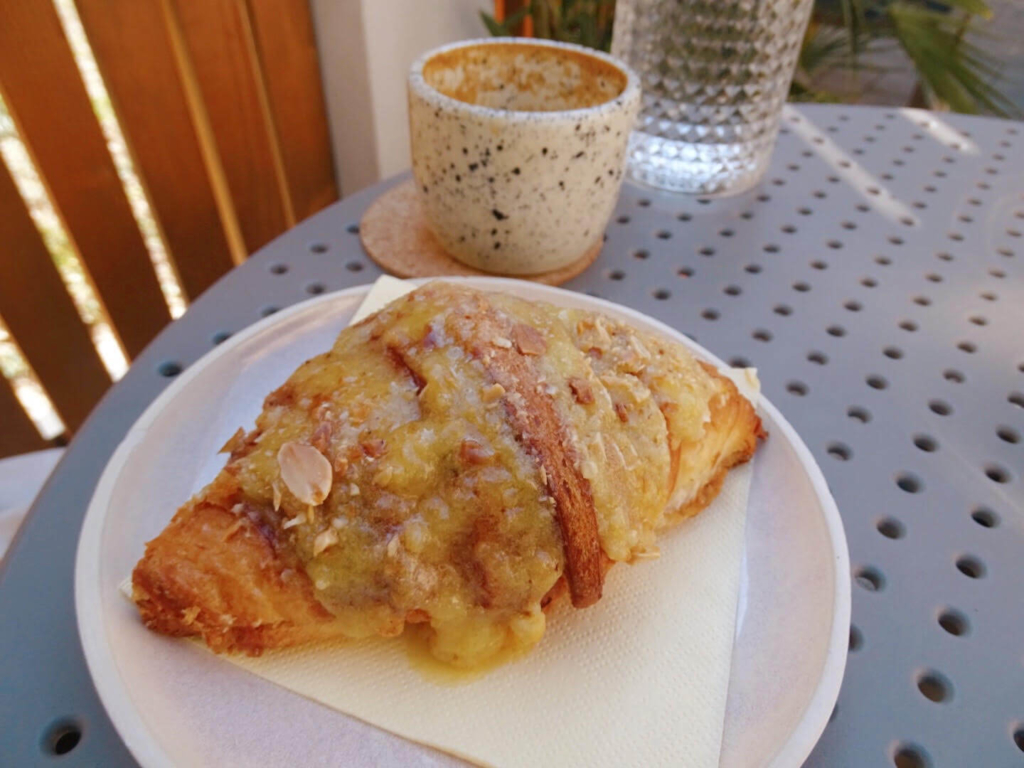 Kava2 don't serve savoury food, just a few freshly-baked croissants and cookies. I've tried all their bakes and always return for the peanut croissants, stuffed with sweet-salty cream and topped with flaked almonds.

If you're wondering 'where's Kava1?' the answer is nowhere. They have one other cafe, Kava37 on Hvar island. If you take a day trip from Split and visit, let me know!

Co-work potential: Not the best since most of the tables are outside. I can never see my screen in direct sunlight.

Address: Ul. Ante Starčevića 2/1, 21000, Split. It's a 10-minute walk from the Old Town.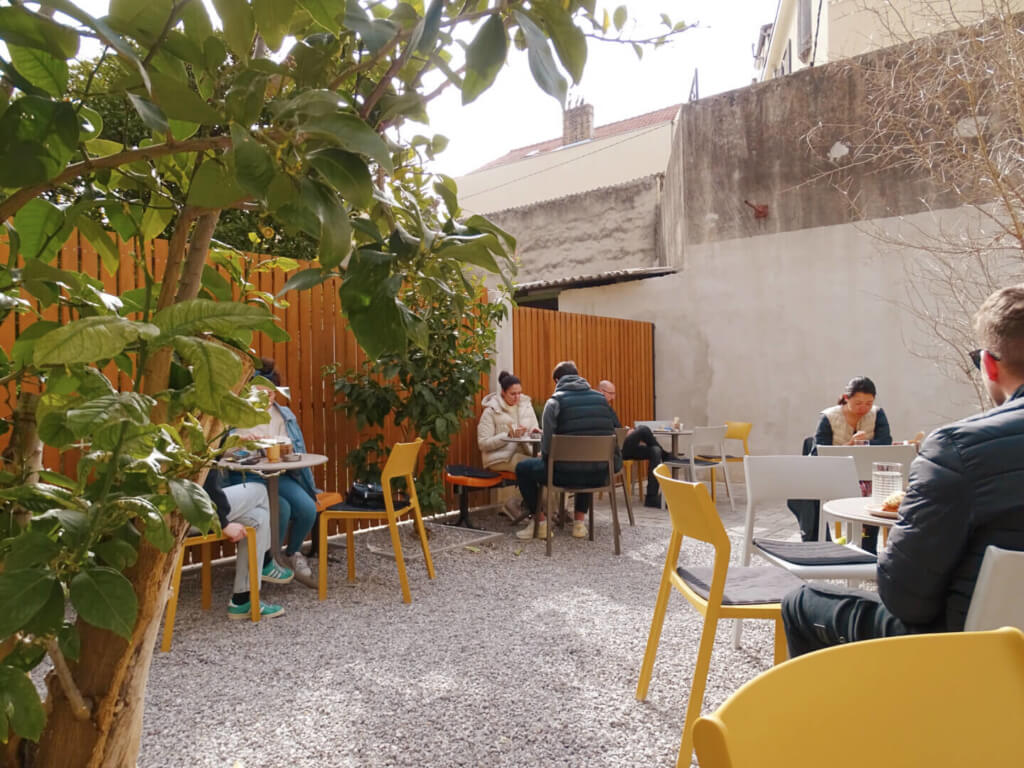 The Daltonist
The Daltonist is not exclusively a speciality coffee shop in Split but a cafe/bar that serves food in the summer months and often hosts pop-up events and DJ nights. Although it's busy and crowded in the evenings, it has a chilled vibe in the daytime with some of the best speciality coffee in Split.

They have a great variety of drinks on offer from iced lattes, matcha and even matcha iced lattes. Plant milk costs 5 kuna extra.

It's one of the few cafes in Split that serve speciality coffee with brunch: the dream after a few too many cocktails the night before (best drunk at the Daltonist – they are excellent!). From shakshuka to full English breakfasts and healthy Buddha bowls, it's an international menu with regional additions like truffle eggs benedict.

Co-work potential: very good although it's worth noting I was there in March. I suspect it may be too loud and busy in peak season.

Address: Hrvojeva 10, 21000, Split.
4coffee Soul Food
A few doors down from the Daltonist is 4coffee, a small coffee window where you can stand, lean or perch and enjoy a coffee in the Split sunshine.

What they lack in space, they make up for in quality. As well as perfectly-poured coffees, they offer baked goods like cookies and croissants.

Address: Hrvojeva 9, 21000, Split.
KaKantun – Specialty Coffee and Gin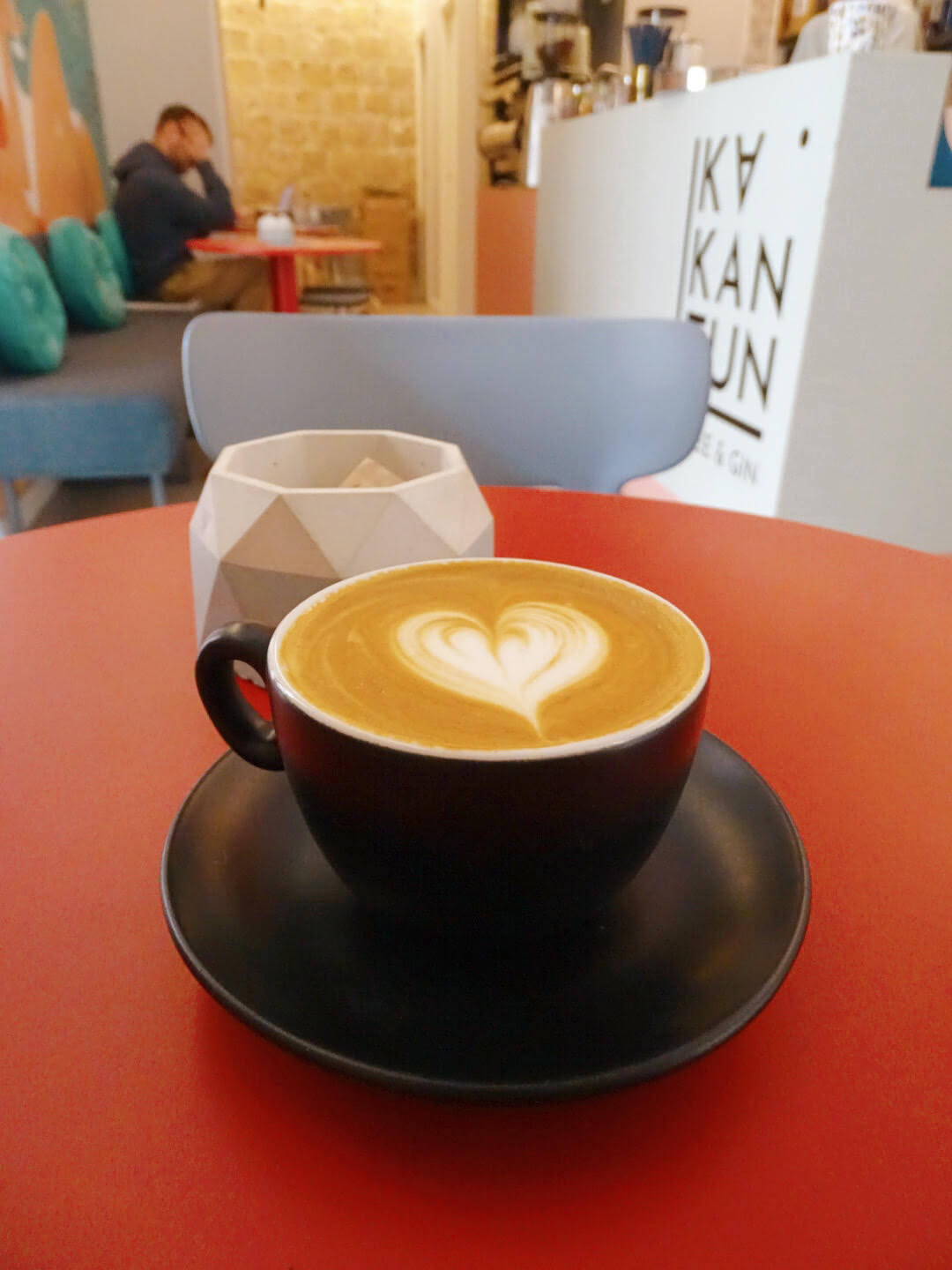 KaKantun Specialty Coffee & Gin is a cute and colourful coffee shop in Split Old Town, nestled down an alleyway in the Diocletian's Palace. It might be too hidden because it took me a while to find. Using Google Maps is tricky in Split centre because the streets are tiny so it's hard to work out where you are.

I'm glad I succeeded in my mission to find KaKantun: the coffee is excellent with plenty of choices from cold brew to matcha lattes and non-coffee options like tea and juice. If you don't believe me, read any of the 5 star reviews on Trip Advisor.

The interior is ambient and arty with pastel-coloured wall murals. In the summer, there are tables outside in a spacious courtyard. The shade created by the surrounding buildings saves you from baking in direct sunlight.

As the name might suggest, it's not just a Split coffee shop but a gin bar, too! God gives with both hands, amirite? 😉

Address: Ul. Dujma Vušković, 21000, Split.
Cafes in Split with views
The cafes listed above are my top picks based on the quality of the coffee. However, none of them offer particularly amazing scenery. With the ocean, forest and mountains surrounding Split, there's nothing more pleasant than sipping coffee in the sunshine, soaking up the views and perhaps recovering after a hike.

Most of these cafes will serve Franck coffee, a popular Croatian brand with red labelling seen on the coffee cups. It's not bad.

None of the following Split cafes are great co-working cafes unless mentioned.
Restoran Vidilica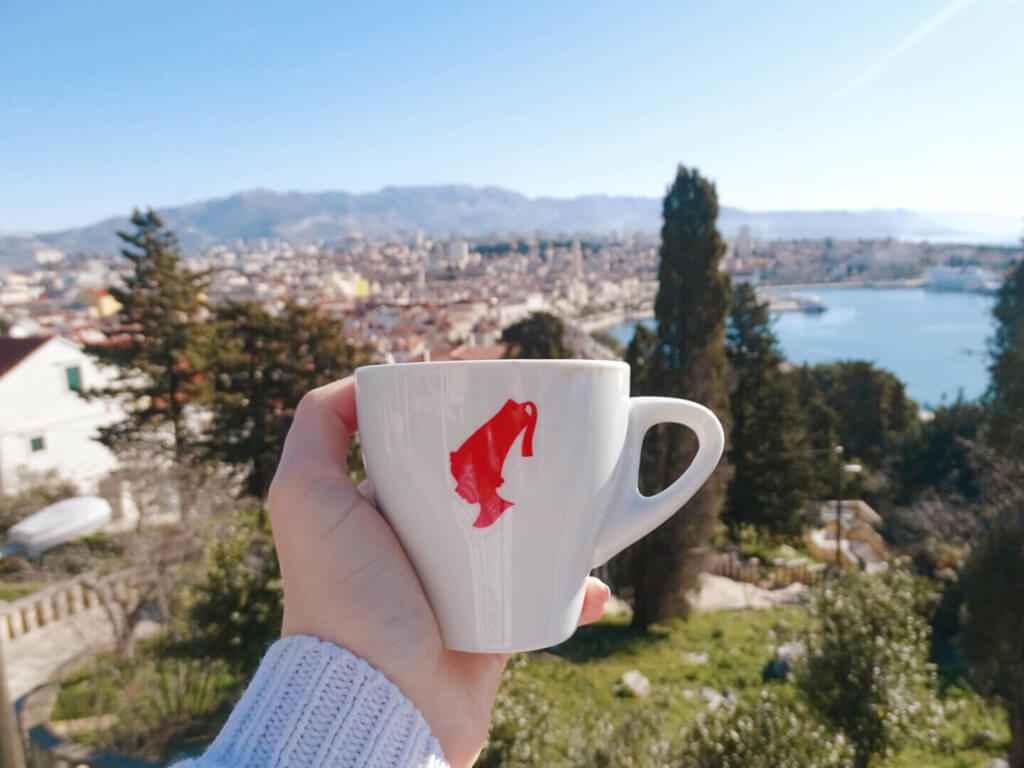 Beside Marjan viewpoint and at the beginning (or end) of the Marjan Hill hike to the flagpole viewpoint, the terrace at Restoran Vidilica offers spectacular panoramic views of Split Old Town and the coast.

After living basically next door for two months, I've been here many times… And spent a lot of money! A regular coffee with milk costs 12 kuna (€1.60) which is slightly inflated based on its spectacular location.

The only downside is that you'll need to climb a steep set of stairs from the Old Town. You'll be out of breath for sure but the views are the ultimate reward.

Vidilica is also a restaurant but I hear the food is overpriced and not too special so I would recommend eating elsewhere. It's not the best coffee in Split either but it's also not bad.

Address: Ilićev pro. 1, 21000, Split, Croatia.
Jadran Beach Bar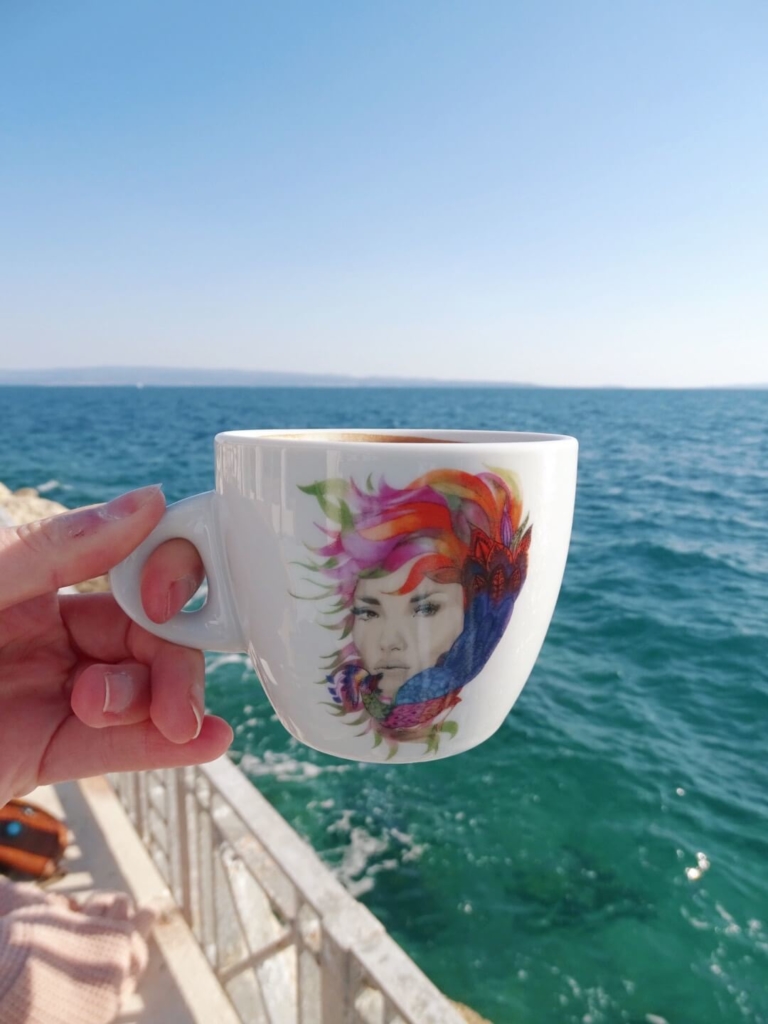 Twenty minutes from the Old Town on foot, the appeal of Jadran Beach Bar is sitting by the water with views across to the islands. As it's in residential Varoš neighbourhood, it's frequented by locals as well as tourists.
It's not speciality coffee but it's an affordable place for a drink outdoors with lovely views.

Address: Sustipanski put 23, 21000, Split.
ZONA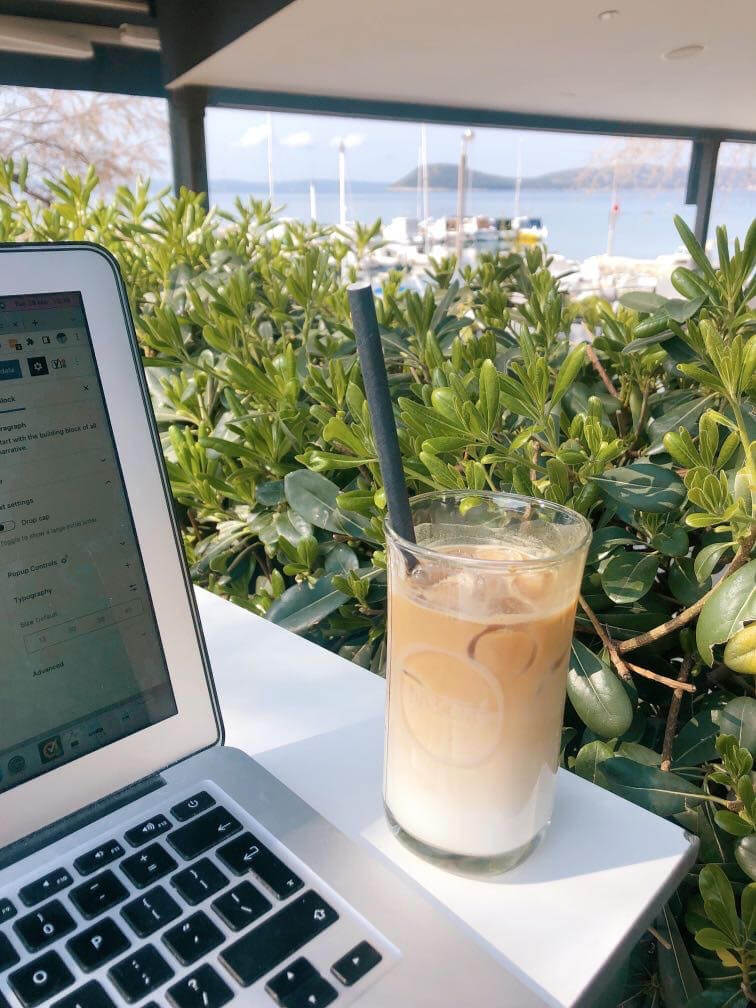 Just a few moments from Jadran Beach Bar in Varoš neighbourhood, ZONA is a Split cafe and restaurant with views of the harbour and a small park.

Although it's not a speciality coffee shop in Split, the iced latte was surprisingly good and (as you can see from the photo) fuelled me to work at my computer for a few hours.

Address: Šetalište Ivana Meštrovića 3, 21000, Split.
Kavana Procaffe
With lots of outdoor seating, ocean views (where my friend spotted a dolphin) and more cakes than you've ever seen in one place before, this is a Split cafe you need to check out!

Kavana Procaffe is on the north side of the Marjan peninsular so it's the perfect place for coffee and cake before or after entering the park by the Spinutska Vrata entrance.

The iced coffee I had here was overly sweet and not the best so I would recommend staying simple and ordering a regular kava with milk or cream. The views make up for it, especially if you visit at sunset.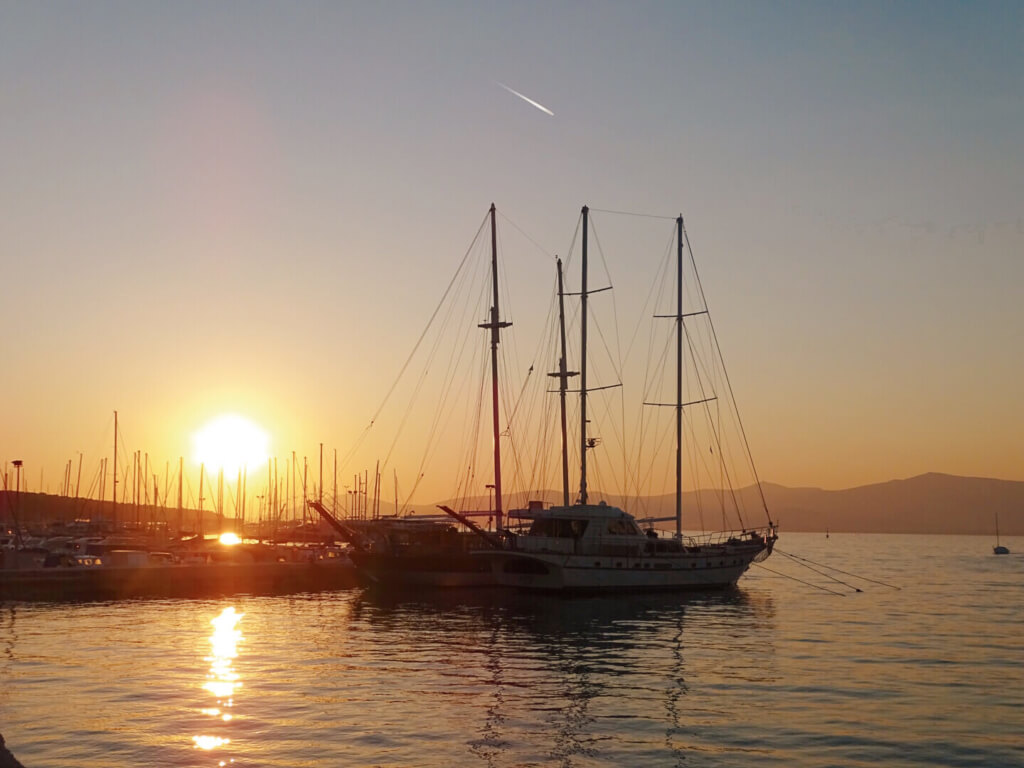 It was here that the staff basically gave me a five-minute presentation on the cakes. There are so many in all different colours and textures with abundant toppings. Strangely, many of the colourful sponges taste the same regardless of which you order. I went for an indulgent hazelnut chocolate cake which defeated me.

Note – I had a weird experience using the Wi-Fi here as, after connecting, I lost all control of my keypad and random files kept popping open. I don't know what went on but I would highly recommend avoiding the Wi-Fi, especially without a VPN…

Address: Spinutska ul. 67, 21000, Split.