This post may contain affiliate links to things like tours, hotels, Amazon associates and products. These help me earn a small commission at no additional charge to you.
Namibia part three…

Read parts one and two here and here.
Following capital city Windhoek, Etosha National Park, rock carvings and Spitzkoppe, our next stops in Namibia with our G Adventures Africa overlanding tour were adventure capital, Swakopmund, followed by the Namib Desert.
Swakopmund
Sarah and I set off for a wander round town after we arrived. Namibia was colonised by the Germans and in Swakopmund you could really feel it. The architecture was very Bavarian and lots of the roads were even called 'Strasse' rather than street. It was a pleasant place, but it felt unnatural and uncomfortable given the cruelty of European rule in Africa.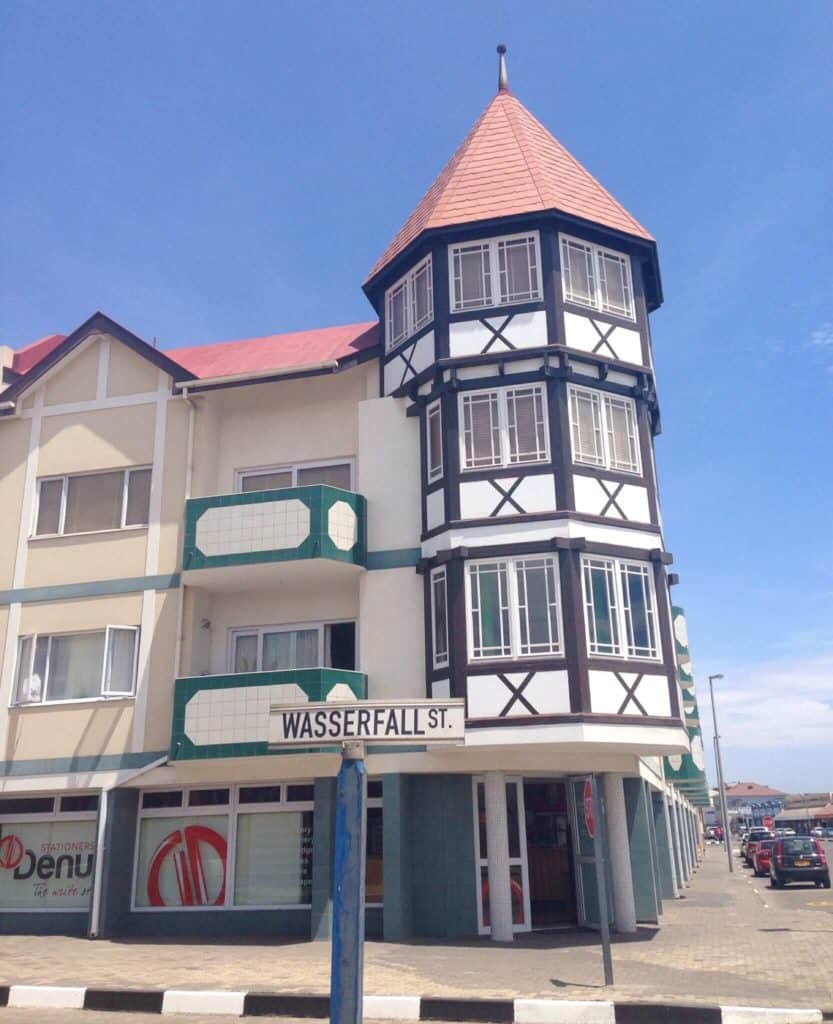 There were also lots of quirky, colourful houses in town, plus some cool street art – here are a few of my favourite examples: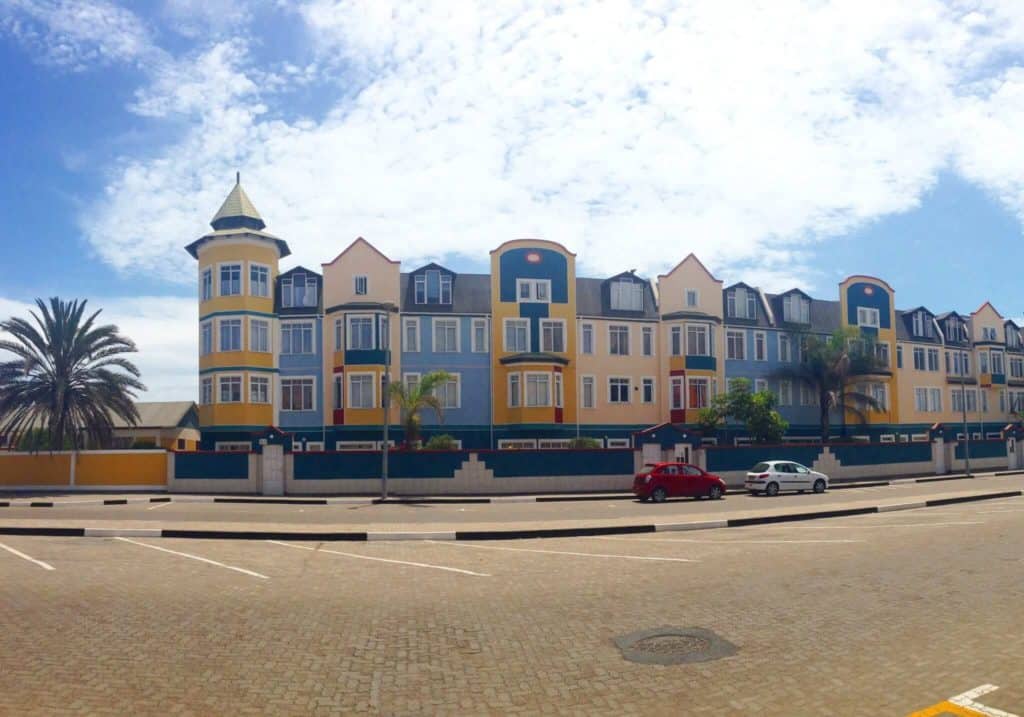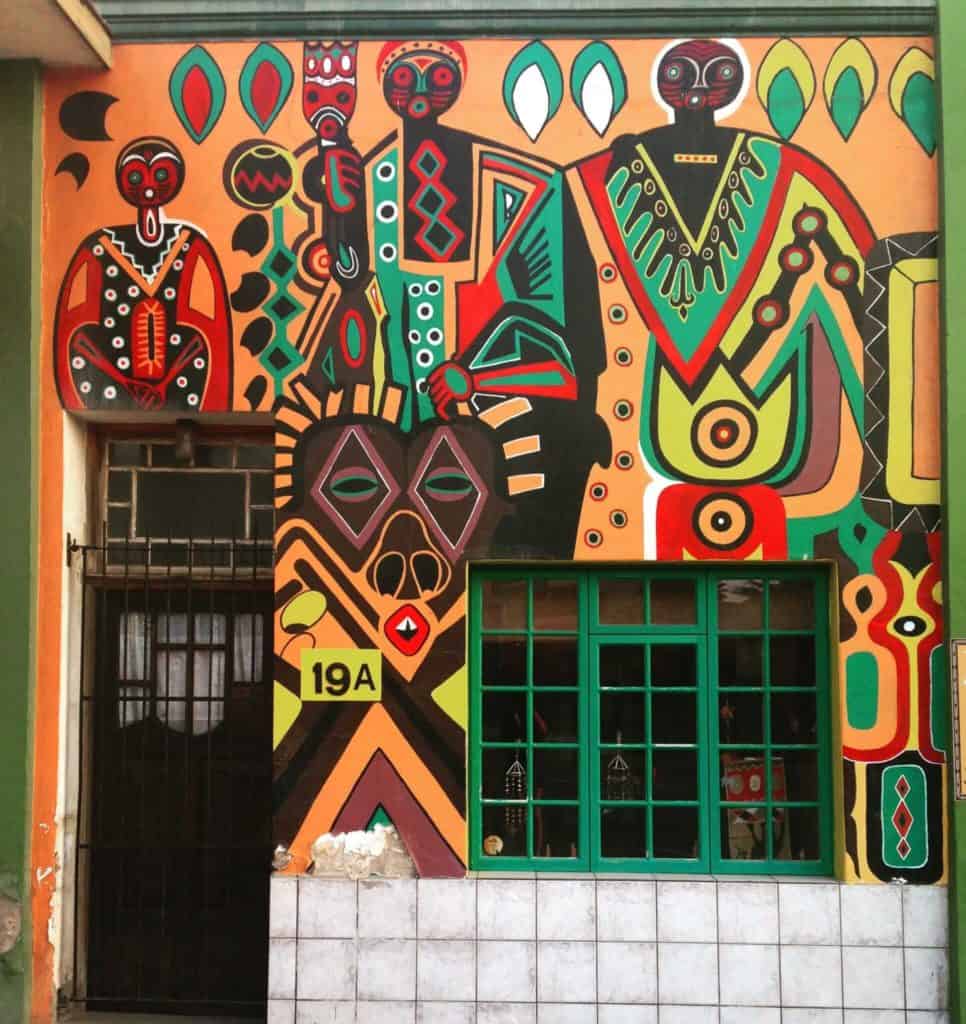 While I was wandering, other members of the group were being thrill seekers. A few went skydiving and lots headed sand boarding and quad biking.
Ya know what? I'm not a daredevil and I'm not upset about that. Sandboarding looked like a lot of climbing hills in the heat and while I'm curious about a skydive and hope to build myself up to one day, I wasn't quite there yet.
But if you're into that kind of thing, Namibia's where it's at! I'm going to fill some space with my friends' photos to rep what Swakopmund is all about.
(Photo creds to Riley Jones).
Sarah and I took the rare day off from our busy tour itinerary to relax, catch up on life and enjoy the coffee culture. Swakopmund was very different to other regions of Africa we've passed through – it's a wealthy city meaning you can get all your home comforts if you need them.

I'm not usually too bothered about anything but experiencing the local culture… but in this instance, I was feeling tired from all the time spent on a bus and in a tent so treated myself slightly.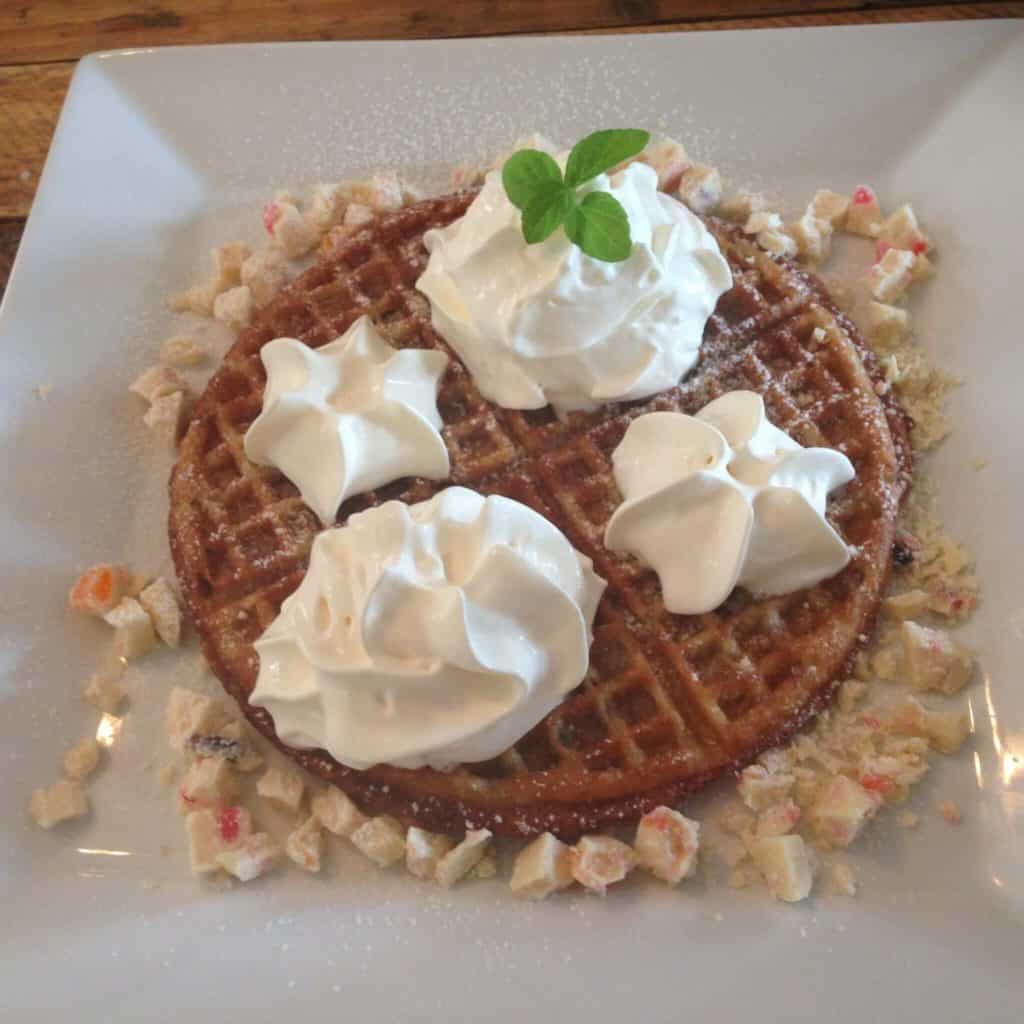 It was good! Any long-term backpacker will know you need this once in a while.
The Namib Desert
Following my time avoiding being sporty, we travelled on to the Namib Desert – one of my favourite spots in Namibia, if not all of Africa.

We spent our first day and night in at a basic desert camp. The only downside?

I'm going to be finding sand in my backpack for the rest of eternity!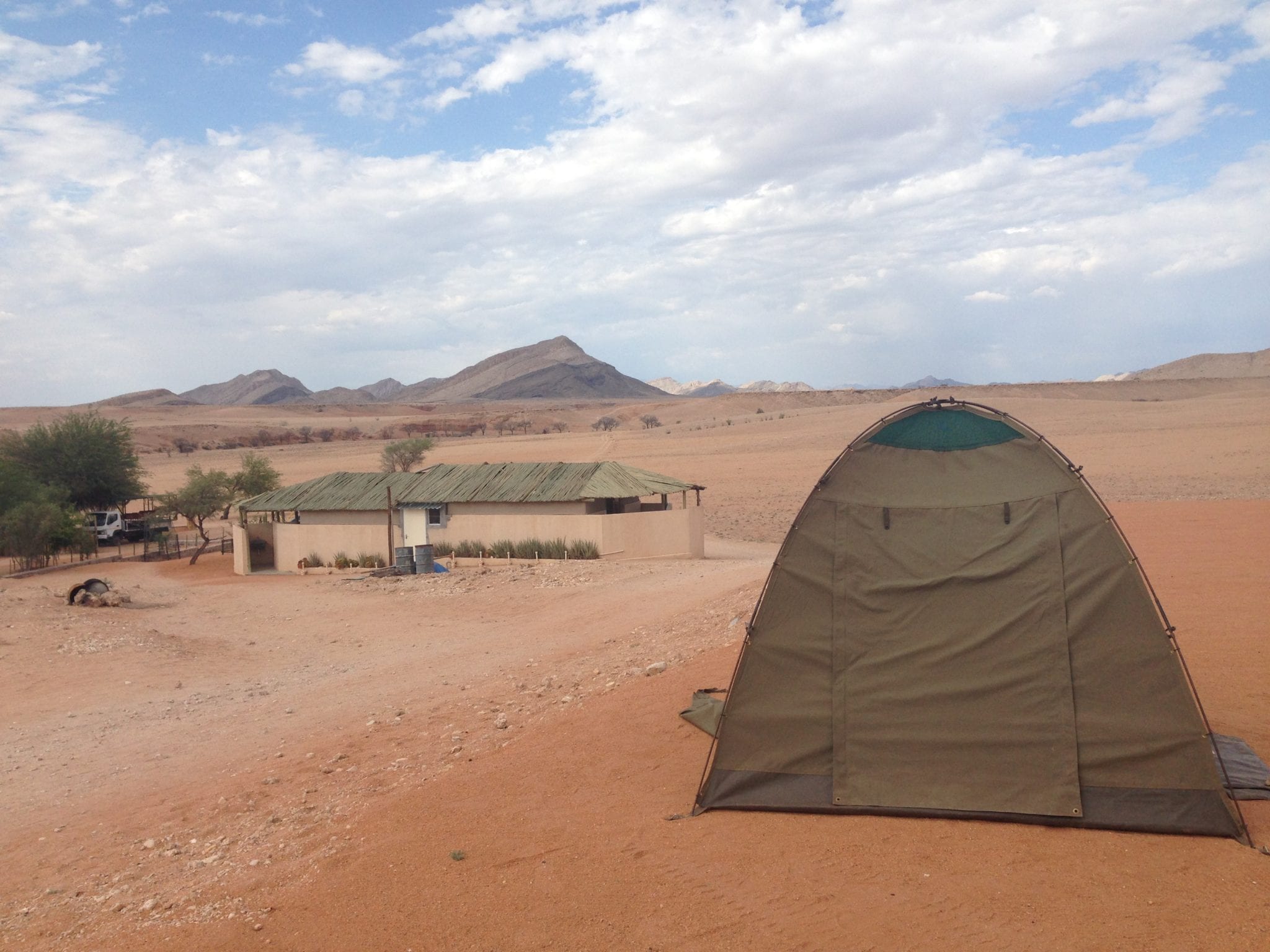 The camp was definitely basic. Taking a shower in the evening I nearly stood on a gecko eating a moth, and Sarah warned the rest of the group to stay out of that cubicle.
'Watch out, there's a gecko eating a moth in here!' she called out, for the first and almost definitely the last time in her life.
That afternoon we headed out on a desert tour with an enthusiastic guide who was a real character. When talking about spiders, snakes and the like he ended every story with 'and boom, you're dead!'
Luckily we all lived to tell the tale and he filled us in on all the desert facts and found us various types of wildlife like this enormous spider. He also told us that it's iron that makes the sand such a dark orangey-red and ran a magnet through the sand – it came up covered in metal shards.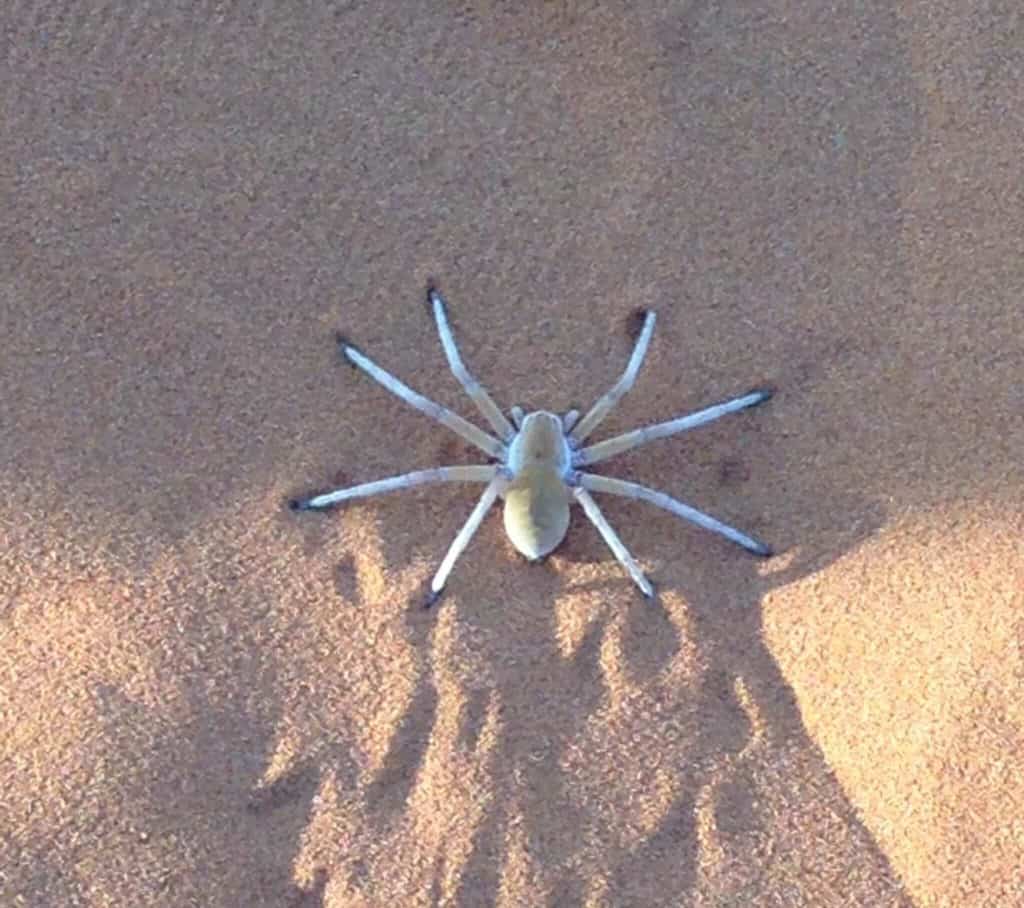 We started our tour in the late afternoon so it was soon time for sunset. As usual, Africa came up trumps again – I can't help but think of the Lion King every time I see the red sun sink into the horizon.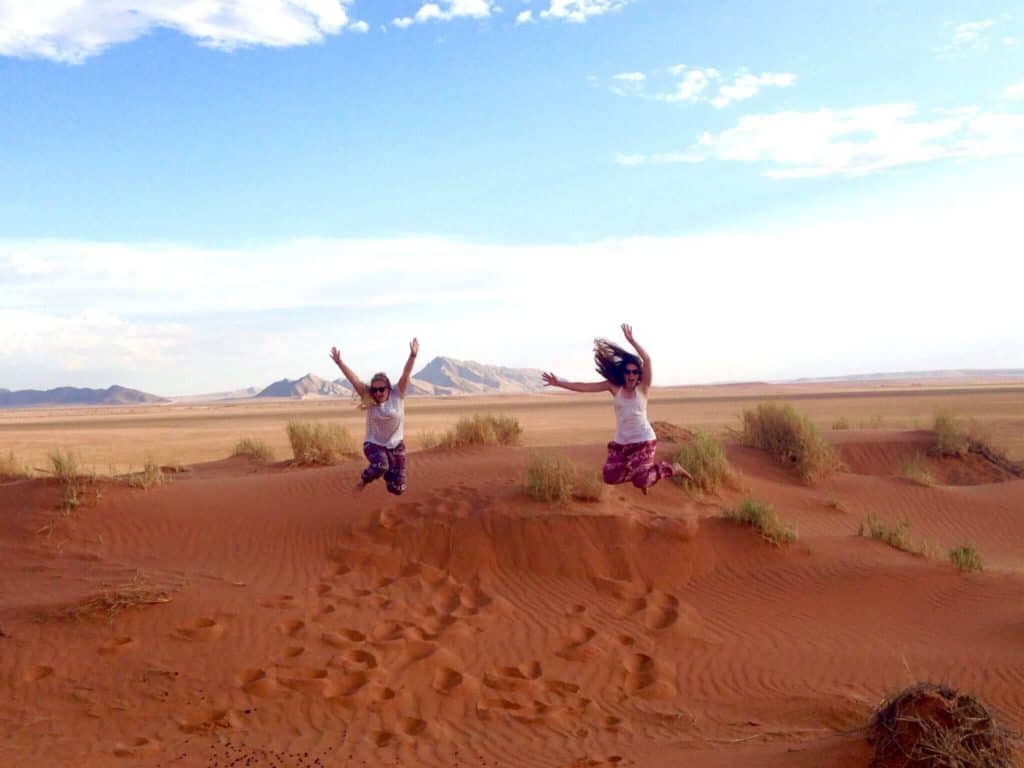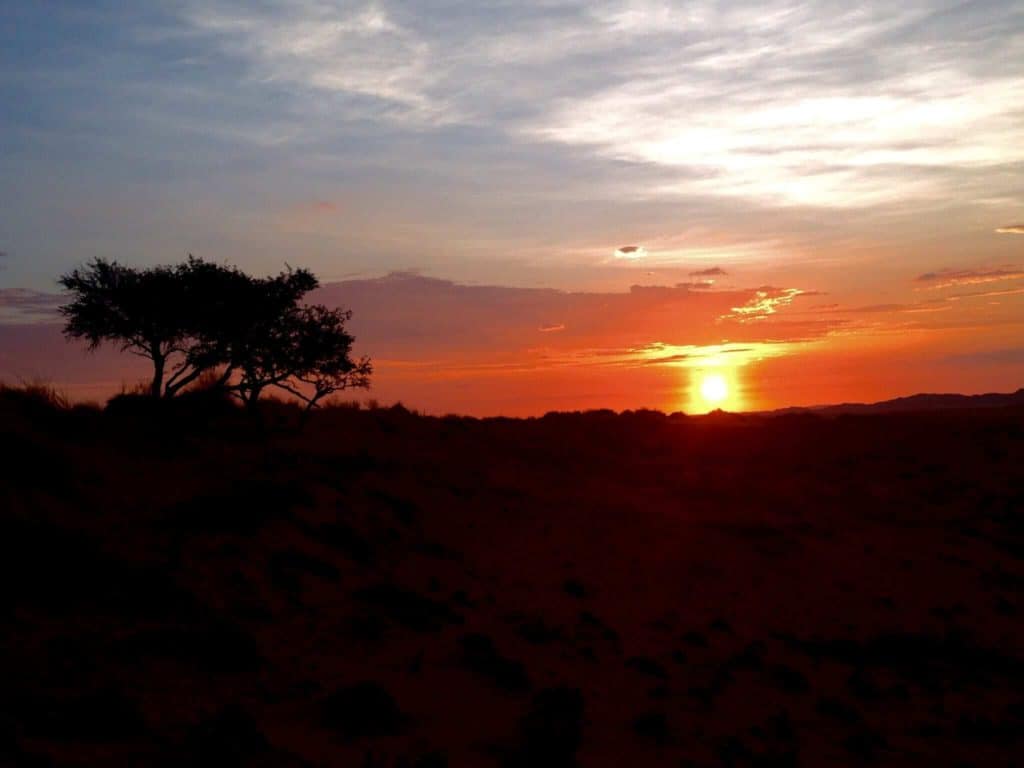 The day was over, but the good news was that our time in the desert wasn't. The next morning we were up at 4am – even earlier than usual – to climb the famous Dune 45. I managed to get so many epic photos of this beauty that I'm starting a whole new entry for it.
Thanks for reading!
See you next time for more adventures,
Rose