This post may contain affiliate links to things like tours, hotels, Amazon associates and products. These help me earn a small commission at no additional charge to you.
Taipei is a city that I tried to make sense of by comparing it to other places.

It has the quirky culture of Japan, the language of China, the clean and efficient subway of Singapore and the affordable prices of Malaysia. It's new and modern, yet the retro housing blocks and long-serving tea stands are a throwback to several decades prior. With Mandarin shop signs lit up against neon backgrounds, it feels like a smaller and calmer Hong Kong.

Why is it that we need to compare places to make sense of them? For whatever reason, I do it all the time. I hit the streets of Taipei in search of sights, sounds and smells that would familiarise me with the city and allow me to someday say 'this reminds me of Taipei.'

Because really, Taipei isn't quite like anywhere and that's what makes it so special. This urban hub of 2.7 million is Taiwan's capital city, blending ancient Taoist temples with the bright lights of Ximending, the city's answer to Harajuku.
How long to spend in Taipei?
Like many cities, you could rush around the sights in a day or so. However, many of the best things to do in Taipei are actually in the surrounding countryside. Thermal landscapes, national parks, hot springs and scenic mining towns will keep you busy. If you have a short time in Taipei, day tours are a good idea. You could see 3 places (which took me 3 days to work visit on public transport) in just one day, although it depends how you feel about rushed tour itineraries. I feel negatively hence why I spent so long in Taipei.

Depending how long you have for your Taiwan itinerary, I would suggest spending at least 3 days in Taipei. You can see a lot of the city during this time and explore three different night markets during the evenings. To help you do exactly that, later I'll share my Taipei itinerary for 3 days.

For me, around 5 days in Taipei is optimum. I spent 10 but that's partly because I work online and do everything slower. Because you'll likely fly in and out of Taipei, it makes sense to stay in the city at the beginning and end of your trip, then you can squeeze in anything you missed the first time around. Keep reading for my suggested 5 day Taipei itinerary.
Where to stay in Taipei
There are so many places to stay in Taipei from high-end hotels to cheap and cheerful hostels. Prices are higher than in Southeast Asia but still a bargain by Western standards. I was lucky enough to be hosted in two awesome hostels in Taipei:
Sleepy Dragon Hostel
This was my first Taiwanese hostel and set the bar incredibly high, especially after I enjoyed the included breakfast of bacon and egg scallion pancakes, cinnamon and apple porridge and coffee (yes all in one go!).

Sleepy Dragon also has a cosy TV and sofa area with bean bags and bookshelves; a self-service kitchen; and bunk beds with private curtains, lights, chargers and fold-out tables. I love this insular design because you can totally hibernate and have your own privacy, plus there's no taking turns over a lone plug socket the other side of the room (the ultimate backpacker struggle).

Beds start from 545 TWD a night (£13/$17). There's also an awesome bar downstairs called the Tipsy Dragon. I love these names!

The location is in the Songshan district, towards the east of the city and a nice escape from the busy centre. It's just a short metro ride from all the best things to do in Taipei and a few moment's walk from Raohe Night Market which is a great place to try affordable Taiwanese food.
Space Inn Xinyi
For a hostel that's cool and quirky, check out Space Inn. There are two locations, one downtown and the Xinyi one near Taipei 101. I stayed in the latter which was perfectly located for eating xiao long bao at Din Tai Fung in the basement of Taipei 101 and visiting Tonghua Night Market. The hostels are space-themed with staff who wear spacesuits and an interior designed to look like a spaceship. Totally bizarre but also very clean and comfy!
Best things to do in Taipei
There's so much to do in Taipei and some amazing attractions in the surrounding region. I'll start my Taipei travel guide with the best activities, then share my 3 and 5 day Taipei itineraries.
Longshan Temple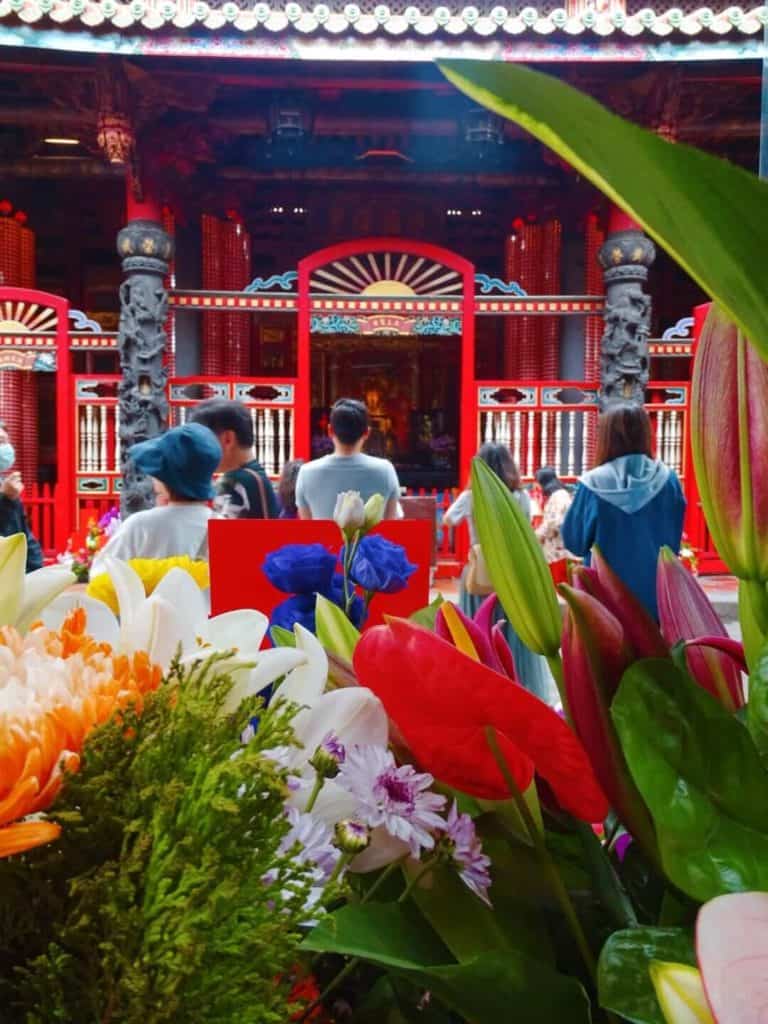 I wasn't blown away by this Buddhist-Taoist temple but maybe that's because I've seen so many around Thailand and Malaysia lately. It's one of the best things to do in Taipei for understanding the culture so it's worth a visit.

Longshan was built in 1738 and has survived numerous natural disasters and wars. There's a pretty, manmade waterfall just across from the main temple building, and entrance is free.
Explore Ximending
If you walk from Longshan to Ximending, you'll really see both sides of Taipei. Ximending is called the Harajuku of Taiwan for good reason: it's colourful, neon-lit, busy and extremely quirky. Wandering around this neighbourhood is a good way to get to know it.

There are countless bubble tea cafes and food stands around Ximending (as well as Hot Star which serves slabs of fried chicken the size of your head). It's a place for young people to hang out with friends and attempt to win goods from claw machines – Taiwanese people are obsessed with this craze!
Beitou Hot Springs & Thermal Valley (half day)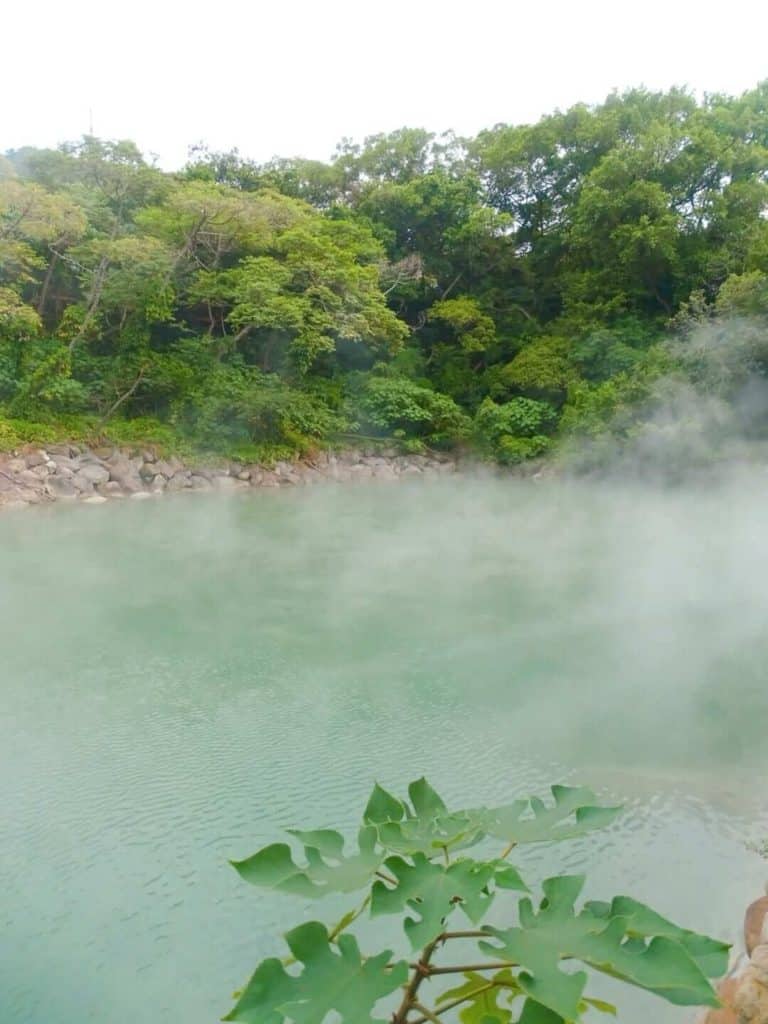 If you want to unwind in Taipei, or just experience something totally different, one of the best things to do in Taipei is visit Beitou. This area is known for its bubbling thermal pools, created by the underground volcanos that pushed Taiwan out of the ocean in the first place.

Apparently, ancient people referred to the area as 'witch' and wouldn't go near it, speculating that the water was bubbling straight up from hell.

During Japanese rule, the springs became a playground for wealthy colonialists with countless fancy hotels and resorts dealing in alcohol and prostitutes. After prostitution became illegal and the Japanese left Taiwan, this scene dissolved. Nowadays, Beitou is visited by tourists who marvel at the steaming Thermal Valley, and locals who wallow in the Public Hot Springs.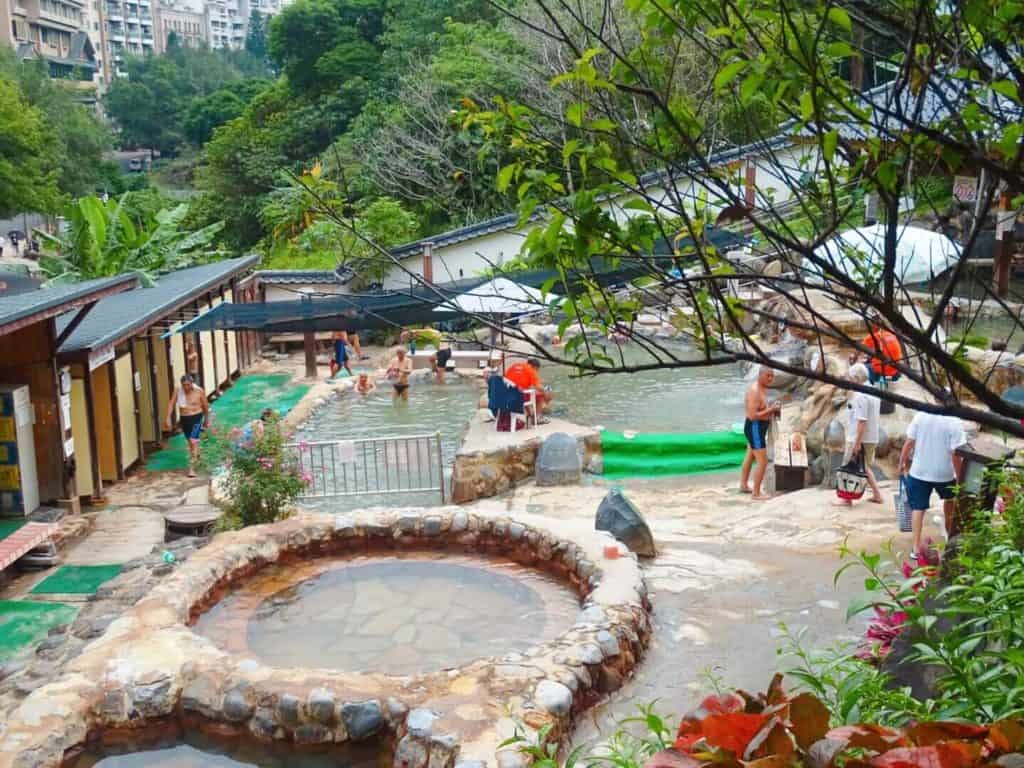 Getting to Beitou: Take a 25-minute direct train from Zhongshan. From Beitou station, it's a 15-minute walk to the springs or you can transfer one stop to Xinbeitou.

Start at the Hot Springs Museum which only takes a few minutes to look around, then check out the library next door, designed in the shape of a giant ship.

Afterwards, head to the Thermal Valley (no entrance fee) to get a sense of Beitou's natural powers. Finally, visit the Public Hot Springs and soak with the locals. This costs 40 TWD, plus 20 for a locker. Bring your swimwear and follow the rules on the boards.
Shifen and Juifen (day trip)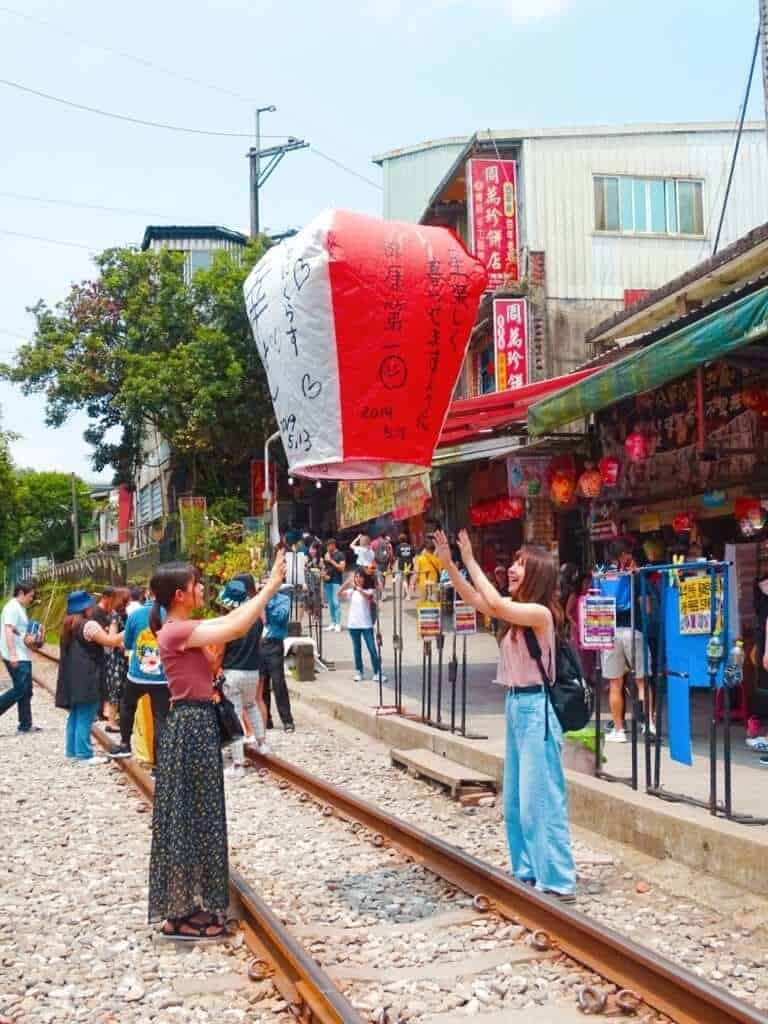 These two picturesque towns are worth a day trip from Taipei. As old mining settlements, they tell the story of Taiwan in the days of colonial Japanese rule.

Juifen is a hillside town overlooking the mountains and ocean with lots of adorable teahouses and a thriving foodie scene. Shifen is set alongside an old-fashioned railway line that's still in use today. When people aren't dodging the train, they're writing wishes on giant paper lanterns and releasing them into the air.
Getting to Shifen and Juifen: If you don't have your own transport, you could consider a day tour or do it yourself on public transport. If doing this, leave Taipei relatively early because there's no direct connection between Juifen and Shifen – you have to transfer via a city called Ruifang. It's a longish day but worth it to see the Taiwanese countryside and learn about the history of these traditional towns.
Read next: Things to do in Jiufen and Shifen
If you have more time, you could split Juifen and Shifen into different days, seeing Shifen along with Houtong Cat Village and Pingxi village one day, then combing Jiufen with Jinguashih village and Teapot Mountain on the following day.
Houtong Cat Village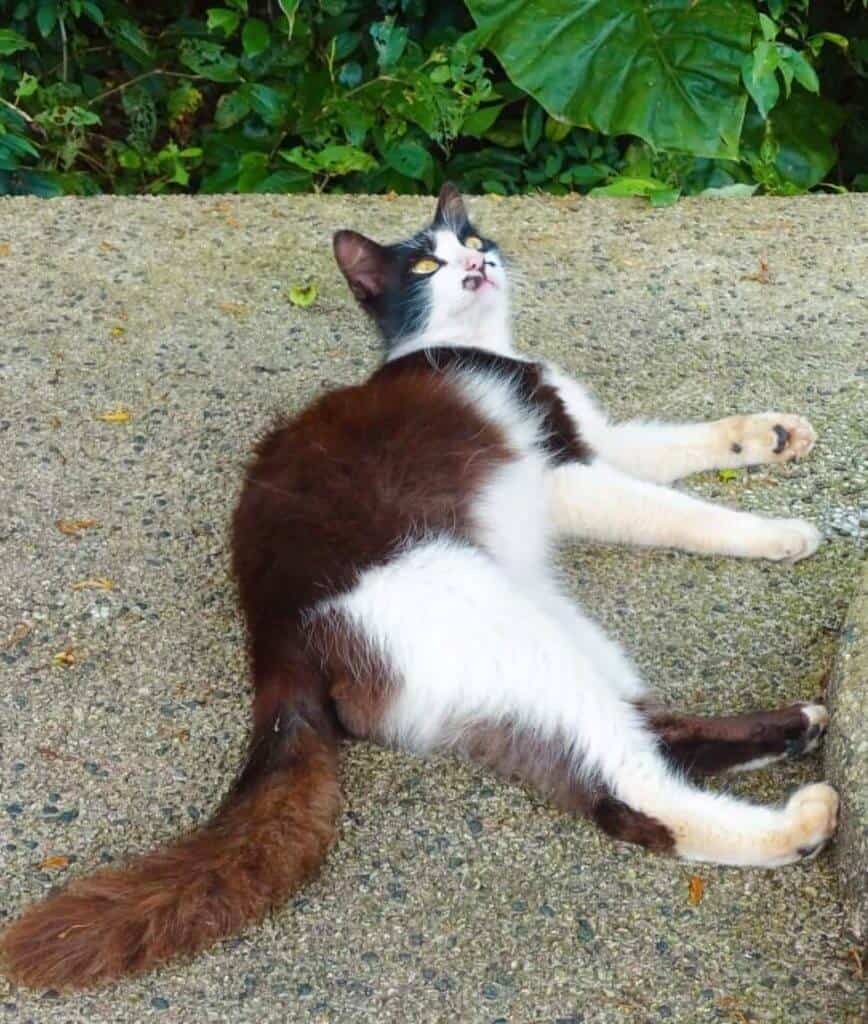 If there's anywhere in the world that would have a cat village, it's Taiwan! People here love anything cute and quirky which fits this village to a tee. You'll find well-loved felines lounging around, being pampered by tourists and generally ruling the roost.

There are also cat-themed cafes, a lot of gift shops and stunning views over the Taiwanese countryside.

Getting to Houtong Cat Village: Houtong can be reached from Taipei by catching a train to Ruifang and transferring to the Pingxi Line. You only really need an hour to look around so it's a good addition to a day trip from Taipei to Shifen.
Try soup dumplings at Din Tai Fung
No Taipei travel guide would be complete without dumplings! Moreish xiao long bao are best eaten in one mouthful as they contain juicy pork in a small serving of flavoursome soup. They're famously served at Din Tai Fung which was voted one of the top 10 restaurants in the world.

There are a few different branches in Taipei but I tried them in the basement of Taipei 101, something you can time around a visit to the observation deck.

Taiwan tip – if you don't fancy a long wait, visit at the opening time of 11am. This is what I did and it was getting busy when I left 30 minutes later.
Yehliu Geopark (day trip)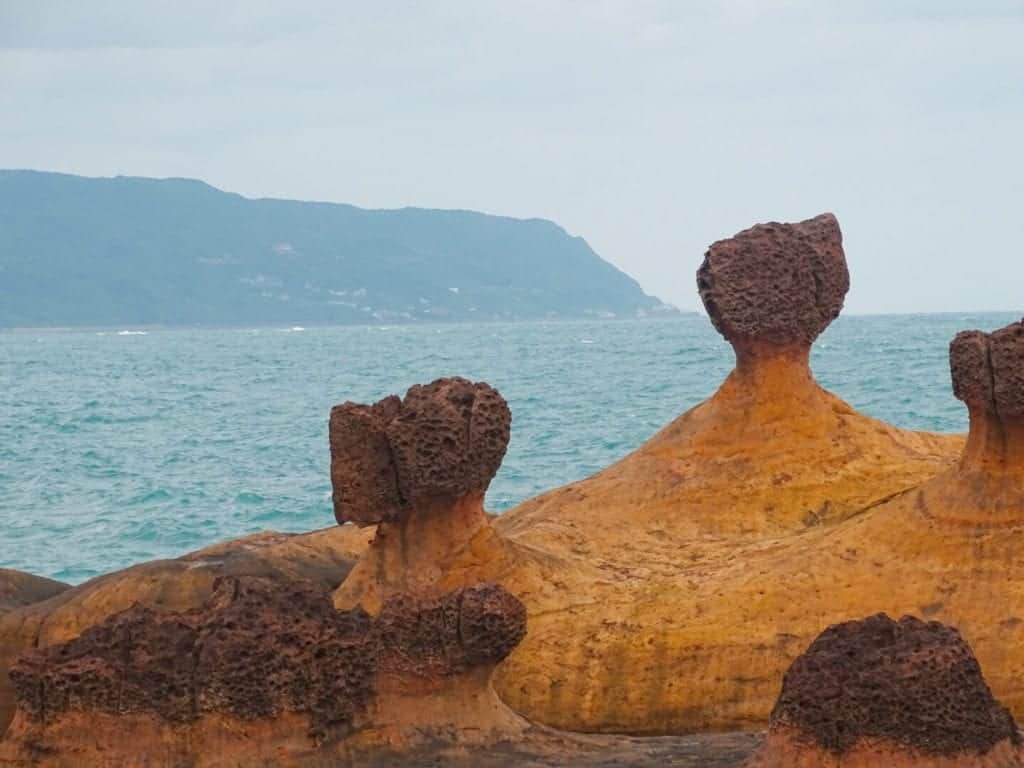 The weird and wonderful scenery of Yehliu Geopark is totally different to anywhere I've been before. It's not even similar to the Taiwanese countryside surrounding it. The rock formations and craggy landscape are straight out of Mars, peppered with 4,000-year-old fossils.

Meanwhile, the crashing waves are constantly reshaping the towering rock formations. Many of these are bizarre-looking, resembling the profiles of people or household objects. Don't miss the Queen's Head or the Fairy's Shoe named after their resemblance to these things.
Read next: Visiting Yehliu Geopark from Taipei
Getting to Yehliu Geopark: Catch the 1815 bus from Taipei Main Station or take a day tour. Pick one that just visits the Geopark as a half day trip or go for a full day including Yangmingshan National Park or Shifen and Juifen. It all depends on how much time you have and what else you want to see.
Climb Taipei 101 or see it from the Xiangshan Trail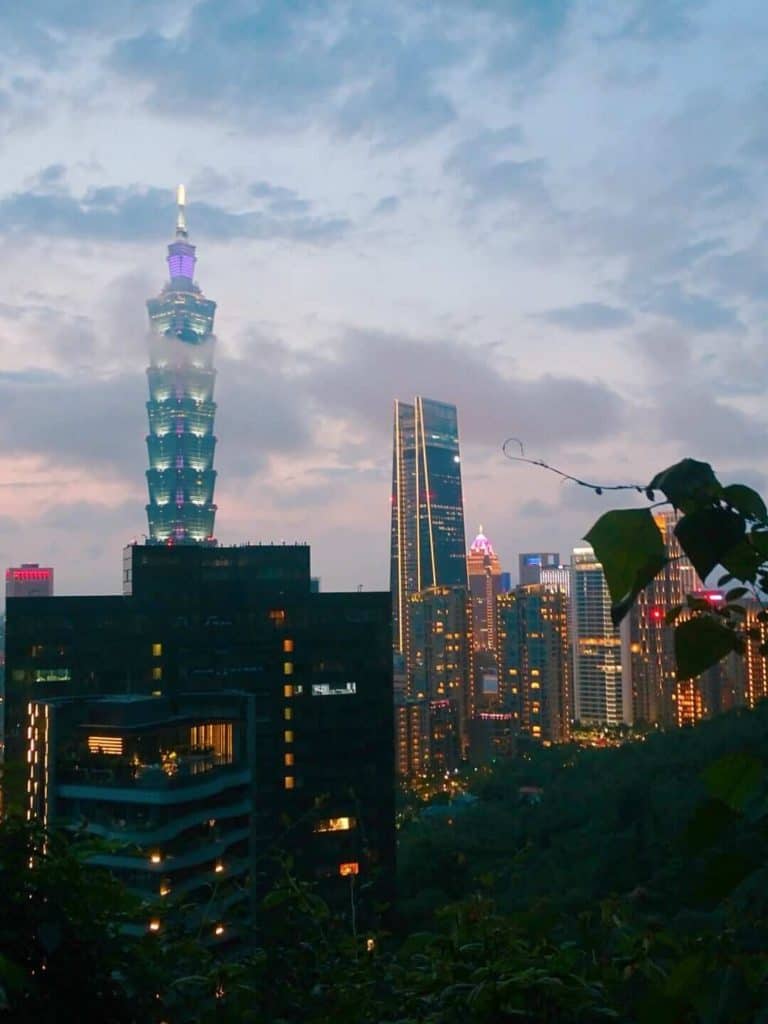 I seek out a cityscape view whenever I can. In Taipei, many people pay to visit the Taipei 101 observation deck, however this stops acts as a free alternative.

The Xiangshan Trail is a steep climb up but it's made bearable by the fact you're surrounded by nature as you go. From the top, you have a spectacular view of Taipei including Taipei 101 which was once the tallest building in the world.

Sunset is a great time to capture your dreamy Instagram shots, although prepare for it to be very busy.
Food or walking tour with TourMeAway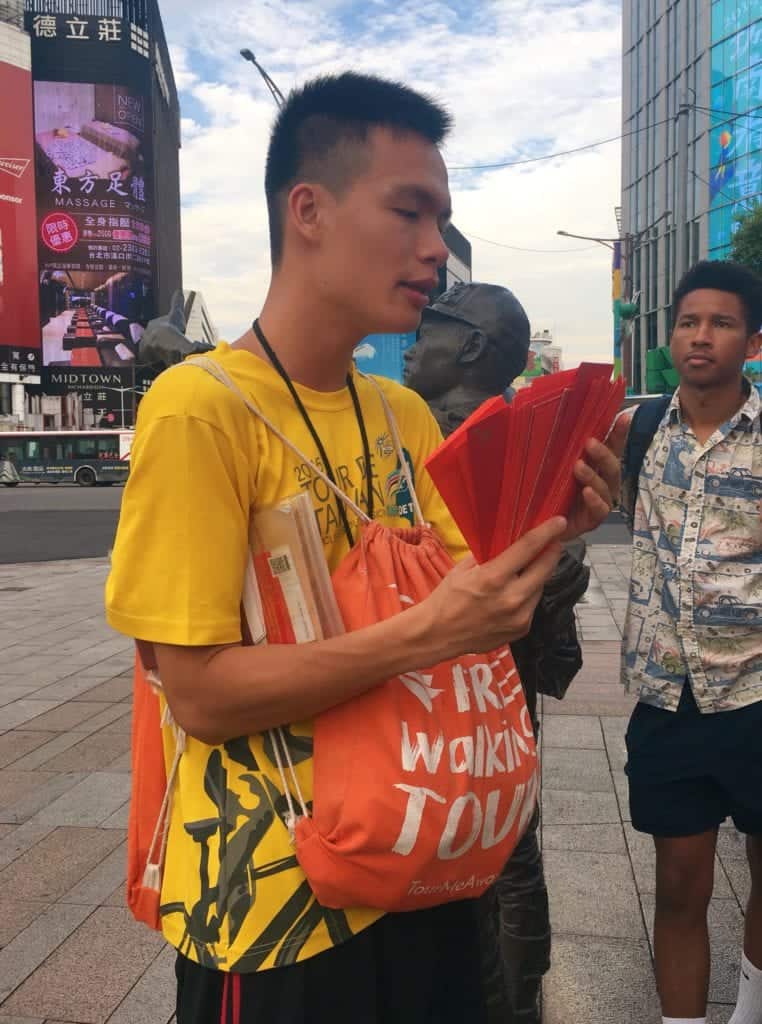 I'd recommend TourMeAway's free Old Town Taipei tour just for their informative explanation of Taiwan's crazy history. From the ice age to Japanese rule, European involvement and Chinese martial law, they explained everything perfectly.

So rather than me try to fill you in, I'll suggest you take their Old Town Taipei tour which runs Monday, Wednesday and Saturday at 2pm. It's free but you should prebook on the Tour Me Away website.

If you're more into food than history, consider their Hunger Game Tour. This is focussed around the weirder and more wonderful foods on offer in Taipei. It's a bit of an eating challenge (perfect for me!) and we tried so many different dishes.

These included stinky tofu, sweet potato balls, chicken skin and feet, oyster noodles, pigs blood sticky rice, herbal jelly milk tea and a taro ball dessert. It's a bargain at 500 TWD for 12 dishes which you share with the group – deffo one of the best things to do in Taipei!
Yangmingshan National Park (day trip)
Yangmingshan is one of Taiwan's nine national parks and the closest one to Taipei. It's just 11 miles from the capital and you can drive there in under an hour – an easy day trip. Popular sights are the Flower Clock that chimes on the hour, the hot springs and the Qingtiangang Grasslands walking trail.

Getting to Yangmingshan: If you have your own vehicle or take a day tour, you can explore the National Park in the morning and relax at Beitou Hot Springs in the afternoon. They're not far apart. To visit Yangmingshan on public transport, read this guide.
Wufenpu Shopping Market
For bargains and accessories in Taipei, visit Wufenpu Shopping District. I stumbled across it by accident but many shoppers make a planned pilgrimage there.

Those used to Southeast Asia's tourist markets will be in store for a surprise: rather than elephant pants and fridge magnets, there are countless fashionable boutiques at Wufenpu. The open shopfronts and jumble sale racks give it the feel of one big market.
Eat bizarre ice cream flavours at Snow King
Head to Snow King for some of the best (and strangest) ice creams in Taipei. There are bizarre flavours including chicken skin and pork knuckle as well as totally normal ones like cherry and vanilla. Then there are some in the middle including basil, cinnamon, sticky rice, taro, beer and wine! I went with basil and it was surprisingly tasty.
National Palace Museum
Art lovers and fans of Chinese culture will want to visit the National Palace Museum which holds the largest collection of Chinese art in the world – more than any museum in China!

Interestingly, it was put together inside Bejing's Forbidden City but later moved to Taipei. With over 700,000 artefacts, there's a lot to browse. It's up in the north of Taipei so to reach it, catch the MRT red line to Shilin and jump on a bus.

Besides the National Palace Museum is the Shung Ye Museum of Formosan Aborigines where you can learn about the native people of Taiwan who now only account for 2% of the population.
National Chiang Kai-shek Memorial Hall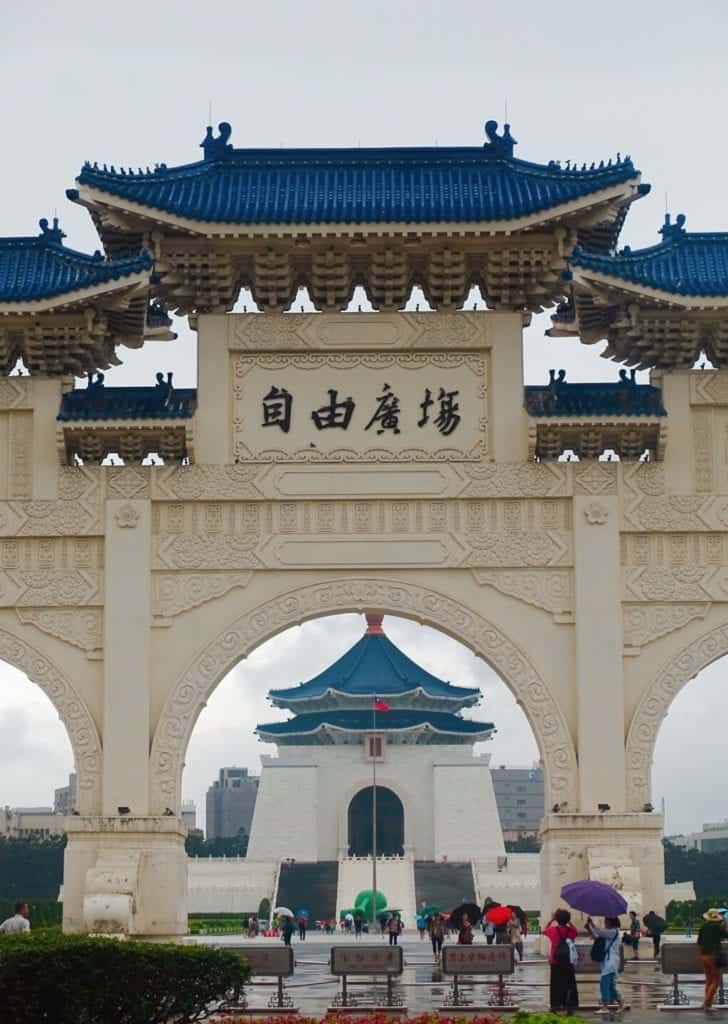 Right in the centre of Taipei is this absolutely enormous shrine dedicated to the former President of the Democratic Republic of China. It's 76 metres tall with a giant statue of him inside.

You can learn about the history of Taiwan at the museum on-site or just take a few moments to browse the iconic temple.
Night markets in Taipei
The number of night markets in Taipei is crazy but it just reflects Taiwan's fixation with food (not that I can talk!).

Apparently, when you greet someone in Taiwan, you say 'have you eaten?' rather than 'how are you?'. I love this – I mean it's the real issue, isn't it? The answer to 'how are you?' is always 'fine thanks and you?' which makes it kind of redundant. 'Have you eaten?' can result in being offered a snack, and there is nothing redundant about snacks.
The best night markets in Taipei include:
Raohe Night Market – when you say 'Taipei night market', most people will think of Shilin but I preferred this busy local market with an emphasis on real authentic food. The pork pepper buns are to die for!

Shilin Night Market – the beast of Taipei night markets, it's hard to tell where this one begins and ends. It takes up the whole central area of Shilin, and shops and cafes stay open late to join the party. You can shop for clothes, people-watch from a bar or stick to the street food stands.

Tonghua Night Market – I liked this market which is more like Raohe than Shilin, tightly-packed with lots of authentic food stands. Here you can try dumplings, shaved ice, authentic Thai & Vietnamese food, fresh clams and lots more. It's near Taipei 101 so you could combine both into one outing.

Huaxi Street Night Market – this is nearby to Longshan Temple and characterised by the giant Chinese archway. It's the oldest night market in Taipei and also known as Snake Alley. Here you can sample famous snake soup any time of day or wait until sundown when the vibrant food market gets underway. Many Asian tourists visit for the herbal medicine products on offer.

Jingmei Night Market – this very local market in the south of the city is where I explored with TourMeAway during their Hunger Game tour. While I'd highly recommend this, you can also visit by yourself and get stuck into endless local delicacies. Here you'll find unusual foods including stinky tofu and chicken feet as well as tasty treats like steamed buns and ice cream.
Itineraries for Taipei
Taipei isn't a city where you'll just check out the city centre and move on. With so many day trips and half-day trips, it can be tricky to work out an itinerary especially if you have limited time.

Follow one of these itineraries:
Taipei itinerary for 3 days
If you have 3 days in Taipei, it's a great amount of time. You will be able to see most of the highlights, get immersed into the culture and eat some fantastic food.

Day 1: Wander Taipei and grab lunch in Ximending. Then in the afternoon, head to National Chiang Kai-shek Memorial Hall and Longshan Temple, finishing the day at Huaxi Night Market. Alternatively, swap the market for the Xiangshan Trail or a trip up Taipei 101.

Day 2: For a busy day, start up north at Yangminshan National Park. Head through Beitou on the way home to visit the Thermal Valley & hot springs. Head back to the city via Shilin Night Market (located halfway between Beitou and the city). Combining Yangminshan and Beitou is best with your own vehicle or a day tour, as it seems a bit of a faff on public transport.

Day 3: Take a trip to Shifen and Juifen. On the way home, get off the train at Songshan to visit Raohe Night Market. If you want to visit Yehliu Geopark, you could take a tour that includes it before the towns.

I hope you enjoyed this Taipei itinerary for 3 days!
5 day Taipei itinerary
Day 1: Take a walking tour with TourMeAway before exploring Ximending. Finish up at Huaxi Street Night Market.

Day 2: Visit Chiang Kai-shek Memorial Hall, Longshan Temple and Taipei 101. Go up to the observation deck or try famous dumplings at Din Tai Fung Restaurant. Finish the day by hiking the Xiangshan Trail to Elephant Mountain.

Day 3: Visit Yangmingshan National Park, Beitou Hot Springs and if you have time, the National Palace Museum and Shilin Night Market.

Day 4: Spend the day making stops along the Pingxi Line. Include Houtong Cat Village, Shifen and Pingxi.

Day 5: Visit Juifen then go further afield to Jinguashih village. Stop at the Gold Museum, Golden Waterfall and Teapot Mountain.

Thanks for reading my Taipei travel guide!
Check out my other Taiwan blogs:
See you next time for more adventures,
Rose
Note: During my time in Taipei, I was hosted by Sleepy Dragon Hostel and Space Inn Xinyi but all opinions are my own.
Ps. Liked my 5 day Taipei itinerary? Pin it for later!