This post may contain affiliate links to things like tours, hotels, Amazon associates and products. These help me earn a small commission at no additional charge to you.
Thinking of travelling from Taipei to Jiufen and Shifen? My day trip from Taipei was a highlight of my time in Taiwan with lots of excellent Taiwanese food and scenery thrown in. Don't miss it!

These two scenic ex-mining towns are located an hour east of Taipei. When I initially looked into visiting, I had a few questions – should I take a Shifen and Jiufen day trip? Or should I stay overnight?

So you're not as confused as me, I'm going to explain:
Getting from Taipei to Shifen
Getting from Taipei to Jiufen
How to take a day trip to Jiufen and Shifen by public transport
The best things to do in Shifen and Jiufen
What to eat in both towns!
How to get from Jiufen to Shifen
How to get from Shifen to Jiufen
Where to stay overnight.
If that all sounds confusing, take an organised tour with GetYourGuide:
Things to do in Jiufen and Shifen
In case you're still in two minds about to visit, let's get stuck into these two gorgeous destinations and what to see and do there.
Read next: the ultimate 5 day Taipei itinerary
Shifen Village
This is a cute albeit busy town set around a set of used railway tracks. The main draw for visiting Shifen is to make a wish as you release a giant paper lantern into the air. Every hour, people jump off the tracks to allow a steam train to come rumbling through this old-fashioned village.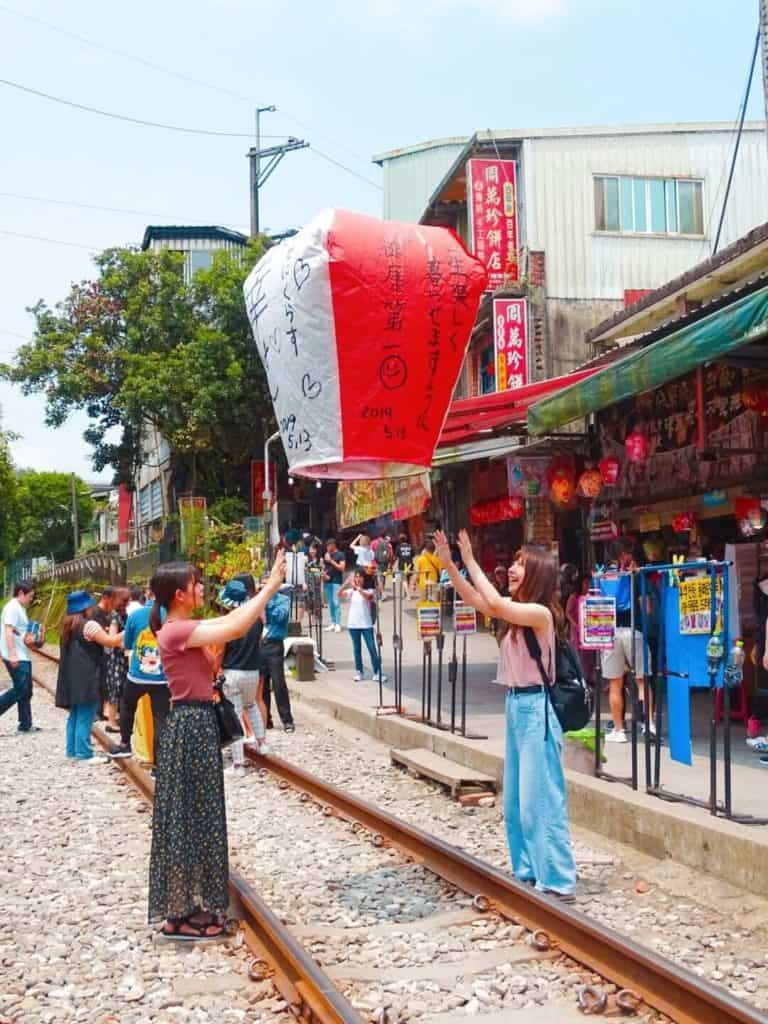 Things to do in Shifen
Wander the train tracks and release lanterns. Personally, I chose to watch others as I didn't release lanterns was an environmentally-friendly choice.
Take a 15-minute walk or quick e-bike ride to Shifen Waterfall. You can hire these colourful e-bikes all along the station road. They look very easy to ride and whizz you there in just a few minutes.
Eat – there are lots of food stalls and cafes along Shifen train tracks. The stuffed, glazed chicken are particularly tasty!
Continue further to Pingxi Village – more on this next.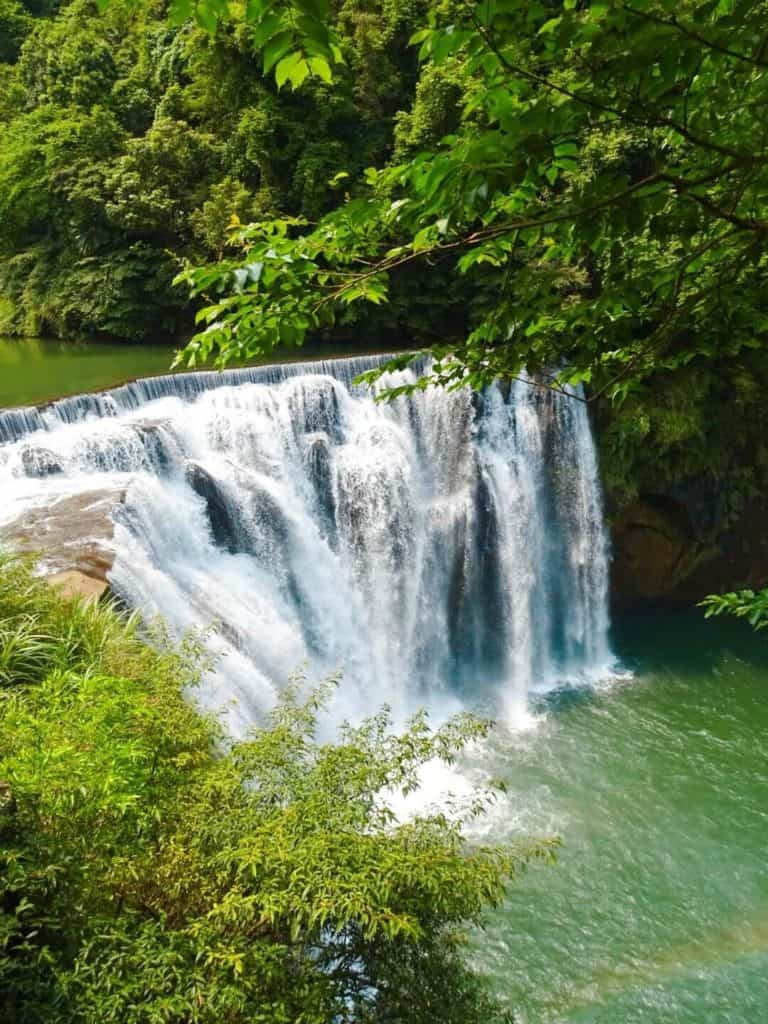 Tour: Shifen & Pingxi sky lantern return trip from Taipei (USD$46)
Taipei to Shifen / a day on the Pingxi Railway
To travel from Taipei to Shifen, catch a 50-minute train from Taipei Main Station (or Songshan if you're staying east) to Ruifang Station. This will cost NT$40 TWD.

Transfer to the Pingxi Line which goes once hourly to Shifen. You can make stops along the way including Houtong Cat Village and Pinxi Village, a quieter version of Shifen further along the tracks. A day pass for the Pingxi Line is NT$56.
Read next: 25 Taiwan travel tips for a perfect trip
Houtong Cat Village
Yes, I did just breeze past the fact that near Taipei there's an actual CAT VILLAGE. Dog lovers, look away while I share my photos. Houtong is an adorable place to stop although there's not a whole load to do. Trains run hourly so have a stroll around and catch the next one.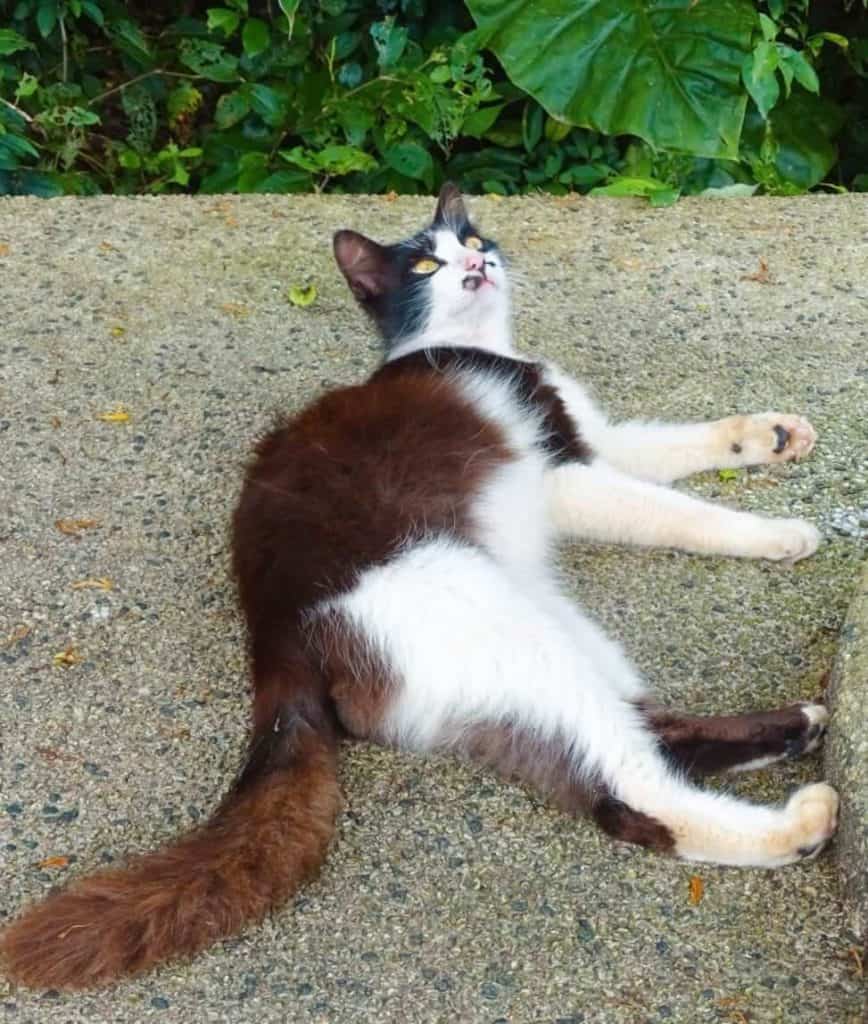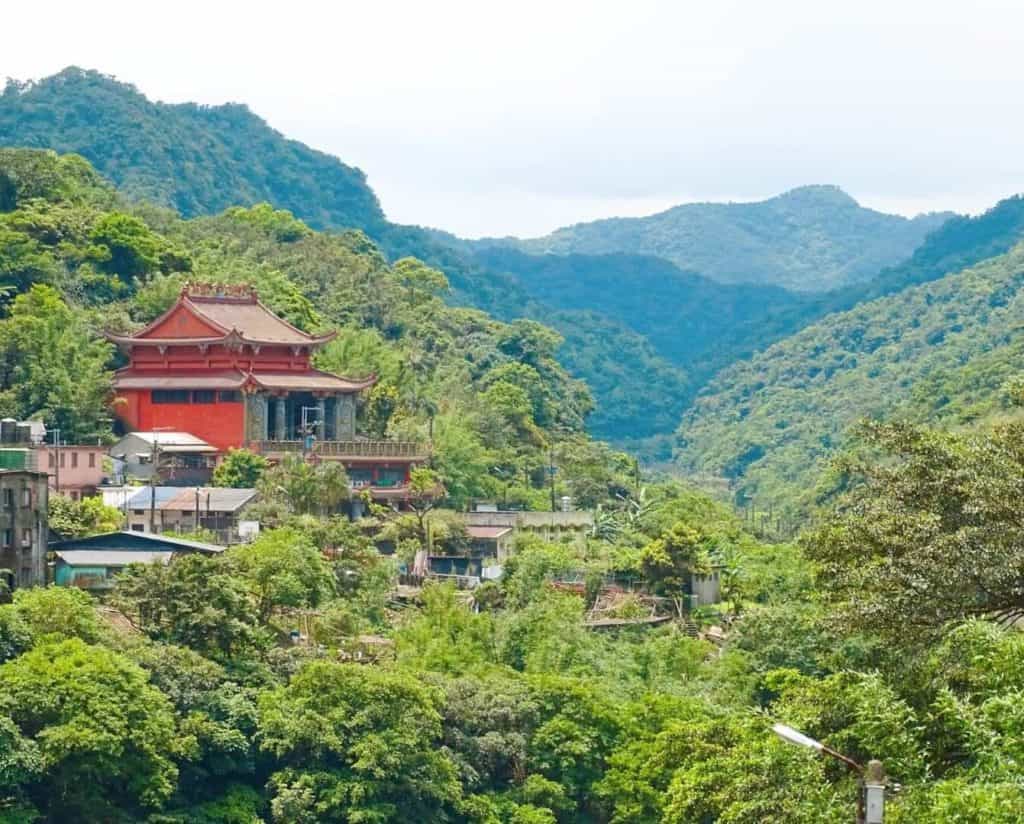 Pingxi Village
If you have time, visit Pingxi after Shifen. This village is a sleepier and more peaceful version of Shifen so if you're feeling overwhelmed by tourists, take an hour to wander the train tracks and soak up the atmosphere. To get there, simply hop back on the same train towards its final stop.

Pick your stops carefully if you want to see Shifen and Jiufen during the same day. Squeezing in Pingxi Village as well as Houtong Cat Village, Shifen and Jiufen would probably be too tight. However, if you're travelling from Taipei to Jiufen a different day, by all means visit Pingxi Village as well as Houtong during your Shifen day trip.
Jiufen Village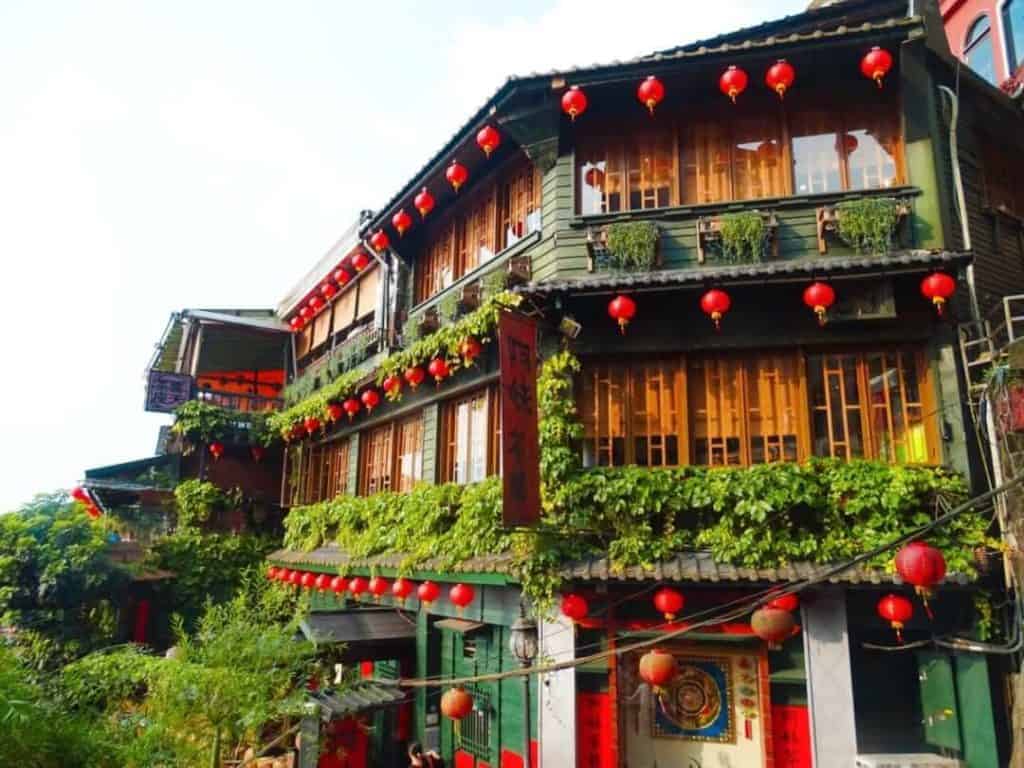 This is the more famous of the two ex-mining towns. Jiufen (also called Chiufen or Jioufen) is often described as the Santorini of Taiwan because it's a popular holiday spot on a hillside. With an absence of Greek food and a focus on the Japanese gold mining era, I didn't particularly see the resemblance. But it's gorgeous nonetheless. Plus who needs souvlaki when you have dumplings?

There are plenty of things to do in Jiufen, plus it's easy to get from Taipei to Jiufen without a tour. You might want to combine it into a day with Shifen or take a separate Jiufen day trip in order to see it properly.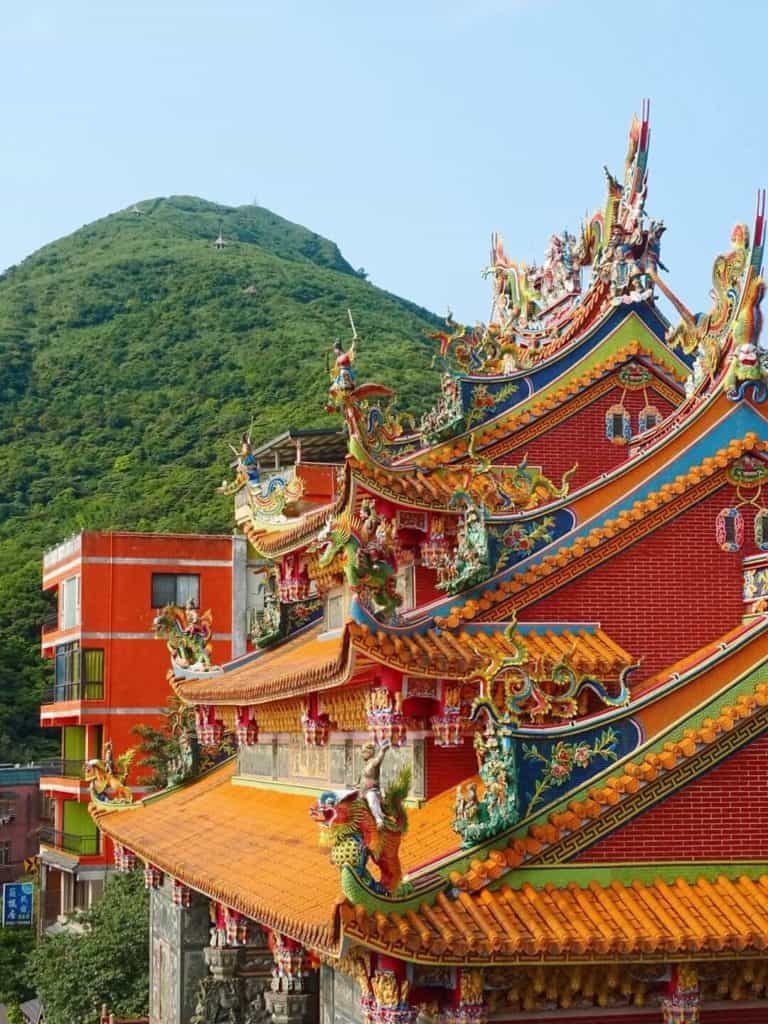 The winding, covered streets of Jiufen Old Street are narrow and atmospheric, decked in red hanging lanterns. Locals come to Jiufen Old Street for shopping and eating, and tourists come for more or less the same thing.

Jiufen is often described as the foodie capital of Taiwan. I wished I'd been there as part of a group or food tour because I could have sampled so much more! Still, I gave it my best shot.
What to eat in Jiufen
I hope you have a sweet tooth because one of the best things to do in Jiufen is dessert hop. I went on a major dessert binge in Jiufen. There's lots of savoury food too but all the bits that appealed to me were sweet. These included:
Peanut ice cream rolls
Taro ball soup
Mochi
Brown sugar bubble tea
Ice cream sandwiches.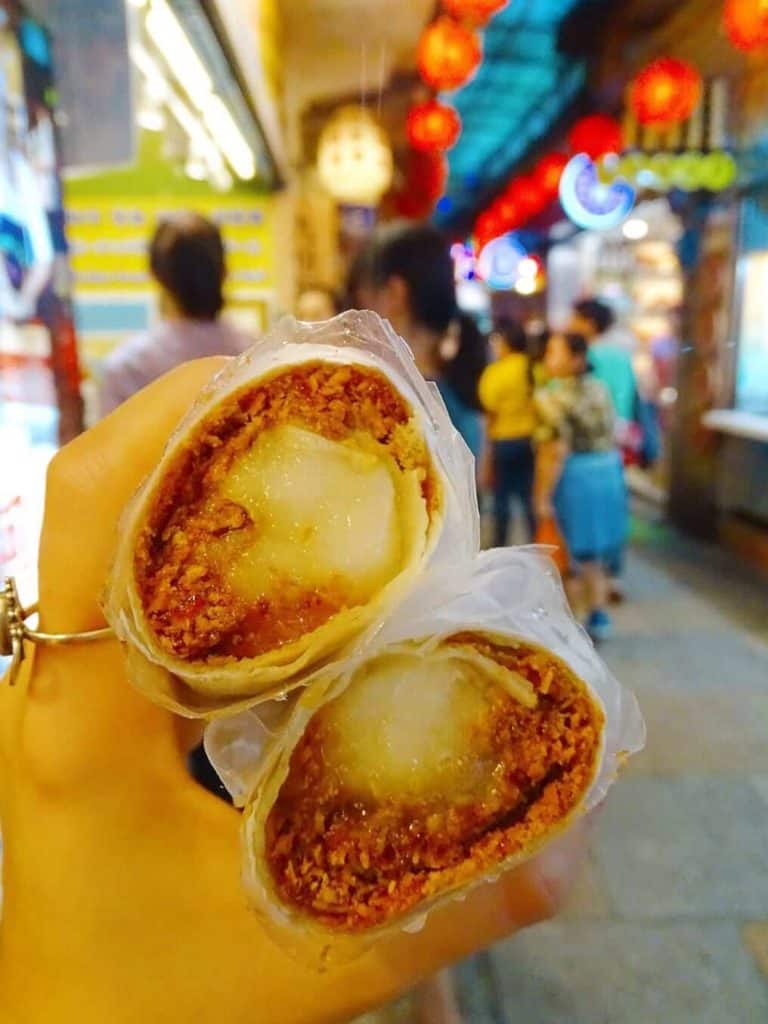 Things to do in Jiufen
There are a few other things to do while visiting Jiufen which include:
Visit traditional tea houses dating back to Japanese rule. I would suggest A-MEI Teahouse and JiouFen TeaHouse.
The Golden Waterfall named after the golden rocks its made of.
Wander Fushan Temple.
Gold Ecological Park – a place to learn all about Taiwan's gold mining history.
Climb Teapot Mountain.
Taipei to Jiufen by public transport
If you're travelling Taiwan on a budget, you can take a direct bus from Taipei to Jiufen for NT$90 each way. This bus is number 795 from Muzha Station. Alternatively, catch a direct train from Songshan Station to Ruifang Station and change to a bus bound for Jiufen (NT$15 / 25 minutes).
Visiting Shifen and Jiufen in 1 day
Organised day trips travel to both Shifen and Jiufen in one day (and also include Yehliu Geopark) but I prefer to take my time.

If visiting Shifen and Jiufen by public transport, leave Taipei early. It takes 1.5 hours to travel from Taipei to Shifen, plus the 1-hour journey from Shifen to Jiufen and another 1.5 hour home. It's a long travel day but it can be done. Follow my directions and itinerary:
Shifen to Jiufen
You will have to transfer at Ruifang Station when travelling from Shifen to Jiufen. Journey back from Shifen along the Pingxi Line to Ruifang Station then hop on the 1062 bus outside the station destined for Jiufen (NT$15 / 25 minutes).
Jiufen to Shifen
If you are visiting Jiufen first then seeing Shifen in the afternoon, you will also have to transfer at Ruifang Station. Catch the 1062 bus bound from Jiufen to Ruifang Station and head inside to board the Pingxi Line towards Shifen.

The trains only go hourly so time your Jiufen to Shifen journey accordingly. Leave enough time leaving Jiufen for the 10-minute 1062 Ruifang bus which leaves hourly.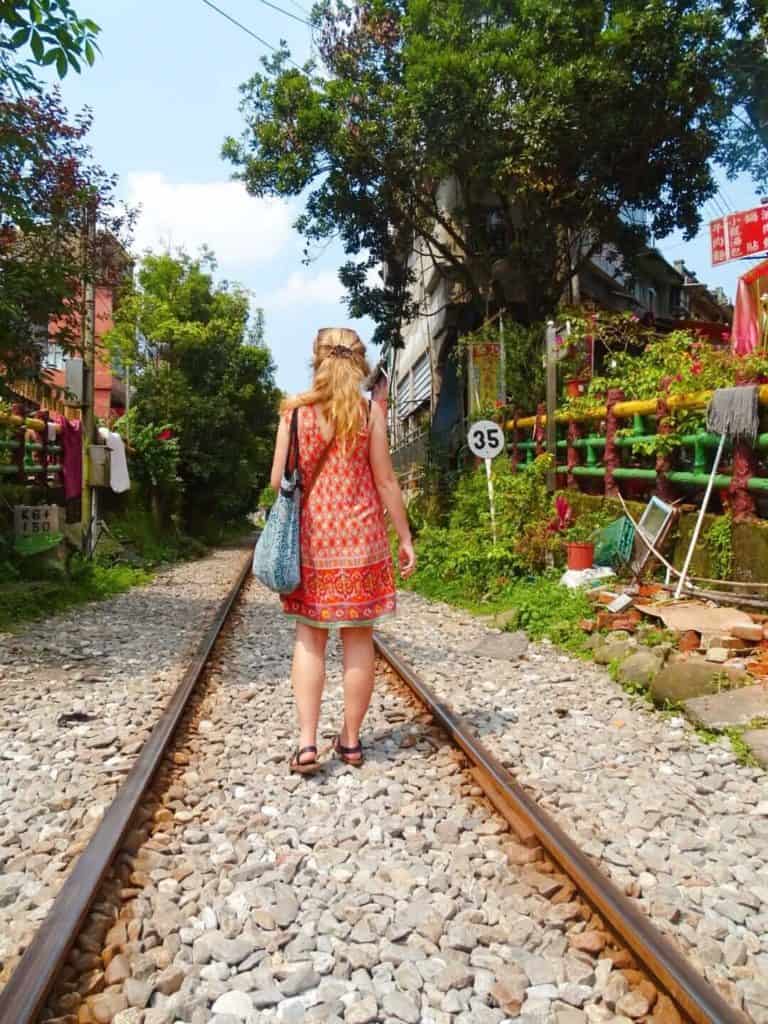 Shifen and Jiufen day trip itinerary
10am – Board a train from Taipei to Ruifang.

11am – Change to the Pingxi Railway and get off at Houtong Cat Village at 11.07am.

12.07pm – Board the next service from Houtong Cat Village.

12.30pm – Arrive in Shifen and explore.

2.40pm – To travel from Shifen to Jiufen, catch the train to Ruifang Station and change to a bus.

3.40pm – arrive and spend 2 hours exploring the many things to do in Jiufen (and eating everything).

5.30pm – Catch a bus from Jiufen to Taipei.
Staying overnight in Jiufen
For more than a Jiufen day trip, another idea would be to bring an overnight bag and stay over in Jiufen then you have some time to see it in the morning and at night, too. I imagine this would feel less rushed. Places to stay overnight in Jiufen include:

On My Way Hostel – this hostel is ideally located just a three-minute walk to Juifen market and Jiufen Old Street Bus Station. There are comfortable dorm rooms, a shared kitchen, lounge and games room, free Wi-Fi and air conditioning. Book from US$20 per night.

M Bar House – this guesthouse has views of the ocean and Keelung Mountain from the open-air terrace and the double and twin bedrooms. Set inside a gorgeous heritage building, the rooms are prepared in minimalist Japanese style. Book from US$40 per night.
Benefits of visiting Shifen and Jiufen on separate days
I planned to just see Shifen during my day trip but, after seeing everything by 2.30pm, I decided to travel from Shifen to Jiufen and save myself a day later on. I'm happy I did this but it would also be a cool idea to explore each area in more depth. If you travel from Taipei to Shifen and spend a whole day in the area, you could take the Pinxi line further to Pingxi Village, too.

It would also be fun to travel from Taipei to Jiufen and stay a day or longer. There's another countryside village nearby called Jinguashi which is meant to have even more stunning surrounds. If you can, journey to the coast to see the Ying & Yang sea, a bay where the water is yellow and blue. You can also check out this guide if you're interested in climbing nearby Teapot Mountain.
Conclusion
Whether you were to stay overnight or see them as two separate day trips, I think it would be a great idea to split the towns into different days. There are enough things to do in Shifen and Jiufen that you would easily fill the time. But if you're tight on time, it's easily possible to see them during one day. Whatever you decide, enjoy!
Thanks for reading my Shifen and Jiufen guide
Check out my other Taiwan blogs:
See you next time for more adventures,
Rose
Ps. Liked these things to do in Jiufen and Shifen? Pin this for later!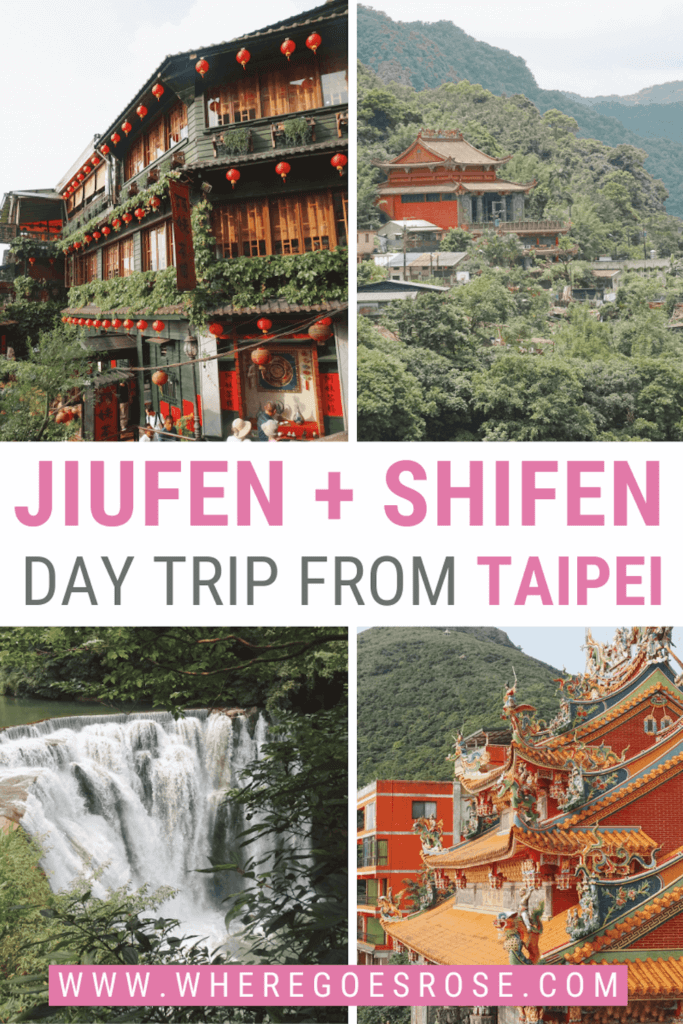 TAIWAN QUICK LINKS

Getting there – it's easy to arrive by flight. I use Skyscanner to find the best-value flights, using the 'search by month' tool to find the cheapest dates.

Stay connected with an unlimited 4G SIM card for 3, 5, 7, 10, 15 or 30 days.

In my opinion, Lonely Planet offer the best guidebooks. Get the latest Lonely Planet Taiwan.

Car hire – I recommend RentalCars.com for car hire in Taiwan and around the world.

For Taiwan High Speed Trains, use 12Go. The search feature allows you to compare prices and durations.

I use Booking.com for accommodation. They have the best range of hotels and self-catering apartments, plus you can filter by review score and price to find the best-rated budget places. For hostels, I use Hostelworld.

To save money on accommodation, I use Trusted Housesitters, a website that connects homeowners going away and travellers who can sit their homes & pets.

For activities, I use GetYourGuide and Viator as they both have a huge range of affordable tours.

Need travel insurance? I use True Traveller (for UK & Europe residents) since it's affordable but covers everything you'd need including various activities, valuables and pre-existing conditions. Unlike some companies, they insure you if you're already travelling / don't yet have your flight home booked. Get a quote.

For travel insurance for other nationalities, I recommend Hey Mundo and for long-term digital nomad travellers, I suggest Safety Wing.

Check out my resources page for more travel discounts and tips!