This post may contain affiliate links to things like tours, hotels, Amazon associates and products. These help me earn a small commission at no additional charge to you.
Hello and welcome to my Taiwan food guide! If you have no idea what Taiwanese food is, I don't blame you. Before my visit this May, I didn't have a clue either. After lots of research and many many meals, I'm now sharing the best food in Taiwan with you, including the must-try dishes and restaurants.
Like food around the world? Don't miss my Korea food guide & my Mexico food guide!
Taiwanese food guide
Let's start with the obvious question, what actually is Taiwanese food?

In my opinion, the food in Taiwan is some of the most underrated in the world. You won't find many Taiwanese restaurants in other countries or see dishes on menus and think 'that's Taiwanese!'. However, don't let that deter you from eating some of the best food in Asia.

Taiwanese cuisine is about more than individual dishes: it's a culture. Rather than saying 'how are you?', locals say 'have you eaten?'. I'm not quite sure what happens if the answer's no but I'd imagine get you some food!

Taiwan is hands-down the best country I've visited for food markets. I challenge you to find a city without one. In Taipei, I went to five. These are sociable affairs often with outdoor restaurants, live music and whole families spending the evening together. Locals of all ages and backgrounds rub shoulders as they eat the best food in Taiwan, and the culture is so much greater for it.

Better yet, Taiwanese food is very affordable and won't eat into your Taiwan budget. A few dollars will buy you a delicious and filling dinner!

22 x best Taiwanese food
Now you understand a bit more about the food culture, let's get stuck into popular Taiwanese dishes to try.

Once you know what to look out for, it will be easy to explore food markets and find Taiwanese food wherever you go. Some dishes are quite unusual (fried curry sandwich, anyone?) so a little research will set you in good stead.

I started writing about the top 10 must try Taiwanese foods but there was too much competition and I updated the list to 22. Any excuse to eat more in the name of research…
1. Bubble tea (boba)
I'm starting my Taiwan food guide with a drink. Acceptable? Let's roll with it. The chewy tapioca pearls in bubble tea are so sweet and filling that it's almost like a dessert.

It's fair to say I had way too many bubble teas in Taiwan. Aside from being a bit of a coffee addict, I'm usually quite good at avoiding sugary drinks, saving my calories for food. This all changed in Taiwan as my love for bubble tea flourished!

Bubble tea was born in Taiwan so it's definitely the place to try it. The original blend is made from sweetened milk tea but a popular variation is brown sugar bubble tea which is even more indulgent.

Ordering one involves more questions than border control: what level of sugar? Full, 80%, 50%, 30%, zero? What level of ice? Standard, less, extra? Once you work out your perfect combo, you'll be hooked on bubble tea.
2. Coffin bread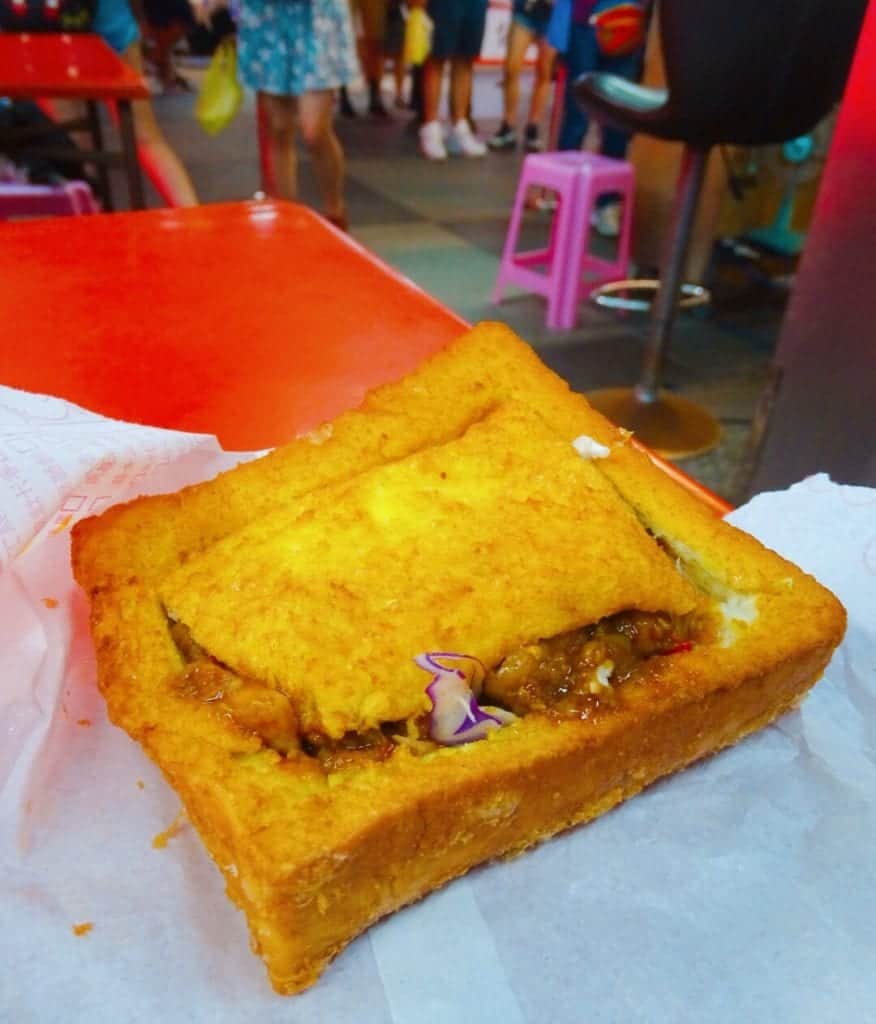 Of all the food to try in Taiwan, there's none weirder than coffin toast, also called coffin bread.

Actually, it's just the name that's bizarre. Coffin toast may be calorific but it's plain delicious: a deep-fried sandwich stuffed with meaty curry. If you've tried bunny chow in South Africa, you'll see the similarity although I'll argue this is even less healthy since the sandwich is deep-fried. Oh well, no one comes to Asia expecting to lose weight, do they?

If you find yourself in Hualien on Taiwan's east coast, take a trip to Dongdaemun Night Market and locate the stand with the long queue at the back left. I paid 60 TWD for a slab of coffin bread filled with moreish pepper chicken and served with milk tea. You can't beat that.
3. Sausage in a rice bun
This Taiwanese dish is sometimes described in English as 'little sausage in big sausage' which actually hits the nail on the head.

The first thing to know? Asian sausages are soo much better than English sausages; just try sai ua in Thailand if you don't believe me. In Taiwan, you'll find rich spicy sausages served inside what looks like a hot dog bun but is actually a sliced-open sausage made from rice.

So, little sausage in a big sausage is pretty accurate!
4. Pork pepper buns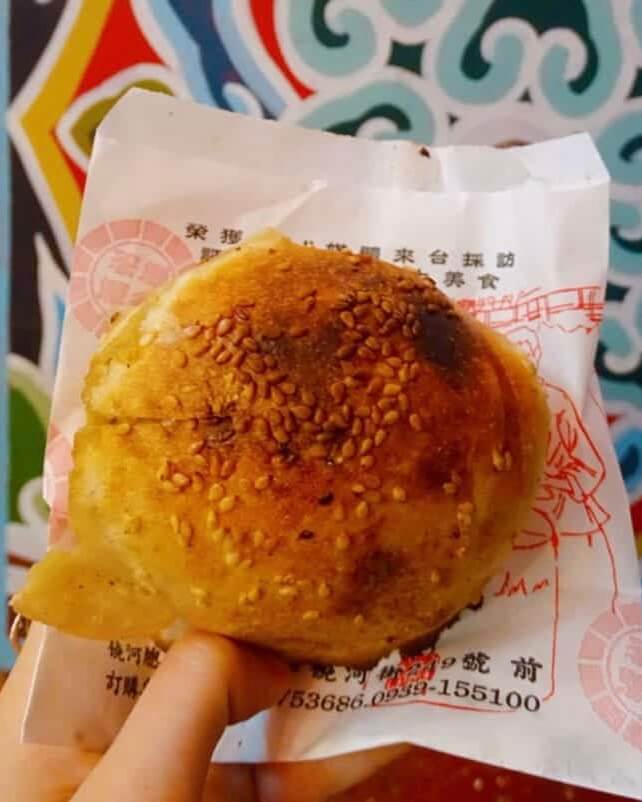 One of my first meals in Taiwan was at Fuzhou Pepper Buns inside Taipei's Raohe Night Market. The recipe for these meaty morsels has been perfected over several decades and the result is undeniably delicious. Raohe have set up airport queuing ropes simply because the line to try their pork pepper buns is so long. If that's not a measure of their success, I don't know what is.

Fuzhou Pepper Buns are divinely simple: juicy marinated pork in freshly baked pastry, straight from a tandoor oven and sprinkled with sesame seeds. I could have eaten 10.
5. Stuffed chicken wings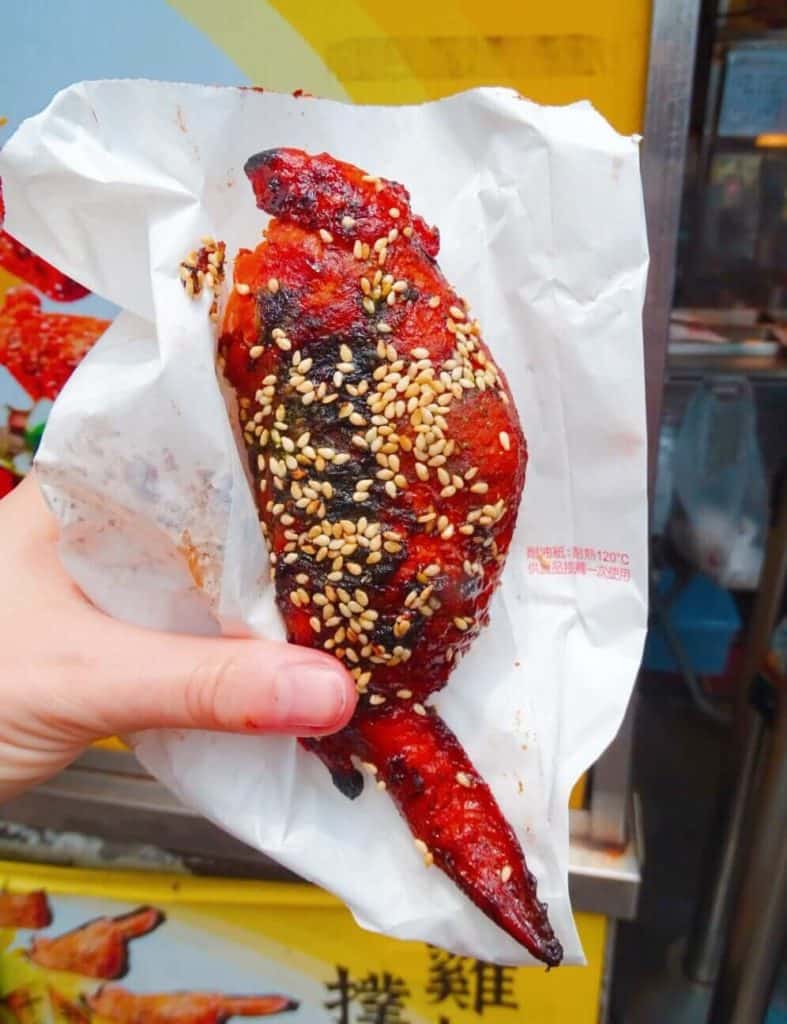 How to make chicken wings more delicious than they already are? Give them an Asian makeover and stuff them with rice and spices!

I loved this Taiwanese dish although I only tried it once in the small village of Shifen, an hour outside of Taipei. You won't find these in fancy restaurants but they're one of the best street foods in Taiwan for sure.
6. Peanut ice cream rolls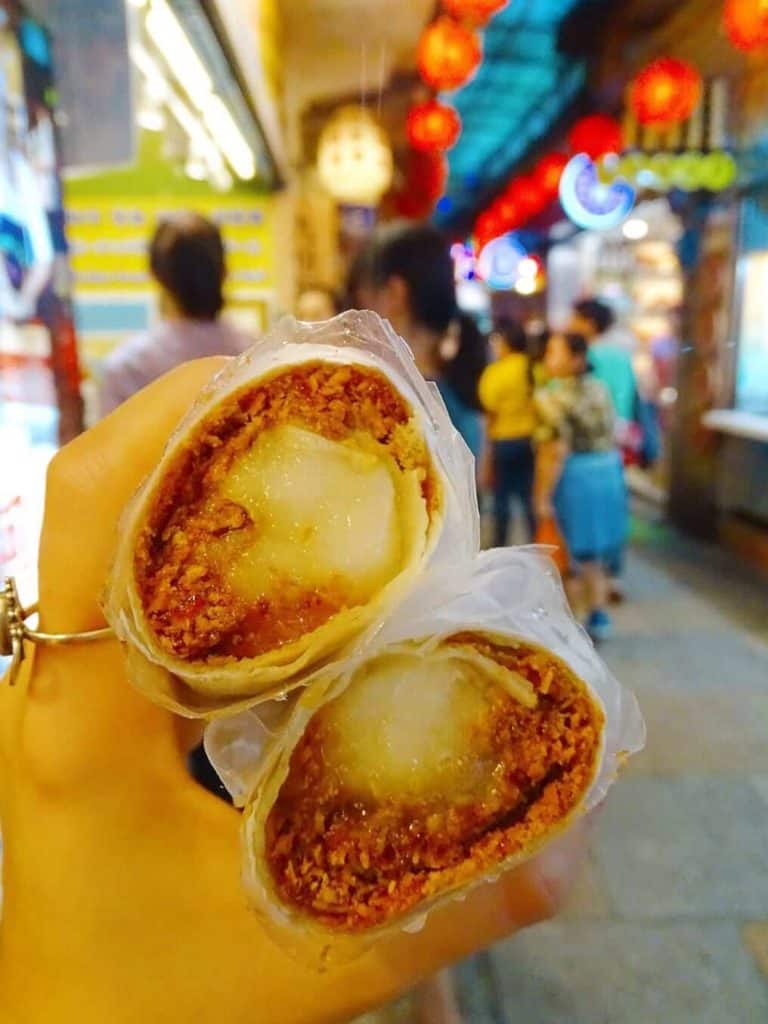 The Taiwanese certainly have a sweet tooth. As you'll learn, plenty of the best Taiwanese foods are desserts including peanut ice cream rolls. If that sounds weird to you, take a second to think of peanut butter and jelly sandwiches. Can't be weirder than that, right?

For this dish, plain ice cream is paired with peanut candy shavings and secured inside a delicate flour crepe wrap. You barely taste the wrap that holds it all together. The sweet flavour, crunchy texture and icy temperature make this dish one of my favourite Taiwanese foods. I ate this ice cream peanut roll in the famed foodie spot of Jiufen village, an hour from Taipei.
7. Squid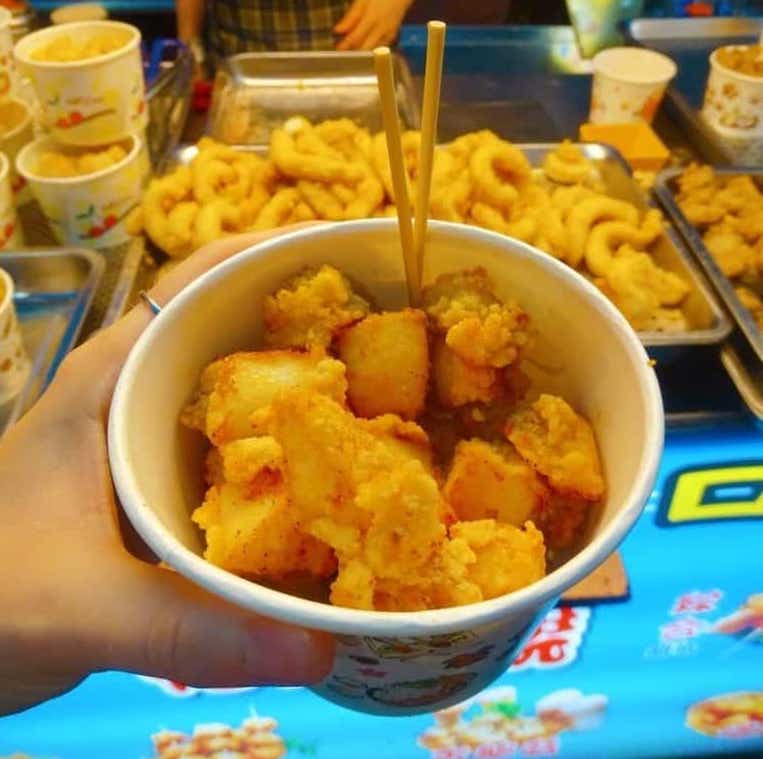 Another of the best street foods in Taiwan is battered seafood. Every night market I visited had row upon row of squid stands, all serving my favourite seafood dish for practically pennies.

I don't know what the secret is but the squid I ate in Taiwan was some of the best I've had. It was fresh, soft and lightly battered with a sprinkling of salt and pepper. Winner winner seafood dinner!
8. Taiwanese fried chicken (TFC)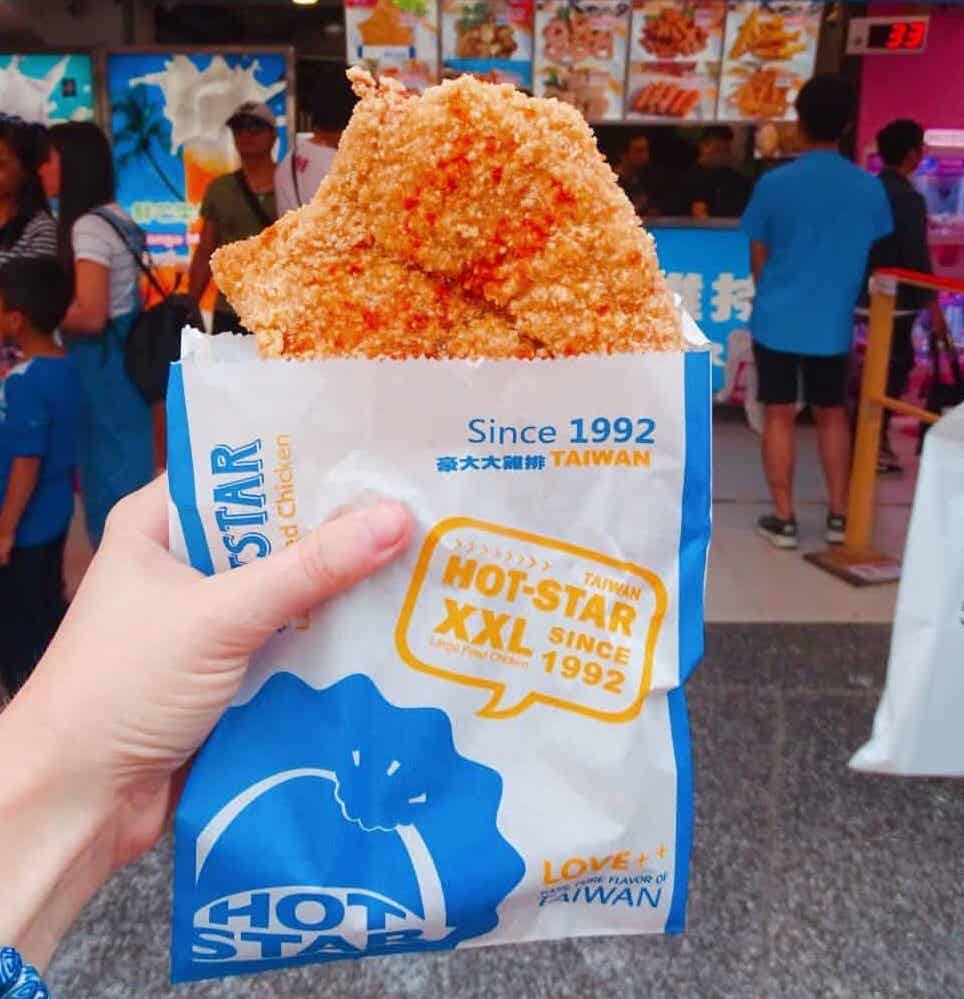 Next in my Taiwan food guide, another dish that isn't unique to Taiwan but is done so well. People tend to think of Korean fried chicken before they do Taiwanese fried chicken but having tried both, I can vouch for TFC being just as tasty.

The most famous place to eat fried chicken slabs bigger than your head is Hot Star, underneath KFC (the irony) in Taipei's most fashionable neighbourhood, Ximending. Fresh white meat is battered in front of you and seasoned to your liking. Order it spicy.
9. Xiao long bao (soup dumplings)
While they might look like regular dumplings, xiao long bao are soup dumplings and probably Taiwan's most famous food. Before trying them, I was confused because where was the soup? After neglecting to follow the instructions at my table, taking a bite and getting soup all down me, I quickly realised it was inside…

Din Tai Fung was voted one of Taiwan's best restaurants and one of the top 10 restaurants in the world. It spread to other countries and can now be found in Singapore, Hong Kong and London.

They have a few restaurants around Taiwan where you can sample their famous xiao long bao soup dumplings. I tried them in the basement of Taipei 101 but you can also visit the original Xinyi store.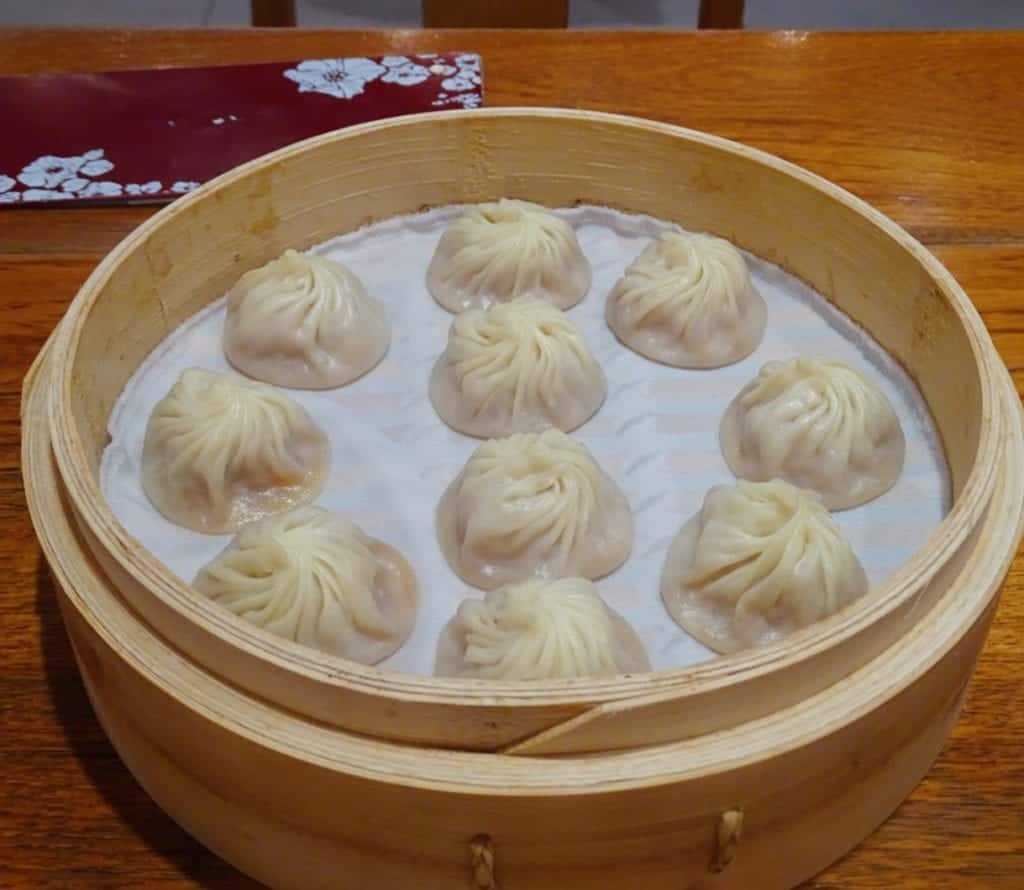 Xiao long bao are undeniably tasty and moreish. The vinegar and soy dip went perfectly with smoky pork. They're a little overpriced at 220 TWD for 10 but I'm glad I can say I tried them.
10. Other dumplings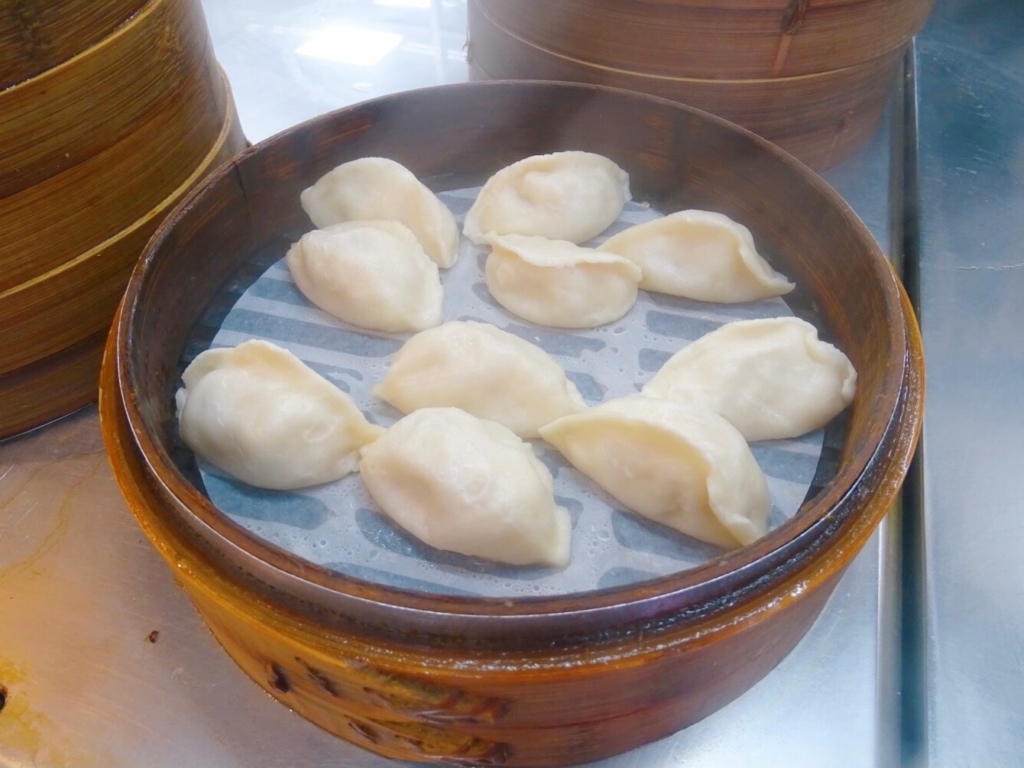 If you don't fancy the queue for Din Tai Fung, it's not a problem because there are dumplings all over Taiwan. You'll find them at night markets, restaurants, street stalls and my favourite chain, Bafang Dumpling. Food at this no-frills franchise is so cheap – I paid 50 TWD for 10 dumplings which is a quarter of the price of Din Tai Fung.

There are so many combinations available including pork, leek, curry and shrimp. Choose either steamed dumplings, fried dumplings or dumpling noodle soup. Why not try all three?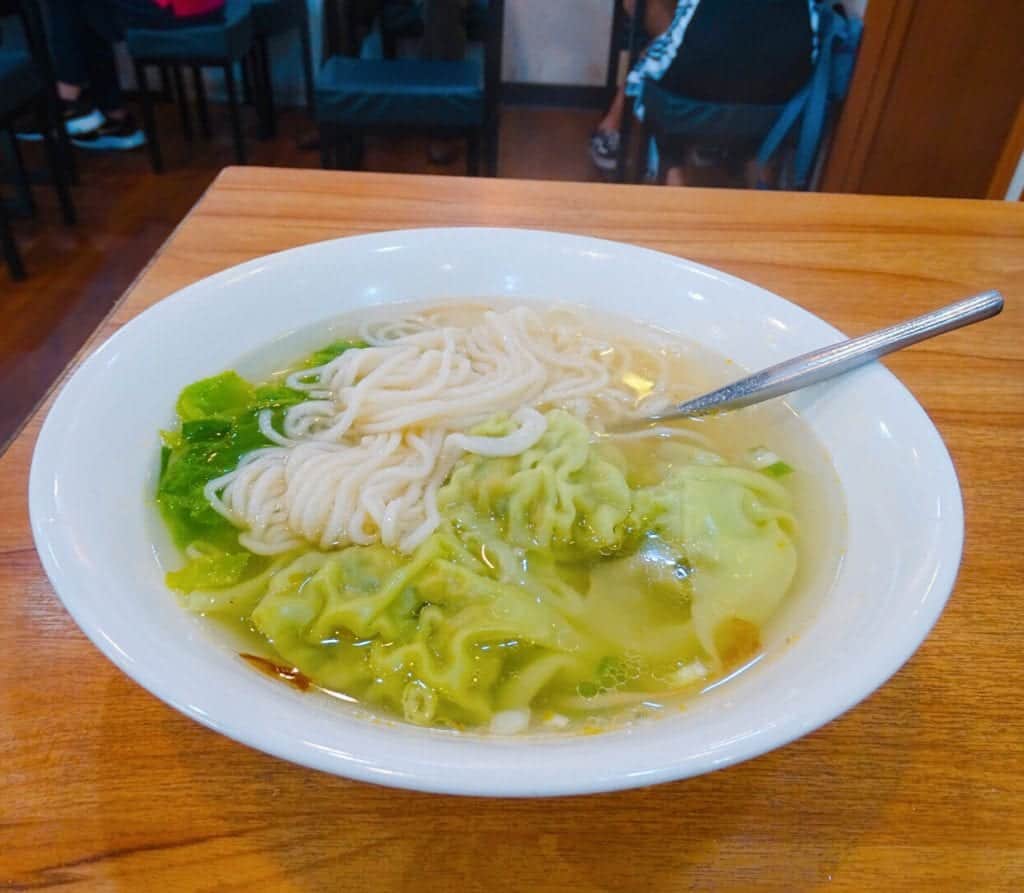 11. Pineapple cake
I'd heard a lot about pineapple cake but didn't get around to trying it until my last day in Taiwan. In fact, I ended up with a large box that I simply had to gorge my way through before leaving…

Is it like English pineapple upside-down cake made with real pineapples? Nope. This Taiwanese dessert is quite different: the filling is like a jam only thicker and stickier. It's served inside a pastry similar to shortcake.

Apparently, pineapple imports were an important part of the Taiwanese economy during Japanese rule, hence this Taiwanese dish became popular. Today pineapple cake is mainly served at weddings and celebrations. Word has it the best in Taipei is served at Chia Te Bakery near Songshan station.
12. Scallion pancakes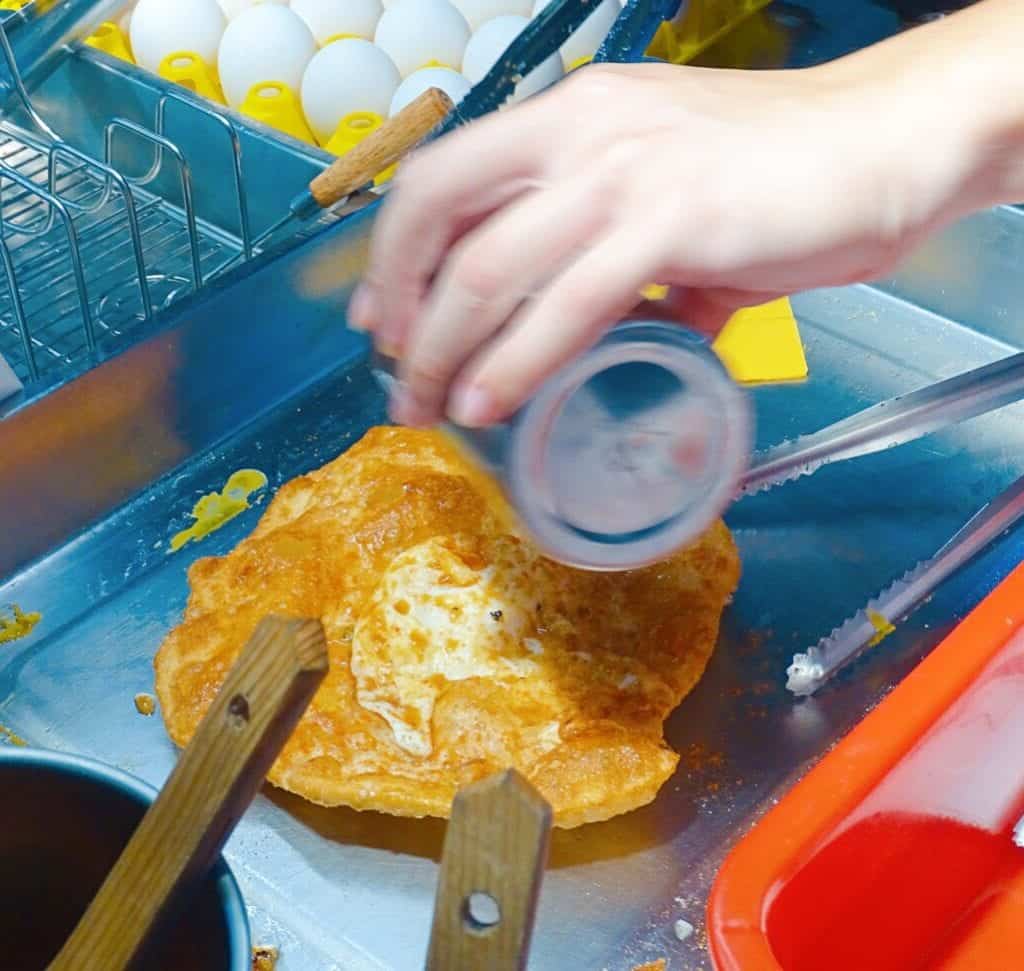 Don't leave without at least one scallion pancake clogging up your arteries. This famous Taiwanese street food is deep-fried dough folded over with a gooey fried egg in the middle. Many vendors throw in bacon or cheese in case you really want to accelerate that heart attack 😉

Taiwanese cuisine is rarely spicy but you can choose to add hot seasoning to dishes like this.
13. Japanese food
Taiwan is widely renowned as the best place to eat Japanese food outside of Japan. Night markets, restaurants and even 7Elevens serve authentic Japanese dishes. Sushi is particularly cheap and I ended up eating it almost every other day whilst visiting the city of Kaohsiung.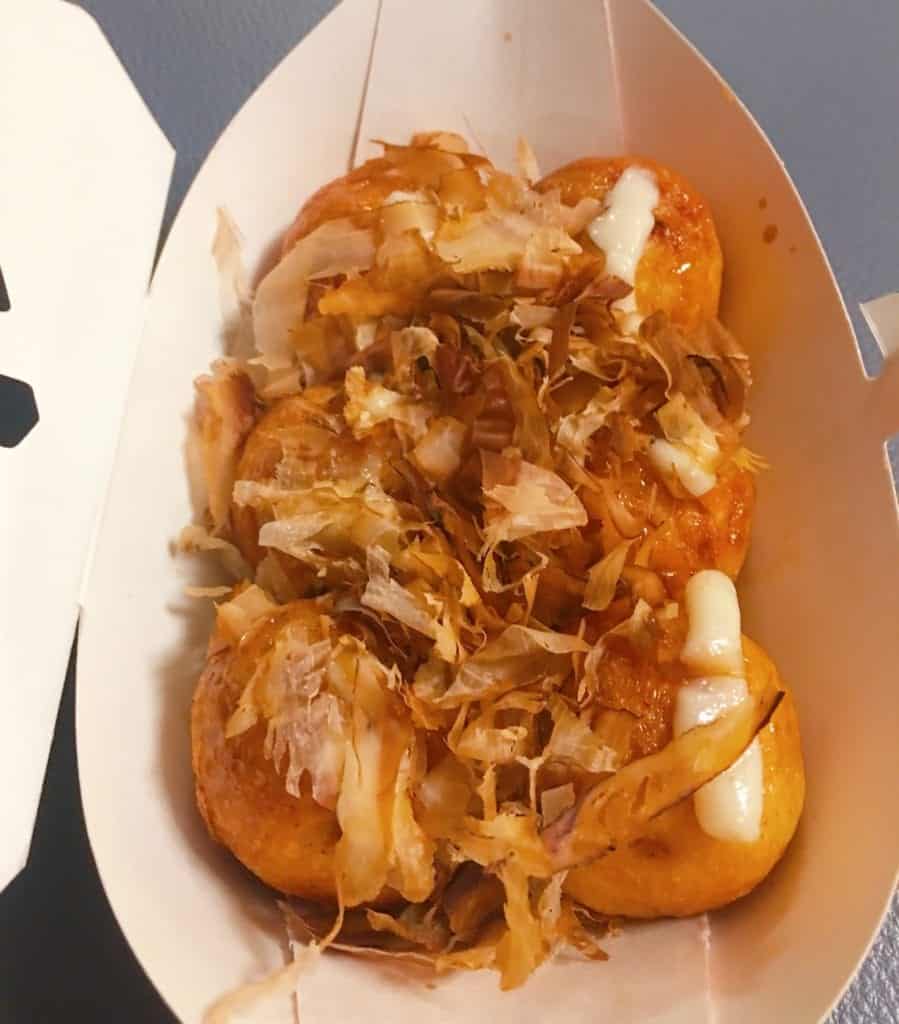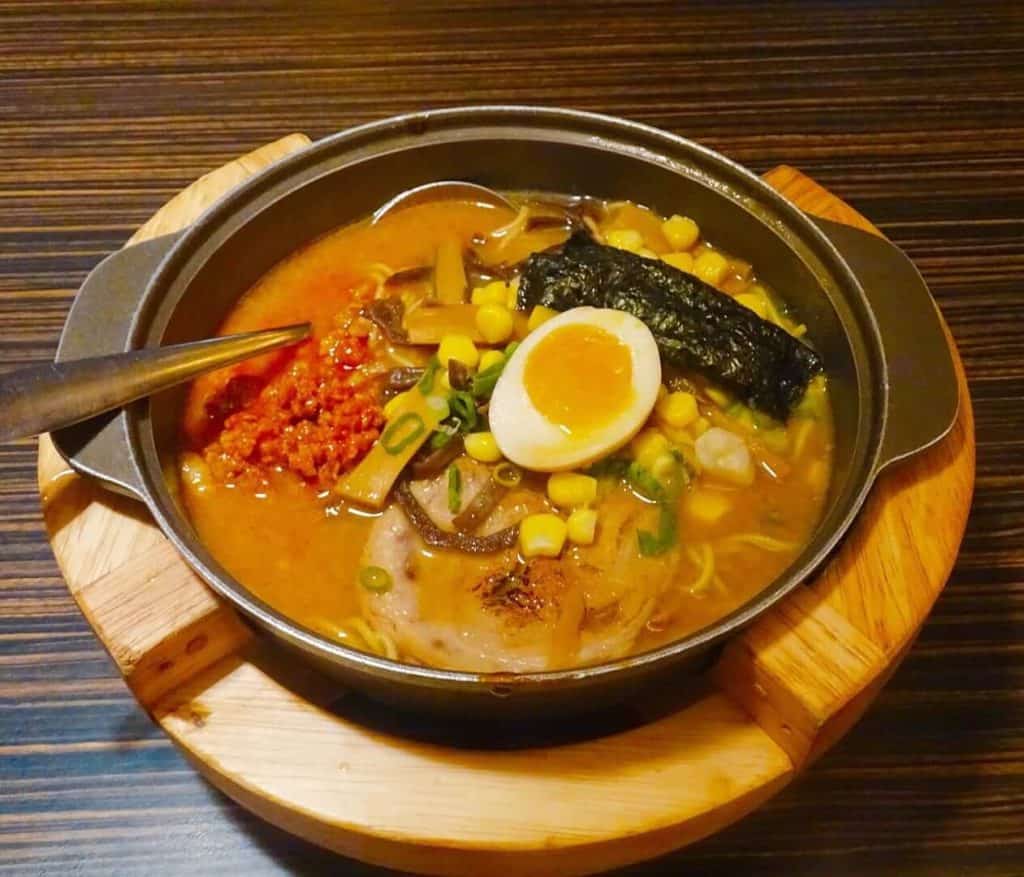 Japanese dishes to try include takoyaki, little balls of fried batter with squid inside, topped with mayo and seaweed flakes. Ramen is also a popular food in Taiwan and tastes just like it does in Japan. For a Japanese drink, try matcha green tea. You'll find it flavouring lattes, bubble tea and even ice cream and other desserts.
14. Beef noodles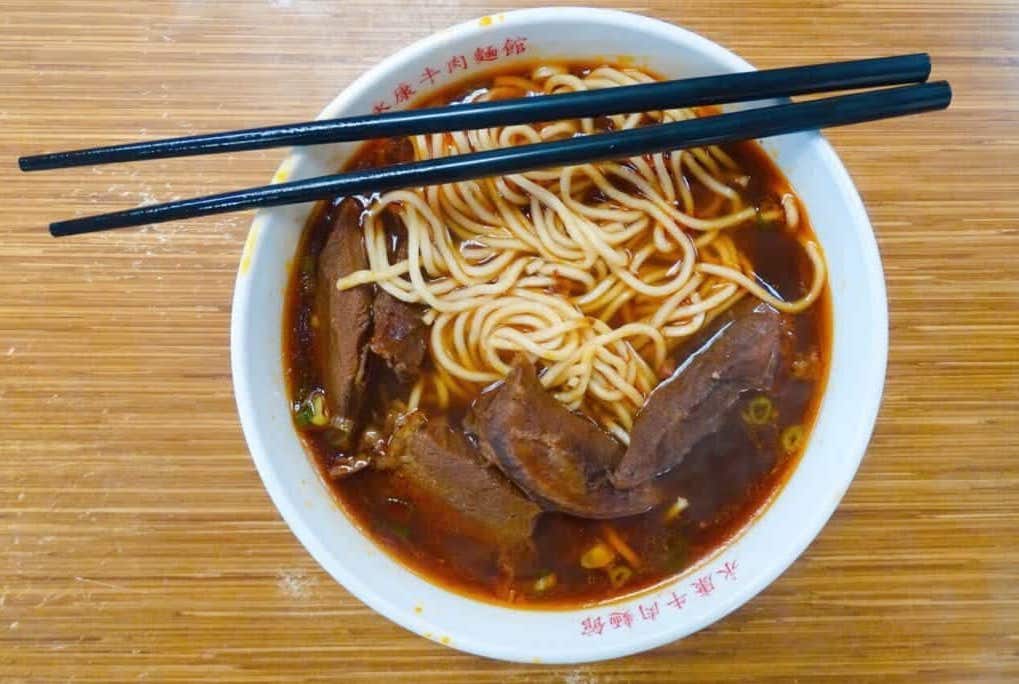 Beef noodle soup may sound Chinese, however it's a well-loved Taiwanese dish eaten by locals all around the country.

I find noodle soups to be hit and miss: a bad one can be weak and watery but a good one is warming and flavoursome. The latter applies to the best noodle soups in Taiwan. These include cuts of braised beef, beef broth, veggies and noodles. It's not one for veggies but many traditional Taiwanese foods aren't.

If you try this Taiwanese food just once, ensure it's at Yongkang Beef Noodles. I took a 40-minute round trip to sample these Michellin guide noodles and I didn't regret it. They were pricey at 250 NTW – I guess they know they're the best!
15. Stinky tofu
Say what? No Taiwan food guide would be complete without stinky tofu getting a mention. Locals love this dish and for that reason, I'd say it's a must-try Taiwanese food. However, if you're after something tasty that you'll genuinely enjoy… well, maybe give it a miss.

Stinky tofu isn't a funny or ironic name. It's actually tofu that stinks. Locals love it although personally I can't see why. The reason for the stench is that it's been fermented for some time to add to its pungent flavour.

You'll commonly find stinky tofu served at street food markets across the country. I tried it in Taichung which is a popular foodie city. My best advice is to order it with a group so you don't get stuck with a whole box if you don't like it.

Top Taiwan tip – the Hunger Game tour from Tour Me Away is a great way to try unusual dishes in Taipei and a bargain at 600 TWD.
16. Taro ball dessert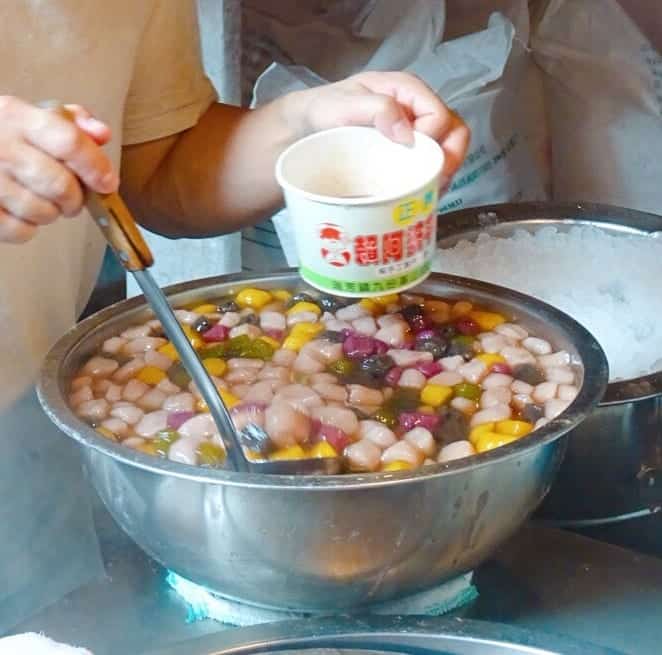 If there's one Taiwanese food that tastes so much better than it sounds, it's taro ball soup. If you don't know, taro is a root vegetable commonly used to flavour desserts and drinks in Asia. The texture of taro balls is unusual, made with a floury dough that's soft yet springy.

To try one of the most famous Taiwanese dishes, I would suggest sampling sweet taro ball soup at Jiufen market, an hour from Taipei.
17. Shaved ice
Shaved ice is a popular Taiwanese food with the young generation. Frozen ice (essentially ice cream) is shaved into a large pile and served with whatever topping you choose – I went for mango.

Like pineapple cake, this dish is closely tied to Japanese rule. Immigrants from Japan took the dish to Hawaii with them and nowadays, many people think it originated there. But the truth is that it actually began life in Taiwan. What better reason to try it during your trip?
18. Sweet potato balls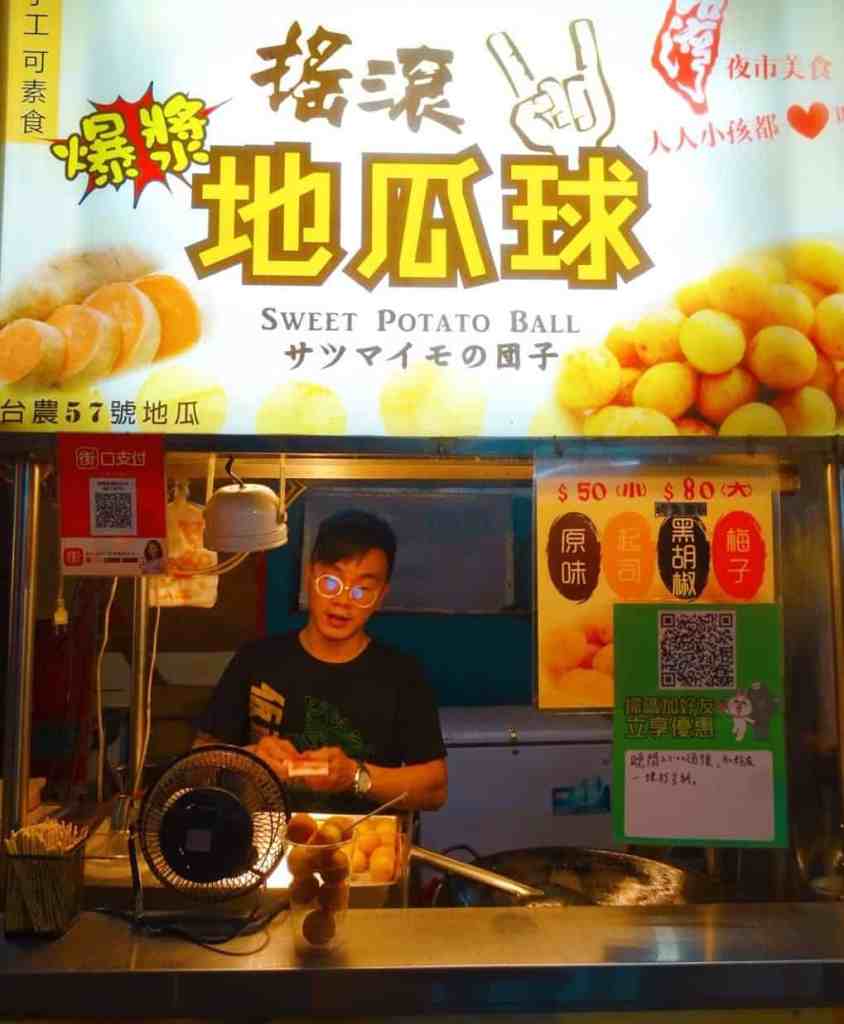 This list of the best Taiwanese food isn't in order of taste, otherwise sweet potato balls would be higher. I didn't know what to expect of this dish but I love sweet potato so I had high hopes. What I didn't anticipate was how light and snackable they'd be.

Sweet potato balls are usually served at night markets in servings of around eight. Wander on through the market and you'll look down and realise you've scoffed the lot! These balls are hollow so they're great as a pre-dinner snack which won't leave you feeling too stuffed.
19. Clams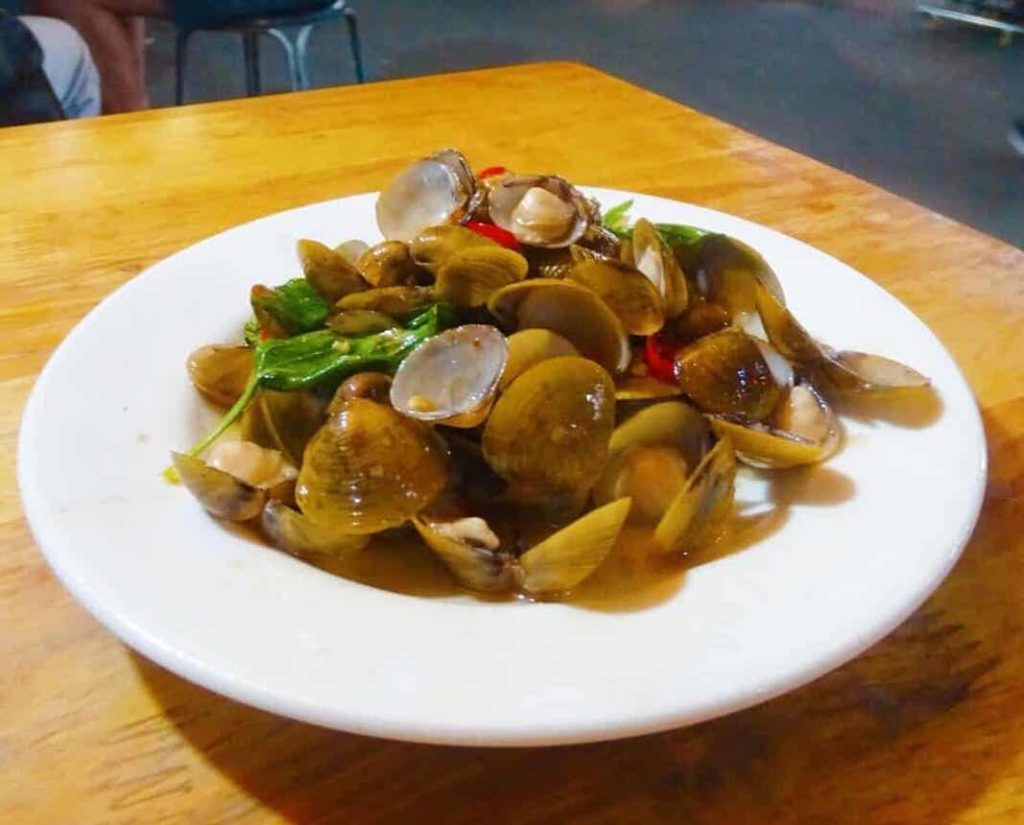 As a small island, there's an abundance of fresh seafood served across Taiwan. The best bit is how affordable it is. Seafood fans visiting Taipei should make a trip to Tonghua Night Market on Linjiang Street where fresh clams are served as Taiwanese street food.

One unnamed stall had a queue around the corner which indicated to me that it would be good. This fresh serving of clams with chilli and lime only set me back a couple of dollars.
20. Vermicelli noodles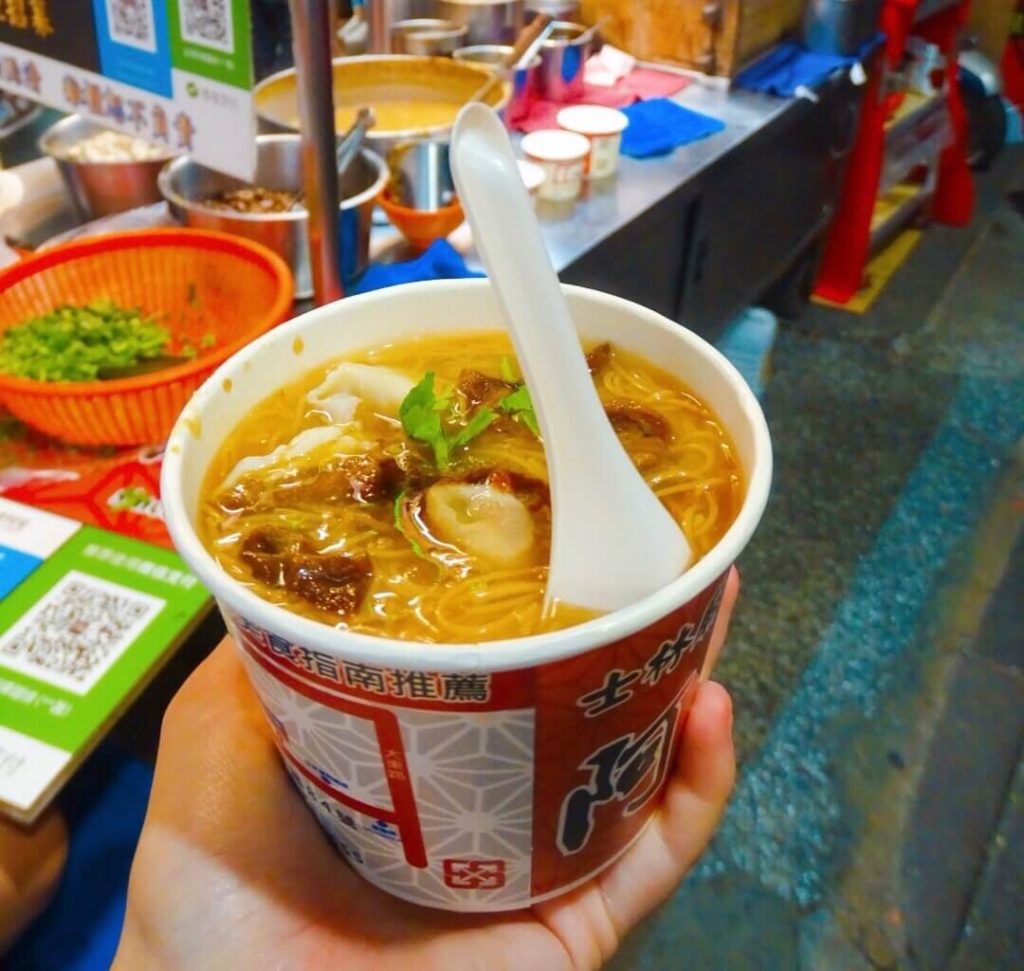 These thin rice noodles are popular in Taiwan, served with oyster, cuttlefish or pig intestine. It's the rich, flavoursome sauce with the silky noodles that makes this Taiwanese dish a classic.

The most famous place to try vermicelli noodles is Shilin Night Market in Taipei. There's a modest stall named A Hui Vermicelli which you could miss if it weren't for the long queues. If they weren't proof enough, it's been listed in the Michelin Guide for 2018, 2019 and 2020. A hearty portion of vermicelli noodles is 30 TWD ($1).
21. Wheel cakes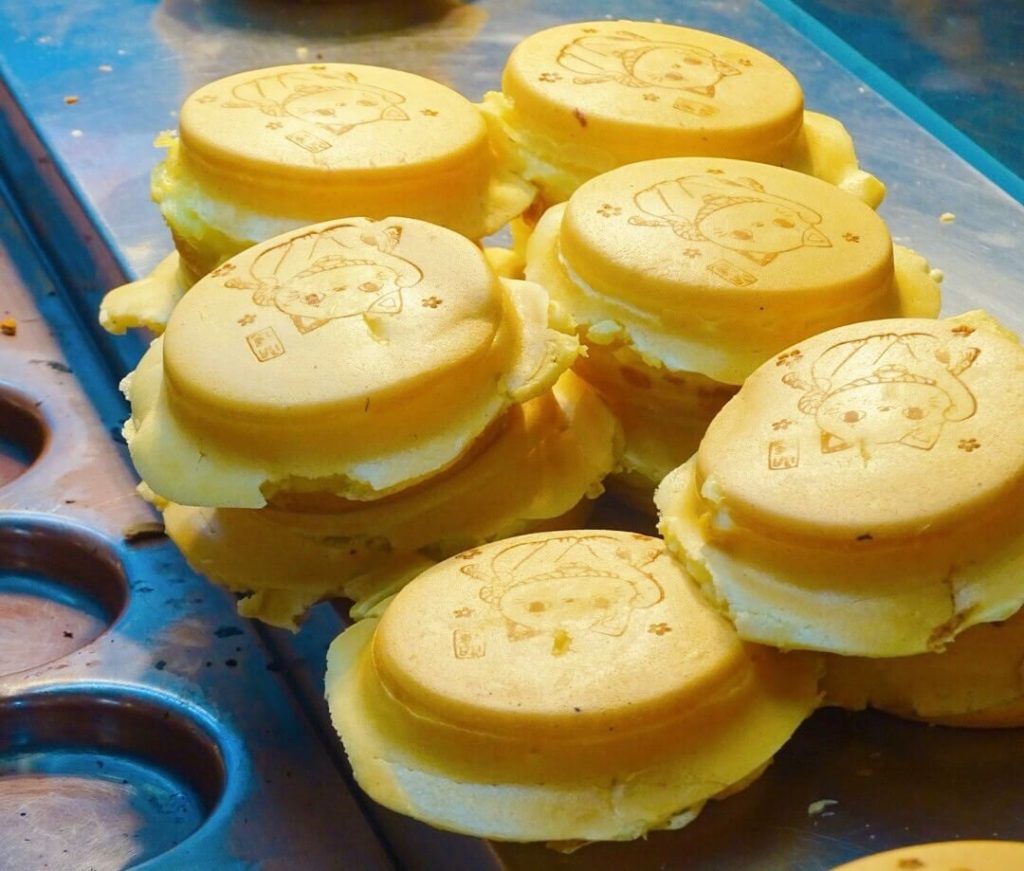 These light, snackable desserts are a popular snack in both Taiwan and Japan. They're essentially rounded pancakes stuffed with popular Asian filling, bean paste. Red bean paste is a classic but these days you'll also find other flavours like matcha and boba.

Wheel cakes can be found at night markets all over Taiwan. They're a cute snack often made in a mould that stamps a cat or cartoon character onto your dessert. What's not to like?
22. Bubble waffles
This final entry in my Taiwan food guide is one I don't need to explain as we've probably all heard of bubble waffles by now. I thought these originated in Taiwan like bubble tea but actually, they're from Hong Kong.

They're now a popular Taiwanese food, especially with the younger generation. You'll find them topped with chocolate, ice cream, fruit, nuts and sweets.
Thanks for reading my Taiwan food guide
Check out my other Taiwan blogs:
See you next time for more adventures,
Rose
Ps. Liked these best foods to try in Taiwan? Pin it for later!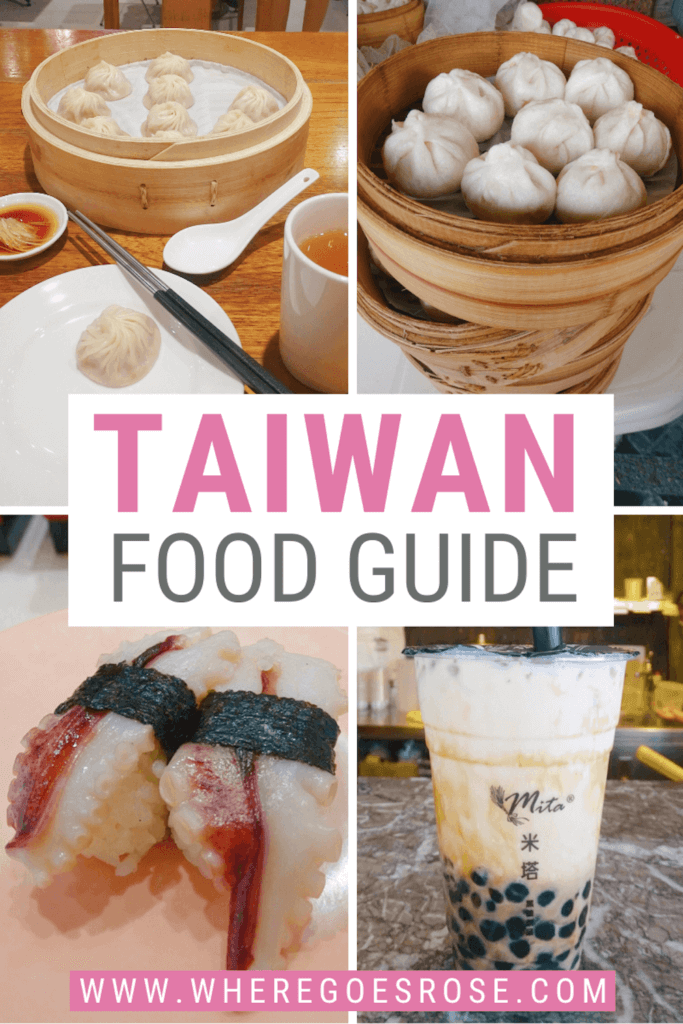 TAIWAN QUICK LINKS

Getting there – it's easy to arrive by flight. I use Skyscanner to find the best-value flights, using the 'search by month' tool to find the cheapest dates.

Stay connected with an unlimited 4G SIM card for 3, 5, 7, 10, 15 or 30 days.

In my opinion, Lonely Planet offer the best guidebooks. Get the latest Lonely Planet Taiwan.

Car hire – I recommend RentalCars.com for car hire in Taiwan and around the world.

For Taiwan High Speed Trains, use 12Go. The search feature allows you to compare prices and durations.

I use Booking.com for accommodation. They have the best range of hotels and self-catering apartments, plus you can filter by review score and price to find the best-rated budget places. For hostels, I use Hostelworld.

To save money on accommodation, I use Trusted Housesitters, a website that connects homeowners going away and travellers who can sit their homes & pets.

For activities, I use GetYourGuide and Viator as they both have a huge range of affordable tours.

Need travel insurance? I use True Traveller (for UK & Europe residents) since it's affordable but covers everything you'd need including various activities, valuables and pre-existing conditions. Unlike some companies, they insure you if you're already travelling / don't yet have your flight home booked. Get a quote.

For travel insurance for other nationalities, I recommend Hey Mundo and for long-term digital nomad travellers, I suggest Safety Wing.

Check out my resources page for more travel discounts and tips!