This post may contain affiliate links to things like tours, hotels, Amazon associates and products. These help me earn a small commission at no additional charge to you.
I loved my time in Taipei, all 10 days of it, but I was keen to get out of the city and see more of Taiwan. As an island comprising of 50% forest, there are so many natural gems to explore.
In this guide, I'm going to share my Taroko Gorge itinerary to help you plan your Taroko Gorge day trip!
I love how easy it is in Taiwan to get from a city to the countryside. A 20-minute train from Taipei will take you to the Thermal Valley and Natural Hot Springs and a 40-minute drive will get you to Yangminshan National Park. There's nature everywhere in Taiwan and I was excited to get fully immersed during my visit to Hualien.

Hualien is the city closest to Taroko that most people stay in while visiting the National Park.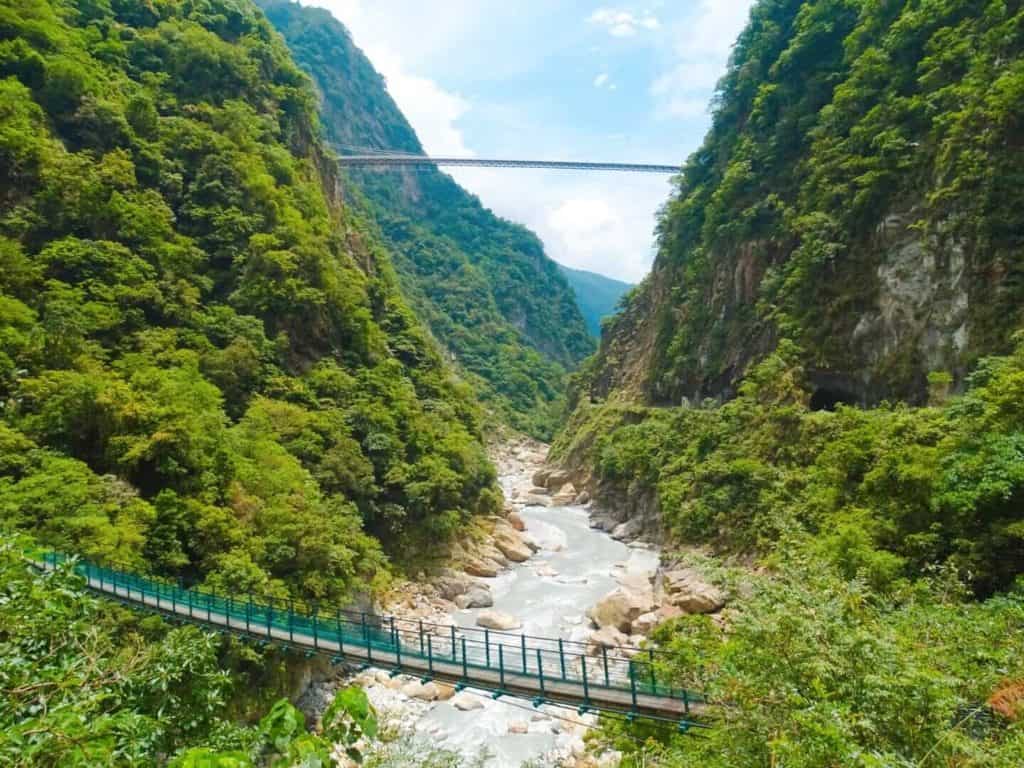 Hualien is a city on Taiwan's east coast, just a 2-3 hour journey from Taipei depending whether you take the fast or slow train. While there are a few other things to do in Hualien, including a massive night market, most people come for one reason:
Taroko Gorge National Park
This 920km National Park is characterised by its enormous limestone cliffs and the ancient rivers cutting through them. The tree-lined mountains disappear into the misty skyline, visible from the curving cliff side roads that make for a spectacular road trip. To explore Taroko is to get a real feel for Taiwan's untouched scenery and natural charm.

In this guide, I'll share my itinerary for Taroko National Park. This is tried and tested as I took it myself while exploring asa day trip from Hualien.
Taroko Gorge day trip by public transport
Unless you're hiring a car or taking an organised day trip (which cost around NT$700), you might wonder how to get around the national park. It's actually really easy to visit Taroko National Park by public transport – the 1133A shuttle bus runs from Hualien Train Station and stops at all the points of interest in the park. A day pass costs NT$250 and a 2-day pass costs NT$400.

The only downside of a Taroko National Park day trip by public transport is timing your day around the bus (it runs once per hour). I got off at one stop to find the hike closed for the day, so had to wait an hour on the roadside for the next bus. It's the cheap and cheerful option so I guess you get what you pay for. Overall, I'd recommend it because it's so much cheaper than a day tour.
How long to spend in Hualien
This depends how many days you want to spend hiking in Taroko. There are a lot of things to see and many, many hikes. If you just have one day, I'd recommend picking a few stops and exploring them properly. To do all the hikes, you'll want a second day or more realistically a whole week! I actually met a guy who'd spent four days hiking and not yet seen everything.

If one day is enough for you, you could spend a night either side based in Hualien. I visited Hualien for 3 nights and spent my second day exploring the city and checking out some restaurants. More active things to do in Hualien include whale and dolphin watching.
Where to stay in Hualien
I stayed at On My Way Hostel which was a very convenient base. From the train station's back exit to the hostel is a 3-minute walk. Since the Taroko National Park Shuttle bus leaves from the front of the train station, it couldn't be easier to visit Taroko.

On My Way is a cute backpackers hostel with a social area, big dining table, tea and coffee facilities, and bunks with private curtains and lockers. With rooms from NT$400 night, you won't find a better value base than this! I liked the social feel of the shared area, as well as the fact that held movie nights sometimes in the evenings.

The staff were absolutely lovely. On my final morning, it was tipping down with rain and I needed to walk to the train station. The girl on reception walked me there so I could use a hostel umbrella and she could bring it back. How kind is that!?
More places to stay in Hualien
Budget hotel: Most air-conditioned rooms at Fly House have a sea view and balcony. This cosy homestay is just moments away from the beach and Dongdamen Night Market. Check availability from US$36.
Mid-range: Each spotless room at Near B&B has a city or mountain view. The homestay is spacious and conveniently located, with a shared lounge and kitchen. Check availability from US$60.
Splash-out: Hualien isn't known for its luxury hotels, but you'll find space to unwind in a deluxe room with a garden, river and mountain view at Happiness is Coming. The property has a barbecue, sun terrace, and bike rental available. Check availability from US$163.
Taroko Gorge itinerary
I set off bright and early for my Taroko Gorge day trip from Hualien, boarding the shuttle bus at 8.30am and getting back at 5pm (I took the second earliest bus there and second latest one back). It was such a gorgeous day! Here are the best places to visit in Taroko National Park…
9.30am – Tianxiang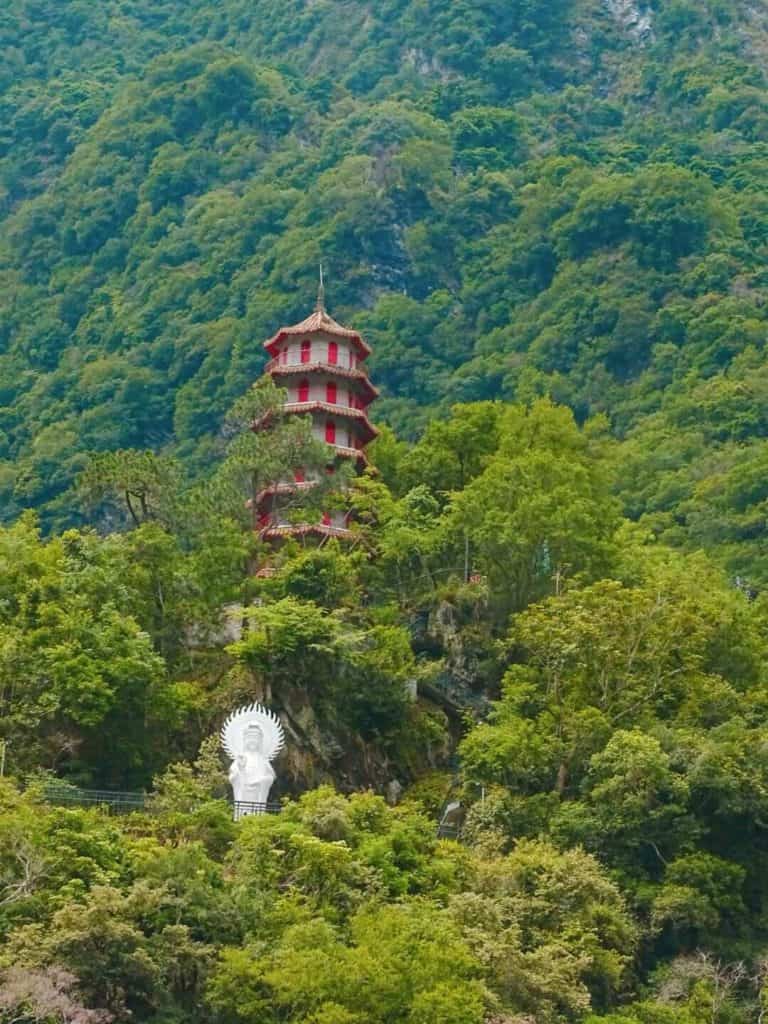 The first place on my Taroko itinerary was Tianxing. When visiting Taroko National Park by public transport, I rode the bus to the end of the line then worked my way back.

Apart from this pagoda and goddess statue, there wasn't loads to see at Tianxing. Another option is to skip it and start at Swallow's Trail. However, I was happy because this stop is home to the only 7Eleven in the park which was a godsend as I hadn't brought lunch, assuming there would be places to buy it. Actually, food was limited and overpriced so I was glad to grab some NT$75 sushi!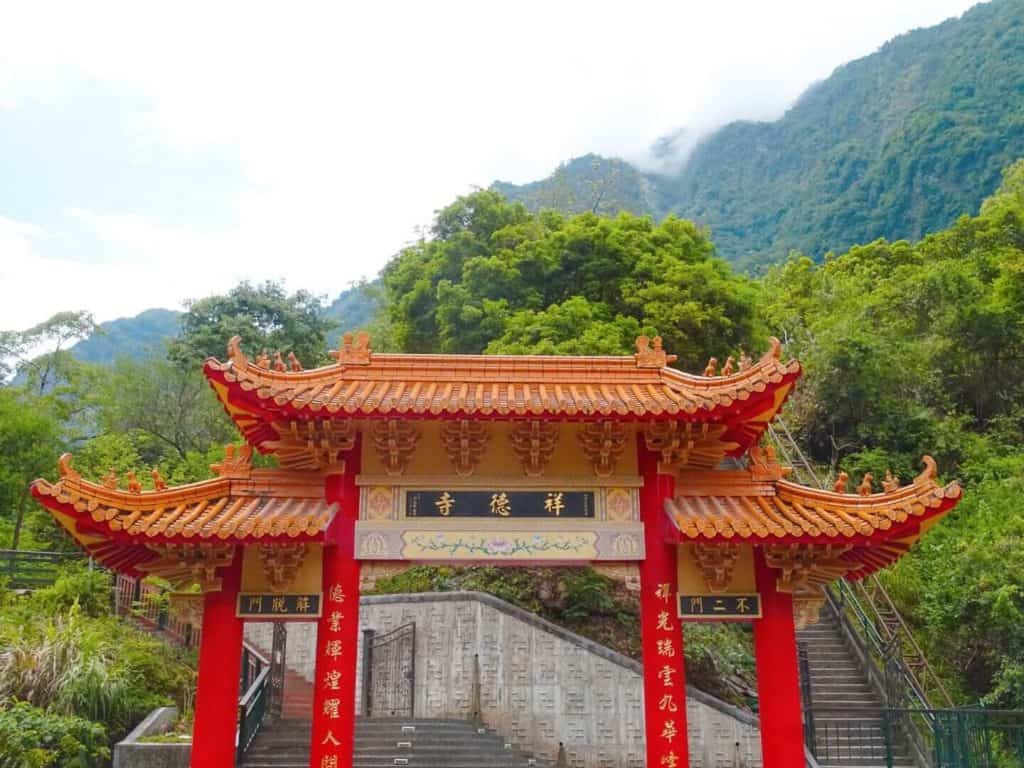 I heard that the Baiyang Trail is a nice 2-hour trek in the Tianxiang area so you could look that one up.
11am – Yanzikou / Swallow's Trail
One of the best places to include in your Taroko Gorge itinerary is the Swallow's Trail, a name you'll understand when you visit. Over the smooth limestone gauges, swallows dip and dance all day long, putting on the most amazing acrobatic show for visitors.

The valley with its swinging bridges is a must-see viewpoint, although I was disappointed I couldn't walk on them without a special permit.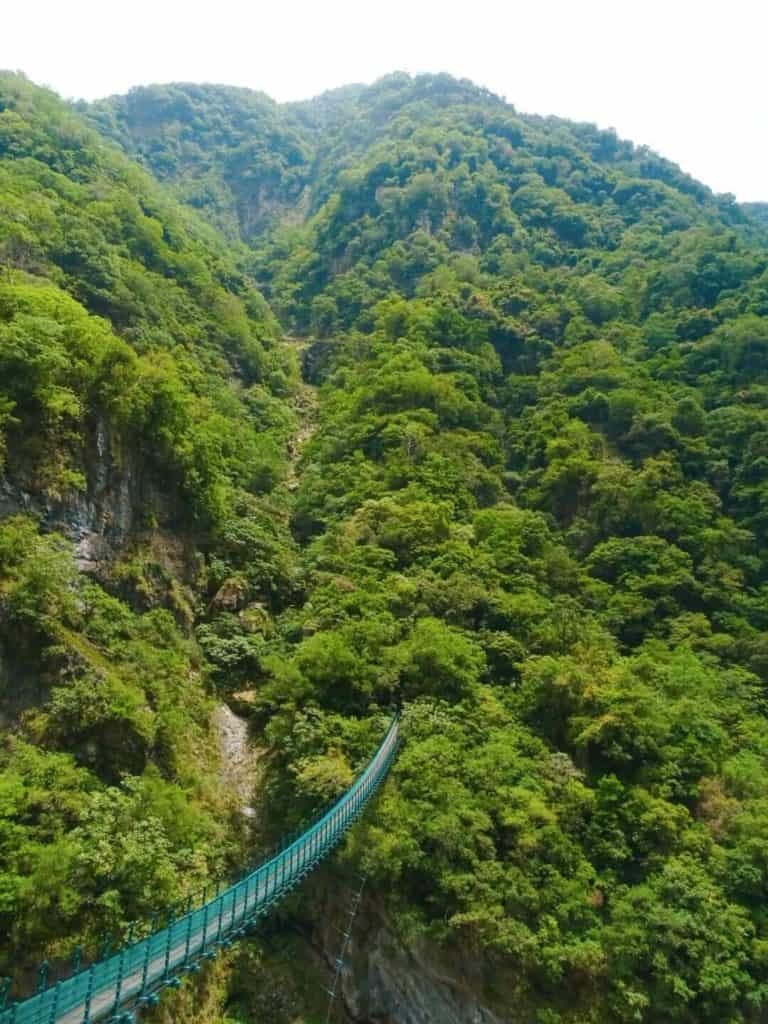 While the views were stunning here, it's all set along a main road and pretty busy with other tourists, so I was keen to get into the green heart of Taroko on a proper hike.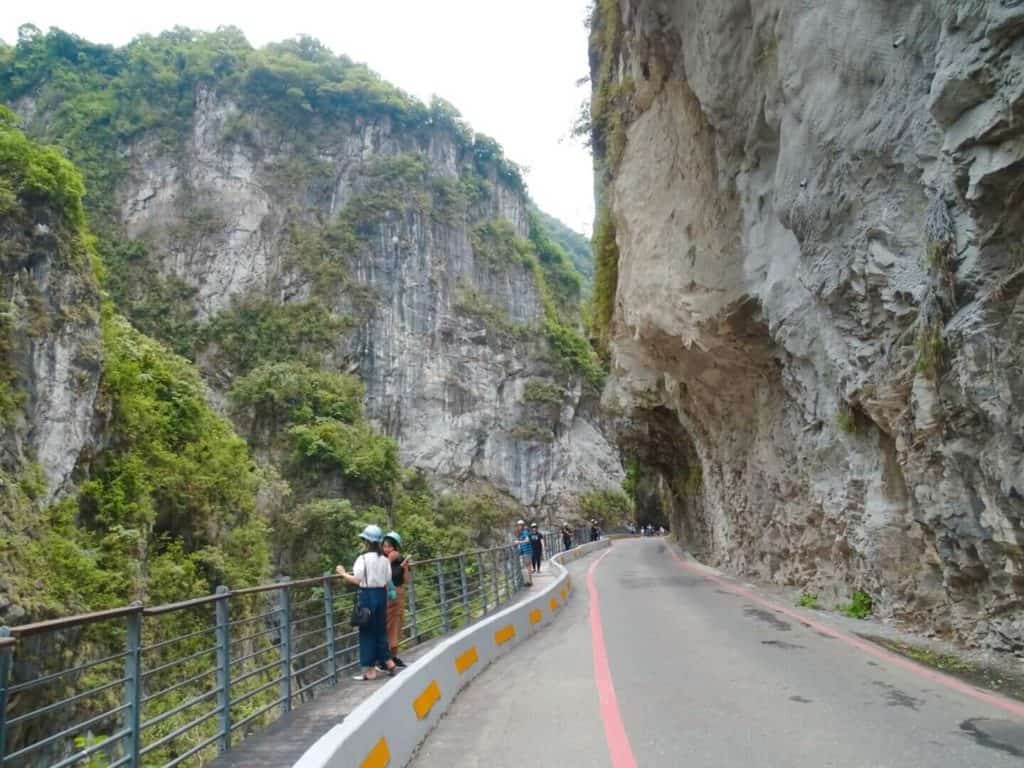 12.30pm – Changchun Shrine & Trail
This gorgeous temple built into the rugged cliff is a must for your Taroko Gorge itinerary. It was built to commemorate the men who died building the Central Cross-Island Highway connecting the north and south of Taiwan, something that was completed in just 4 years. It sounds like a gruelling job fraught with accidents and 220 of the 5,000 workers died during the construction.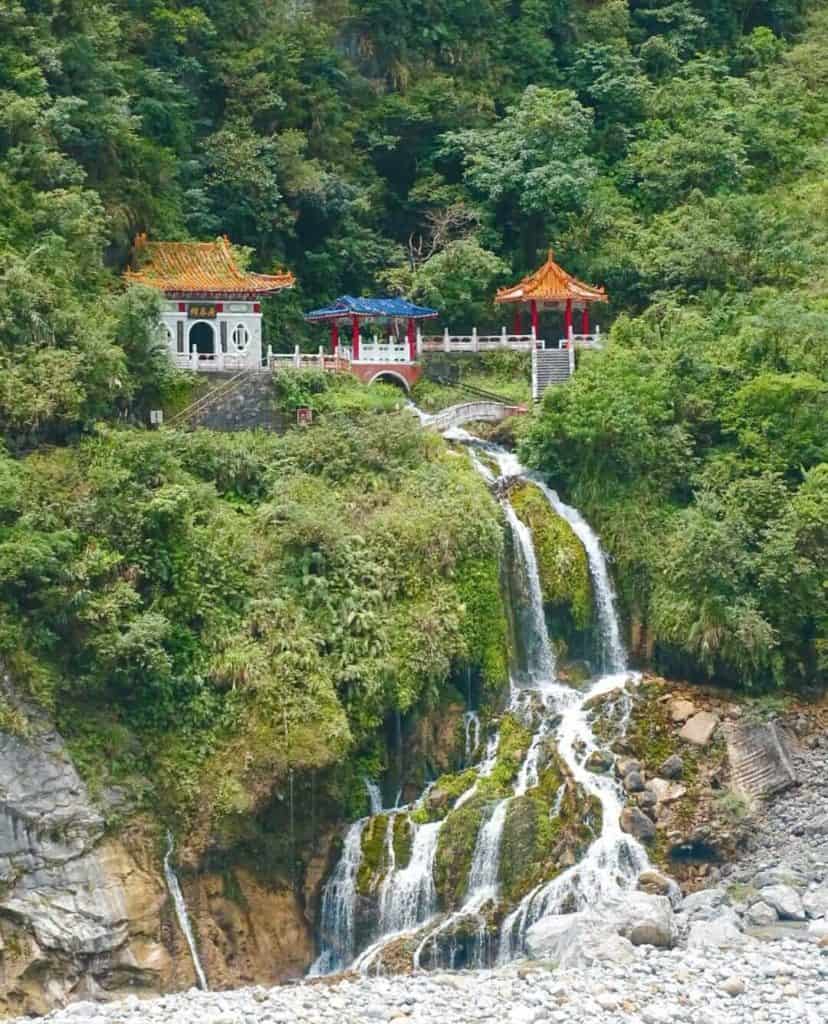 I hoped to do the 1-hour return hike to the temple but it was closed due to an inland earthquake a few days earlier. It wasn't the worst thing to happen because the best view of Changchun Shrine is from across the water, but it meant I had an hour killing time before my bus.
2pm – Shakadang Trail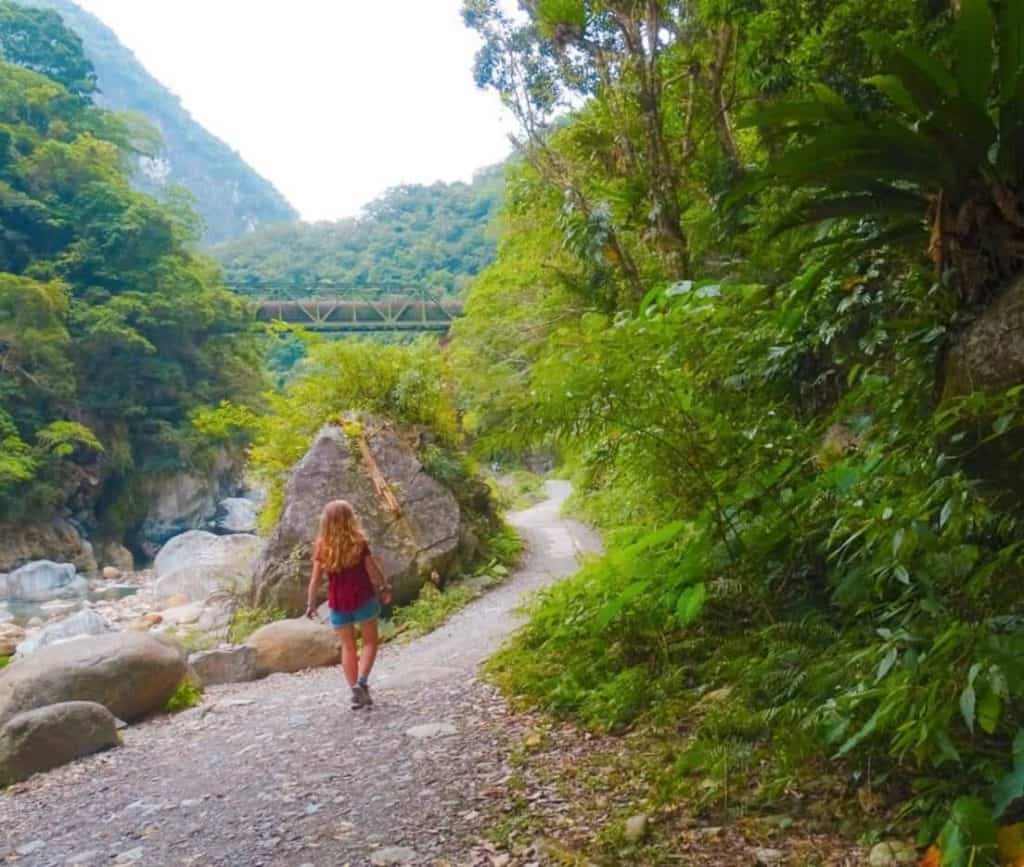 Finally, I made it to my first proper hiking trail in Taroko. The Shakadang Trail is a great one with incredible river views to your left. The full trail takes four hours: two there and two back. I did about an hour either way and made it to a point where you could paddle in a refreshing stream.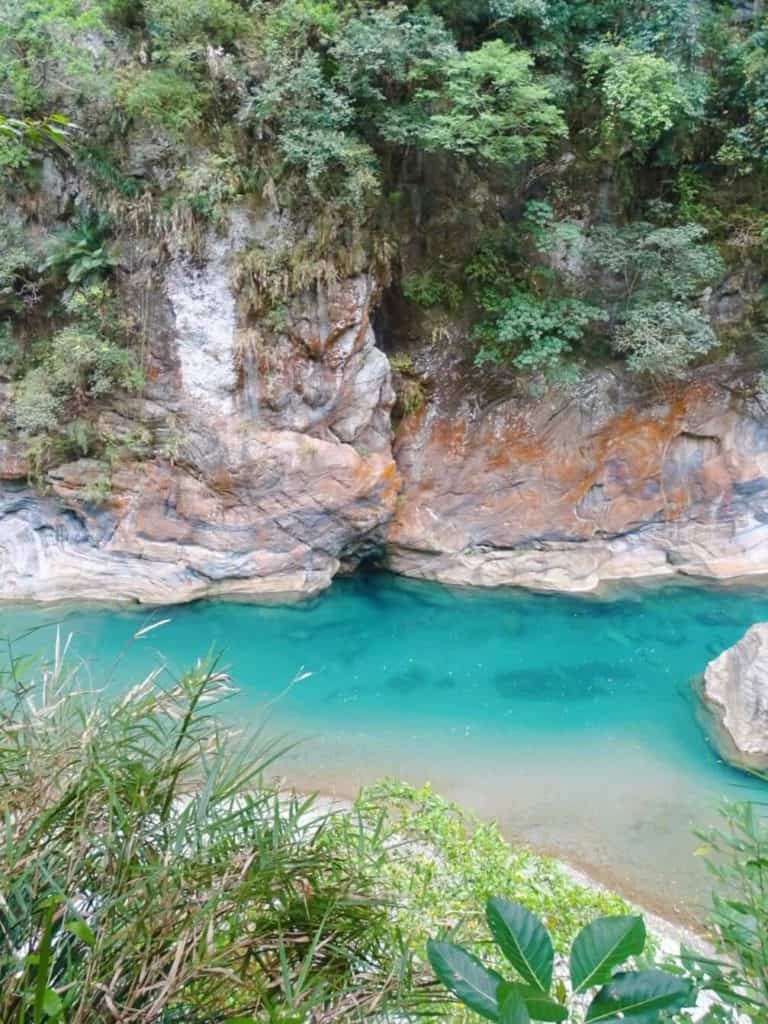 The only thing I found strange about my Taroko day trip was that everything was overly orderly with boardwalks and handrails the whole time. There was nowhere to get off-grid and swim in a waterfall like there usually is in Asia. It felt more like the hikes of Australia and New Zealand where everyone has safety and insurance in mind. I did see a sign at Shakadang warning about snakes and wild boar so perhaps that's why!

The shuttle bus drops at Shakadang on the way from Hualien but not the way back. However, you can walk 20 minutes from Taroko Visitor's Centre along the Xiaozhuilu Trail or follow signs through the bridge tunnel.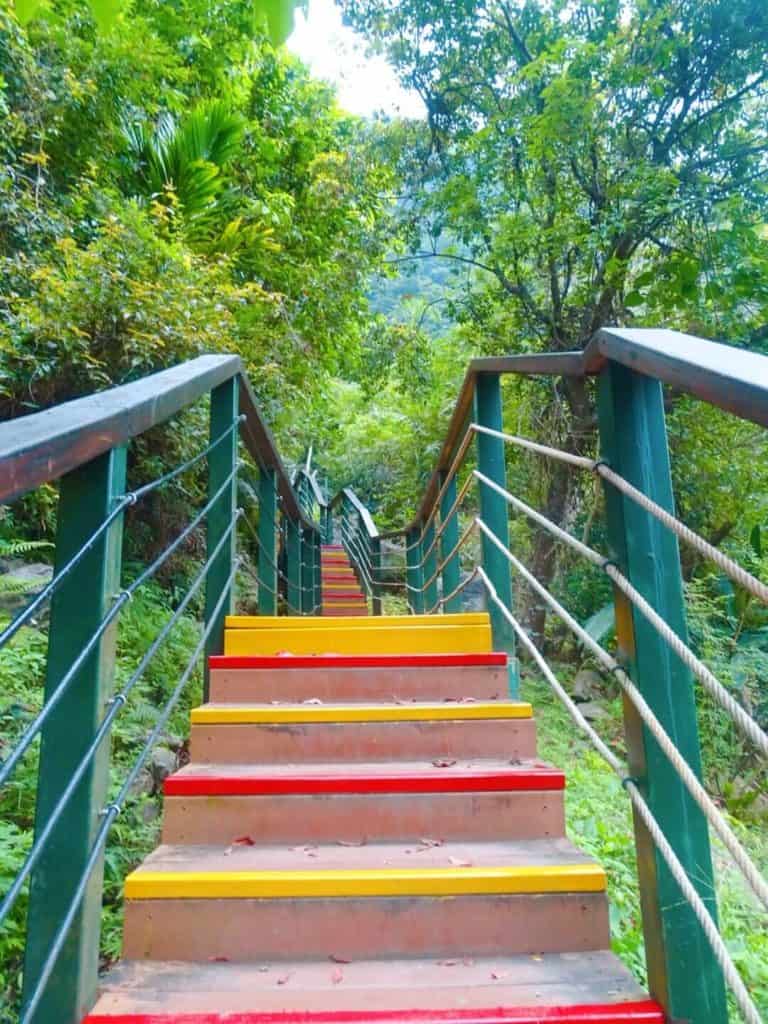 4pm: head back to Hualien
After hiking for two hours, I caught the bus back to Hualien. I hope this Taroko itinerary works as well for you as it didn't for me!
Other things to do in Hualien
Really, there aren't too many other things to do in Hualien. Like many cities in Taiwan, eating is a big focus. Suits me!

After your day trip to Taroko National Park, you'll want to take a shower and reward yourself with a good dinner. I spent a second day in Hualien but instead of hiking, I had a laptop day, drank coffee and got stuck into the foodie scene.
Dongdamen Night Market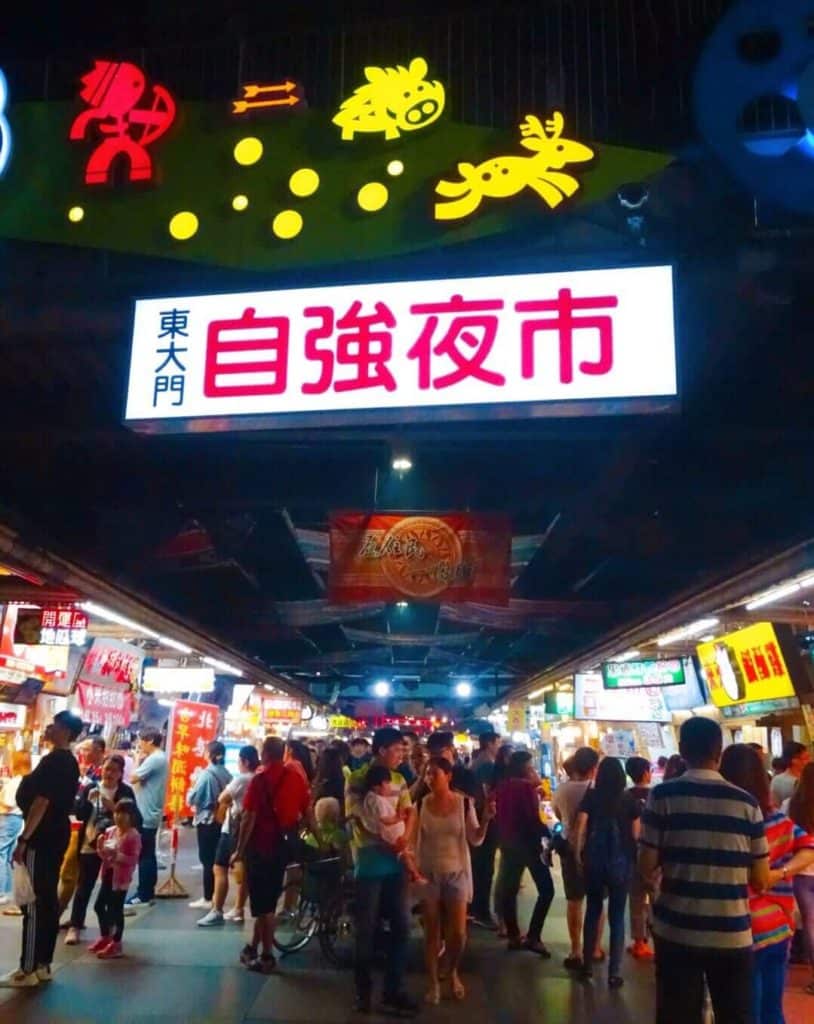 As I mentioned, eating is one of the best things to do in Hualien. Dongdamen Night Market is absolutely enormous and very vibey. Unlike the tourist markets of Southeast Asia, it's a real local spot where Taiwanese people of all ages come to socialise and listen to live music. I was the only Westerner there which I think is why I liked it.

Also, it was so cheap, almost half the price of Taipei's night markets.
One of the best things to try at Dongdamen is coffin toast. Stay with me here! This local delicacy is a deep-fried sandwich filled with a choice of ingredients. I went with pepper chicken in a rich sauce. It reminded me of bunny chow in South Africa but even more unhealthy as it was deep fried.

Find this stall at the back right corner of the market. As soon as you see the long queue of locals, you'll have found it. I paid NT$65 for coffin toast and sweet tea.
Mochi tasting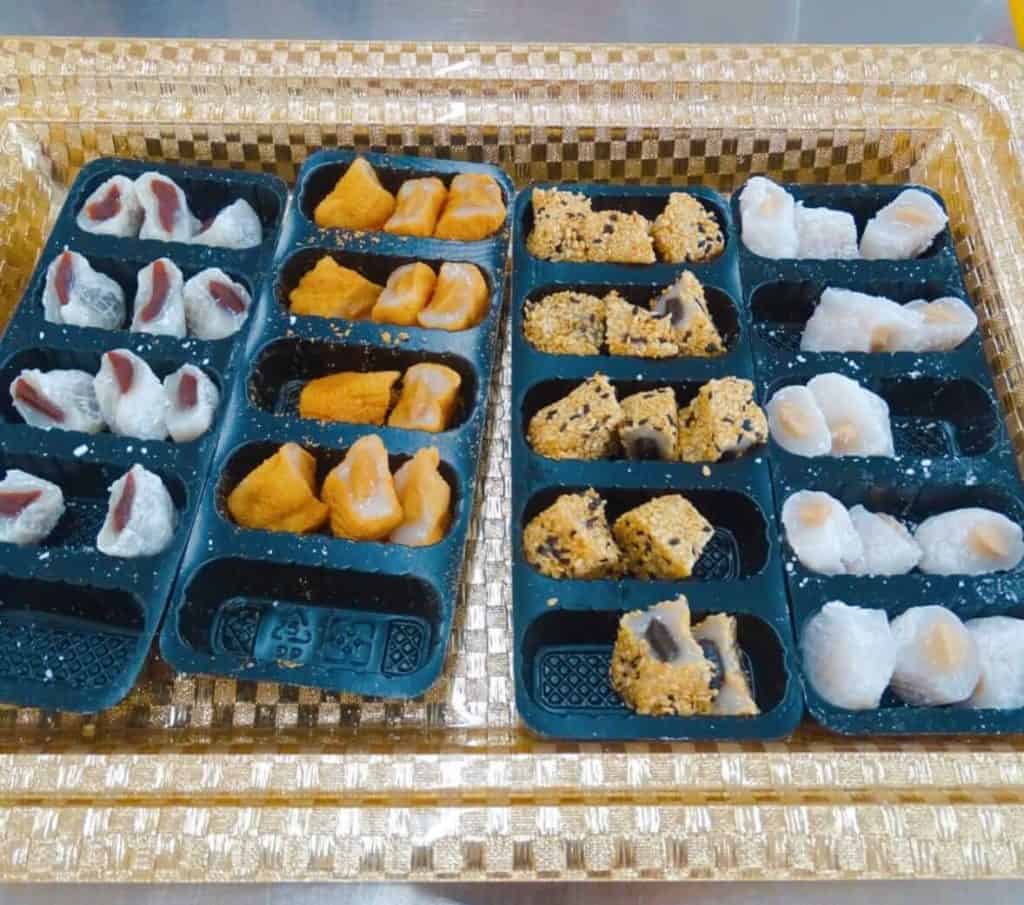 Tzen-Mochi is renowned throughout Taiwan. I thought it would be a deli where I could buy just a few pieces, however it's a wholesale store so they come in packs of 50 starting at NT$120.

The guy at the counter offered me some samples which I ate my way through with no shame. And didn't buy a pack of 50, tempting as that was. They're sealed so would last ages and I bet they'd make you popular when you got home!
Zhou Jia Dumplings (2 locations)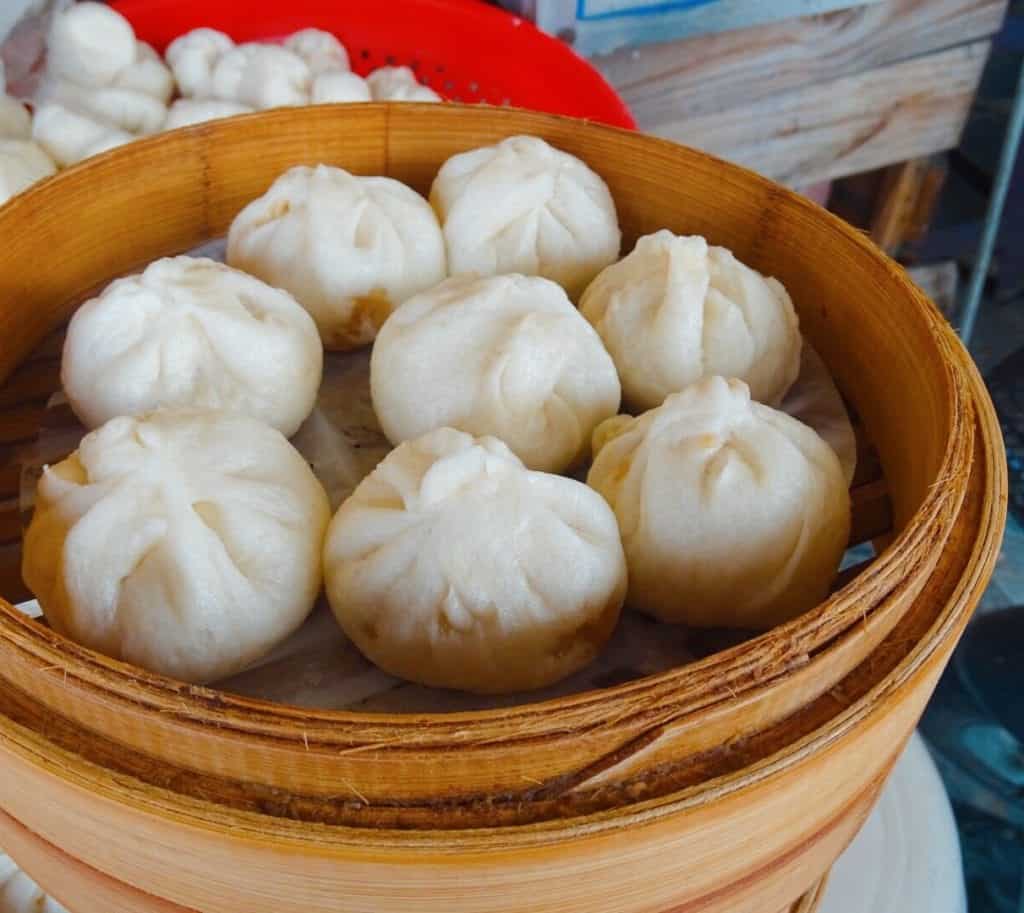 The tastiest meal I had in Hualien was at this modest dumpling restaurant. They serve steamed pork buns (pictured) as well as dumplings. Both types are a bargain at NT$5 each. I had 5 but I saw people eating 10 to themselves. It would be easy to do – they were so moreish.

If you have any doubts about how fresh these buns are, simply watch the women freshly needing the dough outside the restaurant. So fresh, delicious and cheap! There are two branches of Zhou Jia Dumplings, both on Zhongshan Road. One is at 509 Zhongshan and the other is just on the corner at 4-20 Gongzheng Street.
Coffee in Hualien
Like the rest of Taipei, there's so much good coffee in Hualien. There are endless bubble teas and iced fruit teas but you can also sip on a classic flat white if that's what you fancy.

I paid a stupid amount for this adorable dog coffee but I realised after it was actually at a dog cafe, something I don't really condone. I think cat cafes can be okay sometimes but dogs really shouldn't be kept in such a confined space. For that reason, I won't mention this particular cafe but you'll find so many others in Hualien. I've heard good things about King Tang Cafe and Cafe Fiore.
Thanks for reading my Taroko Gorge itinerary!
Check out my other Taiwan guides:
See you next time for more adventures,
Rose
Note: During my stay, I was hosted by On My Way Hostel however all opinions are my own.
Ps. Liked this Taroko Gorge day trip? Pin it for later!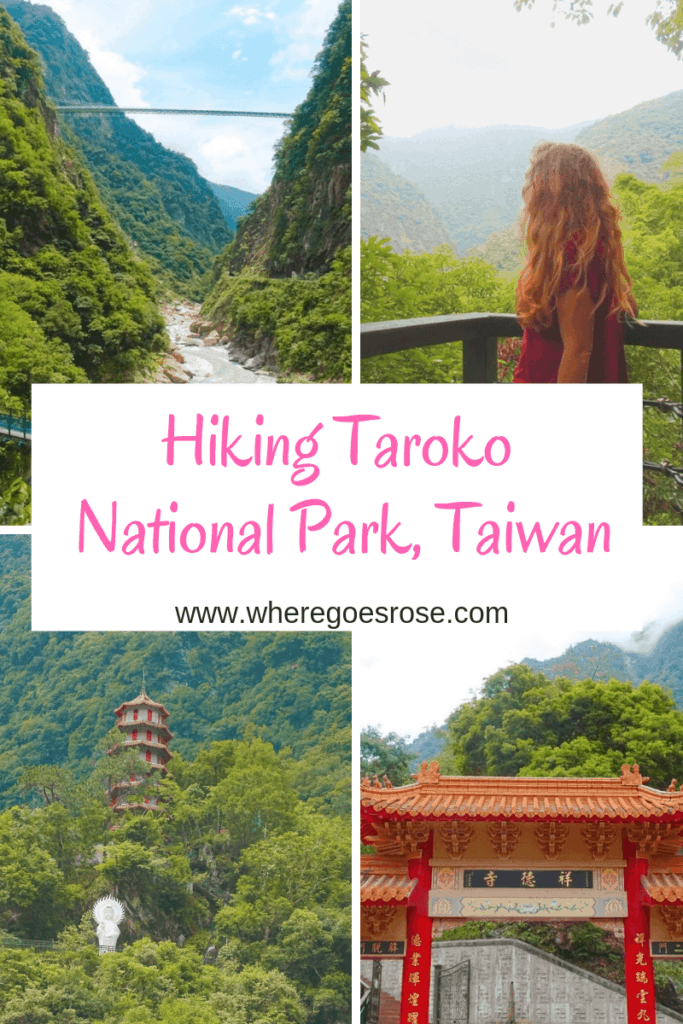 TAIWAN QUICK LINKS

Getting there – it's easy to arrive by flight. I use Skyscanner to find the best-value flights, using the 'search by month' tool to find the cheapest dates.

Stay connected with an unlimited 4G SIM card for 3, 5, 7, 10, 15 or 30 days.

In my opinion, Lonely Planet offer the best guidebooks. Get the latest Lonely Planet Taiwan.

Car hire – I recommend RentalCars.com for car hire in Taiwan and around the world.

For Taiwan High SpeedTrains, use 12Go. The search feature allows you to compare prices and durations.

I use Booking.com for accommodation. They have the best range of hotels and self-catering apartments, plus you can filter by review score and price to find the best-rated budget places. For hostels, I use Hostelworld.

To save money on accommodation, I use Trusted Housesitters, a website that connects homeowners going away and travellers who can sit their homes & pets.

For activities, I use GetYourGuide and Viator as they both have a huge range of affordable tours.

Need travel insurance? I use True Traveller (for UK & Europe residents) since it's affordable but covers everything you'd need including various activities, valuables and pre-existing conditions. Unlike some companies, they insure you if you're already travelling / don't yet have your flight home booked. Get a quote.

For travel insurance for other nationalities, I recommend Hey Mundo and for long-term digital nomad travellers, I suggest Safety Wing.

Check out my resources page for more travel discounts and tips!