This post may contain affiliate links to things like tours, hotels, Amazon associates and products. These help me earn a small commission at no additional charge to you.
What to do, how long to spend, where to stay, how to get about and what to budget – let this blog be your NZ bible!
First, let me say I loved my time in New Zealand.
I don't think I've ever been somewhere so beautiful. Flat plains give way to dramatic mountains sculpted by running glaciers, volcanoes have changed the look and feel of land, and crater lakes were carved out by the elements long ago.
There are cosmopolitan and quirky towns for city dwellers like me, and endless ways to get immersed including hikes, cycling trails and mountains. It's also a must for adrenaline junkies!

From driving New Zealand's Wild West Coast to hopping between wineries and bungee jumping, New Zealand will enrich your bucket list and then some!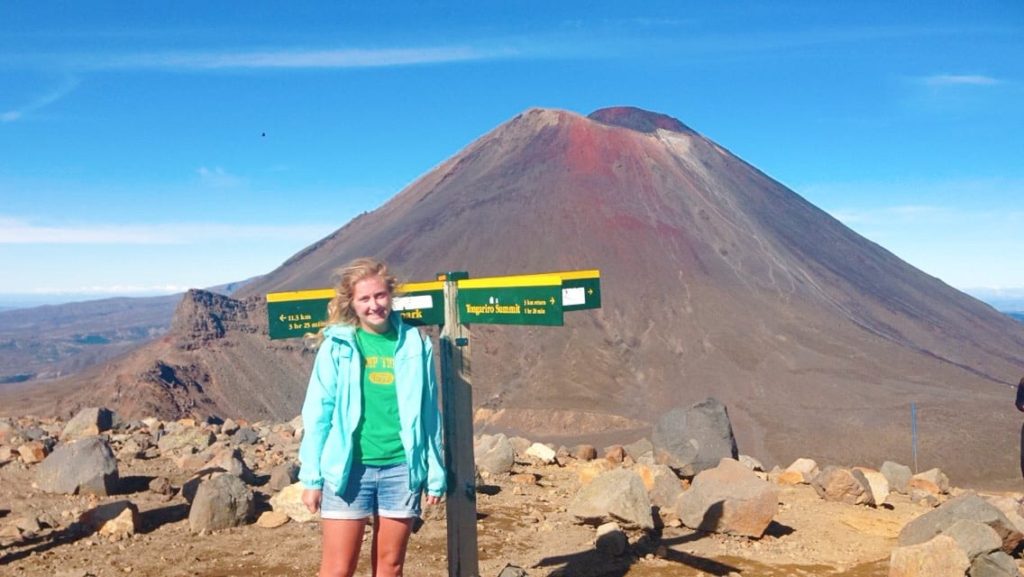 How long to spend
This all depends what type of traveller you are. Don't get me wrong, I've been singing the praises of NZ ever since I left and wistfully flicking through my scenery snaps. But as a city girl, a month was enough for me.
But if you're not one for the rat race and prefer more picturesque surroundings, you might never want to leave.
However many walks, summits and mountains you capture, in New Zealand there are always more.
If you're happy to see the highlights and more touristy spots, you can easily do it in a month or less. But if you really want to go off-grid and get lost in the wilderness, you'll need your own set of wheels and probably longer. So think about what type of trip you'll be making before deciding on how long to spend and the type of transport you'll take.
Two islands or one?
One of your first and most important decisions.
Lots of people questioned our decision to travel both the North and South Islands in just one month. At first we were worried – were they right? Were we being over ambitious and would we run the risk of doing justice to neither?
For me, New Zealand is one of those places you can spend a lot or a little time and still fully enjoy it. It's not hectic so moving fast and doing a lot in a short space of time wasn't a problem. If you've got over three weeks, I'd vouch that seeing the highlights of both islands is achievable. Less than that and I'd recommend one or the other.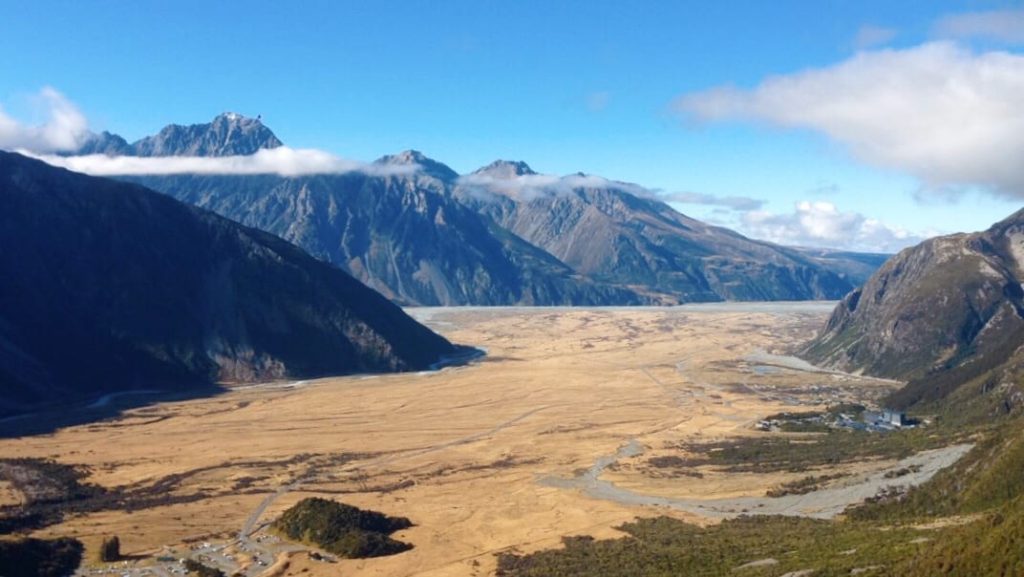 What stops to make?
This is the fun bit for me: telling you all about my favourite New Zealand corners from cities to national parks and everything in between.
The North Island
The North Island is home to the capital, Maori culture and some spectacular scenery.
How long to spend: At least 10 days. We spent a third of our time in New Zealand on the North Island. Here's my summary of the top stops:
Auckland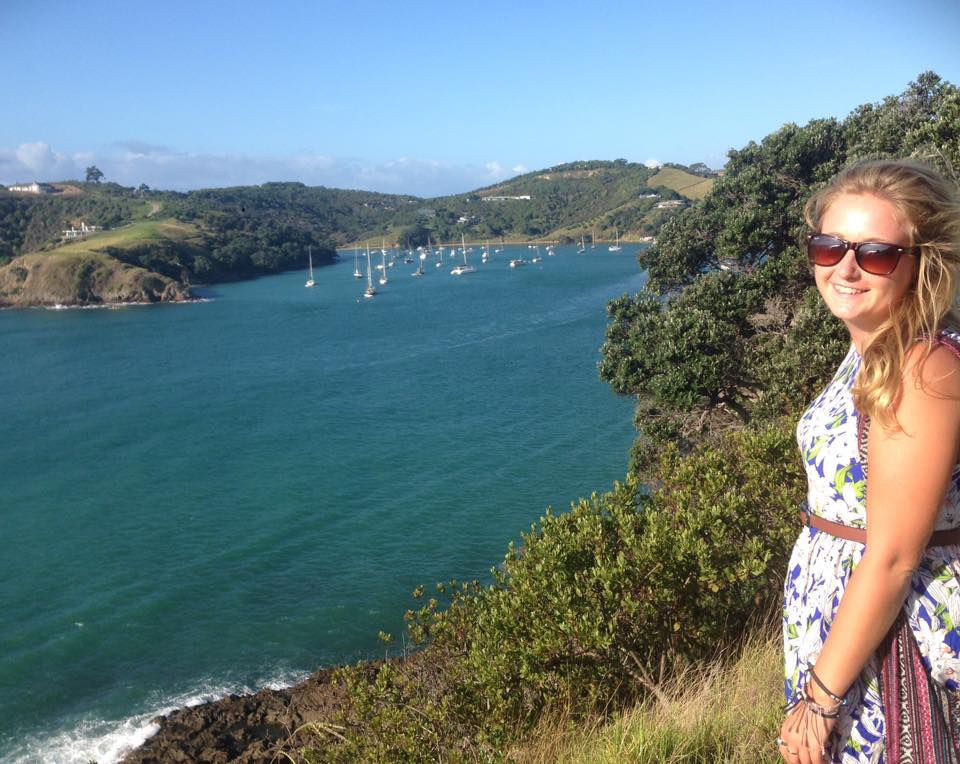 For us and many others, Auckland was a necessary stop as a port of entry – and not a bad one at that. Many travellers stop through and don't give it a lot of time but we found it a liveable city with shops, bars, green space and a few worthwhile day trips.
Things to do in Auckland:
Venture up the Sky Tower or bungee jump from the top if you're feeling brave.
Take a day trip to Waiheke Island. With greenery as bright as the blue waters around it, this island is truly picturesque and known for its spectacular selection of wineries. Even on a budget it was a great way to spend a day. We had a couple of glasses of Sauvignon Blanc and admired the stunning scenery (forgetting we were backpackers and supermarket pasta was for dinner).
Where to stay: For a clean and modern base, go with Haka Lodge – probably the coolest backpackers in Auckland.
Where to stay: Two days. Explore the city on the first and catch a ferry to Waiheke on the second.
Waitomo
Waitomo is a town (if you can call it that) with 55 residents and a set of caves which are most famous for their non-human residents, the glowworms.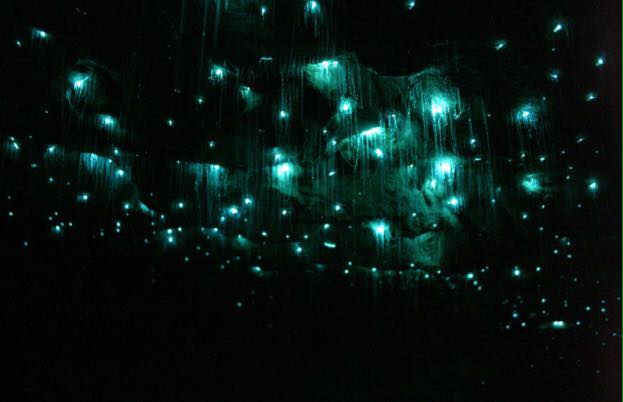 Things to do in Waitomo:
Tour the caves with Spellbound, who take you around by foot and boat. This was awesome – the cave walls were adorned with blue shimmering lights that you'd have sworn were switched on by a bulb rather than created by natural elements. Learning about them was interesting but seeing them illuminate their surroundings was magical.
For a more action-packed day, go tubing and jumping with Blackwater Rafting Company. My friend did this and loved it.
How long to spend: Two nights so you can spend a full day exploring in between.

Where to stay: for us, YHA Juno Hall did the job. Bring food with you if you don't have a car – there are no shops in walking distance.
Rotorua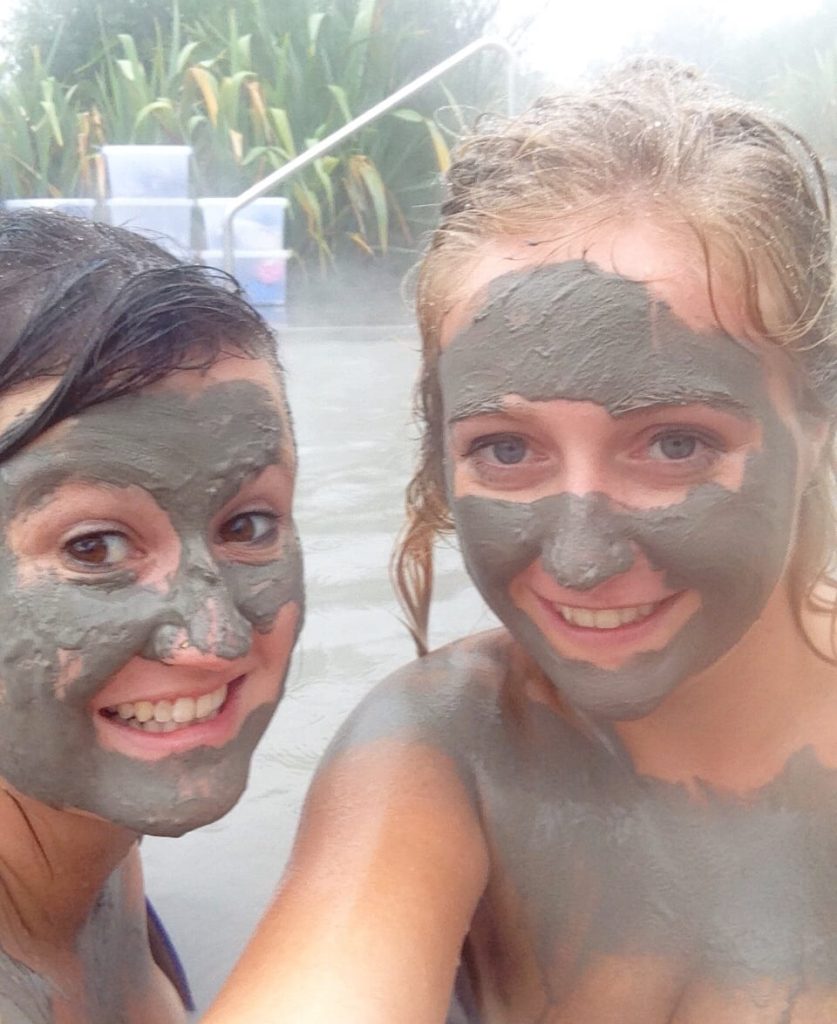 This geothermal town of geysers, hot springs and bubbling mud is also a great place to learn about Maori culture.

Things to do in Rotorua:
Head to Hell's Gate geothermal park and mud bath spa for your fix of bubbling hot springs. You can swim in safe ones and learn about the deadly sulphur springs that can reach 144 degrees Celsius. In times gone by tribe leaders would have sent a poor civilian down to see whether the water was safe for use. If they survived, the tribe would settle there and if not, they'd move on and send someone else in to test the next spot. Brutal!
Enjoy a cultural evening at Tamaki Maori Village with New Zealand's native people. You'll tuck into a traditional hangi banquet made with food cooked in the steam of the hot pools. Be prepared to pay $130 for this, or…
Visit Whakarewarewa: the Living Maori Village on the outskirts of town. This was $36 including a tour. We learnt about Maori culture, watched a traditional Hakka dance performance and saw how the locals used the hot water pools to cook, wash and conduct daily life.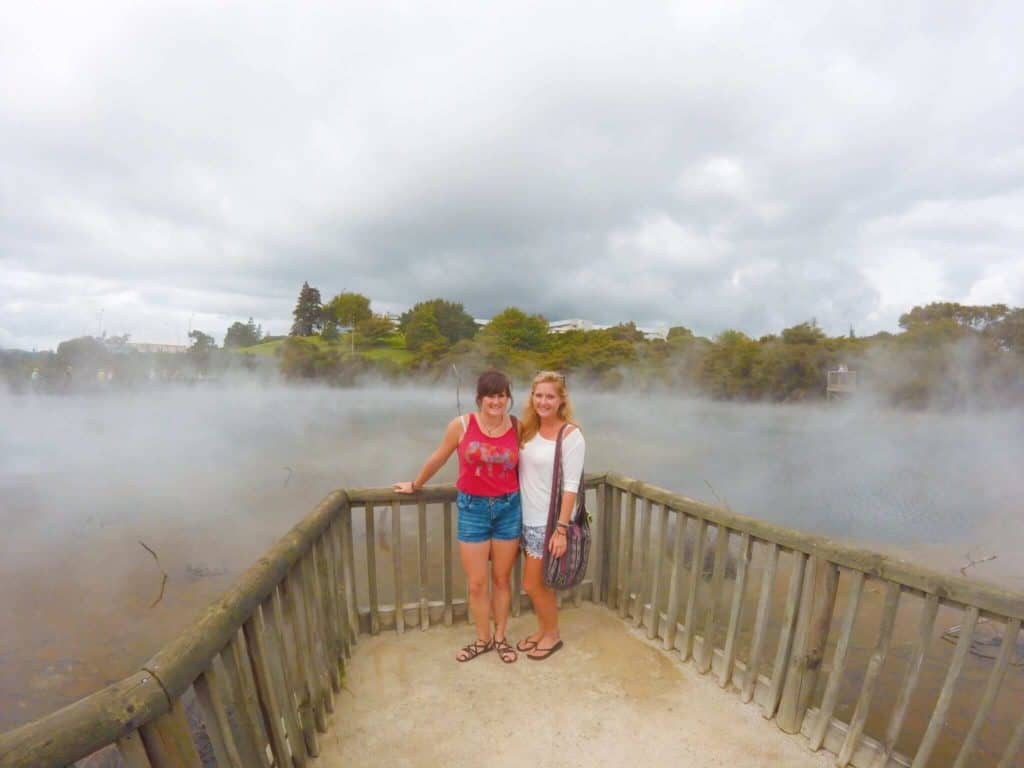 Where to stay: opt for Funky Green Voyager for a quirky cosy base or Rock Solid for a hostel with an indoor climbing wall!

Where to stay: Two days. One for the pools and one for Maori culture.
Taupo
All set around a beautiful lake bigger than Singapore, Taupo is a cool spot for both relaxing and adrenaline-inducing activities.
Things to do in Taupo:
Trek the Tongariro Alpine Crossing. We hiked past the menacing Mount Doom and marvelled at mesmerizing blue and green crater lakes and exploding hillside geysers.
Skydive! My friend did it and I watched (because I'm a baby).
Trek to the Huka Falls from the city centre.
Take a boat trip on the lake to see Maori carvings on the rock faces.
Go skiing in the winter.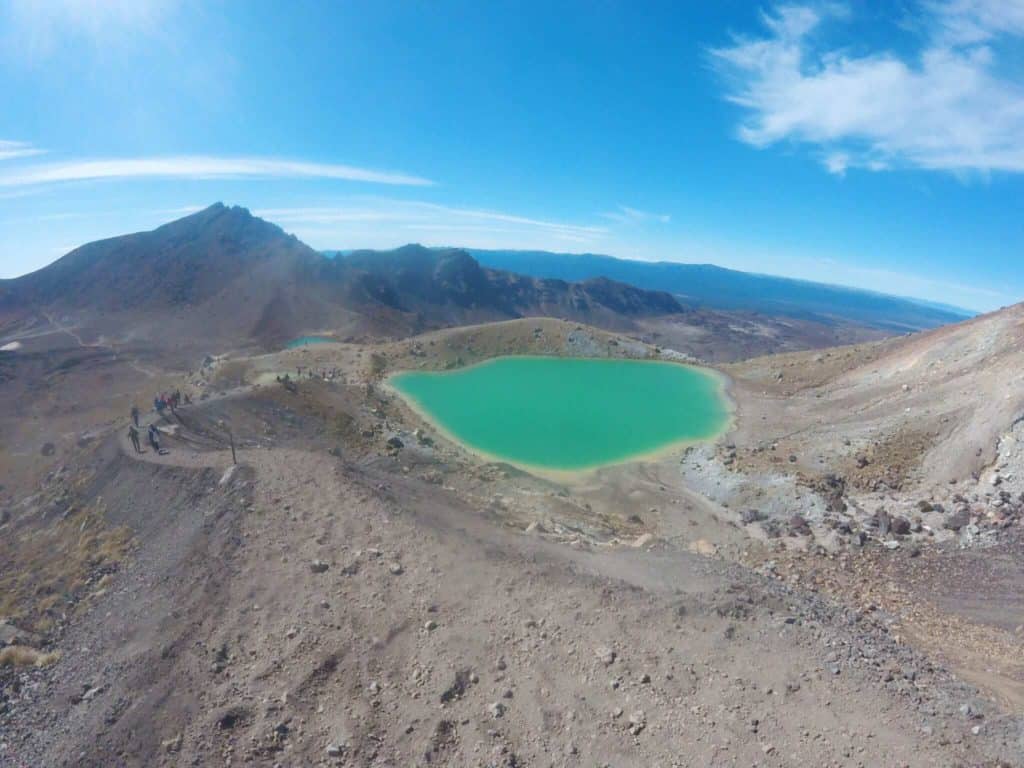 How long to spend: 2-3 days. Depending how many activities you want to do, I'd say two days around the town and an extra one at Tongariro.

Where to stay: for a hostel with a pool and spa, go with Tiki Lodge.
Wellington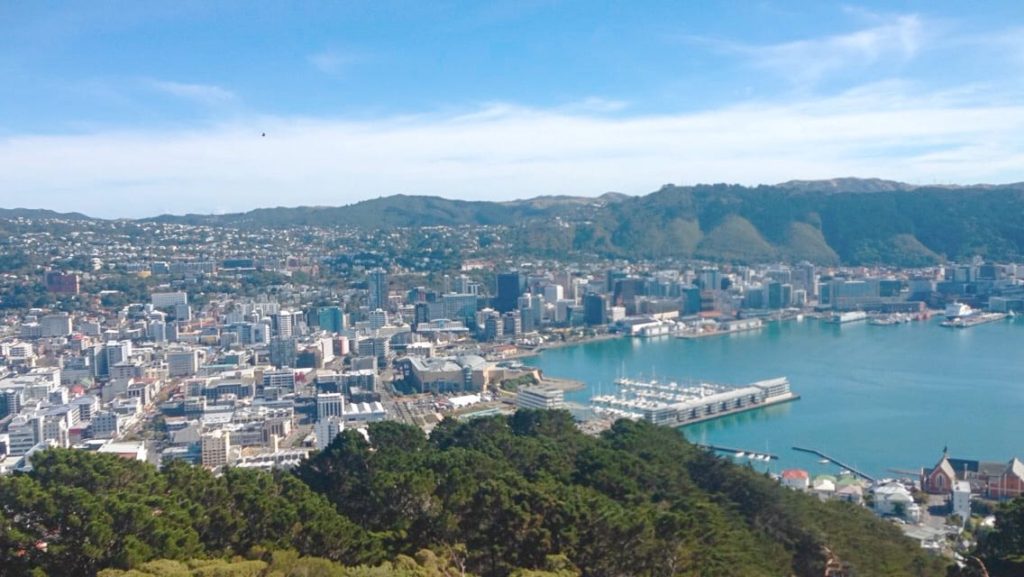 The country's capital, home to dining, shopping and city life. New Zealand doesn't exactly do huge, hectic cities but Wellington definitely has much more of a buzz than the others.
Things to do in Wellington:
Climb Wellington hill to admire the bay, bobbing boats and city's postcard-perfect views.
– Eat and drink. Check out Cin Cin for Italian food and jazz, Sweet Mother's Kitchen for cheap, delicious eats and The Library for cocktails and quirk factor (you enter through doors disguised as shelves of books).
How long to spend: Two days.

Where to stay: I stayed with a friend but heard good things about Nomads Hostel where you get a free breakfast and dinner.
The South Island
From Wellington we caught a ferry to the South Island where our next set of adventures began. People had been telling us throughout the North Island that the South was more beautiful so we were excited to feast our eyes on what was to come.

How long to spend: 2-3 weeks. We spent 20 days in total.
Nelson / Abel Tasman National Park
Nelson was our first stop after reaching the South Island. Definitely not a trip highlight but a reasonably sized town with various amenities and a port of entry to Abel Tasman National Park – one of New Zealand's most beautiful areas of flora and fauna. It was possible to visit Abel Tasman as a day trip from Nelson but I'd recommend staying in the area if you can.

Things to do in Abel Tasman:
Hike around abandoned beaches and towering forests.
Take a water taxi to see seal colonies.
Where to stay: We stayed at Kanuka Ridge Abel Tasman Backpackers in Marahau (a town with a population of 50) which I believe is the only hostel in the area. It was up a steep hill and surrounded by just trees and mountains for company. Thankfully there was a cosy lounge and TV room so our evenings were a chance to relax and recuperate from walking.

How long to spend: Two days. Longer if you like nature!
Punakaiki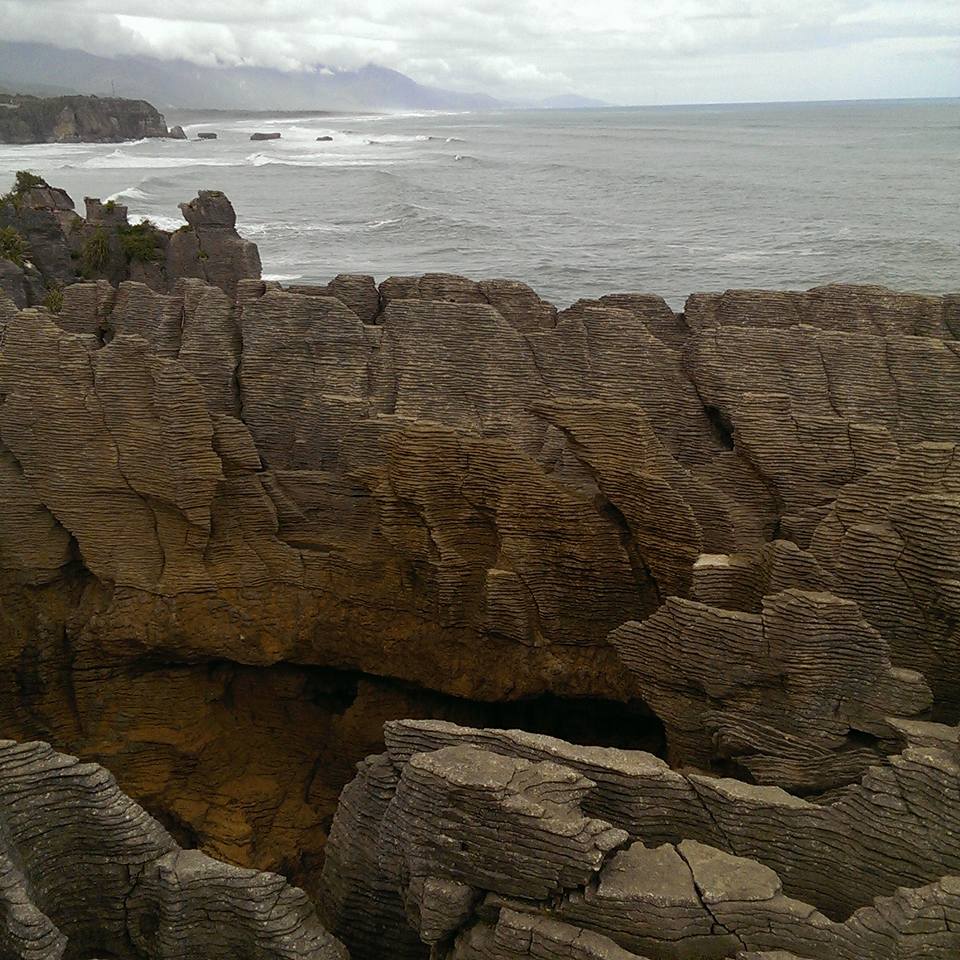 Conscious of time, we moved fairly fast down the coast and decided to skip staying in Punakaiki. Luckily our bus driver stopped en route meaning we got to see the pancake rocks the area is famous for.

Things to do in Punakaiki:
See the rocks – they were indeed unusual with a stack-like structure which could probably be compared to a pile of pancakes if you used your imagination.
Learn about blowholes: gaps in the rock allowing the spray of crashing waves below to funnel up through the surface. They were pretty cool to watch.
Eat 'Punakaiki pancakes' loaded with bacon, maple syrup and fruit served nearby. Well there's always an excuse for pancakes, right?
How long to spend: One day, or better yet, stop in for a couple of hours and continue your journey the same day.
Fox Glacier/Franz Joseph
Fox Glacier and Franz Joseph both offer a similar set up: small towns with glacier access.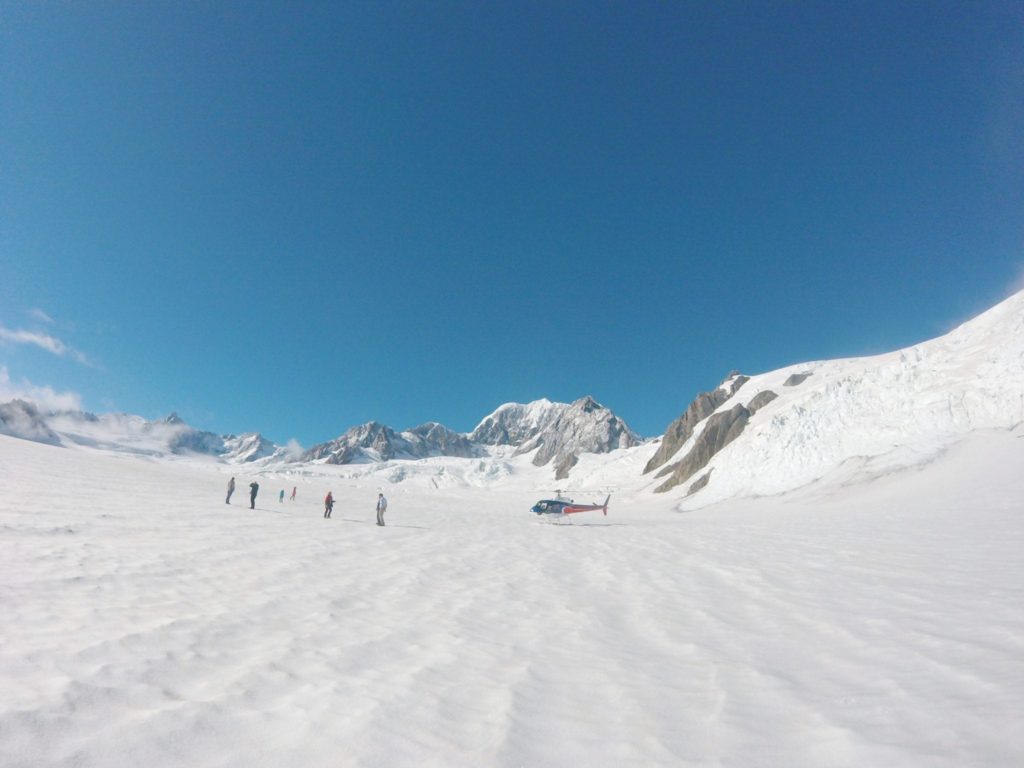 Things to do:
Do the Fox Glacier Valley Walk. This was a bit underwhelming as sadly climate change has eroded the glacier and it's now hard to see from the ground. I'd recommend splashing out on…
A helicopter flight. I paid £130 – a high price for a 20-minute experience but one I'll always remember as we flew over and landed on the glacier and got to walk around. It was truly magic! For £200 you can go on a four-hour trek on the glacier which sounded incredible.
Cycle or hike around Lake Matheson and take some beautiful reflection photos in the water.
How long to spend: Two days.

Where to stay: We went for Fox Glacier Inn & Pod Hostel which was a good base to book your activities from. Note the town is tiny and doesn't even have an ATM so get cash out before arriving.
Queenstown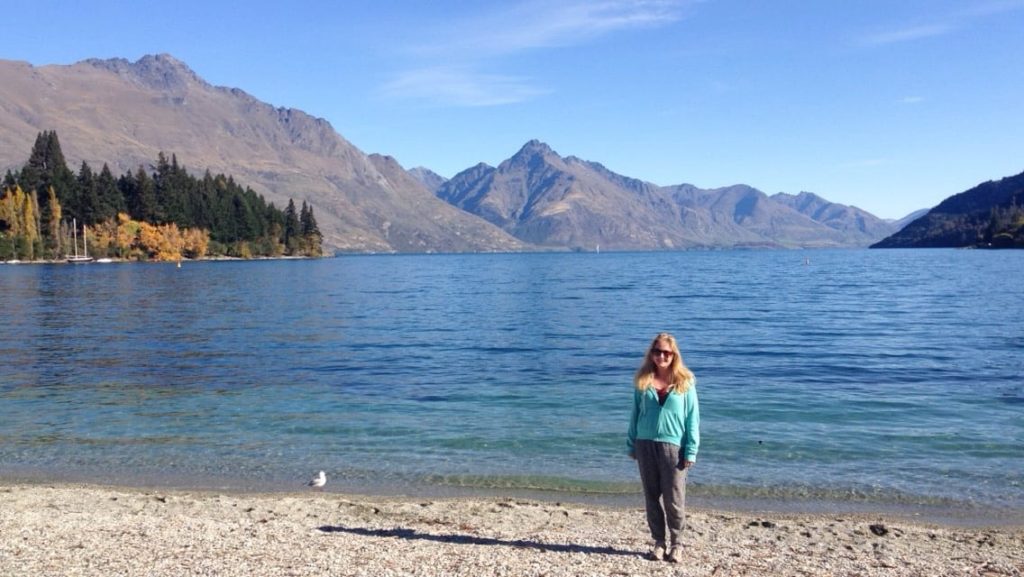 Where to begin with Queenstown? It seems to be everyone's number one destination in New Zealand and after visiting I saw why. Set around a beautiful lake with the mountains that brought J.R Tolkien's masterpiece to life, I could have spent weeks there.

Sitting under a blanket in one of the nearby coffee shops writing and watching the world go by was just one of the many ways to pass the time.
Things to do in Queenstown:
Experience the world's first bungee jump at Kawarau Bridge.
Try out the world's biggest swing which is called the Nevis Swing… again, Allanah did this while I watched!
Take a day trip to Milford Sound, a beautiful body of water you can cruise by boat. Our trip was the rainiest on record but it's a beautiful place.
Cycle the wine trail and stop at vineyards and cheeseries.
Whitewater rafting – one highly recommended company is the Shotover Jet.
Horse ride around the beautiful countryside.
Venture to scenic town, Arrowtown. I loved this old gold mining town with its mountain backdrop.
Climb Queenstown hill or take the cable car for amazing views.
Go luging (a bit like go-karting) down the mountain.
Eat at Fergburger. The hour-long ques might just be worth it when you consider that every type of burger under the sun is at the end of it.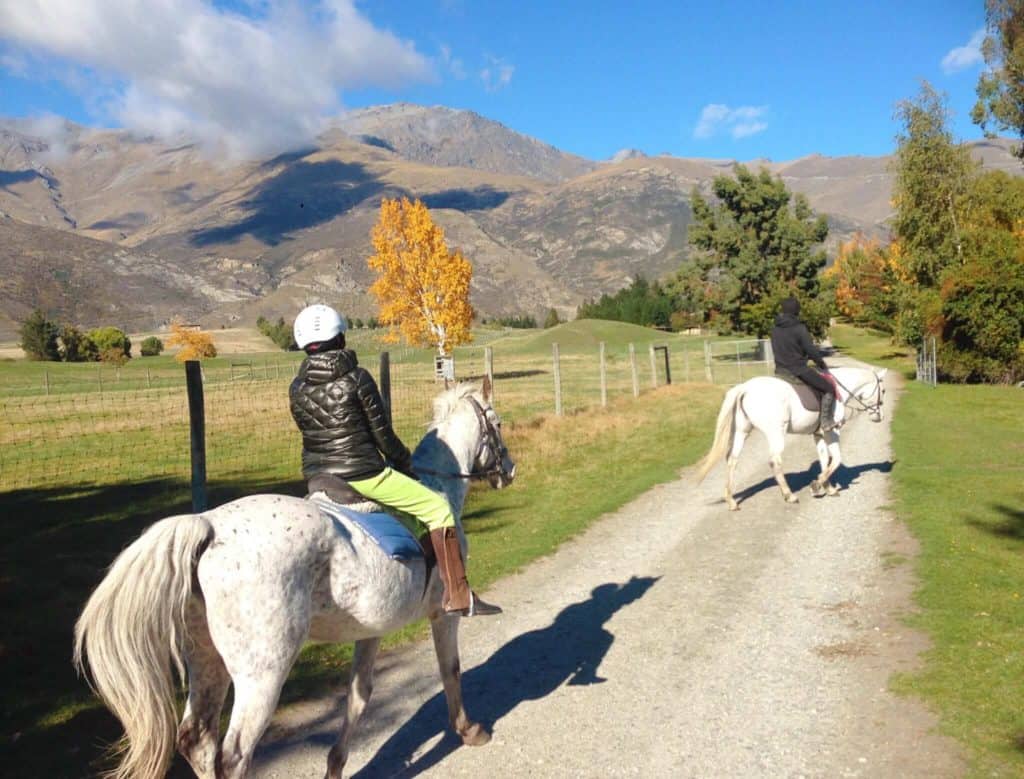 How long to spend: at least 5 days.

Where to stay: We stayed at Tahuna Pod Hostel which was great. Book as much in advance as you can as Queenstown is majorly overbooked, especially in peak season.
Wanaka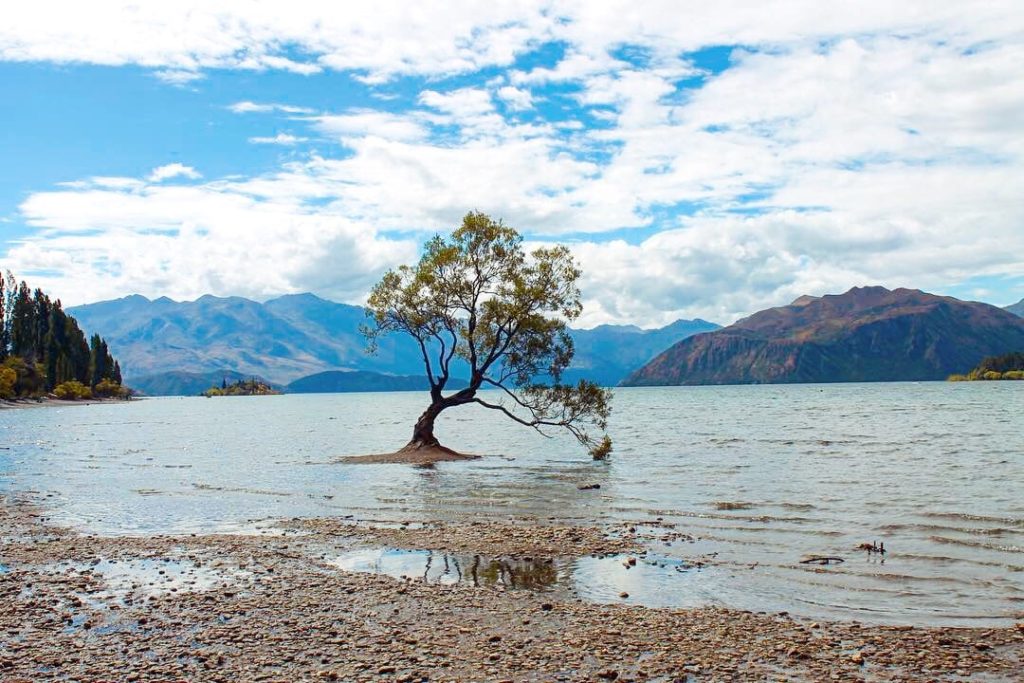 I really liked Wanaka – it's gorgeous town set in the mountains which is just an hour from Queenstown. After all the activities and drinking we'd just done in Queenstown it was a good base for a chilled couple of days.

Things to do in Wanaka:
Walk up Mount Iron and see views of the town and the mountains.
See Wanaka's most photographed spot, the tree in the lake.
Catch a film at Cinema Paradiso. You can relax in tiered couches or a Beatle-style car and use the interval to load up on homecooked brownies and cookies.
How long to spend: Two days

Where to stay: Head to Flying Kiwi Backpackers for a fun and colourful base.
Mount Cook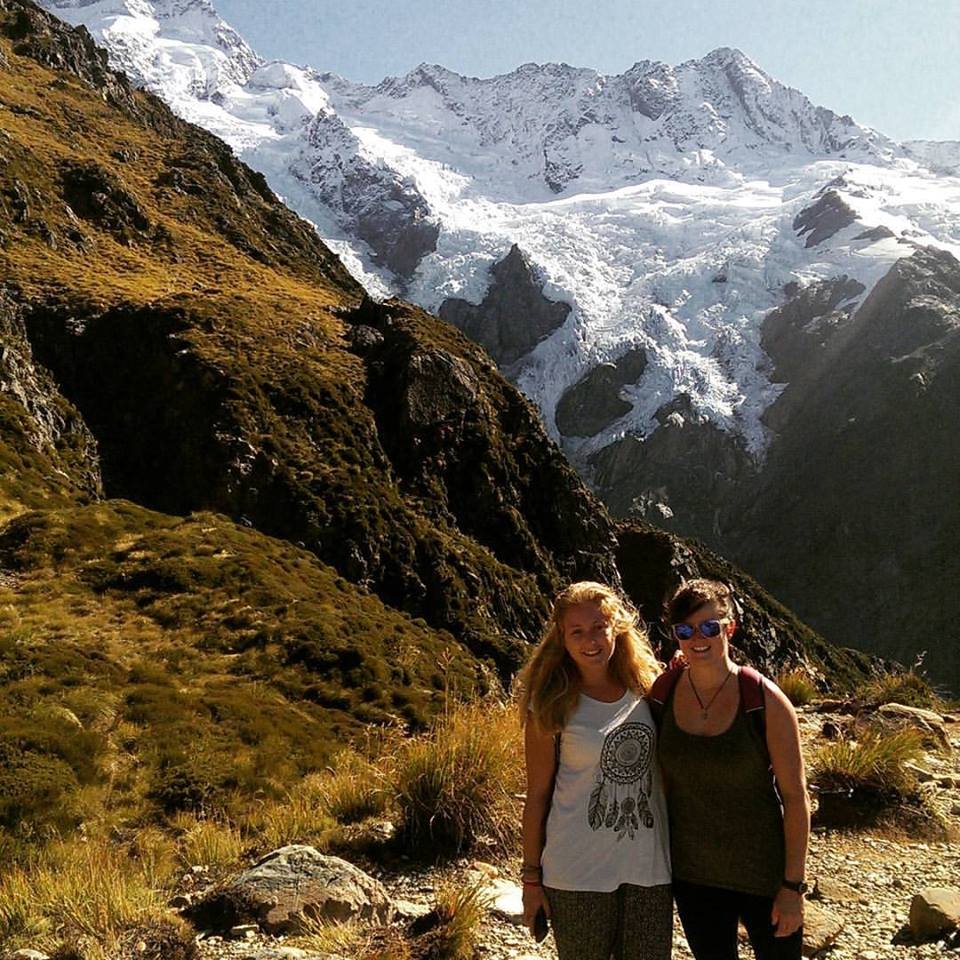 A majestic snowy mountain that isn't too tough to see from the Mueller Glacier viewpoint (although I dramatically fell down it and lose the use of my ankle for the next week).
Things to do around Mount Cook:
Climb to the Mueller Glacier viewing point which takes two hours and a load of steps.
Take the flatter Hooker Valley Trek – a three-hour return trip and an additional chance to admire Mount Cook from below.
Where to stay: Mount Cook isn't the easiest to reach without your own transport. There's a tiny town at the bottom, Aoraki (also called Mount Cook Village) which had a few hotels but no hostels and also isn't reachable by public bus. We stayed at the YHA, 30-minutes away in Twizel, and dodged paying for a $30 shuttle bus by hitchhiking to Mount Cook.

How long to spend: One day. You'll only need a few hours to see Mount Cook – visit en route to your next stop if possible.
Christchurch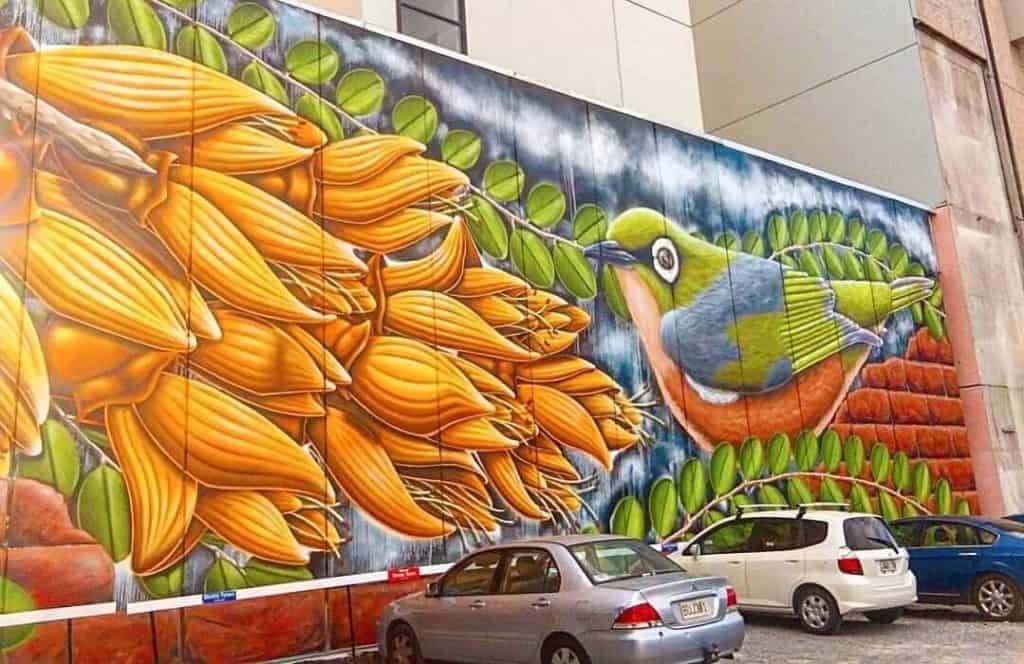 A quirky, pop-up city has risen from the rubble of the heartbreaking 2011 earthquake. Planning permissions and compensation are still yet to be settled so you'll still see derelict building and piles of rubble. Meanwhile, the city's embraced the temporary with street art everywhere and shops inside colourful shipping containers. It's unintentionally hipster – but I won't say no to burritos and cocktails from a van!

Things to do in Christchurch:
How long to spend: 1-2 days.

Where to stay: we ended up in a YHA as we hadn't booked in advance but I really wanted to go to Jailhouse, a refurbed prison which sounds very unique.
Stops I missed
Follow my stops above and your trip will take around a month like ours did. If you have more time or want to swap around some activities, these are the places I didn't have time for but will 100% check out next time I visit:
Kaikoura – this town is famous for whale and dolphin watching. The reason I didn't visit (apart from running out of time) was that it was expensive and you're not guaranteed a sighting. However my friend Chloe got lucky and provided me with the incredible photo above!
The Church of the Good Shepherd near Lake Tekapo on the South Island is a famous spot. I see lots of long exposure starry shots on Instagram as there's almost no light population around.
The Bay of Islands north of Auckland is meant to be stunning and I hear kayaking around them is the dream.
Hot Water Beach on the north island is what it says on the tin. Hot mineral water bubbles up on to the beach and you can dig pools and bathe in it.
How to get around
Now you're totally in the know and have a better idea of where you'd like to visit, it's time to think about how to get from your As to your Bs.
Car hire – a good option for spontaneity and getting off-grid.
Campervans – as above, plus a savvy way to save money on accommodation costs.
Organised bus tours – both Kiwi Experience and Stray Travel take the stress and organisation away, however they're not the cheapest option.
Local buses – Intercity bus is cheap and cheerful – our passes were a quarter of the prices of Kiwi/Stray. Saying that we were restricted by their less regular timetables and routes meaning it was harder to get to out-of-town attractions.
Hitchhiking – we met lots of people doing this without any problems.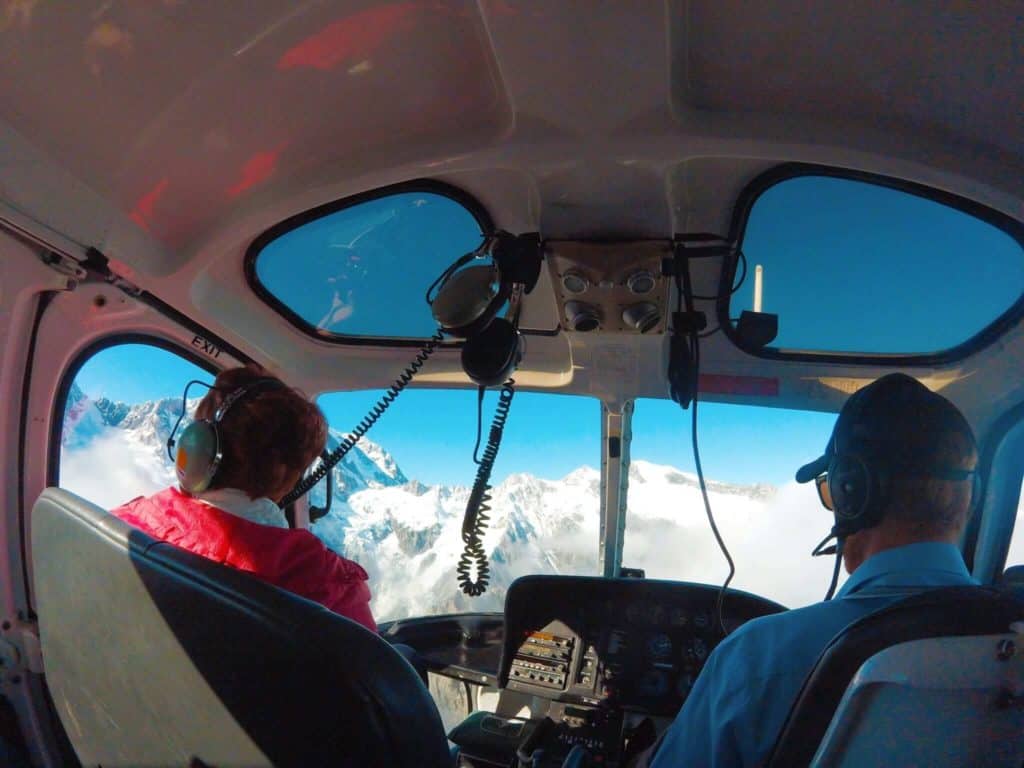 How much to budget
A backpacker's month in New Zealand set me back almost $4000 (£2,000). Yep, it's a hella expensive – though totally worth it. My budget included hostels, taking the local bus but splashing out on a couple of activities like the helicopter ride and a fair few brunches (who can resist brunch?)
If you want to do all the activities, budget another $2000 (£1,000). Do the same again to swap hostels for hotels. If I went back and wanted to save money, I'd recommend driving and camping as the best way of keeping the costs down.
Enjoy!
I hope you're a little more informed and itching to explore the rolling countryside and characteristic towns that make New Zealand such a memorable destination for so many travellers. Let me know how you get on!
Thanks for reading!
Share it to enable me to keep creating these posts 🙂
See you next time for more adventures,
Rose