This post may contain affiliate links to things like tours, hotels, Amazon associates and products. These help me earn a small commission at no additional charge to you.
Amristar travel guide
There's no denying that Amritsar is crazy and hectic. I guess it all depends where you're at in your India journey. For me, fresh off the plane and about to embark on my solo travels in India, I couldn't help but feel overwhelmed. But if you've been in India a while, Amritsar might not even phase you!
Located in the state of Punjab, Amritsar has a mere 2.5 million people: a small city by Indian standards! It felt like all of them were swerving around me in tuk-tuks, looking intently and asking for selfies.

The city centre feels open and modern but it only takes a few turns to feel totally off-grid in a maze of muddy, noisy alleyways.

Due to the local vibe with lots of cheap eateries (plus the free entry and food at the Golden Temple), Amritsar was one of the cheapest places for backpacking in India.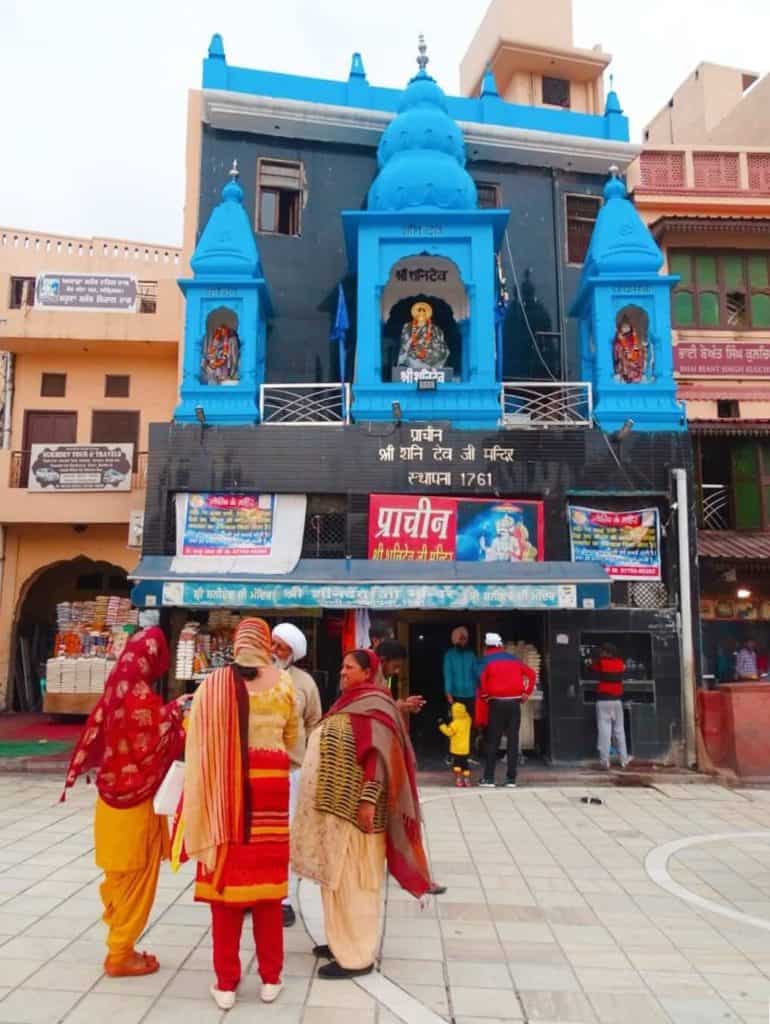 A quick history of Amritsar
Before we explore the many things to do in Amristar, let's touch upon the city's rich history. Over 500 years ago, the land Amristar is built upon was bought for 700 rupees. Bargain!

Guru Amar Das, the fourth Sikh guru, constructed Amritsar around a man-made pool that was to become the Golden Temple. For many years, it was a wealthy city known for music, arts, performance and philosophy, perched at an optimum location for trade.

Sadly when the British came to rule, Amritsar was drained of its rich assets. The city crumbled like many in India.

Other events that have shaped Amritsar's history include the Jallianwala Bagh Massacre where the British shot dead hundreds of innocent civilians, and Operation Blue Star, the standoff between the governments and militant Sikhs inside the Golden Temple. The government killed 83 Sikhs and the prime minister was subsequently assassinated by her two Sikh bodyguards. A bloody history, to say the least!
Getting to Amritsar
Air: I arrived in Amritsar by air from Thailand. While most people arrive into India via Delhi, if you're in Asia already, Amritsar is a good starting point. I use Skyscanner to book flights, searching by whole month to see the cheapest dates to travel. Search for flights to Amristar.

Book your airport to city transfer in advance.

Train: Amritsar Junction station will connect you by train to other cities including Delhi with 7 hours.

Bus: From Amritsar, you're well connected to the mountainous area of Dharmshala where lots of people go next.
Things to do in Amritsar
Rather than hundreds of activities, there are just a few main things to do in Amritsar. None were remotely similar to things I've done elsewhere so it was a memorable trip for me, even if I didn't particularly love the city itself. Starting with the most obvious one, these are my top things to do in Amritsar…
Related activity: Amritsar day tour
The Golden Temple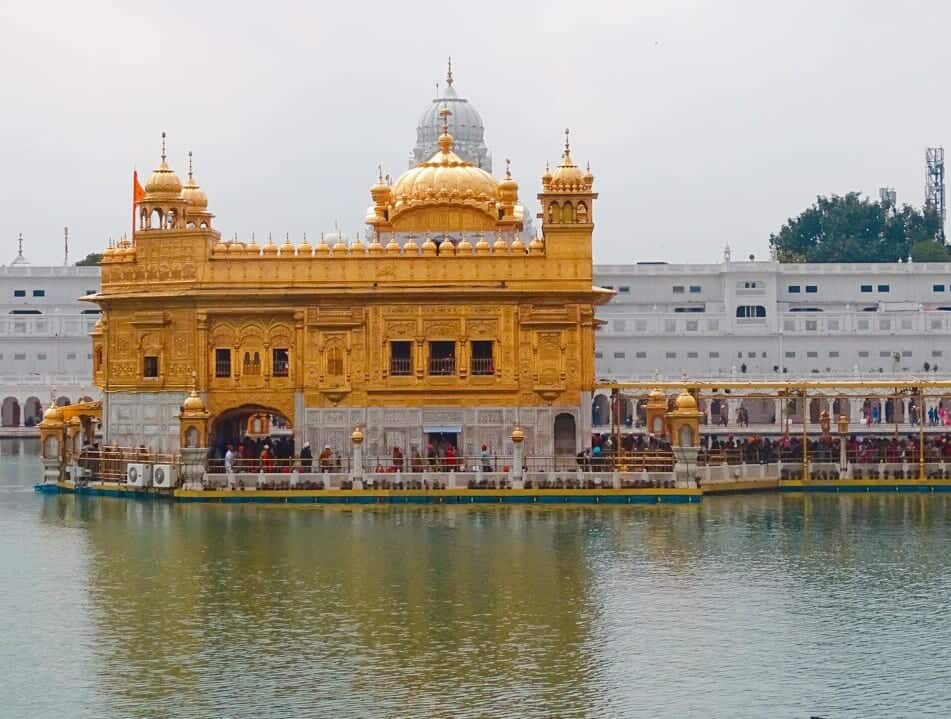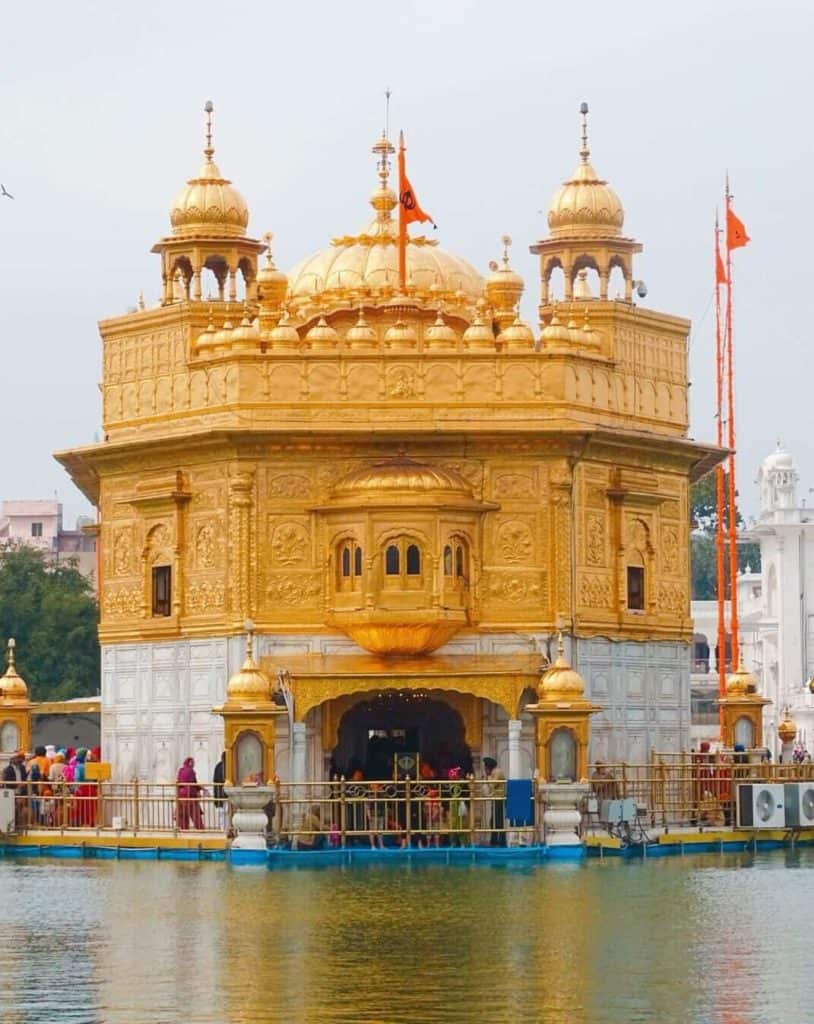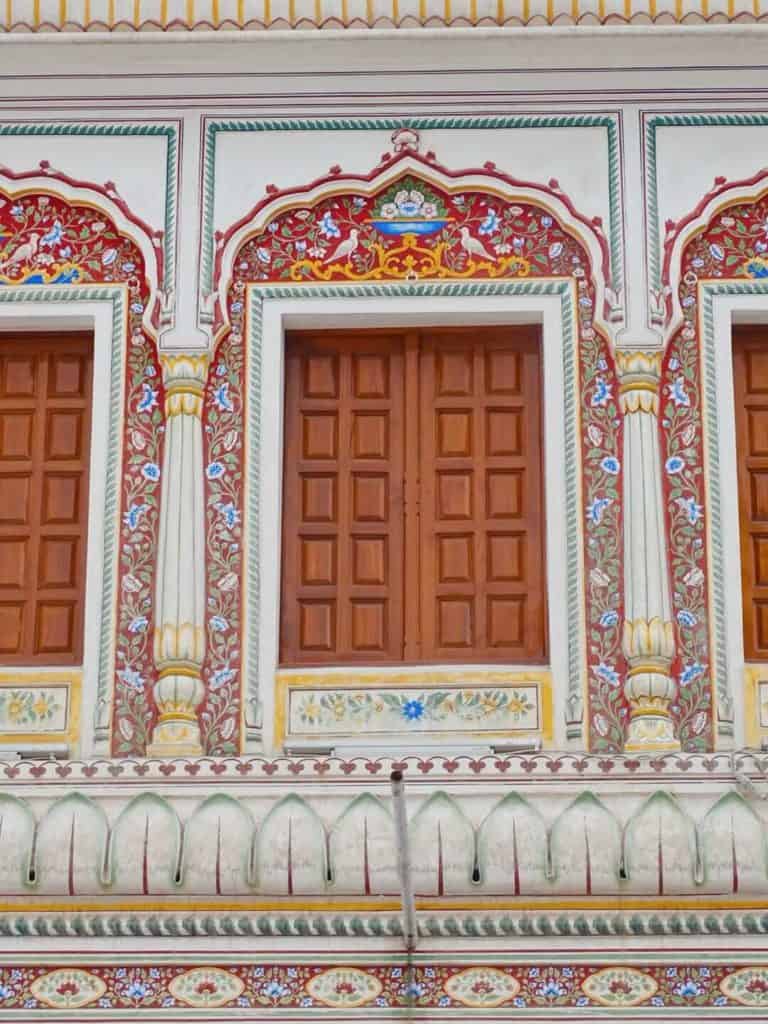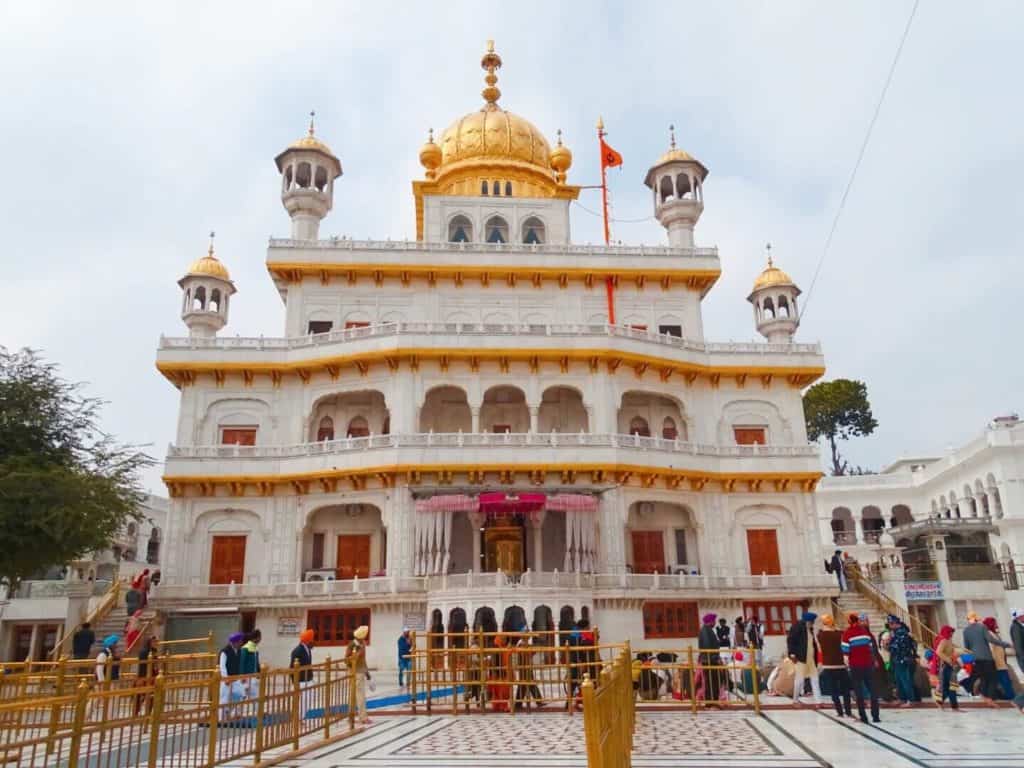 As the world's most important Sikh pilgrimage site, you can expect the Golden Temple to be busy. There are signs telling you not to take photos but, to be honest, everyone is!

The one place you really can't take photos is inside the Golden Temple itself but, depending on the length of the queue, you might not even go inside. I did during a rainy evening when the line was relatively short but usually it's 1-2 hours long! It was very atmospheric inside with lots of decadent details and locals at worship, but it really depends how long you're prepared to wait.

Visiting the Golden Temple is free. You have to remove your shoes and don a headscarf which can be borrowed at the entrance.
Eat at the Golden Temple Kitchen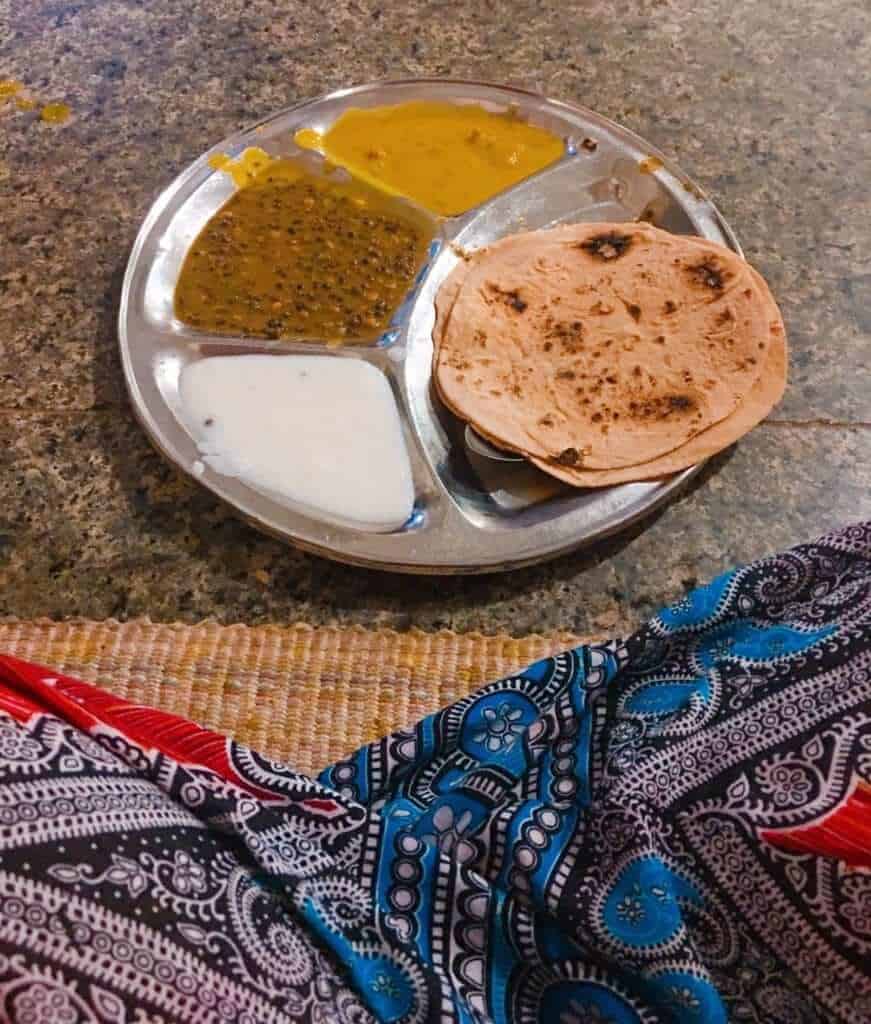 A weird and wonderful experience in Amritsar is dining at the world's biggest community kitchen which feeds 100,000 people a day. This is known as a langar to Sikhs.

I loved this experience because it was so unique: we sat cross-legged on the floor with a delicious dinner and hundreds of locals doing the exact same thing.

If you don't know, caring for others is a big part of the Sikh religion. Community kitchens are a common theme in temples around the world. You won't pay a penny for this meal which I think is so amazing and hospitable.

You're presented with an empty tray and servers come around to dole out scoops of dahl, curd and chapatis. I loved the efficiency of it all, including the water machines that pour into your cup without the staff having to bend down!

Food is available all day in the Golden Temple dining hall, so just arrive and make your way over there.
Volunteering at the Golden Temple
One of the most interesting things to do in Amritsar is volunteer at the Golden Temple Kitchen. Here, you'll help chefs prepare the food in bulk. I'd suggest doing this as part of a tour because your guide will know the chefs personally and help you get the best of the hectic environment.

I booked a tour with Incredible Amritsar and sadly had to cancel when I came down with food poisoning. It would have been awesome to stir the giant dahl pot and see hundreds of chapatis flipped by the industrial-sized dough machine. Next time!
The Golden Temple evening ceremony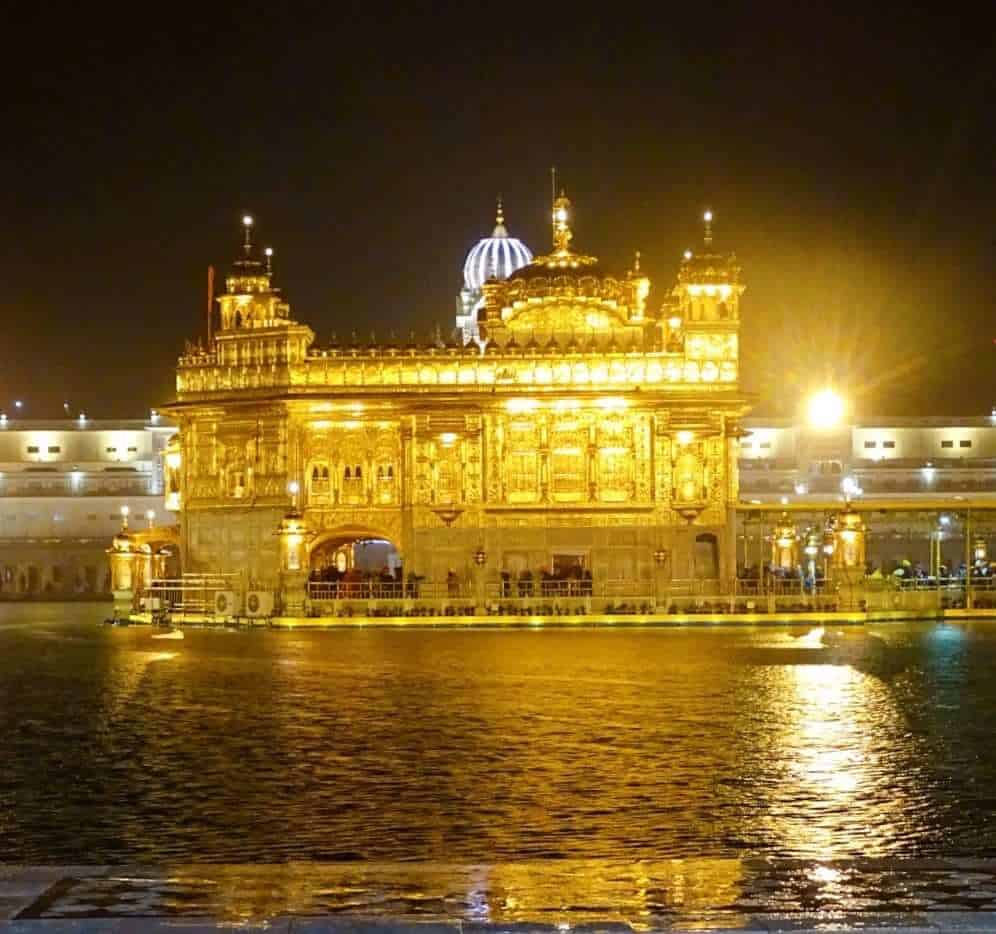 If you get the chance to visit the Golden Temple at night, I'd highly recommend it. While the daytime is better for photo opportunities, the evening is more atmospheric.

Every night at 9.30pm, the Palki Sahib ceremony sees the Sikh holy book, Guru Granth Sahib, get put to bed inside the temple. Temple guards carry it there while music plays and a crowd gathers, so it's an interesting ceremony to see.

I'd suggest arriving at the Golden Temple around 8pm. Eat a meal in the kitchen, then wait for the show afterwards. To learn from a local guide, take an evening temple guided walk.
The Wagah Border Show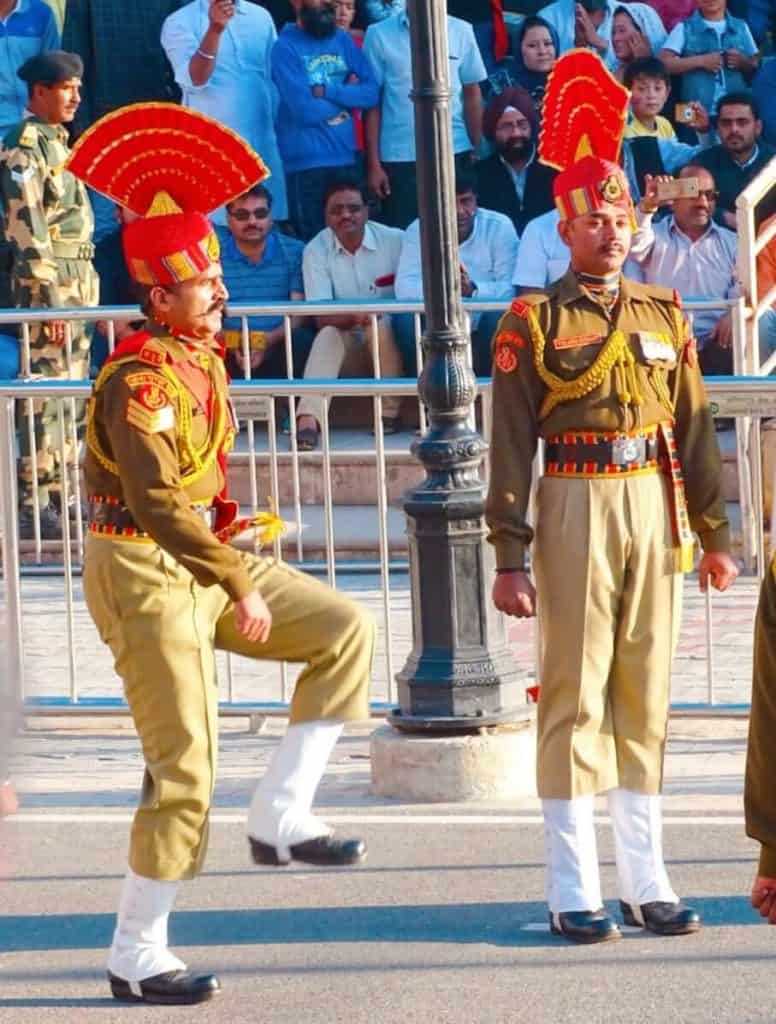 Despite the first four items in this blog being about the Golden Temple, there's one other very cool thing to do in Amritsar.

Every day at 4.15pm in the winter and 5.15pm in the summer, the border between India and Pakistan hosts a colourful, competitive dance show. Hundreds visit to cheer for India each day, and you'll glimpse people supporting Pakistan on the other side of the border.

Attending the Wagah Border show was one of the most exciting and random experiences I've ever had travelling. And that includes the time I watched a dance show in a Filipino jail then played badminton with the convicts!

Everyone was in great spirits and the high-energy dance show was just amazing. Expect elaborate costumes and some impressive high kicks.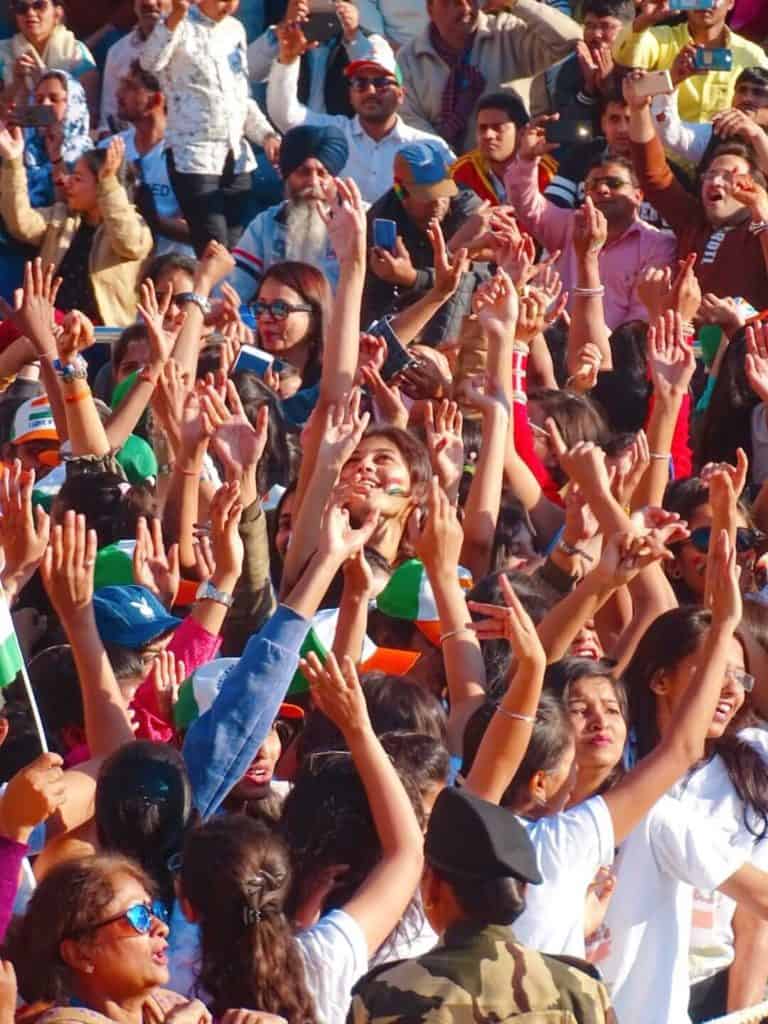 Related tour: small group city tour inc Wagah Border ceremony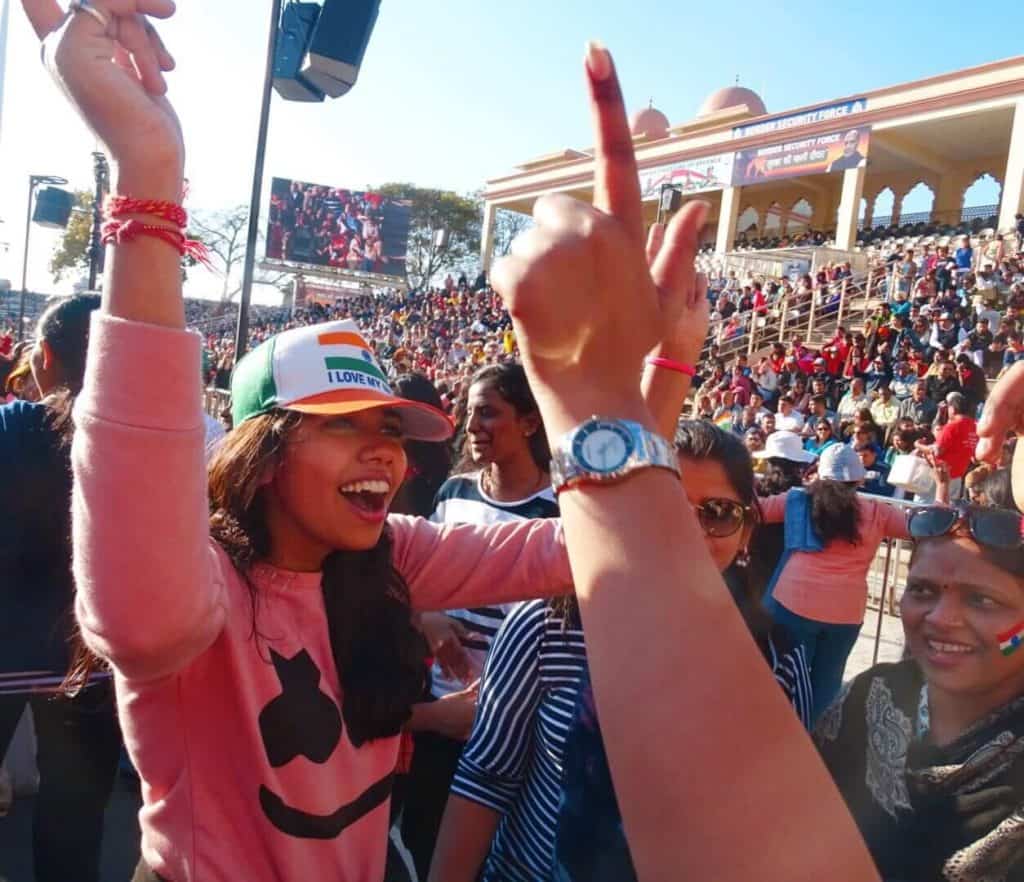 Our show begun with an energetic march and dance party from a hundred young patriotic Indian girls. We got up out of our seats and joined them!

I visited the Wagah Border, which is an hour's drive from Amritsar, as a tour with my hostel. However, it's easy to visit by taxi or tuk-tuk.

Every day in the central square, guides will hassle you with trips to the show, charging around 1,000 rupees per vehicle. Try and split the ride with other travellers if you can, especially because it's more fun in a group. The show is free to watch.
Jalliawala Bagh Memorial Park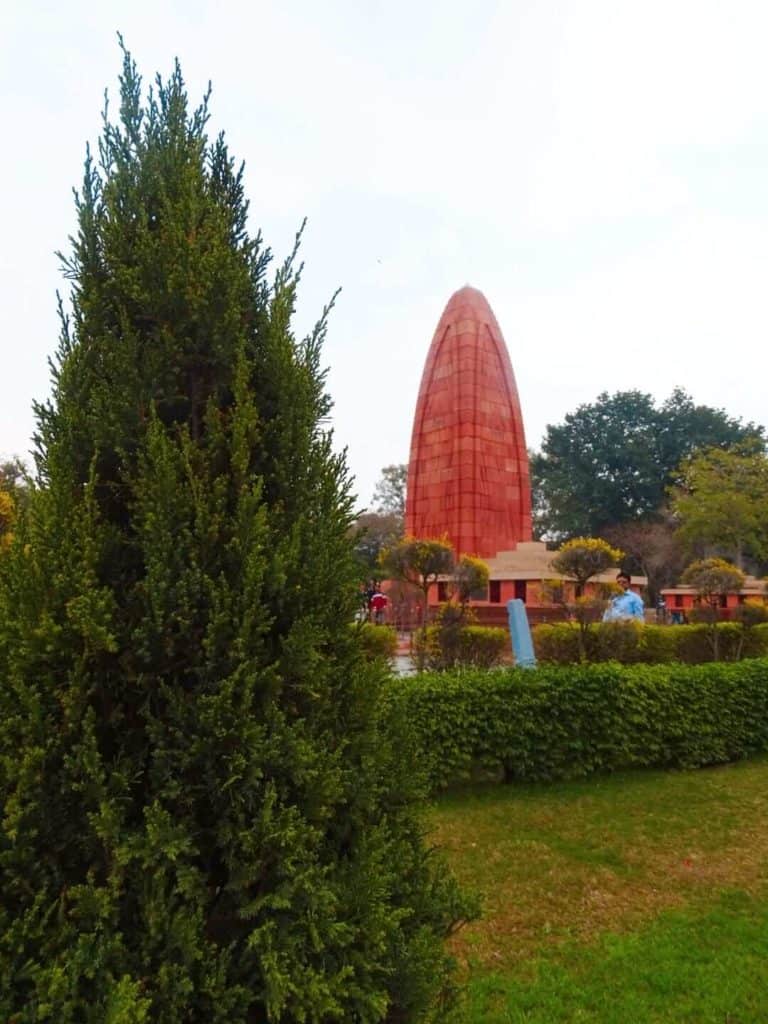 Not all the things to do in Amritsar are upbeat, as you'll find out at Jallianwala Bagh.

This memorial in the heart of Amritsar is dedicated to the hundreds of Indians who were brutally massacred at the hands of the British, all for holding a peaceful protest. My blood boils to think about this.

Indians come from far and wide to pay their respects at Jallianwala Bagh so it's an important thing to do in Amritsar. If you're British, you will feel no hate or judgement here, only sadness. An elderly man, who must have been a boy when it happened, didn't miss a beat when I told him where I was from. He smiled and welcomed me to his country.
The Partition Museum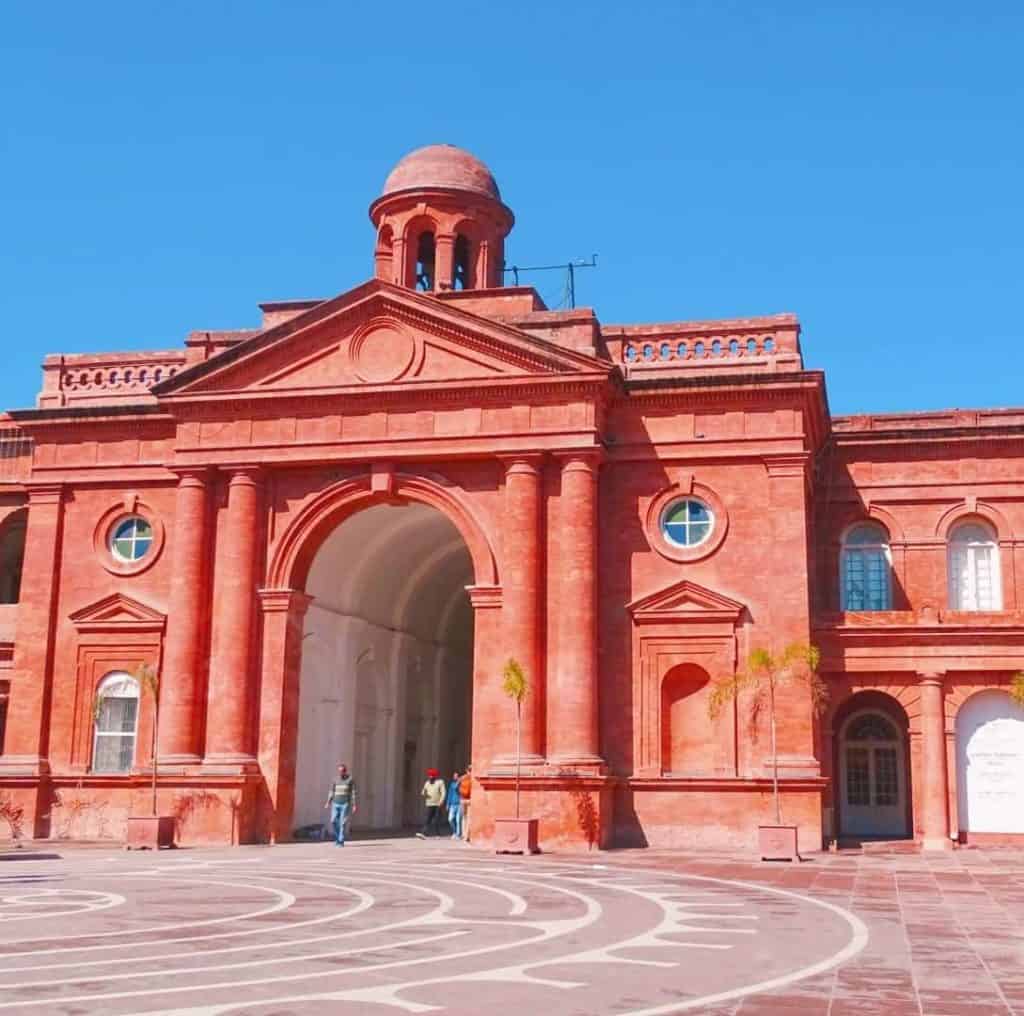 After seeing the Jallianwalla Bagh Massacre Monument, I knew I had to go to the Partition Museum, however hard it might be.

If you don't know about Partition, it's not your fault. Our ancestors swept it under the rug on purpose but let me tell you, you need to know about this. Here's a quick summary:
Britain ruled India for 100 years, draining 167 million USD from the economy, using it to extend their empire and forcing Indians to live on 2.5 cents a day. Eight million Indians died of famine
The British used divide and rule tactics to separate Muslim and Hindus therefore reducing the threat of united rebellion
The people of India were desperate for the British to leave and launched the Quit India movement
On their exit, the British split India and Pakistan, knowing that relationships between Muslims and Hindus were stretched beyond repair, intending Pakistan to be a homeland for Muslims
The nation woke up to find new borders had been drawn up and 15 million people were displaced as a result
Partition was the largest migration in human history, fraught with violence. One million Indians died and most people today cannot track their ancestors as a result.
Heartbreaking as it was, I'm grateful I got to learn about the history of Amritsar at this memorable museum. Entrance is 250 rupees for foreigners. If you wish to understand more, book a guided tour ($13).
Shopping & wandering the central square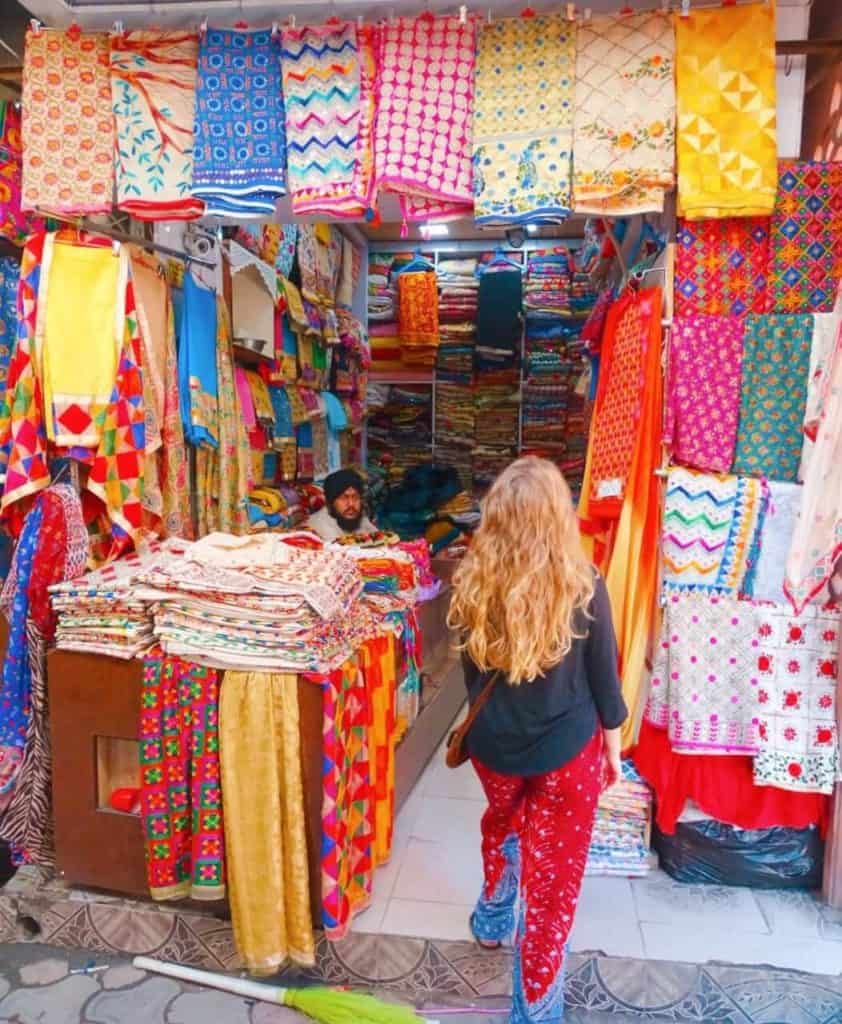 As I mentioned earlier, the outer streets of Amritsar are busy, hectic and overwhelming. However, the central square near the Golden Temple feels modern and well-organised. It's a nice place to wander with some impressive architecture.

You can get some total bargains while shopping, especially with these gorgeous shoes which are famously from Punjab. There are also lots of stalls selling kulfi (milky frozen yoghurt) and lassis.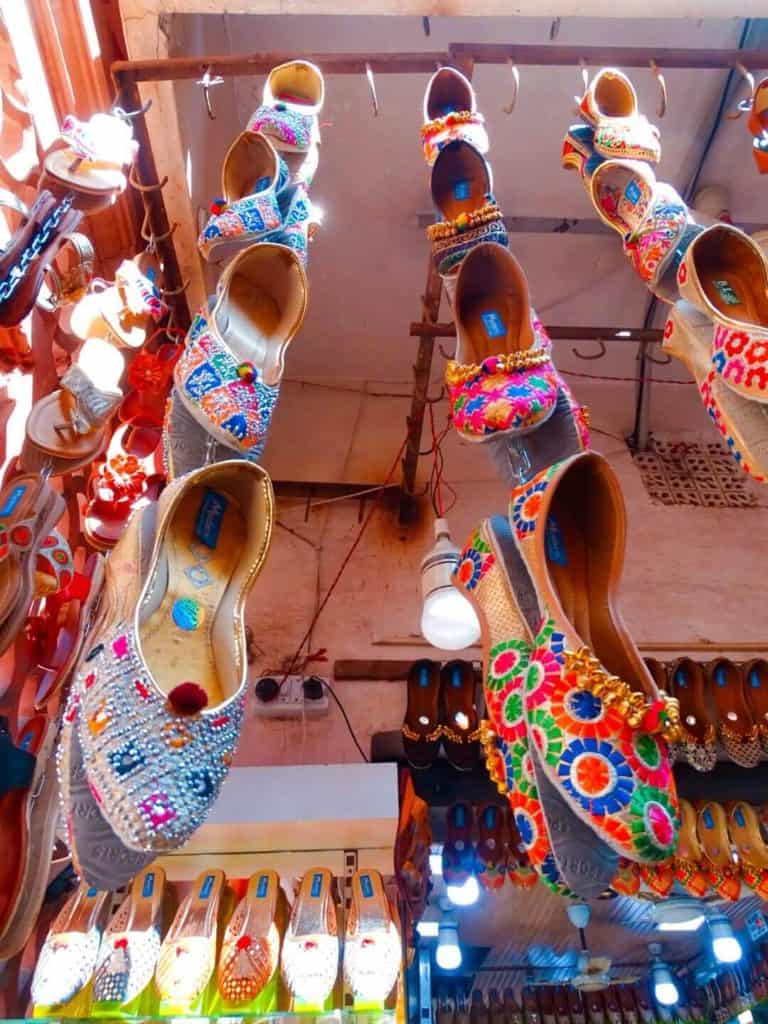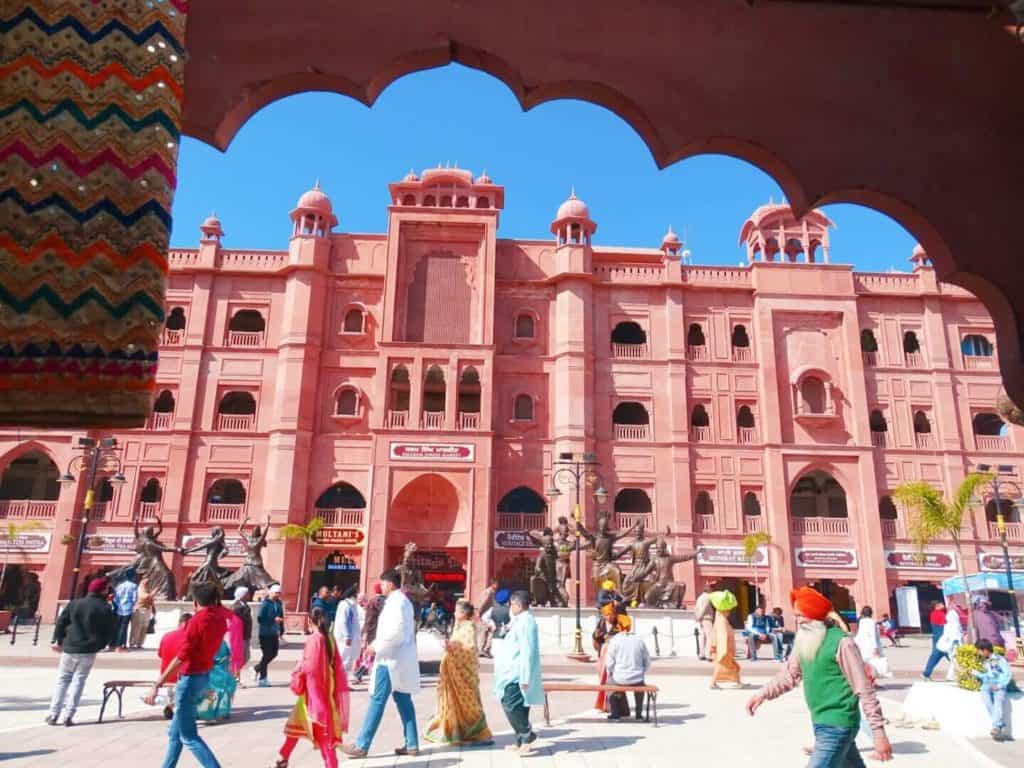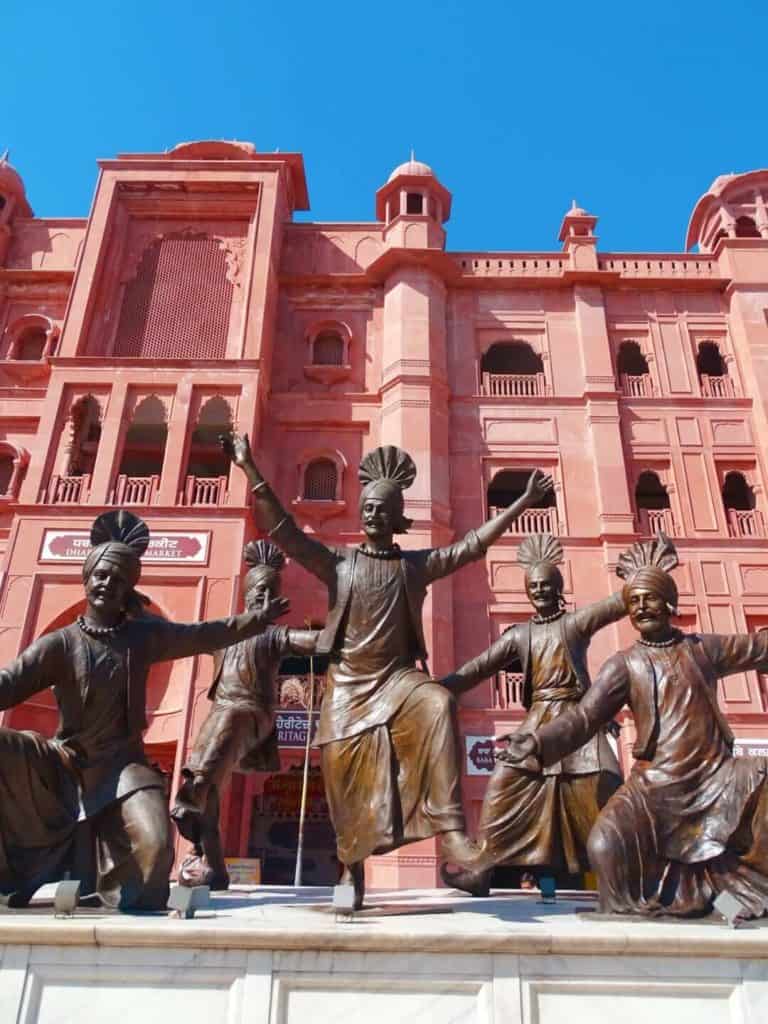 Take a village tour
Before I'd even got off the plane in Amritsar, my seatmate had encouraged me to visit the surrounding villages and even invited me to his house! While the latter wasn't on my itinerary as a solo female traveller, I have no doubt he was being genuinely hospitable.

While I didn't make it to the villages in the end, I hear they're very scenic. The state of Punjab is known as a friendly and safe place, though I would recommend travelling with a reputable tour agency.

Your accommodation can likely arrange a village tour for you, otherwise you can visit any tourist agency in the city centre.
Related tour: evening tour to Sadda Pid village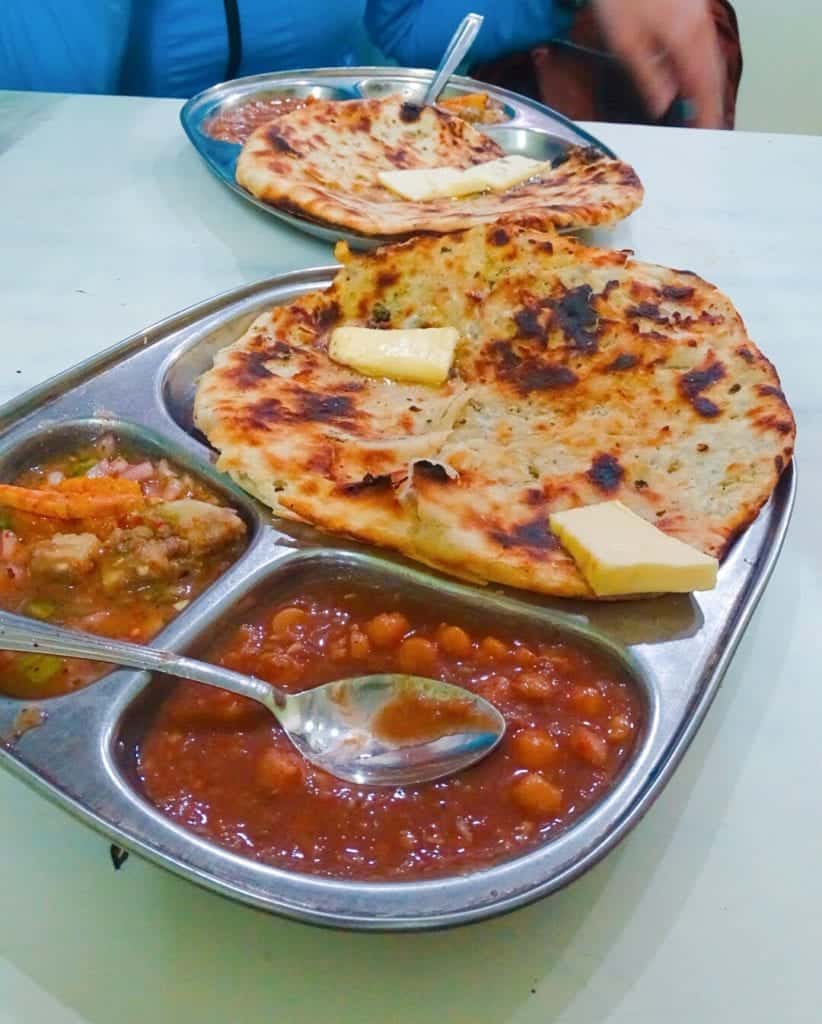 Where to eat in Amritsar
No Amristar travel guide would be complete without the best foodie finds. Amritsar is sometimes referred to as the 'secret foodie capital of India' although whether this is just by the patriotic locals I'm not sure. Still, there's no denying that the food in Amritsar is seriously good.

I hadn't had a real Indian meal since my last trip 3.5 years ago so you can guarantee I was loving it… Until I got sick!

All the places I ate were fantastic – very popular and busy – so I don't know if my sickness even came from something I ate or perhaps some bacteria or water I came into contact with elsewhere. It's just impossible to know!

I still want to share my foodie finds with you as I don't think any of these listed were the cause. But as usual, use your own judgement, too – it's all too easy to get sick in India.
Related activity: food walk with a local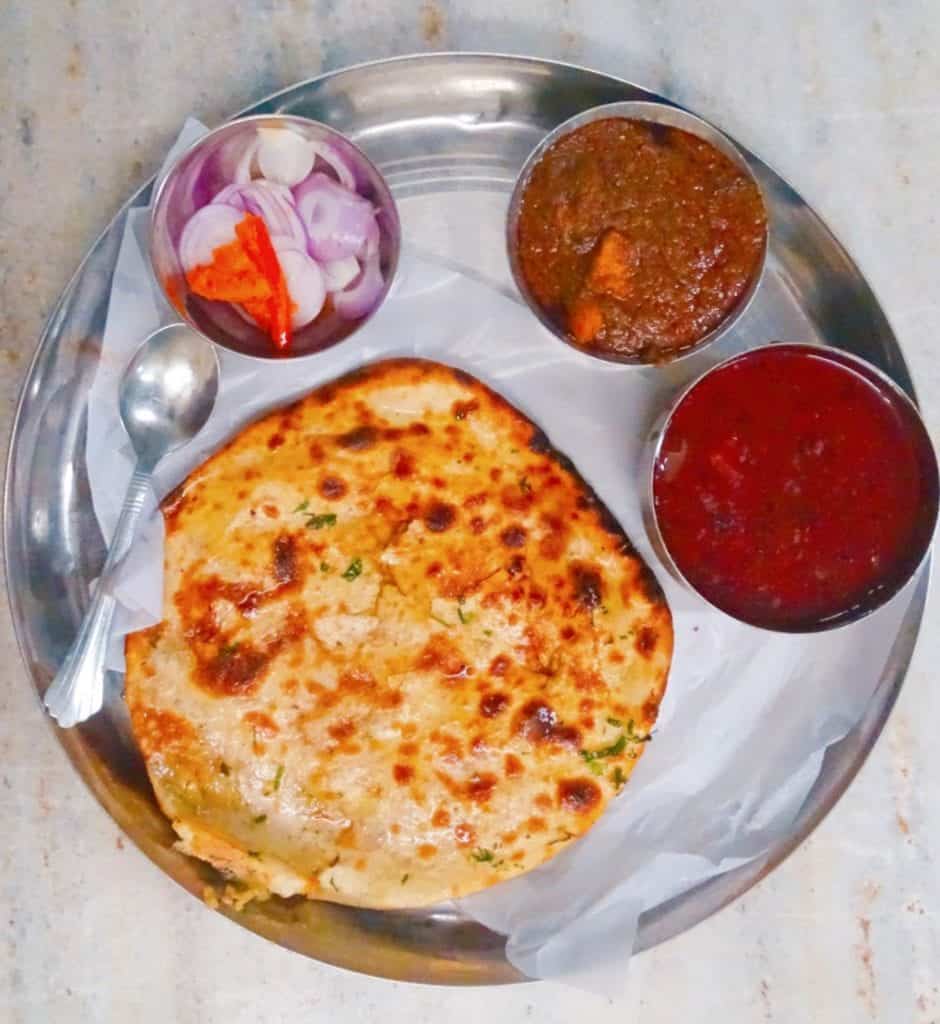 Best food in Amritsar:

A famous 'kulcha' breakfast – this thick bread dish is a bit like naan and served with butter, chickpeas and other flavoursome dips. Eat it at Bhai Kulwant Singh Kulchian Wale for 80 rupees including chai.

Kesar De Dhaba – the most famous Punjab restaurant in Amritsar, hidden down a local alleyway. Order the palak paneer!

Gurdas Ram Jalebi Wala – if you don't know it already, jalebi is a deep fried dough dessert served in sticky syrup. This street vendor is renowned after serving it for many years.

The world's only vegetarian McDonalds – a random one but interesting nonetheless. You can find this restaurant in the main square.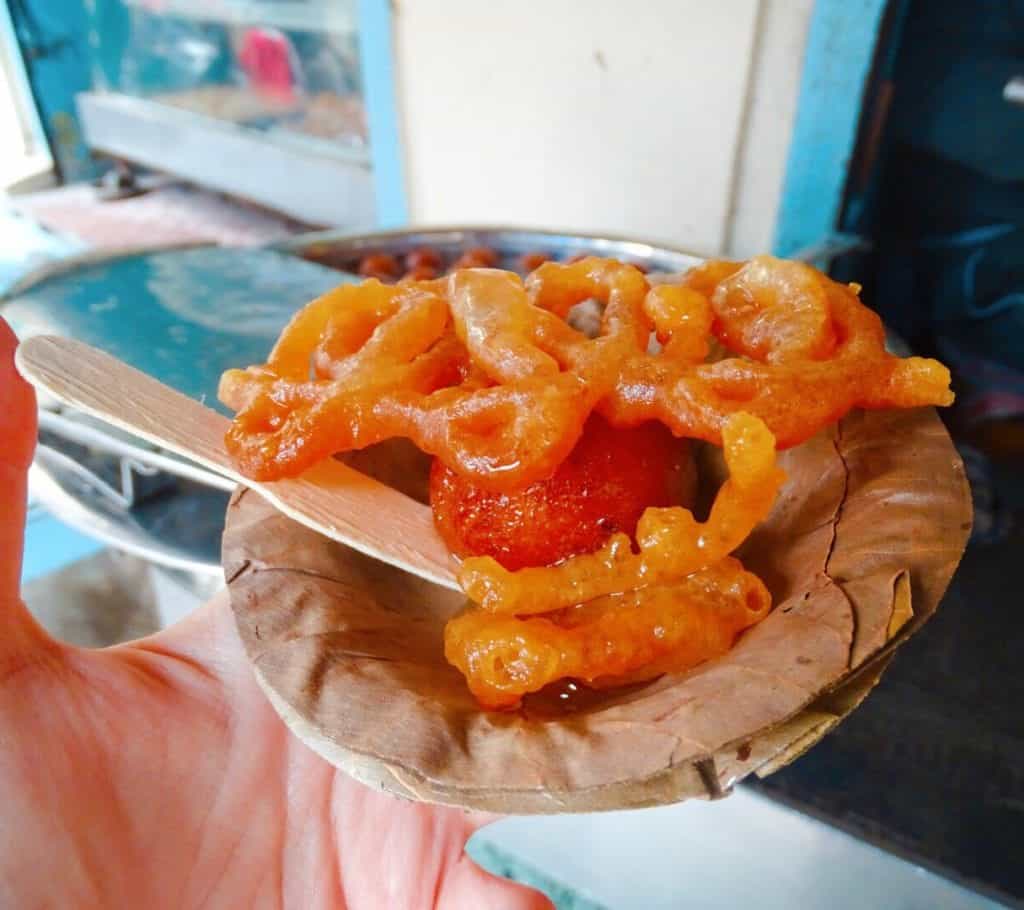 How long to spend in Amritsar?
Honestly, you don't need too long. You could see the Golden Temple in the morning and visit the Wagah Border in the afternoon, packing all the highlights into just one day.

If you plan to wander, try a lot of local food or go on a village tour/food tour/walking tour, you could easily spend longer. I enjoyed seeing the Golden Temple during both daytime and nighttime, so I'd recommend allowing enough time to do both.

The 9.30pm performance of putting the book to bed will clash with the Wagah Border show so you'll need two different days. Around three days is probably optimum.
Suggested itinerary
Day 1: Visit the Golden Temple in the day and head to the Wagah Border in the afternoon (4.15pm in winter and 5.15pm in summer).

Day 2: Do some shopping or visit the Partition Museum. See the Golden Temple at night or consider volunteering there.

Day 3: Take a village tour, food tour or anything else you fancy. If you're heading to Dharamsala next as I did, you could catch the 6pm bus at the end of day 3.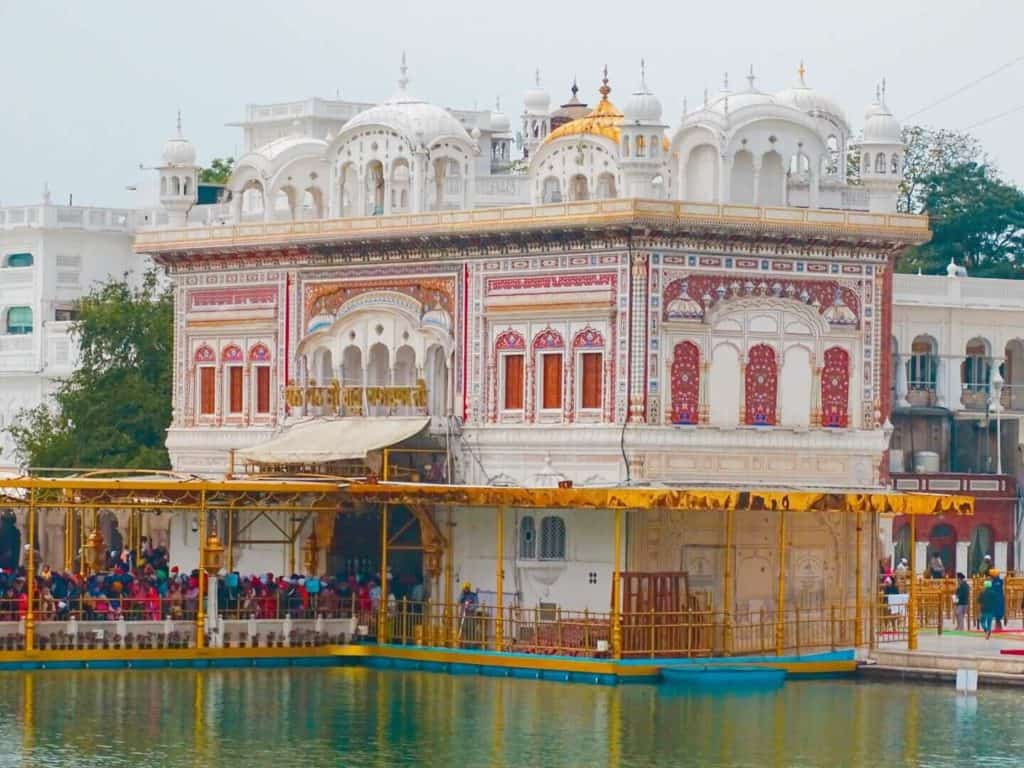 Hope you liked these Amritsar things to do!
I hope you're ready to explore the best things to do in Amritsar. Drop me any questions in the comments and check out my other Indian blogs:
See you next time for more adventures,
Rose
For more travel content, follow me on Instagram, Facebook, Twitter and YouTube.
Ps. Liked this Amritsar travel guide? Pin it for later!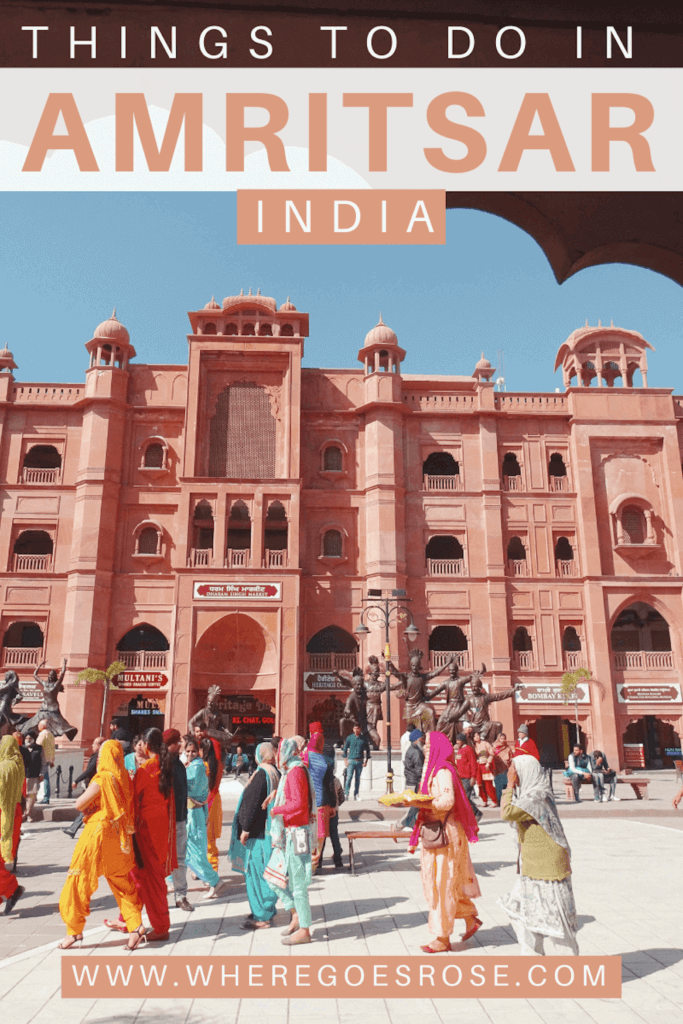 VISITING INDIA?

These are my trusted resources:

Getting around by air – it's easy to get between cities by flight. I use Skyscanner and search by whole month to find the best value dates.

Buses – buses are comfy and efficient. Use 12Go to book.

Trains – these are a good option for long journeys because you have a bed rather than a seat. Use 12Go to book.

For hotels, I use Booking.com – they also have self-catering apartments. You can filter by review score and price to find the best-rated budget places. For hostels, I use Hostelworld.

Browse tours and activities on GetYourGuide. I also check Viator and Klook in case they have a better price.

For food experiences with passionate local chefs and foodies, check out EatWith.

Pack the latest copy of India Lonely Planet.

Need travel insurance? I use True Traveller (for UK & Europe residents) since it's affordable but covers everything you'd need including various activities, valuables and pre-existing conditions. Unlike some companies, they insure you if you're already travelling / don't yet have your flight home booked. Get a quote.

For travel insurance for other nationalities, I recommend Hey Mundo and for long-term digital nomad travellers, I suggest Safety Wing.

Check out my resources page for more travel discounts and tips!