This post may contain affiliate links to things like tours, hotels, Amazon associates and products. These help me earn a small commission at no additional charge to you.
When I started planning my Wales trip,b Anglesey was one of the places I was most excited to explore. From castles to beaches galore, I'll share what to do on Anglesey Island and everything you need to know for a memorable visit.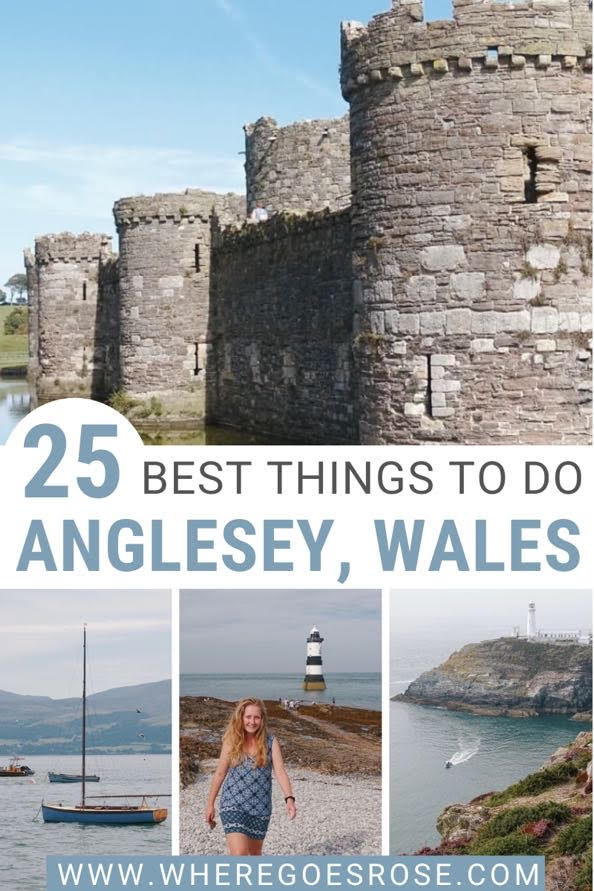 How long to spend on Anglesey
Well, how much of it do you want to see?

Sure, you could tick off a few of the things to do on Anglesey during a half-day trip. But even with a full day, you're looking at a handful of attractions. To see all the places in this guide, I'd recommend at least 3 days.

You have two options: stay overnight on Anglesey, or stay on the Welsh mainland and drive over the bridge during a day trip(s). We were staying just a 5-minute drive from the Menai Bridge so it was easy to pop over and explore.
Where to stay on Anglesey, Wales
If you choose to stay overnight, there are plenty of accommodation options whether you would prefer to be based in a town or somewhere more rural.

Glamping – for an affordable but comfy option, check out Coastal Pods on Holy Island, Anglesey. These pods have tea & coffee facilities and BBQ access. Book from £60 per night.

B&B – by Red Wharf Bay Beach, Lon y Traeth Bed & Breakfast is near to most places on Anglesey. With friendly hosts, beautiful rooms and hearty Welsh breakfasts, it's a lovely home from home. Book from £90 a night.

Hotel – near Amlwch in North Anglesey, Trecastell Hotel is one of the highest-rated hotels on the island. With a restaurant, bar and sea views, it's perfectly placed for beaches and watersports in Cemaes. Book from £90 a night.

Apartment – for total privacy and self-catering convenience, stay at Y Gorsaf in Llanfairpwllgwyngyll. The stylish apartment has two bedrooms, a dining room and a fully equipped kitchen. Book from £100 a night.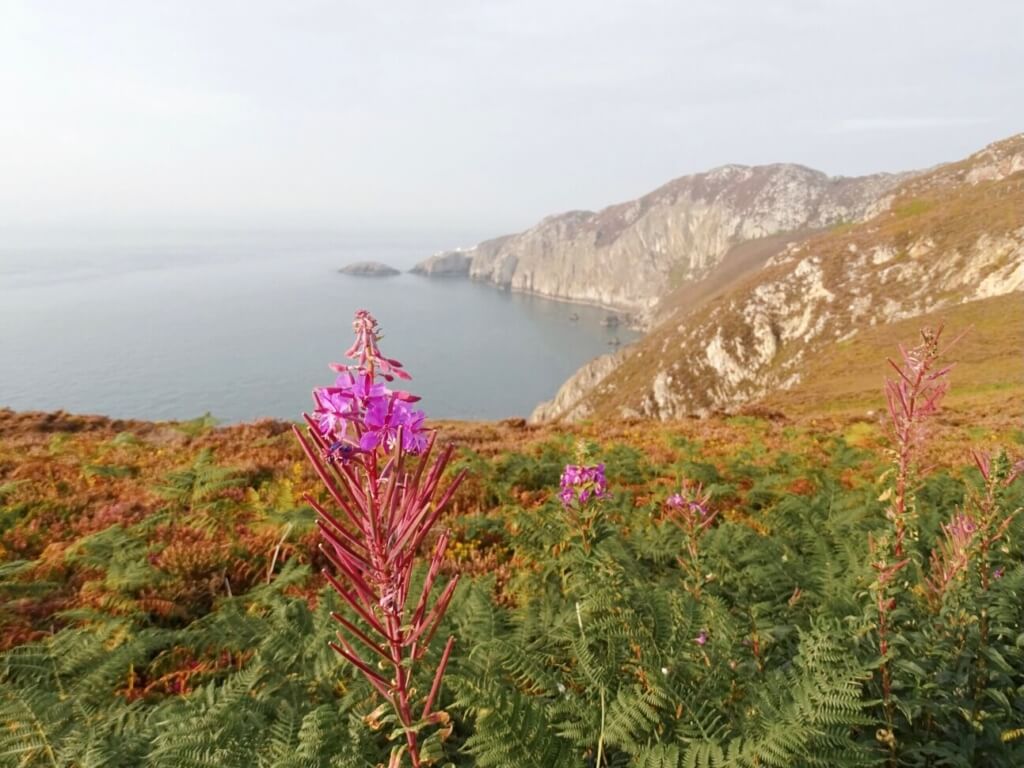 How to get to Anglesey
By car: Take the North Wales Expressway or the Menai Bridge.

By train: There are several stations on Anglesey most located in the south and east, however you can travel by train all the way to Holyhead, the furthest point from the mainland on separate Holy Island.

Trains from London change in Crewe, whereas trains from Manchester and Liverpool change in Chester.

By bus: It's easy to catch the bus from Bangor to Anglesey. The X5 service runs all the way to Holyhead, making stops along the way.
How to get around Holy Island
What to do in Anglesey
There are endless tourist attractions on Anglesey – both natural and manmade – so, unless you have a week to spend exploring, you'll want to do your research in advance.

You may wish to pick a handful of the best activities on Anglesey and tick them off them throughout the day. Another option is to focus on one side/coast of the island and explore it in depth.

Notes:
All these attractions are listed on the map above so use it to plan your trip. Remember it's a large island so factor in journey times between stops.
I've listed these attractions loosely in order of south to north. Keep reading for my Anglesey day trip itinerary.
These are a handful of the best places to visit in Anglesey, Wales…
1. Menai Suspension Bridge Viewpoint
Before the building of the Expressway, Menai Bridge was the only way to access Anglesey by road. Prior to Menai, farmers used to have to make their sheep swim the distance! Menai was also the first and most impressive suspension bridge of its kind: an architectural masterpiece that wowed the people of the 1800s.

Menai Suspension Bridge Viewpoint is the best place to admire not just the bridge but the sweeping scenery of the Menai Straits.

Enter LL61 5YH into your satnav and pull into the roadside parking area to snap photos before moving on.
2. Church Island
One of the most worthwhile things to do on Anglesey is discover the many small islands surrounding it. One of these is Church Island, a tiny speck of land near Menai Bridge.

Church Island measures 2 acres in size and has a small church and a memorial to soldiers lost to WWI and WWII. The only way to reach it is by foot. Stroll along the slim causeway admiring views of the Menai Straits.

There's pay and display parking on Mona Road (LL59 5EA) or you can park in Waitrose car park for free (although I don't think they like you doing this).
3. Llanddwyn Bay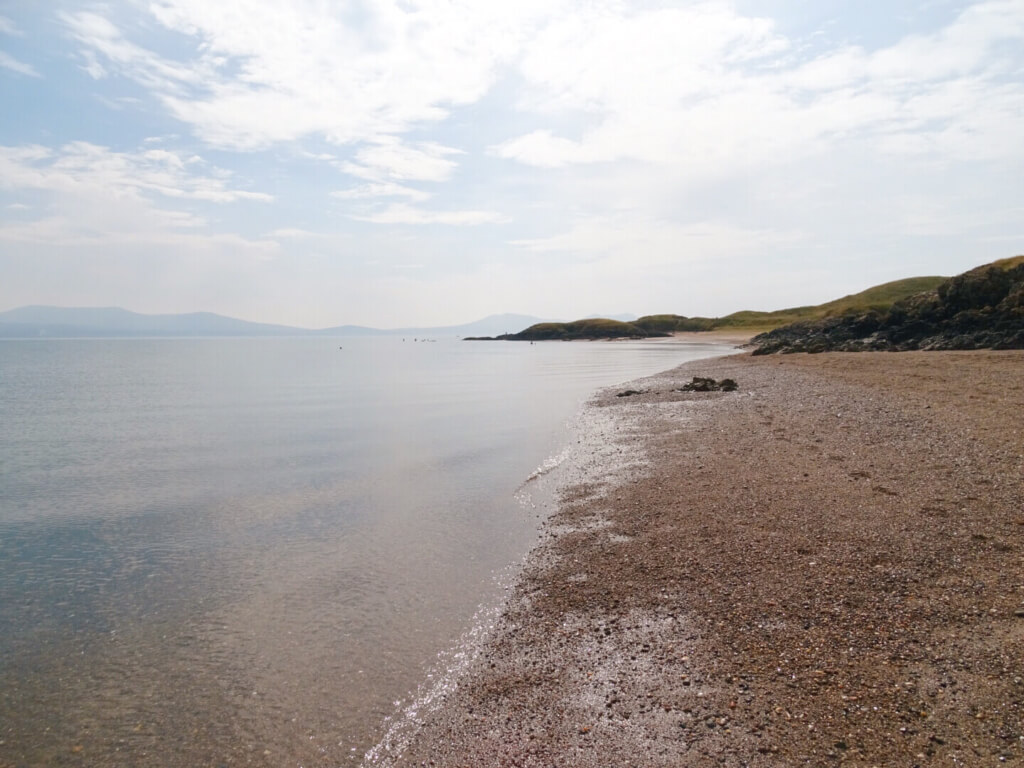 Of all the beaches on Anglesey, this is easily my favourite. The sandy coastline stretches for miles and the sea is shallow with gentle waves. During my September visit, the water was surprisingly warm. Perfect for paddling!

Llanddwyn Bay is buffered by forest and dunes which not only add to the striking scenery but provide a sense of privacy. You feel a million miles from civilisation, yet you're conveniently nearby when you want to arrive or leave.

There's a large parking area with toilets and a few refreshment stands. The Bay is a popular place for kitesurfing and a convenient launching point for walks in Newborough Forest.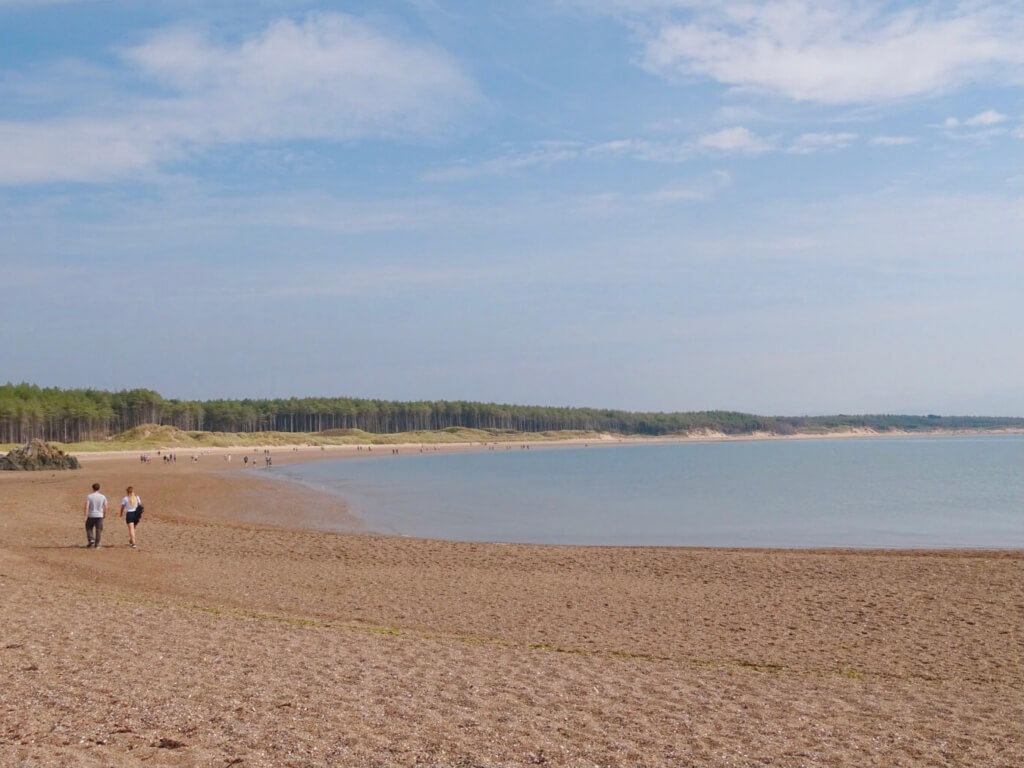 Llanddwyn means 'Church of St. Dwynwen' referring to the patron saint of lovers. In Dwynwen's honour, cards and presents are given on the 25th of January. A Welsh version of Valentine's Day, if you will!

Getting to Llanddwyn Bay: It can be found in the southeast corner of Anglesey, a 30-minute drive from Menai Bridge. Enter LL61 6SG into your satnav. If you choose to journey around Anglesey in a clockwise direction, it would make a lovely first stop. Spend the morning relaxing on the beach, taking a dip in the sea and hiking to…
4. Llanddwyn Island (Ynys Llanddwyn)
This tiny 'island' is separated from Anglesey during high tides but, for the most part, it's easy to reach Llanddwyn Island from Llanddwyn Bay. Simply turn right when arriving on the beach and walk to the end. You can't fail to miss this craggy island with a lighthouse perched on its tip.

Here, you'll find the remains of Llanddwyn Chapel, a pilgrimage site relating to Dwynwen, patron saint of love. It's thought she lived out her days on this island after escaping an unhappy marriage.

The chapel dates back to Tudor times when the island became a pilgrimage site for young lovers, particularly those wanting to carry out a test involving handkerchiefs and eels to see if their partner was a match. Sounds legit 😉

Tip – Read the information board at the start of the walk and bring some decent footwear. You don't need hiking boots but something other than flip-flops is recommended. I watched some people attempt it with bare feet and have to turn back.
5. Walk Anglesey Coastal Path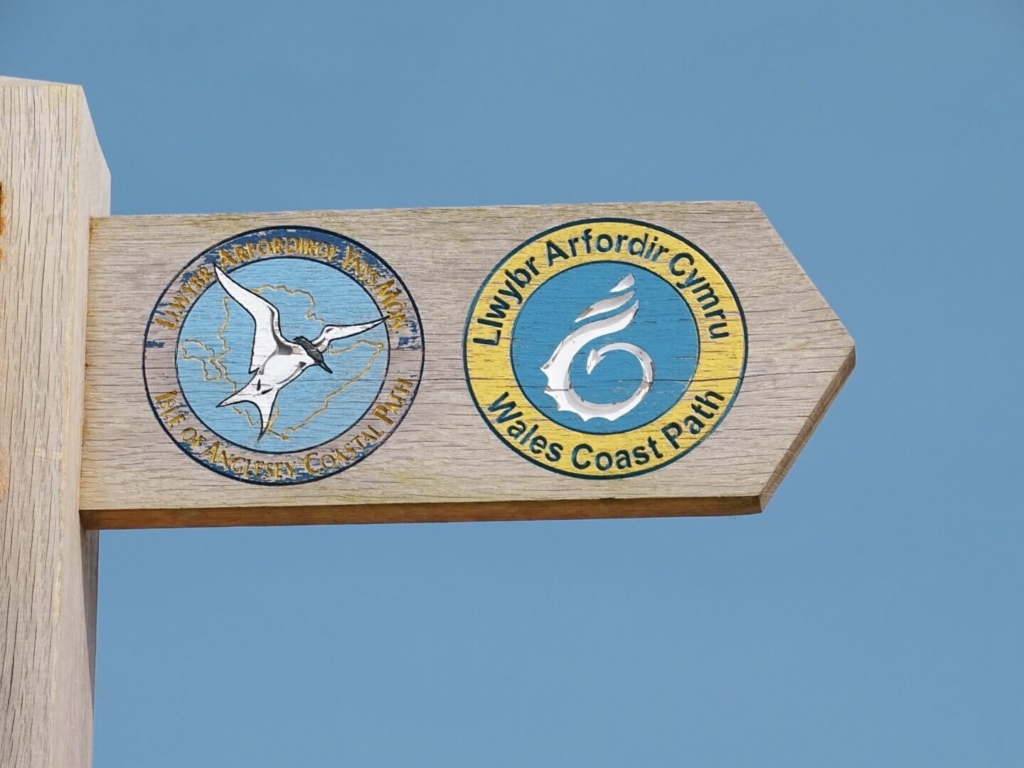 As you may know, Wales is the only country in the world with a complete coastal path. Walking its entirety would take months but you could try to tackle the Anglesey part – or at least a section of it.

The Isle of Anglesey Coastal Path runs for 130 miles through countryside designated an Area of Natural Beauty. If you begin at its official starting point of St Cybi's Church on Holy Island, it will take 12 days in total.

The route is broken down into 12 sections (one per day) so an easier option is to follow one section during a day hike. Decide which and download the routes on the Isle of Anglesey Coastal Path website.
6. Find Wales' longest place name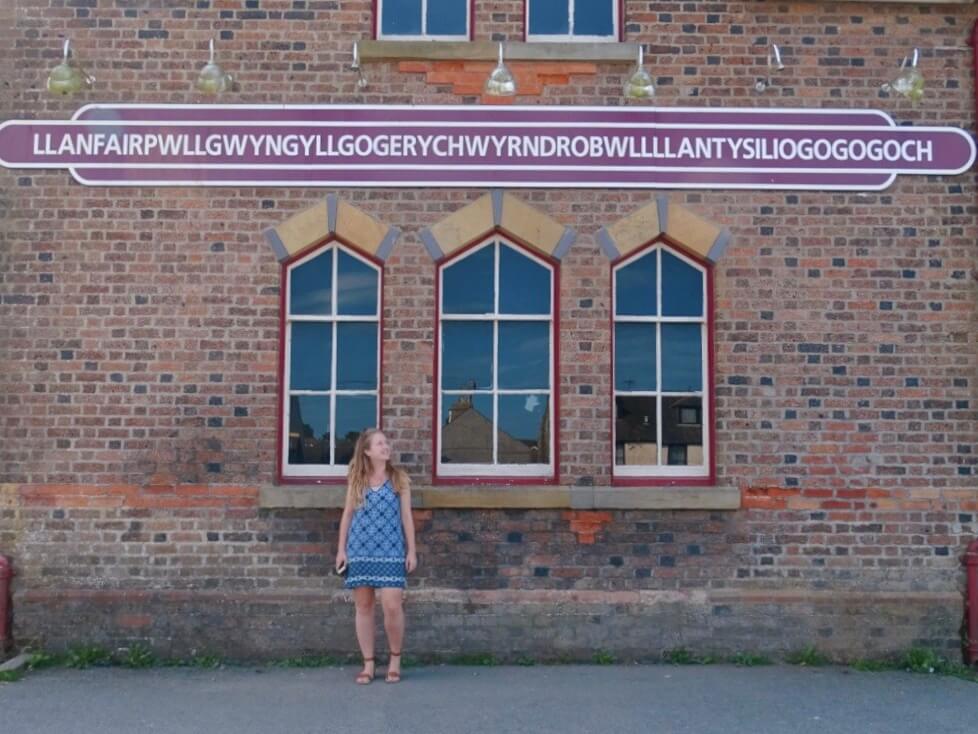 Undeniably one of the most sought-out attractions in Anglesey, this town near Menai Bridge has the second-longest name in the world! With 58 letters, it's only trumped by the longest place name in New Zealand with 85 letters.

The full name of this Welsh town is: Llanfairpwllgwyngyllgogery chwyrndrobwllllantysiliogogogoch!

It's often shortened to Llanfairpwll. Which I still don't have a clue how to pronounce, to be honest 😉

Although the train station in the town is functional, the platform has become somewhat of an Anglesey tourist attraction. As you can see from the photos, I took more than one opportunity to pose with the sign!

There are THREE signs: one at the front of the station and one on either platform. You don't need a ticket to walk on either platform, only to board a train.

Address: LL61 5UJ. Make sure to follow directions to the train station, not the town itself.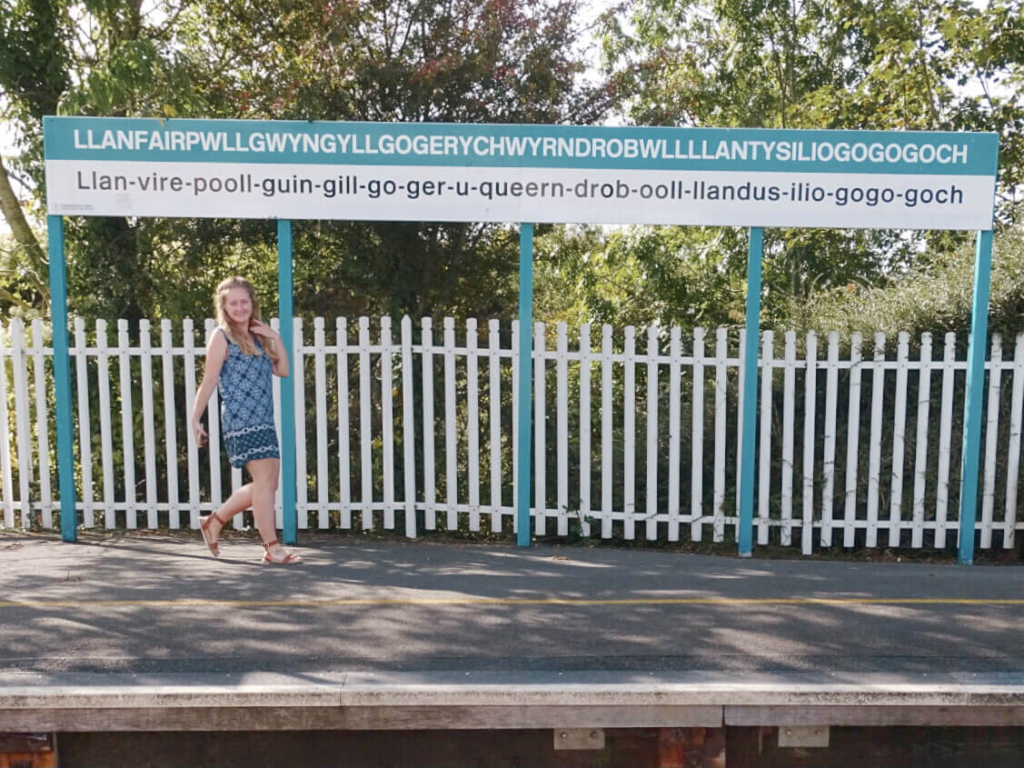 7. Plas Newydd
National Trust members can give their passes a run for their money at Plas Newydd, a country house with vast grounds including manicured gardens and woodlands boasting a view of Snowdonia.

Take a tour of the house and admire famous yet unfinished paintings by Rex Whistler and wander in 129 acres of woodland. In the grounds, you'll find everything from wildflower meadows to an Arboretum and flower gardens from around the world.

The ticket price for non-National Trust members is £10 for adults and £5 for children.

Address: Llanfairpwllgwyngyll, LL61 6DQ.
8. Plas Cadnant Hidden Gardens
Although it's hardly a hidden gem these days, Plas Cadnant Hidden Gardens is one of the best places in Anglesey to escape the crowds and relax in peaceful surroundings.

Get lost in the set of three large gardens featuring elaborate topiary, a wood and a waterfall. Afterwards, there's a lovely cafe with coffee and cakes. Entry is £8 for adults and £2 for children.

If you're really craving solitude (and have the budget for it), there are a collection of self-catering cottages in the gardens where you can stay overnight.

Address: LL59 5NH.
9. Beaumaris Castle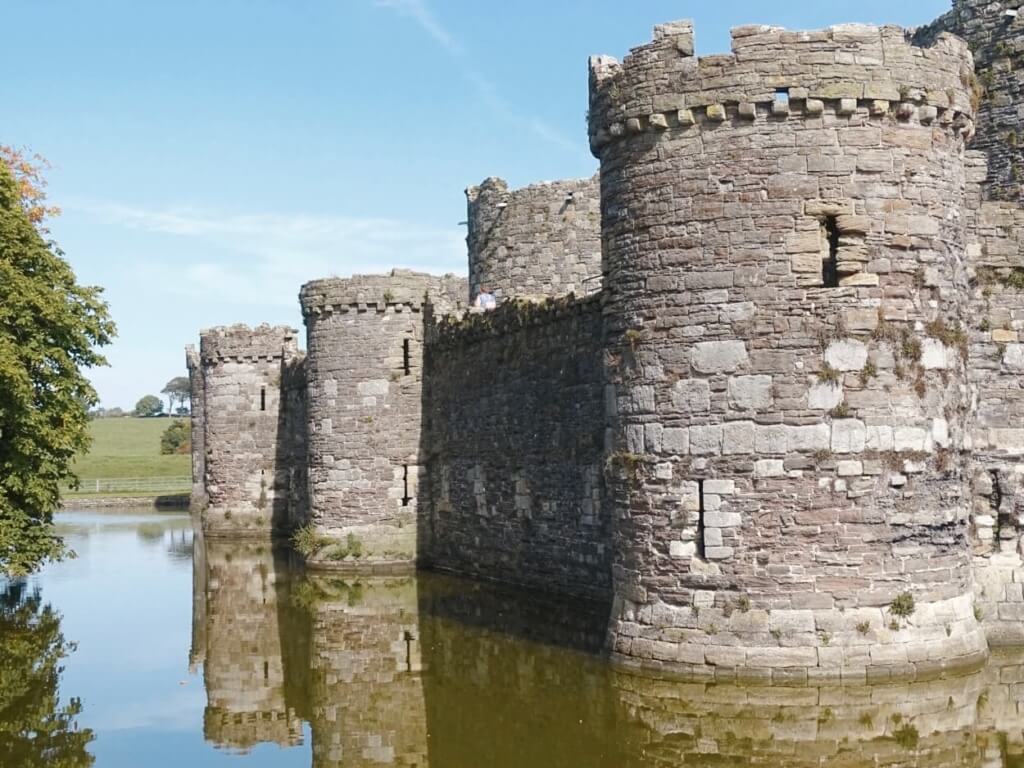 Majestic Beaumaris Castle is one of the most famous attractions in Anglesey. Its name derives from beau mareys, meaning 'beautiful marsh' referring to the flat land it's built on.

Like many Welsh castles, Beaumaris was built as part of Edward I's mission to conquer Wales. Although it looks remarkable by my standards, it was intended to be even grander, earning it the title 'the greatest castle never built'.

A lack of funds and conflict elsewhere meant building work was halted and Edward I's complete vision never came to life. However, it's still managed to bag a slot on the World Heritage Site list.

Ticket price: Adult tickets cost £7.40, child tickets cost £5.20 and family tickets cost £24.40.

Address: LL58 8AP.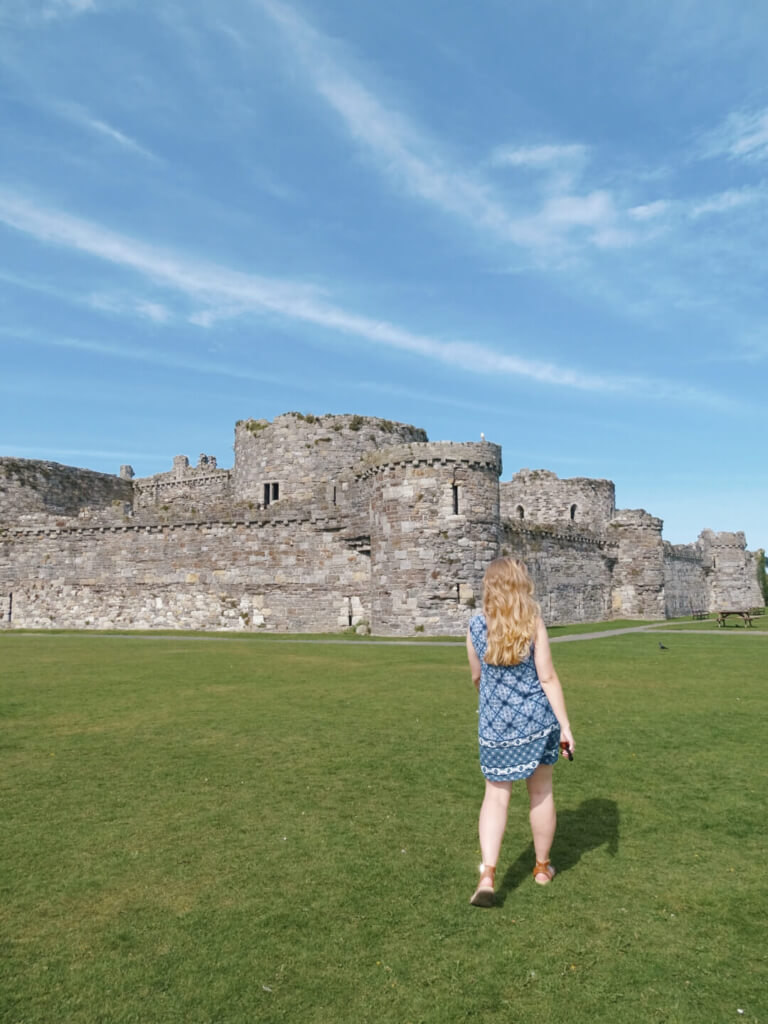 10. Beaumaris Pier
If visiting Beaumaris Castle, don't overlook Beaumaris town. As well as Beaumaris Gaol, there are some quaint shops and cafes worth a visit but the highlight has to be Beaumaris Pier.

Strolling the Pier, ice cream in hand, is a must for a trip to Anglesey. Kids will love the opportunity to go crabbing and wildlife watchers can sign up for…
11. Boat trips to Puffin Island
If seeing wild puffins sounds like a dream come true, this is one of the best things to do in Anglesey, Wales. Boat trips depart Beaumaris Pier and take the short journey to Puffin Island.

Staying on-board, you'll circle the island while your guide identifies wildlife and offers a commentary. As well as puffins, you may also spot razorbills, guillemots and kittiwakes. Cruises lasting 80 minutes start from £16.

Note – puffin breeding season is April to July and you're unlikely to see puffins outside of this season. During our September visit, I asked a vendor at Beaumaris Pier what we would likely see and he answered honestly 'not a lot'. I was grateful for his honesty as he could have easily tried to sell us his tickets…

Beaumaris Pier address: LL58 8BS.
12. Aberlleiniog ruined castle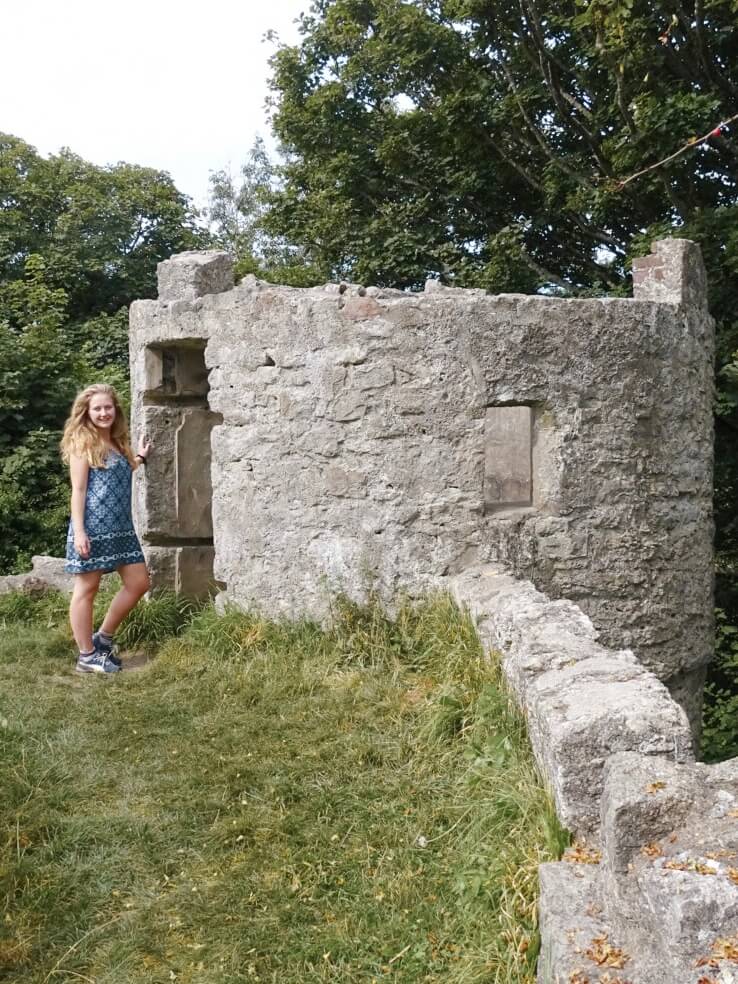 For a total contrast to Beaumaris, take a free hike to Aberlleiniog, a small but charming ruined castle less than 10 minutes away near Llangoed village.

Although it's not in the best nick, it was built in 1080 so it's holding up pretty well. This lesser-known attraction is an optimum spot to escape the crowds.

Park at Traeth Lleiniog where there's a beach and picnic area. Turn left out of the parking area and start the walk to the castle along the road. You'll soon come to a gate leading to an off-road path venturing into the woodland. It's an easy walk of 10 minutes to the ruins.
13. Penmon Point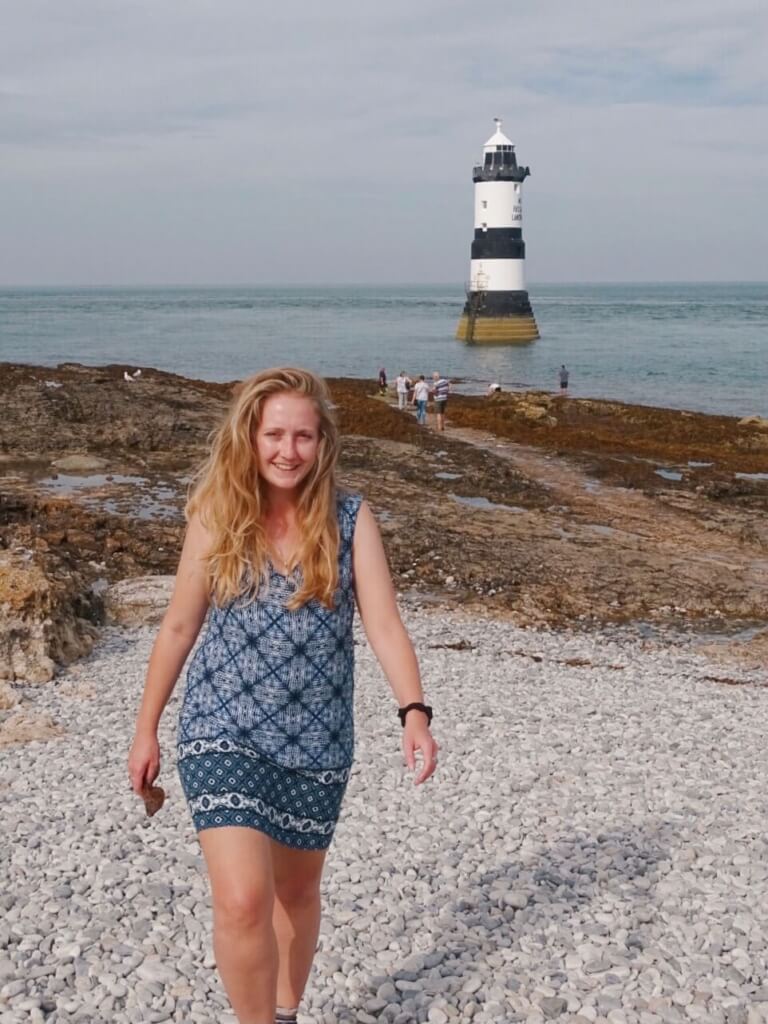 If you've previously stopped at Aberlleiniog Castle, you're a 10-minute drive from another of the best places to see in Anglesey, Penmon Point. This is the most easterly point of Anglesey, looking outwards towards Puffin Island.

As well as beautiful coastal views, Penmon has an attractive (although stony) beach and a lighthouse. There's a large parking area, toilets and a cafe so you may wish to stop here for lunch.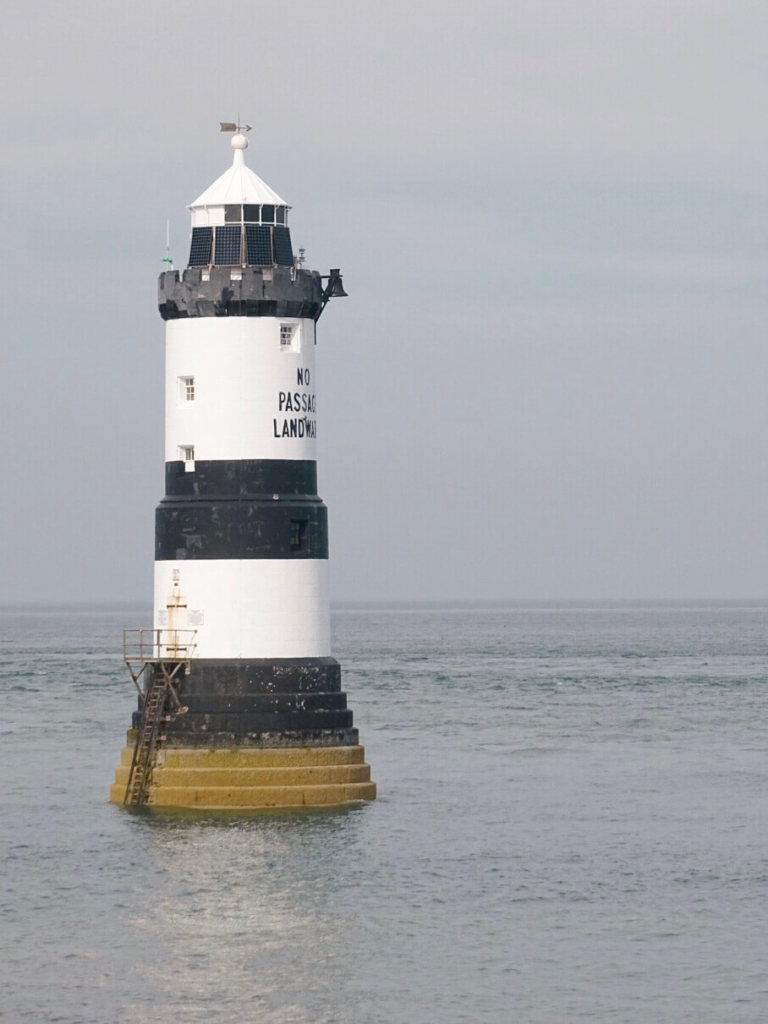 14. Lunch or coffee at the The Pilot House Cafe
If you've visited Llanfairpwll and Beaumaris during the morning, you'll likely reach Penmon Point by early afternoon. We stopped for foodie fuel at the Pilot House Cafe which has a large garden area with coastal views.

They serve all-day breakfasts, burgers, tea, coffee, cakes, ice cream and drinks including wine, ciders and Welsh beers and ales. Try the bara brith, traditional Welsh bread flavoured with tea.
15. Anglesey Farmers Market
If your visit coincides with the third Saturday of the month, one of the best things to do in Anglesey is head to Prince's Pierl in Menai Bridge town and eat your heart out!

Anglesey Farmers Market is the largest of its kind in Anglesey, selling not just locally sourced meat, vegetables and crab, but also goodies you can eat there and then like coffee, cakes and ice cream.

Note – the market is currently on pause but I'll update this when it gets up and running again (hopefully soon).
16. Benllech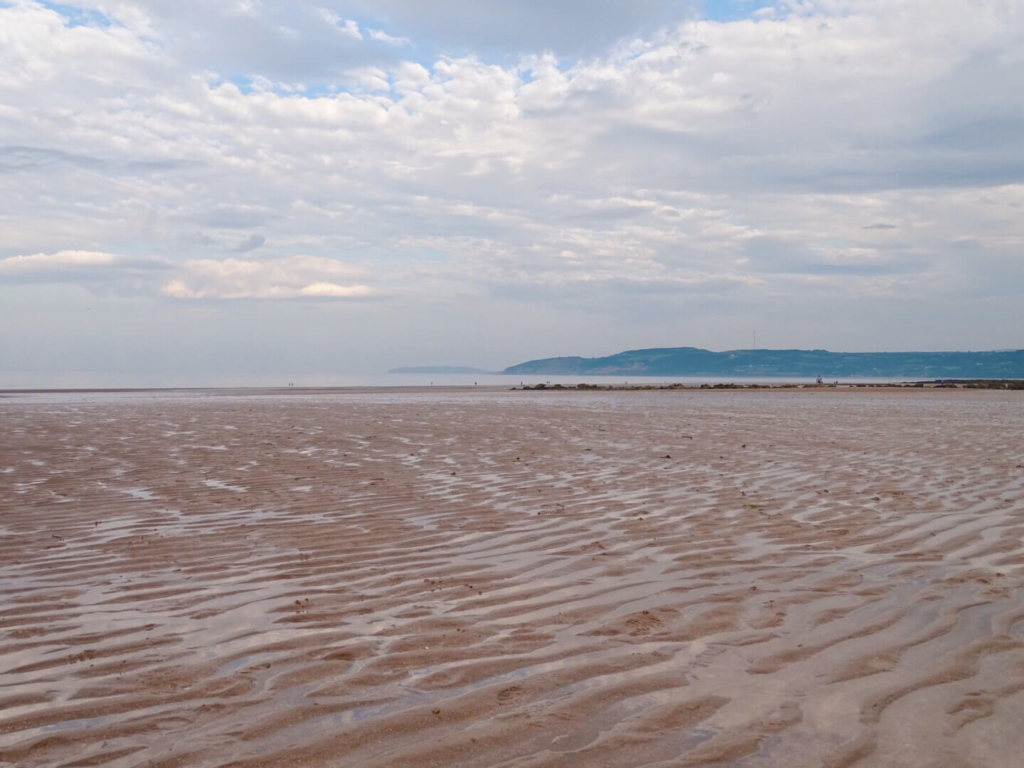 Benllech is a large town on the east coast of Anglesey. Although it has cafes and amenities, you'll want to head straight for the beach if you're searching for tourist attractions in Anglesey.

Benllech Beach is often voted one of the best beaches in North Wales thanks to its sweeping sands ideal for sunbathing and making sandcastles. The gentle waves are perfect for paddling and swimming.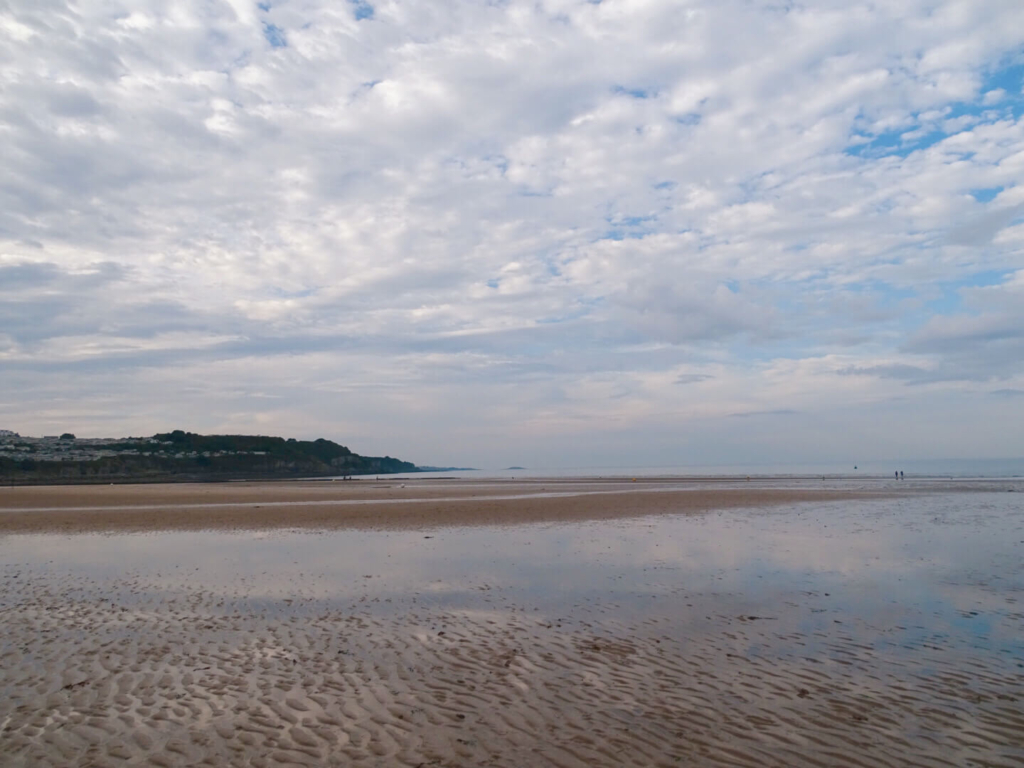 Address: LL74 8QE. Park at Lower Wendon Pay & Display Car Park or Upper Wendon Pay & Display (note that it's a steep walk from the beach). Benllech Beach is accessible for both prams and wheelchairs.
17. Red Wharf Bay
If it's Anglesey beaches you're looking for, plan a stop at Red Wharf Bay. Just a 15-minute drive south of Benllech, this quaint town and bay are worth a stop for nature lovers.

The bay is a designated nature reserve where you may be lucky enough to spot sandpipers, shelduck, curlew and more. Afterwards, grab a pint or bite to eat at one of the highly-rated restaurants in Red Wharf Bay: the Boathouse, Ship Inn or the Tavern on the Bay.
18. The Copper Kingdom
Once the location of the world's largest copper mine, this visually striking area remains one of the key tourist attractions on Anglesey Island. Simply driving around North Wales, you'll notice the change in scenery as you pass Parys Mountain.

Its history dates back 4,000 years but really ramped up in the 1700s when it became integral to the Industrial Revolution, bringing jobs and prosperity to Anglesey.

One of the top places to go in Anglesey is The Copper Kingdom Centre in Amlwch Port (near Cemaes in North Anglesey). This otherwise sleepy town had its own version of the American gold rush: the 'copper rush', which you can learn about at the centre.

Address: LL68 9DB.
19. Cemaes Bay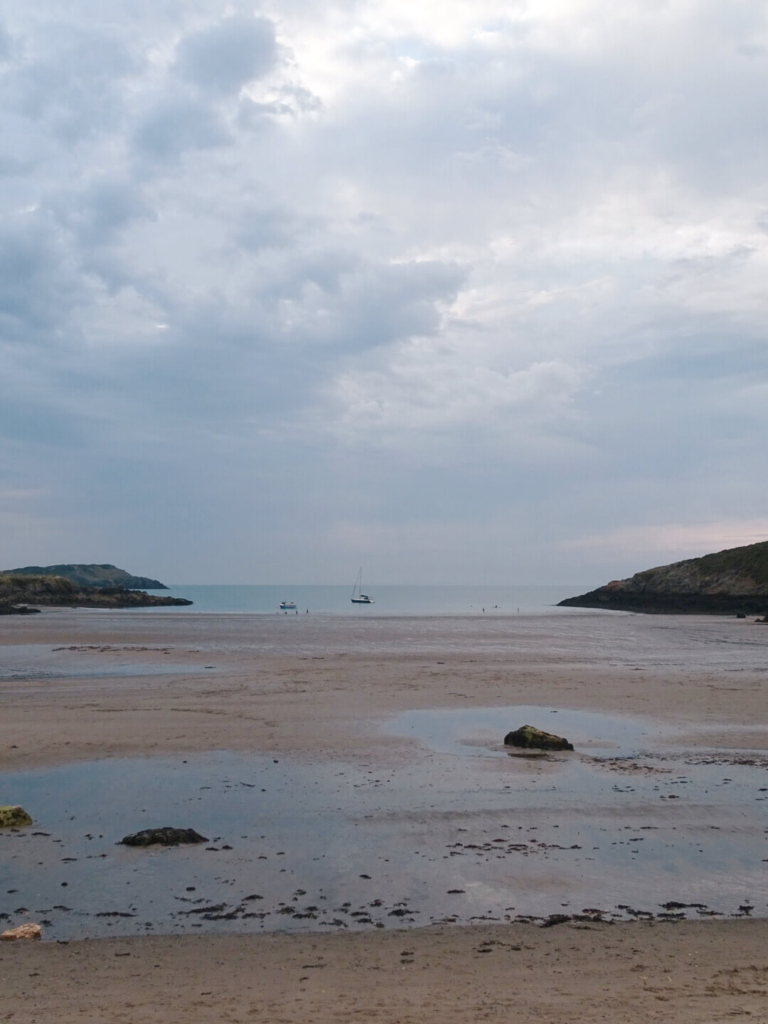 If you're exploring the north coast of Anglesey, don't miss this gem. Cemaes is a village with a charming bay and sandy beach. The Bay is an Area of Outstanding Natural Beauty partly owned by the National Trust, but free to visit.

It's a hotspot for Anglesey activities including windsurfing, kayaking, paddle boarding and sailing. You can book activities in advance from £10 an hour.

For a leisurely walk, take the track from Cemaes to the Wygyr Valley. For something more challenging, take one of the hardest but most worthwhile sections of the Anglesey Coastal Path: the Cemaes to Amlwch hike via Porth Wen Brickworks.

Cemaes Bay Address: LL67 0EW. It's the opposite side of the island from Menai Bridge so it takes around 40 minutes to drive the distance.
20-25. Holy Island, Anglesey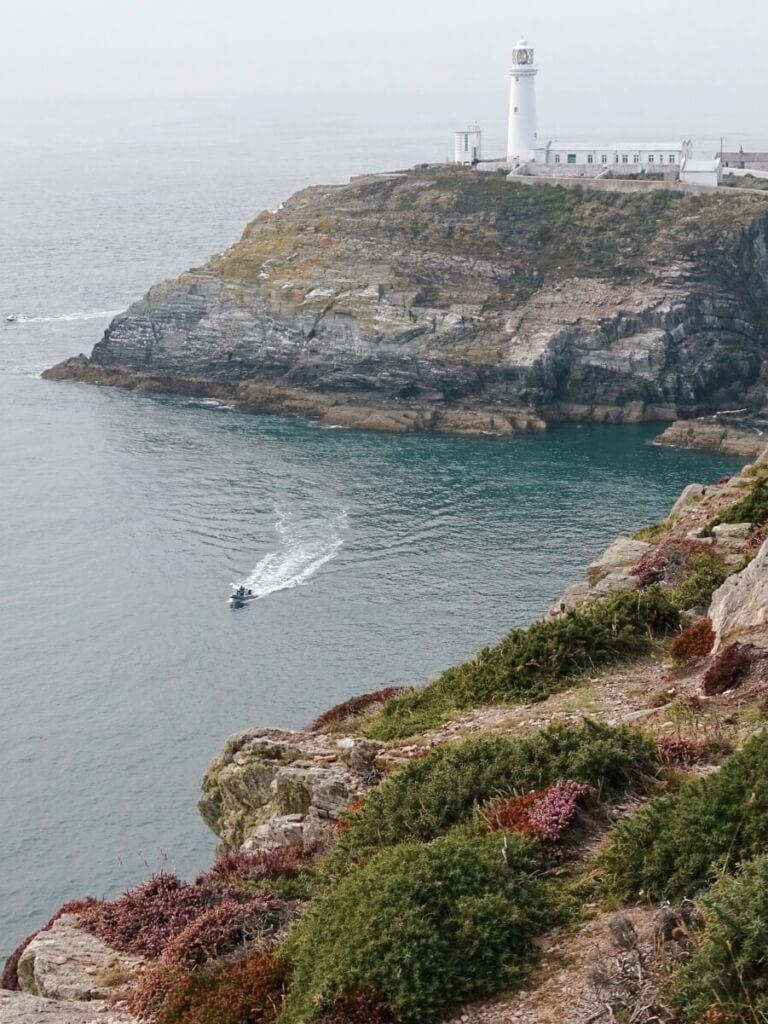 A final thing to do in Anglesey is continue your road trip to Holy Island, connected via the North Wales Expressway and Four Mile Bridge.

However, I would recommend setting aside a separate day for this. Holy Island may be easy to reach from Anglesey but there's so much to see and do that you'd regret rushing it.

Things to do on Holy Island include:
Hiking in Breakwater Country Park. If you're feeling energetic, make it to the top of Holyhead Mountain
Visiting the beaches – Trearddur Bay and Porth Dafarch are two of the best
Walk the bridge to South Stack Lighthouse
Learn at Holyhead Maritime Museum
Watch birds from Elin's Tower (managed by the RSPB)
Spot stone circles and ancient burial chambers.
Read next: A complete guide to Holy Island, Anglesey
Anglesey day trip itinerary
South-east itinerary:

10am: cross either of the bridges to Anglesey and stop to take photos at Menai Suspension Bridge Viewpoint.

10.30am: arrive at Llanfairpwll to take photos of the longest place name in Wales.

11.30am: arrive at Beaumaris. Tour the Castle and wander the pier. Add extra time here to take a Puffin Island boat trip.

2pm: Visit Penmon Point, admire the lighthouse and stop for lunch or tea and cake.

3.30pm: Relax at Benllech Beach, one of the most beautiful in North Wales.

West & north itinerary:

10am: Drive to Llanddwyn Bay and hike to Llanddwyn Island.

2pm: Head north to Cemaes Bay, stop for lunch, take a hike or try some watersports.

4pm: Tour the Copper Canyon and learn about this fascinating piece of history.
Things to do near Anglesey
There's so much to see and do in North Wales. Check out my other blogs to research the best of the region.
Thanks for reading!
For more travel content, follow me on Instagram, Facebook, Twitter and YouTube.
Liked these places to visit in Anglesey Island? Pin this for later.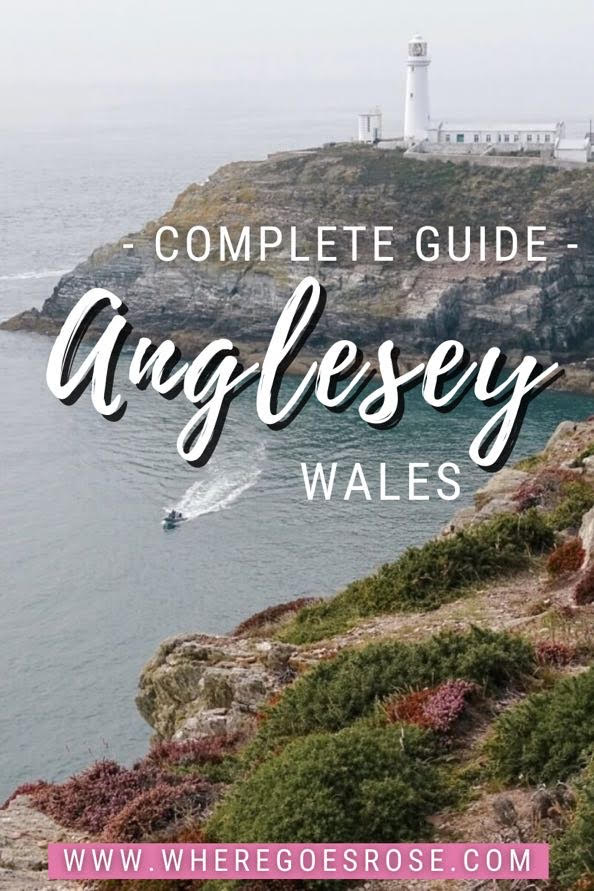 WALES QUICK LINKS

Guidebooks – LP always get my seal of approval. Use the latest copy of Lonely Planet Wales / Lonely Planet Great Britain.

Flights (international and domestic): I use Skyscanner to find the best-value flights, using the 'search by month' tool to find the cheapest dates. You can also use the 'to anywhere' feature if you're flexible on where you're going.

Car hire – use Rentalcars.com to compare car rentals and campers in the UK (and all around the world).

For trains, use Trainine. The search feature allows you to compare prices and see live departures.

For buses, I use Busbud. It's the only site that compares UK coaches and buses. Find London to Manchester journeys for £1! 

For hotels and self-catering apartments, I use Booking.com. You can filter by review score and price to find the best-rated budget places. For hostels, I use Hostelworld.com.

To save money on accommodation, I use Trusted Housesitters, a website that connects homeowners going away and travellers who can sit their homes & pets.

Browse UK tours and activities on GetYourGuide.

For food tours pairing travellers with passionate local chefs and foodies, check out EatWith. 

Need travel insurance? I use True Traveller (for Europe residents) since it's affordable but covers everything you'd need including various activities, valuables and pre-existing conditions. Unlike some companies, they insure you if you're already travelling / don't yet have your flight home booked. Get a quote.

For travel insurance for other nationalities, I recommend Hey Mundo and for long-term digital nomad travellers, I suggest Safety Wing.

Check out my resources page for more travel discounts and budget tips from my 10+ years on the road!