This post may contain affiliate links to things like tours, hotels, Amazon associates and products. These help me earn a small commission at no additional charge to you.
Brasov was one of my favourite cities in Translyvania. It's a little bigger than Sibiu and Sighisoara and there are plenty of things to do in Brasov to keep you busy. I'm going to share my 2 day Brasov itinerary and suggest you spend a similar amount of time.

While I liked the smaller cities in Romania, I was happy to be somewhere bigger and more atmospheric. Brasov has all the charm of Transylvania from the scenic town square to the Old City walls.

Two days in Brasov is enough time to see the sights including a castle belonging to a (fictional) bloodthirsty resident.
Read next: all my Romania travel tips!
BRASOV ESSENTIALS

Accommodation: Booking.com / Hostelworld

Tours & activities in Brasov: GetYourGuide

Getting there: car hire (Rentalcars.com) / train (CRF Calatori) / bus (Autogari) / car pool (BlaBlaCar)

Getting around: on foot
Where to stay in Brasov
Brasov is an affordable city with some real bargains to be found on accommodation. There are a few backpacker hostels as well as plenty of hotels, guesthouses and self-catering apartments.
Kron Studio Kalista: Well placed for exploring the main Brasov attractions, this period property with large bedroom apartments is a lovely place to stay. You'll have a balcony, courtyard, en suite, kitchen area and cooking facilities. Shuttles from the airport can be arranged. Book here from €34 a night.
Winter option: Those who visit Brasov in the winter and love to ski should check out Teleferic Grand Hotel, a beautiful resort at the base of the mountain where you can ski to the door. Check availability when €60 per night.
Hostels in Brasov: The best places for backpackers to stay are Boemia Hostel Brasov and JugendStube Hostel. Here you can stay in dorms, use the social areas and meet other travellers. See all hostels in Brasov.
Browse all Brasov accommodation options on Booking.com.
Getting to Brasov
Brasov is the second-largest city in sleepy Transylvania. It's easily accessible whether you're coming from Bucharest, Timisoara, Sibiu, Sighisoara or elsewhere.

Driving is the fastest option as Romanian trains are infamously slow. Use Rentalcars.com for the best prices on car hires.

Train: Saying that, I completed my whole 2 week Romania trip by train with no problems – just remember to pack a good book.

Buses are a little quicker but sometimes more expensive. Either way, you'll find journeys for around €5. Book bus journeys on Autogari and trains on CFR Calatori.
Read next: How to plan the perfect road trip in Romania
Things to do in Brasov
There are plenty of activities in Brasov from exploring the history and ancient architecture, hiking up to the Brasov sign and visiting 'Dracula's Castle'.

I spent my first day in Braşov exploring the Old Town and tucking into some tasty local food (actually, breakfast wasn't that local, soz). You can easily see Braşov in a day before spending your second day on a day trip to Dracula's Castle.

Here's what to do in Brasov, Romania…
1. Brunch at Le Birou Bistro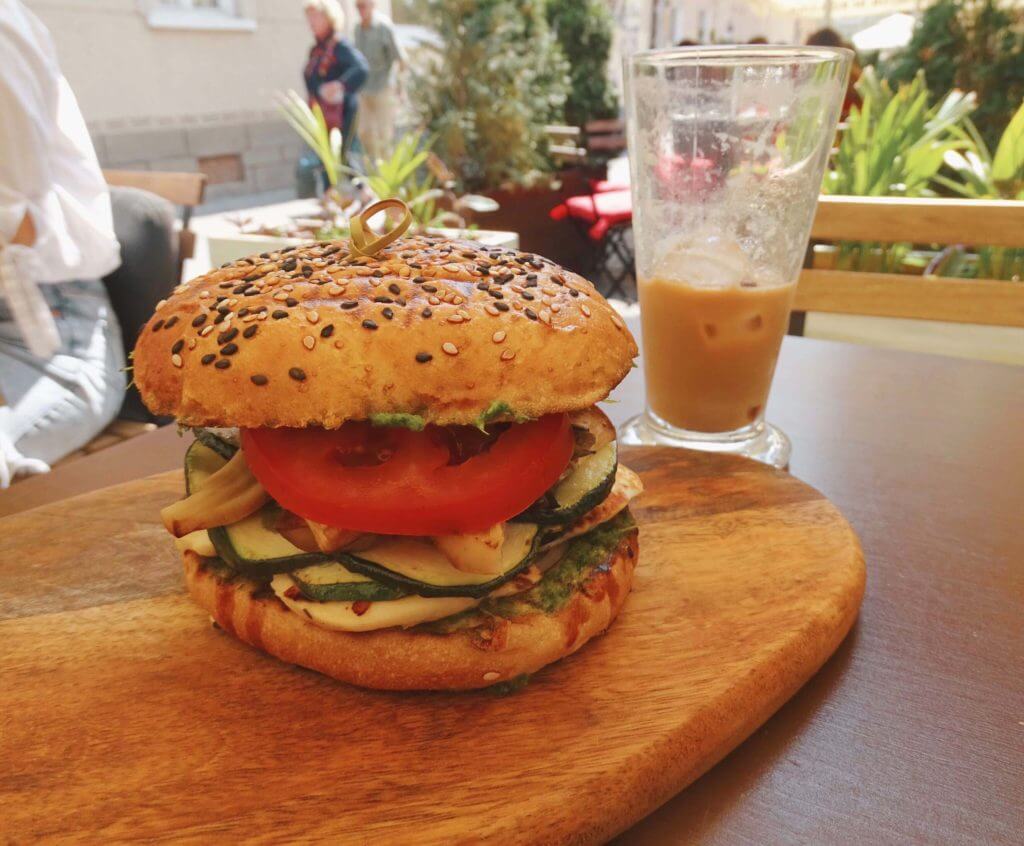 What better way to begin your day than with brunch?

La Birou Bistro was the best restaurant I found in Brasov, apart from La Ceaun which you'll hear about later.

Brunch fans will love breakfast buns served at La Birou. I opted for halloumi but smoked salmon is also an option.

With indoor and outside seating, why not spend a few hours sitting in the sunshine drinking coffee? Brasov isn't a city that requires a fast-paced itinerary so you'll have time to linger and enjoy yourself.
2. Take a free walking tour
I love a free walking tour as I always find the guides to be funny and engaging. This Brasov sightseeing tour was great, although prepare for group sizes to be massive during the summer months. Luckily, our guide had a mic so it was easy to hear her even in a group of 30.

The Walkabout free walking tour runs at 10am and 6pm, departing from the fountain in Piata Sfatului (Council Square). It's a relatively long tour lasting 2 hours so prepare for a late dinner if you choose the 6pm tour.

The following stops are made on the free walking tour but they're also easy to visit independently. The tour was great for info and facts but a bit restrictive if you want to spend more time at the Brasov attractions. If somewhere appeals to you, come back the next day to explore it fully.
3. Council Square (Piata Sfatului)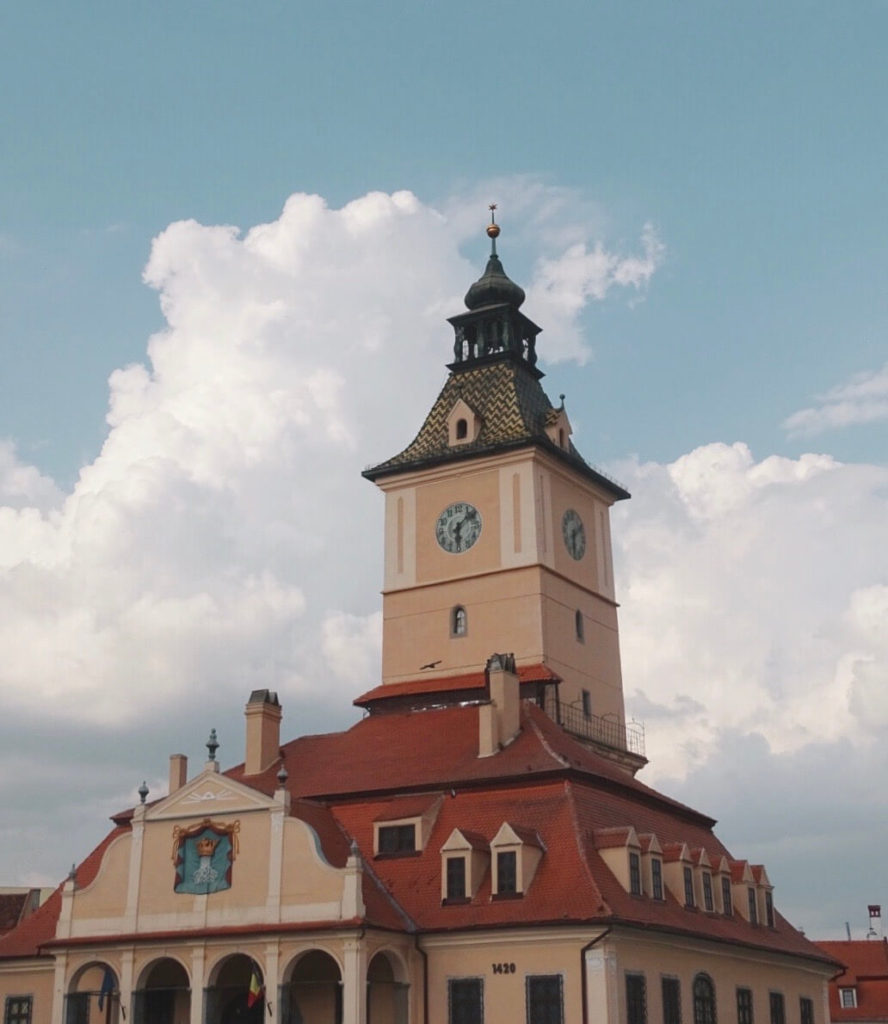 There's no way you'll miss Council Square; you'll walk through it countless times while spending 2 days in Brasov. It's an atmospheric place full of cafes and markets during the summer months and Christmas markets in the winter.

It wasn't always such a relaxed and fun place: the Council Square was once used for public floggings and executions. Our tour guide told us Romania's last execution was in 1989 of Nicolae Ceausescu for his crimes against the Romanian citizens during his Communist rule.

Nowadays, Romania's difficult history is behind it. In summer weather, one of the best things to do in Brasov is sit in the main square with a pint or an ice cream and watch the world go by.
4. Catherine's Tower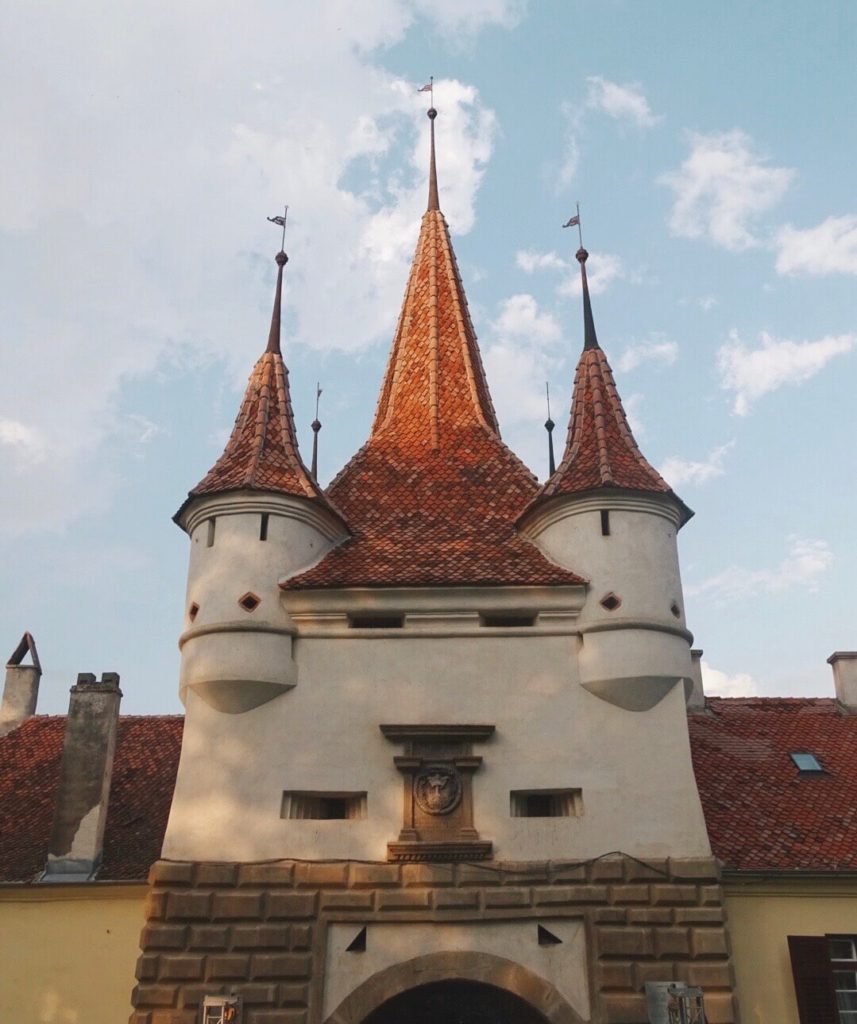 Built in 1559 as an entrance to Brasov's City Walls, this was once the only entrance Romanians could use to travel in and out of their city.

The four turrets around the main one are no accident: this was an old-fashioned indication that the keepers of the city weren't afraid to execute those who broke the law. How's that for a cautionary tale?

There isn't much to do at Catherine's Gate apart from take a look. However, in the summer, outdoor cinemas are held so check what's on (I believe they show a mix of Romanian and English language films).
5. Walk Romania's smallest street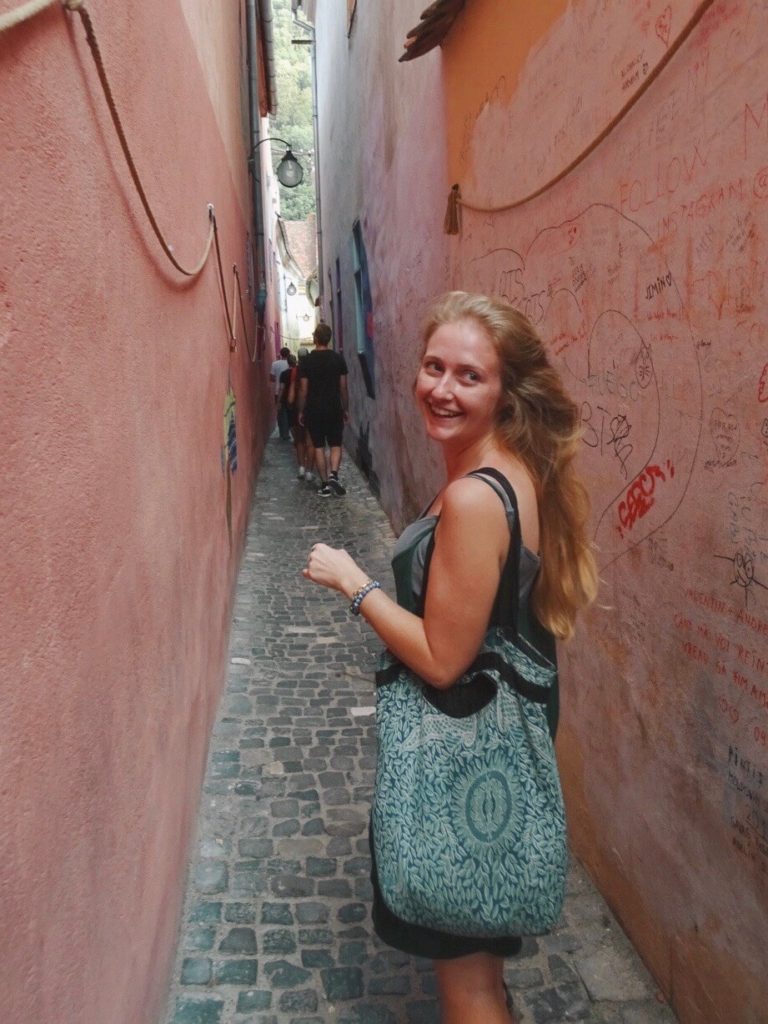 Visiting Rope Street is a popular thing to do in Brasov because it holds an impressive title: the smallest alleyway in the country and one of the smallest in Europe.

This modest cobbled alleyway is famed for its measurements: 111cm at its thinnest point.

Its purpose? Allowing thoroughfare to firefighters accessing the main streets on either side.

You can stroll through the skinny street independently or as part of a walking tour. Don't forget to check out…
6. Rope Street Museum
For a museum that's quick, colourful and free, spend 20 minutes here. There's colourful artwork on display as well as a cafe where you can grab a coffee and people-watch at the exit of Rope Street.
7. Romania's oldest school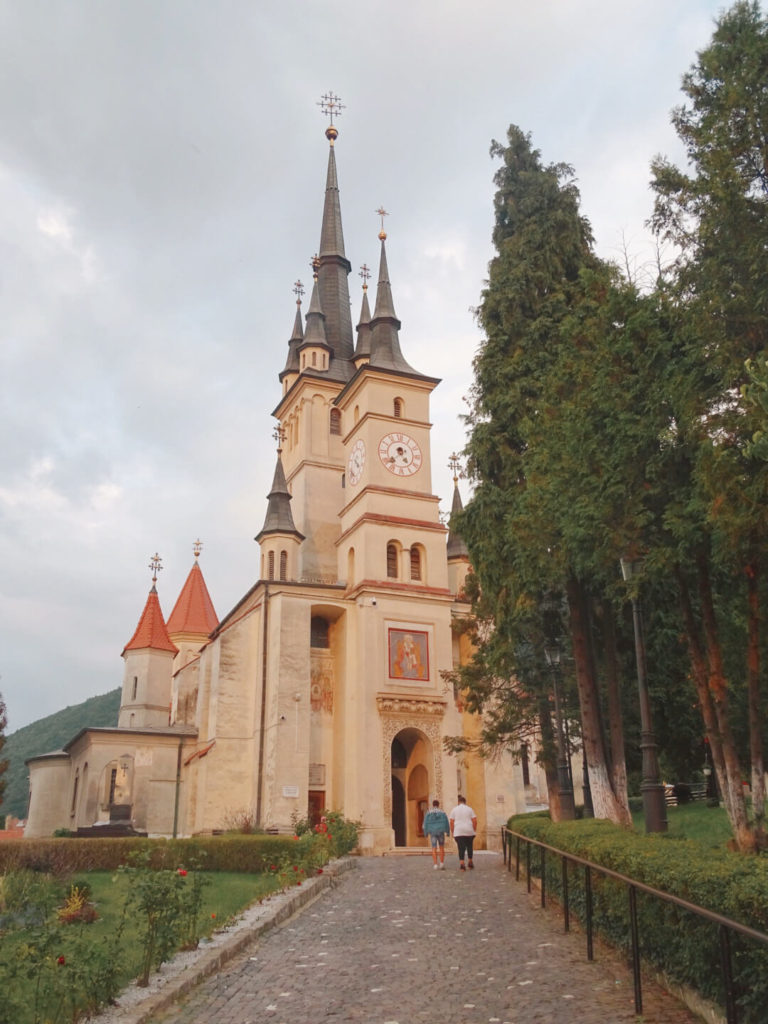 Beside Biserica Sfântul Nicolae (Brasov's Orthodox Church) is Romania's oldest school and a museum to go with it. I stopped by briefly with the walking tour but wasn't interested enough to go back a second time.

If it sounds up your street, you can revisit during your 2 days in Brasov, going inside the church and checking out the museum.
8. Walk through the forest to the White & Black Towers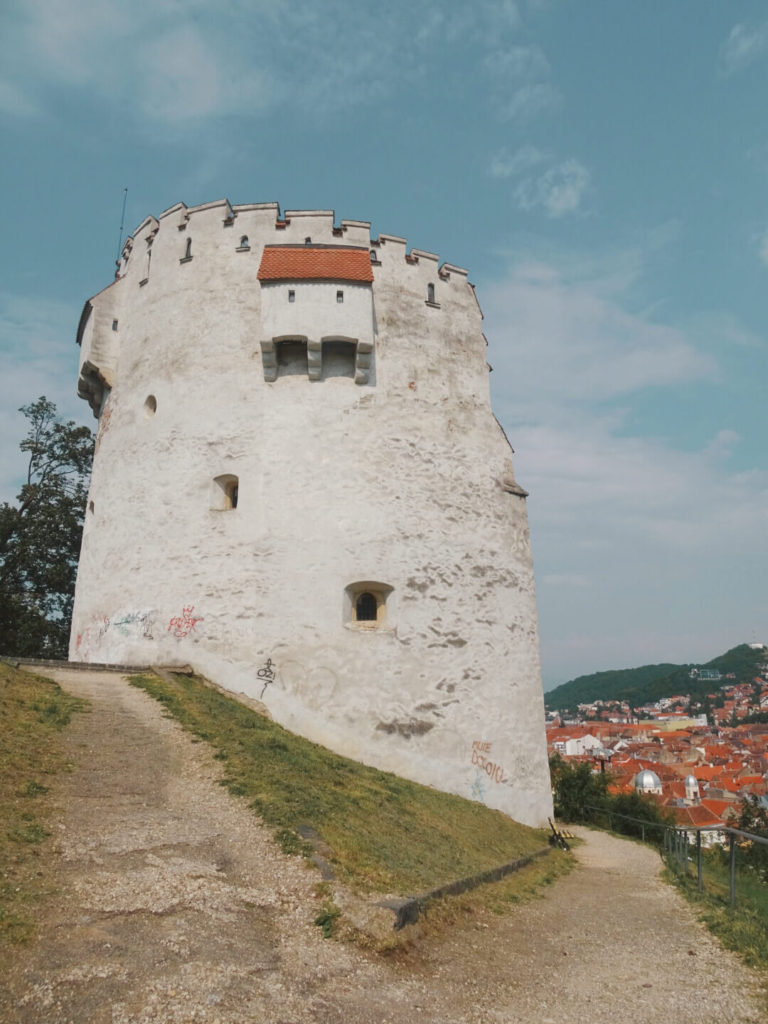 For a relaxed thing to do in Brasov, take a gentle walk through the forest. Set your maps to Turnul Alb (White Tower). It's not hard to find its counterpart nearby, Turnul Negru (Black Tower).

One of the best things to see in Brasov is the view from this point. Spend a while soaking up the views and snapping photos.
9. The Black Church (Biserica Neagra)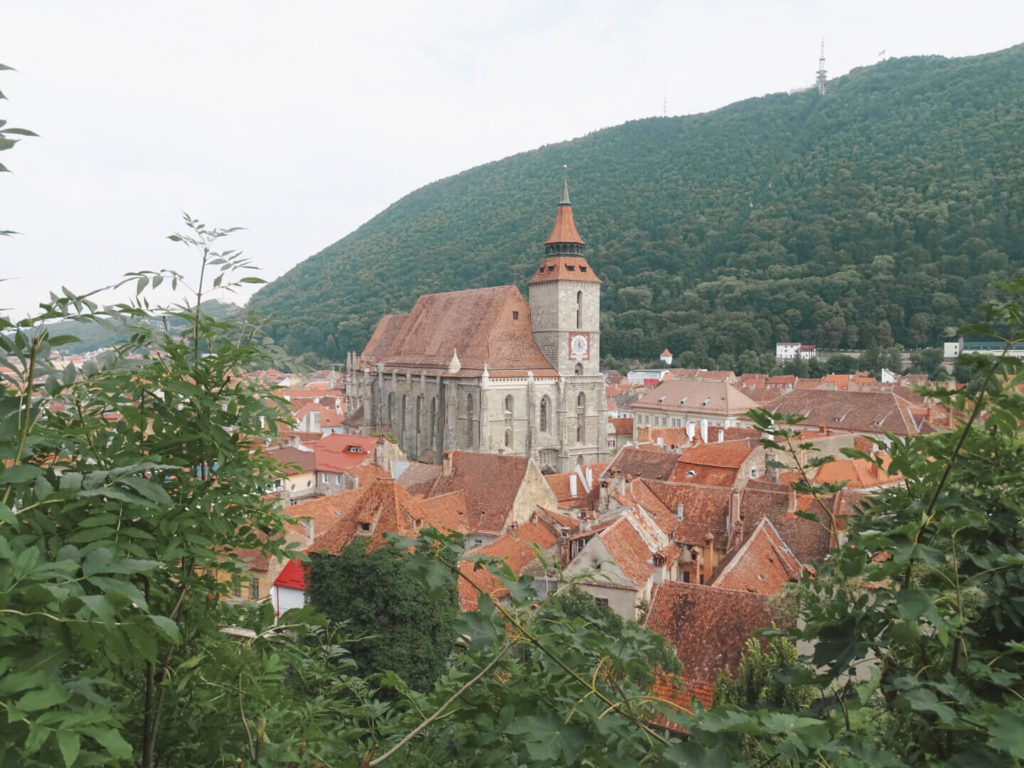 Although I went inside the famous Black Church (pictured above), it was really just another church to me. Maybe I'd spent too long in Eastern Europe.

Still, it's worth a visit since it's one of Brasov's prominent features. With 600 years of history, it's survived Ottoman and Tarter armies and, like most buildings in Europe it seems, been destroyed by a fire at least once.

Note that it's closed to visitors on Mondays.
10. Take the cable car to the Braşov sign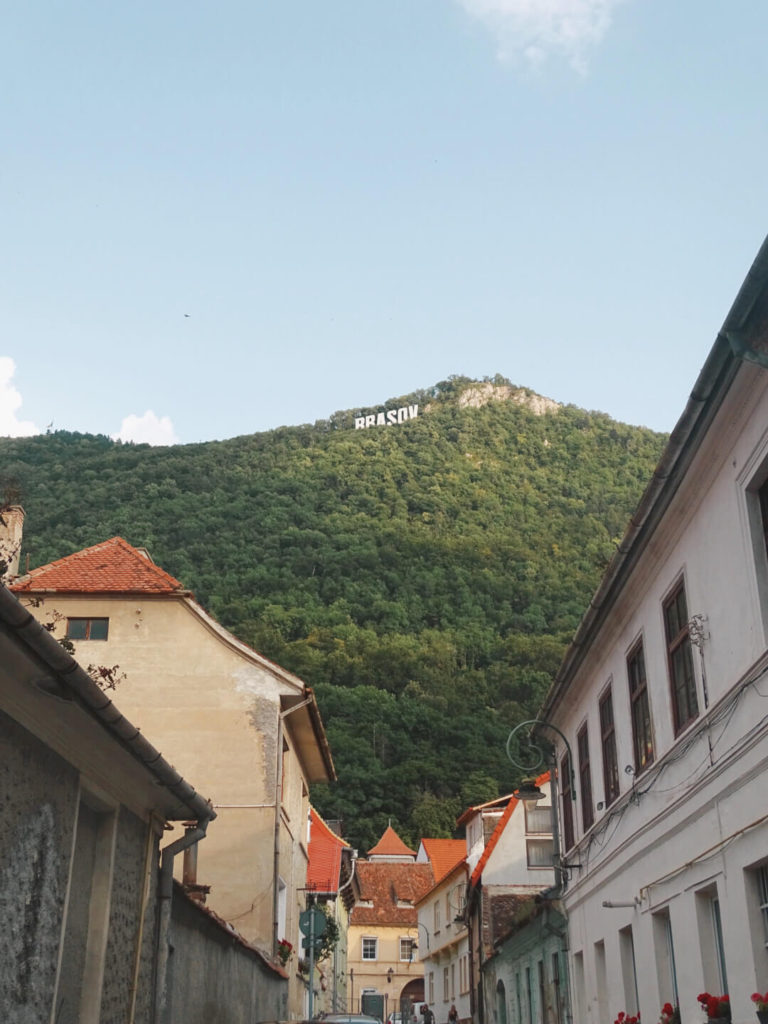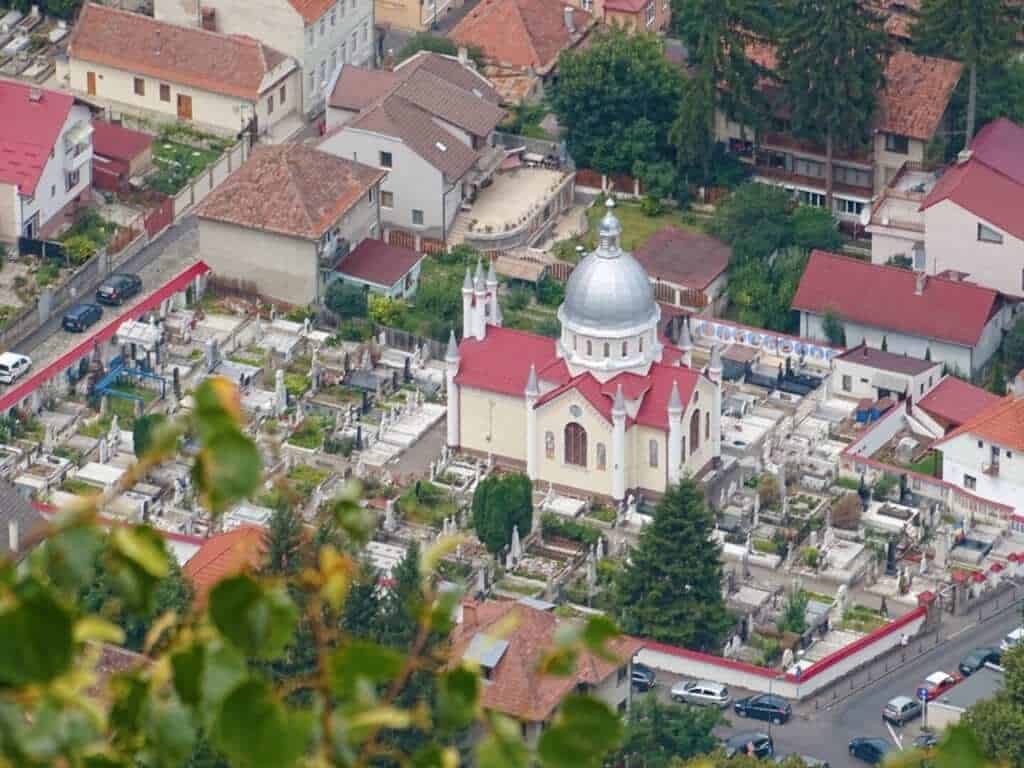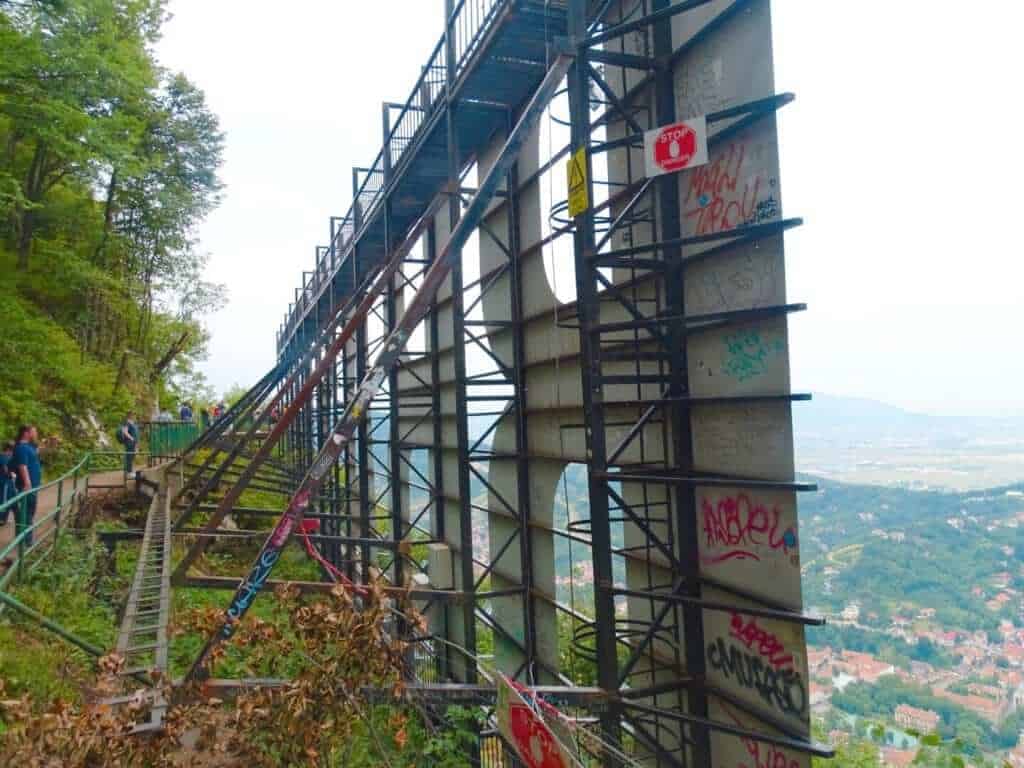 This is Brasov's answer to the Hollywood sign! Locals claim it's the better version due to the fact you can go behind it.

The cable car costs 16 RON return. Make sure to leave enough time because queues can get very long in the summer. It runs from 9.30am-5.30pm but is closed on Sunday mornings and all day Monday.
11. Hiking Tampa Mountain
One of the best things to do in Brasov for hikers is summiting Tampa Mountain to reach the Brasov sign. Although I took the cable car, I hear this is a fun Brasov activity; you just need sturdy shoes with good grip. The hike to the top should take about 1 hour.

Once you get to the top, there are several trails if you wish to continue hiking. But be sure not to wander too far from the path: there are wild boars and possibly even bears around.
12. Dinner at La Ceaun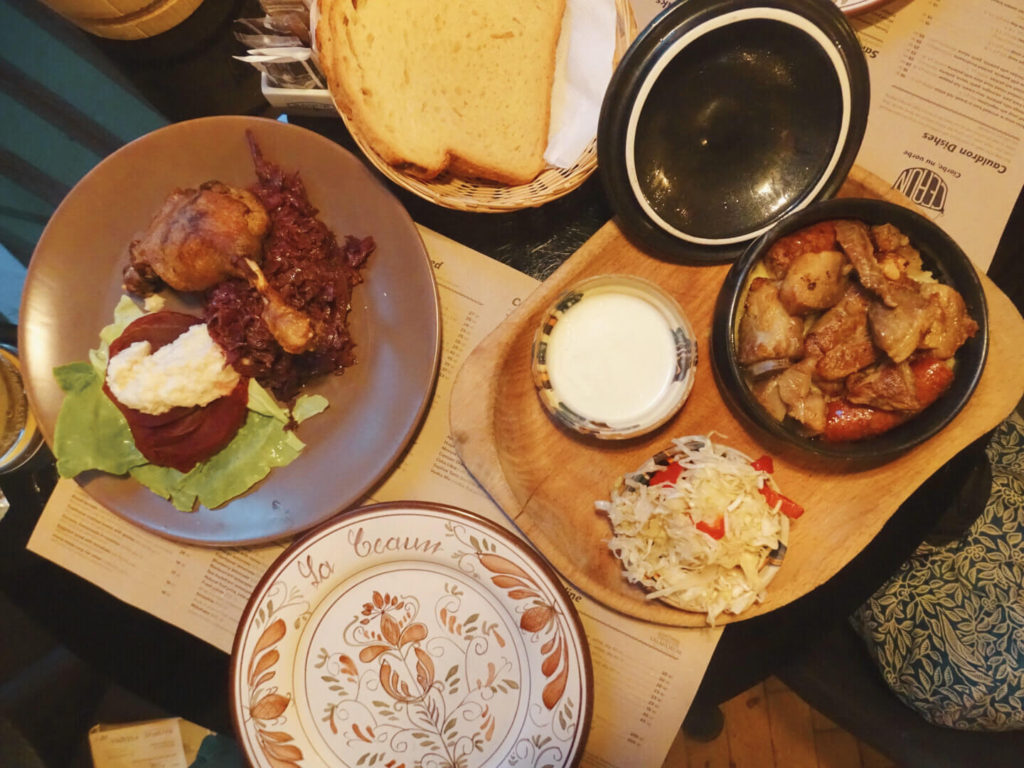 End your day of Brasov sightseeing with hearty Romanian fare. If you Google the best places to eat in Brasov, you will see La Ceaun crop up. My hostel owner and walking tour guide both recommended it and I wasn't disappointed.

The duck with red cabbage and the fried pork with polenta and garlic sauce were both amazing. The bill came to 50 RON per person including a beer, not bad at all!
13. Finish with papanasi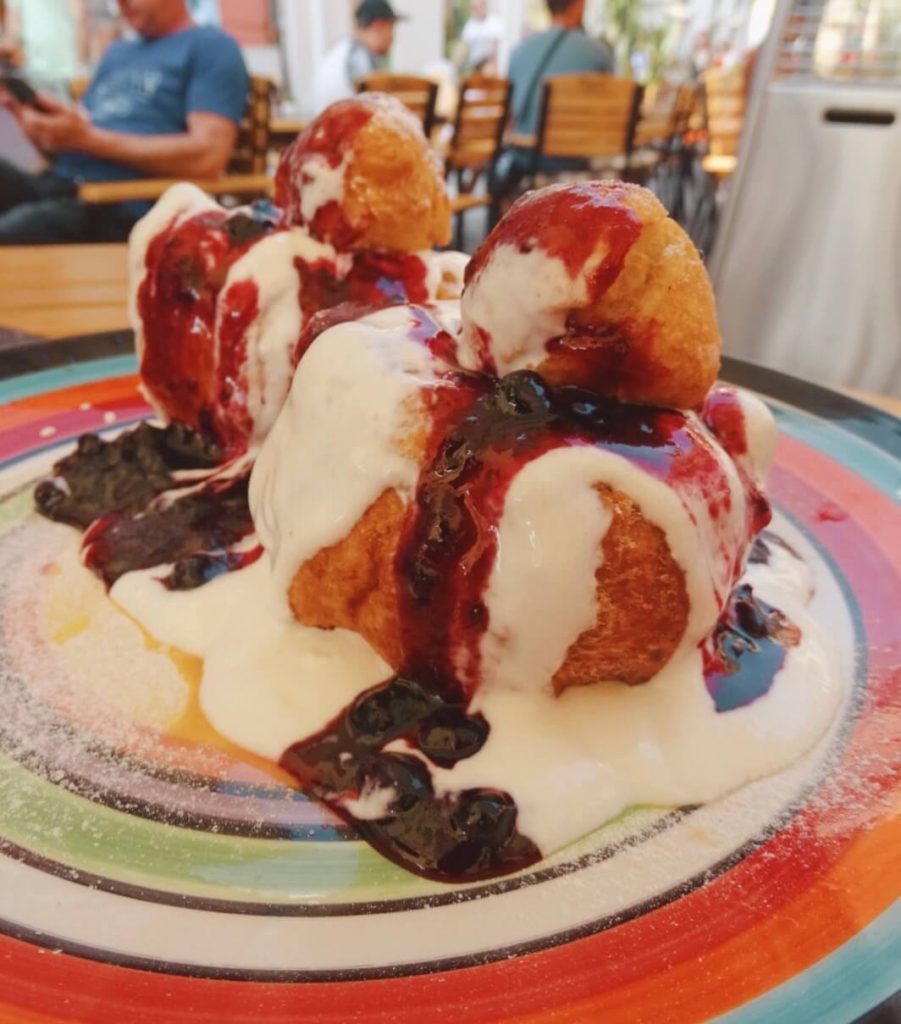 What to do in Brasov for foodies? Eat papanasi, of course!

Sure, kurtoskalacs are tasty but they're not unique to Romania unlike these bready doughnuts drenched in blackcurrant jam and a 'cheese' sauce which tastes like liquid cheesecake.

If that weren't calorific enough, these delicacies can only be ordered in servings of two and each one is topped with a mini fried doughnut.

Oh, Romania, you'll be the death of me but I love you for it!
14. Bran Castle (Dracula's Castle)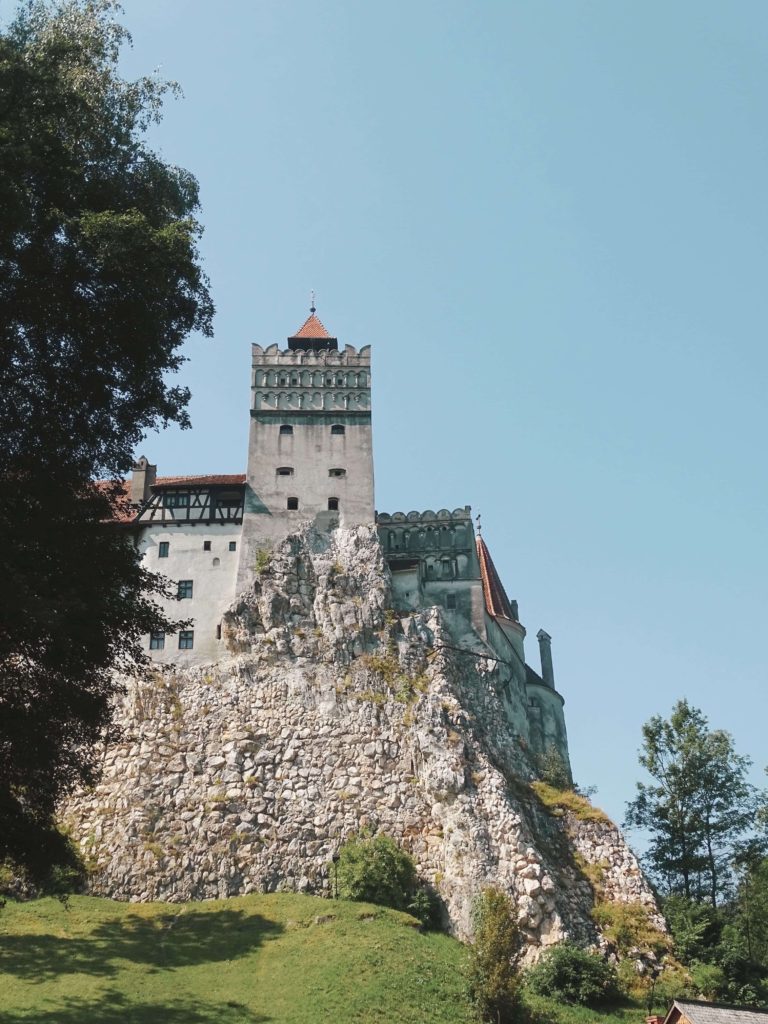 Visiting Dracula's Castle is easily one of the best things to do around Brasov. It's 30km from the city and takes about 30 minutes to arrive by road.

Although Bram Stoker never actually visited, it's the fictional setting for his Dracula novel based on the real-life Romanian ruler, Vlad Tepes. Due to the gruesome ways he defeated his enemies, he earned the nickname 'Vlad the Impaler'. Not someone you'd want to mess with!
Read next: Brasov to Bran Castle – visiting Dracula's Castle
Visiting Dracula's Castle is easy. You can drive, take an affordable day tour from Brasov, or visit by public bus (all details in the guide above).

Bran Castle gets very crowded during weekends and summer months so, if possible, visit early during these times.
15. Rasnov Citadel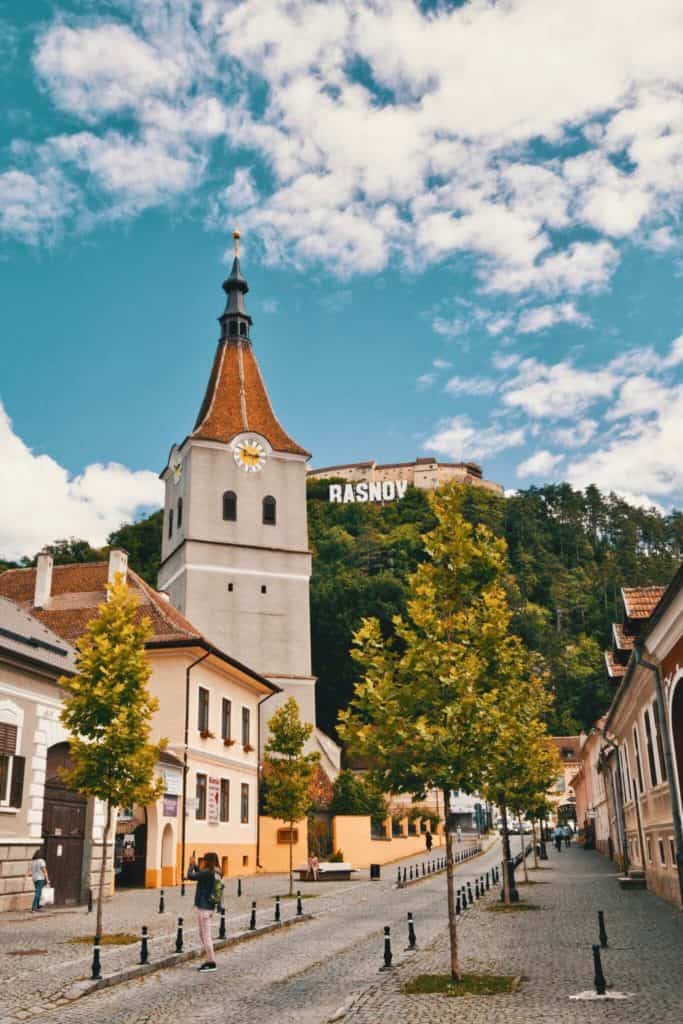 Rasnov Citadel lies halfway between Brasov and Bran Castle. It's easy to combine Bran and Rasnov into the same day. The town's name is emblazoned on the hillside so you can hardly miss it.
Rasnov Fortress is bigger than Bran Castle and offers spectacular views over the surrounding countryside. This fortress of protection in the Carpathian Mountains dates back to the 1300s when it was built to protect townspeople from the invading Tarters.

From Rasnov town, hike up the hill or take the cable car. Entry is 12 RON (6 for students).

I visited Rasnov by public bus on the way back from Bran Castle. However, you can also take a Bran & Rasnov tour from Brasov.

2022 update – Rasnov is currently closed for renovation.
16. Try Kurtoskalacs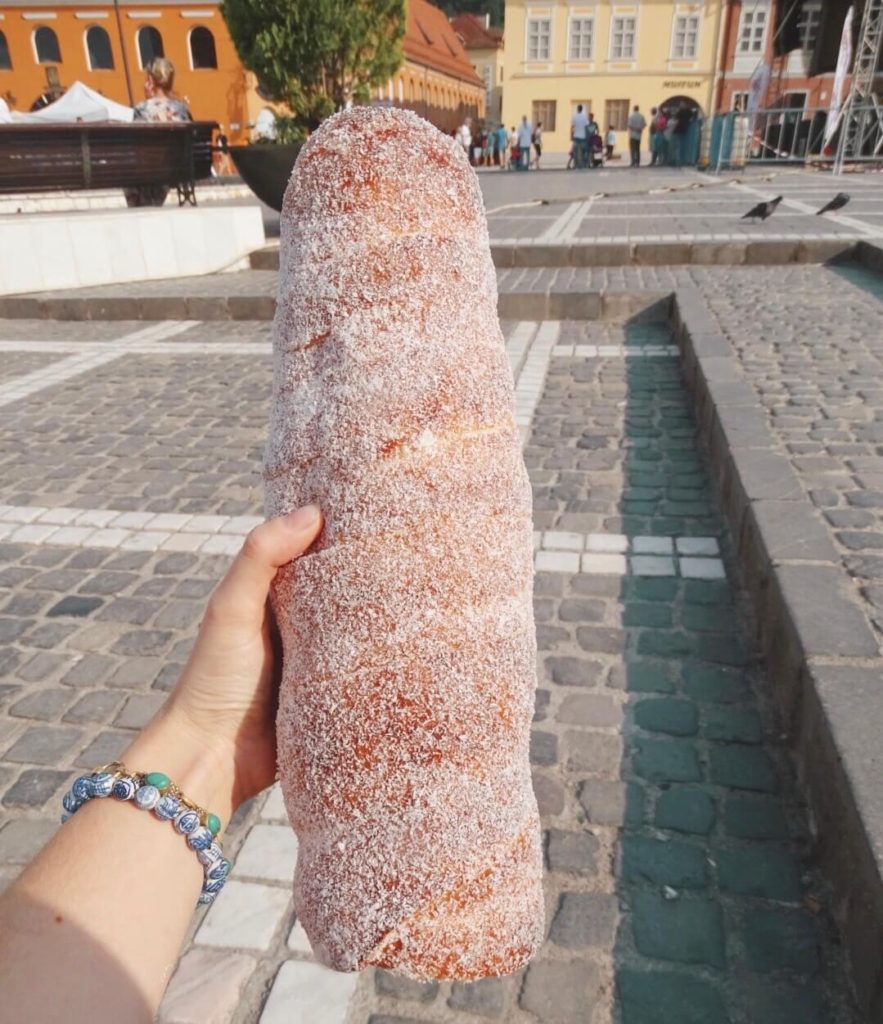 Chimney cake is a fried dough dessert popular in Eastern Europe, commonly served hollow with nuts, chocolate or grated coconut.

The one I ate in Brasov's main square was absolutely enormous and could probably have fed a family of four, yet I ate it all to myself. YOLO.

For more kurtoskalacs love, read my Prague food guide, Bratislava food guide and Budapest food guide!

Finished these things to do in Brasov? Here are a few days trips that might be of interest:
17. Peles Castle (day trip)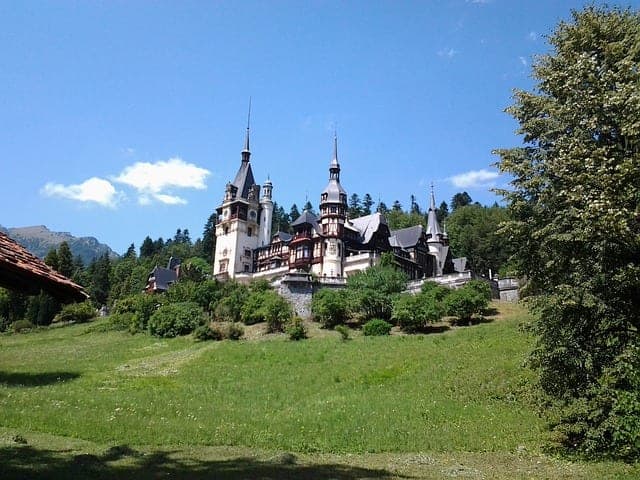 If Bran and Rasnov didn't satisfy your castle quota, take a trip to Peles Castle. Although it's a 1.5 hour drive from Brasov, it's worth it to explore Romania's most beautiful castle (at least according to some!).

Nestled in the Carpathian Mountains near the town of Sinaia, this Neo-Renaissance castle was built for the Romanian Royal Family. It's well preserved inside and out, surrounded by stunning mountain scenery.

Take a castles day tour (Bran, Rasnov and Peles) from Brasov.
18. Transfagarasan Highway (day trip)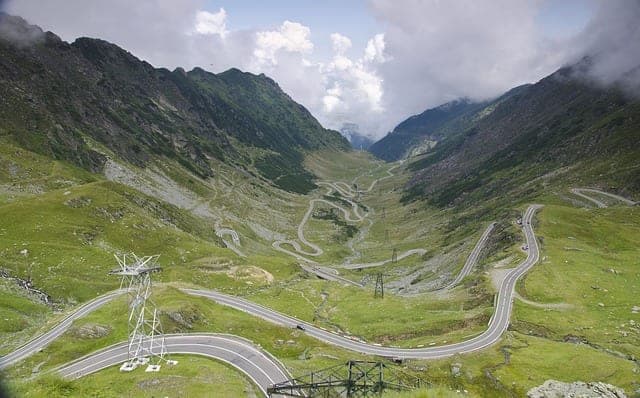 It's possible to visit Romania's most famous road as a day trip from Brasov. The beauty of this windy road zigzagging through the mountains is indescribable.

Built on the orders of ex-dictator, Nicolae Ceausescu, the Transfagarasan Highway has become one of the most photographed places in Romania, as well as a pilgrimage for travellers looking for fun things to do from Brasov.

Take a Transfagarasan Highway day tour from Brasov incorporating other highlights of the region like Balea Lac and waterfall, Lake Vidraru, Curtea de Argeș Monastery and Poienari Castle.
19. Sibiu (day trip)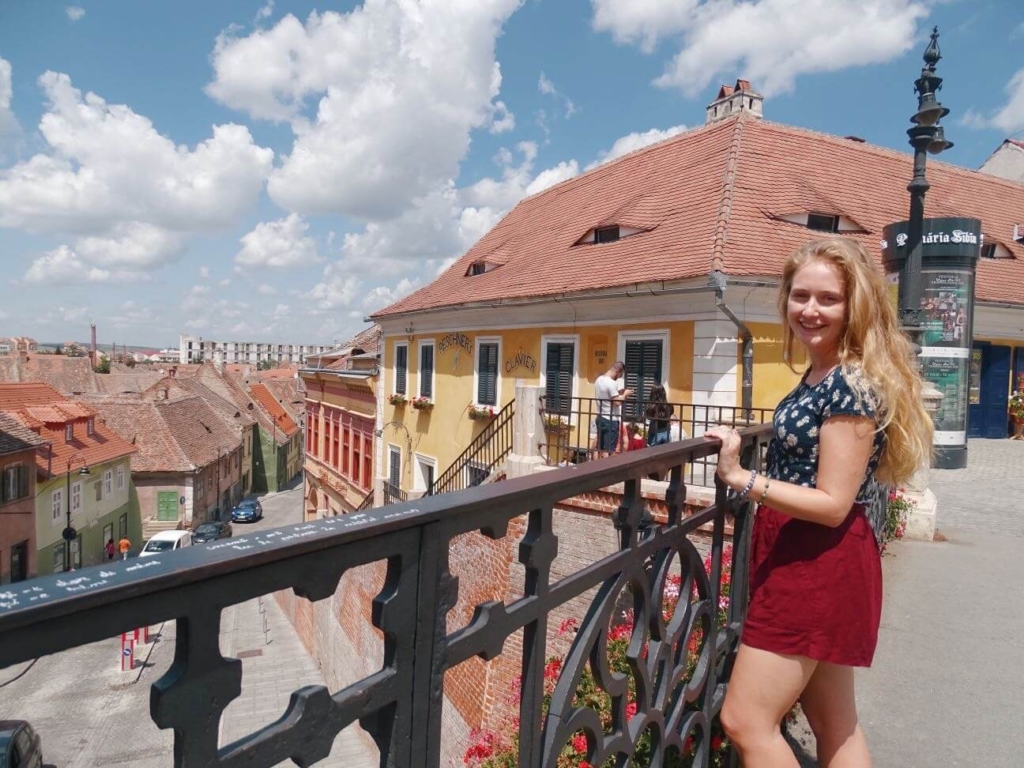 Although I stayed overnight in Sibiu and spend two full days there, you can see the best of this tiny Transylvanian town in just one day.

Sibiu is a 2.5-hour drive from Brasov so it's a long day trip but doable if you only have a day to spare. You can book a Sibiu day tour to transport you there and back with time to explore this picturesque medieval settlement.

Aside from wandering the quaint squares, venturing inside the cathedral and climbing the Council Tower for panoramic views, the highlight might be the eerie 'houses with eyes'. Although designed with ventilation in mind, these colourful homes give the distinct impression they're watching you…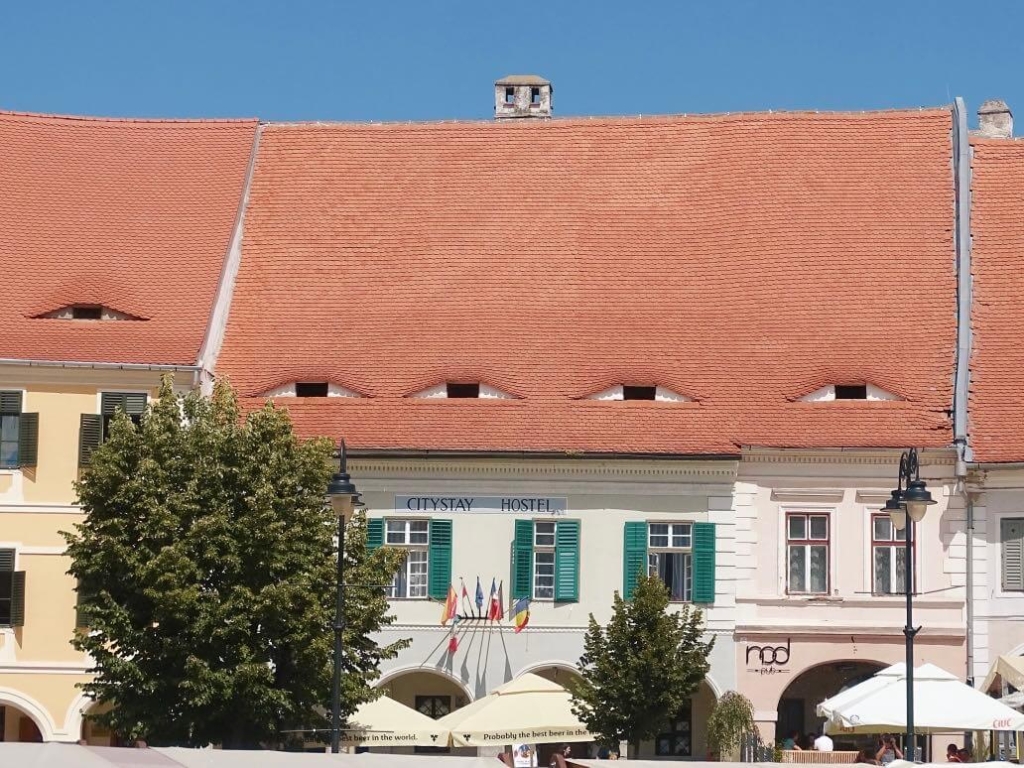 20. Sighișoara (day trip)
If you've run out of things to do in Brasov, another worthwhile day trip is to Sighișoara, 1.5 hours away.

Sighișoara is much smaller than Sibiu and although there's less to do, this isn't a problem if you're just visiting for a day.

Few places embody a traditional Transylvanian village better. In fact, Sighișoara's 12th-century walled Old Town is now a UNESCO as a World Heritage Site. There are plenty of quaint things to do in Sighișoara although I'd advise skipping Casa Vlad, the touristy birthplace of Dracula.

Book a Sighisoara day tour from Brasov.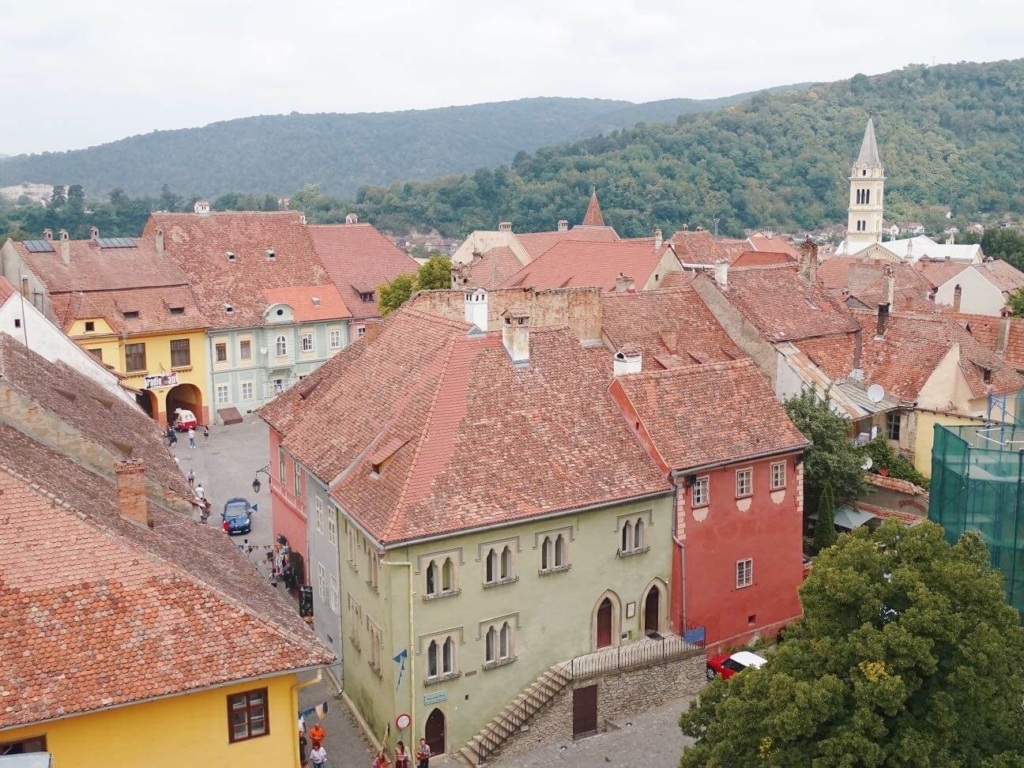 Brasov itinerary for 2 days
Day 1: Start with brunch at Le Birou Bistro before boarding the cable car (or hiking) to the Brasov sign at Tampa Mountain.

For the afternoon, tour the historical Brasov attractions including Council Square, Catherine's Tower, Rope Street and the White & Black Towers. Finish with dinner at La Ceaun.

Day 2: Continue your Brasov sightseeing by visiting a few of Romania's spectacular castles. At a minimum, visit Bran Castle and Rasnov Citadel by car, organised day tour or public bus. For the whole shebang, take a 3 castle trip including Peles.

Extra days: Consider day trips to Transfagarasan Highway, Sighișoara or Sibiu.
I hope you enjoyed these Brasov things to do!
Check out my other Romania blogs:
See you next time for more adventures,
Rose
For more travel content, follow me on Instagram, Facebook, Twitter and YouTube.
Ps. Liked my 2 day Brasov itinerary? Pin it for later!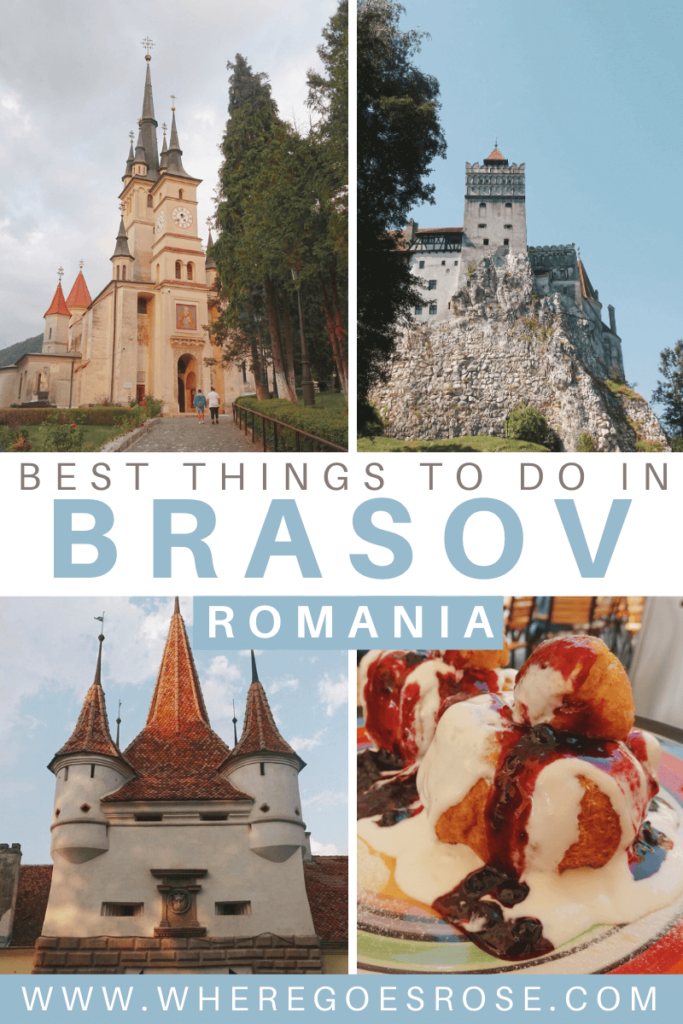 TRUSTED RESOURCES FOR VISITING ROMANIA

Getting around by air – I use Skyscanner to find the best-value flights, using the 'search by month' tool to find the cheapest dates. You can also use the 'to anywhere' feature if you're flexible on where you're going.

Driving in Europe – use Rentalcars.com to compare car rentals in European countries (and all around the world).

For trains, use CRF Calatori to search times and book tickets. For buses, book at Autogari.

To catch buses in and out of Romania (from Bucharest and Timisoara), I use FlixBus. Find journeys between European countries from €1! 

For hotels and self-catering apartments, I use Booking.com. You can filter by review score and price to find the best-rated budget places. For hostels, I use Hostelworld.com.

Browse tours and activities on GetYourGuide.

Need travel insurance? I use True Traveller (for UK & Europe residents) since it's affordable but covers everything you'd need including various activities, valuables and pre-existing conditions. Unlike some companies, they insure you if you're already travelling / don't yet have your flight home booked. Get a quote.

For travel insurance for other nationalities, I recommend Hey Mundo and for long-term digital nomad travellers, I suggest Safety Wing.

Check out my resources page for more travel discounts and budget tips from my 10+ years on the road!