This post may contain affiliate links to things like tours, hotels, Amazon associates and products. These help me earn a small commission at no additional charge to you.
Burford is a sweet and sleepy town in the Cotswolds known for its period charm and historic buildings. One of the perks of my hometown is that it's just a 20-minute drive away. While it's a small settlement of just 1,300 people, there are plenty of things to do in Burford whether you're visiting for a day trip or staying overnight.
Where is Burford?
Burford is right on the edge of the Cotswolds towards the Oxford side. People call it the 'gateway to the Cotswolds' because its the first place you reach on the way from Oxford or London.

From Burford, you can continue further and reach spots of natural beauty like Bourton-on-the-Water and Stow-on-the-Wold.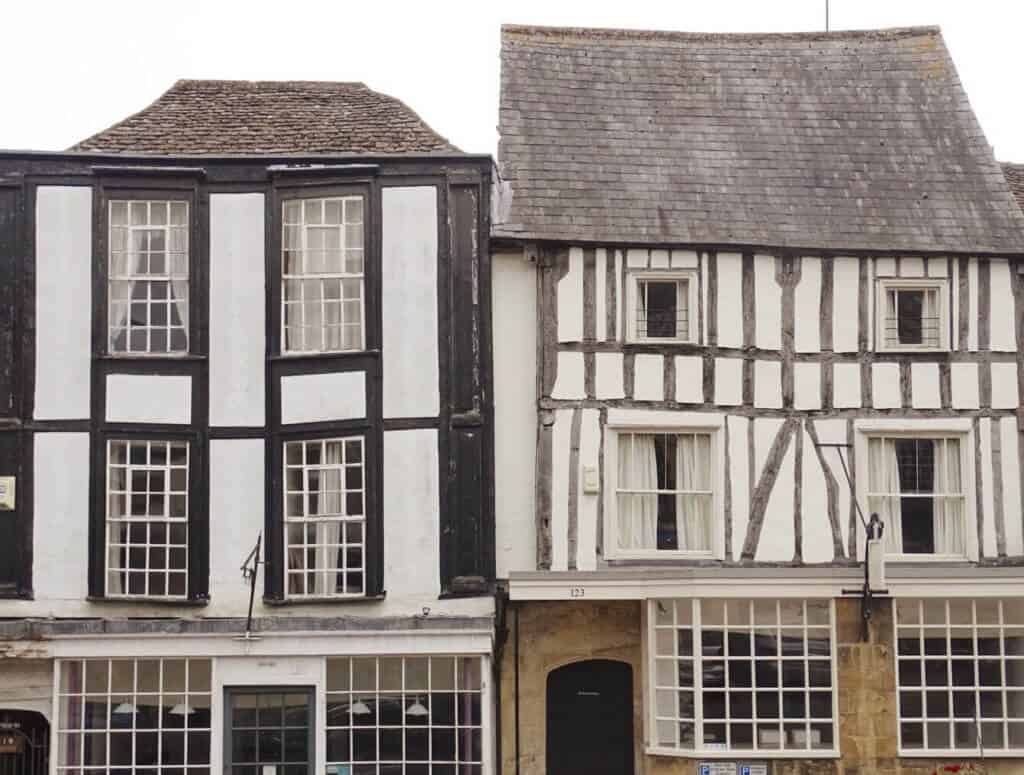 Visiting the Cotswolds? Check out my other blogs!
How to get to Burford
The easiest way to reach Burford is by car. If you're coming from Oxford or London, follow the A40 until you reach Burford. It takes about 40 minutes to reach Burford from Oxford by car and up to two hours to reach London, depending on traffic and where you're travelling from or to.
Read next: how to visit Burford during a one day Cotswolds trip from London
Where to park in Burford
There's plenty of free parking to be found in Burford. Simply follow Google Maps to Burford Car Park which is located in the lower end of town, set back from the High Street.

Take the turning beside Mrs Bumbles Delicatessan and follow the road behind the church. The only set of public toilets in Burford are found at the edge of this car park.
Burford by bus
Although it can be tricky without a car, it is possible to travel the Cotswolds by public transport.

There's a public bus that services Burford. I caught the 233 which runs every 30 minutes from Witney. If you're coming from Oxford, you can catch the S1 or S2 bus to Witney or Carterton and change to the 233 from there.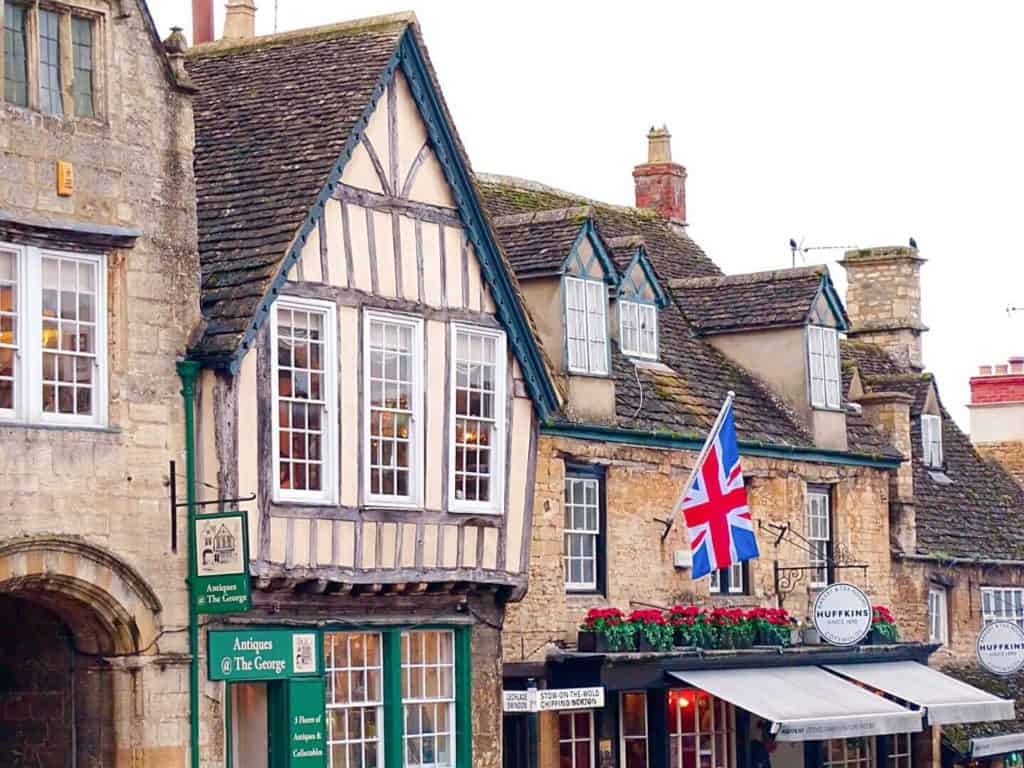 Things to do in Burford Cotswolds
Burford isn't somewhere you visit for an action-packed day, but to experience a quintessentially English town that hasn't changed for decades, if not centuries.

These are the best places to visit whether you're coming to Burford as a day trip or spending a weekend in the Cotswolds.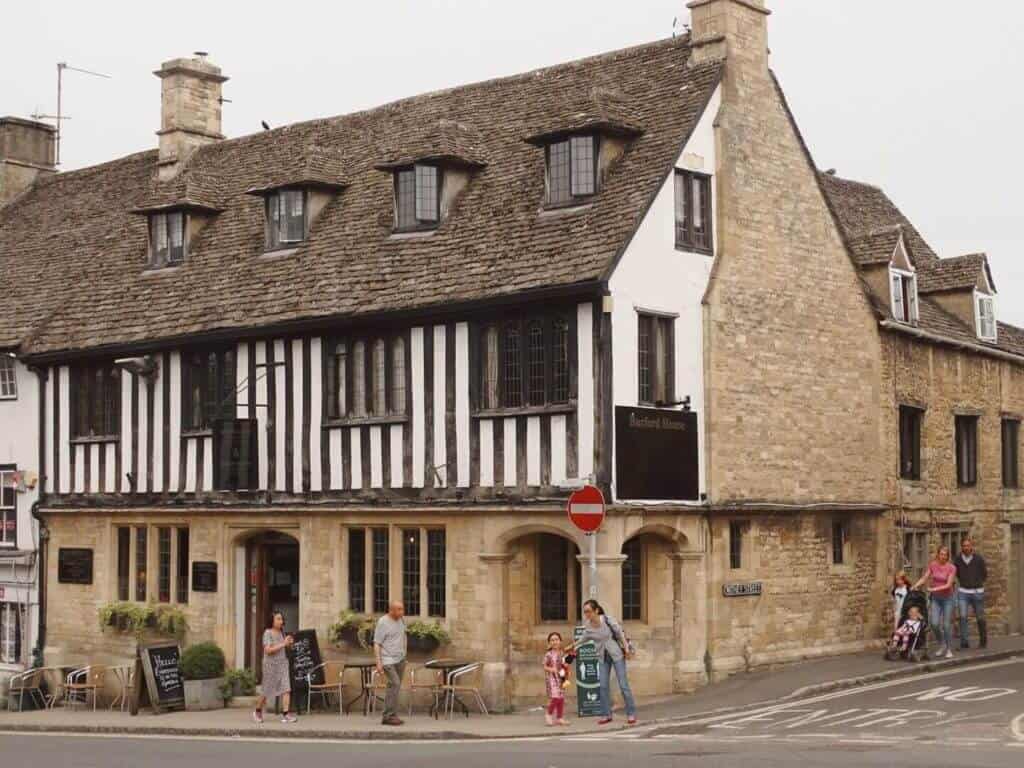 Here's what to do in Burford for a first trip…
Afternoon tea at Huffkins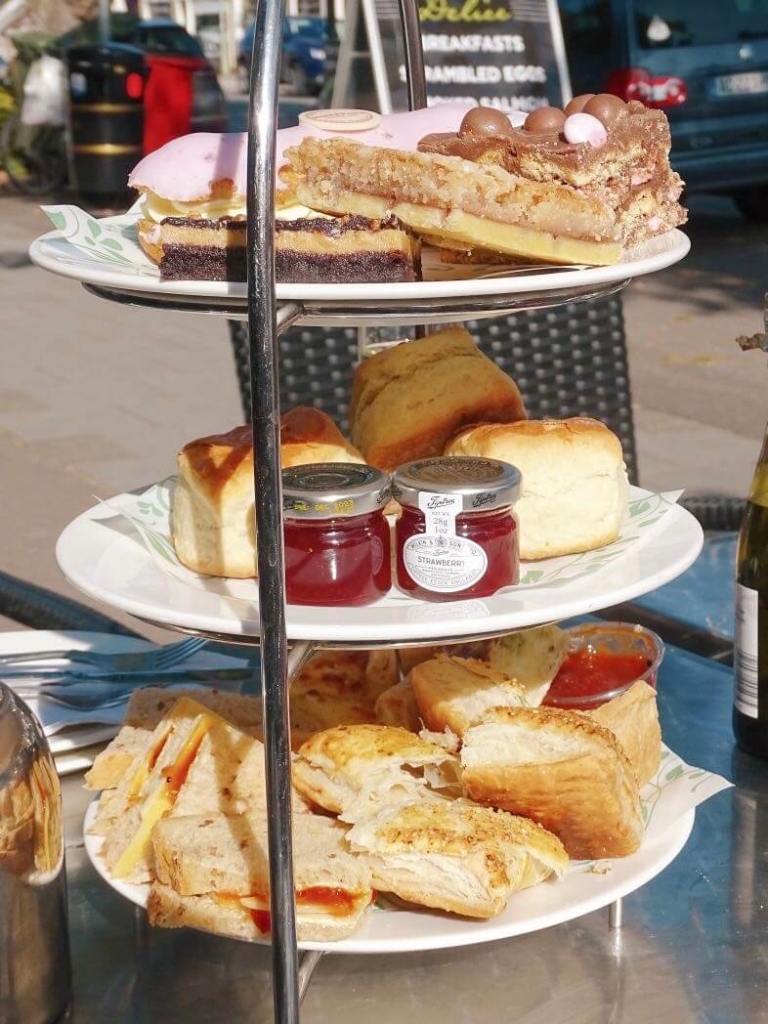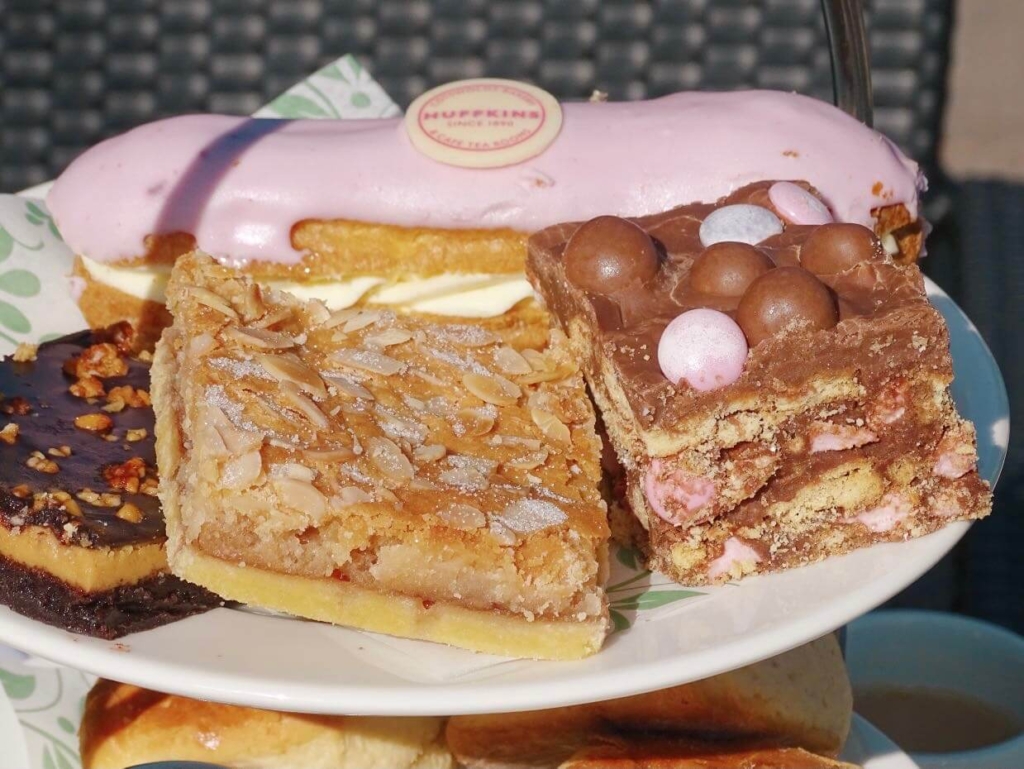 Visitors to the Cotswolds should indulge in traditional English food whether that's a roast or a decadent afternoon tea. Huffkins Cotswold Bakery & Tearooms on the High Street is known for its English teas and scones with jam and clotted cream.

You can indulge in a Cotswolds cream tea with scones, jam, cream and breakfast blend tea for £6.95 or upgrade to a classic cream tea package for 2 which includes a selection of savouries and homemade cakes for £35.

Huffkins also serve teas, coffee, milkshakes, smoothies, alcoholic beverages, English breakfasts, pastries, posh cheese toasties, sourdough pizza, homemade quiche, beef pasties, and cheese and onion slices.

The cafe has a cosy and ambient feel with a medieval courtyard perfect for sunny days. If you enjoyed your visit, you can take away a Huffkins hamper or goodie bag.
Browse the shops
I can't help but laugh at how posh (and unnecessary) the Burford shops are. There's one solely selling brushes and another just for ties. The overall winner has to be the fly fishing and luxury dog products store. I don't know about you but they are the main things I nip to town for!

Regardless of how necessary they are, one of the best things to do in Burford England is browse the following stores…
The Cotswolds Cheese Company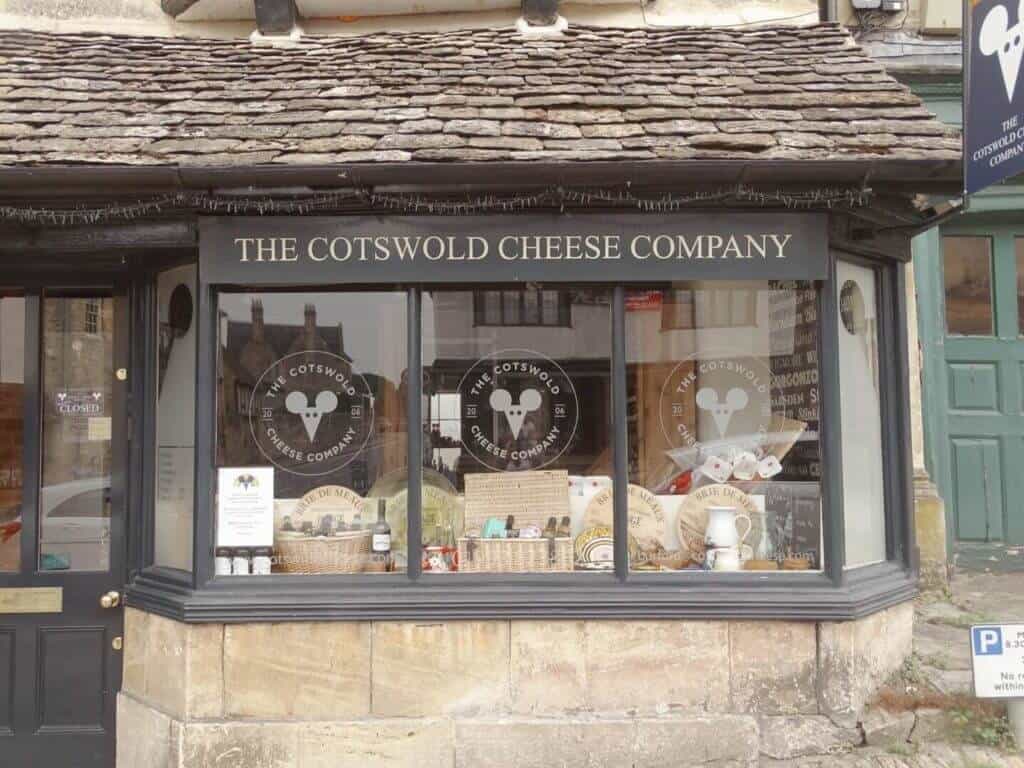 This store solely dedicated to the best food of all time is one of three branches in Moreton-on-Marsh, Stow-on-the-Wold and Burford. The wide range of tasty cheeses are made locally in – you guessed it – The Cotswolds!

I love browsing inside this shop and wishing I had £8.50 to spend on a block of Barnham Blue. Other classics include whiskey-smoked cheddar, stinking bishop, Oxford Blue, Cornish mature gouda, Shropshire Blue, Wild Garlic Cornish Yarg, oak-smoked cheddar… The list goes on.

You can also shop for cheese, biscuits, chutney and pickles, as well as other deli goods like charcuterie, olives, wines, ciders, cookies and fudge. If you have £50+ to splurge, you can take away an entire hamper of all their best sellers.Find The Cotswold Cheese Company at 113 High Street. You can also get Cotswold Cheese delivered if you get hungry back home.
The Sweet Shop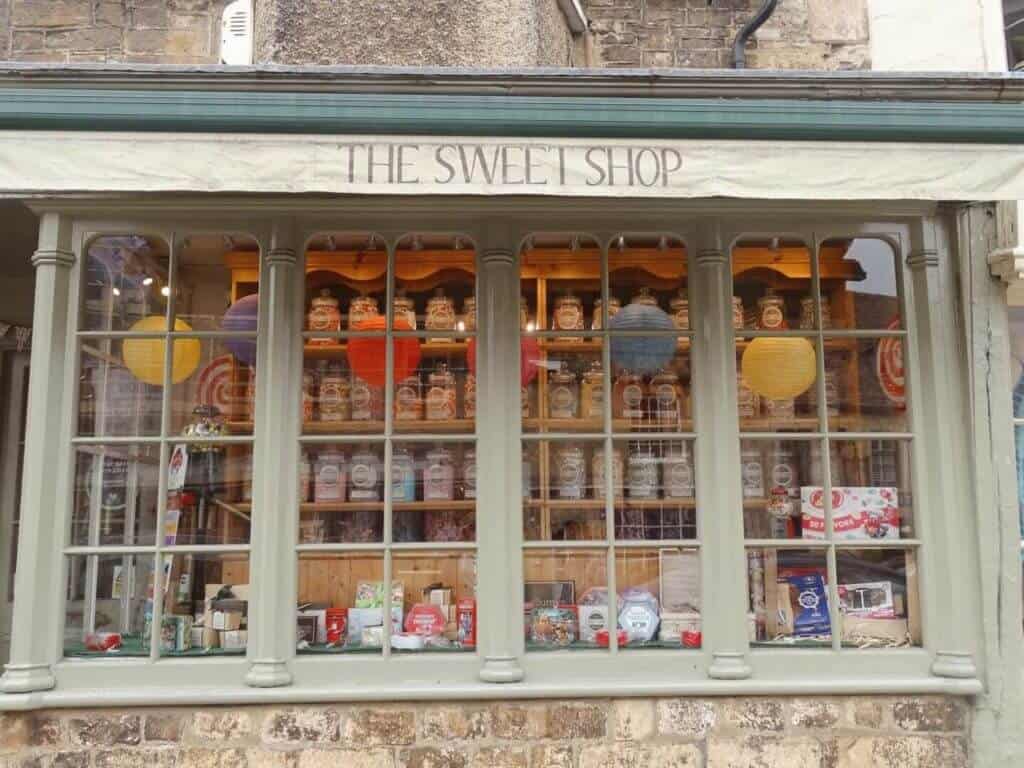 If you're not already on a sugar high from your visit to Huffkins, one of my favourite things to do in Burford UK is take a trip to Burford Sweet Shop.

This adorable store inside a golden Cotswold brick building sells all kinds of traditional sweets. With almost a hundred varieties to choose from, how will you ever pick?

I like the chocolate-coated Turkish delight, the dolly mixture and marzipan teacakes. Most of the sweets cost £2-3 per 100g making them some of the cheapest Burford souvenirs. Of course, there are some pricer goodie bags and hampers if you want to splash out or treat a friend.

Find the Sweet Shop Burford at 94 High Street.
Three French Hens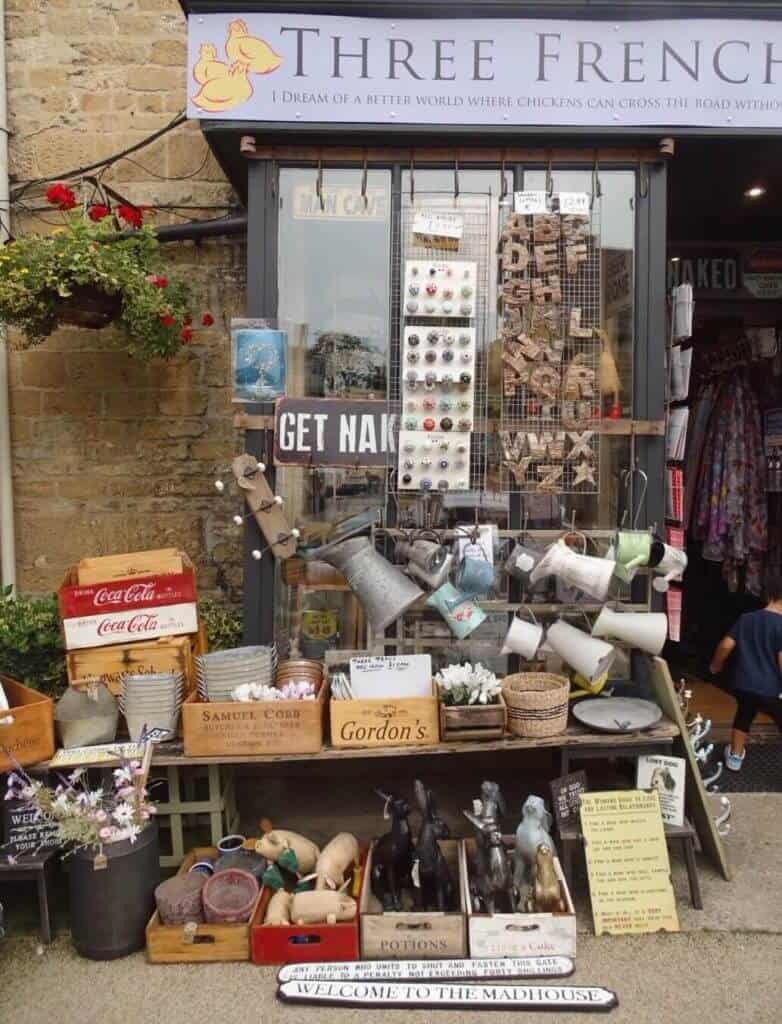 Three French Hens is another Burford shop that doesn't sell anything especially useful but is worth a visit nonetheless. The inviting exterior will tempt you inside with its quirky clutter, homeware items and Harry Potter gifts.

Although I have no use for them, the luxury door handles in all manner of different colours and patterns are a favourite.

Find Three French Hens at 39 High Street.
Madhatter Bookshop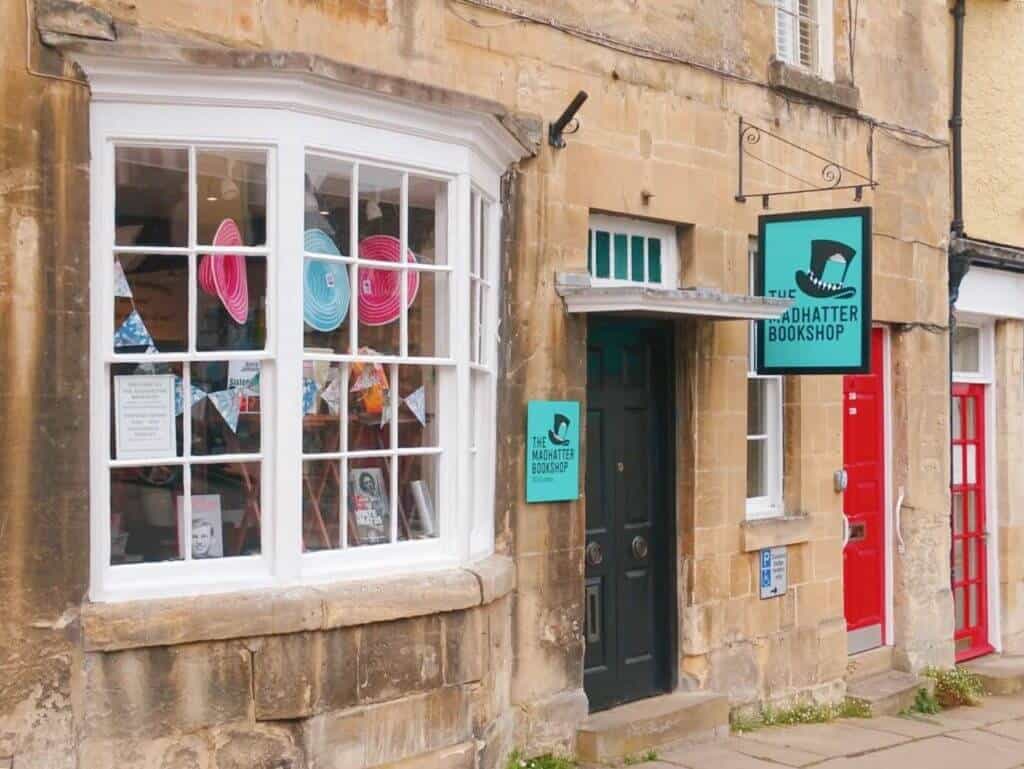 The Madhatter Bookshop is a cosy independent bookshop on Burford High Street. The Alice in Wonderland-themed name seems fitting when you consider that Oxford, the birthplace of the novels, isn't far away.

The friendly staff are passionate about their books and will help you find whatever you're looking for. Having a browse here is one of the best things to do in Burford, plus they sell hats.

Find Madhatter Bookshop at 122 High Street.
House spotting on Burford Hill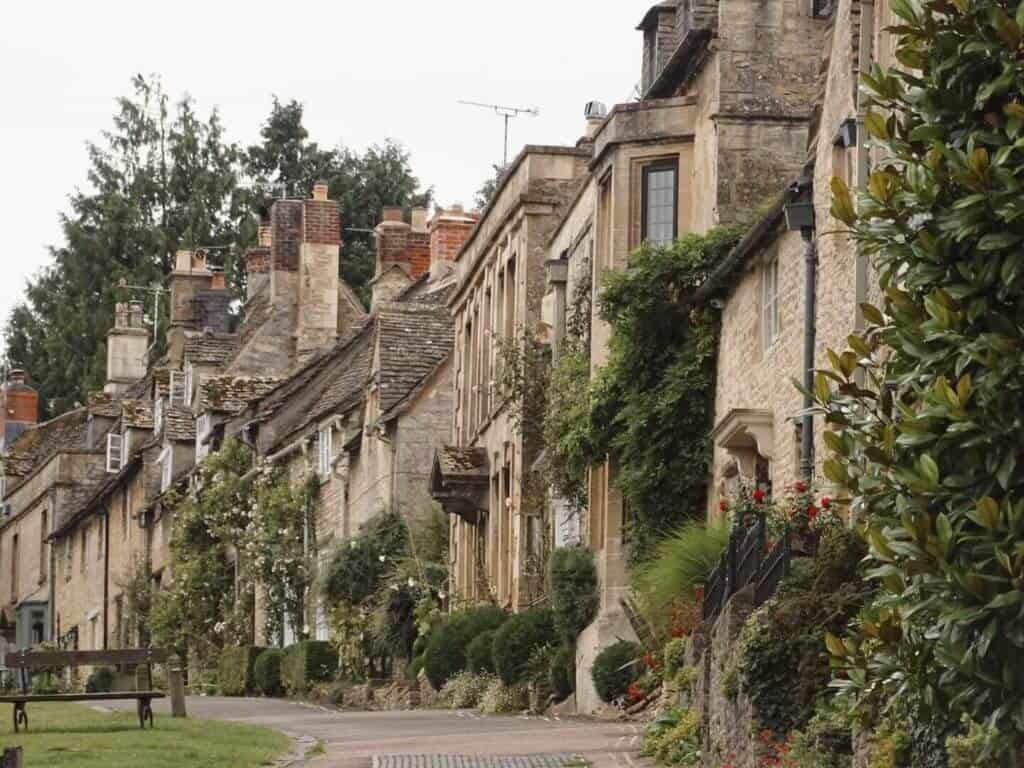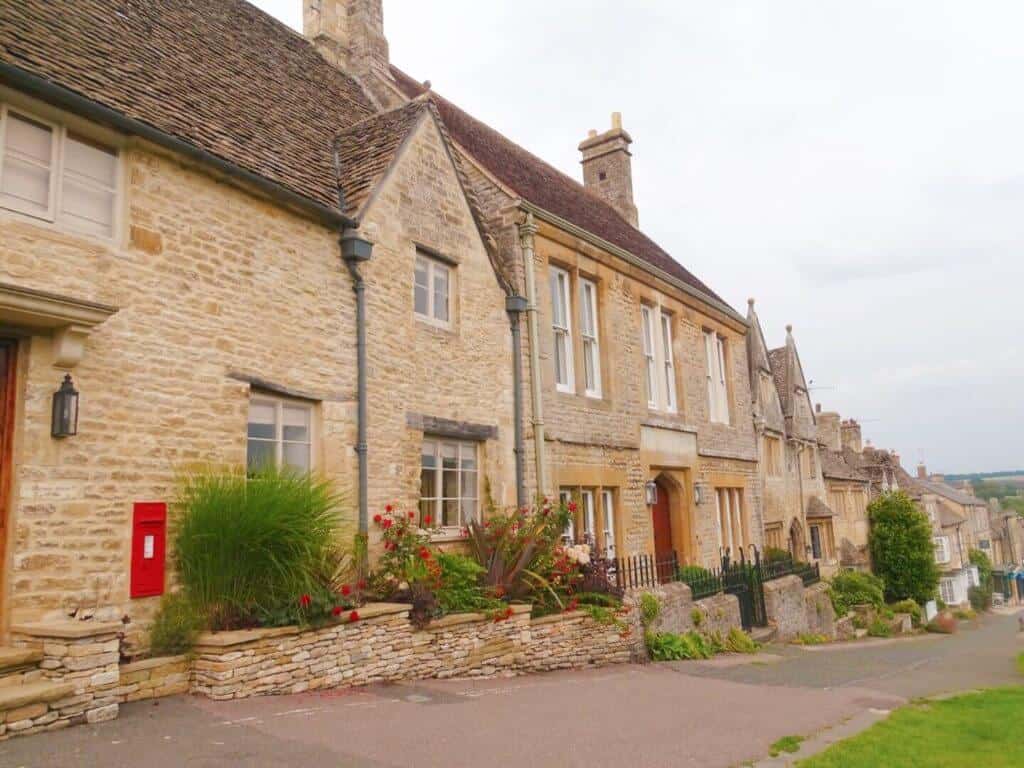 Some of the prettiest houses in Burford can be found along Burford Hill. If you arrive by bus, jump off at the top of the hill and walk towards Burford town.

I have no idea how much these charming cottages sell for but I guess it's millions. Some of these houses are centuries old with period features and bucketloads of charm.
Walk over the fields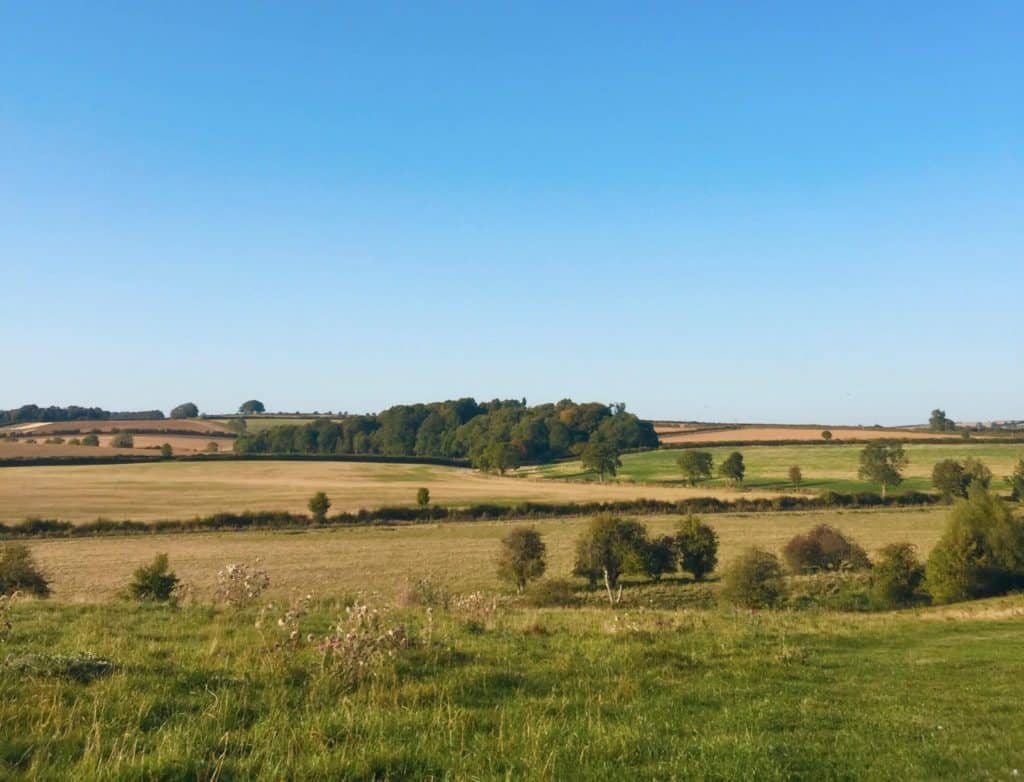 If you're looking for things to do near Burford, take a walk in Oxfordshire. Walk down Sheep Street until you're out of town and take the right turning down a country lane. Enter OX18 4LX into Google Maps for the exact location.

You can walk the country track, passing fields or horses and donkeys and looking out over rolling British countryside.
St John The Baptist Church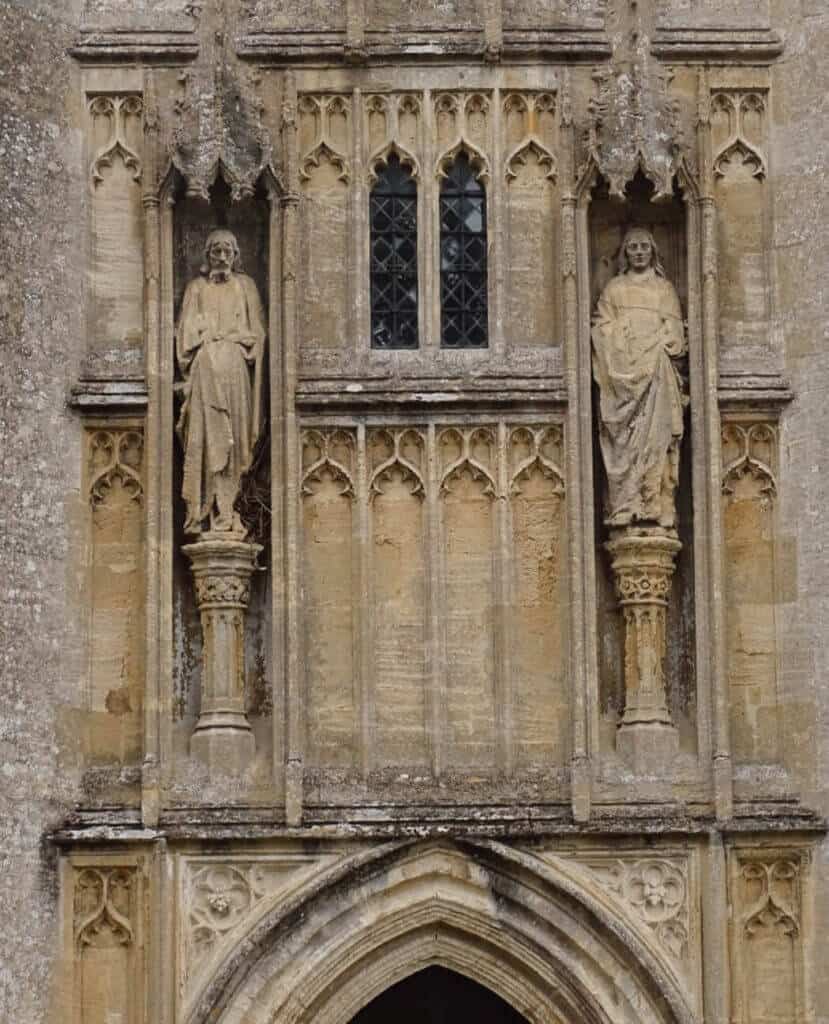 This impressive Grade I listed building is one of the most popular things to see in Burford.

St John The Baptist Church is almost 1,000 years old and has a blood-thirsty history.

Cromwell's army were imprisoned here and you can even see where one of them carved his name into the stone before being executed, along with a deep bullet hole still visible in the golden church stone. You can also see the names of those executed on a plaque outside.

Bloody history aside, this church is a stunning piece of architecture and one of the 10 most visited churches in England.
Pubs in Burford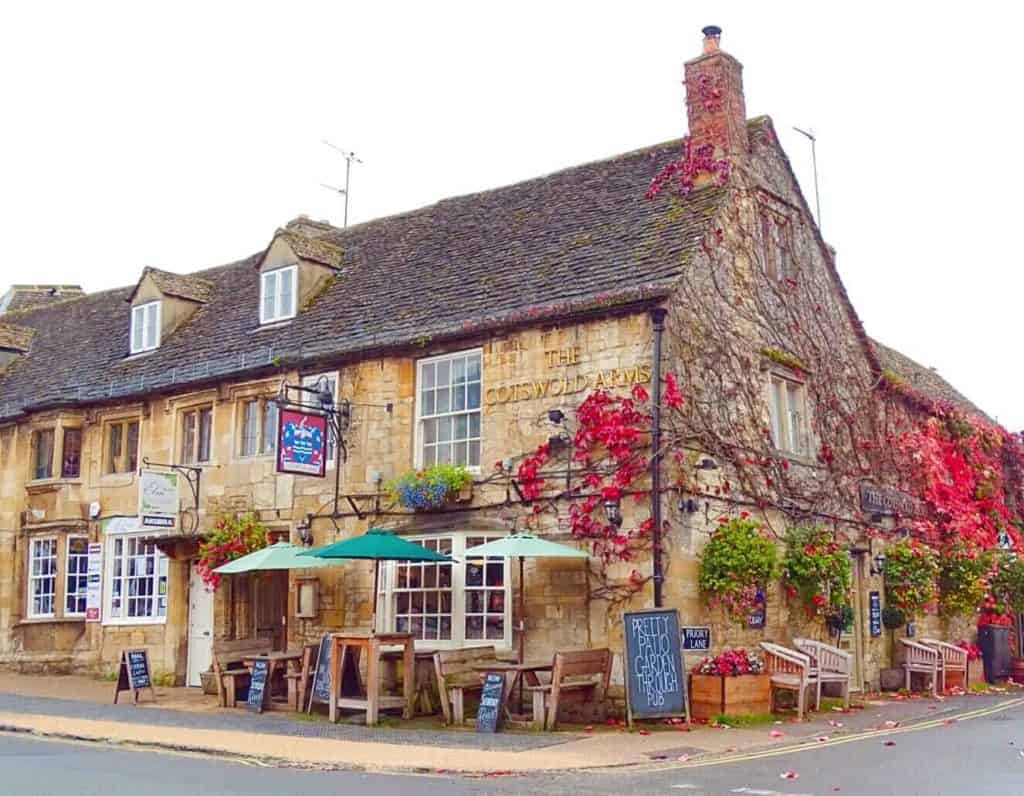 Don't leave Burford without sinking a pint at a traditional British pub.

While there are a few different pubs in Burford for different occasions, they all have a few things in common. Burford is not a place where you'll find quirky, hipster bars with experimental cocktails. But that's okay: one of the best things to do in Burford is curl up with a pint or glass of wine and a hearty roast, soaking up the surrounding of a proper British pub.

There are a few of the best:
The Mermaid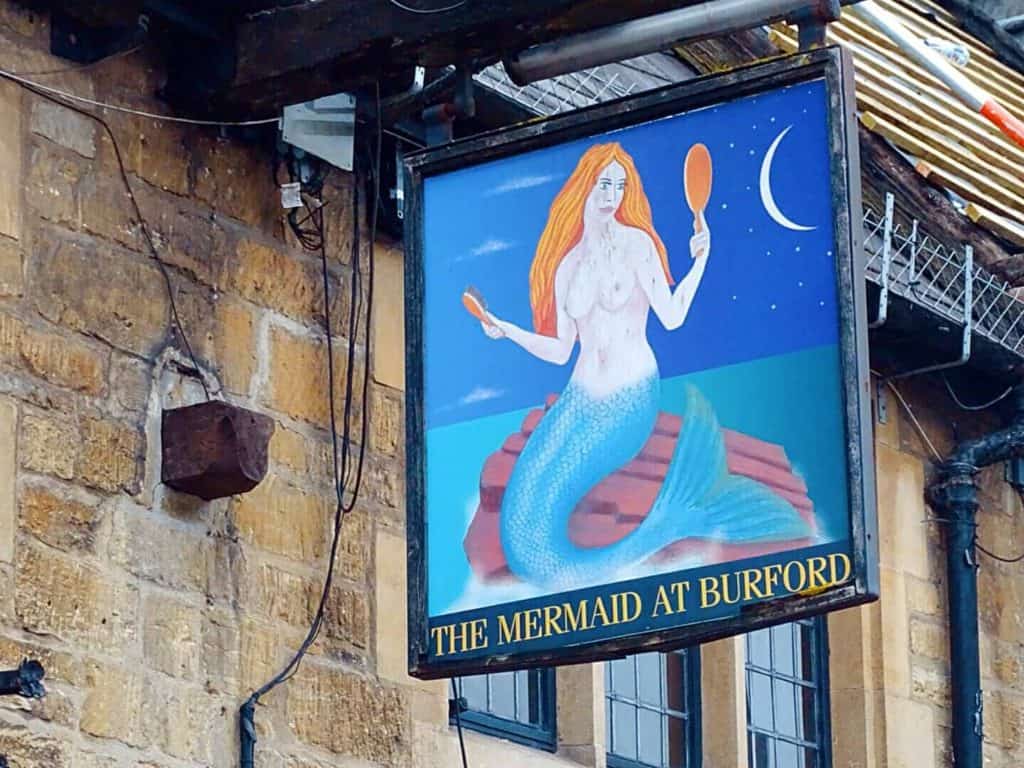 The Mermaid at Burford is an 18th-century pub with a cheeky welcome sign, wooden period fireplaces and a hearty British menu.

As well as starters, burgers, sharing boards and desserts, they serve incredible jugs of Pimms in the summer which can be enjoyed sat outside.

For the winter months, you can curl up beside the fire and sample the wide range of real ales.
The Cotswold Arms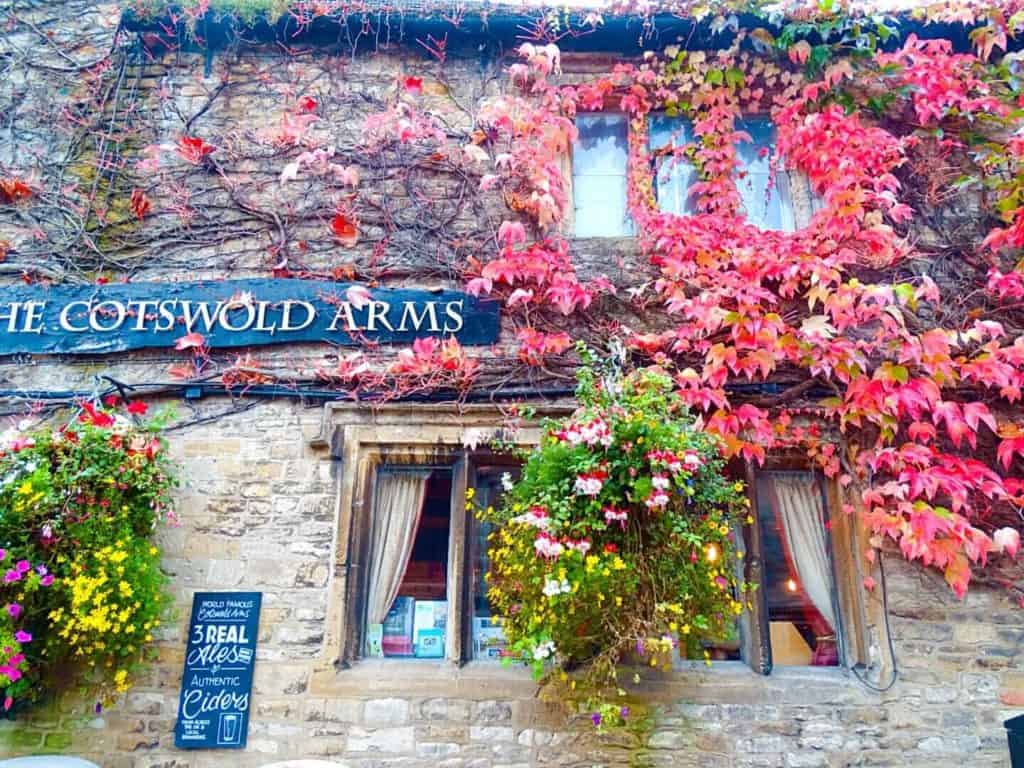 This is the most picturesque spot in town from September to December when red leaves grow up the golden stone of the Cotswolds Arms pub. In the summer months, they're replaced by equally attractive flowery displays.

Aside from the photo potential, this is one of the most popular pubs in Burford known for their ales and hearty meals.

As well as British classics like fish 'n' chips and beef and ale pie, they now serve veggie dishes aubergine chilli and sweet potato curry, plus a range of gluten-free dishes. They also run a Friday burger night where you can get a burger and a pint for £10.
The Priory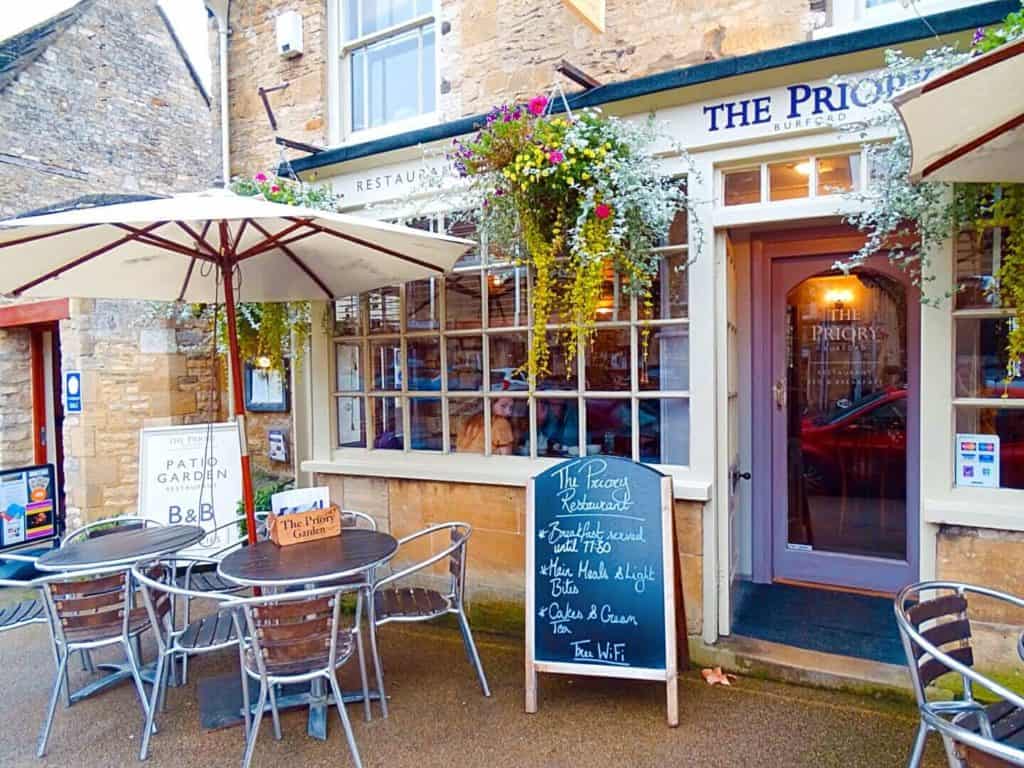 For a filling meal in cosy settings, visit The Priory. I recently stopped for coffee and a toasted teacake as a rest break but they pride themselves on their full English breakfast for only £9.50.

The building dates back to the 17th century and has a sleepy garden set away from the main road.
Shop for plants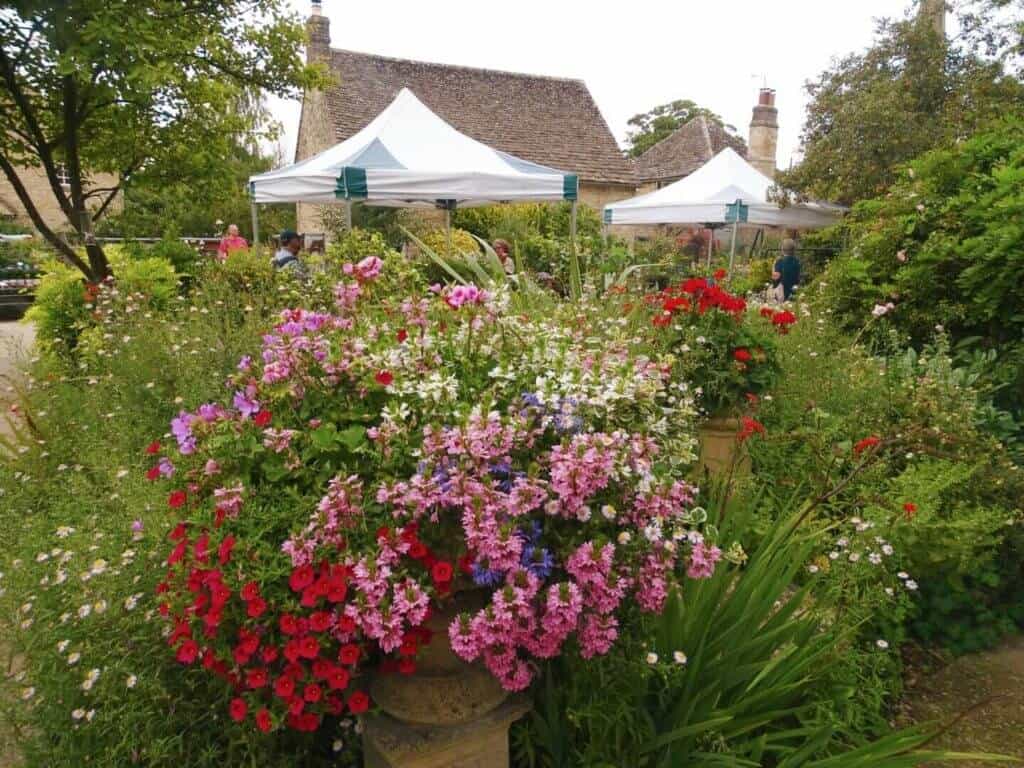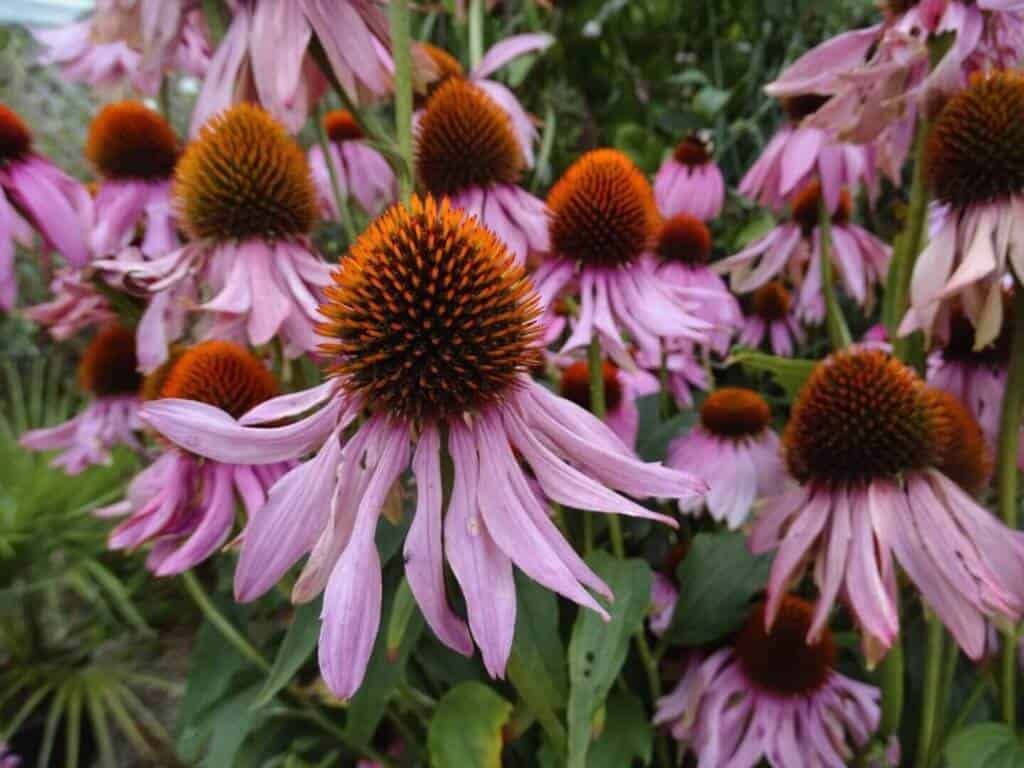 Looking for a Burford souvenir? Shop for plants at the open garden centre on Church Lane (found when heading toward the car park from the main road).

This garden centre run by a local family stretches from their front door almost out into the street. There are all kinds of pot plants, wildflowers, shrubs and cacti for sale.
Garden cafe in Warwick Hall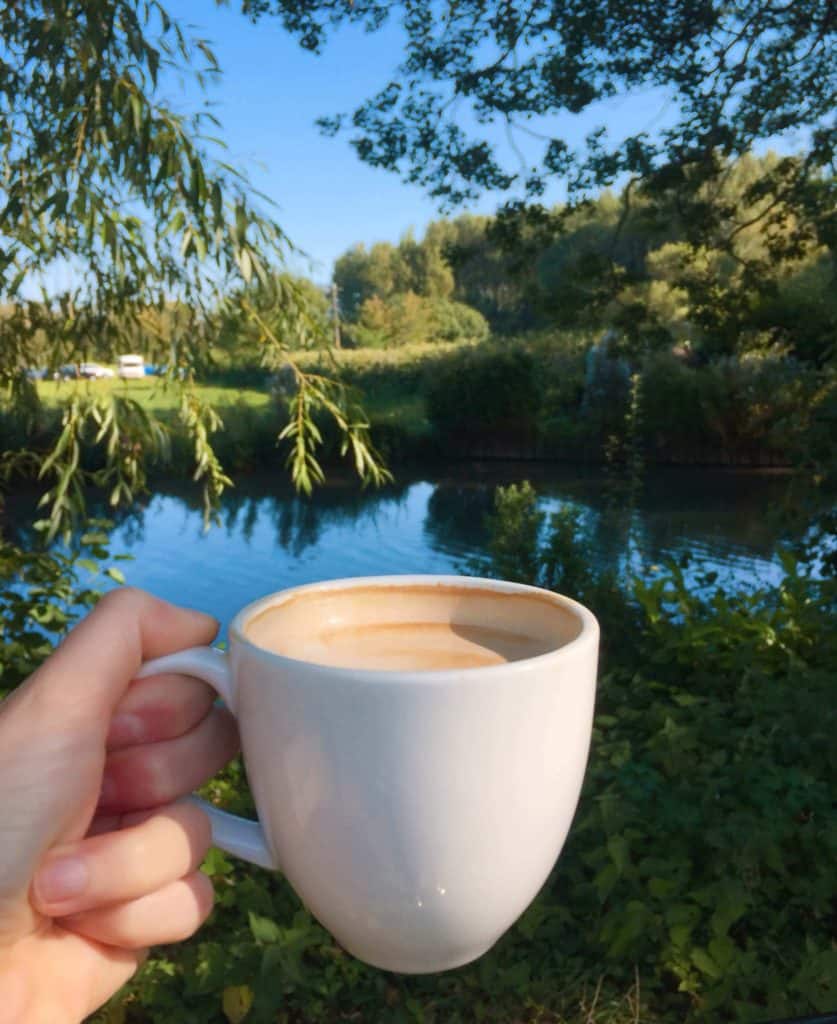 This community centre might not be there oldest or most traditional building in Burford but it certainly has the best garden views.

The spacious green garden of Warwick Hall looks out over the river where you can spot wildlife in the summertime.

The cafe serves coffees, cakes and sandwiches which makes for a good pitstop while exploring Burford. Enter within the grounds of St John the Baptist Church.
Where to stay in Burford
Burford isn't the land of budget backpacker hostels but there are some affordable accommodation option on Booking.com, as well as some truly gorgeous period properties.
Budget accommodation in Burford:
The Golden Pheasant Hotel – this 18th-century inn has oak beams, period fireplaces and a pub downstairs serving tasty local food. Check availability from £85pn.
The Cotswold Gateway Hotel – at the top of the High Street, this period property has an ensuite coffee shop and pub, serving travellers since the 18th century. Check availability from £75pn.
Treat-yourself accommodation in Burford:
The Highway Inn – this gorgeous property blends traditional features with modern amenities. The large boutique bedrooms are characterised by wooden beams and quirky wall art, plus the pub is dog-friendly and there's a hearty English breakfast each morning. Check availability from £120pn.
The Lamb Inn – set away on a quiet side street, The Lamb is a favourite Burford pub with over 500 years of service and 17 individually-designed boutique bedrooms and sitting rooms. Check availability from £130pn.
Where next?
Burford is right on the edge of the Cotswolds, there are plenty of things to do near Burford.

Other quaint and charming towns include Bourton-on-the-Water, Broadway and the Slaughters (Upper Slaughter and Lower Slaughter).

Read my guides to the best places to visit in the Cotswolds and how to spend a perfect weekend in the Cotswolds.

You're also nearby to Oxford, one of my favourite cities in the UK. Check out all my Oxford blogs here.

If you head over to the Bath side of the Cotswolds, don't miss Tetbury. This beautiful town has 1,300 years of history and some lovely attractions in the surrounding countryside. Read about the best things to do in Tetbury.

Down in the south of the Cotswolds are some beautiful locations like Castle Combe and Lacock home to Lacock Abbey and many Lacock Harry Potter filming locations.

Just outside the Cotswolds is the city of Gloucester where Potterheads can find Harry Potter filming locations around Gloucester Cathedral.
I hope you enjoy these things to do in Burford England!
If you ever have a better idea of what to do in Burford, please share this!
Check out my other England posts:
See you next time for more adventures,
Rose
For more travel content, follow me on Instagram, Facebook, Twitter and YouTube.
Ps. Liked these Burford things to do? Pin this for later!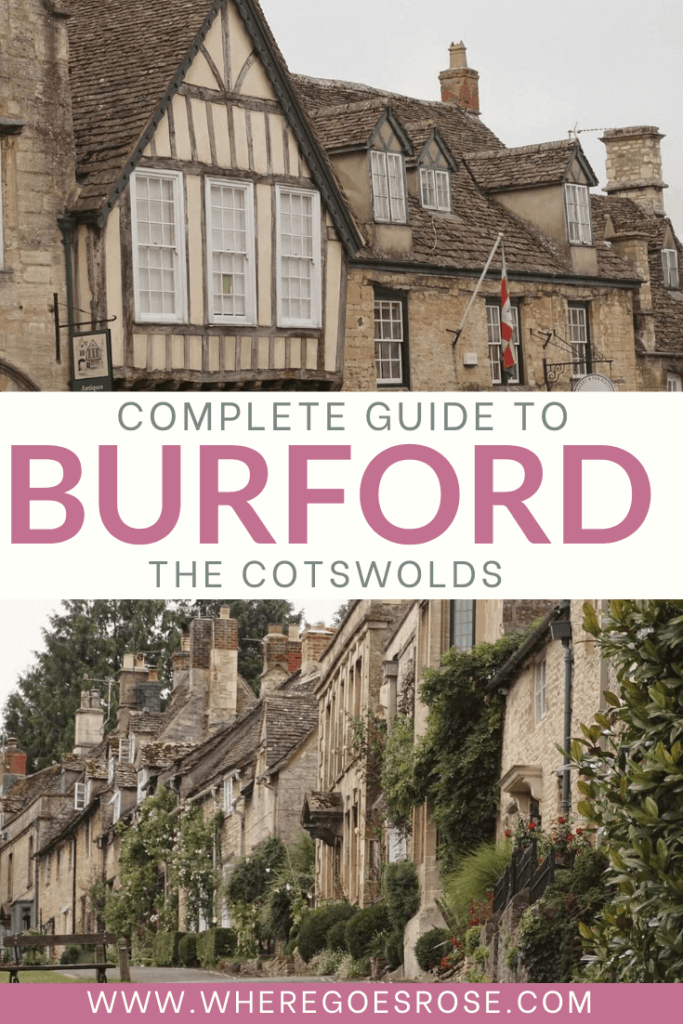 TRUSTED RESOURCES FOR VISITING THE UK

Getting there & around by air – I use Skyscanner to find the best-value flights, using the 'search by month' tool to find the cheapest dates. You can also use the 'to anywhere' feature if you're flexible on where you're going.

Car hire – use Rentalcars.com to compare car rentals and campers in the UK (and all around the world).

For UK trains, I use Trainline. The search feature allows you to compare prices with other modes of transport.

For buses, I use busbud. It's the only site that compares UK coaches and buses. Find London to Manchester journeys for £1!

For hotels and self-catering apartments, I use Booking.com. You can filter by review score and price to find the best-rated budget places. For hostels, I use Hostelworld.com.

To save money on accommodation, I use Trusted Housesitters, a website that connects homeowners going away and travellers who can sit their homes & pets.

Browse UK tours and activities on GetYourGuide.

Pack the latest copy of Lonely Planet UK.

Need travel insurance? I use True Traveller (for Europe residents) since it's affordable but covers everything you'd need including various activities, valuables and pre-existing conditions. Unlike some companies, they insure you if you're already travelling / don't yet have your flight home booked. Get a quote.

For travel insurance for other nationalities, I recommend Hey Mundo and for long-term digital nomad travellers, I suggest Safety Wing.

See all my suggestions on my resources page.