This post may contain affiliate links to things like tours, hotels, Amazon associates and products. These help me earn a small commission at no additional charge to you.
Hello and welcome to my Coyoacan guide! This sweet and sleepy part of Mexico City is by far one of my favourite parts of town, possibly because it feels so far removed. There are many fantastic things to do in Coyoacan as I'll explain in this guide.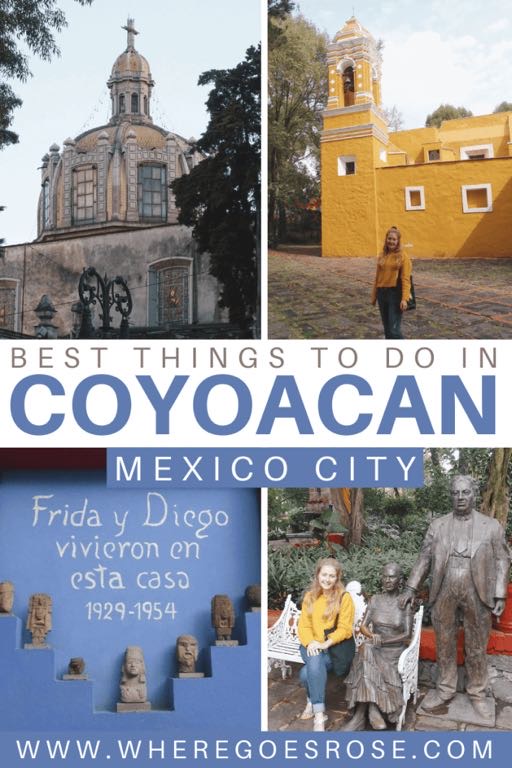 MEXICO CITY QUICK LINKS

Accommodation: Booking.com / Hostelworld

Activities: GetYourGuide

Copy of Lonely Planet Mexico

Food tours: Eatwith

Getting around: Metro / Uber

Must-read: Ultimate Mexico City itinerary & Mexico City travel tips
Whether you choose to stay in Coyoacan or just visit for a day trip, you can't go wrong. I spent 10 days living here during my solo travels in Mexico, exploring at my leisure. However, if you arrive early, you can explore all Coyoacan's things to do during a day.
Coyoacan guide
Coyoacan is an area of Mexico City known for its cobbled streets, art galleries, colourful buildings and artisan markets. With plenty of leafy parks, it feels like you've been whisked away to a peaceful village. It's hard to imagine you're in a city of 22 million!

The village feel is hardly a surprise because Coyoacan was indeed once its own independent town. Cuidad de Mexico grew and engulfed it, yet it retained its old-fashioned charm. First up in my Coyoacan guide, how to arrive…

Getting to Coyoacan:
By taxi: If you're staying centrally in Mexico City, travel will take around 30 minutes by taxi. Expect to pay 150 pesos by Uber or 100 by Uber Pool.
By public transport: Catch a local bus for around 7 pesos or the Metro for 5 pesos. Note that Coyoacan Station (metro) is a good 20-minute walk from the main attractions. The total journey will be 45 minutes+ from Roma/Condesa or Centro.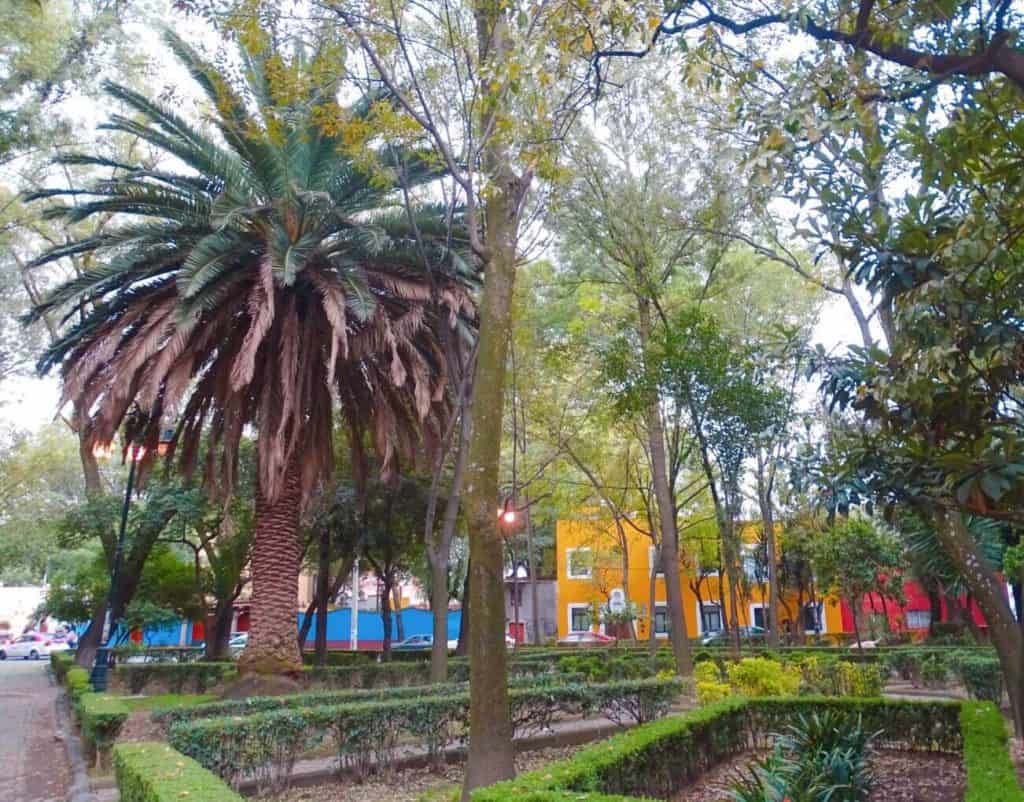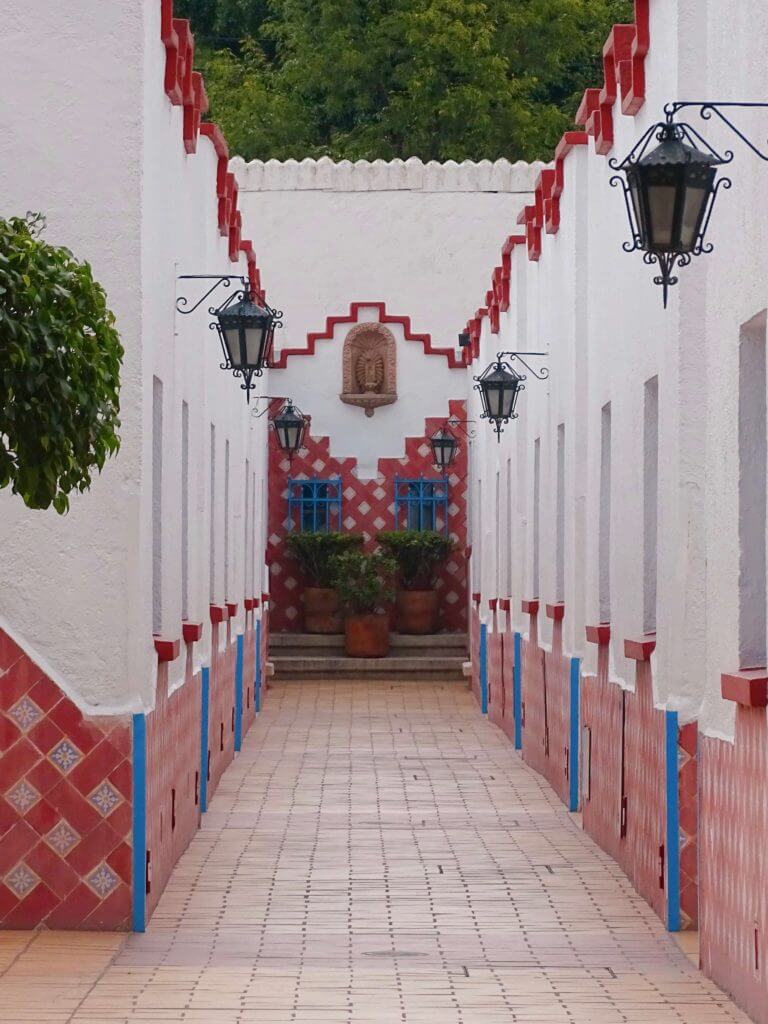 Things to do in Coyocan Mexico City
You probably want to know what to do in Coyoacan, whether you're considering visiting or already in town. There are a few main things to do in Coyoacan, as well as lots of wandering to be done.

In this Coyoacan guide, I'll run through the top attractions in Coyoacan and move onto where to eat and stay.
1. Mercado de Coyoacan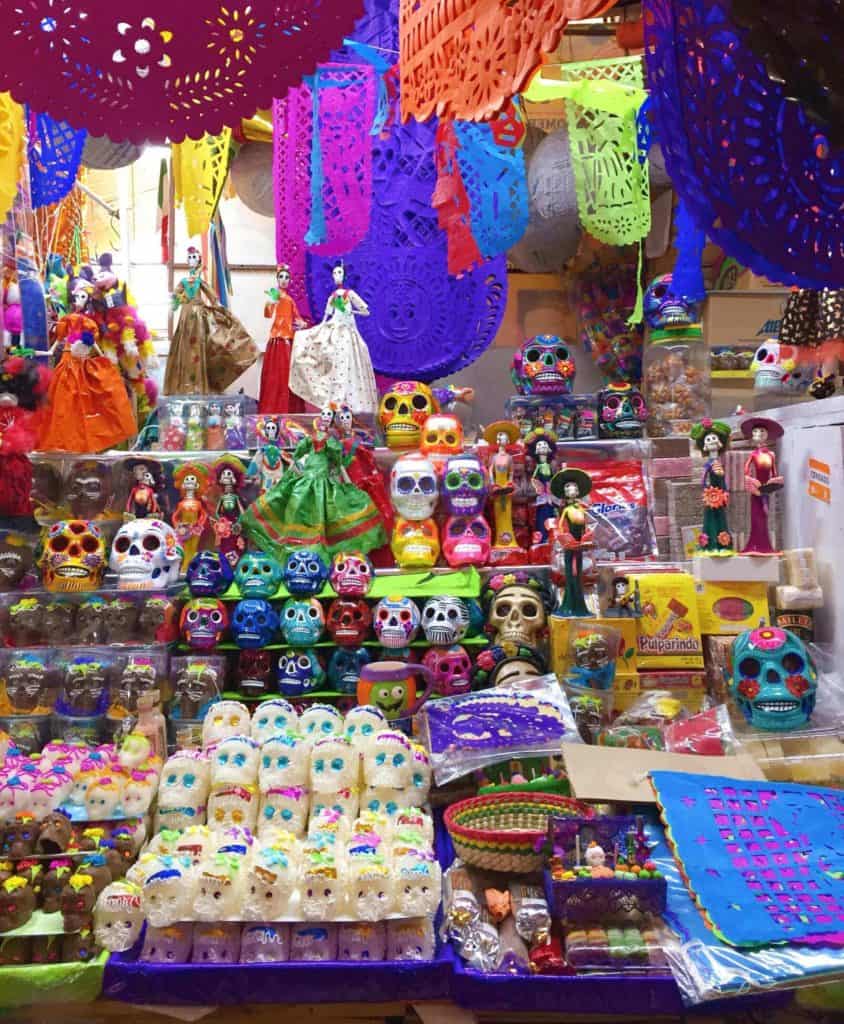 One of my favourite markets in Mexico is Mercado de Coyoacan. It's a mix between a local market and tourist market: you'll find tightly-packed alleyways of local goods as well as sit-down restaurants that are a little inflated in price.

I'm not sure locals eat breakfast here but it's one of the best things to do in Coyoacan nonetheless.
2. Eat tostadas at Tostadas Coyoacan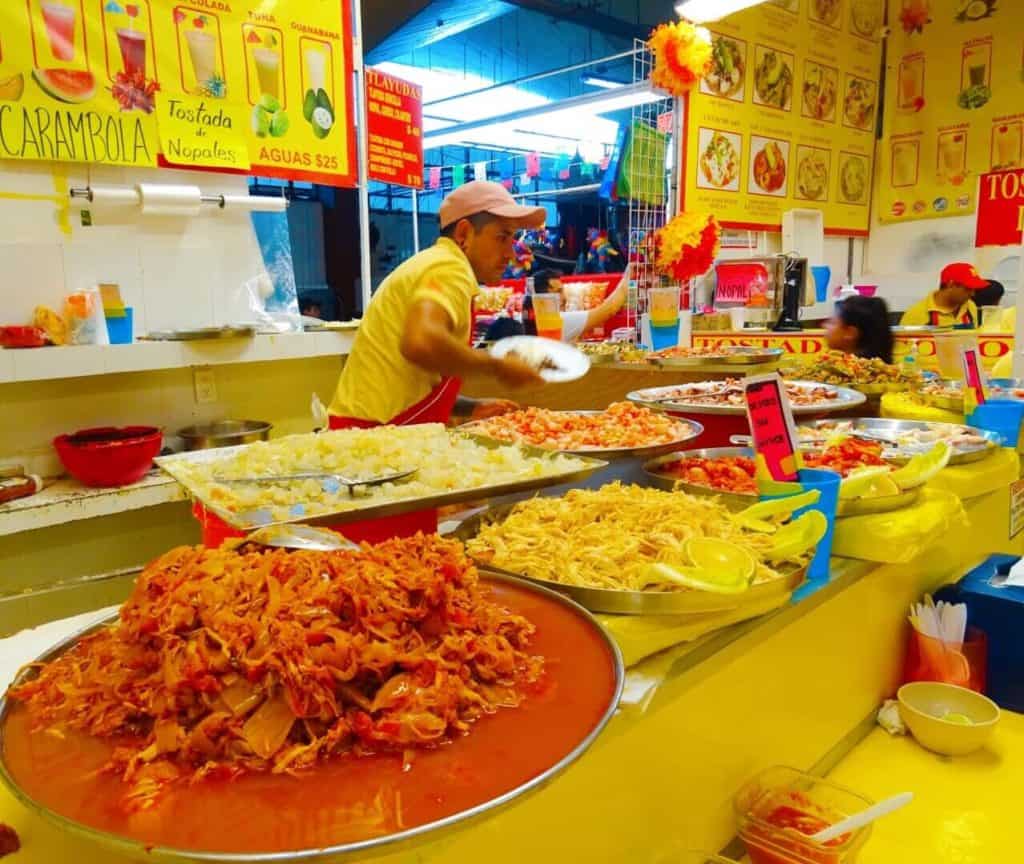 My favourite spot in the market is Tostadas Coyoacan. If you don't know, tostadas are crispy tortillas topped with ingredients. At this casual market stand, there are so many options from seafood to meat, mole and veggies. Dig in!
Read next: The best restaurants and cafes in Coyoacan
3. Ride a Coyoacan tram
Getting around Coyoacan is easy on foot; you don't necessarily need to use the tramway but it's a fun way to explore the main attractions in Coyoacan. These bright red carriages trundle off from San Juan Bautista church regularly.

They offer a few different tours including a myths & legends one as well as a 'canteen to canteen tour' (my kinda tour) and a pet-friendly tour. Check with the steward if there are English-speaking tours.
4. Frida Kahlo Museum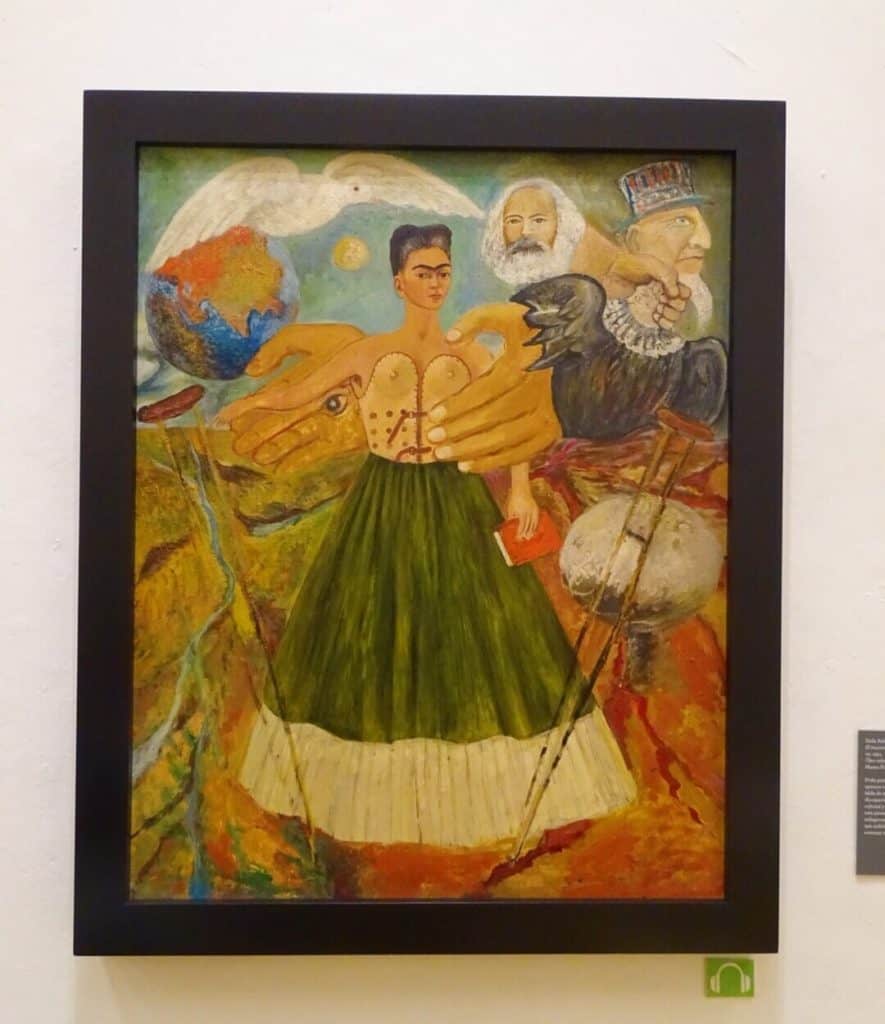 You won't find a Coyoacan guide that doesn't mention Frida Kahlo. This is what has traditionally put the region on the map. While it's definitely not the only reason to visit, a trip to the Blue House should be high on your Mexico bucket list.

Frida lived out most of her days at the Blue House which is now open to the public as the Frida Kahlo Museum. To be honest, I was a bit underwhelmed.

The museum is always packed out and you have to queue to look at individual paintings. I would highly recommend visiting on a weekday and booking your tickets a couple of days in advance on the website.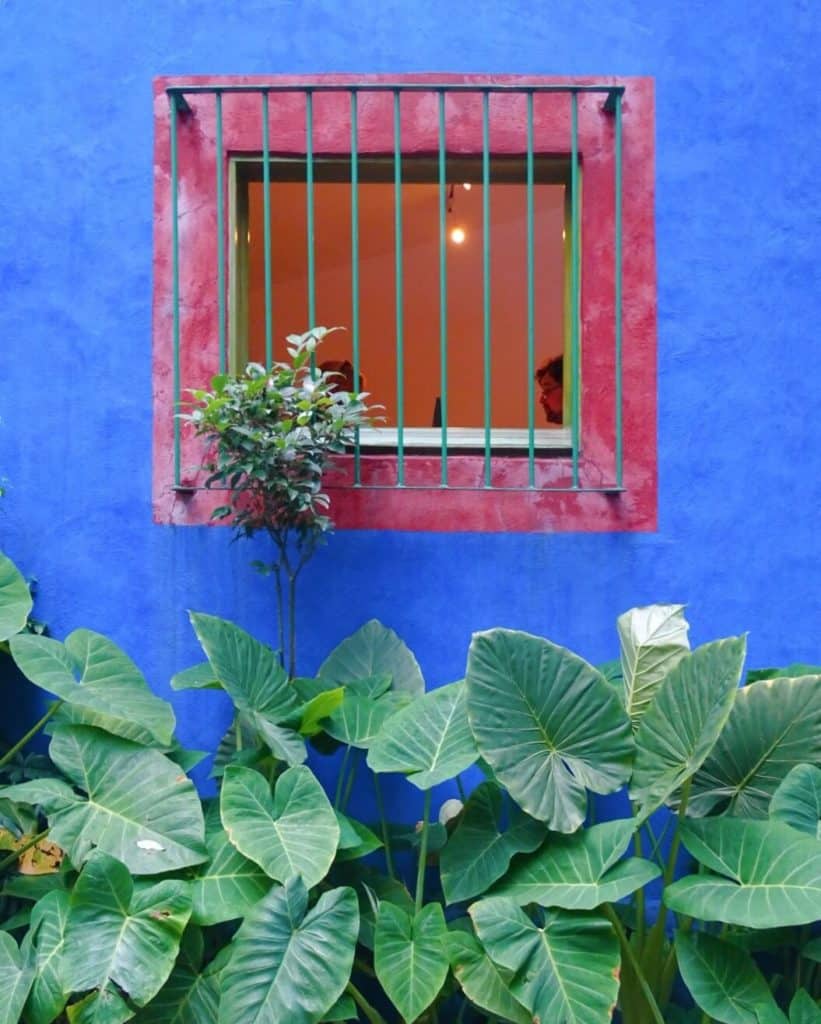 5. San Juan Bautista Church
This enormous church is at the heart of Coyoacan and worth a visit as you wander the central square.

This baroque building was one of the first churches in the Americas and, while its a reminder of the cruel and brutal colonial period, it's a key feature of the area.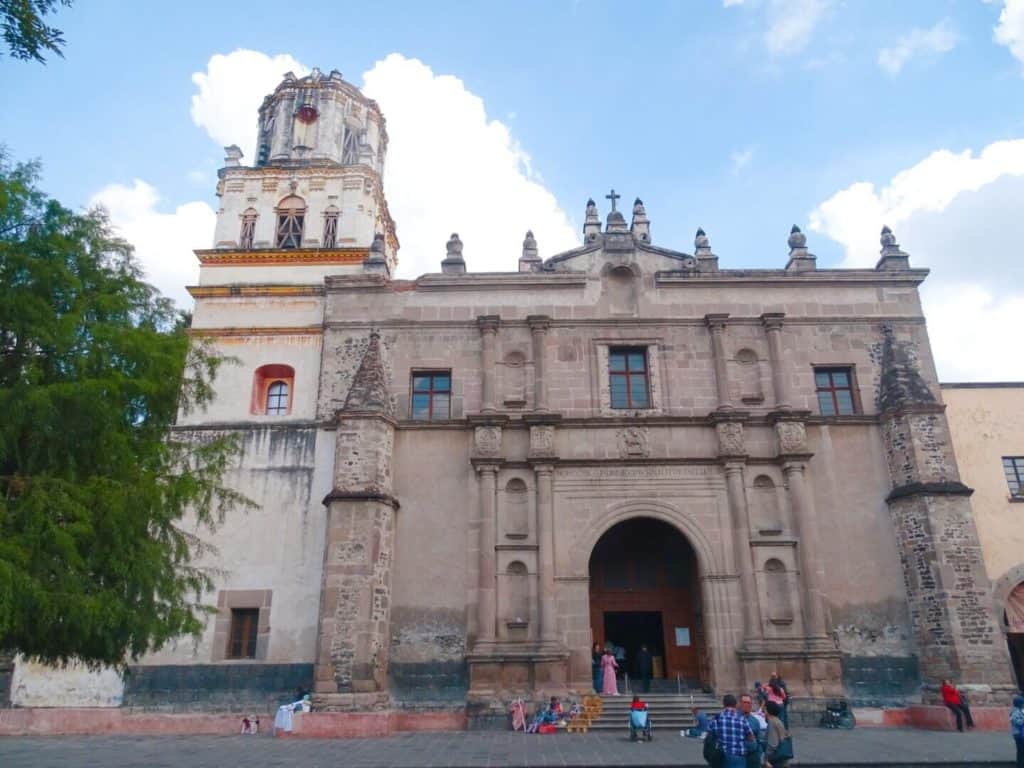 6. Relax at Plaza Hidalgo
The leafy centre of Coyoacan comes to life when the locals are off work. There are always live shows from comedians to musical performances. Street food stands pop up and enormous displays of balloons brighten the central square.
7. Grab coffee at El Jarocho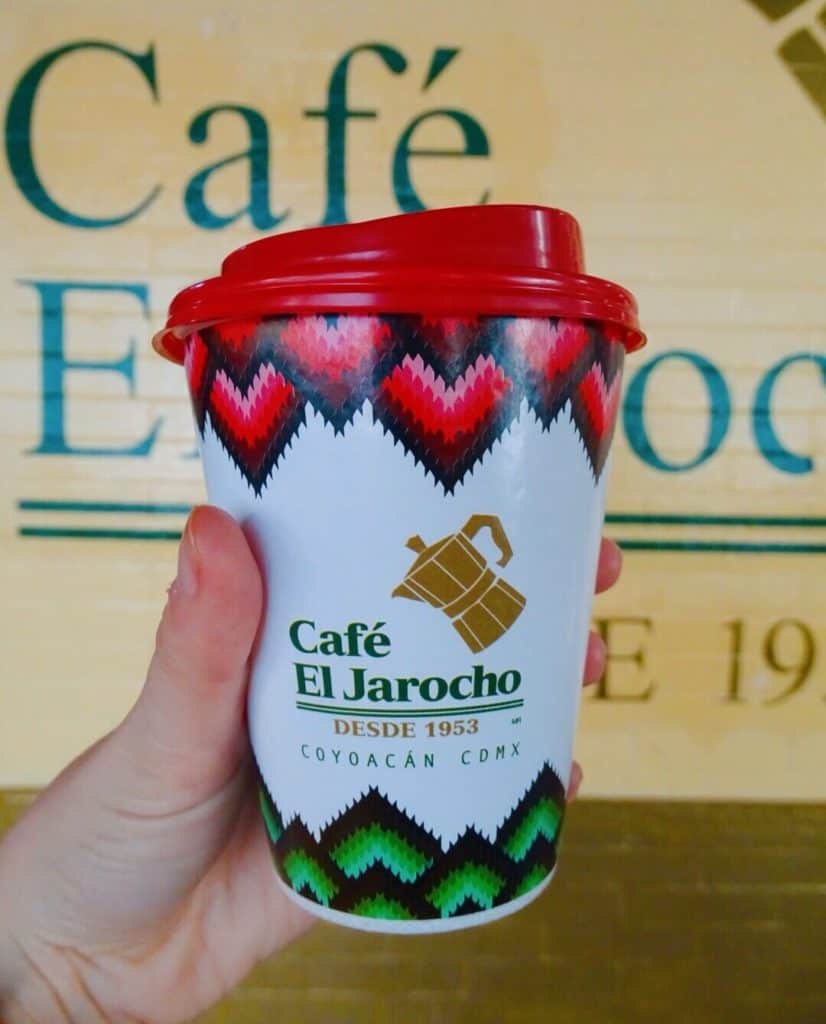 While this wasn't the best coffee I've ever had, El Jarocho is the beating heart of Coyoacan. With 70 years of history, it's a local institution where you'll rub shoulders with the locals. Grab a cup of joe en route to the Frida Kahlo Museum.
8. Mercado Artesanal Mexicano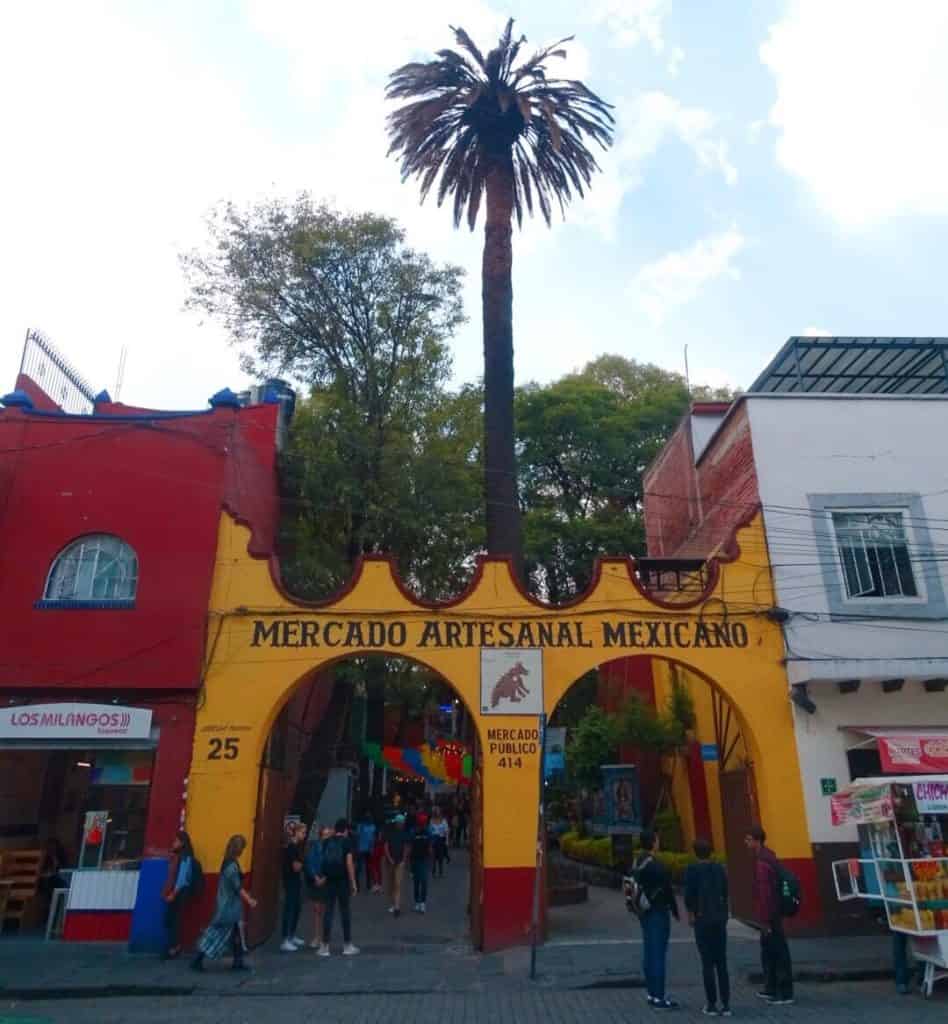 To buy some souvenirs and support local artisans, or simply have a wander, visit Mercado Artesanal Mexicano. Inside you can find all kinds of local goods from clothing to bags, rugs and scarfs. Remember to haggle to get the best price.
9. Street art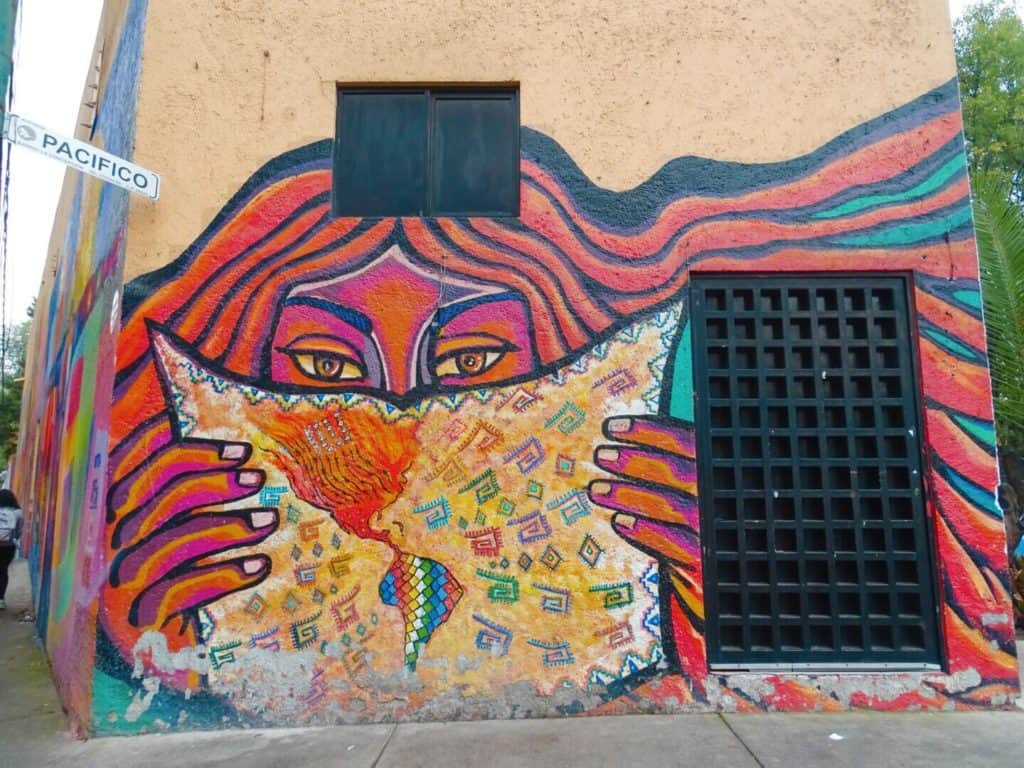 There's lots of street art to be found while wandering Coyoacan. Take the side streets and you're bound to find some impressive murals dotted around. Use the Street Art Cities website to find pieces.
10. Eat Coyoacan's best churros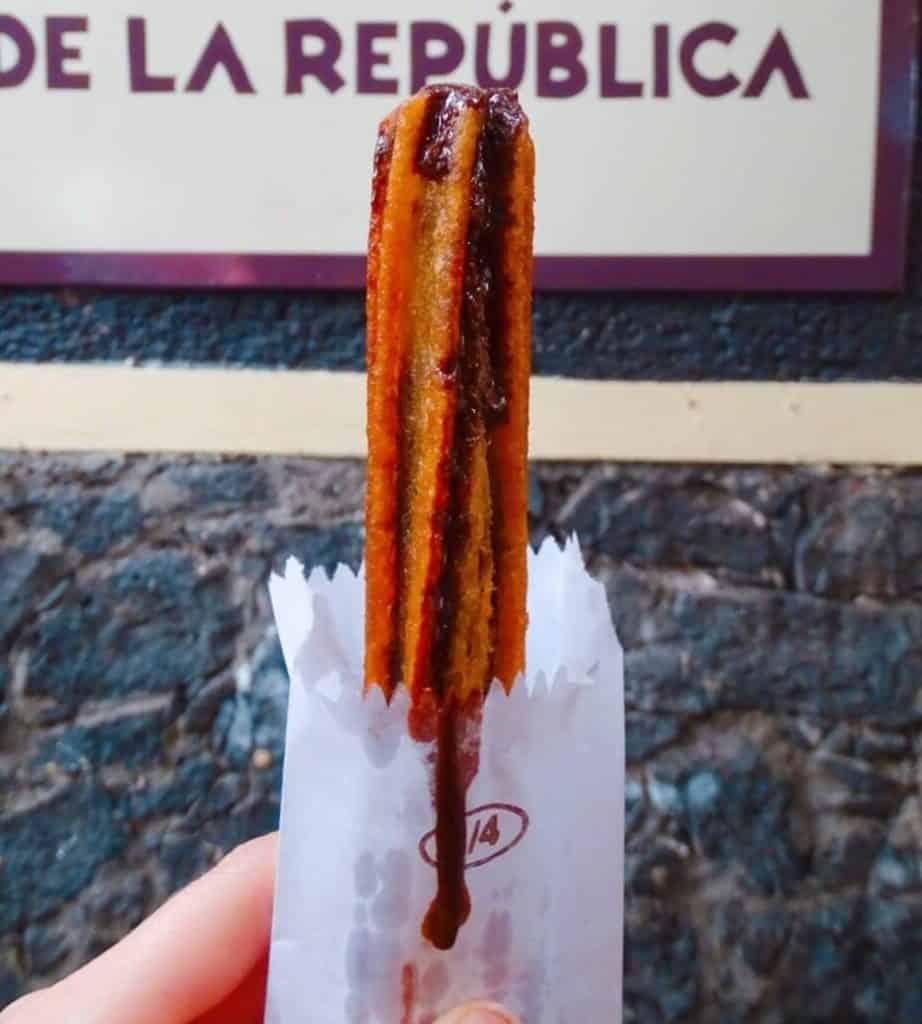 Churreria General de la Republica serve the most delicious churros in Coyoacan stuffed with chocolate, caramel, coffee or fruit flavours. These churros rellenos (stuffed churros) are a huge upgrade on traditional churros!
11. Plaza de la Conchita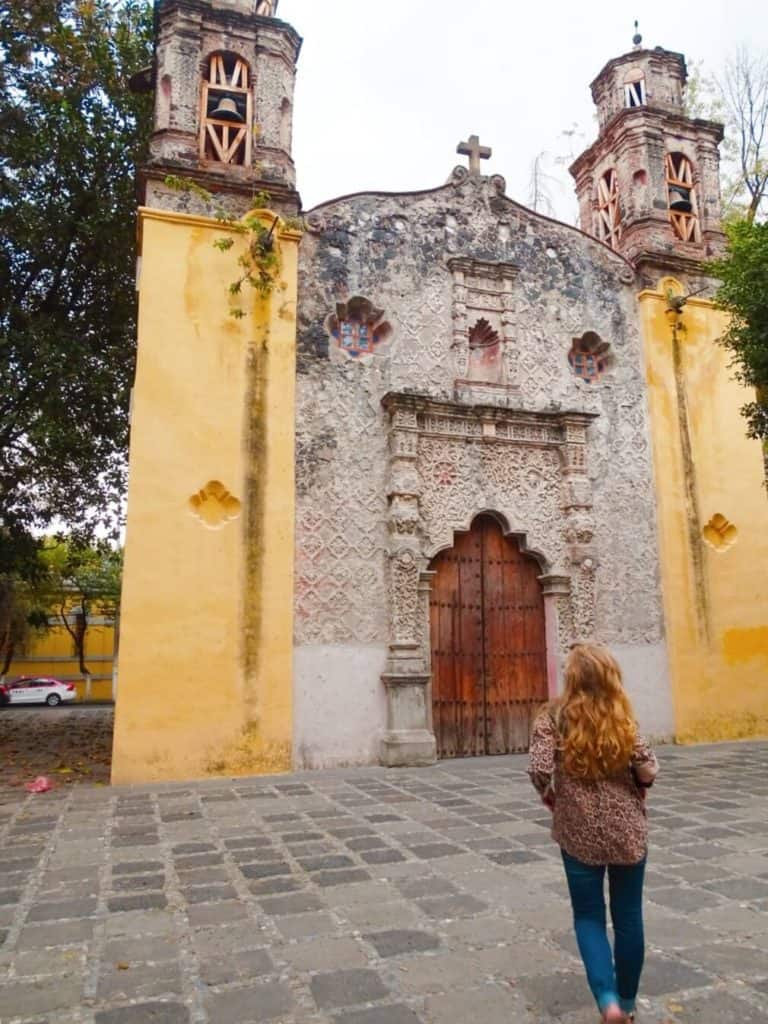 I hope you like leafy parks and squares because there are plenty. One of the prettiest is Plaza de la Conchita where you'll find this crumbling yellow church.

This square is well known because Spanish colonialist, Herman Cortes, lived there for years. Again, not really a reason to celebrate but a charming, atmospheric part of Coyoacan anyway.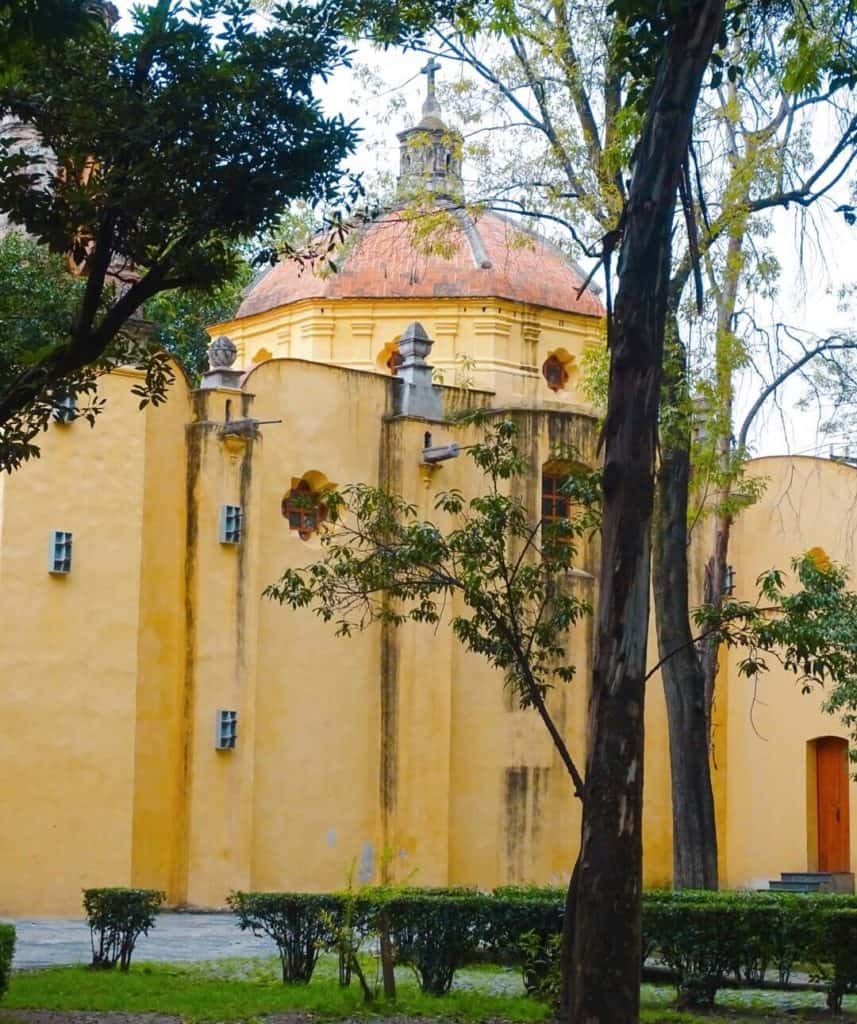 12. Museum of Popular Cultures
Mexico City has one of the highest densities of museums of any city in the world. Even small and sleepy Coyoacan has a handful, the best being Museo Nacional de Culturas Populares.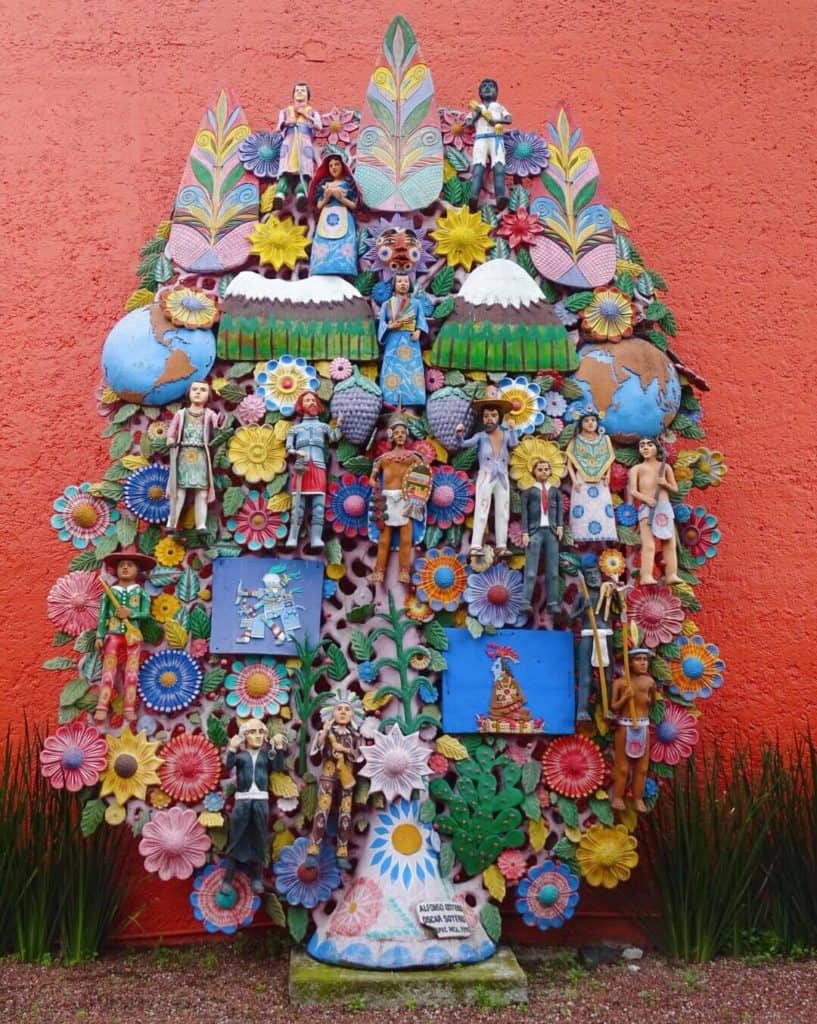 This museum is one of my favourite attractions in Coyoacan. Stroll between the exhibits in colourful outdoor buildings and pick up some food and drinks from the market that usually takes place in the courtyard.

Info: Opening times are Tuesday to Thursday 10am-6pm and Friday-Sunday 10am-8pm. Entry is 11 pesos.

My top Mexico city tip – visit on a Sunday for free entry; this applies for almost all museums in the capital.
13. Drink coffee at Cafe Avellaneda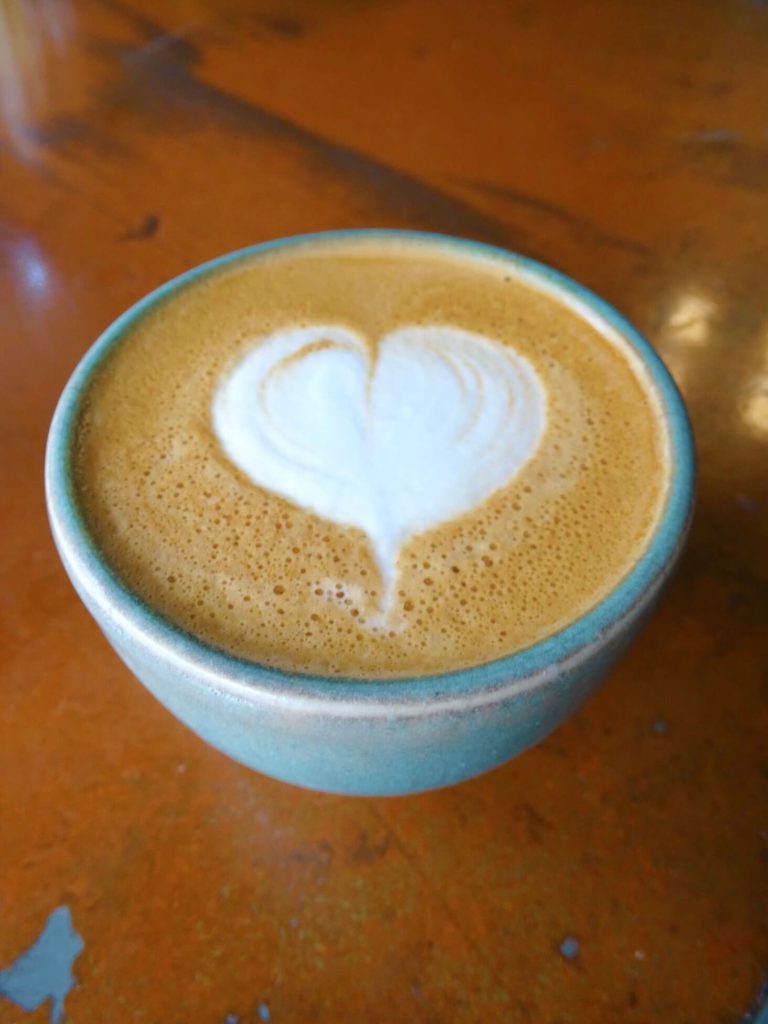 Cafe El Jarocho may be the Coyoacan coffee institution but Cafe Avellaneda has the best coffee in my opinion. They also put their profits into supporting Mexican coffee farmers, making it an ethical and sustainable thing to do in Coyoacan.

It's one of the smallest coffee shops I've ever been to (apart from the refurbished phone boxes in Glasgow, Scotland) so grabbing coffee is quite the experience.
14. Anahuacalli Museum
If you're interested in Frida Kahlo and Diego Riveria, pay a visit to Anahuacalli Museum to explore Diego's murals in the form of permanent exhibits, temporary exhibits, sculptures and a large ecological space known as the 'lungs of southern CDMX'.

This majestic complex can be found just south of Coyoacan, a 15-minute Uber ride or, if you're feeling confident, a 35-minute bus journey. It's never as busy as the Frida Kahlo Museum but it doesn't hurt to book your tickets ahead on the website. Entrance is 100 pesos or 80 for Mexican residents.
15. Chapel of Santa Catarina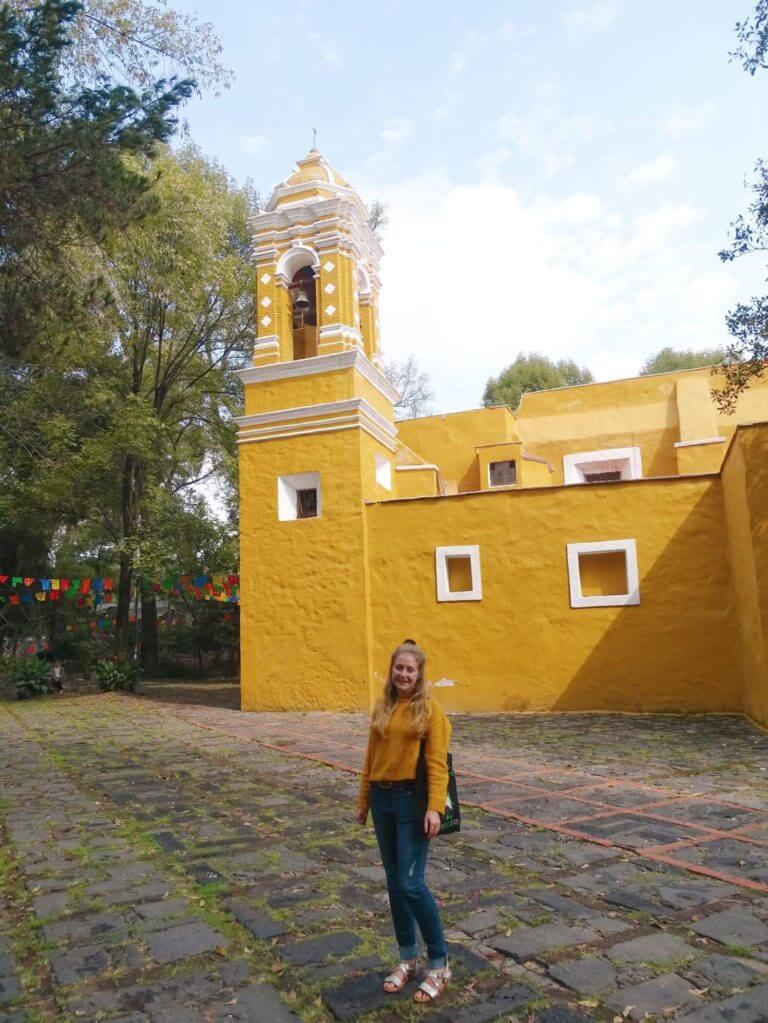 Bored of churches yet?

Hold out your patience for this sunny yellow church a 10-15 minute walk from the centre. Not only is it a free thing to do in Coyoacan, but the surrounding streets are full of charming, colonial buildings.
16. Casa de Cultura Jesus Reyes Heroles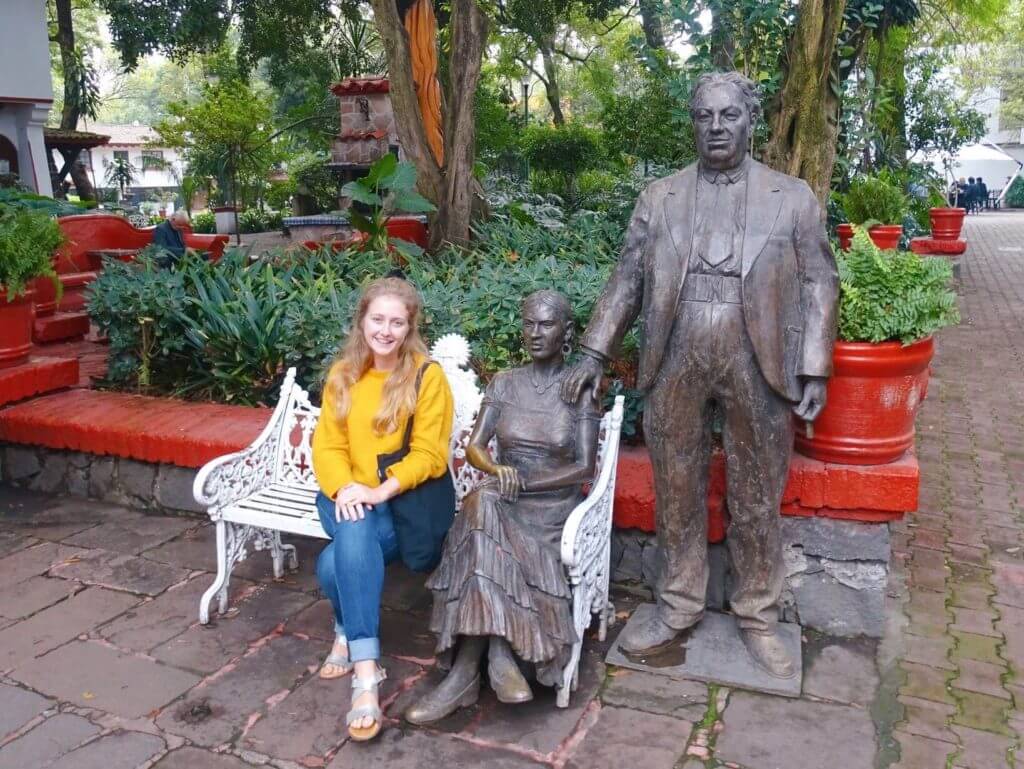 If you're visiting the Chapel of Santa Catarina, pay a visit to Casa de Cultura Jesus Reyes Heroles beside it.

This outdoor cultural centre is free to enter and displays art exhibits and statues of Frida and Diego. Take a few minutes to wander around and snap photos.
17. Visit Meson de Antigua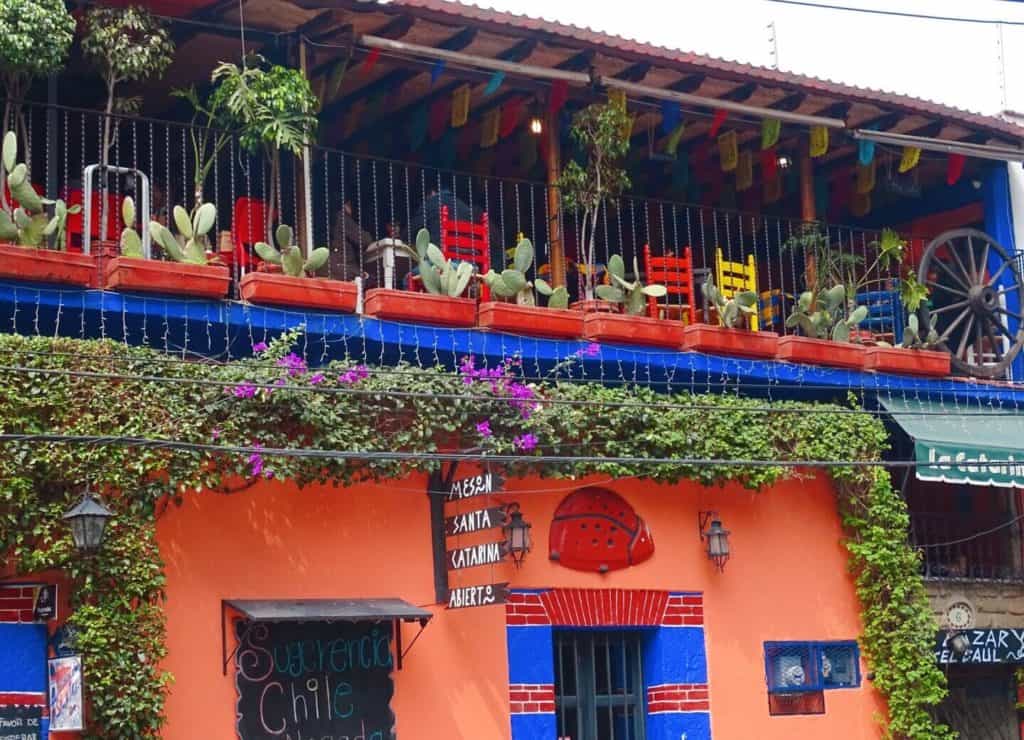 After visiting Santa Catarina and Casa de Cultura, stop for coffee at Meson de Antigua, a colourful cafe and restaurant with gorgeous urban murals painted inside. I've only been for coffee but I hear the chilaquiles and juice are great.
18. Cineteca Nacional de Mexico
A 15-minute walk from Coyoacan Market is Cineteca Nacional de Mexico, a cultural gem where the main attraction may be the building itself. This huge cinema complex was opened in 1974 and, after burning down in a fire, was rebuilt in modern art style.

Now, it houses exhibitions about cinema history and shows independent movies and documentaries.
Best things to do near Coyoacan
If you have spare time, a few fantastic areas nearby Coyoacan include…
19. UNAM (University City)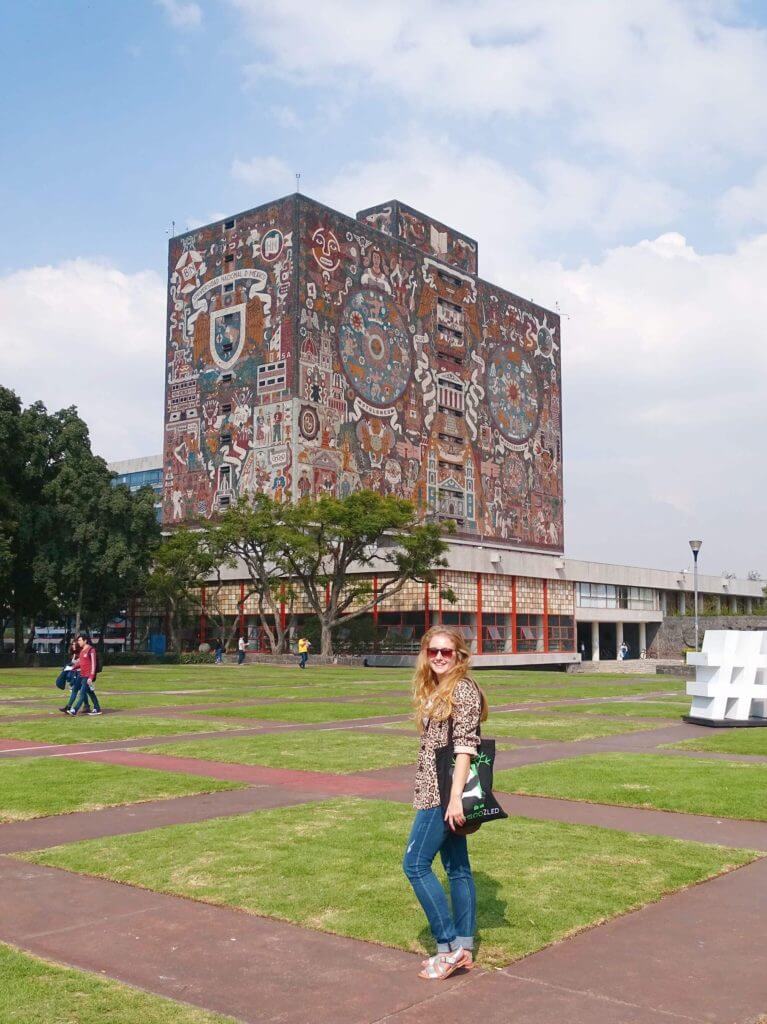 One of the best things to do in Coyoacan once you've finished with the main attractions is take a trip to Ciudad Universitaria, an enormous university campus with over 1000 buildings and 100 libraries.

The most captivating is UNAM Central Library covered in murals showing images from Mexican culture.

On campus, there are also galleries, a concert hall, theatre, stadium, botanic garden and various food courts and restaurants. Start at the Central Library and walk to the University Cultural Center built with volcanic rock from the ancient eruption of Xitle volcano.

Don't miss the University of Museum Contemporary Art (MUAC) found toward the south of the campus.

Getting there: UNAM is a 15-minute drive from central Coyocan or you can catch a bus in 25 minutes. UNAM's nearest metro station is Copilco.
20. San Angel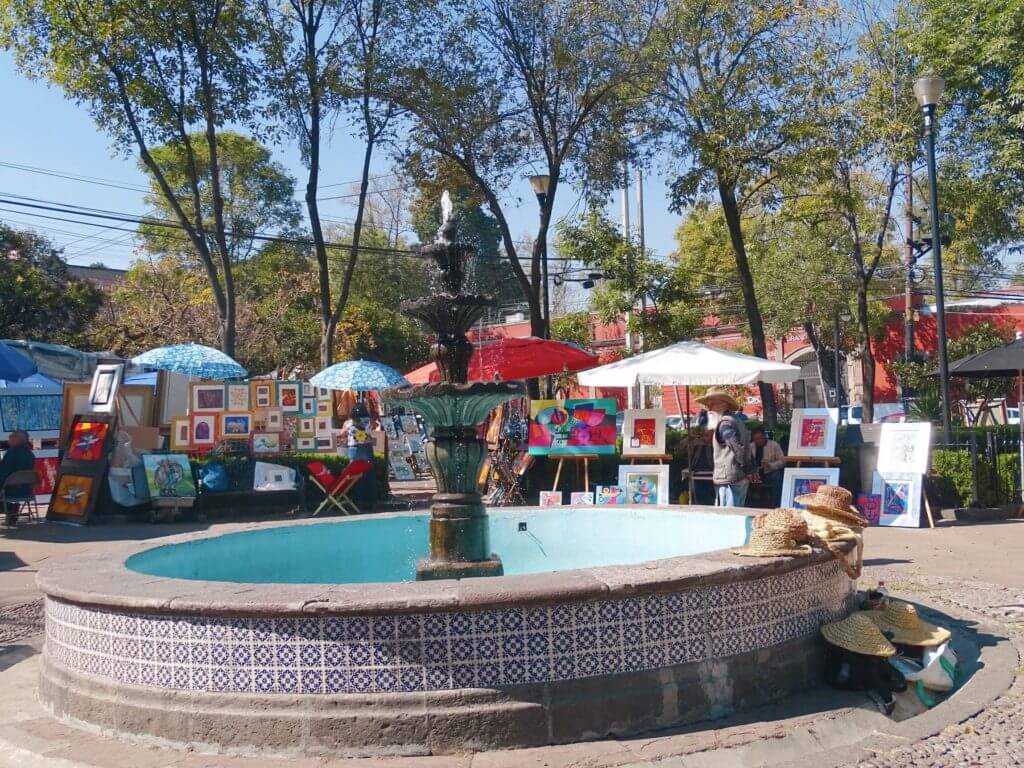 This pretty CDMX suburb is just a 15-minute drive west of Coyoacan. If you have time, you could spend a full day here. If visiting Coyoacan as a day trip, swing by San Angel first – preferably on a Saturday!
The Bazaar del Sábado (Saturday Market) is when the streets come alive with music, arts and textiles. Indoor and outdoor markets sell everything from homeware to cheese, chocolate, organic body products and art. It's a charming, atmospheric area especially when the market's going on.

Whilst visiting San Angel, check out Museo Estudio Diego Rivera y Frida Kahlo, a collection of Frida and Diego's art inside a quirky pink building flanked by cacti.
Bonus – celebrate Day of the Dead (year-round)
If your trip to Mexico doesn't time with Dia de Muertos, you can still experience the festival in Coyoacan.

This Coyoacan Dia de Muertos tour includes an atmospheric dinner buffet and mezcal tasting while learning about Mexico's oldest festival from a local guide. You'll get to try delicacies like mole, esquites, and pan de muerto while dining outdoors under papel picado paper flags.
Related read: How to celebrate Dia de Muertos in Oaxaca, Mexico
Where to eat in Coyoacan
As I've mentioned, one of the best things to do in Coyoacan is eat and drink. There are plenty of places to eat from street food stands to pricer restaurants and bars. For all the best restaurants, cafes, coffee and street food in Coyoacan, check out my Coyoacan food guide.
Related meat: 36 best Mexican dishes to try
Where to stay in Coyoacan
There are lots of lovely places to stay in Coyoacan. Expect more of a guesthouse and Airbnb focus than hotel chains or backpacker hostels.

Guesthouse: I heard good things about Casa Coyoacan which has is right in the heart of town and has rooms from $30.

Hostel: Check out Hostel Cuija Coyoacan run by a friendly family with a large garden area.

There are also an abundance of Airbnbs and mine was a total steal at $10 a night.
VISITING MEXICO?
These are my trusted resources:

Getting around by air – the quickest (and often cheapest) way to travel between Mexican cities is by flight. I use Skyscanner to find the best-value flights, using the 'search by month' tool to find the cheapest dates. You can also use the 'to anywhere' feature if you're flexible on where you're going.

Getting around by bus (environmental option) – buses in Mexico are comfy with free snacks and an in-journey entertainment system. I use Busbud to find the best prices.

Driving in Mexico – use Rentalcars.com to compare car rentals in Mexico (and all around the world).

For hotels in Mexico, I use Booking.com – they also have self-catering apartments. You can filter by review score and price to find the best-rated budget places. For hostels, I use Hostelworld.com.

To save money on accommodation, I use Trusted Housesitters, a website that connects homeowners going away and travellers who can sit their homes & pets.

Browse Mexico tours and activities on GetYourGuide. I also check Viator in case they have a better offer.

For Mexico food tours with passionate local chefs and foodies, check out EatWith.

Need travel insurance? I use World Nomads. They cover 150 countries and have 24-hour emergency assistance. 

Check out my resources page for more travel discounts and tips!
Thanks for reading my Coyoacan guide
Read my other Mexico City blogs:
See you next time for more adventures,
Rose
Ps. Liked these things to do in Coyoacan Mexico City? Pin it for later!