This post may contain affiliate links to things like tours, hotels, Amazon associates and products. These help me earn a small commission at no additional charge to you.
When planning my trip to Taiwan, photos of Kaohsiung kept cropping up. What was this colourful place and why had I never heard of it before? It turns out there are loads of things to do in Kaohsiung so I'm happy I made it there during my Taiwan itinerary!
Before visiting Taiwan, I'd only really heard of Taipei. Taiwan is definitely a lesser-trodden travel destination, as I was quickly finding out by the lack of other backpackers around.

Kaohsiung is the second-largest city in Taiwan with a population of almost 3 million. This city on the south coast is known for its nearby islands as well as its urban city centre complete with skyscrapers and buzzing night markets. While those things are great, you'll find them in many cities around the world.

Personally, I was more interested in Kaohsiung's colourful modern art scene which ended up totally exceeding my expectations.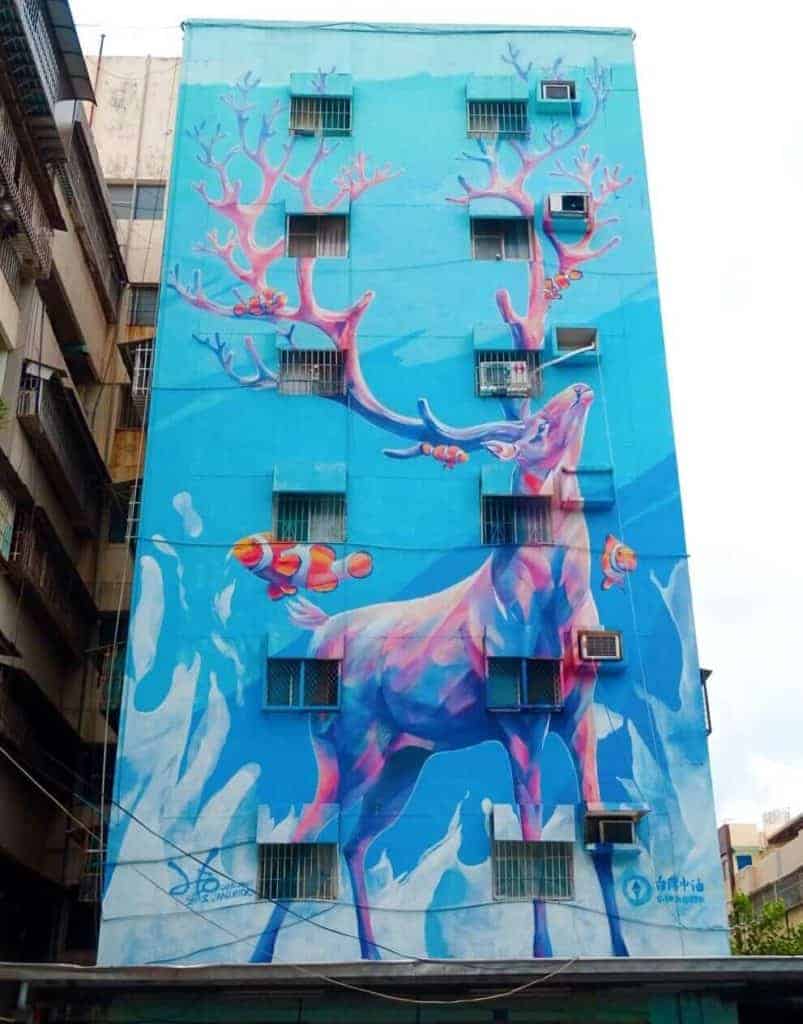 Since Taiwan is a relatively small island, Kaohsiung is easily accessible from most places. I'll cover a few practical Taiwan travel tips before launching into the best things to do in Kaohsiung.
How to get to Kaohsiung
The best way to travel in Taiwan is by train. I arrived in Kaohsiung from Hualien which took 6 hours and cost 700 TWD. I departed to Taichung which took 3 hours and cost 360 TWD. In peak season and on weekends, it's best to book in advance, either on the Taiwan Rail website or at the train station.

If you're traveling Taiwan on a budget, take the slow train rather than the fast one; they're usually much cheaper.

Some people fly into Taipei and out of Kaohsiung, travelling there via either the east or west coast. Because I wanted to make stops on both, I travelled Taiwan in a circle, stopping in Kaohsiung after the east coast.

If you're going to Kenting National Park before or after Khaosuing, you can catch a bus which leaves every 30 minutes from HSR Zuoying  Station. You don't need to book this in advance.
Where to stay in Kaohsiung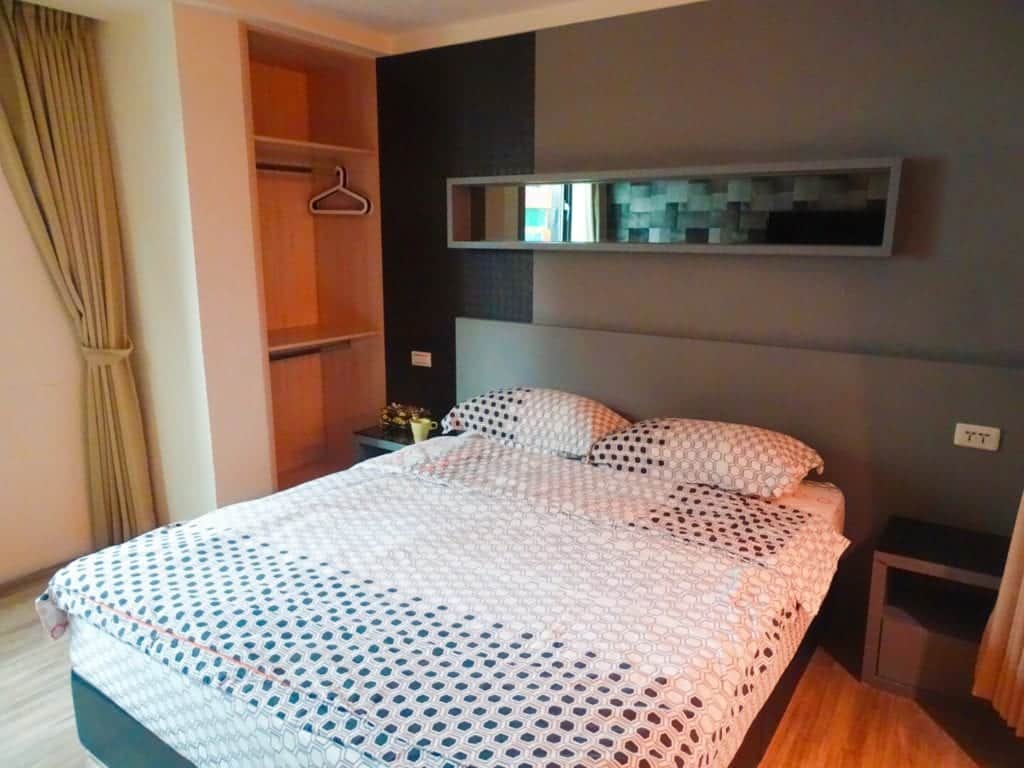 In Kaohsiung, I stayed at Dreamwell Hostel which was a really comfy base and very affordable. There's a big social area which was quiet during the day and doubled up as a co-working space. The dorms start at 360 TWD a night but if you've got the cash, it's a great place to upgrade to a private room. These are 1,300 TWD a night, complete with waterfall showers and the comfiest double beds.

Dreamwell Hostel also host a language exchange on a Tuesday night which is a good way to meet locals and even learn some Mandarin! Book Dreamwell Hostel here.
Things to do in Kaohsiung Taiwan
Now for the good bit! There are so many bright and colourful things to do in Kaohsiung – I had a lot of fun seeking them out. None of these activities take too long but some of the journeys around Kaohsiung are a bit lengthy. I'll include directions for each one.
Dragon and Tiger Pagodas, Lotus Lake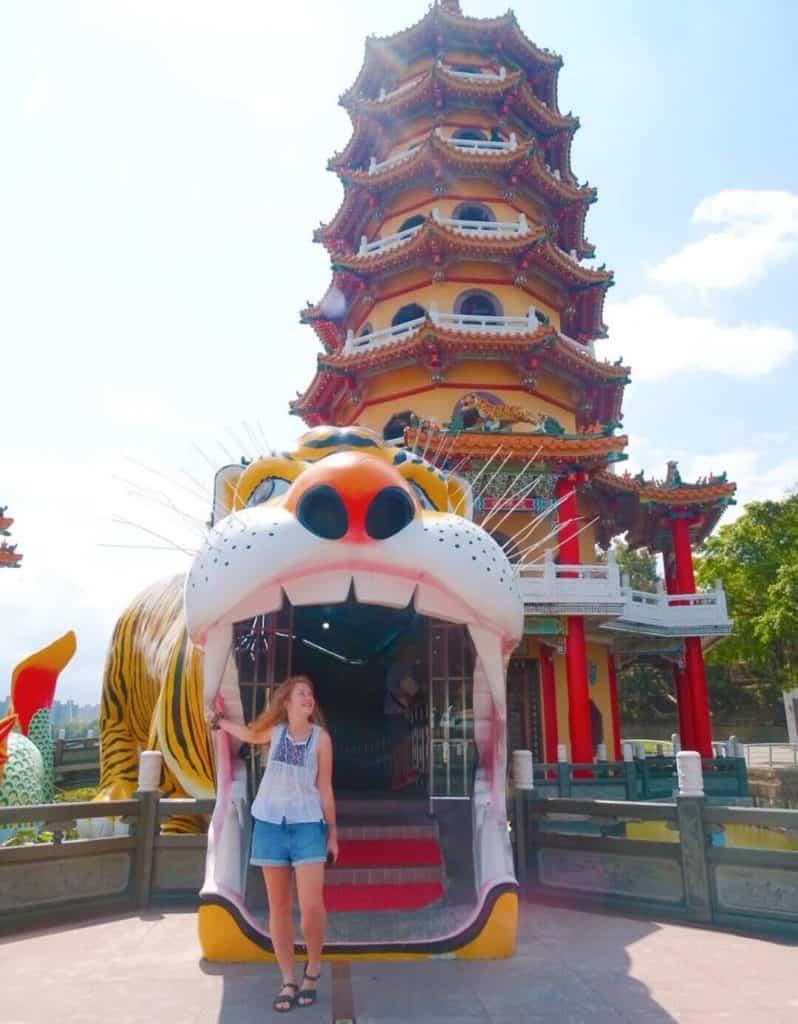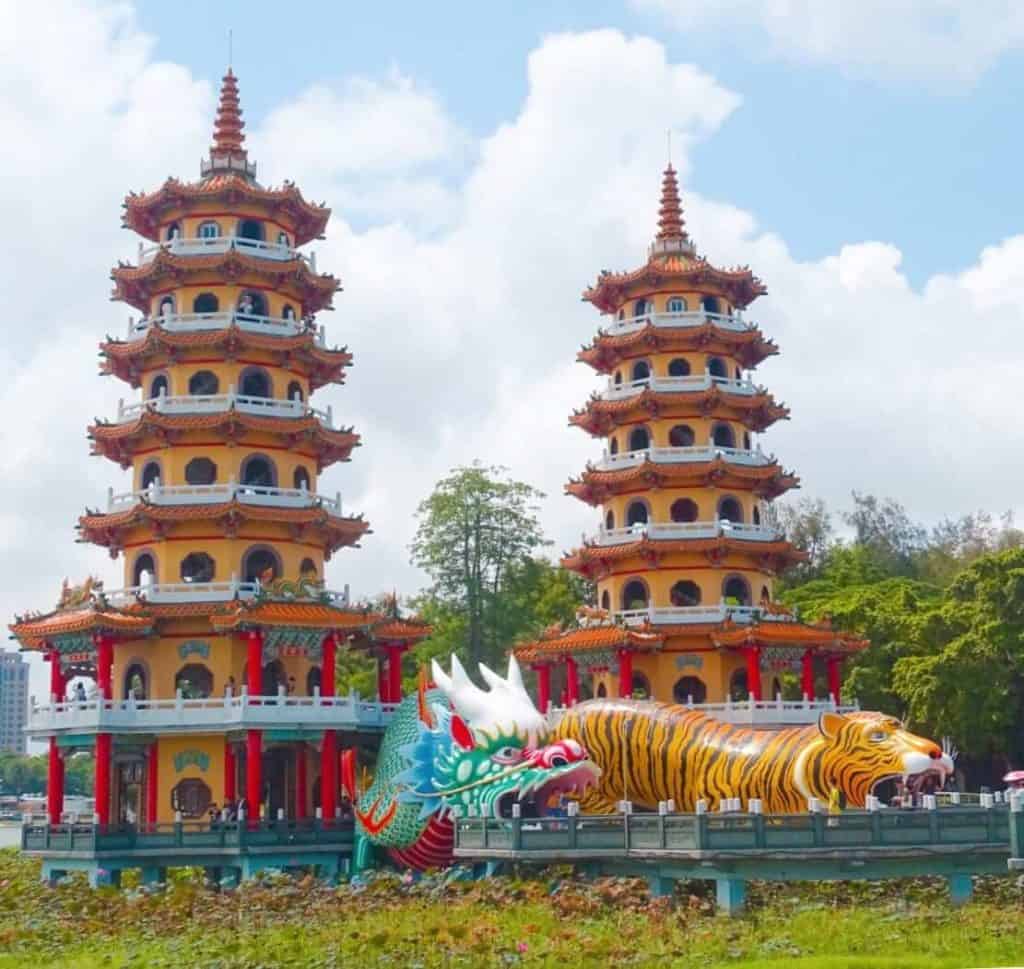 These larger-than-life twin pagodas were some of the first photos I saw from Taiwan. Perhaps they're even semi-responsible for my trip. Unlike more ornate and serious temples around Asia, these colourful pagodas are bright and fun, attracting hoards of tourists each day. They were built in the 1970s and have been popular ever since.

The Dragon and Tiger Pagodas are located at the corner of Lotus Lake. A nice way to spend a morning is walking around it, stopping at the other colourful temples which I'll mention below. Entrance to the Dragon and Tiger Pagodas is free. You should enter via the dragon's mouth and exit via the tiger's mouth as going the other way around is deemed unlucky.

Make sure you climb the pagodas to get a gorgeous view out over the lake.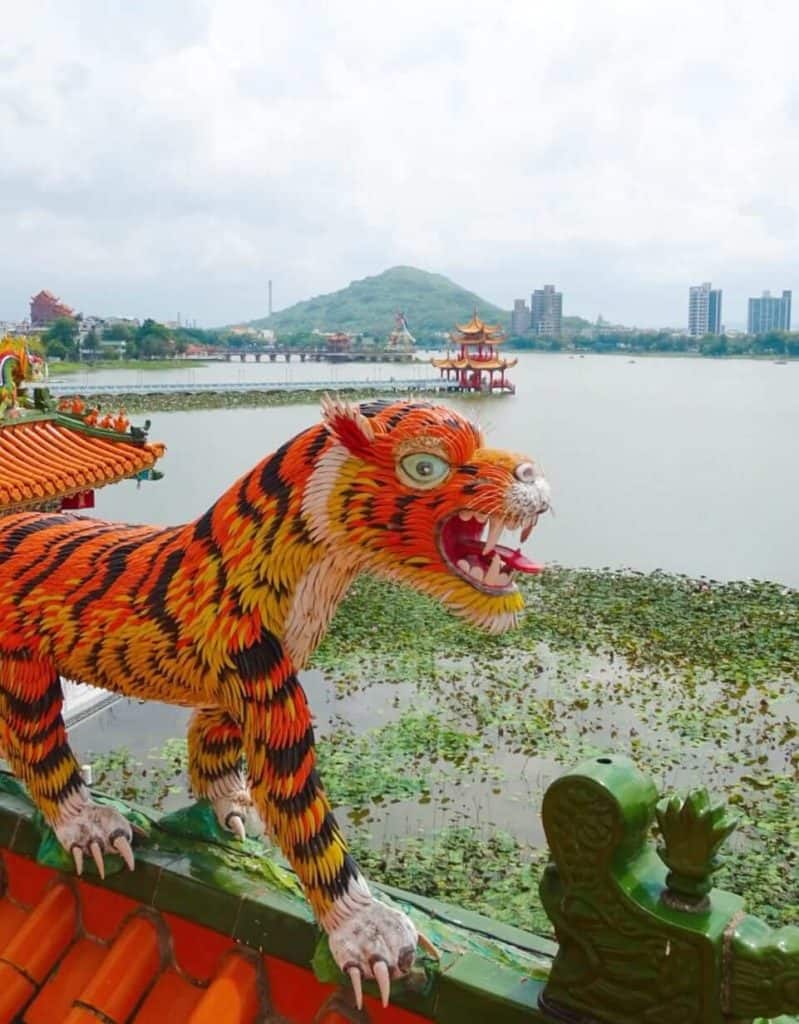 Getting to the Dragon and Tiger Pagodas: Catch the MRT red line north and get off at the Ecological District then catch a bus towards the lake. You can also get off at Xin Zuoying Station and walk which takes around 25 minutes.
Spring and Autumn Pavilions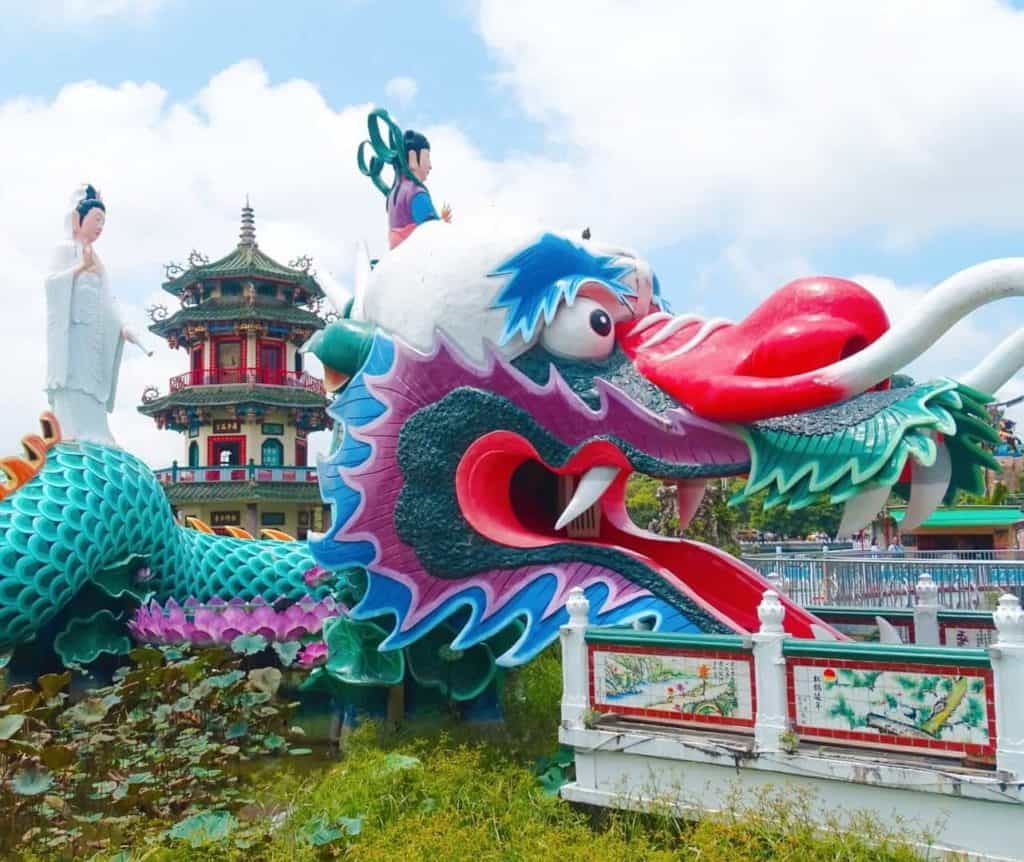 Rocking the eternal Chinese sense of yin and yang, the Autumn and Spring Pagodas are built in bold, cartoon style, just like the Dragon & Tiger Temples. These actually predate their neighbour and were built in 1953 by the Chi Ming Palace.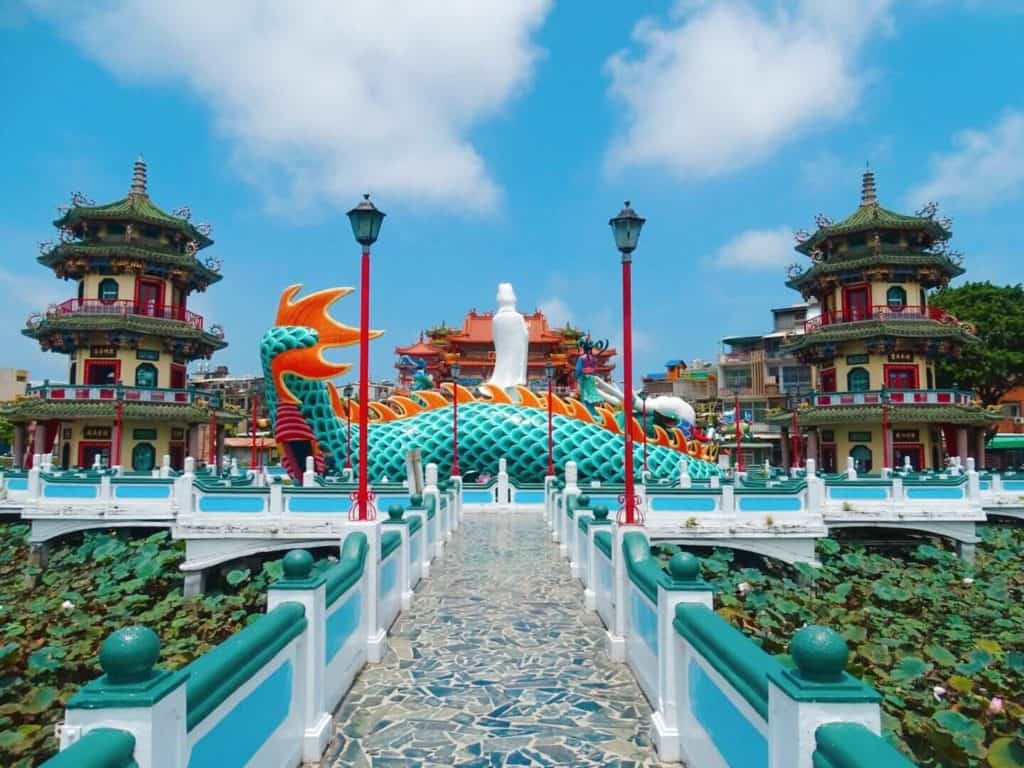 At the Autumn and Spring Pagodas, there's a long bridge over the Lotus Lake which leads to an island temple called Five Mile Pavilion. This is a peaceful spot where I spent 20 minutes soaking up the views and chatting to an elderly Taiwanese man named Bobby who was keen to welcome me to his country.
Zuoying Yuandi Temple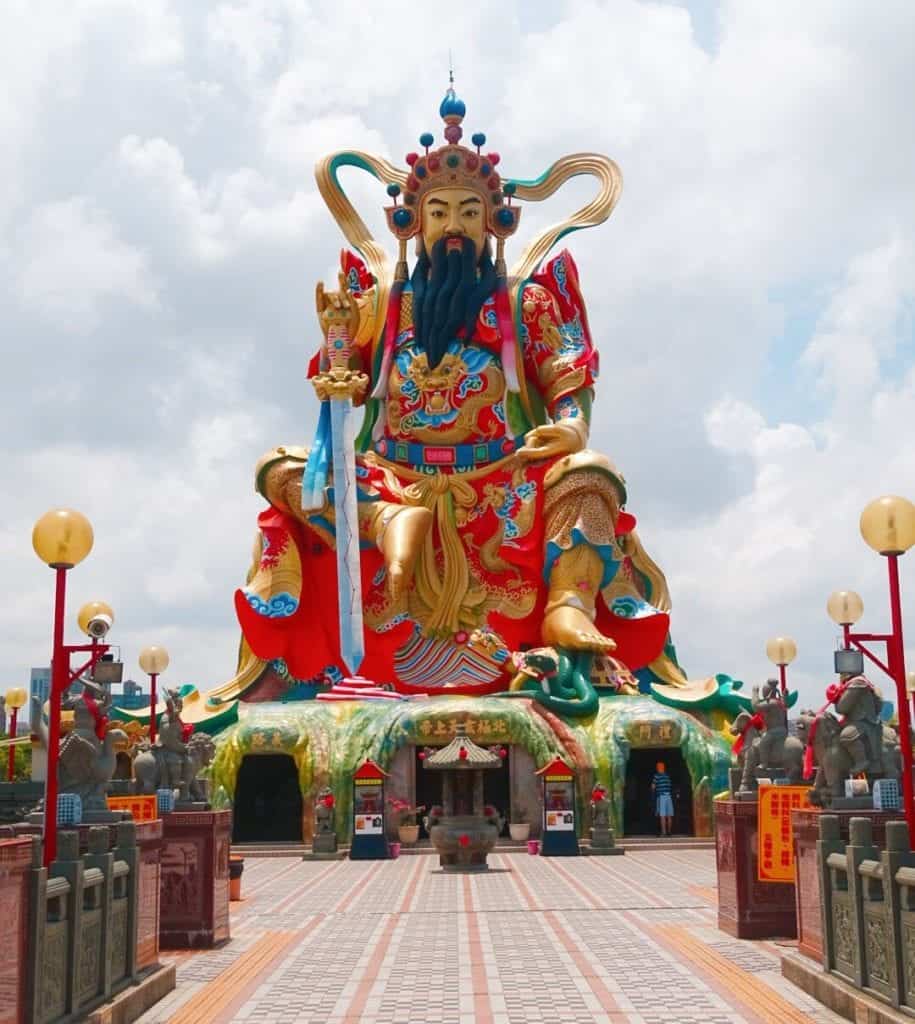 Before you leave Lotus Lake, there's one final temple to see, Zuoying Yuandi. This is built in a similar style to the other two, depicting images from Taoist mythology including colourful dragons and impressive warrior gods.

Like the others, entrance to this temple is free. You'll find it towards Xin Zuoying Station at the north end of the lake. Worth a stop!
Rainbow Church (Cijin Island)
Leaving Lotus Lake behind and moving onto other things to do in Kaohsiung, enter Cijin Island! How 'grammable is this rainbow archway?
Cijin Island is a little strip of land not far from Kaoshiung Pier. I wasn't blown away by the island as a whole: things are quite spread out and there isn't much to do. But there are some colourful sights to see so it's worth a quick trip.

The most iconic sight from Cijin Island is the Rainbow Church. I visited it the day after Taiwan legalised same-sex marriage which felt poignant but wasn't actually relevant. I hear there's no particular meaning behind the modern art sculpture; it's there to brighten the island and, I imagine, attract tourists! It does a great job, as does Taichung's Rainbow Village, another vibrant Taiwanese location I recently had the pleasure of visiting.

Funny story – I arrived at the Rainbow Church early and had it completely to myself. I leisurely set up my tripod and, just as I was ready, a busload of tourists pulled in and all 30 of them proceeded to have their photo taken in front of the arch. After 20 minutes waiting, the heavens opened and I had to dismantle my tripod and run for shelter. A photo fail if ever I've known one!

Getting to the Rainbow Church: Most blogs will tell you to catch the MRT orange line to Sizihwan Station and take a ferry from the pier. However, I'd recommend taking the bus instead. This dropped me right beside the Rainbow Church which meant I didn't have to walk 20 minutes from the ferry port. To do this, catch the MRT red line to Caoya Station then wait for the R9 bus to the Coastal Park. This only costs 12 TWD rather than 30 for the ferry.
Shell Gallery (Cijin Island)
Not far from the Rainbow Arch, a matter of metres in fact, is Cijin Shell Museum. It was closed when I visited on a Monday but you can go in to see 2,000+ species of sea life and precious shells, or simply snap the sculpture outside. This enormous shell is very impressive and lined with gold.
Pier 2 Art Centre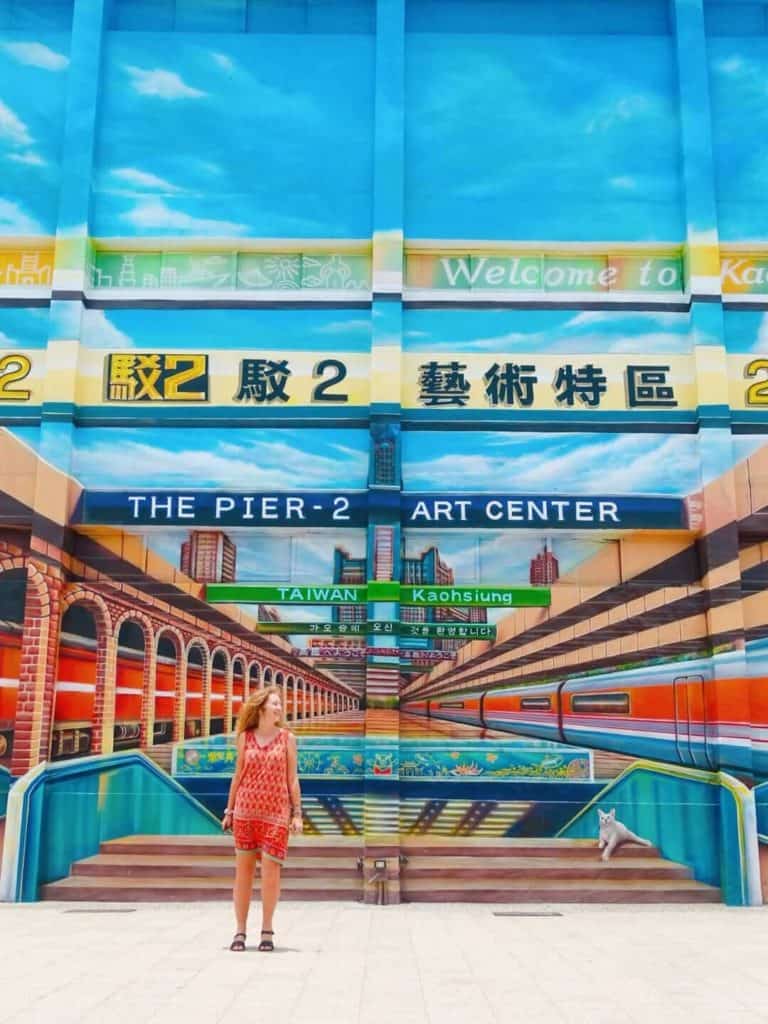 After exploring Cijin Island, I jumped on the ferry towards Pier 2 Art Center. This enormous outdoor art museum is one of a kind! I loved how it merged into the city rather than sitting inside a stuffy gallery with an entrance fee.

As well as lots of colourful street art, Pier 2 Art Center boasts some giant 3D sculptures like this roaring red serpent. You can also wander through a section of shops in refurbished warehouse buildings, stopping at coffee shops and boutiques. These shops felt a little quiet and eerie so I think I preferred the murals closer to the pier.

Pop inside the Visitor's Centre to grab a free map of the area.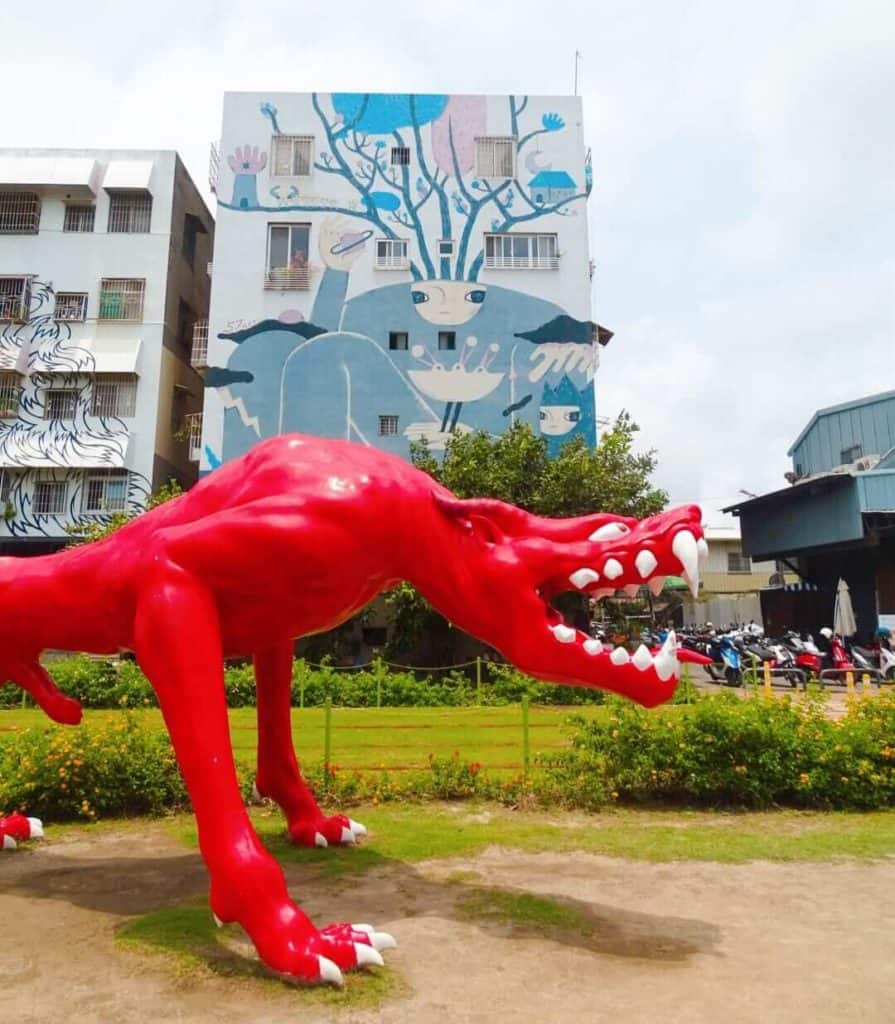 Getting to Pier 2 Art Center: The nearest stations are Yanchengpu and Sizihwan, both on the MRT orange line.
Linya Street Art Village
Woweee, this is the most colourful thing to do in Kaohsiung for sure! If you don't know how much I love street art, go check my street art archives. It was always going to be popular with me but I honestly think this place would impress anyone.

Lingya Street Art Village is the product of a 2017 initiative that saw 50 street artists from 50 countries paint the town red, orange, pink, blue – you name it! It's not just the odd wall that's decorated but entire apartment blocks. Now, how do I move into one?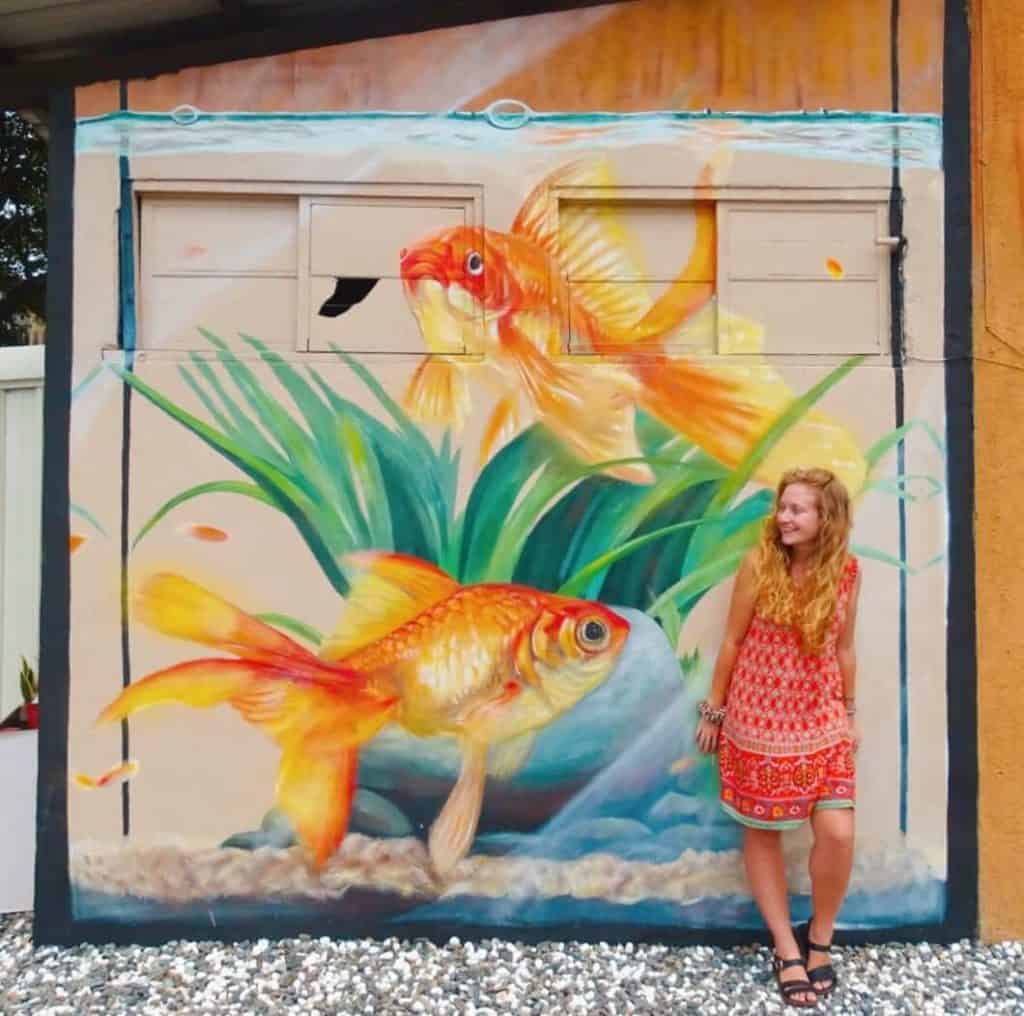 There's a clear animal theme at Lingya with murals showing fish, pets and realistic birdlife. The giant bookshelf image is also very cool and one of the first things you see when you emerge from the MRT station.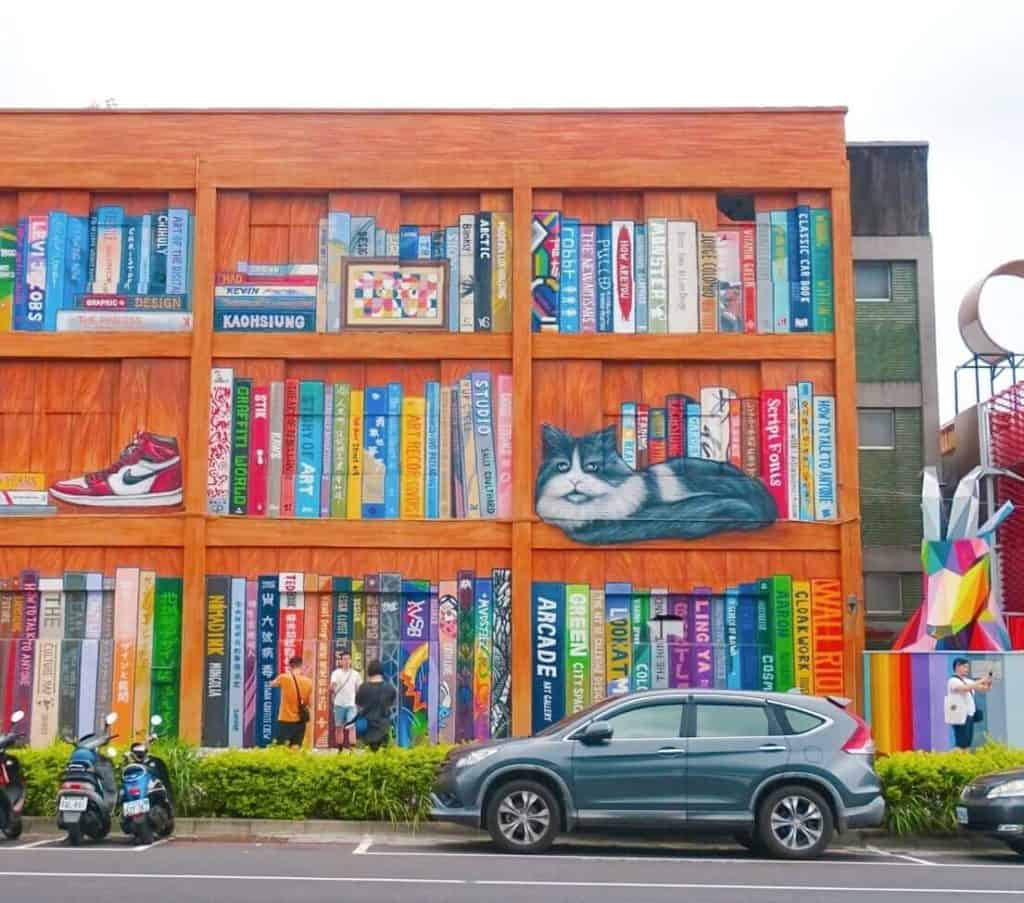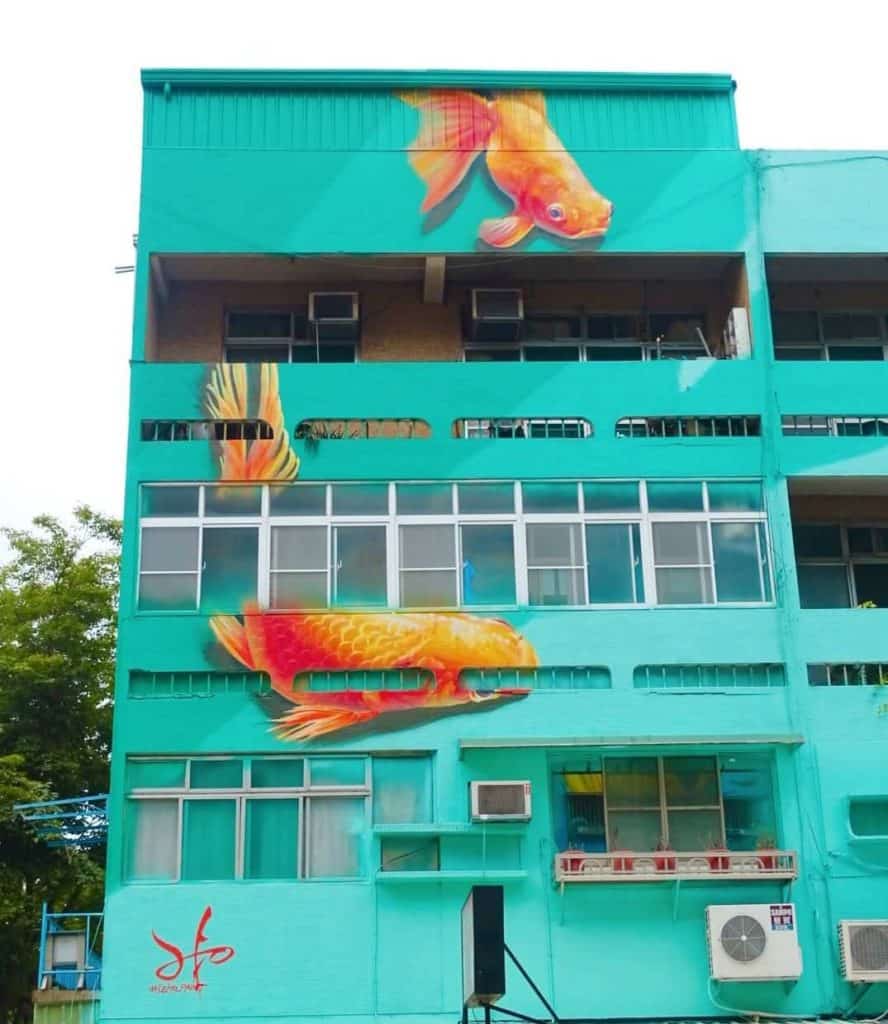 Getting to Lingya Street Art Village: Oddly, the street art village isn't mapped on Google but it's not hard to find. Arrive into Weiwuying Station which is on the MRT orange line and you won't be able to miss the vibrant murals covering apartment blocks along the main street.
Kaohsiung street art near Culture Centre Station
If you haven't had your fill of street art in Kaohsiung yet, there's one other awesome spot to check out. Just 3 stops on the MRT orange line from Lingya Street Art Village (Weiwuying Station) is the Culture Centre Station, around which are two of the biggest pieces of street art in Kaohsiung.

I'm pinning both their locations below so you can easily find them. They're a 5-minute walk apart.
'Outgrowing' by Mona Caron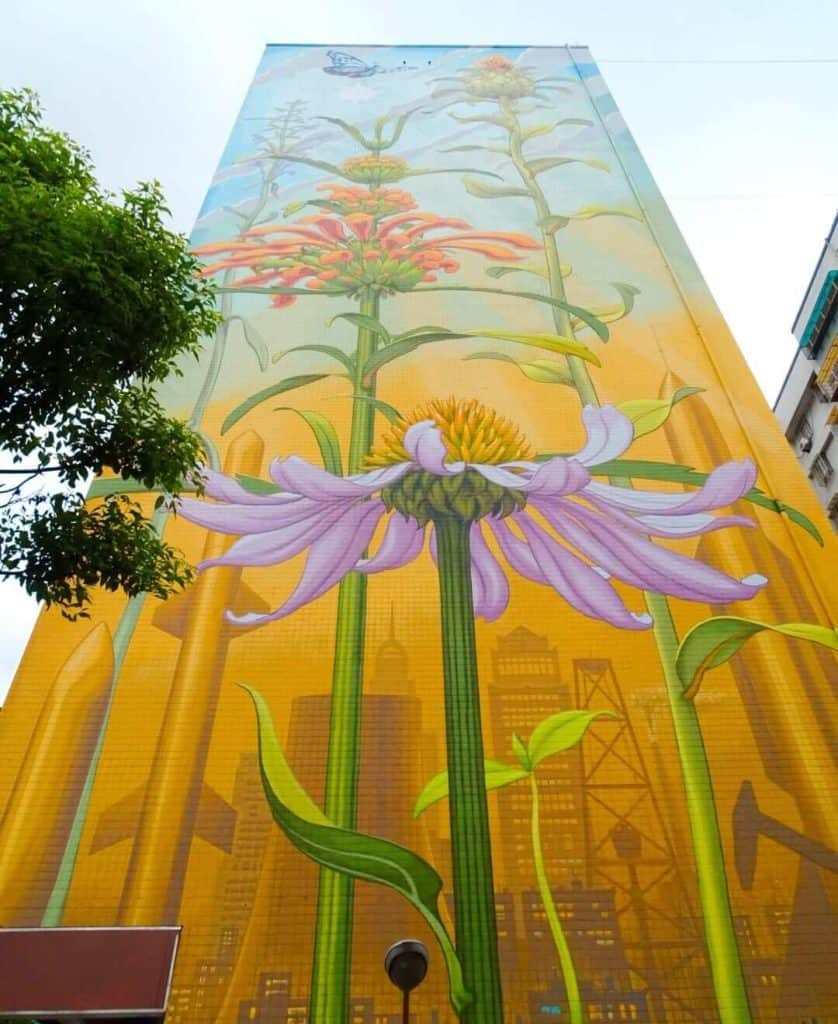 Rumour has it that this impressive piece of Kaohsiung street art is the largest in Asia. I wouldn't be surprised – it's absolutely enormous. You need binoculars or a camera with a zoom lens to see the top. It's made up of hundreds (or perhaps thousands?) of small tiles, each perfectly slotted together to create the impression of one giant work of art.

The artist responsible is Mona Caron, a new favourite of mine. She's a Swiss artist now based in the States. She's painted skyscrapers all over the world including an even bigger one in Ecuador that I'm dying to see.

Getting to 'Outgrowing': Beside a small park off Wufu 1st Road, this piece of Kaohsiung street art can be found here. You could also enter Hele Breakfast Restaurant into Google as it's just beside it.
Bird by Bamboo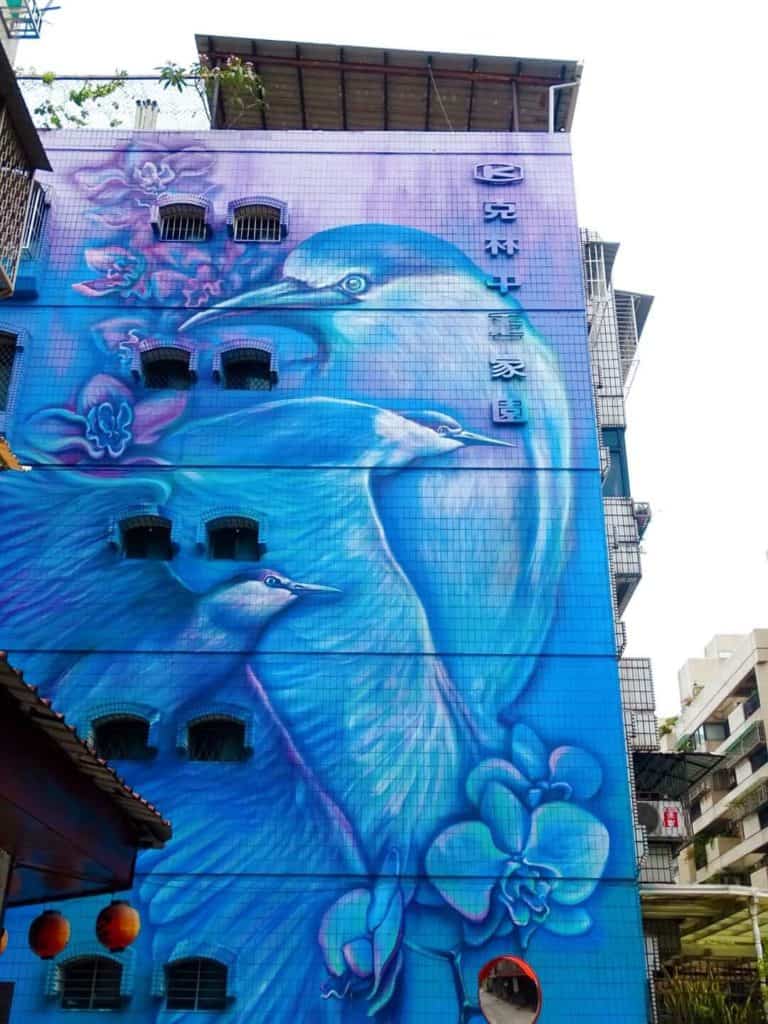 This giant piece of Kaohsiung street art is just amazing. I like that it was created by a young local artist, Bamboo Yang, who I now follow on Instagram. In the same style as Mona Caron's Outgrowing piece, it's all made up of tiny tiles. I loved the dreamy purple and blue tones, as well as the level of detail.

In the same alleyway are two other colourful pieces of Kaohsiung street art, this impala and giraffe below.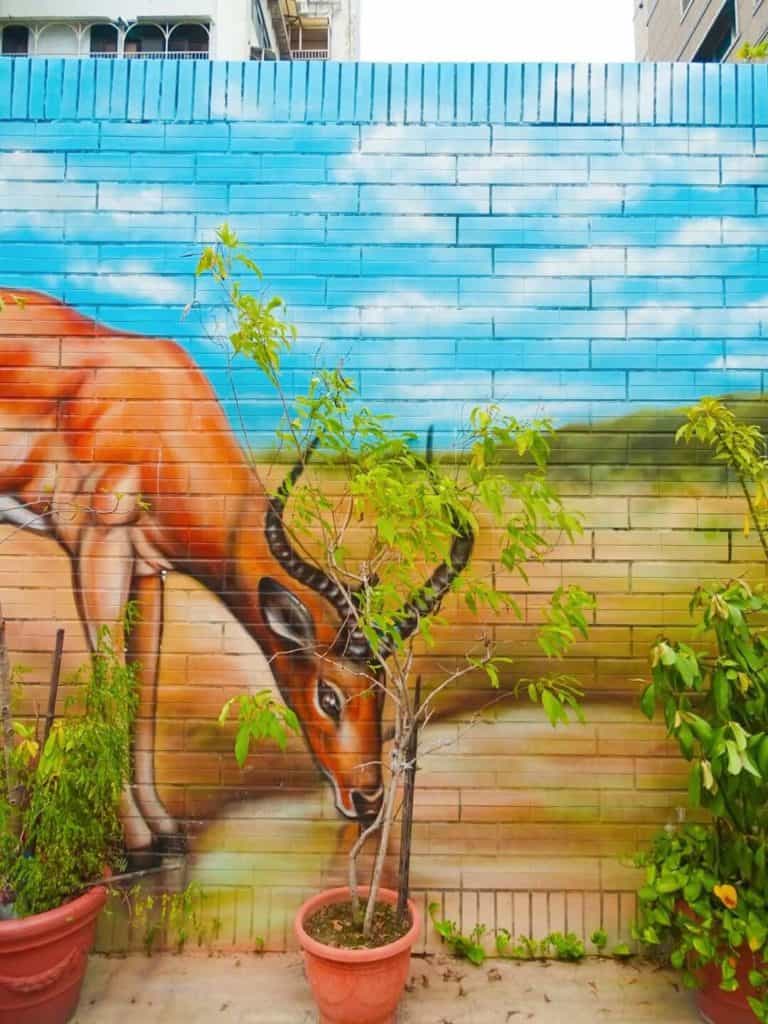 Getting to Bird by Bamboo Yang: Find the alley between Kaohsiung Cultural Center and Water Tower Park pinned here.
Formosa Boulevard Station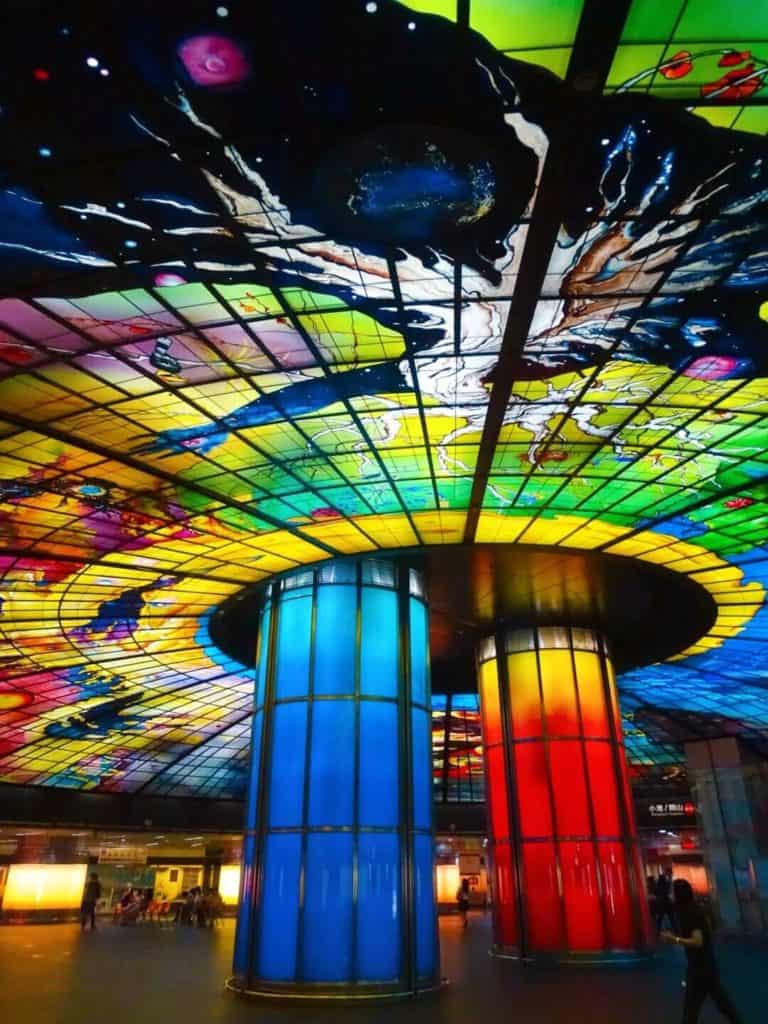 The Dome of Light inside Formosa Boulevard Station is a colourful, free thing to do in Kaohsiung. I was following signs towards it as I exited the station and suddenly they stopped, so I wandered around pondering which exit to take. All of a sudden, I looked up and realised I was already there. It's amazing what you can miss when you're preoccupied.

This 30-metre dome was completed by artist Narcissus Quagliata over the course of 4 years. Nowadays it's very popular and easy to access: Formosa Boulevard is the cross-over point between the MRT red and orange lines so you can access it via either line.
What & where to eat in Kaohsiung
There are some amazing places to eat Taiwanese food in Kaohsiung including some atmospheric food markets in Kaohsiung. If you stay at Dreamwell Hostel, there are lots of stands just across the road serving dumplings, takoyaki balls and desserts. Here's where to eat in Kaohsiung…
Rueifong Night Market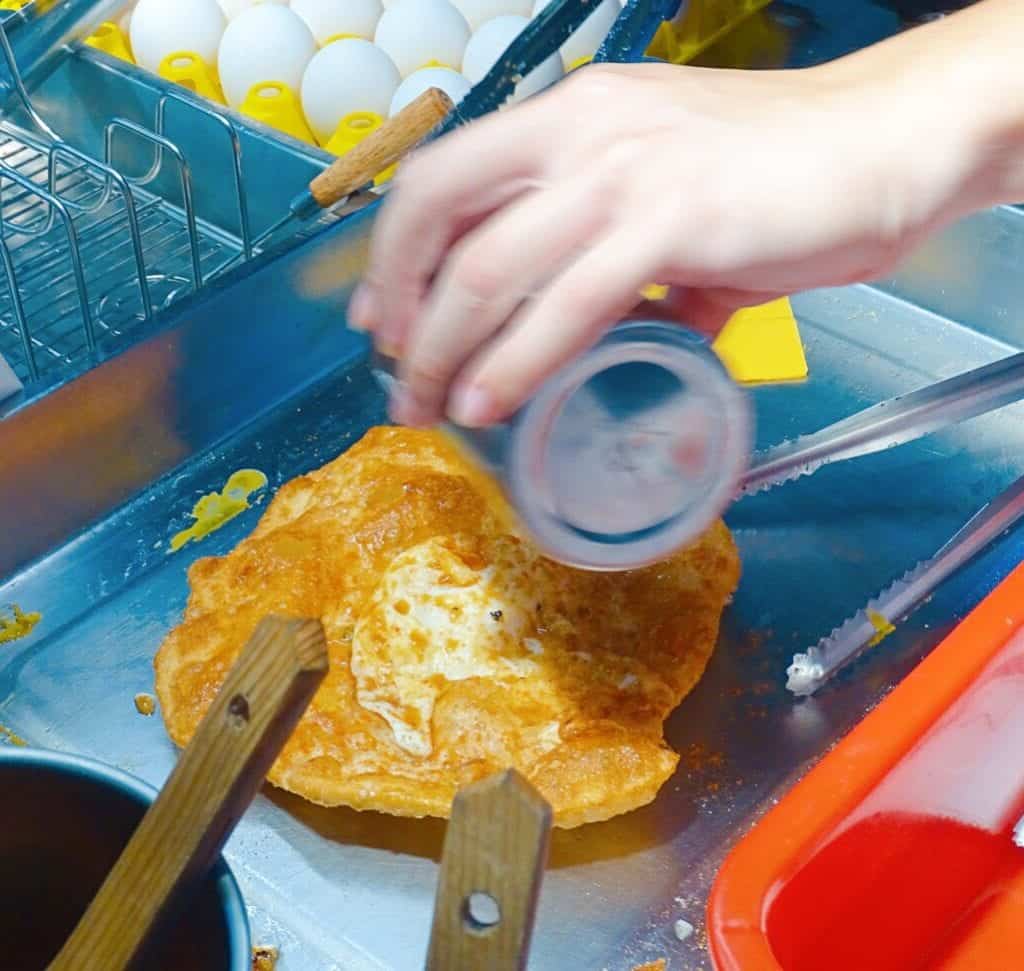 There are two popular food markets in Kaohsiung. One is Liuhe Night Market which the staff at my hostel explained is more of a tourist market these days. The locals eat at Rueifong Night Market which is beside Kaohsiung Arena Station.

Here I ate a delicious scallion pancake which is essentially deep-fried dough folded over with cheese and a gooey egg inside. I also tucked into a giant takoyaki ball. Takoyaki is a Japanese food made from squid and fried batter, cooked in small ball-shaped moulds. Usually, you get a serving of six but this particular stall sold singular giant ones full of sweet potato, fish, prawns and squid. So good and just 60 TWD!
Sweet treats on Cijin Island
The Taiwanese love dessert and sweet foods including shaved ice, bubble waffles and bubble tea. On Cijin Island, I found a particularly cute bakery that served all sorts of pastries and moon cakes, as well as these adorable turtle desserts. They were sweet, glutinous and probably very unhealthy – oh well!
Sushi
When I first arrived in Taiwan, I was eating nothing but Taiwanese food. However, the Japanese food was just too tasty, affordable and authentic so I ended up eating a lot of sushi in Kaohsiung. One of my regular haunts was Sushi Express, which I believe is a chain, across the road from Dreamwell Hostel. The food goes around on a conveyor belt and it's 30 TWD ($1) per plate.
Thanks for reading my Kaohsiung guide!
I hope you're excited for these colourful things to do in Kaohsiung. I really enjoyed my time in the city, especially finding the amazing Kaohsiung street art. Enjoy!
Check out some of my other Taiwan posts:
See you next time for more adventures,
Rose
Note: While I was a guest at Dreamwell Hostel during my stay, all opinions are my own.
Ps. Liked these things to do in Kaohsiung? Pin this for later!