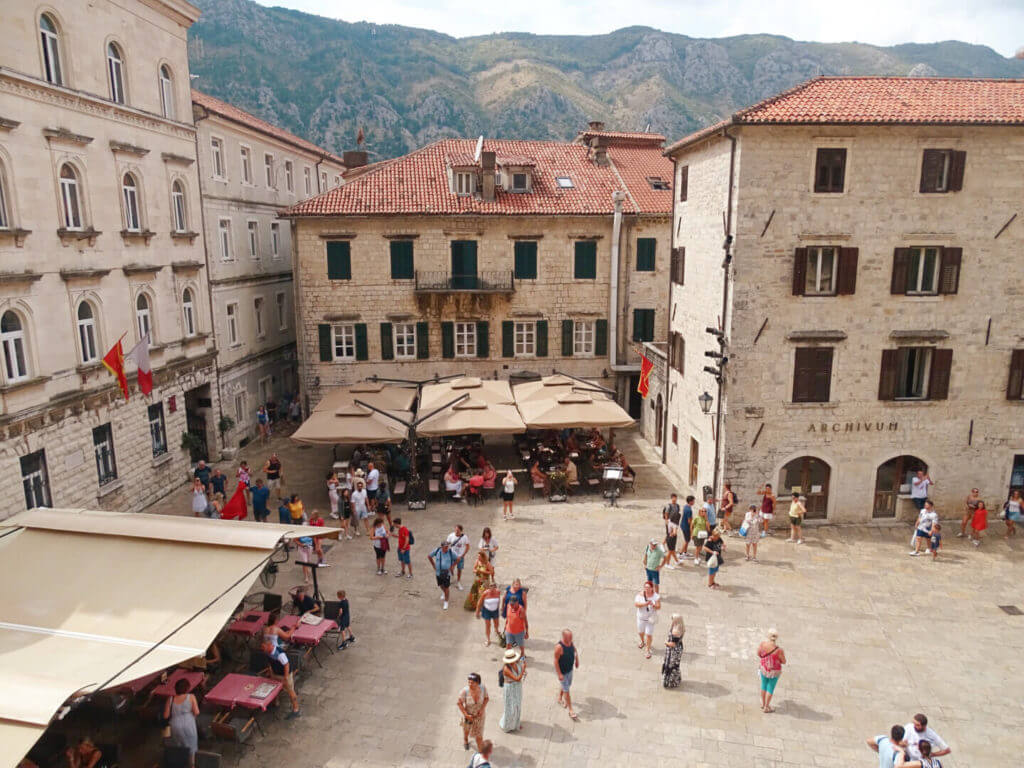 How to get to Kotor
How long to spend in Kotor?
Although one day is enough in Kotor town, I'd urge you to spend longer exploring the surrounding region.

I spent a second day on a Boka Bay cruise, a third day visiting Perast village (although this could be condensed into a half day) and a fourth day on the Great Montenegro tour visiting locations like Skadar Lake.

You could also spend a fifth day touring the northern highlights like Durmitor National Park and Ostrog Monastery. You could also visit Budva as a day trip. So, I would suggest spending five days in Kotor because even if you don't take all the excursions listed, it's a lovely place to relax.
For backpackers – Old Town Kotor Hostel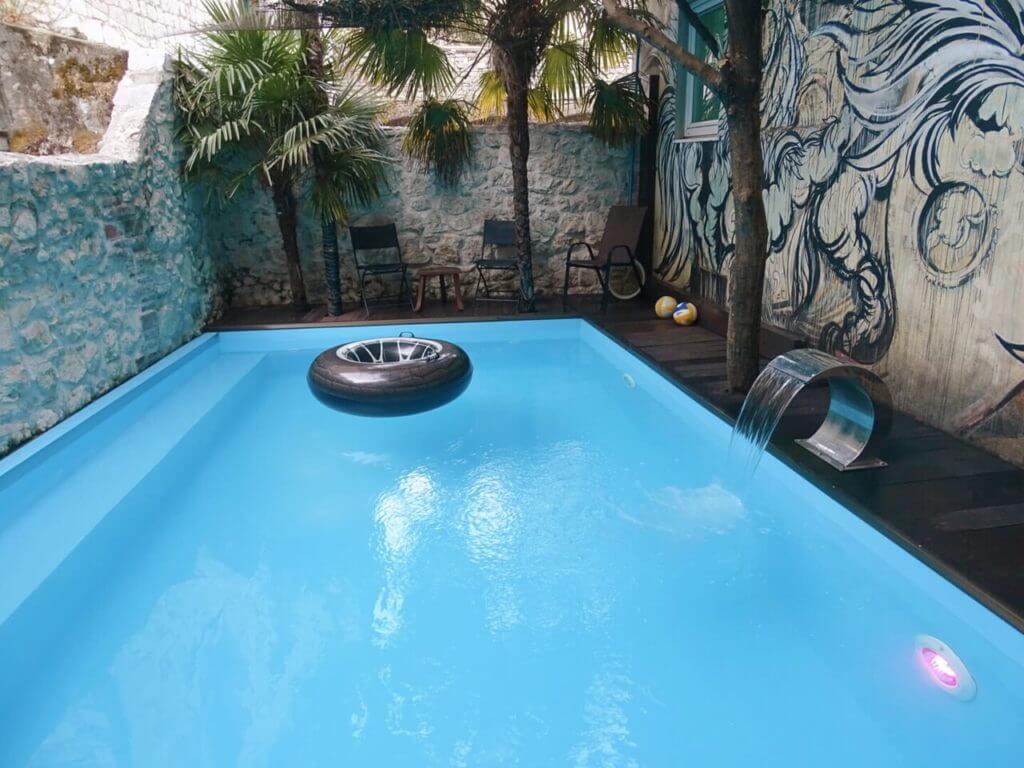 Old Town is the best budget accommodation in Kotor and, according to the Telegraph, one of the best hostels in Europe!

I had the pleasure of staying here for 5 nights in a cosy, ensuite 6-bed dorm. Not only is it right in the heart of the Old Town but my room was up in the rafters and I bagged a single bed rather than a bunk. Backpacking win!

Other perks include security lockers, a swimming pool and daily tours and Kotor activities like boat trips and sunset barbeques. I can vouch for the latter which took us to an old hillside bunker with spectacular views.
Climb to San Giovanni Fortress
Take the free walking tour
You know I love free walking tours (and if you don't because you just found my blog, come follow along my adventures)! They're always so interesting and informative with local guides who know their city inside out. I'd recommend taking one on day 1 to get a broad overview of the top attractions in Kotor and work out which to return and explore in greater depth.

The Kotor free walking tour starts from the Marimite Museum and tours the most popular places in Kotor. In peak season, they recommend reserving a spot for €1 on their website. Not exactly free but also not likely to break the bank. You're free to give a tip if you enjoy the tour (I usually give around €5).
More churches – St Nikolas & Luka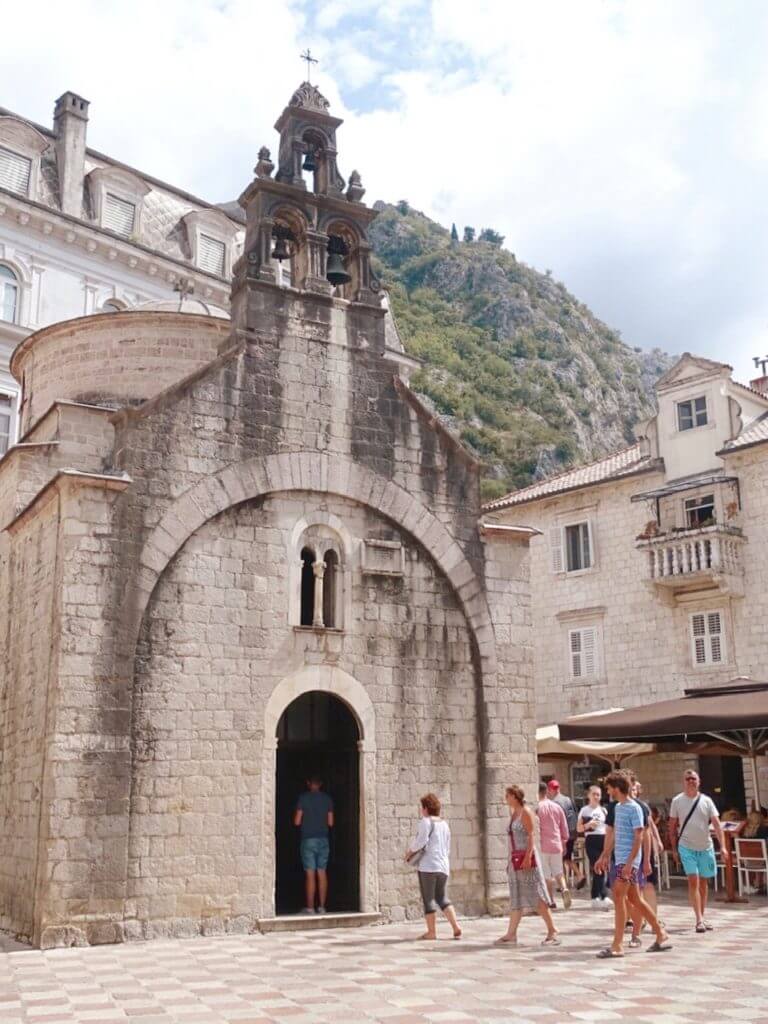 Many of the key attractions in Kotor Old Town are religious buildings. If you're interested, tour notable examples including Saint Nicholas Church beside the Bazaar. The Serbian flag above the door indicates it's a Serbian Orthodox cathedral (history buffs will know that Serbia and Montenegro only split into two countries in 2006). Pop your head inside and admire the intricate decor.

Meanwhile, the Church of St. Luke dating from 1195 is a curious place because it has both a Catholic and Greek Orthodox chapel inside, indicating how the two religions peacefully coexisted while sharing the mutual goal of fighting the Ottomans.

It's free to enter both the above churches.
Kotor Cat Museum
Honestly, the Cats Museum of Kotor won't win any awards as the best museum in the world, but it's a cute and quirky place to visit in Kotor. You'll be given an info sheet about the numbered exhibits.

Opening times: 10am-8pm daily. Entry is just €1!

Since there are no cats there (prompting several negative reviews and a sarky notice at the museum's entrance defining what a museum is!), cat lovers will think the following is one of the top things to do in Kotor…
Meet street cats
Learn about the history at the Maritime Museum
Take a Boka Bay cruise
Our Lady of the Rocks
Swim through the Blue Cave
Submarine Tunnel
During our Boka Bay cruise, we also had the chance to peek inside the abandoned Submarine Tunnel built by the Yugoslav army. When fake rocks were placed at their entrance, the cave was invisible to enemy planes and satellites.

The tunnel is around 100m long and, if your boat trip allows, you can swing to the end and back.
Venture along the coast to Perast
Great Montenegro tour
Where to eat in Kotor
Marinaio
Pizza Pronto
For tasty food on a budget, it's all about €3 slices from Pizza Pronto. If you have good luck, a fresh batch will be waiting… Sadly I got the last piece from a batch which was cold!

You can also order whole pizzas, either sit-in or to-go. I think you'll be pleasantly surprised with both the pizza quality and price here.
BBQ Tanjga
Marshall's Gelato
If I had to summarise Marshall's Gelato in one word, it's 'pistachio'. I've never had such delicious, creamy pistachio ice cream anywhere. They also do a bunch of other flavours including vegan ones.
Cattarissimo
With a huge range of tasty desserts and ice creams (and options for vegans), Cattarissimo is easily one of the top places in Kotor for dessert. We visited for an after-dinner dessert of local cream cake that reminded me of Bled cream cake in Slovenia.