Despite the fact it's a small city, there are plenty of things to do in Melaka. It's one of my favourite places in Malaysia and I'm always surprised it doesn't get more visitors. If you love culture, food and architecture, make sure to add Melaka to your Malaysia itinerary.

Not only is it easy to reach from Kuala Lumpur but it's also not far from Singapore so you could consider stopping off when travelling by bus between the two countries. In this Melaka travel guide, I'll run through everything you need to know for the perfect trip.
Mosques, colonial churches and Hindu and Chinese temples sit on every corner making Melaka a cultural melting pot. The gorgeous old-style houses are just as elaborate, telling tales of days gone by.

Visually, Melaka reminds me a bit of Hoi An in Vietnam, one of my favourite places on Earth. It's simply a charming place to wander whether you hit up the must-see Melaka attractions or just relax and enjoy the slow pace of life.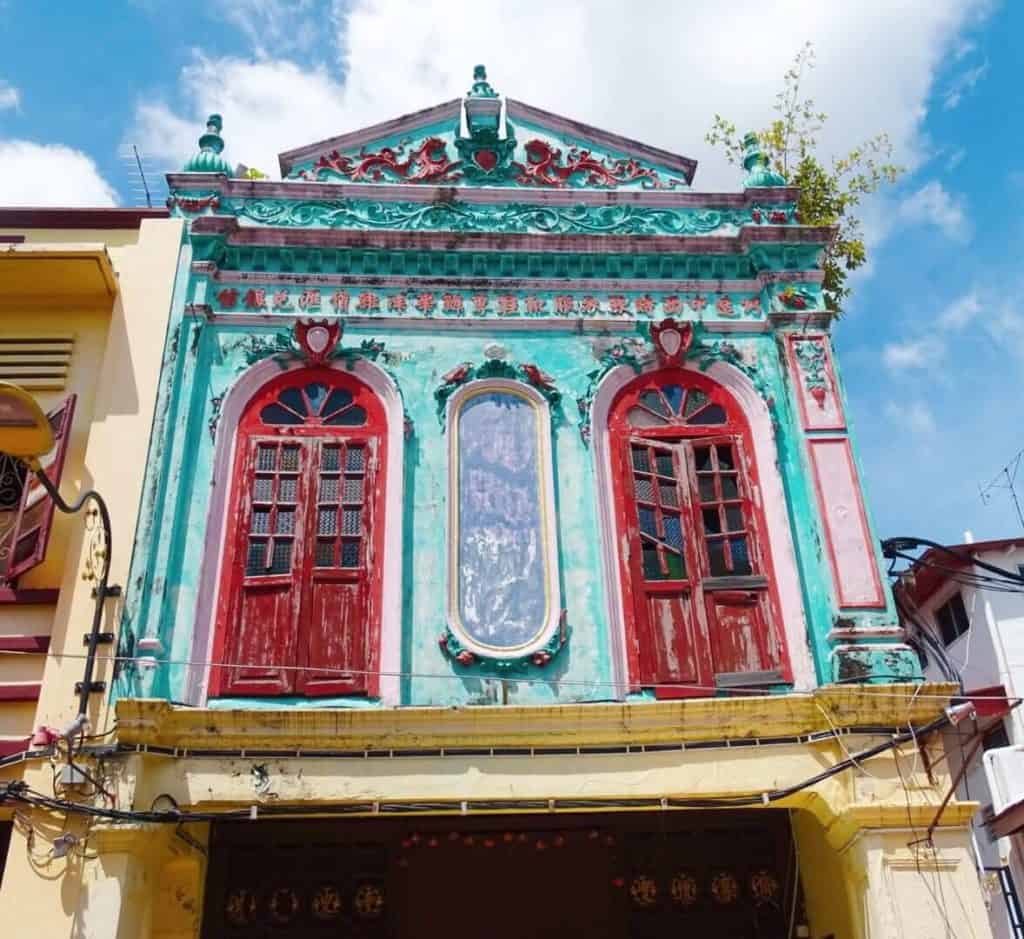 1. Go house-spotting
2. Visit Melaka Straits Mosque
3. Seek out the street art
Like George Town, Ipoh and Kuala Lumpur, there's so much vibrant street art dotted around Melaka. I loved finding it and taking photos, especially in the early morning before the crowds came out.

The best bit is Kiehl's Wall which is a giant rainbow masterpiece and selfie backdrop. You're bound to find it whether you're looking for it or not – you can't really miss it! However, if you're keen to see all the best bits, follow my street art guide to Melaka.

Street art is a relatively new phenomenon in Malaysia but it's taken off. Ernest Zacharevic is a Lithuanian artist who became well known when he completed some quirky, 3D murals in George Town, Penang for a local festival in 2012.

As he became famous, he was asked to complete more street art in Ipoh and other cities around the world. Although he hasn't done any work in Melaka, there's still some colourful art worth seeking out.

Browse my Malaysia street art archives.
Temples in Melaka
4. Cheng Hoon Teng Temple (the oldest temple in Malaysia)
5. Kampong Kling Mosque
6. Find the Portuguese cafe complex
7. People-watching + nightlife at Geographer Cafe
8. Indulge at Jonker Street Night Market
9. Gawp at the Hello Kitty tuk-tuks in Windmill Square
Melaka's Windmill Square has to be one of the strangest places ever with its Dutch windmills and Catholic churches. To me, it just feels wrong but I know a lot of domestic tourists love the novelty.

It's here in the central square that you'll find the outlandish Hello Kitty tuk-tuks adorned in glitter and cuddly toys. Seeing masculine-looking guys driving them around always make me smile!
10. Dig into the street food
11. Drink coffee at a cute cafe