This post may contain affiliate links to things like tours, hotels, Amazon associates and products. These help me earn a small commission at no additional charge to you.
If you're looking to find magic beyond the crowds, these amazing things to do in North Bali, Indonesia, are sure to enchant you.

North Bali was a refreshing step away from the major tourism found in the traffic-heavy areas of Ubud and Canggu. There are popular attractions in North Bali but, between them, you'll find untouched valleys, roaring waterfalls and active volcanoes.

I had a wonderful time exploring North Bali in one day, although I wish I'd had longer, so I've included other things to do in the area if you can spend two or three days in North Bali. I hope this list inspires you to get up there and see it yourself!
BALI TRAVEL GUIDE

Bali SIM card (30 days, 6GB)

Copy of Lonely Planet Bali

Pre-book your airport to hotel transfer

Accommodation: Hotels on Booking.com // hostels on Hostelworld

North Bali activities: GetYourGuide / Viator

Travel insurance: True Traveller (European travellers) / Hey Mundo (other nationalities) / Safety Wing (digital nomads)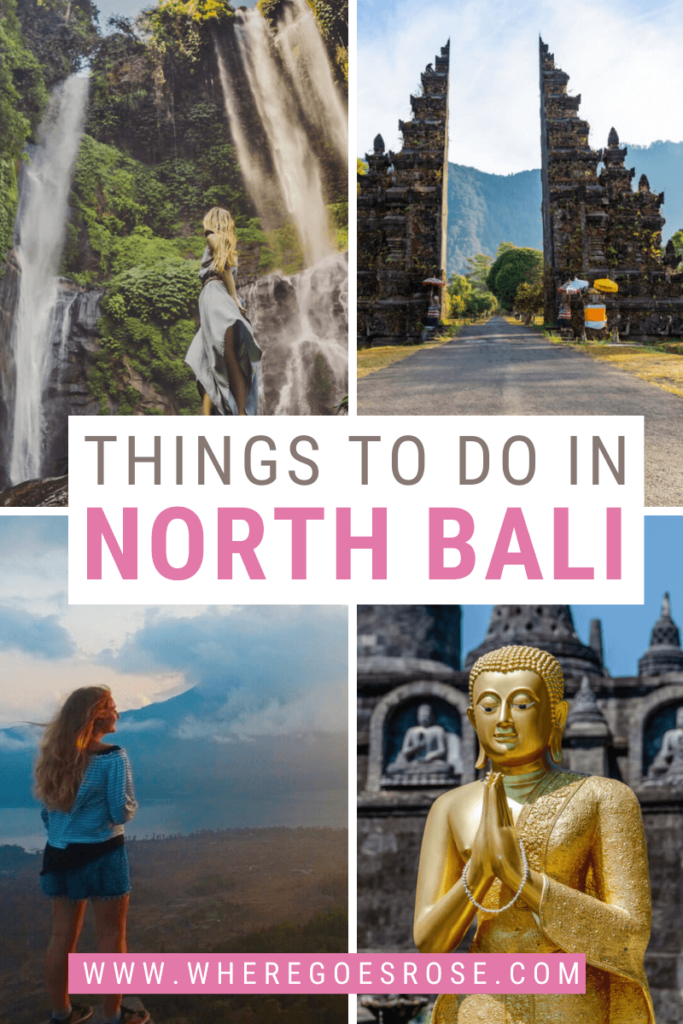 Best things to do in North Bali and Lovina
If you find the highly touristy places overwhelming, consider these Bali hidden gems and lesser-visited places in North Bali. Here, you'll trek down winding pathways to jungle waterfalls, black sand beaches, discover picturesque temples, and endless green views of rice fields, forests and hills.

Read on to discover the North Bali best things to do!
1. Visit Ulun Danu Beratan Temple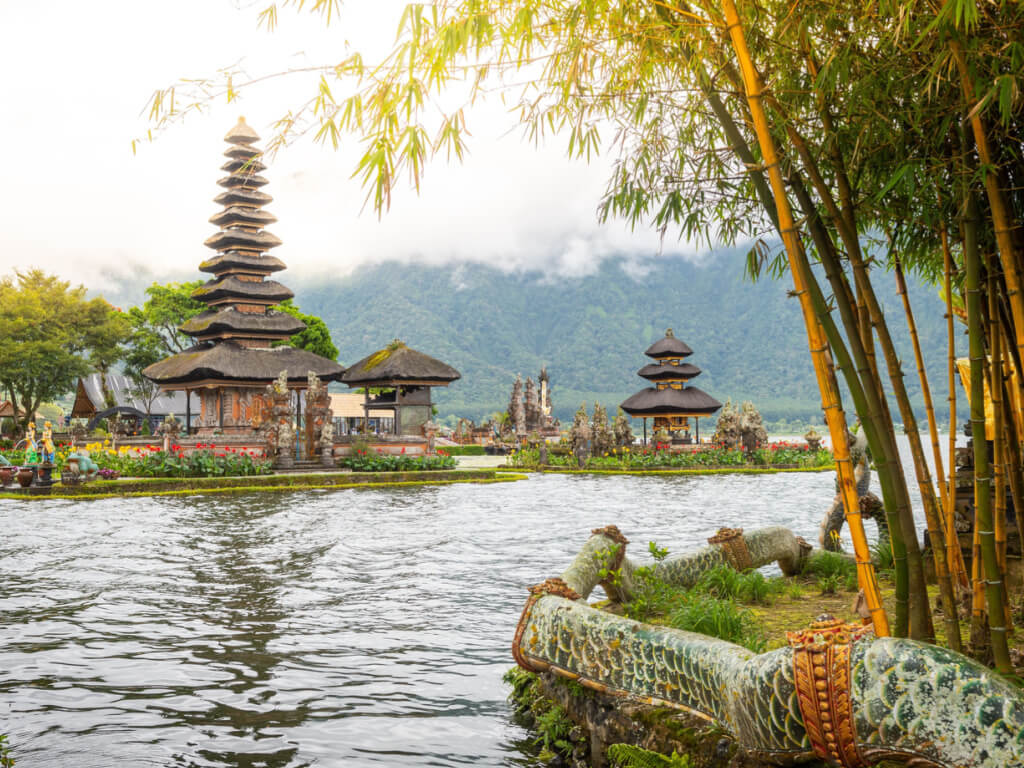 Colloquially known as the water temple due to its scenic position on the banks of Lake Beratan (Bali's second largest lake), Ulun Danu Beratan Temple is undoubtedly the most beautiful temple I've visited in Bali.

After stepping out of the car at 1500 meters above sea level, I was immediately grateful for the cooler weather. The lake itself is stunning; the perfect setting for a temple honouring Goddess Danu, the goddess of water, lakes and rivers. In fact, 'Danu' means lake in Balinese.
Four stunning buildings make up the temple, with the most striking being Pura Puncak Magu, standing at 11 levels high, and the stunning three-level Linga Pura, nestled on the banks of the lake in honour of the Hindu god, Shiva.

If you visit with a local guide (GetYourGuide have a fantastic North Bali tour), you'll get to learn about the different places of worship and the unique offerings around the temple: an insight often hard to gain when travelling solo in Bali.

Address: Danau Beratan, Candikuning, Kec. Baturiti, Kabupaten Tabanan, Bali 82191.

Entrance fee: 50,000 IDR (US$3.30).

Opening hours: 7am-7pm.
2. Stand under Gitgit Waterfall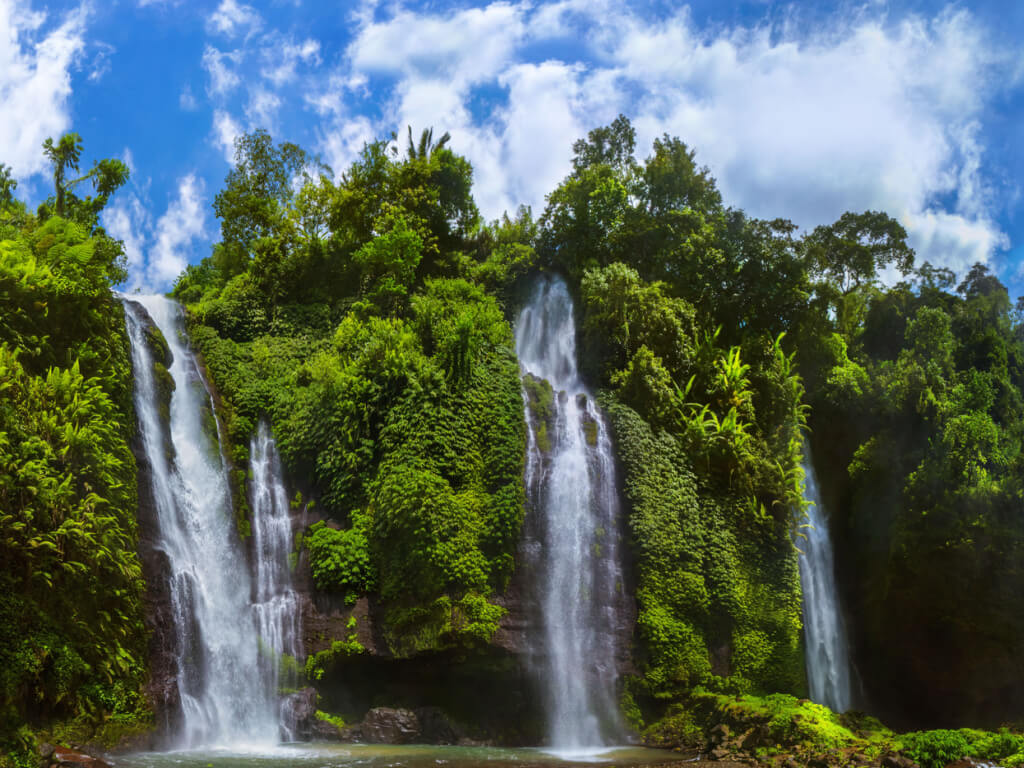 During a hot North Bali day trip, there's no better way to refresh than by standing under the clean and cooling waters of Gitgit Waterfall!
The trail down to Gitgit is beautiful from the offset. The pathway from the car park to the bottom of the falls is incredibly well-maintained with small gardens, coconut trees and palm trees lining sections of the path. (You'll also spot a couple of your usual Bali tourist stalls, but only a couple were open during my visit – in fact, I had the waterfall all to myself!).
It's an easy hike down to the falls and won't take most people longer than around 15 minutes, although there are steps at the end of the track.

At the bottom of the pathway, you can walk right to the bottom of the falls without having to scramble over rocks, although the area is slippery underfoot.

The falls tumble over the jungle cliffs at around a height of 35 metres, and the breathtaking panorama is undoubtedly one of the best things to see in North Bali.

Address: Jl. Raya Bedugul – Singaraja, Gitgit, Kec. Sukasada, Kabupaten Buleleng, Bali 81161.

Entrance fee: 20,000 IDR (US$1.30).

Open 24 hours.
3-9. Other beautiful waterfalls in North Bali
If you're a nature lover, these waterfalls are wonderful places to visit in Northern Bali.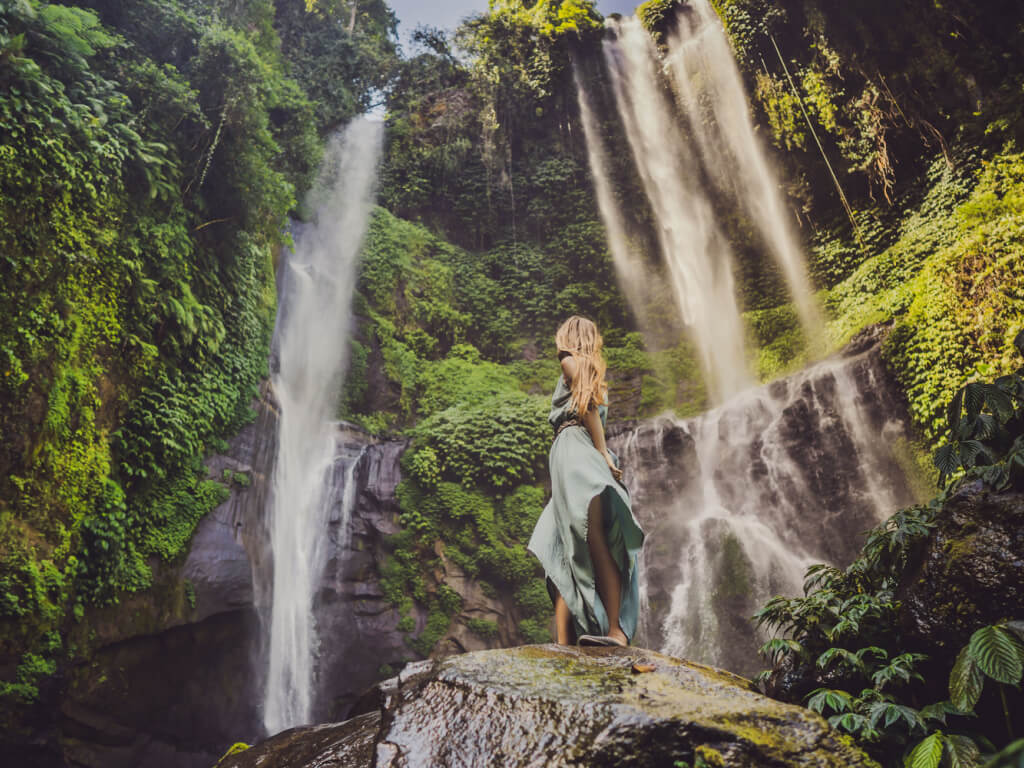 3. Sekumpul Waterfall – after a short trek and 400 steps, you'll reach the bottom of the spectacular 80-metre-high Sekumpul Waterfall, among the most famous in North Bali. There's a fabulous viewpoint on the way down, too. You can also swim at the bottom.

4. Fiji Waterfall – from Sekumpul Falls, you can continue the hike towards Fiji Waterfall. While both are stunning, there's an extra ticket to see them both from the bottom – so enjoy them from the higher lookouts if you're travelling on a budget!

5. Lemukih Falls (nearby the above 2) – an underrated waterfall accessed via steps. You may have to do river crossings to access Lemukih Falls in the rainy season, but local guides will be more than happy to show you the way.

6. Aling Aling Waterfall – these powerful falls can be seen from a viewing platform, or follow the pathway right down to the bottom.
7. Kroya Falls – before reaching Aling Aling, the path also passes Kroya, the perfect stop if you fancy cliff jumping or using a waterfall as a water slide! Alternatively, these beautiful North Bali waterfalls also have both an upper viewpoint and a staircase to the bottom.

8. Munduk Waterfalls – for tourists staying in Munduk, combining the area's three most famous waterfalls is a must-do: Munduk, Melanting and Labuhan Kebo. You could easily spend a half day hiking to these spectacular falls, each set within the luscious Balinese jungle.

9. Banyumala Twin Waterfall – reach this famous twin waterfall via a 20-minute trek and cool off with a swim at the base of the falls!
10. Brahmavihara-Arama Buddhist Temple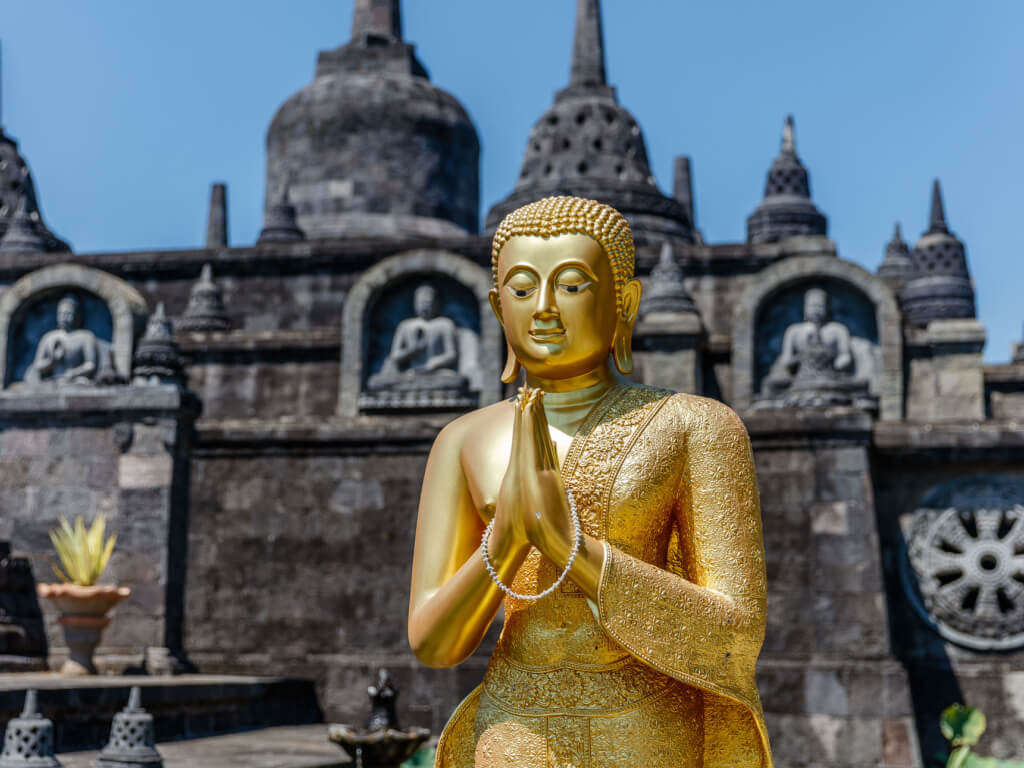 Visiting Bali's largest Buddhist temple is a popular thing to do in North Bali, located in Lovina between the beautiful Banjar hills.

Since 1970, the monastery at Brahmavihara-Arama Buddhist Temple has impressed visitors with its beautiful gardens and meditation spaces. There's also a mini replica of Borobudur (the world's largest Buddhist temple) onsite.

Address: Banjar Dinas Tangeb, Banjar Tegeha, Kec. Banjar, Kabupaten Buleleng, Bali 81152.

Entrance fee: 20,000 IDR (US$1.30).

Opening hours: 8am-6pm.
11. Bathe in Banjar Hot Spring ('Air Panas Banjar')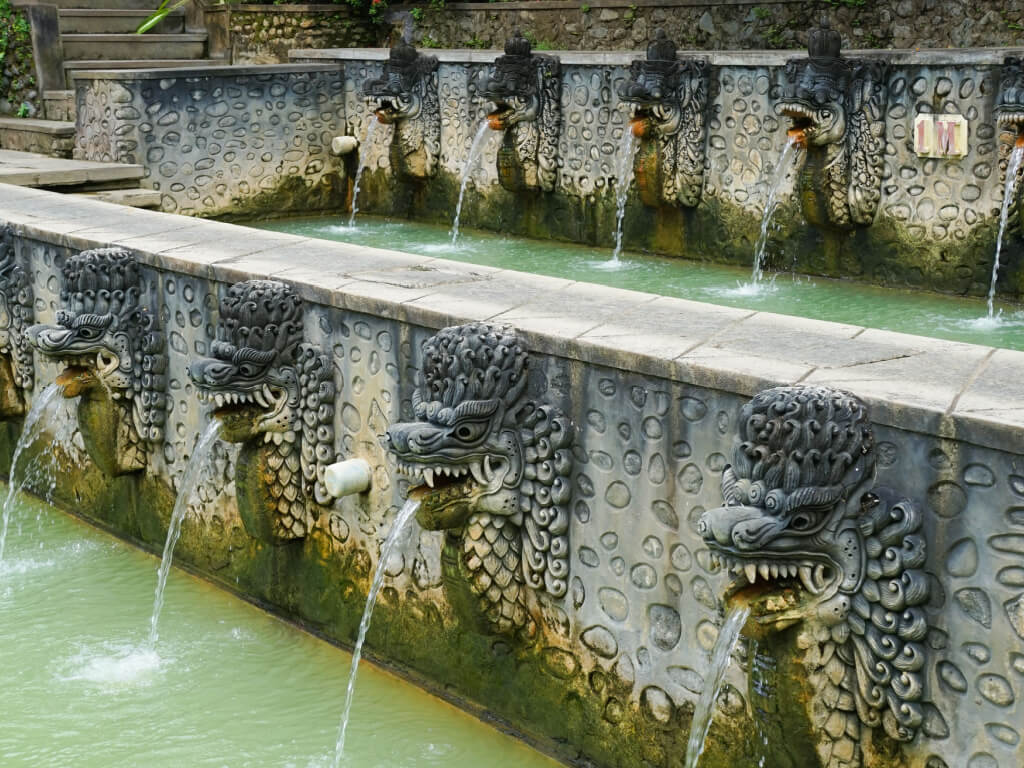 This 32-degree hot spring is perhaps one of the most unique North Bali tourist attractions. Consisting of a tropical garden with Hindu features and three separate pools, the sulphurous water at Banjar Hot Springs is believed to have healing properties.

You'll be no stranger to the mild egg-like smell if you've ever visited volcanic hot springs in New Zealand, Iceland or Japan!

The hot pools are mostly frequented by locals, and there are changing rooms, lockers and toilets onsite, plus showers so you can rinse off after rejuvenating in the thermal pools.

Address: Jalan Banjar, Banjar, Kec. Banjar, Kabupaten Buleleng, Bali 81152.

Entrance fee: 20,000 IDR (US$1.30).

Opening hours: 8.30am-5.30pm.
12. Swim at Lovina Beach
Right on the Northern Coast of Bali, you'll find Lovina, a coastal stretch dotted with stunning accommodations and fisherman's villages. It's also home to one of the most popular black sand beaches in North Bali.

Aside from swimming and snorkelling next to the beautiful Lovina Beach, try another of the most popular things to do in North Bali: seeing wild dolphins! Visitors can try to spot dolphins from the shore or take a local boat tour for a higher chance of seeing the beautiful wild creatures.

If you're an animal lover, you may want to avoid the boat option, as the boats go notoriously close to the dolphins to allow tourists to get a closer look. With dozens of boats surrounding the water, it's not an idyllic experience, and possibly cruel to the animals.

Address: Jl. Mawar Lovina Beach, Kalibukbuk, Singaraja, Anturan, Kec. Buleleng, Kabupaten Buleleng, Bali 81151.

Lovina Beach is open 24 hours.
13. Get lost in Wanagiri Hidden Hills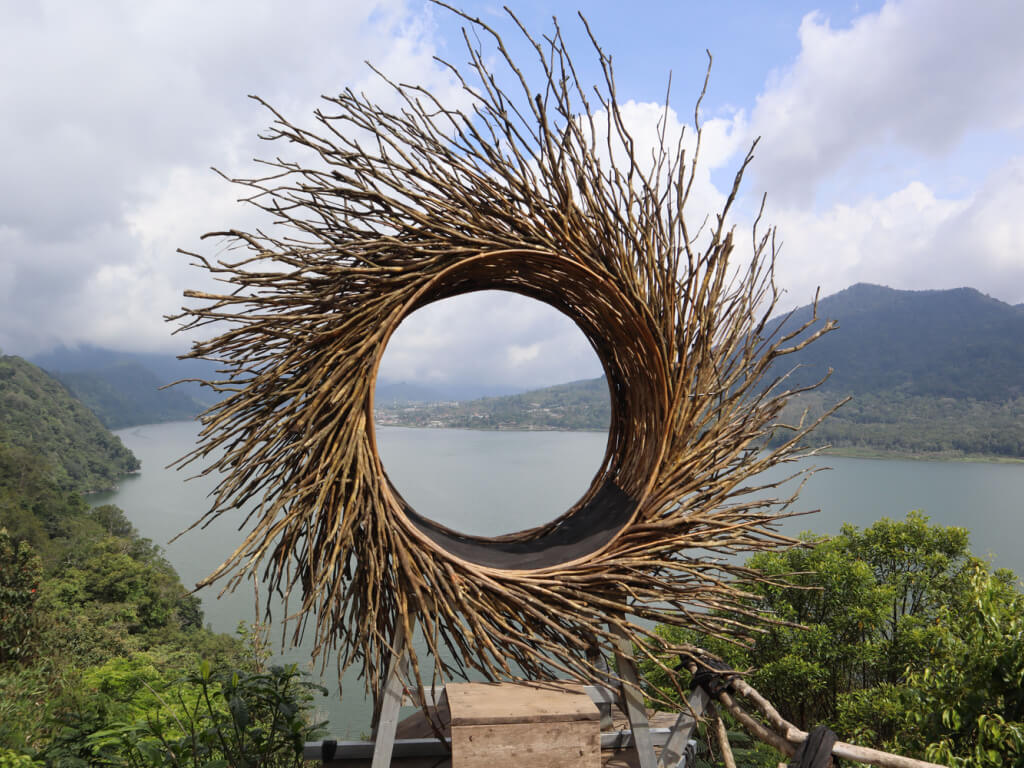 If you're wondering where to go in North Bali to take beautiful photos, then honestly, any of the places on this list are more than photogenic enough.

That said, there are some purposefully built and classic Instagrammable places in North Bali that people enjoy visiting, and a trip to Wanagiri Hidden Hills is the perfect stop for ample photo opportunities in one stunning mountainous location.

There are a few different classic 'Insta-style' lookouts at this North Bali attraction, usually constructed from bamboo to create 'cute' lookouts like nests, viewing platforms and swings.
The backdrop is the true star of the show: mountain scenery, the still waters of a beautiful lake below, and the luscious forest surrounding you. Even if you're not into social media-ready setups, you can't deny the nature here is beautiful.

Address: Wanagiri, Jalan Raya Munduk, Pancasari, Kec. Sukasada, Kabupaten Buleleng, Bali.

Entrance fee: 100,000-150,000 IDR (US$6.55-$9.80… Selfies are a BUSINESS in Bali, guys!)

Opening hours: 8am-6pm.
14. Walk through Bali Handara Gate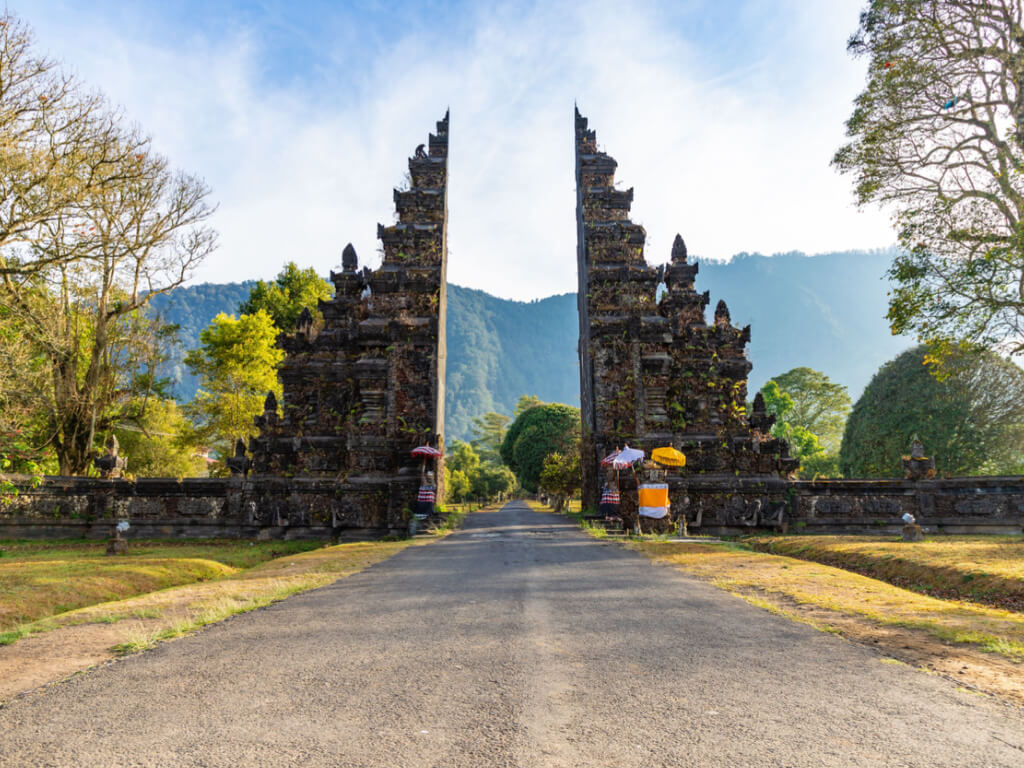 Photographers wondering what to do in North Bali need look no further than Handara Gate. Part of the Handara Golf & Resort, tourists can access the gate for a pretty photo with their friends.

Since it's got so famous, there's now a small fee to take a photo here, and I've heard it can get really crowded so arrive early if you don't fancy queuing for a photo.

While these aren't really my thing, I totally understand why people are keen to take memorable photos to share their holiday with their loved ones, and the Bali Handara Gate is an iconic place to do just that.

Address: Jl. Raya Singaraja-Denpasar, Pancasari, Kec. Sukasada, Kabupaten Buleleng, Bali 81161.

Entrance fee: 30,000 IDR (US $2.10).

Opening hours: 24 hours.
Combine Wanagiri Hidden Hills and Handara Gate with one of Bali's most breathtaking waterfalls and lakes on this Bali living postcard tour
15. Visit Munduk Moding Plantation
I've seen countless photos of travellers standing on the edge of the infinity pool at Munduk Moding Plantation with the mountains behind.

Thankfully, you don't need to pay luxury prices to stay overnight: you can take a day tour around the Munduk Moding Coffee Plantation. You'll learn about the daily routine of farmers producing coffee while enjoying the insane views.

Address: Jl. Asah Gobleg, Gobleg, Kec. Banjar, Kabupaten Buleleng, Bali 81152.

Entrance fee (day pass): 500,000 IDR (US$32.70).
16. Hike Mount Batur for sunrise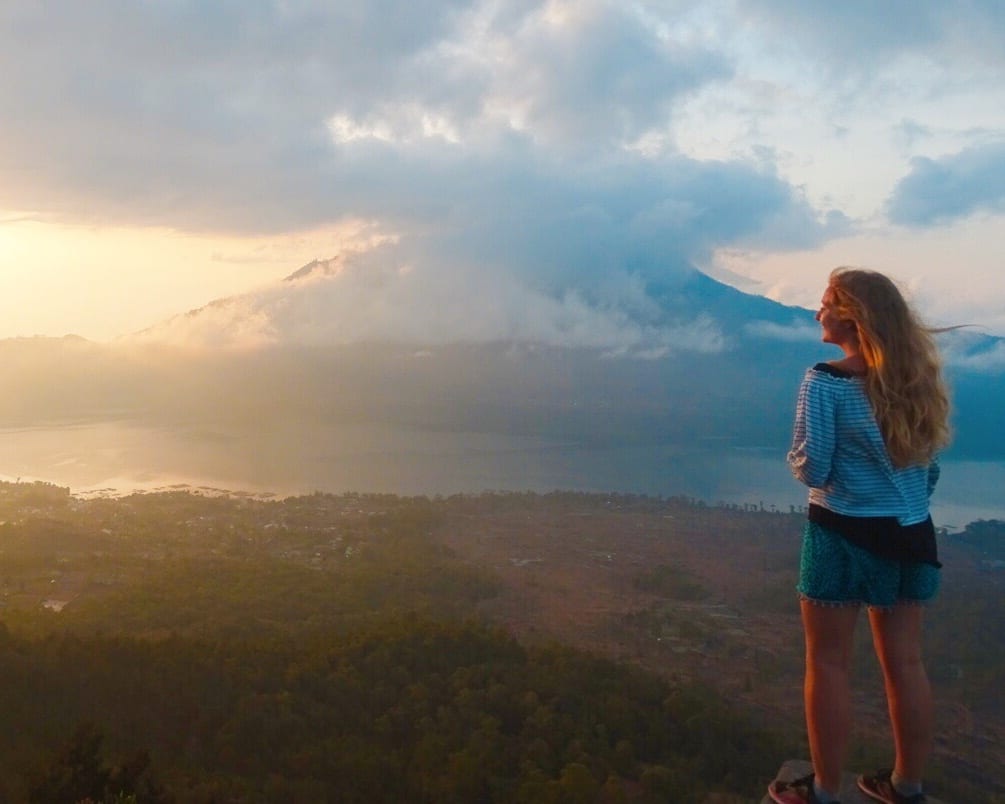 If you don't mind the 2am start, then the famous Mount Batur sunrise hike is a must-do on any Bali itinerary. It's not just one of the most iconic places to go in North Bali, but the whole island.

If you get good weather, you'll be spoiled with panoramic views while looking across to Mount Agung and watching the sunrise from the top of a 1700-metre-high volcano!

The scenery of the surrounding lava fields, Kintamani Highland and Lake Batur does not disappoint. Even with bad weather, you'll still be surrounded by gorgeous scenery on the morning walk down.
Read next: trekking Mount Batur for sunrise
Tours to the top places to visit in North Bali
If you'd prefer to do your North Bali sightseeing with a small group, local guide and all your transport arranged, consider one of these tours…
Cheap North Bali day tour: Sekumpul Waterfall and two iconic temples
Get lost in Bali's untouched wilderness on this fantastic North Bali: Sekumpul Waterfalls and Ulun Danu Temple tour.

You'll trek to breathtaking North Bali attractions such as Sekumpul Falls, the Twin Lakes of Buyan and Tamblingan before enjoying lunch beside the beautiful Lake Beratan located at 1,231 meters above sea level.

Finally, you'll spend the afternoon exploring Ulun Danu Temple and the mesmerising UNESCO Heritage site, the Taman Ayun Water Temple.
North Bali waterfall tour: Aling-Aling and Gitgit Waterfalls, plus a temple tour
There's no better way to explore Bali's waterfalls and luscious jungles than with this Bali Gitgit and Aling-Aling Waterfalls small group tour.

Your air-conditioned minivan will take you to the stunning 25-metre Aling-Aling Falls, which you can slide down into the refreshing pool below.

After lunch, you'll visit the beautiful Gitgit Waterfall, before heading to the beautiful Pura Taman Ayun Temple.
Unique North Bali tour: 4×4 guided tour, mountain bike ride, and temple tour
For a unique and adventurous day tour, look no further than this North Bali: Guided 4×4, cycling & hot spring day trip.

You'll begin with a drive to the mountain village of Munduk, before choosing your mountain bike and heading to the picturesque Asah Munduk. From here, it's a gorgeous downhill bike ride surrounded by glorious scenery.

Next, a 4×4 will wind through the rougher terrain towards Pandawa. Here, you'll have a second bike ride past coastal views and coffee plantations, before arriving at a Buddhist monastery.

After a picnic lunch, the 4×4 will take you to the amazing natural hot springs at Banjar Singaraja.
What to take on a North Bali day trip
Things to bring on your day trip include:
Comfy shoes – if you're visiting any waterfalls, you'll be grateful for comfortable footwear with decent grip.
Cash for lunch, cold drinks and snacks
Cash for entrance fees to waterfalls, temples etc
Sunglasses, cap and sunscreen
Insect repellent
Your camera
Swimwear and a rash guard if you're planning to swim at Lovina or the waterfalls
Dry bag if you're taking a boat at Lovina/swimming
Rain jacket if visiting in the rainy season
A warm layer of clothing – especially if you plan to visit any mountainous regions for sunrise!
Where to stop on the way to Lovina
On the way to Lovina, there are also a few popular attractions in North Bali, such as Jatiluwih Rice Terraces (a quieter alternative to the busy rice fields near Ubud) and Munduk.

You could also head to Bali's beautiful East Coast if you have time. Here, you can marvel at the black sand beaches of Amed, find stunning viewpoints of Mt Amed Volcano, and go diving at Amed or Tulamben.
FAQs
Is North Bali worth visiting? Yes, North Bali is definitely worth visiting, especially if you're keen to break off the tourist track and find hidden gems.

Is North or South Bali better? It depends what you're into. For beach clubs and brunch cafes, stay in South Bali. However, North Bali is better for hidden places like waterfalls, hikes and untouched landscapes.

How many days do you need in North Bali? While you can see plenty of the highlights in a day, it's advisable to spend 2 to 3 days in North Bali to make the most of the region.

How do you get around North Bali? Sadly, there's no public transport so the best way to get around North Bali is by hiring a scooter or taking a guided day tour.
Thanks for reading!
For more content, follow me on Instagram, Facebook, Twitter and YouTube.
Bali useful links

Flights – I use Skyscanner to find the best-value flights, using the 'search by month' tool to find the cheapest dates. You can also use the 'to anywhere' feature if you're flexible on where you're going.

Stay connected with E-sim data plans that don't require delivery or collection; just scan the QR code.

In my opinion, Lonely Planet offer the best guidebooks. Get the latest Copy of Lonely Planet Bali.

I use Booking.com for accommodation. They have the best range of hotels and self-catering apartments, plus you can filter by review score and price to find the best-rated budget places. For hostels, I use Hostelworld.

To save money on accommodation, I use Trusted Housesitters, a website that connects homeowners going away and travellers who can sit their homes & pets.

For North Bali activities, I use GetYourGuide and Viator as they both have a huge range of affordable tours.

Need travel insurance? I use True Traveller (for UK & Europe residents) since it's some of the most affordable insurance out there but still covers everything you'd need including various activities, valuables and pre-existing conditions. Unlike some companies, they insure you if you're already travelling / don't yet have your flight home booked. Get a quote.

For travel insurance for other nationalities, I recommend Hey Mundo and for long-term digital nomad travellers, I suggest Safety Wing.

Check out my resources page for more travel discounts and tips!