This post may contain affiliate links to things like tours, hotels, Amazon associates and products. These help me earn a small commission at no additional charge to you.
Planning a trip to Puebla? I'm jealous because, even though I just got back, I'm dying to go again. There are so many ways things to do in Puebla Mexico including simply wandering and soaking up the vibe of this charming city.

Puebla is my favourite place in Mexico so far. I couldn't help but compare it to Oaxaca with its colourful colonial buildings and local markets serving regional delicacies like mole. But Puebla is quieter, making it one of the best places in Mexico to experience the culture without feeling OTT touristic.

It's worth noting that as a solo traveller in Mexico, I felt totally safe during my trip.
PUEBLA ESSENTIALS

Accommodation: Booking.com / Hostelworld

Copy of Lonely Planet Mexico

Activities in Puebla: GetYourGuide

Getting there: Rentalcars.com / Busbud
Puebla intro
Puebla is the name of the state as well as its capital city. I'll be talking about the city in this Puebla travel guide. Aside from nearby Cholula, I didn't have time to explore other places in Puebla state but there are plenty of destinations to check out.

The other great thing about visiting Puebla is its close proximity to Mexico City. It only takes 2 hours by bus from the capital. Along with Taxco and Tepoztlan, it's one of the best short trips from CDMX. I'll explain what to do in Puebla whether you have either 1 day or 2.

Getting to Puebla by bus – Simply board a bus from Tapo (Terminal de Autobuses de Pasajeros de Oriente) in Mexico City. You can catch a taxi there from your accommodation or catch the Metro for 5 pesos to San Lazaro Station which connects to the bus terminal.

Buses to Puebla from Mexico City depart every 30 minutes and cost around $8 each way when booking on Busbud. The journey takes just 2 hours.

Getting to Puebla by day tour – while are many things to see in Puebla Mexico and I'd recommend spending 2 days if possible, you can take an organised day tour if time's tight. I'd opt for this full-day tour from CDMX to Puebla and Cholula.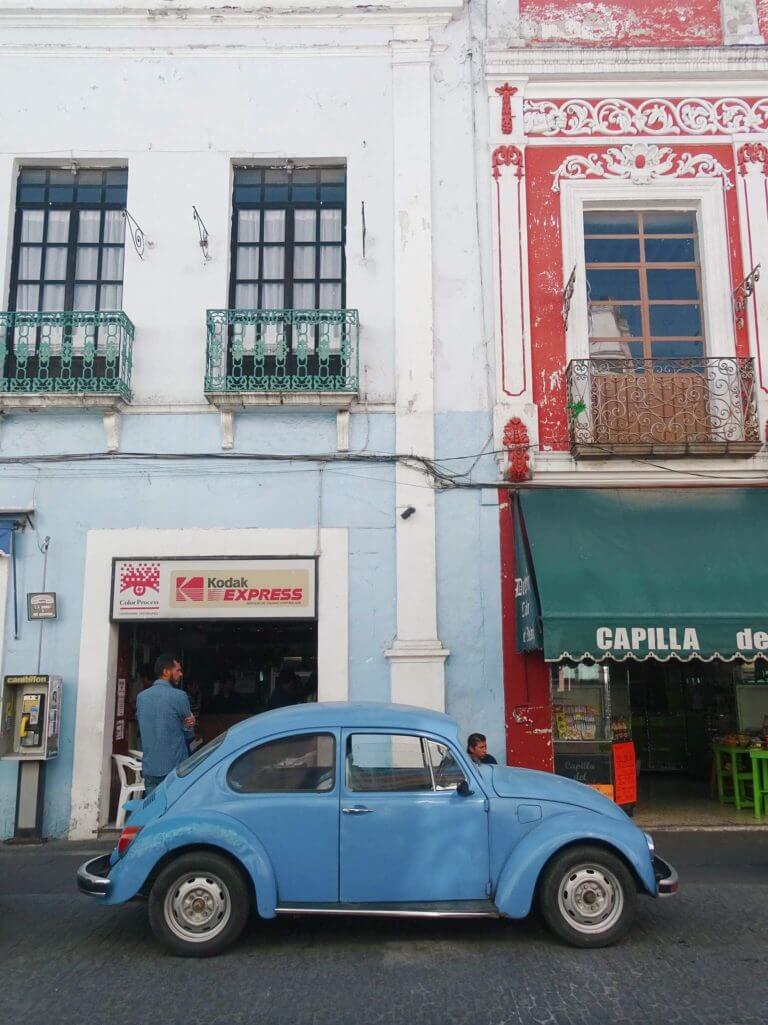 Where to stay in Puebla
2 days in Puebla
While you could spend way longer, many travellers visit for two days. It's a small city yet there's plenty to fill your Puebla itinerary.

If you've got two days, I would recommend one of the following options:
Spend a busy day seeing Puebla and a second taking a day trip to Cholula
Spend both days wandering beautiful Puebla at your leisure with more time for eating and museums.
Keep reading for my ultimate 2 day Puebla itinerary.
20 things to do in Puebla Mexico
Time for me to tell you about all the very best places to visit in Puebla! I managed to squeeze all the below Puebla activities into 2 days so I can vouch that it's possible.

Here's what to do in Puebla Mexico for foodies, culture lovers and history buffs! I'll share the main Puebla tourist attractions as well as my favourite hidden gems.
1. Eat mole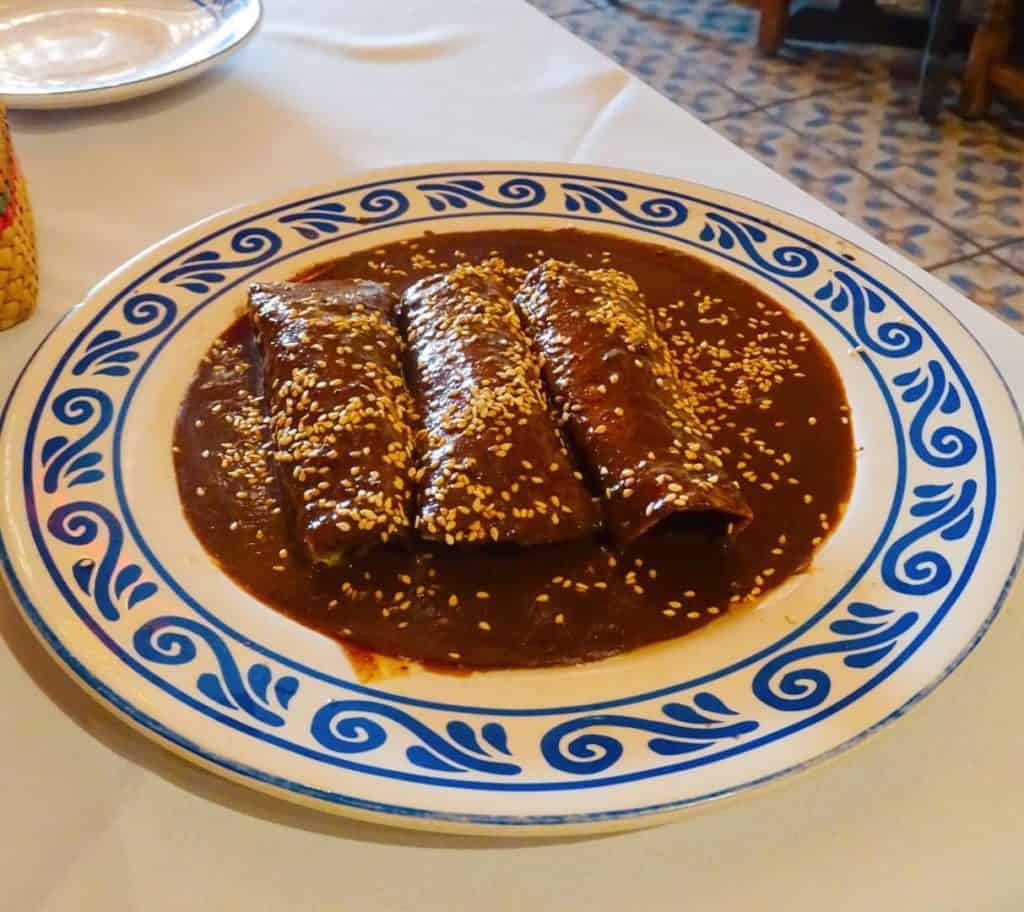 2. Browse Parian Market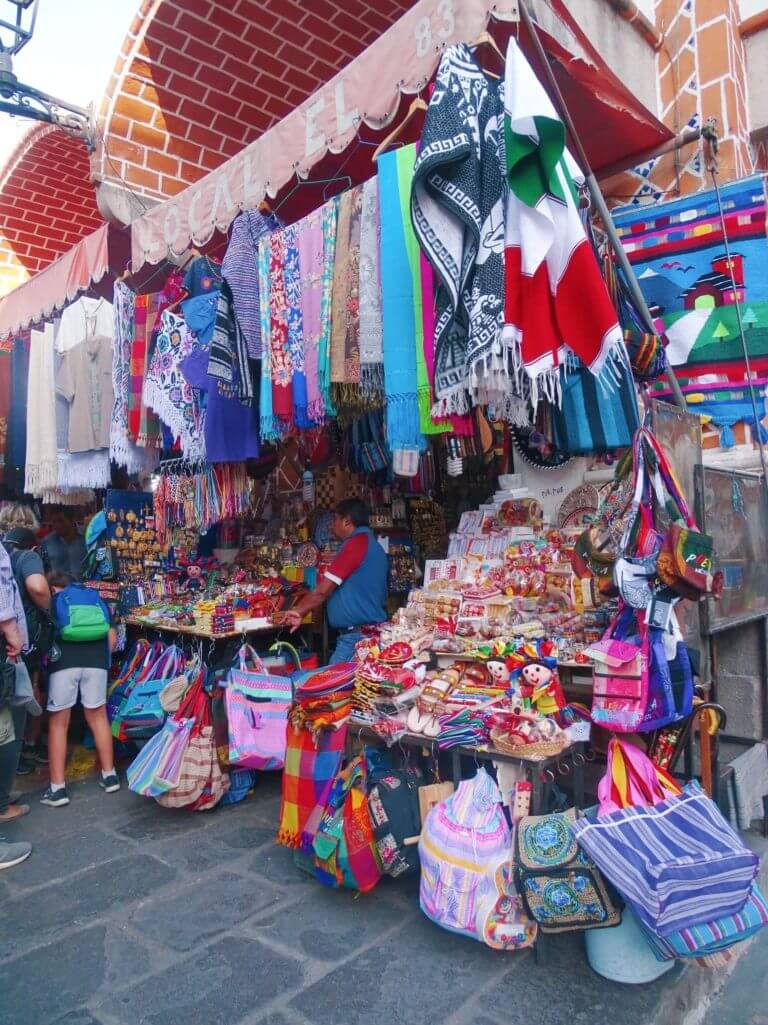 This colourful artisan market is one of the best places to visit in Puebla to shop for affordable souvenirs, or just browse and soak up the atmosphere.

It was still quiet when I walked through at 10am so you should visit after lunch for the best atmosphere. Don't forget to haggle; the vendors expect it.
3. Visit the Artist's Quarter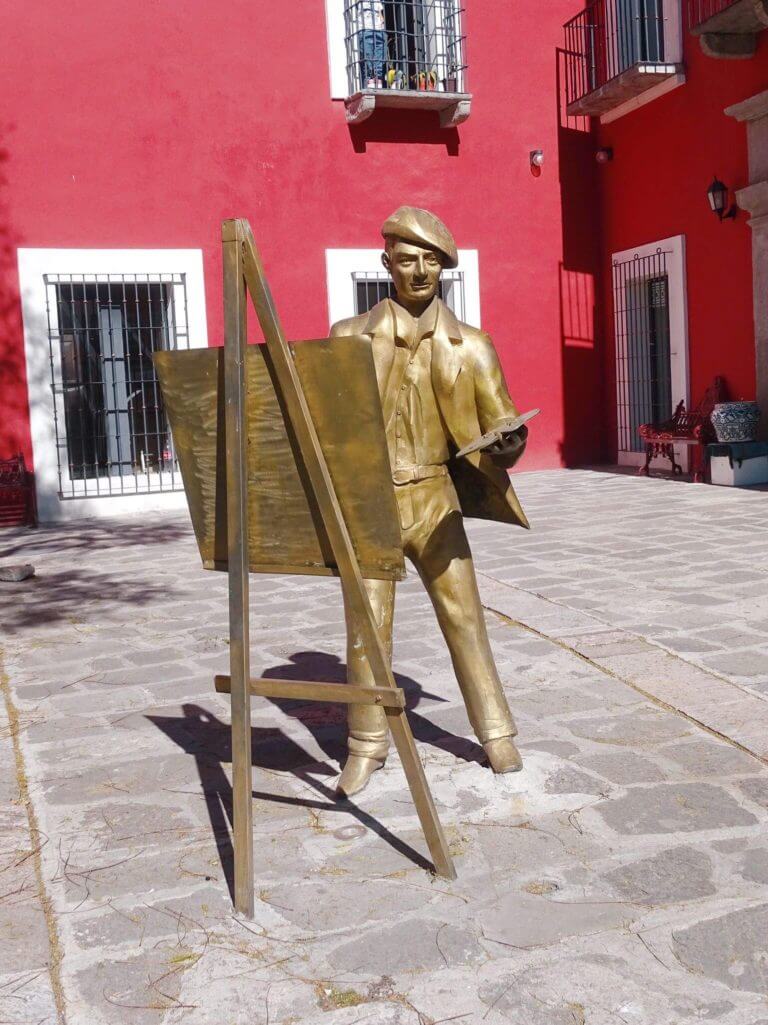 Just across the road from Parian Market is the Artist's Quarter.

Here, small galleries display their work beside a cobbled courtyard. It's a good spot for people-watching and wandering, especially on a sunny day sightseeing in Puebla.
4. Learn at the Amparo Museum
One of the best things to do in Puebla for history lovers is visit the Amparo Museum of Puebla. With exhibitions on ancient Mexican, pre-Hispanic culture, and Black history of Mexico, there's a lot to learn.

I would point out that only about half the exhibits are in English. Entry is 35 pesos.
5. Visit a 100-year-old shot bar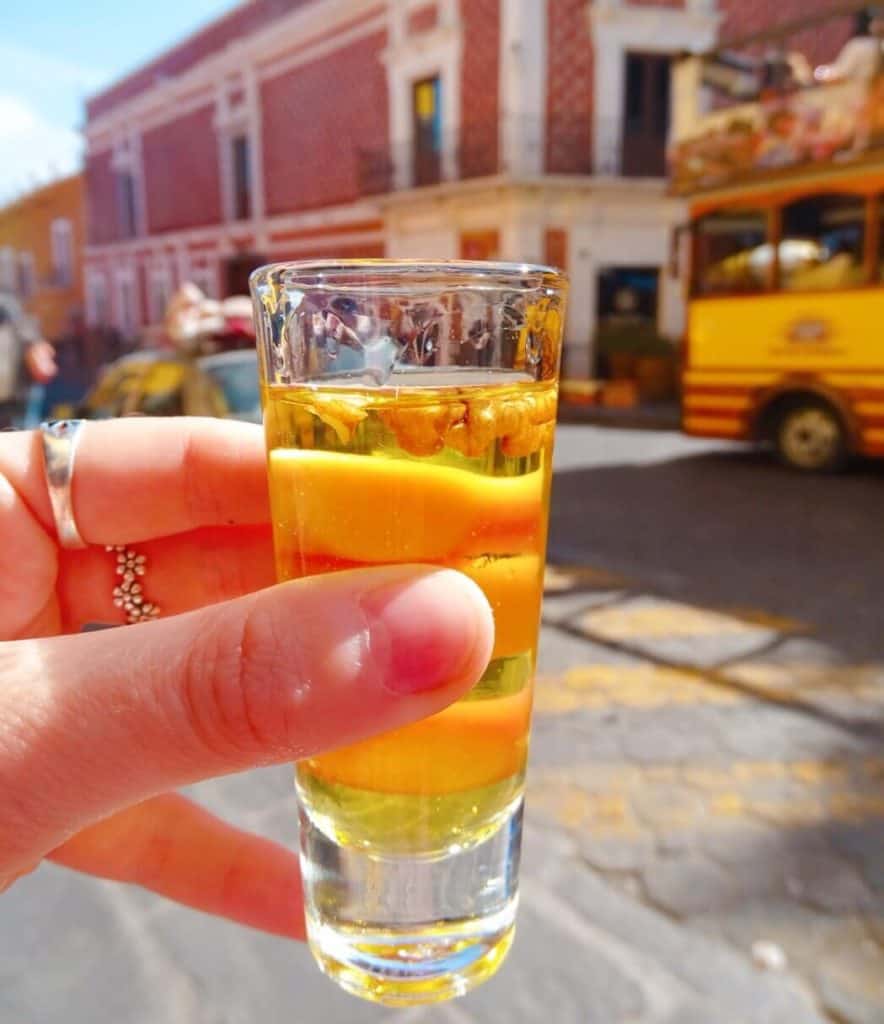 I was advised not to leave without drinking daytime shots at La Pasita. This quirky bar full of antiques and memorabilia has been serving its signature shots for decades.

Pop into this busy bar and rub shoulders with the locals from 1pm daily. Make sure to try the house shot, a sweet brown liquid with a raisin on top and a cube of cheese inside. Sounds weird, tastes amazing!
6. Indulge on Sweet Street (Calle del Dulche)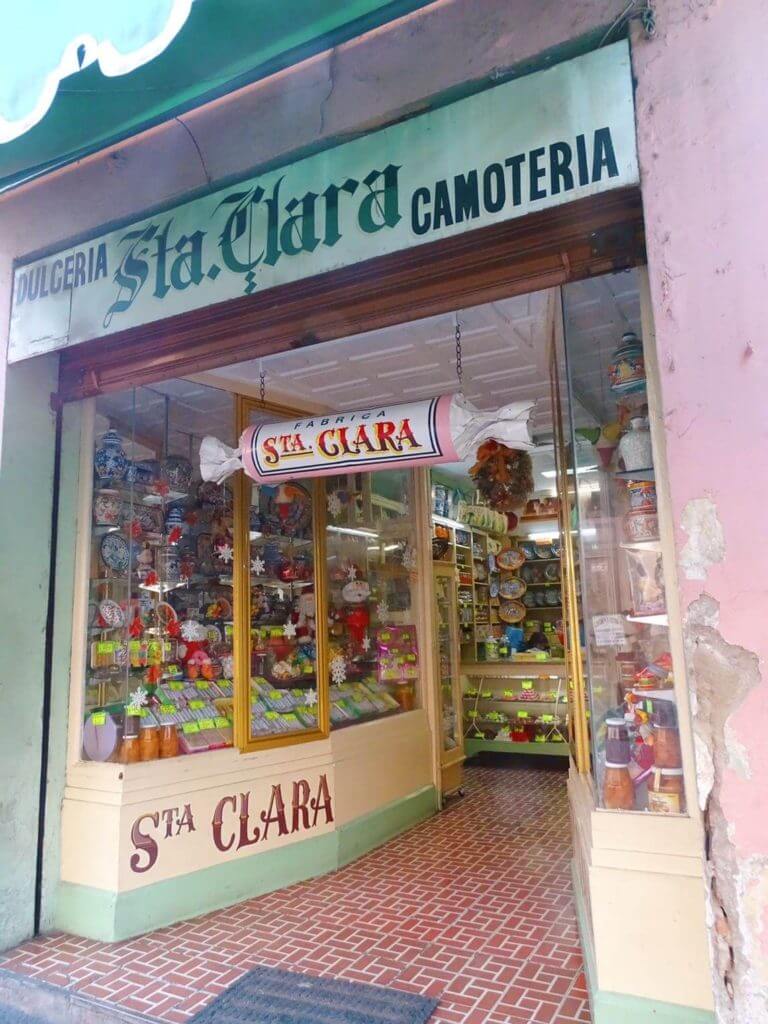 What to do in Puebla for foodies? Gorge yourself senseless on sugar, of course!

Sweet shops run the length of Calle del Dulce (Sweet Street). They sell a selection of signature sweets so you'll see the same offerings in each store.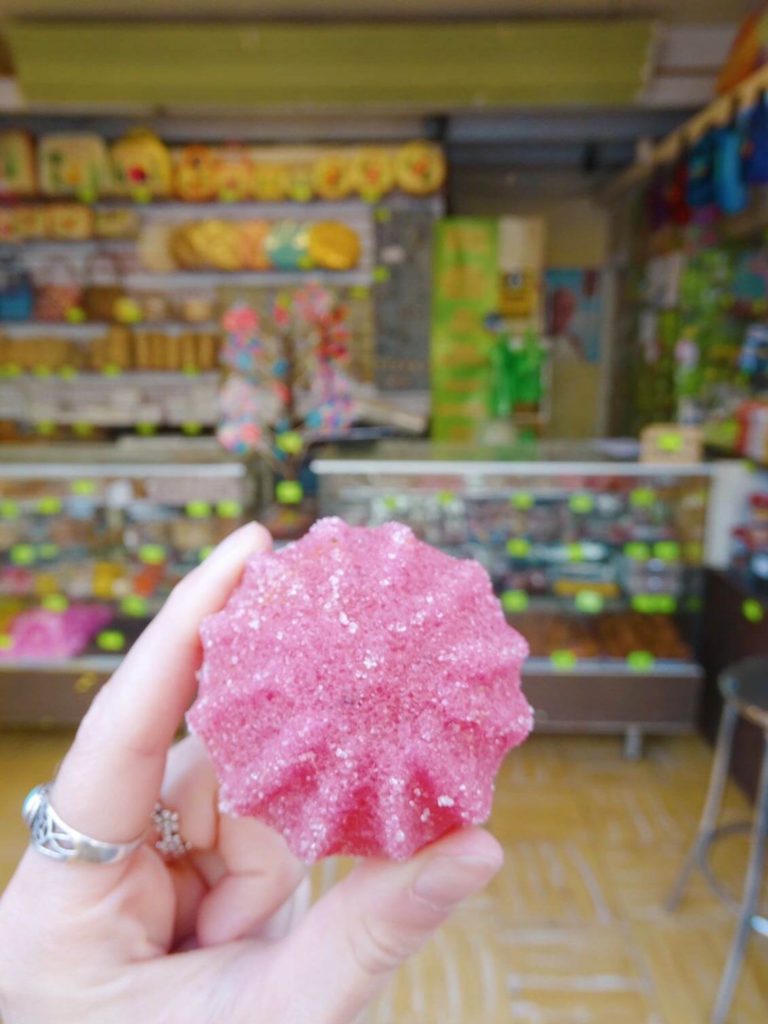 You'll also notice how cheap the prices are in Puebla. I bought a basket containing 12 or so little desserts for 30 pesos. If you're looking for the best places in Puebla to pick up souvenirs, you're onto a good one!
7. Admire the wonderful buildings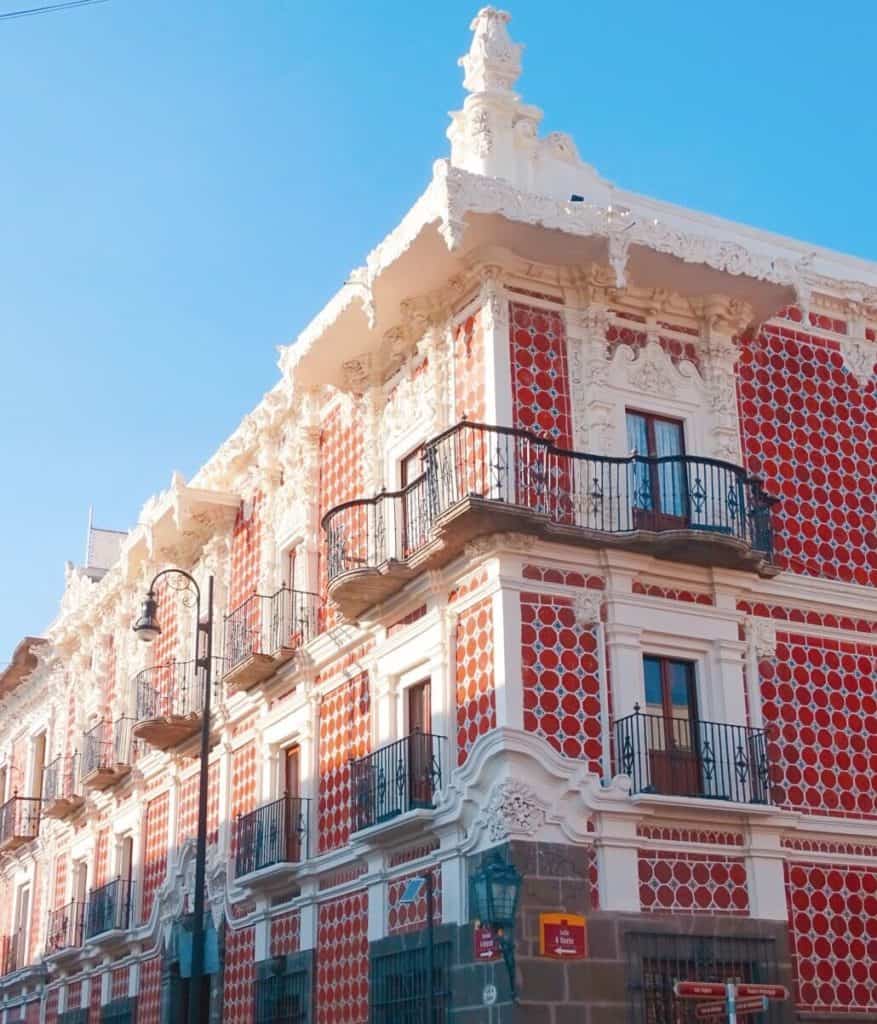 Of all the activities in Puebla, nothing beats strolling the colourful streets. From rows of rainbow houses to grand churches and tiled buildings with elaborate balconies, the architecture accounts for a large part of the city's charm. Wander to your heart's content!
8. Go inside Puebla Cathedral
The second-largest cathedral in Mexico, after Mexico City Cathedral, is located in Puebla and took over 100 years to be built between 1575 and 1690.

It sits at the heart of the Zocalo opening onto the large central plaza where locals sit and socialise. You can venture inside this dark grey baroque cathedral to visit the 14 chapels or climb the bell tower for views over the region and a volcano backdrop.
9. Spot street art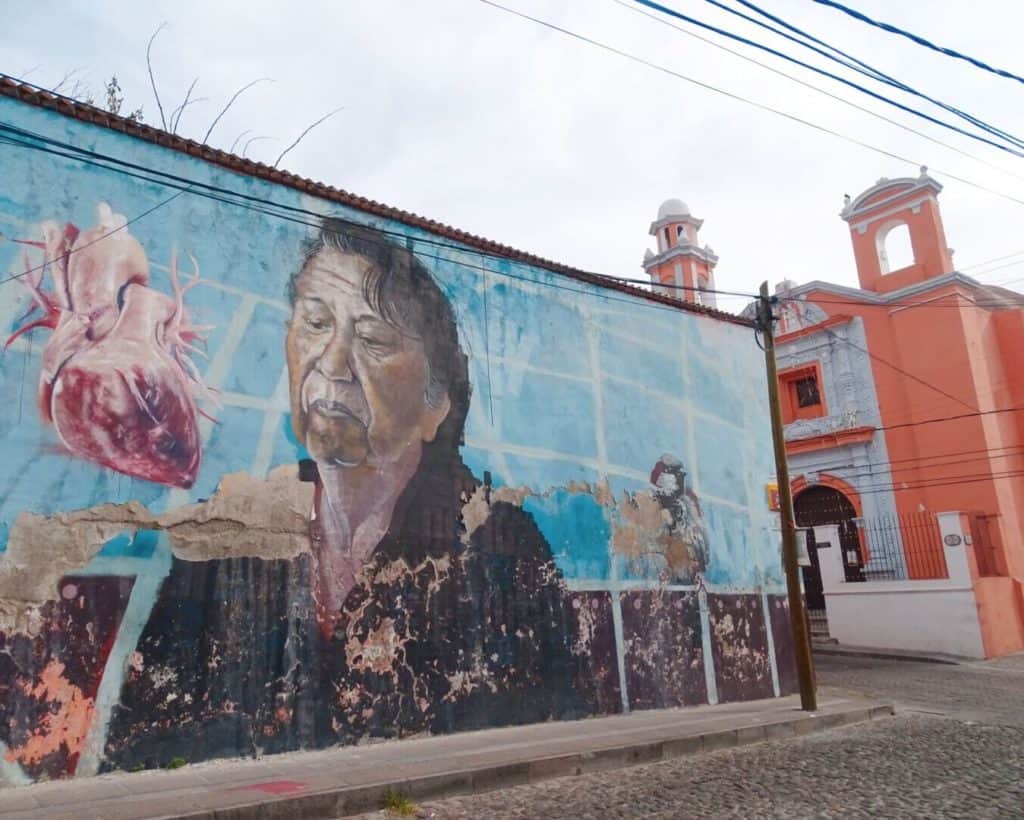 For a fun and alternative activity in Puebla, go street art hunting. I was amazed by the urban art I saw in Puebla: I expected a few murals but the art was so detailed, covering whole buildings.

You won't see much street art in the historical streets of the city centre but you will find it a 5-10 minute walk away.

Puebla street art locations include the streets surrounding Capilla Ecce Homo Church and the area running from the back of Puebla Secret Tunnels (Calle 4 Nte) towards Xanenetla.
Related read: Where to find street art in Oaxaca, Mexico
10. Eat churros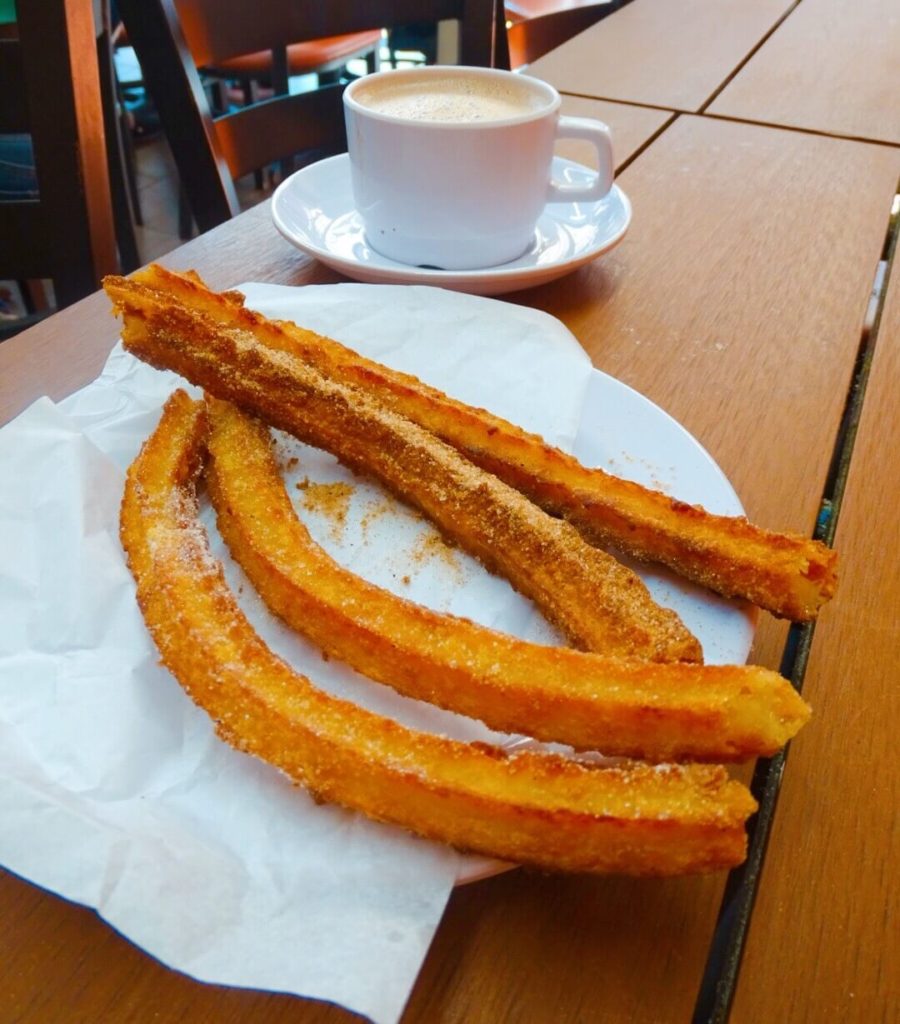 Take a break from sightseeing in Puebla and relax with churros and chocolate.

You'll find churros, which date back to Spanish rule, in every Mexican city. Puebla has a particularly good churreria with a totally obscure name which you might struggle to figure out… Puebla La Churreria!

They serve crispy, oozy churros coated in sugar or cinnamon for 4 pesos apiece. Dunk them in hot chocolate to your heart's content.
11. Ride the Teleférico
When it comes to Puebla sightseeing, you can't do much better than drinking in panoramic views from a gondola-style cable car.

The teleférico is located away from Puebla centre past the neighbourhood of Xananetla. Head to Parque del Paseo del Teleférico and enjoy a 10-minute ride for just 50 pesos.

Afterwards, you can explore this large green space which includes Puebla Museum of Evolution, the Planetarium, colonial Fort Loreto and numerous historical monuments.
12. Estrella de Puebla
Although it's further from the city, you may want to take a spin on this giant Ferris wheel. The views are impressive, plus you'll glimpse the famous volcanos in the background.

Estrella de Puebla is located as far from the teleférico as you can get, closeby to Angelópolis Lifestyle Center Mall and Parque del Arte. It's open from 11am on weekends and 3.30pm on weekdays, closing at 10pm.

If coming from central Puebla in a taxi, expect to pay around 60 pesos each way.
13. Try cemitas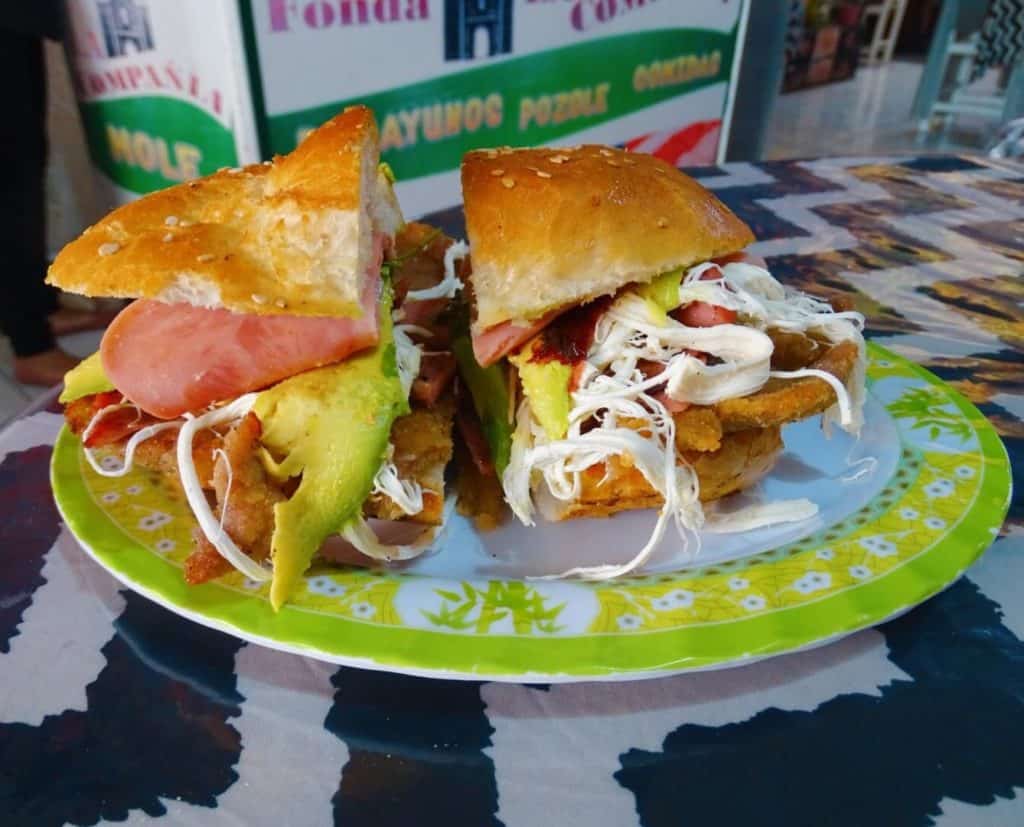 As you're probably realising, many of the best things to do in Puebla revolve around food!

Cemitas are similar to tortas but made with a type of bread popular in Puebla.

These Mexican sandwiches can be filled with a number of ingredients but I'd particularly recommend the local cheese. Anything with avocado and chipotle is also a winning combo. You'll find them all over the city.
14. Visit Biblioteca Palafoxiana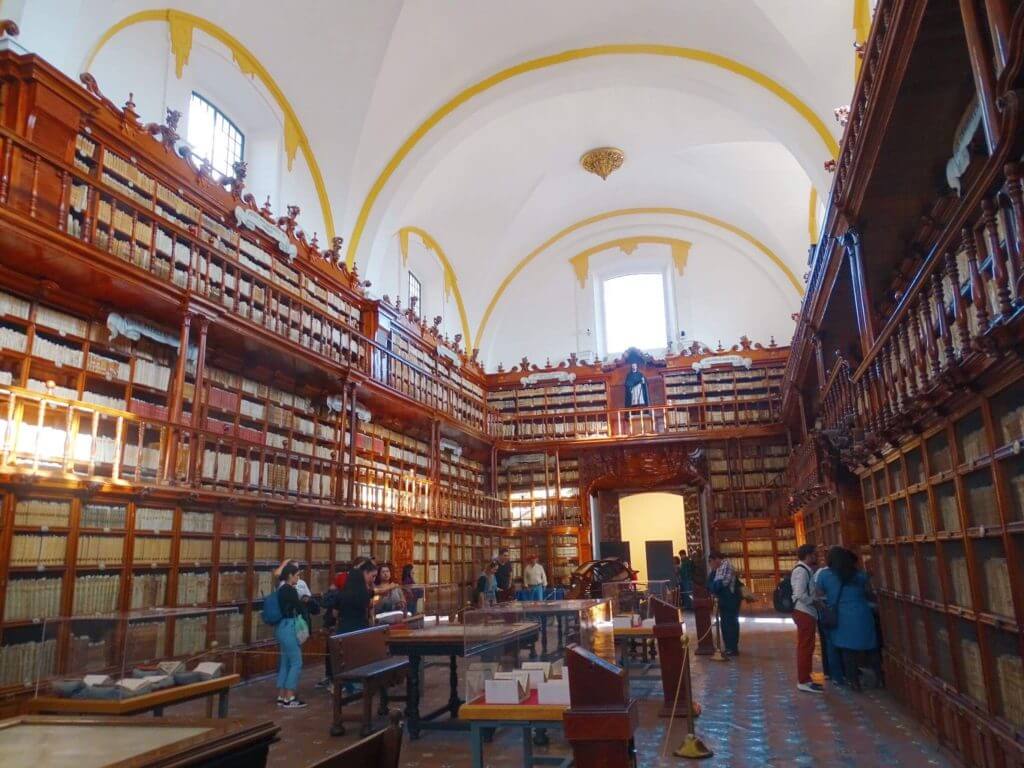 One of the most popular tourist attractions in Puebla is Biblioteca Palafoxiana, recognised by UNESCO as the oldest library in the Americas.

If you're a fan of history or literature, you can pop inside this decadent library home to 45,000 books. These range from the 15th to the 20th century but the library itself was built in 1646.

Entrance to Biblioteca Palafoxiana is 50 pesos or 30 for students. I wasn't totally blown away and you'd be hard-pushed to spend more than 20 minutes here, but it's an interesting thing to do in Puebla nonetheless.
15. Sample chile en nogada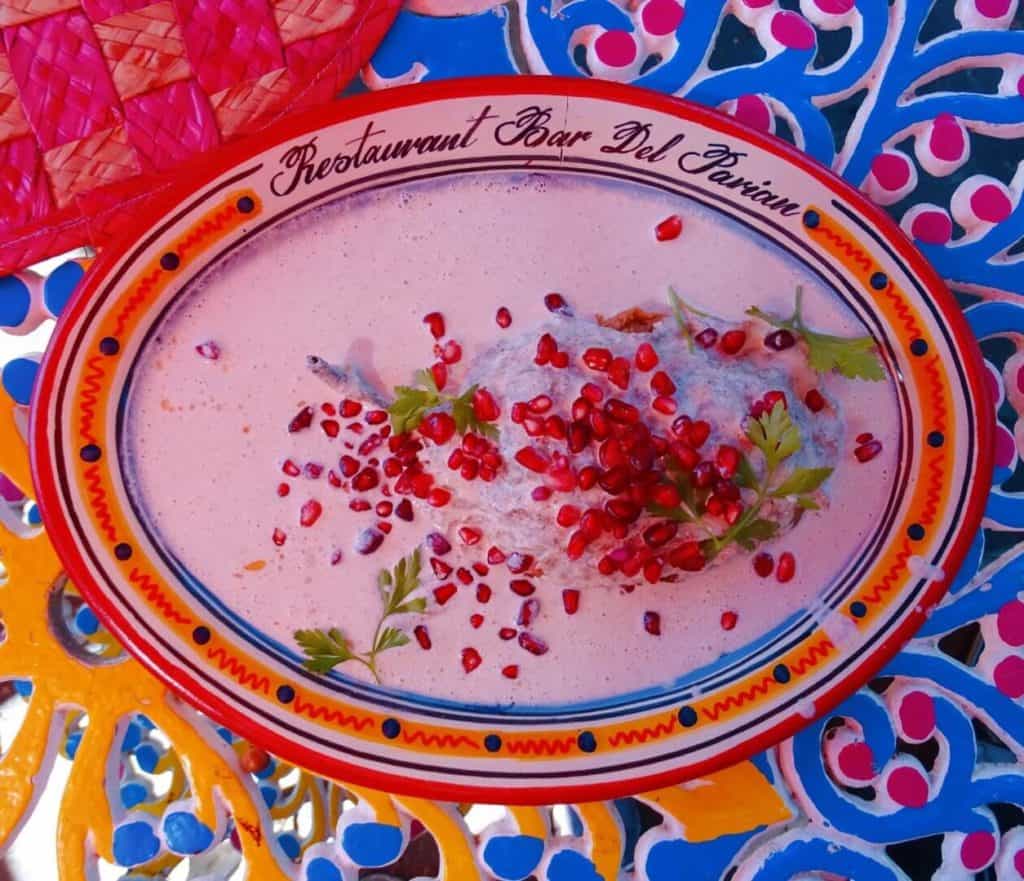 Many cities in Mexico have speciality dishes you won't find elsewhere. During another weekend away, I discovered unique food in Tepoztlan and the same can be said for Puebla.

Chile en nogada translates as chili in walnut. As the name suggests, one giant green chili (non-spicy) is stuffed with a hash of apple, pear and peach, bathed in a pool of creamy walnut sauce with pomegranate seeds.

Chile en nogada is a seasonal dish, usually found between April and October. But keep a beady eye out and you'll find a few places, like Fonda Tipicana La Poblana, serving it year-round.
16. Take a day trip to Cholula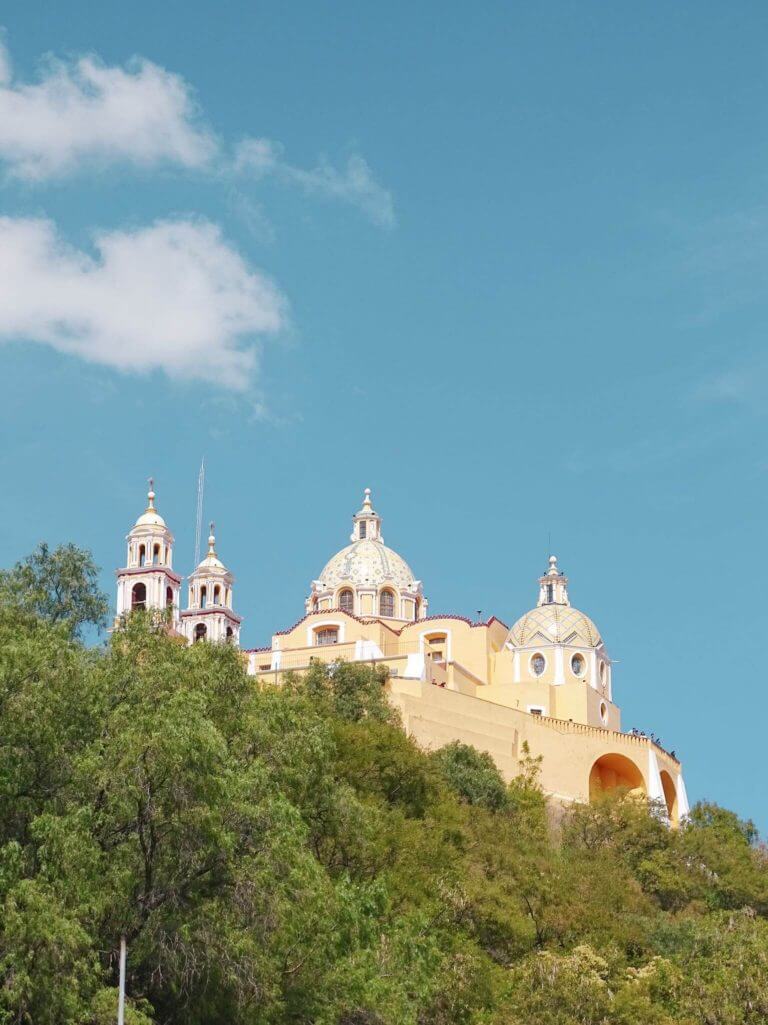 If you've finished sightseeing in Puebla, consider a day trip to Cholula.

This small, colourful city a 40-minute drive from Puebla has been voted a Pueblo Magico (magic town). The Mexican Tourism Board have awarded 32 destinations this status as a result of their cultural charm, folklore or cuisine.

In Cholula, you can walk underground through Tlachihualtepetl, the Great Pyramid of Cholula built by indigenous people.
Afterwards, climb up the sunny yellow church (dating back to Spanish rule) on top and look out over colourful Cholula and the volcanos behind. This is one of the best places to go in Puebla to see indigenous and Spanish monuments side-by-side and learn about the impact the cruel colonial era had on Mexico and its people.

In Cholula Zocalo (city centre), there are more churches, museums and markets to be found. I'd recommend spending a whole day in Cholula or staying overnight.

Getting from Puebla to Cholula: Travel by taxi or local bus. Alternatively, take an organised day tour from Puebla to Cholula. Book a half-day Cholula tour or a full-day tour including Cholula and a stop in Atlixco city known for chocolate making.
17. Ex-convento de San Francisco de Puebla
Sure, Puebla Cathedral is grand and impressive but this Convent Church is brighter and more colourful. The vibrant yellow, range and blue tiles stand out a mile off, making it a popular Puebla tourist attraction.

If you have time, head inside for a guided tour and learn about Puebla's history.
18. Secrets Tunnels of Puebla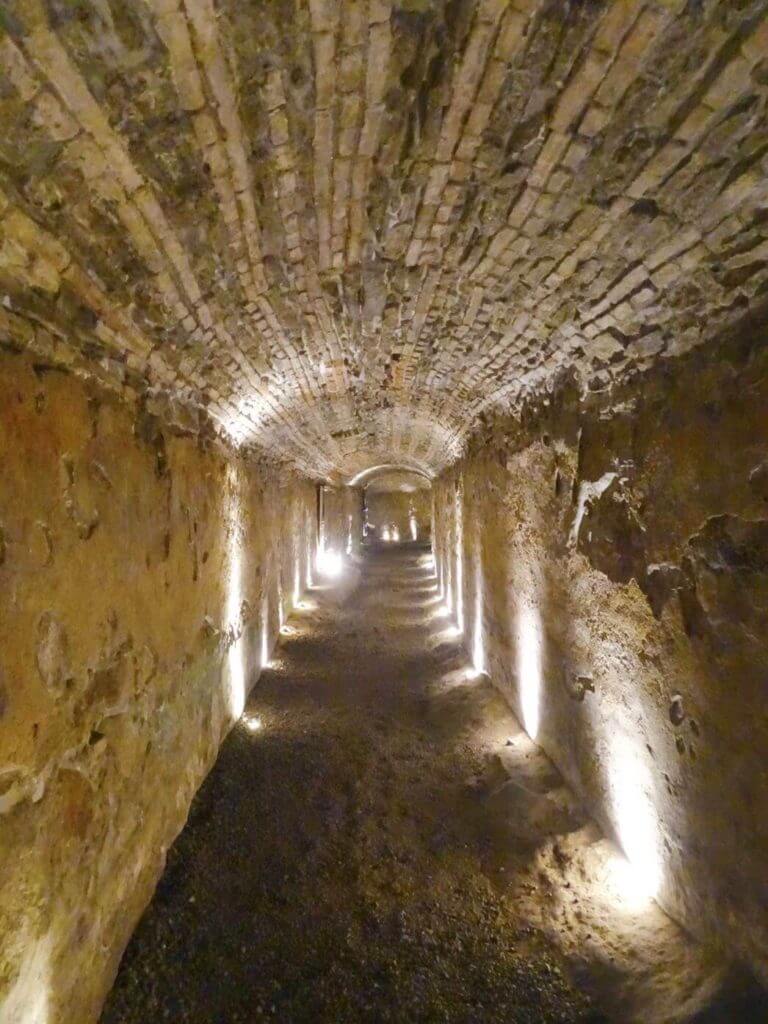 One of the more unusual activities in Puebla is walking under the city through hidden walkways.

These tunnels are called secret for a reason: they were built in the 1500s but only discovered in 2016. Apparently, there had been rumours of these tunnels for generations but no evidence they actually existed.

When they were discovered, there were antiques and weaponry found inside, thought to date back to the Battle of Puebla with France.

Walking through the tunnel network is a fun thing to do in Puebla that takes around 10 minutes. I only paid 10 pesos entry with my student card and I believe it was 30 without. You might want to hire a guide otherwise you won't learn much about the tunnels.

On a hot day, you can head inside the tunnels just to escape the heat!
19. Xanenetla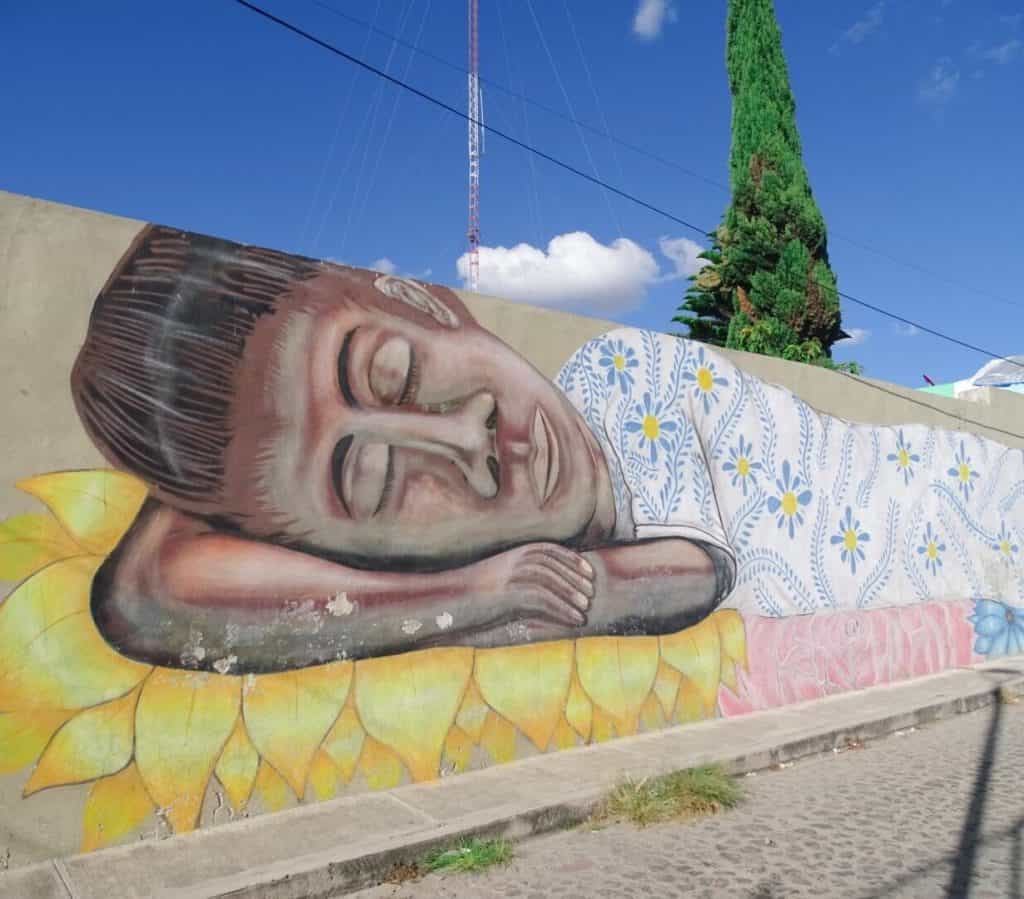 For an unusual place to visit in Puebla, take a trip to Xanenetla neighbourhood after visiting the underground tunnels. You'll start to see colourful street art and houses, especially along Calle 4 Nte. As you get closer to Xananetla you'll see even more.

Note – while walking in this area, a local warned me to be careful with my camera. He presumably meant that thieves operate in the area and, while I didn't see evidence of this myself, I thought I'd pass the message along so you can be aware.

Xananetla is a hidden gem so if you've got 2 days in Puebla, I'd recommend exploring the area.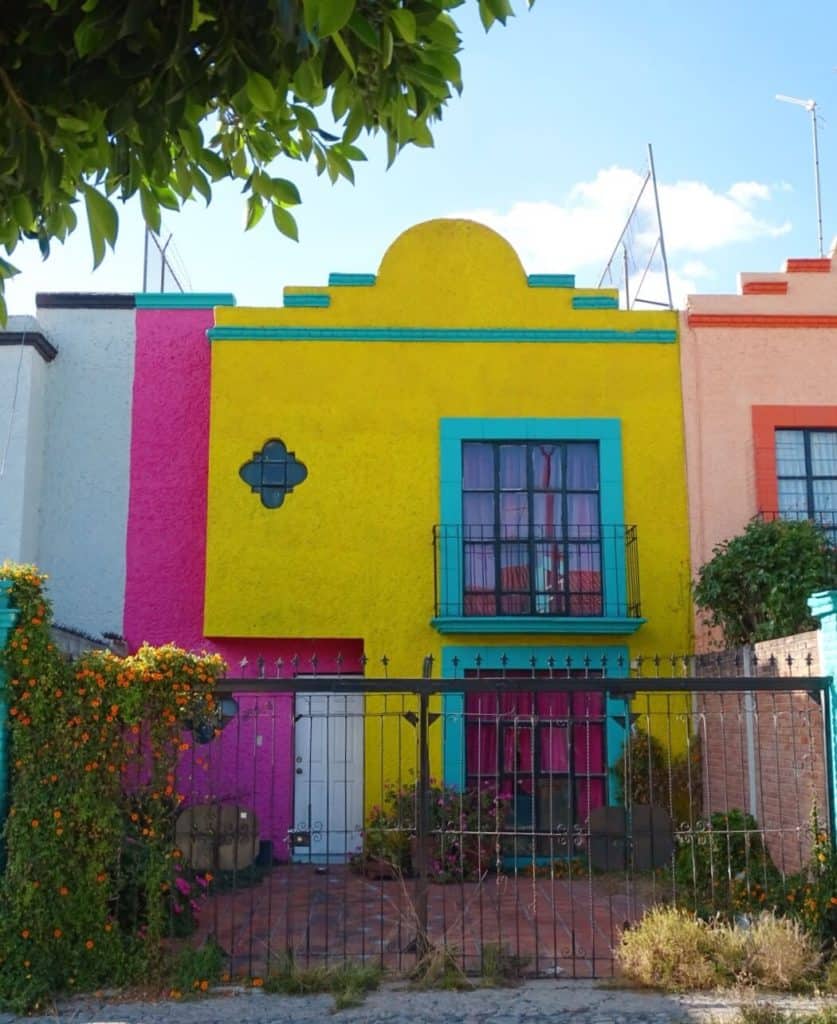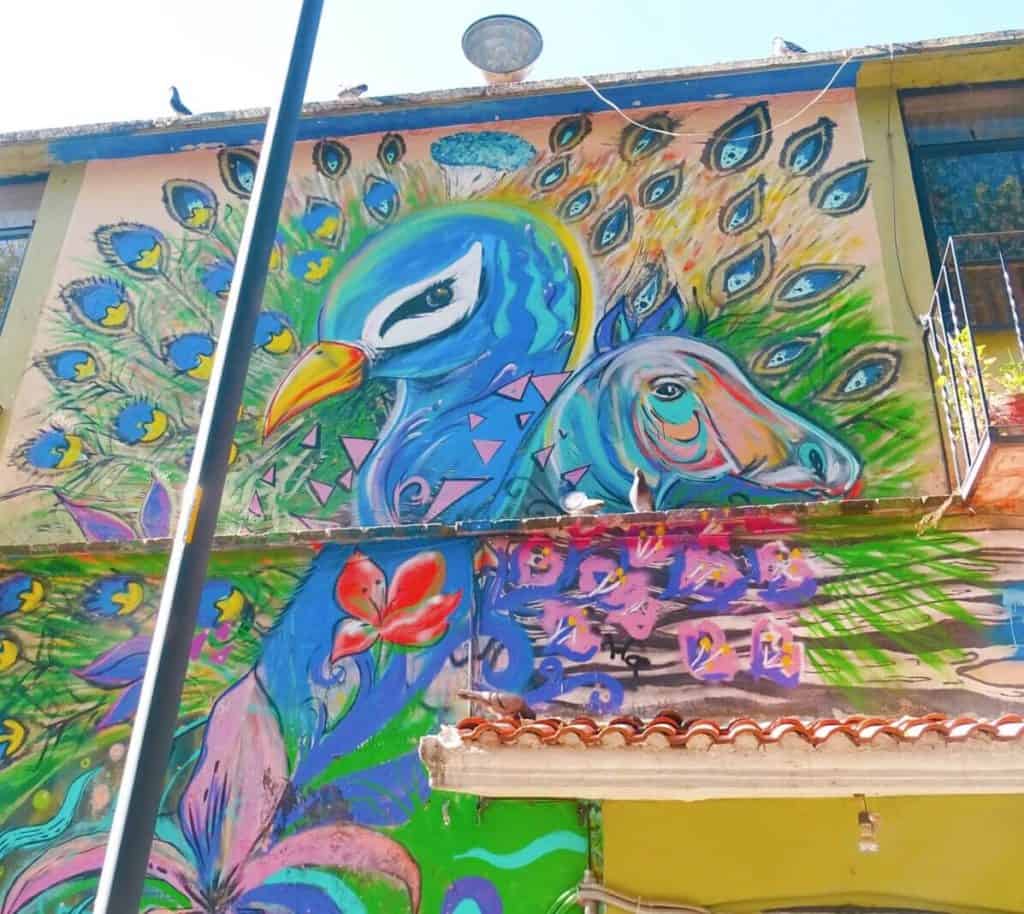 20. Cool down at Garmen Sodas
This cute juice bar run by a friendly old man is a lovely place to hydrate and escape the heat. There are endless juices and ice creams to try but I went with maracuya (passion fruit) juice. I later learnt that it has 50 years of history!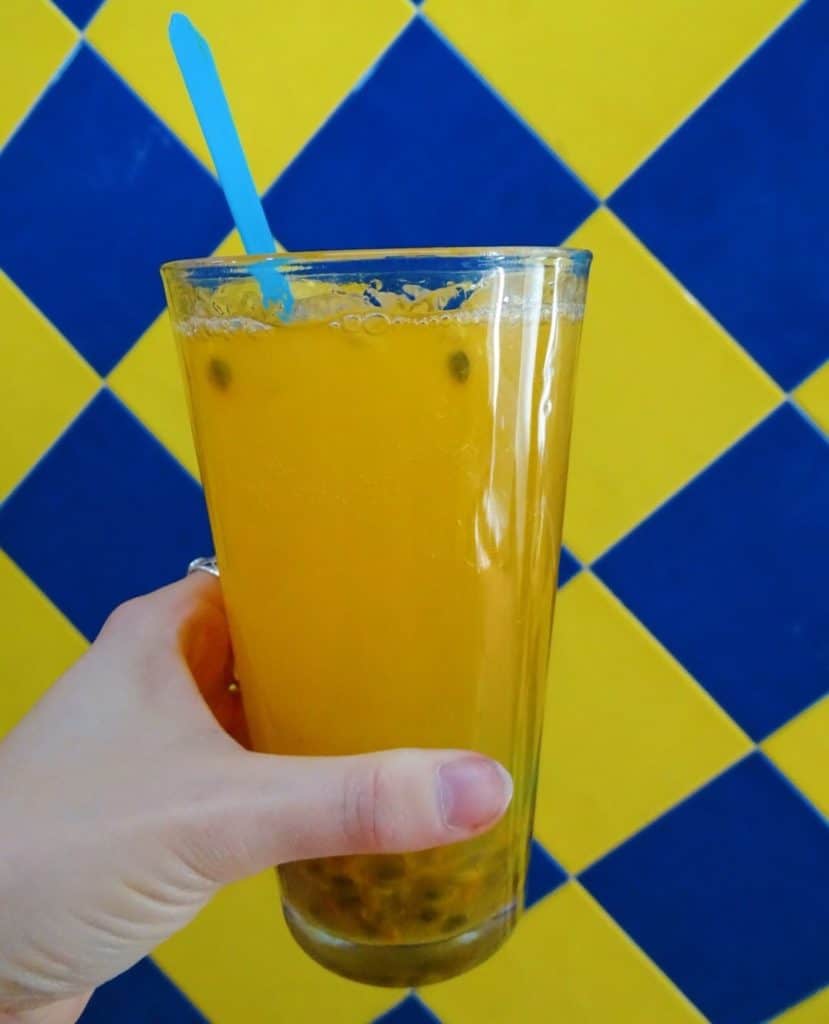 2 day Puebla itinerary
Option #1 including Cholula:

Day 1: Explore the main tourist attractions in Puebla Mexico today, starting by wandering the streets and markets around the Church of Santo Domingo. Visit the Amparo Museum and Biblioteca Palafoxiana before stopping for lunch of chile en nogada, a cemita or mole.

For the afternoon, buy desserts on Calle de Dulche and stroll the Artist's Quarter and Parian Market.

Day 2: Take a day trip to Cholula. Visit the Great Pyramid of Cholula and walk up the hill to Our Lady of Remedies Church. Explore the Zocalo, eat at Mercado Municipal San Pedro Cholula (the local market) and visit churches including Templo de San Gabriel.

If you stay for the evening, there are lots of bars like Jazzatlan with beer gardens for traditional Mexican drinks and spirits.
Puebla itinerary option #2 (not including Cholula)

Day 1: Begin your day by wandering the streets and squares of Puebla and getting a feel for the city. Grab chile en nomads for lunch at Fonda Tipicana La Poblana and wander the Artists Quarter and Parian Market.

In the afternoon, visit the Secret Tunnels and walk further to Xananetla for street art spotting.

Day 2: Indulge in some cultural activities in Puebla by visiting the Amparo Museum and Biblioteca Palafoxiana. Grab a cemita for lunch and indulge in dessert along Calle de Dulche. Take a ride on the Estrella or Teleférico.

Try signature shots at La Pasita (before it closes at 5.30pm) and eat mole for dinner at Fonda de Santa Clara.
General pack list
I hope you enjoy these Puebla Mexico things to do!
If you have a better idea of what to see in Puebla and how to plan a trip, please save and share this post!
Check out my other Mexico blogs:
VISITING MEXICO?
These are my trusted resources:

Getting around by air – the quickest (and often cheapest) way to travel between Mexican cities is by flight. I use Skyscanner to find the best-value flights, using the 'search by month' tool to find the cheapest dates. You can also use the 'to anywhere' feature if you're flexible on where you're going.

Getting around by bus (environmental option) – buses in Mexico are comfy with free snacks and an in-journey entertainment system. I use Busbud to find the best prices.

Driving in Mexico – use Rentalcars.com to compare car rentals in Mexico (and all around the world).

For hotels and apartments, I use Booking.com. They have a wide range of accommodation for all budgets, plus the loyalty programme gives you discounts and upgrades.

For hostels, I use Hostelworld.com. Hostels in Mexico are great for meeting other travellers.

To save money on accommodation, I use Trusted Housesitters, a website that connects homeowners going away and travellers who can sit their homes & pets.

I use GetYourGuide for tours & activities when I don't want to travel solo. I also check Viator as they often have fun & unique options.

EatWith – your one-stop for Mexico food tours, cooking classes and hosted meals with local chefs and foodies.

Pick up the latest copy of Lonely Planet Mexico.

Need travel insurance? I use True Traveller (for UK & Europe residents) since it's affordable but covers everything you'd need including various activities, valuables and pre-existing conditions. Unlike some companies, they insure you if you're already travelling / don't yet have your flight home booked. Get a quote.

For travel insurance for other nationalities, I recommend Hey Mundo and for long-term digital nomad travellers, I suggest Safety Wing.

Check out my resources page for more travel discounts and tips from 10+ years of travel!
See you next time for more adventures,
Rose
Liked these Puebla attractions? Pin this for later!