This post may contain affiliate links to things like tours, hotels, Amazon associates and products. These help me earn a small commission at no additional charge to you.
When I found out I might be able to see wild tigers in Ranthambore National Park, India, I was instantly determined.

Obviously, you need a bit of luck on your side when it comes to seeing wild animals anywhere. That's always the risk you take. There aren't many countries with tigers still in the wild so if you're heading to India, why not try and tick seeing tigers in Ranthambore National Park off your bucket list?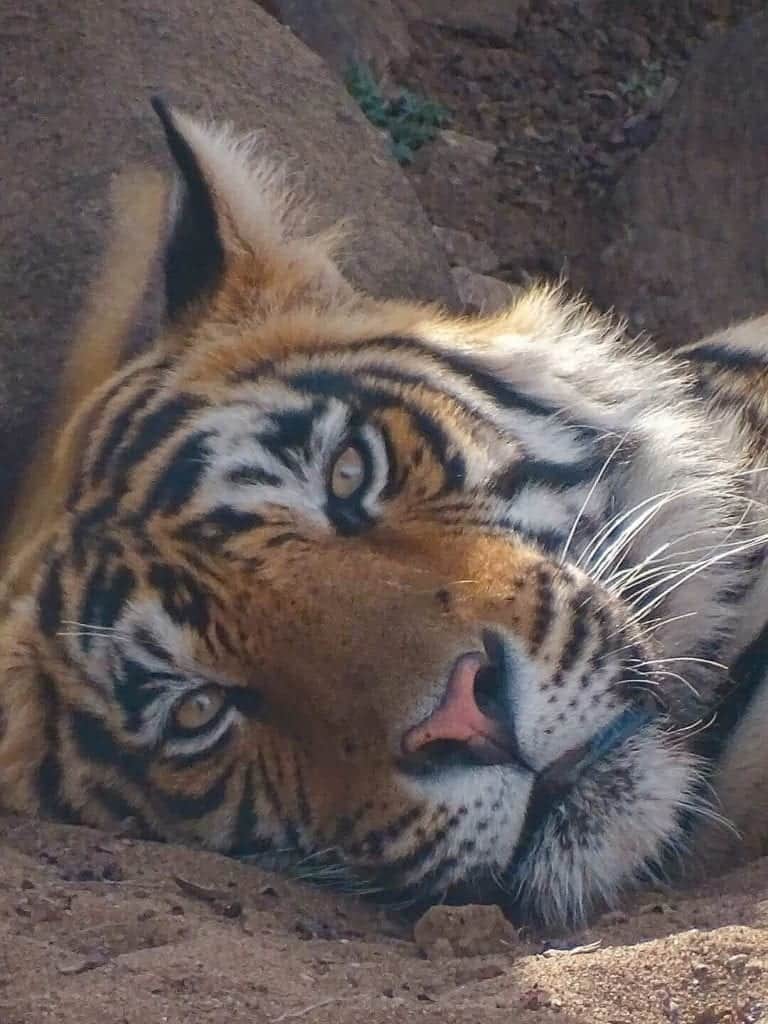 RAMTHAMBORE ESSENTIALS

India Lonely Planet

Accommodation: Booking.com

Activities: GetYourGuide

Getting there: bus / train (12Go)

Travel insurance: True Traveller (European travellers) / Hey Mundo (other nationalities) / Safety Wing (digital nomads)
Wondering how to see tigers in Ranthambore National Park?

This Ramthamore travel guide will make the logistics and booking process super simple. Enjoy!
Where is Ranthambore National Park?
You'll find this national park in North India, two hours south of Jaipur. The nearest settlement is Sawai Madhopur, a city of 1.3 million (a small one by Indian standards), known as the gateway to the National Park.

Since it's not far from the tourist-friendly Golden Triangle, it really isn't hard to turn it into a square and see some incredible nature as a break from big cities during your Rajasthan itinerary.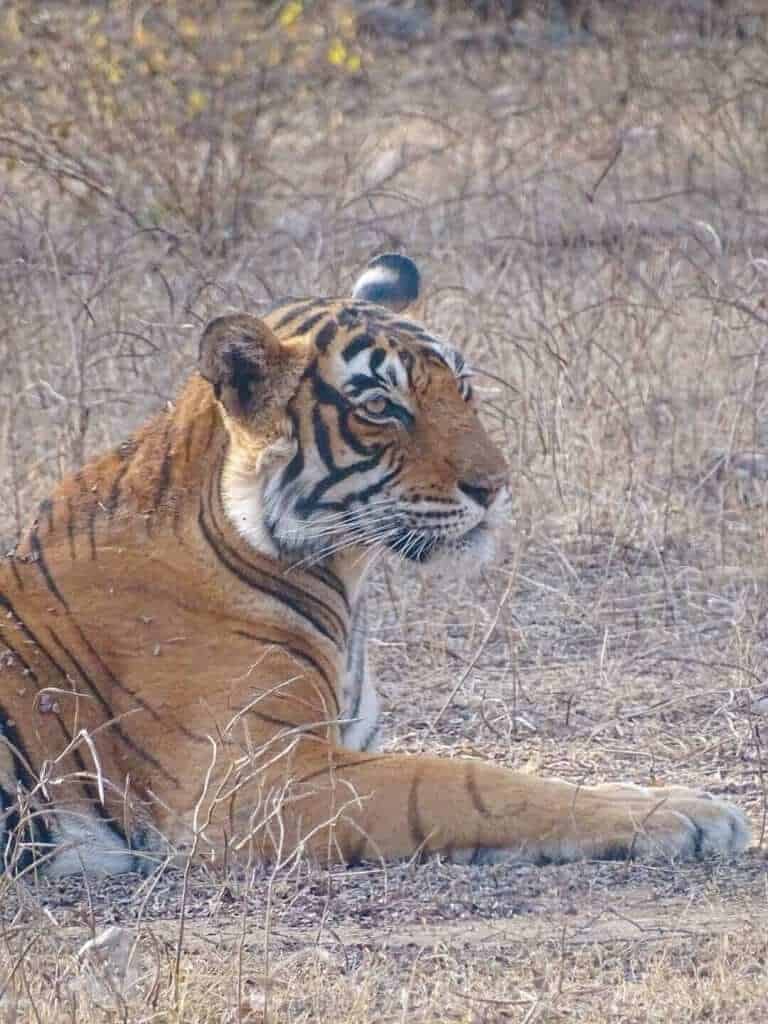 How to get to Ranthambore National Park
The best way to get to Ranthambore National Park is by train. The journey takes 2 hours from Jaipur and doesn't usually get booked up in advance. I reserved just 2 days before and ended up on a waitlist which was granted.

I travelled to Ranthambore from Pushkar (Ajmer Junction station). Afterwards, I spent 3 days in Jaipur meaning I didn't have to go back on myself.

As usual, you can book whichever class you want. I don't believe this particular route has AC Tier 1 but it does have AC Tier 2 (a bunk with a curtain), AC Tier 3 (where a third bunk folds into the cabin), Second Sitting and AC Chair Class. It depends how much cash you have to splash, how much comfort you want, and whether you want to meet the locals (clue: you should!).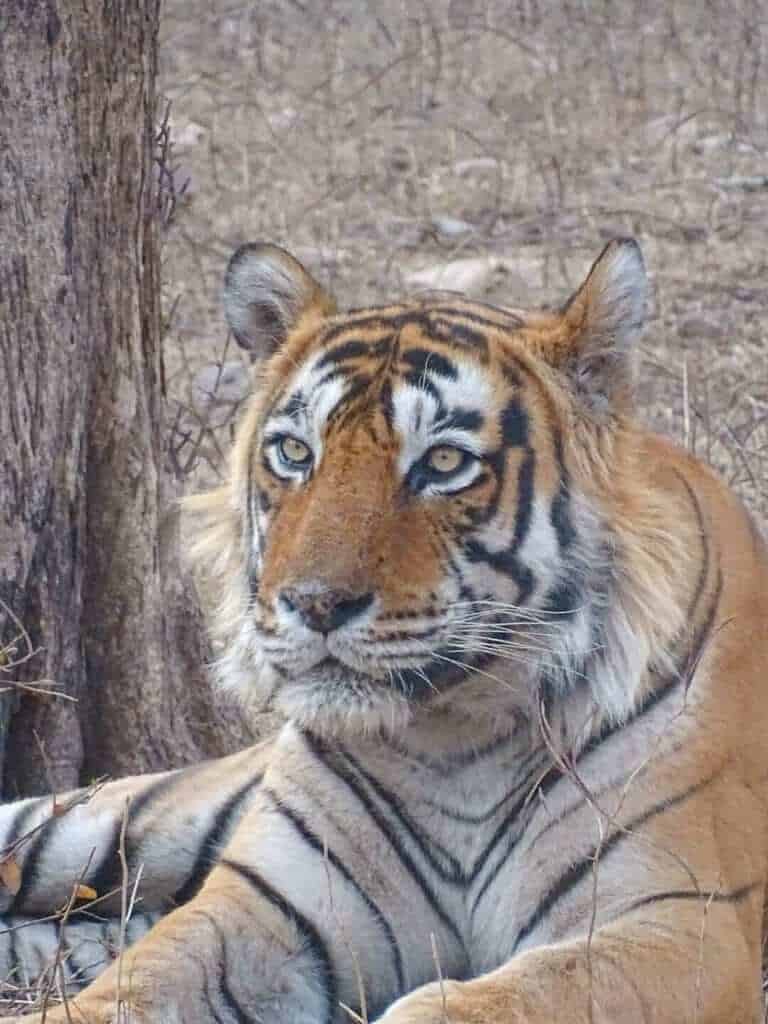 Is Ranthambore the best place for seeing tigers in India?
That probably depends if the person you're talking to saw the Ranthambore National Park tigers! I had such a great experience in Ranthambore National Park that nowhere else in India could have topped it. In terms of likelihood, it seems to rank as the third best national park in India for spotting tigers. Bandhavgarh National Park and Pench Tiger Reserve are often put above it.

However, these places aren't as accessible from Rajasthan. I'd argue Ranthambore is a winner based on having a high likelihood of seeing tigers and a convenient location. But if you go to Rishikesh, check out Jim Corbett National Park because I heard of people having luck there.
Where to stay in Ranthambore
I would recommend staying in Sawai Madhopur. This city is very well set up for tourists, making the majority of its income from people coming to see tigers in Ranthambore National Park.

Sawai Madhopur train station is a homage to the big cats, covered in murals of them. That made me feel confident on arrival but would probably have rubbed it in on leaving if I hadn't seen them!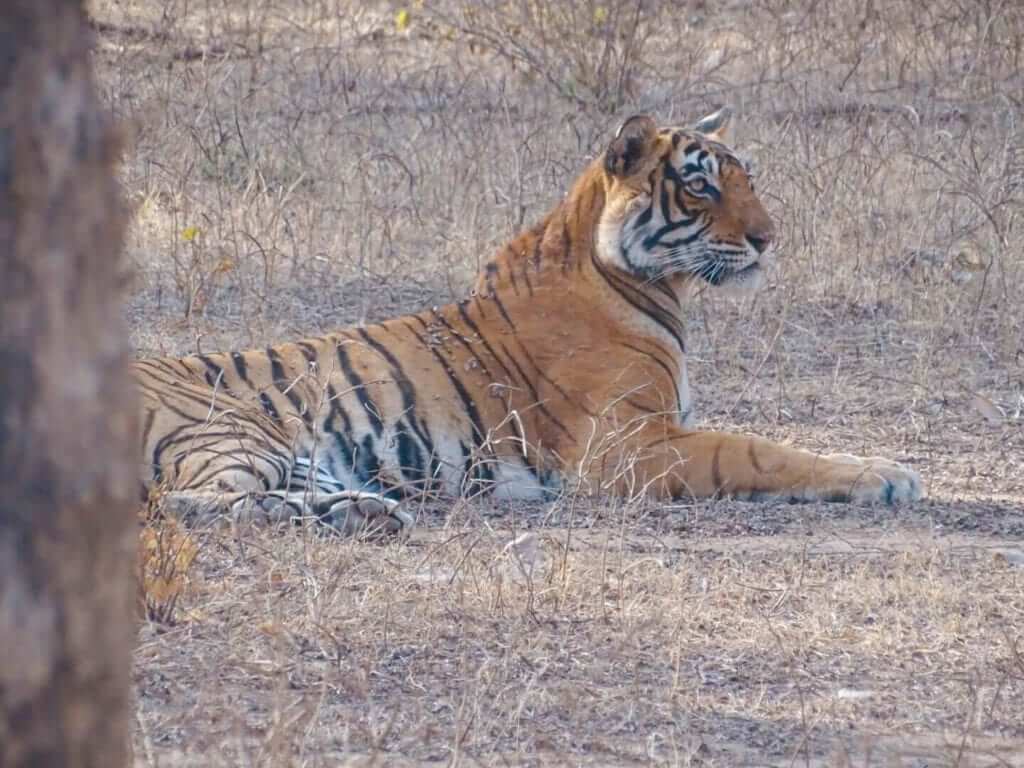 There are plenty of accommodation options in Sawai Madhopur. There are currently no hostels but there are some cheap guesthouses that won't blow the budget.

Budget hotel – I stayed at Hotel Tiger Haveli which was 1,700 rupees (£17) a night. Slightly more than I usually pay at hostels but I used it as an excuse to enjoy my own space. The room was comfy and the restaurant food was tasty which meant I didn't have to go out to find dinner. Book from £17 a night.

Splash-out hotel – during my return trip in 2023, I stayed at the lovely Jungle Cave Resort in giant luxurious tents with beds, air-conditioning and ensuite bathrooms. There's a swimming pool and restaurant onsite. Book from £49 a night.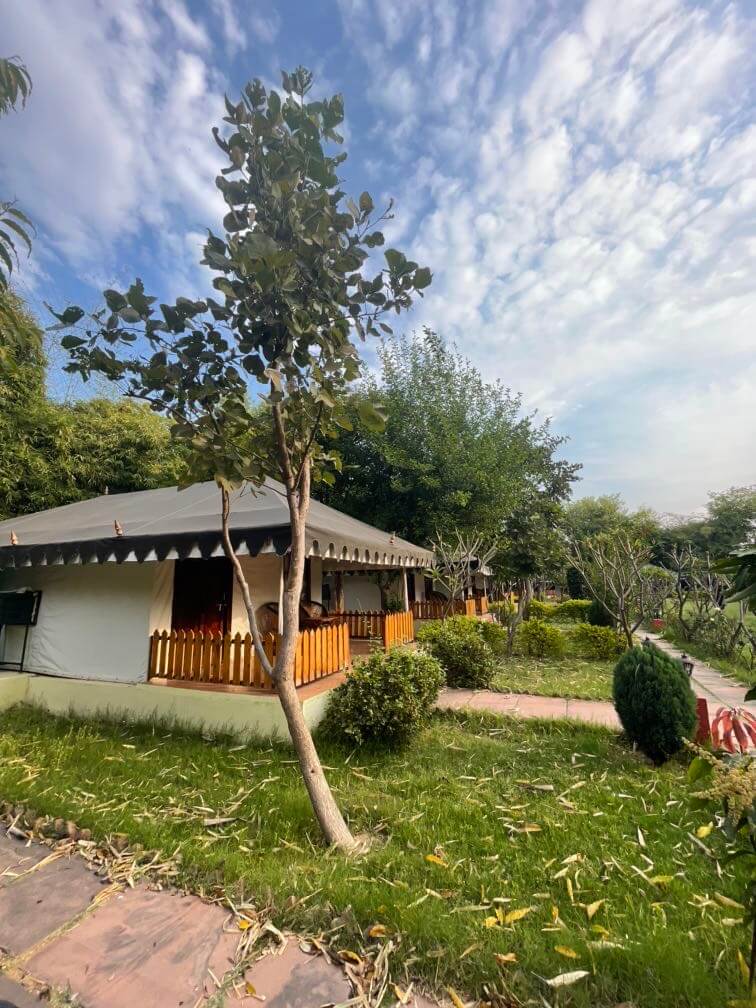 Sawai Madhopur is quite spread out with lots of hotels on dusty roads, so it isn't the best place for easily getting around. But it didn't matter because I was only there to see the tigers and go.
How to book a safari in Ramthambore National Park
When planning my trip, this was the bit that threw me. How to see tigers in Ranthambore?

There was various conflicting advice online. Some said to book your safaris on a website (which wouldn't take international bank cards). Others said to show up at the booking office at 5am to sign up for the first safari of the day. Neither of these things seemed ideal but it turns out you don't need to worry…
Just ask your hostel to book for you.
What an easy solution! I emailed my guesthouse as soon as I had their contact email and asked them to book my safaris which they were happy to do.

When I arrived I just paid for my room and the safaris together. They'd actually asked me to send them the safari money on PayPal in advance (I think because it comes out of their pocket if the guest doesn't show) but I called them up because I was wary about sending money to a stranger, and they told me I could just pay on arrival.
Arriving in Sawai Madhopur
If you're arriving into Sawai Madhopur train station (the main way to arrive in the area), you won't be far from your accommodation. I arrived in the dark by myself but still felt very safe hopping in a tuk-tuk. I paid 100 rupees to my hotel a 10-minute drive away.
Related next: the best places to travel solo in India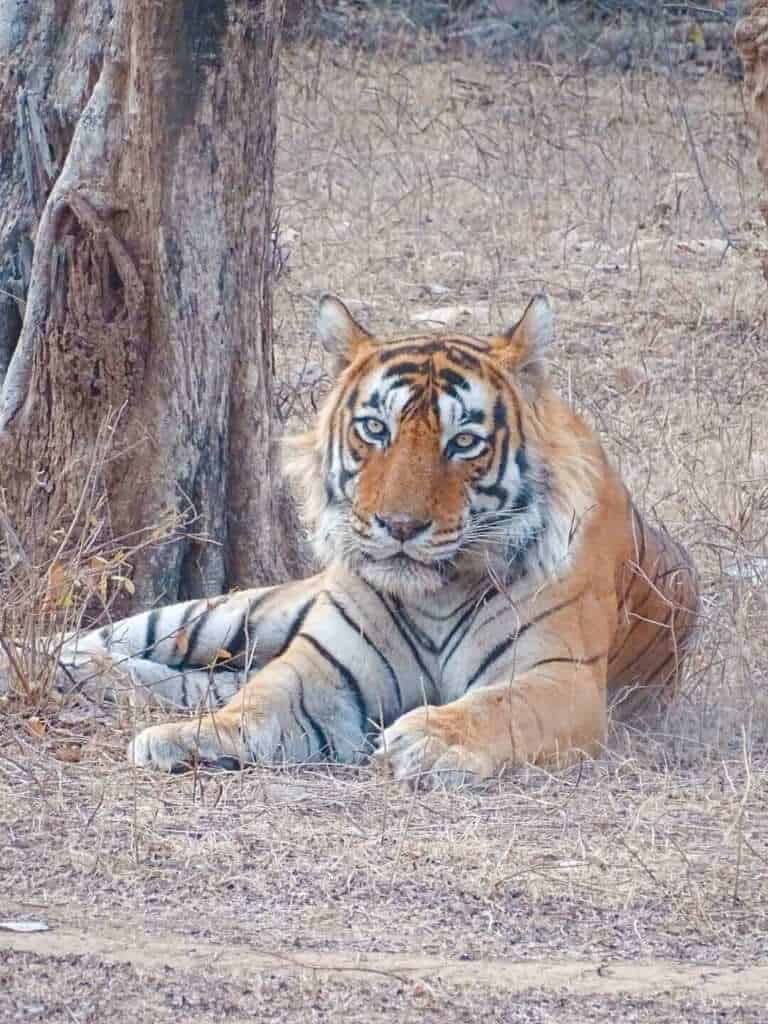 What to expect on a tiger safari in Ranthambore
Now for the fun bit!

Driving around Ranthambore looking for tigers was so much fun: I was full of adrenaline, flinching at every movement in the bushes.
The safari vehicle options
When you book your Ranthambore safari, you'll be able to choose between a 6 seater and 22 seater car. The 6 seater costs 1,714 per safari, while the 22 seater costs 1,375 rupees for foreigners.

As a budget traveller, I went with the bigger car and found it totally fine. It was open-topped so you could simply stand up when you wanted to view something clearly. Of course, if you have the budget to spare you can go with the smaller one.
Read next: Complete India budget break down
As the only solo traveller on both my safaris, I always got given the best seat near the driver. Pairs were put in the back with everyone else. There would have been no benefit in me paying for the smaller vehicle.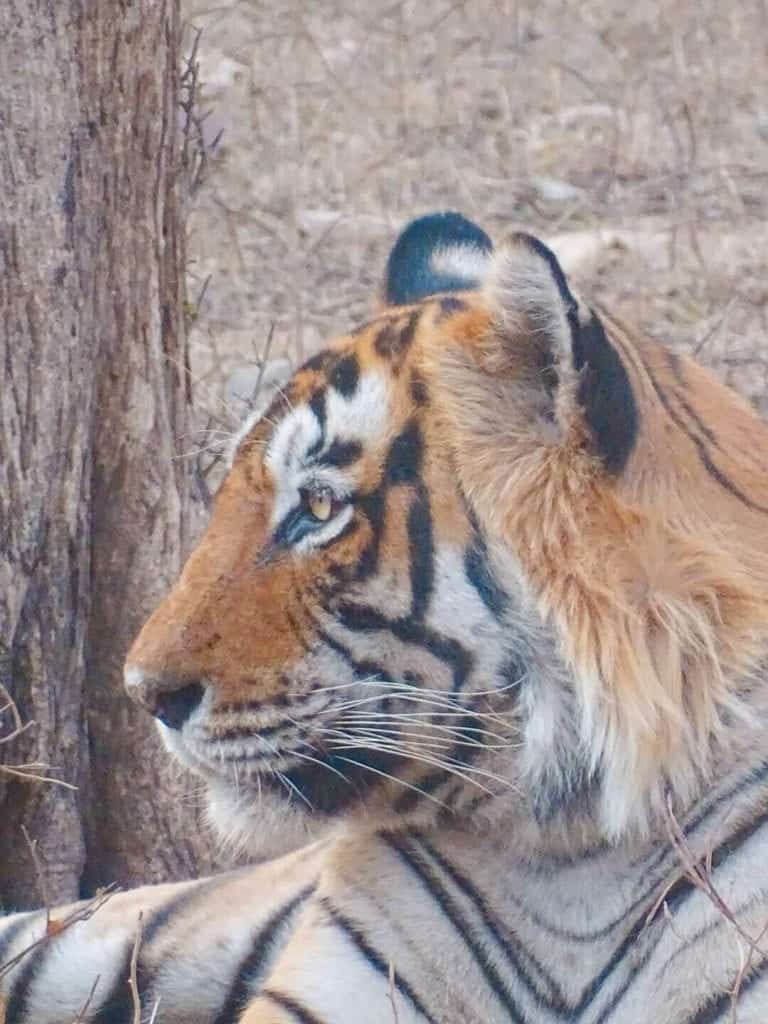 How likely is it you'll see tigers in Ranthambore?
I did two safaris and had luck during one of them which seems to be average. The guides told me they see tigers a few times a week, so if you stay a couple of days, this should work in your favour.
How does it work?
The park is split into six zones. On the morning of your safari, your car will be assigned a zone. So you'll never have a chance to see all the tigers in the park, just the ones who reside in your zone. I know there are 6 tigers in zone 6 and we got to see 4 of them (though sometimes they wander between zones to make it extra confusing).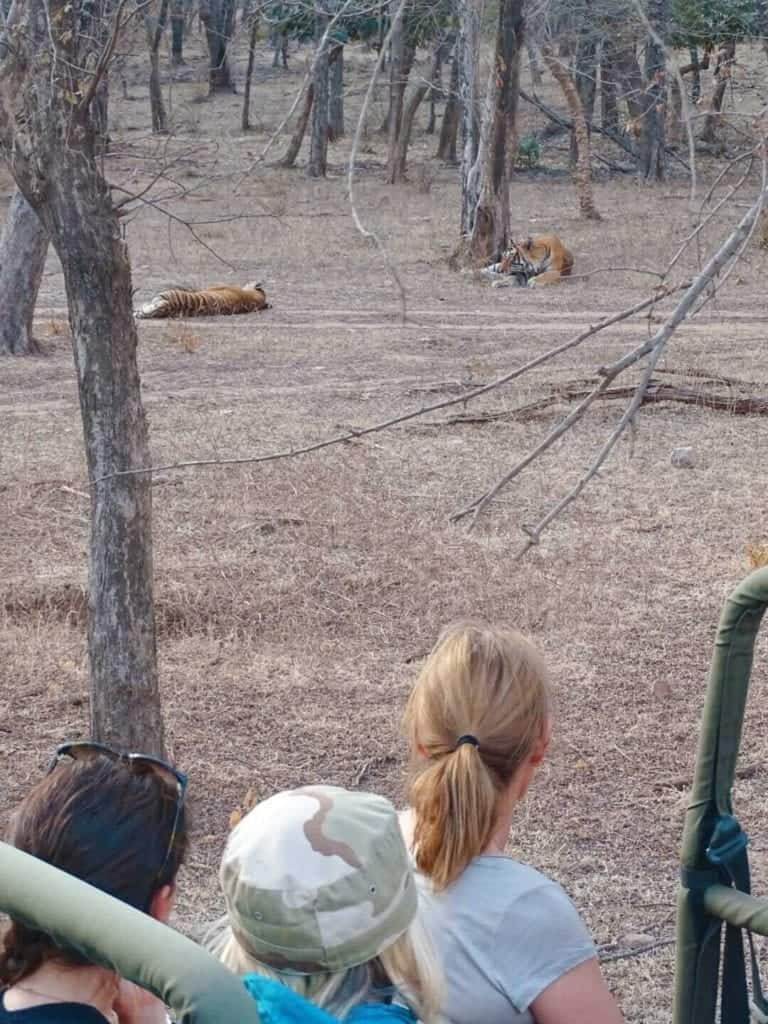 The drivers and guides communicate via a Whatsapp group. Whenever one of them makes a sighting, they message the others who quickly head towards it. So if your guide gets a text and tells the driver to put his foot down, you know you're in for a treat!

I didn't get to see any tigers during my first Ranthambore safari but during the second one, we got so lucky. After only 20 minutes driving around, we got a message and headed to a clearing where two tigers were lounging in the heat. They didn't stay lounging for long, as this picture below proves!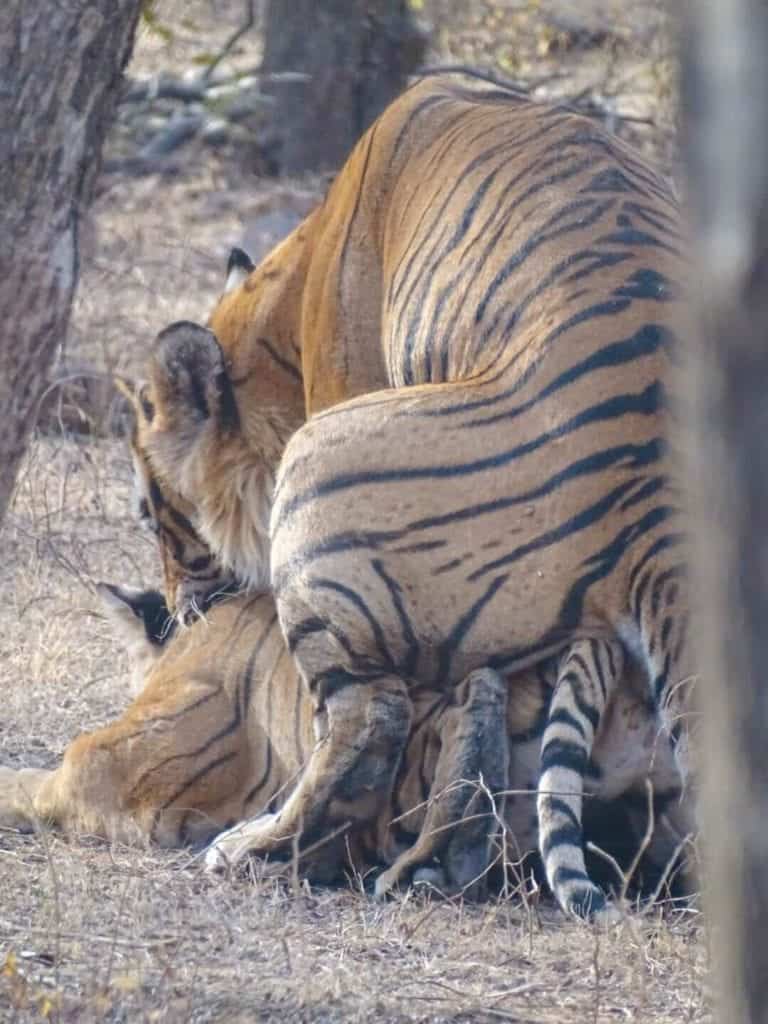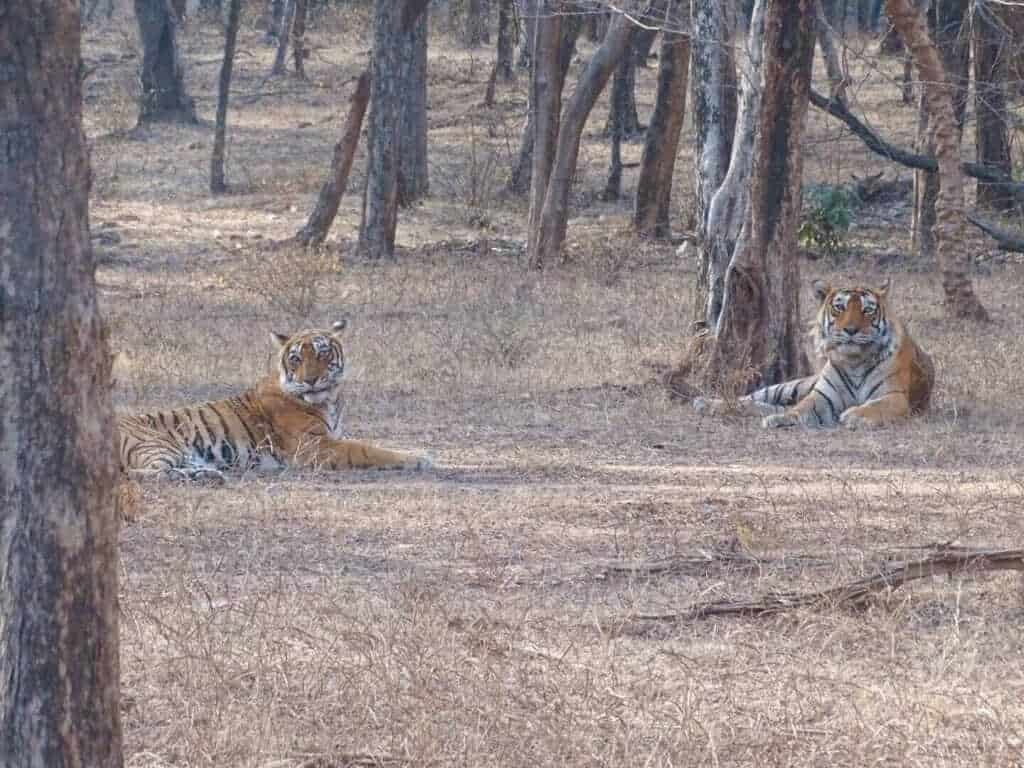 Seriously what an incredible thing to see in nature! It really is the circle of life, isn't it? Even if it would have been a bit heartbreaking, I'd have also loved to see the cats hunting or making a kill.
The surprise sighting
After an hour watching the tiger couple, we left the clearing. I felt a bit disappointed as I could have watched them much longer.

It turned out to be a blessing in disguise because, as we drove home, we found the two youngest residents of Ranthambore: twin brothers approaching 2 years old. Most of the safari cars were still back with the first tiger couple so we had them all to ourselves, something that's pretty rare for a safari sighting.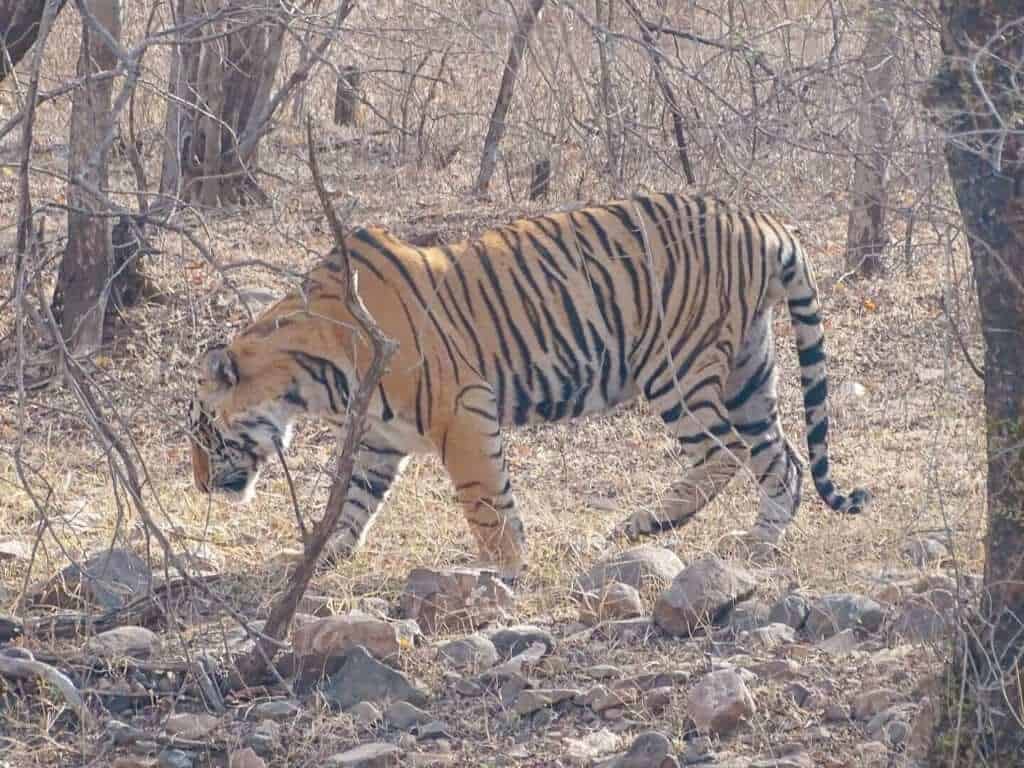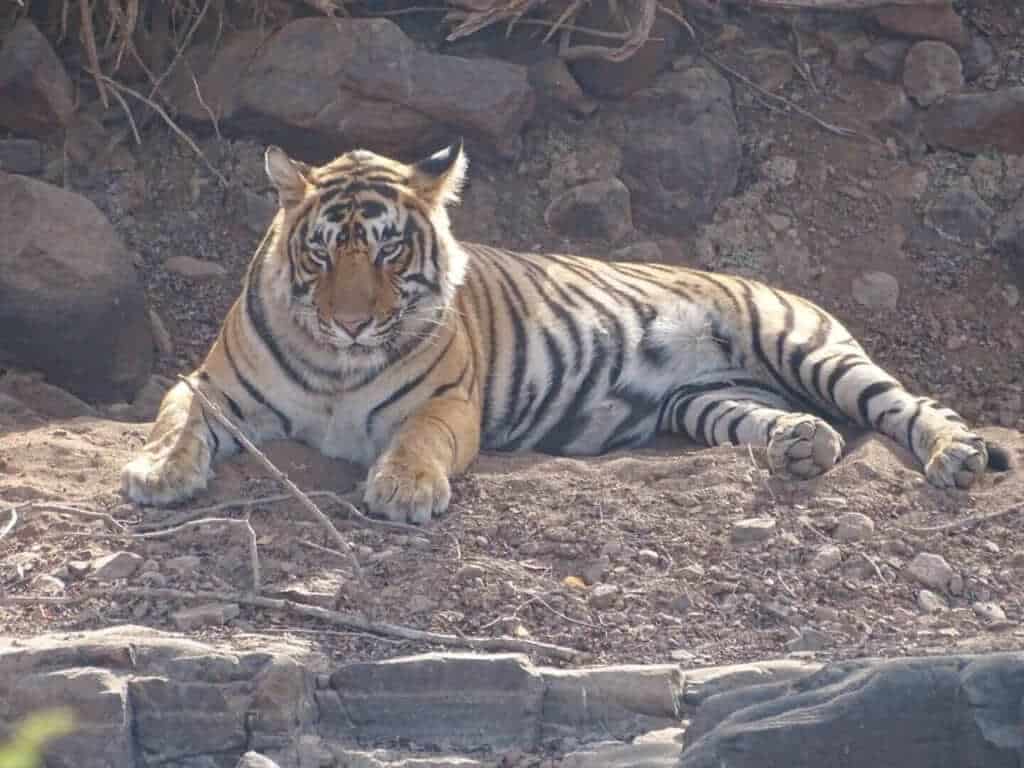 What else to see and do in Ranthambore?
Obviously, you're coming to Ranthambore to see tigers. I understand if you're not that interested in the deer and other wildlife. But I would say that the whole National Park is fascinating to visit.
With its arid countryside and crumbling stone forts and temples, it really made me think of the Jungle Book. Crocs lurk in shallow waters and monkeys swing from the vast forest canopy, unbothered by the safaris cars below.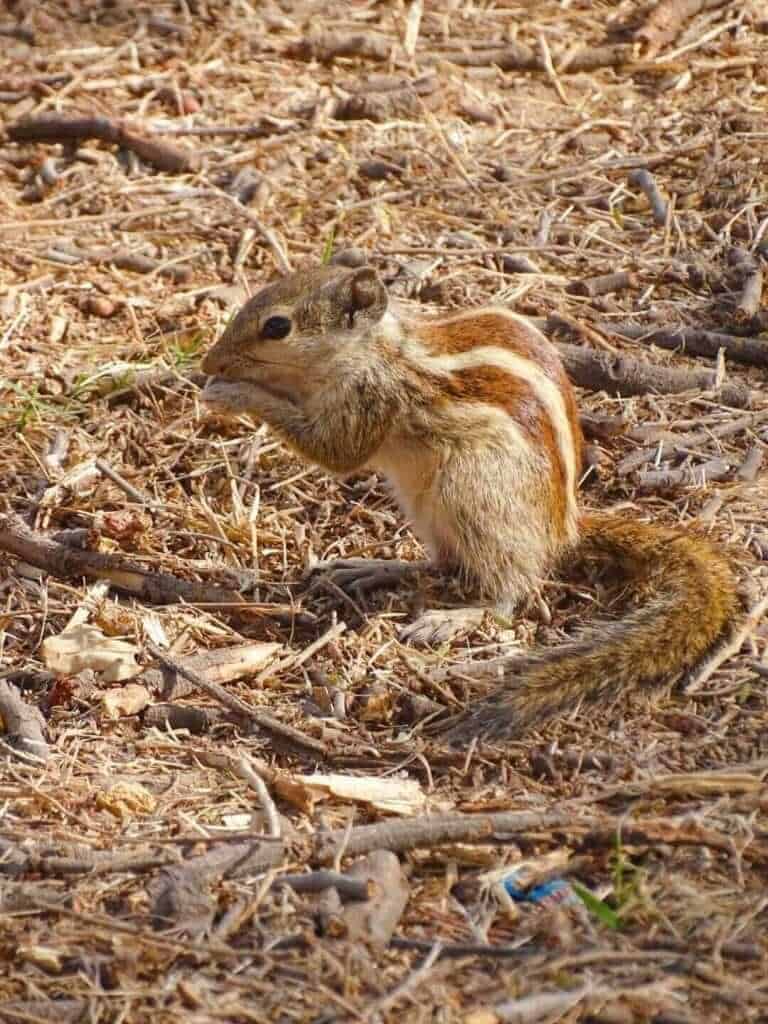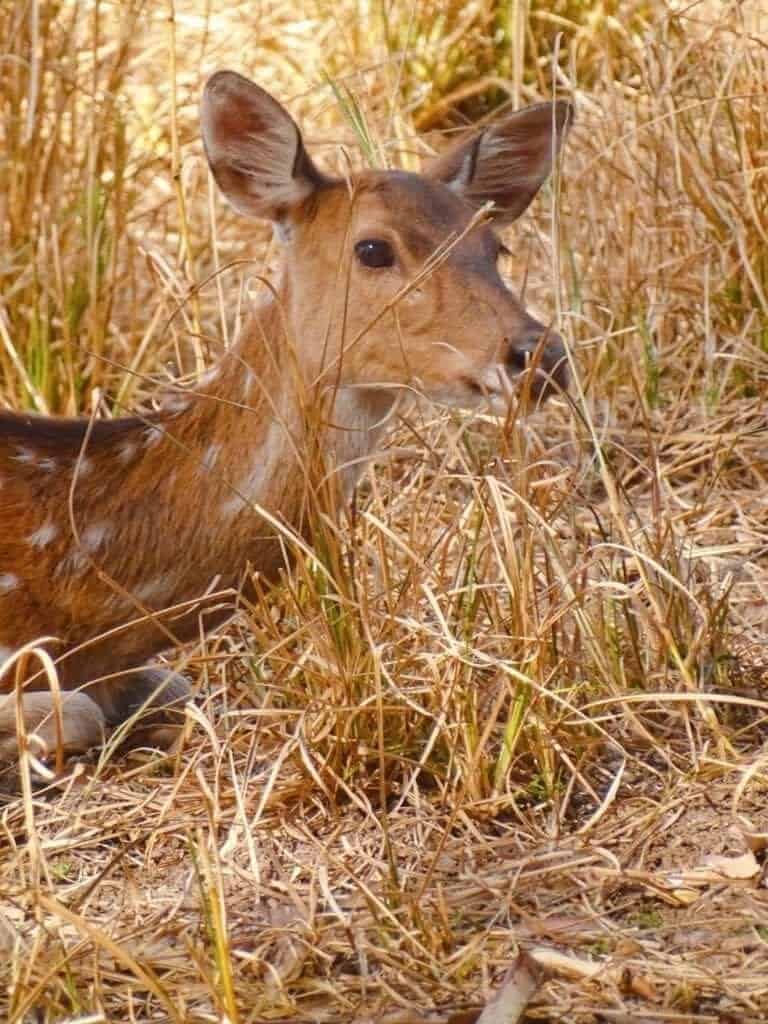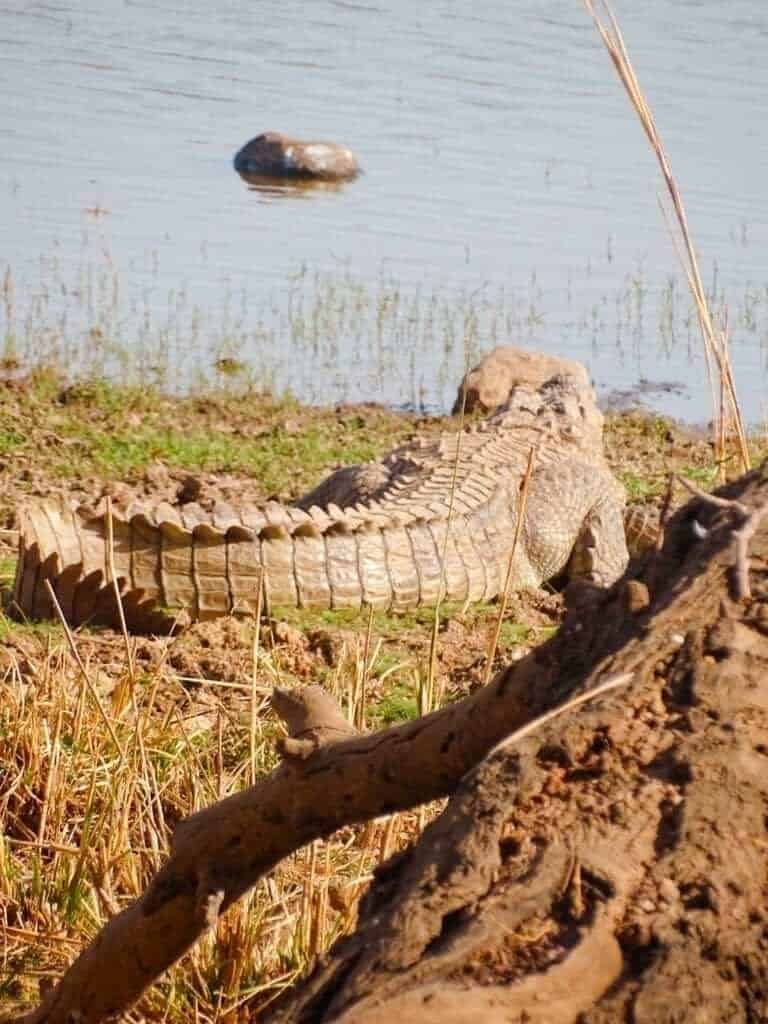 There are a few other things to do in the Ranthambore area which include:
Hiking up Ranthambore Fort (an ancient fort with views of the park)
Taking a safari in Kachida Valley where bears and panthers are known to live (very Jungle Book!)
Visiting Ranthambore School of Art – shop for wildlife-related art that also funds conservation efforts.
I have to confess I did none of them. They all seem like add-ons to the tiger experience, plus it was so hot outside. I was more than happy to relax inside before and after my safaris.
Dastkar Handicraft Emporium (2023 update)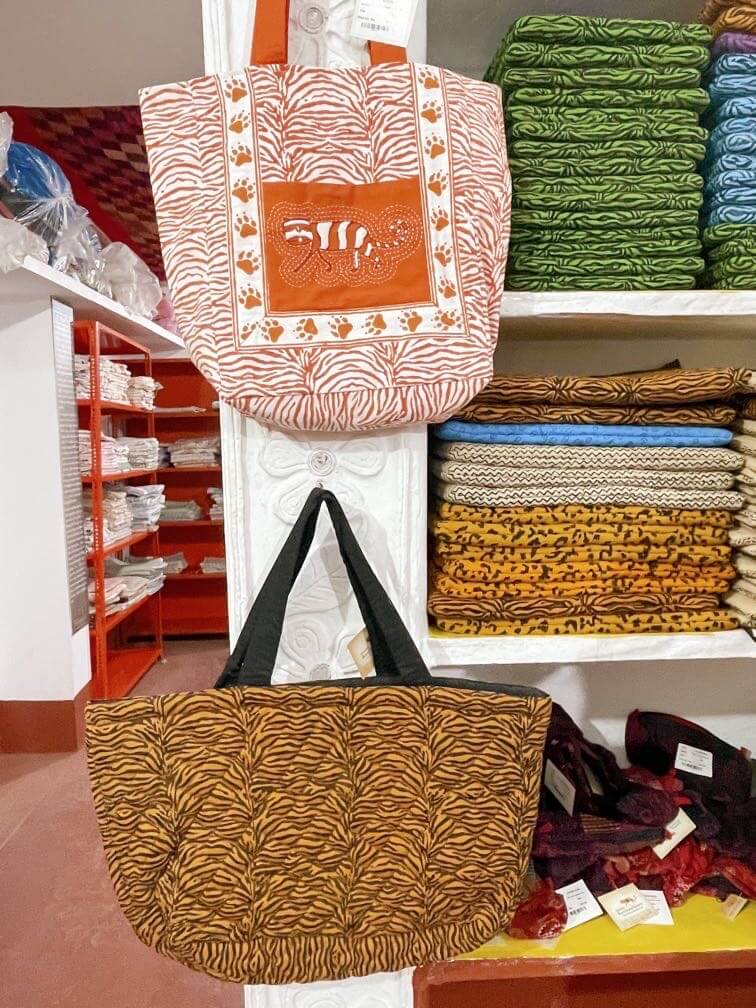 As of March 2023, I've recently returned to Ranthambore while hosting my first group tour! We had the fantastic opportunity to visit Dastkar Handicraft Emporium, a non-profit NGO that teaches locals (especially women and village-based people) the skills to make a living and pays them a fair wage.

The goods being sold, from scarves to clothes, children's toys and homeware, are incredibly beautiful and affordable. We also had the chance to join a printing workshop and try our hand at stamping our own designs. Mine looked like the work of a 5-year-old but I'll still treasure it!
Thanks for reading my Ranthambore travel guide!
I hope you have a better idea of how to see tigers in Ranthambore. Finger's crossed you find them!
Check out some of my other India posts:
See you next time for more adventures,
Rose
For more travel content, follow me on Instagram, Facebook, Twitter and YouTube.
Ps. Liked my Ranthambore travel guide? Pin it for later!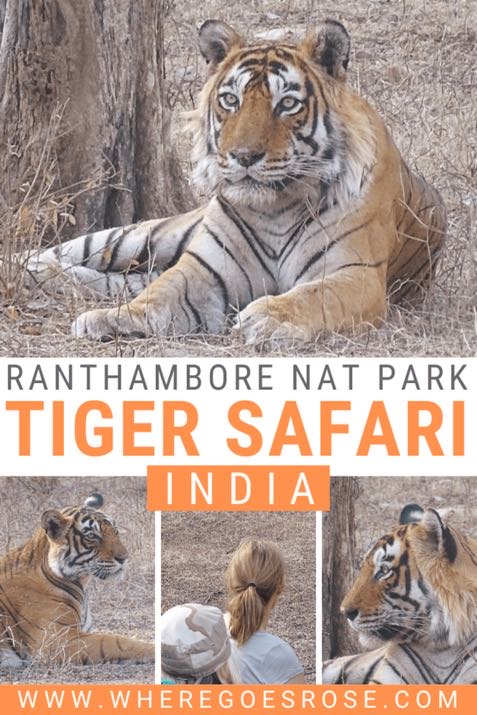 VISITING INDIA? 

These are my trusted resources:

Getting around by air – it's easy to get between cities by flight. I use Skyscanner and search by whole month to find the best value dates.

Buses – buses are comfy and efficient. Use 12Go to book.

Trains – these are a good option for long journeys because you have a bed rather than a seat. Use 12Go to book.

For hotels, I use Booking.com – they also have self-catering apartments. You can filter by review score and price to find the best-rated budget places. For hostels, I use Hostelworld.

Browse tours and activities on GetYourGuide. I also check Viator and Klook in case they have a better price.

For food experiences with passionate local chefs and foodies, check out EatWith.

Pack the latest copy of India Lonely Planet.

Need travel insurance? I use True Traveller (for UK & Europe residents) since it's affordable but covers everything you'd need including various activities, valuables and pre-existing conditions. Unlike some companies, they insure you if you're already travelling / don't yet have your flight home booked. Get a quote.

For travel insurance for other nationalities, I recommend Hey Mundo and for long-term digital nomad travellers, I suggest Safety Wing.

Check out my resources page for more travel discounts and tips!