This post may contain affiliate links to things like tours, hotels, Amazon associates and products. These help me earn a small commission at no additional charge to you.
Spain's most visited attraction is worth a visit however long you stay in Barcelona. In this guide I'm going to share my top tips for visiting the Sagrada Familia so you can get the most out of your visit.
The Sagrada Familia is an unfinished Catholic church designed by Antoni Gaudi. For some fun Spain facts, it's been a work in progress since 1881 and Gaudi only ever saw a quarter of it completed in his lifetime!
Facts about the Sagrada Familia
Gaudi is actually buried inside his masterpiece. He was hit by a tram and passed away in 1926 – even though it's a sad story, I think he'd have approved of his resting place.

Anarchists during the Spanish Civil War tried to burn the Sagrada down by breaking in and starting a fire. Some important documents were lost but luckily the damage wasn't too great.

When it's complete it will be the tallest religious building in Europe. However, it will remain one metre shorter than Montjuïc mountain as Gaudi didn't want compete with God's work.

It costs €25 million each year to support the building work. Now you see why the tickets are kinda pricey, right?
Read next: The ultimate 3 day Barcelona itinerary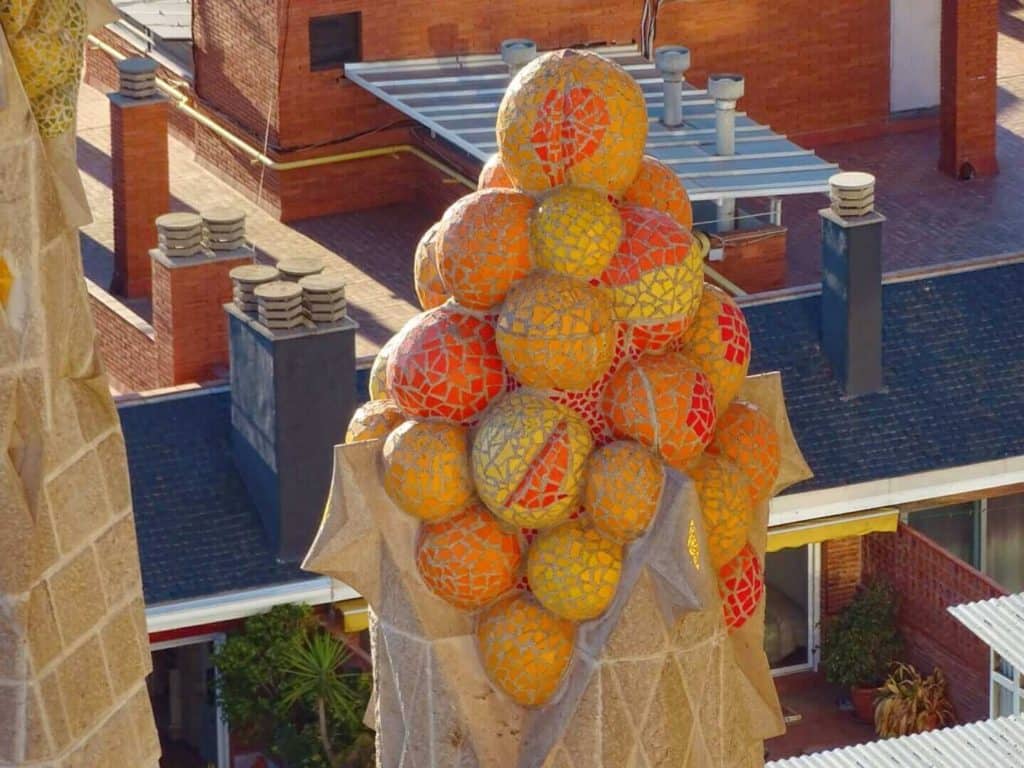 The outside of the Sagrada Familia
There's loads of nature symbolism involved in the detail of the Sagrada. Before going inside, look out for the turtle and the tortoise both at the bottom of pillars. They represent the land and the sea, and (in my opinion) their position supporting the cathedral shows how our society balances on them.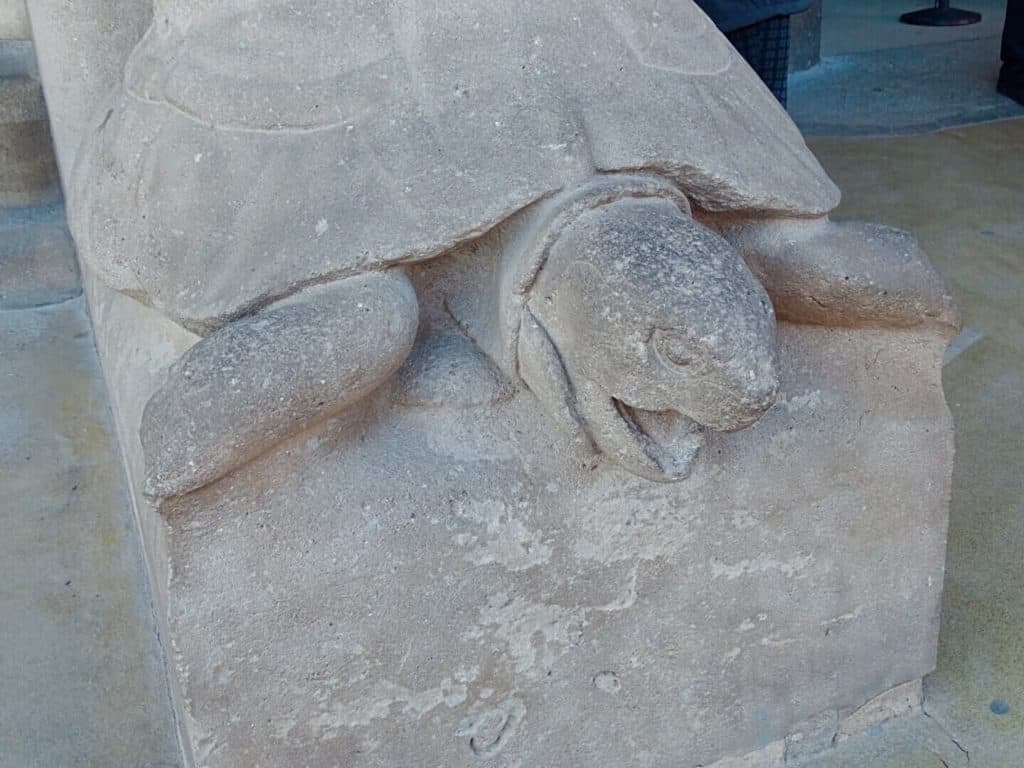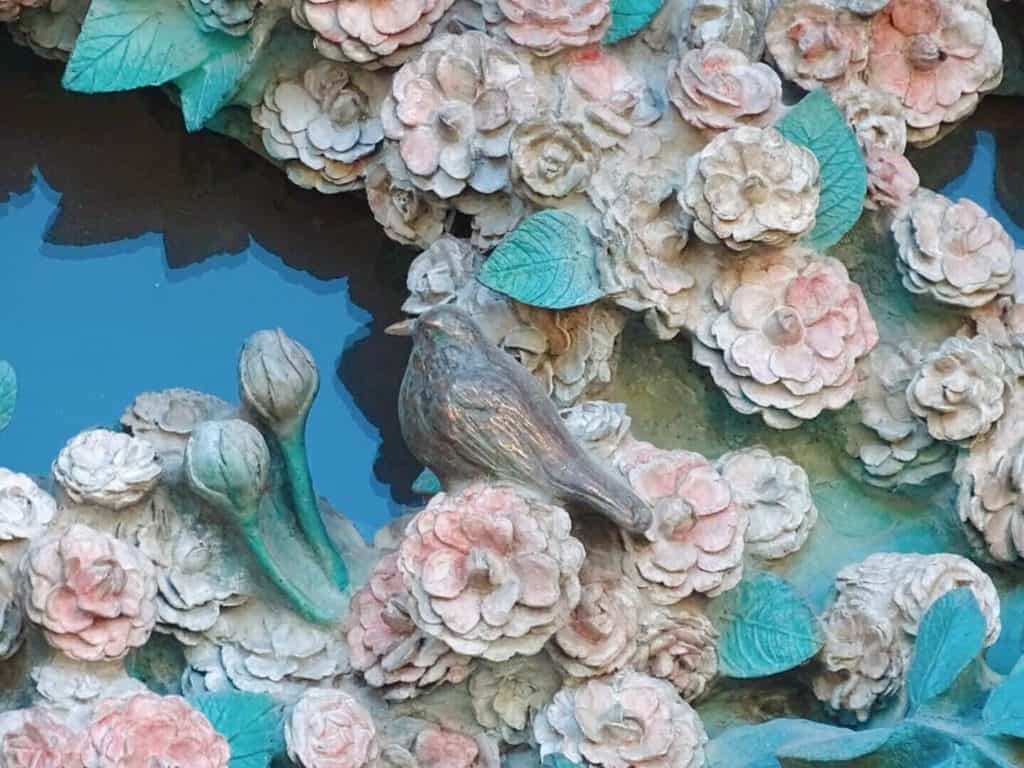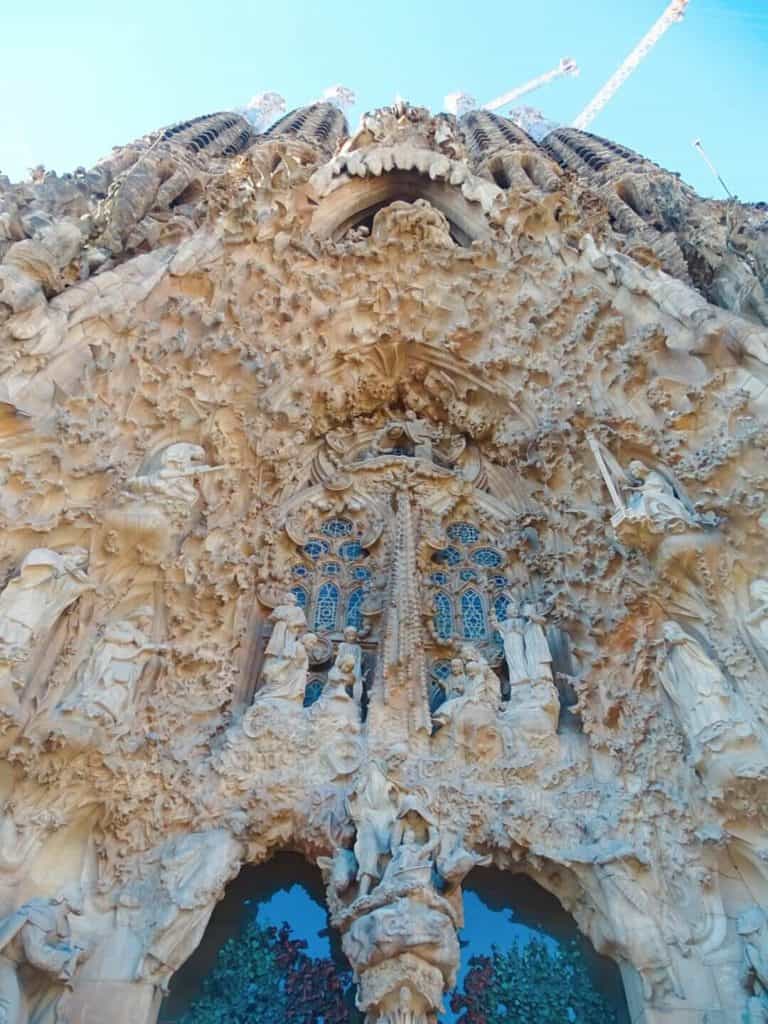 Inside the Sagrada Familia
The nature theme continues inside where the pillars resemble trees and the light coming through the window acts like that filtering into a forest. Each column splits into branches which hold up the ceiling as a united effort.

The intricate detail is mind blowing and you'll find a lot of colourful stained glass inside.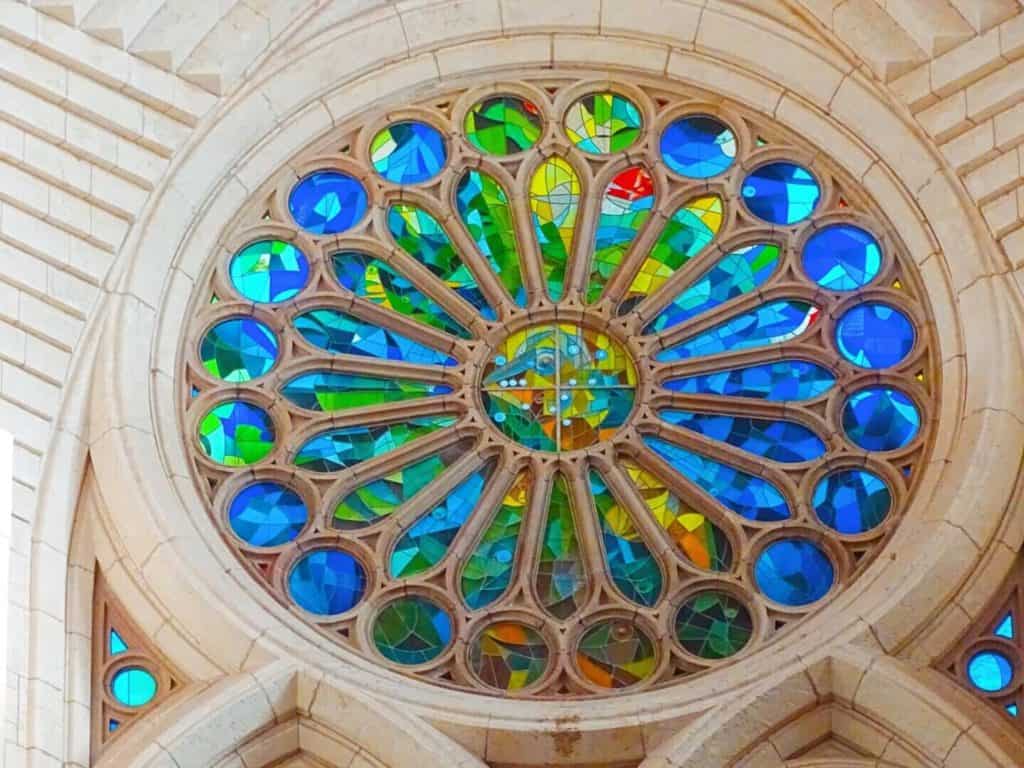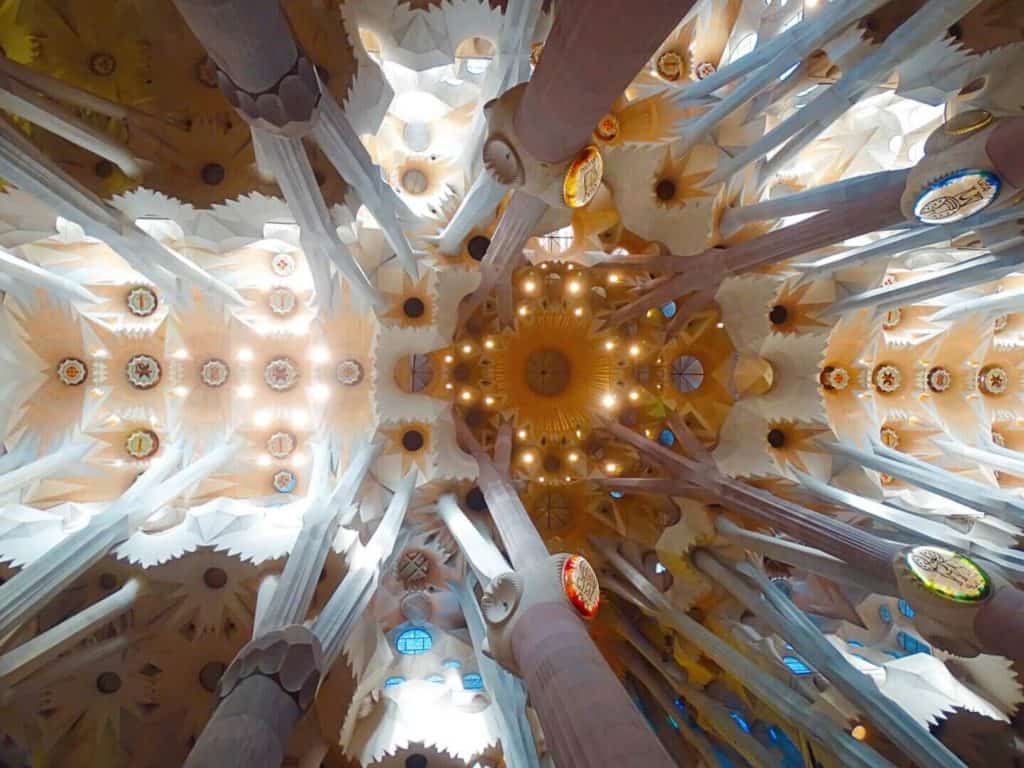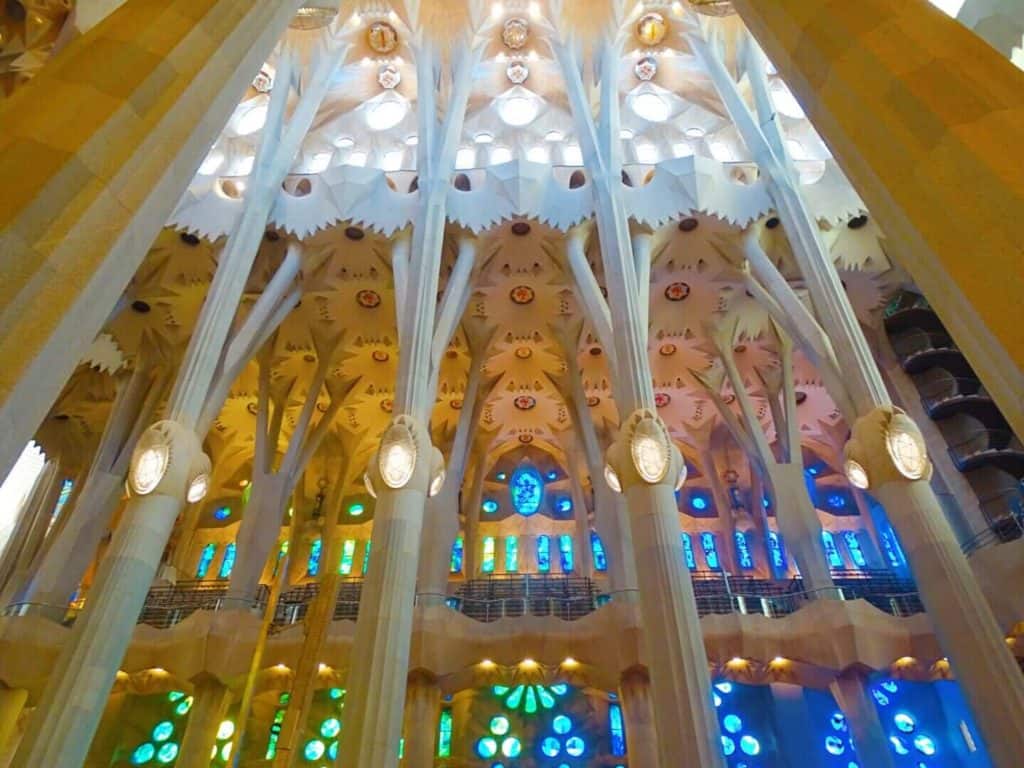 Sagrada Familia ticket options
Depending on your ticket type, entrance is between €15 and €29 so it's not the cheapest attraction but it's definitely worthwhile. Your options include:
Entry only – €17
Entry with audioguide – €25
Entrance with a guided tour – €26
Entry, audioguide and Gaudi House Museum – €27
Entry, audioguide and top views – €32
You can prebook on the website.
To audio guide or not to audio guide?
If you're a very visual person and like to take pictures, you could get by with just seeing it. I have to admit it was so beautiful and overwhelming that I kept getting distracted from the tape. However, if you're a history or architecture fan, it's a must for info.
Climbing the towers
The 'top views' ticket option allows you to climb one of the towers – I opted for the Nativity Facade.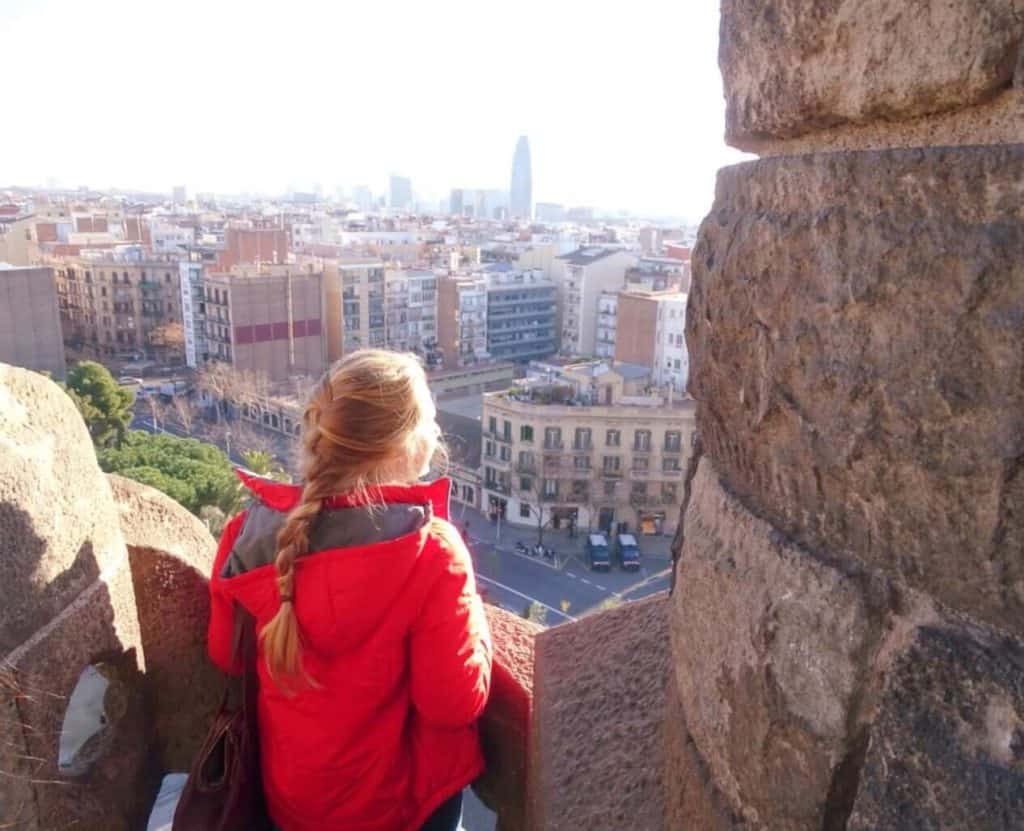 Which to choose? They're both fairly similar but the Nativity Facade looks out over the city and the water and the Passion Facade looks out over Park Güell.

Is it worth the extra Euros? If you don't have time to see another panoramic view during your trip, definitely. If you're heading up to the bunkers or Montjuïc you probably don't need to climb the towers.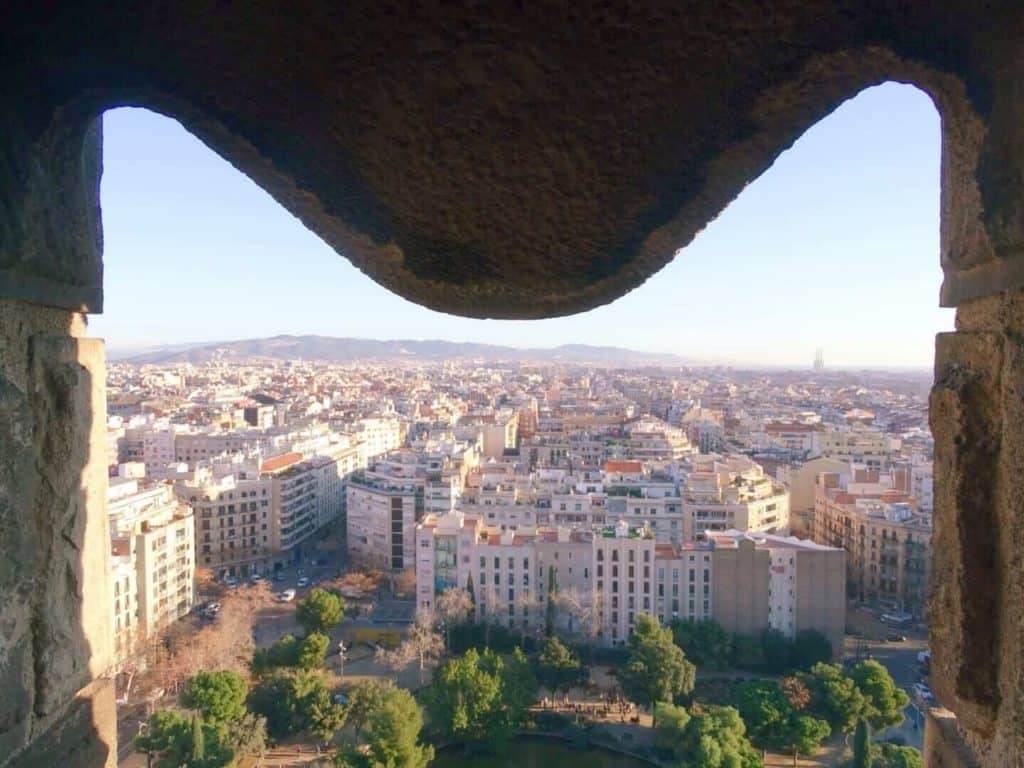 Best photo spot
My top tip for visiting the Sagrada Familia? It might sound controversial but you don't actually need to pay entrance to experience the best view of the Sagrada Familia. At the far side of Placa de Gaudi (Park of Gaudi) you'll find a set of benches and gorgeous reflections of the Sagrada Familia in the pond.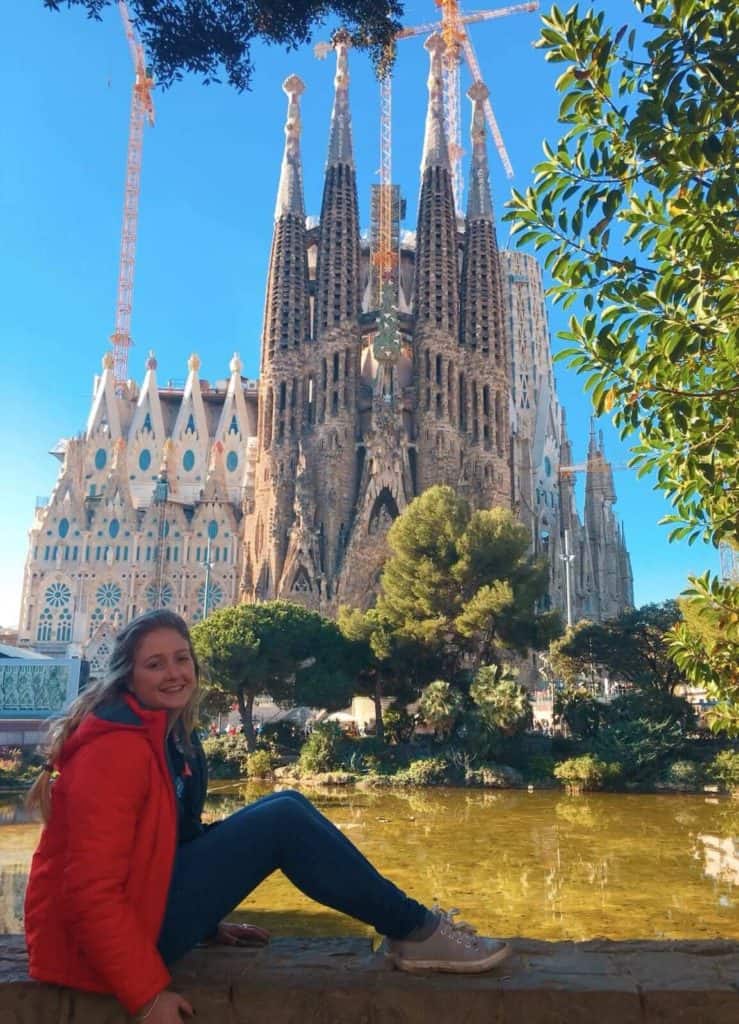 There's something I like about the fact the Cathedral is unfinished. It makes me think of the creative projects I work on and makes me stress less if I don't complete things right away (did I just try and compare my blog to Gaudi's work? HAHA).

He himself said:
"It is not a disappointment that I will not be able to finish the temple. I will grow old, but others will come after me. What must be always preserved is the spirit of the work; its life will depend on the generations that transmit this spirit and bring it to life".

YUP.
Over all, I loved my visit and my main tip for visiting the Sagrada Familia would be to visit early in an attempt to beat the crowds.
Thanks for reading!
If you liked it, please share it 🙂
Looking for Europe inspo? Check out some of my other posts:
See you next time for more adventures,
Rose
Ps. Liked these tips for visiting the Sagrada Familia? Pin this for later!