This post may contain affiliate links to things like tours, hotels, Amazon associates and products. These help me earn a small commission at no additional charge to you.
Taking a DMZ tour from Seoul was high on my South Korea bucket list. I'd wanted to visit for years, ever since I'd first learnt about the unique and tragic situation in North Korea. I was happy to learn that tourists can visit the DMZ… So that's what I did!

There was so much I still didn't know: how had North and South Korea split? How had the DMZ buffer come to exist? Was there any chance of unity between the countries?

In this blog, I'll answer these questions and share my Korea tips for taking a Seoul to the DMZ day tour.
How to take a DMZ tour from Seoul
During my time in Seoul, I visited the DMZ as a half-day tour ($68). Taking a tour is necessary: in fact, you cannot visit the DMZ without a tour. Sadly there are no Korea budget hacks to see it cheaply. Tourists have to go with an official tour company and a registered guide.

Don't forget your passport! This is my best tip for a DMZ day trip. On the way there, our guide explained that if even one guest had forgotten their passport, no one on the coach would be allowed in. Then she asked anyone who might have forgotten to put their hand up and make themselves known.

Can you imagine anything more awkward than having to confess? Thankfully no one did.

I really valued the opportunity to visit the DMZ with a South Korean tour guide. Ours had seen the effects of the DMZ first hand: her grandmother's family had been split up by the divide and they'd never seen members of the family again. It's hard to even imagine.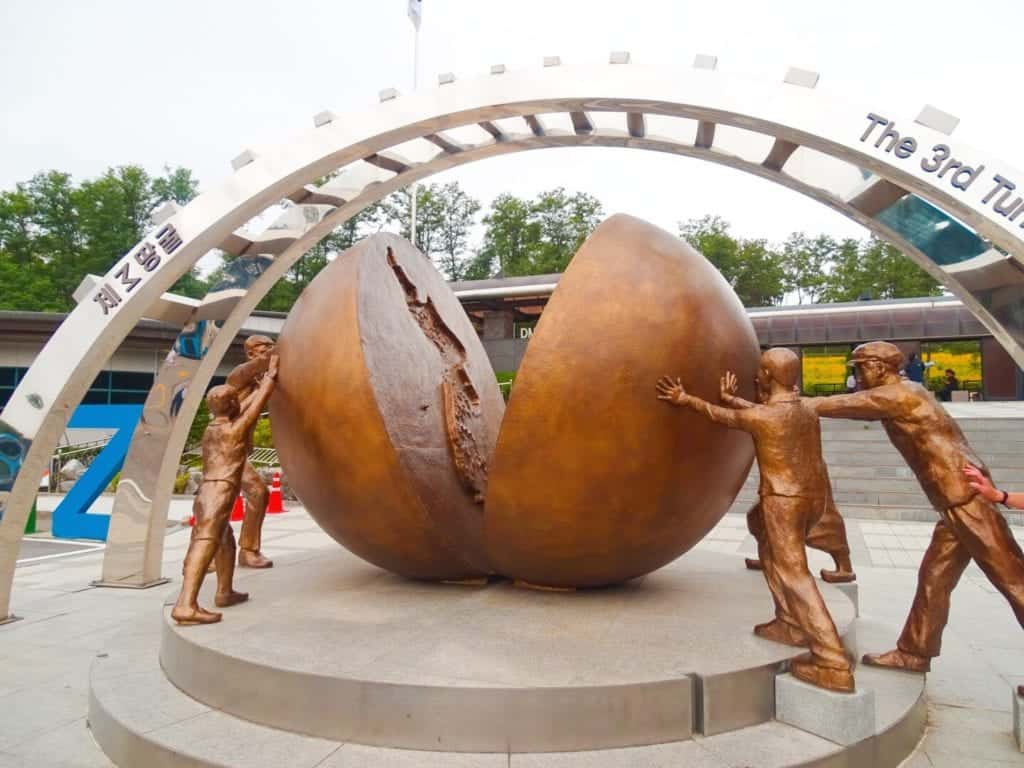 What is the DMZ?
The DMZ stands for the demilitarized zone: an area of no man's land that acts as a buffer between North and South Korea. Other such buffers exist and have existed to separate countries or areas with a troubled history.

It makes sense: two regions at loggerheads are more likely to fight and invade one another if they are at a close locality.

The DMZ measures four kilometres in size. It's not an entirely empty area because there are three villages inside: a fake propaganda village erected by the North Korean government, a real farmers village and an abandoned factory workers village that was inhabited until the 2016 threats of nuclear weapons from Kim Jung Un.

I'll talk more about these later when I discuss the observatory viewing platform.
A quick history of the DMZ
The DMZ was put in place at the end of the Korean War. This era was a tragic one that saw the loss of almost 10 million Korean lives. Yet it wasn't fought just by Koreans: this war from 1950 to 1953 was a product of the Cold War, fuelled by America and Russia.

If you know much about the Vietnamese war, it's the same, right down to the fact that the Soviets occupied the North and the Americans occupied the South, fighting to stop the country slipping to the other's school of thought. This ideological war was happening in many countries around the world at this time.

The Korean War ended in 1953, although it was technically won by neither side. An Armistice agreement was signed but no peace treaty was. The North stayed communist and was annexed by Kim Il-sung, the grandfather of the leader today, Kim Jong Un.

With no peace restored between the countries, a buffer zone seemed the only way to keep the countries at bay. The DMZ was born.
The two types of DMZ tour from Seoul
Depending on how much you want to see, there are two different DMZ tours from Seoul.
The DMZ tour from Seoul (half day) including Dora Observatory, Imjingak Park, Tunnel 3 and the last train station. It runs every day.
The DMZ tour from Seoul (full-day) including the stops previously mentioned and the JSA (Joint Security Area). This is the only place you can see North and South Korea soldiers standing face-to-face. However, this tour is more costly and often cancelled last minute due to political tensions. 2022 update – these tours are not currently taking place. I'll update this if things change.
In my opinion, the best DMZ tours are with GetYourGuide because they're easy to book and have flexible cancellation policies.
What can you expect when visiting the DMZ from Seoul?
If you take a half-day DMZ tour like I did, it will last around 5 hours and stop at the following points of interest:
Imjingak Park
The first stop of our DMZ tour included seeing some statues and memorials relating to the Korean War and the DMZ that's cut off so many families.

You can also see war tanks and aircraft dating back to the War, as well as The Bridge of Freedom which many South Koreans crossed to come home after having been displaced by the fighting. While it was an interesting stop, I was excited to get to…
Third Tunnel
Despite the DMZ being put in place, North Korea have still tried to invade South Korea several times. In fact, four sizeable underground tunnels have been discovered in the DMZ.

When The Third Tunnel of Aggression (what a name!) was discovered in the 1970s measuring 435 metres in length, North Korea said it wasn't theirs. Later they changed their story and claimed they had been searching for natural resources. The whole situation is scary but at least all of these attempts to invade South Korea have been unsuccessful.

The Third Tunnel is the only one visitors can go inside during DMZ Korea tours. It was very cold, dark and eerie (although less so because it was so busy) and we had to wear helmets in case of falling rocks. The journey back up was up a very steep slope so make sure you're in good health to do this!

Honestly, the tunnel was unremarkable and could have been any in the world. Yet knowing its history made it a very interesting stop indeed. How often can you say you've walked inside a living piece of history like this?
Dora Observatory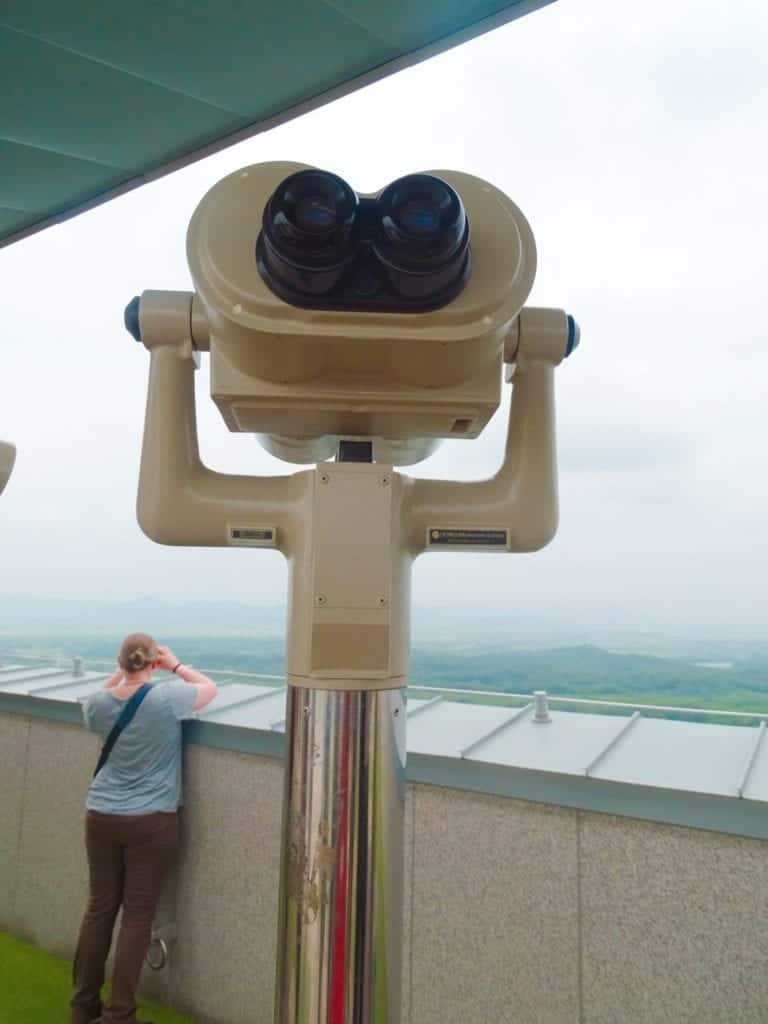 For me, the most interesting stop of our DMZ day tour from Seoul was Dora Observatory looking over the DMZ. From here you can see the fake Peace Village erected by North Korea, something I found bizarre and fascinating.

According to North Korea, the Peace Village is inhabited by a community of farming families who have access to childcare, a hospital and school. Indeed, these buildings do exist and, from afar, it's a colourful and attractive village.
The one problem? It's totally empty. Nobody lives there and its only purpose is propaganda: to give the impression all is well in North Korea. Apparently, they think it may encourage South Koreans to defect to North Korea, although I'm not sure why anyone would!

When you visit Dora Observatory, you'll see two other villages located in the DMZ. One acted as a village for factory workers but has been abandoned since the nuclear weapon threats of 2016.
The other is a real farmers village, home to a small population of North Koreans. Straining my eyes through the binoculars, I was fascinated to spy an elderly man riding a bicycle.

Trying to picture his life blew my mind. He'd have little to no understanding of the outside world and no access to foreign media. He'd be part of a communist system that prevents him from becoming wealthy and prohibits democratic procedures like voting to elect a new leader. To see him with my own eyes made everything feel real and sad.
Dorasan Station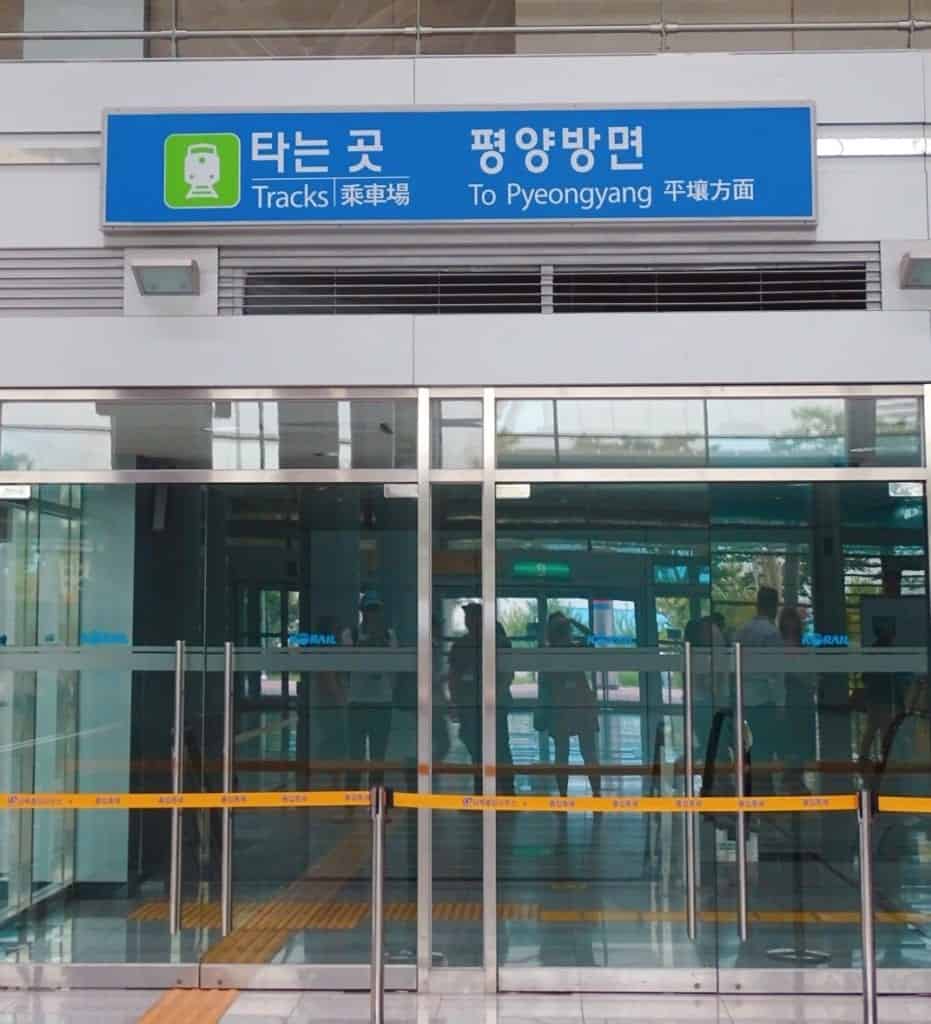 The final destination on the DMZ Seoul tour was Dorasan Station, the last train station before the border. A journey arrives and departs Seoul daily but the line can't continue any further as the next stop would be in North Korea.

Many South Koreans have donated money so that, if and when unity is restored, a line can be built connecting the divided nations.

Ultimately, this is what South Koreans want: unity and to see their long-lost family members again. Will it happen? Our guide said she hopes it will one day but it's not on the cards for the immediate future. King Jong Un is still young and showing no signs of cooperation.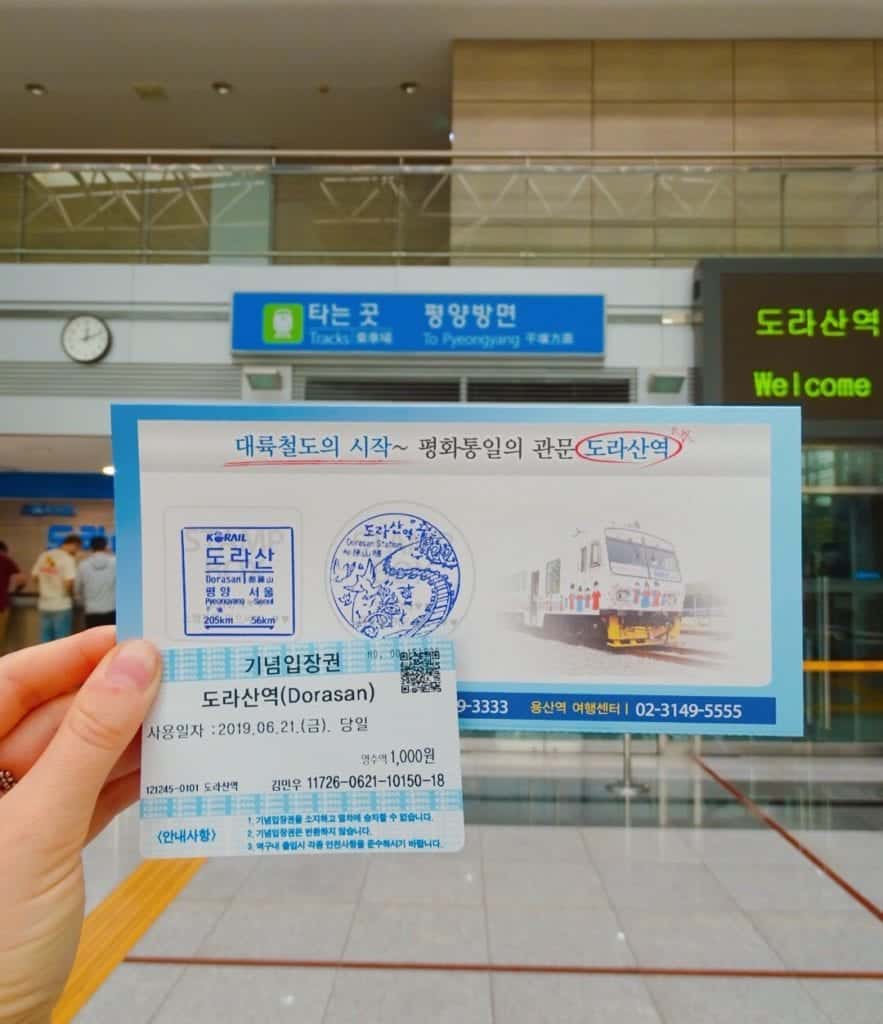 At Dorason Station, visitors can purchase a pretend ticket to Pyongyang, the North Korean capital. I bought one for 1,000 won (£1) and stamped it myself.

This hopeful act made me feel sad again, for the North Koreans living under a dictatorship and for the South Koreans who have lost their loved ones.

What a mad world we live in, but I'm so grateful for my ability to explore it.
Tips for the Korea DMZ tour from Seoul
Dress relatively smart – word has it that North Korean soldiers sometimes photograph tourists in casual clothes like ripped jeans to use as propaganda to convince North Koreans that the outside world is poor and dangerous. Best not to let them.
Bring your passport! Just double-reminding you so your whole tour doesn't get denied entry 😉
Pack any necessary medication like asthma inhalers etc – the walk up from the Third Tunnel is steep and a little cold. You're meant to leave all your belongings and bags in a locker but you could bring something small like this in your pocket.
Overall, my experience visiting the DMZ from Seoul wasn't happy or upbeat but it was truly worthwhile. Visiting is so important in order to understand the country and what the people have been through. I feel much better educated now about the situation in North and South Korea.

If you're planning a trip, I hope my tips for the Korea DMZ tour help you out 🙂

Browse and book DMZ tours from Seoul:
Thanks for reading!
Check out my other South Korea blogs:
See you next time for more adventures,
Rose
For more travel content, follow me on Instagram, Facebook, Twitter and YouTube.
Ps. Liked this? Pin it for later!
VISITING SOUTH KOREA?
These are my trusted resources:

Flights – I use Skyscanner to find the best-value flights, using the 'search by month' tool to find the cheapest dates. You can also use the 'to anywhere' feature if you're flexible on where you're going.

Buses – buses are comfy and efficient. It's tricky for foreigners to book online so it's best to turn up on the day.

Trains – use Trip.com, partner of Korail (the official railway network of Korea) to book your tickets in advance. The website accepts international payment options, unlike Korean rail websites. Click the three stripes in the top right corner then the flag to change it to English.

Driving in Korea – use Rentalcars.com to compare car rentals. Hiring a car will be especially useful on Jeju Island.

For hotels in Korea, I use Booking.com – they also have self-catering apartments. You can filter by review score and price to find the best-rated budget places. For hostels, I use Hostelworld.

Browse South Korea tours and activities on GetYourGuide. I also check Viator and Klook in case they have a better price.

For food tours with passionate local chefs and foodies, check out EatWith.

Need travel insurance? I use True Traveller (for UK & Europe residents) since it's affordable but covers everything you'd need including various activities, valuables and pre-existing conditions. Unlike some companies, they insure you if you're already travelling / don't yet have your flight home booked. Get a quote.

For travel insurance for other nationalities, I recommend Hey Mundo and for long-term digital nomad travellers, I suggest Safety Wing.

Check out my resources page for more travel discounts and tips!