This post may contain affiliate links to things like tours, hotels, Amazon associates and products. These help me earn a small commission at no additional charge to you.
In my Uluwatu guide, I'll share my itinerary and the best things to do starting with…
How to get around Uluwatu
Scooter: I'd highly recommend hiring a scooter from 70,000 IDR a day. Everything's fairly spread out but not overly far away so it's easy to scoot around between beaches and restaurants. Driving a scooter is often the best way to get around Bali since Uber and Grab are prohibited and there isn't any public transport.

Taxi tour: If there's a couple of you, it's good value to hire a car and driver. You can ask them to take you wherever you want to go. Book a half-day tour or full-day tour.
Read next: my tried & tested Asia travel tips
2 day Uluwatu itinerary
Check in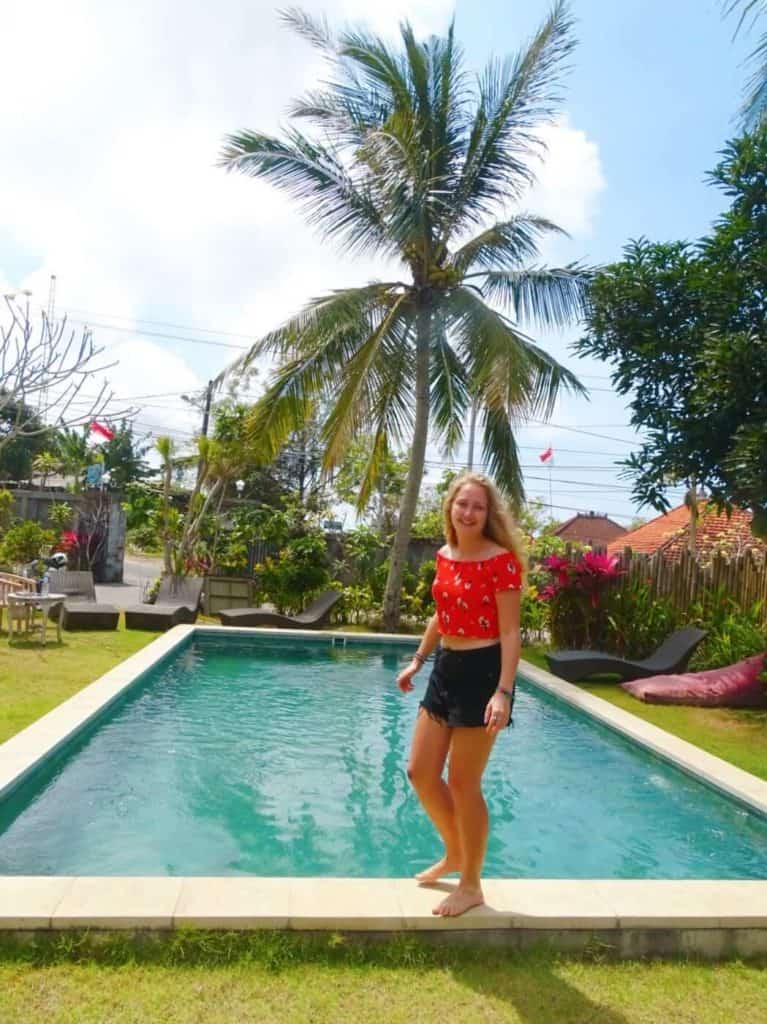 There are loads of places to stay in Uluwatu but our place was a real find. Tempekan Heritage has clean, comfy rooms and a lovely pool and fitness centre. There's a restaurant on-site as well as free parking, a garden and a terrace.

Check availability from $20. They also have luxurious villas available. You can add on breakfast from $3!
More Uluwatu accomodation options you might like include:
Budget hotel – Batu Kandik Homestay is close to Uluwatu Temple and rooms start from $14 including a pool! This is the best option for solo female travel in Bali.
Luxurious hotel – Ulu Cliffhouse is what dreams are made of! At this 5-star hotel you can expect stylish rooms equipped with iPads, a swimming pool and dreamy coastal views from the terrace. Rooms start from $150.
Hostel – Surfers House is the best hostel in Uluwatu with a pool, kitchen, tennis table and more. Dorms start from $15.
Browse all Uluwatu hotels on Booking.com // hostels on Hostelworld
Lunch at Ayu's Food From the Heart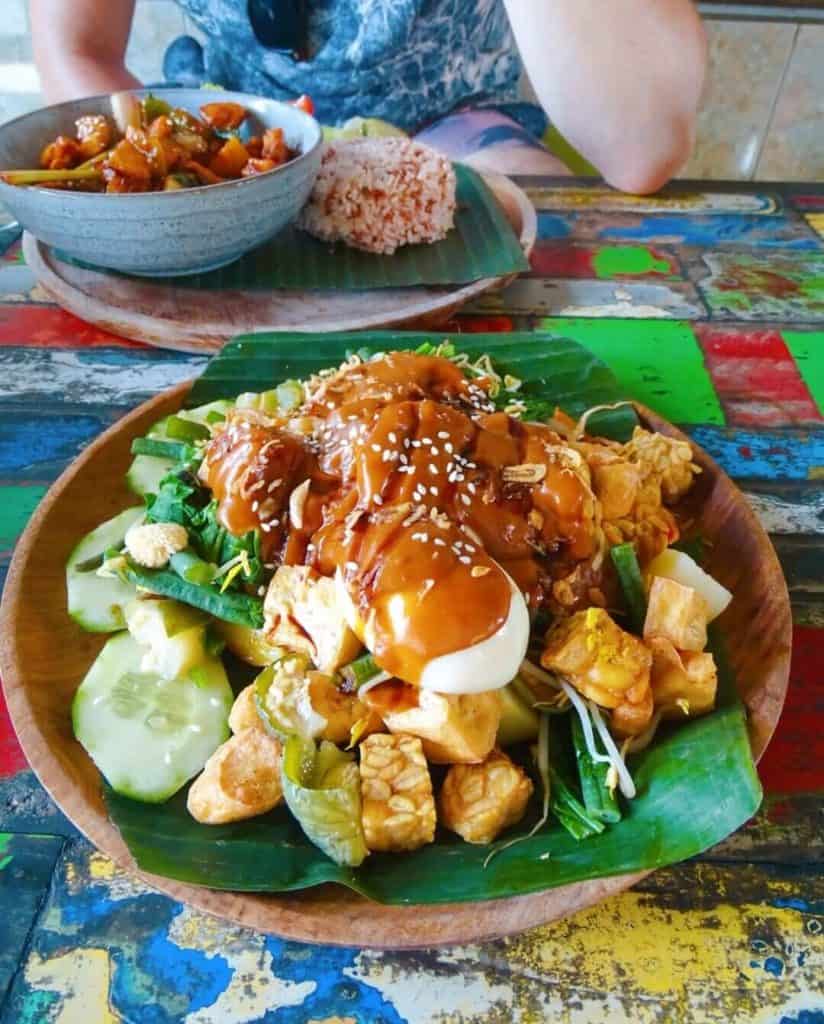 If you're yet to try the Balinese cuisine, or you just want to eat more of it (don't blame you!), there's a really amazing warung across the road from Delali Guest House on Uluwatu Pecatu.

For very affordable prices, you can sample all the best Balinese dishes at Ayu's Food From the Heart. They also serve Indonesia/Western fusion dishes like yummy veggie tempeh burgers, fresh juices and smoothie bowls, plus there's a cute clothes and souvenir shop on site.

The best dish was definitely the gado gado which was served in an enormous messy pile of veggies, egg and satay sauce.
Uluwatu Temple for sunset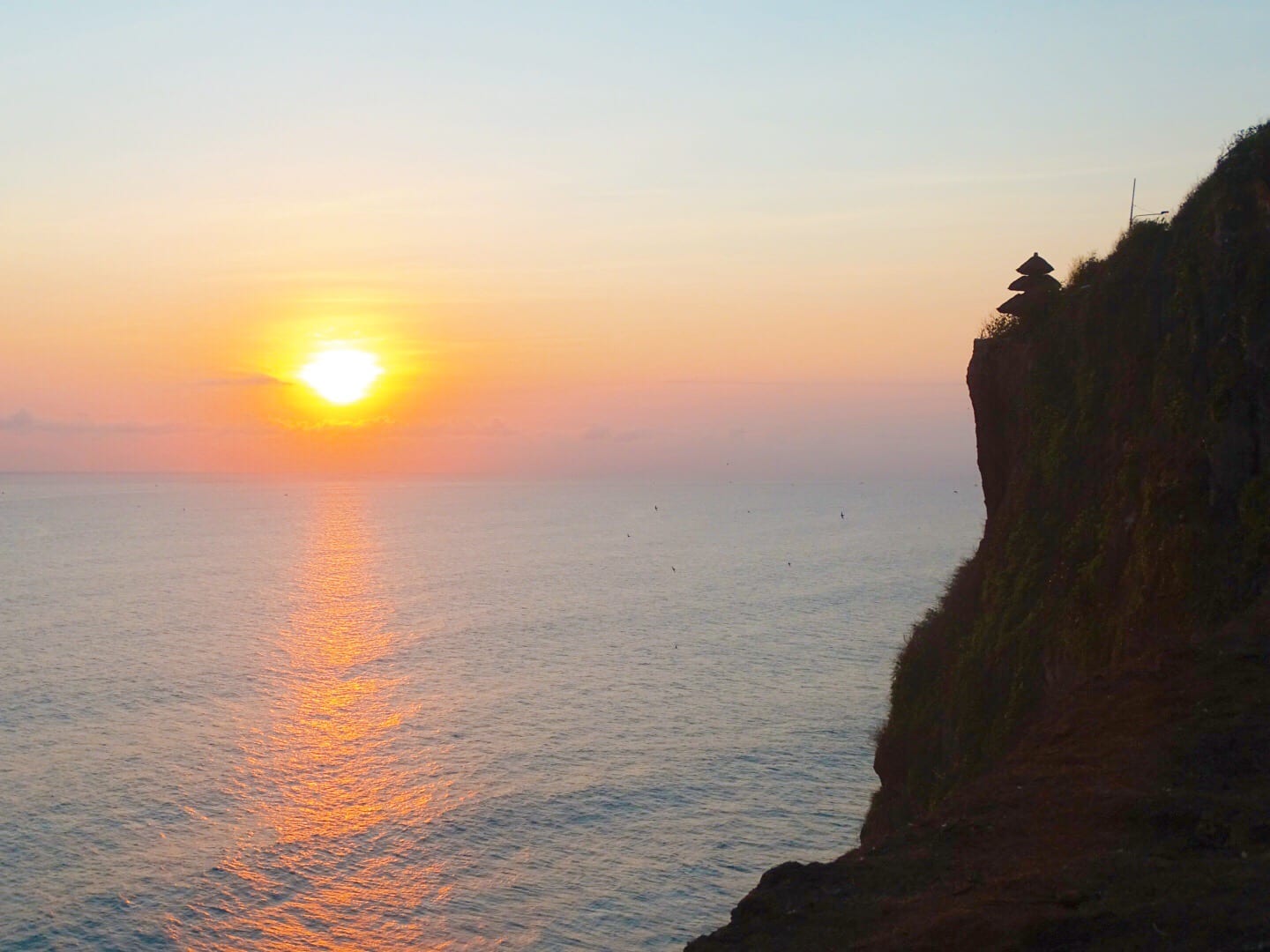 The most famous thing to do in Uluwatu is visit Uluwatu Temple, an 11th-century cliffside monument. You can do this any time of day but it's particularly bucket-list-worthy at sunset.

I'd recommend arriving about 5pm, parking up and wandering the cliff edge for daylight views, followed by the dreamy golden hour. The temple on the edge looks stunning with the orange sun sinking behind it. This is Uluwatu's most iconic view, and one of Bali's best sunset spots.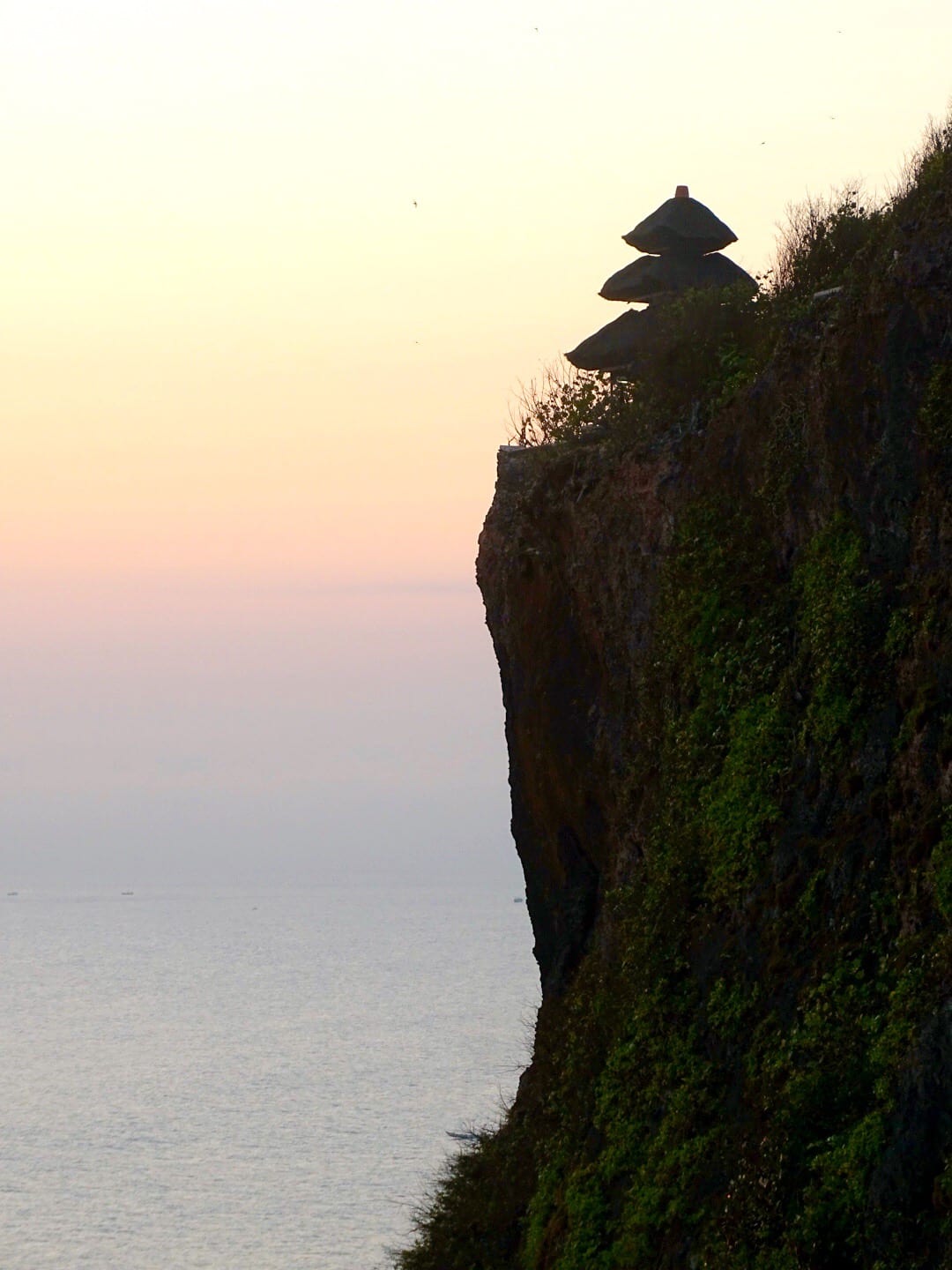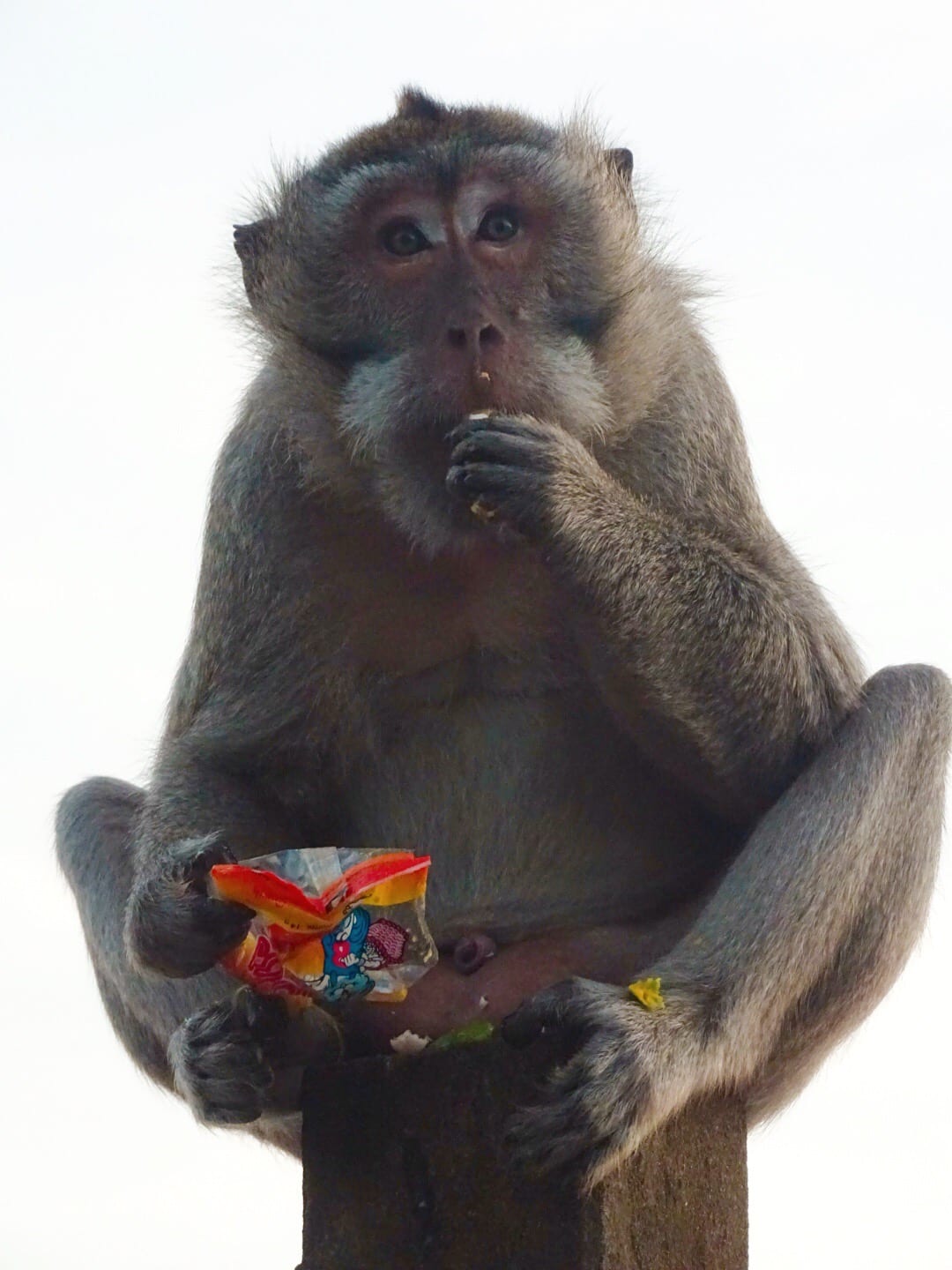 One thing you should be super vigilant of at Uluwatu Temple is the mischievous monkeys. I was engrossed taking photos when, all of a sudden, I felt my sunglasses be snatched from my head. Who the…?

I whipped around to see a monkey proudly scampering away clutching my (thankfully very fake) Ray-Bans. He preceded to rip them to pieces with his teeth and chuck the lenses over the cliff while a crowd gathered and laughed. The next day I checked the Uluwatu Temple Instagram tag to find multiple photos of the event.

The monkeys here are so clever – they'll snatch food, open bottles and show absolutely no mercy. I'm sure cameras and smartphones have ended up in similar states to my glasses!

Uluwatu Temple entrance fee: 30,000 IDR.
Kekak Fire Dance Show
The other reason people visit Uluwatu Temple is to see the Kekak Fire Dance Show at 6pm. Kekak is a style of traditional Balinese dance and it draws a large crowd every evening. Book your ticket here.
Dinner at the Cashew Tree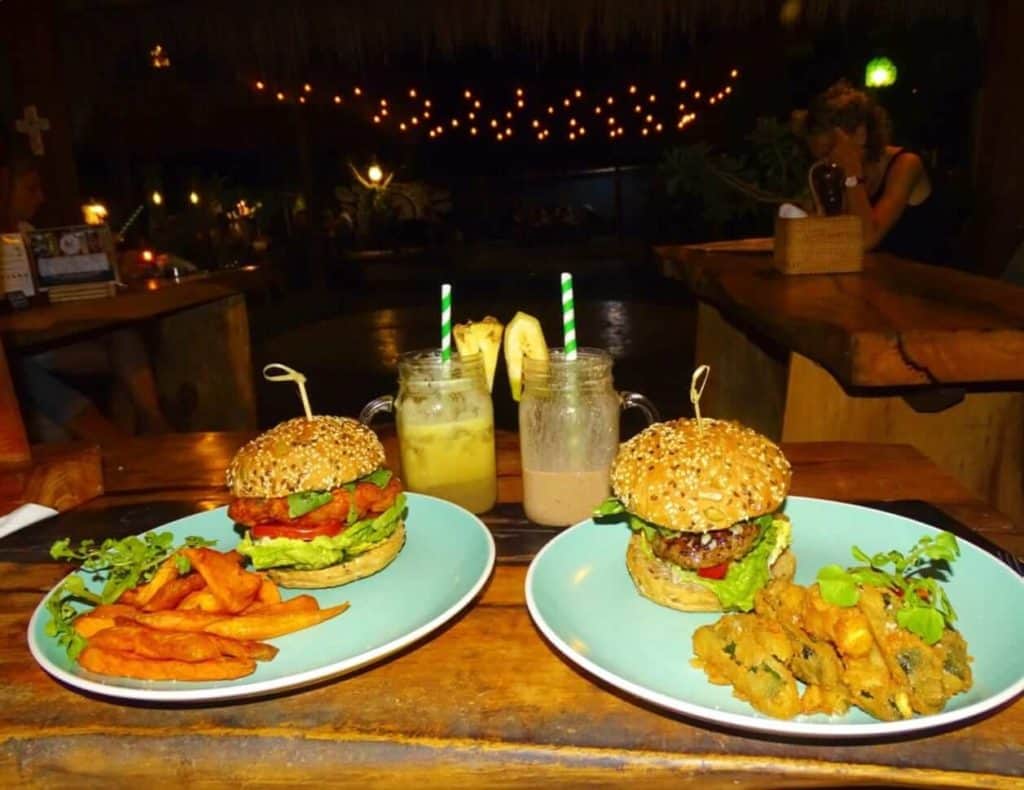 One of the best restaurants in Uluwatu is the Cashew Tree. It's a chilled garden brunch spot in the day and a cosy, candlelit (but not cheesy romantic!) restaurant in the evenings.

Burgers in Bali may not sound very interesting but these freshly-made patties with avocado, veggies and sticky chutney relish were fantastic. You can choose between sweet potato or courgette fries.

We had brunch in Uluwatu elsewhere (more on that next) so while I can't vouch for it at the Cashew Tree, it looks colourful and delicious…
Day 2 in Uluwatu
Start the second day of your Uluwatu itinerary with the most important meal of the day…
Brunch at Drifter Cafe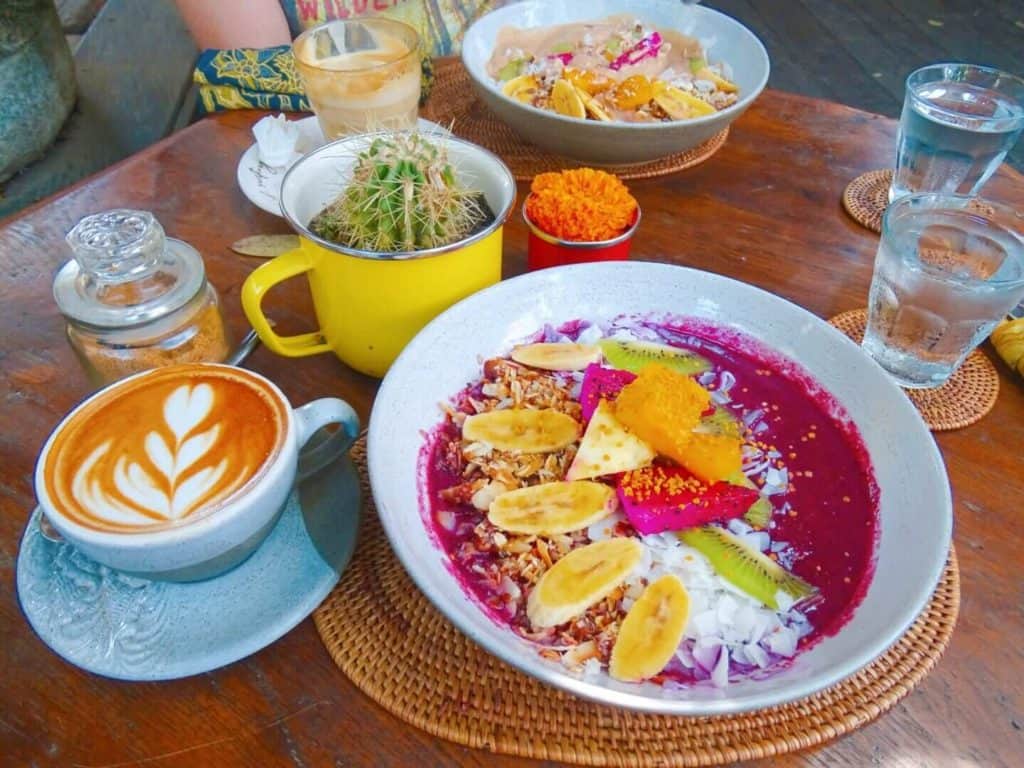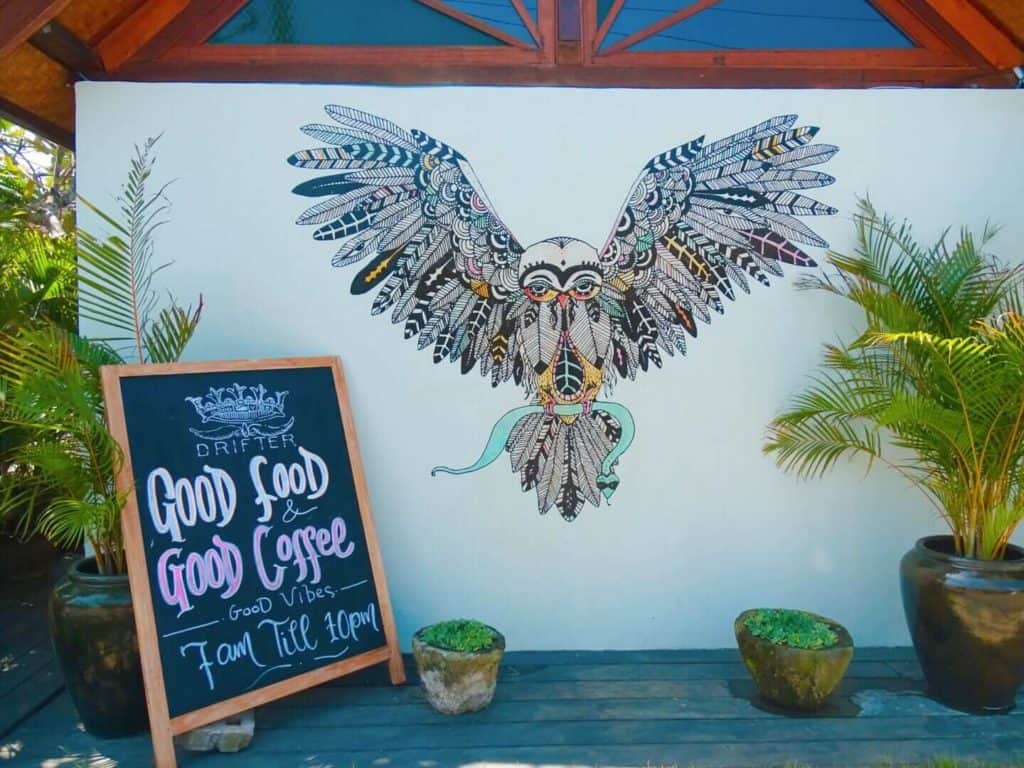 One of the best brunch restaurants in Uluwatu is Drifter Cafe. It's also a surf shop which sets the tone for the laidback, hippie cafe out back. They serve fresh, healthy breakfasts, lunches and dinners such as smoothie bowls, salads, poke bowls and tacos.

It's a pescetarian joint so expect no meat but plenty of zesty prawns and fresh mahi-mahi.
Go beach hopping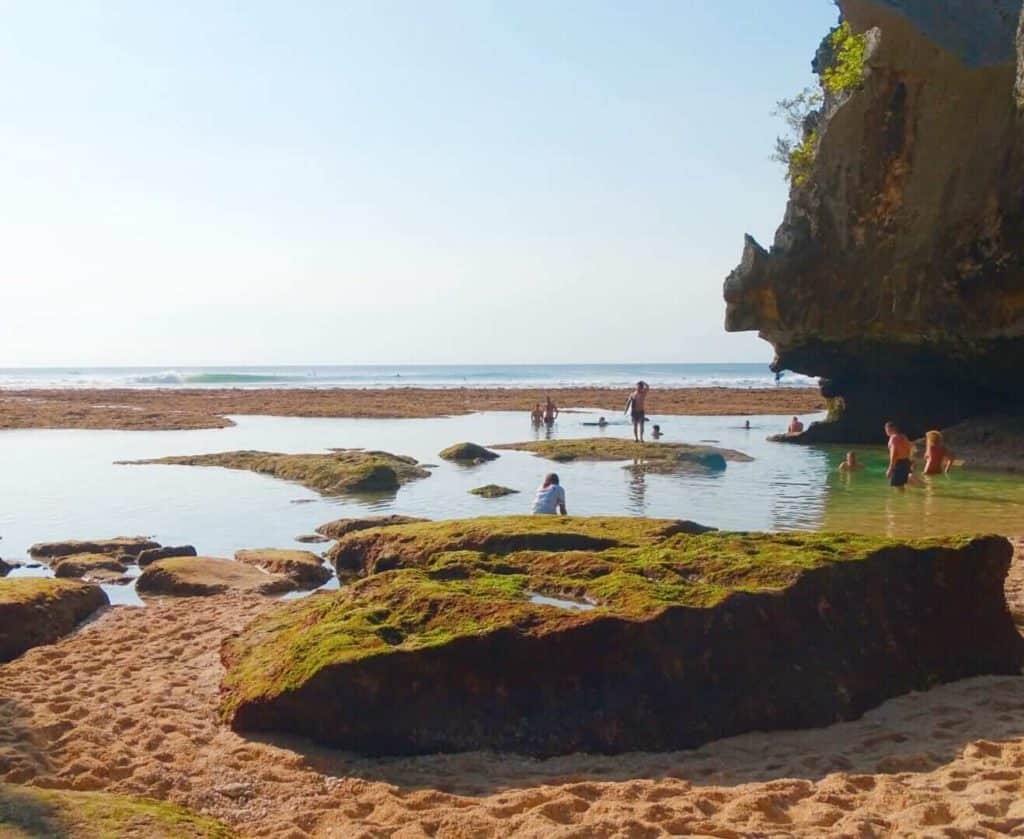 You can't come to Uluwatu without stopping in at the beach! Some of the best beaches in Uluwatu include Green Bowl Beach which is a Bali hidden gem, while Bingin Beach and Karma Beach are fun and busy. Thomas Beach is known as the best one for chilling and sunbathing.

Uluwatu is one of Bali's top surfing spots with consistently amazing surf and multiple windows each day. However it's not known as a beginners spot so you might want to save it for Canggu or Seminyak if you've not tried before. Padang Padang Beach on the right side is the best bet for beginners, while pros can try Dreamland and Bingin.
Sunset drinks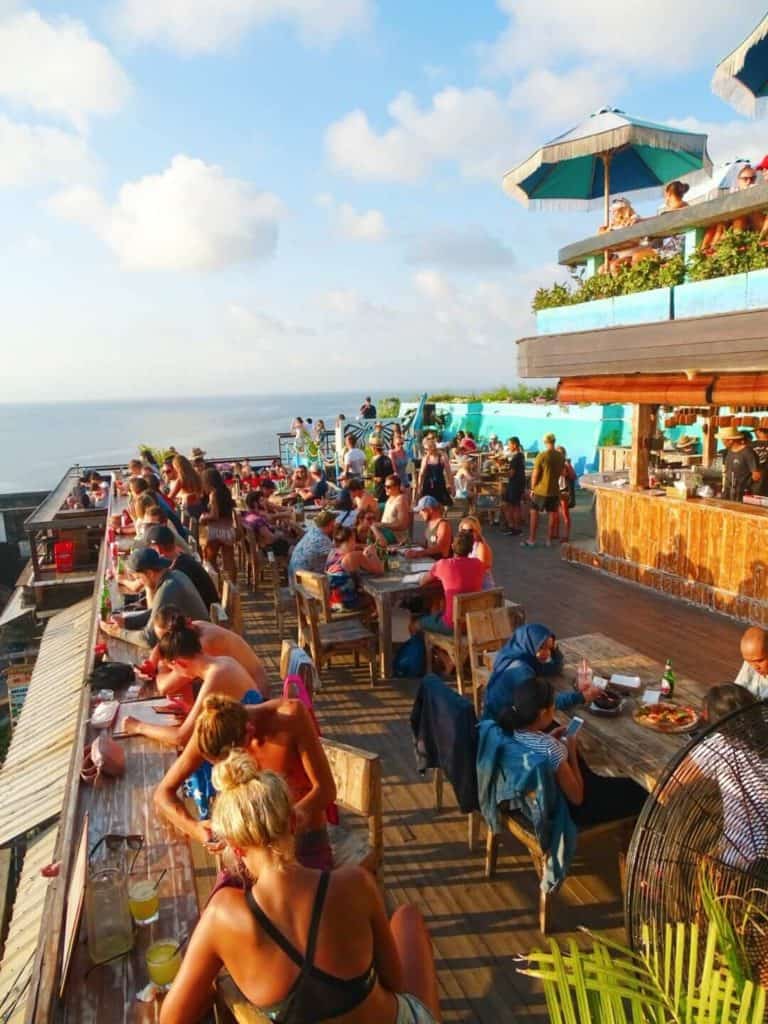 They say no Uluwatu itinerary is complete without sinking a Bintang at a cliff bar (I'll admit I just made that up but I'm sure someone's said it!). Your two best options are Single Fin or Rock Bar.

Rock is slightly more upmarket while Single Fin (pictured) is a cheerful traveller option. It's busy every night and if you want a table you'll have to book on the website. This is a good idea as it took us ages to find a tiny, outwards-facing corner to squeeze into. It can't hurt to book a couple of spots in advance in case you visit.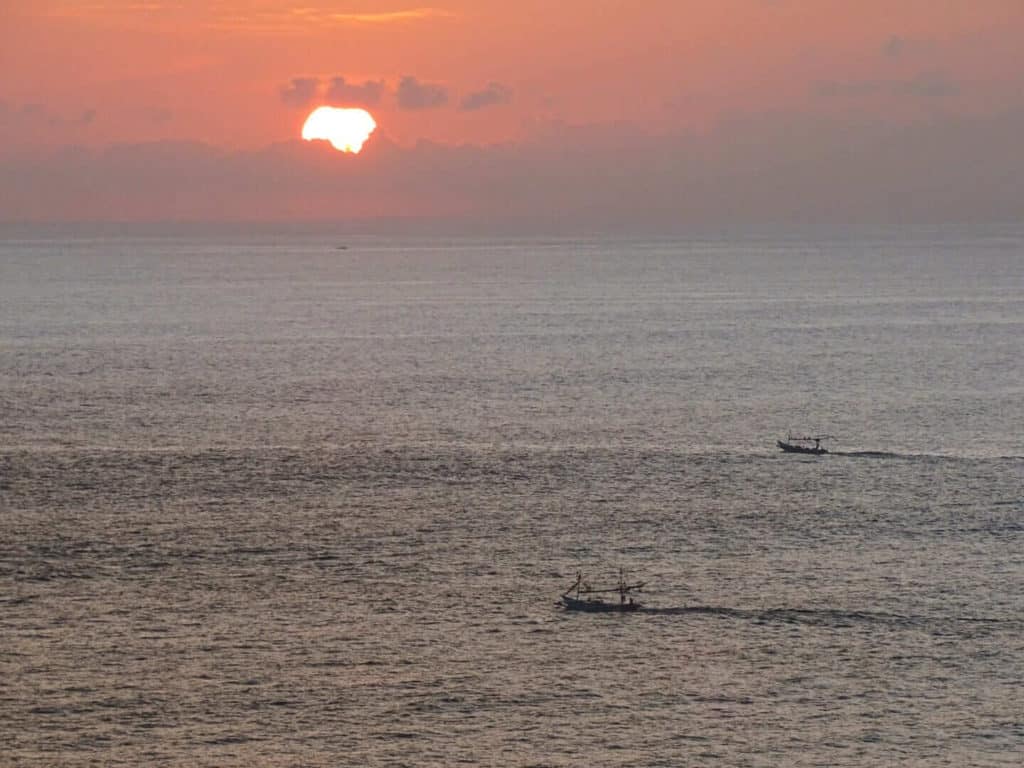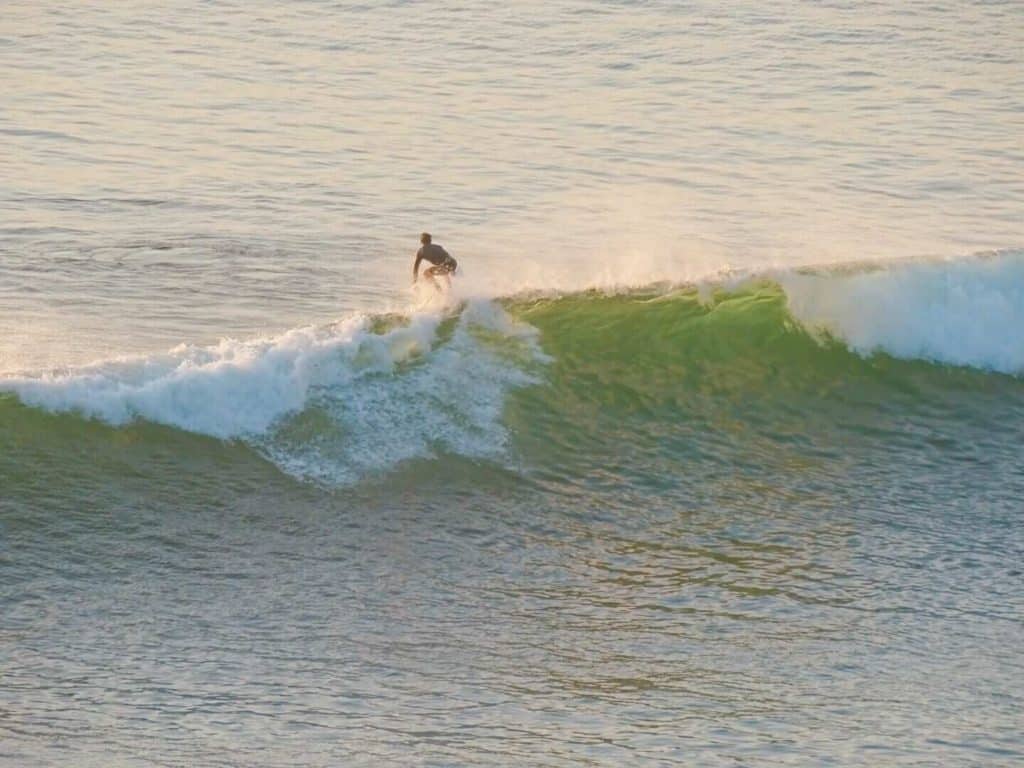 I loved watching surfers ride the waves from my lofty position at Single Fin Bar. I just can't believe how talented they are – after my few unsuccessful attempts surfing, I know how hard it is! You could watch them for hours.
Other things to do in Uluwatu
Two days is enough for Uluwatu's top attractions. If you have longer or fancy exploring a little further afield, check out…
Jimbaran
Jimbaran is a fishing village just 30 minutes north of Uluwatu. It's famous for its fresh seafood which you can tuck into while sat on the busy, atmospheric beach. So if you run out of Uluwatu evening activities, take your scooter up the coast for a tasty, locally-sourced dinner.
Sundays Beach Club
I've never been a beach club type of person – you'll more likely find me in the sea than paying to sit by a pool. But Sundays Beach Club is an Uluwatu institution so you might wanna check it out.

Entry is 450,000 IDR ($30) per day which includes 250,000 IDR food and drink vouchers, kayaks, snorkelling equipment, sunbeds and access to a gorgeous private beach. Pricey for Southeast Asia but probably an idyllic chill day (I didn't visit myself but I heard good things).
---
Thanks for reading my Uluwatu guide! It's such a relaxed, beautiful corner of Bali that you'd be hard-pushed not to love it. Whether you fill your Uluwatu itinerary with surfing, exploring or simply lying on the sand, there's no going wrong.
Thanks for reading my Uluwatu itinerary!
Check out some of my other Bali posts:
See you next time for more adventures,
Rose
For more content, follow me on Instagram, Facebook, Twitter and YouTube.
Ps. Pin my Uluwatu guide for later!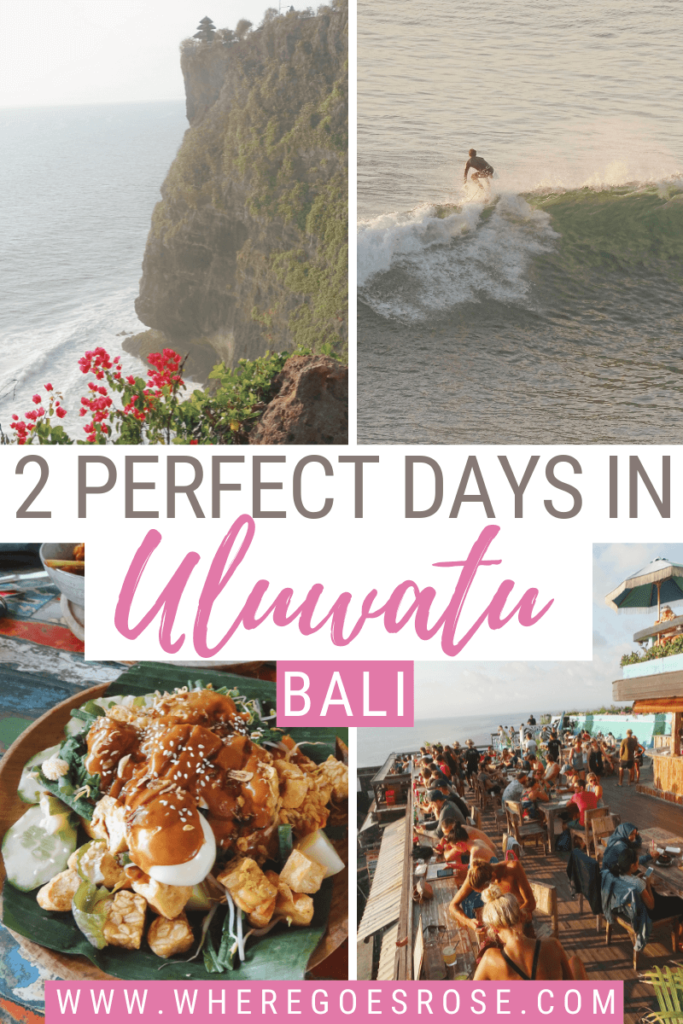 Bali useful links

Flights – I use Skyscanner to find the best-value flights, using the 'search by month' tool to find the cheapest dates. You can also use the 'to anywhere' feature if you're flexible on where you're going.

Get around Bali by hiring a scooter.

Stay connected with E-sim data plans that don't require delivery or collection; just scan the QR code.

In my opinion, Lonely Planet offer the best guidebooks. Get the latest Copy of Lonely Planet Bali.

I use Booking.com for accommodation. They have the best range of hotels and self-catering apartments, plus you can filter by review score and price to find the best-rated budget places. For hostels, I use Hostelworld.

To save money on accommodation, I use Trusted Housesitters, a website that connects homeowners going away and travellers who can sit their homes & pets.

For activities, I use GetYourGuide and Viator as they both have a huge range of affordable tours.

Need travel insurance? I use True Traveller (for UK & Europe residents) since it's affordable but covers everything you'd need including various activities, valuables and pre-existing conditions. Unlike some companies, they insure you if you're already travelling / don't yet have your flight home booked. Get a quote.

For travel insurance for other nationalities, I recommend Hey Mundo and for long-term digital nomad travellers, I suggest Safety Wing.

Check out my resources page for more travel discounts and tips!