This post may contain affiliate links to things like tours, hotels, Amazon associates and products. These help me earn a small commission at no additional charge to you.
I'm extremely excited to tell you about my experiences hiking the Valbona Pass in Northern Albania. The Valbona to Theth Hike is one of the most beautiful (if not THE most beautiful) I've taken in Europe perhaps alongside Rila Lakes in Bulgaria and the Pico do Arieiro to Ruivo hike in Madeira.

I was simply blown away by the beauty of the Accursed Mountains (Albanian Alps), somewhere that was never on my radar and surely has to be one of the most underrated parts of Europe!

The Valbona hike was probably the highlight of my 2 month Balkan itinerary, although it's hard to choose with so many fantastic places like Lake Ohrid and Matke Canyon in North Macedonia, the Blue Eye in Southern Albania, the caves and bays of Montenegro and the waterfalls and history of Bosnia & Herzegovina!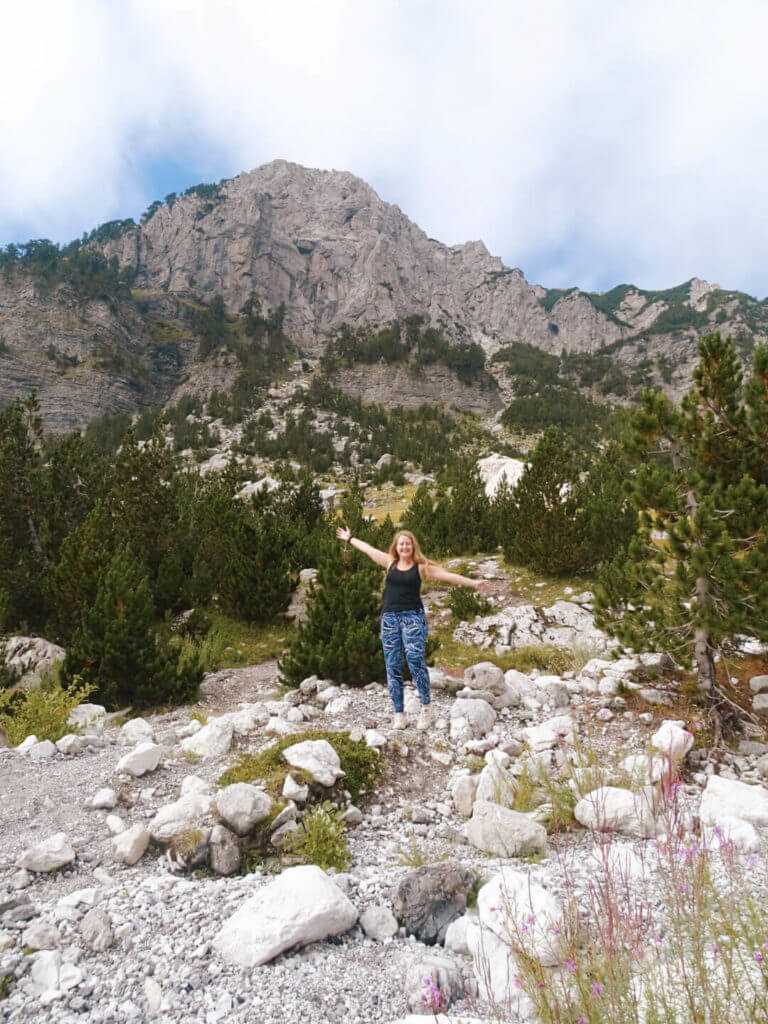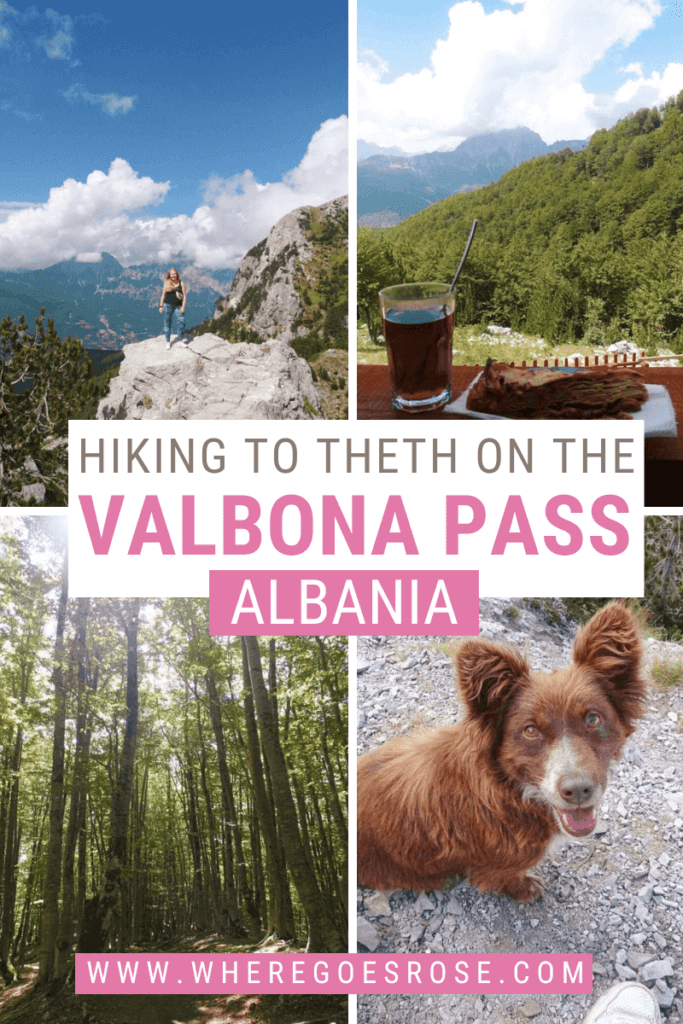 Read next: the ultimate Albania itinerary
Where to begin the Theth Valbona Pass trek?
The city of Shkoder in Northern Albania should be your base. Theth and Valbona National Parks are remote so your best bet is travelling from Shkoder to either Valbona (Valbonë) or Theth (Thethi) villages before journeying back to Shkoder after the Theth Valbona hike.

To get to Shkoder, there's a departure from Tirana regional bus station taking 1 hour 45 minutes, departing every 30 minutes between 6.30am and 5pm. If you're arriving from Himare or Sarande, it's easy because the Shkoder bus departs right beside where the bus from the Albanian Riveria drops you.
Which way to do the hike (Theth-Valbona or Valbona-Theth)?
You can hike Valbona Pass in either direction and I'm sure people can vouch for either way. Personally, I would recommend going from Valbona to Theth but it depends on…

Are you short of time? Because it's easier to get to Theth from Shkoker (you can catch 1 bus rather than the 2 buses and a ferry necessary from Shkoder to Valbona), you can technically depart Shkoder in the morning then do the Theth to Valbona hike during the same day.

The problem with this? Depending on the season, it may be very hot by the time you reach the Valbona Pass. If you're not pushed for time, I would recommend travelling from Shkoder to Valbona on day 1 so that you can hike from Valbona to Theth bright and early on day 2.

Another benefit is that there are more (shorter) hikes to do in Theth so it's a better place to end your hike and do them at your leisure over the coming days.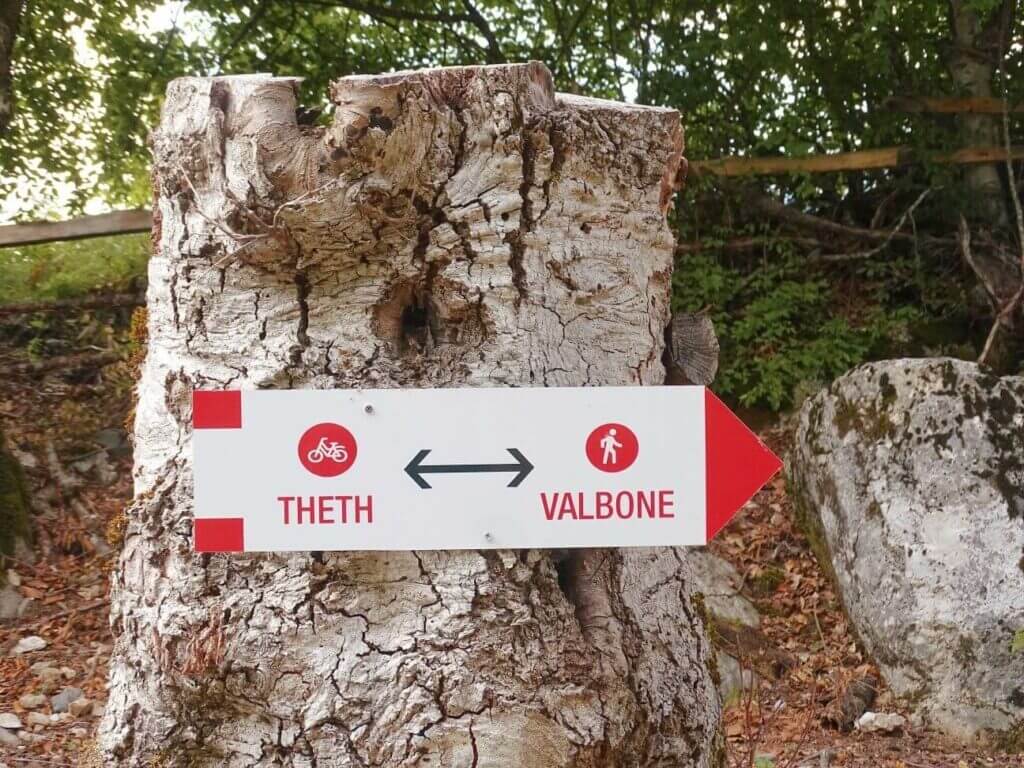 What to do with your bags?
An important thing to note is that by doing the hike from one town to the other (Valbona-Theth or Theth-Valbona), you'll need to transport all your things because you won't be returning to the place you began the hike.

The best option is to leave your luggage in Shkoder (I left mine at the Wanderers Hostel) and bring only what you absolutely need for the 2 nights away. I did the hike with a small day pack carrying things for the hike as well as my pyjamas, a change of clothes, a couple of pairs of underwear, a toothbrush & paste, and phone charger/power bank.

If this sounds like a problem, a third option is basing in Theth and hiking to Valbona Peak (roughly the halfway point) before turning back. This wouldn't be my preferred option because I always like hikes where you're seeing new sights the whole time, rather than spending the second half retracing your steps. But if you're not a light packer, it may work for you!

If you're taking the option I did, the first thing you'll need to know is…
How to get from Shkoder to Valbona
My journey from Shkoder to Valbona to begin the Valbona Pass hike looked like this:
6.30am – depart your Shkoder accommodation by minibus (€7) or car; the drive is 1 hour 45 minutes
9am – board ferry at Koman Ferry Terminal and arrive into Fierze Ferry Terminal after a 2.5-hour ferry ride (1000 lek/€8)
11am – board another minibus taking 45 minutes to Valbona (€7).
Afternoon – relax in the grounds of our Valbona guesthouse and explore the region a little while preserving energy for the following day's hike!
Note – if you're travelling independently, you'll need to book the ferry in advance. However, if your Shkoder guesthouse has organised the trip for you, they will have pre-reserved tickets.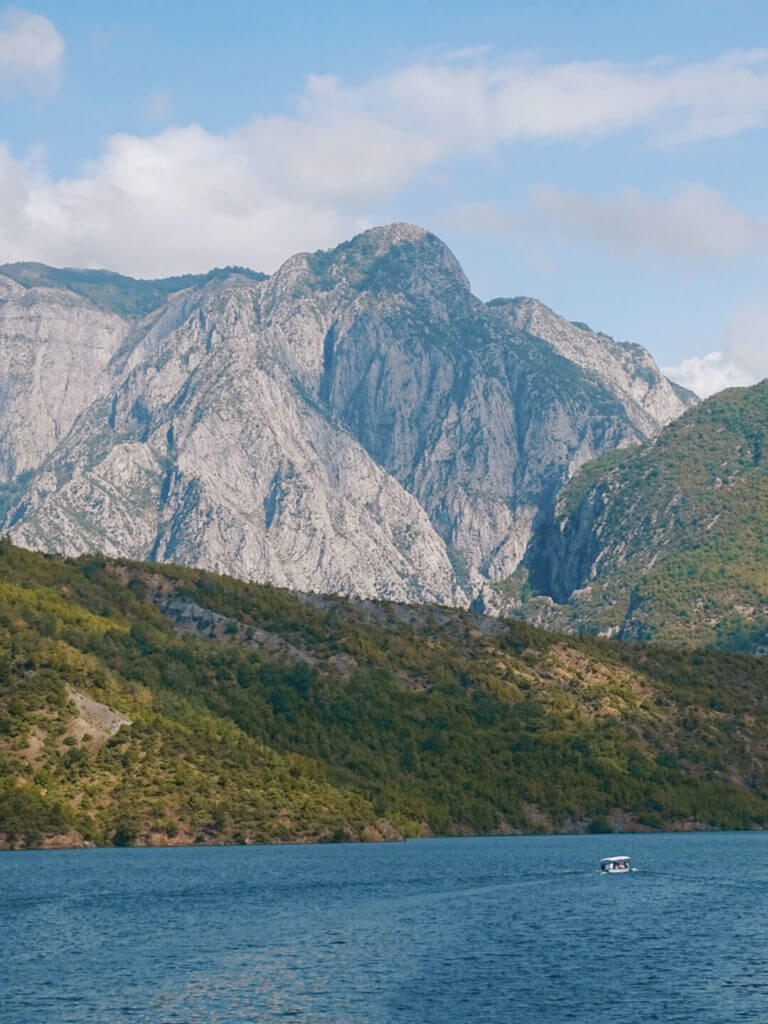 Booking it all in one go
I would highly recommend staying at Wanderers Hostel in Shkoder if only to take advantage of their Theth hike booking services! They have private rooms if you're not a dorm person.

They booked both my journeys from Shkoder to Valbona and Theth back to Shkoder and reserved me a bed in both towns (€25 a night in a shared room including all meals). I didn't have to do anything but being up at 6.30am to depart!

As a solo traveller, the other benefit was that I had the option to hike with the other hostel guests who were booked at both my Valbona guesthouse and the Theth guesthouse the following night. Also, we were chaperoned from minibus to ferry to minibus on the way to Valbona so we didn't have to worry about organising anything. Win!
Getting from Shkoder to Theth
This is certainly easier than the Shkoder to Valbona journey although more boring and sickness-inducing with winding roads and a lack of stunning views en route. Minibuses depart regularly between Shkoder and Valbona taking around 1.5 hours and costing approx 1,200 lek (€10).

On the way back when travelling from Theth to Shkoder, minibuses depart at 11am, 12pm and 1pm. If you're doing the Valbona to Theth hike, this means you'll probably narrowly miss the last one and have to stay overnight in Theth. I'm sure this is planned on purpose. But who can blame them AND who wouldn't want to spend more time in this stunning place?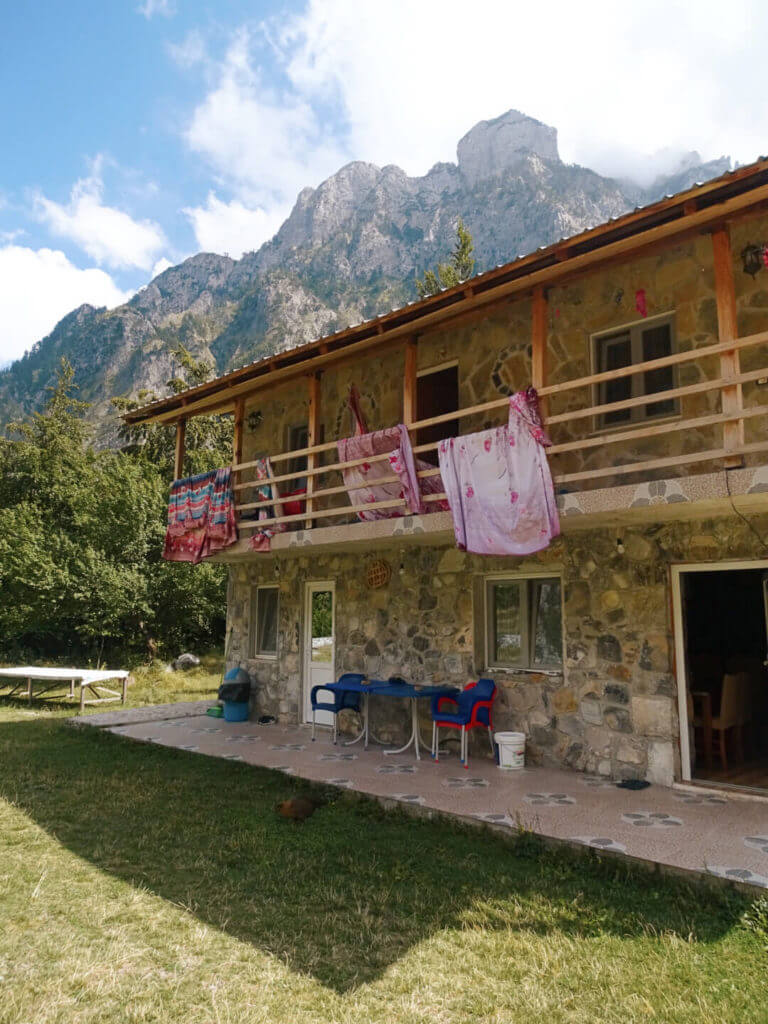 Hiking stats (Valbona to Theth or reverse)
Distance: 12 km (or just under 10k if you start in Rrogam rather than Valbona)
Hiking time: 5-10 hours
Elevation: up to 1800m at Valbona Peak.
How difficult is the Valbona to Theth hike?
It's so tricky to predict what someone else will find difficult but I would say it's a medium-difficulty hike with sections leaning towards difficult. I'm a healthy 32-year-old who hikes fairly often but I've never been remotely sporty and I'm pretty slow! There were no points I was in real distress but many times I was very sweaty and stopped for a breather.

What took me 8.5 hours (including just under 1 hour in a cafe) took a pro-hiker guy in my hostel 4.5 hours! Saying that, a 60-year-old woman in the hostel was well behind me but she made it… So it can be done for a wide range of ages and abilities!

Whichever way you do the hike, it's a steep climb to Valbona Peak then downhill on the other side. I would actually say what made the hike difficult was the slippy gravel of the downhill section after hiking the Valbona Pass on the approach to Theth. But with proper walking boots, this would probably not have been difficult.
My itinerary
Day 1 – travel from Shkoder to Valbona by bus, ferry and another bus all organised by Wanderers Hostel in Shkoder
Day 2 – 5.15am: leave Valbona guesthouse to start the hike
Day 2 – 1.45pm: arrive in Theth
Day 3 – 11am: bus back to Shkoder.
How to hike Valbona to Theth
This is the hike I took and can highly recommend!
Start the hike at Valbona Valley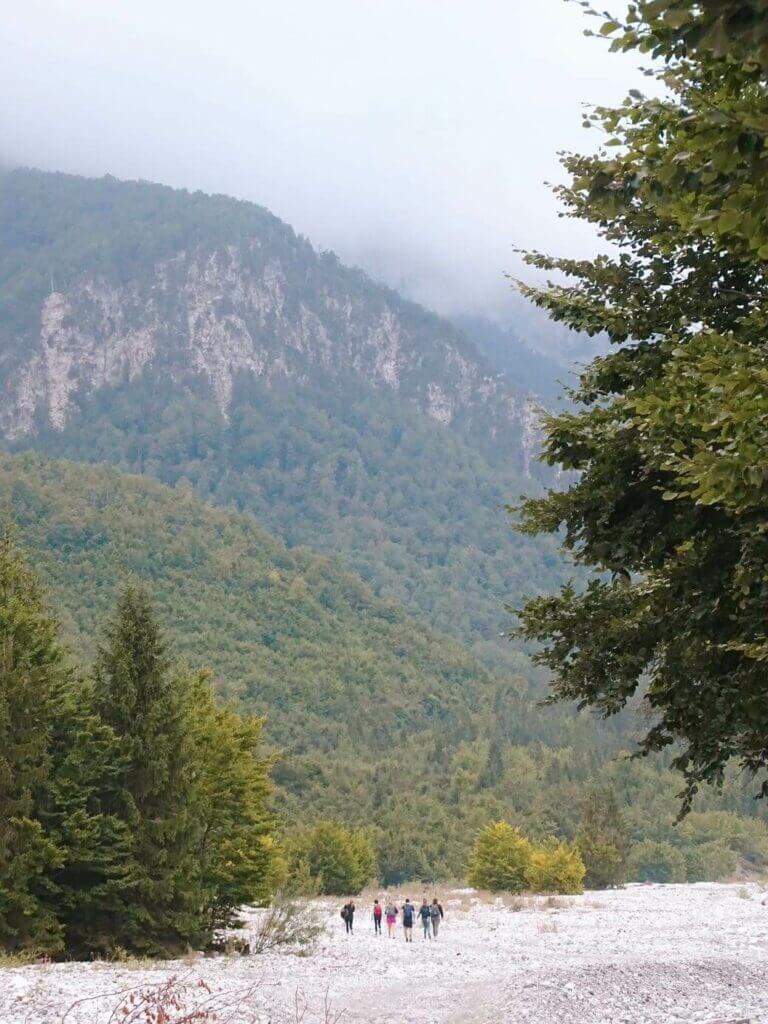 We started the hike at 5.15am at Valbona Valley. You don't NEED to start that early but that's what the other guests at my guesthouse were doing so I went along with their plans.

For a Euro or two each, our Valbona guesthouse offered to drive us in a minivan to the starting point. Although you can walk there from the guesthouses in the village, this takes around 40 minutes so means getting up early and using precious energy when you have a long hike ahead.

Since the walk from Valbona town to Valbona Valley is along a road and not very scenic, I'd recommend agreeing to a ride if you can get one!

When you begin in the Valbona Valley, the ground is flat (with lots of rocks) but once you leave the valley and start along the main path, it's a slow but steady incline through the countryside into the forest.
Although it's not the option I took, I'm aware you can actually drive slightly further and start the hike at Rrogam, making your hike even shorter.
Simoni Cafe (1 hour in)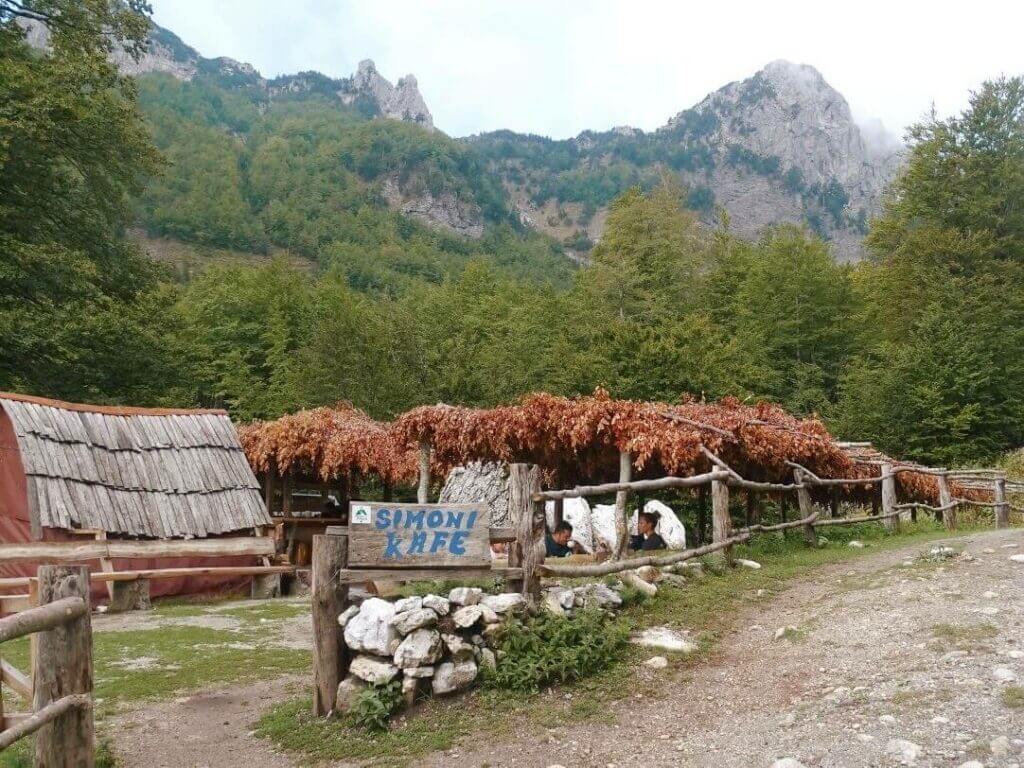 The last cafe you'll pass for a while is Simoni Cafe where you can use a proper toilet and fill up your water bottle with fresh mountain water. Whether you buy a drink is up to you: it's extremely expensive at around €5 a coffee! The highest I've ever seen in Albania.

If you can hold out for your coffee fix, there's a cheaper cafe with better views over Valbona Peak. I chose to wait until then.

For the next part of the Valbona hike, you'll continue uphill through the forest. It starts to get pretty steep so you may find this the hardest part of the journey.
Big rock (2.5 hours in)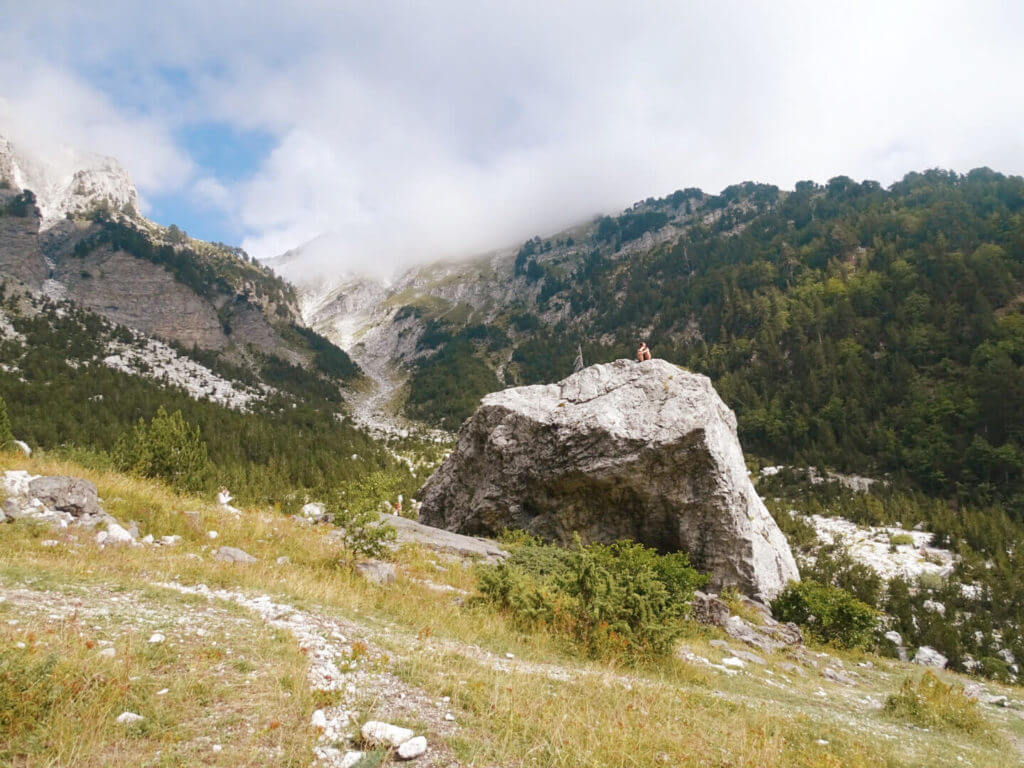 One of the most scenic points of the Valbona to Theth hike is the big rock.

Up until this point, you have been mainly walking through the forest. When you come out into the valley, you'll see this giant rock signifying the changing upcoming terrain. There's also a signpost telling you you're on the right track!

After the rock, it's a bit of a scramble (pictured below) but then, in my opinion, the hike gets easier and flatter.

The big rock is located here.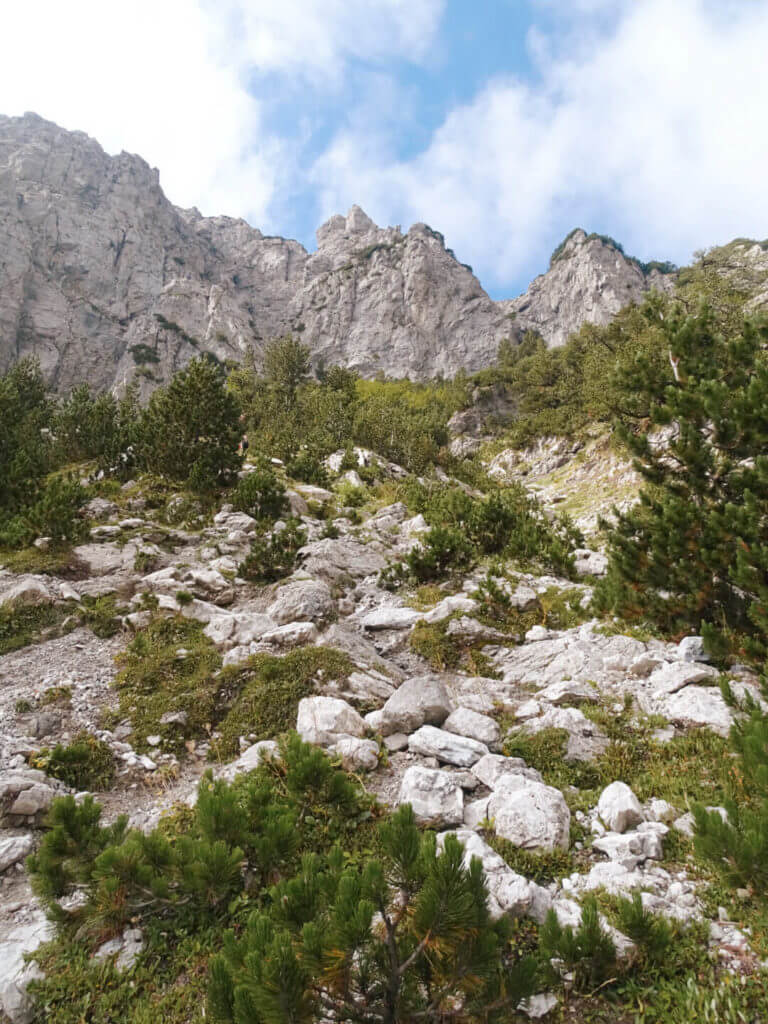 You're approaching the highest and most stunning park of the Valbona Pass hiking route so get ready to enjoy the views!
Valbona Peak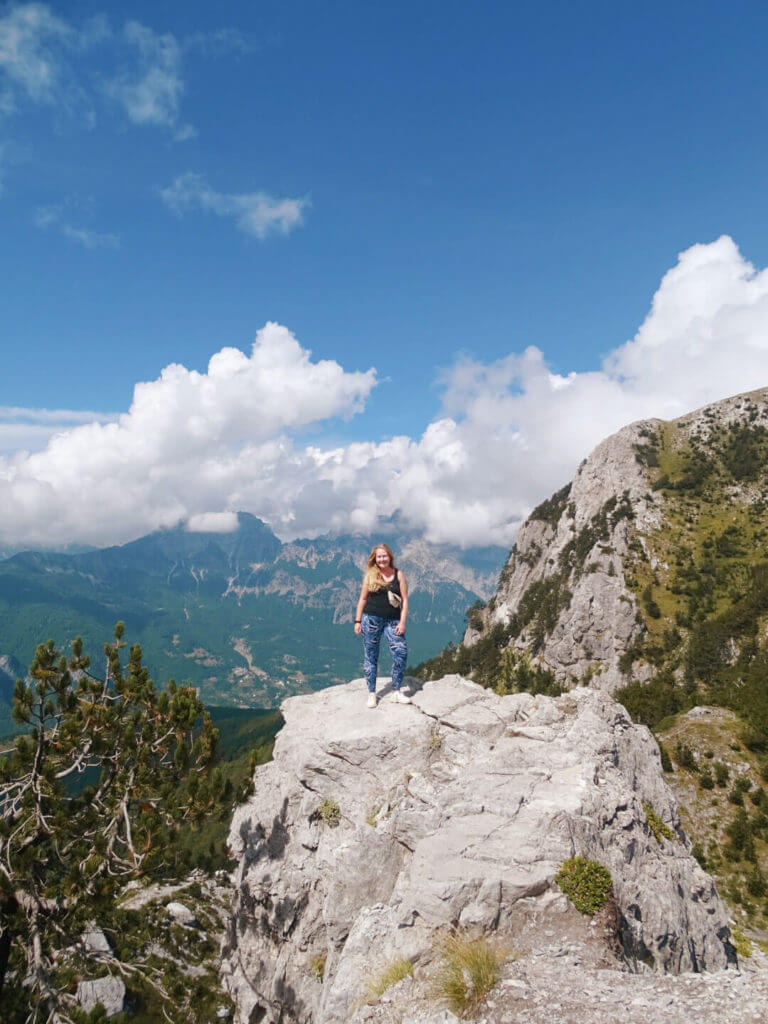 On your left, you'll see a high peak probably with a lot of people snapping photos. Climbing it means a quick detour from the route and an extra upwards scramble. But if you've made it this far, what's a bit more?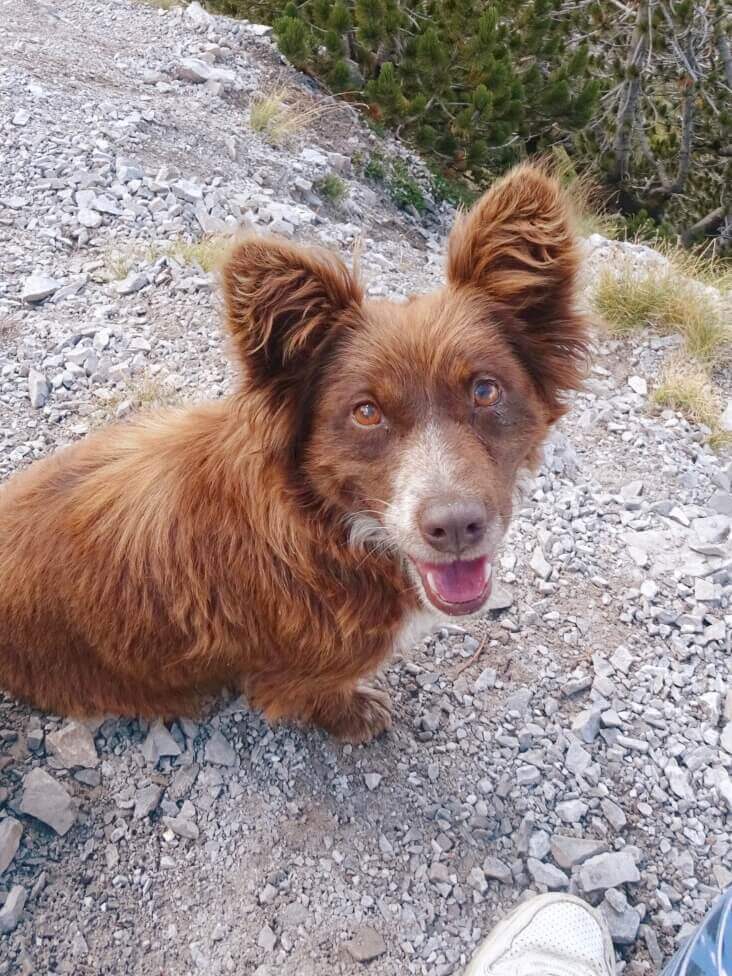 It was here I met a cute mountain dog. It was also here I dropped the lens cap to my camera over a ledge and couldn't reach it without pushing loose stones over the edge and dislodging it further. A fellow traveller who was very nimble basically hung over the edge with her friend holding her foot to reach it for me! Forever grateful.
Stopping for mountain tea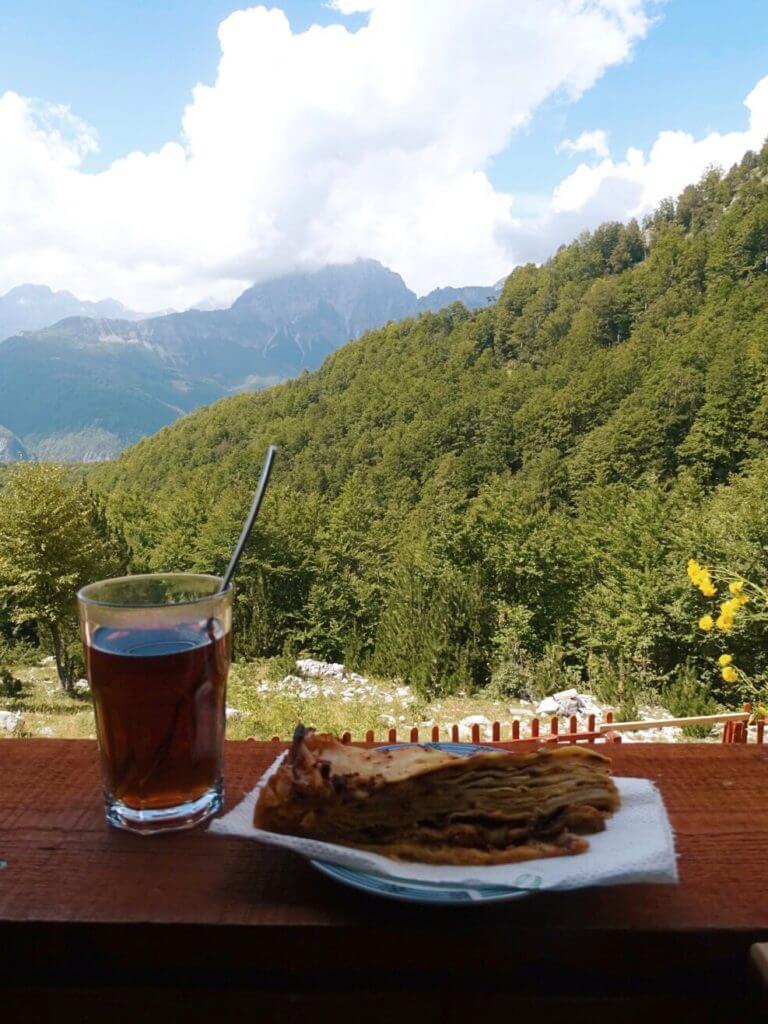 Over the pass, you'll come to another cafe. Here you can top up your water bottle with crystal clear mountain water (I was in need as I'd drunk a lot over the Pass) and use a proper toilet. Prices at the cafe are a little inflated, as to be expected.

I had mountain tea and a tasty dessert made from layered dough with honey and nuts in between. The views from the cafe are unreal!

Find it on Google called Bar Cafe Restaurant.
Through the forest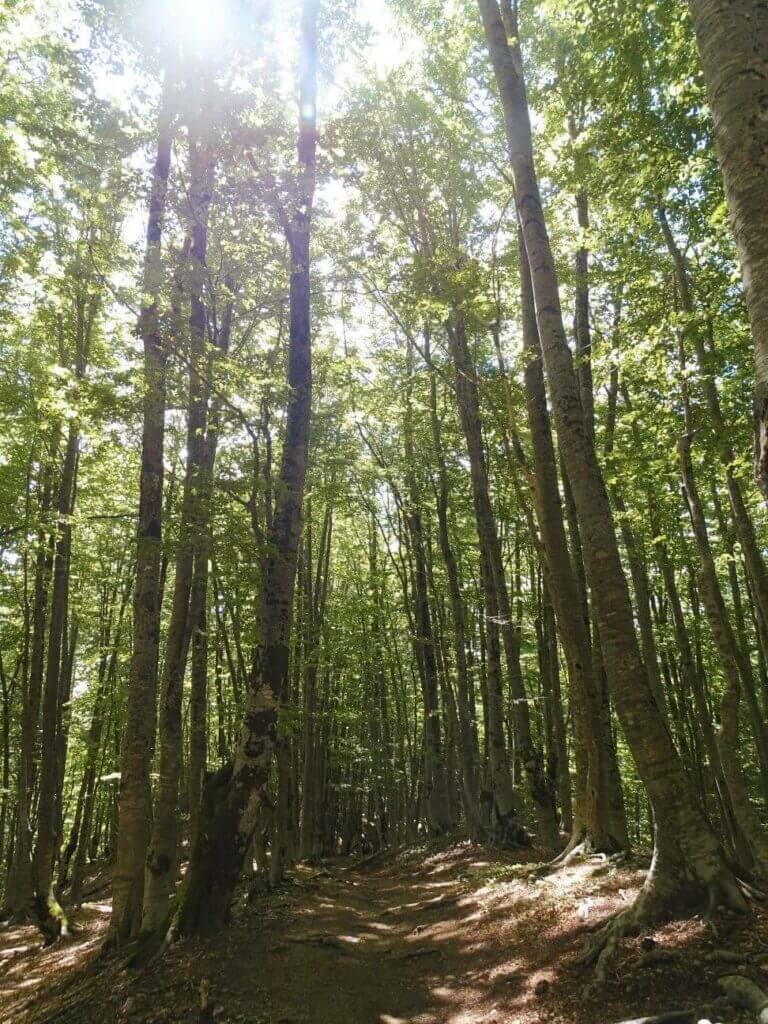 An atmospheric part of the Theth hike is walking through the forest. The pine trees are so tall that you feel like an ant. With sun shimmering through the branches and dappling the ground, there's somewhat of an enchanted feel.

Make sure to watch your footing because there are lots of roots you could trip over!
Down loose gravel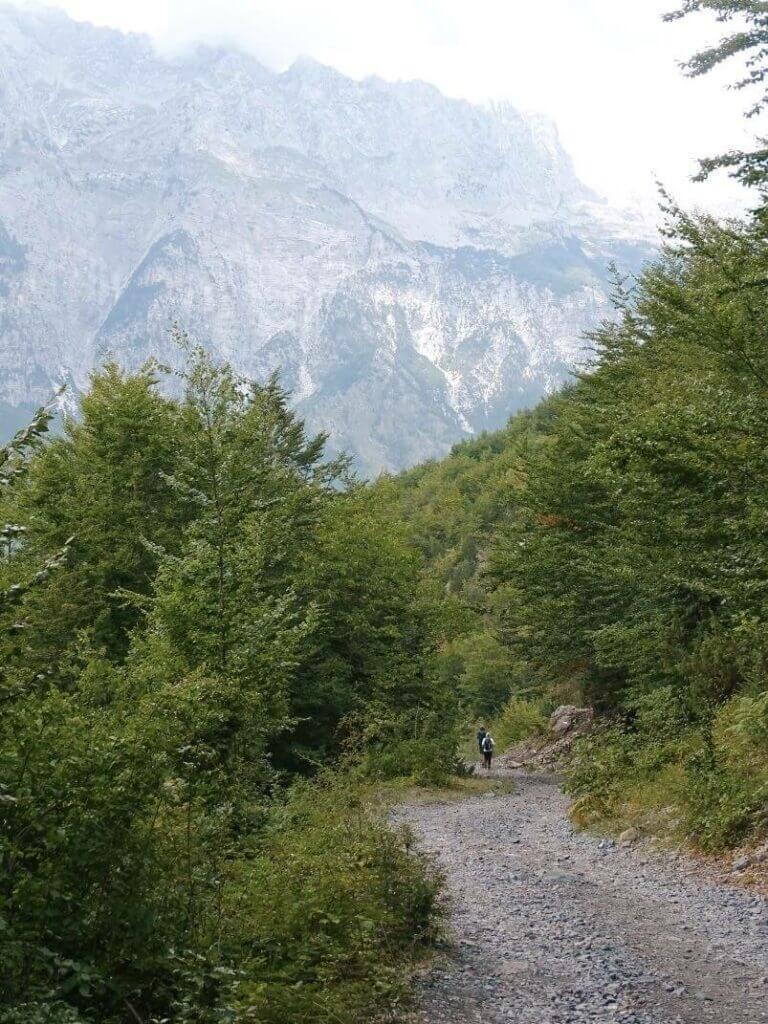 The final part of the Theth hike was the worst bit for me. Usually, I find uphill hiking harder but this gravelly downhill path seemed to go on forever. Not only did I keep slipping and nearly falling but my toes were rubbing on the inside of my trainers and I was limping and crying by the end.

Luckily, I was nearly in Theth where I could sit down and sip mountain tea for the rest of the day!
Arriving in Theth
The guesthouses are all spread out across Theth and, annoyingly, mine was through the town and out the other side! If you predict you may be very tired after hiking from Valbona, it's worth checking the location before booking.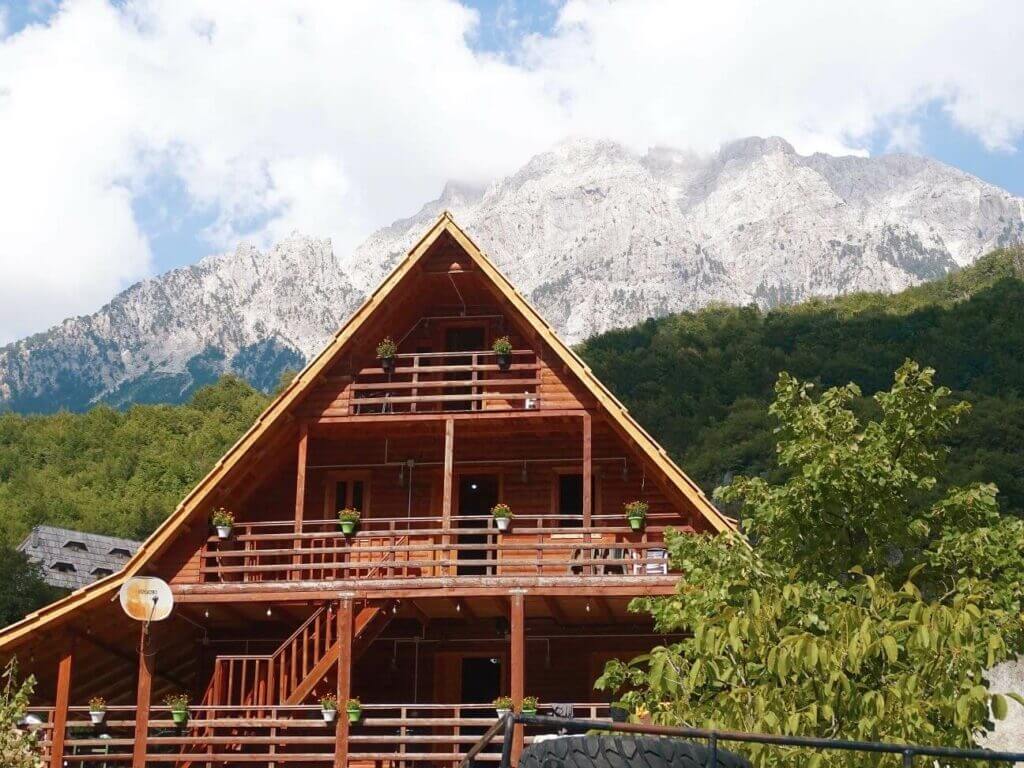 Pin it in advance in case mobile signal is sporadic! I forgot to do this. Because Wanderers hostel had booked everything for me, I realised as I arrived in Theth that I didn't know where I was staying and had to find it in my emails.

Luckily, I had a local Vodaphone SIM card (I highly recommended getting one of these when travelling in Albania) otherwise I'd have been very lost.
How to hike from Theth to Valbona
Simply reverse the route above. Here's a quick summary to follow:
Depart Theth in the morning and begin your assent up the gravelly path
Follow the forest and pass a cafe
Continue upwards until you reach Valbona Pass
Begin the downward descent and pass through the valley with a giant rock
Continue through a wooded section and pass Simoni Cafe
End in flat Valbona Valley surrounded by mountains
The hike has ended! Walk along the road until Valbona village or grab a ride if you can as this section is not especially scenic.
Another option – hiking from Theth to Valbona Peak
If the idea of carrying your belongings and staying in Valbona one night and Theth the next seems like too much hassle, it's possible to base in Theth and do half of the Theth to Valbona hike during the day, turning back after Valbona Peak.

For this Theth hiking adventure, follow the first three bullet points above, then turn back and return the way you came to Theth.
Where to stay in Valbona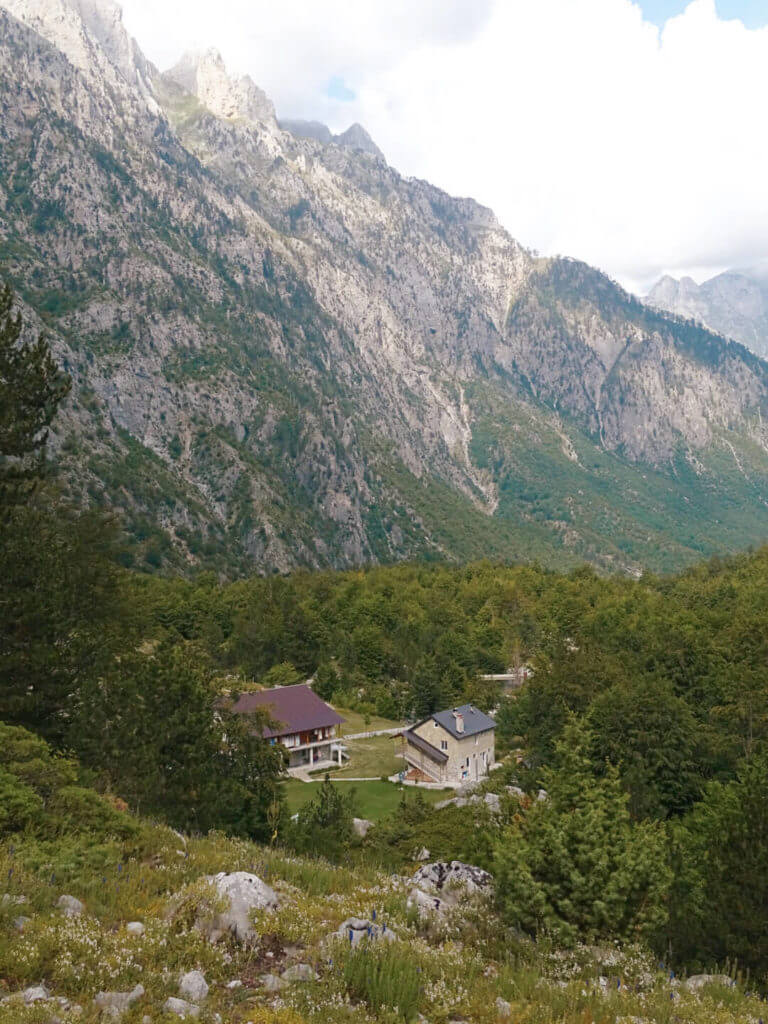 When hiking from Valbona to Theth, you'll want a start with a good night's sleep!
Where to stay in Theth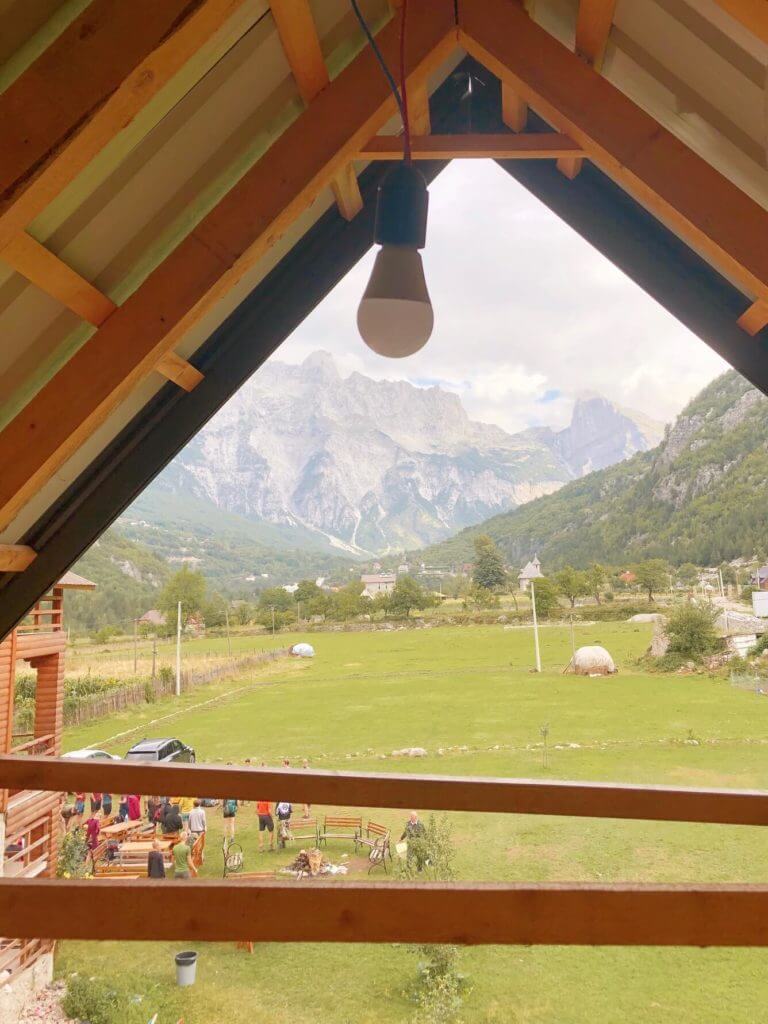 Staying in a local guesthouse is the best option. Your hosts may not speak much English but you'll certainly experience friendly Albanian hospitality.
Food on the hike
The important stuff! On day 1, dinner was provided at our Valbona guesthouse. In the morning of day 2, they made us an early breakfast and allowed us to pack up another portion each for a packed lunch.

Later on day 2, dinner was provided by our Theth guesthouse (buffet style) and there was also breakfast on day 3 before returning to Shkoder. With that in mind, you don't need to worry about going hungry or even finding restaurants providing you book a guesthouse that either includes or offers meals for an extra charge.
Packing list for the hike
For the hike alone, here's what I carried:
Sunscreen, hat and sunglasses
Snacks
Metal water bottle (that you can fill up en route)
Power bank for charging my phone.
What to wear?
You don't need pro-hiking gear but some stretchy pants or shorts are a good idea (mine were yoga pants) and a top that preferably covers your shoulders so you don't get sunburn.

I would also advise packing an extra layer such as a shirt or light jacket as it's chilly when you start the trek in the early morning. Make sure it easily packs into your bag, however, as I don't think you'll be wearing it for long!
Complete packing list for my 2-night adventure
Knowing I had to hike with all my belongings, I went as light as possible and left everything else in Shkoder. The Wanderers Hostel has a luggage room as well as a safe for valuables.

Here's what to pack for the Valbona Pass hike:
2 x spare underwear
Pyjamas
2 t-shirts
Extra layer for the evenings
Toothbrush & toothpaste
Moisturiser
Camera
Powerbank and charging cable
Phone with some things downloaded to watch in case there's no evening entertainment.
Note – in the Valbona guesthouse on night 1 there was a power cut and no electricity, phone signal or Wi-Fi so I recommend having a precharged power bank in case!
Do you need proper hiking boots?
Short answer – no.

Long answer – it would help! There's a lot of slippy gravel towards the end of the Valbona to Theth hike so not only would they pad your toes but they'll protect your ankles if you stumble.

If you're clumsy or prone to ankle sprains (I know I am), it would be great to have hiking boots. But you don't strictly need them. Runners/trainers/sneakers or whatever you call them will suffice! However, I would recommend you wear ones with at least a bit of grip.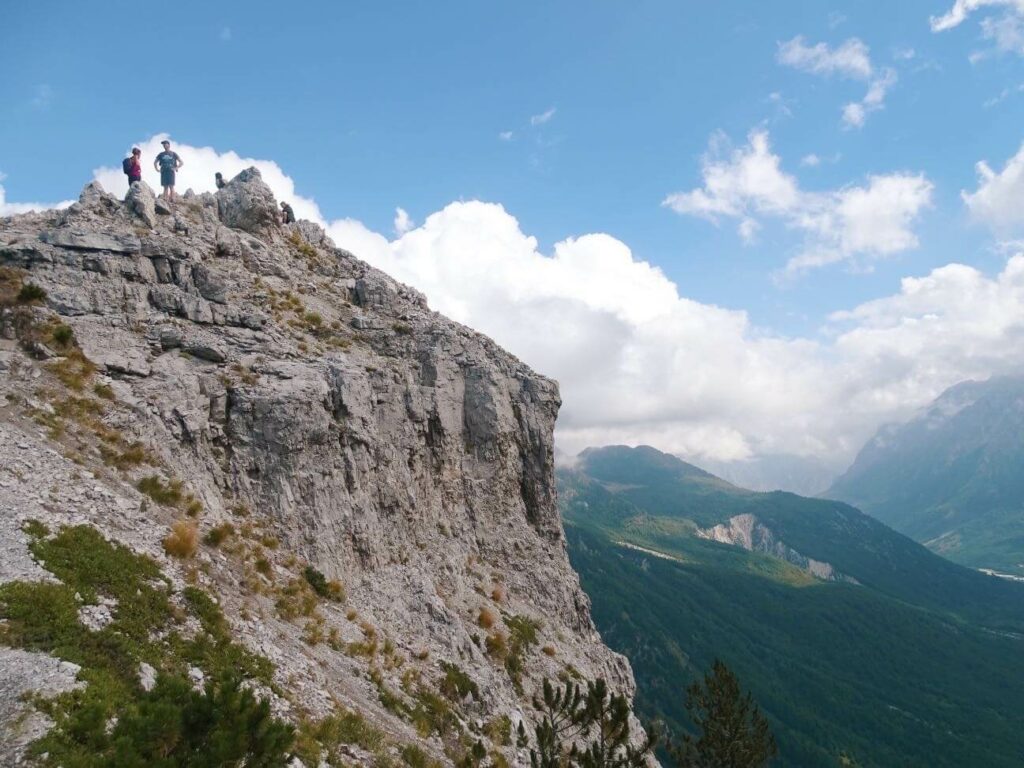 What is the best season to hike the Valbona Pass?
You can do the Theth to Valbona hike between May and October. Outside of the seasons, weather conditions (often including snow) make it unsafe to hike to Valbona Peak. Also, the ferry to Valbona doesn't run in the winter months.

Toward the beginning and end of this season, you may still want to double-check the conditions before departing.

June to early September is peak season. I did the hike in late August and worried it would be too hot. But since you start early, it wasn't so bad plus the elevation keeps you cool. But still, make sure you are well protected from the sun!
Tip – check the weather on the days leading up to your hike! I was set to depart and, the day before, noticed heavy rain was forecast so I shifted it back a day and hung around longer in Shkoder. Rain can make walking on the Valbona Pass slippy and dangerous so is best avoided. The most accurate weather app to use is iLMeteo.
Can you drive to the region?
Driving to Theth takes around 1.5 hours while travelling to Valbona takes 5-6 hours. The only problem with driving is that, if you park in Theth and do the Theth to Valbona hike, you'll need to hike all the way back to get the car or take a convoluted car and ferry option! I had blisters after the hike and no energy to do it again so I would not recommend this option!
General tips for the Theth hike
If you are specific about snacks (enter me), consider buying them in Shkoder. There are basic stores in Theth and Valbona (our minibus from Wanderers Hostel stopped off in a Valbona store for us to load up) but they don't have the best selection compared to supermarkets in Shkoder.
Bring cash! If your guesthouse includes meals, there's not much you need to buy. However, if you want to buy any additional snacks and coffees etc, it's useful to have cash because nowhere will take card and there are no ATMs in the small villages.
Bring a refillable water bottle because there are a couple of cafes along the route where you can top up your bottle with fresh mountain water.
Is it easy to follow the trail?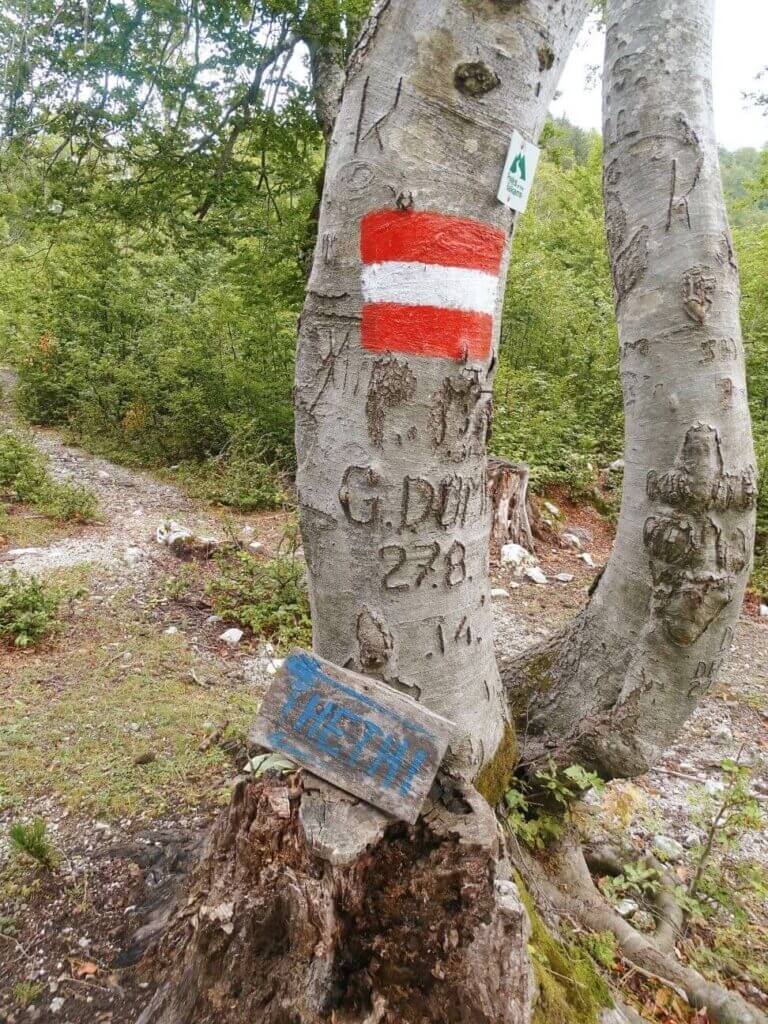 Yes, it's pretty easy to follow the Valbona Pass hiking trail. Although it wasn't marked the whole way, there's really only one path to follow so you won't get lost.

There are a few signposts intermittently which will reassure you you're on the right track, for example the one in the clearing beside the big rock.

Also, there are lots of other travellers on the route especially if you hike in peak season so you can simply follow them.
Can you hike in Valbona solo?
I did! Although I set off with other travellers from my guesthouse, some were considerably faster and some a lot slower so I didn't stick with anyone long. However, halfway through the hike I got chatting to some other female travellers and we walked for a while together and stopped for coffee, but then they were going too fast for me, so I went solo again.

In an ideal world, I wouldn't hike solo in case I got injured or lost. But at times, I didn't really have another option so what am I meant to do, not live my life?

So yes, you can hike solo. Just don't take any risks! There's not much mobile signal when hiking from Valbona to Theth but I took comfort knowing my guesthouse and fellow travellers were expecting me and would know if I didn't arrive.

Fellow solo travellers, get stuck into my solo travel tips!
How much does it cost to do the Theth Valbona hike?
If you stay overnight in both villages, the main cost will be accommodation. Both my guesthouses booked through Wanderers Hostel in Shkoder charged around €25 for a single bed in a shared room including 2-3 meals a day including a packed lunch for the hike.

I paid €22 to get from Shkoder to Valbona (two buses and a ferry) and €10 to get from Theth back to Shkoder.

That's around €82 for accommodation and transport. Round it up to €100 to include any snacks and coffees you choose to buy.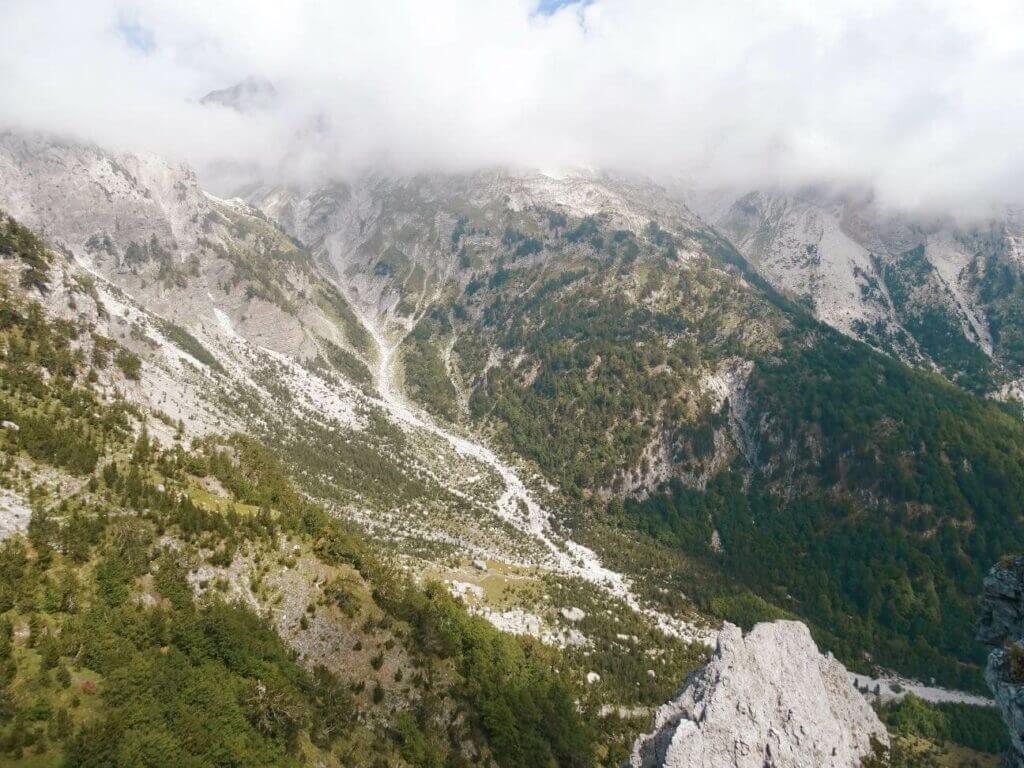 More hikes in Theth
My crippled toes were not keen for going on another hike in Theth but if I'd chosen to stay more nights (rather than departing Albania to begin my Montenegro itinerary the next day) perhaps I'd have recovered and done some.

A few other travellers I met did more hiking in Theth and told me about the Blue Eye. Not to be confused with the Blue Eye near Sarandë, this is a 2 hour 45-minute hike from Theth. Alternatively, pay a local driver to take you to the final parking area which is just 45 minutes on foot from the stunning body of (freezing) blue water.

For a nearer waterfall to town (45 minutes walk), visit Grunas Waterfall instead.
Thanks for reading!
More Balkans posts:
For more Europe content, follow me on Instagram, Facebook, Twitter and YouTube.
Liked this? Pin it for later!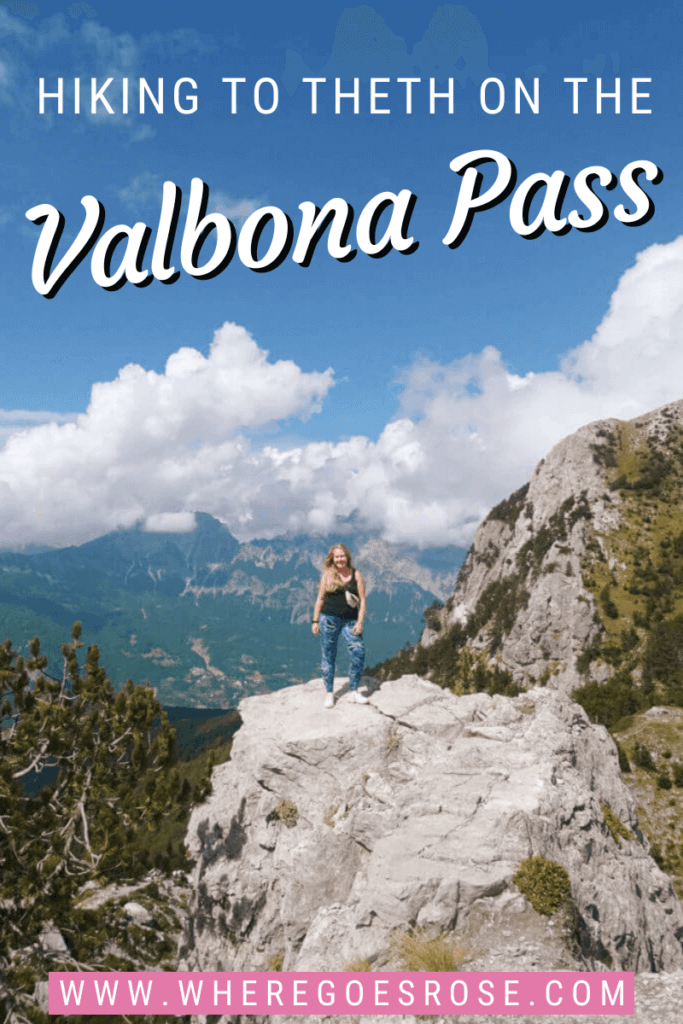 TRUSTED RESOURCES FOR VISITING ALBANIA

Getting around by air – I use Skyscanner and search by month to see the cheapest dates.

Driving in Europe – use Rentalcars.com to compare car rentals in European countries (and all around the world).

For buses around Europe, I use Flixbus. It doesn't connect cities in Albania but it does connect Tirana to other European capitals.

For hotels and self-catering apartments, I use Booking.com. You can filter by review score and price to find the best-rated budget places. For hostels, I use Hostelworld.

To save money on accommodation, I use Trusted Housesitters, a website that connects homeowners going away and travellers who can sit their homes & pets.

Browse tours and activities on GetYourGuide and Viator.

Need travel insurance? I use True Traveller (for UK & Europe residents) since it's affordable but covers everything you'd need including various activities, valuables and pre-existing conditions. Unlike some companies, they insure you if you're already travelling / don't yet have your flight home booked. Get a quote.

For travel insurance for other nationalities, I recommend Hey Mundo and for long-term digital nomad travellers, I suggest Safety Wing.

Check out my resources page for more travel discounts and budget tips from my 10+ years on the road!