This post may contain affiliate links to things like tours, hotels, Amazon associates and products. These help me earn a small commission at no additional charge to you.
Vegan food in Bavaria? The phrase 'you'll be lucky!' comes to mind. But actually your luck's in!

While the traditional food in Southern Germany might be meaty, the options in Nuremberg are increasing. If you're veggie or vegan and thinking of visiting, don't let the foodie scene stop you. In fact, embrace it because there are lots of tasty, affordable options.
Vegetarian and vegan food in Nuremberg
My vegan sister lives in Nuremberg so I've had many a trip to see her without eating at German beer halls. She's quite probably the authority of vegan food in Nuremberg so I've picked her brains to put together this eating guide.

In this blog I'm including vegetarian and vegan-specific restaurants, as well as places that simply serve a good selection of veggie foods. You'll find something for every meal of the day here so tuck in!
White Bulldog Coffee Roasters
This quirky coffee roastery is a great place to start your day with breakfast or brunch. While there are meat options on the menu, almost everything can be made vegan, even the cakes. Don't miss the avocado and lime cheesecake!
As the name might suggest, White Bulldog Coffee Roasters doubles up as a coffee roastery with all the vegan milk options available. For an afternoon pick-me-up between sightseeing, this is your haven. White Bulldog Coffee Roasters is open from 8am to 6.30pm on weekdays, from 10am on Saturdays and from 11am on Sundays.

Best dish: The avocado toast layered with fresh, healthy veggies – every vegan's dream!

Address: Hirschelgasse 1, 90403 Nuremberg.
Regenzeit
The food at Regenzeit is straight outta Bangkok, only better for vegans. With punchy flavours, plenty of spice (if you want it) and fresh ingredients, this cosy Thai restaurant is a good spot for veggie or vegan food in Nuremberg.

Sit back in a comfy armchair, log onto the free Wi-Fi and slurp down that noodle soup. Heaven!

Best dish: the vegan boat noodles with a veggie broth, tofu, mushrooms and beansprouts. So moreish and pretty healthy, too.

Address: Willstraße 5, 90429.
Vegöner
Vegöner serve vegan fast food in Nuremberg. If you've spent more than a day in Germany, you'll know that donner kebabs are very popular. And why should veggies miss out?
As well as donner kebabs, the menu at Vegöner includes veggie burgers with a range of ingredients from Mexican to Middle Eastern.

If you're really hungry, choose to add gluttonous sides like fried spring rolls, stew and fries. Basically, it's exactly what you'd want after a few drinks… Apart from you have to visit by closing time of 9pm. But for an early dinner or an indulgent lunch, it's a good 'un!

Best dish: you can't beat the classic vegan donner kebab which comes in at just $4.50.

Address: Poppenreuther Str. 10, 90419.
Lammbock Pizza Bar and Hintergarten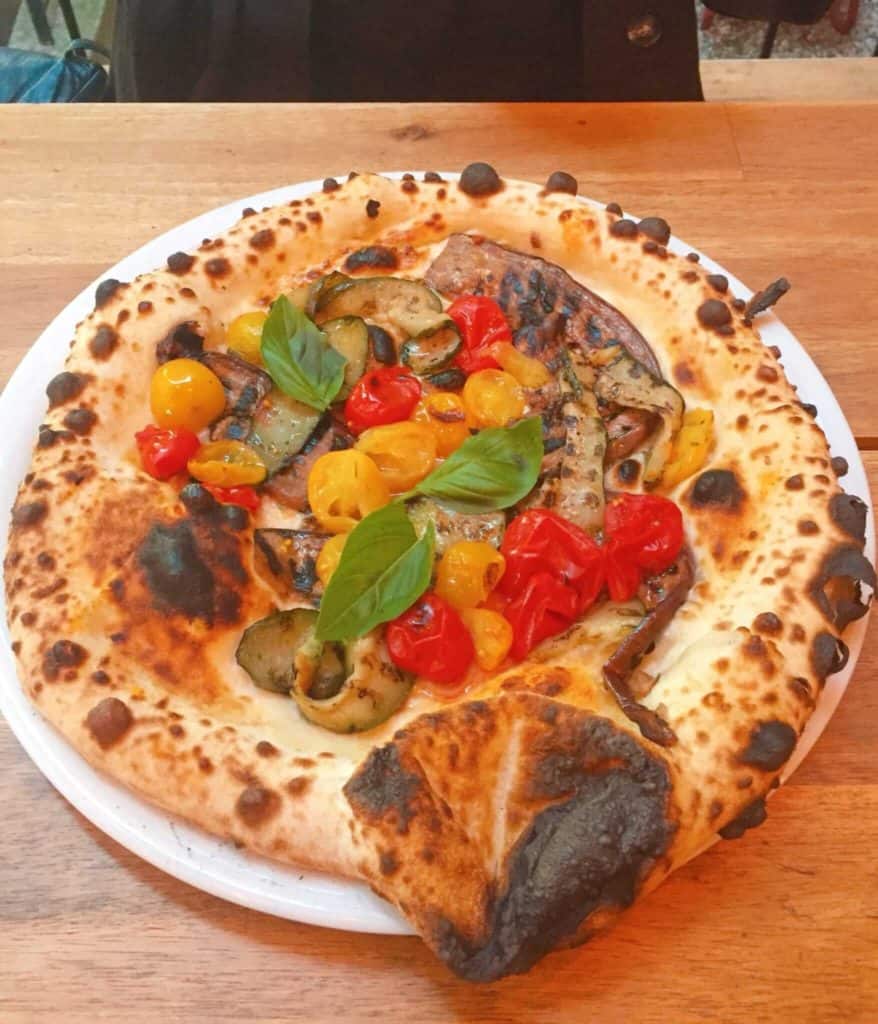 The vegan food at this bar and pizzeria is simple yet delicious. The vegan pizza bases are risen to perfection and topped with tasty roasted vegetables. Pair them with a cocktail and, if you're veggie rather than vegan, a Nutella and fruit pizza for dessert.

Lammbock is more than just a pit stop for veggie and vegan food in Nuremberg – it's also a cosy spot to hang out, especially on a summer's evening when the garden is decked out with beanbags and fairy lights. Too cute.
Deins and Meins
Vegan food on a cake stand? Okay! At Deins and Meins, you'll be brought a decadent display of bread toppers, grilled veggies and other vegan goods and you can assemble your own sandwiches. Presentation and attention to detail is a winner!
Kuhmuhne
Rather than the obligatory mushroom burger, Kuhmuhne offer four vegetarian burgers, two of which are also vegan. Veggies can opt for Jack the Dripper with bbq pulled jackfruit and sauerkraut or the Ziegenpeter with goat's cheese, sundried tomato and fig mustard.

Vegans can choose between a bean and mushroom patty topped with hummus, or the Oyster Pearl burger with mushrooms, crunchy fried onions and vegan aioli.

At Kuhmuhne, the hipster surrounds are loud and atmospheric, and the cocktail list is extensive. Dinner and drinks for 2 came to €40.

Best dish: the Oyster Pearl burger was delicious.
Cafe Manheim
This chilled-out brunch spot is good for any type of guest: families, kids, hipsters and hungover brunchers. The breakfast baguettes are excellent, as is the coffee and cake selection.

Best dish: the brotzeit (translation, bread time!) with veggies, hummus, fruit, marmalade and a generous stick of bread to dip. The vegan breakfast with bread, jam and salad is also a good option.
LêBar
In my humble opinion, Indian food is best vegetarian anyway. So why not do as the Indians do? At LêBar there's a whole page of veggie options, many of which can be made vegan.

My sister and I shared the pav bhaji (a tomato curry with sweet buttered bread) and aloo tikka masala with naan. Dinner with cocktails for 2 came to €40.

Best dish: As I learnt in India, you can't go wrong with pav bhaji.
Veganal Restaurant and Pizzeria
Be sure not to miss Veganal Restaurant and Pizzeria, one of the few completely vegan restaurants in Nuremberg. Not only is all the food vegan, it's also lactose-free, organic, local, seasonal and environmentally friendly.

The airy, open-plan restaurant is a good place to sit back and relax with the best vegan pizza you'll ever eat (probably!).

Best dish: the four superfood açai bowl if you're visiting for brekkie. Otherwise, just go for pizza. You won't regret it!

Address: Fürther Str. 43, 90429
Kokoro
A sushi restaurant in a vegan blog may seem a little odd but bear with me here!

Kokoro offer a good few veggie and vegan sushi options including fried aubergine, avocado and asparagus. It's not the widest range of options but the sushi is very tasty and beautifully prepared.

Address: Luitpoldstraße 3, 90402.
Thanks for reading
Check out my other Germany posts:
See you next time for more adventures,
Rose
Ps. Liked this? Pin it for later!