Looking for the perfect Venice itinerary? I got you. It's not the easiest city to plan for as there's so much to do and see, many of the attractions with huge lines and upgrades for speedy entry. It can seem overwhelming but I'll guide you through what to do, see and eat.
I had no idea what to expect from Venice. People had told me the city is so beautiful they cried when they first saw it. Others told me it's crowded, dirty and overrun with tourism.

It turned out everything was true. Yes, Venice can be insanely crowded depending when you visit. Since I was arriving from super clean Slovenia, I can't deny the pigeons eating trash shocked me at first! But Venice is also a wonder of our world, packed with history, spectacular architecture and delectable cuisine.
When to visit Venice
Not July or August! Venice will be incredibly busy during this season.

I would suggest visiting during shoulder season: March to May or late September to October. I visited Venice in early May and it was perfect mid-week. On Friday, it seemed much busier so I was happy to be leaving on Saturday morning before it became even more crowded.
How to get to Venice
By air: the main Venice airport is Venice Marco Polo. I use Skyscanner to find the best value flights, searching by 'whole month' to see the cheapest dates to travel.

From the airport, you can take an airport bus, taxi or water taxi transfer to the island.

By bus: I arrived from Ljubljana, Slovenia on the Flixbus which took just over 3 hours. I recommend this bus network with tickets from €19 and free Wi-Fi. You can also arrive in Venice from other Italian cities like Verona, Milan, Rome and Florence. Book your ticket on the Flixbus website.

By train: the main station is Santa Lucia Railway Station with regular arrivals and departures from nearby cities. I use Trainline to find and book train tickets.
How to get around Venice
On foot: because the island is pedestrianised, you'll do a lot of walking during your Venice itinerary. Bring your comfiest shoes!
Tip – don't rely on Google Maps. The streets are so small that it's impossible to see which one you're on. But you can't get majorly lost: the island simply isn't big enough. There are constant signs pointing to St Mark's Square, so use them to guide you. Don't be scared of getting lost in Venice; it's half the fun!

By boat: a fun way to get around is with vaporetti AKA water buses that connect various parts of Venice as islands like Lido, Burano and Murano.

Transport passes including buses, trains and boats are available from €20 per day. You probably won't need one if you're just seeing the centre but they're useful when visiting the other islands mentioned above.
Where to stay in Venice
Saint Mark's Basilica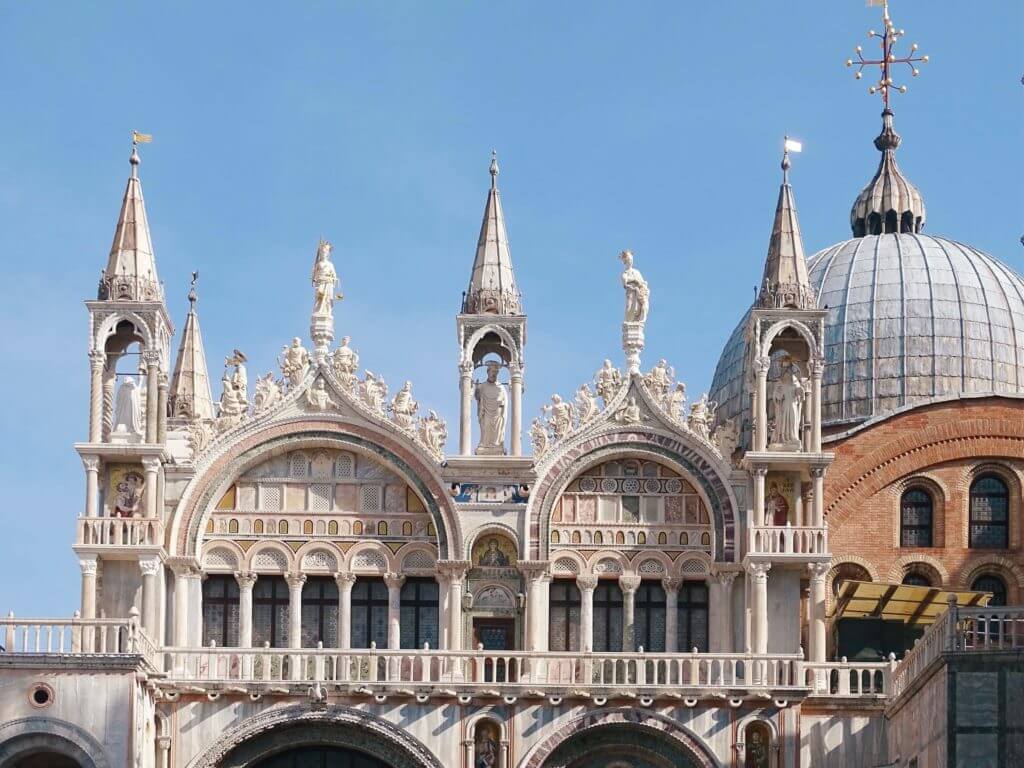 There are few monuments in Venice more famous than Saint Mark's Basilica found beside St Mark's Square. Built in the 8th century as the final resting place of St. Mark the Apostle, it was rebuilt in Byzantine style in 1063 to represent the power of the Venetian Republic.
Entry is free and it's advisable to arrive early because the line gets insanely long by 10am. Free entry just includes the interior so, for the full shebang (rooftop access, museum, skip-the-line entry and a guide), book a ticket in advance.

Opening times: 9.30am-5pm, Mon-Sat; 2-5pm Sun. Closure is at 4.30pm from Nov-June.
Wander St Mark's Square
This spectacular square is a must for your Venice itinerary. After visiting many plazas around the world modelled on St Mark's, I was excited to see the real deal.

I was also overwhelmed at the prices! We planned to drink a coffee at Cafe Florian which claims to be the world's oldest coffee house (although I have it on good authority that's actually in my hometown of Oxford) but after seeing the espresso was €7, decided against it!
Visit the Doge's Palace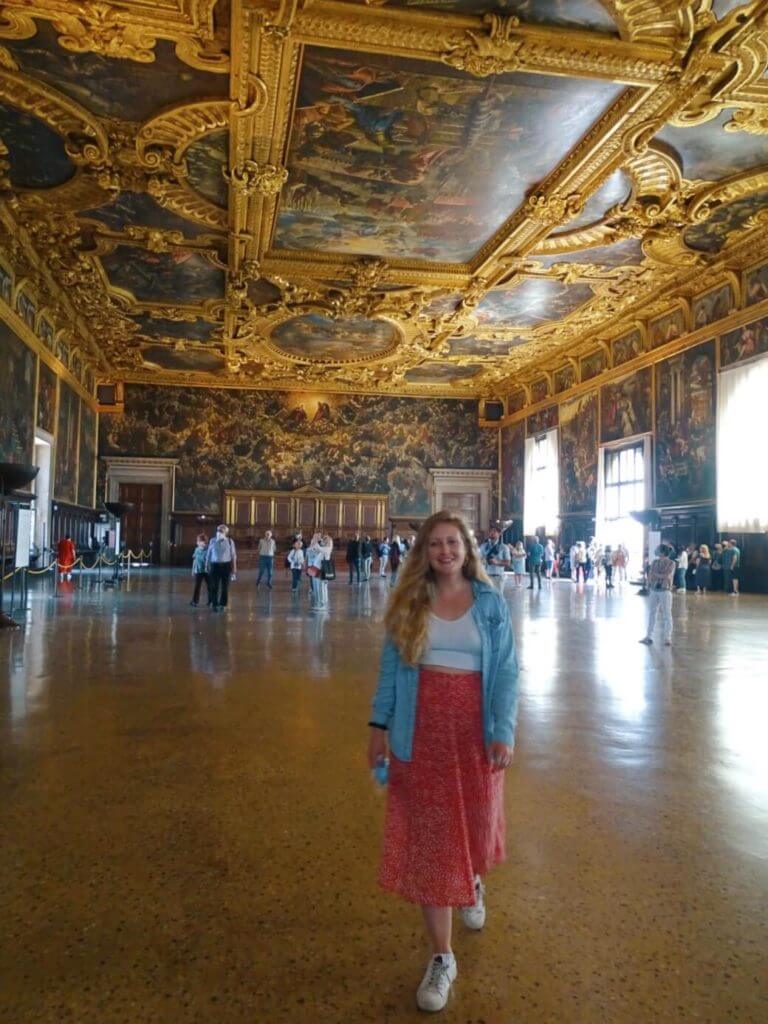 Although entry isn't cheap, the Doge's Palace (Palazzo Ducale) is one of the key attractions in St Mark's Square. Sadly, no dogs can be seen: the Doge of Venice was the chief magistrate and leader of Venice for 1,000 years until 1797. Once they were elected, they held the role for life.

A visit to the Doge's Palace involves walking through a maze of rooms, each more impressive than the last, lavished with gold and artwork.
Get a bird's eye view from the Campanile
To see Venice from above, your best bet is the Campanile. I love to get a bird's eye view when arriving in a new city because it improves my geography for exploring later.

Tickets cost €10 per person. Although we didn't wait too long on a weekday in May, you may wish to get your ticket in advance during the summer.
Stop for lunch
Break up your Venice itinerary with some tasty Italian food. It isn't a cheap city to eat and drink but you can find affordable food with a bit of research. Although I'd advise against eating in St Mark's Square and its immediate offshoots, you don't have to vacate the island entirely to get a bargain.

Here are a few fantastic places I recommend for lunch in Venice:
Farini – this cafe serves fresh, delicious pizza by the slice from €3. They also serve coffee, soft drinks, bruschetta, cakes, beer and Spritz cocktails. Just brilliant!
L' Bacaro de' Bischeri – Italian sandwiches are fantastic and who's surprised? This deli in Rialto has 4.9 stars on Google and a choice of 10 daily sandwiches packed with ingredients like sundried tomato, prosciutto, olive pate, pistachio cream and spicy salsa. Sandwiches cost €7 and wine only costs €1 per glass!
We Love Italy (fresh pasta to go) – grab fresh, tasty pasta on the go from €6 at this takeaway cafe. Choose your pasta type (fusilli, macaroni, spaghetti, tagliatelle or gnocchi) then your sauce. There are 10 to choose from like carbonara, bolognese and famous duck ragu.
Bacarando Corte dell'Orso – almost next door to the pasta cafe is this authentic restaurant with a huge range of cicchetti. I had mozzarella and tomato skewers, cod cream bruschetta, and a pea and prawn savoury cake washed down with wine for €11.
Frito Inn – this renowned food stand serves freshly fried seafood for €10 served in paper cones. A bargain for quality seafood!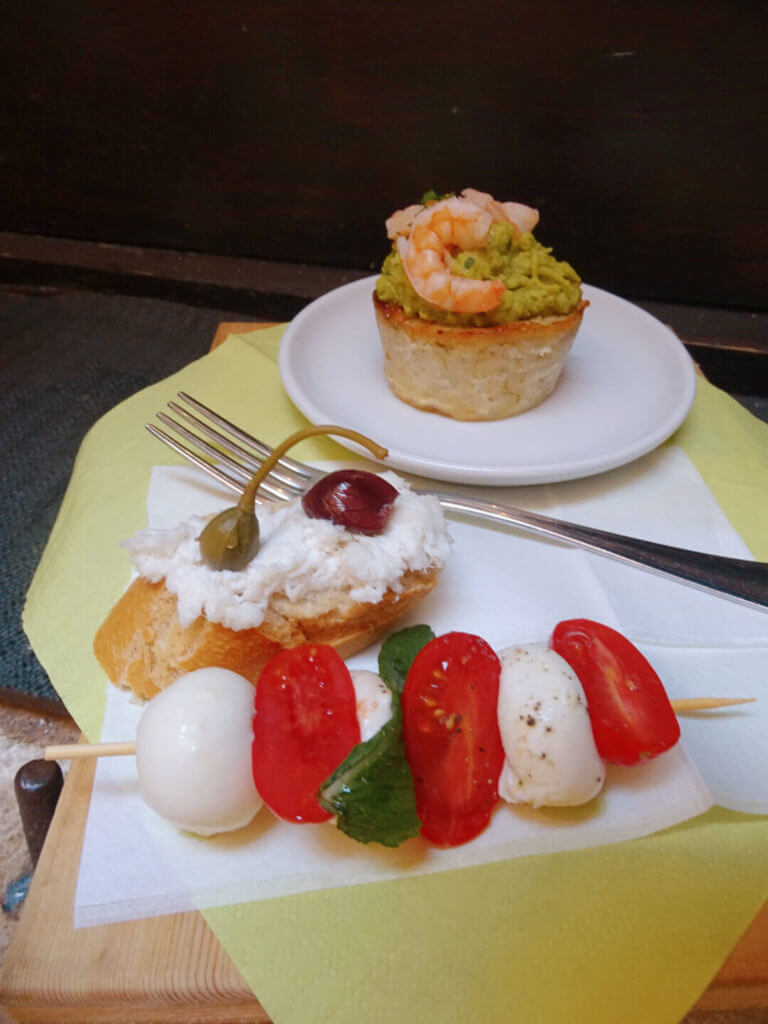 Afternoon
I imagine you'll be feeling tired after a busy morning exploring Venice especially once you're in a food coma! For the afternoon, take some time to wander and see what you stumble across. If you need a little more guidance, here are a few attractions to add to your Venice travel itinerary…
Riva degli Schiavoni
This waterfront promenade close to St Mark's Square is one of the most famous places in the city, as well as one of the most crowded. Still, it's an atmospheric place to wander with beautiful views.

Just past Palazzo delle Prigioni you'll have the chance to…
Giardini Reali
Afternoon snacks
Rialto Bridge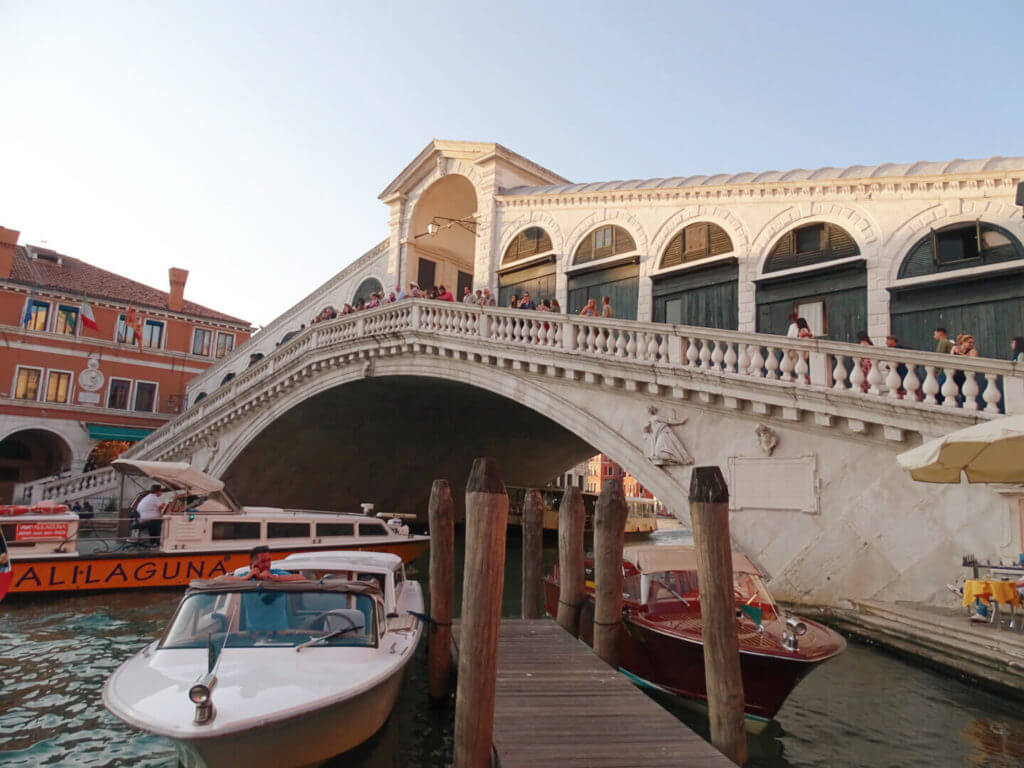 The oldest bridge across the Grand Canal is Rialto Bridge (Ponte di Rialto). Built in the 1500s to replace previous wooden bridges, it was the only way to cross on foot until Accademia Bridge was built in the 1800s. Before its existence, people would have crossed by gondola. But I'm guessing the rides weren't so expensive back then 😉

I wonder how many people have crossed Rialto Bridge in its lifetime? I bet tens of millions, if not more!

There are thin walkways on either side (as you can imagine, these get very crowded) and a wider central walkway where vendors sell souvenirs and trinkets like glass from famous Murano Island.
Rialto Market
After crossing Rialto Bridge when arriving from St Mark's Square, you'll come to Rialto Market. It's not the best market I've visited because it's quite touristic, however there's a fresh fruit market overflowing with cherries and peaches. Buy a snack or simply browse. There's also a fresh fish market nearby.

Generally, this area is a vibey part of Venice with lots of cafes and bars. My favourite find was L' Bacaro de' Bischeri sandwich shop which I've already mentioned once but deserves a second, third and fourth mention!
Cannaregio (Jewish Quarter)
To accommodate so many people, the buildings were made thin and tall, remaining this way today. The Jewish Museum of Venice is the best place to unravel the history, learn about businesses operated from the ghetto, take a guided synagogue tour and eat a kosher meal at the cafe onsite.

There are 5 notable synagogues in the area including the Schola Tedesca (Great German Scola), the oldest in the area built in Baroque style, as well as the Canton Synagogue.

Nearby foodie recommendations – Al Timon for Venetian cooking and Vinale for the best cocktails in town.
Visit a FREE rooftop terrace
Venice is not the cheapest of cities and since there's often a 'coperto' charge of several Euros when sitting down for a meal or coffee, I was pleasantly surprised to learn there's a beautiful rooftop terrace you can visit for free.

Fondaco dei Tedeschi is a striking historic building situated on the Grand Canal. Its rooftop offers spectacular views of passing vaporetti and gondolas. Only 40 people can fit on the rooftop at one time so register in advance for a 15-minute slot. Your Instagram feed will thank you!

Opening times: 10.45am-7.15pm. Depending on the season, late afternoon is the best time to snap photos at golden hour.
Ride a gondola or take a budget option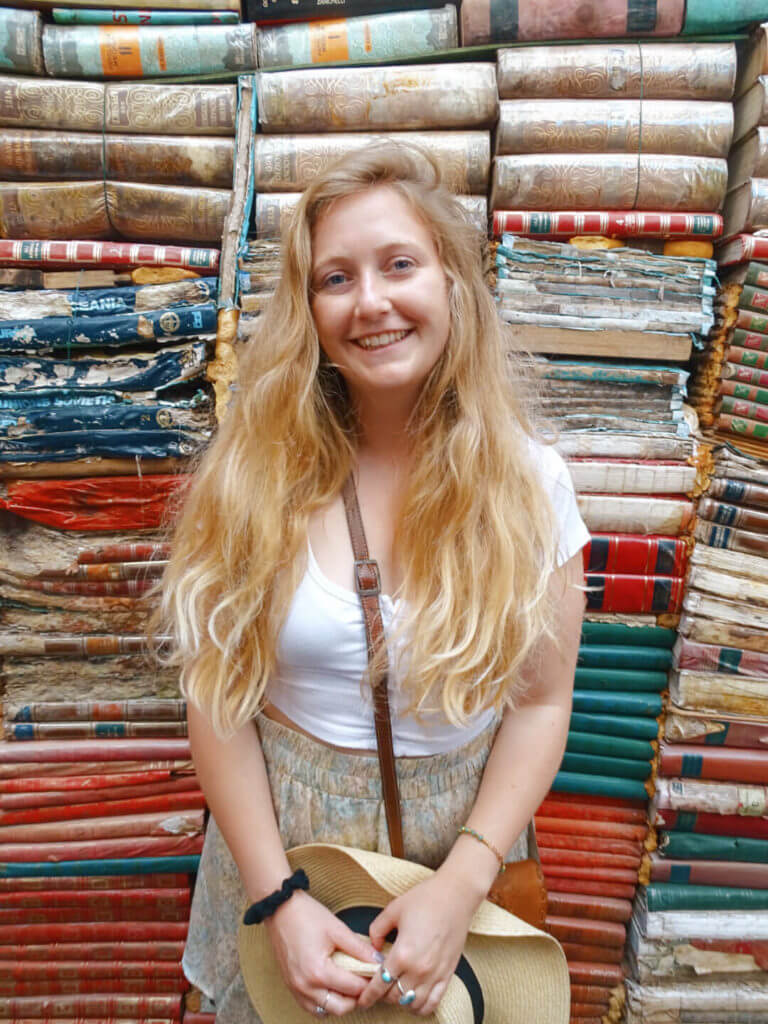 If riding a gondola is at the top of your Venice bucket list, go for it! Rides aren't cheap at around €80 before sunset and €100 after.

Not within your budget? No worries, it wasn't in mine either. The photo above of me sitting in a gondola was taken at Libreria Acqua Alta bookstore, somewhere that may have been a hidden gem once but is now a popular spot with travellers wanting their Instagram shots. The fire exit leads to the canal where a static gondola bobs up and down. Wait your turn for a photo inside it.

The bookshop is a photo-worthy place in its own right with huge stacks of books, many overflowing from bathtubs. Better yet, some cute cats live in the bookstore.
Gallerie dell'Accademia: dedicated to Venetian art from the 13th-18th centuries, Venice's most famous art gallery is housed in the spectacular Scuola della Carità building. Entry is just €13 (and only €2 if you're under 26): a small price to pay considering the wealth of art and artifacts inside.

Peggy Guggenheim Museum: if modern art is more your scene than fine art, you'll love this museum just a five-minute walk from Ponte del Academia (located on Palazzo Venier dei Leoni). Styles on display include Cubism, Surrealism and Impressionism and artists featured include Salvador Dali, Pablo Picasso and Jackson Pollack. Get your Guggenheim ticket in advance.
Basilica di Santa Maria della Salute
On the southern part of the island (a 20-minute walk or a boat ride from St Mark's Square), the streets feel less crowded and there are several art galleries to peruse en route.

Entry price: €4 or €2 for students.

Address: Dorsoduro, 1, 30123 Venezia VE.

Getting there: from San Marco, jump on the waterbus line 1 destined for Salute.
Alternative day 2 – Murano & Burano Islands
Morning – Murano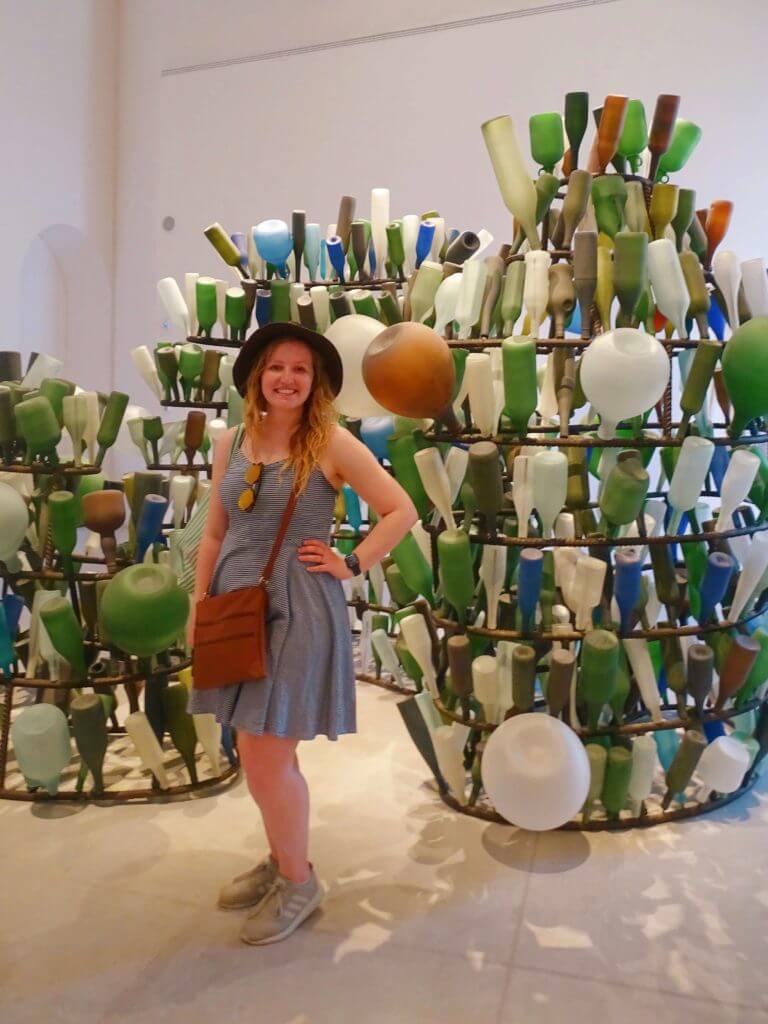 Afternoon – Burano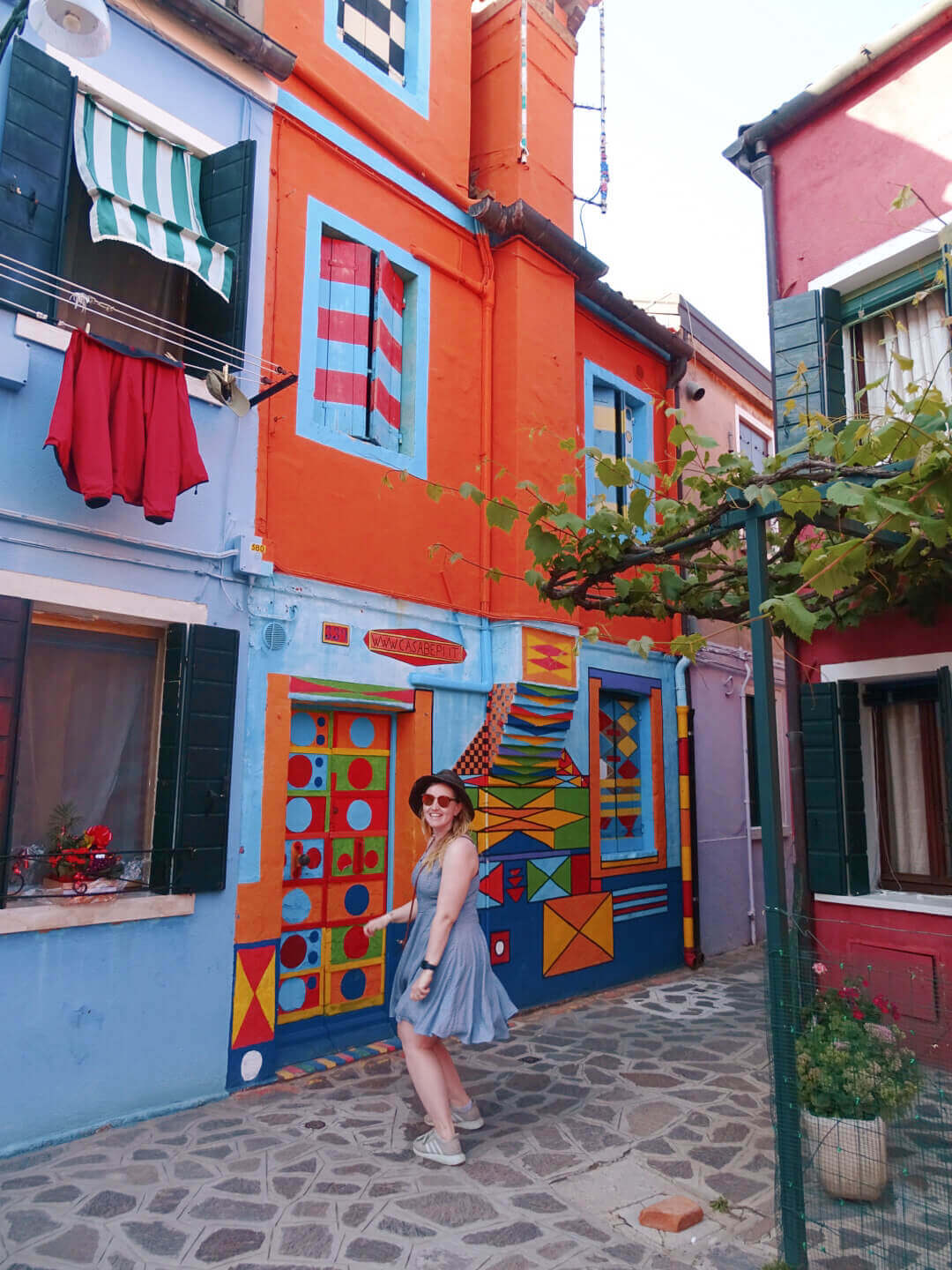 Late afternoon/early evening – Lido
Lido is an 11km island just across from Venice. It's known for its Art Deco architecture (which promoted my friend April and I, who met living in Mexico City, to simultaneously say 'this reminds me of Condesa'!). hosting Venice Film Festival and of course, the beautiful beaches. Take some time to promenade down Viale Santa Maria Elisabetta, lined with hostels and restaurants.

Getting there: numerous water buses departing St Mark's Square will drop you at Lido S.M.E., a short walk from the beach. If you didn't know there were beaches near Venice, you do now!
Where next?
Finished this Venice itinerary? You're merely a bus ride away from countless wonderful destinations. If you're on an extended trip to Europe and don't have a flight home to catch, here's where I'd recommend you to go next…
Verona
Milan
Slovenia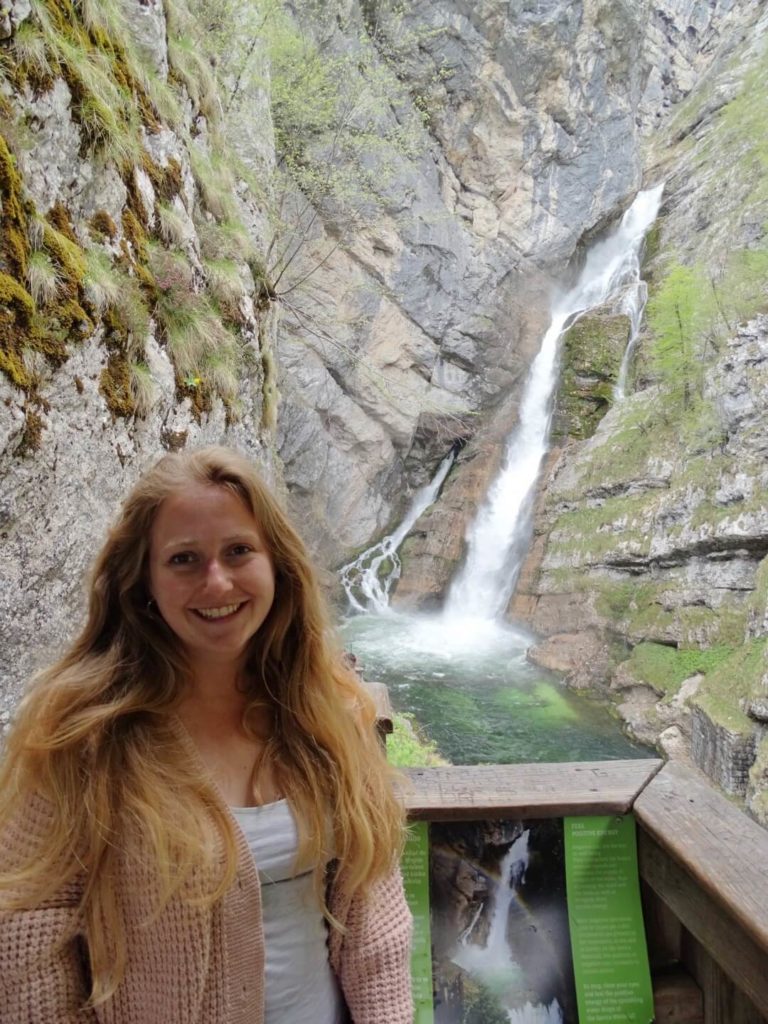 Croatia