This post may contain affiliate links to things like tours, hotels, Amazon associates and products. These help me earn a small commission at no additional charge to you.
Exploring the street art was one of the highlights of my Vienna trip: high praise when there was so much else I loved about the city. In this guide, I'll share my self-guided Vienna street art tour including a map and tips for getting around. Enjoy!
The capital of Austria is one of my favourite European cities. I love how the traditional and modern blend so well. While wandering the canal and spotting colourful, quirky art, I felt a million miles from Schonbrunn Palace and the plazas boasting baroque architecture.

Street art is something I look for wherever I go. I originally got hooked on street art in Cape Town and have continued my hobby of spotting it around Europe and Asia. Some of my favourite European cities for street art include London, Bristol, Glasgow, Manchester and Berlin. I'm dying to get to Lisbon and spot the street art there. After discovering street art in Vienna, it's now high up there as one of my favourite European cities.
Related read: 3 day Vienna itinerary
VIENNA ESSENTIALS

Copy of Lonely Planet Vienna // Lonely Planet Austria

Accommodation: Browse hotels in Vienna (Booking.com) // Browse hostels in Vienna (Hostelworld)

Tours & activities: GetYourGuide
Vienna street art map
The street art is pretty easy to locate but if you fancy taking a tour with an expert, consider booking a street art tour (€30).
Vienna street art history
Since 1995, there have been 'legal walls' in Vienna for street artists to play around with. New York was the first city to designate street artists space to get creative. Vienna now has several legal spots for street art dotted around the city which have attracted artists from around the world such as Stinkfish, David Shillinglaw and more.
Self-guided Vienna street art tour
Most of the street art in Vienna is down by the Danube Canal so I would recommend heading there first. However, I was glad I did some research before beginning since most of my favourites pieces of street art turned out to be elsewhere. I'd have been disappointed to miss them and see them online later.

I used Instagram and some blogs I found to plan our route, and we also stumbled across some gorgeous pieces of Vienna street art by total accident, finishing up at the well-known Vienna Street Art Passage.

The following Vienna street art guide includes the places I'd recommend checking out including how to reach them.
How to get around
Most of these pieces can be explored by foot but we took a couple of Vienna public transport journeys.

The S-Bahn cost just €2.40 per journey and can be purchased in whichever station you enter. If you plan to make a few stops, it might be worth getting a day pass for €8. By the time you've made three journeys, you'll have made the pass back. We did some afternoon sightseeing before travelling to the airport at the end of the day so it was well worth it for us.
Start at Spittelau station
We were staying slightly north of the city centre and Spittelau was a stop even further from there. So this isn't a place you'd go for any other reason than finding the street art, although after exiting the underground we were greeted with this crazy building. Seeing it was a total accident but I'm glad we did. Once you've seen this quirky structure, you'll be warmed up for the quirky Vienna street art to come.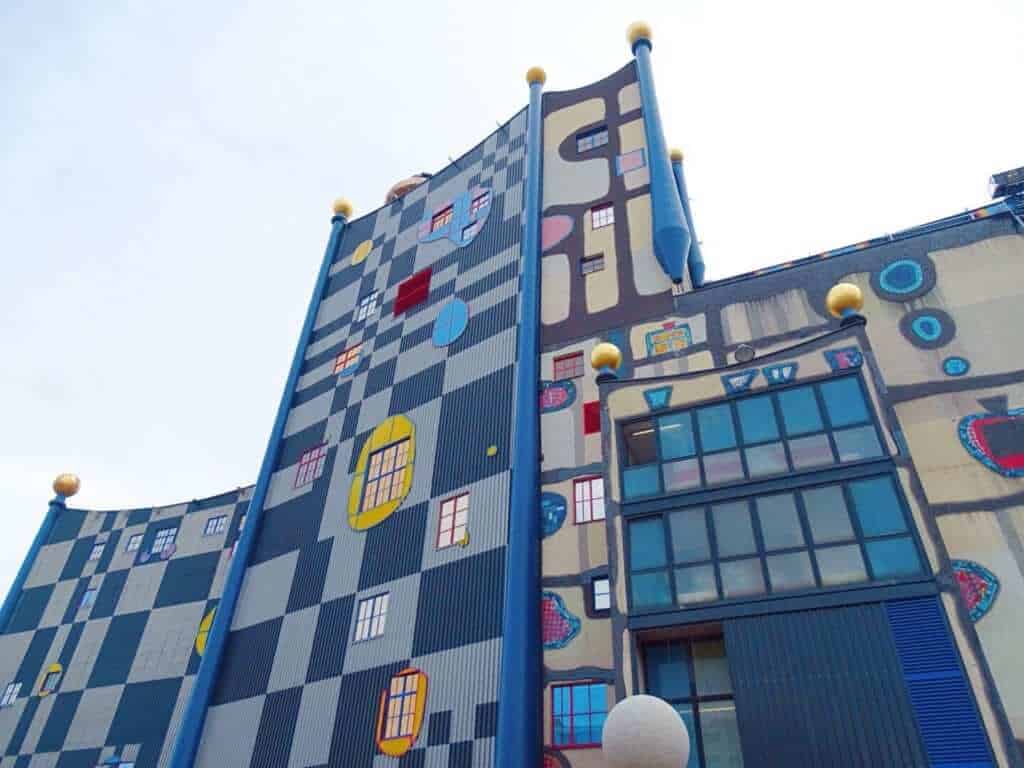 I initially wondered if this was some kind of modern art gallery but after some research, I discovered this is the District Heating Plant providing energy to the city. It's probably the prettiest building I've ever seen with such a boring purpose!

A fun fact is that it was designed by Friedensreich Hundertwasser, the architect behind famous Vienna landmark, the Hundertwasser House. When you compare the two, it's really no surprise who the architect is. However, I'll bet this building gets far fewer tourists snapping photos due to its removed location.
Street art along the canal (Donaukanal)
Overall, Spittelau is a random place and we couldn't initially find the art we were looking for. Aside from the District Heating Plant, it was pretty grey and industrial. But instead of despairing, you simply need to wander down to the canal path where you'll find some of the best Vienna street art.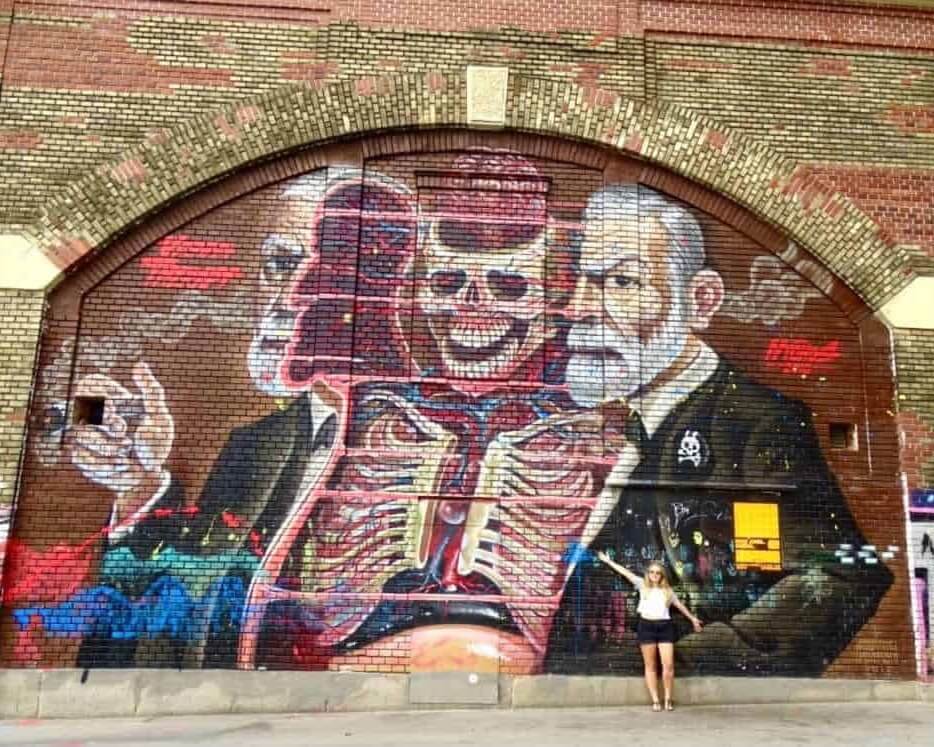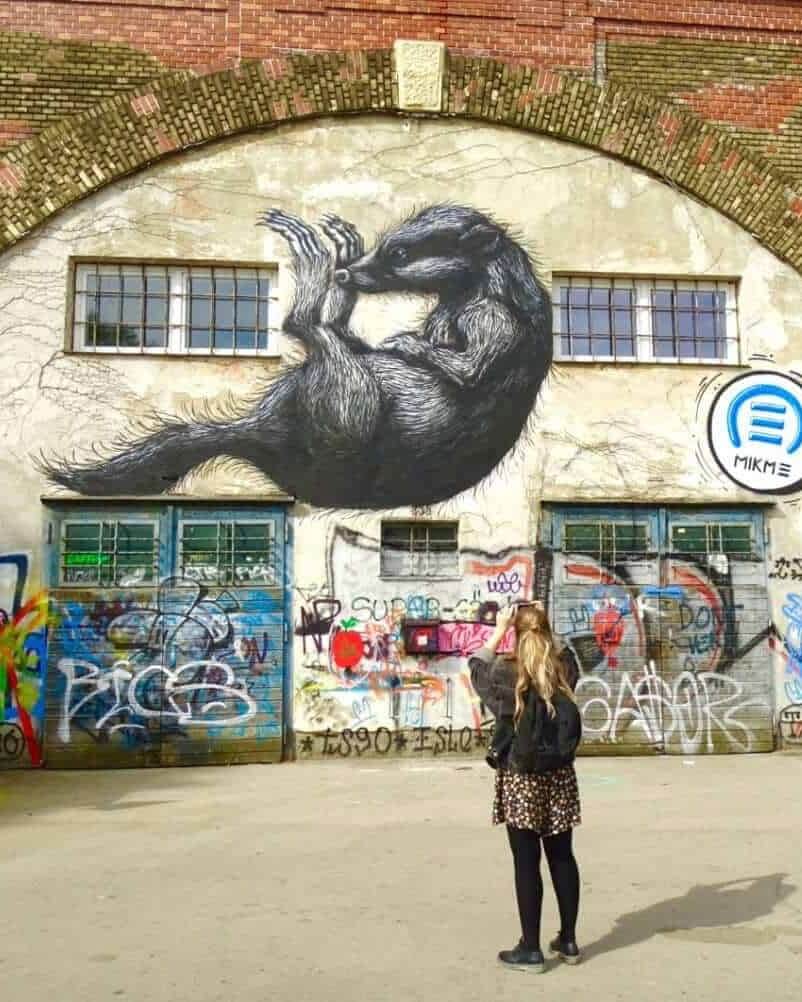 I was particularly drawn in by the image of Freud split open to see the inside of his head. Every piece of street art you see has a specific meaning and intent which is always fun to guess. However, it doesn't take a detective to work out this piece must be about the psyche. This piece of Vienna street art was created by Viennese street artist, Nychos, in 2016. His work can be seen around the globe as far away as LA and San Francisco.

Along the banks of Vienna's canal, I also liked the giant badger street art, as well as this colourful archway which made for cool photos.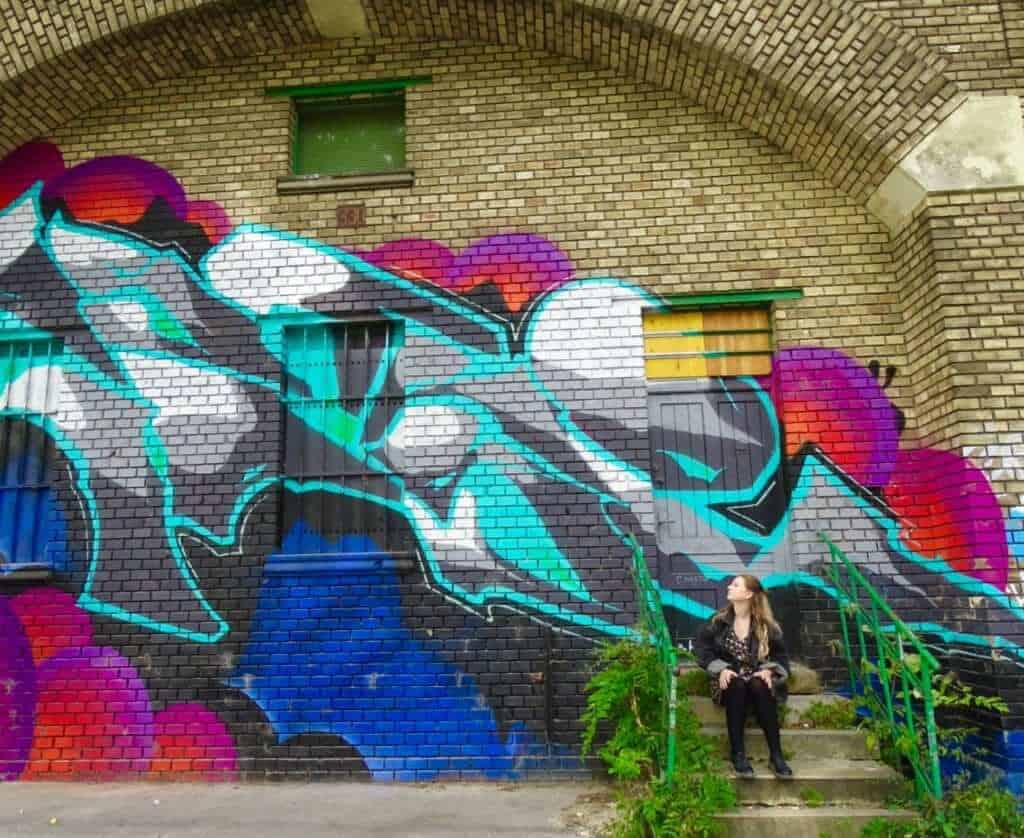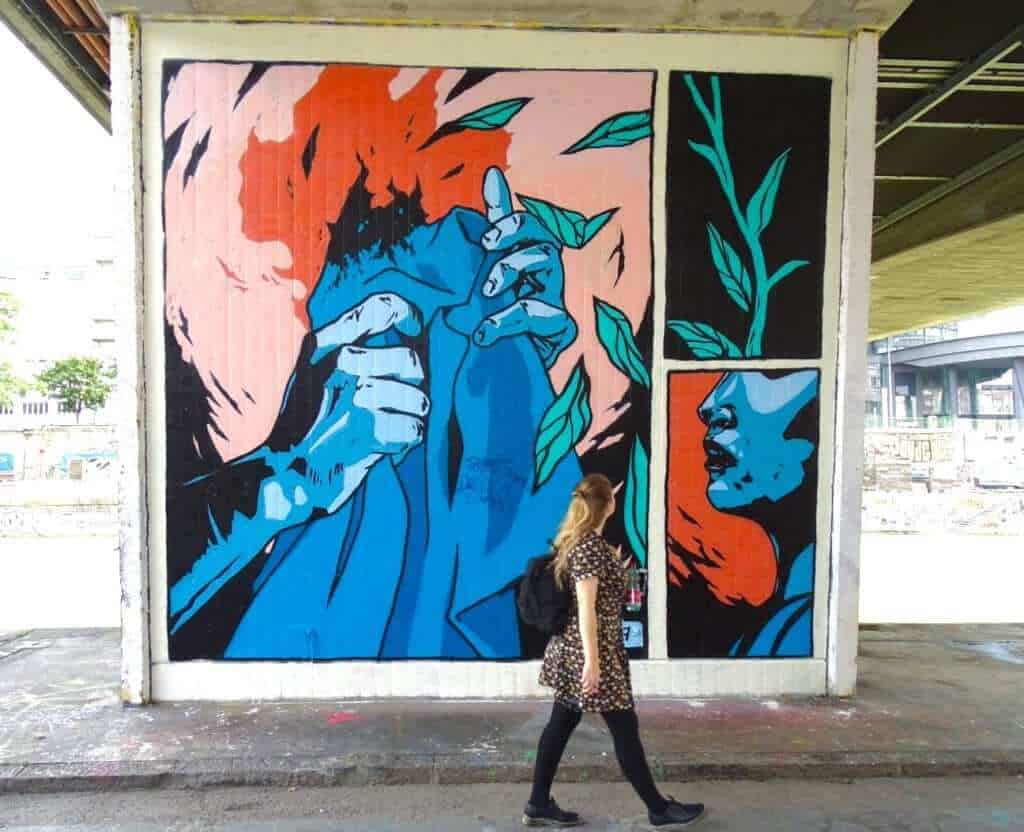 Next, walk along the river
Use Spittelau as your starting point to walk along the canal towards the city. As well as street art almost every step of the way, it's a pleasant walk with outdoor gyms and locals running and walking their dogs. I enjoyed escaping the tourist hotspots of Vienna and seeing what the locals do at weekends.

It took us about 30 minutes to get to reach the city which included a fair amount of stopping to take photos. It's not a long walk but it's a great one if you want to see a lot of Vienna street art in one go. Here are some of the pieces of art we saw on the way including the quirkiest ticket machine I've seen in a while.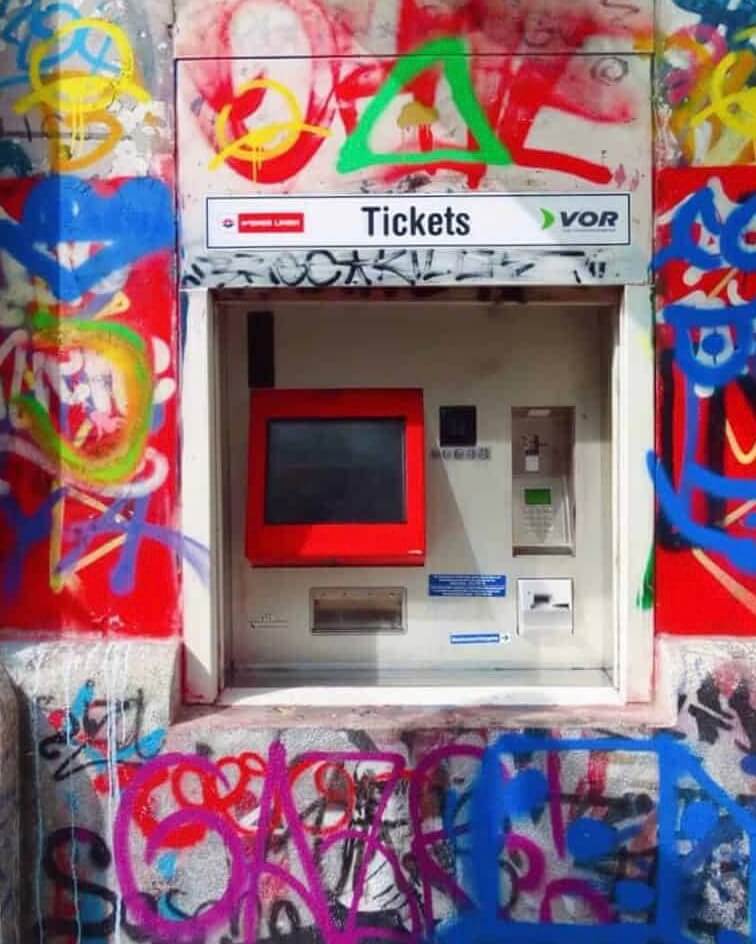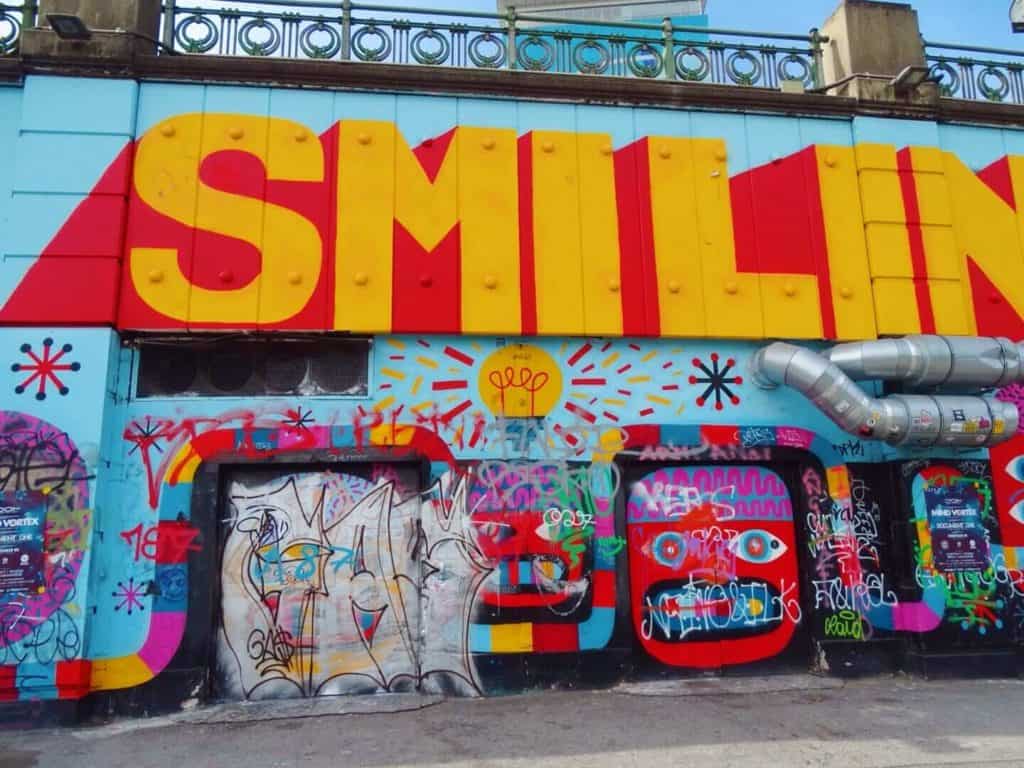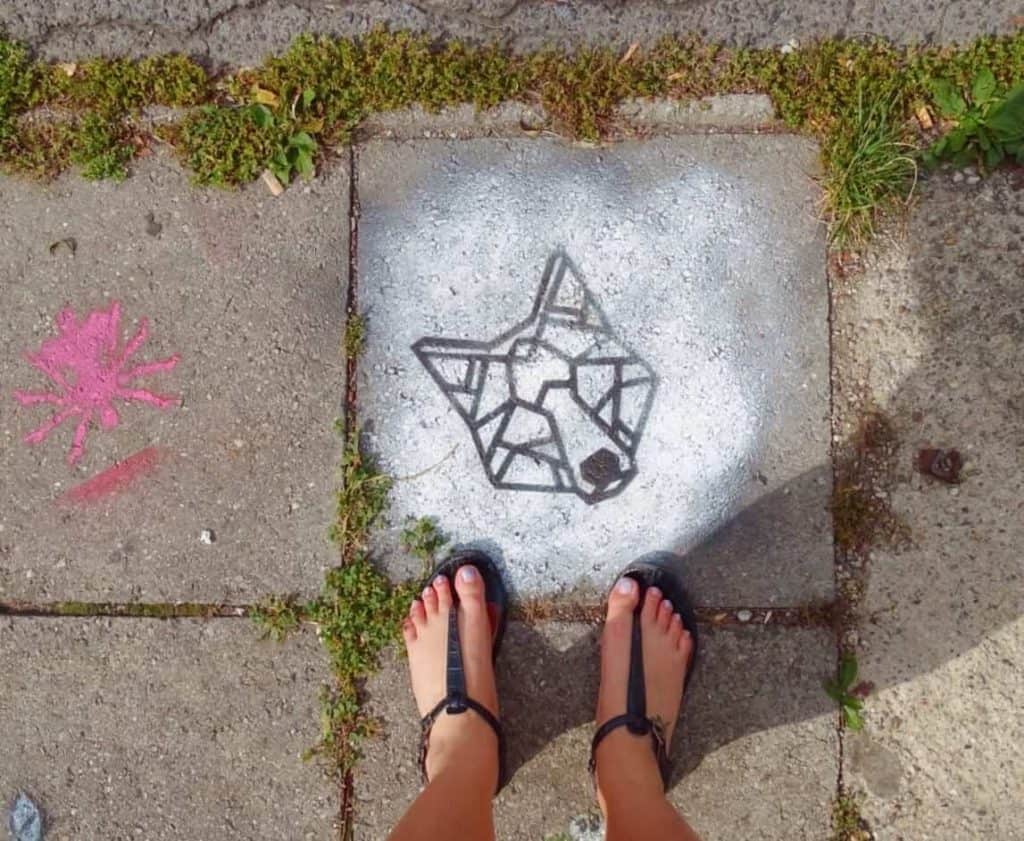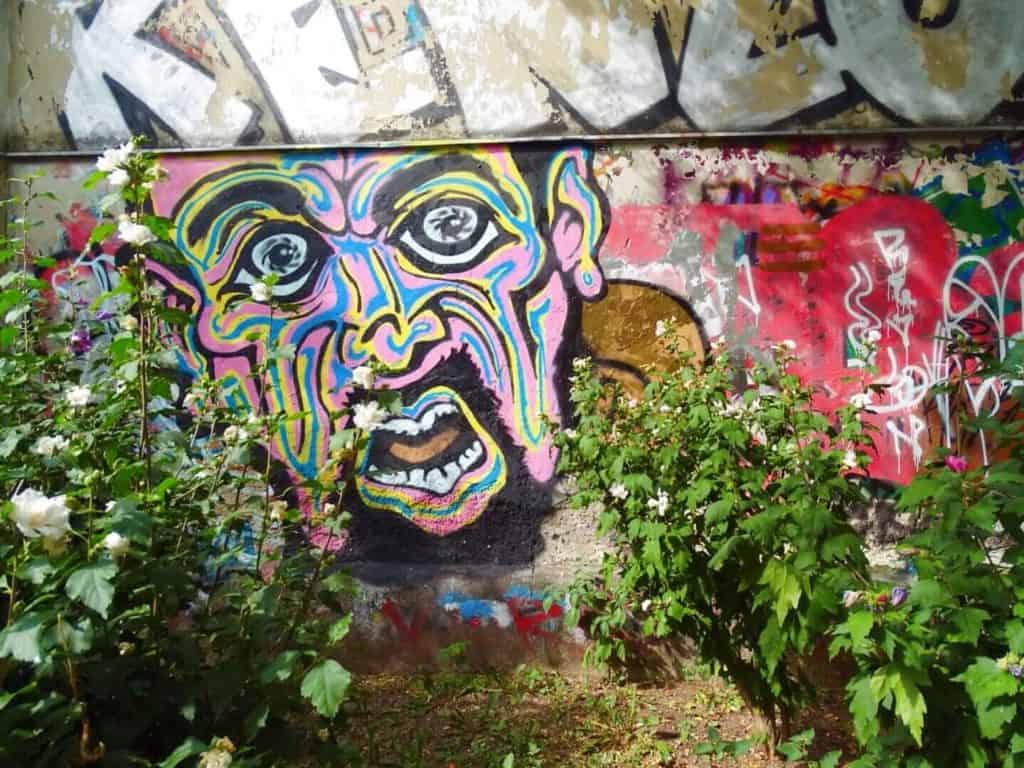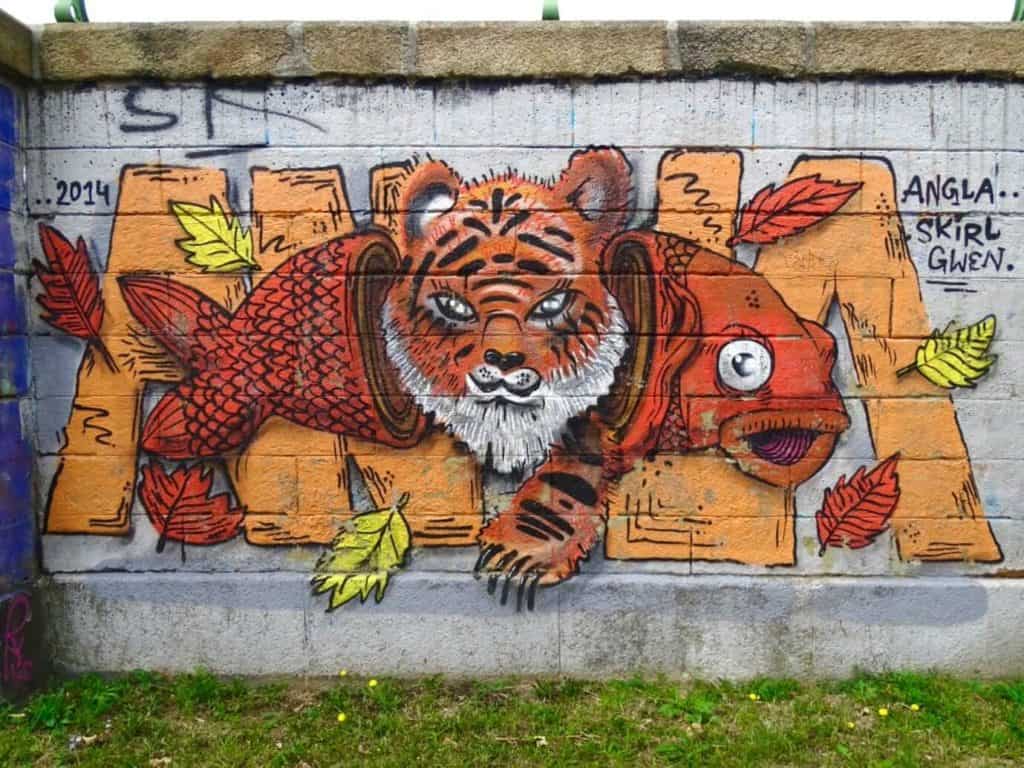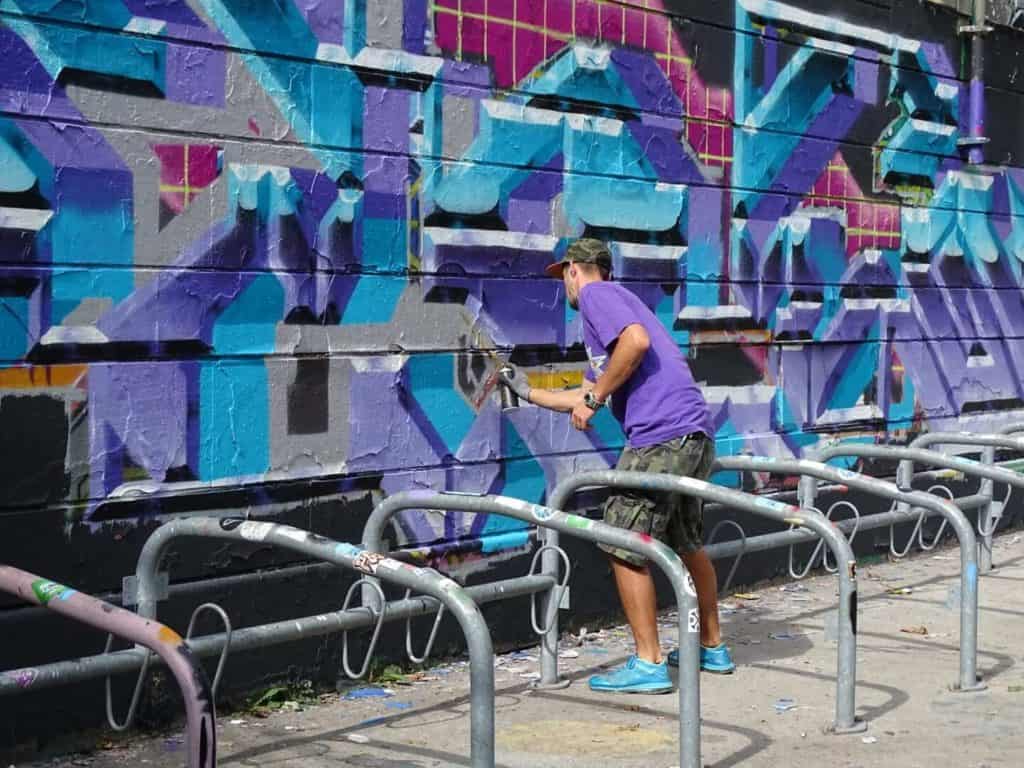 At least some of the pieces above are by David Shillinglaw, Check out his colourful Instagram!

Come at the right time and you might even be lucky and see some of the art being created. We mused whether this guy was trying to blend into the surroundings in his purple t-shirt…

Once you've seen enough art along the canal, climb the steps into the city and hop on an underground from Schwedenplatz station to Pilgramgasse (10 minutes on the U2 line) where you're just around the corner from…
Richard Waldemar Park, Hofmühlgasse
Hunting for Vienna street art made me realise how things are to find usually since 99% of places these days are mapped on Google Maps these days. Street art in Vienna isn't one of these things apparently and we stumbled upon this enormous piece by happy accident. I'm so glad we did!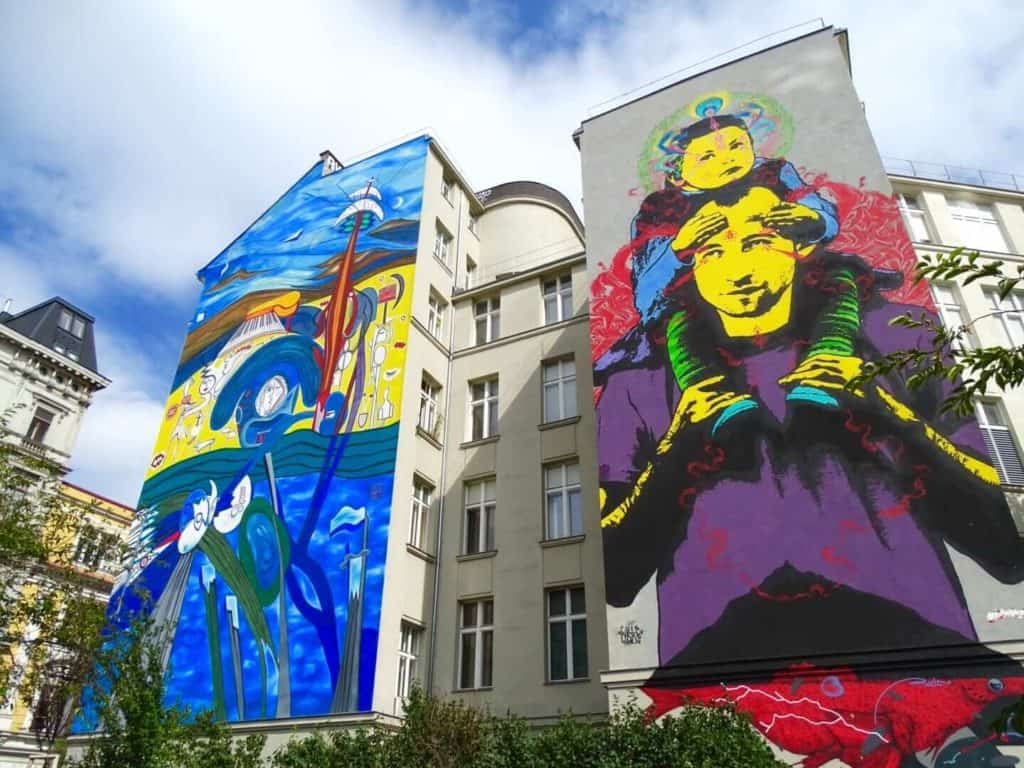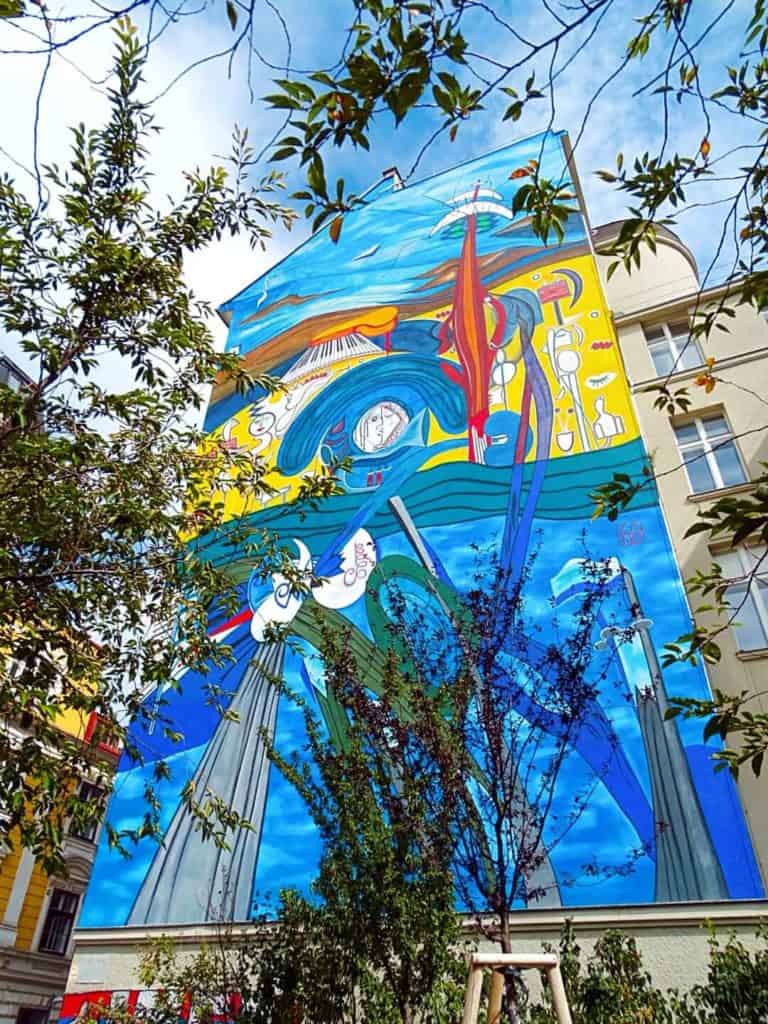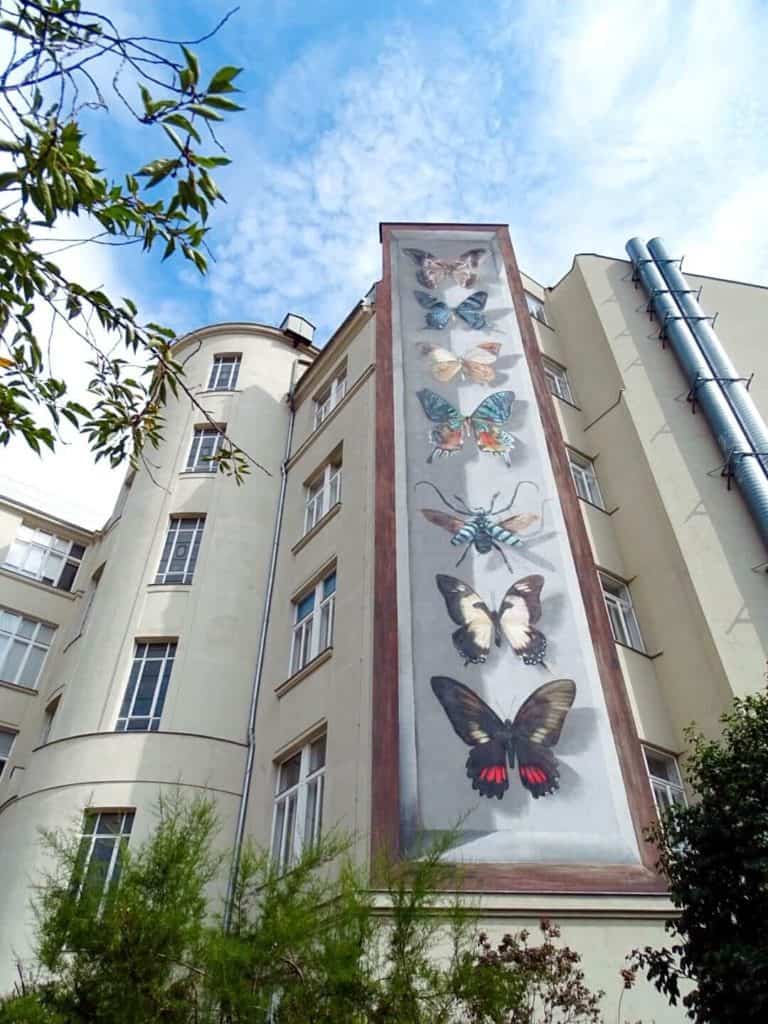 Andreasgasse
Not far from the colourful works above you can wander to Andreasgasse street where you'll find this piece on an apartment block facing into a park.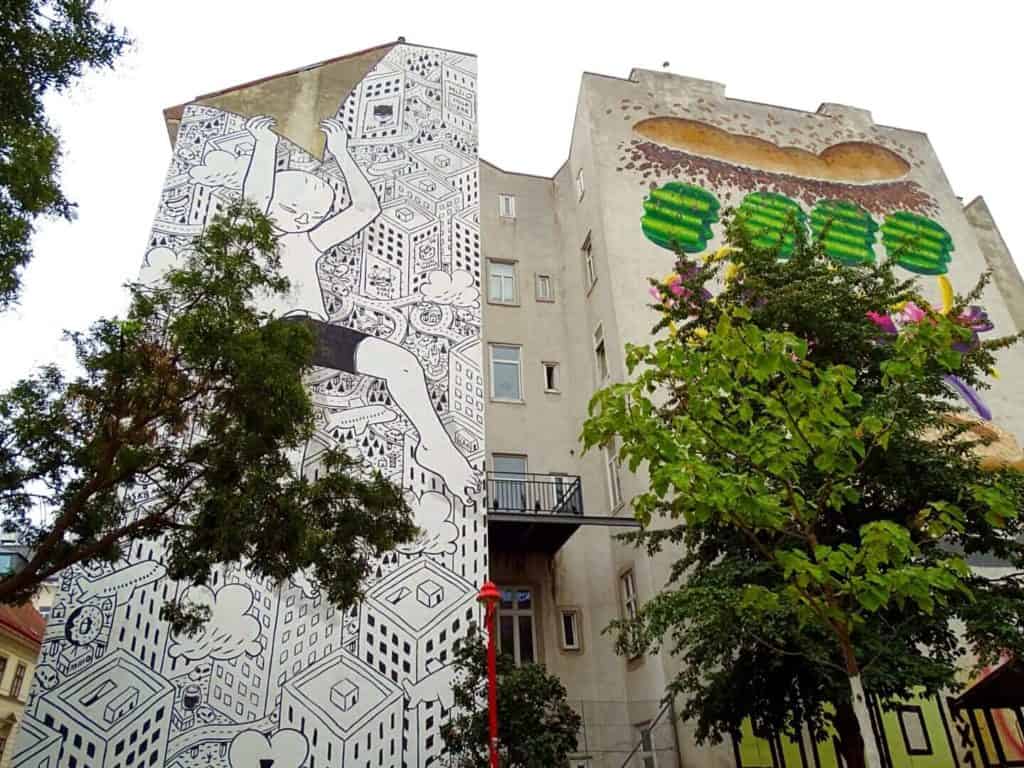 Fillgradergasse
We actually stumbled upon this Vienna street on a different day but it would be easy to fit into a Vienna street art tour. It's only a 15-minute walk from Andreagasse above.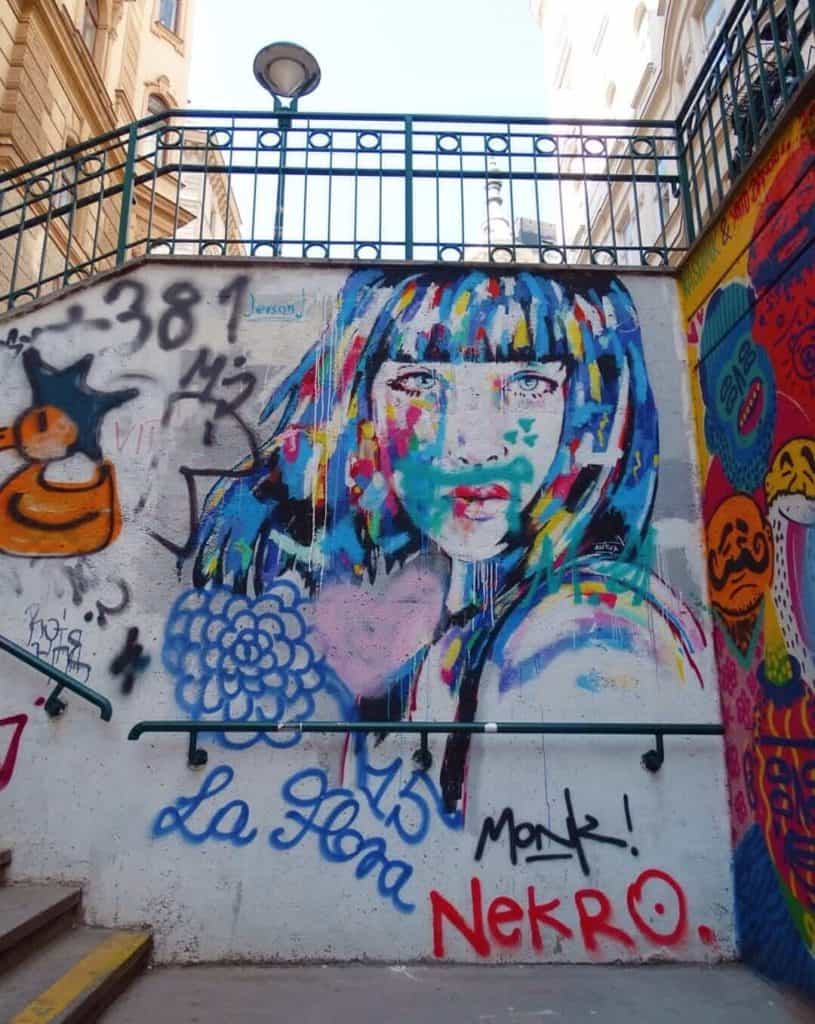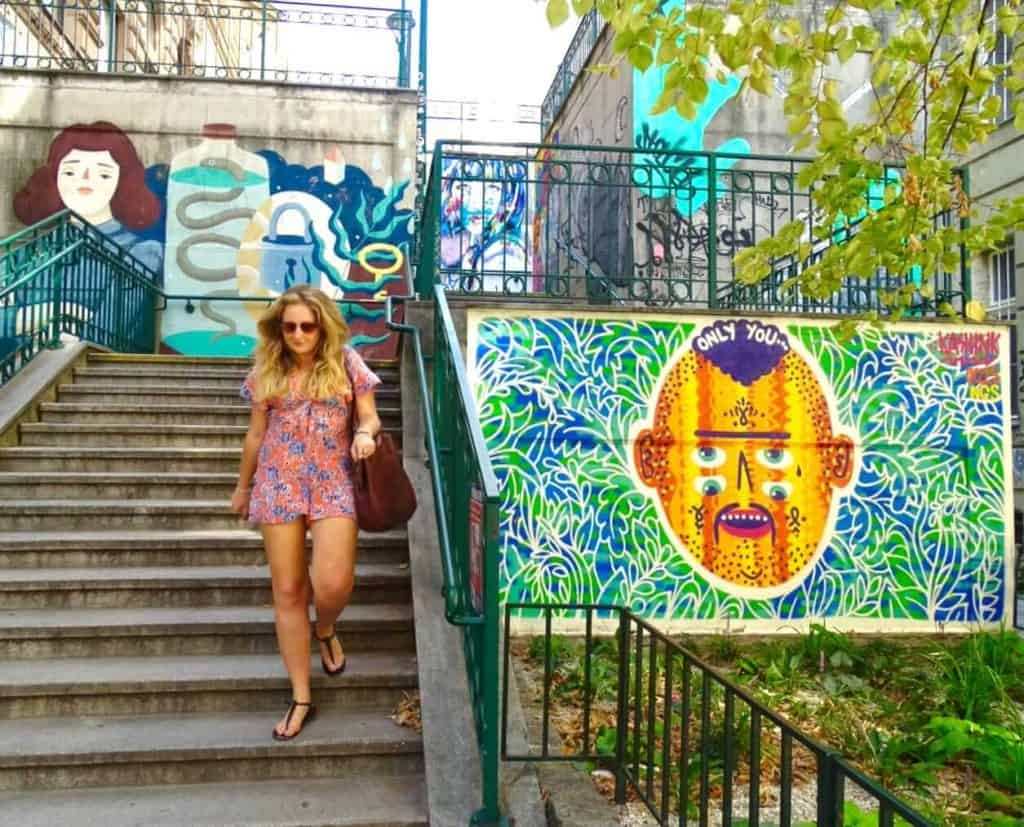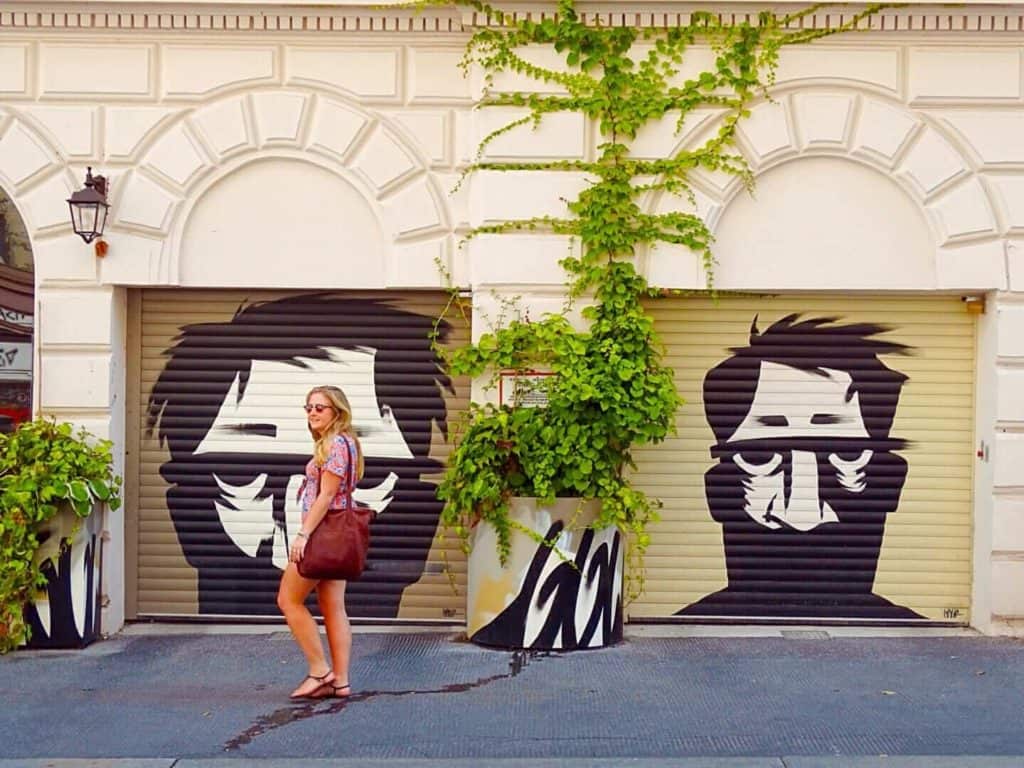 Vienna Street Art Passage
I'd read that Vienna Street Art Passage was a cool and quirky location in Vienna. Yes, if you're looking for urban graffiti in Vienna, you'll want to check it out. However, it's not particularly big or exciting and the murals aren't fantastic.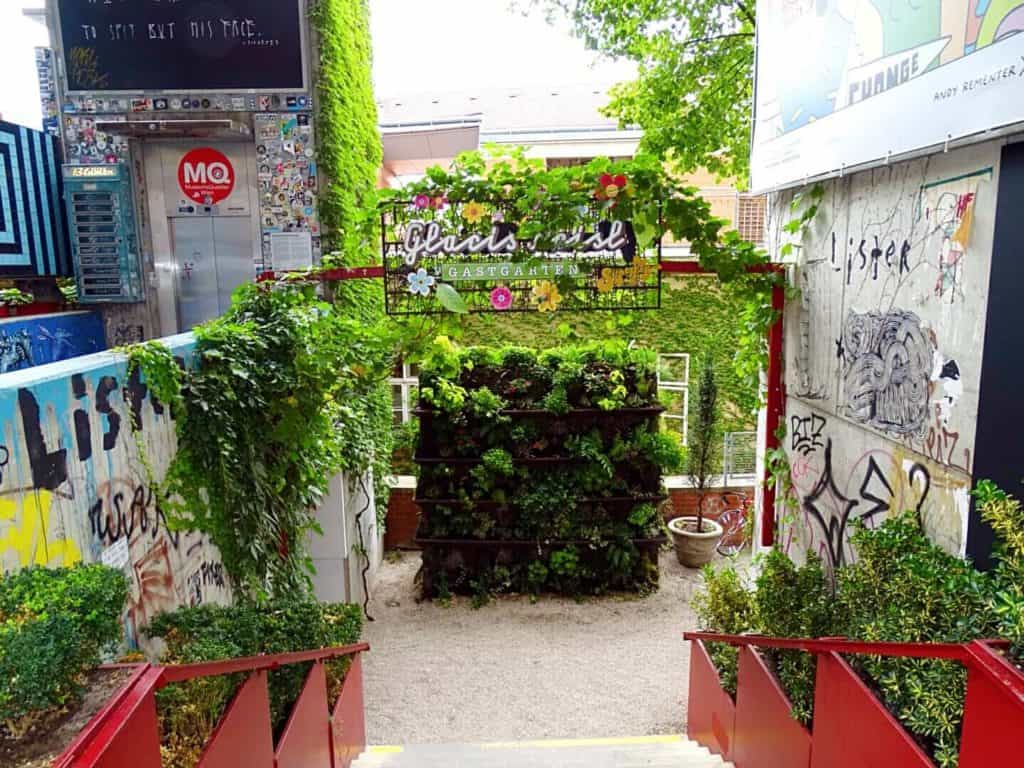 It's more of a quirky entrance to the Museums Quarter than anything else. There's not a ton to see but it's a good place to finish your Vienna street art tour before moving onto lunch or some museums.

Vienna Street Art Passage map: Breite G. 3-1, 1070 Wien, Austria.
Where to go afterwards?
Just a seven-minute walk around the corner from Vienna Street Art Passage is Erich, a restaurant with outdoor seating, delicious food and creative cocktails. My sister had a vegan sweet potato and brown rice bowl whilst I had a giant shrimp and bruschetta platter. We washed it down with Hugo cocktails, my tipple of choice when in Austria/Germany!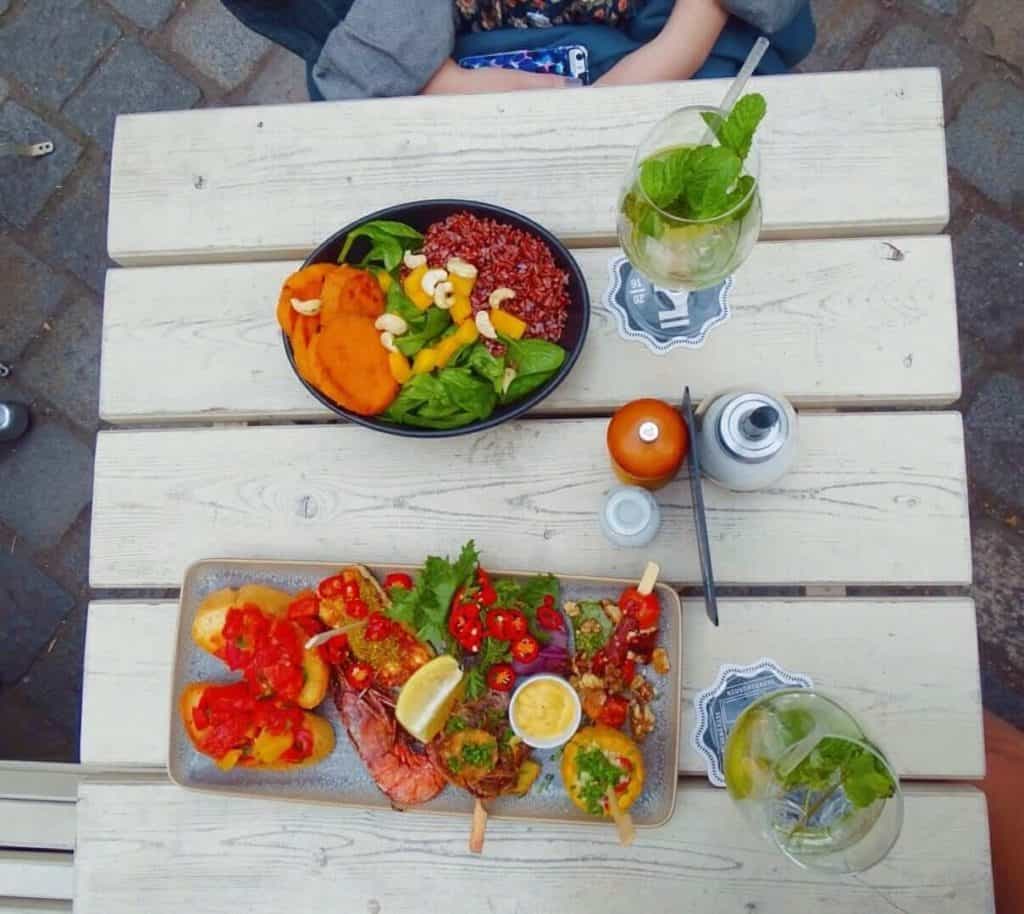 Calle Libre Festival
Visiting Vienna in August? Don't miss Calle Libre which is an 'urban aesthetics' (aka street art) festival taking place in the 7th District of Vienna. It's a free event with workshops, demonstration and discussions. Previous years have seen 15,000+ attendees… I'll try to be one of them in future!
Where next?
Vienna is one of my favourite cites with lots of cool spots. Don't miss:
The Naschmarkt – if you love food, don't miss this haven of market stalls and cafes in a quirky, multicultural part of Vienna. Check out my guide to visiting the Naschmarkt Vienna including what to eat!
Hundertwasser House – this weird and wonderful venue designed by Austrian artist, Friedensreich Hundertwasser, will impress modern art fans.
Schönbrunn Palace – with various gardens, mazes, a zoo and an apple strudel show, who could miss this grand, decadent destination?
St. Stephen's Cathedral – climb 334 stairs to the top tower for pano views of Vienna.
Cafe Diglas – this extravagant (and very pink) cafe tells tales of Vienna in days gone by… Oh, and there's chocolatey sacher torte to try!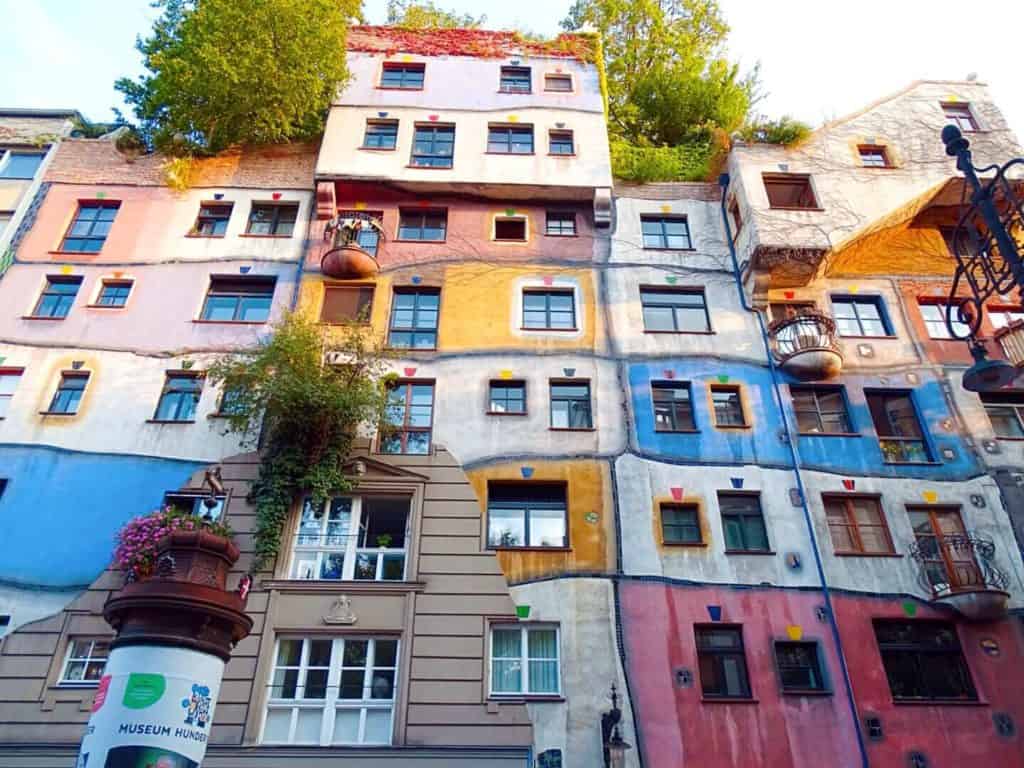 MY TRUSTED RESOURCES FOR VISITING AUSTRIA

Getting around by air – I use Skyscanner to find the best-value flights, using the 'search by month' tool to find the cheapest dates. You can also use the 'to anywhere' feature if you're flexible on where you're going.

Driving in Europe – use Rentalcars.com to compare car rentals in European countries (and all around the world).

For trains, I use RailEurope. The search feature allows you to compare prices, and they show live departure times on the website.

For buses, I use Flixbus. Find journeys between European countries from €1!

For hotels and self-catering apartments, I use Booking.com. You can filter by review score and price to find the best-rated budget places. For hostels, I use Hostelworld.com.

To save money on accommodation, I use Trusted Housesitters, a website that connects homeowners going away and travellers who can sit their homes & pets.

Browse tours and activities on GetYourGuide.

For food tours pairing travellers with passionate local chefs and foodies, check out EatWith.

To save money on accommodation, I use Trusted Housesitters, a website that connects homeowners going away and travellers who can sit their homes & pets.

Need travel insurance? I use True Traveller (for UK & Europe residents) since it's some of the most affordable insurance out there but still covers everything you'd need including various activities, valuables and pre-existing conditions. Unlike some companies, they insure you if you're already travelling / don't yet have your flight home booked. Get a quote.

For travel insurance for other nationalities, I recommend Hey Mundo and for long-term digital nomad travellers, I suggest Safety Wing.

Check out my resources page for more travel discounts and budget tips from my 10+ years on the road!
Thanks for reading my street art Vienna guide!
I hope it helps. Don't forget to use my street art map of Vienna at the top of this blog post.
See you next time for more adventures,
Rose
Ps. Liked my Vienna street art guide? Pin it for later!