This post may contain affiliate links to things like tours, hotels, Amazon associates and products. These help me earn a small commission at no additional charge to you.
IMPORTANT UPDATE – as of 2023, I hear this place has now been closed. I'll leave this blog post up for the memories!

Have you seen photos of Bangkok Airplane Graveyard online?

Personally, I'd seen a lot. Maybe that's why I felt slightly underwhelmed when I visited. I expected something super cool and quirky but it somehow fell short.

But that's okay: we can't love everything all the time when we travel, and it wouldn't be much fun if we did!
I wanted to put together this blog so you can make an educated decision as to whether the Airplane Graveyard is worth a visit for you. In this blog I'll also explain how to get to the Airplane Graveyard Bangkok, Thailand, and tips for your visit.
The story of Bangkok Airplane Graveyard
One of the Bangkok hidden gems, the Airplane Graveyard Bangkok was, for one short year, a quirky beer park where guests could sip their beverages amongst real airplanes.

However, it didn't make a profit and the site soon became abandoned. It reminds me of the story behind Vietnam's Abandoned Waterpark Hue.

The businessman who bought the planes at auction still owns the plot of land beside the highway. Nowadays, a family live unofficially on the site, keeping the profits they charge snap-happy tourists and minding the planes for the owner.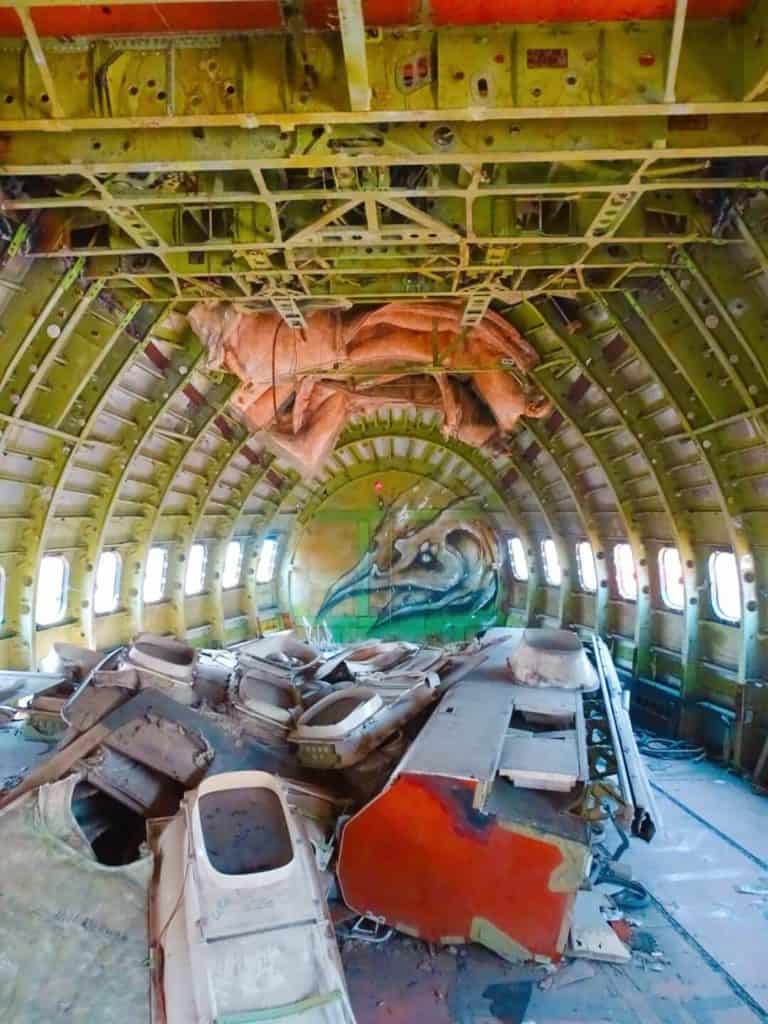 Nowadays a local Thai family onsite in one of the abandoned planes. They maintain the site and charge tourists to enter. I'm not sure how official this is, but I presume the government are happy with the arrangement otherwise the site would surely have been shut down by now.
Who will like the Airplane Graveyard Bangkok?
Essentially, bloggers, Instagrammers and photographers. I feel it would look great in a music video. The derelict, bizarre site is creative to a tee, with plenty of scope for imaginative shots.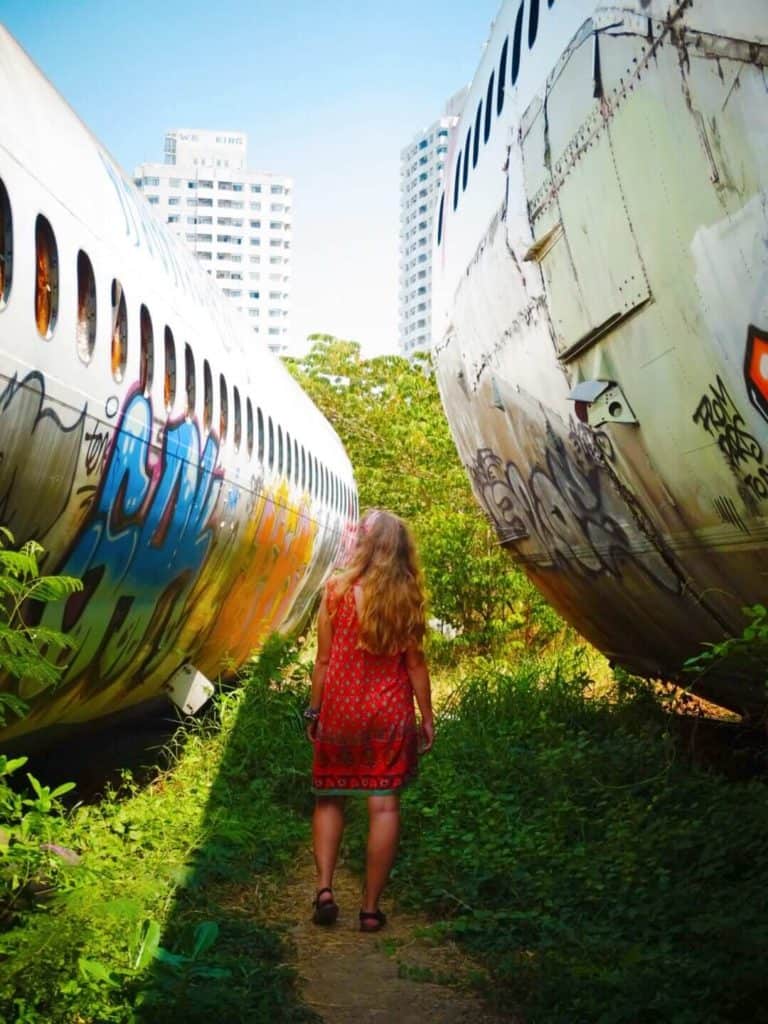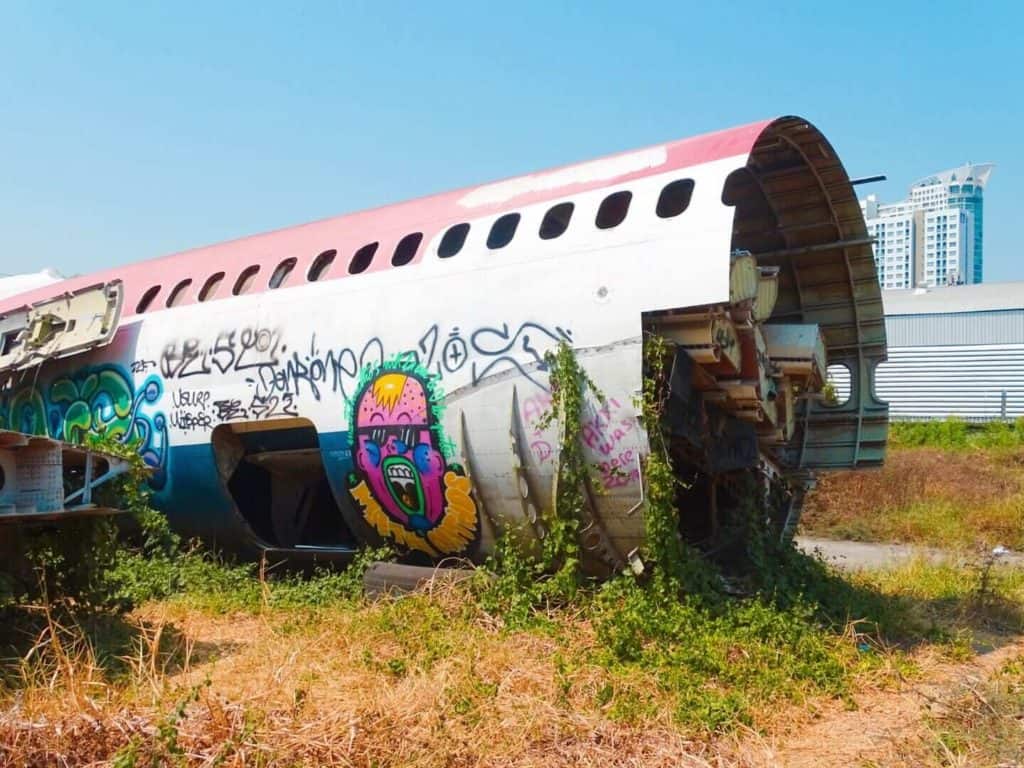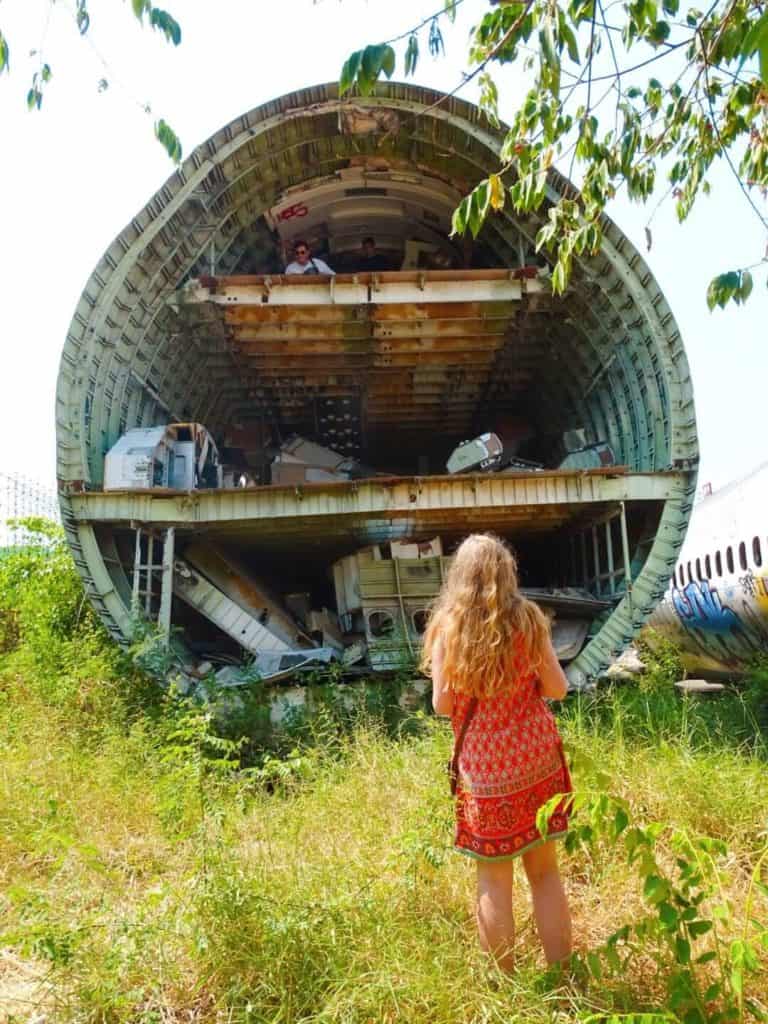 As well as an impressive 747 jumbo jet that you can climb inside, you will find two MD-82 jetliners in the field. I learned after visiting that they were involved in a fatal 89 person crash in 2007 which is totally heartbreaking. It's thought this is why they were abandoned and made it to this lot of land.
Where is the Airplane Graveyard?
It's just off the Ramkhamhaeng Road in Bang Kapi District to the east of Bangkok, around 20km away.

The full address is Ramkhamhaeng Alley 103, Hua Mak, Bang Kapi District, Bangkok 10240, Thailand. Follow this Google pin to the Airplane Graveyard.
How to get to Bangkok Airplane Graveyard
The quickest way to get to the Airplane Graveyard Bangkok is by Grab, the local alternative to Uber. This is a super affordable – and speedy – way to travel the city because, as well as cars, you can get Grab bikes which whiz past the traffic jams and cost next to nothing.

I caught a Grab bike to the Airplane Graveyard which cost 160 baht and took 25 minutes.
By boat (budget option)
On the way back, I took this option, walking a few minutes to Wat Sriboonreung ferry terminal and waiting for a boat that would take 45 minutes and cost just 17 baht. If you're on a budget, do this both ways.

The river runs through the north of Bangkok so you can get off at whichever terminal is closest to your accommodation.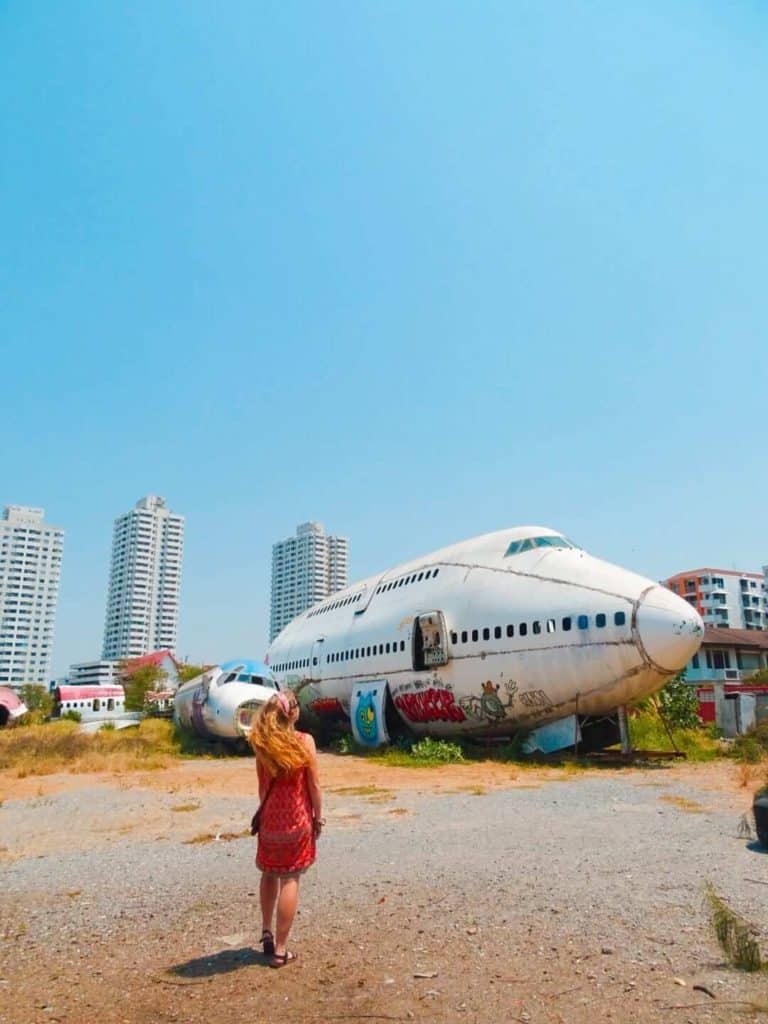 Entrance fee for the Airplane Graveyard
I paid 200 baht to enter the site although I later heard of some people being charged 300 or even 500. The family who live there seem to charge whatever they feel like!

It probably goes without saying but you can only pay with cash. I didn't see any ATMs nearby so make sure to bring enough with you.
Tips for visiting Bangkok Airplane Graveyard
Don't expect a snazzy tourist attraction or an official ticket to take home as a souvenir. The Airplane Graveyard is on the main road with a no-nonsense 'entry prohibited' sign and a sizeable padlock on the gate.

When you arrive, a member of the local family will open it and take your 200 baht. For this price they'll also give you a cold bottle of water, something I declined as it was in plastic.

When you've seen the site, they'll unlock the gate to let you out. I saw some reviews on TripAdvisor emphasising the fact that you're locked in at someone else's disposal and warning against solo travel.

I really wouldn't worry about this: not only do the locals seem like a nice family with kids, there will likely be other travellers coming in and out. About 6 or 7 other Westerners came in during the 40 minutes I was there. As a solo traveller, I did not feel unsafe.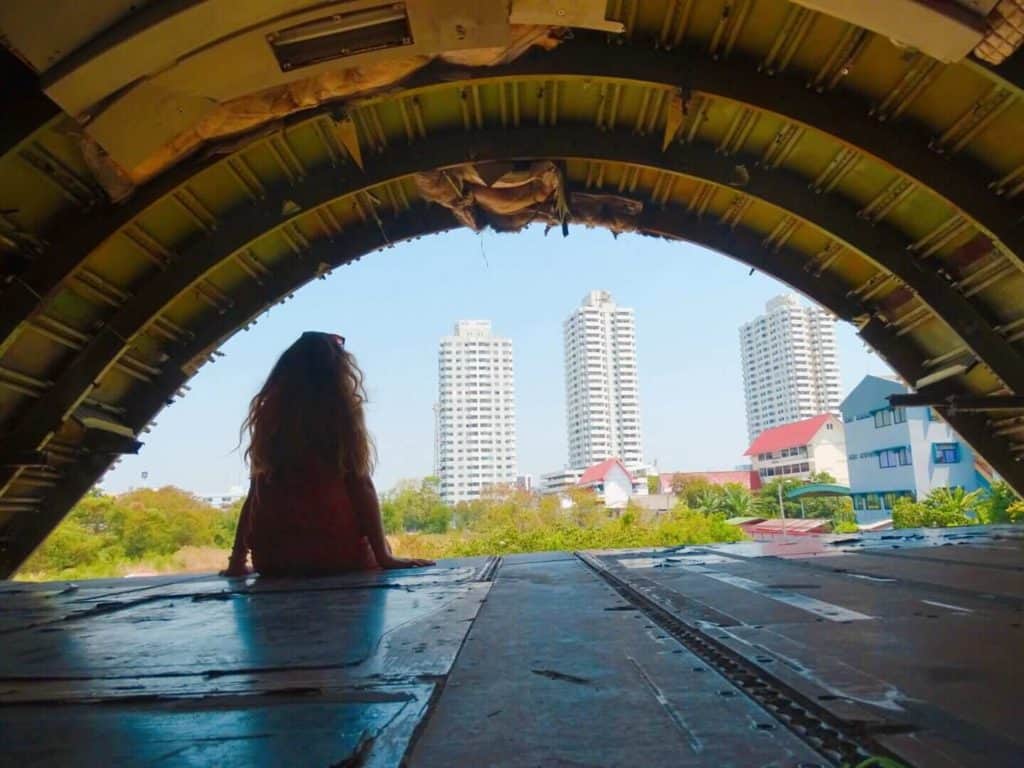 My verdict on Bangkok Airplane Graveyard
I felt that it was expensive to essentially climb on a giant scrapyard. There's only one plane you can go inside (the 747 jumbo jet) and it felt structurally dodgy as if it were stuck together with masking tape!

I saw at least one person fall down the ladder whilst I was there. I'd expected to spend longer at the Airplane Graveyard but, after 30-40 minutes, I was done. There's really not a whole load to see.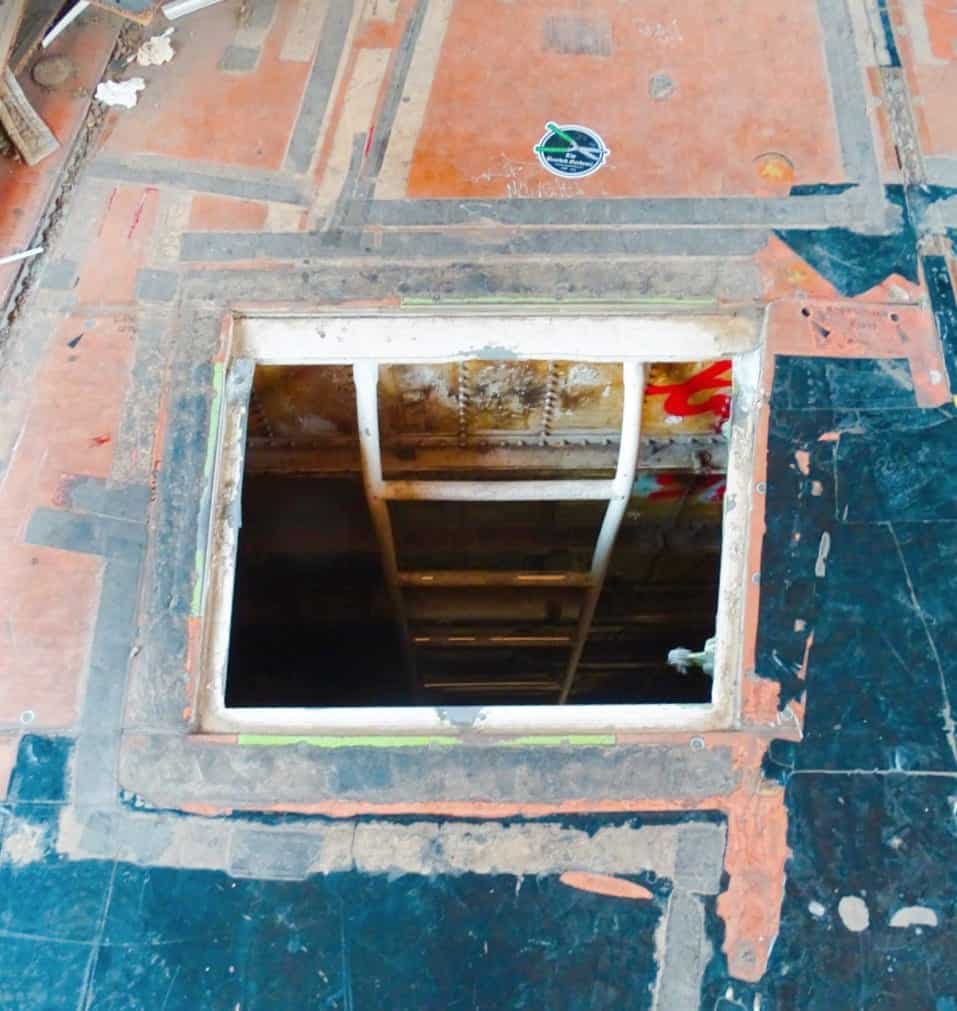 Visiting Bangkok's Airplane Graveyard wasn't the best thing I've ever done travelling but it wasn't the worst either. If you like quirky attractions and photography, give it an hour or so of your time. Enjoy!
Thanks for reading!
Check out some of my other Thailand posts:
For more travel content, follow me on Instagram, Facebook, Twitter and YouTube.
See you next time for more adventures,
Rose
Liked my guide to visiting Bangkok Airplane Graveyard? Pin it for later!
VISITING THAILAND?

These are my trusted resources:

Getting around by air – it's easy to get between cities by flight. I use Skyscanner to find the best-value flights, using the 'search by month' tool to find the cheapest dates. You can also use the 'to anywhere' feature if you're flexible on where you're going.

Buses – buses are comfy and efficient. Use 12Go to book.

Trains – these are a good option for long journeys because you have a bed rather than a seat. Use 12Go to book.

Driving in Thailand – use Rentalcars.com to compare car rentals.

For hotels, I use Booking.com – they also have self-catering apartments. You can filter by review score and price to find the best-rated budget places. For hostels, I use Hostelworld.

Browse tours and activities on GetYourGuide. I also check Viator and Klook in case they have a better price.

For food tours with passionate local chefs and foodies, check out EatWith.