This post may contain affiliate links to things like tours, hotels, Amazon associates and products. These help me earn a small commission at no additional charge to you.
Georgetown to Kek Kok Si Temple Penang
How to get to Air Itam from George Town
There are a few options when going from Georgetown to Kek Lok Si.

Taxi: I called a Grab for 11 MYR which took just 25 minutes.

Local bus: this will only cost 2 MYR. Bus numbers 203 and 204 depart Komtar Bus Terminal and take 50 minutes to arrive in Air Itam.

Private tour: to visit Kek Lok Si during a half-day trip with a knowledgable guide, take a return tour from George Town.

Drive: if you have a car, there's space to park at the temple. Pay 3 MYR for 3 hours and 1 MYR extra an hour after that.
Read next: my tried & tested Asia travel tips
Kek Lok Si visitor info
Address: Jalan Air Itam, 11500 Ayer Itam, Pulau Pinang, Malaysia.
Kek So Si entrance fee: free!

There's a 2 MYR fee to climb Ban Po Thar pagoda, and you can choose to pay 3 MYR for the inclined lift to the Kuan Yin Statue for 3 MYR.

Kek Lok Si opening times: 8.30-5.30pm, daily.
Breakfast in Air Itam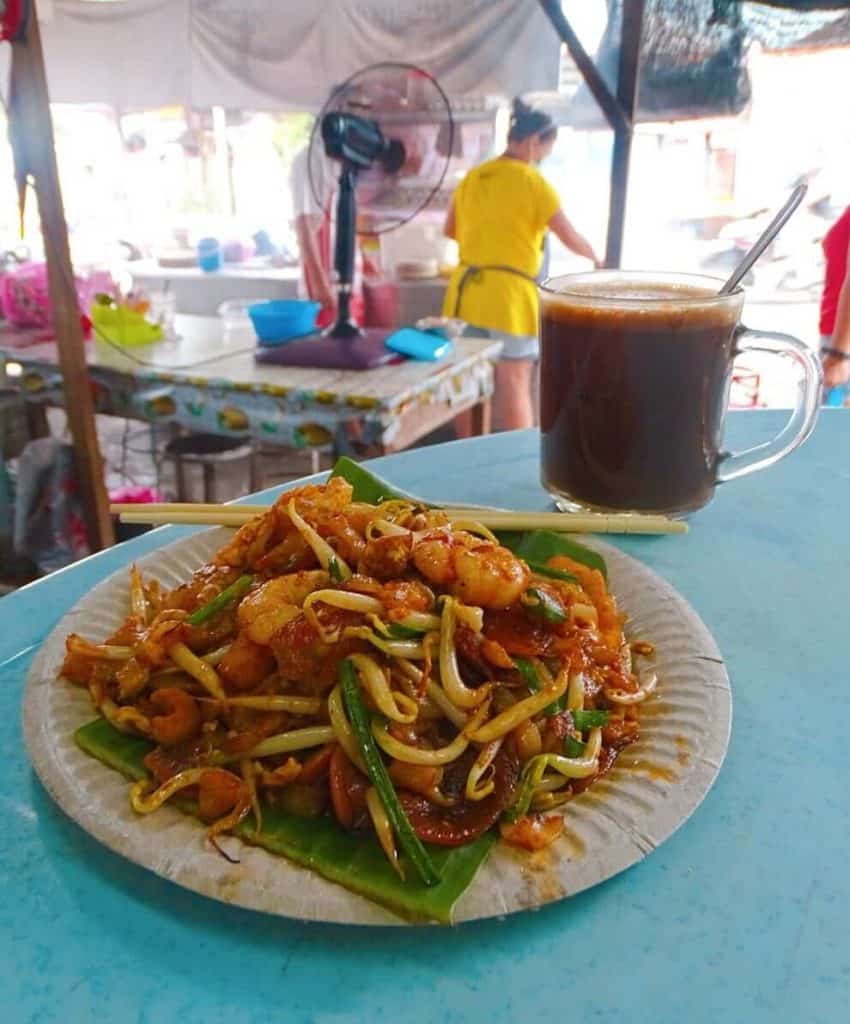 Note – if you don't fancy a local breakfast, eat a Western breakfast at one of the many Penang cafes and travel directly from Georgetown to Kek Lok Si Temple.

I started my day trip to Kek Lok Si Temple and Penang Hill with some tasty fuel. There were two famed foodie stops I wanted to make in Air Itam and I intended to eat at one either side of my visit to Kek Lok Si Temple from George Town.
Unfortunately, the first one, Sister Curry Mee, was closed for a day off when I visited on a Friday. Instead, I ended up eating a delicious portion of char kway teow beside it, something I'd been wanting to try for a while.

This local dish made from noodles, prawns, egg, cockles, Chinese sausage and bean sprouts was delicious and only set me back 5 MYR. It was rich, warming and full of flavour with a subtle crunch. To try this, set Google Maps to Sister Curry Mee, which I hear is very good. The two stalls are across from one another on a side street off the main road.

Fuelled for my day, I continued my day trip to Kek Lok Si Temple Penang. I caught another Grab for 4 MYR but you could walk in 20 minutes (btw it's uphill!).
Visiting Kek Lok Si Penang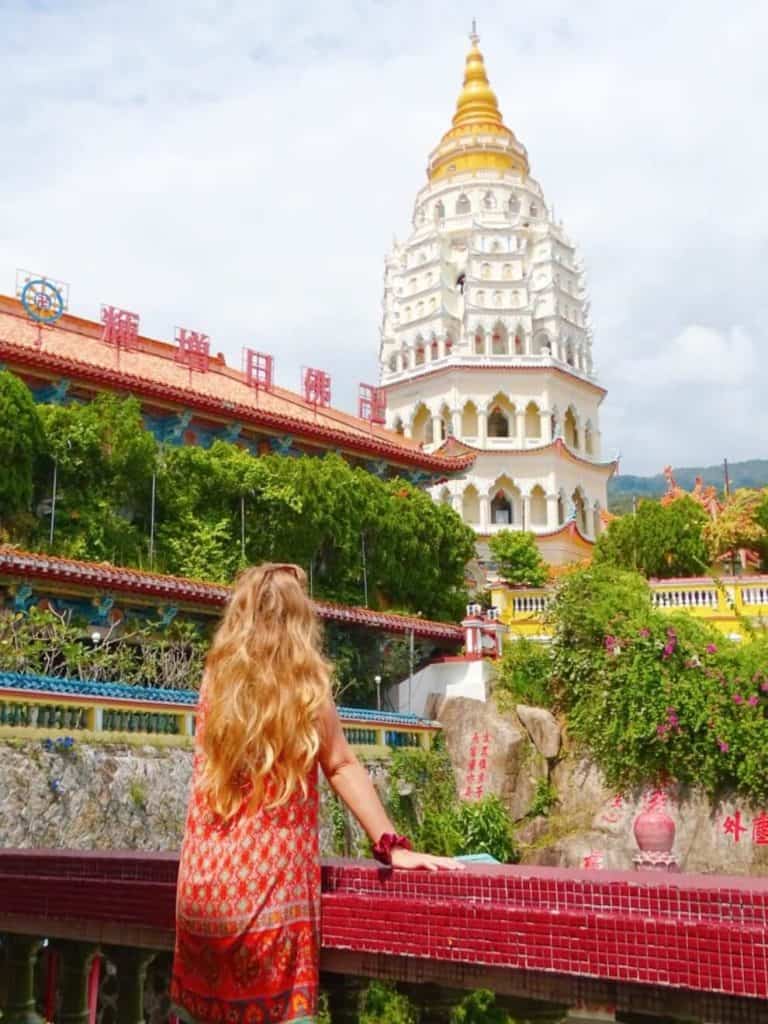 Visiting this Buddhist temple, also known as the Temple of Supreme Bliss, was one of my favourite experiences in Southeast Asia (and like any traveller to this region, I've seen a lot of temples by this point!).

Buddhists from all over Southeast Asia take pilgrimages to Kek Lok Si, which is the largest Buddhist Temple in Malaysia.

Visiting Penang Kek Lok Si will keep you busy for at least an hour or so, especially if you admire all the details. This archway below is decorated with colourful images from Buddhist folklore.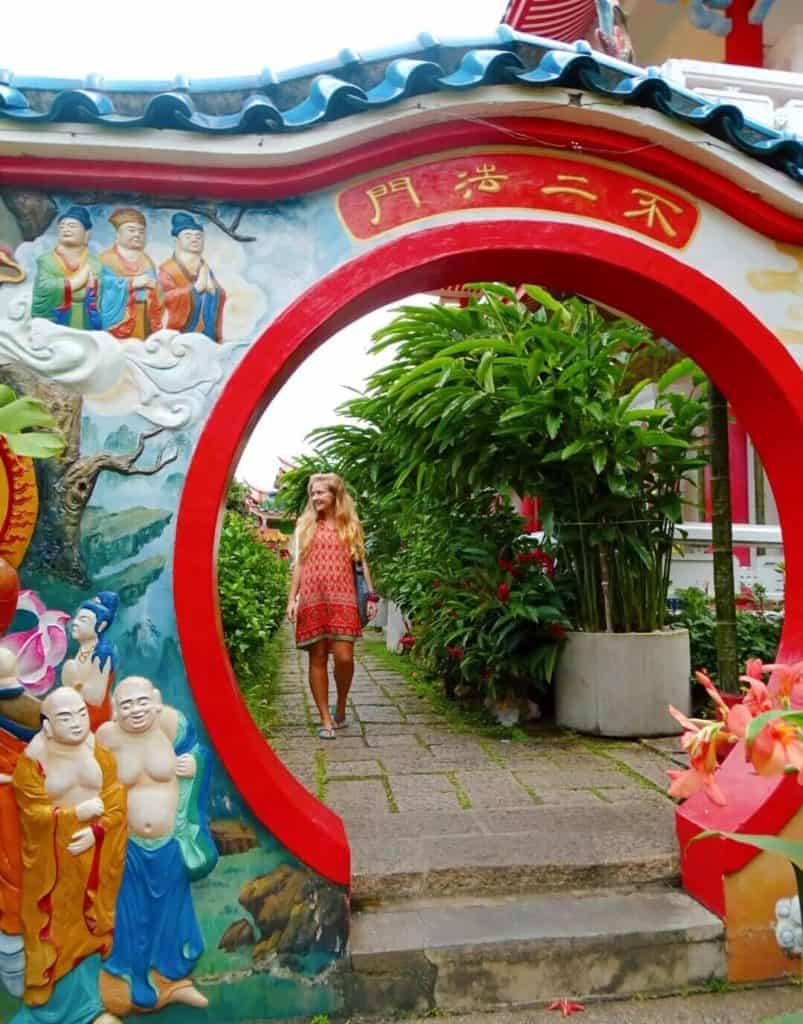 Kek Lok Si is a Theravada Buddhist temple which means you'll mainly see thin, 'awakened' Buddha statues rather than the chubby, smiley ones you find at Chinese temples.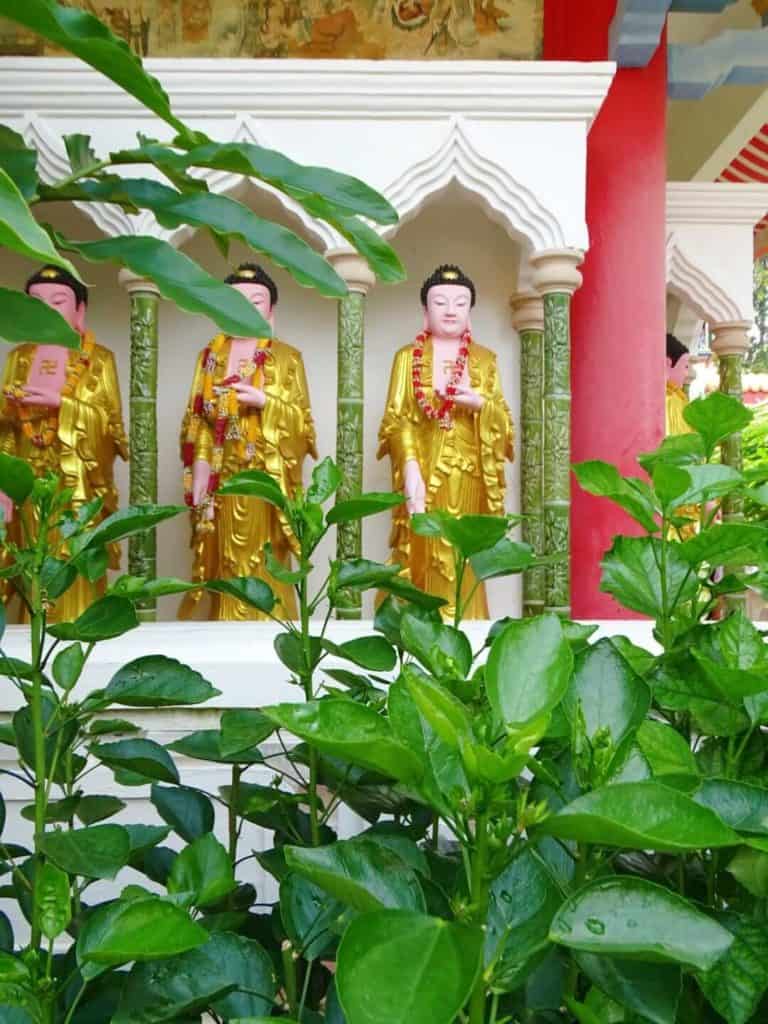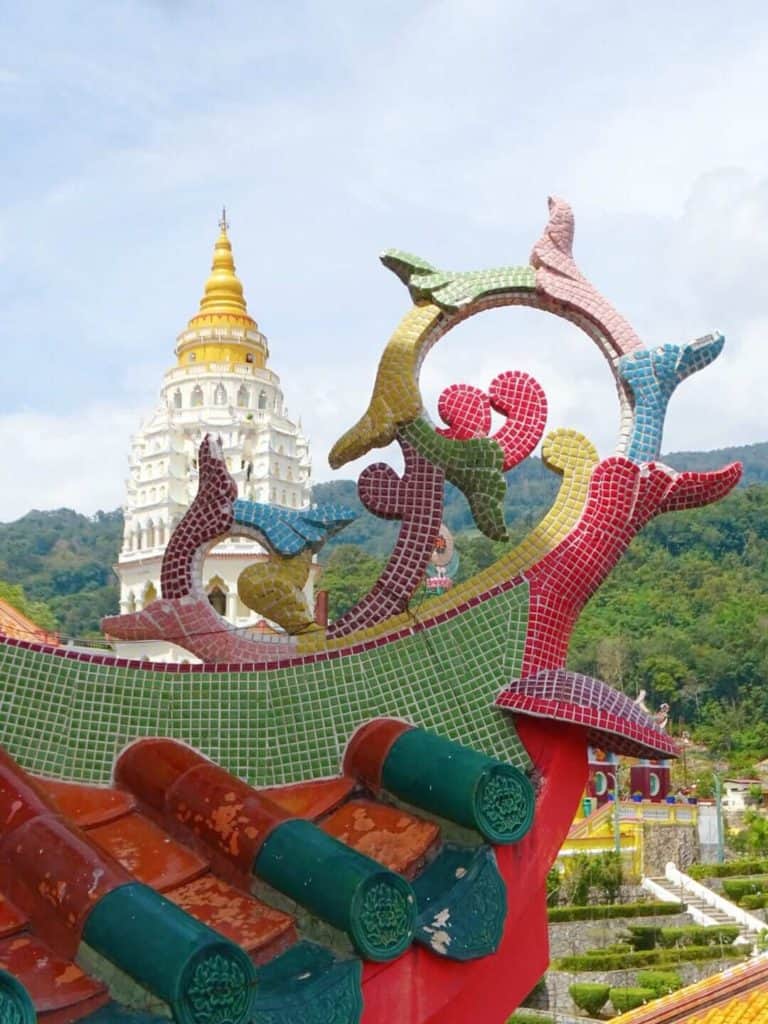 Climbing Kek Lok Si Penang Pagoda
No visit would be complete without climbing Kek Lok So Pagoda, the dreamy white spire called Ban Po Thar.

Don't miss it! Obviously you'll see it a mile off but, if you didn't know you could climb it, you might not find the entrance. You have to walk through what looks like a gift shop and take a right turn by a lady collecting 2 MYR entrance fees.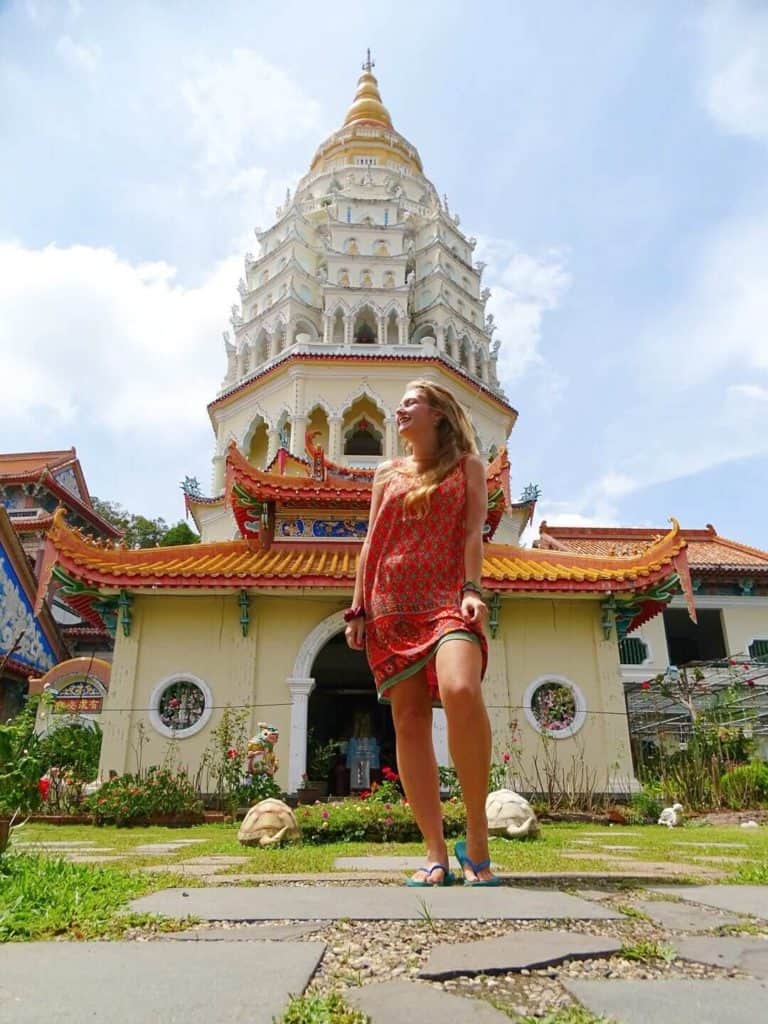 For your 2 MYR, you'll gain access to this area closer to the tower. Find the concealed staircase in the yellow building behind me. It goes up forever… I kept thinking I'd made it to the top then discovering another section going higher still.

I'd recommend going right to the top for the best views over George Town. The stairs aren't overly steep. There are shrines on almost every floor, along with gorgeous tiles and colourful details.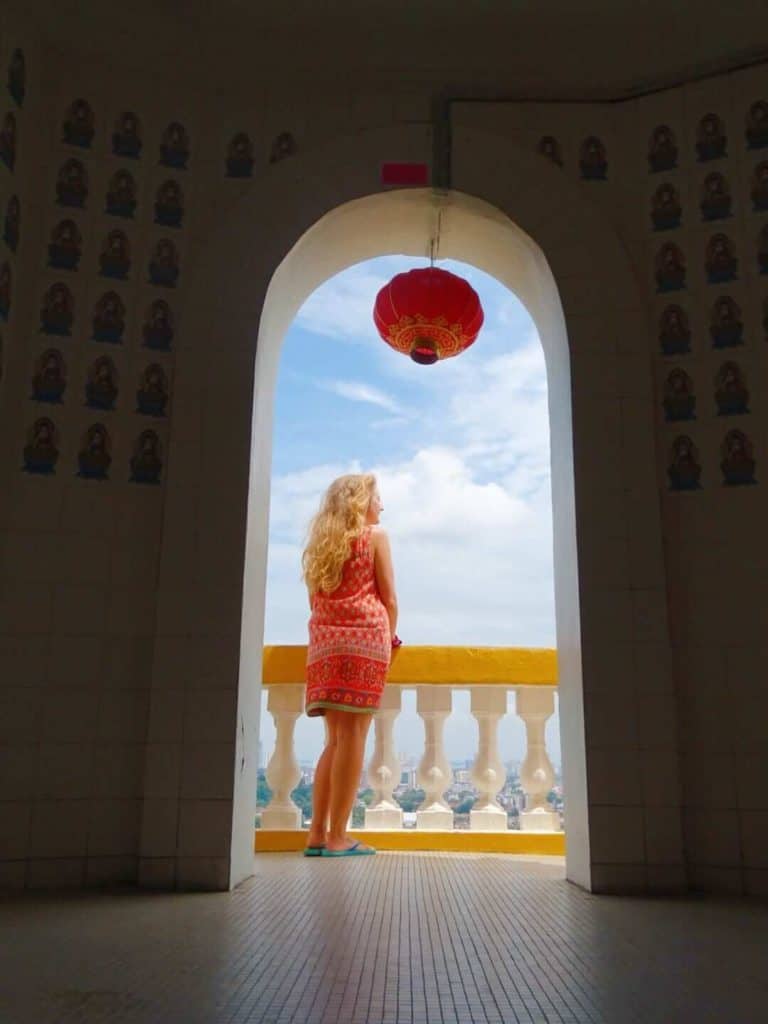 Kek Lok Si opening hours are 8.30am-5.30pm, every day of the week.
Laksa back down at Air Itam
After visiting Kek Lok Si Temple in Penang, I headed back to Air Itam where I'd eaten before. After two hours of walking and tower-climbing, I was ready for my next meal. The walk was only 20 minutes and downhill the whole way. It's on a curvy main road with no pavement so be careful.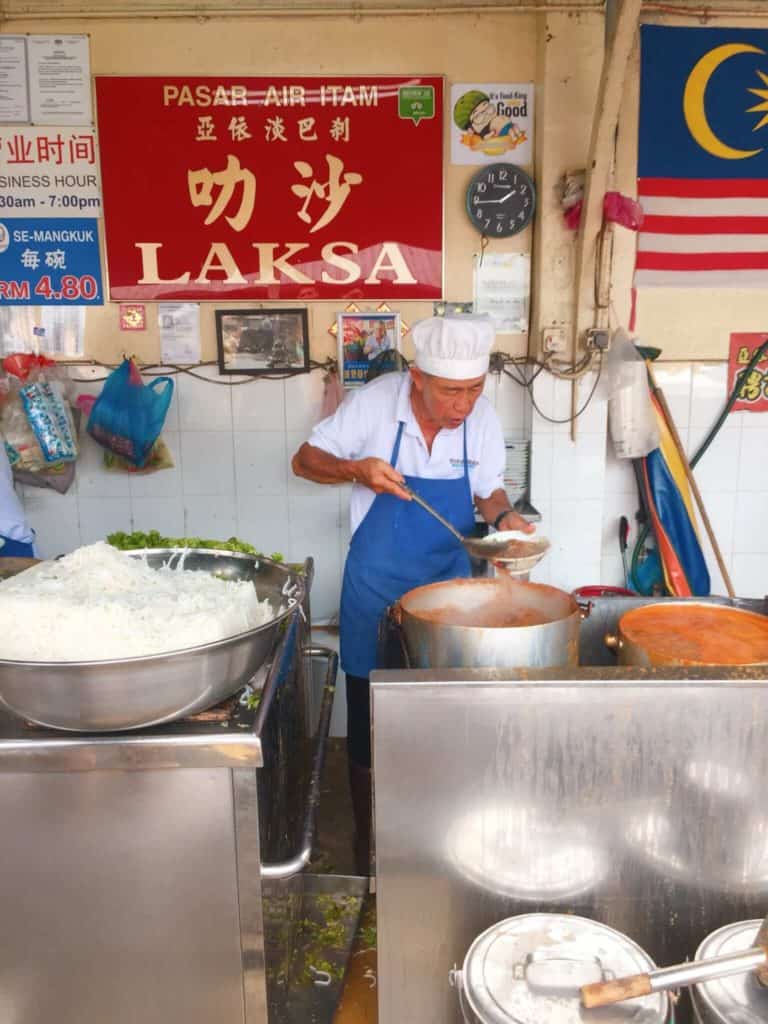 This is no average laksa… This is CNN-voted 7th best food in the world laksa!

Pasar Air Itam Laksa is an authentic, well-renowned street food restaurant that's always busy. You may struggle to find a seat so just smile at some locals and join their table.

Make eye contact with a waitress or the old uncle serving, and someone will bring you a steaming bowl of laksa for 4.80 MYR (less than £1). This noodle broth dish is flavoured with mashed mackerel, mint, pineapple, tamarind and lemongrass. It was slightly sour, a little spicy and very flavoursome. Yum!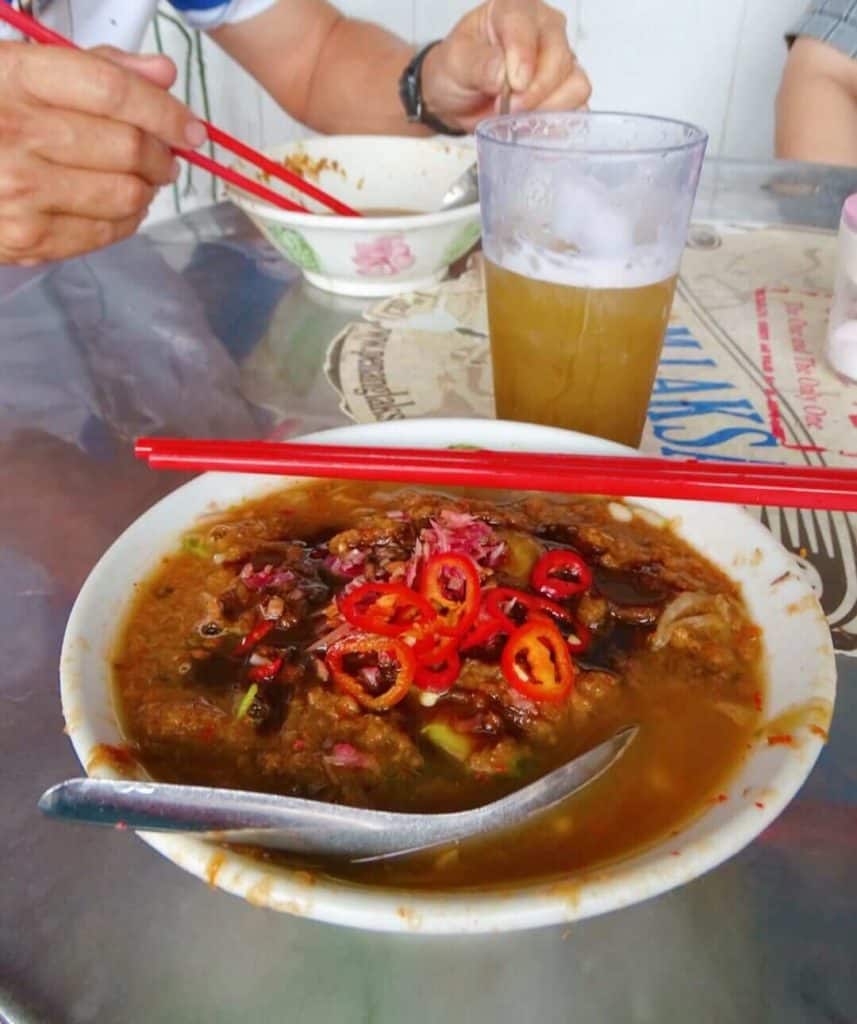 Penang Hill
From Air Itam, you can take a 15-minute walk over to the bottom of Penang Hill. If you're feeling lazy, a Grab is 6 MYR. Put Penang Hill Lower Station into Google maps or your taxi app.

From Lower Station, the cable car to the top of Penang Hill is kinda pricey – 30 MYR return. There's not loads to do at the top but it's worth a visit whilst you're in the area. It's a great way to get a lay of the land and spy panoramic views for miles around. Plus, there's dessert at the top.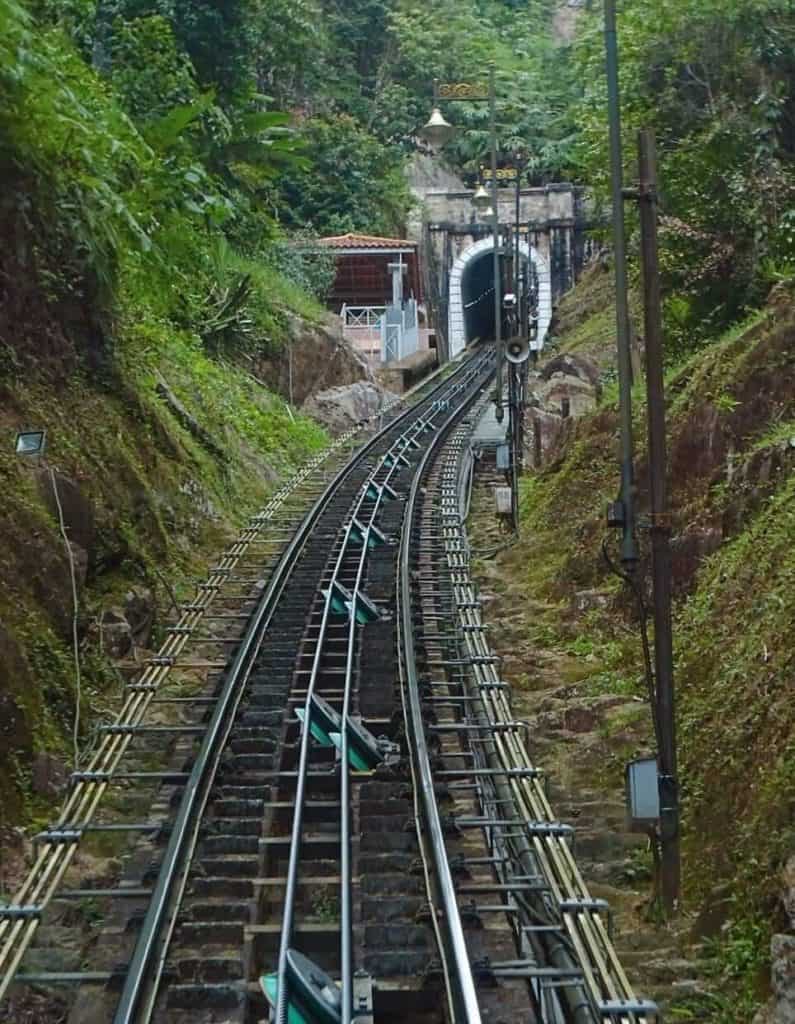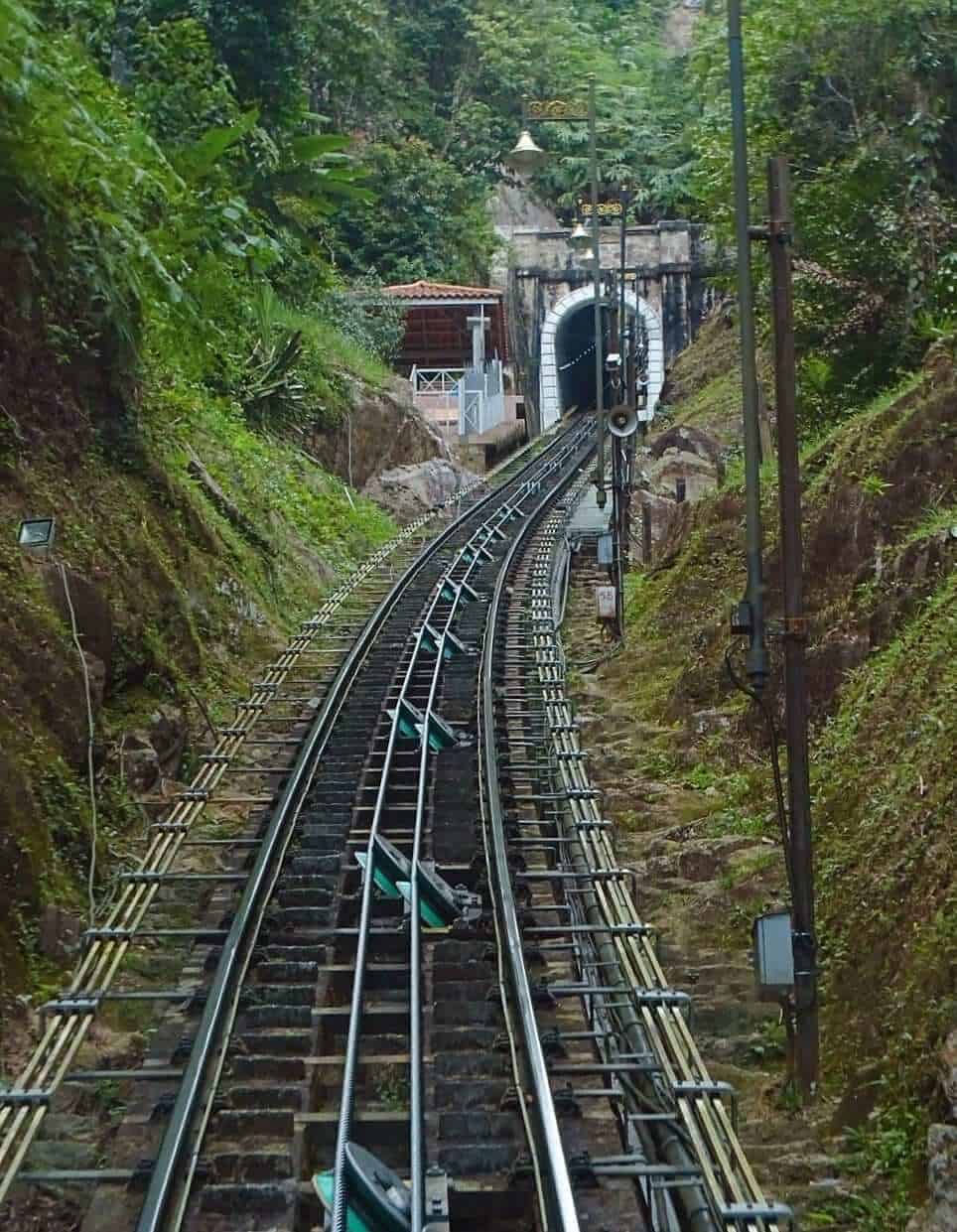 The ride up on the funicular was pretty fun when travelling from Kek Lok Si Temple to Penang Hill. The only way you'll get a photo is if you board the first carriage and push your way to the very front. You'll have some selfie fans to compete with, I'll tell you that for free.

Once you get to the top of Penang Hill, you can wander around what was once a British hill station. You'll feel the colonial influence (something I always find uncomfortable) with David White strawberry stands named after the English man who first introduced them to Penang.

Other Penang Hill activities include soaking up the greenery and looking out over George Town, Butterworth and the connecting bridge.
To avoid queues, buy your Penang Hill ticket in advance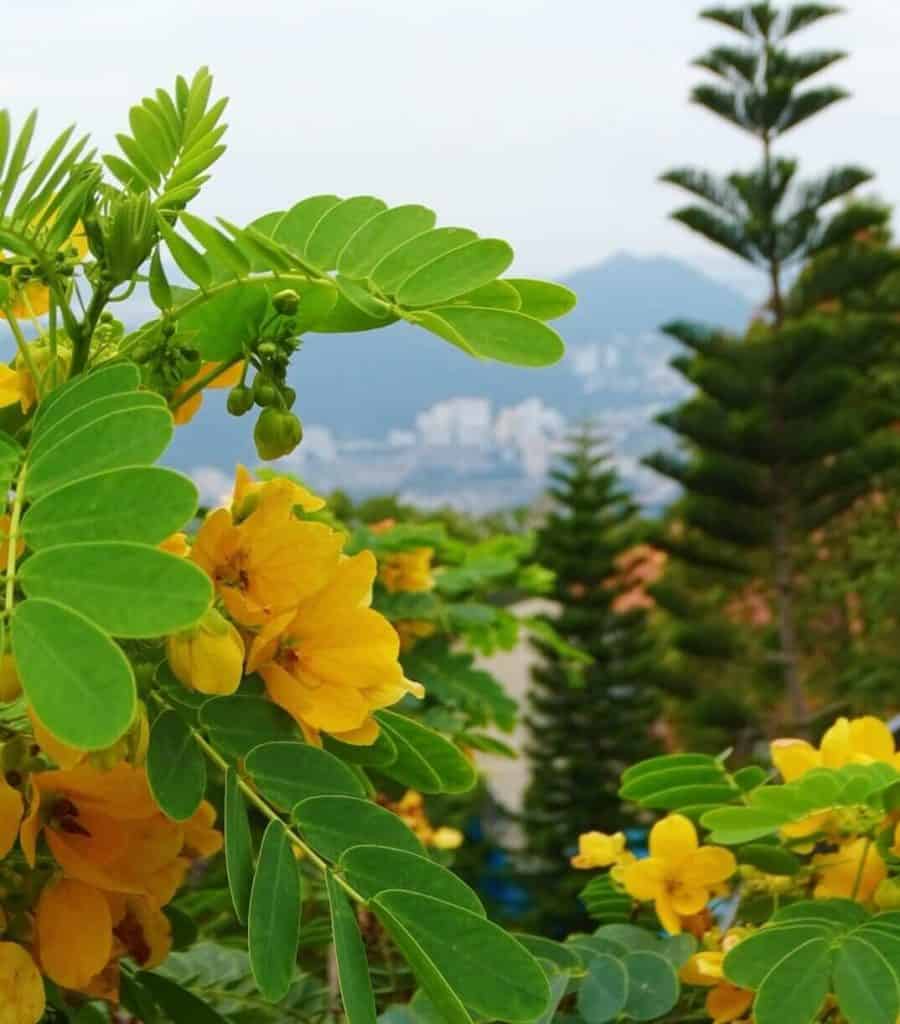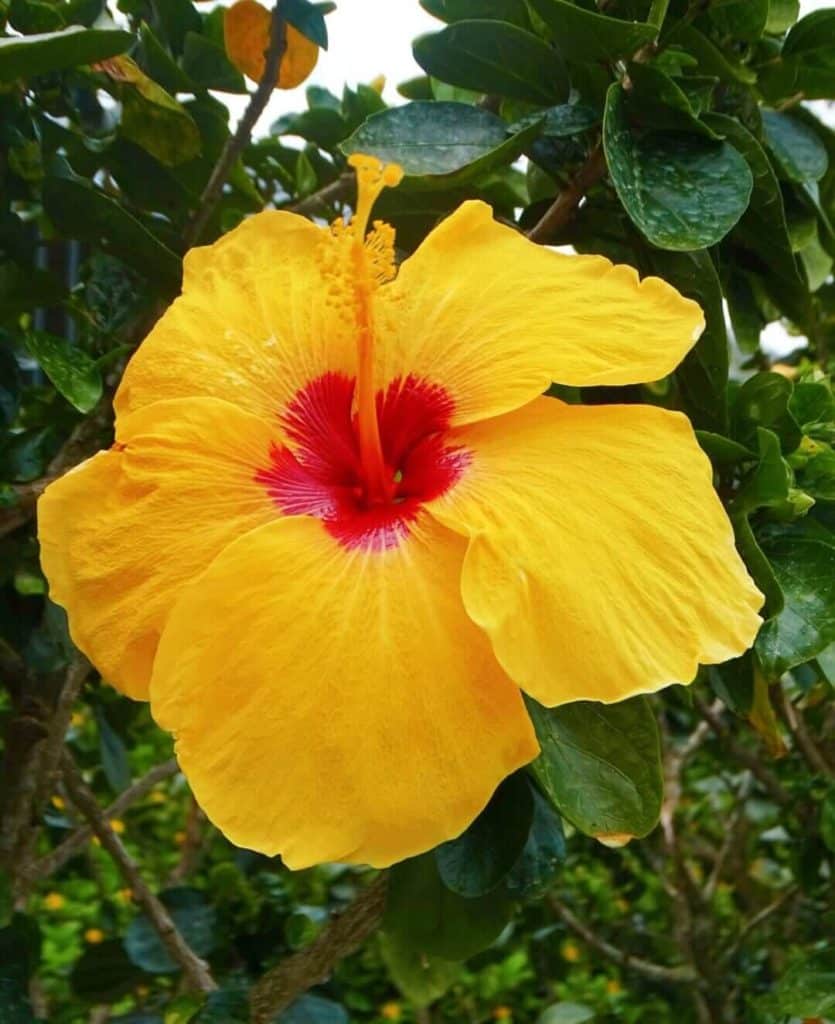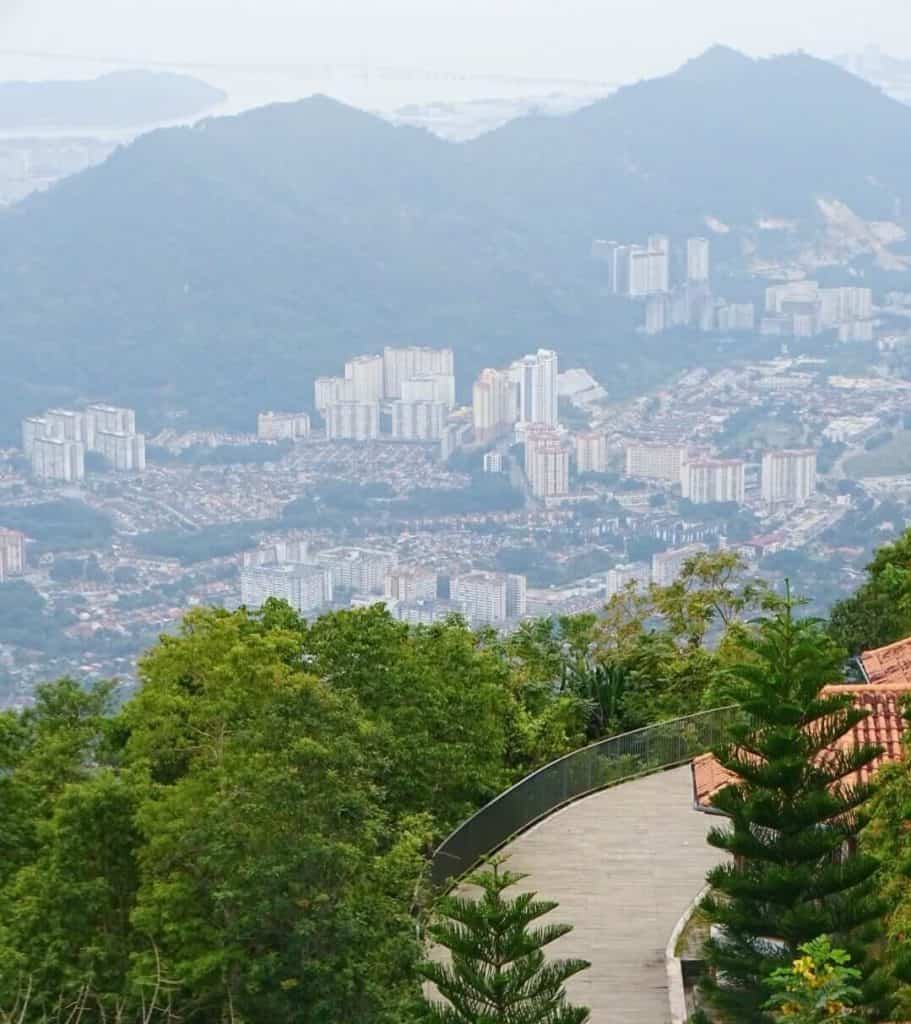 Cliff Cafe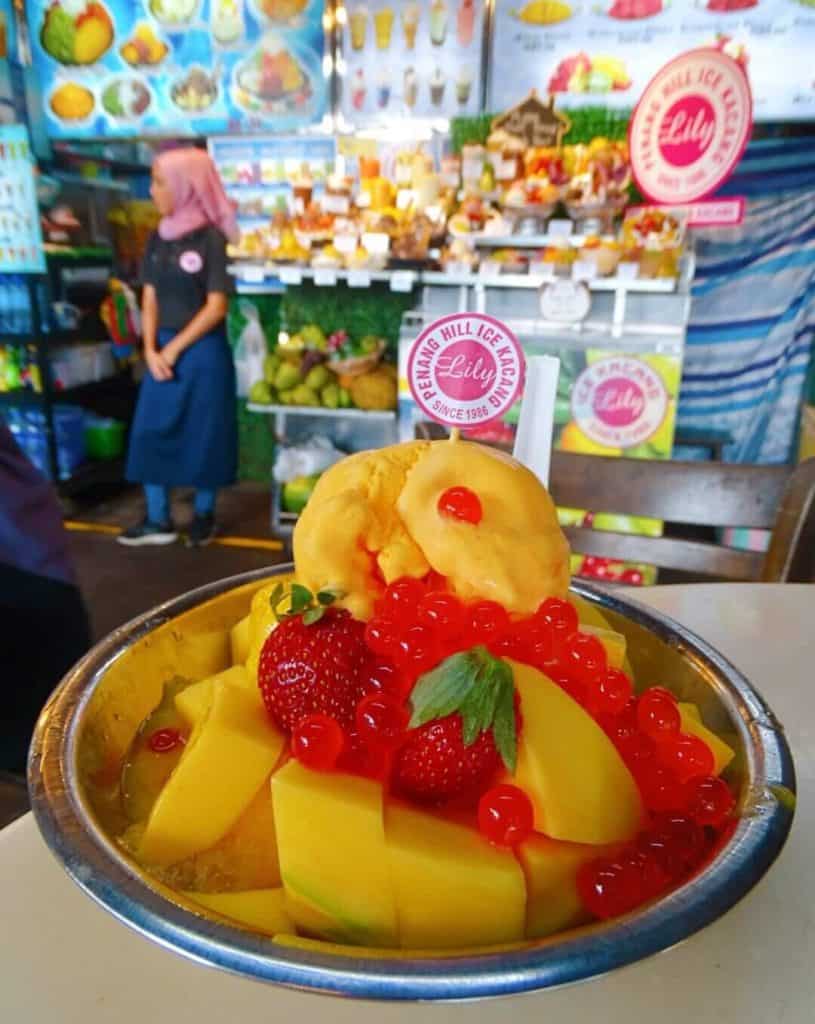 Having not eaten for approximately 1 hour, it was high time for more food! At Cliff Cafe I had some of the best desserts in Penang, mango shaved ice!

For such a touristic spot, the local food at Cliff Cafe is decent. You can get all your usually Penang street foods but, since I'd eaten two savoury meals in the last few hours, I headed straight for dessert in the downstairs court.

How glorious is this mango shaved ice dessert? It was overflowing with fresh mango, mango ice cream, strawberries and whatever those jelly balls are. You have to eat it quickly before the shaved ice turns to a bowl of mush. Not bad for 10 MYR.
How long does visiting Kek Lok Si and Penang Hill take?
After my session of gluttony, I caught the cable car back down Penang Hill. The queue to board it was way worse on the way down and I had to wait for 20 minutes to get on a train. You can pay more for fast-track tickets but that seemed excessive.

From the bottom of Penang Hill, you can catch the 203 or 204 Kek Lok Si bus back to George Town for 2 MYR or call a Grab for 11 MYR if you want to save an hour.

It obviously depends on you but I left George Town at 10am and got back at 4pm. I probably spent longer taking photos at Kek Lok Si than the average person – I was there from 11am-1pm.

I only spent an hour at the top of Penang Hill but I did save myself two hours by getting taxis rather than the bus from Penang to Air Itam. I'd recommend setting aside a full day so you don't feel rushed, especially if you want to enjoy two local meals there!
Can you visit Kek Lok Si Temple at night?
Ordinarily, no: the last entry time is 5.30pm and once you're in, you can stay 'til 6pm.

However, when I visited Penang for Chinese New Year (quite a few years ago now), it was open until late for the festivities. The site was decorated with thousands of colourful bulbs and it remains one of my favorite travel memories!

If you're in Penang during CNY, don't miss the chance to visit Kek Lok Si Temple Penang at night!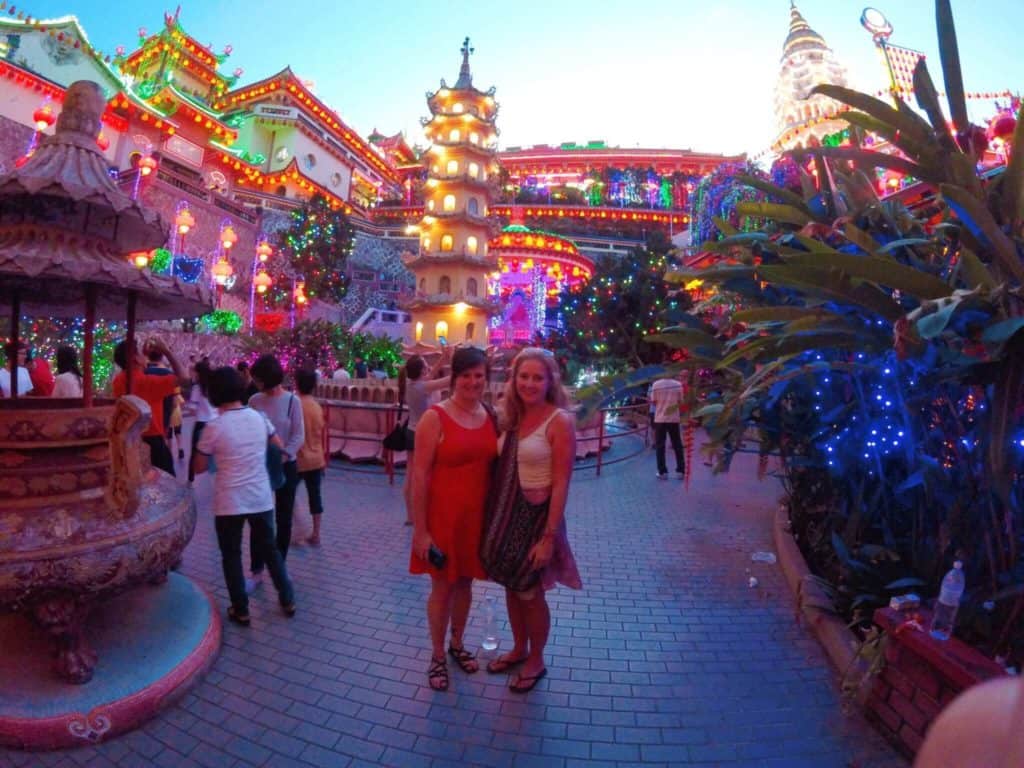 Thanks for reading my Kek Lok Si Penang guide!
Read my other Malaysia posts:
See you next time for more adventures,
Rose
For more content, follow me on Instagram, Facebook, Twitter and YouTube.
Ps. Liked my guide to visiting Kek Lok Si Penang Pin it for later!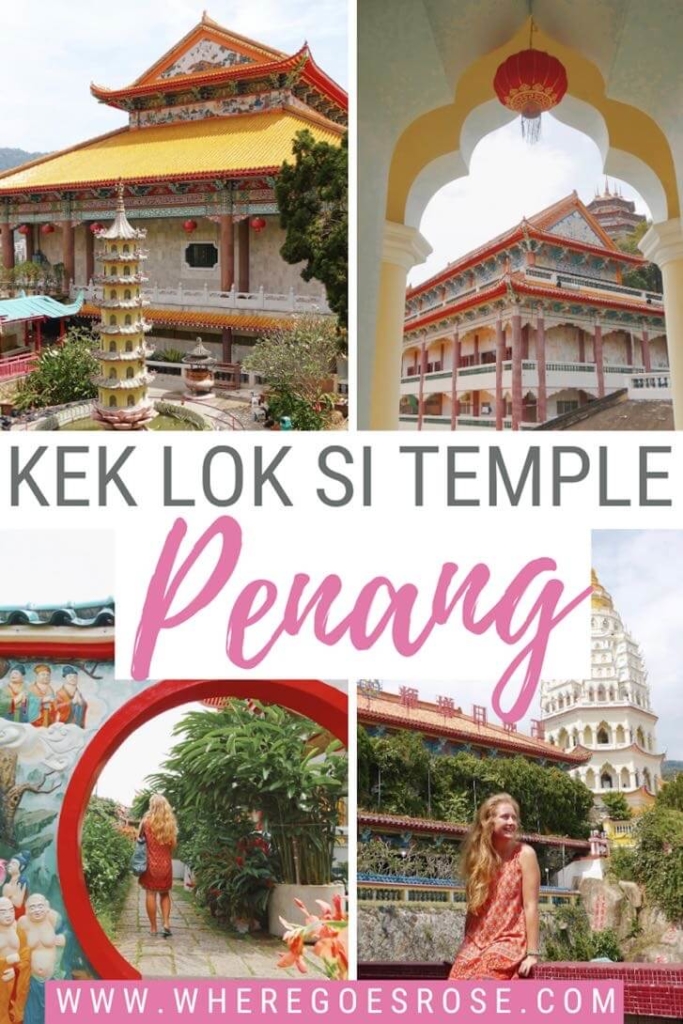 Malaysia quick links

Flights – I use Skyscanner to find the best-value flights, using the 'search by month' tool to find the cheapest dates. You can also use the 'to anywhere' feature if you're flexible on where you're going.

Stay connected with E-sim data plans that don't require delivery or collection; just span the QR code.

In my opinion, Lonely Planet offer the best guidebooks. Get the latest Copy of Lonely Planet Malaysia.

For Malaysia buses and trains, I use 12GoAsia. The search feature allows you to compare prices and durations.

I use Booking.com for accommodation. They have the best range of hotels and self-catering apartments, plus you can filter by review score and price to find the best-rated budget places. For hostels, I use Hostelworld.

To save money on accommodation, I use Trusted Housesitters, a website that connects homeowners going away and travellers who can sit their homes & pets.

For activities, I use GetYourGuide and Viator as they both have a huge range of affordable tours.

Need travel insurance? I use True Traveller (for UK & Europe residents) since it's affordable but covers everything you'd need including various activities, valuables and pre-existing conditions. Unlike some companies, they insure you if you're already travelling / don't yet have your flight home booked. Get a quote.

For travel insurance for other nationalities, I recommend Hey Mundo and for long-term digital nomad travellers, I suggest Safety Wing.

Check out my resources page for more travel discounts and tips!