This post may contain affiliate links to things like tours, hotels, Amazon associates and products. These help me earn a small commission at no additional charge to you.
Thinking of visiting the Oxford colleges? The city is built around 38 of them, each with different entry prices and opening times. Since it's slightly confusing, I'll let you in on the prettiest colleges in Oxford as well as the cheaper ones to enter.

With almost 800 years of history, the Oxford colleges make the city a captivating place to explore. Stick your head around a door on the High Street and find a whole little world, sometimes with a field of deer or the Harry Potter Great Hall inside. There are many famous Oxford colleges as well as plenty of hidden gems.

If you're spending a weekend in Oxford and want to see the best of the city, you won't want to miss them. Even if you're just visiting Oxford as a day trip, you can squeeze a couple into your itinerary.

After living and working in the city for years, here are the best colleges to visit in Oxford…
OXFORD ESSENTIALS

Oxford & Cotswolds Pocket Lonely Planet guidebook

Accommodation: Booking.com

Activities: GetYourGuide

Getting there: Trainline / Busbud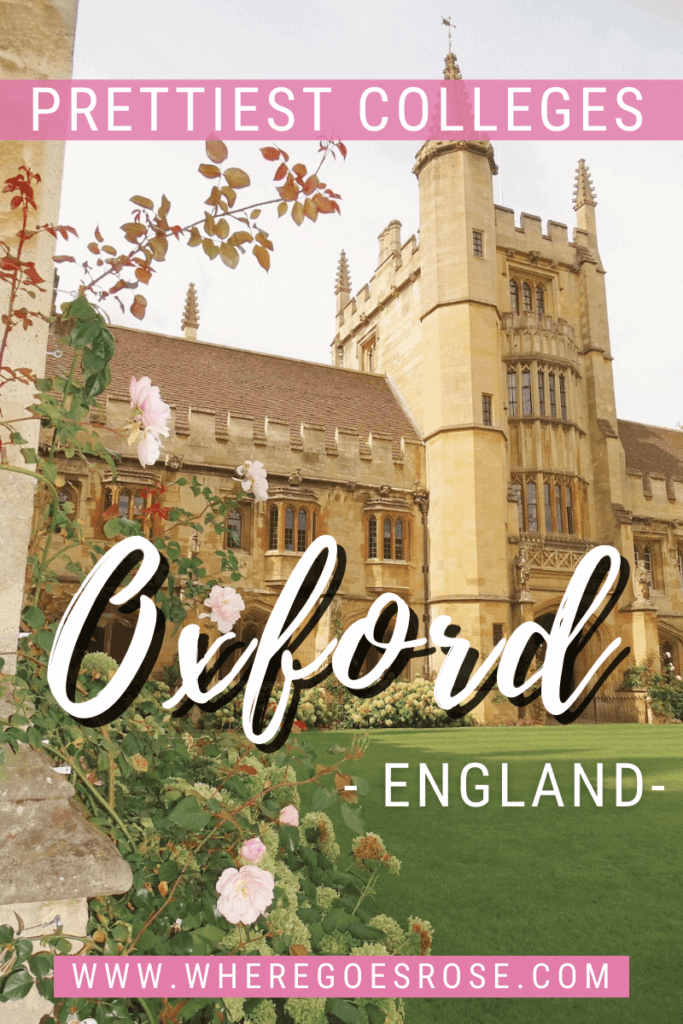 Oxford University colleges map
Check out this Oxford University map which shows you all the Oxford colleges and university buildings spread across the city.
FAQ – are all Oxford colleges open to the public? The answer is no. You cannot freely wander into any college. However, all the ones included in this guide are open to the public. Stick to these and you won't have any problems, plus they're the prettiest colleges in Oxford anyway!
Visiting the prettiest Oxford colleges
Unless you have a month in Oxford, you probably won't have time to explore them all. I've collated the most beautiful Oxford colleges to visit including their opening times and entrance fees. Be sure to plan your trip around these.

Here's my full visitor's guide to the Oxford University colleges…
Want a local hand? Take this Oxford University colleges tour with a local guide!
Magdalen College (#1 prettiest Oxford college)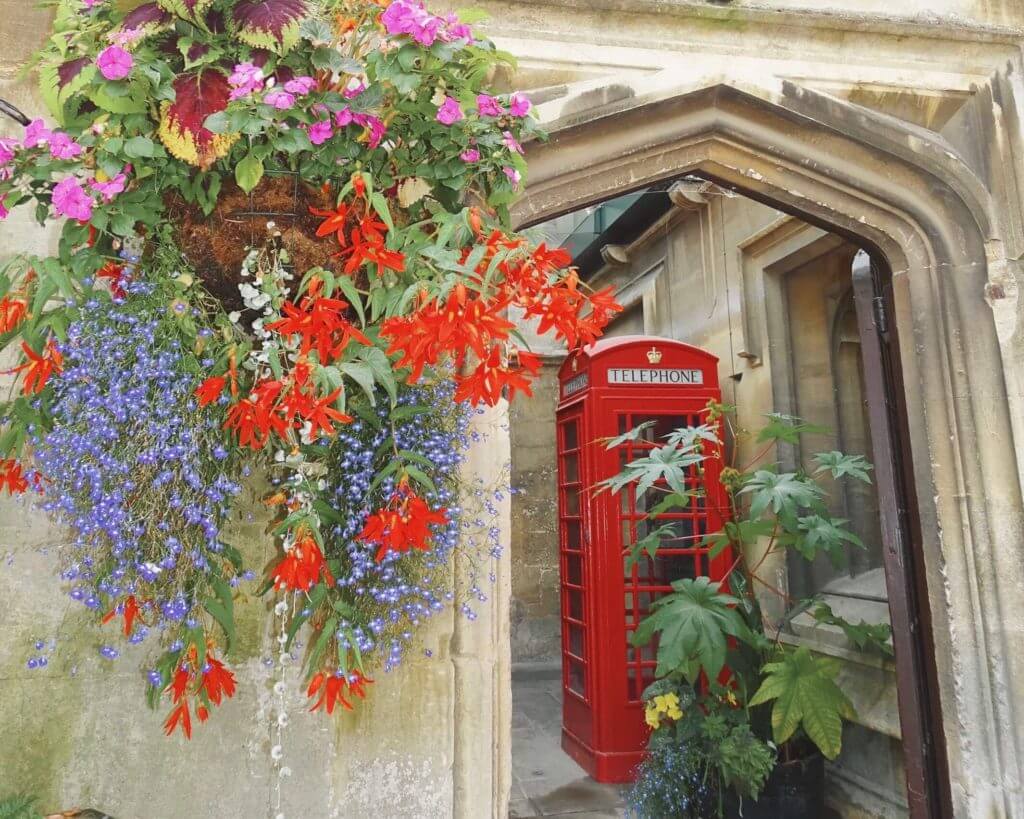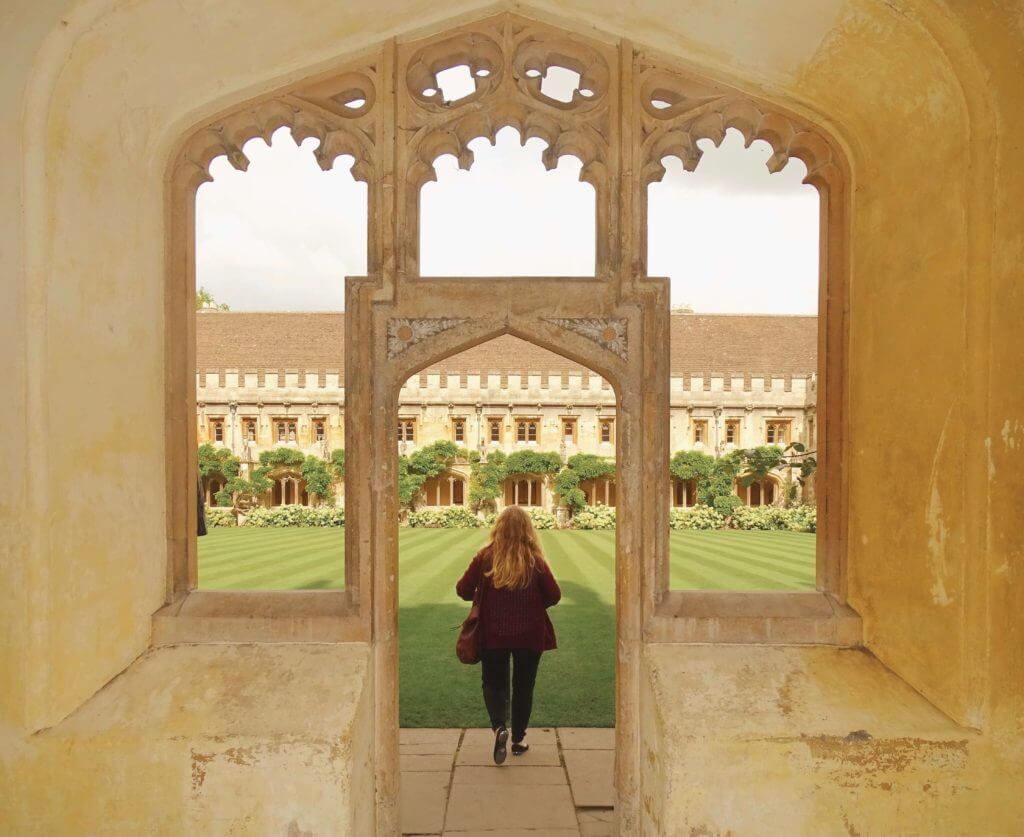 Magdalen College is one of the most traditional and pretty Oxford colleges to visit. Inside you'll find an Instagrammable phone box and a whole field of deer inside the massive grounds. For an escape from the busy city, this is the perfect place for a leisurely walk.
Read next: 20 Instagrammable spots in Oxford
Magdalen's grand nature is because of the ex-Bishop of Winchester who was Lord Chancellor of the University in the 1450s. He desired a grand college with room for 40 fellows and a choir.

He got what he wanted: to this day, Magdalen is one of the most impressive colleges to visit in Oxford. Nine Nobel Prize winners and C.S Lewis (author of the Narnia series) have studied at Magdalen.

Magdalen College is set slightly away from Oxford city centre, just beside Magdalen Bridge. The 10-minute walk is well worth it since not many tourists stray so far from the centre. When you visit Magdalen College Oxford, you'll get the grounds almost to yourself!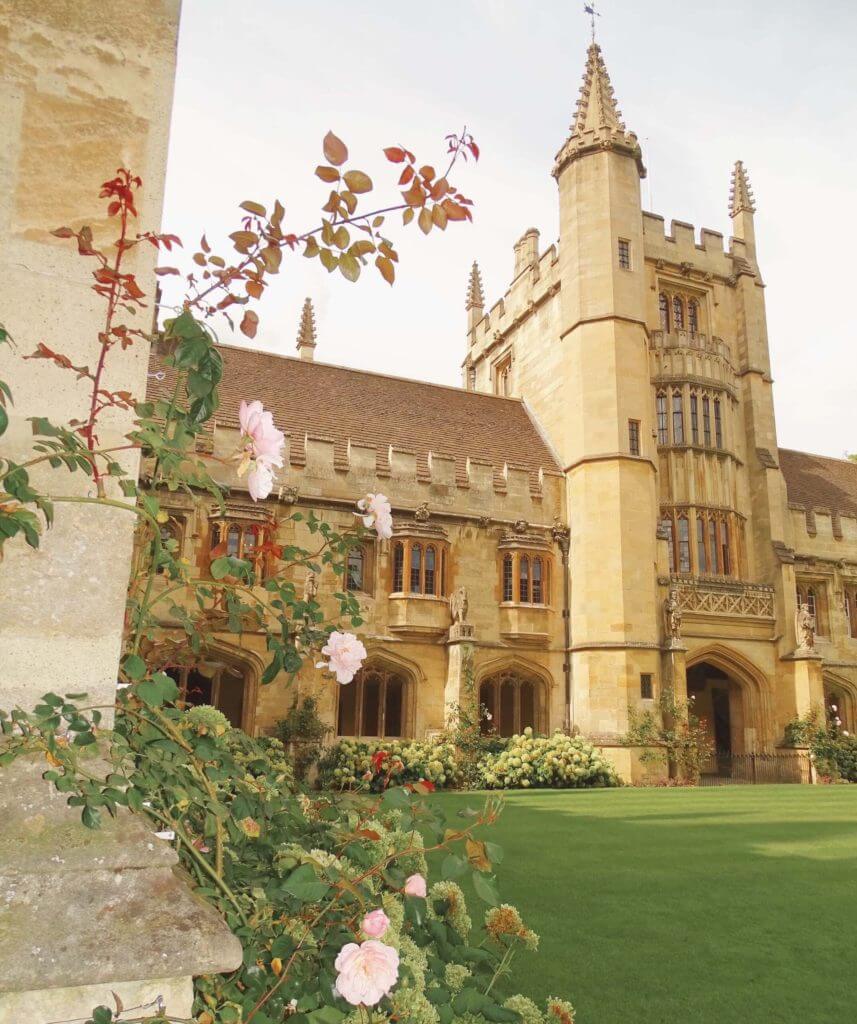 Where: Towards the end of the High Street, beside Magdalen Bridge Boathouse.

Entrance: £6, June-September 1pm-7pm, rest of the year until 6pm.
Balliol College (the second prettiest Oxford college)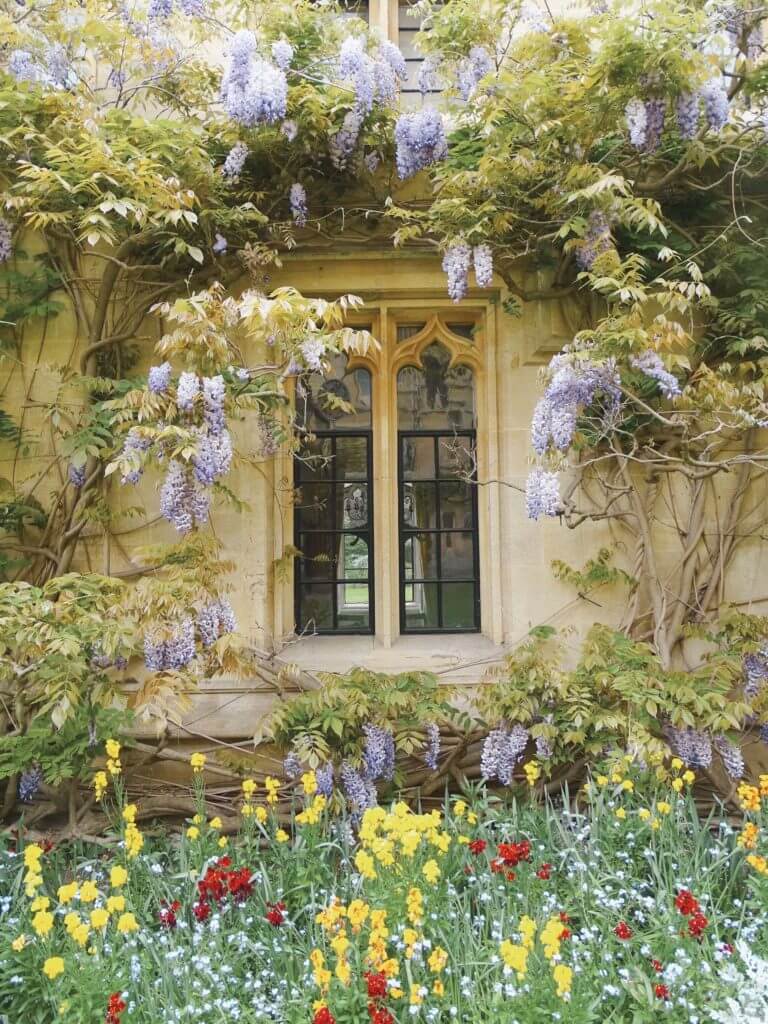 Balliol College quibbles with Merton and University College about who is the oldest. While no one is quite sure, it's known that Balliol was built in the 13th century.

People also quibble over which is the prettiest Oxford college. IMO, it's probably Magdalen then Balliol. Have you seen the wisteria window display?

This Oxford college was founded by John de Balliol, a rich landowner from County Durham. It's of the most famous Oxford colleges because of its alumni including Boris Johnson and John Wycliffe, the man who translated the Bible into English, who was the college master in the 1360s.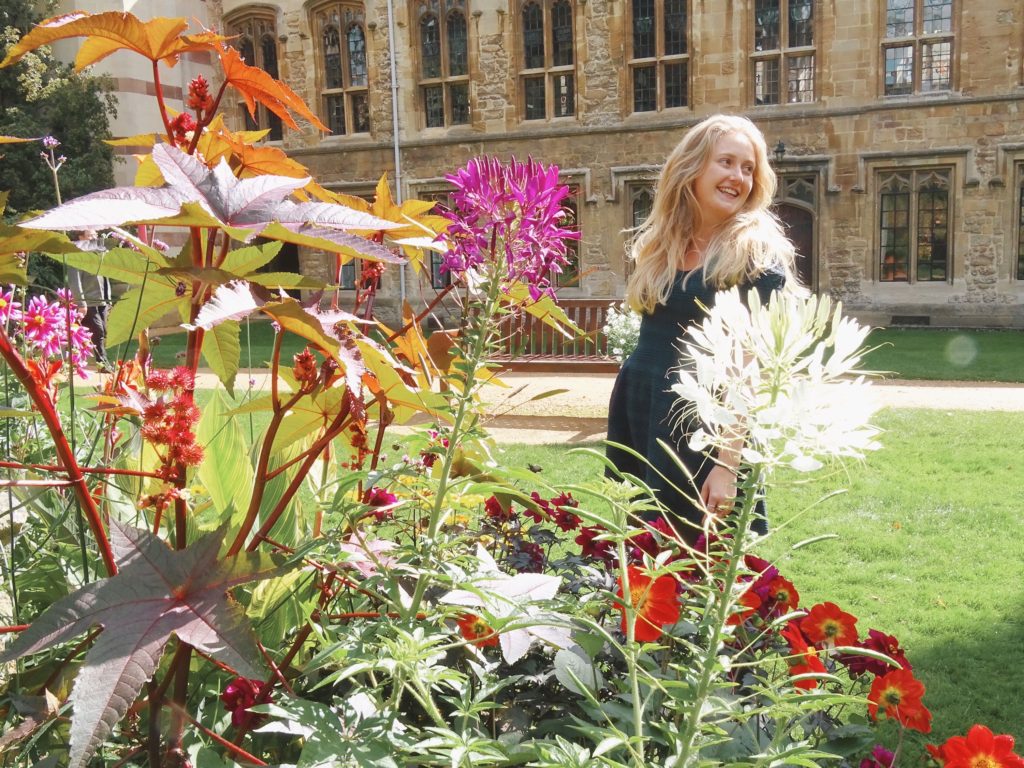 When visiting the Oxford colleges, Balliol is a must for its beautiful gardens. In spring months, wisteria wraps its way around golden window frames while daffodils and wallflowers grow below, giving the college a yellow and red colour pop.

Balliol College has lots of quirky traditions although many of them have come to a halt in the modern day. It was one of the last Oxford colleges to compete in the annual tortoise race and was previously home to a society that saw students living one day of each term backwards.

Balliol's central location means it's one of the best Oxford colleges to visit if you're short of time. If you're making your way down Broad Street, you can easily pop inside for a quick lap of the quad.

Where: The entrance is on Broad Street near to the junction of St Giles and Cornmarket.

Entrance: £3, 10am-5pm.
Christ Church College (the most famous Oxford college)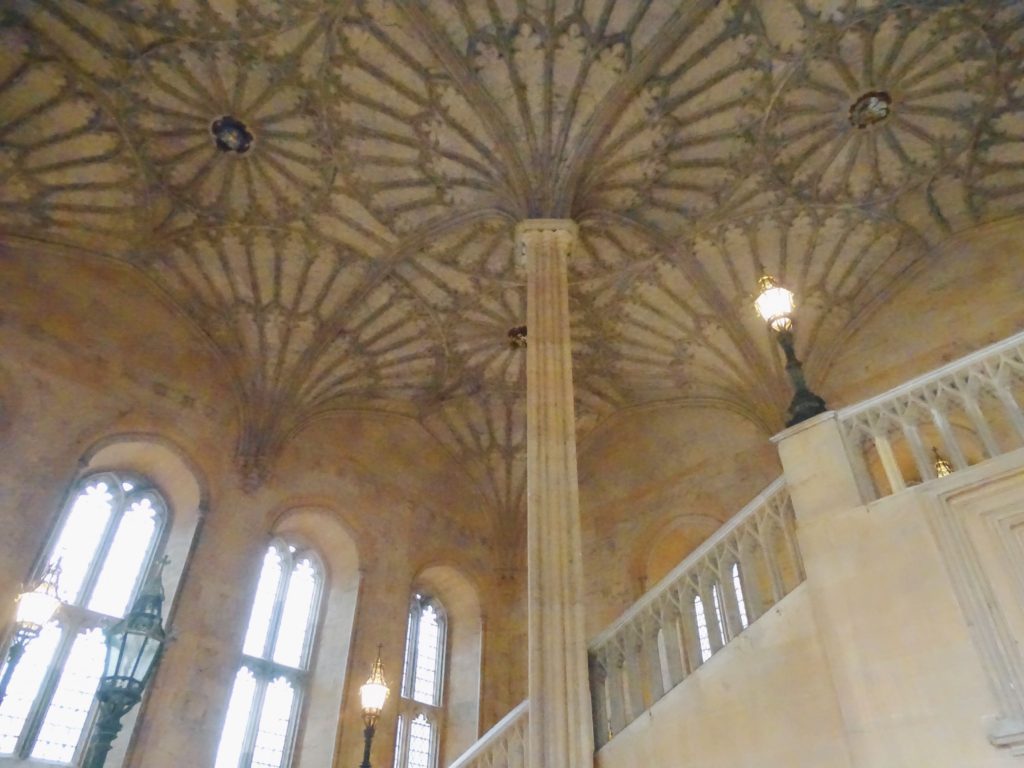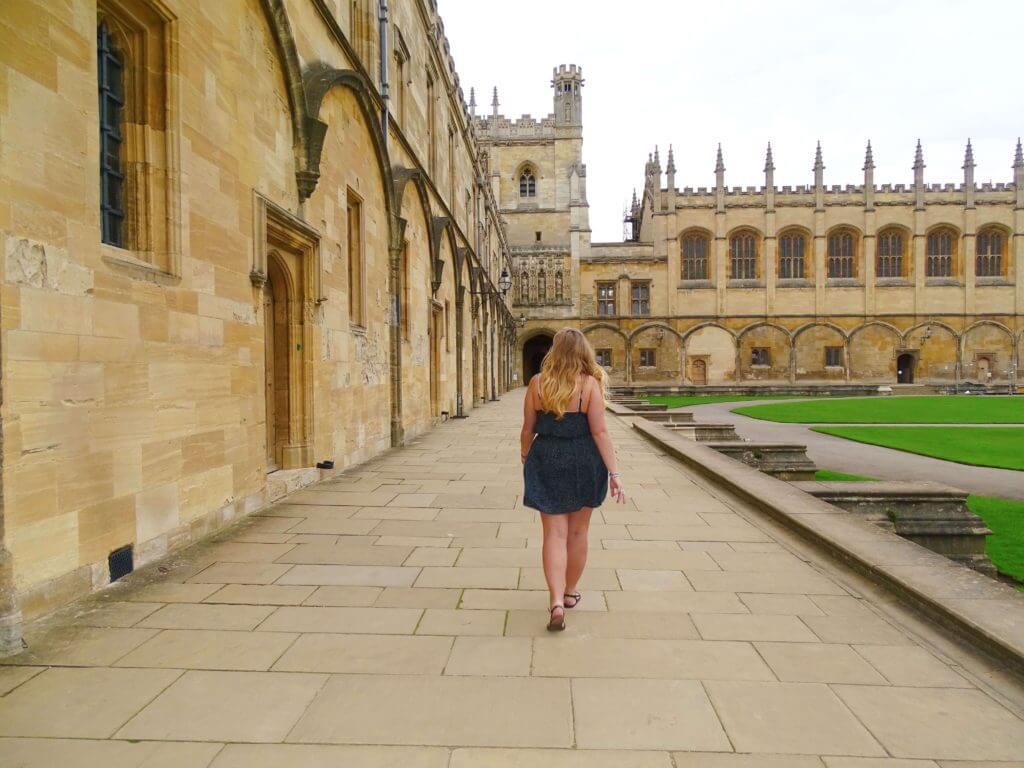 No guide to visiting the Oxford colleges would be complete without a little Oxford Harry Potter history!

Christ Church College is the most famous Oxford college to visit, apparently because of a movie about a boy who goes to wizard school?

To set the record straight, only a couple of Harry Potter scenes were filmed at Christ Church. The most famous is the scene in the Philosopher's Stone when Harry, Ron and Hermione are greeted at the bottom of the staircase by Professor McGonagall.

However, the dining hall at Christ Church is thought to be the inspiration for the Hogwarts Great Hall in the Harry Potter movies.
Read next: A self-guided Harry Potter Oxford tour
In other Oxford University facts, the real Alice in Wonderland (her father was the Dean of the college) actually lived at Christ Church, as did Alice and Wonderland author, Lewis Caroll.

Christ Church is one of the largest Oxford colleges with over 600 students and its own cathedral where you can catch a daily evensong, one of the best free things to do in Oxford during your visit. Like many of the top Oxford colleges, it was male-only for centuries and only started accepting female students around 40 years ago.

Where: St Aldates.

Entrance: £15, usually between 10am-5pm depending on the season. See Christ Church rates and times. Yup, this is the most expensive college by a long shot.
University College
University College is another of the best Oxford colleges to visit due to its long history and pretty outside quad. The website declares they're Oxford's oldest college, however the main University website says they share the title with Balliol and Merton. We may never know the truth!

Don't miss the opportunity to wander the symmetrical quad at University College, knowing that famous alumni Stephen Hawking and Bill Clinton did the same during their studies. You can also pay a visit to nearby pub, the Turf Tavern, where Clinton allegedly smoked a spliff but famously 'didn't inhale!'.

Where: High Street.

Entrance: £2, 10am-12pm and 2pm-4pm outside of uni term time only.
New College
This is another famous Oxford college, full name The College of St Mary of Winchester in Oxford. With a mound island in the middle of the grounds, it makes you wonder how all the colleges fit in such a small city centre.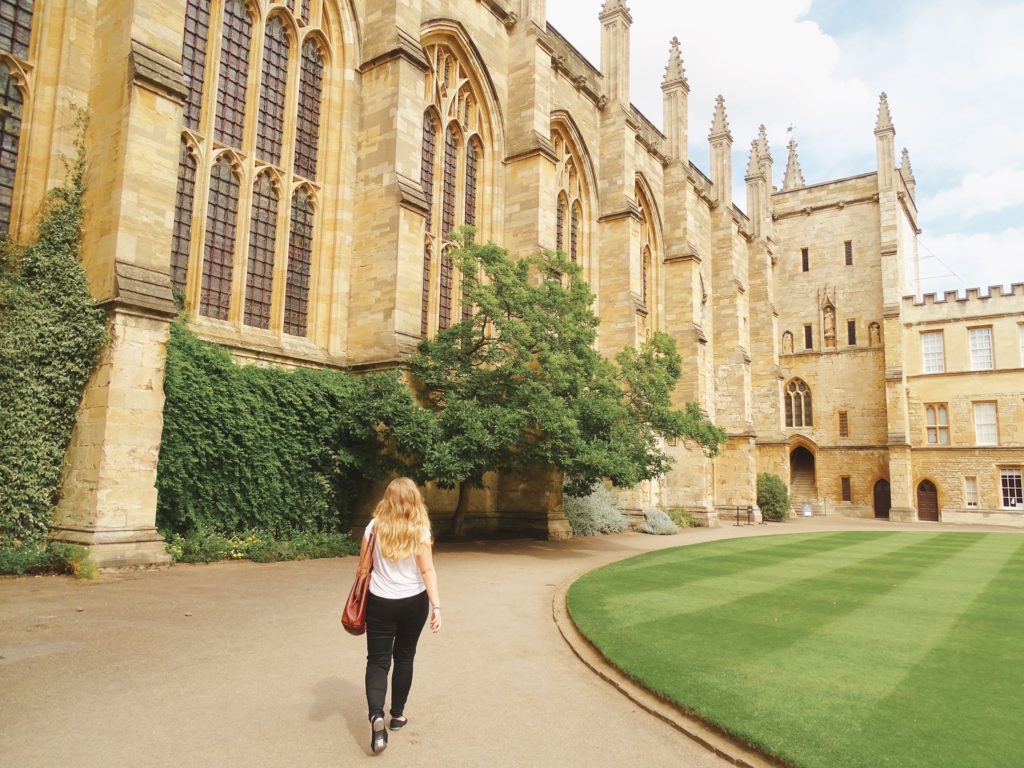 A little-known fact about New College is that Hugh Grant and Kate Beckinsale both studied there. Who could blame them? It's easily one of the most beautiful colleges in Oxford.

More recently, the TV show His Dark Materials was filmed at New College. Author Philip Pullman studied at Oxford and based the novels in alternative universe Oxford so it only makes sense that the TV adaptation was filmed locally.

In episode two, you'll see the characters take off in airships from what they call Jordan College (a fictional place not named after any real Oxford college).

The scene from Harry Potter and The Goblet of Fire where Harry turns Malfoy into a ferret was filmed beside New College Cloisters (the semi-covered walkways around the edge of the college). For fans of Harry Potter and His Dark Materials, New College is a must-visit Oxford college.

Where: Enter on Holywell Street or Queen's Lane.

Entrance: Free from 2pm-4pm, October-March (Holywell Entrance), £5 from 11am-5pm the rest of the year (Queen's Lane entrance).
Worcester College
Built in 1714, Worcester College is practically a brand new Oxford college! Actually, a college has stood on this patch of land since the 13th century but it used to be called Gloucester college, somewhere that no longer exists.

Emma Watson, who played Hermione in the Harry Potter movies, studied at Worcester College just a few years ago.

There are many contenders for the most beautiful college in Oxford but Worcester College has 26 acres of gardens, a wood and a lake. Who could argue with that? Since it's just a 10-minute walk from the main bus and train station, it's an easy Oxford college to visit and enjoy before heading home.

Where: The corner of Worcester, Walton and Beaumont Street.

Entrance: Free, 2-4pm.
Merton College
Merton College has its own chapel, loads of gargoyles and an apparently 'haunted' alley called Dead Man's Walk. Sound similar to your uni halls? (NOPE).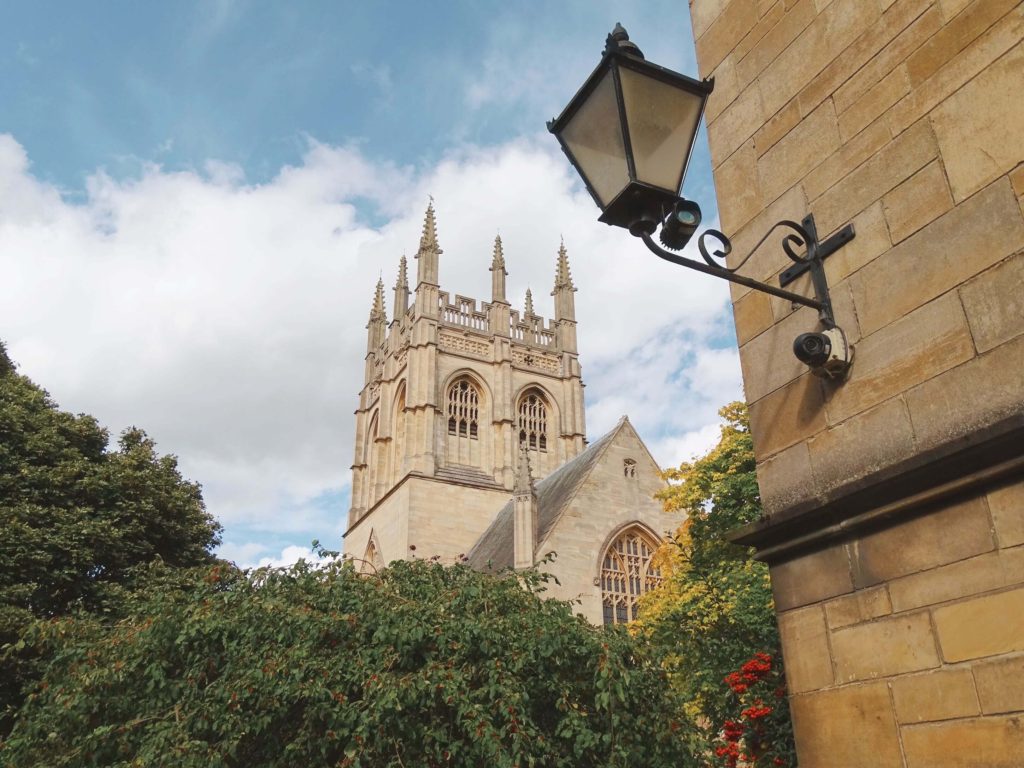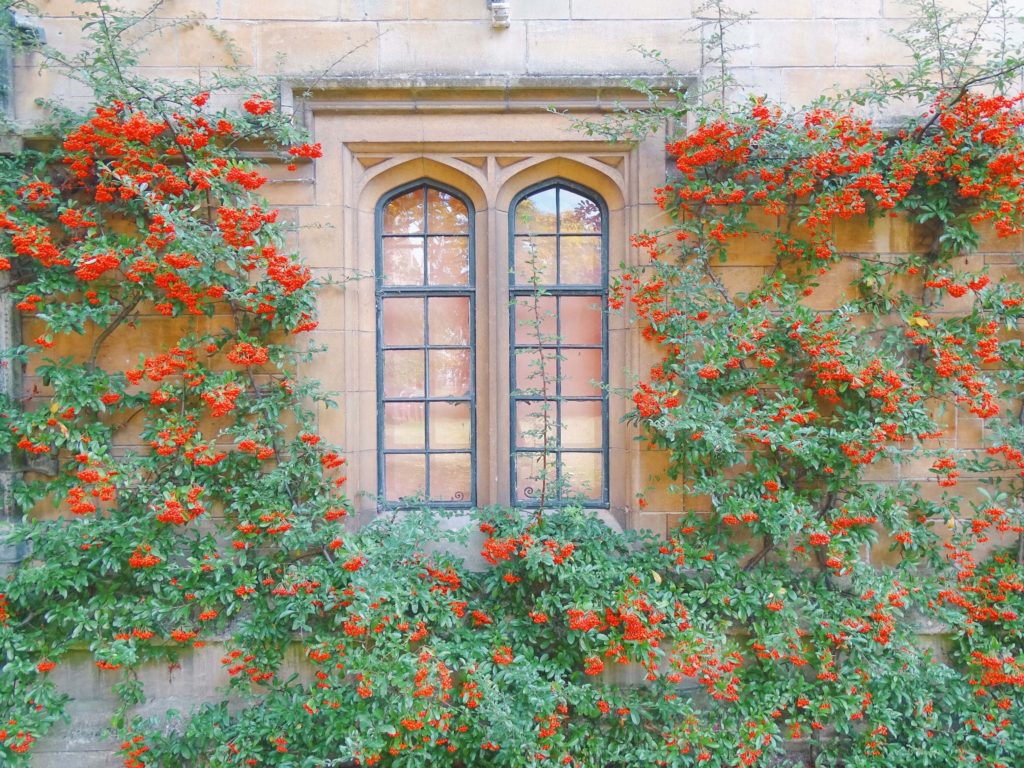 Merton is another of the oldest and prettiest Oxford colleges, built to house 20 original fellows. During its 750 years of history, it's hosted famous alumni like American poet, T.S Elliot, and author of The Hobbit and The Lord of the Rings, J.R.R Tolkien.

Merton College is hidden away on Merton Street (which runs adjacent High Street) making it one of the quietest and peaceful Oxford colleges to visit. This street is a personal favourite of mine with red and golden leaves lining the walls come autumn.

Where: Merton Street. Be sure to check out some of the quirky buildings and doorways along the way.

Entrance: £3 from 2pm-4.30pm, Mon-Fri and 10am-5pm at weekends.
Lincoln College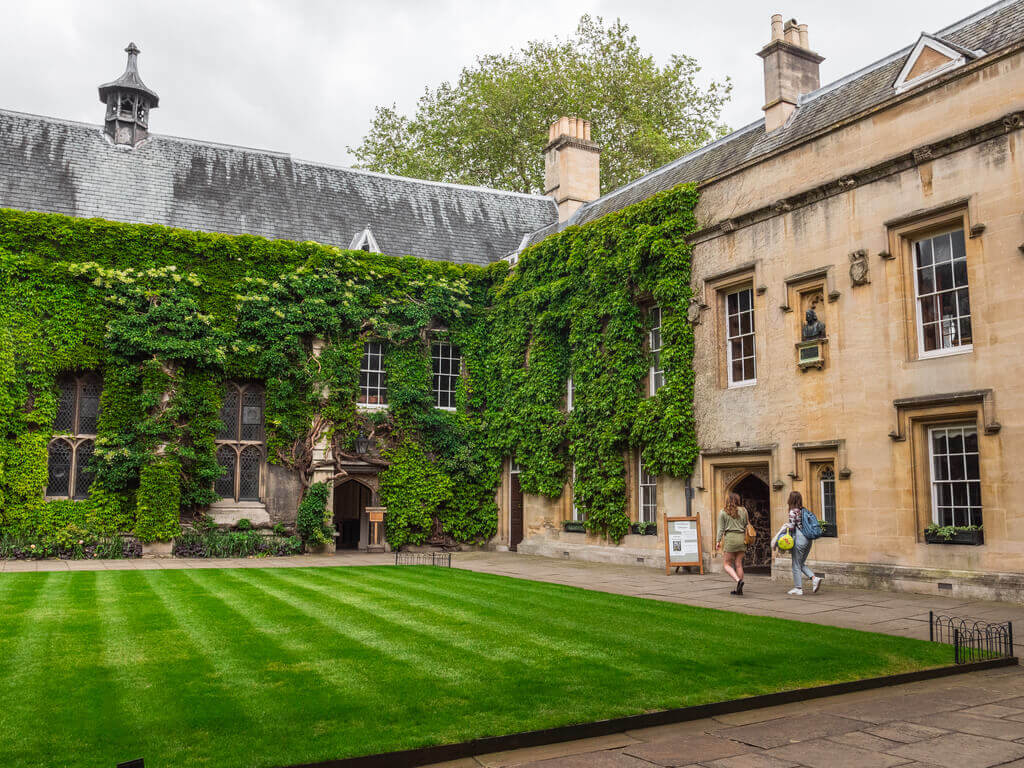 Lincoln College is one of the smallest and cosiest Oxford colleges. It may not be as impressive as Magdalen or Christ Church but it's still worth popping inside especially since it's free.

Lincoln College can be found on Turl Street, one of the most photogenic streets in Oxford. Bikes lean against grand doorways and golden window frames. Make sure to grab a coffee at the Missing Bean, one of my favourite coffee shops in Oxford, just outside Lincoln College.

Where: Turl Street.

Entrance: Free, 2-5pm, Mon-Fri and 11am-5pm at weekends.
All Souls College
A final contender for the prettiest college in Oxford is All Souls. Founded by the King of England at the time, All Souls College is one of the grandest and wealthy colleges. Apparently, the entrance exam for students is one of the hardest in the world.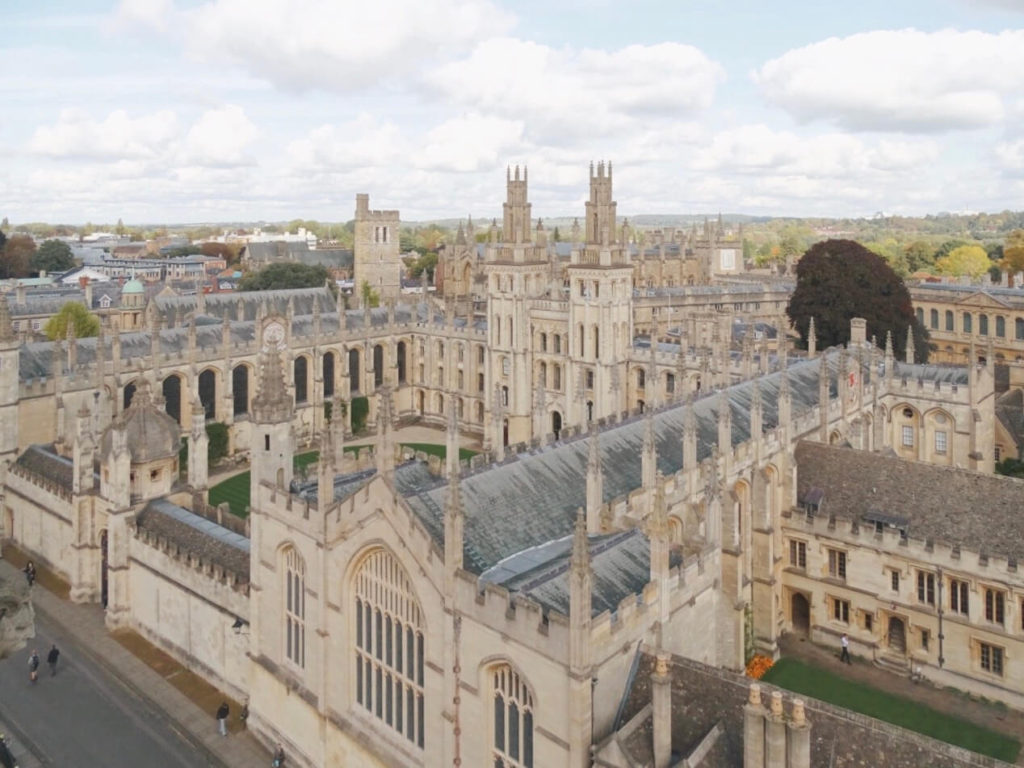 While a visit inside is awesome, I still think the best view is this aerial one from the top of University Church on High Street.

Where: Catte Street.

Entrance: Free from 2-4pm on weekdays and Sundays.
Tips for visiting Oxford colleges
In winter, the colleges will shut when it gets dark – even if that's before closing time.
Remember that not all Oxford colleges are open to the public.
Check for closure dates like Christmas on the individual colleges' websites.
Christ Church is busy and touristy so plan your visit early or late in the day, especially during summer and weekends.
Budget more for the more famous Oxford colleges as they have higher entrance fees (listed above).
Don't wave a selfie stick around. Even in the prettiest Oxford colleges, the staff and students won't be impressed!
The list above isn't a complete one – for all the colleges you can visit, see the Oxford University website.
Thanks for reading
I hope my guide has given you a good idea of the prettiest Oxford colleges to visit. Remember to use my Oxford University colleges map to navigate around. Have a fantastic trip!
Check out my other Oxford posts:
See you next time for more adventures,
Rose
For more travel content, follow me on Instagram, Facebook, Twitter and YouTube.
Ps. Liked my guide to visiting Oxford colleges? Pin it for later!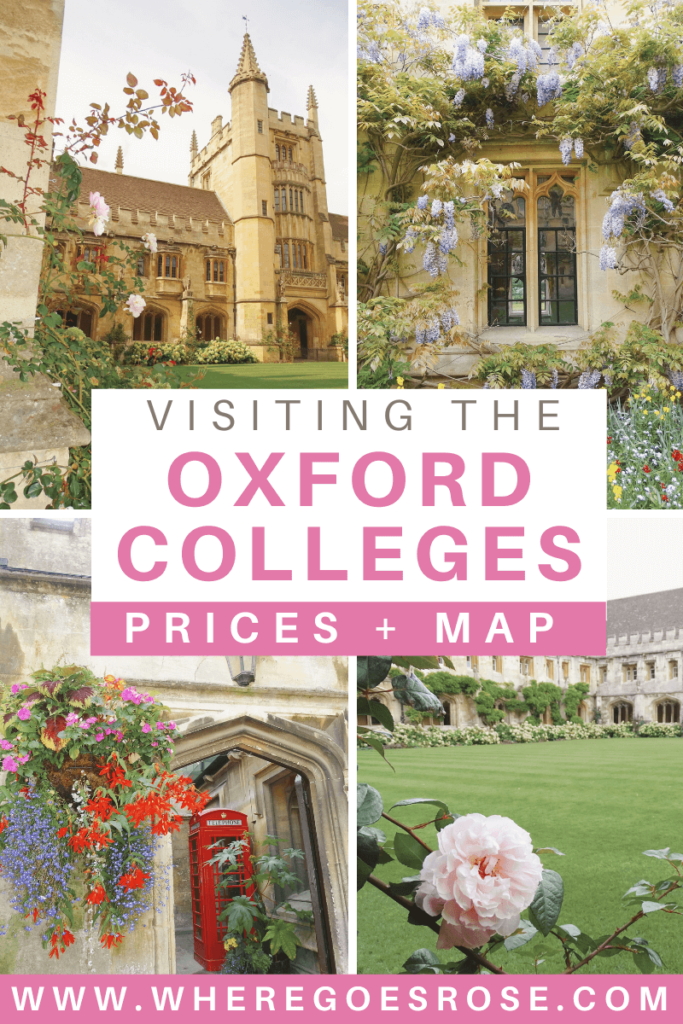 TRUSTED RESOURCES FOR VISITING THE UK

Guide books – LP always get my seal of approval. Use the latest copy of Lonely Planet England.

Getting there & around by air – I use Skyscanner to find the best-value flights, using the 'search by month' tool to find the cheapest dates. You can also use the 'to anywhere' feature if you're flexible on where you're going.

Car hire – use Rentalcars.com to compare car rentals and campers in the UK (and all around the world).

For UK trains, I use Trainline. The search feature allows you to compare prices with other modes of transport.

For buses, I use busbud. It's the only site that compares UK coaches and buses. Find London to Manchester journeys for £1! 

For hotels and self-catering apartments, I use Booking.com. You can filter by review score and price to find the best-rated budget places. For hostels, I use Hostelworld.com.

To save money on accommodation, I use Trusted Housesitters, a website that connects homeowners going away and travellers who can sit their homes & pets.

Browse UK tours and activities on GetYourGuide.

Need travel insurance? I use True Traveller (for Europe residents) since it's affordable but covers everything you'd need including various activities, valuables and pre-existing conditions. Unlike some companies, they insure you if you're already travelling / don't yet have your flight home booked. Get a quote.

For travel insurance for other nationalities, I recommend Hey Mundo and for long-term digital nomad travellers, I suggest Safety Wing.

See all my suggestions on my resources page.