This post may contain affiliate links to things like tours, hotels, Amazon associates and products. These help me earn a small commission at no additional charge to you.
Recently I found paradise and I think you all need to know.

Quy Nhơn, why had I never heard of you before? Why do no travellers ever stop at you?

Well, probably because you don't really have anything much to do and you're not uber set up for travellers – but in my eyes, that's your best trait!

Getting off the beaten track is undoubtedly one of the best things to do in Southeast Asia. Quy Nhon is firmly off the tourist circuit and I couldn't have enjoyed my trip more.

Before we go any further, I didn't stay in Quy Nhơn city but Nhơn Hải village, around the peninsula. This is a short taxi journey from the city and I'd really recommend it.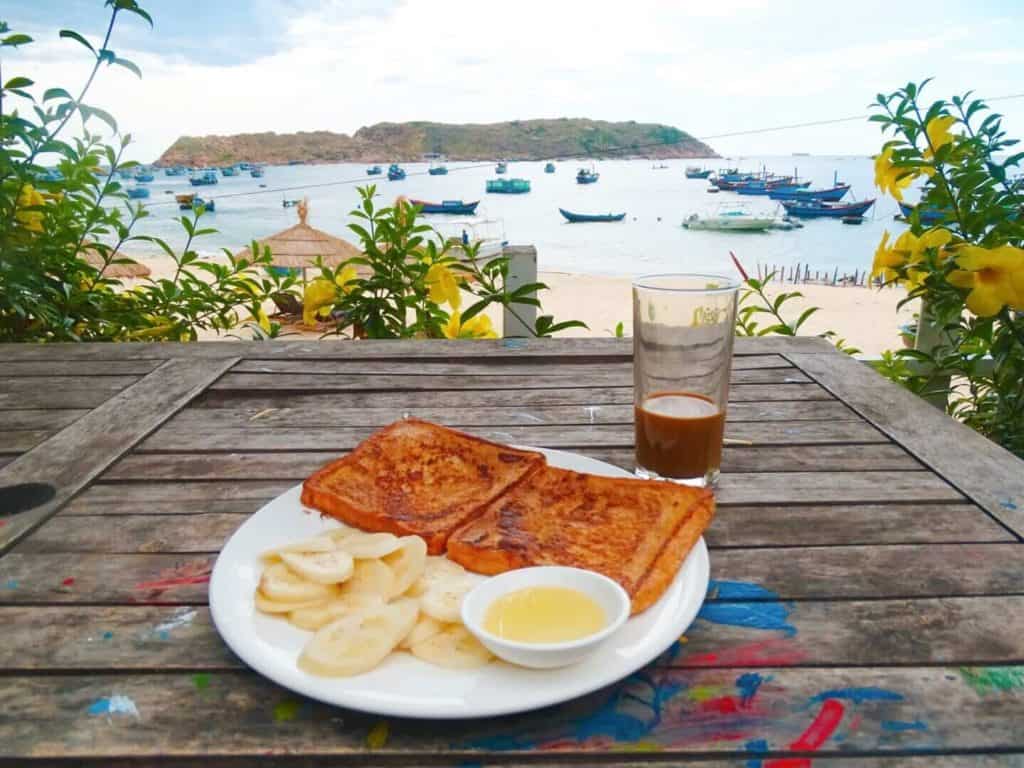 Read next: How to spend 2 weeks or 1 month in Vietnam
Where is Quy Nhơn?
You'll find Quy Nhơn halfway between Hoi An and Nha Trang: the perfect place to break up the night bus between the two. I've pinned Quy Nhơn city and Nhơn Hải village separately so you can see their distance from one another.
What's there?
The city of Quy Nhơn is hectic and local meaning you might not find much to do there. I met some travellers who stayed in the city and did day trips to the beaches – but I think we might have hit the jackpot by staying in Nhơn Hải because we couldn't have been closer to the beach (as we were on it!). It was the perfect spot to relax after a busy couple of weeks travelling Vietnam.
Nhơn Hải Beach Hostel
Those looking for where to stay in Quy Nhơn need look no further. As a local village, there's just one backpackers in Nhơn Hải. That's no problem, however, as you'd never want to be anywhere else! It's right on the sand and just a couple of steps to the actual beach. Check availability here.

The hostel breakfasts were divine and they had the cutest pet dogs. Check them out in this gallery…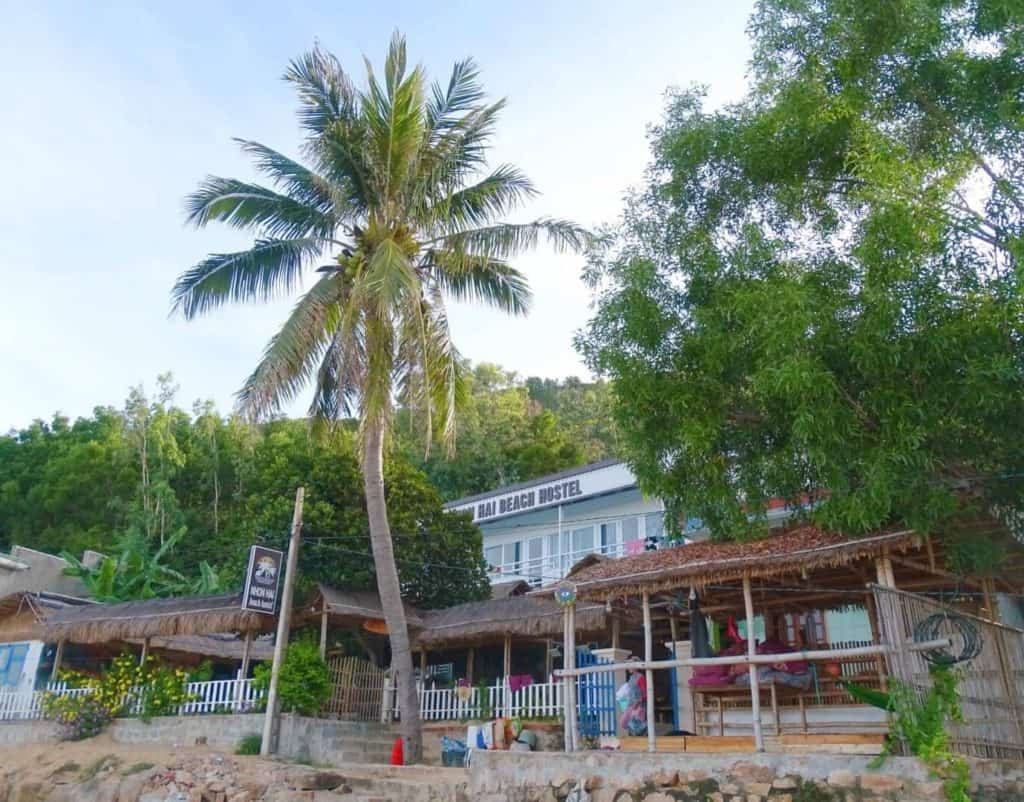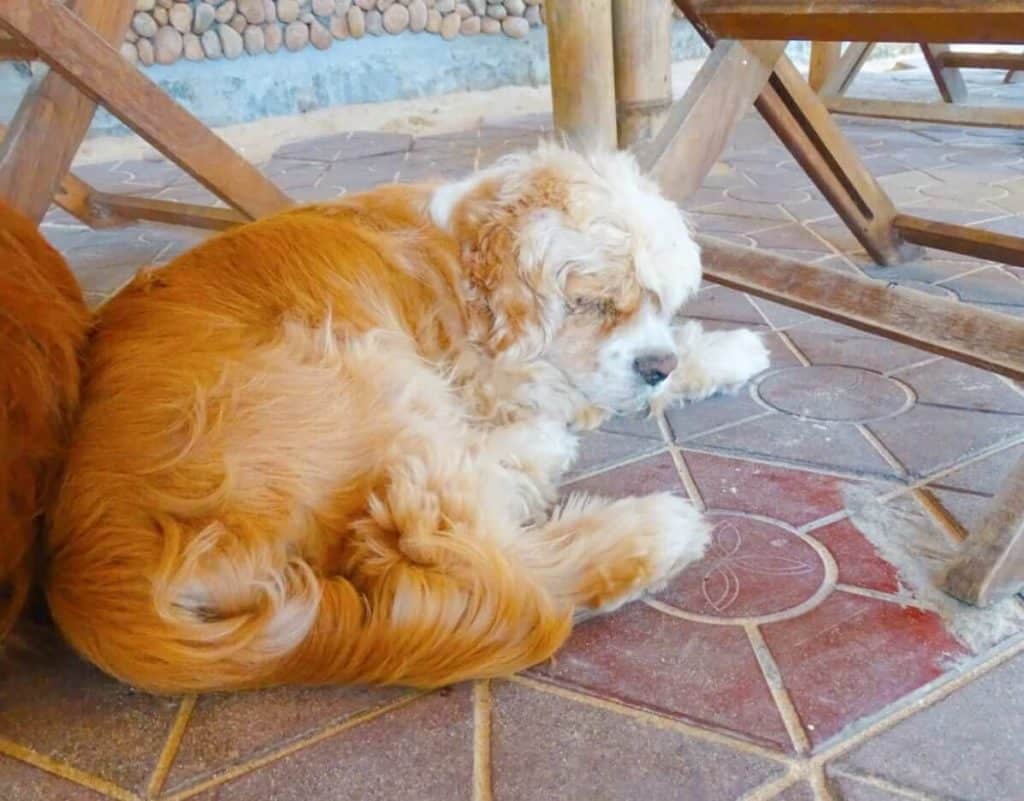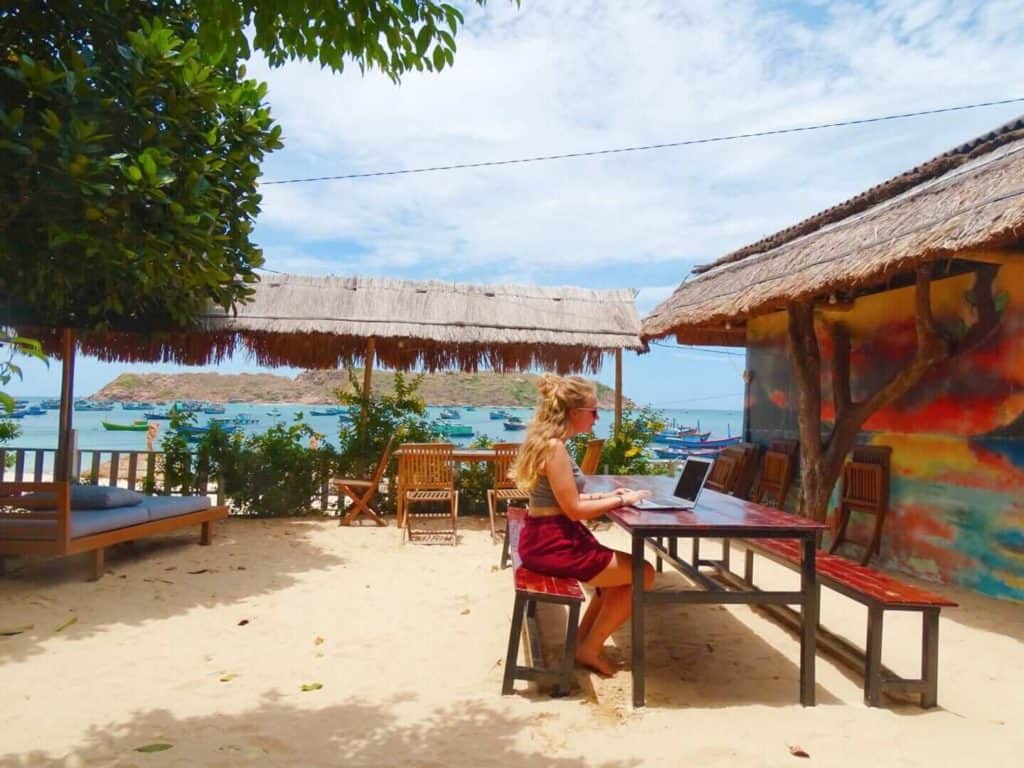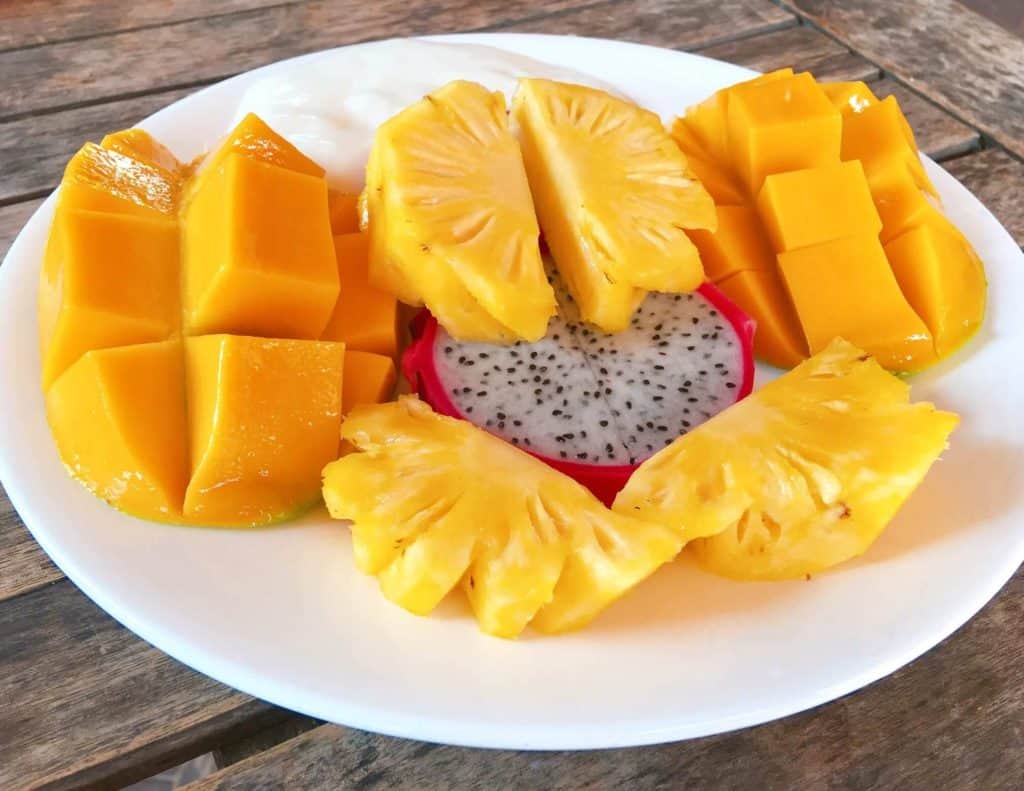 What can you do in Nhơn Hải?
Nothing, NOTHING, glorious nothing. Seriously, if Vietnam is tiring you out, get to Nhơn Hải and chill the heck out. My favourite way to pass time was lounging on the beach (where you don't have to pay for the loungers and no one hassles you to buy things, can you imagine!?) and observe the local life.

The people of Nhơn Hải genuinely seem to love their lives. It's sleepy in the day but come 4pm when the kids finish school, they swim in the sea and play football, and the whole town comes to watch.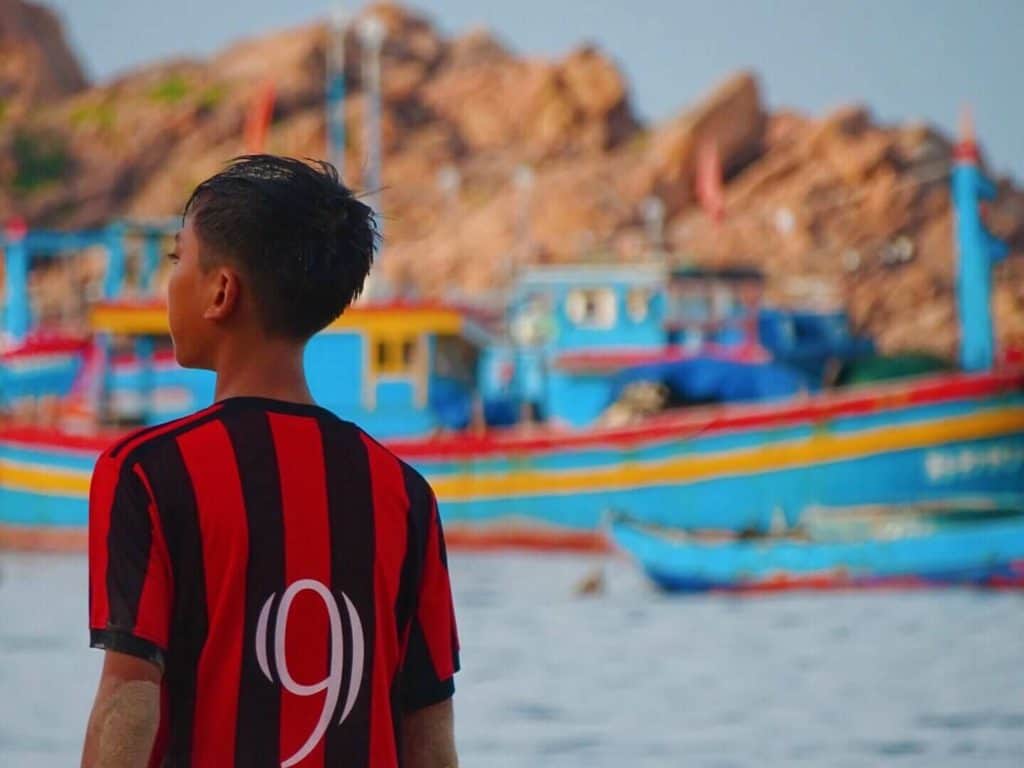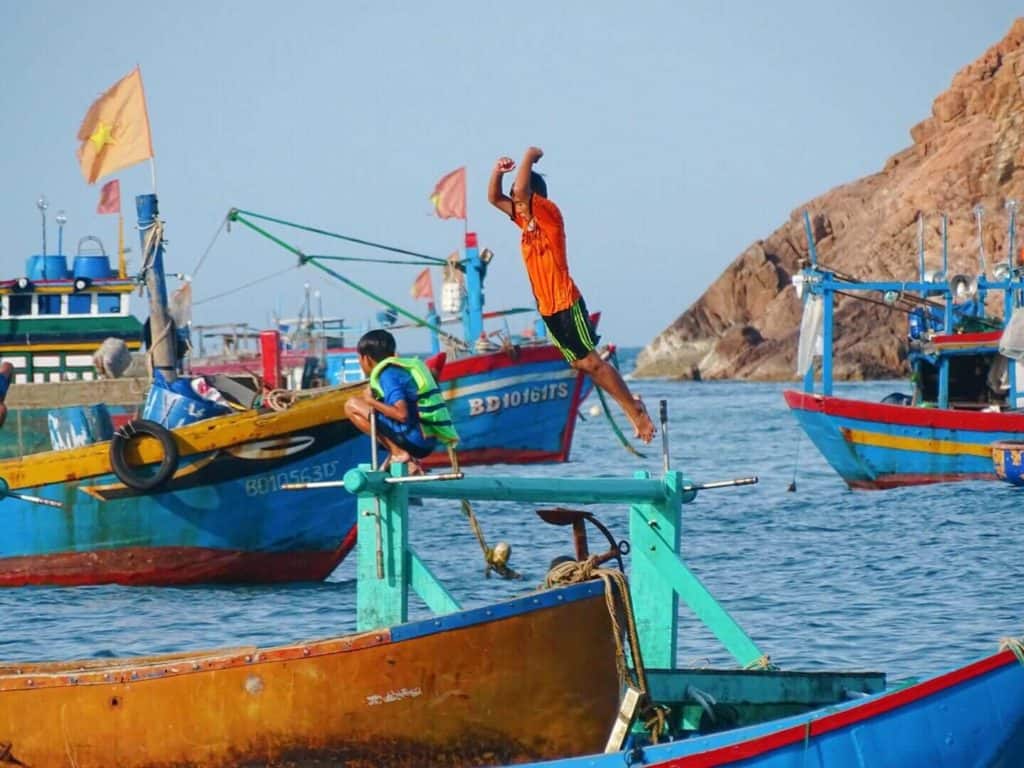 Watching the fisherman
Nhơn Hải is a traditional Vietnamese fishing village and I loved watching people bob in their coconut boats which ended up strewn over the sand once the day was up.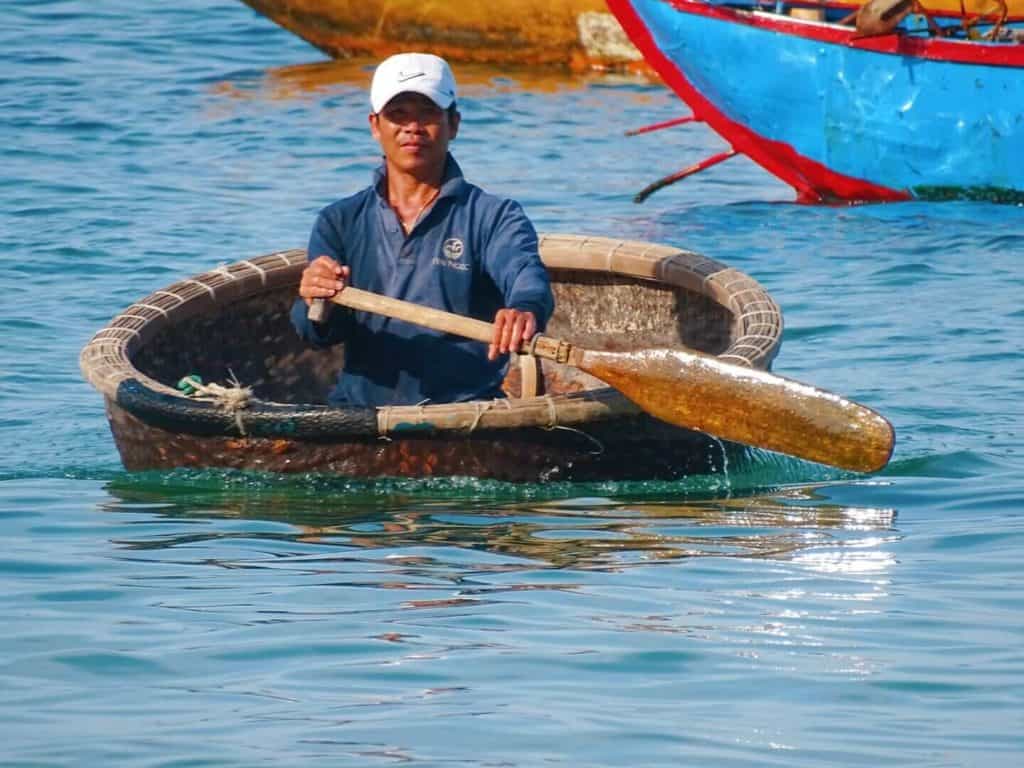 Where to eat
We had a few issues trying to find food in town, just because Nhơn Hải isn't really set up for tourists. There were a few empty places that looked like people's homes and tried to coerce us in with not particularly cheap prices.

Luckily, the friendly French guy working at the hostel told us to head to the street food stalls – a great suggestion!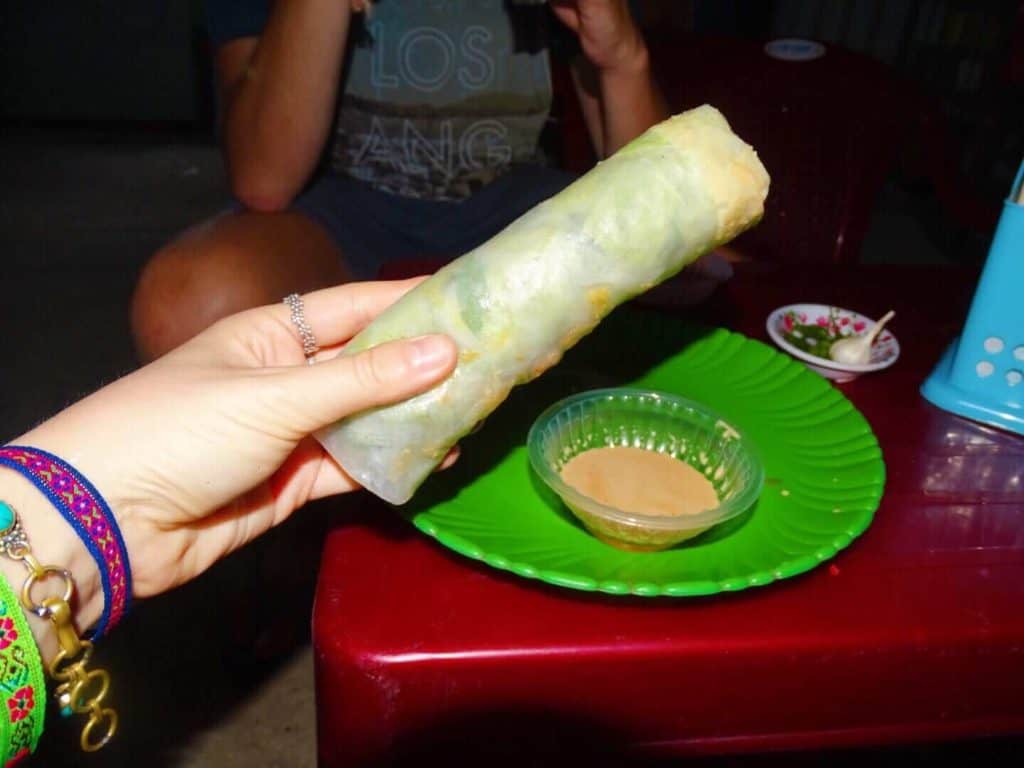 Here we didn't really know what we were getting but we pointed and smiled (sometimes it's all you can do!) and ended up with some delicious fresh spring rolls and some omelette-pizza type things.

Fried batter was also served on sticks with chilli sauce and I had a lovely lunchtime eating tons of it for the equivalent of 15p. I couldn't communicate with the friendly women making it but they smiled warmly as I enjoyed their food!

Location: I don't think the street food stalls have a name but I've pinned their location here. Be warned I'm not sure this is the exact spot, but it's not far off. If you're walking from the beach, continue past the Buddhist temple and you'll come to it after about five minutes.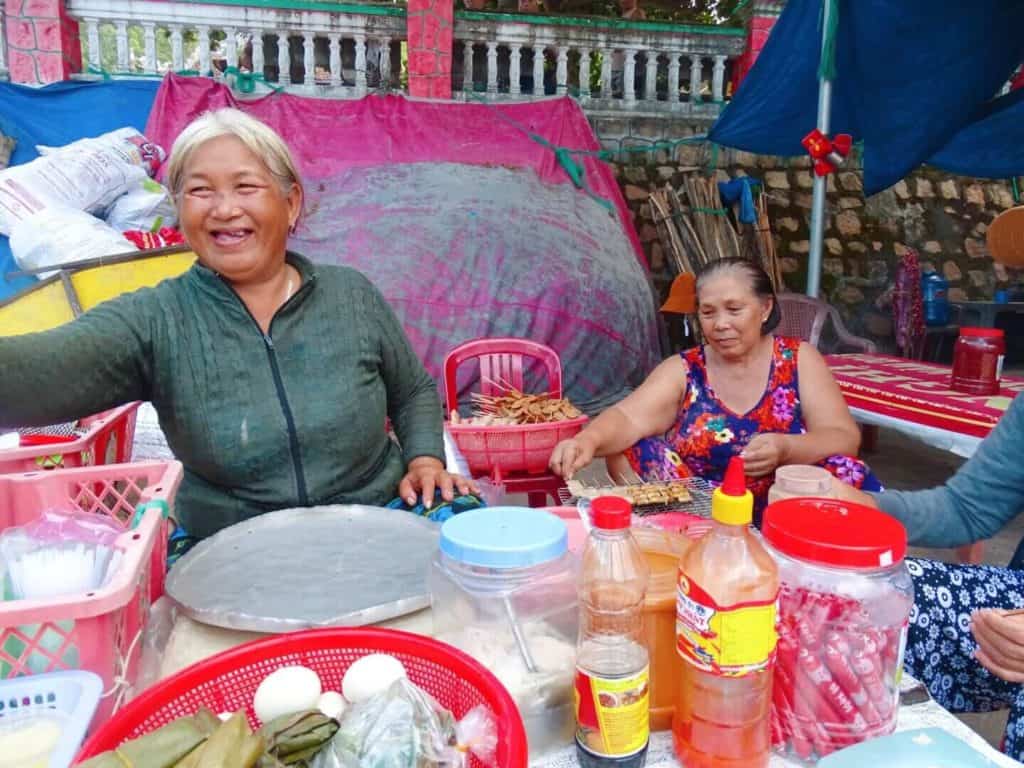 Chua Huong Mai Temple
One of the best things to do in Quy Nhon is visit the Buddhist temple, location pinned here. It's known as Chùa Hương Mai and is pretty spectacular. It wasn't exactly a surprise I had it all to myself – since there were no other travellers in town, I'd have been shocked to find it packed out!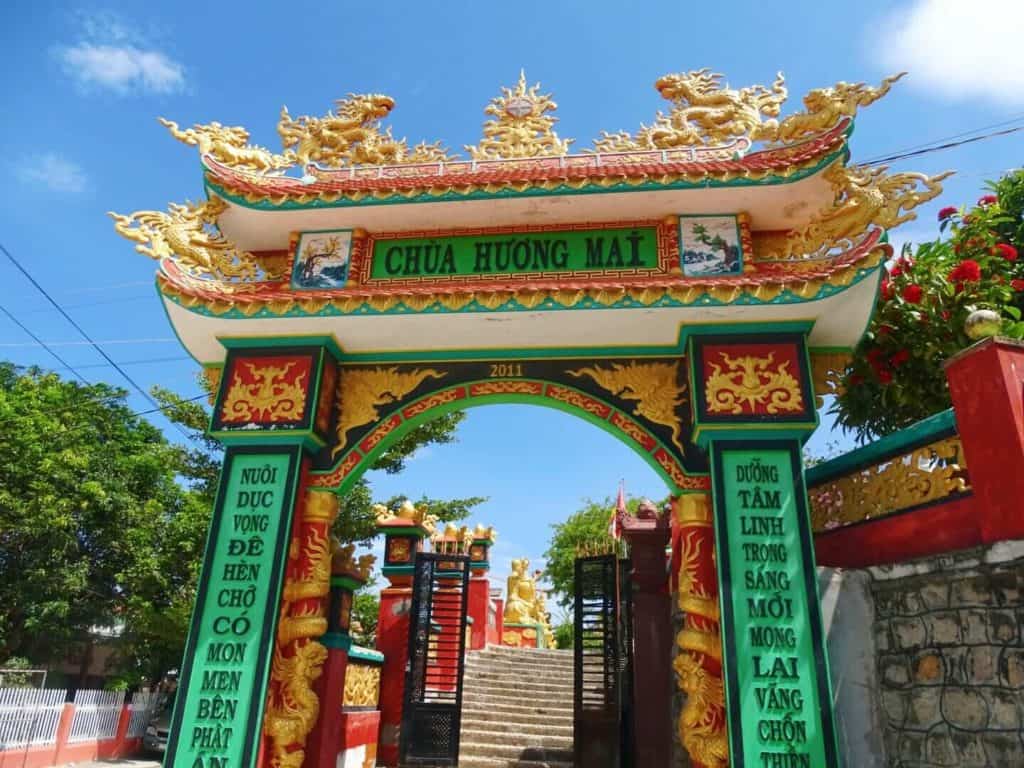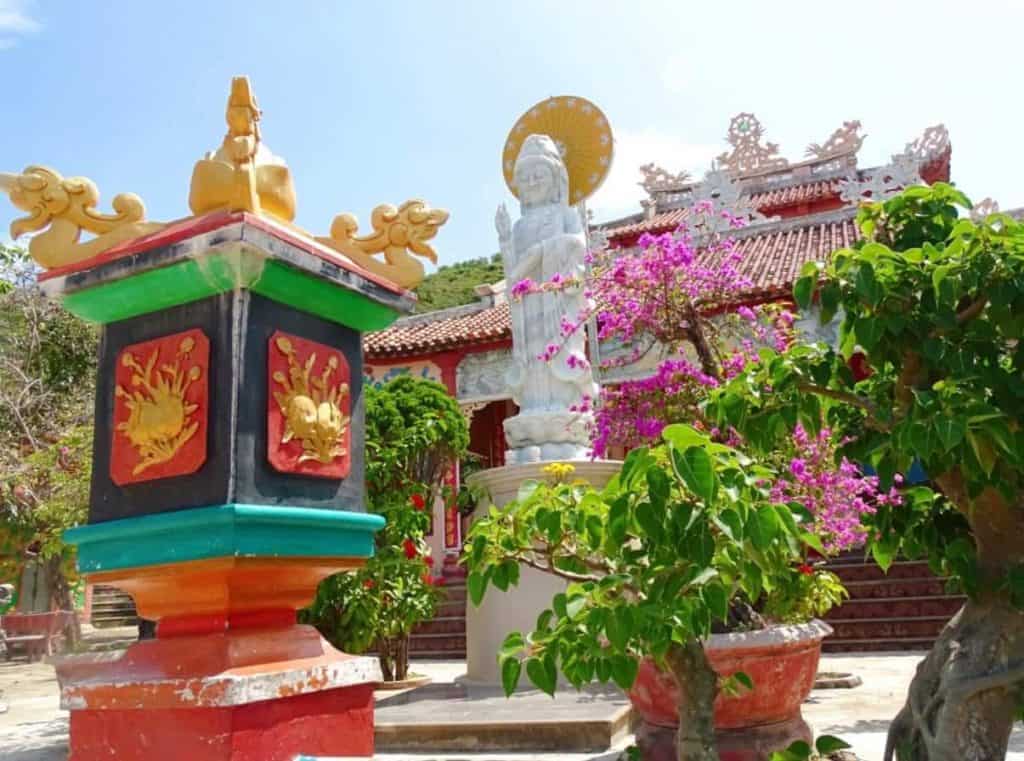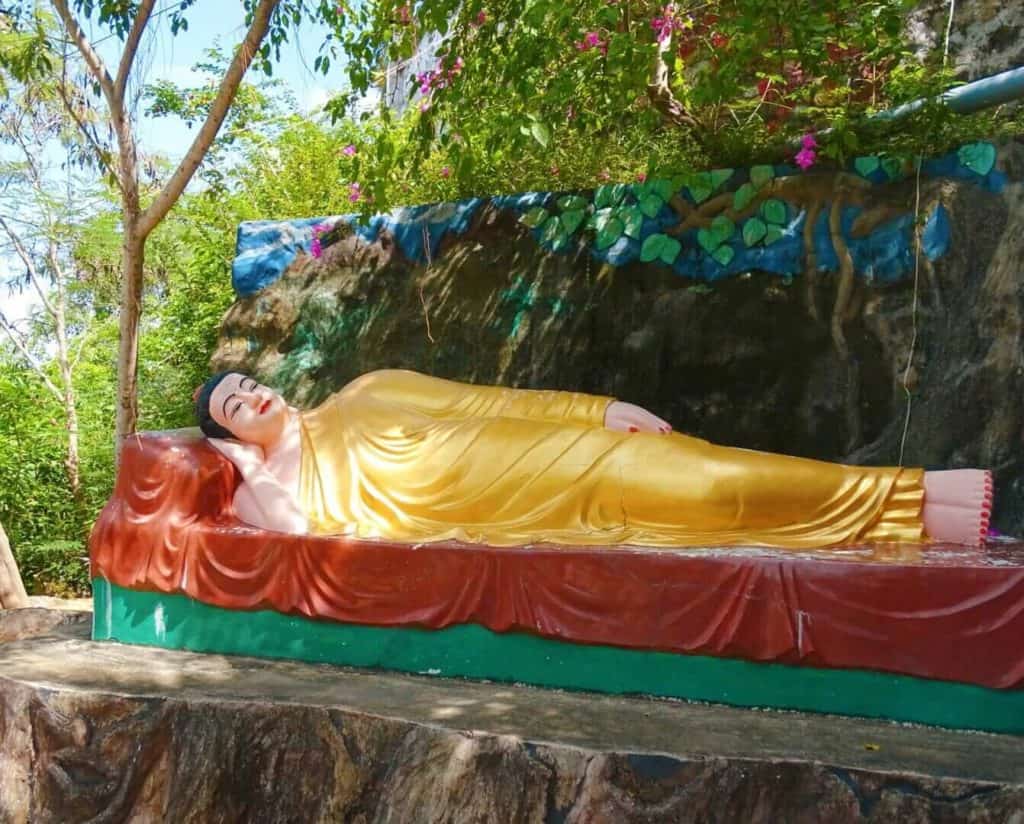 How to get to Quy Nhon / Nhon Hai
If you are coming from the north, organise a bus from Hoi An. We paid 300,000 VND for a 5-hour bus to Quy Nhơn.

From Quy Nhơn to our next stop of Nha Trang, we caught a train from the city's train station for a similar price and it also took around six hours. If you're coming from Nha Trang, do this in reverse. We'd wanted to journey to Da Lat and skip Nha Trang – this is possible but because there are only a couple of buses a day, they were full. Book in advance to do this!

Getting between Quy Nhơn and Nhơn Hải: We paid 250,000 VND for a taxi around the coast to Nhơn Hải, though we later found out there's a local bus that goes between Quy Nhơn bus station and the Buddhist temple in Nhơn Hải for 50,000 VND.

To get this back to Quy Nhon at the end of your stay, there's a piece of paper with the bus times at the store across from the Buddhist temple. Old school but pretty simple. The staff at the hostel can help if you get stuck!
Visit Nhơn Hải if…
You truly want to relax and see the local culture, and you don't mind not having a lot to do. I don't want to direct you here if it's not for you. It wouldn't be for those who like always having access to Western food and amenities. If you're adaptable and enjoy local life, you're going to love your stay!
Thanks for reading!
If you liked it, please share it 🙂
Check out my other Vietnam posts:
See you next time for more adventures,
Rose
Vietnam quick links

Getting around by air – it's easy to get between cities by flight. I use Skyscanner to find the best-value flights, using the 'search by month' tool to find the cheapest dates. You can also use the 'to anywhere' feature if you're flexible on where you're going.

Stay connected with E-sim data plans that don't require delivery or collection; just span the QR code.

In my opinion, Lonely Planet offer the best guidebooks. Get the latest Lonely Planet Vietnam.

For Vietnam buses and trains, I use 12GoAsia. The search feature allows you to compare prices and durations.

I use Booking.com for accommodation. They have the best range of hotels and self-catering apartments, plus you can filter by review score and price to find the best-rated budget places. For hostels, I use Hostelworld.

To save money on accommodation, I use Trusted Housesitters, a website that connects homeowners going away and travellers who can sit their homes & pets.

For activities, I use GetYourGuide as they have a huge range of affordable tours.

Need travel insurance? I use True Traveller (for UK & Europe residents) since it's affordable but covers everything you'd need including various activities, valuables and pre-existing conditions. Unlike some companies, they insure you if you're already travelling / don't yet have your flight home booked. Get a quote.

For travel insurance for other nationalities, I recommend Hey Mundo and for long-term digital nomad travellers, I suggest Safety Wing.

Check out my resources page for more travel discounts and tips!