This post may contain affiliate links to things like tours, hotels, Amazon associates and products. These help me earn a small commission at no additional charge to you.
Hanoi Train Street is a unique attraction in Hanoi that wasn't built for tourists at all.

Please note – as of 2022, most parts of Train Street Hanoi and many cafes have closed. I will be updating this post accordingly but for now, please check local sources.

The Hanoi railway snakes through the city. When I say the city I really mean it – open front doors are at risk of coming off the hinges! People live and work on the tracks, simply removing their goods (and pets and children!) when a train thunders past.

What was once an underrated attraction, known by locals only, has now become popular with tourists. It's not surprising – how often can you say you've ducked in a doorway to avoid certain death by speeding train? It's an experience for your Southeast Asia bucket list, that's for sure.
Where is Train Street Hanoi?
There are two sections of Hanoi Train Street where you can watch the train pass. You'll get the same experience in both but one has more cafes to enjoy it from.
Lê Duẩn – this section is further out of town with just one cafe to view the passing train from. It's between Lê Duẩn and Khâm Thin street. Put Ngo 224 Le Duan into Google Maps.
The Old Quarter section – this has cafes, homestay and shops along the tracks. Enter Hanoi Street Train into Google Maps and you'll find two sections to explore either side of Tran Phu main road.
You'd expect the second location to be busier with tourists but actually, they're pretty similar. There's lots of posing going on before train times – I don't think you'll ever get it to yourself to be honest!
Related reads: How to spend 3 days in Hanoi and your ultimate Vietnam itinerary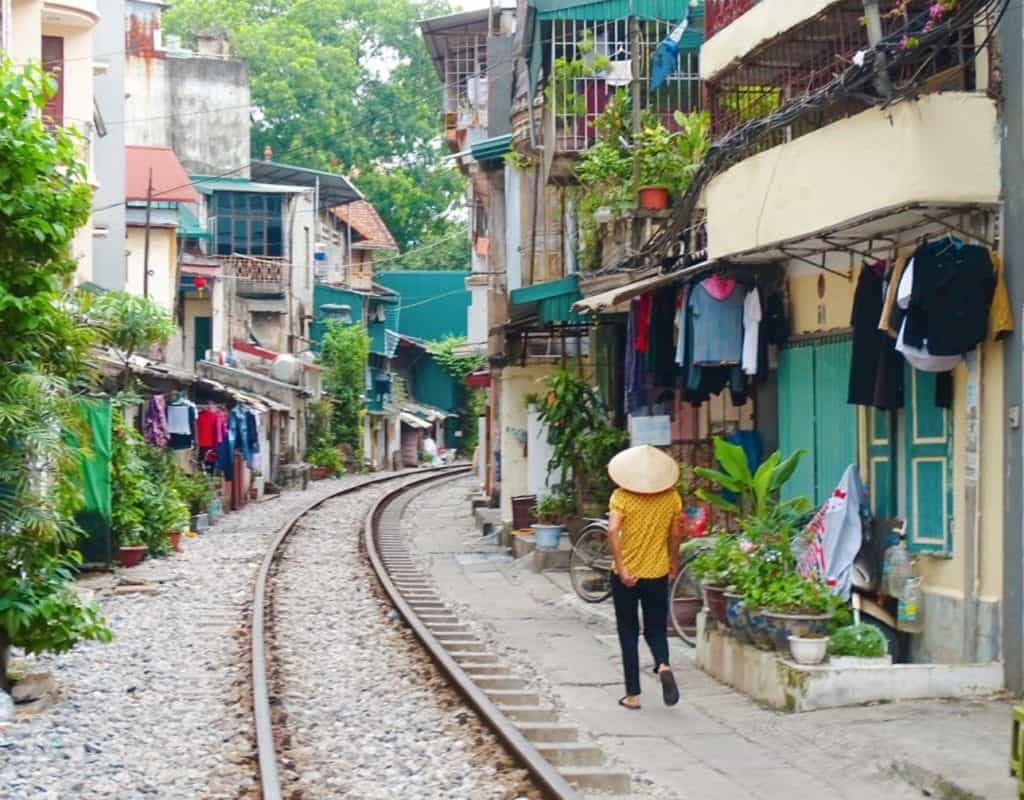 When to visit Train Street Hanoi
Thinking of visiting Train Street Hanoi? You might want to think about…
Whether or not you want to see the train thundering down the street
Whether you want to see the local life or join the tourists sightseeing.
Check the Train Street Hanoi train times to see the area in action (listed below). To beat the crowds and observe local life along the railway, visit any other time. The early morning is always a good time to see the locals going about their day!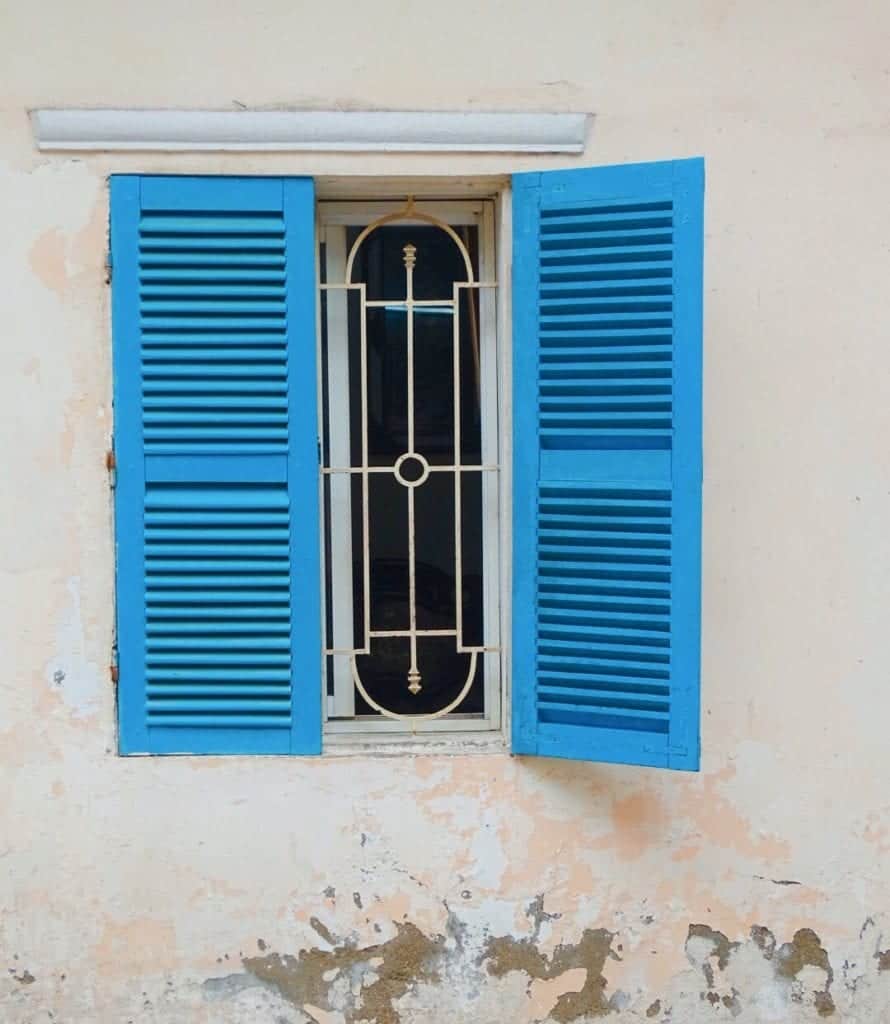 Train Street Hanoi train times
Through the Lê Duẩn section:
It will be dark during the second passing so try for 3.30pm.
Through the Old Quarter section:
Weekdays: 7pm, 7.45pm, 8.30pm, 10pm
Weekends: 9.15am, 11.20am, 3.20pm, 5.30pm, 6pm, 7pm, 7.45pm, 8.30pm, 9pm, 11pm
I notice the sign says be there 30 minutes before the train time – I'm not sure this is necessary! The road closes about two minutes before the train comes so you can arrive up to five minutes before.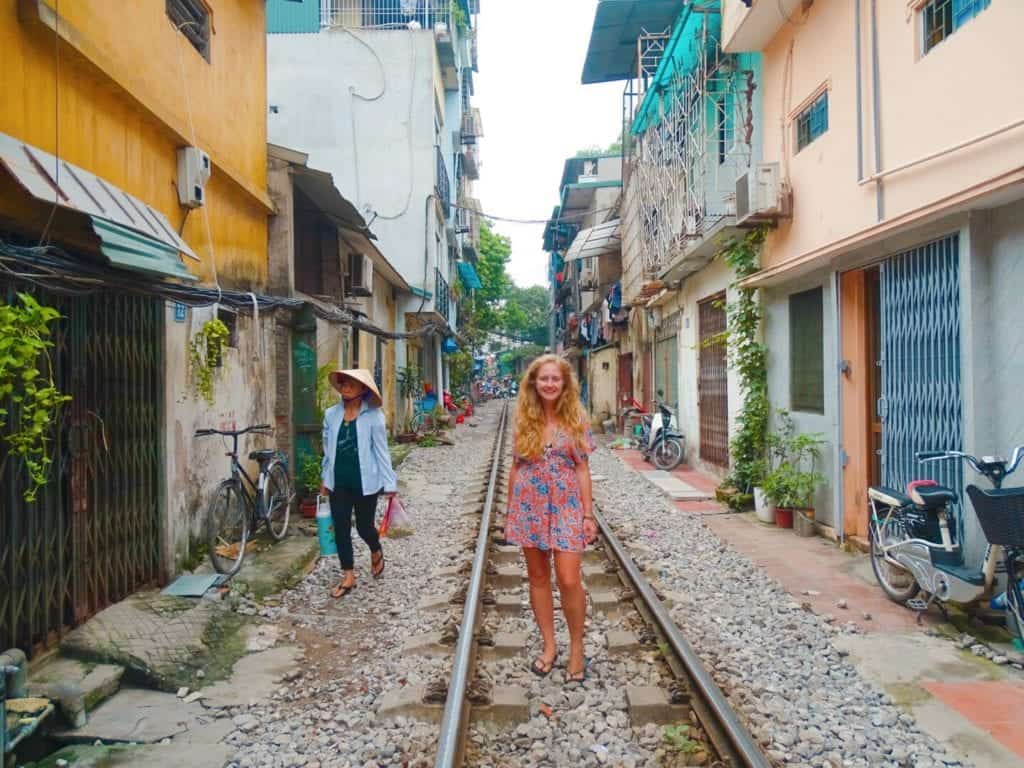 Cafes to visit along Train Street Hanoi
Watching the world go by is always better with coffee, right? There are so many cafes and shops for those visiting Train Street Hanoi. These are the best: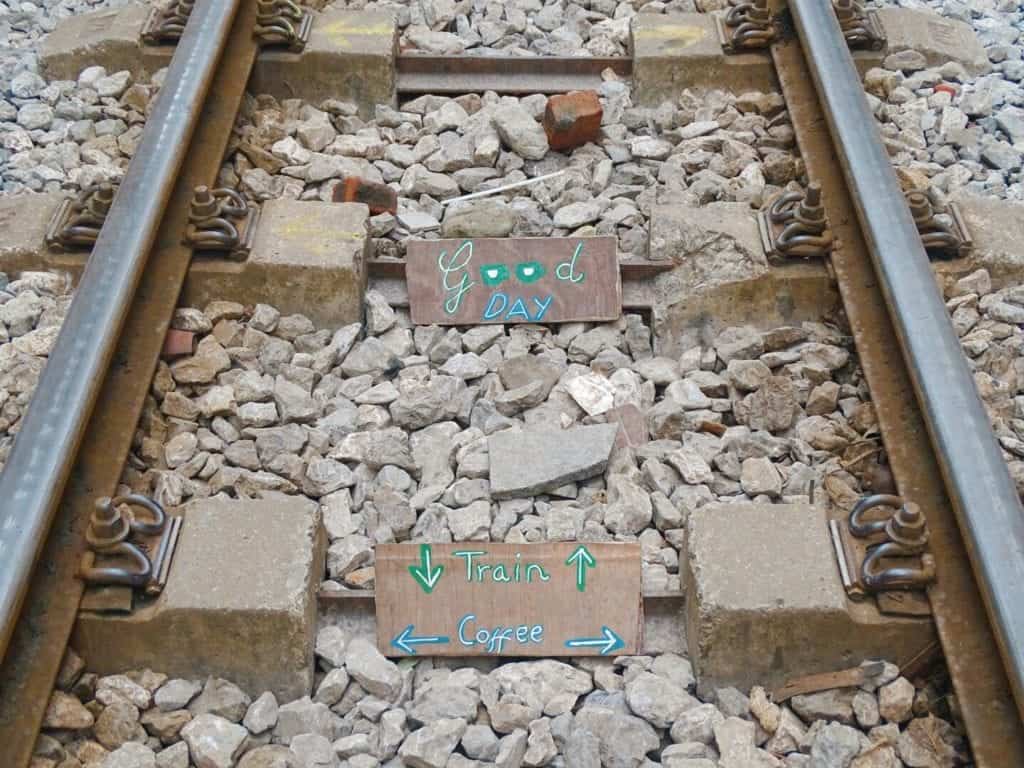 Along the Ngõ 224 Lê Duẩn section, there's just one rest stop, Train Track Cafe (an adventurous name, right?) at 224 Lê Duẩn. They sell basic hot and cold drinks including smoothies and beers.
The Old Quarter section cafes
As mentioned above, there's a bit more going on in this section. Check out:
Ca Dong Duong (Indochina Station Cafe)
Just across the tracks from this yellow mural lies this very cool cafe. The interior is the real reason to visit: the chairs are old train seats and there's even a train door attached to the wall (I'm not sure if it leads anywhere – you'll have to find out for yourself).

Currently, all the coffees are 20K VND (80p) but this may be for an opening promotion. Either way, I don't think they'll be much more expensive in the future. There's also a resident fluffy white cat called popcorn or ice cream (I remember it being something ridiculous!).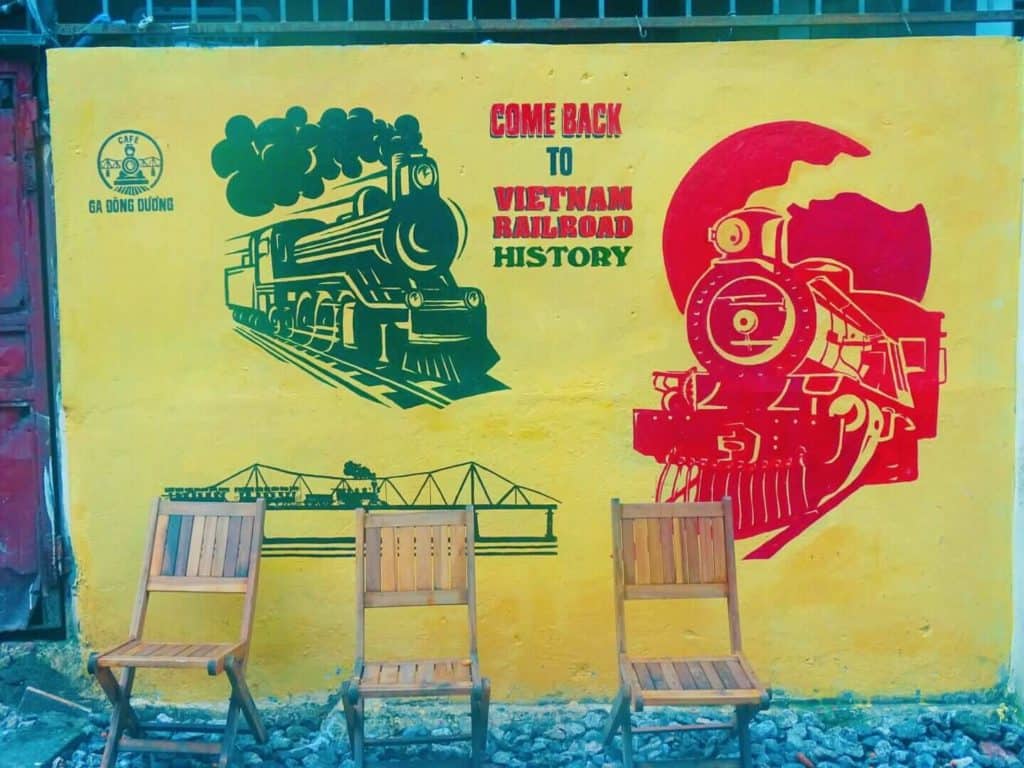 Address: Not on Google at the time of writing, you can find Ca Dong Duong at 5a Trần Phú.
The Railway Hanoi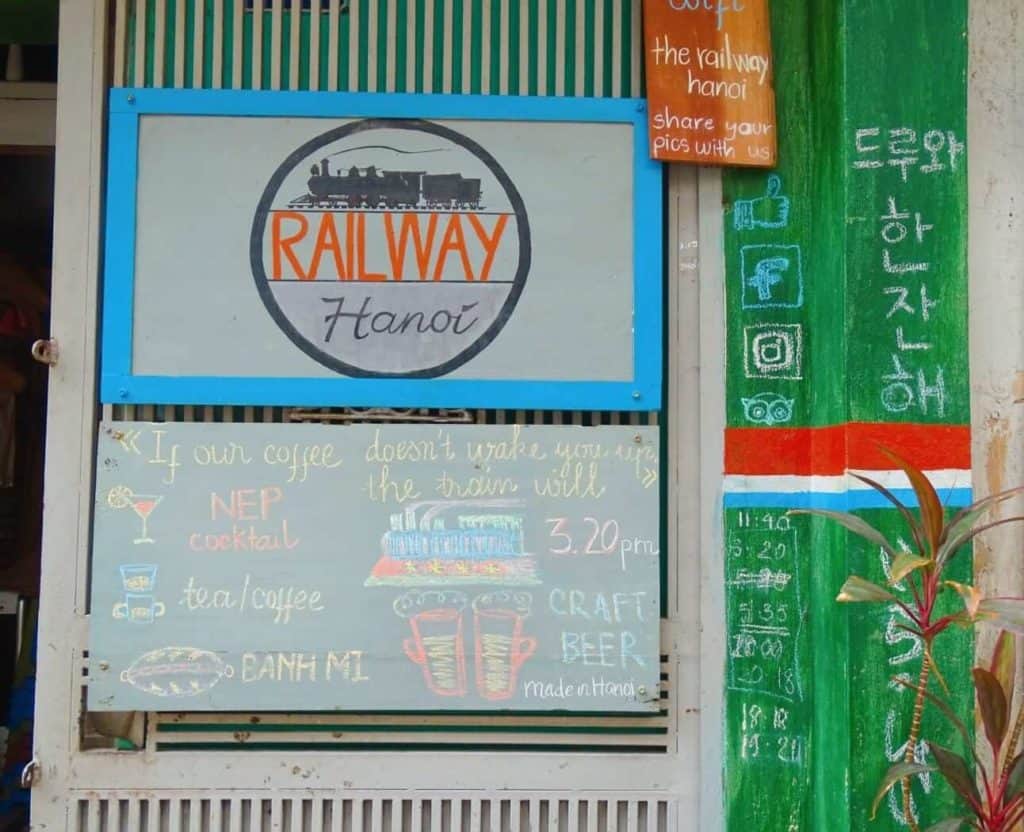 While many new cafes are popping up along the tracks, The Railway Hanoi is one of the originals. They have a wide range of drinks including cocktails and even sell banh mis, making them one of the few railway cafes to serve food.

Address: 26/05A Trần Phú.
Tram Cafe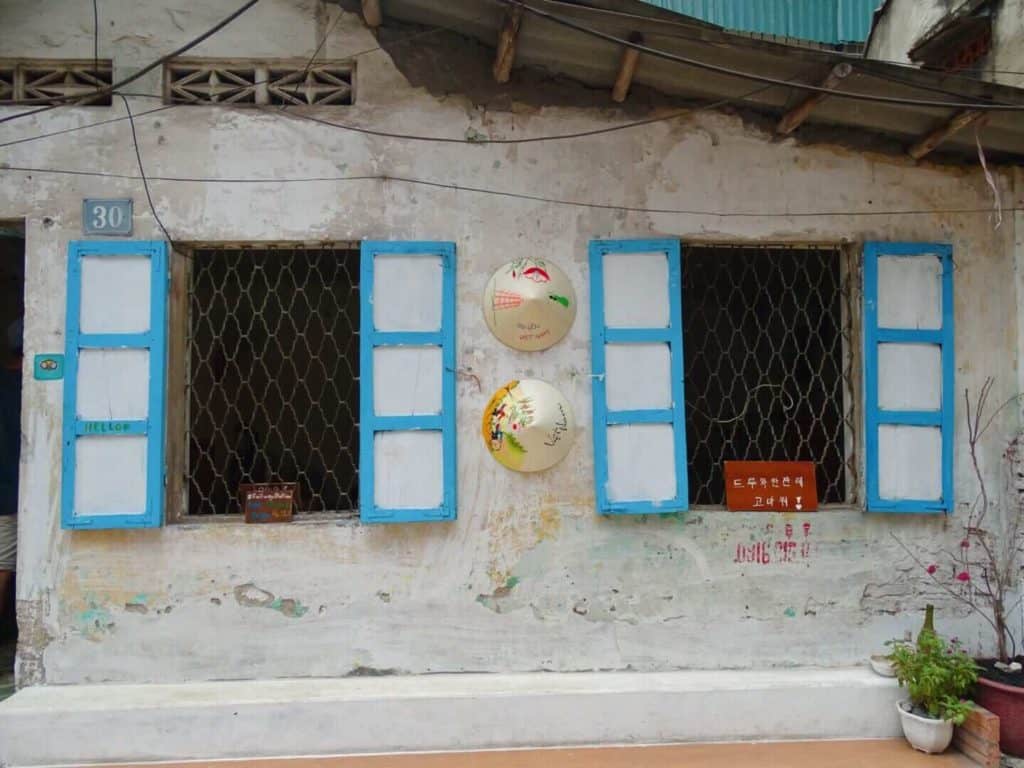 I've yet to venture inside Tram Cafe but I love these cute blue shutters and the rice hats hanging on the outside wall. I believe they serve similar hot and cold drinks as the other cafes.

Address: 30 Trần Phú.
Banana Coffee (with a balcony view)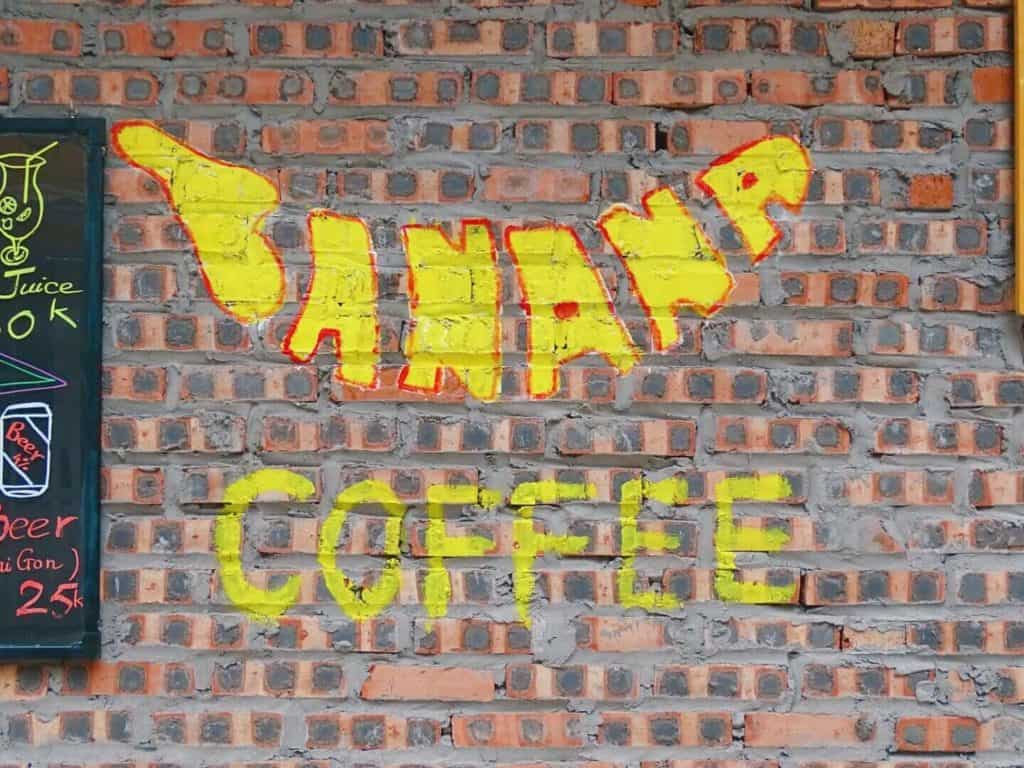 If you're not lucky enough to have a bedroom looking over Train Street Hanoi like I was, get yourself to Banana Coffee and pull up a stool on the upstairs balcony.

Address: Not sure, it's opposite Tram Cafe.
Shops along Train Street Hanoi
As well as coffee shops, there is a vibrant array of local businesses who call Train Street home. If you want to do some shopping while visiting the Hanoi railway, check out:
Transs (Traditional Dress)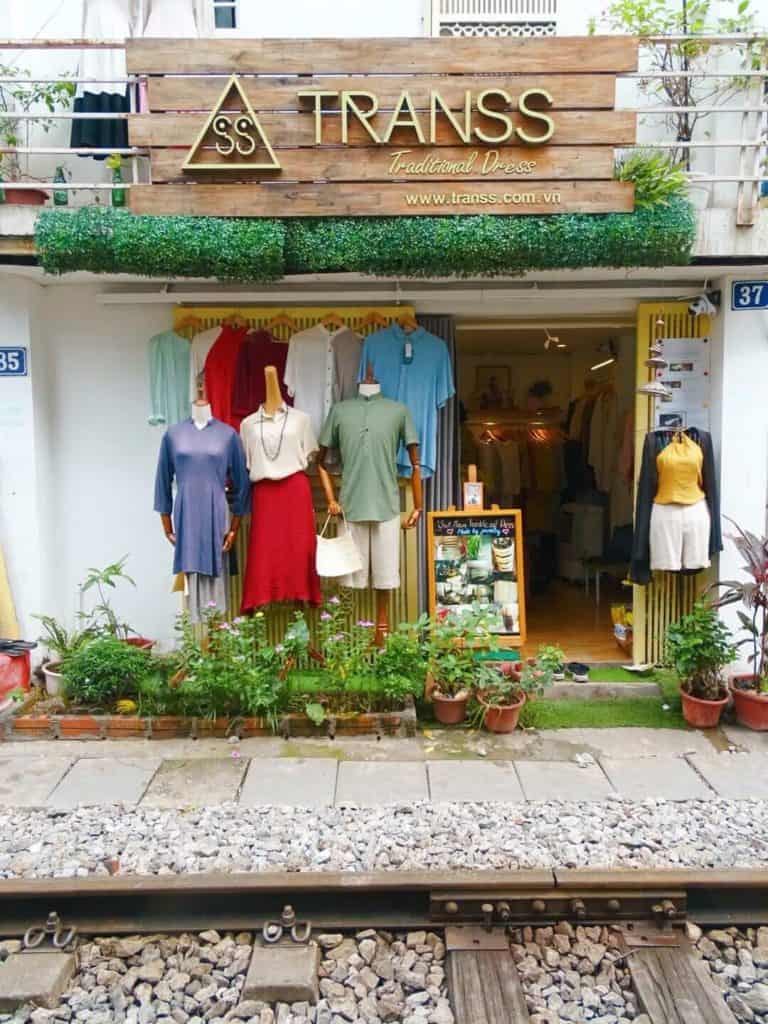 A chilled-out clothes shop which looks like it's aimed more at Westerners than Vietnamese people (if the sizes are anything to go by!).

Address: 35/5 Trần Phú (best to Google the name or click this link – there are loads of streets with the same name).
Zó Project
All the goods at Zó Project are so pretty and made from handmade paper. These include notebooks, jewellery and other craft goods. Using paper and natural products in a sustainable way, the team aim to create job opportunities and stable incomes for ethnic minority villagers in Northern Vietnam who make them.

Address: 10 Điện Biên Phủ.
Authentic Craft Products
A craft shop that sells trinkets and accessories and runs a few workshops.

Address: 37 Tran Phu beside Transs.
Want to see the local life?
The once-underrated attraction of Train Street Hanoi is getting busier by the week. Every time I look out of my bedroom window I see people posing on the tracks and even sitting down on them! I get the appeal and the desire to pose but I also like to chase authenticity when I can.

You only need to walk a few minutes to arrive at a more local part of the track. The spot I'm pinning here is a short walk from Railway Homestay & Cafe (journey away from the main road). Alternatively, enter 'Holly's Cozy Loft' into Google then walk up onto the tracks.

Here you'll see the locals going about their business away from the cafe scene. Enjoy… and be mindful about snapping locals who may not want to be photographed.
Finally… be safe when visiting Train Street Hanoi!
Visitors pose along Train Street Hanoi's tracks which is fine. However, don't even think of trying to get in a photo with a train. It's just impossible to judge the speed with which they're moving. Honestly, there are no barriers and nothing to protect you… So you really could be dead in seconds.

(I've never ended a blog on such a morbid note before haha!).
Thanks for reading my guide to Train Street Hanoi!
Check out some of my other Hanoi and Vietnam posts:
So, see you next time for more adventures!
Rose
Ps. Visiting Train Street Hanoi? Pin this for later!