This post may contain affiliate links to things like tours, hotels, Amazon associates and products. These help me earn a small commission at no additional charge to you.
Ubud is food heaven. I spent three weeks there, mainly eating at the various Ubud warungs.

Although there are countless things to do in Ubud, eating is always my priority in a new destination. When seeking out Balinese food in Ubud, I made sure to squeeze in as many warungs as possible. These are by far the most authentic Balinese restaurants in Ubud.

I also have some suggestions for Canggu restaurants if you're heading over that way.
What is a warung?
This means a small family-run restaurant. During my time in Bali, I did what I could to avoid the chains and Western establishments and stuck to tasty, cheap food in Ubud – aside from the occasional Ubud brunch, of course.

For lunch and dinner, I lived on nasi campur and a dollar a dinner. In this guide, I'm going to tell you about authentic Balinese restaurants in Ubud, where to find them and what to order.
Related read: The best 2 week Bali itinerary
Best warungs in Ubud
At the Ubud warungs I'm about to share with you, you'll never pay more than a couple of €/£/$ for dinner. They're cheap eats in Ubud by our standards but you'll still be funding local livelihoods by avoiding the chain restaurants. If that sounds good to you, let's get stuck in.

Ps – much of the best Indonesian food in Ubud is actually veggie or vegan, meaning my plant-based readers can actually follow one of my food guides for once. I've indicated in the headings below which are the best vegetarian and vegan restaurants in Ubud.
Warung Janggar Ulam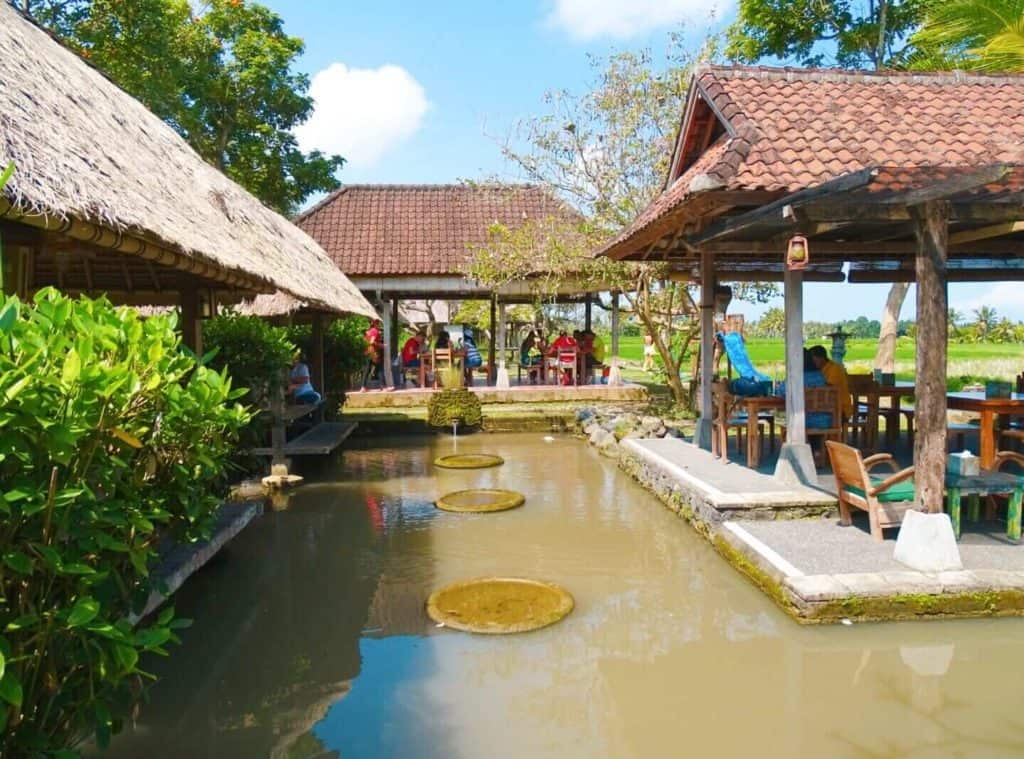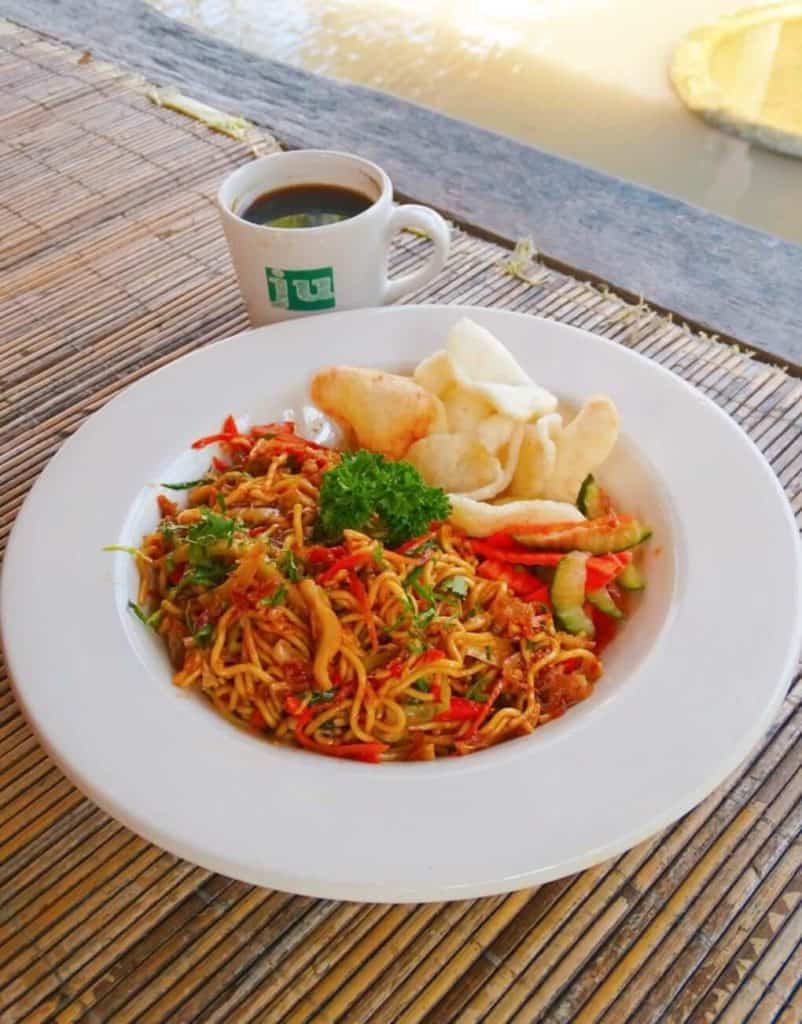 As Ubud warungs go, this is a bit of a Bali hidden gem. Warung Janggar Ulam doesn't even have a website or Facebook page. From the main road you wouldn't have a clue it's there or facing these fantastic rice fields. However, you should pay them a visit even if just for the stunning surroundings. You can sit in atmospheric bamboo huts on comfy cushions and admire the local life in the fields.

They also serve some of the best Indonesian food in Ubud. I tried the seafood mie goreng and the moreish pork ribs and would especially recommend the latter. Warung Janggar Ulam is a 10-minute drive from town but the location only adds to its authenticity. It was recommended to me by a born and bred Ubudian (did I just make up a word?) so you can bet it's the real deal.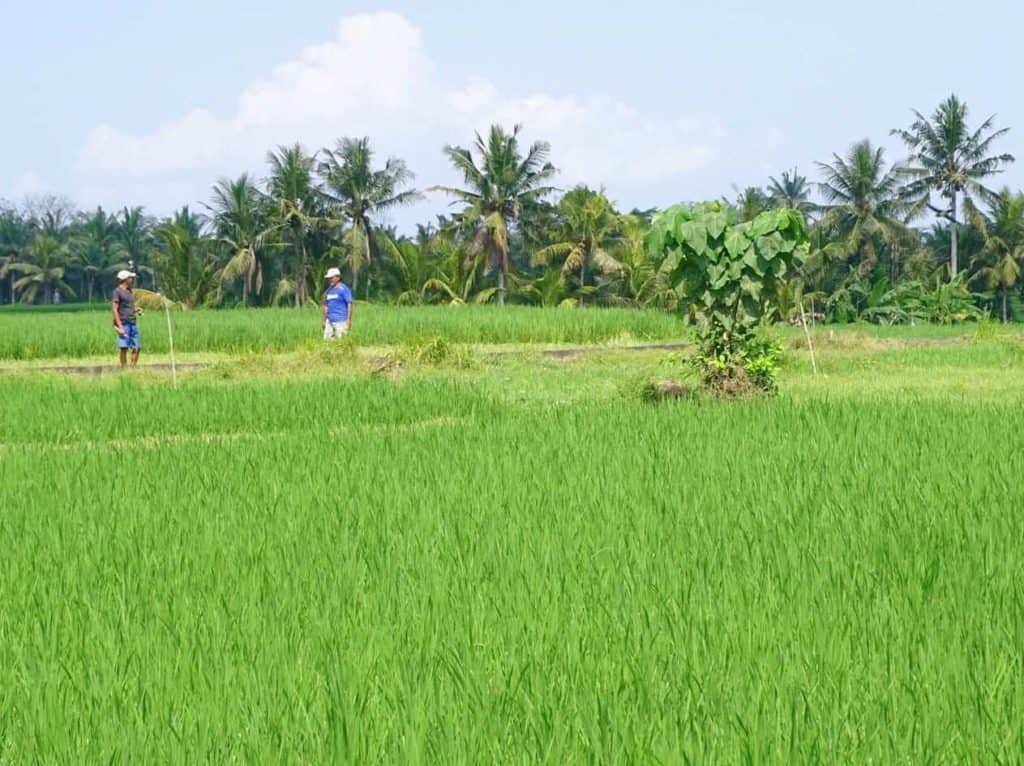 Price: Veggie dishes from 5,000 IDR and meaty mains up to 60,000 IDR.

Address: Jl. Raya Teges Kangin.

Note: Many places in this guide don't have door numbers so it's best to Google Map them or follow my pins!
Siboghana Warung (vegan)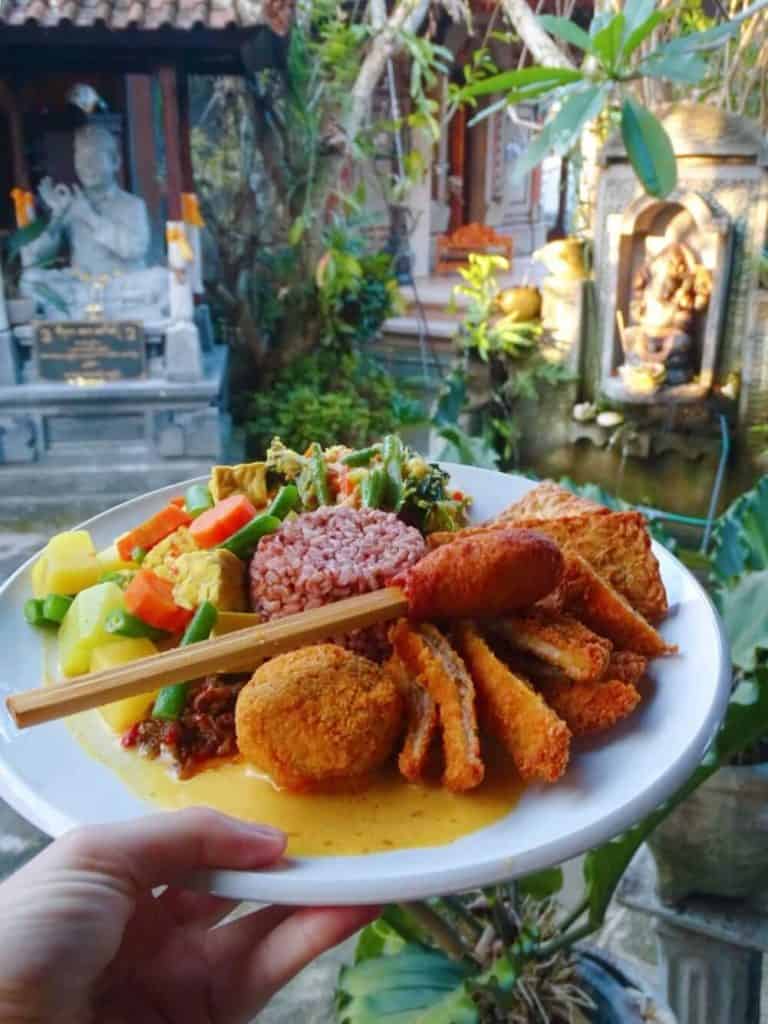 Siboghana Warung is one of the best local warungs in Ubud for homecooked, veggie food. The setting alone is worthy of a trip, hidden away in a family's garden, surrounded by small shrines and running water.

Everything on the menu is vegan. During my stay in Ubud, I ate there around three nights a week: high praise from a carnivore! My favourite dishes were the garlic satay mushroom skewers and the enormous nasi campur mix plate.

Siboghana Warung also serves a huge selection of hot and iced teas and delicious banana cake for 5,000 IDR. Don't forget to go upstairs and admire their wide selection of mandala art.

Price: Mains from 5,000 IDR. The most expensive meal on the menu is the nasi campur is 35,000 IDR; definitely not bad for some of the best Balinese food in Ubud.

Address: 36 Jl. Made Lebah.
Warung Sopa (vegetarian)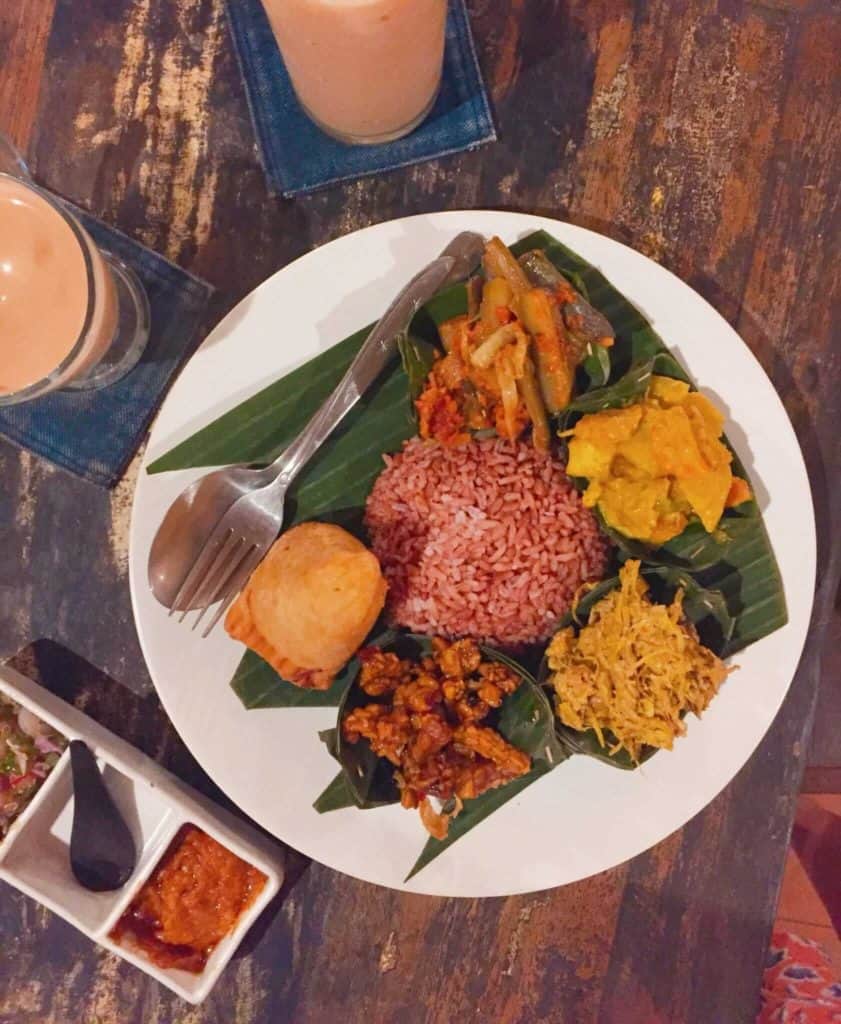 The fare at Warung Sopa is meat-free nasi campur. I ate there during my 2016 trip to Bali but didn't note down the name. I even wanted to add it to a blog but couldn't remember any details. Luckily I strolled past it during my second day this time around and instantly recognised it.

Order the nasi campur and choose the dishes you want from the counter (each are 9,000 IDR). Options include aubergine curry, veggie coconut curry, falafel balls, samosas, greens and more. All locally-made and delicious. Be sure to wash it down with a soya iced chai.

Price: 60,000 IDR for nasi campur with four dishes and an iced chai, one of the best cheap eats in Ubud.

Address: There are two branches of this local Ubud warung: the main one in town at 36 Jl. Sugriwa, and Warung Sopa Garden at 2 Jalan Nyuh Kuning. The first is better for a busy atmosphere but the second boasts a chilled, outdoor setting.
Babi Guling Ibu Oka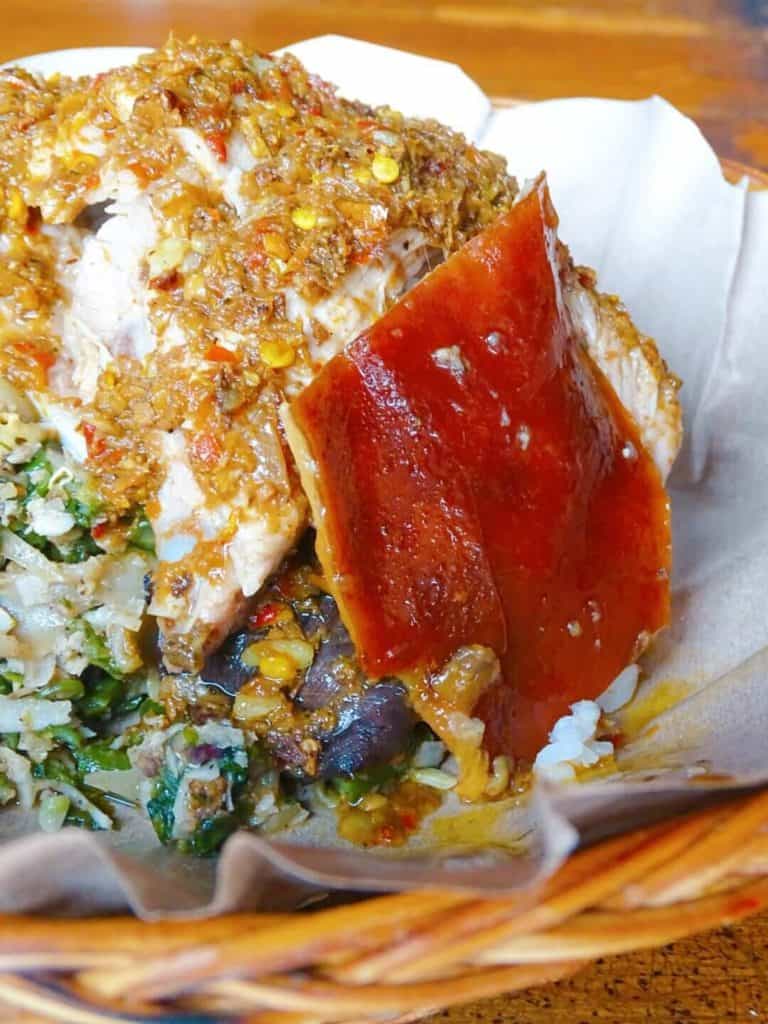 Now onto Anthony Bourdain's favourite roast pork. You'll see babi guling being served all over Bali but the best warung in Ubud for sampling it is Babi Guling Ibu Oka. Expect a no-frills portion in a wicker basket for 50,000 IDR (or 70,000 including soup). I couldn't believe how rich and flavoursome it was, melting in my mouth with crispy skin to die for.

Address: There are two branches, the busy central one at 2 Jalan Tegal Sari, and the slightly out-of-town location on Jalan Raya Mas which I had almost to myself when I visited just after 11am.
9 Angels (vegan)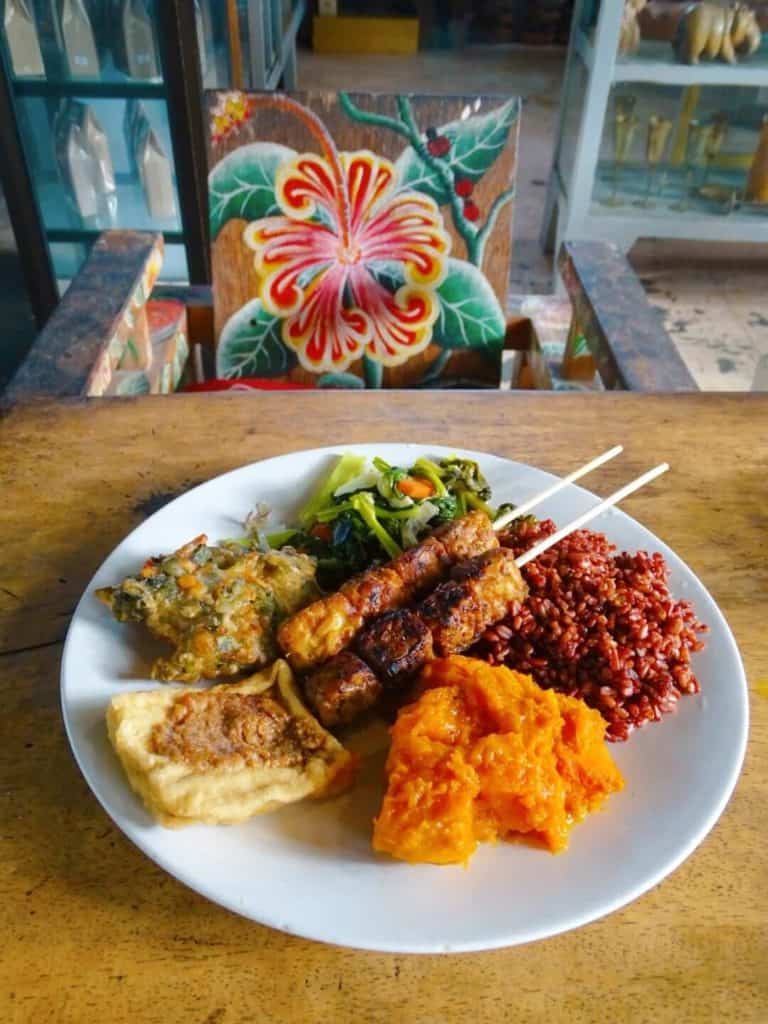 I'm obsessed with 9 Angels, probably due to how much I love buffets. Here you serve yourself (a scoop of each dish is 5,000 IDR), pour your own tea, and pay in an honesty pot when you leave. It's the best vegan warung in Ubud, apart from maybe Siboghana and Sawobali.

There are two restaurants but I can only vouch for the one in the south of Ubud which has a vintage shop in the back, a barista coffee bar in the garden and strong Wi-Fi. You never feel rushed making it ideal for coworking. Usually 'local warung' and 'digital nomad' don't go together and you have to splash out on Western cafe prices for a good internet connection. This was a very affordable alternative.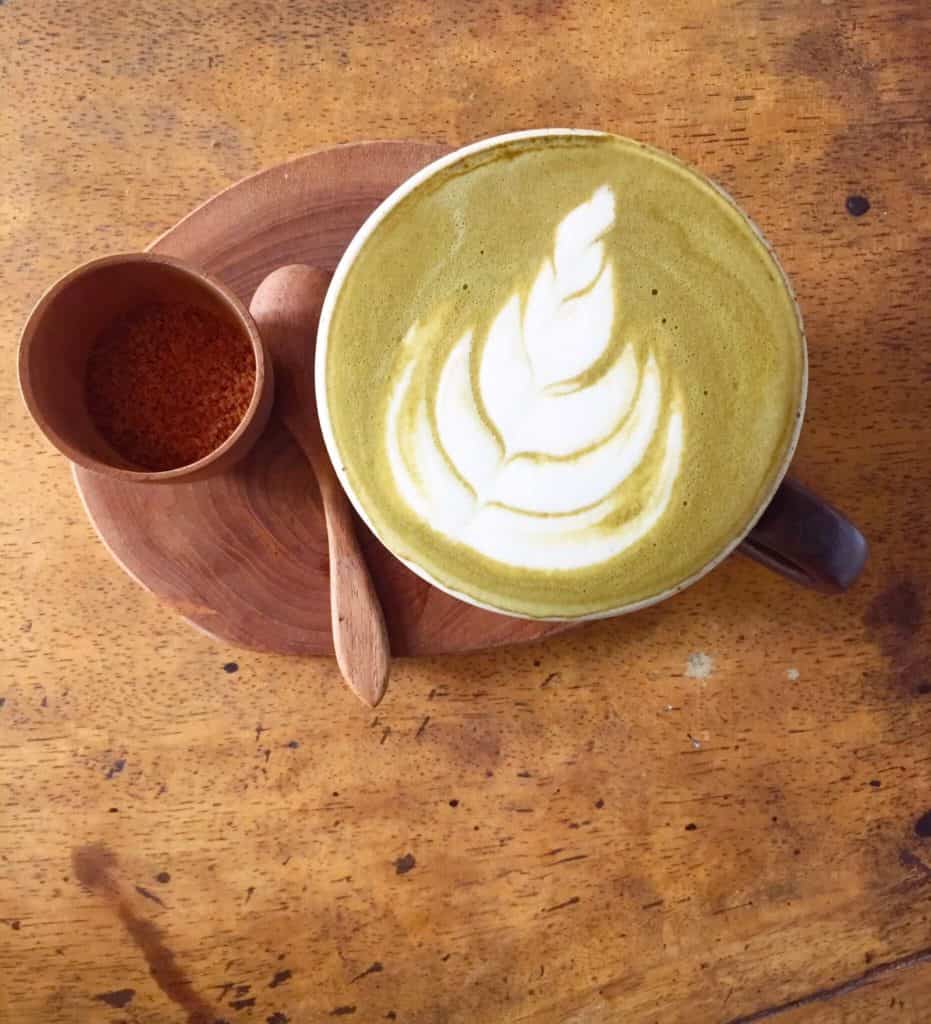 Price: 37,000 IDR for a giant buffet plate (rice, a few scoops of different dishes and some tempeh skewers) and a ginger tea. Some of the best Indonesian food in Ubud and an absolute bargain!

Address: There are two, one in the north of Ubud at 32 Jl. Suweta and one in the south, technically in Lodtunduh village – location pinned here. I always ate at that second one but I hear the first has lovely staff and live music.
Sawobali Cake & Coffee Shop (vegan)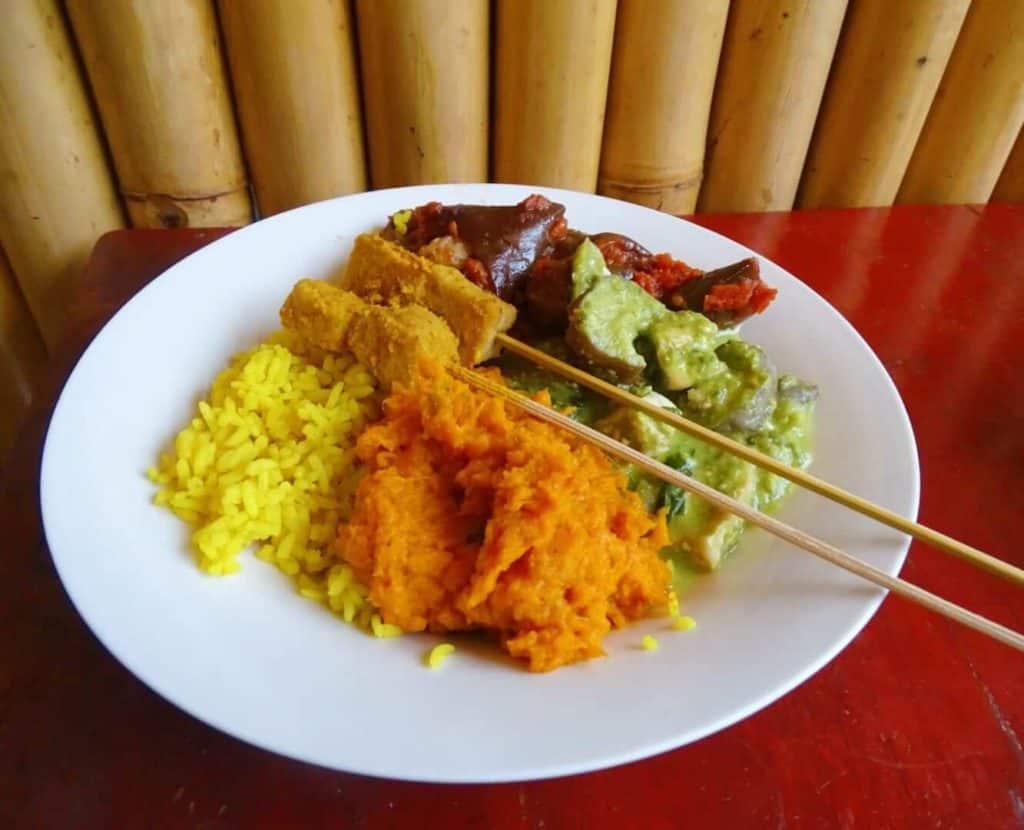 Everything at Sawobali Cake & Coffee Shop is delicious but also healthy, gluten-free, meat & dairy-free and allergy-free. My insides were like YASS Queen Rose, you have never treated us this well before!

Throughout the day and evening, you pay just 50,000 IDR (less than £3) for the all-you-can-eat buffet.

I tucked into Thai green curry, braised aubergine, sweet potato mash, black bean and pulled jackfruit curry, and my favourite tempeh skewers. If you're hungry, it's legit the best vegan warung in Ubud. What a feast!

I didn't clock until after eating my cake that everything was gluten-free. That obviously meant it wasn't lacking in taste (and I like to think I know my cake!).

Address: 73 Jl. Hanoman.
Warung Garasi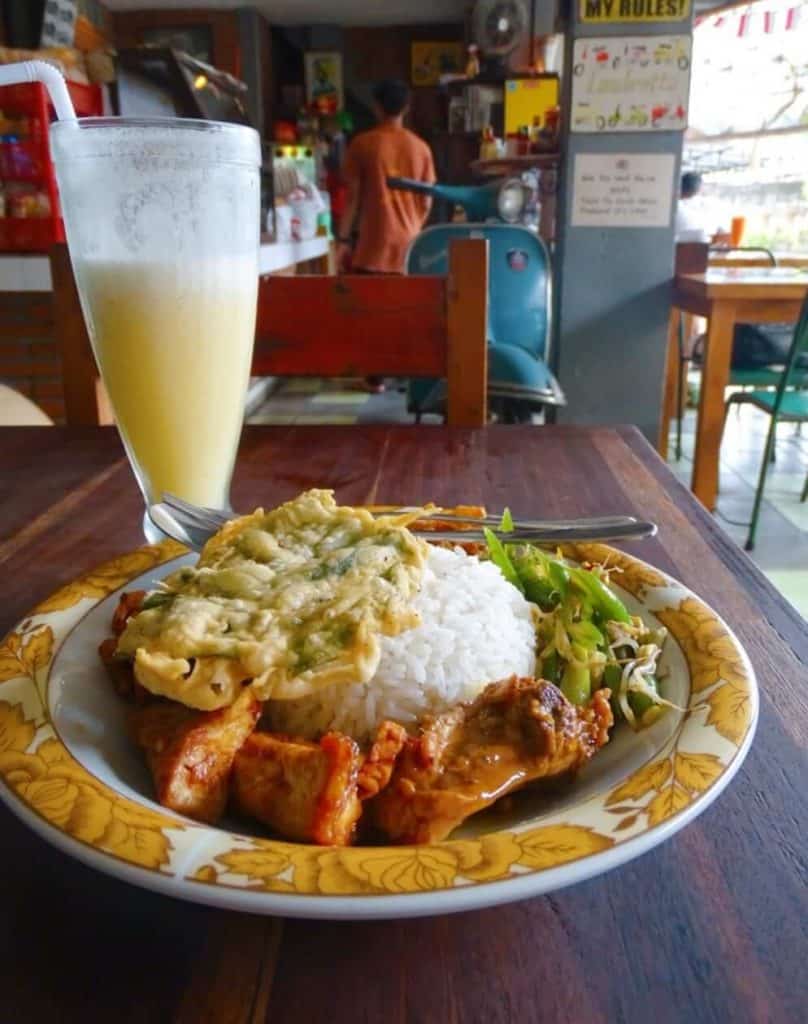 Warung Garasi is a cool little cafe hidden away off Monkey Forest Road. The interior is scooter-themed and you can even enjoy your meal sat on one at the bar. It's usually quiet inside but I don't know why because it's one of the cheapest restaurants in Ubud. I paid 35,000 IDR (£1.80) for nasi campur and a juice.

With so many vegan warungs in Ubud, it was also a rare chance to chow down on some juicy ayam (chicken to you and me). The menu at Warung Garasi is packed with Balinese staples so it's a good place to work through all the best Indonesian dishes.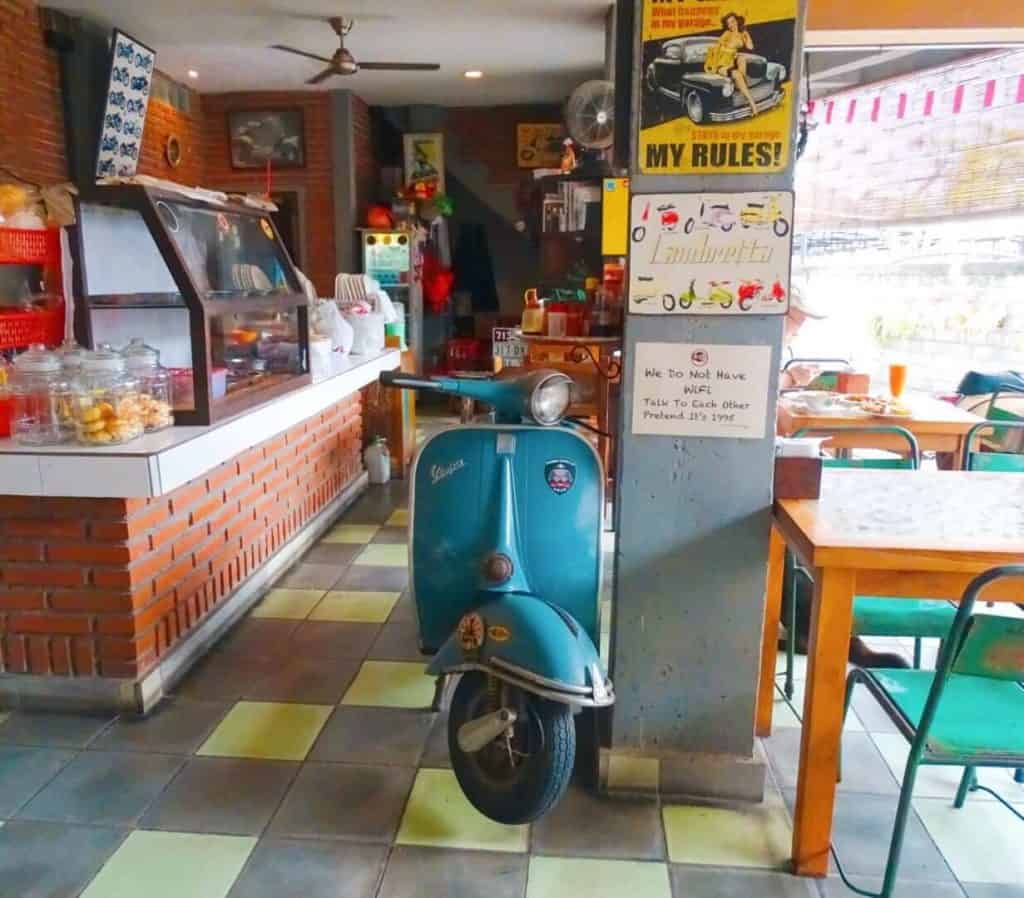 Price: 15-30,000 IDR for mains.

Address: 15 Jalan Wenara Wana.
Puspa's Warung
What might initially look like a tourist restaurant in central Ubud is actually a great surprise. Puspa's Warung a low-key eatery where guests sit on shared tables outside. As I've learnt, the more casual a restaurant in Asia, the better it will be!

Friendly Puspa cooks traditional Balinese food using exact recipes from her mum's kitchen, teaching guests how to recreate them during her vegan cooking class. As you can probably guess, this is another vegan warung in Ubud using fresh ingredients like ginger and peanut to flavour the dishes.

Take a cooking class with Puspa to make mie goreng, corn fritters, gado gado and yellow curry. Heaven!

Address: Jl. Goutama Sel.
Warung Nessa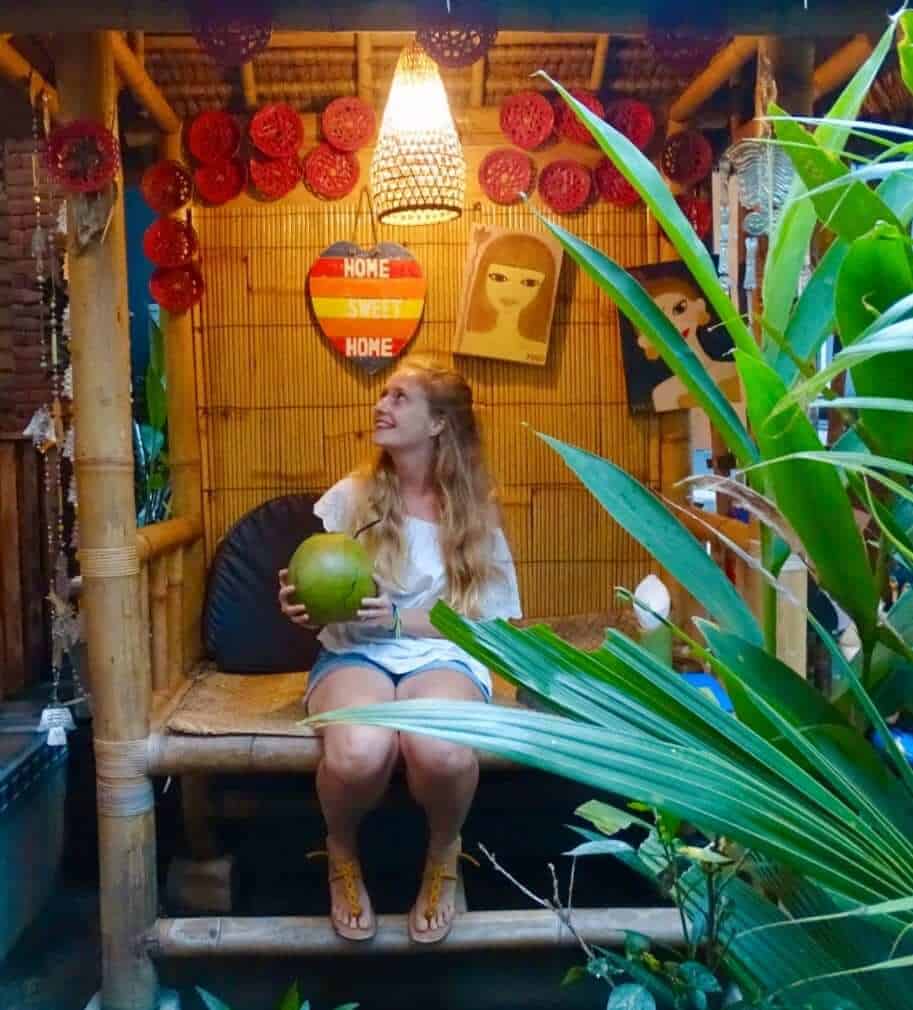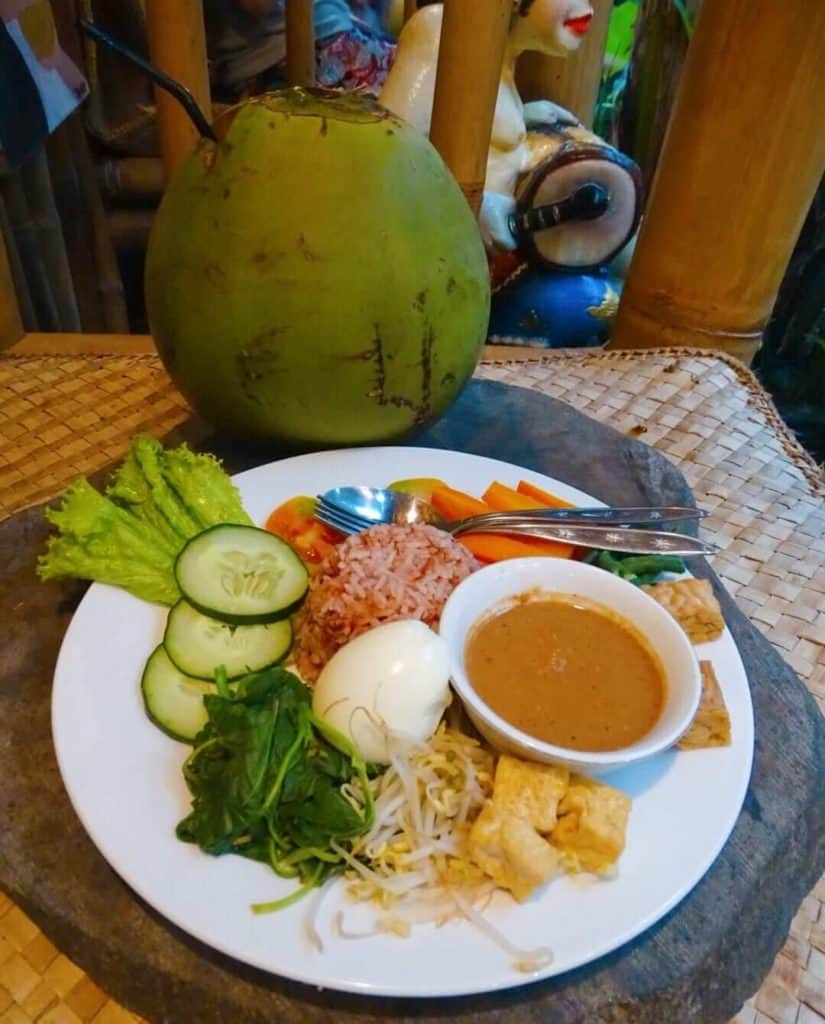 At this cosy restaurant, you can dine at tables or eat off your lap in a bamboo hut. I discovered Warung Nessa while wandering and I'm glad I did because it serves tasty, cheap food in Ubud, as well as fresh juices.

The staff are so friendly and even cut my coconut into the shape of a heart. That sums up my feelings for this homey local warung!

Can I just spend forever in this bamboo hut with a coconut, please?

Price: 50,000 IDR for gado gado and a fresh coconut.

Address: Jl. Gotama.
Sweet Orange Warung
Set out in the rice fields not far is another cheap restaurant in Ubud, Sweet Orange Warung.

The 20-minute walk from central Ubud is well worth it to discover this hidden gem, plus the scenery on the way is magical. One of the quirks of Sweet Orange is the friendly faces painted on coconut shells, dotted all around the restaurant.

While sitting outside under a colourful parasol to escape the heat, you can sample local dishes you'll now be familiar with including mie goreng noodles, red rice, coconut curry and even fresh seafood. Dishes are served on banana leaves in wooden bowls.

At Sweet Orange, you can also enjoy a rare treat in Bali: drip coffee from Vietnam. This is my favourite type of coffee and, since I'd just come from Vietnam, I was very happy indeed to find it.

Address: Jalan Kajeng.
---
Finished! Now you know all the best authentic and cheap restaurants in Ubud (well, the ones I know about anyway). Let me know in the comments if you discover any others during your stay.
Veggies and vegans – I hope you're excited to explore the vegetarian restaurants in Ubud. Don't miss the Sawobali and 9 Angels buffets if you're hungry, or Siboghana Warung for a family-run hidden gem.

Looking for fun food experiences in Ubud? I recommend GetYourGuide for cooking classes & food tours:
Thanks for reading my Ubud Balinese food guide!
Check out my other Bali & Asia posts:
Ubud blogs:
Canggu blogs:
Nusa Islands:
See you next time for more adventures,
Rose
For more content, follow me on Instagram, Facebook, Twitter and YouTube.
Ps. Liked this Balinese food in Ubud? Pin it for later!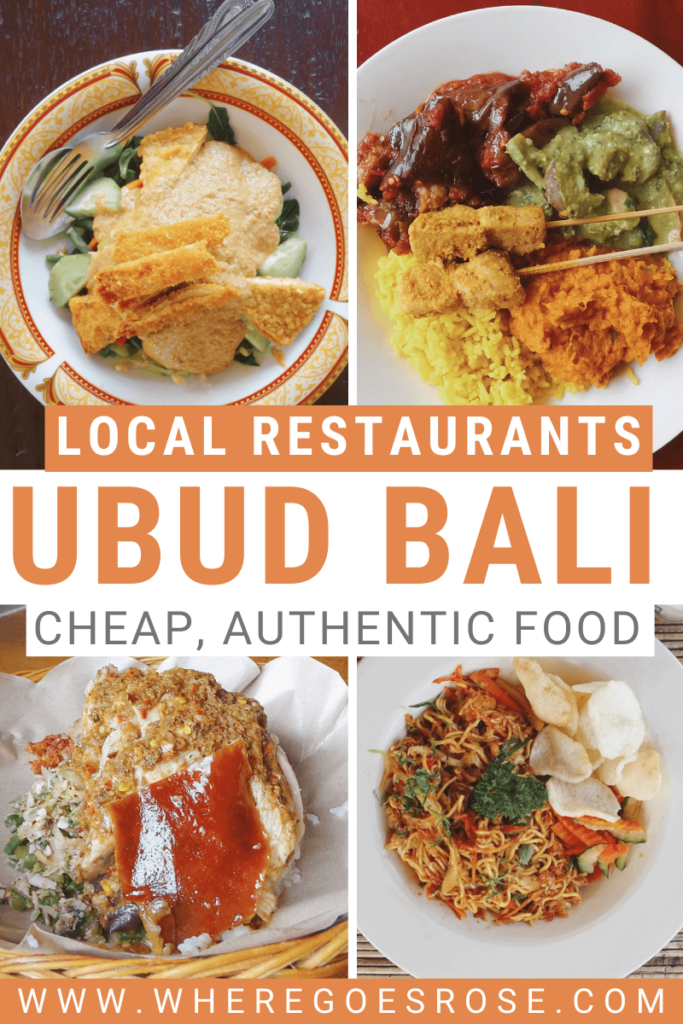 Bali useful links

Flights – I use Skyscanner to find the best-value flights, using the 'search by month' tool to find the cheapest dates. You can also use the 'to anywhere' feature if you're flexible on where you're going.

Stay connected with E-sim data plans that don't require delivery or collection; just scan the QR code.

In my opinion, Lonely Planet offer the best guidebooks. Get the latest Copy of Lonely Planet Bali.

I use Booking.com for accommodation. They have the best range of hotels and self-catering apartments, plus you can filter by review score and price to find the best-rated budget places. For hostels, I use Hostelworld.

To save money on accommodation, I use Trusted Housesitters, a website that connects homeowners going away and travellers who can sit their homes & pets.

For activities, I use GetYourGuide and Viator as they both have a huge range of affordable tours.

Need travel insurance? I use True Traveller (for UK & Europe residents) since it's affordable but covers everything you'd need including various activities, valuables and pre-existing conditions. Unlike some companies, they insure you if you're already travelling / don't yet have your flight home booked. Get a quote.

For travel insurance for other nationalities, I recommend Hey Mundo and for long-term digital nomad travellers, I suggest Safety Wing.

Check out my resources page for more travel discounts and tips!