This post may contain affiliate links to things like tours, hotels, Amazon associates and products. These help me earn a small commission at no additional charge to you.
I've grown up with the Cotswolds on my doorstep so it's somewhere I know very well. I'm going to share my Cotswolds itinerary so you can spend a perfect weekend in the Cotswolds and get to know it, too!

The Cotswolds is a great place for visitors to the UK as it's so typically British. The rolling hills, old-fashioned cottages and grand stately homes have inspired many books and period dramas. Much of the area hasn't changed in decades if not centuries and it's a great place to ditch the city and embrace country bumpkin life.
Even if you're already used to the charm of England, a weekend in the Cotswolds is the ultimate chance to unwind. There are no cities in the Cotswolds and only a handful of large towns.

With plenty of walking routes, it's easy to get off-grid and see the countryside. For after (or a straight-up alternative), there are cosy pubs and quaint tearooms. Foodies will be in their element.
In a rush? Use my day trip to the Cotswolds from London guide
COTSWOLDS ESSENTIALS

Rough Guides The Cotswolds

Accommodation: Booking.com

Car hire – Rentalcars.com
Read next: The 30 best places to visit in the Cotswolds
What and where are the Cotswolds?
The Cotswolds are located in southwest England between Oxford and Bristol surrounding the Cotswolds Hills. If you're staying in the Cotswolds, it's easy to visit both these cities as well as take a scenic day trip to Bath.

You can identify the Cotswolds AONB (Area of Natural Beauty) as the area in green on Google Maps. Including towns the Cirencester, Bourton-on-the-Water, Stow-on-the-Wold, the whole Cotswolds region spans more than 2,000km. Plenty of space for adventures!
How to get to the Cotswolds
When planning a weekend in the Cotswolds, consider how to get around. While I usually love the ease and convenience of getting around the UK by public transport, the Cotswolds is a place where this isn't really possible.

At one point during my recent trip, I hit 'public transport' rather than driving directions on Google and was told (instead of a 30-minute drive) to get a six-hour train journey passing through both Birmingham and Coventry. So you see it's not catered to those on foot!
Travelling by car is the best option for a Cotswold itinerary. If you don't have one, you could consider arriving by train into Oxford, Cirencester or Cheltenham and hiring one. Rentalcars.com is your best bet.
Where to stay in the Cotswolds
Being a large town and having more competitive prices, Cheltenham (on the west side of the Cotswolds) is one of your most affordable options and hotels start at £70 per night. The same can be said for Cirencester.
A 15-minute drive outside of the Cotswolds and towards Oxford, smaller town Witney offers similar prices within boutique guesthouses. Both The Fleece (£80pn) and The Blue Boar (£95pn) are lovely.

To stay central during your 2 days in the Cotswolds, you may need to stretch the purse strings a tad further. These places would be on my wish list if I needed somewhere to stay:
Inn for All Seasons, Burford – this 16th-century coaching house looks like it has lots of character as well as cosy, luxurious rooms and some gourmet dining options (from £120 per night).
Russell's of Broadway – a beautiful black and white timber-framed hotel with quintessential Cotswold style. The enormous luxury bedrooms range from £120-£250 per night and the award-winning modern dining looks to die for!
No. 131, Cheltenham – a Georgian townhouse complete with boutique features, chandeliers and quirky artwork (from £110 per night).
Once you've decided where to stay and how to get around, give some thought to the places you want to visit during your 2 days in the Cotswolds. Follow my sample Cotswolds itinerary for plenty of popular stops, and even more cream teas!
Cotswolds weekend itinerary
What type of Cotswolds weekend is this? It's a busy Cotswolds itinerary for those who want to see a lot in one weekend. If you want a more leisurely time, take away the spots you're the least interested in.
Cotswolds itinerary – Saturday
Begin your weekend in the Cotswolds by touring some of the most traditional and well-known towns in the area. Today you can get immersed in the area and see what all the fuss is about.

Local tip – if you can, I would recommend starting your day early before the crowds arrive. Bourton-on-the-Water is one of the most popular spots in the Cotswolds so it's best to get there early and do your sightseeing in the morning. Scoot off to quieter places as the bus trips arrive!
Bourton-on-the-Water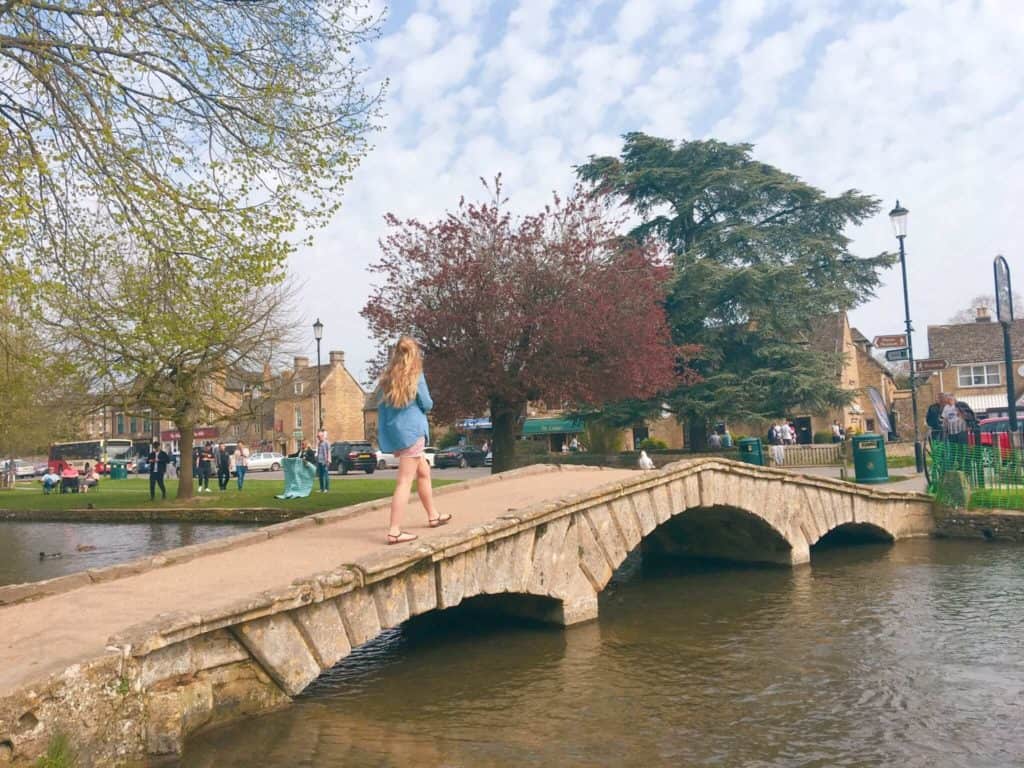 Bourton-on-the-Water is sometimes called 'Venice of the Cotswolds' because of the rivers running through it. I'm not sure I can see the resemblance as there are certainly no gondolas but there is gelato (well, standard English ice cream).

This is one of the most touristic spots in the Cotswolds so I wouldn't recommend spending the whole day here. Instead, squeeze it into the morning of your Cotswolds itinerary before moving on.
Read next: the 20 most picturesque villages in the Cotswolds
Things to do in Bourton-on-the-Water
The Model Village – this is a place I visited a lot as a child and a few times as an adult, too. The Model Village is exactly that: a perfect miniature replica of Bourton. But is there a model of the model village? You'll have to see for yourself. Inception! Entrance is £4.25 for adults (£3.25 for children).

Birdland – I'm not a fan of zoos but there are no big animals here, only birds. With over 500 species and 150 types of trees, you can easily spend half a day here, especially if you have kids. There are 'meet the keeper' sessions, feeding times and educational talks. Get 10% off entrance by booking online and check the What's On page.
Cotswold Brewing Company – run by a local family, this brewery uses traditional methods to brew craft beers. Visit College Farm to sample different types of beers during a guided two-hour tour. There are also ciders and gin if you're not a beer fan.
Where to eat and drink in Bourton
Rose Tree Restaurant – this restaurant in a grade II listed cottage right beside the river serves traditional British food and a few lighter continental dishes, too. Visit for lunch between 11.30am-3.30pm.

Bakery on the Water – this cafe serving artisan coffee and croissants is about as hipster as it gets for the Cotswolds. All the baked goods are freshly-made onsite and can be enjoyed takeaway, inside the cafe or in the riverside garden.

The Chestnut Tree – for traditional British tea and cake, head to The Chestnut Tree for scones, jam and cream with a teapot of English breakfast tea. Enjoy your spread inside the cafe surrounded by quirky clutter or dine on the lawn opposite the River Windrush. They also serve toasties, baguettes and jacket potatoes.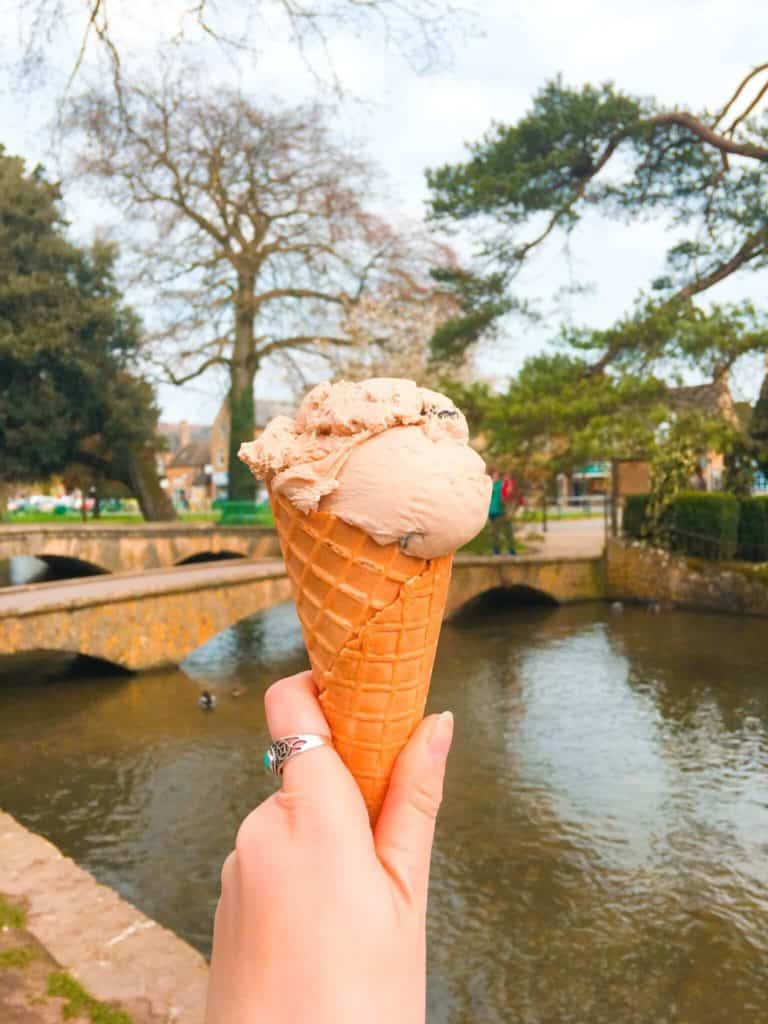 Where to park in Bourton-on-the-Water
You can park at Station Road car park (£5.50 for two hours), Burton Vale Car & Coach Park (£2.50 for two hours) or Rissington Road car park (£2.30 for two hours but a 15-minute walk into town).
Where to stay in Bourton-on-the-Water
For a relaxing getaway, you can't beat The Dial House which is centrally located beside the river with a peaceful walled garden shading the sunny grounds from the rest of town. The property made of golden Cotswolds stone dates back to the 1600s, resembling an old farmhouse. The individually decorated rooms have different features, some including four-poster beds. Double ensuite rooms start from £95pn; check availability here.
Things to do nearby Bourton
Instead of continuing on to the larger towns mentioned below, you could opt for a quieter day by heading to the nearby Slaughter villages. Just 1.5 miles from Bourton, you can walk there in 20 minutes or drive in a couple of minutes.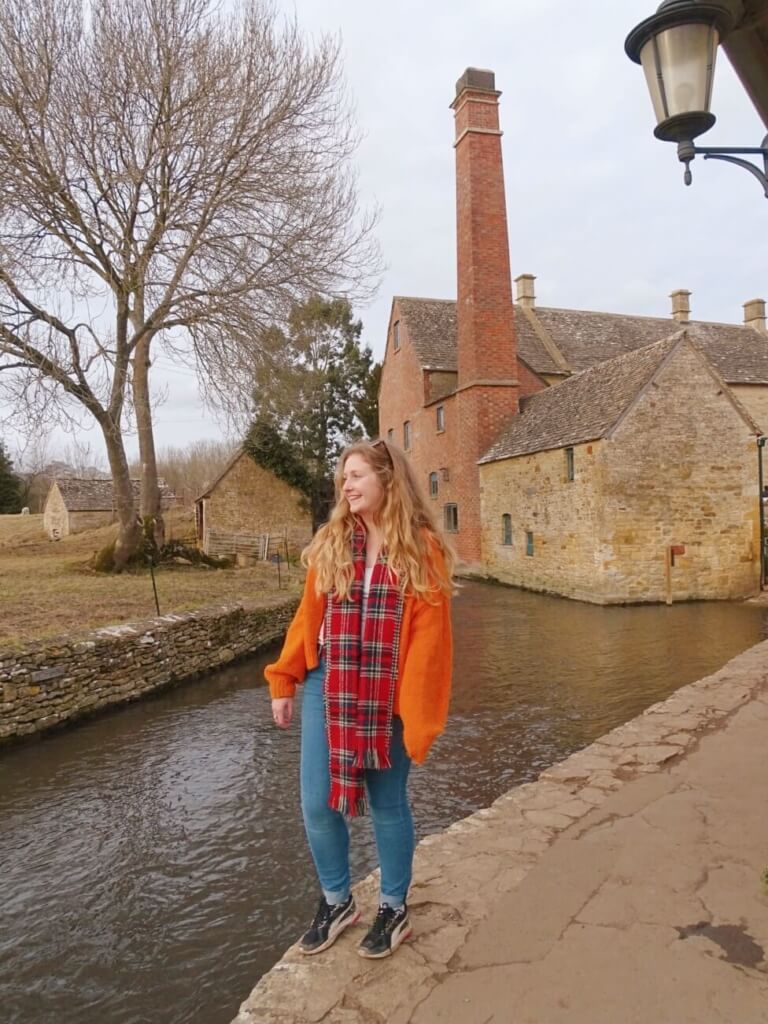 Both villages are idyllic. Lower Slaughter has a few things to do including visiting the Old Mill Museum and cafe, crossing the pretty bridges and stopping for a pint at The Slaughters Country Inn. There's less to do in Upper Slaughter but it's worth a stop. You'll feel like you've stepped back in time!

Alternatively, continue from Bourton to the more famous places in the Cotswolds…
Stow-on-the-Wold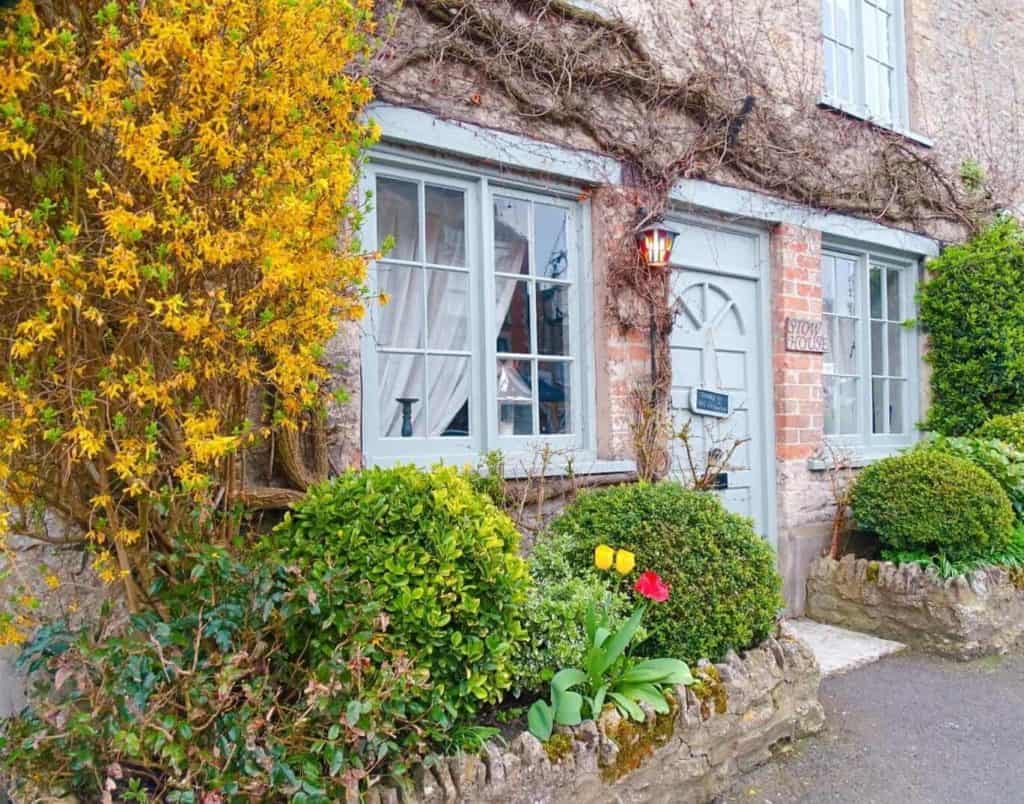 Just a seven-minute drive from Bourton-on-the-Water is the next stop on our Cotswolds itinerary, Stow-on-the-Wold. Make a mid-morning stop for charming shops and photo opportunities.

This is another of the most popular Cotswold towns known for its picturesque cottages, tearooms and plenty of history. Market Square even features some medieval stocks where public floggings used to take place.
Things to do in Stow-on-the-Wold
St Edwards Church – this Grade I listed building dates back to the 11th century. The ornate doorway flanked by huge trees is thought to have inspired J.R.R. Tolkien's Doors of Durin. If you're looking for quirky photo spots in the Cotswolds, this is the place to take them. St Edward's stained glass windows are also very impressive.

Fosse Gallery – art fanatics can pop into this art gallery to see contemporary art from around the UK. You can browse the art or buy something to take home.

Shop for antiques – Stow is known for having some of the UK's best antique shops. Check out Tara Antique Centre, Durham House Antiques and Baggot Church Street.
Where to eat and drink in Stow-on-the-Wold
In the Mood – this quirky, 1940s-inspired tearoom has a great selection of scones, cakes and pretty chinaware. If you're visiting for a meal rather than tea and sweet treats, you can tuck into full English breakfasts, scampi & chips and other heaty English meals.

Porch House – this cosy venue is the oldest inn in Britain as mentioned in the Guinness Book of Records. I can also attest to the fact they the best Sunday roast in the Cotswolds! Prices are high at £15 for main dishes but pretty standard for Cotswolds prices. For a cosy, atmospheric meal or drink, this is a wonderful pitstop.
Where to park in Stow-on-the-Wold
There's limited parking in Stow so the best place to park is Fosseway car park nearby Tescos. This is a free long-stay car park so you can stay as long as you like.
Where to stay in Stow-on-the-Wold
Stay at The Porch House for rustic charm and a delicious Sunday roast the following day. There's no end of period features like cosy roaring fireplaces and wooden beams. The spacious rooms with deep bathtubs look like heaven. Check availability for £105pn.
Moreton-in-Marsh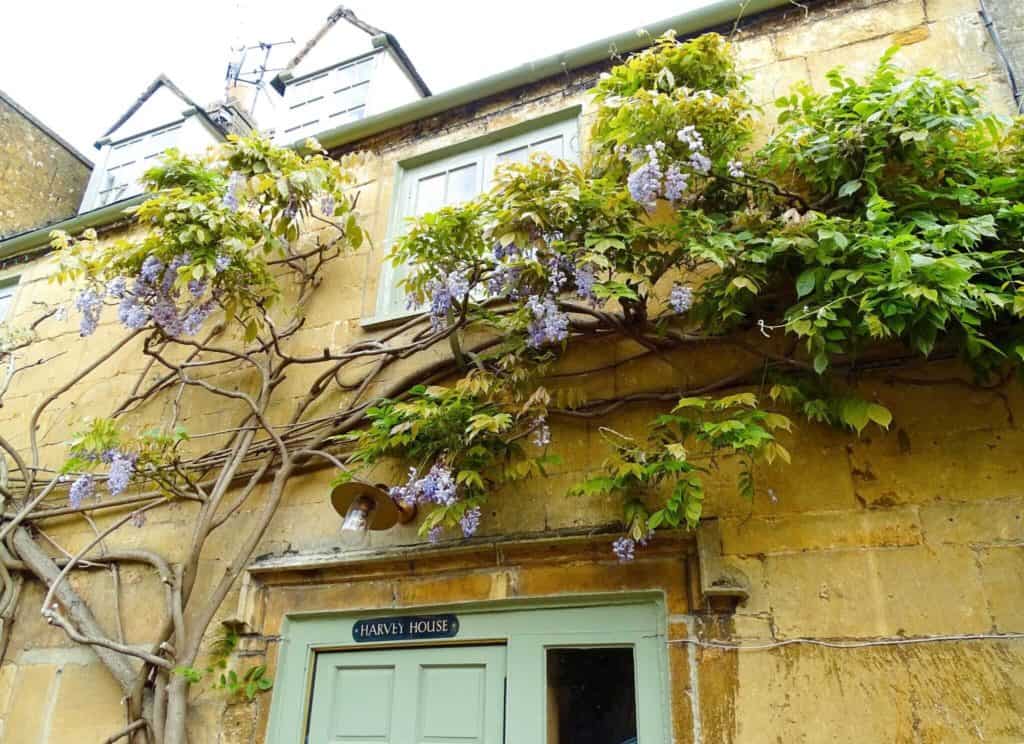 Moreton-in-Marsh is another charming addition to a Cotswold itinerary. It's less touristic than Bourton and Stow making it perfect for a leisurely lunch or afternoon pitstop.

Moreton has been a bustling market town for over 1,000 years dating back to Saxon times. There's plenty of history to be explored including the White Hart Royal, the location where King Charles sheltered during the Civil War.
Things to do in Moreton-in-Marsh
Tuesday market – although this guide is geared towards a Cotswolds weekend, if you happen to be in town on a Tuesday, swing by the market. This open-air market has over 200 stalls selling fresh fruits, veggies and other fresh food.

Chastleton House – just three miles from Moreton is Chastleton House, a Jacobean country property. It's £12.50 to go inside the Grade I-listed house and wander the impressive grounds.

The Bell Inn – fans of Lord of the Rings will want to swing by this pub which is thought to be the inspiration behind the Prancing Pony, the pub in Middle Earth. Stop by for a larger, wine, beer or spot of pub grub.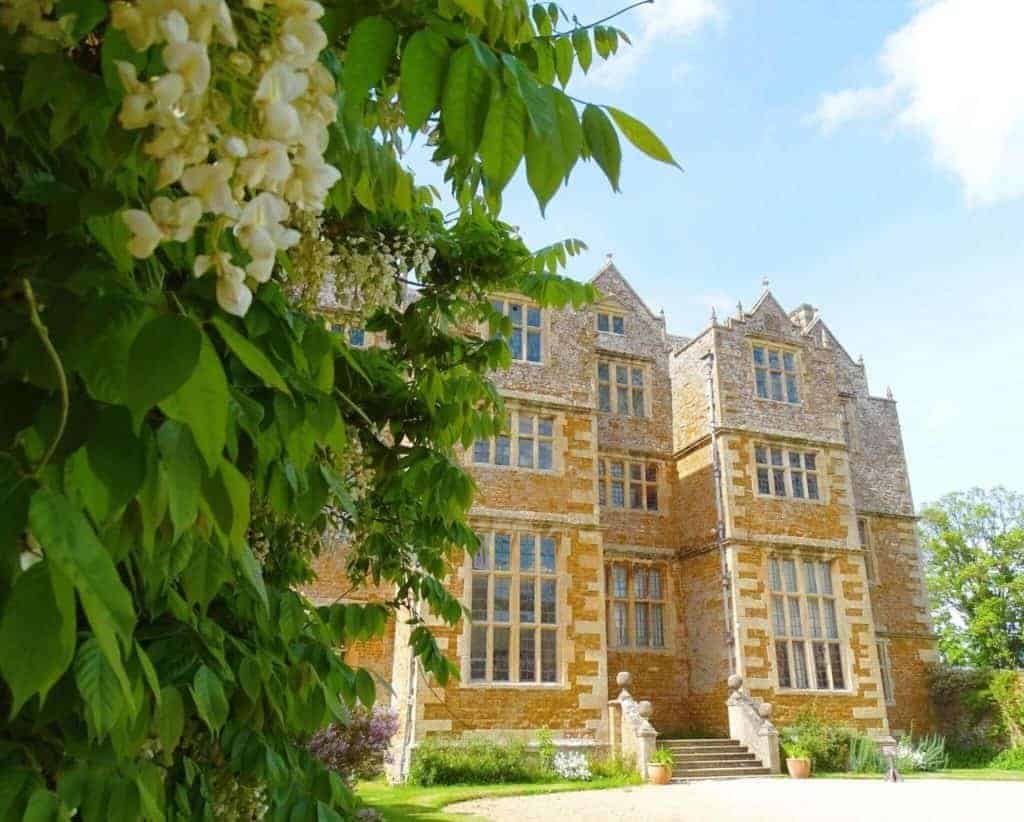 Where to eat and drink in Moreton-in-Marsh
Yellow Brick Cafe – this cosy cafe is a fantastic spot for cheap eats in the Cotswolds. They serve breakfast, lunch, sweet treats and dinner, as well as artisan gelato, all homemade with locally sourced ingredients.

The Marshmallow – for a typically British afternoon tea in the cosiest settings around, head to the Marshmallow. The cafe is overflowing with antiques and colourful clutter like teapots and crockery. Better yet are the afternoon tea stands loaded with homemade scones, cakes and finger sandwiches. For warm weather, there's also an outdoor courtyard to sit in.
Where to stay in Moreton-in-Marsh
The White Heart Royal in the centre of Moreton is a 17th-century coaching inn with individually designed bedrooms, four-poster beds and a private garden. Check availability from £120pn.
Where to park in Moreton-in-Marsh
Park at the Old Market Way car park which costs £1.50 for two hours.
COTSWOLDS ITINERARY – SUNDAY
Whether you're up bright and early or have a long lie-in, there's plenty more to see during your Cotswolds weekend itinerary. I would suggest…
Broadway Tower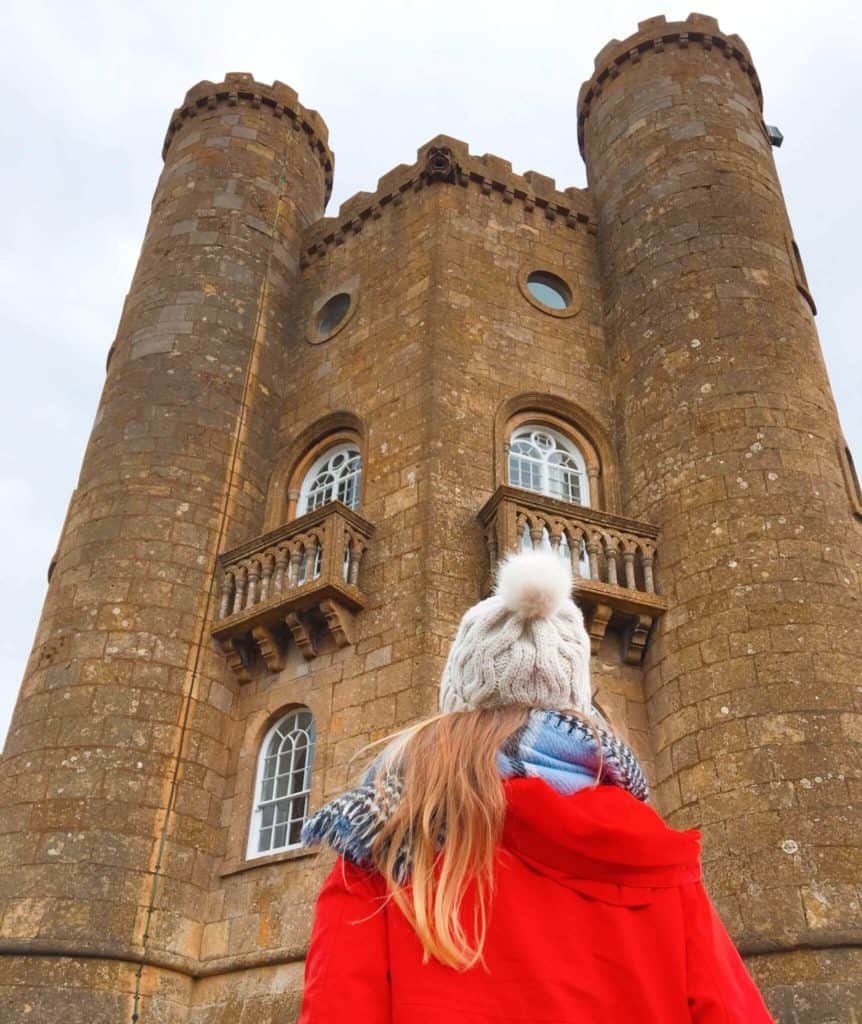 The tallest tower for miles around is a good stop for your Cotswolds itinerary. Broadway Tower measures just over 1,000 ft making it the second-highest point in the Cotswolds. It's hardly a skyscraper but it makes for beautiful views.

While you can visit the grounds and admire the tower for free, your paid-for options at Broadway Tower include:

Climbing the tower – it costs £5 to go to the top and you'll see some gorgeous countryside views on a clear day.

Head down the war bunker – we did this by total accident as we somehow booked on the wrong tour. However, it turned out for the best as I learnt a lot about how it had been used as a nuclear bunker during the Cold War. A tour is £4.50 or you can get a tower & bunker combo pass for £8.50.

Visit Morris & Brown Cafe – if you're truly British and need tea regularly, this onsite cafe makes for a good stop.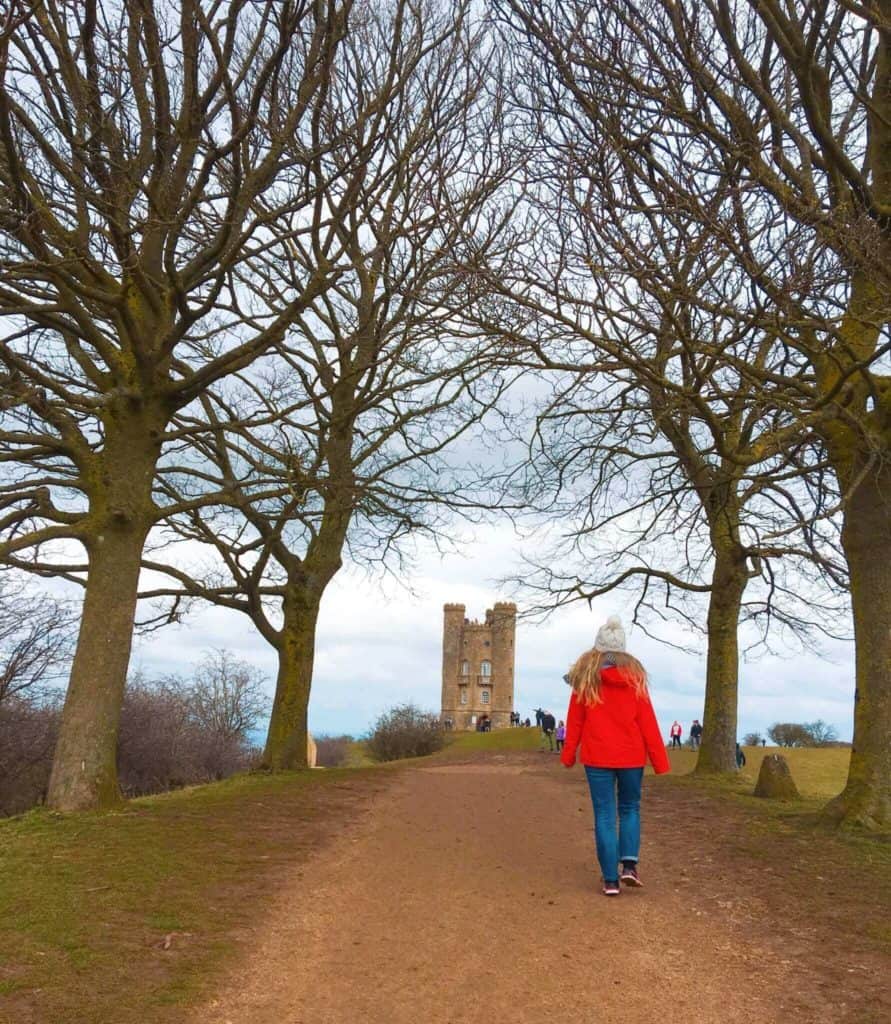 Broadway village
Almost as popular as Broadway Tower is Broadway itself. This large village is home to about 2,000 residents and a lot more tourists during sunny weekends! Stop to browse the high street, admire the golden stone buildings, or have lunch or an afternoon tea.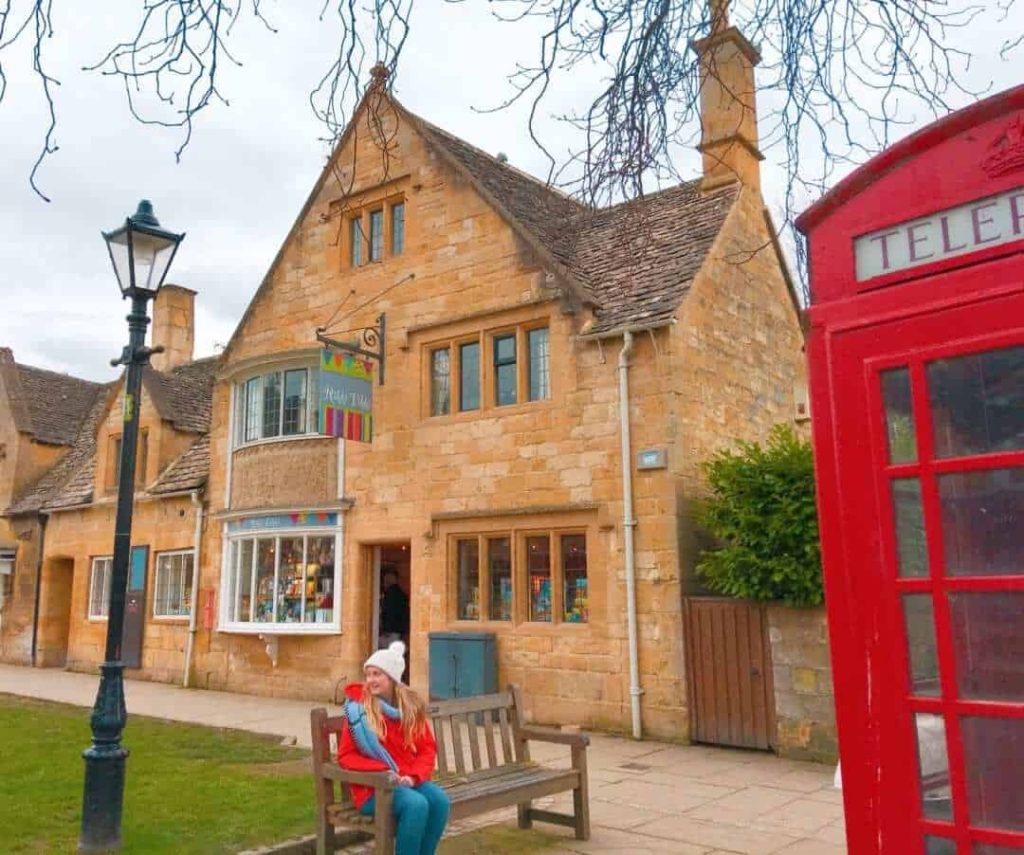 Things to do in Broadway
Browse the shops: From antiques to bookshops, jewellery and trinkets, there are lots of gorgeous shops in Broadway. You certainly won't find any high street retails or Starbucks here!

Visit John Noott Galleries and Cheltenham House Antiques for art and collectables, Whatever The Weather for gifts and homeware, and Rikki Tikki for kid's toys and games.

Snowshill Manor and Gardens – a 15-minute drive from Broadway is this manor house once lived in by Charles Wade with plenty of artifacts and gorgeous gardens.
The Cotswold Way Circular Walk
The Cotswolds Way Circular walk is a three-hour circular walk taking you from Broadway village to Broadway Tower and back. This is a moderate walk with some ups and downs but doable for those with a basic level of fitness. If your Cotswolds itinerary allows, it's a great way to see the countryside in between hearty eats and charming villages.
Related: the best Oxfordshire walks
Where to eat and drink in Broadway
Broadway Deli – this independent cafe sells fresh fruits and veggies and has a huge garden to relax in. They serve all-day brunch along with deli cheese and meat platters. There are plenty of options for vegans and celiacs.
The Swan – for all your English favourites during your weekend in the Cotswolds, as well as some gourmet twists, visit The Swan. Go with Wagyu beef in place of a regular burger or swap standard pizza ingredients for fig and goat's cheese. I'm yet to eat here myself but the fact that the dessert menu features a melting chocolate bomb is proof that I NEED TO.
The Cotswold Chocolate Company – fans of chocolate (isn't this everyone?) need to check out this store on Broadway high street. Set inside an adorable thatched Cotswolds cottage, they sell artisan Fairtrade chocolates and hampers.
Hamiltons Chocolates Broadway – hidden away from the high street in Hamilton Court is one of my favourite Broadway shops, somewhere I've been visiting since I was a child. You'll find all the confectionary imaginable displayed in glass jars for your choosing.
Where to stay in Broadway
The Lodge at Broadway is a relaxed and comfy place to stay set away from the High Street. The bespoke boutique bedrooms named after different British animals boast ensuites, Wi-Fi, free parking, breakfast and courtyard access. Check availability from £89pn.
Essentials for a Cotswolds weekend
Copy of Rough Guides The Cotswolds

A fold-up raincoat – shop here for mens, womens and kids

A reusable water bottle to reduce waste

A reusable coffee cup (collapsable) for hot takeaway drinks

A camera – I use the Sony DSC-HX350 Digital Compact Bridge Camera which I think is one of the most affordable options for a camera with such a good zoom

A GoPro if you're into making videos – I use the HERO7 Black.
Alternative Cotswolds weekend stops
If you have time during your Cotswolds itinerary and want to see more of the area, here are a few of my other favourite stops.

These are all located in the east of the Cotswolds towards the Oxford side which means they're enroute back to London if you're going that way.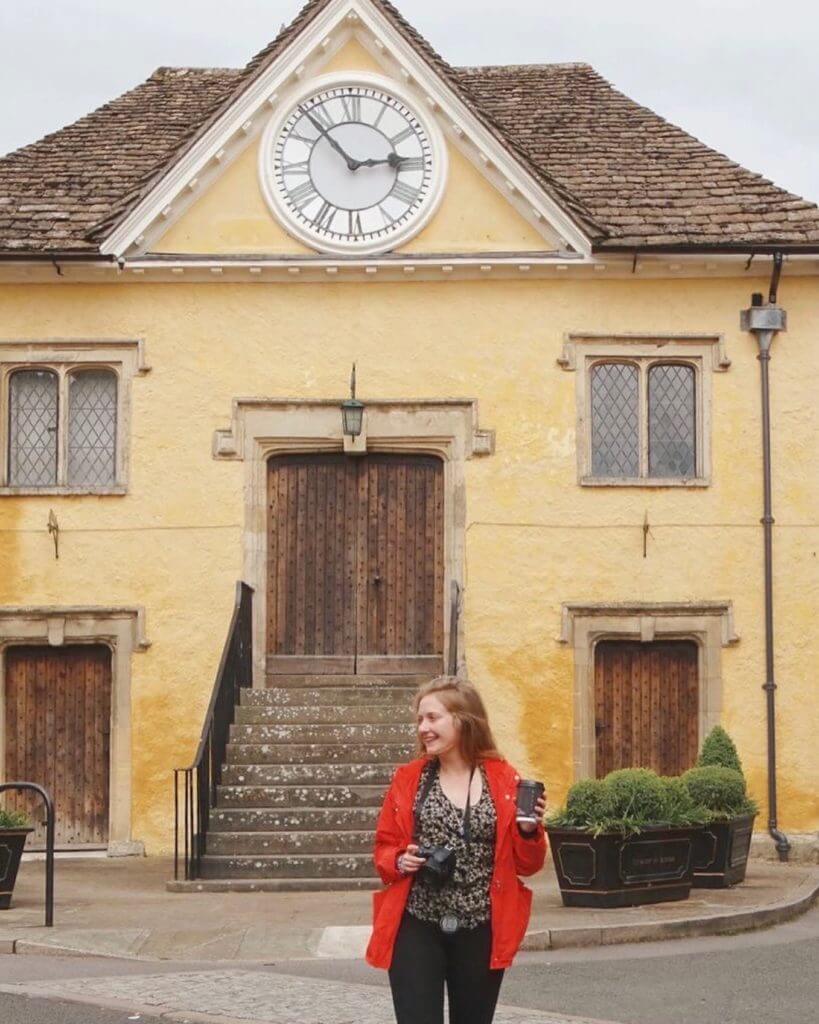 If you find yourself towards the Bath side of the Cotswolds, don't miss Tetbury. This gorgeous market town and civil parish has lots of vintage shops and fantastic places to eat and drink.

Climb the charming Chipping Steps, snap photos of Tetbury Market House and find the dolphin decorations (Tetbury's mysterious emblem) dotted around the town.
Read next: What to do in Tetbury
Lacock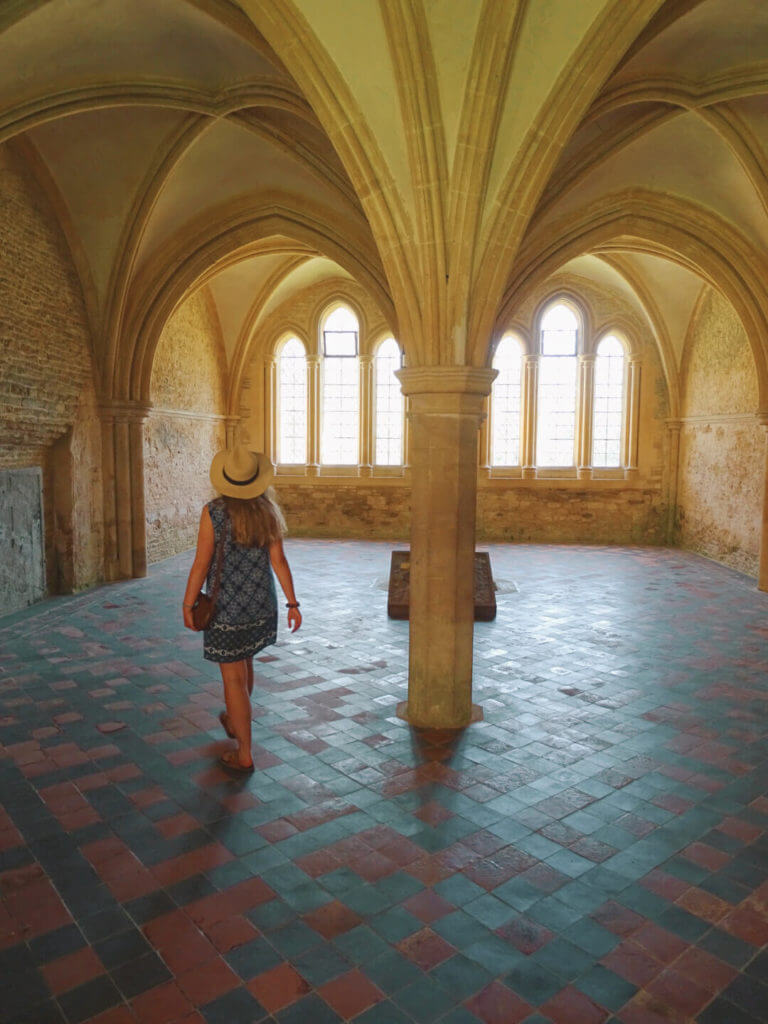 In the south of the Cotswolds near Bath, you can check out this quaint village where photography was born at Lacock Abbey. If you're a movie buff, don't miss the Harry Potter filming locations in Lacock.
Woodstock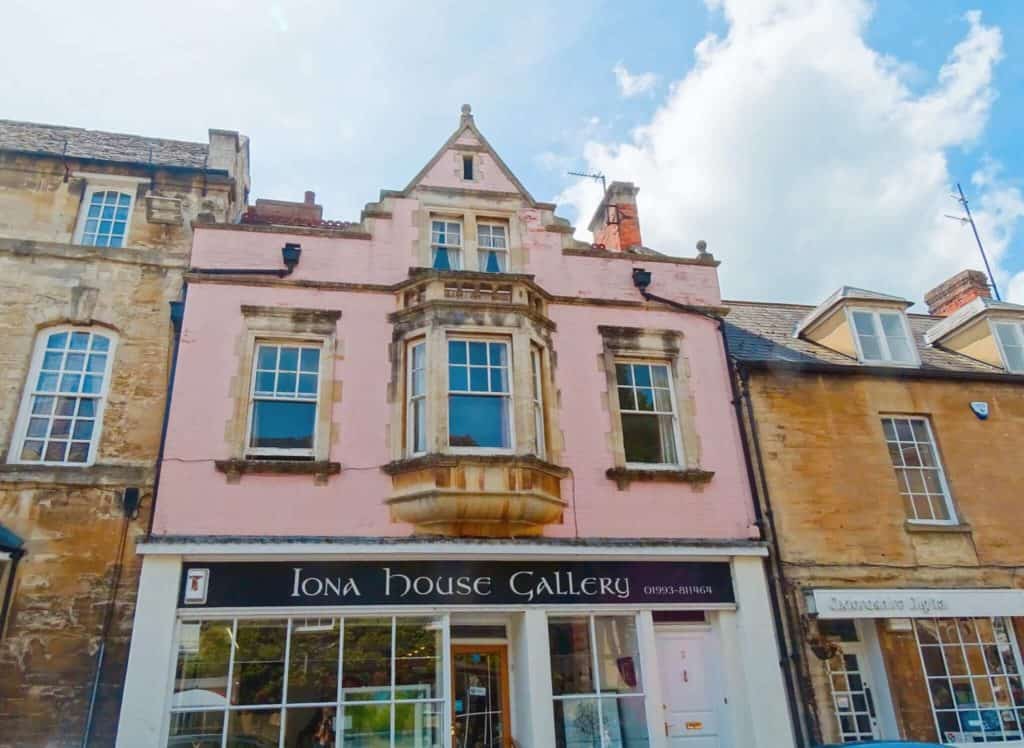 This historic town is the gateway to popular Blenheim Palace but it's also a lovely stop in itself.

Like many places in the Cotswolds, there's not loads to see and do but there are some fantastic places to eat and drink. Head to the Woodstock Arms for a traditional fry-up or Woodstock Coffee Shop for delicious coffees, hot chocolates and paninis. Don't miss the almond cake!
Blenheim Palace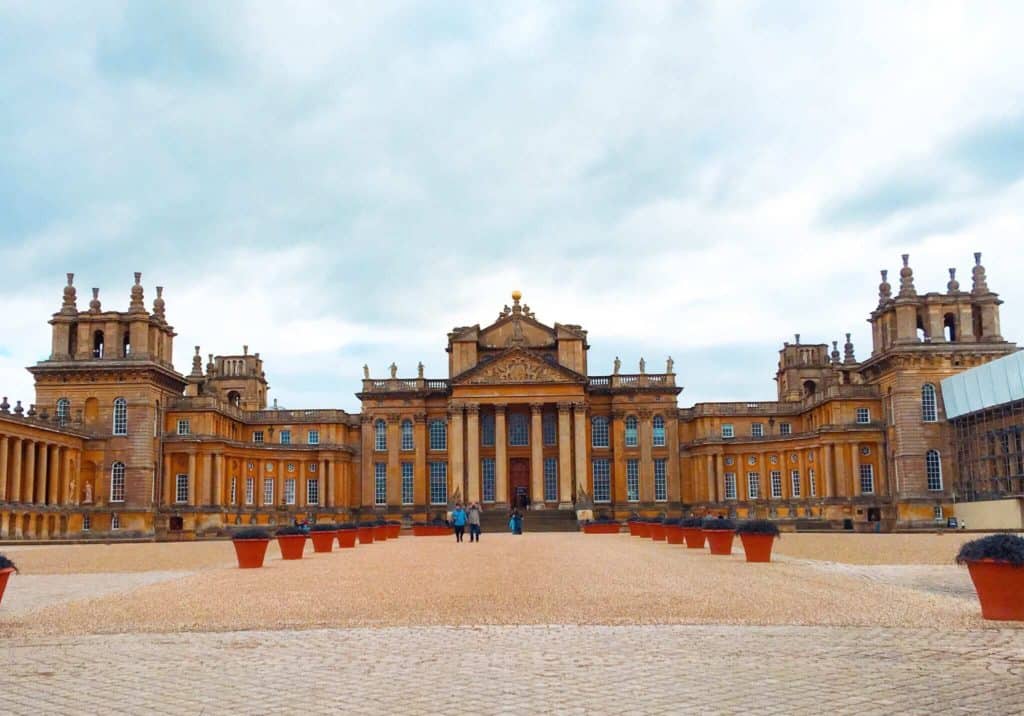 I've mentioned this place in a few other posts lately. I promise I don't secretly work for them and that I actually just really like it there.

Blenheim is a stately house with UNESCO World Heritage Site status. It's particularly nice in the summer when you could easily spend an entire day strolling the grounds, but other options include visiting the Palace State Rooms, Churchill Exhibition and Pleasure Gardens.

Prices: a full pass to all areas and exhibitions is £26, a park and gardens pass is £16, or you can visit the grounds for free…
Read next: Why you should visit Blenheim Palace and how to do it for free
Minster Lovell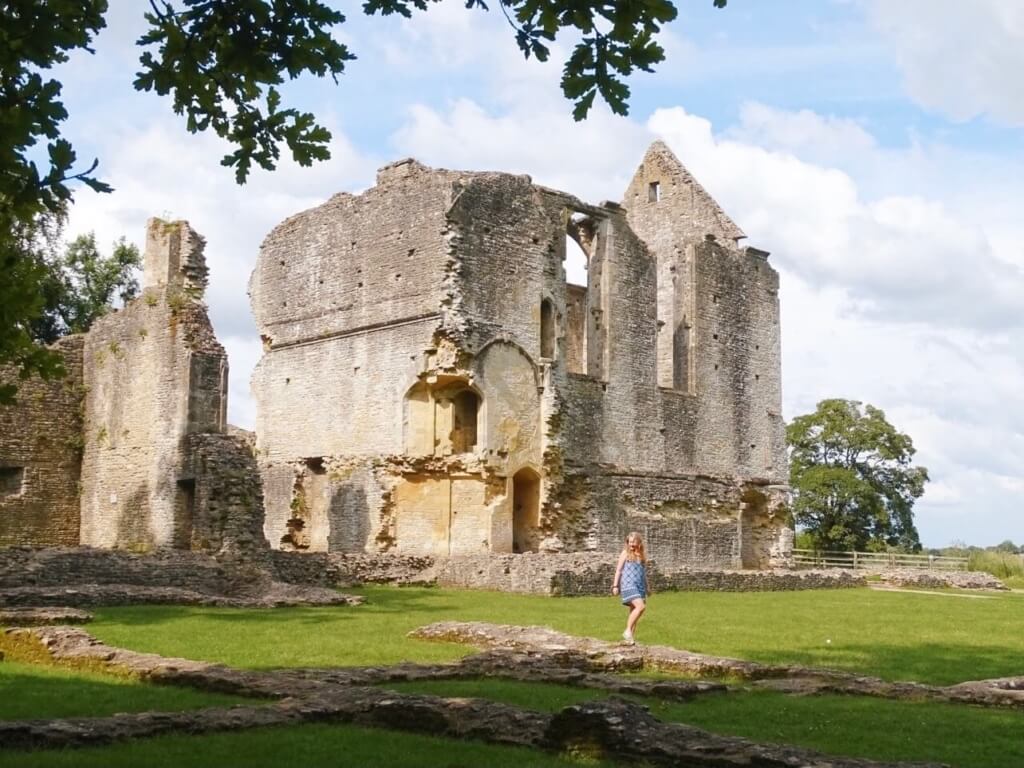 This is somewhere that brings back lovely childhood memories for me. Even if it's your first time, I'm sure you'll like it just as much. Entry to the ruins of this 15th-century manor house is free and it's a lovely spot for a picnic.

Alternatively, head to Minster Lovell village and visit…
The Old Swan and Minster Mill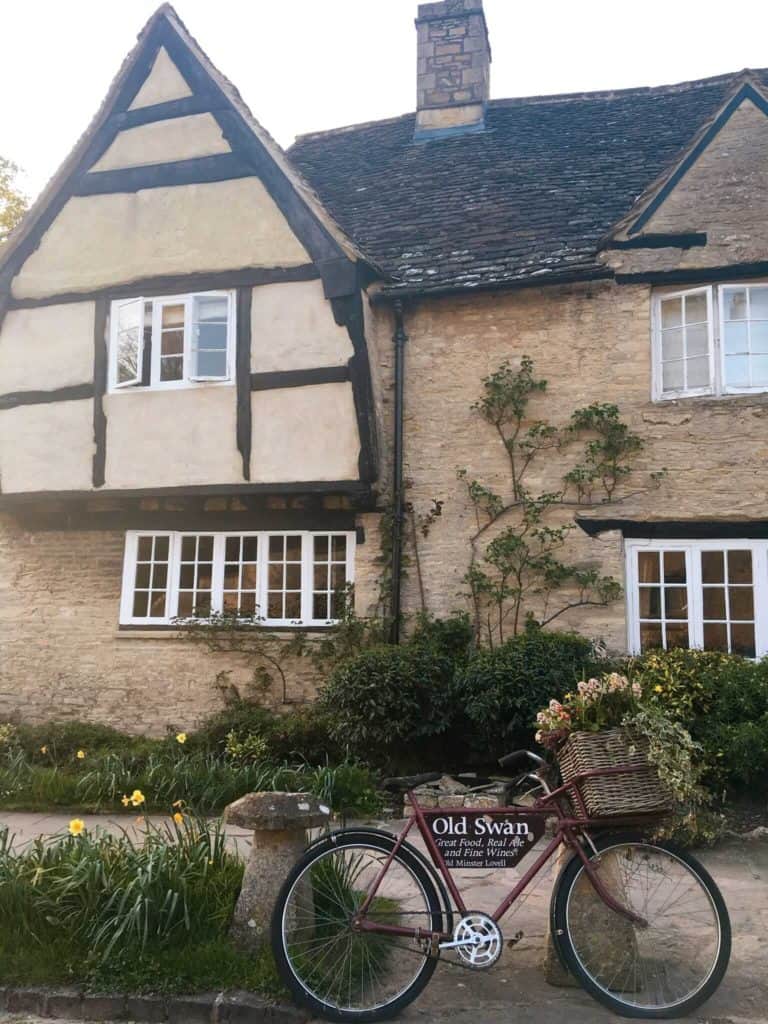 The vision of a quintessential English pub, the Swan is set in 65 acres of ground. Relax in the pub garden, play at a giant chess board or even visit the Spa. Alternatively, indulge with a well-deserved afternoon tea, hearty Sunday roast or G&T.
Burford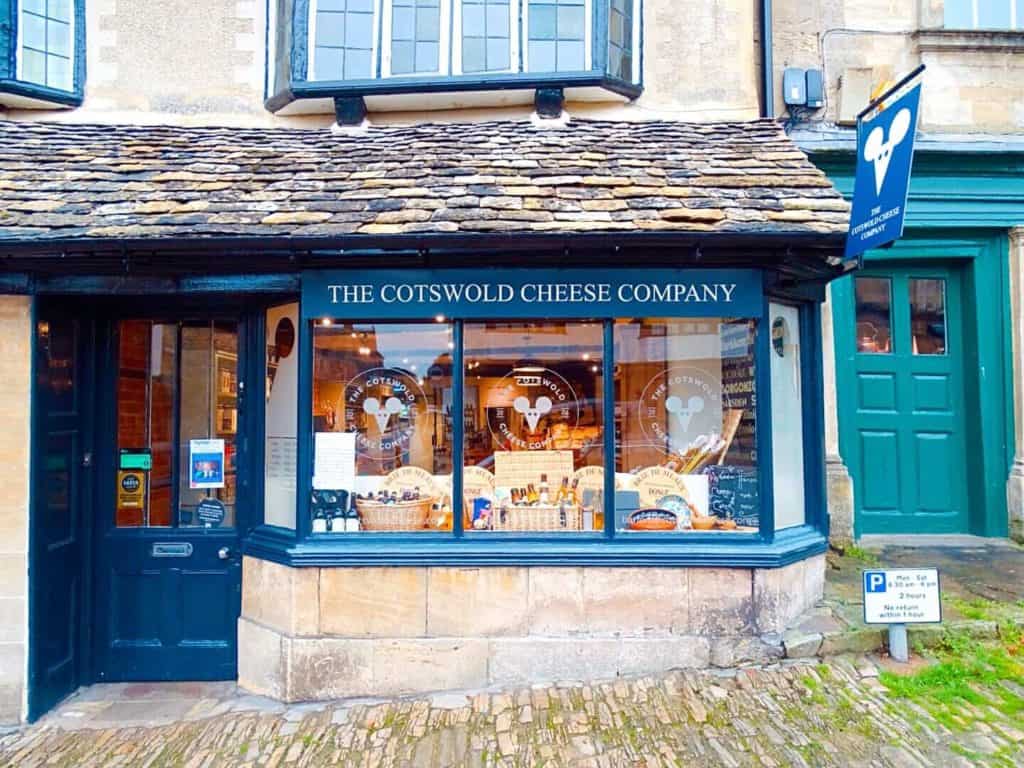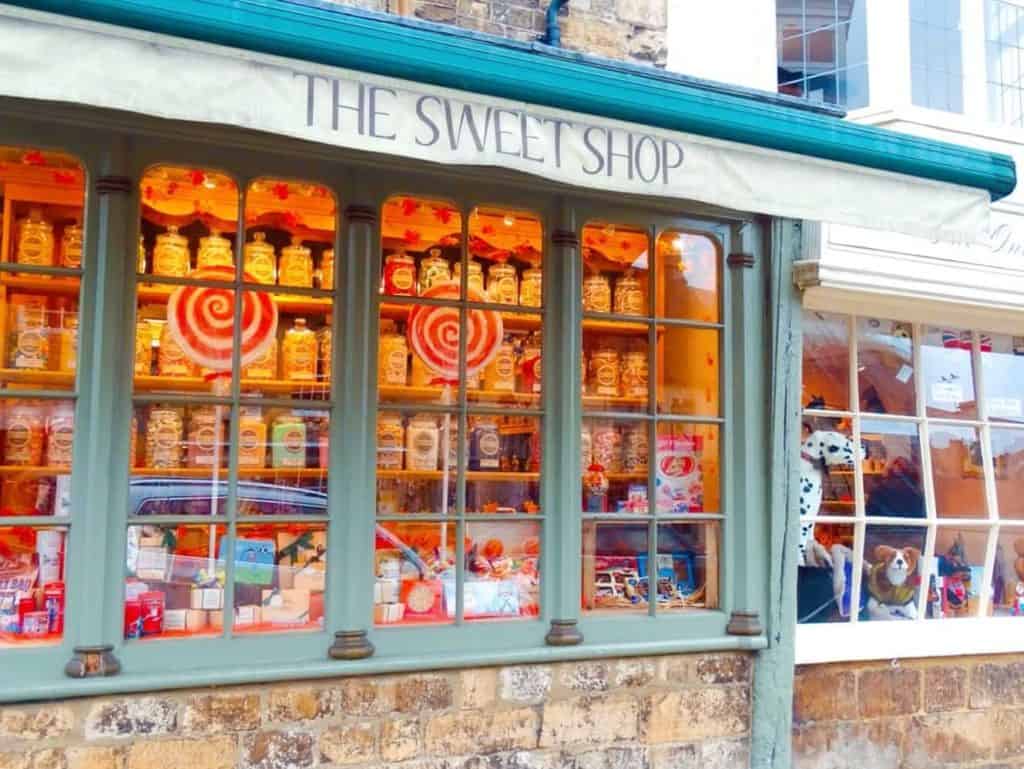 Right on the edge of the Cotswolds, Burford (just a 15-minute drive from Minster Lovell) is a final quick stop for your Cotswolds itinerary. Stop off when entering or exiting the Cotswolds and driving towards Oxford or London.
Related content: Things to do in Burford
Burford comprises one main high street with lots of country shops and pubs. Take home some treats from:
That's a wrap!

I hope I've provided some inspo on how to spend your weekend away in the Cotswolds! Shoot me any questions in the comments 🙂
Thanks for reading my weekend Cotswolds itinerary
For more travel content, follow me on Instagram, Facebook, Twitter and YouTube.
Check out my other England posts:
See you next time for more adventures,
Rose
Ps. Liked my Cotswolds weekend guide? Pin this for later!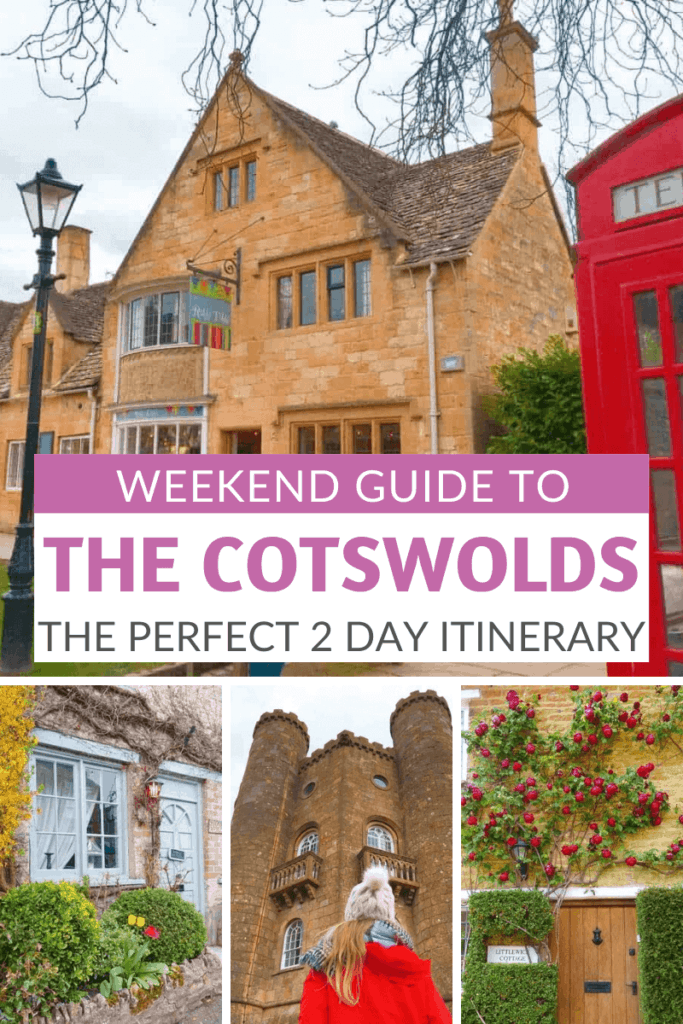 TRUSTED RESOURCES FOR VISITING THE UK

Getting there & around by air – I use Skyscanner to find the best-value flights, using the 'search by month' tool to find the cheapest dates. You can also use the 'to anywhere' feature if you're flexible on where you're going.

Car hire – use Rentalcars.com to compare car rentals and campers in the UK (and all around the world).

Confused about visas? I use iVisa to check visa requirements and apply for visas online

For UK trains, I use Trainline. The search feature allows you to compare prices with other modes of transport.

For buses, I use busbud. It's the only site that compares UK coaches and buses. Find London to Manchester journeys for £1!

For hotels and self-catering apartments, I use Booking.com. You can filter by review score and price to find the best-rated budget places. For hostels, I use Hostelworld.com.

Browse UK tours and activities on GetYourGuide.

Pack the latest copy of Lonely Planet UK.

Need travel insurance? I use World Nomads. They cover 150 countries and have 24-hour emergency assistance.

See all my suggestions on my resources page.