I've grown up with the Cotswolds on my doorstep so it's somewhere I know very well. I'm going to share my Cotswolds itinerary so you can spend a perfect weekend in the Cotswolds and get to know it, too!

The Cotswolds is a great place for visitors to the UK as it's so typically British. The rolling hills, old-fashioned cottages and grand stately homes have inspired many books and period dramas. Much of the area hasn't changed in decades if not centuries and it's a great place to ditch the city and embrace country bumpkin life.
How to get to the Cotswolds
When planning a weekend in the Cotswolds, consider how to get around. While I usually love the ease and convenience of getting around the UK by public transport, the Cotswolds is a place where this isn't really possible.

At one point during my recent trip, I hit 'public transport' rather than driving directions on Google and was told (instead of a 30-minute drive) to get a six-hour train journey passing through both Birmingham and Coventry. So you see it's not catered to those on foot!

Travelling by car is the best option for a Cotswold itinerary. If you don't have one, you could consider arriving by train into Oxford, Cirencester or Cheltenham and hiring one. Rentalcars.com is your best bet.
Where to stay in the Cotswolds
Being a large town and having more competitive prices, Cheltenham (on the west side of the Cotswolds) is one of your most affordable options and hotels start at £70 per night. The same can be said for Cirencester.

A 15-minute drive outside of the Cotswolds and towards Oxford, smaller town Witney offers similar prices within boutique guesthouses. Both The Fleece (£80pn) and The Blue Boar (£95pn) are lovely.

To stay central during your 2 days in the Cotswolds, you may need to stretch the purse strings a tad further. These places would be on my wish list if I needed somewhere to stay:

Inn for All Seasons, Burford – this 16th-century coaching house looks like it has lots of character as well as cosy, luxurious rooms and some gourmet dining options (from £120 per night).

Russell's of Broadway – a beautiful black and white timber-framed hotel with quintessential Cotswold style. The enormous luxury bedrooms range from £120-£250 per night and the award-winning modern dining looks to die for!

No. 131, Cheltenham – a Georgian townhouse complete with boutique features, chandeliers and quirky artwork (from £110 per night).
Once you've decided where to stay and how to get around, give some thought to the places you want to visit during your 2 days in the Cotswolds. Follow my sample itinerary for plenty of popular stops, and even more cream teas!
Cotswolds itinerary – Saturday
Begin your weekend in the Cotswolds by touring some of the most traditional and well-known towns in the area. Today you can get immersed in the area and see what all the fuss is about.

Local tip – if you can, I would recommend starting your day early before the crowds arrive. Bourton-on-the-Water is one of the most popular spots in the Cotswolds so it's best to get there early and do your sightseeing in the morning. Scoot off to quieter places as the bus trips arrive!
Bourton-on-the-Water
Things to do in Bourton-on-the-Water
The Model Village – this is a place I visited a lot as a child and a few times as an adult, too. The Model Village is exactly that: a perfect miniature replica of Bourton. But is there a model of the model village? You'll have to see for yourself. Inception! Entrance is £4.25 for adults (£3.25 for children).

Birdland – I'm not a fan of zoos but there are no big animals here, only birds. With over 500 species and 150 types of trees, you can easily spend half a day here, especially if you have kids. There are 'meet the keeper' sessions, feeding times and educational talks. Get 10% off entrance by booking online and check the What's On page.
Cotswold Brewing Company – run by a local family, this brewery uses traditional methods to brew craft beers. Visit College Farm to sample different types of beers during a guided two-hour tour. There are also ciders and gin if you're not a beer fan.
Where to eat and drink in Bourton
Rose Tree Restaurant – this restaurant in a grade II listed cottage right beside the river serves traditional British food and a few lighter continental dishes, too. Visit for lunch between 11.30am-3.30pm.

Bakery on the Water – this cafe serving artisan coffee and croissants is about as hipster as it gets for the Cotswolds. All the baked goods are freshly-made onsite and can be enjoyed takeaway, inside the cafe or in the riverside garden.

The Chestnut Tree – for traditional British tea and cake, head to The Chestnut Tree for scones, jam and cream with a teapot of English breakfast tea. Enjoy your spread inside the cafe surrounded by quirky clutter or dine on the lawn opposite the River Windrush. They also serve toasties, baguettes and jacket potatoes.
Stow-on-the-Wold
Moreton-in-Marsh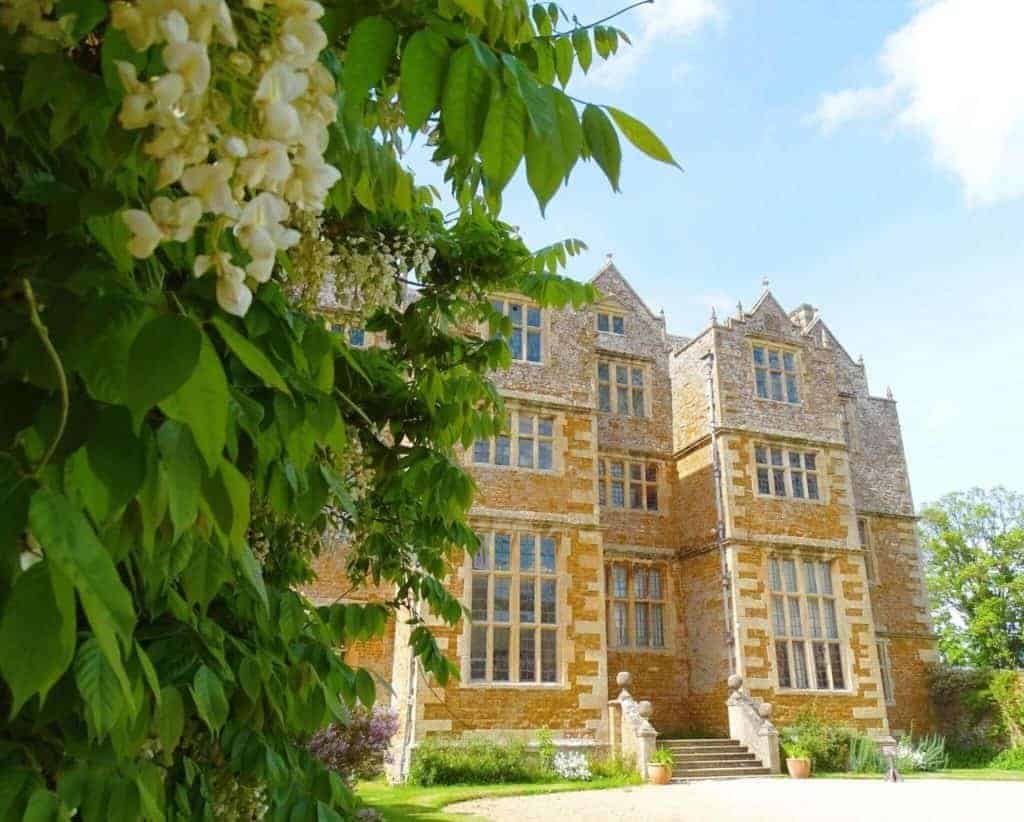 Broadway Tower
Climbing the tower – it costs £5 to go to the top and you'll see some gorgeous countryside views on a clear day.

Head down the war bunker – we did this by total accident as we somehow booked on the wrong tour. However, it turned out for the best as I learnt a lot about how it had been used as a nuclear bunker during the Cold War. A tour is £4.50 or you can get a tower & bunker combo pass for £8.50.

Visit Morris & Brown Cafe – if you're truly British and need tea regularly, this onsite cafe makes for a good stop.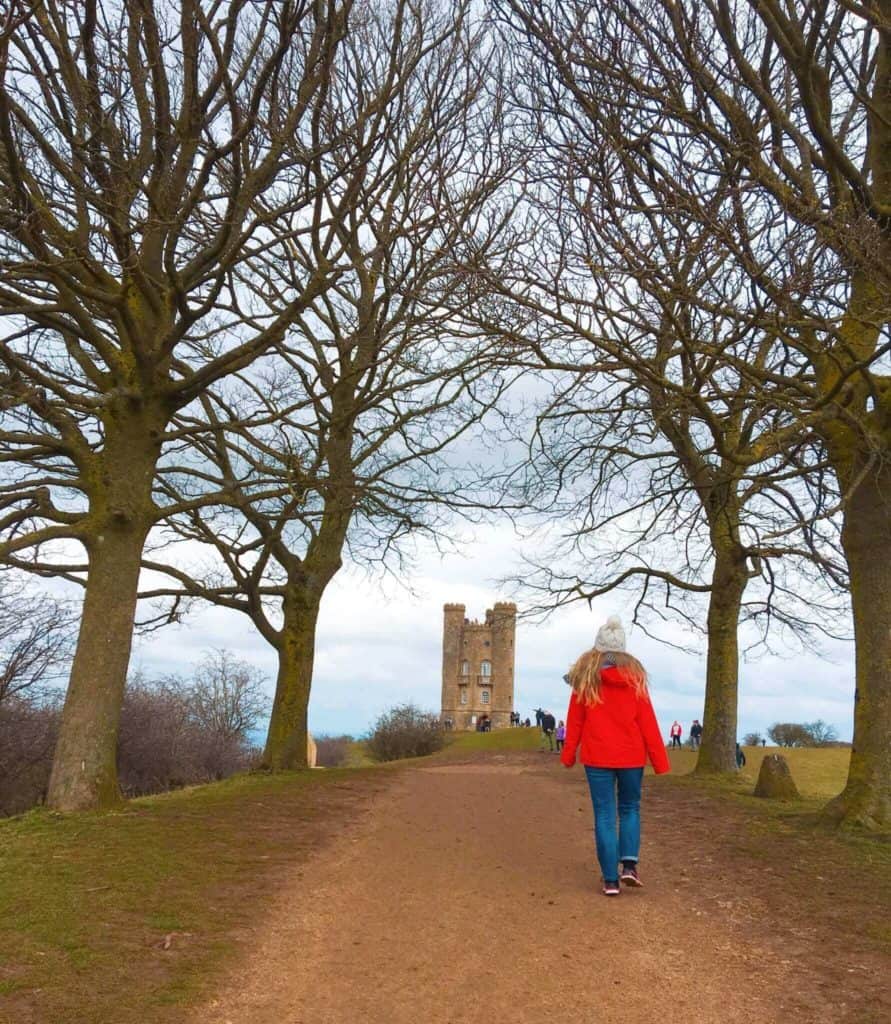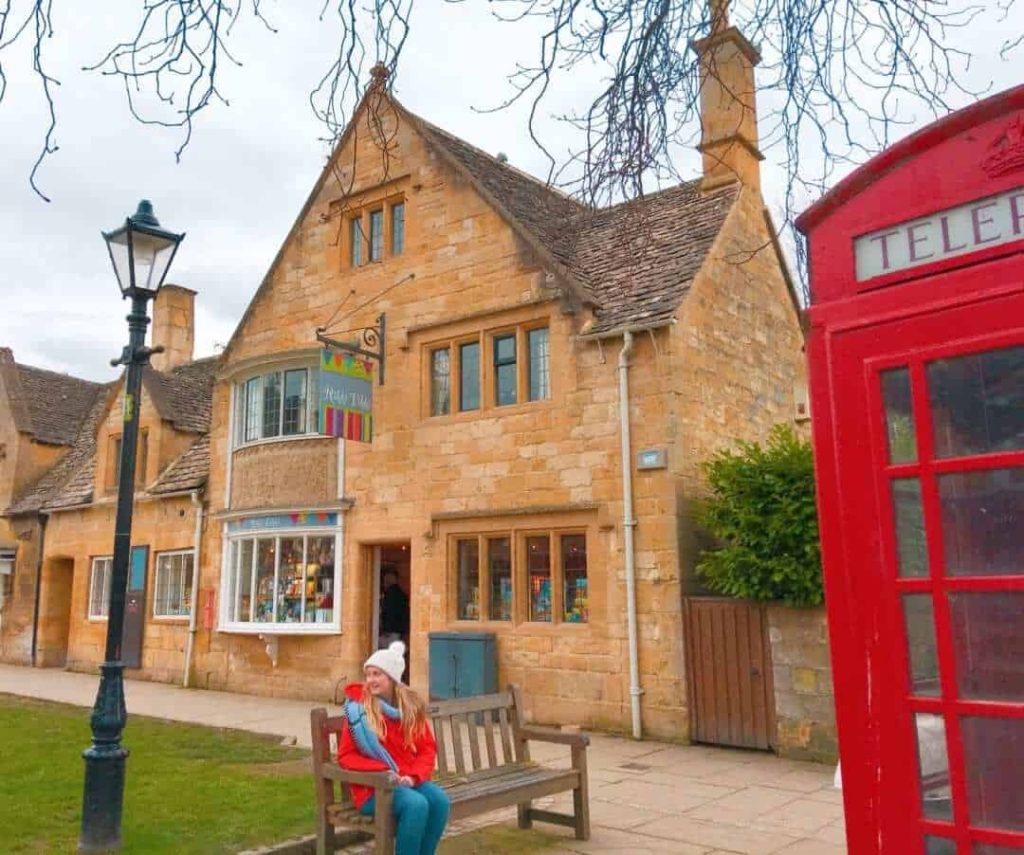 The Cotswold Way Circular Walk
Where to eat and drink in Broadway
Broadway Deli – this independent cafe sells fresh fruits and veggies and has a huge garden to relax in. They serve all-day brunch along with deli cheese and meat platters. There are plenty of options for vegans and celiacs.
The Swan – for all your English favourites during your weekend in the Cotswolds, as well as some gourmet twists, visit The Swan. Go with Wagyu beef in place of a regular burger or swap standard pizza ingredients for fig and goat's cheese. I'm yet to eat here myself but the fact that the dessert menu features a melting chocolate bomb is proof that I NEED TO.
The Cotswold Chocolate Company – fans of chocolate (isn't this everyone?) need to check out this store on Broadway high street. Set inside an adorable thatched Cotswolds cottage, they sell artisan Fairtrade chocolates and hampers.
Hamiltons Chocolates Broadway – hidden away from the high street in Hamilton Court is one of my favourite Broadway shops, somewhere I've been visiting since I was a child. You'll find all the confectionary imaginable displayed in glass jars for your choosing.
Essentials for a Cotswolds weekend
Copy of Rough Guides The Cotswolds

A fold-up raincoat – shop here for mens, womens and kids

A reusable water bottle to reduce waste

A reusable coffee cup (collapsable) for hot takeaway drinks

A camera – I use the Sony DSC-HX350 Digital Compact Bridge Camera which I think is one of the most affordable options for a camera with such a good zoom

A GoPro if you're into making videos – I use the HERO7 Black.
Lacock
Woodstock
Blenheim Palace
Minster Lovell
The Old Swan and Minster Mill
Burford