This post may contain affiliate links to things like tours, hotels, Amazon associates and products. These help me earn a small commission at no additional charge to you.
I recently spent a weekend in Bristol, one of the most fun and colourful cities in England. It's located just over an hour's train ride from London and 10 minutes from historical city, Bath.

Whether you're a tourist from overseas backpacking the UK or a local taking a mini-break, I can't recommend Bristol enough!
BRISTOL ESSENTIALS

Bristol Lonely Planet

Accommodation: Booking.com

Activities: GetYourGuide

UK trains: Trainline / Busbud
I was surprised by the size of Bristol. It's much bigger than Bath which can easily be seen during a Bath day trip, or my own hometown, Oxford. Basically, prepare for lots of walking. Bristol is a city where journey distances by bus are similar to those on foot, so you may as well walk. Bring comfy shoes as there are lots of hills.

I'm going to summarise the main areas in Bristol then talk about what to do during 2 days in Bristol and (most importantly) where to eat and drink. I'll also share my favourite day trips from Bristol and discuss where to go next. Here goes!
Neighbourhoods during a weekend in Bristol
The city centre
Bristol has a sizeable city centre with all your usual shops and amenities stretching from Cabot Circus shopping centre to the harbour.
Harbourside
I love a city with an outdoor area and Bristol definitely fits this category. My recent visit was in February but when I visited in August, my friends and I spent an afternoon drinking wine by the harbour. The atmosphere was bustling and atmospheric.

At the Harbour, you'll also find Whapping Wharf, a new collection of eateries and bars in recycled shipping containers. The burgers at Pigsty are to die for.
The Marina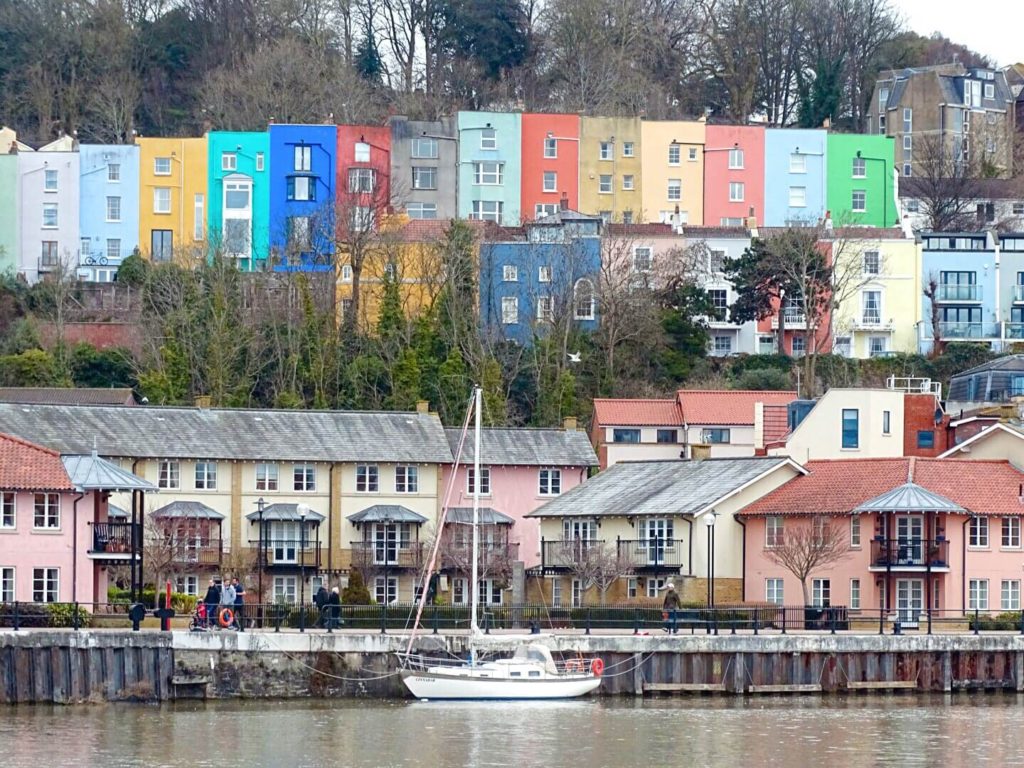 A 15-minute walk from the Harbour is Bristol Marina which if anything is even more colourful than the harbour. There's not much to do apart from take photos and befriend the swans – worth it in my eyes!
Clifton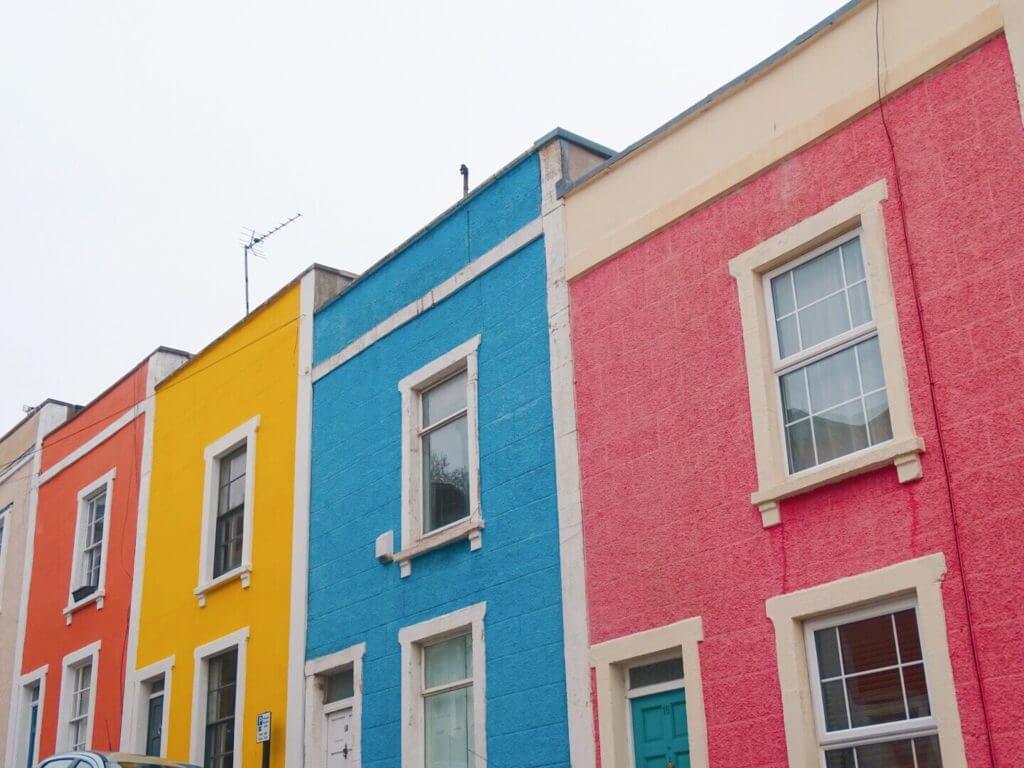 This area runs from Clifton Downs station all the way to the river. In particular, you'll want to visit Clifton Village which is full of pretty shops and cosy cafes. Closer to the waterfront, you'll find loads of colourful houses, plus the area is home to Clifton Suspension Bridge, an iconic Bristolian landmark.
Stokes Croft & Gloucester Road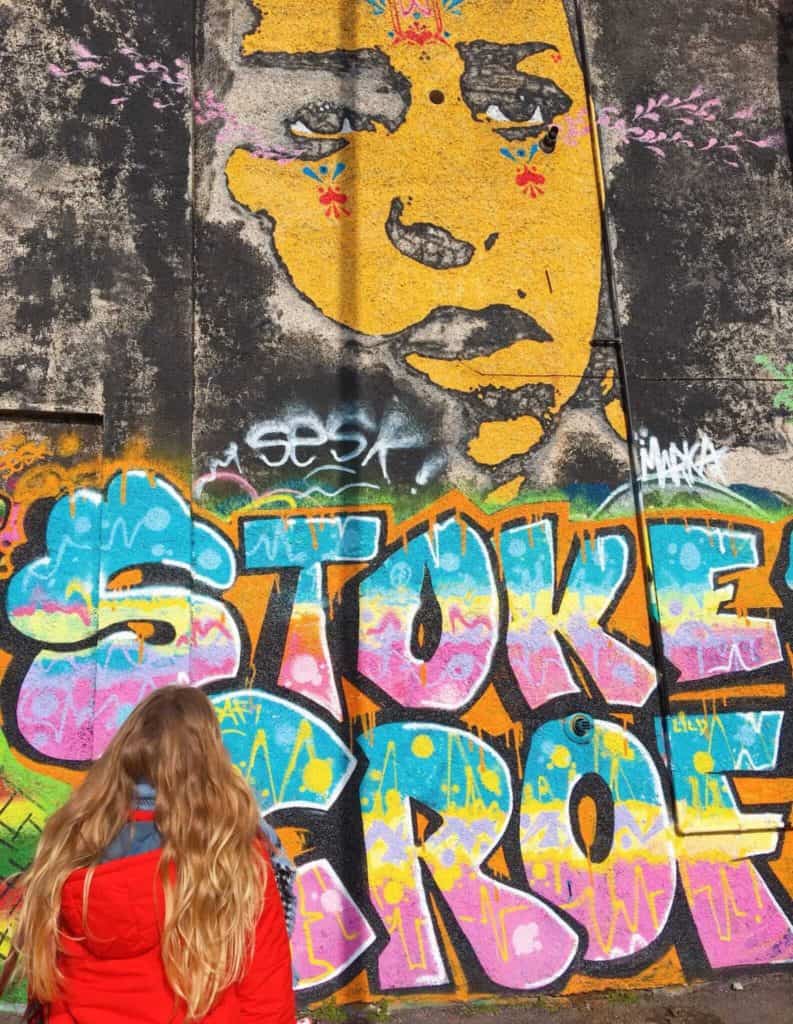 This area feels very boho and is slightly north of the city. You'll find hippy music venues-cum-cafes like The Canteen, as well as street art and independent shops. The locals even rioted against the opening of a Tescos so you can guarantee this isn't a chain-heavy high street.

Just north of the area is Gloucester Road which is popular for its multicultural restaurants and eclectic nightlife.
Redcliffe & Old Market
Close to Temple Meads train station (where you're likely to arrive) are these areas. Old Market has lots of architecture and independent shops as well as a friendly gay village. Redcliffe is equally historical-yet-modern, set around the gothic St Mary Redcliffe Church with plenty of local shops and businesses.
Bedminster & Southville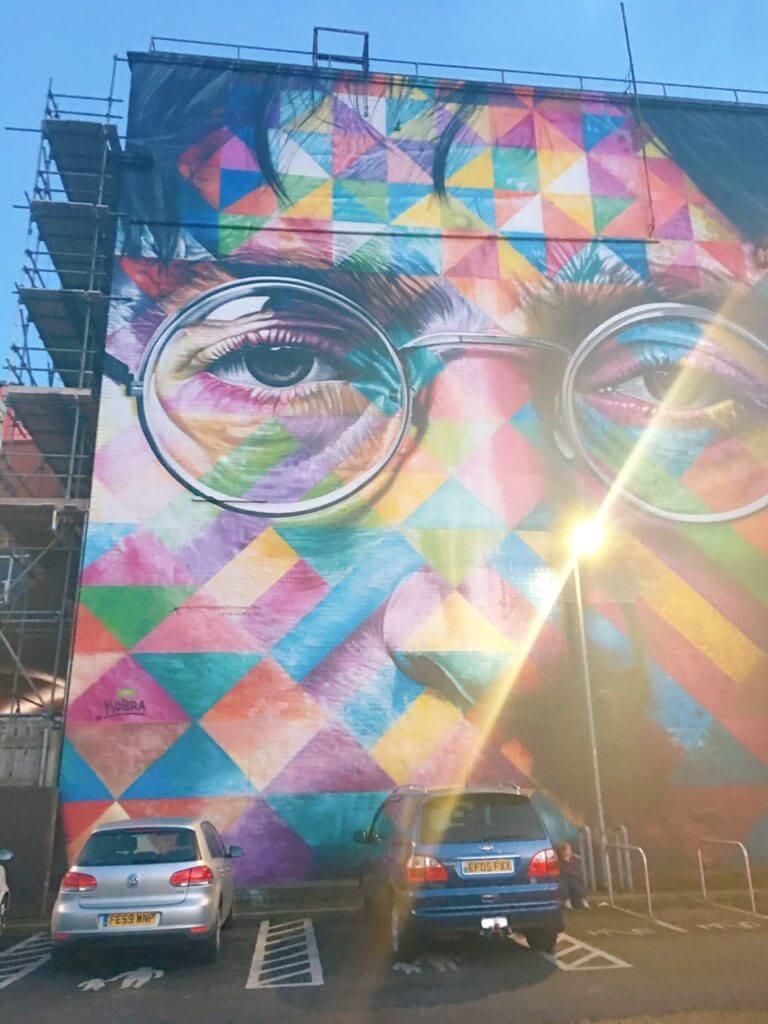 Both these areas are south of the River Avon and a 20-minute walk from the harbour. There's not loads to do in terms of tourist activities but I loved the street art in Bedminster and there seemed to be lots of cool restaurants and pubs. It's a great place to base during your weekend in Bristol.
Easton & St Pauls
The multicultural area of the city, St Pauls is famous for its Afrikan Caribbean festival in July. Apparently, rum punch and jerk chicken flood the streets and it's a fantastic celebration of colour and culture – it sounds like a mini Notting Hill Carnival. Also, don't miss St Mark's Road where there are lots of quirky cafes and a strong sense of local community.
Where to stay in Bristol
How to get to Bristol
I use Trainline to book UK trains. You can choose an open return of select the individual journey times which makes things much cheaper. To get the best price, booking ahead of time and choosing your inbound and return journey based on the cheapest ticket prices. Trainline show live departure times and offer generous discounts for under 30s by way of a young person's railcard.

Bus – you can also catch the bus to Bristol from London and other UK cities. Buses start from £3 when you compare prices on Busbud.
Weekend in Bristol itinerary
Assuming you have a full two days in Bristol arriving Friday night or early Saturday, this is my suggested itinerary. During the first day, we'll explore the city centre and Harbourside and during the second, we'll check out the famous Clifton Suspension Bridge, as well as some quirky neighbourhoods.
Top experiences in Bristol:
This Bristol itinerary includes a few museums which you can include or skip depending whether you're visiting for history and culture or just enjoying a leisurely weekend. Let's get stuck in…
Pinkmans Bakery
Start your day weekend in Bristol at Pinkmans. We came for coffee and morning pastries but this would also be a great place to stop for afternoon refreshments or lunch after you've checked out a few of the upcoming Bristol attractions. The doughnuts are divine!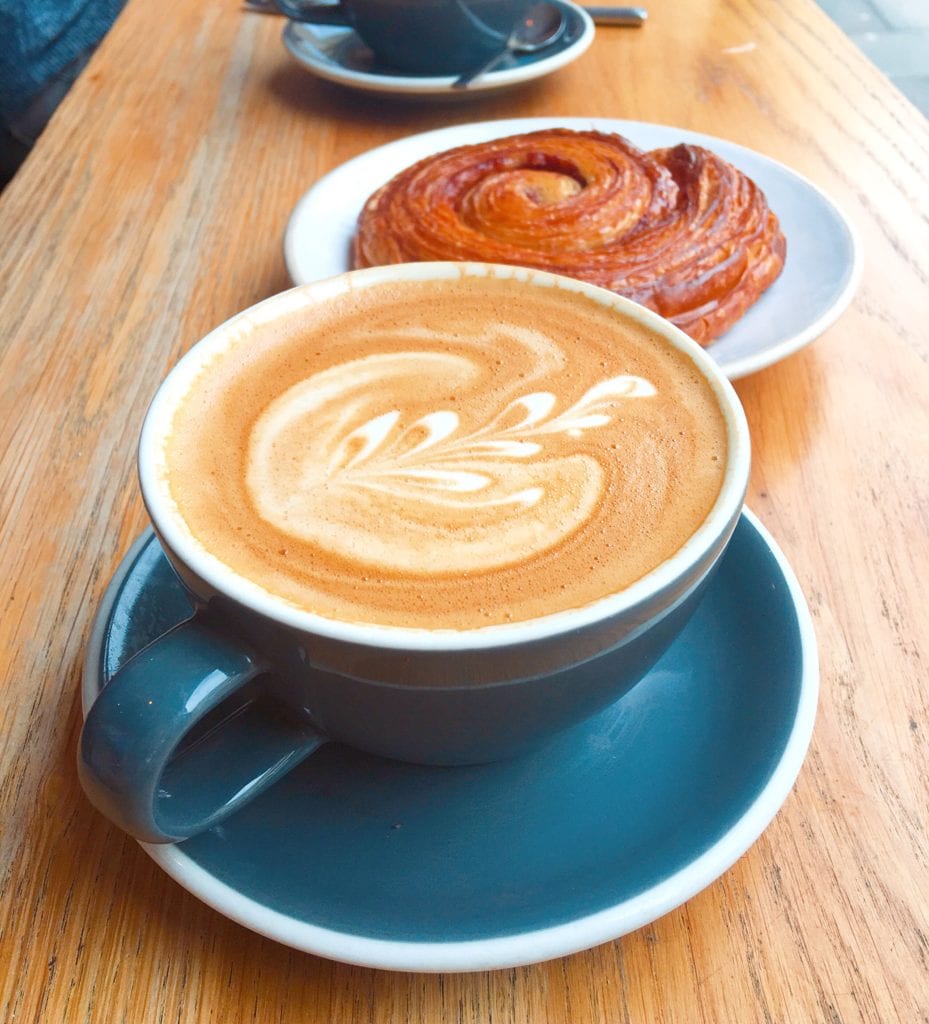 Wills Memorial Building
Just a two-minute walk from Pinkmans Bakery is Wills Memorial building. This Neo-Gothic structure was one of the last to be built in this style, around 100 years ago. You can wander the grounds for free and snap photos or tour the tower on Saturdays. It reminded me a lot of Oxford so wasn't that exciting for me but I'm sure history fans will enjoy their visit.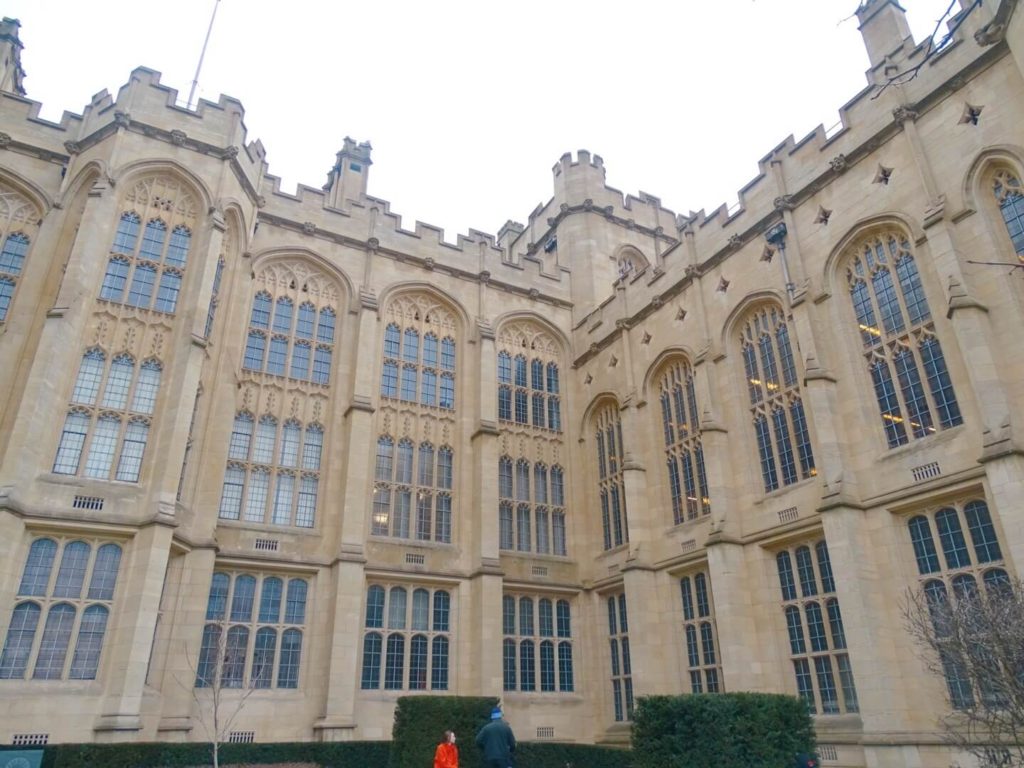 Take a street art walk
The Bristol street art is some of the coolest I've seen and it's little wonder – it's the hometown of the world's most famous street artist, Banksy. I went on an awesome walking tour with Where the Wall for £9 but you could also find it for free (although you wouldn't glean the same amount of info without a guide).
Read next: Bristol street art guide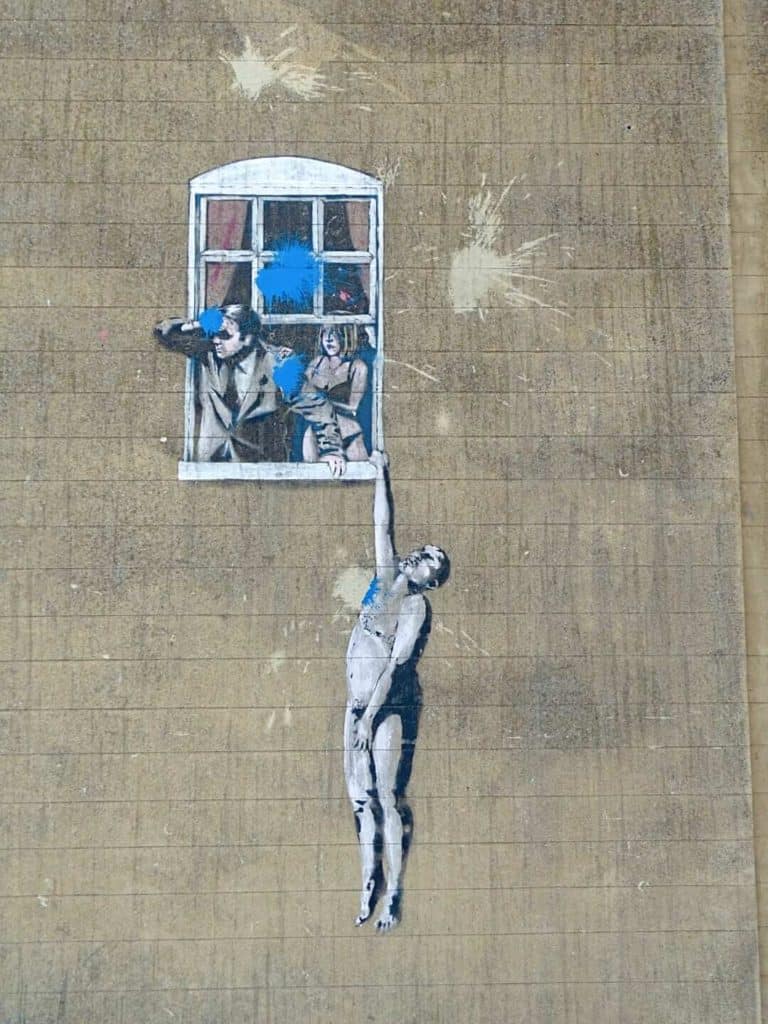 Tours depart from the city centre at 11am. If you're up and about early, you can squeeze in breakfast and a visit to Wills Memorial before departing on a tour lasting 2 hours.
Bristol Museum & Art Gallery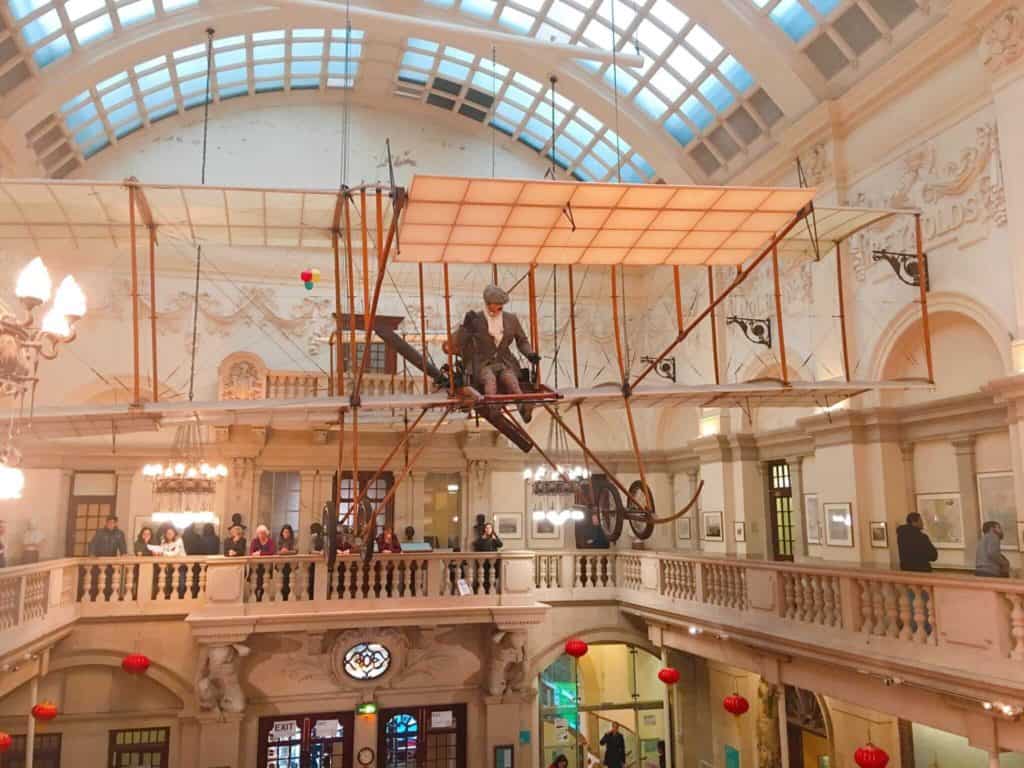 Bristol Museum & Art Gallery is fun and interactive, showcasing everything from Egyptian mummies to dinosaurs. Like most UK museums, it's free to visit. They hold events most weekends which you can browse via their what's on page. I managed to catch some demonstrations put on for Chinese New Year.

The museum is an especially good pick if the weather doesn't play ball during your weekend in Bristol.
Climb the Cabot Tower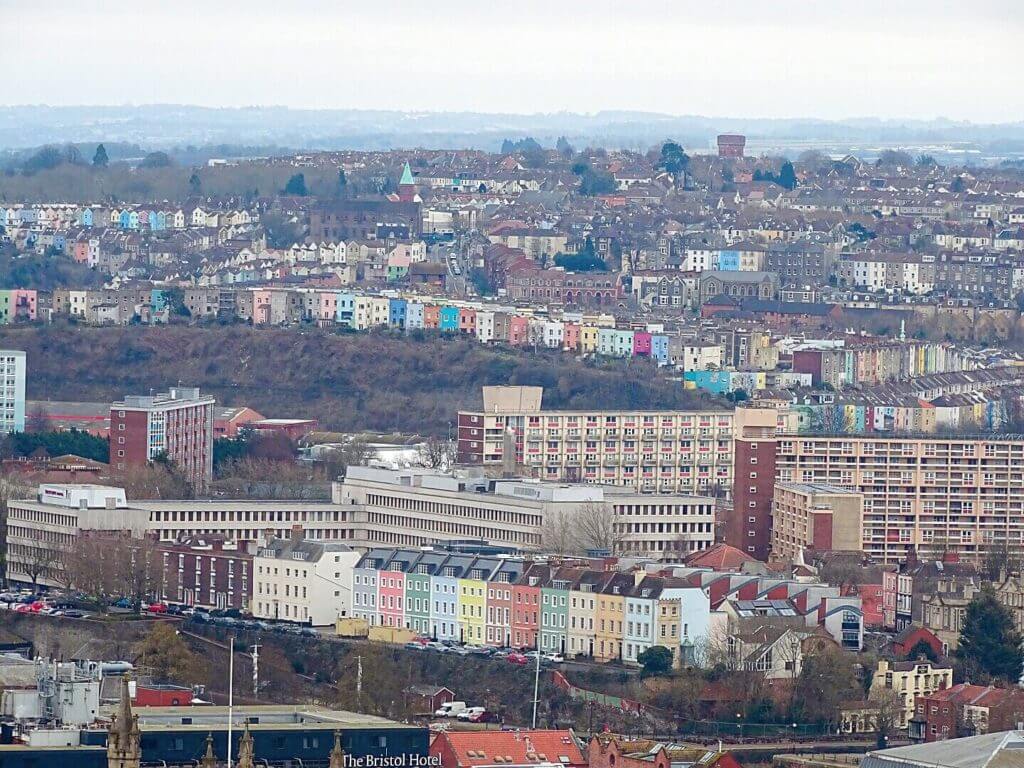 If you have good weather, take a steep walk through Brandon Hill Park and up the windy staircase of the Cabot Tower. Entry is free and the panoramic view over the city is worth the climb!

By walking through Brandon Hill Park, you're also en route to Harbourside which is my suggested stop for the afternoon.
Bristol weekend – afternoon day 1
Harbourside is one of my favourite areas in Bristol. There are countless museums, exhibits and places for families and individuals to explore, but there are also cafes, bars and gardens where you can socialise or simply enjoy a coffee to views of the harbour.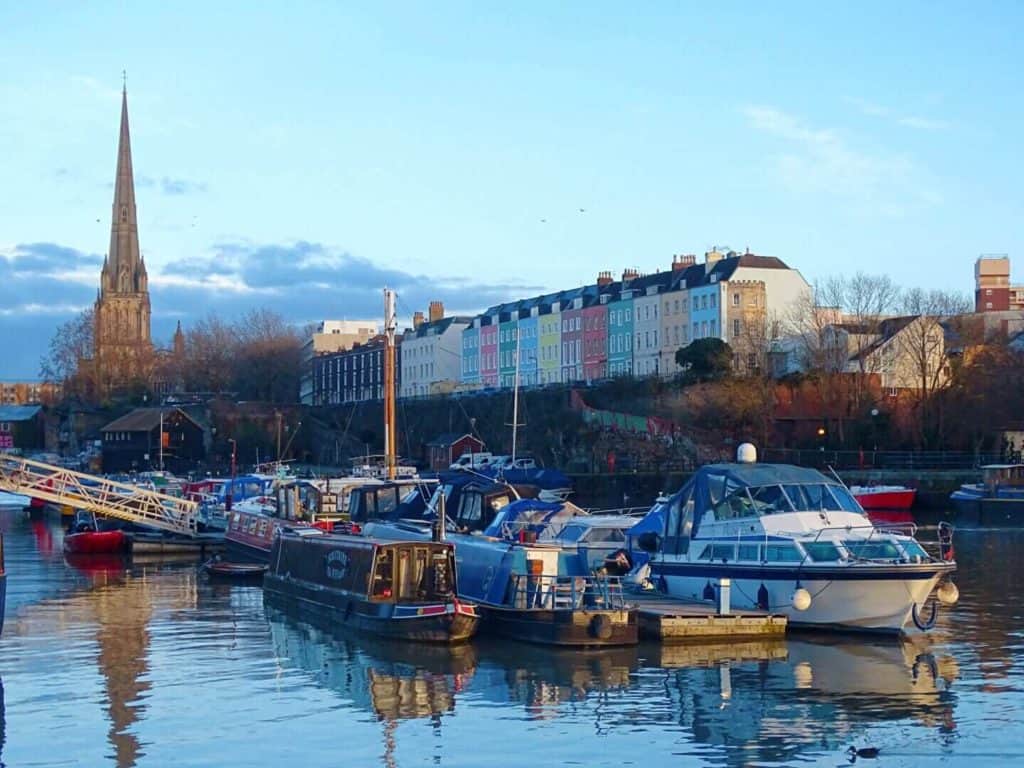 Visit the SS Great Britain
Described as the great-grandmother of modern ships, the SS Great Britain is Bristol's most visited attraction. It's £16 to climb aboard but apparently worth every penny (I'm usually exploring the UK on a budget so have yet to go inside). There are even real letters and diary entries from the passengers for an immersive taste of the past.
Learn about Bristol history at M Shed
Not your average stuffy museum, M Shed will fill you in on Bristol's past from prehistoric times to the modern day. There are colourful exhibitions, personal stories, photo series and even street art inside. Entry is free.
Dinner and drinks
Finish your day by eating at one of the many Harbourside restaurants. In the summertime, you can dine outside and enjoy the lively atmosphere of the area. During weekends in Bristol, many of the restaurants turn into bars and even clubs later on. Some options include:

Arnolfini Café Bar – partnered with Bristol Beer Factory, this is a fantastic spot for eating and drinking with tables right beside the water. There are tasty seasonal dishes, coffee, cakes and an outside bar in the summer months.

Spoke & Stringer – this independent lifestyle store and deli sells clothes and other goods. The highlight is the bright European-style cafe and coffee shop serving brunch and tapas dishes until 6pm.

The Pump House – this grand gastropub serves all your fancy pub grub and has over 400 types of gin. There's a large outdoor seating area that's open until 10pm.
Bristol weekend – day 2
For my second day in Bristol, I ventured further from the city centre and explored a few other worthy neighbourhoods in Bristol. After breakfast, I would suggest heading to…
See Clifton Suspension Bridge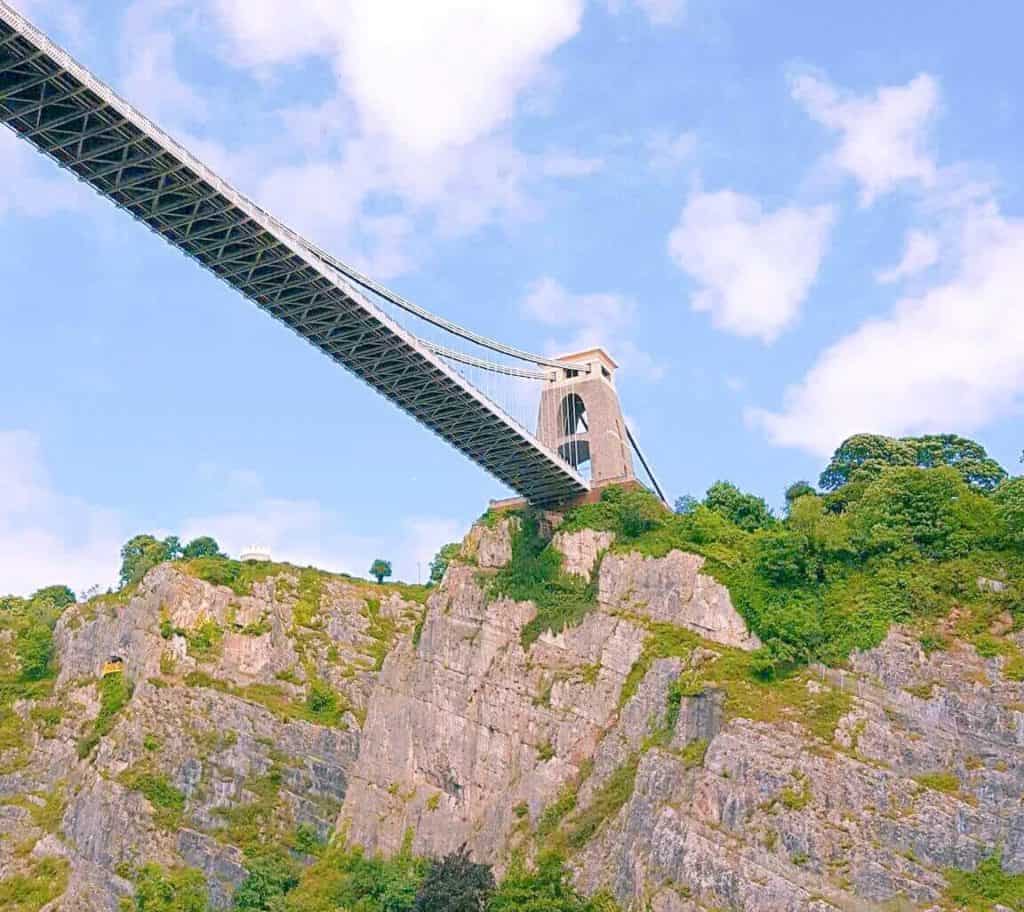 Clifton Suspension Bridge links Bristol to Somerset and has become somewhat of an emblem for the city. There are free tours and a visitors centre if you want more than a quick snap.

Another fun activity for a weekend in Bristol is walking the Avon Trail where you'll see the bridge from below. You can also climb up to Observatory Hill to view it straight-on. While it's best in daylight, you can visit in the evening to see it illuminated in the dark. Relax with a drink at the White Lion Bar at Avon Gorge Hotel and have it as your backdrop.
Find the colourful houses of Clifton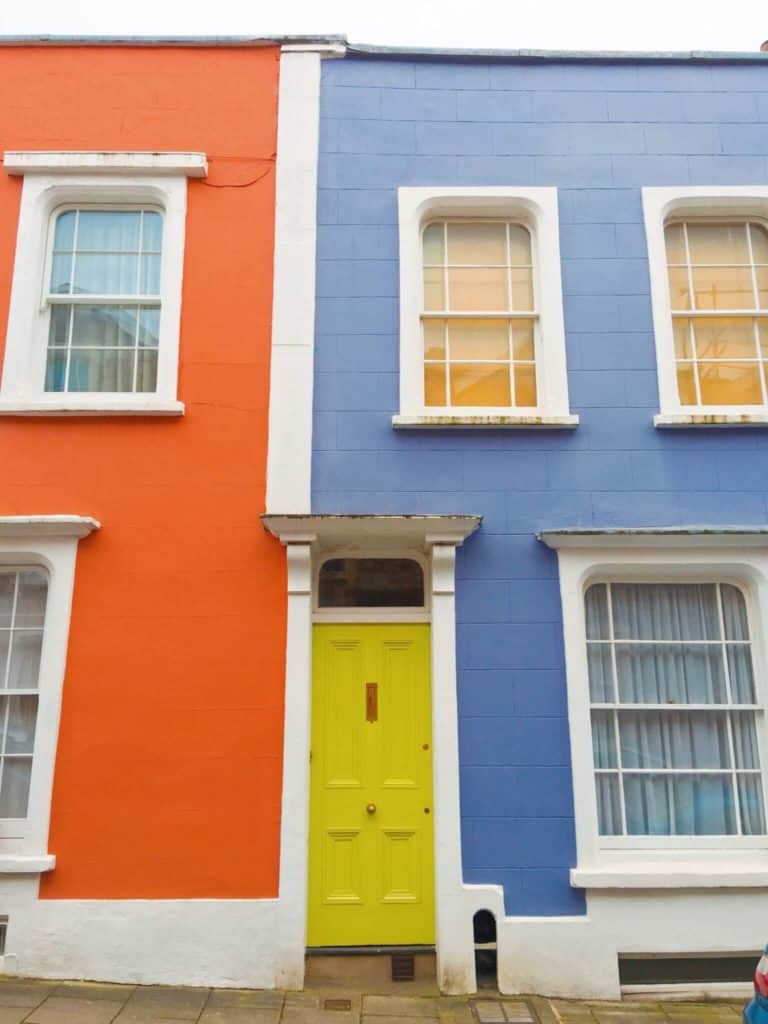 To get back to Bristol city centre from Clifton Suspension Bridge, you'll have to journey through Clifton itself, a relaxed and upmarket neighbourhood. If you're a fan of all things bright and colourful like me, you'll want to discover the rainbow houses in this part of town.
Southville and Bedminster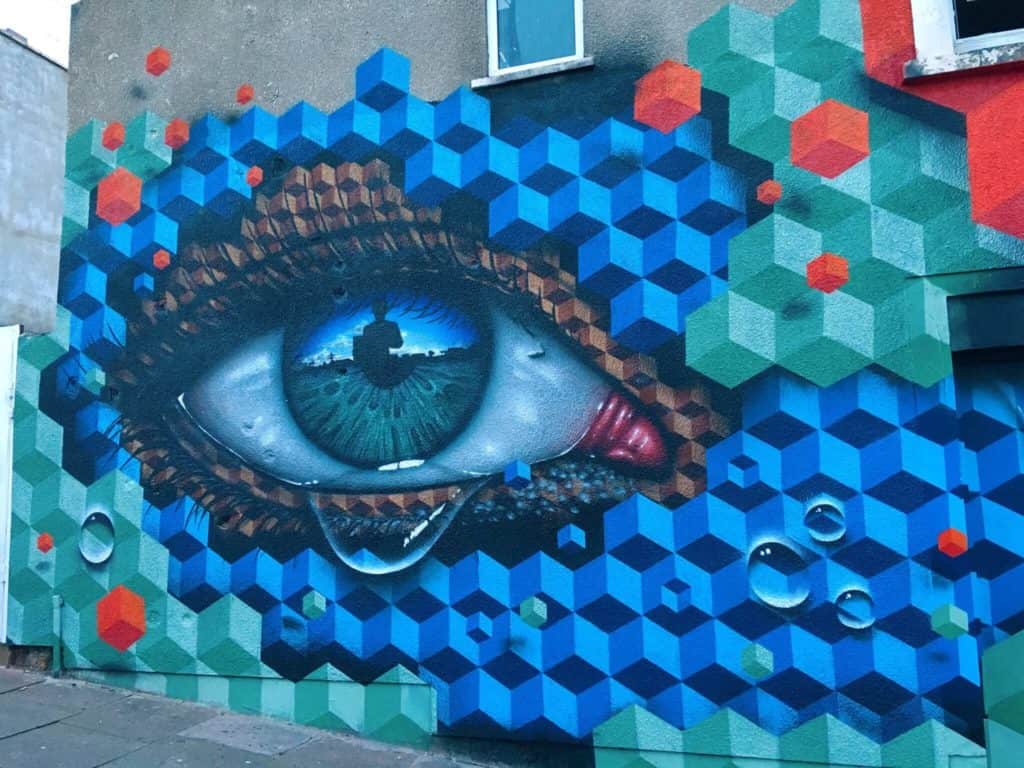 To finish off your Bristol weekend, why not take a trip to another of Bristol's coolest neighbourhoods? This is quite the contrast to the city centre with its mainstream shops and chains. Bedminster and Southville sit beside each other boasting plenty of boutique shops, farmers markets, quirky cafes and even a city farm.

Bedminster also holds the annual Upfest Street Art Festival where artists from all around the world come to compete. The incredible murals stay put until the next year when they're taken down and replaced with new works of art.

Bedminster is also a great place for vegans to browse menus to their heart's content. For a low-key night out, you can escape the clubs of the city centre and explore the pubs and bars of Bedminster.
Bonus day – day 3 in Bristol
In case you have a third day in Bristol, I would suggest one final activity for your Bristol weekend: escaping the city and walking in Ashton Court Estate.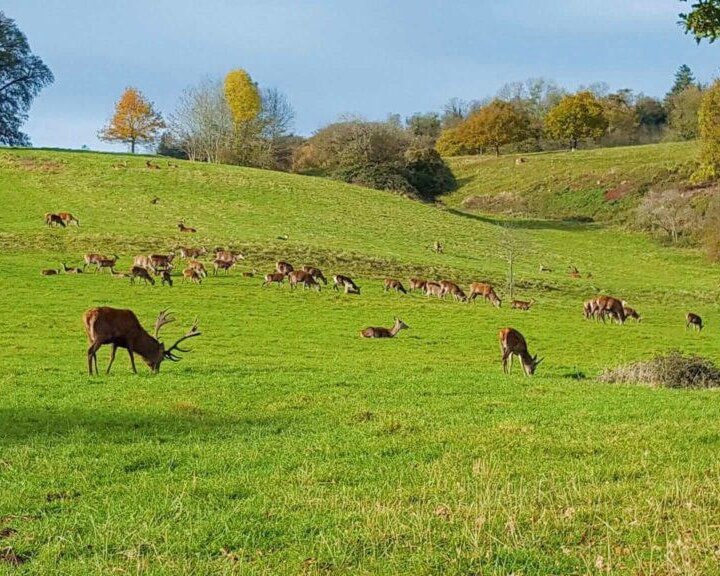 This stately home with 850 acres of woodland and grassland is home to wild deer, a golf course, two cafes, a picnic area and woodland garden. There are activities and play areas for children as well as several walking trails.

To reach Ashton Court from Bristol city centre, catch buses X3A, 71, 79 or X1 for 10 minutes to the outskirts of the park. If you're driving, there's a large parking area with a £1.20 parking charge. The stately house closes at 4pm but the park is open until dusk. Check the seasonal times before visiting.
Best Bristol weekend markets
Bristol is known for its vibrant market scene. There are farmers markets selling fresh produce, pop-up street food markets and static indoor markets. Here's a quick synopsis of the best ones. Squeeze them into your Bristol itinerary depending what takes your fancy…

St Nicholas Market. This maze of street food and quirky bric-a-brac has been around since 1743. There are food, flowers and textiles from Monday-Saturday and an additional multicultural street food market from 11am-2.30pm on Tuesdays and Fridays. There's a special Farmers Market from 8am-2.30pm on Wednesdays and an arts market from 10am-5pm on Fridays and Saturdays. Basically something for everyone!

Bristol Harbourside Market, 10am-4pm, Saturday and Sunday. Get ready for a vibrant festival every weekend with food, musicians and artists down at the waterfront. There's a specific street food event on Thursdays featuring Canadian to Caribbean food and just about everything else you can think of.

Tobacco Factory Market, 10am-2.30, Sunday. Head to Raleigh Road for a bright and open refurbished space with creative industries, organic local food and craft stalls. Good vibes!

Whiteladies Road Market, 8.30am-2pm, Saturday. Here's you'll find everything farmer-esque including cheese, fish, jam and homemade bread.
Where to eat & drink during a Bristol weekend
It wouldn't be a Bristol travel guide without spots to refuel and feel merry, right? I ate some great meals in Bristol and it's just a shame I couldn't have stayed longer – there's only so much one girl can put away in two days! Here are a few of my top picks:
Prince Street Social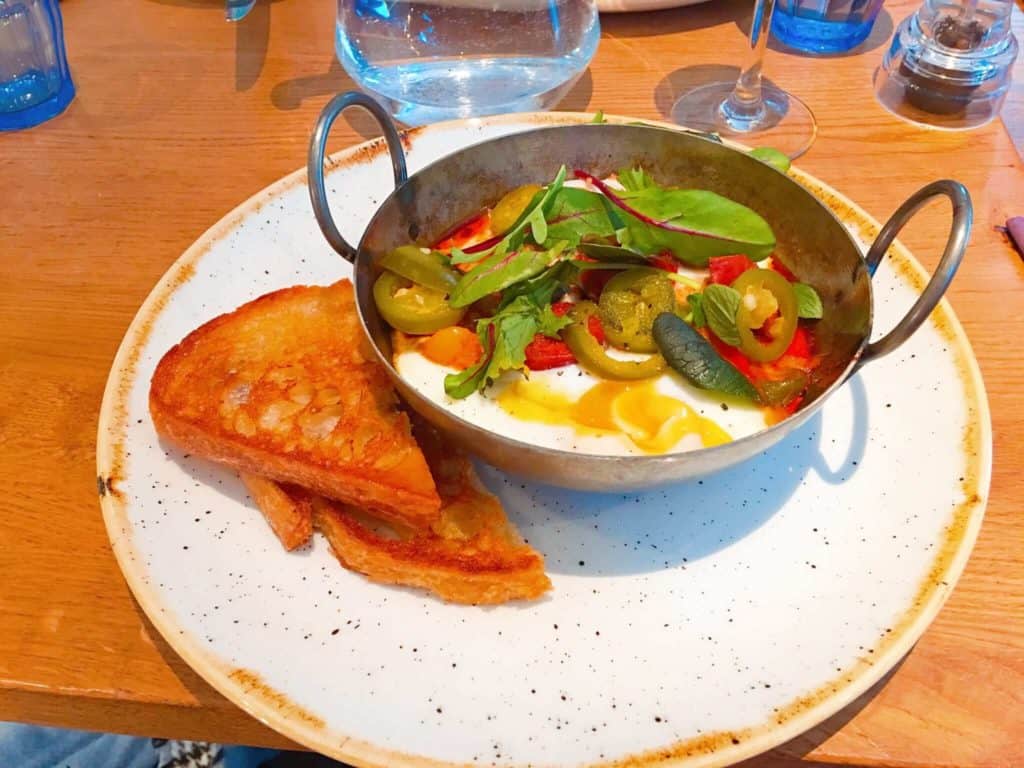 Prince Street Social beside the harbour and does an excellent boozy lunch for £30 including unlimited Prosecco. We visited as a group of four and every time we finished our drinks, the waiter appeared to top us up, plus you could pick any brunch dish on the menu. I went for spicy shakshuka with chorizo which was delicious.
Oowee Diner
If enormous, juicy burgers are your thing, you'll love Oowee Diner with their American-style menu comprising burgers, dirty fries and wings. I want to try the waffle fries so badly. There are branches in North Bristol and Bedminster with burgers starting at £5. They've now also launched Oowee Vegan on Baldwin Street and Picton Street, serving enormous burgers and dirty fries, meat-free!
Eat a Pitta
There are five locations of Eat a Pitta spread across Bristol so luckily one's never far away. They serve enormous falafel, pitta and hummus bowls and healthy juices using fresh, quality ingredients. Few dishes are more than £5 so it's a cheap eat whether you dine in or grab lunch on-the-go. Their packaging is all compostable and they have a zero food waste policy.
Mud Dock Cycleworks & Cafe
I sadly saw this place online a week after my visit, damn it! Mud Dock is a cafe full of quirky features like porthole windows and hanging bicycles. They serve breakfast, lunch and supper until 10pm Tues-Sat and 5pm Sun-Mon. Options include burgers, salad bowls, pancakes and sourdough dishes with locally sourced, veggie-friendly ingredients.
Coffee & cake in Bristol
I already mentioned Pinkmans Bakery near Wills Memorial Building but here are a few more spots for coffee and cake to fuel your Bristol weekend…
Brew Coffee
Brew on Whiteladies Road is an independent Bristol coffee shop serving brunch, lunch and cake. Their seasonal brew espressos come served with dairy, soya and almond milks, and the food has a Middle Eastern focus with delicious quiches, tagines, Buddha bowls and sourdough toast dishes.
Full Court Press, Broad Street
Full Court Press is a must-visit for speciality coffee lovers spending a weekend in Bristol. They have four special coffees of the week (two espressos and two filters) sourced from roasteries in the UK and Europe. The coffees are small but strong rather than large and milky.
Primrose Cafe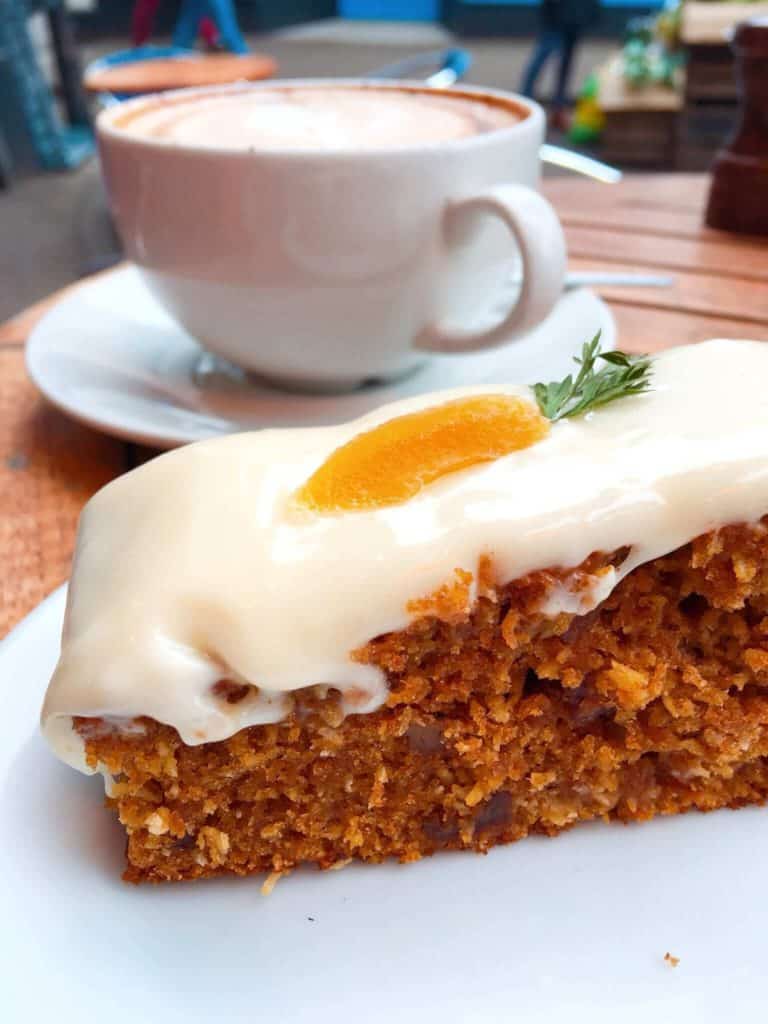 Primrose Cafe in pretty Clifton is one of Bristol's best-loved cafes with over 25 years of service. Rather than a quirky, minimalistic coffee shop, it's a warm and friendly cafe with giant, homemade portions for lunch and equally generous slabs of cake. If you're hungry, don't miss it. Tie in a visit with the colourful houses of Clifton.
Bars & nightlife in Bristol
I've only been on one night out in Bristol which was to Thekla, a club on a moored boat. It was such a great night and I'd highly recommend it if you like fun, mainstream music and something a bit different from your standard bar. Clubbing on land is so 2012!

Check out this nightlife guide to Bristol for pubs, clubs, live music, comedy and LGBT nightlife in Bristol.
Where next?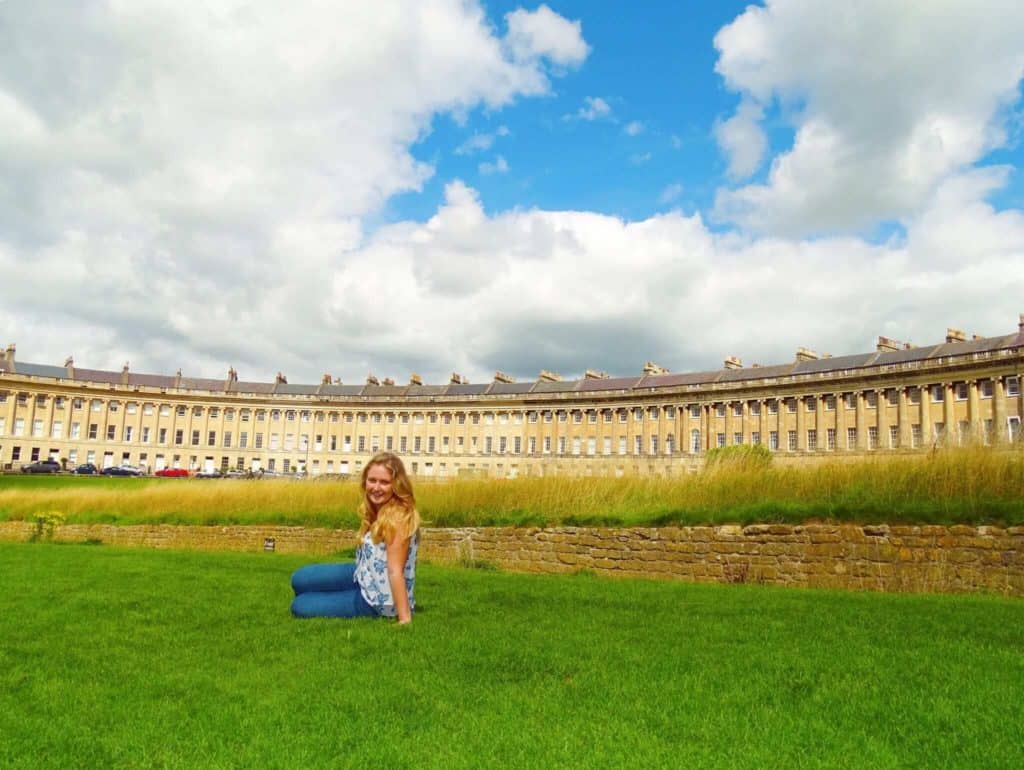 I love the variety of the UK. Catch a 10-minute train journey from Bristol Temple Meads station and you'll be in traditional Bath which couldn't be more different. I recently visited Bath as a day trip – the city centre is quite small so you don't need loads of time. If time is limited, you can also take a day trip to Brighton or spend longer. I love this vibrant coastal city!
Finally – the balloon festival!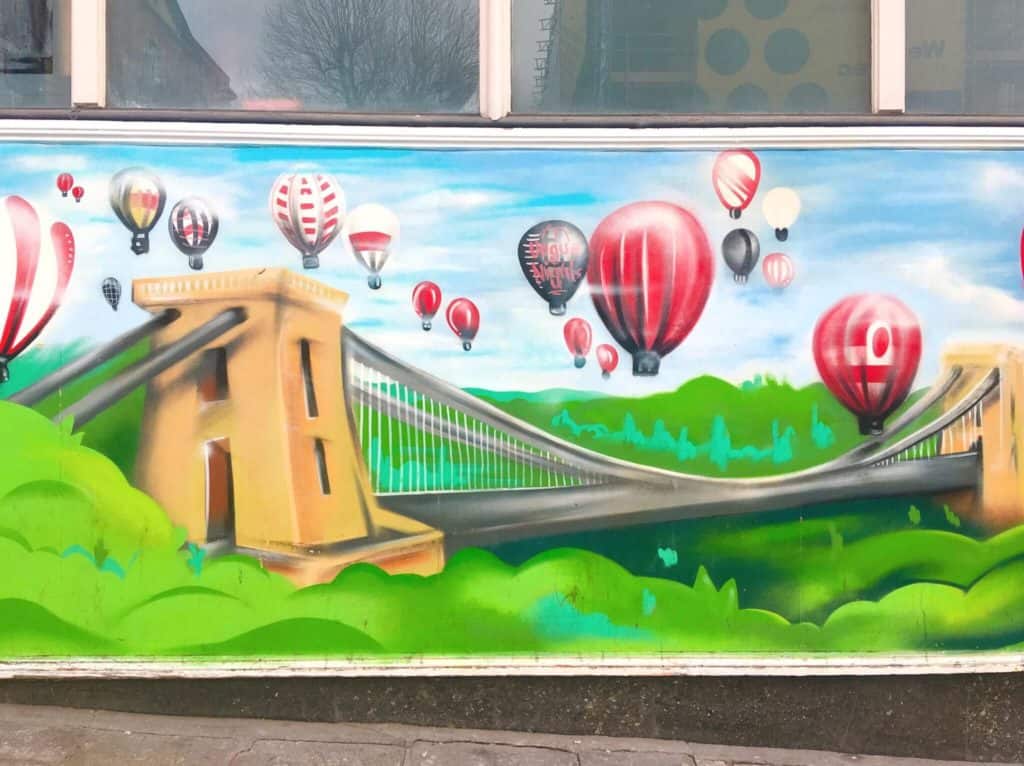 I'm so keen to visit Bristol in August for the hot air balloon festival. I've seen some stunning photos and people rave about it – if you can time a visit around it, you should (though accommodation will probably be more expensive). While it's still on my to-do list, I did catch this street art image which will keep me going for now!
TRUSTED RESOURCES FOR VISITING THE UK 

Guidebooks – LP always get my seal of approval. Use the latest copy of Lonely Planet England.

Getting there & around by air – I use Skyscanner to find the best-value flights, using the 'search by month' tool to find the cheapest dates. You can also use the 'to anywhere' feature if you're flexible on where you're going.

Car hire – use Rentalcars.com to compare car rentals and campers in the UK (and all around the world).

For UK trains, I use Trainline. The search feature allows you to compare prices, and they show live departure times on the website.

For buses, I use Busbud. It's the only site that compares UK coaches and buses. Find London to Manchester journeys for £1! 

For hotels and self-catering apartments, I use Booking.com. You can filter by review score and price to find the best-rated budget places. For hostels, I use Hostelworld.com.

To save money on accommodation, I use Trusted Housesitters, a website that connects homeowners going away and travellers who can sit their homes & pets.

Browse UK tours and activities on GetYourGuide. I also check Viator as they often have fun & unique tours.

For food tours pairing travellers with passionate local chefs and foodies, check out EatWith.

Need travel insurance? I use True Traveller (for UK & Europe residents) since it's affordable but covers everything you'd need including various activities, valuables and pre-existing conditions. Unlike some companies, they insure you if you're already travelling / don't yet have your flight home booked. Get a quote.

For travel insurance for other nationalities, I recommend Hey Mundo and for long-term digital nomad travellers, I suggest Safety Wing.

Check out my resources page for more travel discounts and tips!
Thanks for reading my Bristol weekend guide!
Check out my other Bristol & England blogs:
See you next time for more adventures,
Rose
For more travel content, follow me on Instagram, Facebook, Twitter and YouTube.
Ps. Liked my Bristol travel guide? Pin it for later!