This post may contain affiliate links to things like tours, hotels, Amazon associates and products. These help me earn a small commission at no additional charge to you.
I just got back from an idyllic weekend in Norfolk, somewhere I hadn't been for years. Norfolk was a second home for me growing up because my grandparents lived there and my mum grew up there.

However, since my grandma passed away five years ago, I hadn't been back. Since the first half of 2020 had been incredibly… indoorsy, I couldn't wait for my trip. As an adult, I found new appreciation for England's scenery and quaint, country-bumpkin charm.
Looking for UK weekend staycations? Check out:
We spent a long weekend in Norfolk with two days exploring the North Norfolk coast and one day sightseeing in the capital, Norwich. For this Norfolk itinerary, I'll share our route and what we got up to.
NORFOLK ESSENTIALS

Lonely Planet England

Accommodation: Booking.com

Getting there: Trainline / Busbud
Cost of a weekend in Norfolk
Norfolk is in the middle when it comes to the cost of UK travel. It's cheaper than London but more expensive than cities in the north of the UK. Prices are lower in more rural parts of Norfolk, however the North Norfolk coast (where this Norfolk itinerary takes place) is popular with holidaymakers and families so fairly pricey these days.
Norfolk itinerary
If you have just two days in Norfolk, omit one of the days below. For a city break, include Norwich and one of the coastal days. For a countryside break with lots of beaches, walks and quaint villages, skip Norwich and follow my itinerary for days 2 and 3.

If you're lucky enough to have a 3-day weekend in Norfolk, include this whole Norfolk itinerary.
Where to stay during a weekend in Norfolk
This really depends whether you want to stay near restaurants and amenities or reside somewhere rural for a relaxing break.

Where to stay in Norwich: Wellington Self-Catering Apartments (£71pn) // Nearby splash-out: Dunston Hall (£83pn).

Where to stay North Norfolk coast: Lawns Spa Apartment sleeps 4 (Holt) // Bakery Central apartment sleeps 2 (Cromer).

Browse Norfolk hotels, guesthouses and self-catering apartments on Booking.com.
Day 1 – explore Norwich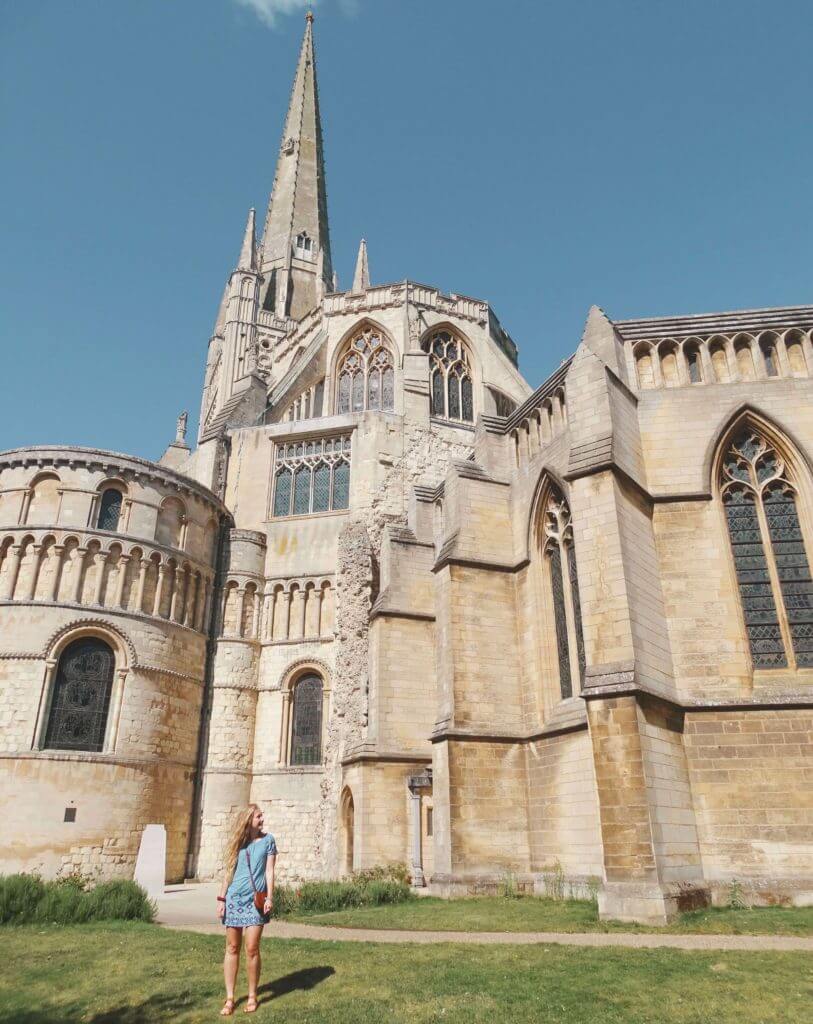 Whether you're staying in Norwich or visiting as a day trip, follow my Norfolk itinerary to see the best of this historical and charming city in just one day.

I adore Norwich. It's similar to my home city of Oxford although I hate to say, slightly nicer!

Norwich has bags of history from the cathedral to the timbered homes dating back hundreds of years. There are independent shops and plenty of cool, modern cafes. As I found out while visiting a friend at uni here a few years back, there's also a lively nightlife. Basically, Norwich has everything going for it.

It doesn't feel like a big, busy city so it's a relaxing addition to your weekend in Norfolk.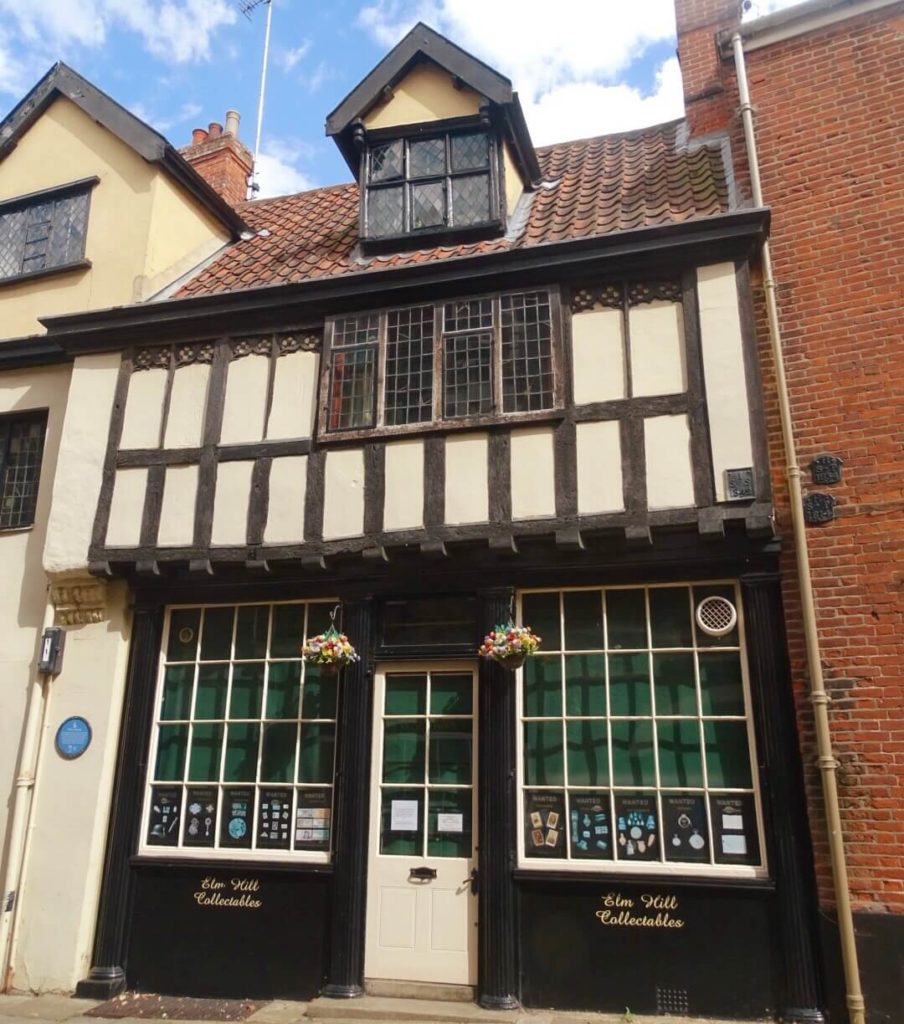 Norwich one day itinerary
Norwich Cathedral: As one of the 12 heritage sites in Norfolk, this is one of the many places to get your culture fix. Take in 900 years of history by wandering Cathedral Close, the cloisters and the Japanese gardens. Finally, enjoy coffee and cake in the Refectory Cafe. Entrance to Norwich Cathedral is free.

Norwich Castle Museum & Art Gallery: You can't miss this huge medieval castle in the heart of Norwich. Dating back to 1067, it was built by William the Conqueror as protection from his enemies. It stands to this day with a museum and art gallery inside. Check out exhibitions and special events on the What's On page.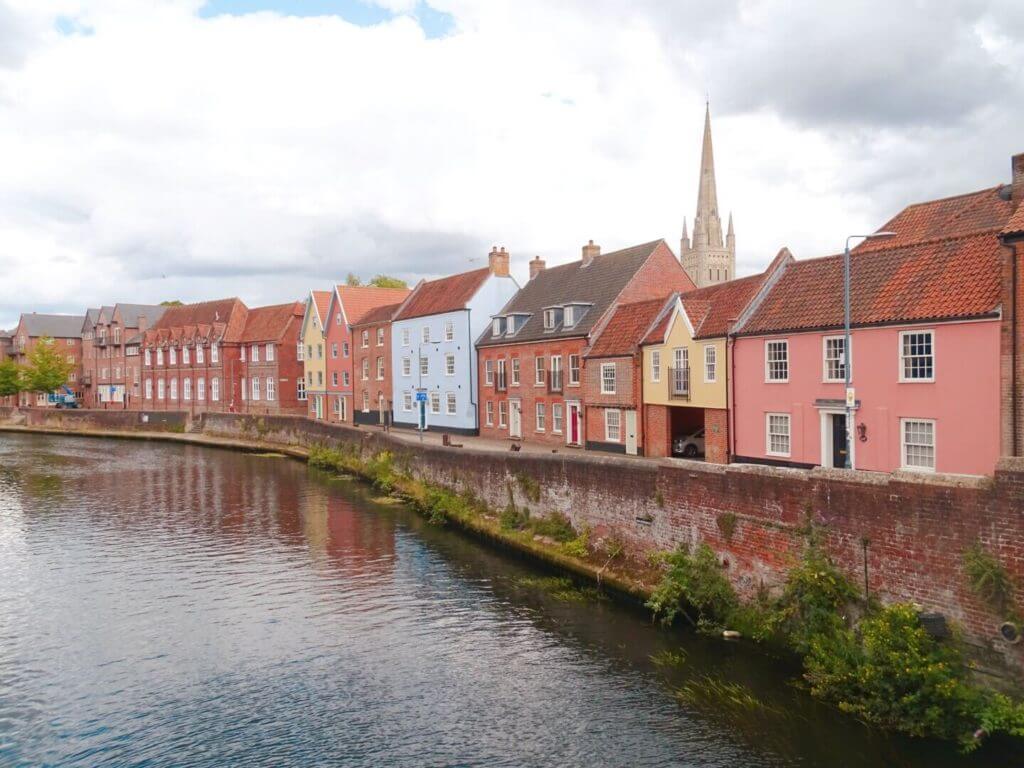 View of Quayside from Fye Bridge Street: When you look up Norwich on Instagram, you'll likely see this colourful scene. Quayside can be found in north Norwich, not far from the cathedral. Be sure to cross the river via Fye Bridge. Not only are there some cool restaurants and bars on the other side, but you'll soak up these views along the way.
Strangers' Hall: This Grade I listed building dating back to the 14th century is one of the most historically important places in Norwich. You can take a tour inside, visit the Great Hall, Parlour, Chambers and Walnut Room, gifted by an ex-mayor of Norwich.
Norwich Lanes: These winding alleyways have been around since medieval times. In recent years, they've become a modern shopping and dining area home to 300+ local businesses. There's even a cinema and several galleries and live music venues. Food options include brunch, lunch, global cuisine, vegan food, cake, coffee and cocktails.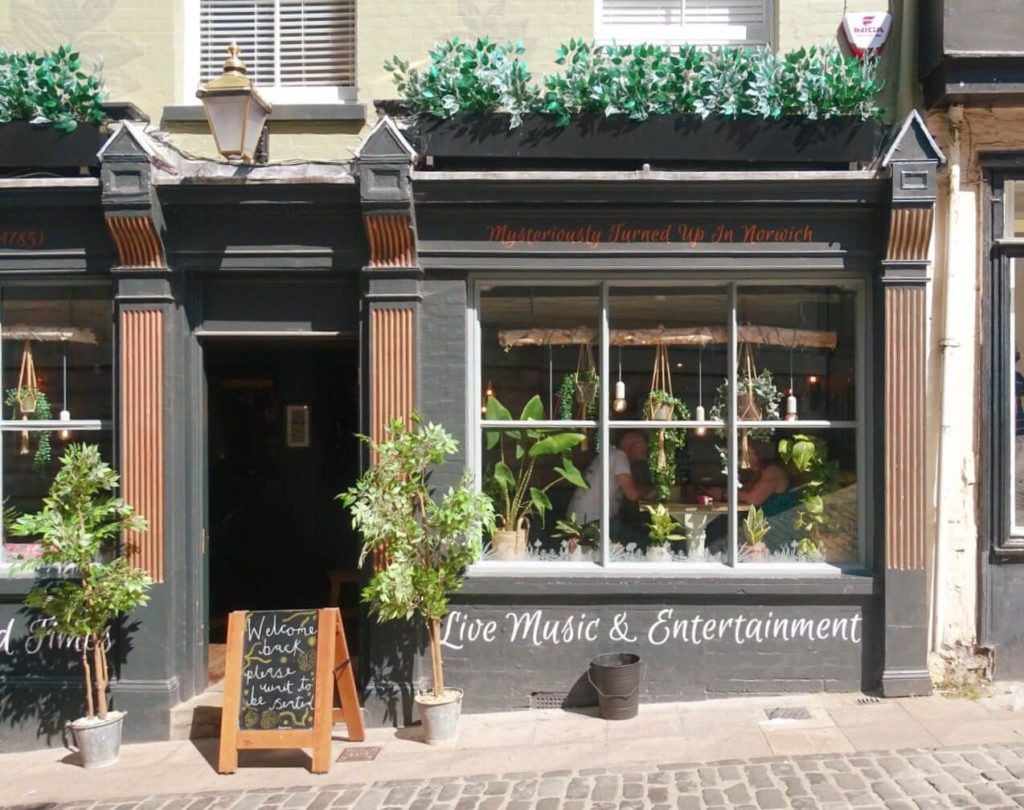 Eating & drinking in Norwich
Norwich Market: An awesome place to eat in Norwich is this static outdoor market with over 200 stalls. It's one of the oldest markets in the country dating back to Norman times.

Nowadays, the market is hosted inside colourful beach huts. You can buy anything from groceries and fresh goods to Asian street food, classic English fish 'n' chips, ice cream and even trinkets and jewellery. It's open from Monday-Friday, 8am-5pm.
Explore the cafes and coffee shops: We ate a global vegan feast of bao buns and Mexican chilaquiles at Tipsy Vegan and washed it down with quirky skull-shaped coffees at The Alchemist.

We also indulged in afternoon cake and gin cocktails at The Merchant's House, a charming cafe down by the river with an outdoor courtyard. Sadly, we missed Bicycle Shop Cafe, a boho eaterie with live music. Next time!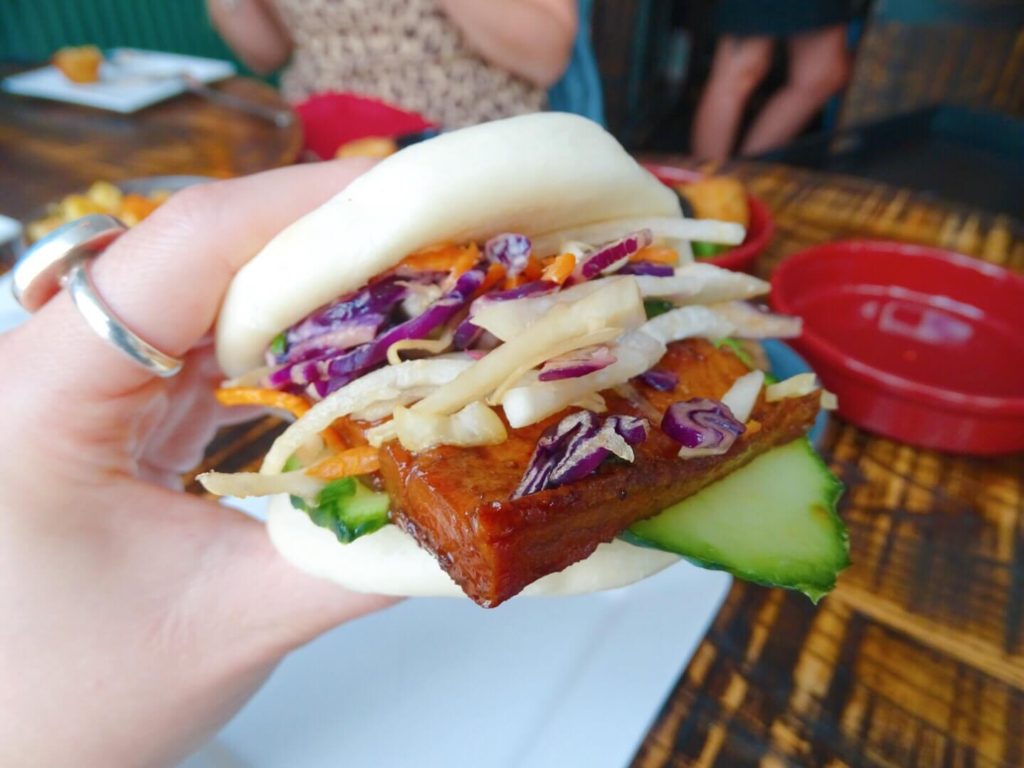 Nightlife in Norwich: There are a few clubs in Norwich and plenty of stylish bars. One particularly quirky venue is Arboretum, a cocktail bar inside an antique shop. Don't miss The Wallow, a self-service wine bar with wines from around the world, paired with tapas. Another favourite is Franks, a chilled bar serving drinks and nibbles.

Parking in Norwich: If you're visiting Norwich for the day by car, there are a few options. You can park at the airport, or one of the other Park & Rides in Norwich, and take a quick bus into the city. Alternatively, park at Chantry Place, a shopping mall with a large multi-storey parking area. Parking costs £3 per 2 hours.
North Norfolk Coast – day 1
The next two days of my Norfolk itinerary will take you along the North Norfolk coast, stopping at charming towns and villages like Blakeney and Holt as well as beautiful beaches and coastal walks.

I'll shout out some favourite cafes and restaurants to enhance your weekend in Norfolk. Fingers crossed you have good weather!

Since there are a few drives required between these destinations, it's best to leave early if possible. We had breakfast in our Airbnb and either packed sandwiches or ate out at lunchtime, finishing the day with dinner in a local restaurant or a takeaway back in our apartment. We managed to pack lots into our days out.

Here are the stops we made…
Morning – Wells-next-the-Sea & Holkham
We began our North Norfolk weekend in the small town of Wells-next-the-Sea, which we debated should be called Wells-next-TO-the-Sea but then again, does it need to be any longer?

We started our day by sipping excellent coffee at GROUND, a speciality coffee shop in the heart of town. They serve strong flat whites, cappuccinos and iced coffee, perfect on a summer's day.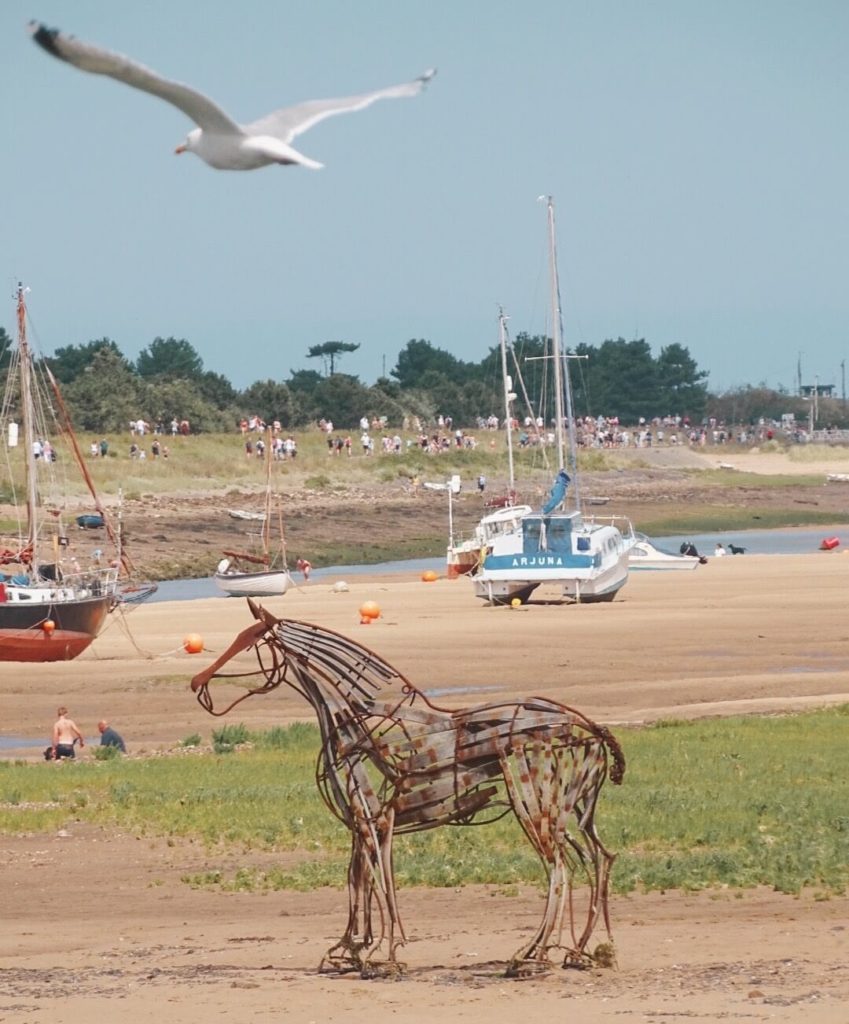 Although I didn't eat here, the cakes looked fantastic and I hear great things about the sausage rolls. If exposed brick and mini cacti aren't your aesthetic of choice, there are plenty of other coffee shops in Wells like Bang in Wells, Nelsons and Grey Seal Coffee.
Other things to do in Wells include:
Browsing the shops and relaxing at the harbour. Pick up a takeaway lunch from one of the many delis and eat at the waterfront.
Visiting Holkham National Nature Reserve and Holkham Hall. This 18th-century house boasts 25,000 acres of land and two types of deer. You could easily spend a whole day taking woodland walks and stopping for lunch in the cafe. Check if any events at Holkham coincide with your trip.
If you have time, take a trip to Holkham Beach or spot birdlife around the wetlands. Stop at The Lookout for respite (and cake). While you could spend a whole day around Holkham and Wells, we whizzed around the highlights in the morning to see more of North Norfolk in the afternoon.
Afternoon – Blakeney
Depart Wells and drive 20 minutes along the North Norfolk coast to Blakeney, another of my top picks for a Norfolk weekend. This scenic village is known for its seal boat trips and bird-watching opportunities. Whether you're a nature lover or not, Blakeney is worth a visit to wander Blakeney Nature Reserve with views of the coastline.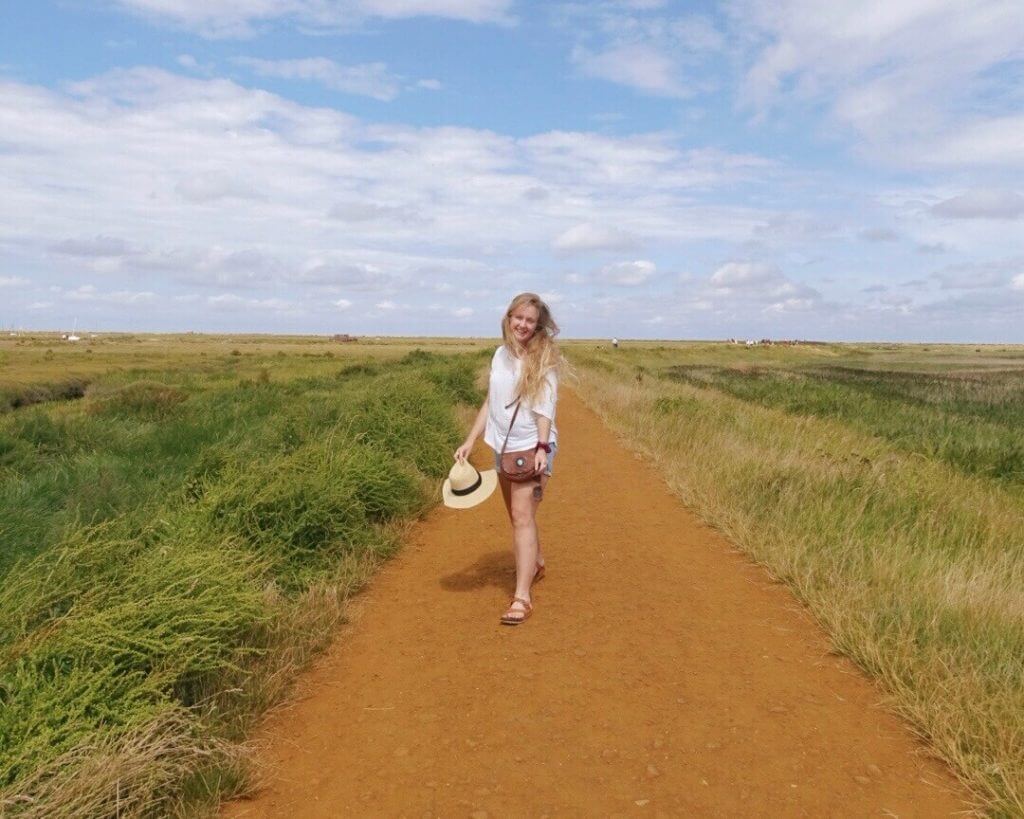 Blakeney Point boat trip: From Blakeney, you can visit the largest seal colony in England with more than 2,000 pups born each year.

Plenty of boats depart Blakeney harbour daily but a great option is to board a cruise with Beans Boat Trips from Mortson, just up the road. This will take you along the tributary to Blakeney Point where the seals and their pups can be seen during summer months. Boat trips run year-round.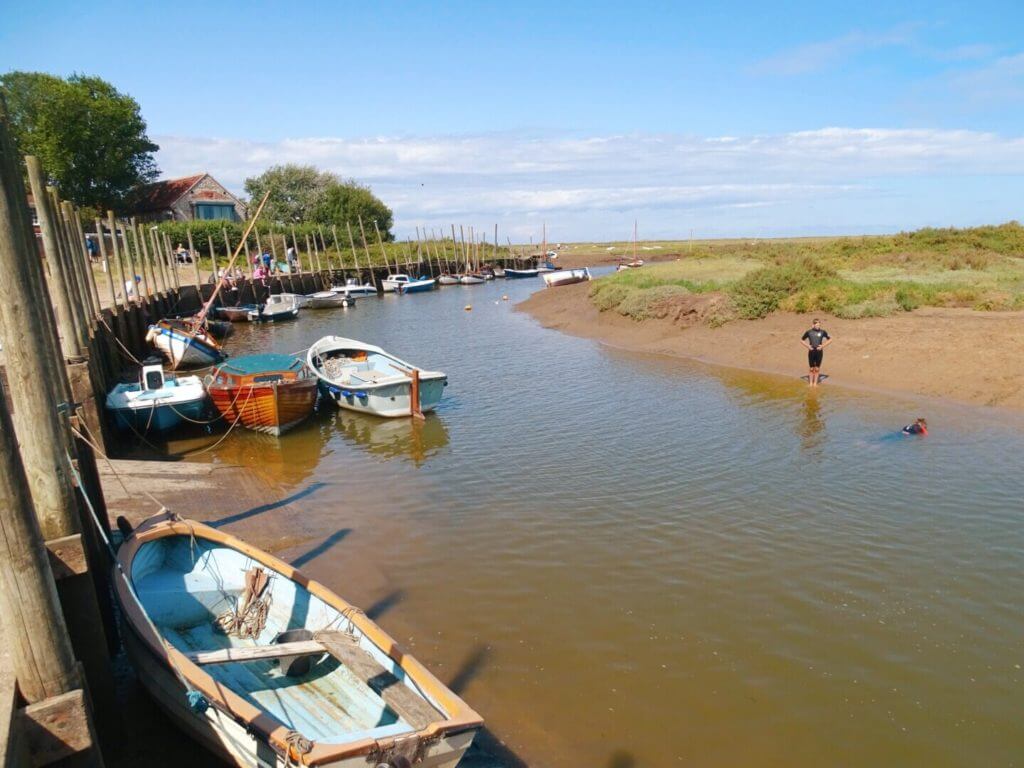 Blakeney Guildhall: This ancient house belonging to a rich Blakeney merchant dates back to the 15th century. It's right in the centre of Blakeney so it's easy to quickly stop by.
Food and drink in Blakeney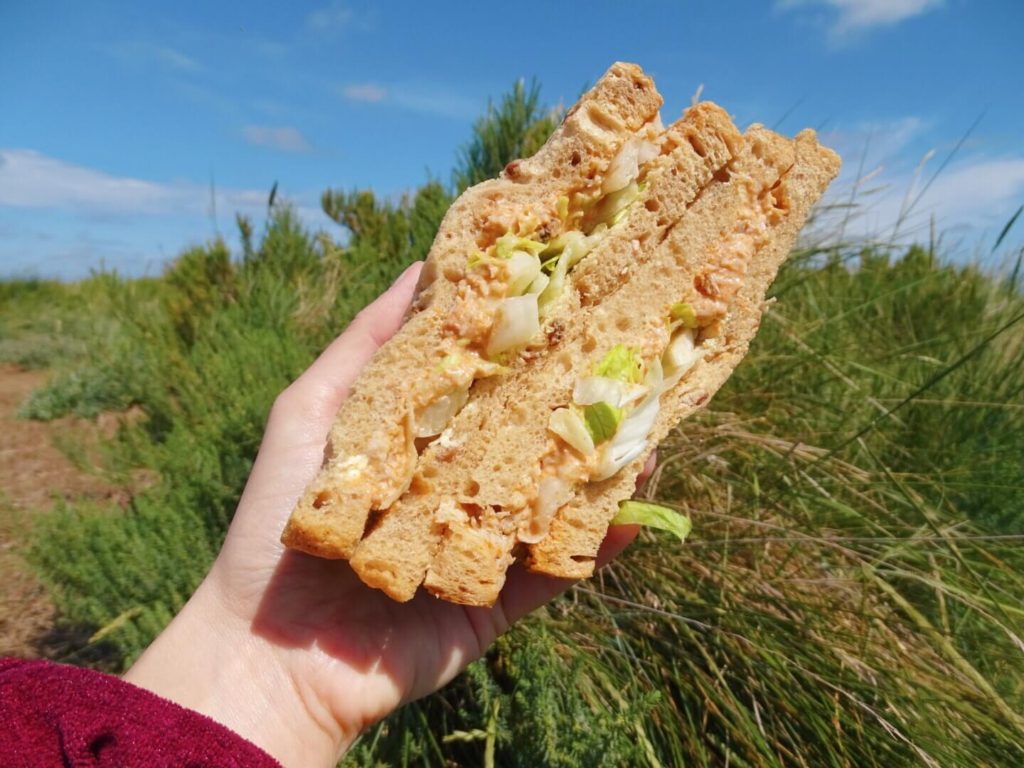 The Moorings – This seafood restaurant beside Blakeney Guildhall shouldn't be missed. I'd been wanting a famous Norfolk crab sandwich throughout my weekend in Norfolk and was thrilled to find one. As well as takeaway food, it's also a sit-down restaurant serving fresh catches of the day, risotto, crab salads and fish chowder. Portions are large and prices are reasonable; my crab sandwich was £5.

Blakeney Delicatessen – This lovely deli is set back from busy Blakeney Harbour on a quiet backstreet. They sell freshly-baked bread, takeaway coffees and deli meals to heat at home like lamb tagine, moussaka and green Thai curry. If you're staying in an Airbnb with kitchen facilities, why not pick something up for dinner?

Ice Cream Shop Blakeney – Well, no prizes for guessing what this place sells! We ate delicious, locally-made ice cream at this stall beside Blakney Guildhall. An essential for a sunny weekend in Norfolk.
Norfolk Coastal Path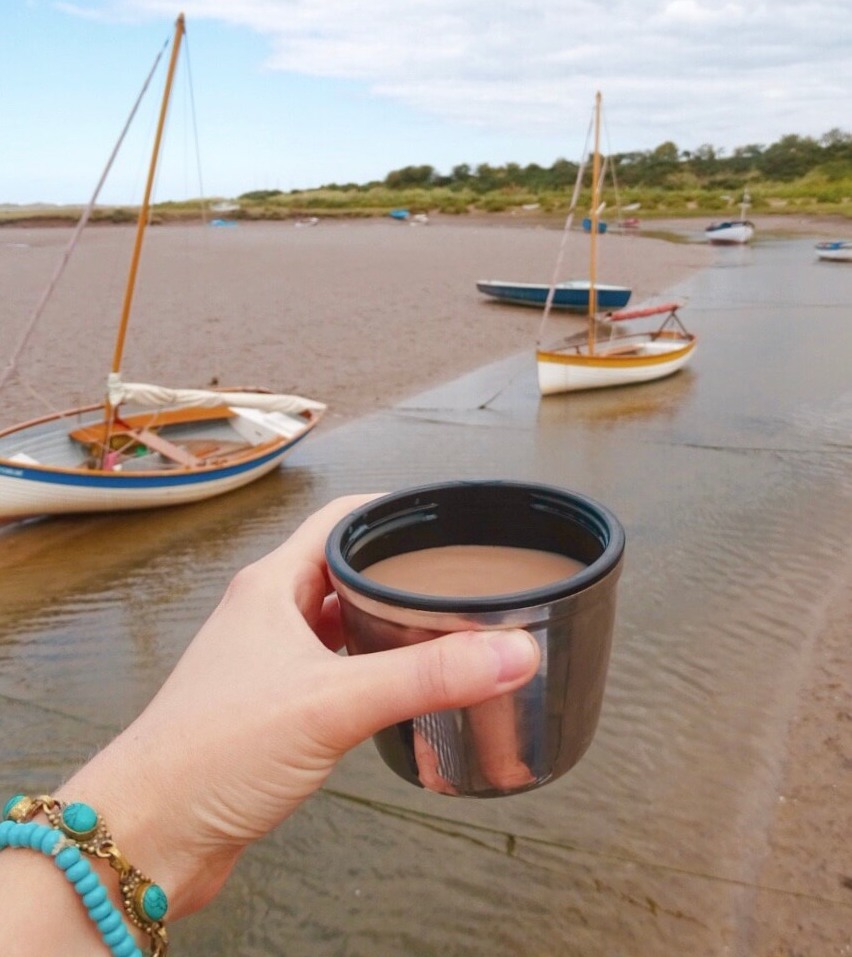 Another idea, if you have time, is to take a peaceful walk away from the crowds. This section of the Norfolk Coast Path runs from Blakeney to Morston, taking in scenery of the tributaries that join the sea. The walk takes around 1 hour 10 minutes.

Escaping the tourist spots and relaxing with a thermos of tea was one of my favourite memories from my weekend in Norfolk.
Cley Windmill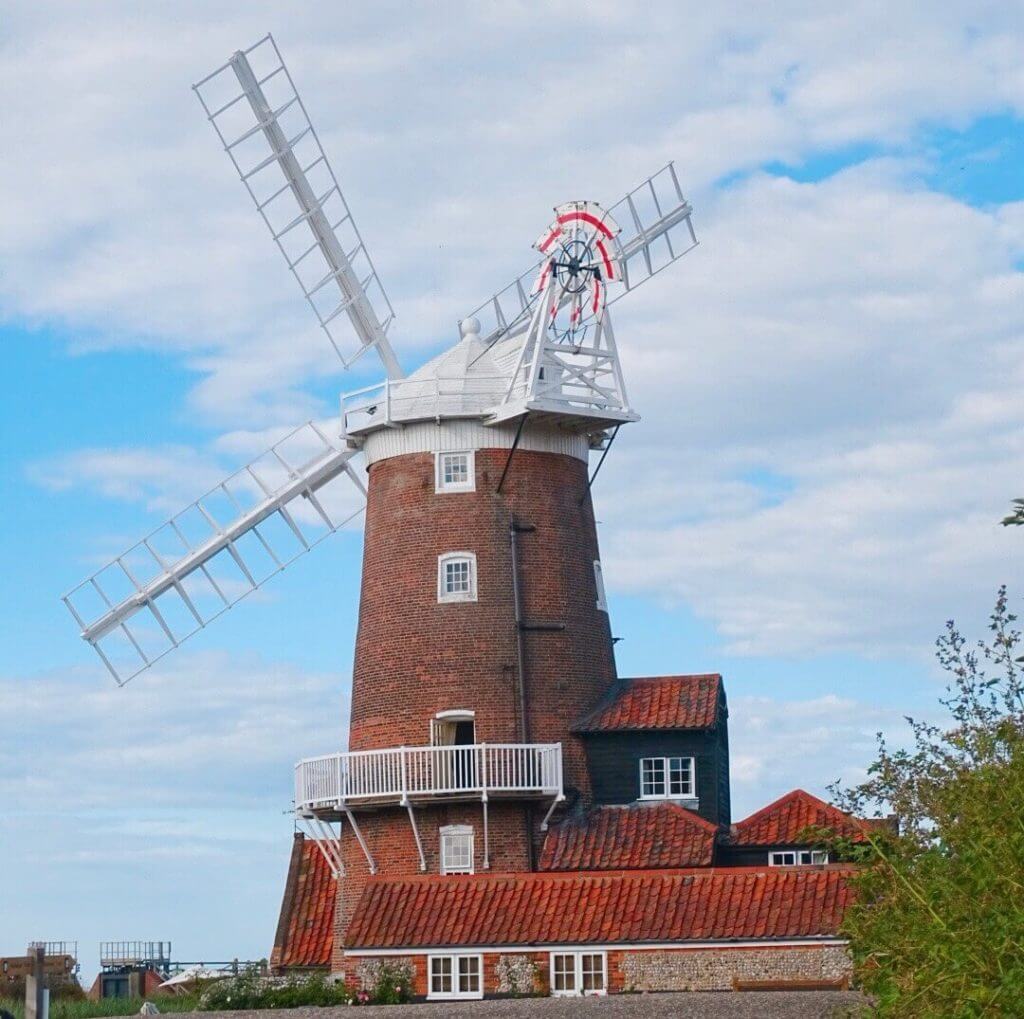 After a busy day in Wells and Blakeney, we made a quick pitstop before heading back to our Airbnb. Luckily, we had great weather during our visit. Since I spend so much time outside of Europe, I always marvel at how long our summer months are. You can pack so much into a day!

Cley is a small village put on the map thanks to Cley Windmill. The impressive five-storey windmill was built in the early 19th century and has been a much-loved feature of the area since. Nowadays, it's an upmarket holiday let with a restaurant onsite. Even so, it's worth admiring from the outside.

We stopped by for some photos and then took a walk through the charming streets of Cley. There aren't any 'must-sees' here and for that reason, we were some of the only tourists. It was charming in a different way to bustling Wells and Blakeney.

If you're hungry and love kippers, prawns and crab, don't miss Cley Smokehouse where local fish is freshly prepared and sold for takeaway.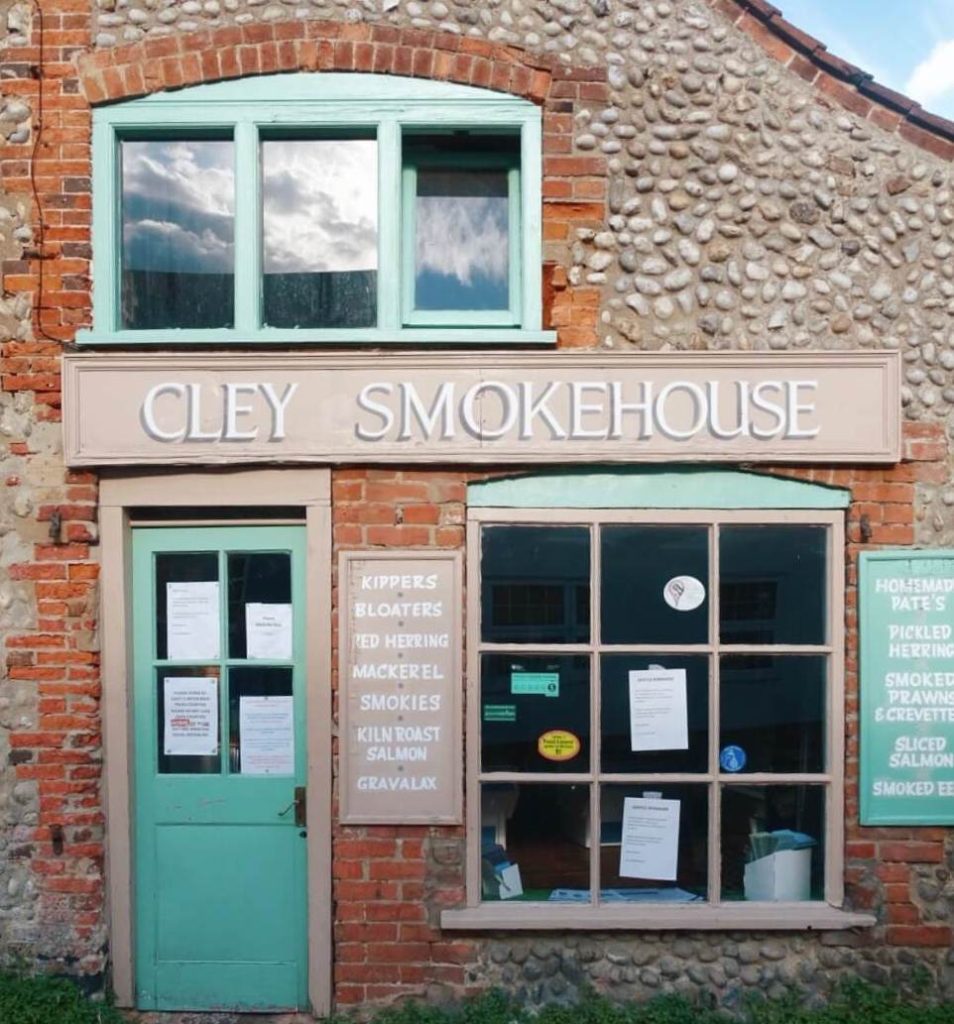 Day 2 – North Norfolk Coast
For our final day, we continued our Norfolk itinerary to Holt, Sheringham and Cromer. This was quite a busy day so remove one destination for a more leisurely weekend in Norfolk.
Sheringham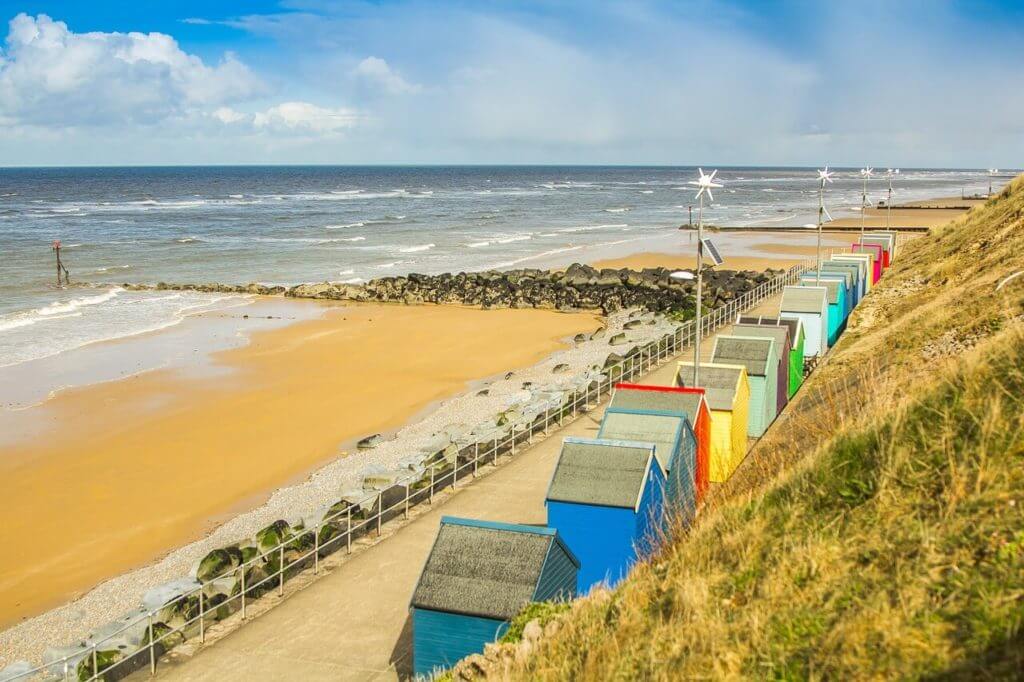 Another idyllic destination to add to your Norfolk itinerary is Sheringham. This historic fishing village has an attractive promenade, several nearby walks and a sandy beach. You'll find it busy with families and kids in the summer months. If you visit on a Saturday, you can browse Sheringham Open Air Market.

A fun thing to do is catch the scenic railway between Sheringham and Holt. With almost two hundred years' history, the railway is a beloved feature of Norfolk. These days, it's not the fastest way to get anywhere but it's a fun experience with several dining cart experiences. Did someone say pudding and Prosecco cart? Sold.

Other things to do in Sheringham including climbing Beeston Bump for coastal views, learning about the history at the Fishermen's Heritage Centre and checking out Sheringham Art and Sculpture trail.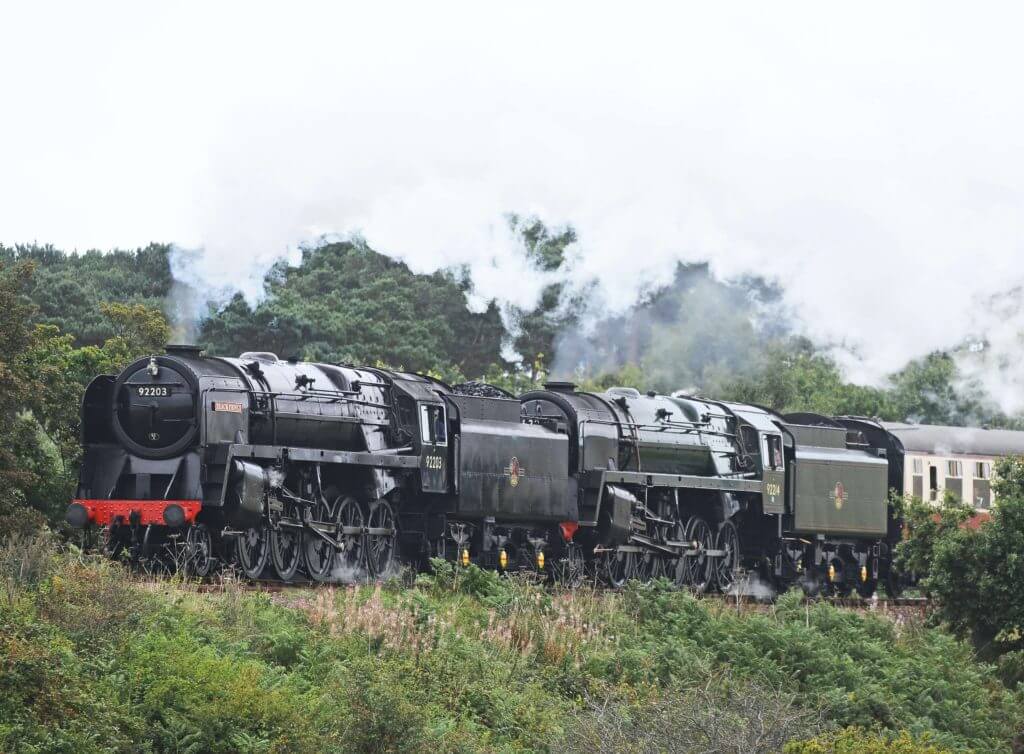 Where to eat and drink in Sheringham
The Sitting Room: As the name suggests, this cafe has the feel of being in someone's (well-designed) sitting room. Enjoy hearty lunch dishes, cake and coffee surrounded by homey touches. There are plenty of options for vegetarians.

Pungleperry's: Who could say no to a dessert and coffee bar? With desserts on offer including hot fudge sundaes, banana splits and ice cream cookie sandwiches, it's a retro feast.

The Offshore Coffee House: For the best cafe views in Sheringham, check out this cute cafe. While the coffee and cake are worth visiting for, the highlight might be perching yourself on a table outside and gazing out to sea.
Holt
Just 15 minutes from Sheringham by car or steam heritage train is Holt, a scenic town beside the coast. There are plenty of adorable antique shops and cosy cafes, making it the perfect stop for afternoon respite.

Take the Holt Owl Trail around town, stopping at plaques on the ground marking the key landmarks in Holt.

Use any extra time to visit Holt Country Park. With 100 acres of woodland, there are plenty of walking trails to take.
Where to eat and drink in Holt
Folly Tearoom – This gorgeous tearoom with an outside courtyard is the best place for afternoon tea during a weekend in Norfolk. Expect mismatched crockery, kettles dressed in tea cosies, homemade scones and generous portions of everything.

Wells Deli – This Holt cafe serves dishes from around the world which are done surprisingly well. Tuck into chilli con carne, nachos and pastel de natas, washed down with coffee.

The Black Apollo – The best place to grab a coffee and pastry in Holt. Everything is freshly made onsite.

Horatio's – For locally sourced ingredients and enormous English fry ups, head straight to Horatio's.
Cromer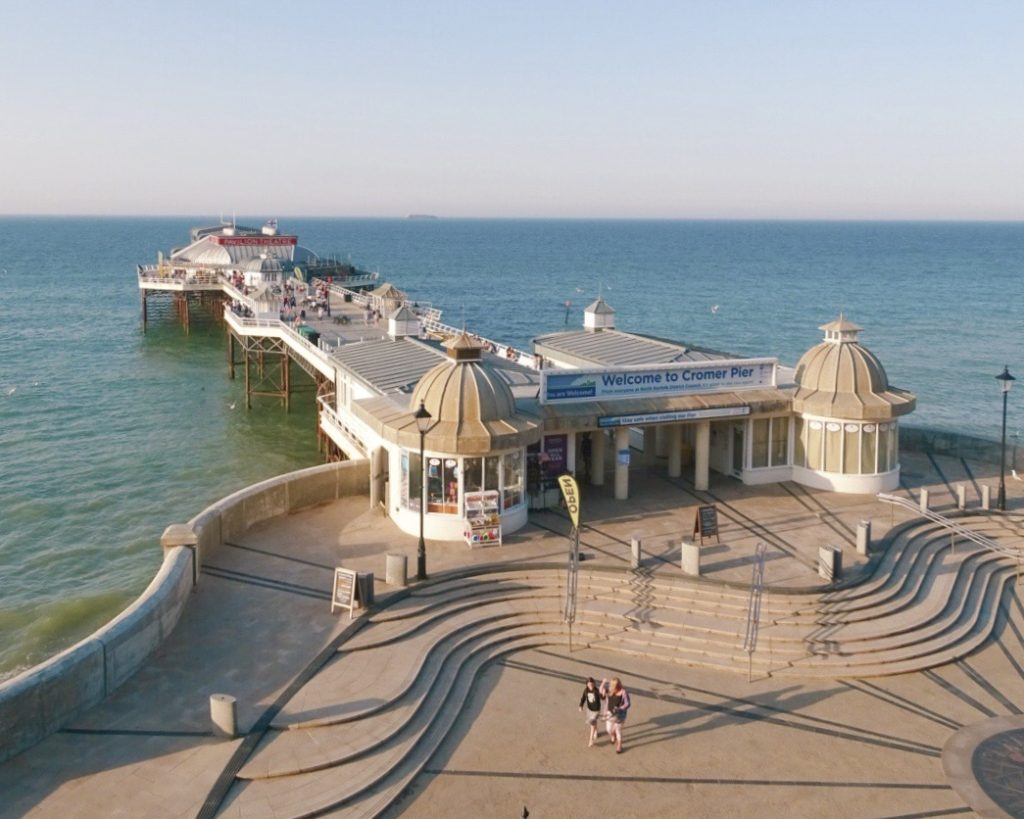 Unless you're visiting during the summer, you may want to visit Cromer earlier in the day. However, during our August visit, we visited around 6pm, ate fish 'n' chips on the pier and watched the sun go down from Cromer Pier. It was a lovely way to end our Norfolk weekend.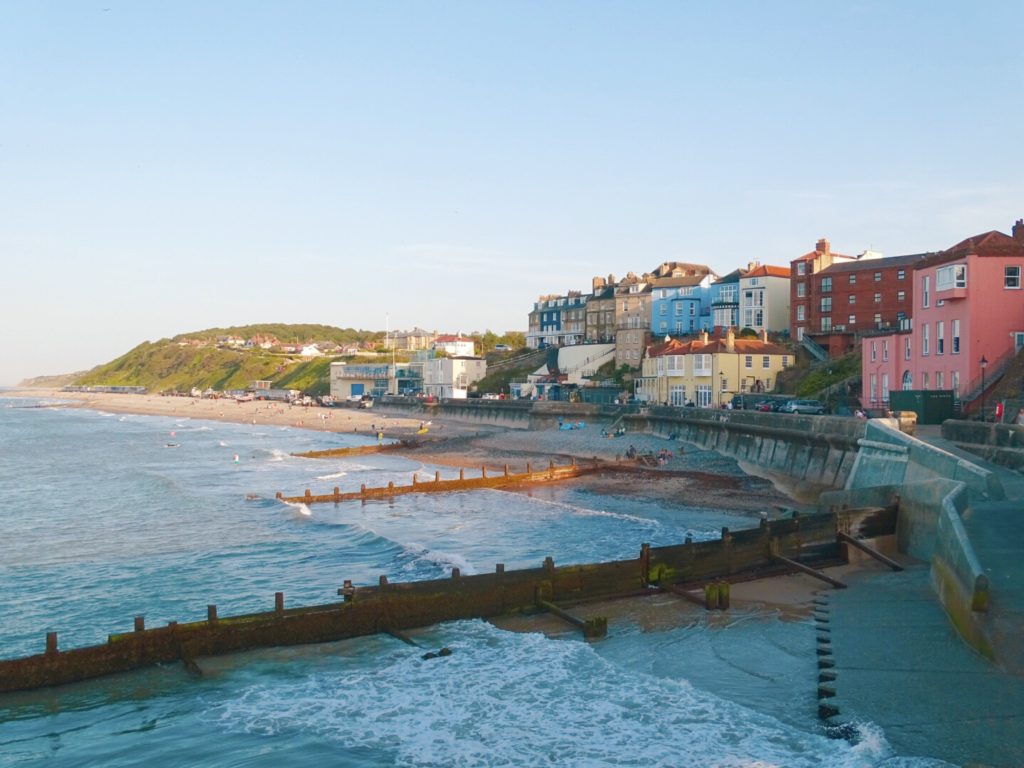 Cromer is your typical holiday destination and very busy during the summer. Famous Cromer Pier is one of the last of its kind to hold a variety show twice a year. But beware, some report that Cromer Pier is haunted by the souls of restless boatmen!

Other things to do in Cromer include visiting the church of St Peter & Paul, Cromer Museum, Henry Blogg Museum, trying your hand at crabbing, and spotting the SS Fernebo shipwreck at the west end of the beach (visible when the tide is out).

With any free time, you can visit Felbrigg Hall, a 17th-century National Trust property with a fantastic walled garden, lake and woodland full of wildlife. Another nearby National Trust property is Blickling Hall, a stately home in Aylsham. If all else fails, relax on Cromer Beach!
Where to eat and drink in Cromer
Mary Jane's Fish Bar – If you eat fish 'n' chips anywhere in North Norfolk, make sure it's here. Mary Jane's has been serving fish 'n' chips for more than 40 years and during summer months, the queue winds down the street and around the corner. It's worth the wait!

Bann Thai Restaurant – Norfolk isn't renowned for Asian food but this Thai restaurant is a favourite in Cromer with friendly owners and authentic dishes. These include Panang mussels, Bangkok chicken, tom yum soup and spicy salads. There are plenty of vegan dishes.
Visiting the UK?

Guidebooks – LP always get my seal of approval. Use the latest copy of Lonely Planet England.

Flights (international and domestic) – I use Skyscanner to find the best-value flights, using the 'search by month' tool to find the cheapest dates. You can also use the 'to anywhere' feature if you're flexible on where you're going.

Car hire – use Rentalcars.com to compare car rentals in the UK (and all around the world).

For UK trains, I use Trainline. The search feature allows you to compare prices, and they show live departure times on the website.

For buses, I use Busbud. It's the only site that compares UK coaches and buses. Find London to Manchester journeys for £1!

For hotels and self-catering apartments, I use Booking.com. You can filter by review score and price to find the best-rated budget places. For hostels, I use Hostelworld.com.

To save money on accommodation, I use Trusted Housesitters, a website that connects homeowners going away and travellers who can sit their homes & pets.

I use GetYourGuide for tours & activities when I don't want to travel solo. The guides are knowledgeable and you can't beat the prices. I also check Viator as they often have fun and unique offerings.

Need travel insurance? I use True Traveller (for UK & Europe residents) since it's affordable but covers everything you'd need including various activities, valuables and pre-existing conditions. Unlike some companies, they insure you if you're already travelling / don't yet have your flight home booked. Get a quote.

For travel insurance for other nationalities, I recommend Hey Mundo and for long-term digital nomad travellers, I suggest Safety Wing.

Check out my resources page for more travel discounts and budget tips from my 10+ years on the road!
Thanks for reading my Norfolk itinerary!
For more travel content, follow me on Instagram, Facebook, Twitter and YouTube.
Check out my other England blogs:
See you next time for more adventures,
Rose
Ps. Liked my Norfolk itinerary? Pin it for later!