This post may contain affiliate links to things like tours, hotels, Amazon associates and products. These help me earn a small commission at no additional charge to you.
Looking for the best food in Chinatown Bangkok? Let me help you out!

Did you know that the biggest Chinese population outside of China resides in Bangkok? In my opinion, that fact alone makes it worth adding to your Southeast Asia bucket list. The abundant hawker stalls serving fresh, flavoursome food are a solid second reason!
Looking for Bangkok inspo? This is the ultimate Bangkok itinerary!
Chinatown is one of the oldest areas of Bangkok, although it doesn't feel it. The bright lights of Yaowarat Road are flashy and modern, making me think of a techy city in China rather than Thailand. It's an area of contrast because if you make it into the backstreets, people live as they have for several generations.

The same sense of contrast is exhibited in the food. You'll find affordable street food in Chinatown Bangkok as well as upscale restaurants with Michelin stars. Either way, I don't think you'll have a bad meal!
BANGKOK ESSENTIALS

Accommodation – Booking.com / Hostelworld

Transport – 12Go

Activities: GetYourGuide

Guide book: Lonely Planet Thailand

Useful read: 101 Southeast Asia travel tips
A quick history of Chinatown, Bangkok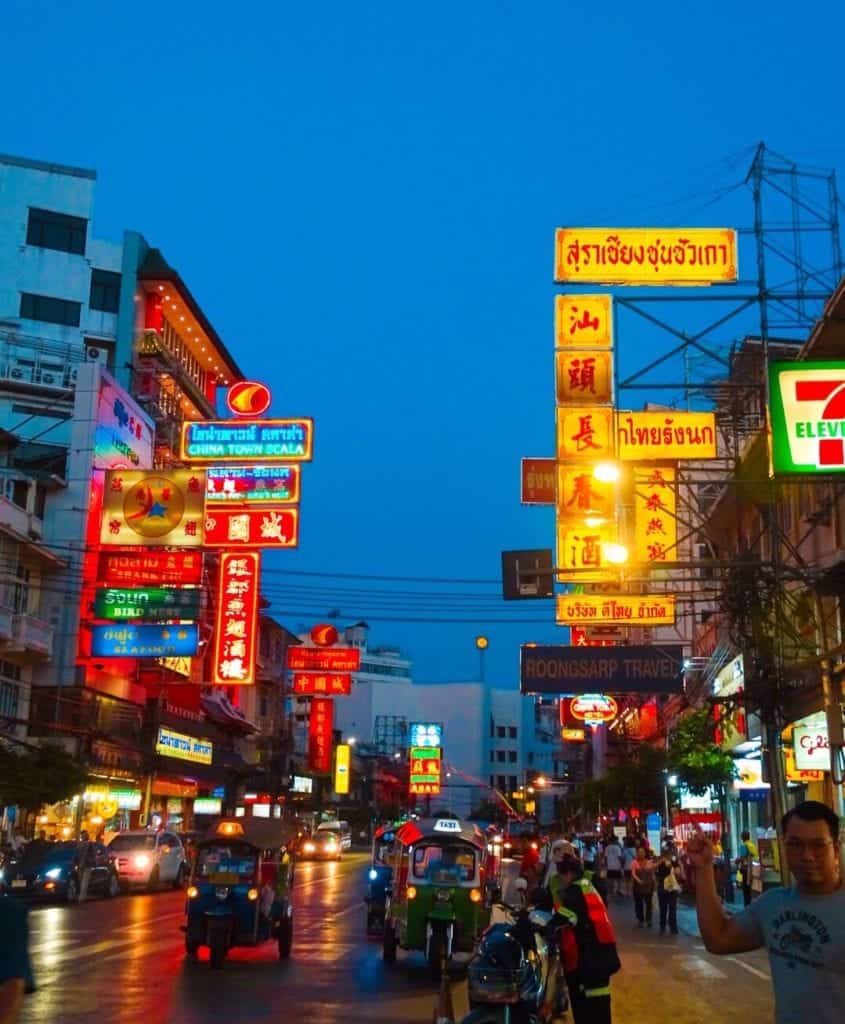 It's predicted that 10 million of Thailand's 26 million people are of Chinese origin. A fun fact about Thailand is that even the Thai royal family are partly Chinese.

Settlers started coming from China to Bangkok in the 13th century, but much more so in the last 200 years, partly in search of work. It seems like they've integrated into society well since almost 40% of Thais today have at least some Chinese heritage. This is quite unlike Malaysia where Chinese people live very separately from the Indian and Malay communities.

The Chinese community of Bangkok originally lived elsewhere but were uprooted to make room for the construction of the Grand Palace. They resettled around Yaowarat Road shortly after its construction 200 years ago, and the rest is history.
The best food in Chinatown Bangkok
I was lucky enough to be shown around Chinatown by A Chef's Tour, a company I'd worked with the previous month in Chiang Mai. They run trips in Asia and Latin America, taking guests on slightly more adventurous eating excursions like this Bangkok Backstreet Food tasting tour. No pad Thai tonight, guys!

The following dishes are some of the best local foods to try in Bangkok's Chinatown. From noodles to dumplings, much of it is Chinese-influenced but there are also some authentic Thai foods to try. With so many tasty Asian desserts on offer, I'll mention a few of these towards the end.
Pork & shrimp noodle batter (served for 50 years)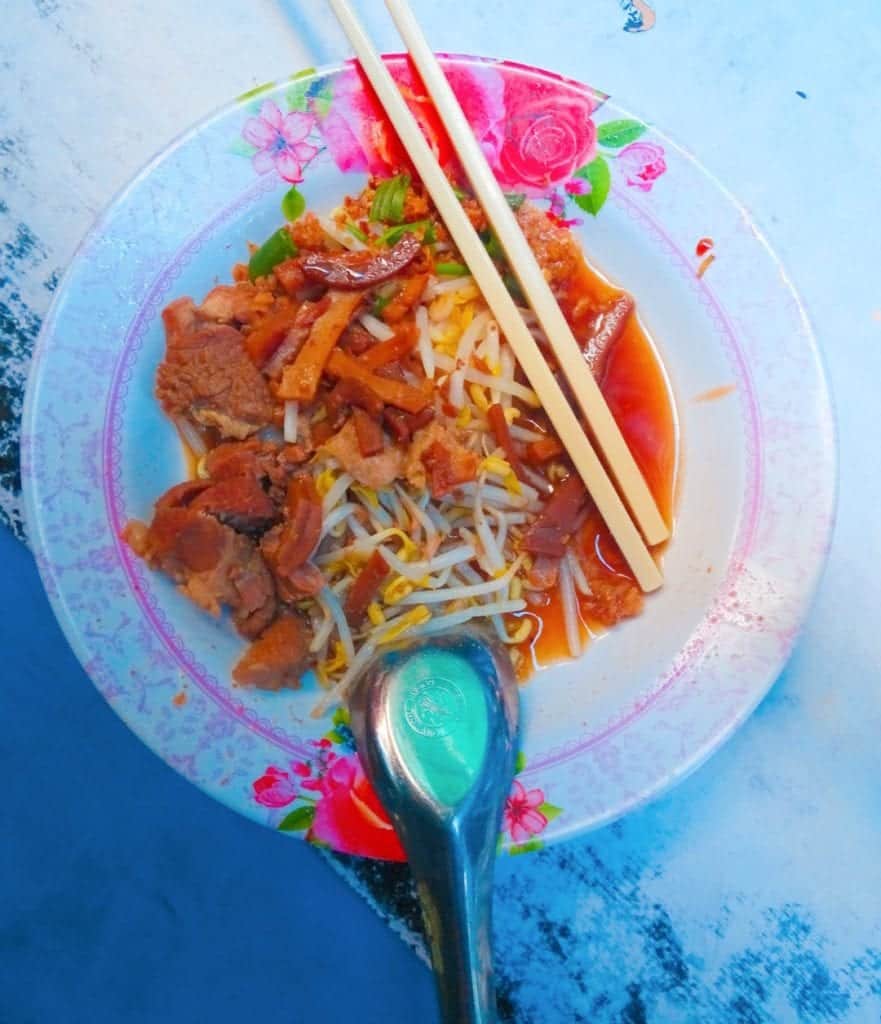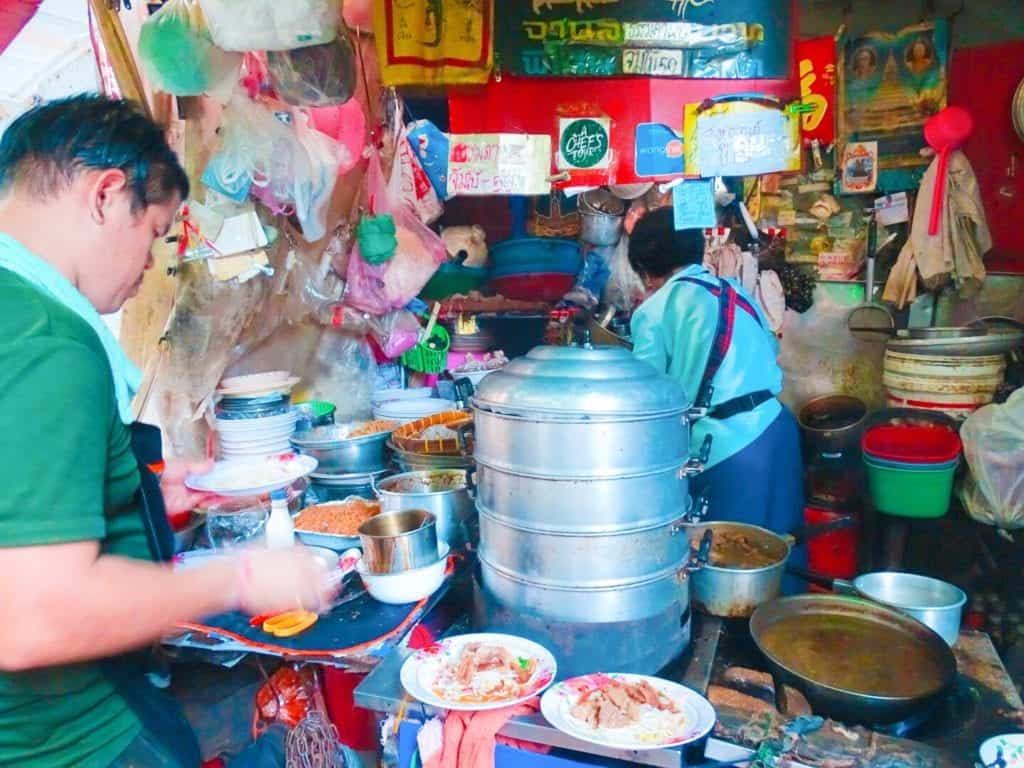 The first thing we ate in Chinatown Bangkok was one of the best. This modest noodle stall in a side street behind Shanghai Mansions Hotel might not look like much, but it has a longstanding reputation. The lady pictured began serving these noodles at 16-years-old, and she's now 70! That's a lot of time to perfect her recipe.

Even the noodles themselves are delicious, more like slabs of batter rather than thin strips. They're topped with flavoursome pork, ground shrimp, crunchy beansprouts and a moreish soy sauce. The sense of salty, sweet, spicy and sour is perfectly balanced, just like the very best Thai food.
Michelin star shrimp dumplings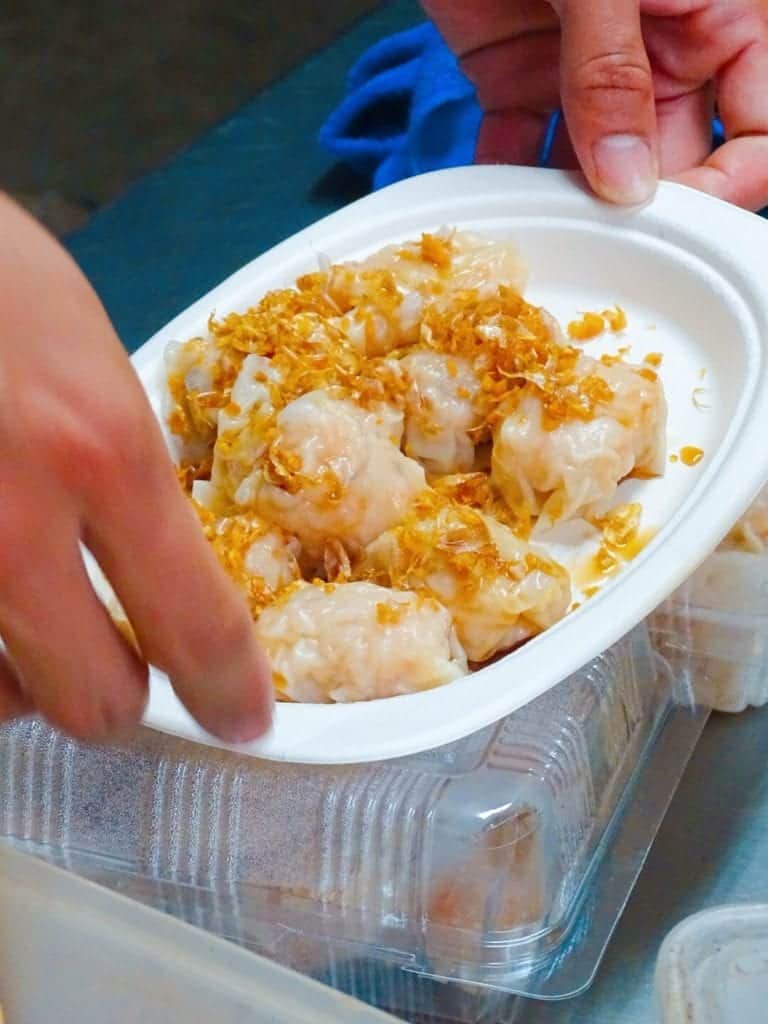 After sampling the world's cheapest Michelin Star meal in Singapore last year ($2.50 soya chicken noodles), I was excited to see how these dumplings would compare.

I was also shocked to realise that Michelin Star food is affiliated with the actual Michelin tyre man. Apparently, this was part of a clever advertising campaign focussing on how far you'd drive to try delicious food in your vicinity. Who knew?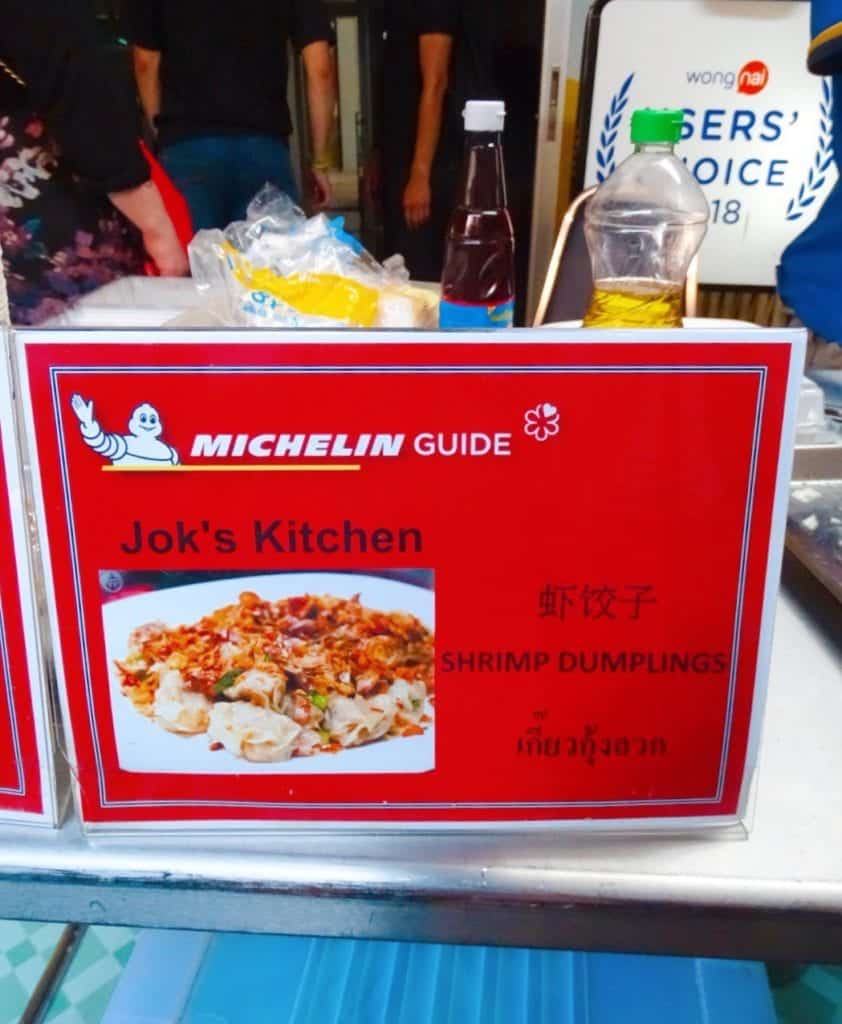 These shrimp dumplings from Jok's Kitchen were actually much better than the Michellin Star noodles I had in Singapore. They were soft, warm, flavoursome and a little tangy (unlike the noodles which I found quite greasy).

While anyone can stroll by and pick up some takeaway dumplings, you have to book several weeks ahead for a sit-down meal at Jok's Kitchen. If you're in a rush and looking for street food in Chinatown, grab a portion to go.
Red and green curry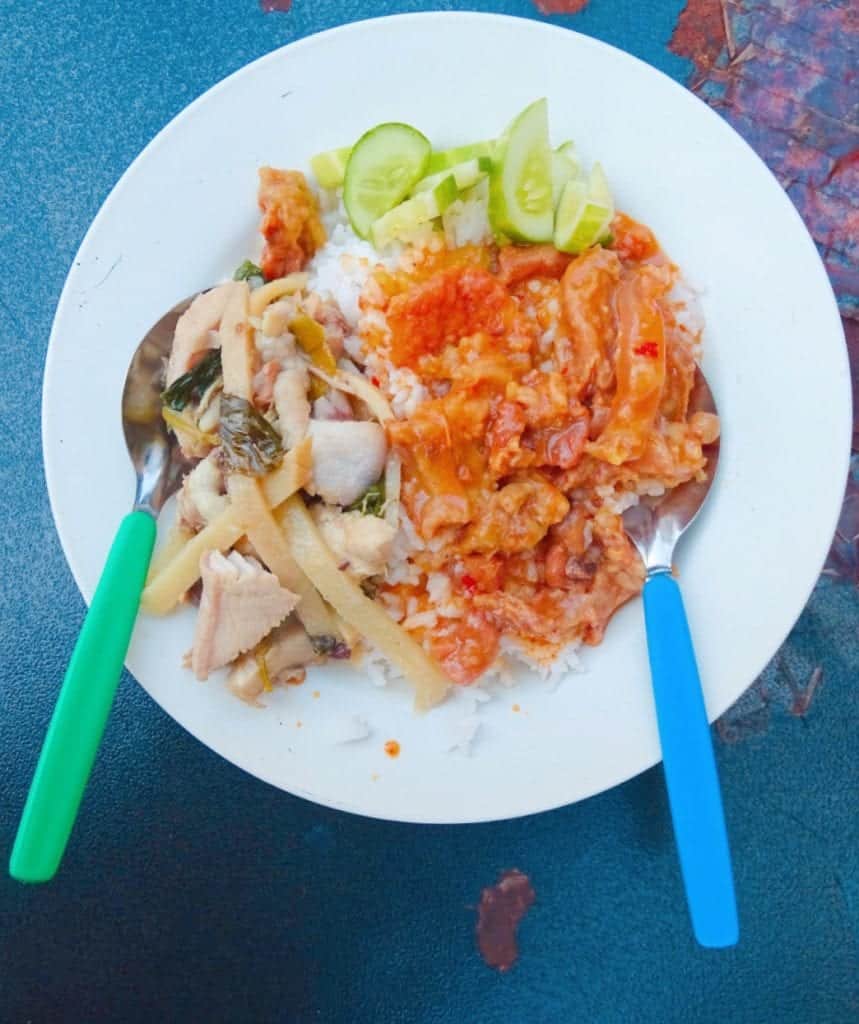 If you're like me and prefer Thai food to Chinese, it's well worth visiting Chinatown Bangkok. In the evenings, you'll find Yaowarat Road and its offshoots packed with open-air food courts serving classic Thai street food.

One of the tastiest things I ate in Chinatown Bangkok was this Thai curry at a stand called Mr Talls. I'm not sure of the exact location but I think you can find plenty similar.

Even though you'd expect it to be the other way round, red Thai curry is mild compared to green Thai curry. Go with whichever you think you can handle, or ask for a scoop of both!
Tom yum at T & K Seafood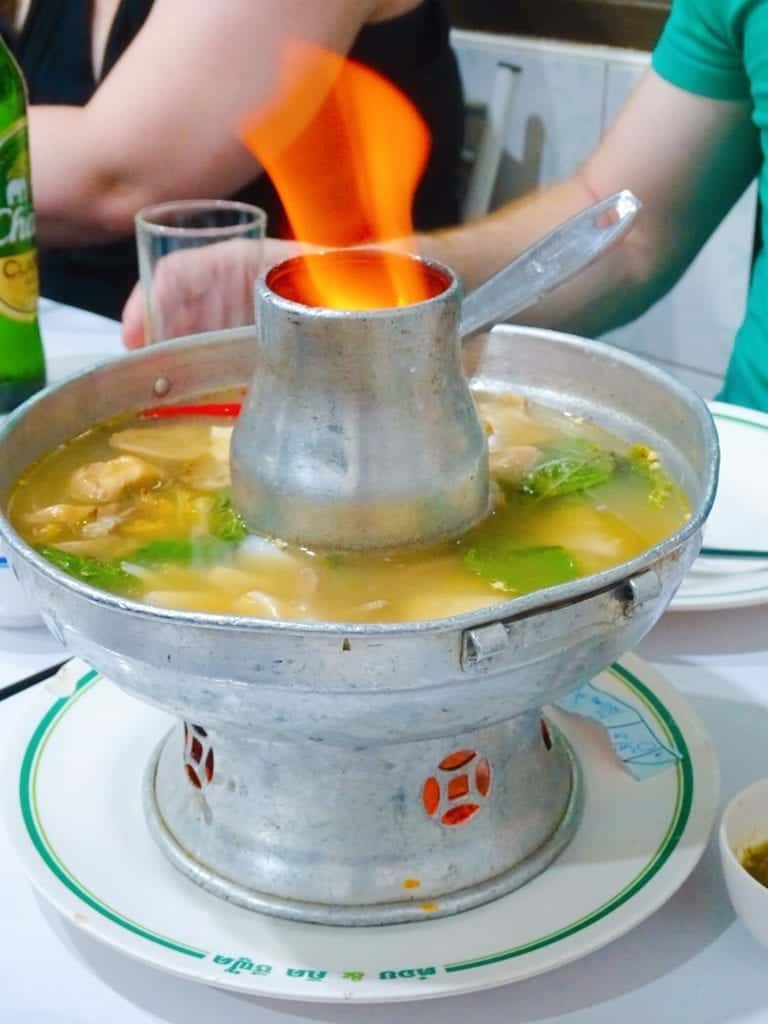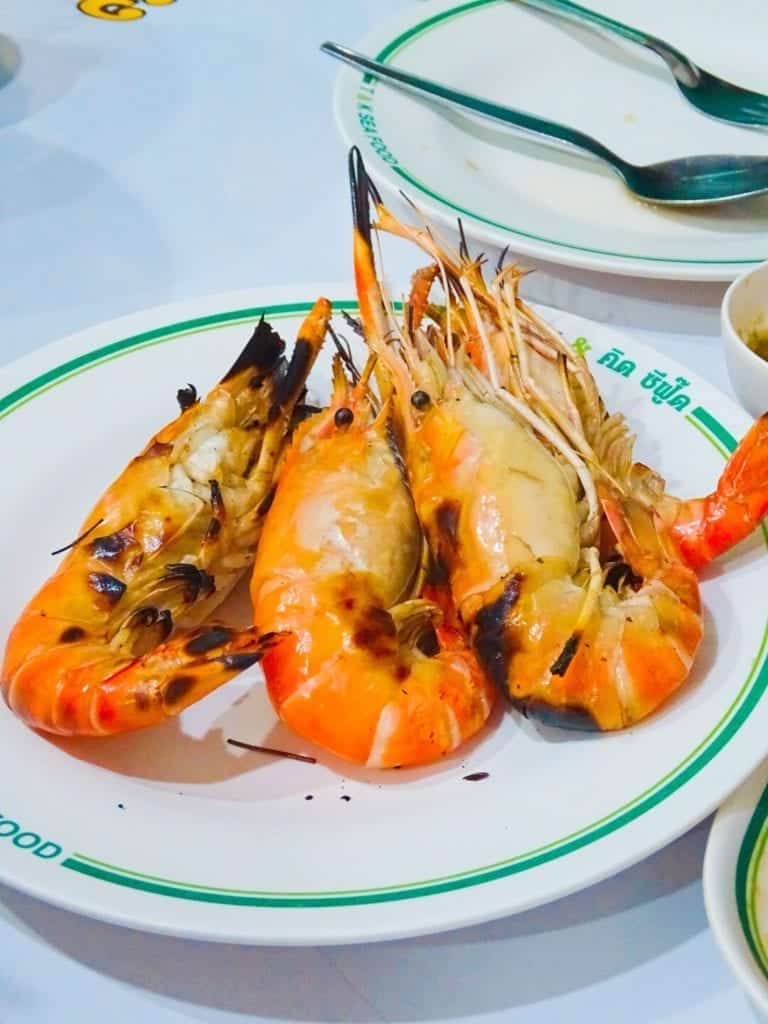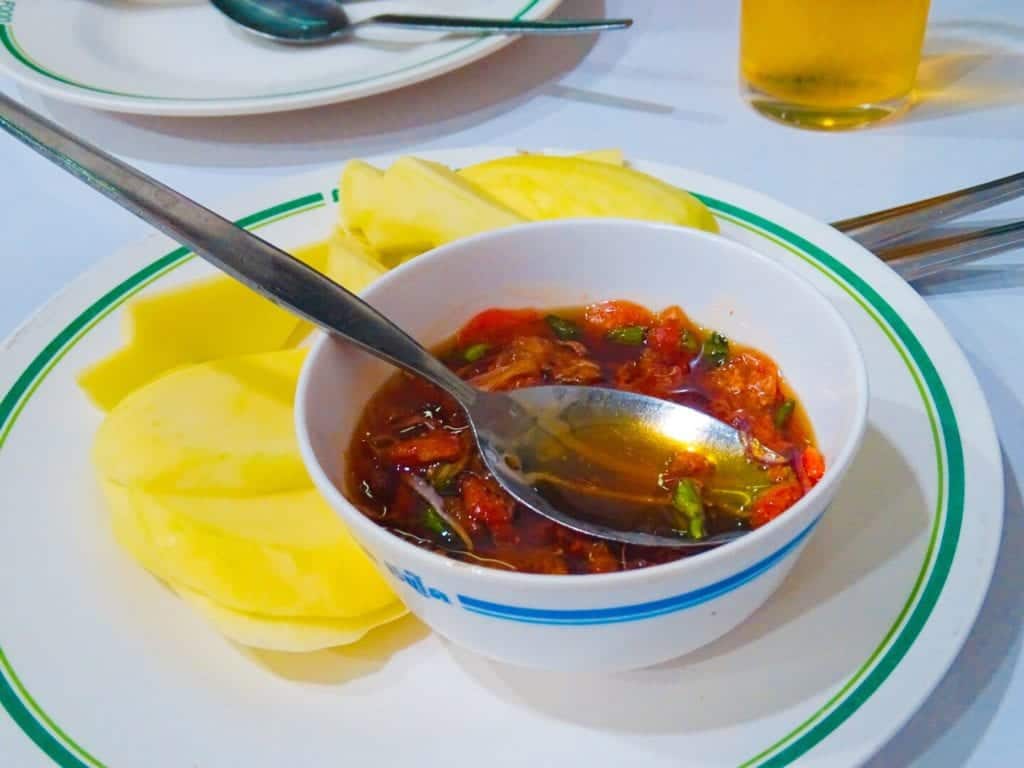 While some of the best food in Bangkok Chinatown can be found while wandering, there's one static restaurant that's guaranteed to be good. No prizes for guessing that T & K Seafood is famous for its fresh and tasty seafood dishes.

Every night, this no-frills restaurant in Bangkok Chinatown is packed with tourists and locals, with tables inside and upstairs if you can't bag one outside.

The tom yum soup was delicious, as were the giant prawns, and the crunchy mango with fish dipping sauce. That last one sounds a bit weird but it was very moreish. The prices at T & K Seafood are much more reasonable than other seafood restaurants in Chinatown Bangkok, and I'd recommend dining as a group so you can try as much as possible.
Gui chai (chive rice dumplings)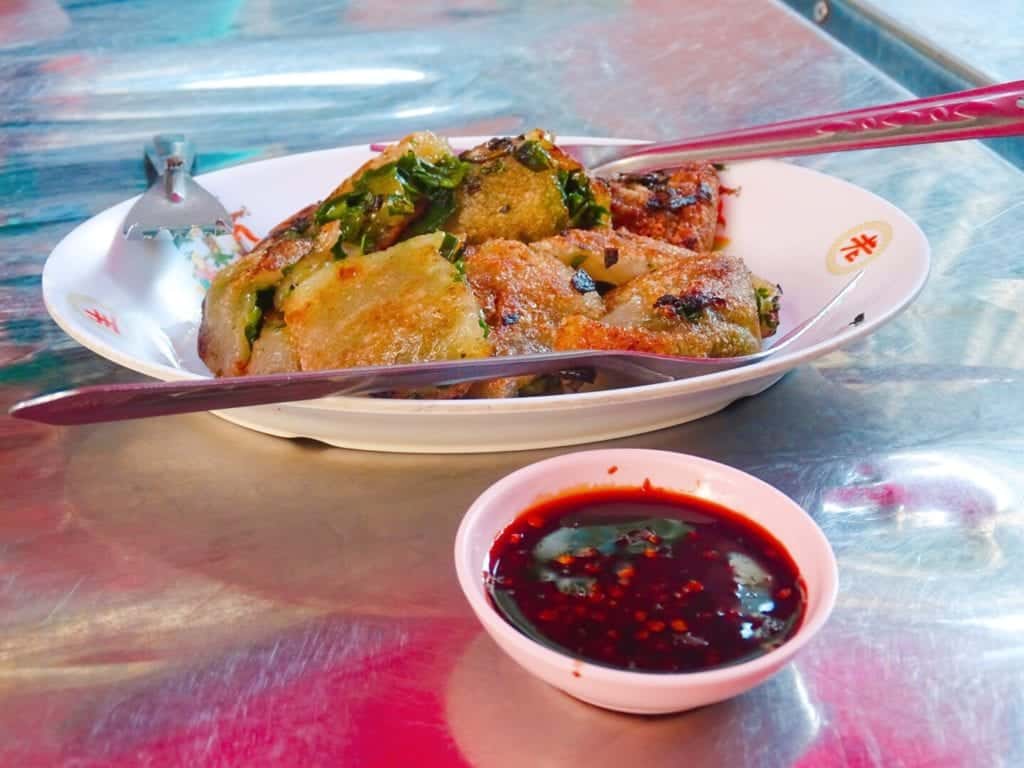 These simple dumplings may not sound like the most exciting food in Chinatown Bangkok but they're a local staple for a reason. They're salty and glutinous: the fast food of the street food world!

Plenty of local buffet restaurants in Chinatown Bangkok serve gui chai along the main road, charging 10 or so baht per serving. Eat them with chopsticks and dunk them in spicy, sticky soy sauce.
Mango sticky rice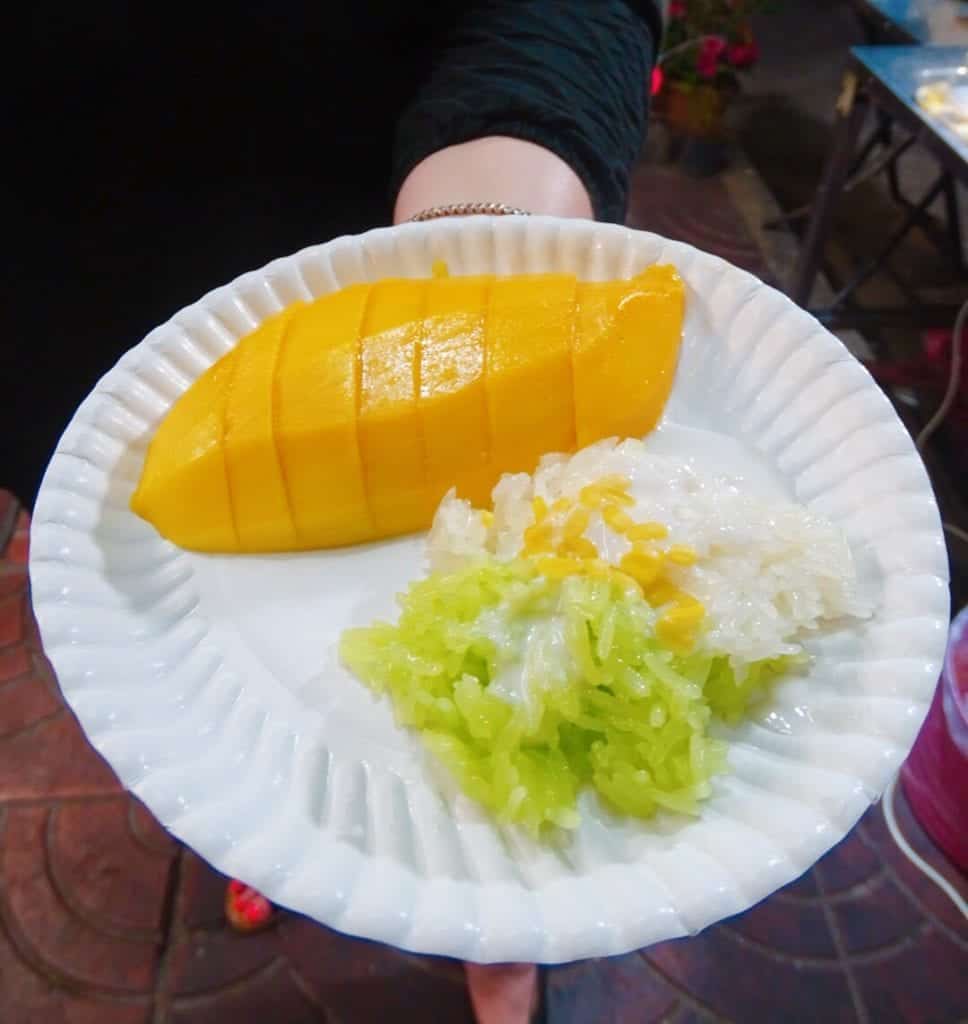 Well, it wouldn't be a Thai food blog without mango sticky rice, right? This classic dessert is one of the best street foods to eat in Chinatown Bangkok – and all over Thailand for that matter. I like to fool myself it's a healthy fruit salad but I'm pretty sure the sticky rice doused in sweet milk cancels out any health benefits.

Often you'll find mango sticky rice served with purple or green rice which is made from pandan leaf or butterfly pea flower. No additives here – maybe it is healthy after all!
Chinatown food for the brave
Travelling with A Chef's Tour really allows you to get off the tourist trail and try some more adventurous foods. We had the option to sample a few weird and wonderful delicacies.

Would you try these unusual Yaowarat Road foods?
Soy sauce ice cream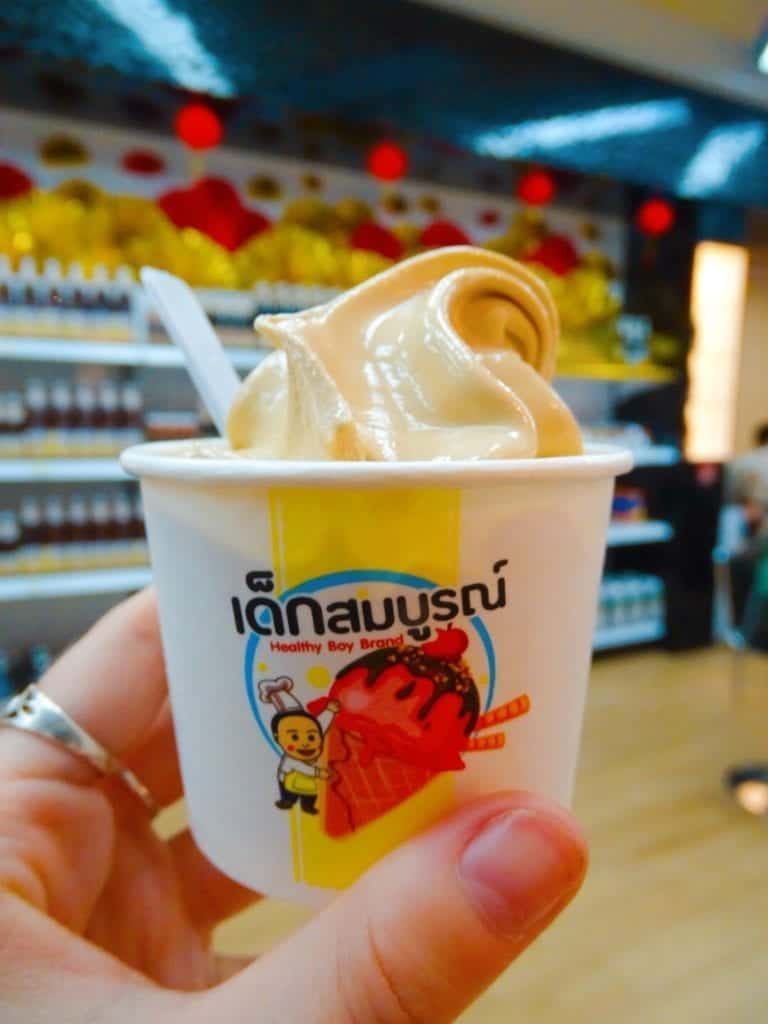 Say what? When I did a poll on Instagram, 80% of you said you wouldn't try soy sauce ice cream. However, this dessert is more of an advertising quirk than anything else.

Deksomboon is the largest soy sauce company in Thailand, responsible for the Healthy Boy brand that contains less unhealthy salt. They sell ice cream mainly flavoured with salted caramel but including a touch of soy sauce that you can't really taste. It was surprisingly tasty!

Also, the aircon store on Yaowarat Road is the perfect place to escape the heat on a hot summer evening.
Durian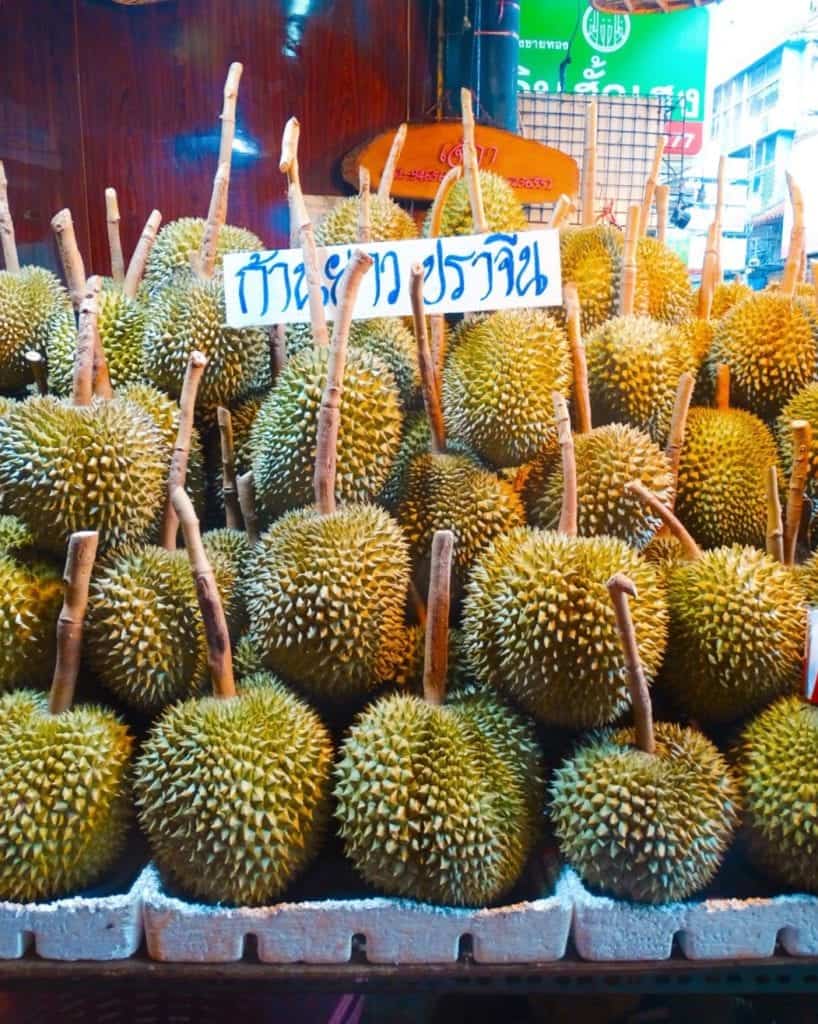 If you've been to Asia, you'll probably recognise the smell of these baddies before you even see them. Durian is considered a delicacy in Southeast Asia, despite the fact it smells totally pungent.

Our guide eased us in gently and picked up a very mild durian which I think was still ripening. Controversial, but I actually didn't find it too bad. The fruit has a rich and creamy texture so I can see why people like it, although I wouldn't want a fully ripe and smelly one.
Snackable fish stomachs!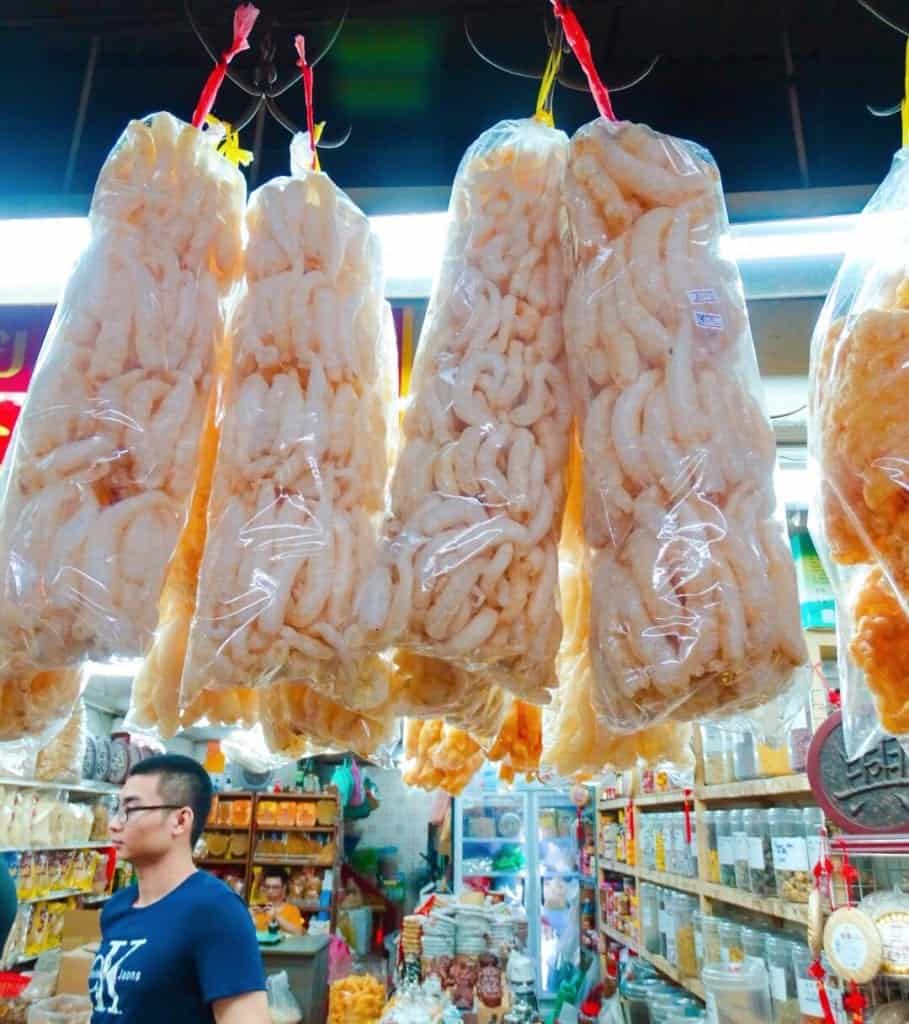 Here's something I didn't try. These bags of crispy things may look like harmless rice crackers but nope, they're dried and fried fish stomachs. Our guide told us we could try them if we wanted but shockingly, no one took him up on the offer. Would you?
How to find the best food in Chinatown, Bangkok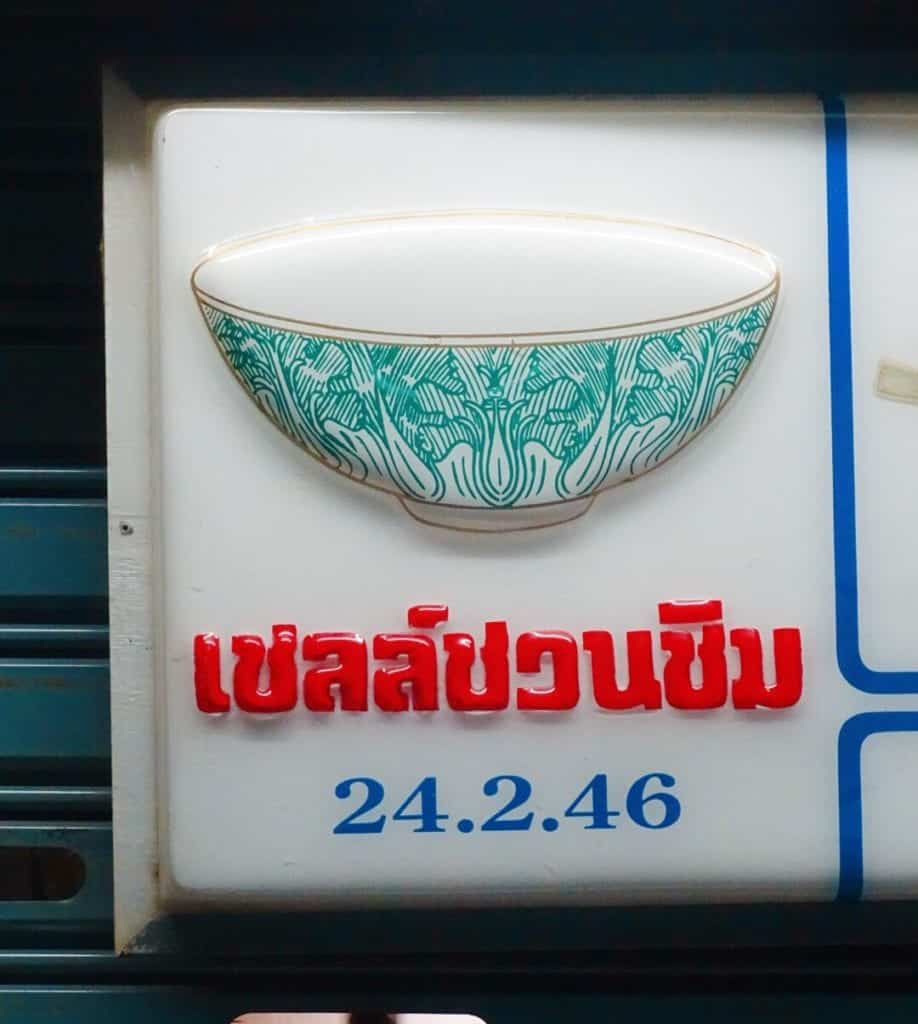 Our tour guide gave us some valuable advice when it came to finding the best food in Chinatown Bangkok. Above certain stores in the backstreets, you'll see this image of a green and white bowl with some red writing below.

This is the signature of a famous Thai chef, signifying that the restaurant has his seal of approval. Apparently, he's now 90 and no longer cooks, but his son is a judge on the Thai Masterchef.
Other things to see & do in Chinatown Bangkok
It goes without saying that Chinatown is the best place in Bangkok to soak up the Chinese culture and see how this thriving community lives. If you arrive in Chinatown during the afternoon, you can wander the temples and backstreets while you work up an appetite for dinner.
Explore Taoist temples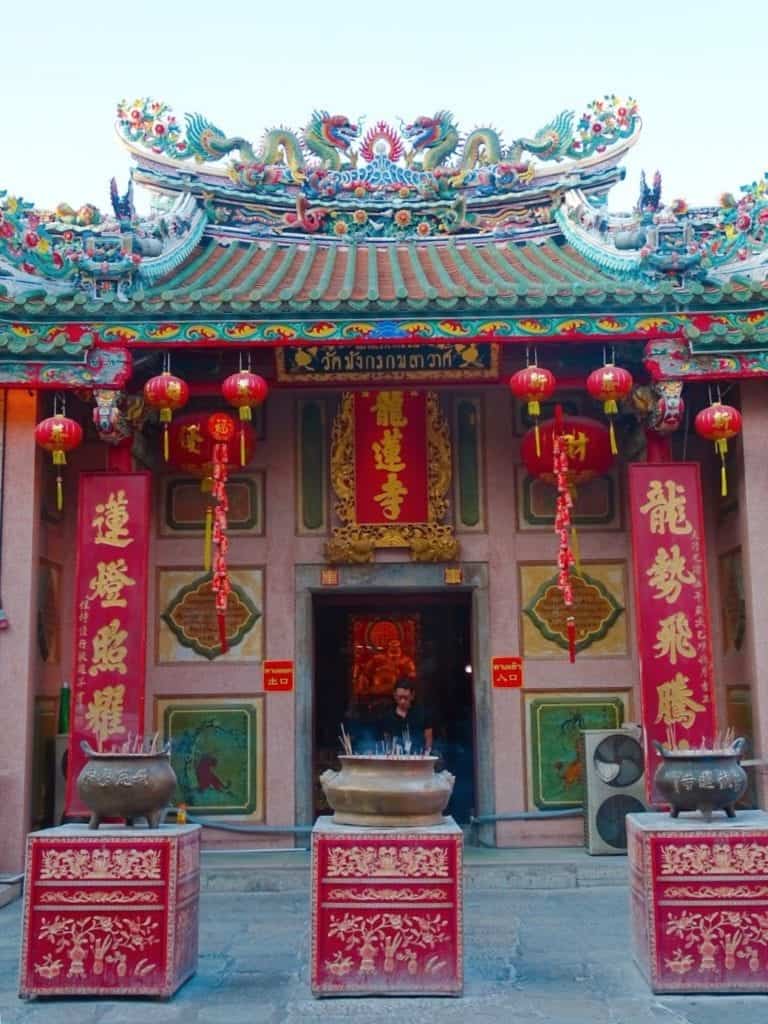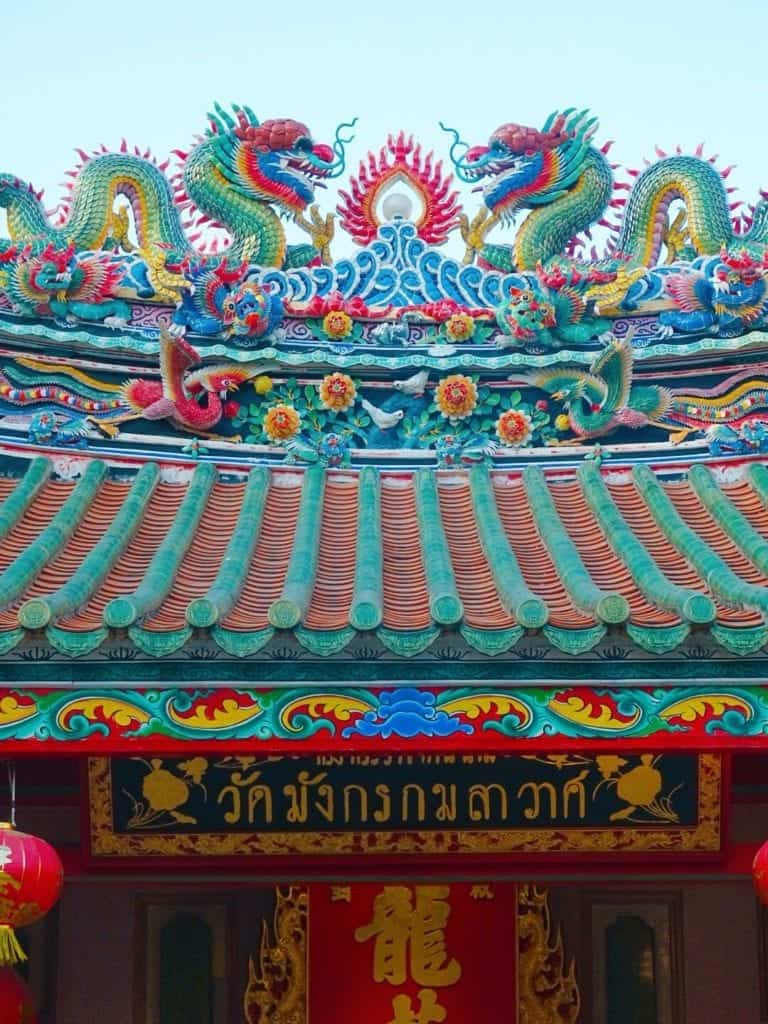 Wat Mangkon Kamalawat Temple is a peaceful haven in otherwise busy Bangkok. As the most important Buddhist temple in the city, it hosts countless celebrations and translates as 'dragon lotus temple'. Entrance is free and it only takes a few minutes to wander around.
Find paper streets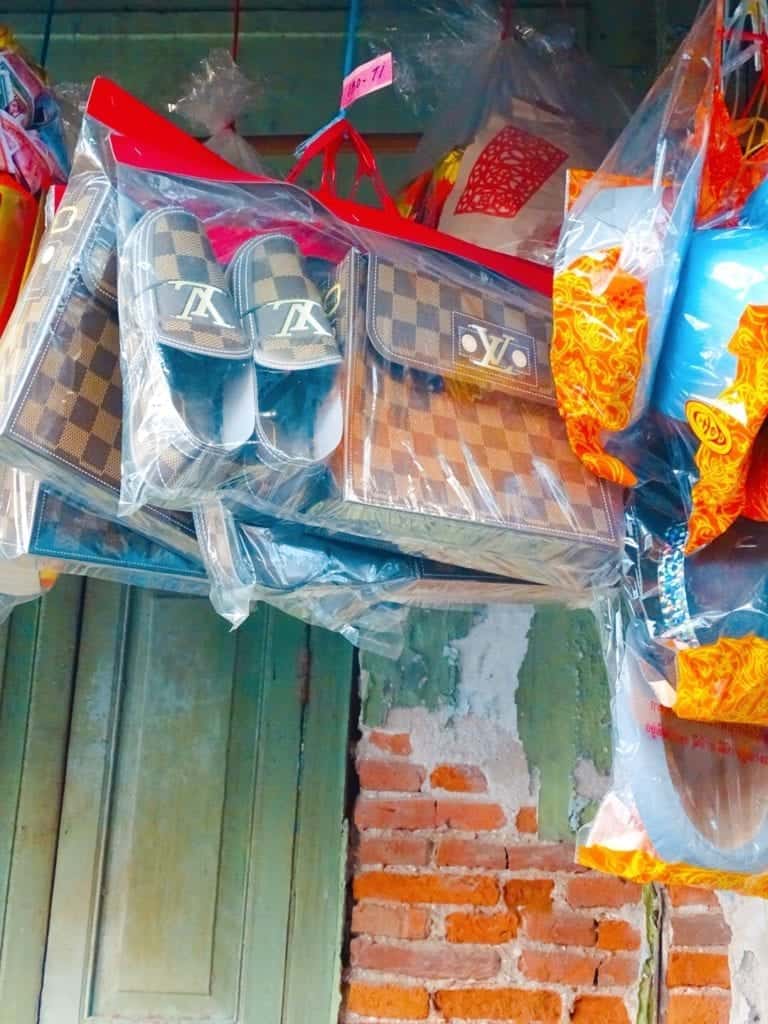 Bangkok's Chinatown may be a foodie stop for tourists, but it's a place of daily life for the locals. The Chinese community believes that, in the afterlife, we still need all the things we need on earth, so therefore people burn paper versions of daily items in the hope they'll reach their deceased ancestors.
It's not just practical items: in the backstreets of Chinatown; you'll find paper Louis Vuitton shoes and handbags and Sony stereos for sale. Well, what would you do in heaven without your Louis V?
Booking A Chef's Tour
If the foods above look good to you, consider booking with A Chef's Tour. Self-navigating Chinatown is easy but I probably wouldn't have found such authentic food alone.

As a solo traveller, it was also good because I got to try so many things and share them amongst the group. I'd have been stuffed much quicker otherwise and likely not made it to the end. Book the Bangkok Backstreet Food tasting tour here.

The tour starts at 4.30pm daily and ends around 8pm. It's not suited for veggies but they can check out the Bangkok Old Siam tour instead.
Thanks for reading!
For more travel content, follow me on Instagram, Facebook, Twitter and YouTube.
Check out some of my other Thailand posts:
See you next time for more adventures,
Rose
Ps. While I was hosted by A Chef's Tour, all opinions are my own.
Liked my guide to the best food in Bangkok Chinatown? Pin it for later!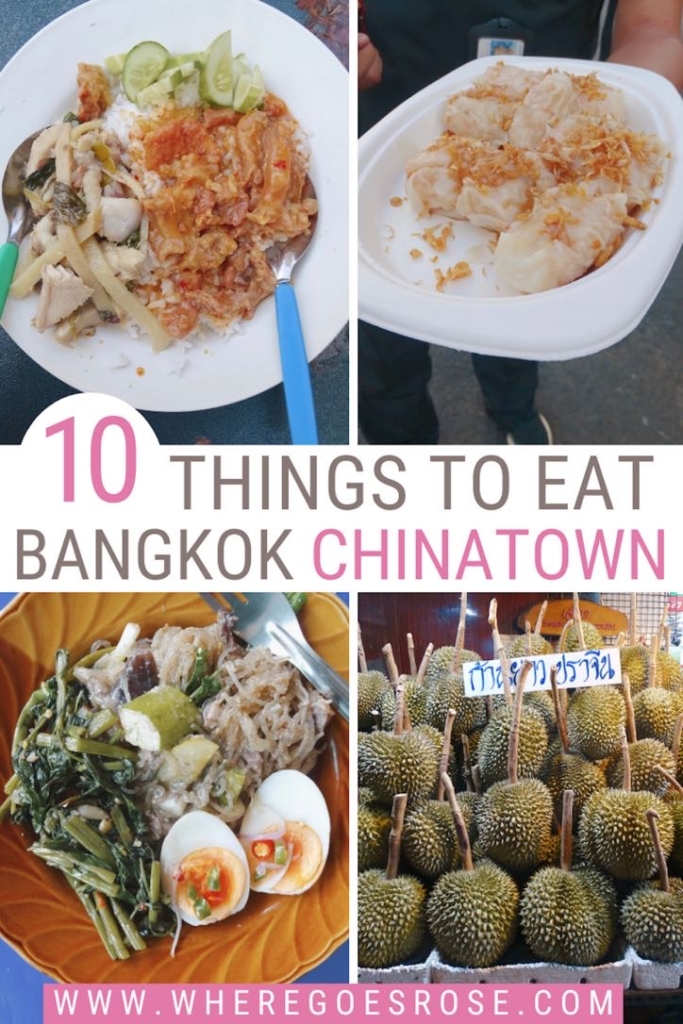 VISITING THAILAND?

These are my trusted resources:

Getting around by air – it's easy to get between cities by flight. I use Skyscanner to find the best-value flights, using the 'search by month' tool to find the cheapest dates. You can also use the 'to anywhere' feature if you're flexible on where you're going.

Buses – buses are comfy and efficient. Use 12Go to book.

Trains – these are a good option for long journeys because you have a bed rather than a seat. Use 12Go to book.

Driving in Thailand – use Rentalcars.com to compare car rentals.

For hotels, I use Booking.com – they also have self-catering apartments. You can filter by review score and price to find the best-rated budget places. For hostels, I use Hostelworld.

To save money on accommodation, I use Trusted Housesitters, a website that connects homeowners going away and travellers who can sit their homes & pets.

Browse tours and activities on GetYourGuide. I also check Viator and Klook in case they have a better price.

For food tours with passionate local chefs and foodies, check out EatWith.

Need travel insurance? I use True Traveller (for UK & Europe residents) since it's affordable but covers everything you'd need including various activities, valuables and pre-existing conditions. Unlike some companies, they insure you if you're already travelling / don't yet have your flight home booked. Get a quote.

For travel insurance for other nationalities, I recommend Hey Mundo and for long-term digital nomad travellers, I suggest Safety Wing.

Check out my resources page for more travel discounts and tips!