This post may contain affiliate links to things like tours, hotels, Amazon associates and products. These help me earn a small commission at no additional charge to you.
I spent most of my recent weekend away in the many Tepoztlán restaurants eating amazing, affordable Mexican food.

Let's be honest, my life is fairly focussed around finding food around the world! I think I exceeded my own eating standards with all the amazing food in Tepoztlán. This was in part due to the fact that there wasn't much else to do.

Tepoztlán is a cute town just over an hour's drive from Mexico City. Along with Taxco and Puebla, it's one of the best overnight trips from the capital. I really enjoyed my weekend in Tepoz, even if it wasn't jam-packed with activities.

The food in Tepoztlán is very affordable compared to Mexico City restaurants only an hour away (especially if you're eating in Roma or Condesa neighbourhoods). For more things to do and food in the capital, read my Mexico City itinerary for 5 days.
TEPOZTLAN ESSENTIALS

Accommodation: Booking.com / Hostelworld

Copy of Lonely Planet Mexico / Mexican Spanish Phrasebook
Where to eat in Tepoztlán
There's a mix of street food and sit-down restaurants in Tepoztlán. You could spend anywhere between 20 and 200 pesos for a main dish depending on what and where to eat. In this Tepoztlán food guide, I'm going to share everything we ate and drunk during our weekend.
Related read: 36 best Mexican dishes and drinks to try
Breakfast and brunch restaurants in Tepoztlán
What better way to start a Tepoztlán food guide than with the best meal of the day, brunch?

Tepoztlan definitely doesn't have such a big brunch scene as some Mexican cities but since it does receive a lot of tourists, there are a fair few options. These are some restaurants for brunch in Tepoztlán…
La Guarida de Baco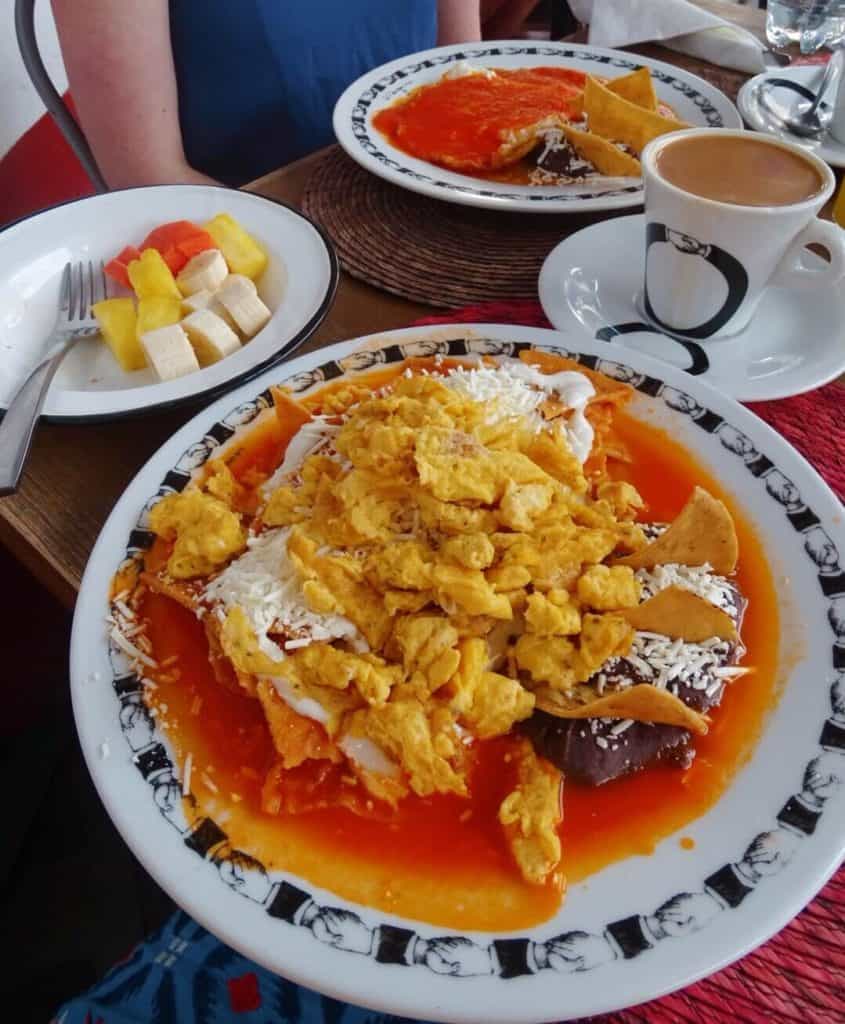 This restaurant in Tepoztlán is located beside the main market. While the food a few metres away is far cheaper, you can't beat La Guarida de Baco. Lucy and I shared huevos rancheros and chilaquiles, both under 100 pesos.

If you haven't tried chilaquiles, you need to change that! These tortilla chips with red or green salsa, cheese and egg are one of my all-time favourite Mexican dishes.

La Guarida has an outdoor terrace area where you can sit outside and soak up the vibe of the town, street performers, music and all.
El Pan Nuestro Gourmet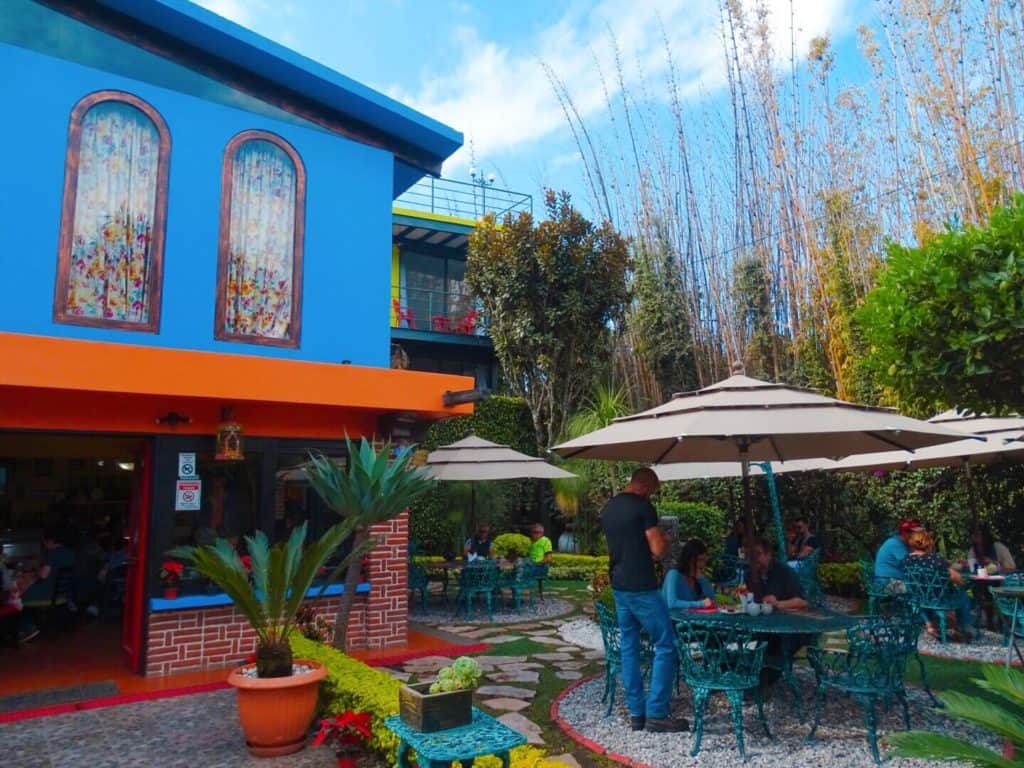 While this Tepoztlán restaurant is slightly out of town, I'd highly recommend it as one of the best places to eat in Tepoztlán. The leafy garden is a gorgeous place to eat brunch or lunch while soaking up the surroundings.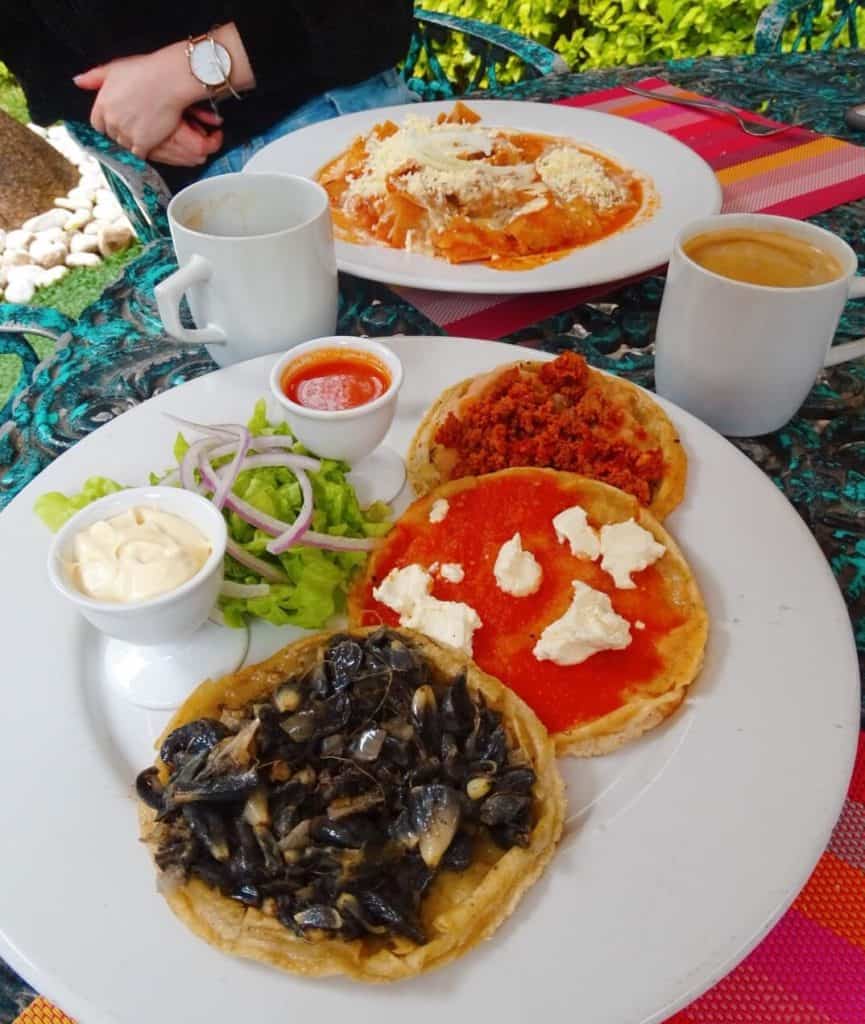 These breakfast sopes (round corn patties topped with ingredients) were perfection. The trio came with one chorizo sope, one tomato and cheese, and one huitlacoche, an earthy, mushroomy ingredient that grows on corn.

El Pan Nuestro Gourmet also has a selection of pastries baked onsite. The only downside was that they were all served in plastic, even if you ate in. Aside from this, it's one of the best restaurants in Tepoztlán for breakfast or brunch.
El Sol Restaurant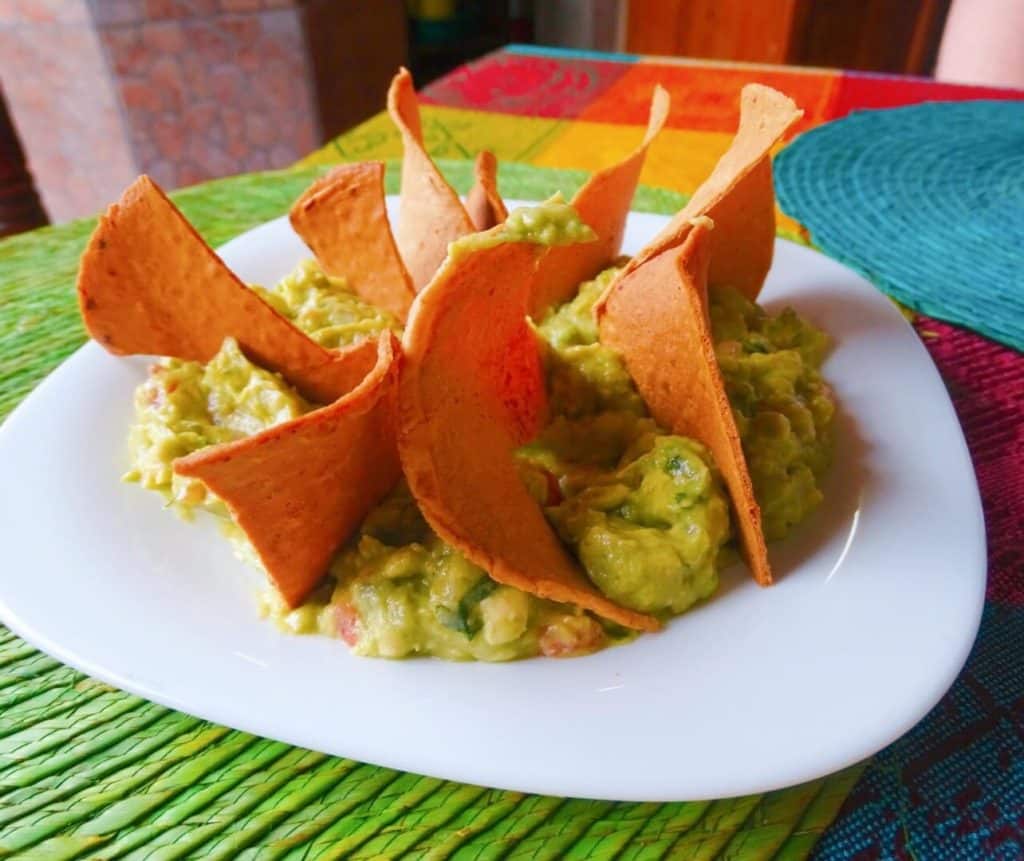 Wondering where to eat in Tepoztlán for quality local food? I would suggest El Sol Restaurant. I was excited to find chile en nogada (chilli in walnut) on the menu. This is another of my favourite Mexican dishes along with mole and chilaquiles.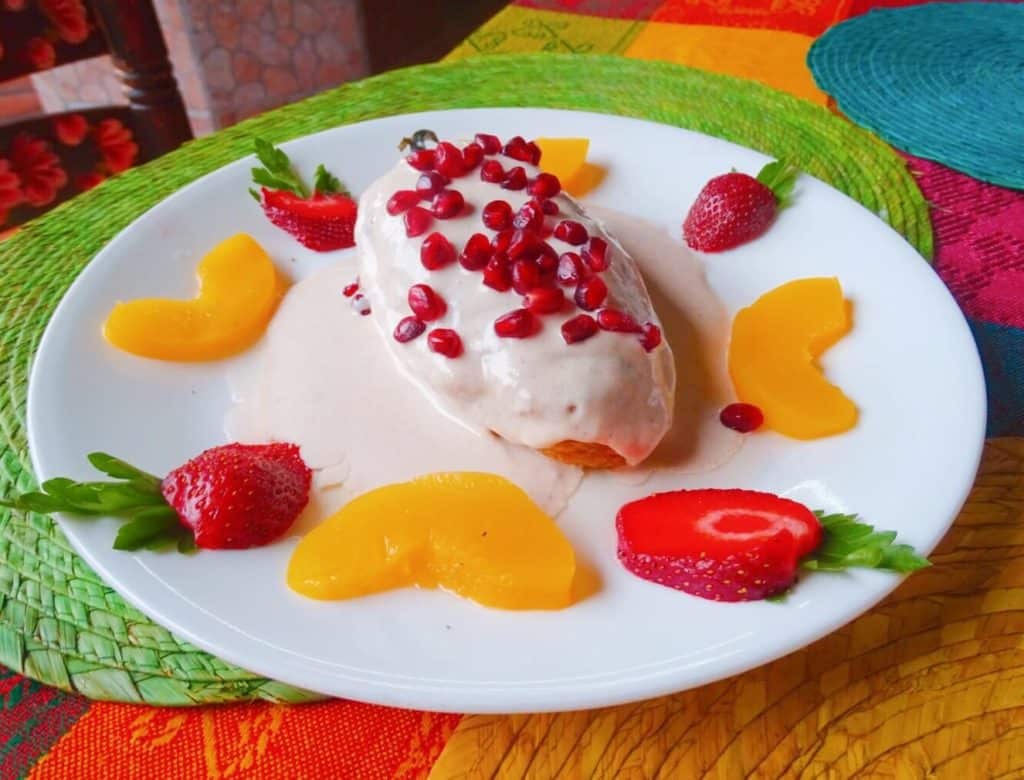 Not only was the chile en nogada really tasty and well presented, but the guacamole was delicious. This was definitely some of the best food in Tepoztlán and not too expensive either.
Pulques El Nectar Tepozteco
One thing you must try in Mexico is pulque. It's a typical alcoholic Mexican drink that's quite different to tequila and mezcal. It's a fermented beverage a bit like kombucha but creamier.

At this pulqueria, you can try all kinds of flavours like marzipan, chocolate fruit. They're only around 20 pesos each.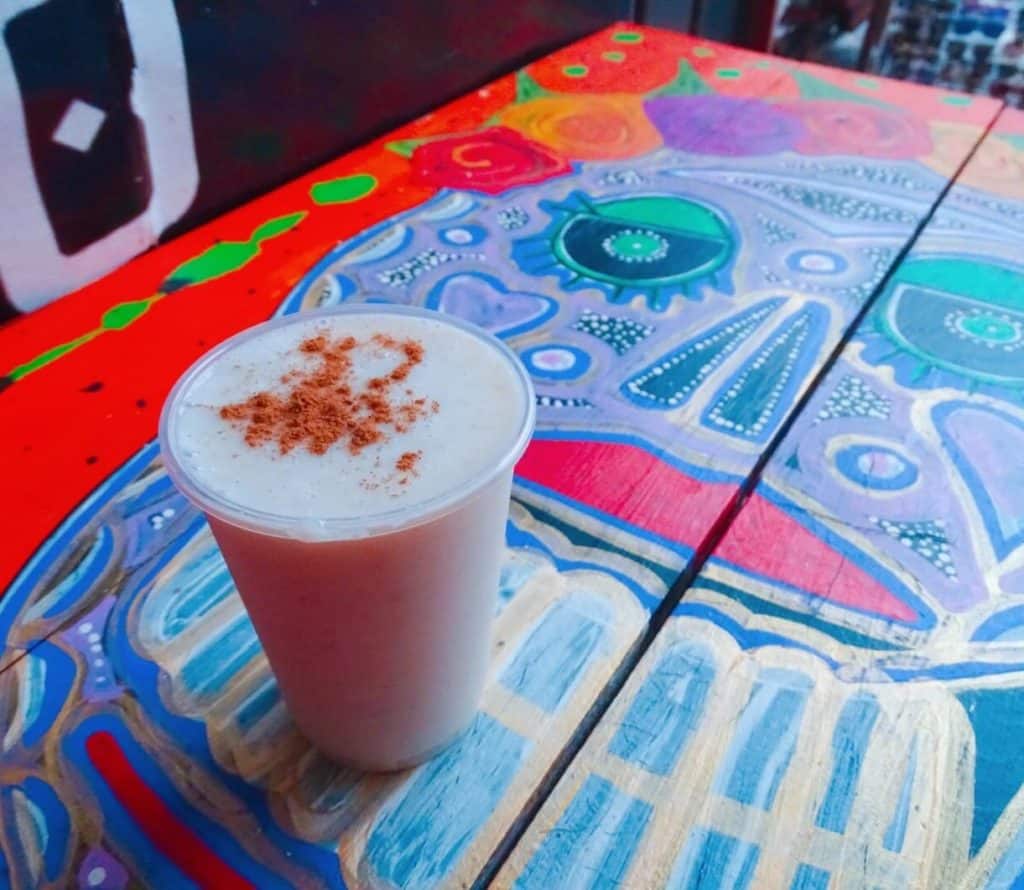 This colourful pulqueria is only open Friday to Sunday so swing by if you're visiting over the weekend.
Street food in Tepoztlán
Where to eat in Tepoztlán? It's Mexico so the street, of course!

Some of the best food in Tepoztlán is the cheapest, setting you back just a handful of pesos. Often when you opt for cheap food around the world it's because your budget's tight, but in Tepoztlán, the food gets tastier the less you pay.

Here are some of the street food options in Tepoztlán…
Chapulines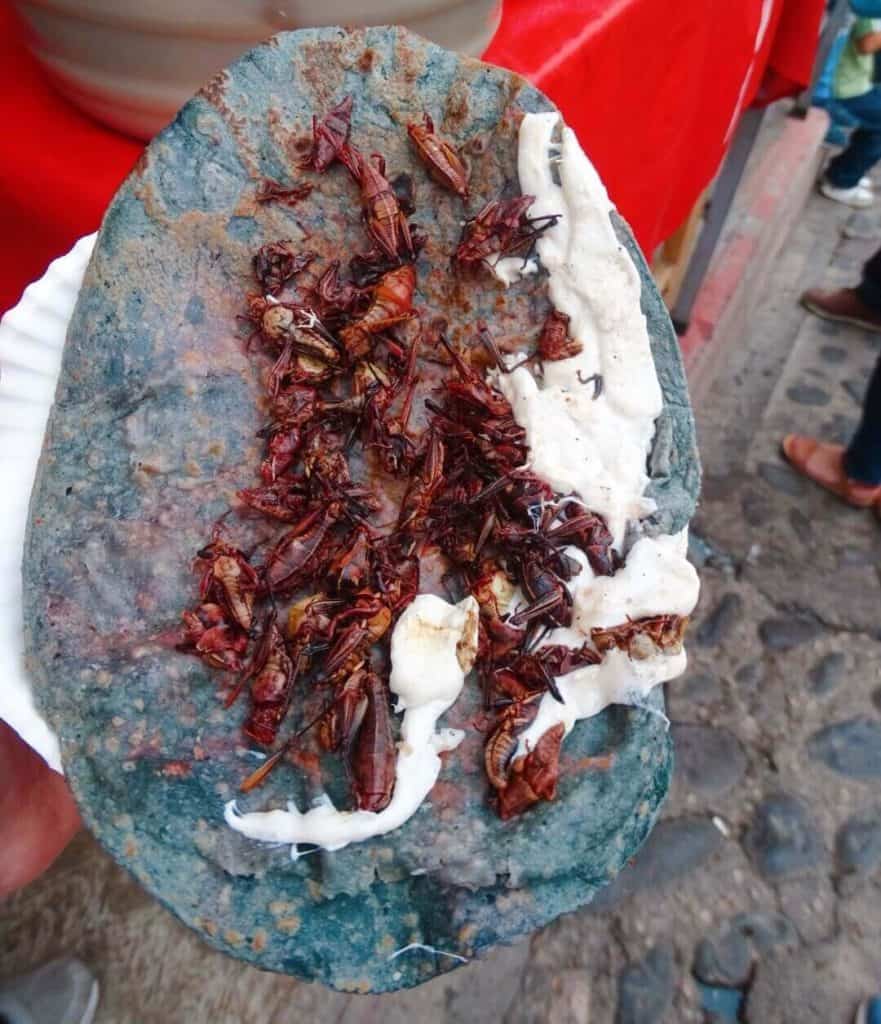 Known as grasshoppers to English speakers, these morsels are for adventurous eaters.

In other countries around the world, I've only tried insects as a dare and they've never been particularly tasty. Honestly, these chapulines are actually very flavoursome: salty, crunchy, a bit like popcorn.

Do you dare try them? Some of my friends just can't get over seeing their heads as they eat them!

Itacates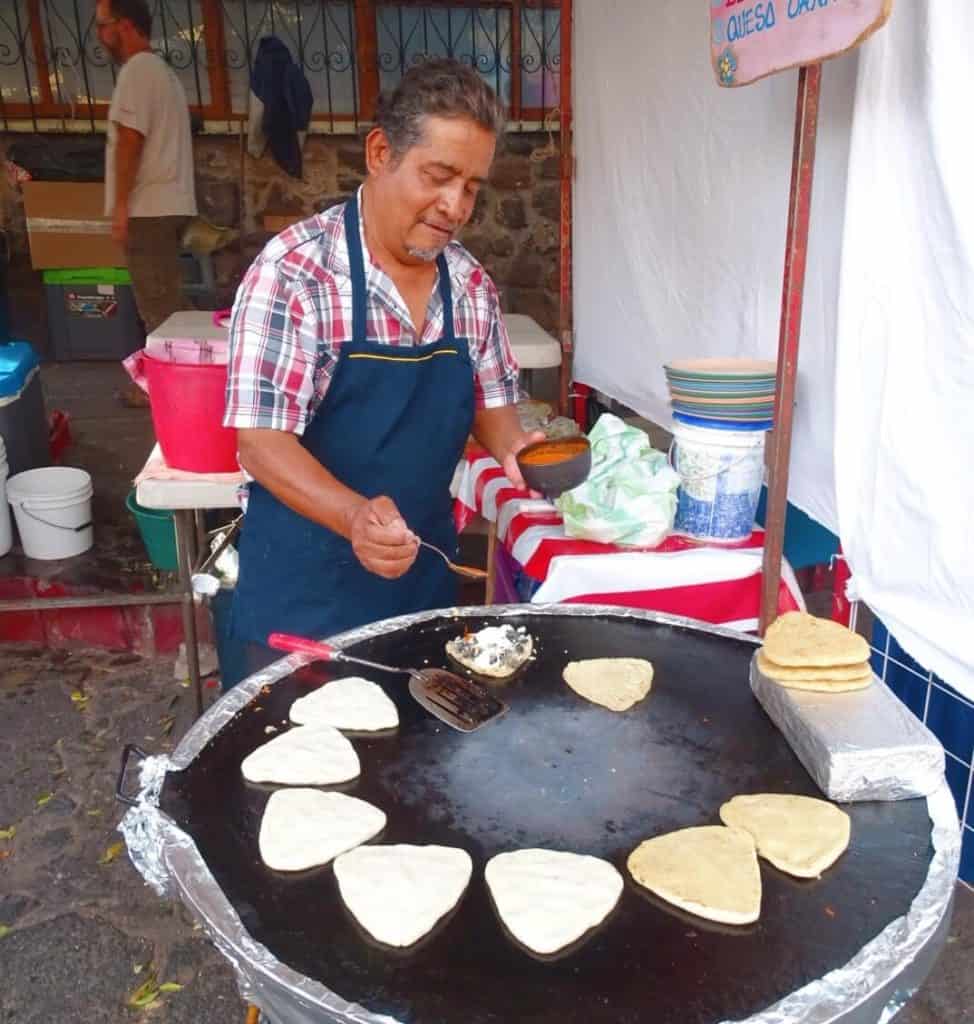 I was excited to try these itacates because I'd never seen them in Mexico City despite being just an hour away. I believe they may be unique to Tepoztlan.

Granted, they're similar to sopes, huaraches or gorditas since they're made with corn and served with local ingredients, but it's always good to try something new.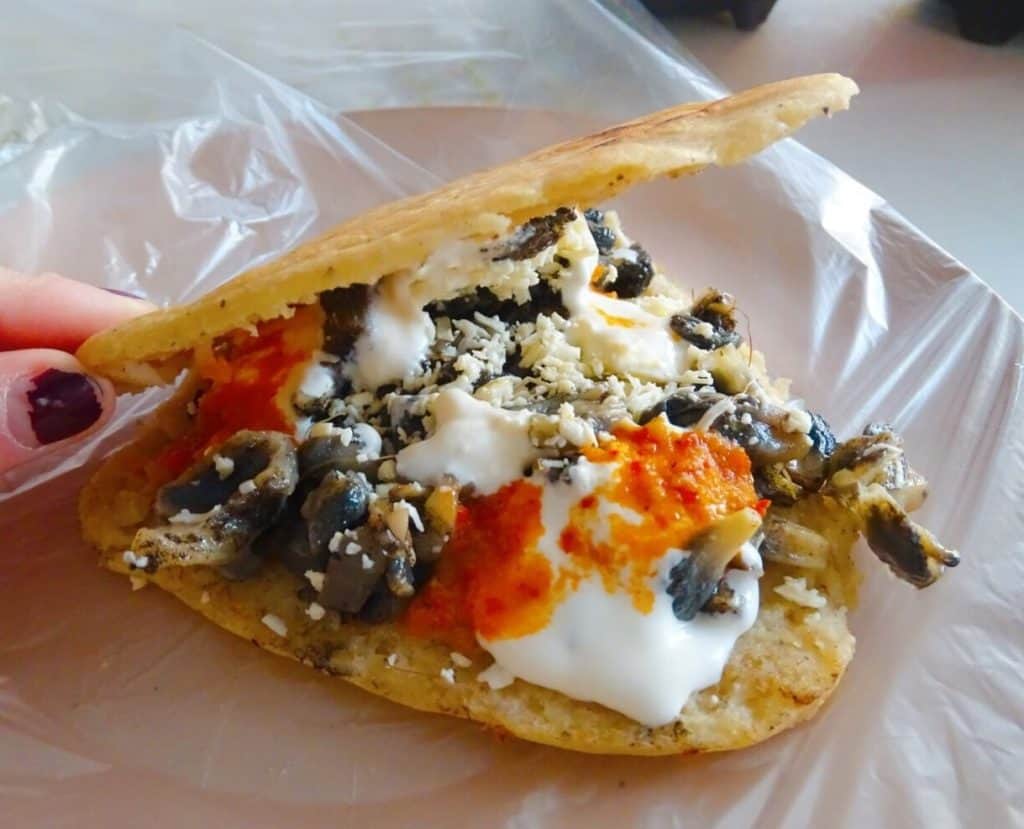 We ate itacates for 20 pesos outside Tepoztlán Market. They were really tasty, stuffed with huitlacoche, cheese, cream and salsa.
Churros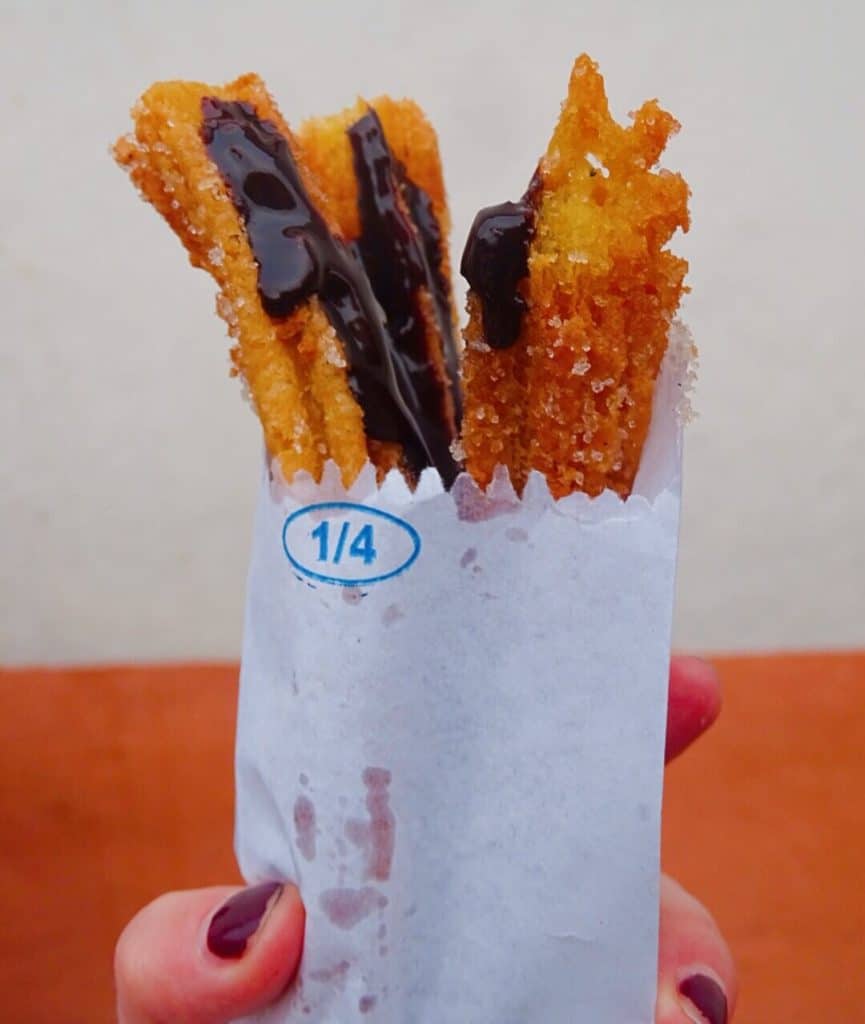 Churros aren't unique to Tepoztlán (or even Mexico) but they are one of the best foods to try during your trip. You'll find warm churros coated with sugar or cinnamon served on many street corners, drizzled with chocolate sauce. Don't pay more than 20 pesos per packet.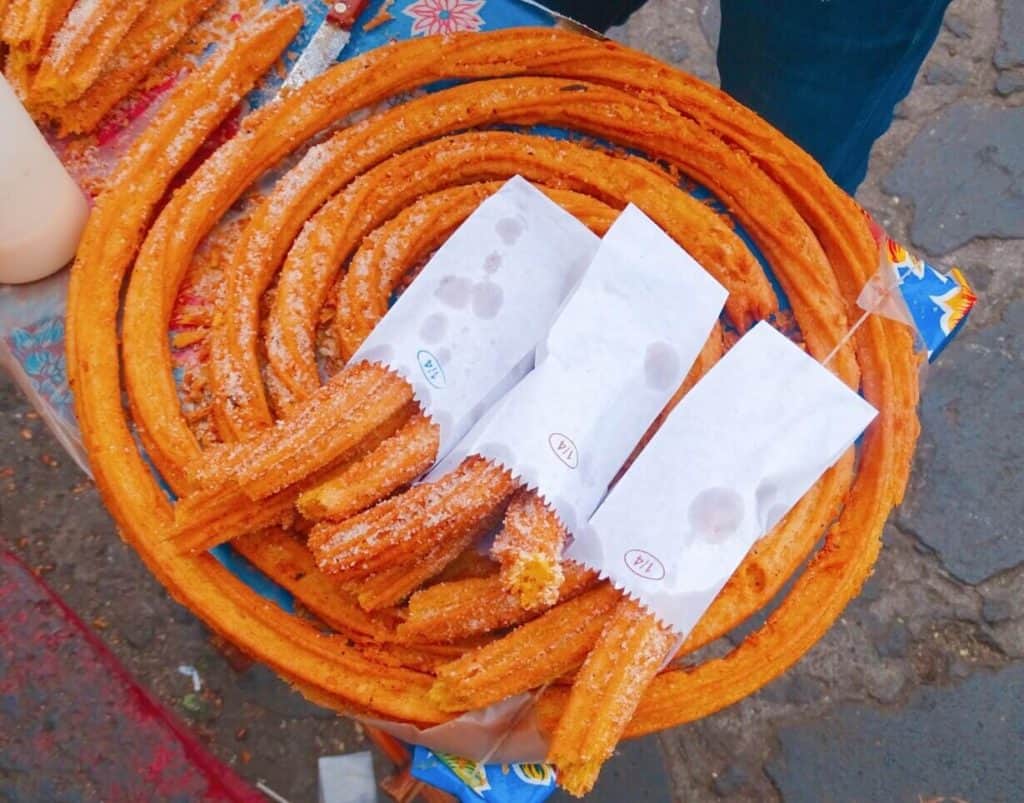 Micheladas and more
How crazy is this drink?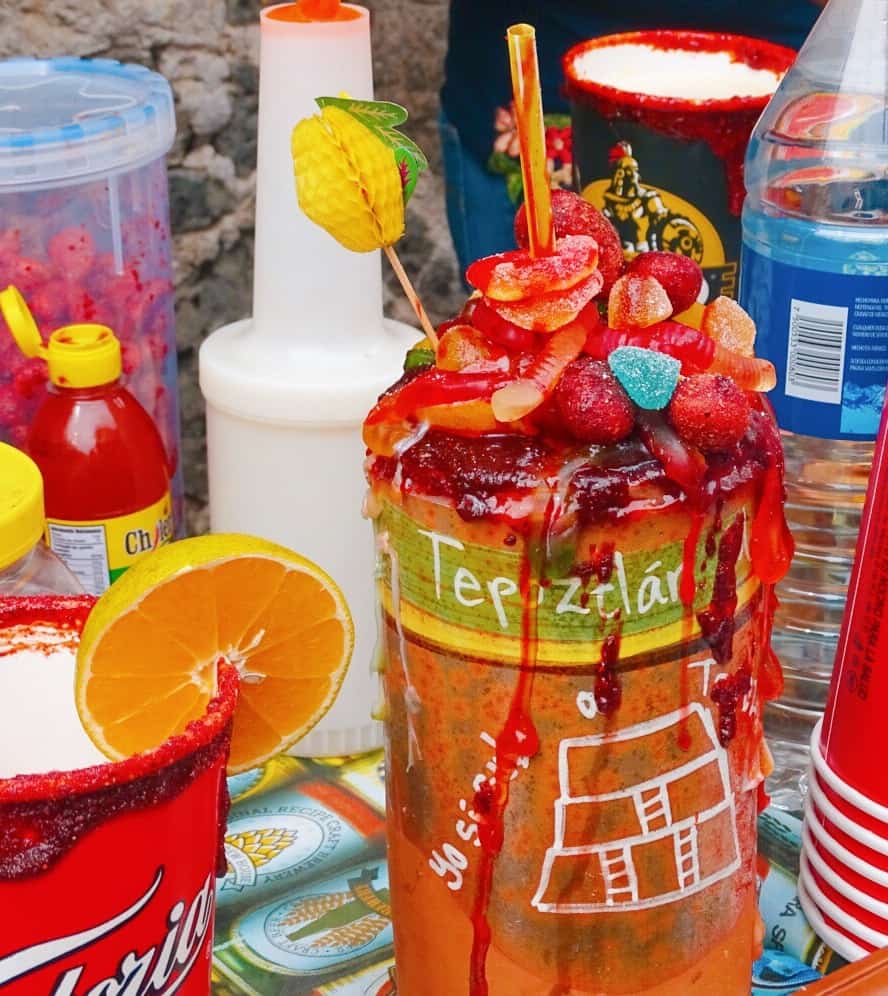 If you haven't heard of micheladas yet, they're a type of beer served with lime juice, spice and sometimes tomato juice. Vendors like to compete to make them as extra as possible, adding gummy sweets, syrup and decorations.

You'll find them everywhere in Tepoztlán. Luckily, you'll also find plain old delicious drinks too like pina coladas and margaritas. These are cheap, served on the street for 60 pesos or so during the evenings.
Nieve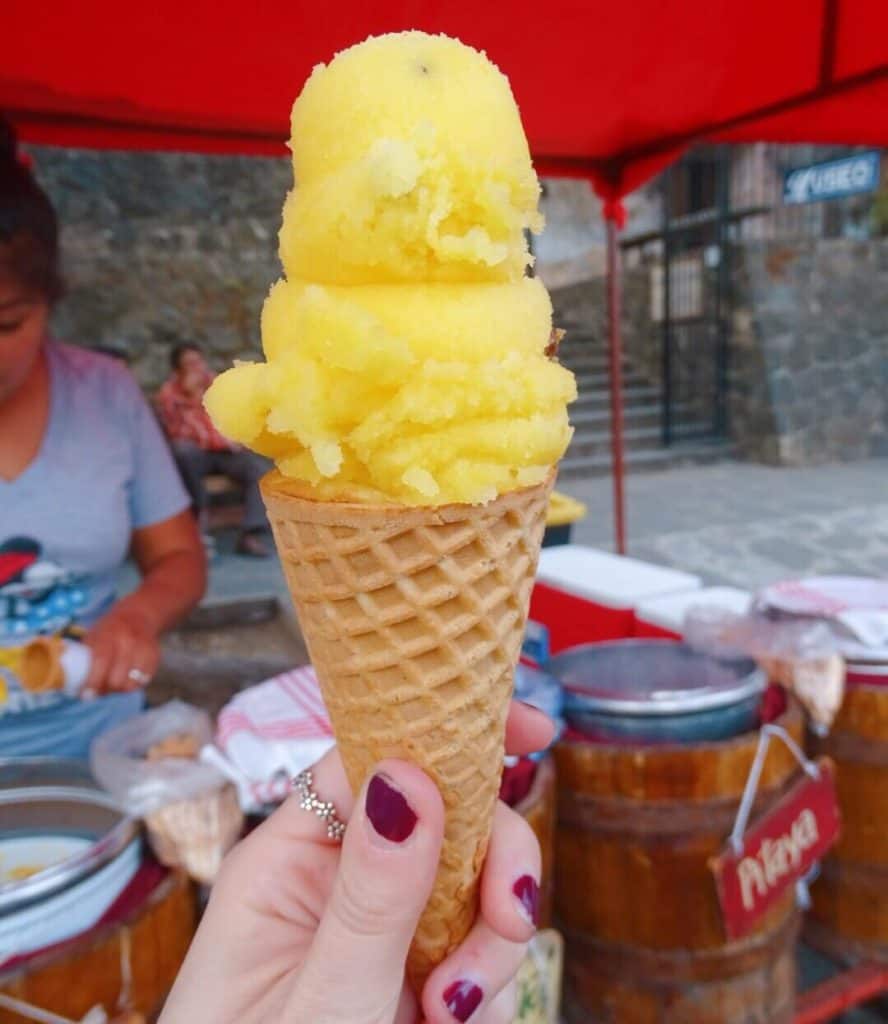 Nieve is a type of ice cream in Mexico made without milk, a bit like sorbet. For full-fat creamy ice cream, keep an eye out for helado instead.

In Tepoztlán, there are nieve stalls lining the main street. Try coconut (coco) and passionfruit (maracuya).
Mercado De Comida
Speaking of street food in Tepoztlán, there's one place you should not miss. Mercado de Comida is without doubt the best place to eat in Tepoztlán, serving all your classic Mexican foods as well as some I'd never seen before. This included…
Pre-hispanic food
I'd yet to try pre-hispanic food in Mexico but I loved it. I've since learnt that pork and other meats came over with the Spanish and beforehand, the locals would have been predominantly vegetarian, save for seafood.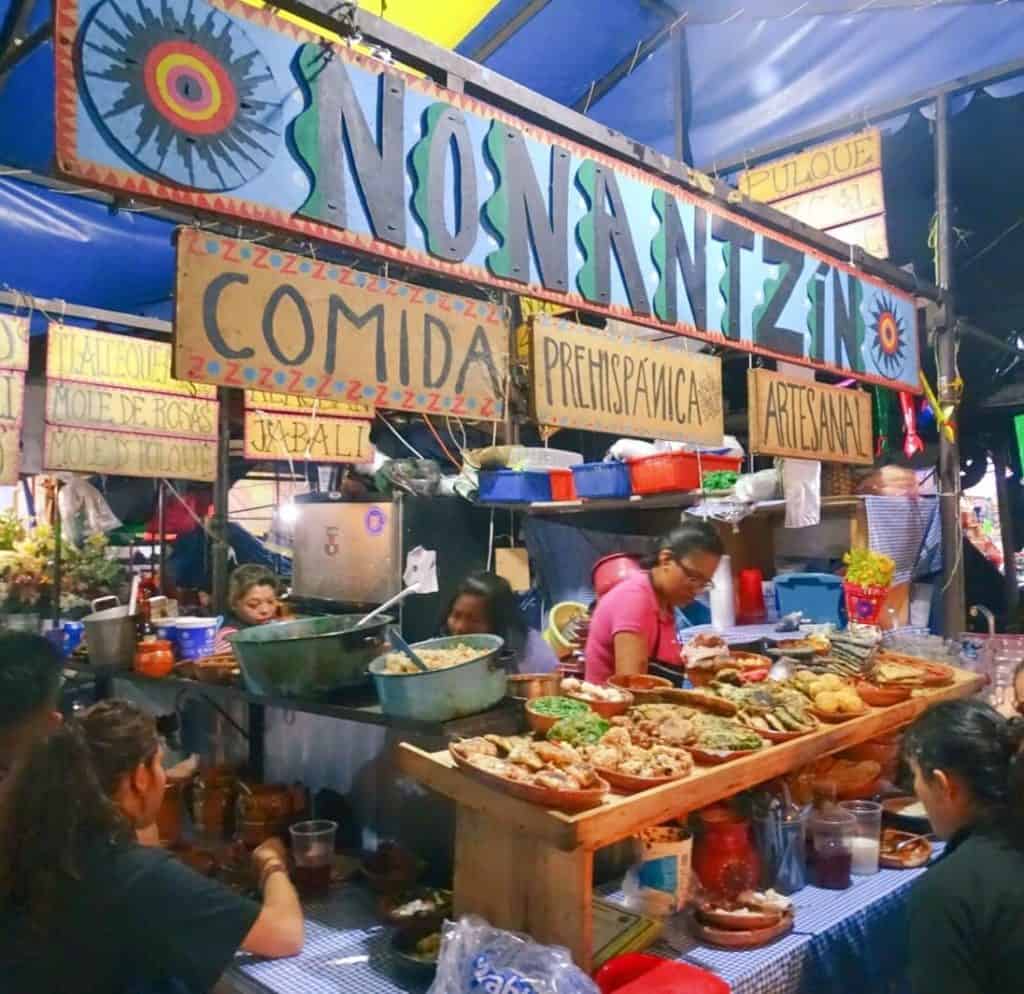 For that reason, the best food in Tepoztlán for veggies is served at Mercado de Comida. We loved these flavoursome vegan dishes like pink hibiscus burgers / squash and ginger burgers. They were served with mole sauce and lacked absolutely nothing in flavour.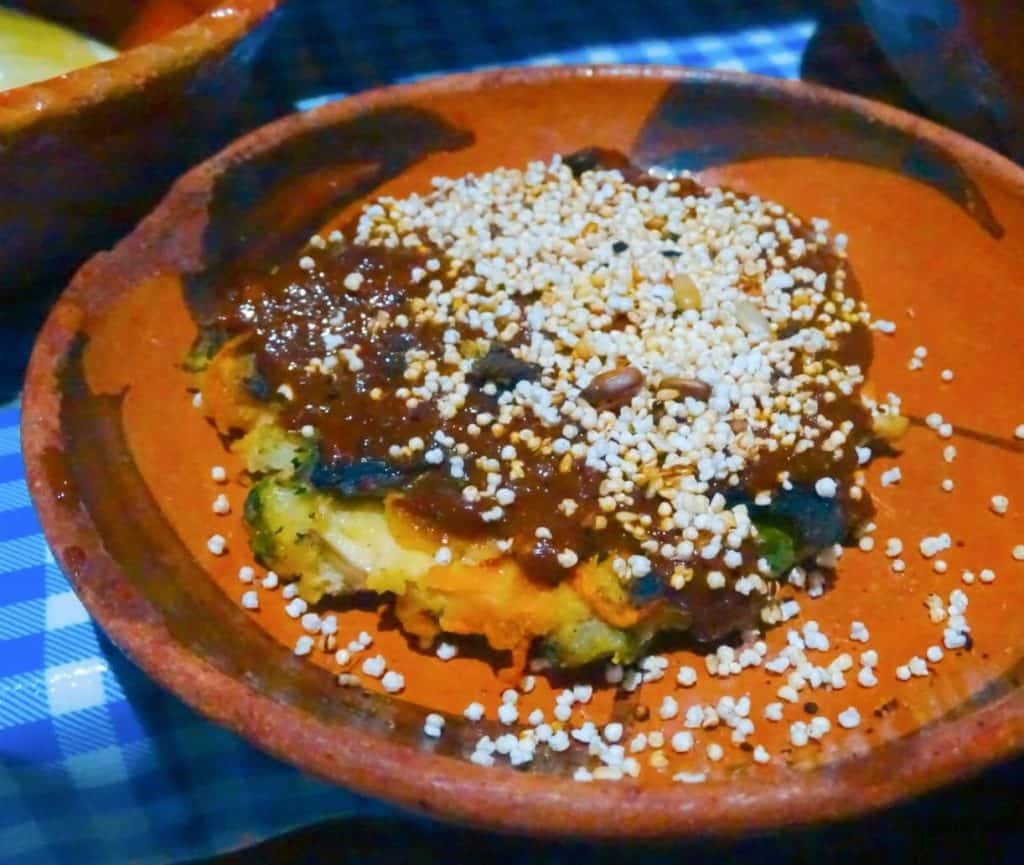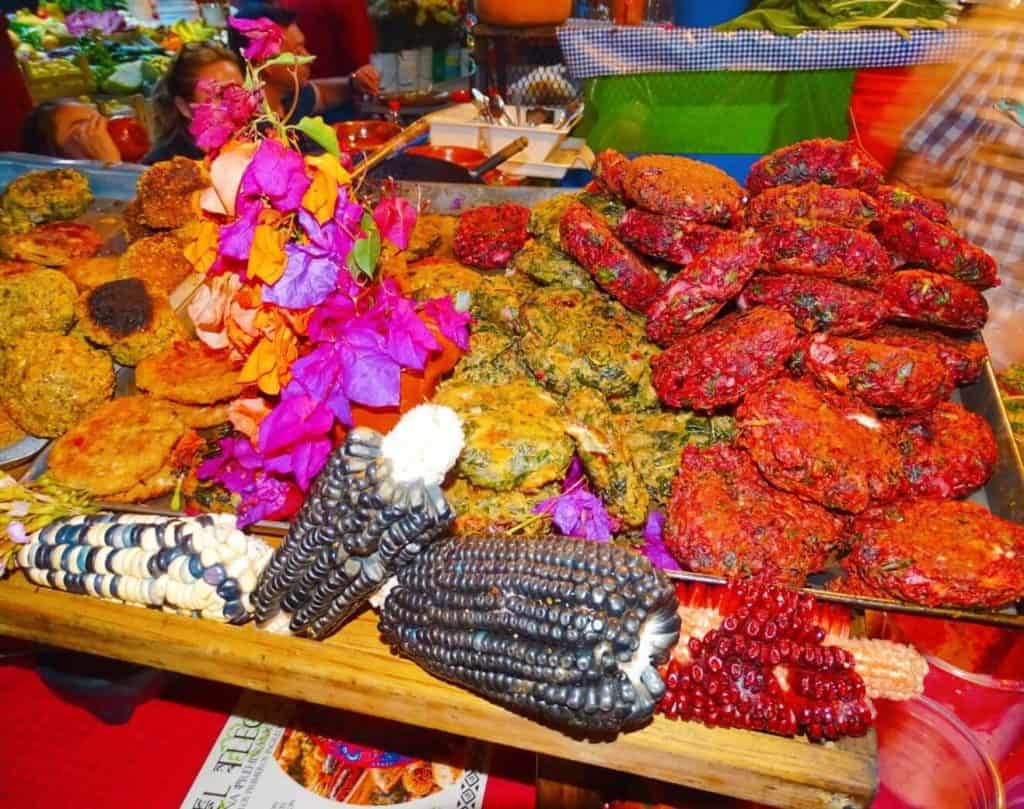 The prehispanic veggie food in Tepoztlán's market isn't as cheap as the other stands. We paid 100 pesos for a burger with rice and mole. But it was so worth it!
Agua frescas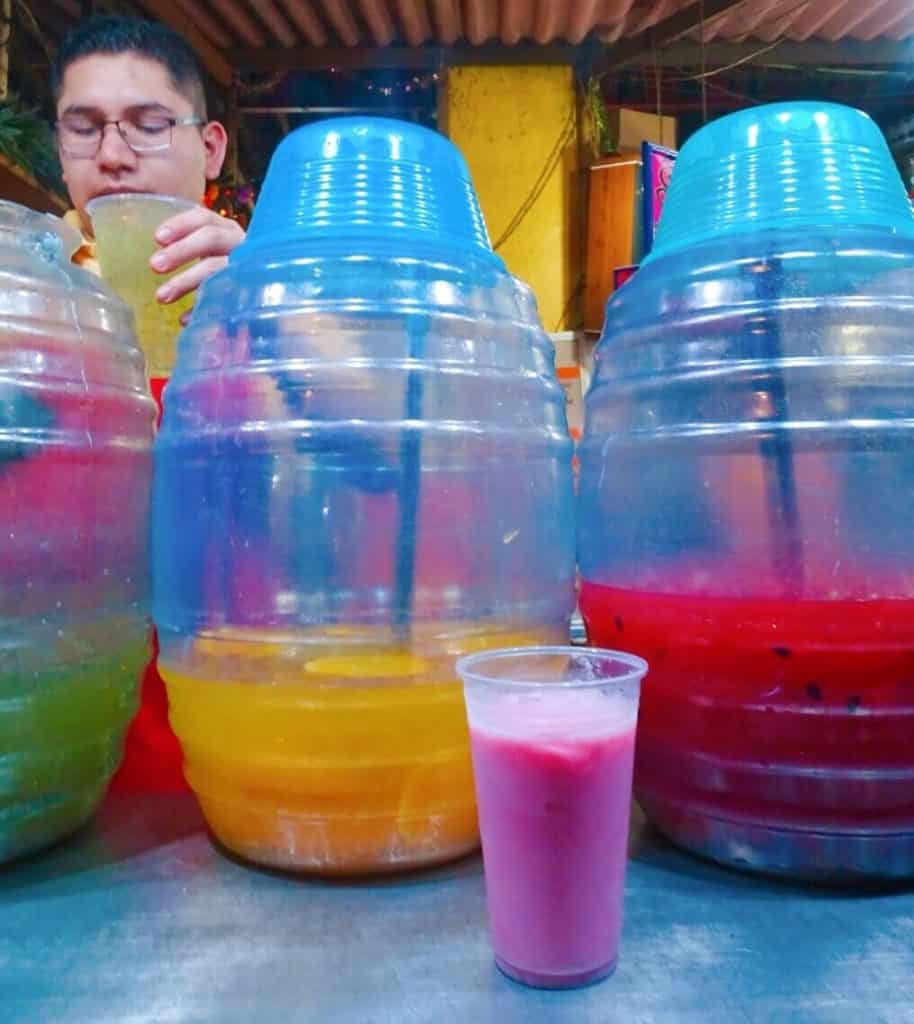 Don't miss the aqua frescas in Tepoztlán market. These refreshing fruit waters come in flavours like lemon and chia, hibiscus, strawberry, watermelon and more. I'm addicted.
Eating sustainably in Mexico
Unfortunately, a lot of plastic is used when it comes to street food in Mexico. I travel with the following items to reduce waste:
When travelling in Mexico, check out EatWith. They host food tours, cooking classes and hosted meals with local chefs and foodies
Thanks for reading my Tepoztlan food guide!
Check out my other Mexico blogs:
See you next time for more adventures,
Rose
Ps. Liked these Tepoztlán restaurants? Pin this for later!