This post may contain affiliate links to things like tours, hotels, Amazon associates and products. These help me earn a small commission at no additional charge to you.
If you've read my blog, been on my Instagram or ever spoken to me, you'll know I get quite excited by colourful things.

My recent adventure to the colourful houses of Bristol was blogging goals. In fact, the whole city is full of street art and multi-coloured buildings.
BRISTOL ESSENTIALS

Bristol Lonely Planet

Accommodation: Booking.com

Activities: GetYourGuide

Getting there: Trainline / Busbud
With just over 24 hours in Bristol, England, and most of that seeing friends, I had to speed walk and at points, run, to get over 400 photos on my camera and phone, make Instagram videos and take down all the facts and locations so I could write it up correctly. Add a four-hour journey home and I needed COFFEE to get through Monday!
So that sums up my enthusiasm to see colourful places. Back on to topic…
The colourful houses of Clifton Bristol
Clifton is a beautiful neighbourhood of Bristol – it's a bit upmarket and has lots of artisan coffee and middle-class residents. I'm not promising you could afford to buy a house there but you can definitely have an awesome visit – and if you do a tour of the colourful houses like I did, it's free.

The area is actually really big and is loosely defined as the area between Clifton Downs station on Whiteladies Road all the way to the river. On Whiteladies Road there are loads of shops and restaurants, and there's a similar vibe on Pembroke Street and Regent Street.

While you could spend ages in Clifton, I'd specifically recommend a stroll over to the colourful houses close to the river. I'll walk you through where to find them in this guide.
Begin on Cliftonwood Crescent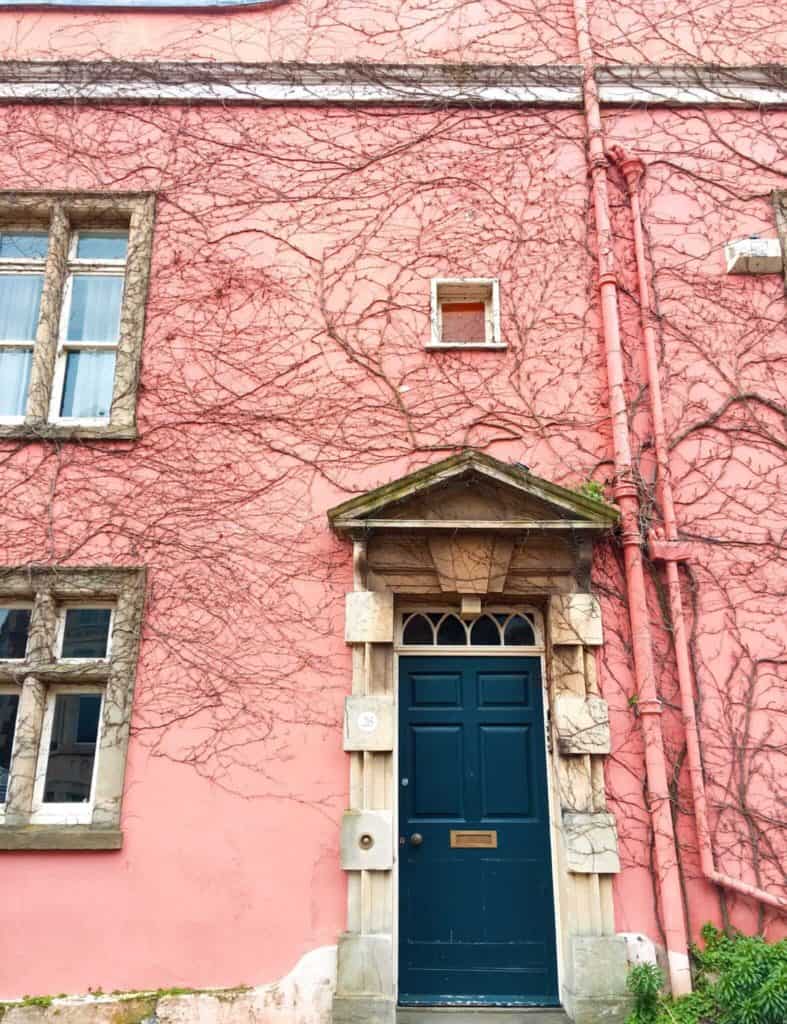 I approached Cliftonwood from town and right before arriving had climbed the Cabot Tower meaning I'd just spied these colourful houses from above. I was excited. This pretty pink house was the first one I came to so I knew I was in for good things.

Cliftonwood Crescent is a long road where every single house is a different bright shade and lots have vibrant doors which contrast against the rest of the building.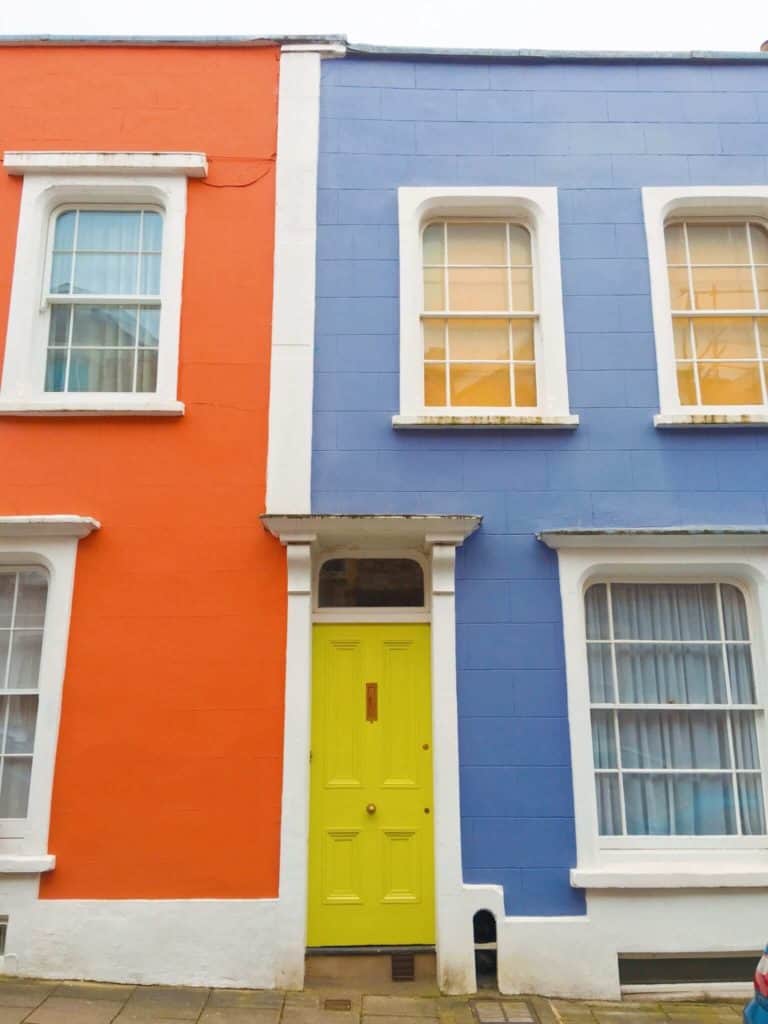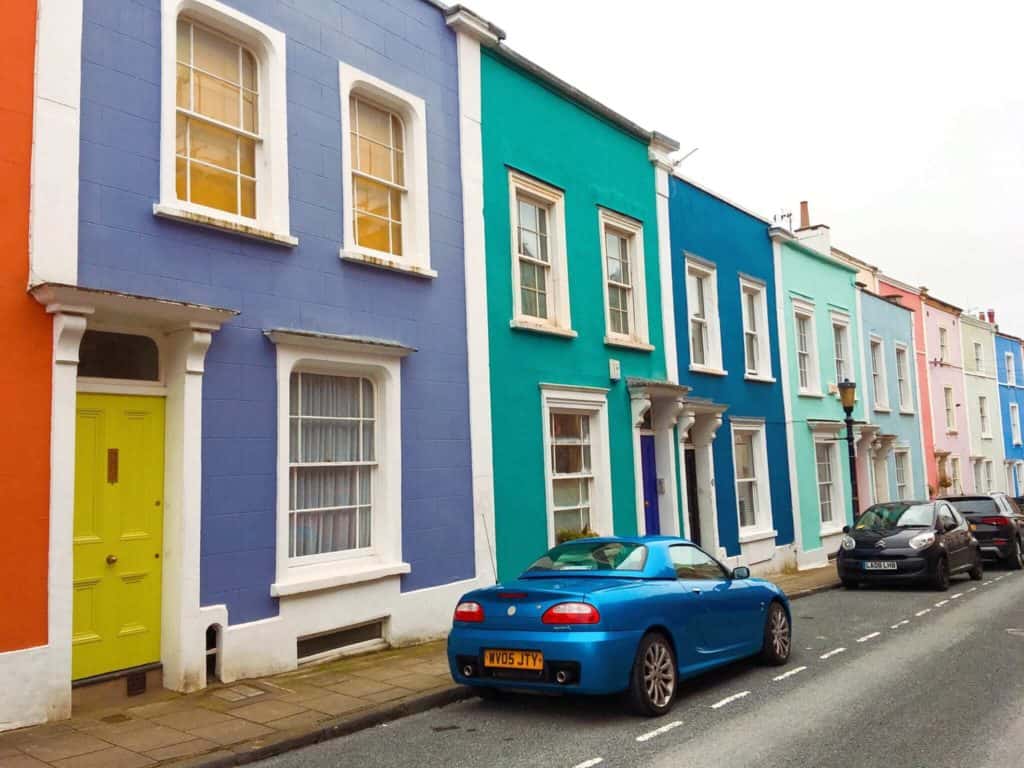 Church Lane
Cliftonwood Crescent joins on to Church Lane where the houses are smaller but if possible, even brighter.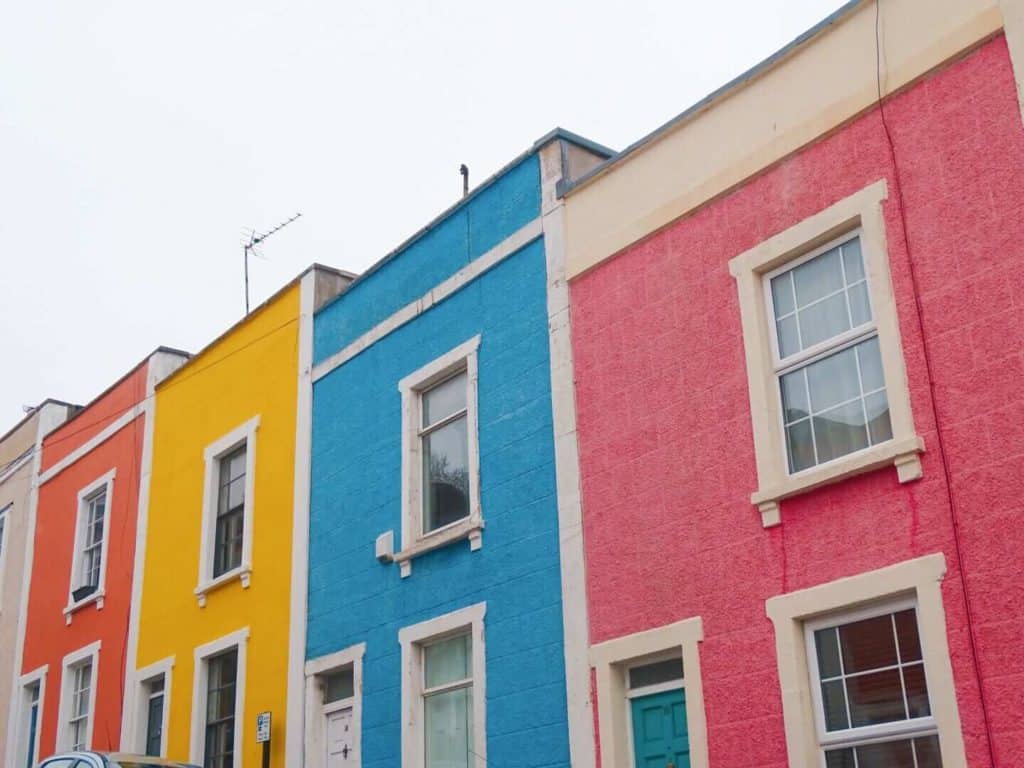 The Lion pub
Don't miss The Lion on the corner of Church Lane and Argyle Place. I didn't go in myself but it looked like a cosy spot for a rest break and had a colourful mosaic on the outside wall – the first of many I saw in the area.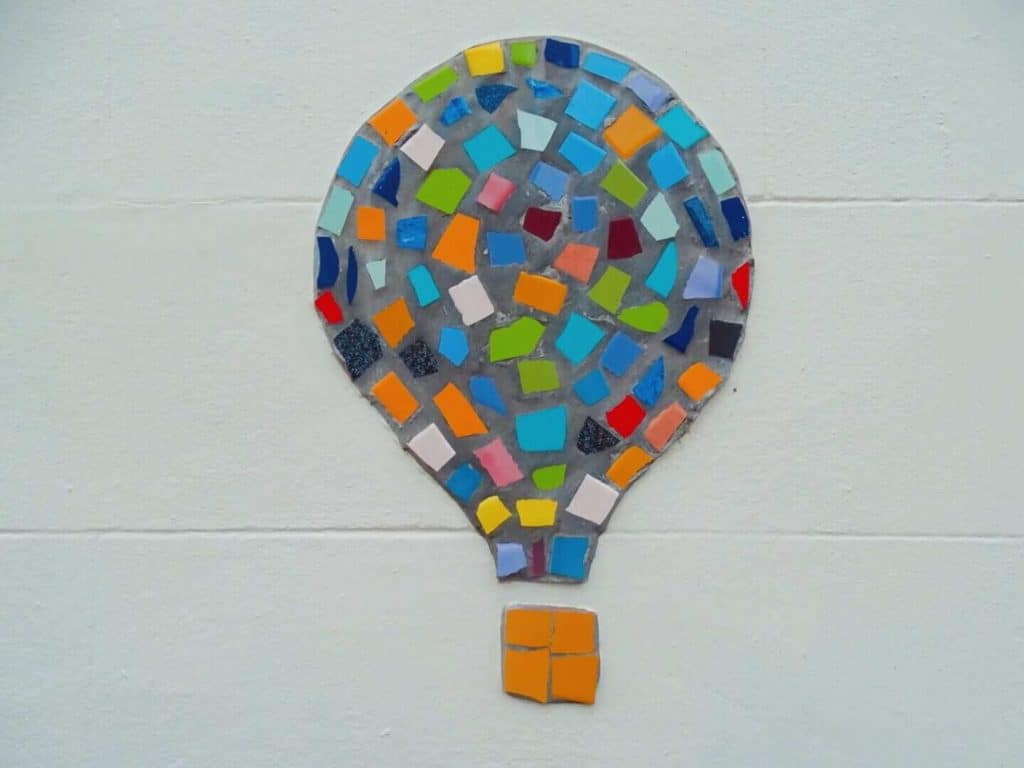 If you're wondering if it's a lightbulb or an air balloon – it's the second! Bristol is well known for its balloon festival held every August and I think it's something I'm going to need to experience. The photos I've seen of balloons peppering the horizon alongside Clifton Suspension Bridge look truly stunning.
Argyle Place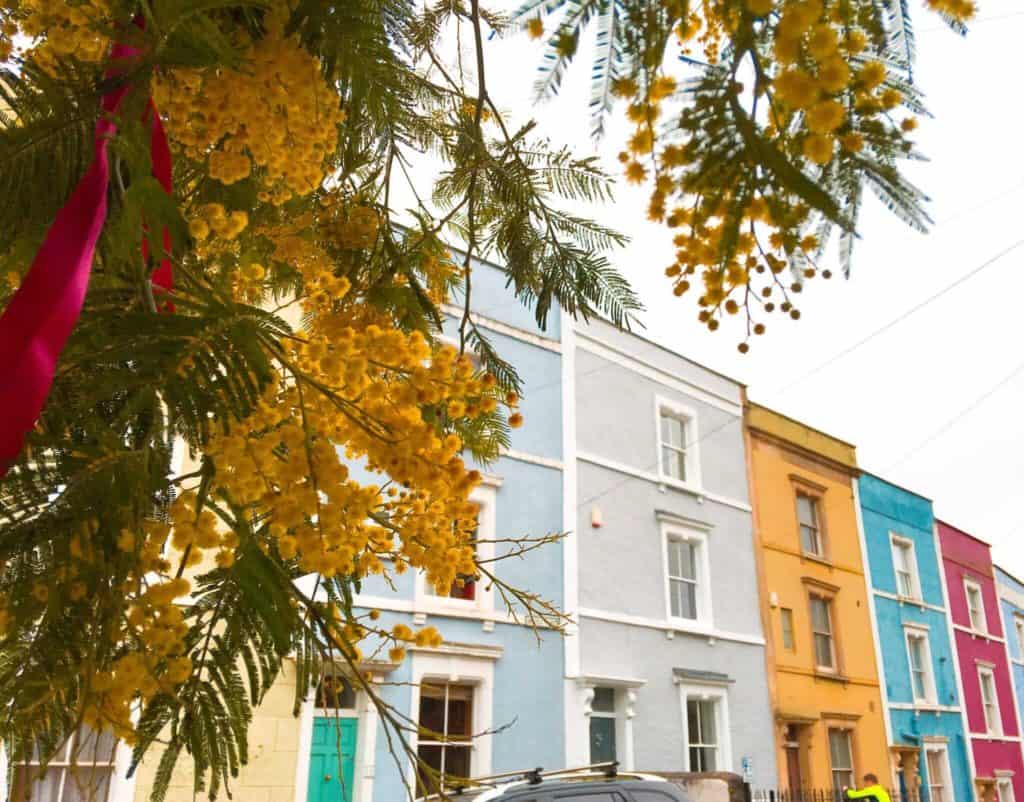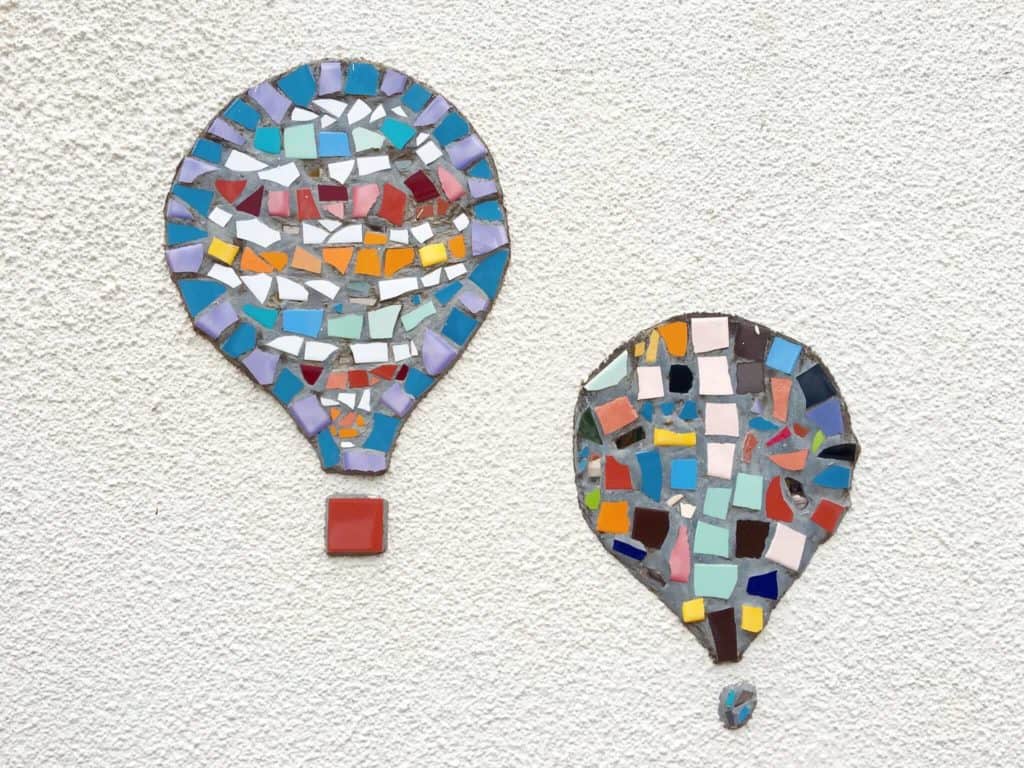 There are more painted houses on Argyle Place (but I'm guessing that doesn't surprise you!) as well as a second balloon mosaic.
Ambrose Road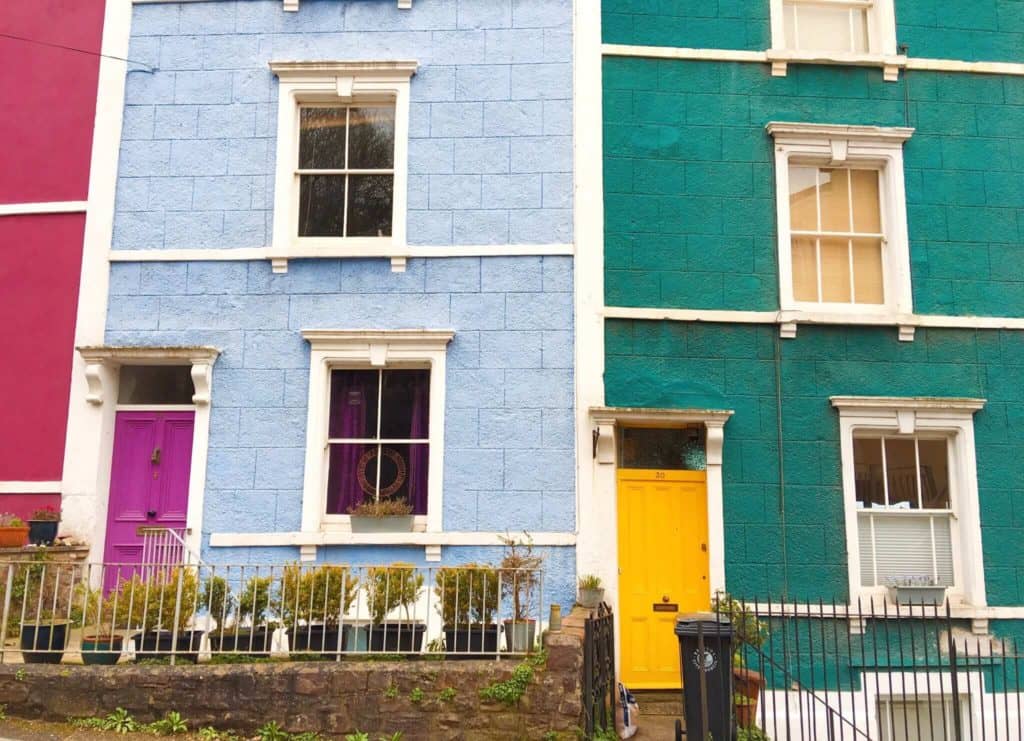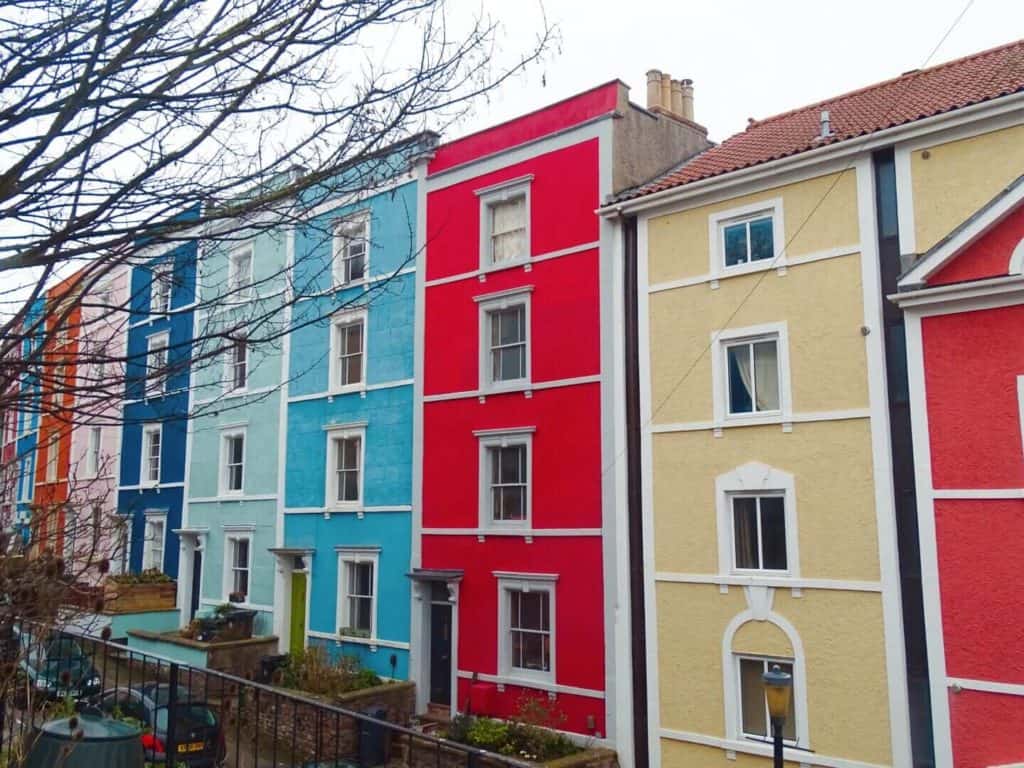 Next, you'll have a choice of streets to choose from – Ambrose Road and Ambra Vale East. Whichever one you pick, do a loop and you'll end up on the other one. I started with Ambrose – v. colourful!
Ambra Vale South
This street is a very small one but no less deserving of a visit – especially because you get a viewpoint of both this street and Ambrose Road at the same time.
Ambra Vale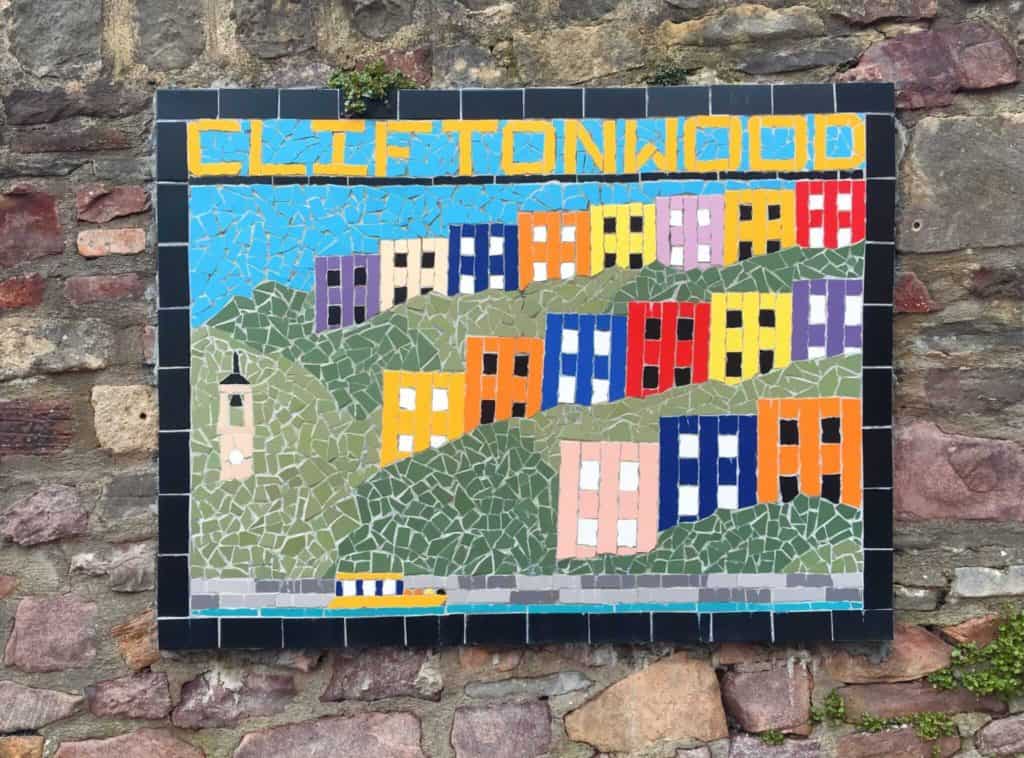 Lastly, there aren't loads of colourful houses on Ambra Vale but I did love this mosaic of the area. A colourful image of the colourful houses? Now this is the kind of thing I'd hang in my living room.
Tips for your visit
Be mindful of the neighbours. Clifton isn't a busy city centre or attraction built for tourists. It's a residential area where people in the windows are cooking, relaxing and living their private lives – so don't be TOO forceful with your lens. I avoided getting people in my photos and for the most part tried to take pictures of streets as a whole rather than individual homes.

No one made me do this but when you're in the area you'll know what I mean… Lots of bloggers and 'grammers come to this area of Clifton but it doesn't feel as 'discovered' as the colourful homes of Notting Hill or Camden.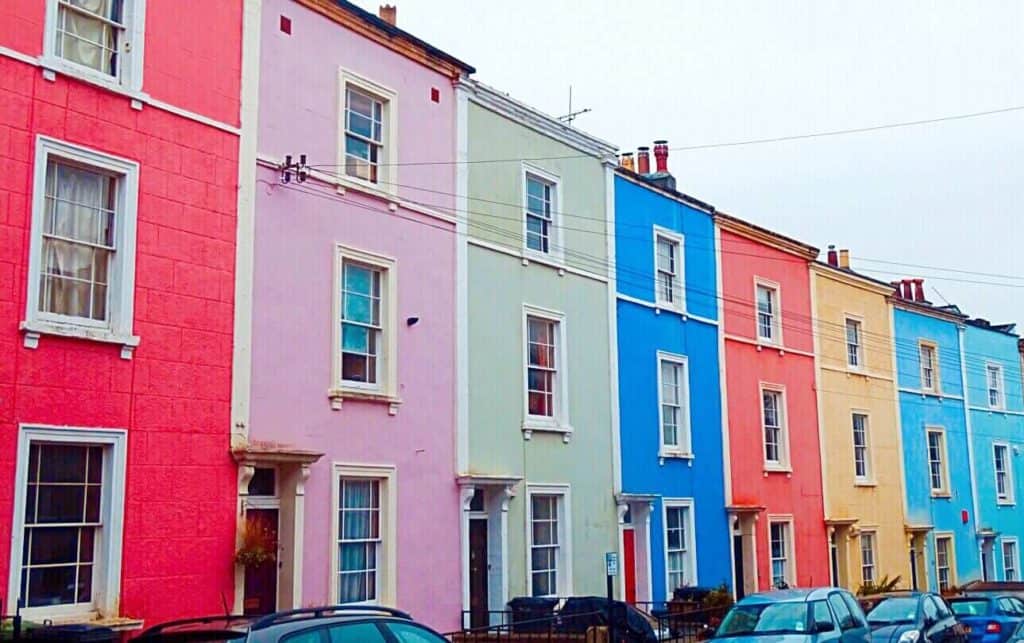 Where to go after
Head to Regent Street which is a 10-minute walk away. After all my trekking around and photo-taking I was in need of a coffee and sit down… Luckily I discovered Primrose Cafe which is a cosy hang out with tasty lunches and baked goods.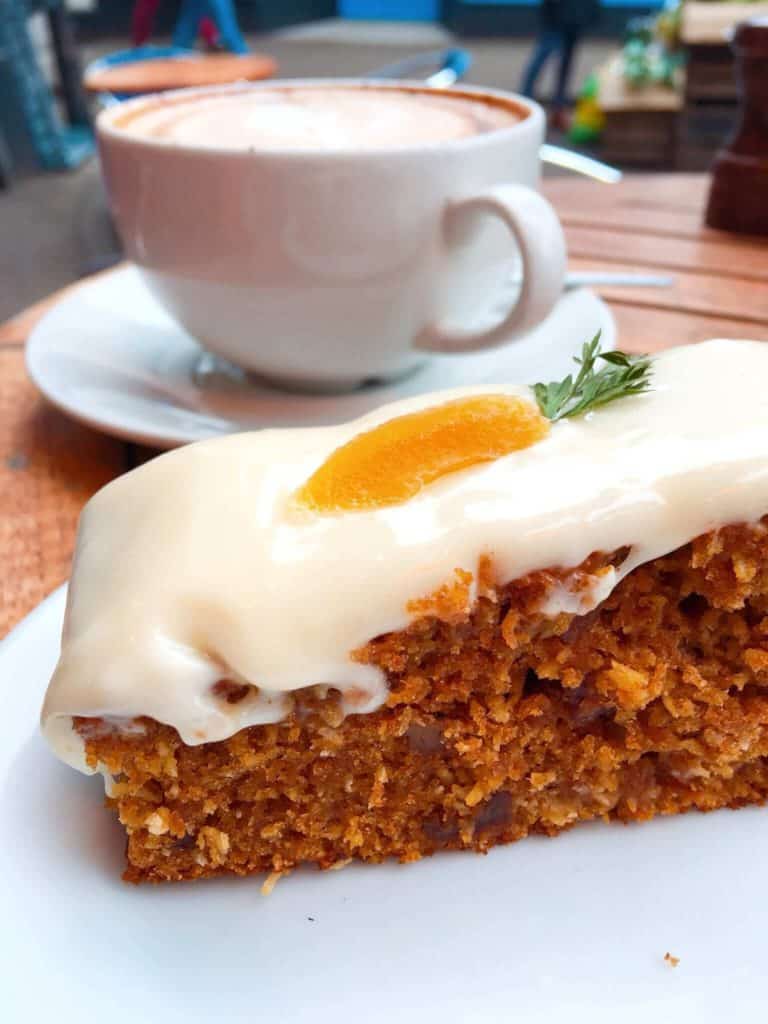 It was exactly what I needed and I reviewed my photos while eating carrot cake. A successful afternoon.

My total spend from exploring the colourful houses of Clifton?

£5.50 (coffee and cake). Bargain!
Need somewhere to stay near Clifton?
Check out the Clifton Hotel (£68pn) or this self-catering private apartment off Whiteladies Road (£100pn).
Thanks for reading!
If you liked it, please share it 🙂
If you're looking for Bristol & further England inspo, check out:
See you next time for more adventures,
Rose
Follow for more UK content on Instagram, Facebook, Twitter and YouTube.
Ps. Pin this for later!