This post may contain affiliate links to things like tours, hotels, Amazon associates and products. These help me earn a small commission at no additional charge to you.
For the second edition of my work abroad interview series, I'll be talking to Hazel about her adventures as a tour guide for travel company, Contiki.

This is a career path I've always been curious about. Getting paid to travel and show other people around a country? It certainly sounds like travel goals!

But as a travel blogger, I know that even the most glamourous-sounding jobs can be hard work and a lot less desirable off paper. The idea of difficult customers and having to be always 'on' could potentially be exhausting. And would you get bored of visiting the same places on repeat?

Hazel's here to spill the tea on working abroad as a tour guide in Italy…
Check out the first interview in this series on teaching English online with April.
Hi Hazel! What drew you to the idea of being a trip manager? How did you find out about it?
After living in Australia and Canada, I found myself back in the UK and knew I didn't want to live there. I wanted the challenge of living in a country with a different language.

I knew travel was what made me come alive and that I wanted to live in a European country. I love working with people, I wanted to travel for work, and the number one thing I wrote down from day one was, I wanted to inspire others.

Travel has created so many opportunities for me, and I wanted to open peoples' minds and have fun along the way.

I literally Googled 'travel leader jobs Europe' and discovered there was such a job as Travel Manager! I applied for the role in different countries that I wanted to live in. I researched the companies and their place in the travel industry while waiting to see if I got interviews.
If someone wanted to become a trip manager, how would they go about it?
You can Google the companies that have roles – there are so many! It really opened my eyes to how big the travel industry is.

I applied to all the roles I was interested in, then picked one when I was offered places. Some roles base you in a country while others require you to move around, so bear that in mind when applying.

I knew I wanted to live in one country so I applied to all the roles where you were a specialist in a location.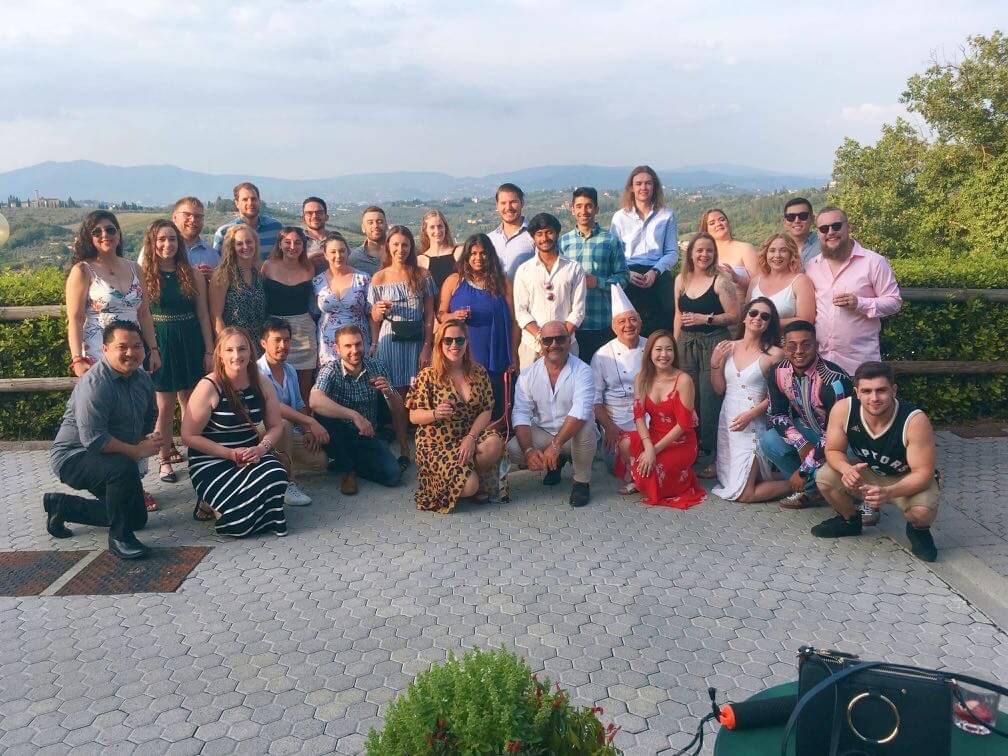 Did you need any experience/qualifications? What was the interview process like?
Each company is different but they all require you to be great with people and think on your feet because so many unexpected situations arise. You obviously need to love travel so you can share your fascination with guests. You also need to be responsible and work well by yourself.

The interview process for Contiki has many stages. The first is applying online and the second is online video interviews. After that, you're invited to an in-person interview where you have to prepare a talk.

After the in-person interview, there are group activities and a one-on-one interview. You're invited to join a training trip if you're successful. You have to prepare a ton of work; basically a dissertation about the country to prove you know facts and stories about the place you'll be showing people. 

The training trip is intense. They're testing to see you're dedicated, that you keep trying even when you get things wrong, and that you can work when exhausted.

My tactic was to keep putting in 100% even when I didn't know the answer, to learn as much as I could, and keep turning up each day, no matter what happened the day before. You need this intense training, believe me, because you'll have so many things to do each day while in front of a huge group always looking to you for help and fun. 
Do trip managers need to speak the language of the country they'll be touring?
If you're based in one country, knowing the language is usually a requirement. I applied for the role in Italy even though I couldn't speak Italian; it was the only thing on the application I didn't have but I thought it was worth a shot applying.

Now I'm so glad I did. I just showed at every stage of the process how willing I was to learn, and how I'd learnt languages at school, to prove I'd pick the language up as I went along. In practice, it was a lot harder but I managed fine, making up words with the aim to communicate.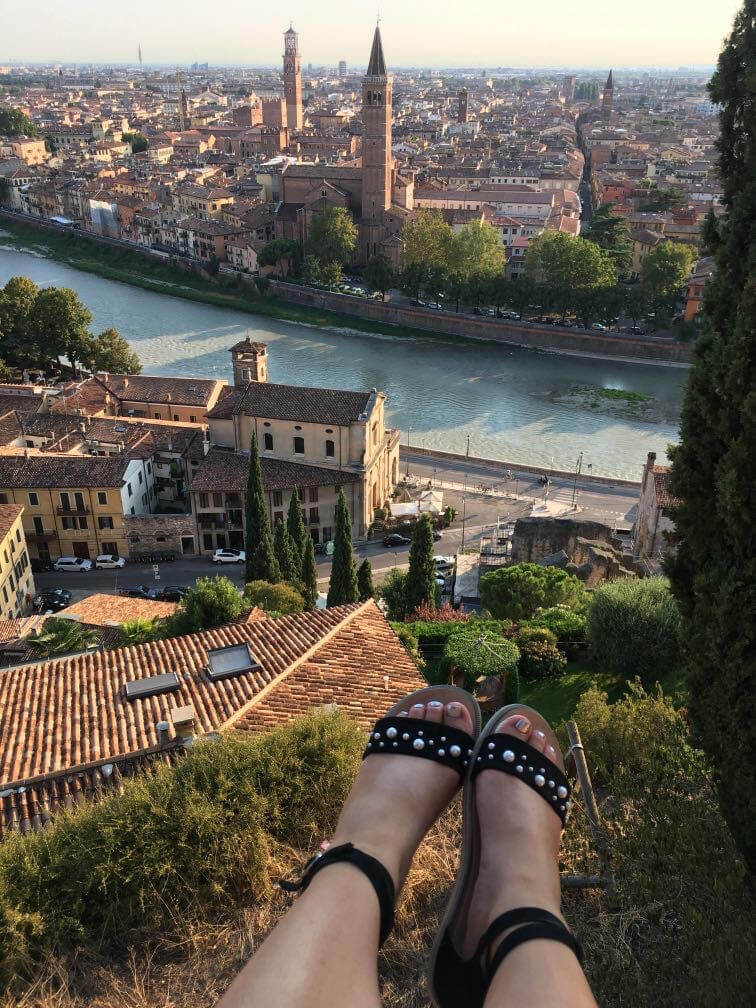 What was it like working for Contiki?
It opened up a whole new world to me. I fell in love with Italy more on each trip and realised how much I can get done in a day – even with 50 people wanting my attention!

I loved the community of trip managers. You hardly see each other because you're on trips in different places but they were always there to help me. I wouldn't have got through my first few trips without them on the end of the phone. When you do meet up, you're friends for life.

I loved getting to know the locals that we worked with in Italy, too. When you're on the road all the time, they become your friends. I lived in Florence between trips and had a great group of friends who I met through Contiki.
What does an average day look like in the life of a trip manager?
Your day starts before the group. If the coach leaves at 7.30am, you'll be up before making sure everything is sorted. You work on the coach, helping the travellers, giving them information and entertaining them. You're also calling suppliers to check appointments throughout the day, so there are many things to juggle.

Every day is different with new places, activities and things to organise. It's hard to say what an average day looks like because, with each group of travellers, there are new curveballs.

The day would usually involve loading the coach with the driver and heading to a new city, free time to explore, grabbing some lunch, getting back on the coach, travelling to a new city, exploring and arriving at the next hotel.

It's impossible to describe the day but one thing is for sure in Italy: there's tasty food, beautiful scenery and lots of people! And many gelatos.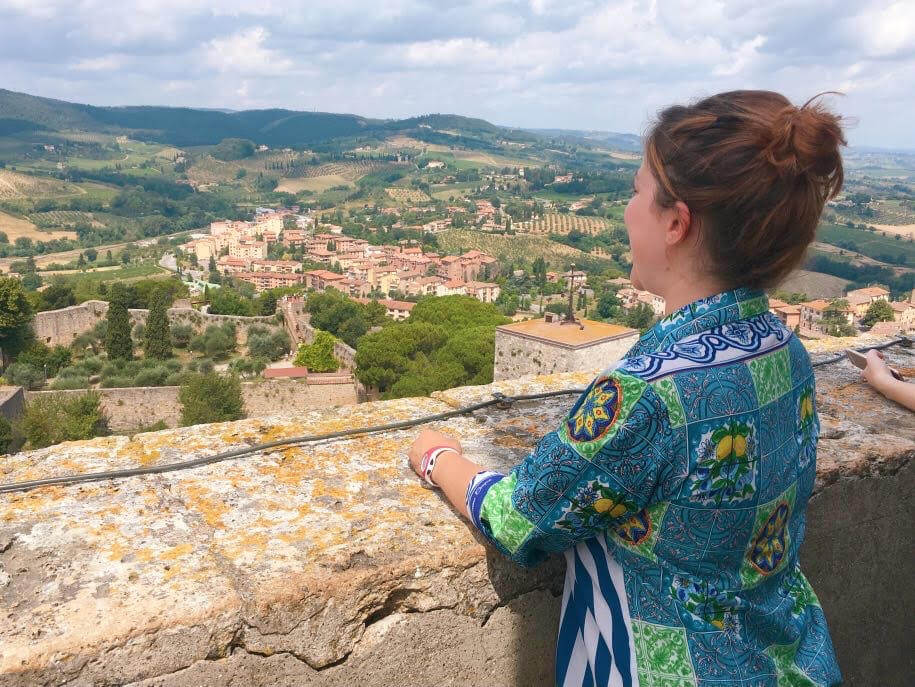 What are the best things about being a trip manager?
Seeing peoples' faces light up when they see something for the first time or seeing them fall in love with a place.

Seeing someone's confidence change throughout the trip; how making friends from different countries broadens their minds; how they leave the trip with epic memories, new friends and a love for Italy.

You're not only helping them make memories but you're a part of those memories.

And again, the gelato 😉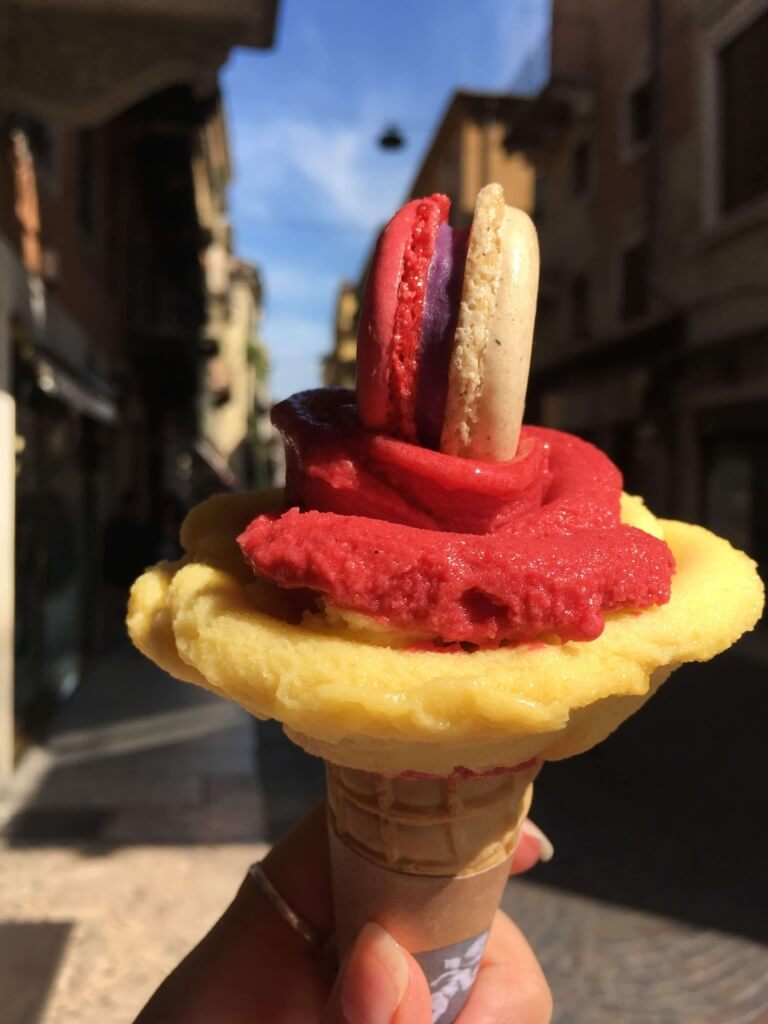 What are the worst things? Are there any downsides?
It's a job that takes over your life. There's no going home to your boyfriend or family at the end of the day. I'm someone who loves being immersed in whatever I'm doing so that worked for me.

I was single when I started the job and actually met my boyfriend in one of the restaurants I took the group to! It's full-on when you're on trips so you can't just stop work. You have to be someone who can juggle many things and still show everyone how amazing every day is.

It's no holiday though so don't apply if you're thinking it is.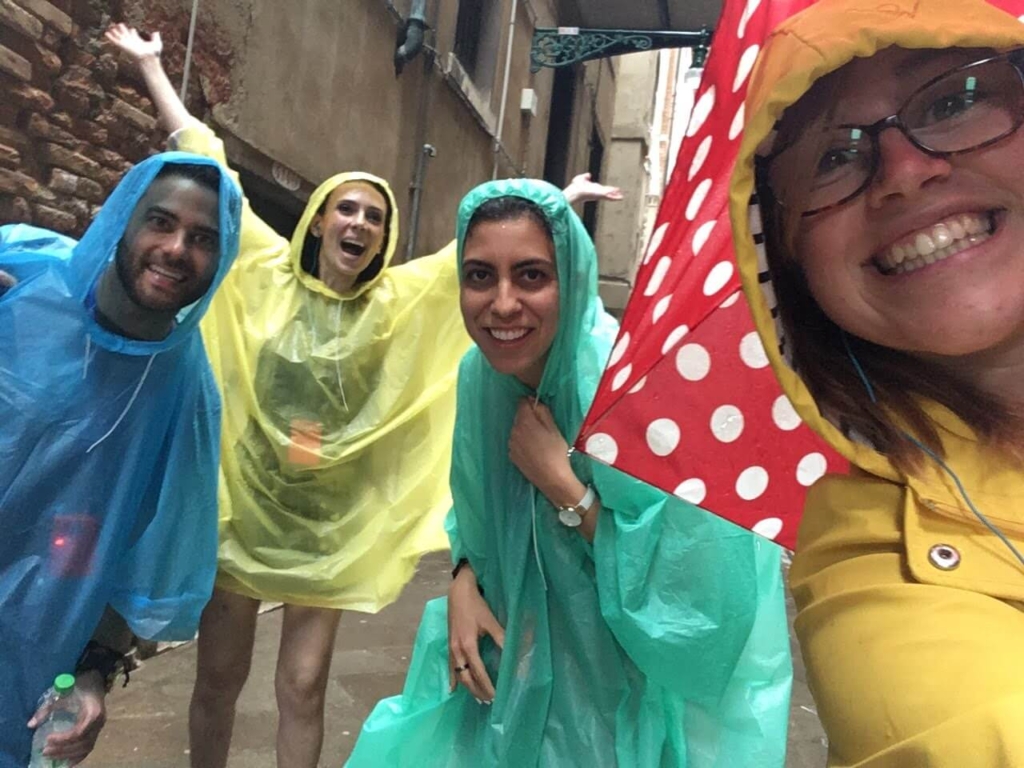 What were the best places you travelled to as part of the job?
I fell in love with Capri and Florence every time I went. They're my favourite places but I love all of Italy and there are so many places I still want to visit. Also, I loved all the gelaterie!
Who would suit being a trip manager?
You need to be an extrovert with high energy and lots of confidence for sure. You need to bring the energy every morning for 50 people even when you have a million things to organise for the day.

They're on holiday but you have to lift their spirits when they're tired from so many activities. If you're someone who likes to lie in, this is not the role for you!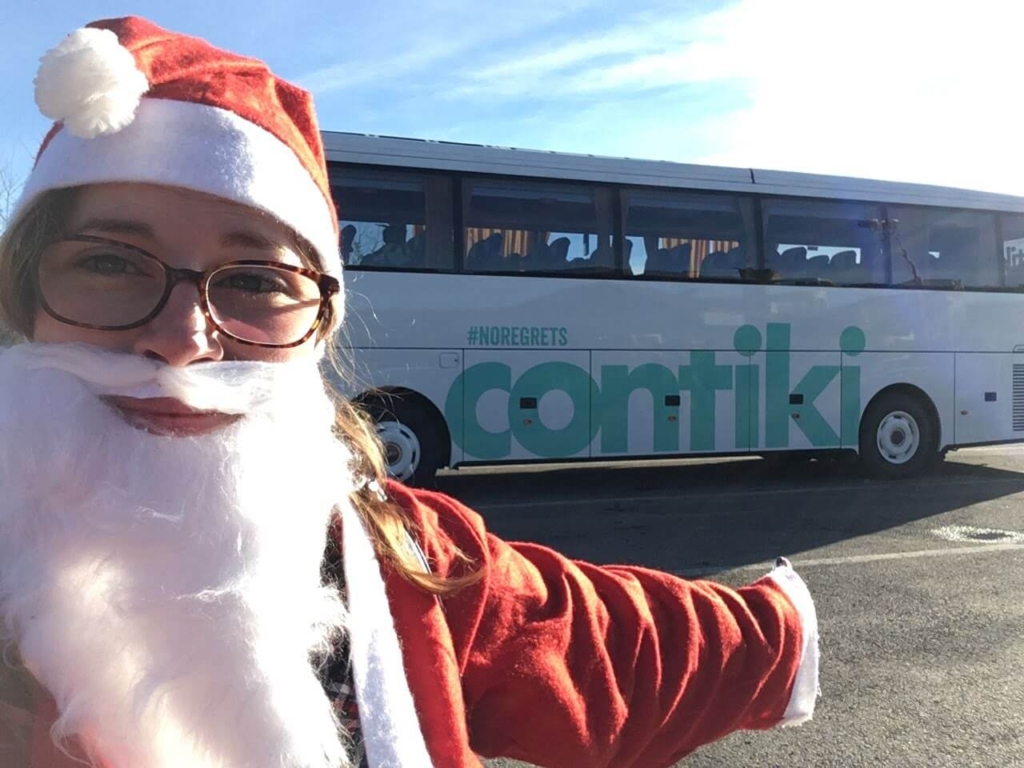 How much money can a trip manager expect to make?
You get paid per trip, so it varies a lot. Each trip has a set rate depending whether it's an 8-day trip or a 14-day trip, for example. I can't remember the exact amounts but Contiki are very clear with how the accounts work. There's a lot of paperwork for each trip so you can clearly see how much you'll take home.

All I would say is you aren't making millions, but there are so many perks to the job that it's worth it. If you get assigned lots of trips, you can save enough to travel in the low season.
What's next for you?
I'm now a freelance mural artist and illustrator. I create bright, bold, colourful art to inspire others. My artist name, Nocciola the Drawer, was picked up while living in Italy. Since my name is hard to pronounce, I adopted Nocciola which means hazelnut in Italian. (It's a very tasty gelato flavour).

I hope to create murals all around the world to inspire others and share my bright, positive outlook on life. This is what I learnt was my special skill as a Trip Manager: every day, I'd find something special and share it with the group. At the end of trips, guests always wrote 'keep your bright positive attitude to life. It lifted me up'.

My work is inspired by my travels, finding your community and sharing your vision. These are all things that you need as a Trip Manager, too.

My background, before travel took over my world, was design so now I have found a way to bring the two together and I look forward to living in new countries and immersing myself in new cultures to inspire more of my work.
Follow @nocciolathedrawer on YouTube, Instagram, and Facebook and check out her website.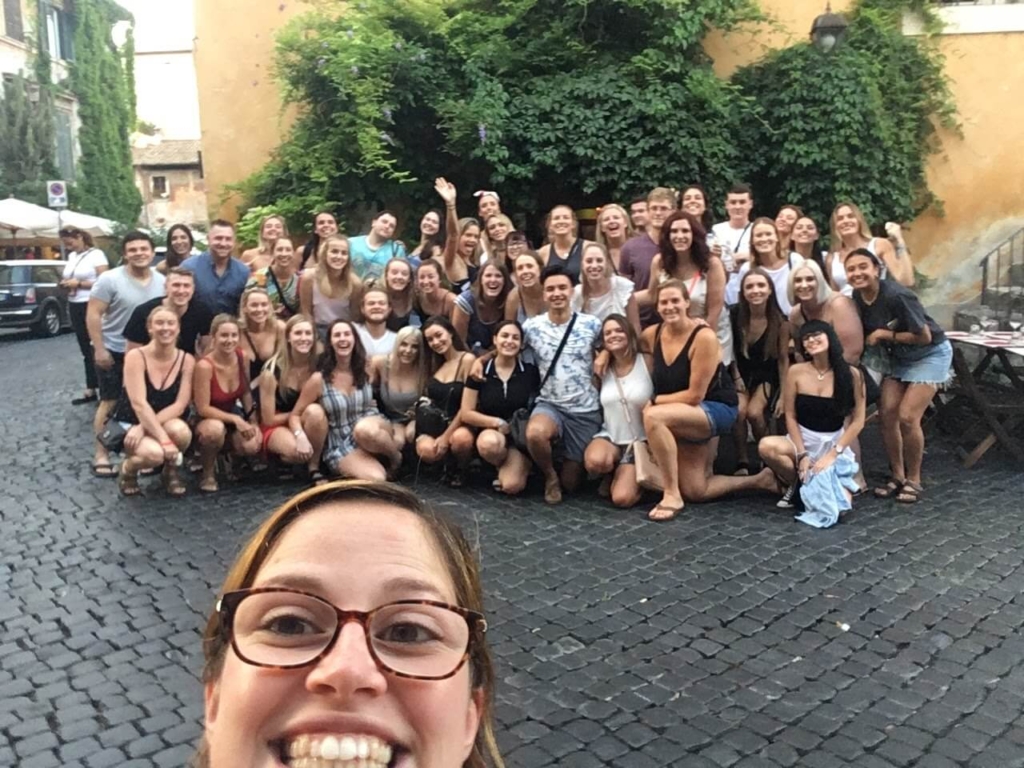 Check out the first interview in this series on teaching English online with April.
If you enjoyed this, you may also enjoy my solo travel interview series where I ask inspirational women about their travels. Recent interviews include:
Want to read this later? Pin it on Pinterest.