This post may contain affiliate links to things like tours, hotels, Amazon associates and products. These help me earn a small commission at no additional charge to you.
One of the best things I did in Florida was visiting Wynwood Walls in Miami, an incredible urban area packed with vibrant street art.

If you've ever read any of my street art blogs before, you will know I'm a huge fan. I've always been drawn to places that are vibrant and colourful but I think my street art quest began in South Africa when I discovered the street art in Woodstock, Cape Town.

Since then, I've found street art in Malaysia, Singapore, Yogyakarta in Indonesia, Oaxaca in Mexico, Vienna in Austria and even closer to home – there's lots of street art in the UK!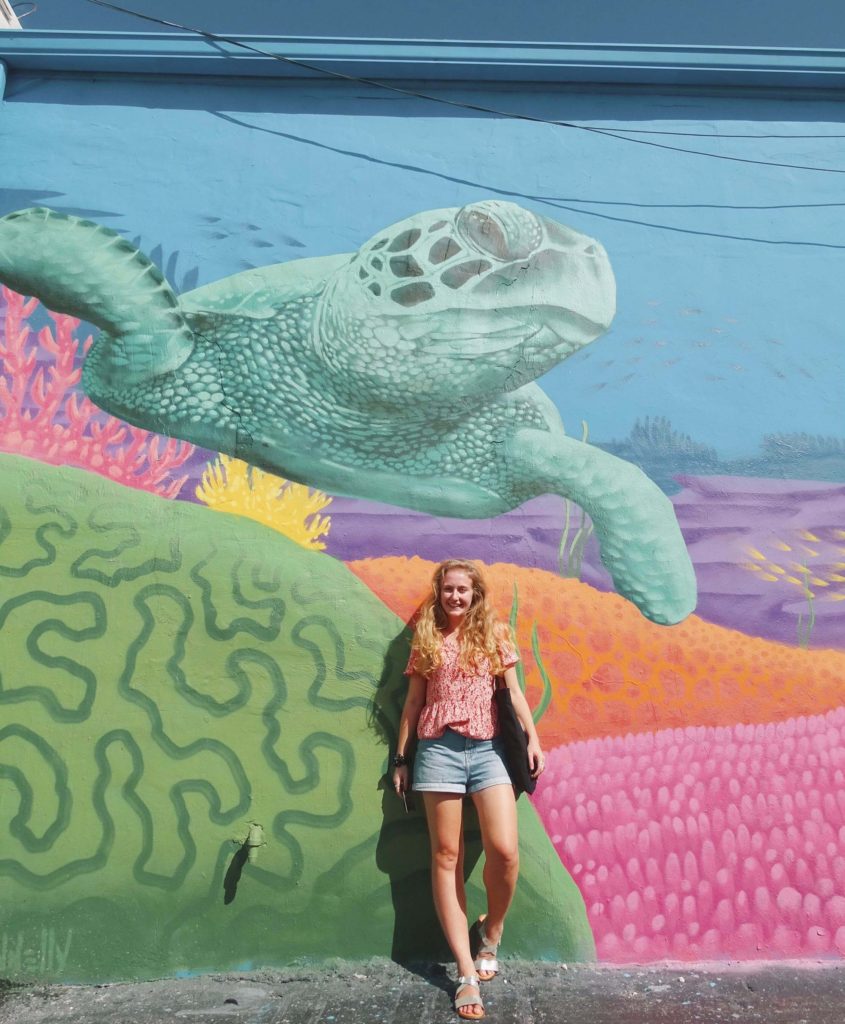 MIAMI ESSENTIALS

Miami Pocket Lonely Planet

Accommodation: Booking.com / Hostelworld

Activities: Viator
With all that said, of course I was excited to visit Wynwood Walls in Miami. It was actually the reason I stopped through the US while flying to Mexico City from London. I'd had Wynwood on my radar for ages so when I found a cheap flight with a Miami stopover, I thought why not?
Read next: how to spend 2 days in Miami, Florida
While I enjoyed lazing around Miami Beach, I think Wynwood Walls stole the show as my favourite area of Miami – although the delicious Cuban food in Little Havana made for stiff competition!

Wynwood Walls is a unique outdoor museum that you can wander around for hours. It won't be like any museum you've been to before because it takes up the entire neighbourhood.

I felt like I was on an adventure because, even though it was busy and touristy around the main hub, when I strolled around the surrounding streets, it felt quiet. I found lots of murals hidden away down side streets and managed to take photos with no one else in the shot. Blogging win!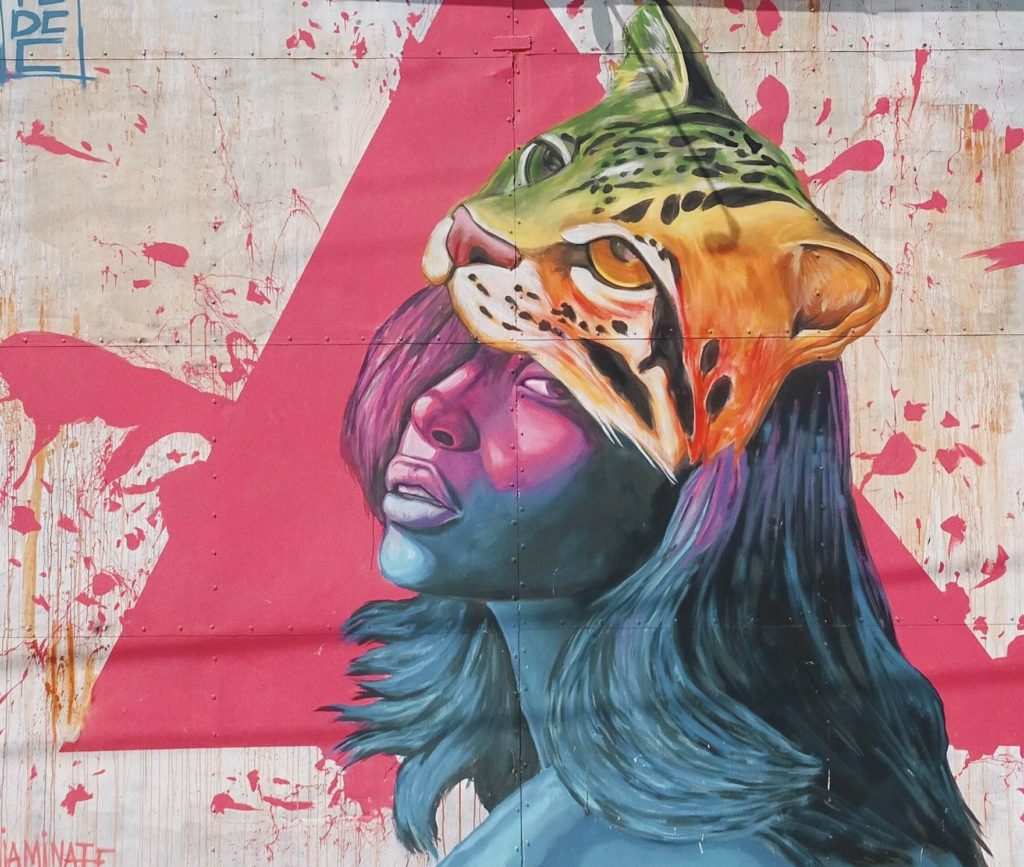 Want to find the best street art in Wynwood with a guide? Take a walking tour ($27) or golf cart tour ($39) with Viator.
Where are Wynwood Walls?
Wynwood is one of the coolest neighborhoods in Miami, north of downtown and just across the bridge from Miami Beach. I found Miami a strange city as the downtown seemed kinda sketchy and not too appealing but there are some cool and quirky areas not far away.

Wynwood is 10-minute drive from downtown Miami and a 15-minute drive from Little Havana. It's also only a 20-minute drive from Miami Beach so it's easy to drive or grab an Uber across from the island, or do what I did and catch a local Miami bus.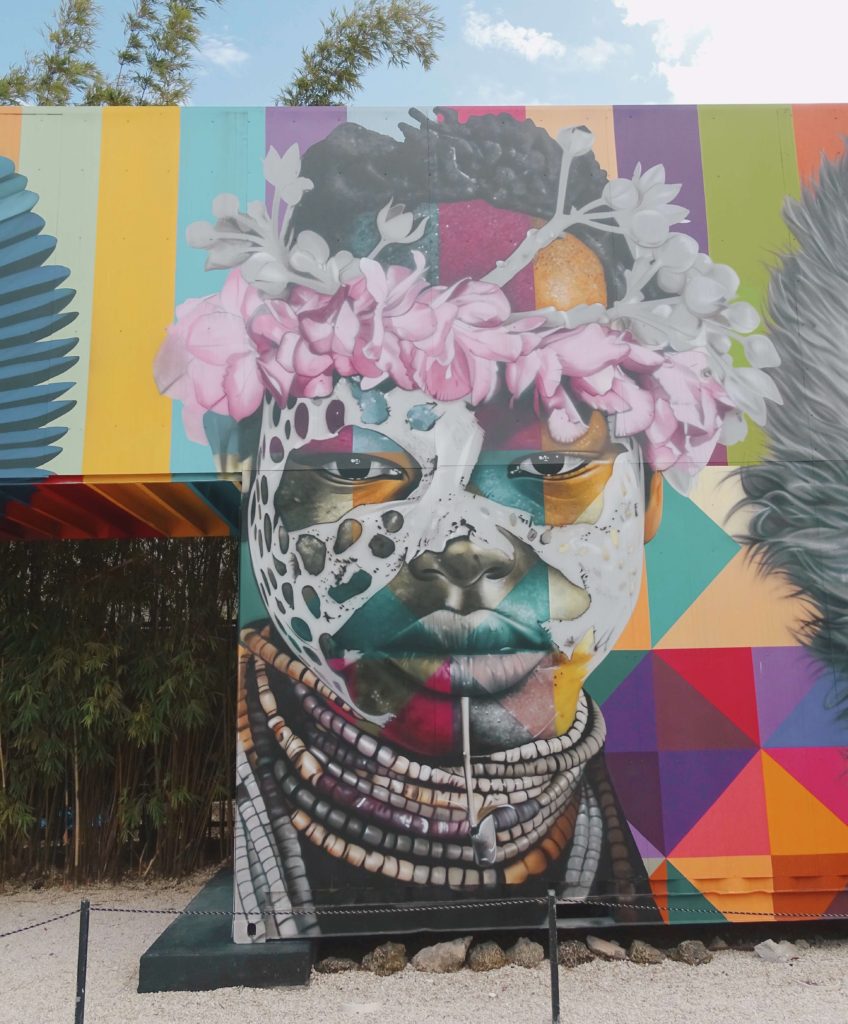 History of Wynwood Walls
The history of Wynwood Walls will sound familiar if you know anything about street art. Wynwood was originally an industrial area with lots of factories and warehouses which were slowly becoming derelict as patterns of production changed.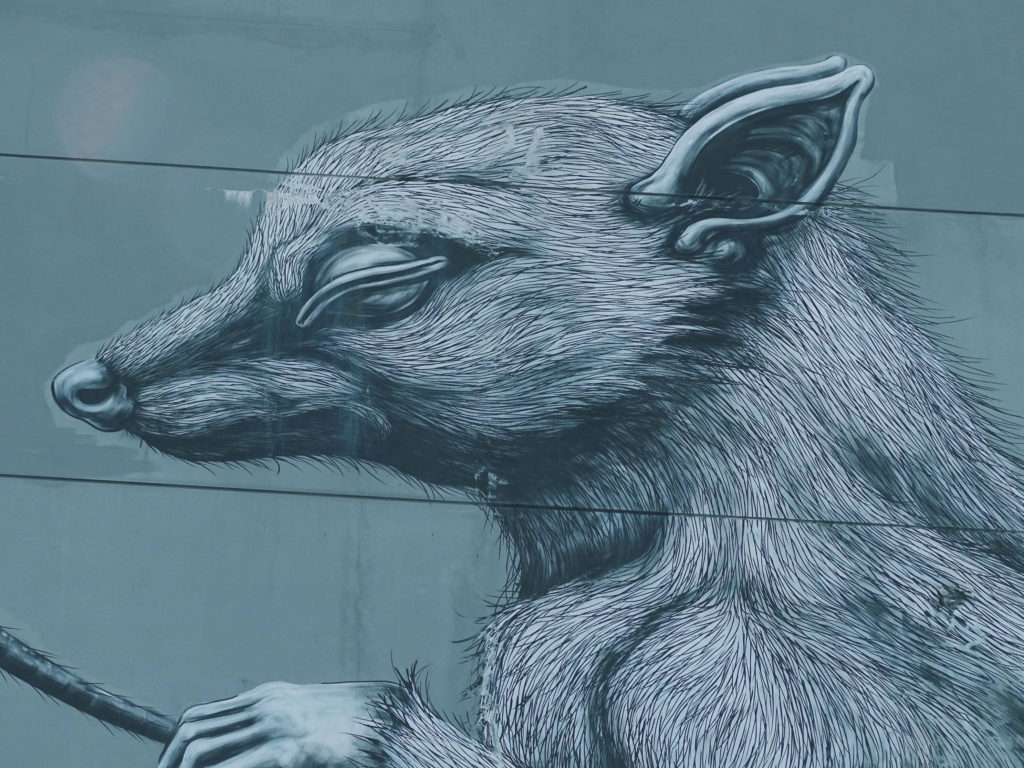 In the early 2000s, a local entrepreneur took the fate of Wynwood Walls into his own hands. Tony Goldman had a passion for art and had previously regenerated SoHo in New York and South Beach in Miami. He set his sights on Wynwood Walls after realising that the giant factory walls would make the perfect canvas for urban art. He was right!
How to visit Wynwood Walls
It's easy to take a trip to Wynwood Walls. You can visit:

By car: You can drive to Wynwood Walls and park at the Wynwood Garage at 321 NW 26th St. To reserve parking in advance, visit LAZ Parking.

Public transport: If coming from Miami Beach, you can catch the 119 bus to Omni Terminal / Arsht Metromover and change onto the number 32 bus which drops off in Wynwood. Take the same route home.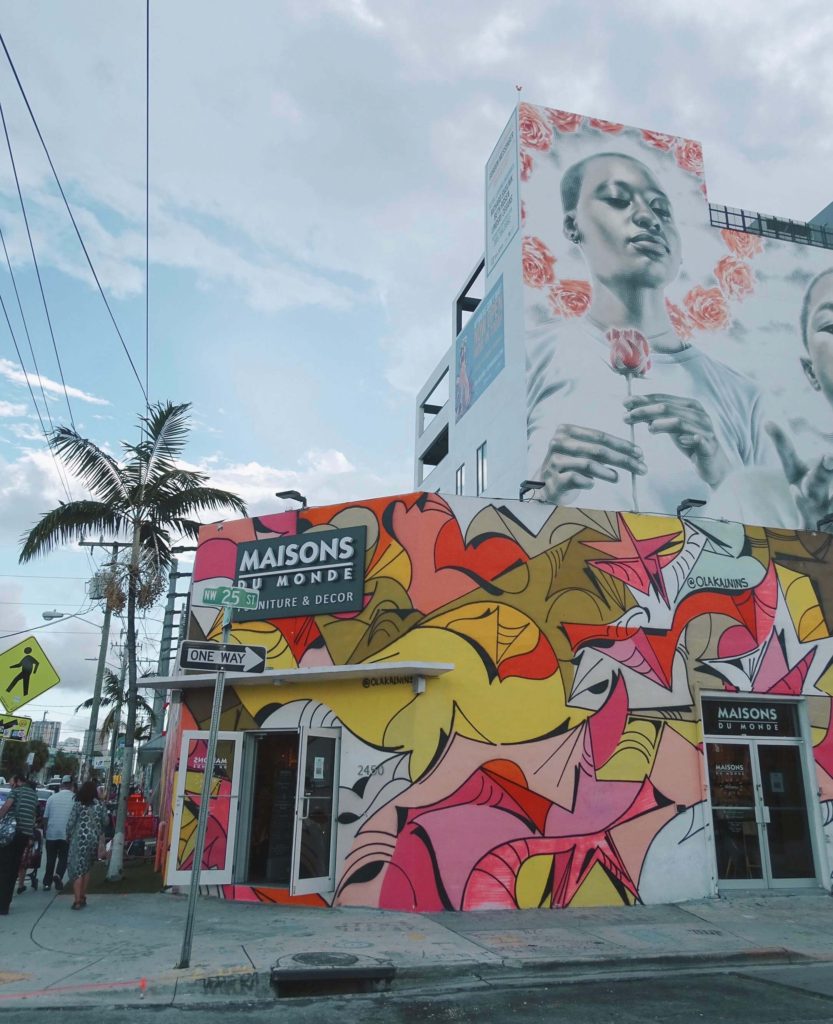 Wynwood Walls opening times
Since Wynwood Walls is spread all around the streets, it's technically always open (although you wouldn't be able to see the art in the dark, obviously). However, the central area of Wynwood Walls with the GGA Gallery and shop is open between the following times:

– Monday-Thursday: 10am-11.30pm.

– Fridays and Saturdays: 10.30am-midnight.

– Sundays: 10.30am-8pm.
Wynwood walls entry fee
Here's the good news! Wynwood Walls is free to visit. There are no entry fees to worry about. The only thing to pay for is a guide if you want to learn more about the artwork and explore with an expert.
Want to stay in Wynwood?
I would recommend it! This cool and colourful area of Miami would be a great place to stay during your trip.
Visiting Wynwood Walls in 2021
Due to the current climate, there are some specific instructions for visiting Wynwood Walls. Make sure you reserve tickets ahead of time by downloading the app or visiting the website. Show up to 2nd Avenue at your selected time slot with your email ticket to be scanned.
GGA Gallery
Don't miss the GGA Gallery at the heart of Wynwood Walls. While there's street art all over the neighbourhood, this is the beating heart of the area with an inside space showing work from over 100 street artists, as well as a bright, modern exhibition area in the garden area.

If you're arriving into Wynwood by taxi, arrive here, grab a coffee at one of the nearby cafes and begin your street art adventures.
I was lucky enough to visit GGA when the Larger Than Life exhibition was displaying work by my favourite street artist, Kobra.
Artists
Look out for work by the following talented artists while visiting Wynwood Walls:

Lady Aiko – born in Tokyo and now based in New York, Lady Aiko has worked all over the US and Europe. She's responsible for the 'Woman on the Walls' exhibition at Wynwood.

Lady Pink – originally from Ecuador, Lady Pink started her street art career at a young age and held her first exhibition at 21. She also lectures to college students about urban art.

Maya Hayuk – known for bright geometric art, Maya's work pursues psychedelic experience in visual form. Look out for her giant whale mural in Wynwood.

ElSeed – known for his unique 'calligraffiti', ElSeed uses letters and written words in his artwork. His art challenges perspectives and reflects on the world we live in today.

Kobra – my favourite street artist ever! The photo below (and the others in a similar style) are by Eduardo Kobra, a Brazilian street artist from São Paulo. He started doing street art aged 12 and now his work can be seen across five continents!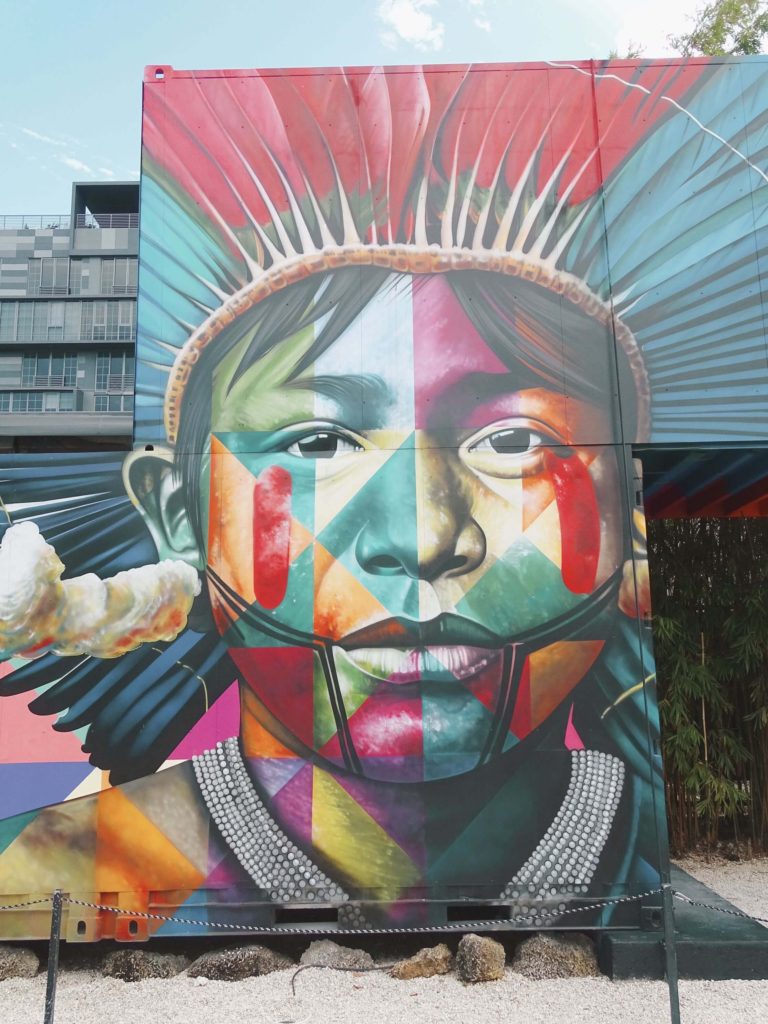 To learn about more street artists whose work can be found in Wynwood, check out the Walls website.
Themes
As you'll already know if you're a fan, street art is never meaningless. There are so many themes to explore when visiting Wynwood Walls in Miami, many relating to social justice. From migration to racial inequality, there's lots to learn and think about if your mind's open.

Like the street art that first captivated me in Cape Town, there are lots of murals showing wildlife signifying our relationship with nature.
Pieces to look out for
There are so many amazing murals you'll find while visiting Wynwood Walls. But if you need more inspo, keep an eye out for some of my favourite pieces…

– The Favella Painting on the side of Zak the Baker (a cute bakery in central Wynwood).

– The Shepard Fairey piece at 2520 Northwest 2nd Avenue. This red and yellow cartoon-style art shows famous figures include the Dalai Lama.

– The giant #FreeLolita whale street art at 170 Northwest 23rd Street by Up Art Studio.

– The Kobra murals of human faces including Karen tribespeople from Northern Thailand and Native American people in traditional dress.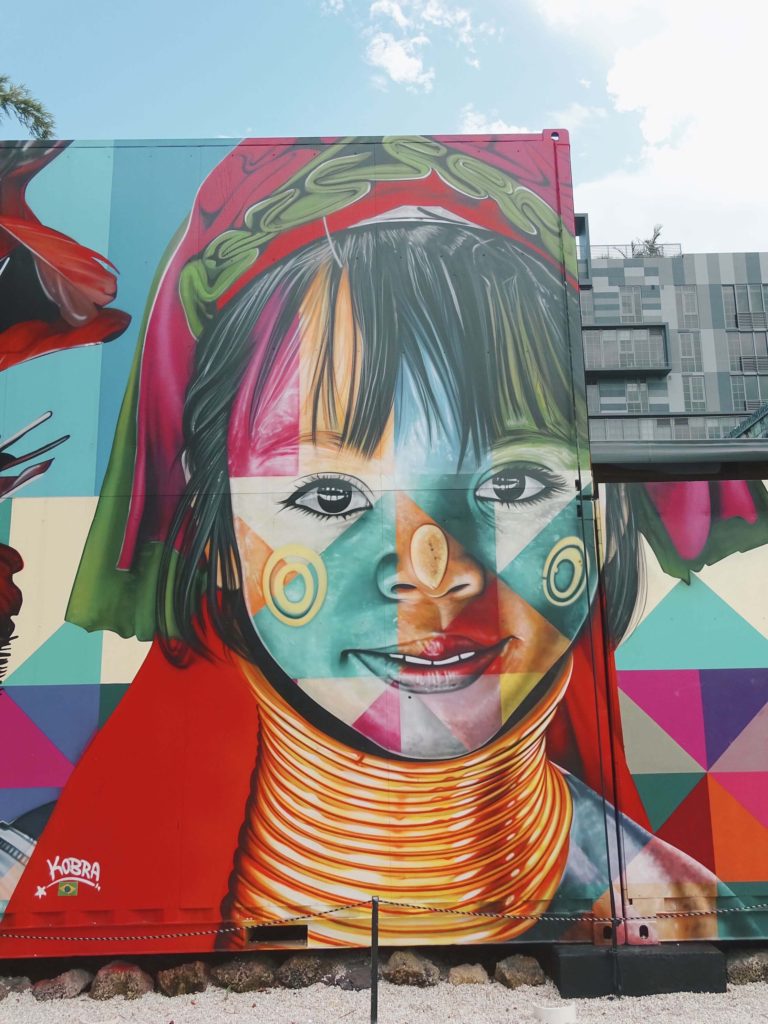 What else to do in Wynwood
Beyond the Walls, there are a few other things to do while visiting Wynwood. Keep an eye out for incredible sculptures which are dotted around the neighbourhood, coming out of drains and at the top of electricity pylons.

Another place to check out is the Museum of Graffiti found at 299 NW 25th Street. Here you can learn about urban art as well as view it!

Shopping: Another thing to do in Wynwood is browse the shops and support local businesses. Check out BASE, Marine Layer and the Wynwood Shop.
Where to eat in Wynwood
You'll probably get hungry while spending a few hours roaming Wynwood. Thanks to the amount of tourist footfall the area now gets, there are some great places to eat including:

Zak The Baker – this multicoloured bakery just across from the GGA Gallery couldn't be more 'Wynwood', could it? It's so bright and colourful. Better yet, everything is kosher and made by hand from scratch including croissants, salads, pasta dishes, coffee and more. Open 7am-5pm.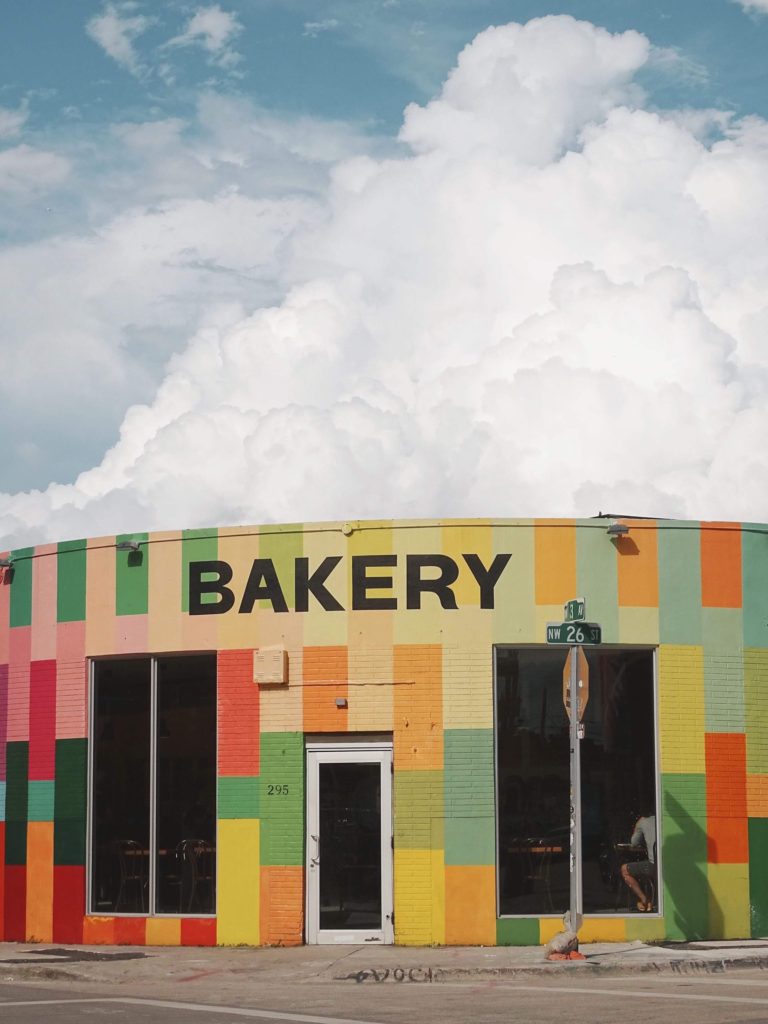 The Salty Donut – Miami loves donuts. I love donuts! If you're the same, head to this famed bakery serving varieties including vegan, brioche and ones stuffed with alcohol! Here's the menu to drool over – you're welcome.

Coyo Taco – for Mexican street food, guac and tequila, you can't miss this restaurant on 2nd Avenue. There are really authentic taco choices like al pastor, carne asada and pescado, as well as quesadillas and burrito bowls. Finish with churros!

1-800-Lucky – trust me to sniff out Asian food! From sushi to matcha desserts, bao buns, pad Thai and other fresh and authentic Asian dishes, there's a bit of everything here. Set in a 10,000-square-foot food hall with hip-hop music playing, it's fun, hipster and totally Wynwood.
Tips for visiting Wynwood Walls
Download the Wynwood Walls App (on iPhone or Android).
Connect to free Wi-Fi that stretches across the neighbourhood. Select the 'Wynwood Walls Guests' network when you arrive.
Take a Wynwood walls tour with local guide to learn about the area's history and the artists!
Thanks for reading my Wynwood Walls guide!
Read my other Miami guides:
See you next time,
Rose.
For more travel content, follow me on Instagram, Facebook, Twitter and YouTube.
TRUSTED TRAVEL RESOURCES

Guidebook: Lonely Planet get my seal of approval. Pack a copy of Miami Pocket Lonely Planet.

Top up your Spanish for visiting Miami with Latin American Spanish Phrasebook & Dictionary.

Flights (international and domestic): I use Skyscanner and filter by whole month to find the best value flights.

Car hire – use Rentalcars.com to compare car rentals and campers in the US (and all around the world).

For hotels and self-catering apartments, I use Booking.com. You can filter by review score and price to find the best-rated budget places. For hostels, I use Hostelworld.com.

To save money on accommodation, I use Trusted Housesitters, a website that connects homeowners going away with travellers who can sit their homes & pets.

For food tours pairing travellers with passionate local chefs and foodies, check out EatWith.

Browse tours and activities on GetYourGuide. 

Need travel insurance? I use True Traveller (for UK & Europe residents) since it's affordable but covers everything you'd need including various activities, valuables and pre-existing conditions. Unlike some companies, they insure you if you're already travelling / don't yet have your flight home booked. Get a quote.

For travel insurance for other nationalities, I recommend Hey Mundo and for long-term digital nomad travellers, I suggest Safety Wing.