This post may contain affiliate links to things like tours, hotels, Amazon associates and products. These help me earn a small commission at no additional charge to you.
Yogyakarta is so many things. I loved my trip to this friendly, colourful, historical, quirky city and I can't wait to share my itinerary for Yogyakarta with you.

In the weeks leading up to my visit, people kept telling me how pleasant Yogyakarta was. The word kept cropping up again and again. I was curious what they meant – was 'pleasant' a nice way of saying Yogyakarta was boring? Quiet?

By the time I'd spent an hour there, I got it. There was no subtle, suggested meaning. Yogyakarta (known by the locals as Jogja) is so SO pleasant. How many cities have city centres pedestrianised, washed in pale pink and blue, home to the same families who've lived there for years?

The other thing that struck me was what a friendly city Yogyakarta is. There are places in the world that receive so little tourism that, as a visitor, you'll get no end of looks and stares. There are places that get so much tourism that no one will look twice at you.

Yogyakarta is at that nice stage in the middle where people are pleased to see you and want to stop and chat. They're all broad smiles, friendly waves and genuine interest, without wanting to sell you anything.

Due in part to a thriving arts university, Yogyakarta is a city full of culture, academia, performance and art.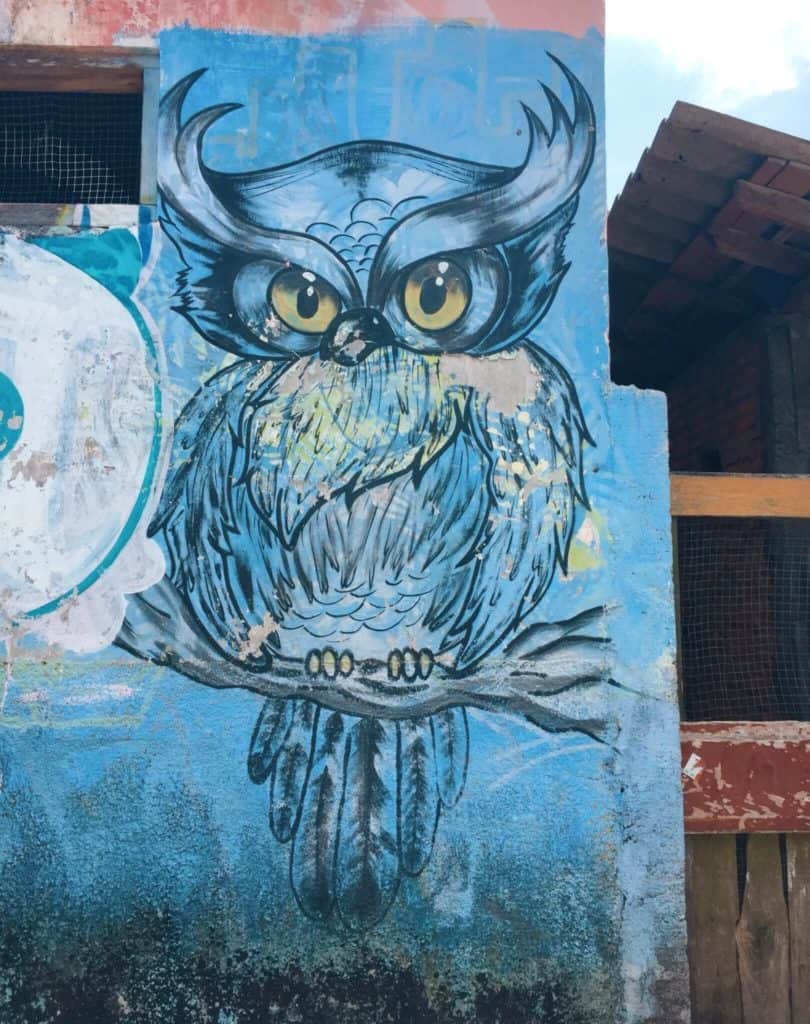 Yogyakarta fact file
Before I begin, let's set a little background.

History: Yogyakarta is a city on the island of Java in Indonesia, the only one that still has a sultan. Along with the rest of the country, it was once ruled by the Dutch. Known as the 'Dutch East Indies' from 1819 until its independence in 1942, many words in Bahasa are influenced by the Dutch language.

Language: While the people of Yogyakarta speak the national language of Bahasa, they also speak Javanese, an older Sanskrit language. Nowadays many of the young people also speak English.

Currency: Indonesian Rupiah. Currently, it's Rp. 10,000 to $1 USD.

Religion: Yogyakarta is predominantly Muslim, unlike its Hindu neighbour of Bali. In ancient times, both Hindu and Buddhist people lived in Java which explains the multiethnic temples in the area.
Itinerary for Yogyakarta
You might be wondering how long to spend in Yogyakarta which really depends how long your Southeast Asia itinerary allows. I would suggest two days at a minimum. You'll want to spend a full day exploring the city centre highlights and another one visiting the famous Borobudur and Prambanan temples.

If you have additional days for your Yogyakarta itinerary, you won't get bored. There's a lot of quirky street and street food, as well as a volcano you can climb. Let's get stuck in…
Day 1 in Yogyakarta
I started my itinerary in Jogja by exploring the city highlights. This was a great way to understand Java better and get a feel for the lovely Yogyakarta. I would recommend…
The Sultan's Palace (Keraton)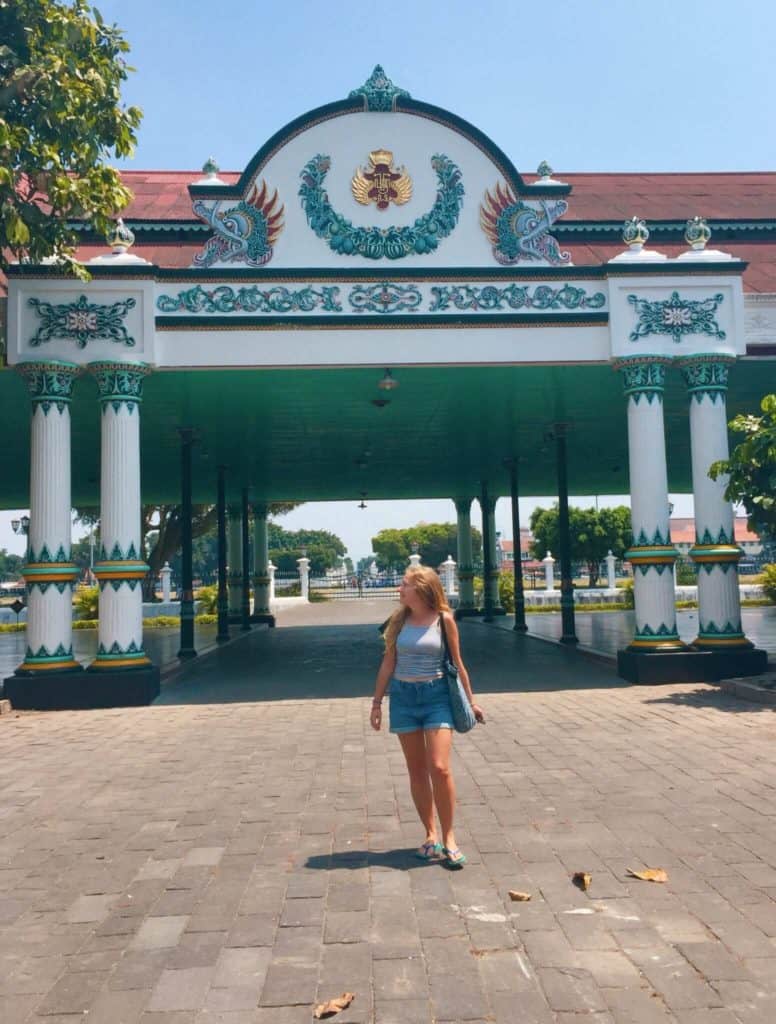 The Sultan's Palace doesn't take long to see. It won't be the grandest place you've ever visited but it's a great stop to get your bearings and soak up the culture. Its full name is Keraton Ngayogyakarta Hadiningrat but I stuck to calling it the Sultan's Palace for obvious reasons. The sultan still lives there, despite no other Indonesian cities having royalty these days.

My best advice at the Palace is to hire a tour guide. I paid Rp. 20,000 ($1.40) and I wouldn't have learnt much without him.
Thanks to his wealth of knowledge, I managed to gather plenty of facts, not just about the Palace. He told me about the island's history and customs, and the story of the sultans. The current one is a modern man compared to his predecessors with just one wife and a handful of kids. His father had 22 children and his grandfather had 78 from 25 wives! The mind boggles.

Address: Jalan Rotowijayan Blok No. 1, but you're best putting The Palace of Yogyakarta into Google.
Taman Sari Water Castle & surrounding streets
Taman Sari / the Water Castle / the Royal Gardens… Whatever you call the site, it's a must-see while in Yogyakarta. Not far from the Royal Palace, these gardens and swimming pools were once used by the sultan to hunt animals and select his new wives.

Nowadays, the shimmering blue swimming pools are empty. There only the ghosts of the elegant women who would swim and socialise, hoping to catch his attention. The concept of being yet another wife sounds grim by modern standards but I'd imagine it was seen as a high honour, and probably a profitable choice for those with little money.
The site is a little dusty nowadays. The best bit for me was wandering the surrounding streets which make up the central city of Yogyakarta. It's bizarre for a relatively large city because it's totally pedestrianised and a maze of tiny colourful alleyways.

The area was once reserved for the servants of the sultan and apparently, it still belongs to him. He could turf everyone out at any moment, but a smiling local I chatted to told me he never does, or will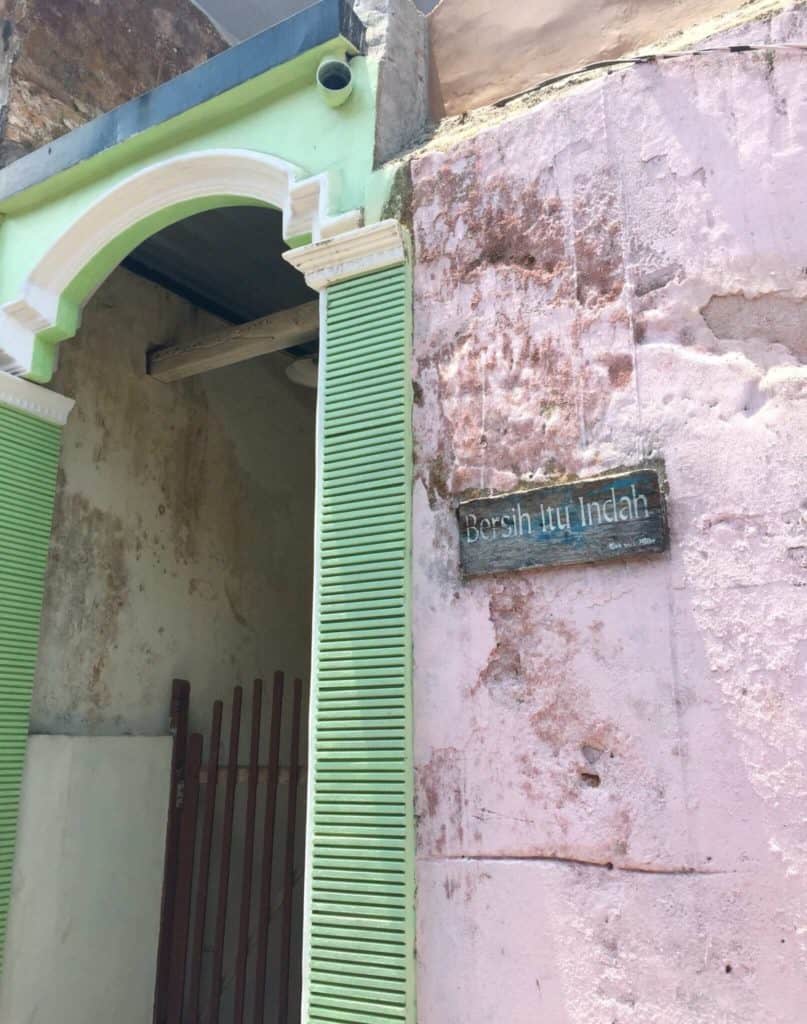 Take half an hour to wander the local streets, stopping at street murals and batik craft shops. There's an interesting project in the streets that surround the Water Castle which I leant about due to a street art mural of Mark Zuckerburg.

The story is a celebration of technology. Following a recession and the Bali 2002 bombings, the batik industry went bust. (Batik is a type of printed fabric, btw). Luckily, the internet managed to save the day, as people used Facebook and Google to promote their local businesses and revive the industry.

In celebration of that, the streets around the Water Castle pay homage to the internet. You'll find lots of tech-inspired colourful murals including the one of Facebook's founder. Mark Zuckerberg even came to visit Kampoeng Cyber Village after hearing about the project and subsequently had a street named after him. Random but true!

Head to this Google pin and have a wander around.
Malioboro Street's night market
For an atmospheric local evening, head to Malioboro Street. There's no better way to get engrossed in the culture than by joining the locals as they socialise and eat.

Walk across the bridge from the Sultan's Palace and you'll reach the Attacking of 1st of March Monument (built in remembrance of the 6-hour standoff after the Dutch tried and failed to take control in 1949). Here, you'll find the area packed with people of all ages chatting and eating from the street vendors.

Walk along Malioboro Street from here, stopping for food and festivities, especially the delicious desserts. Stalls stretch all along Malioboro Street so come with an empty stomach!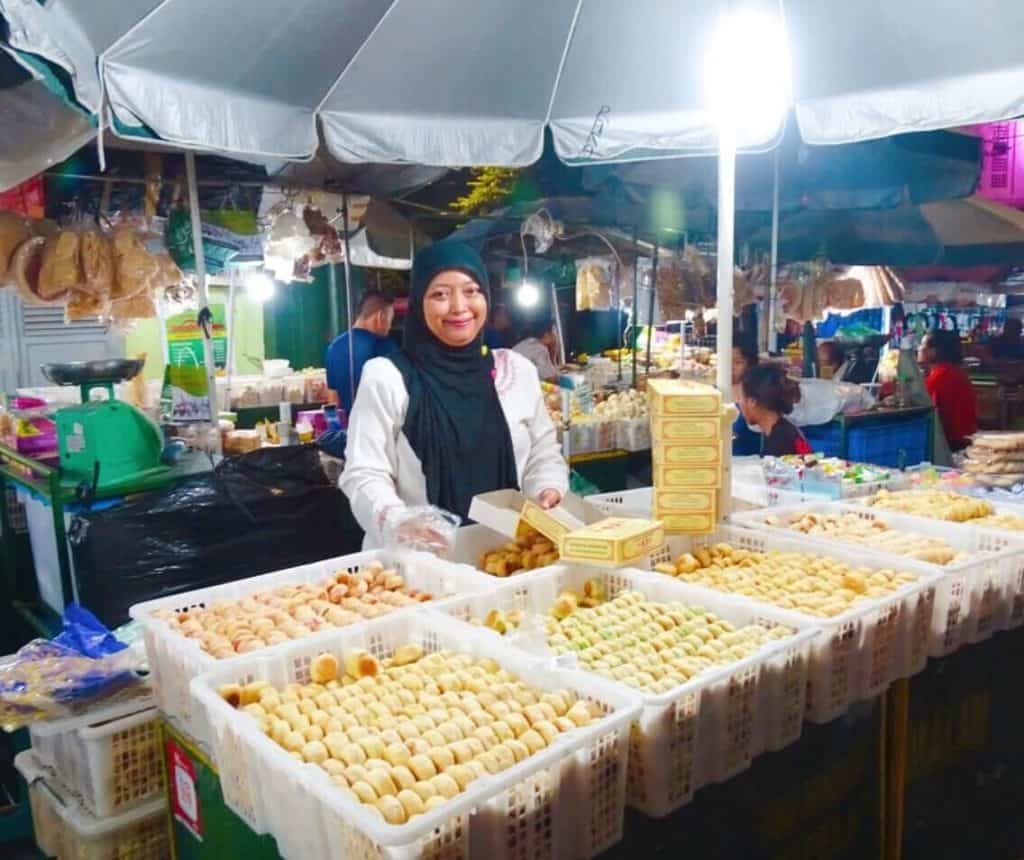 Day 2 – Borobudur and Prambanan temples
This day is also an essential for your Yogyakarta itinerary. Missing the temples would be like visiting Siem Reap and missing Angkor Wat so make sure you don't!

For this day, I would recommend getting up early and taking a day tour to Borobudur and Prambanan. I booked mine with my hostel. I chose a sunrise tour and had to get up at 3.30am. It was hellish at the time but worth it, plus you can relax in the Jogja cafes for the rest of the day.
Note – the exact tour I took seems to no longer be available. Take this tour to see both temples in one day by guided tour. To visit Borobudur at sunrise, take this tour. Alternatively, hire a car and driver for the day.
Borobudur – the world's largest Buddhist temple site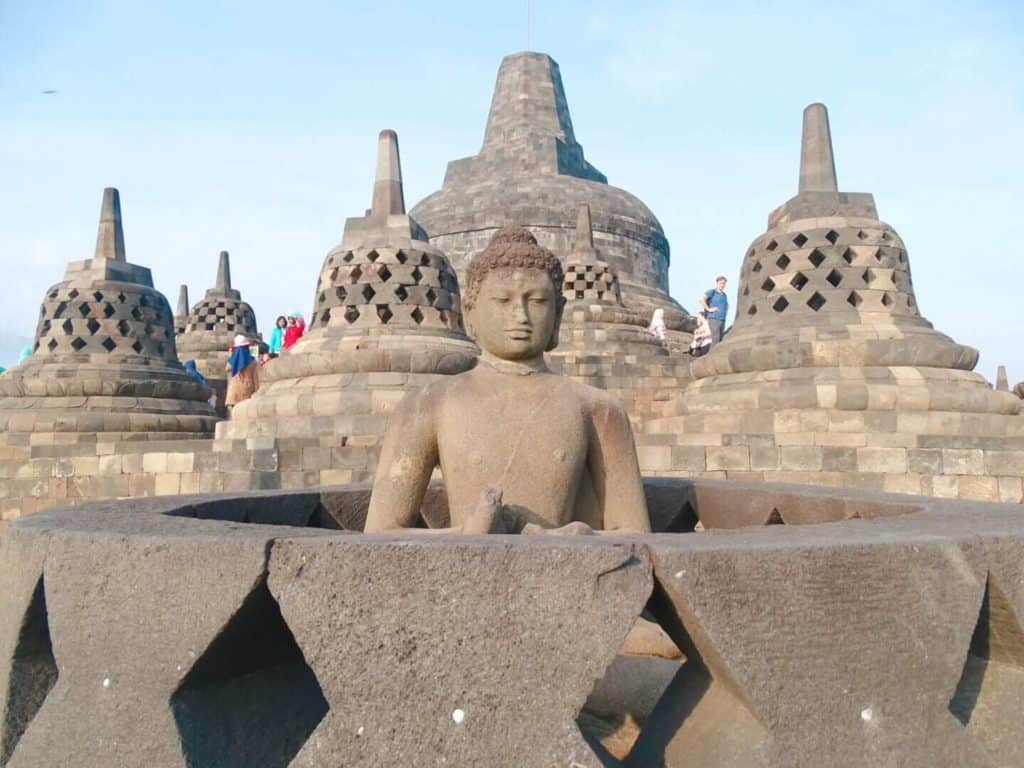 Borobudur frequently makes lists of the best things to do in Southeast Asia. I mainly came to Yogyakarta to see this incredible temple site. I ended up finding lots else to love about Jogja, but Borobudur was still a highlight.
Read next: visiting Borobudur for sunset
You can watch sunrise over Borobudur from the hills or from the Manohara Resort hotel which allows you to get up close to the temples. I took the first option. The sun slowly rise behind the dreamy spires is a sight I'll remember for a long time.

Afterwards, you can explore the temple site including these enormous bell-like sculptures. I'd been wanting to visit Borobudur for ages and it didn't disappoint!
Book your Borobudhur tour from $20:
Prambanan Temple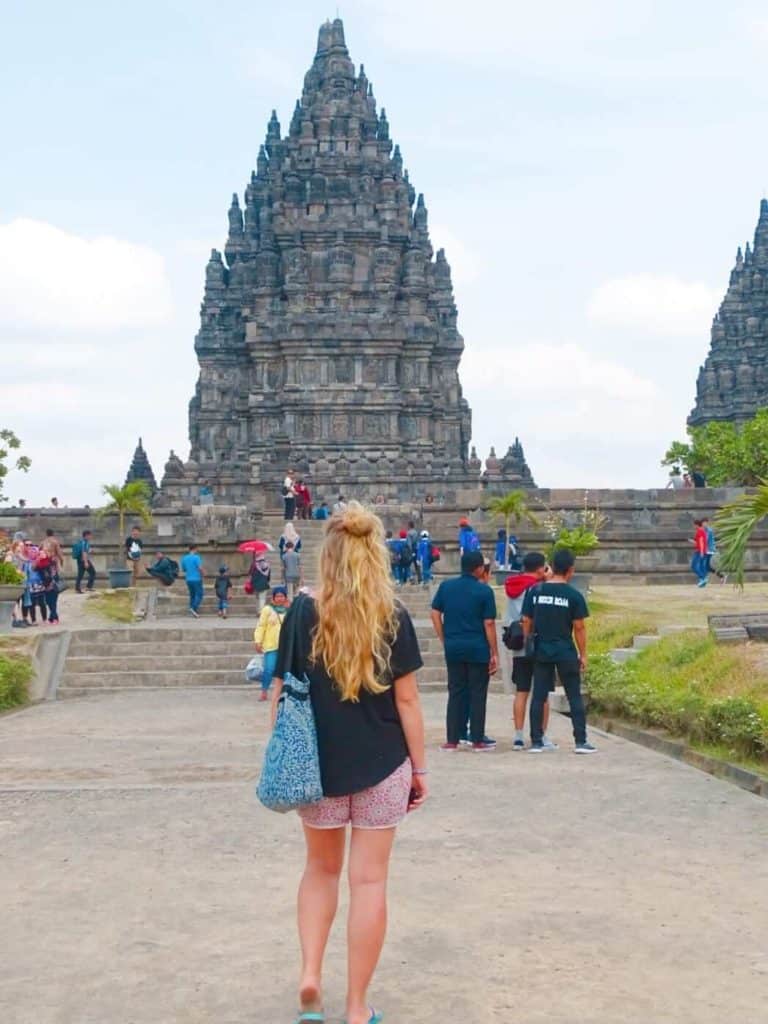 Temple fans visiting Yogyakarta shouldn't miss Prambanan. Unlike Borobudur, it's a Hindu Temple: the largest in Southeast Asia in fact. That might not be so impressive when you consider not much of Southeast Asia is Hindu… But a visit is impressive nonetheless.

I wouldn't say Prambanan is as jaw-dropping as Borobudur but it's a good second stop on a temple hop around Yogyakarta. Buy your ticket including a guided tour.
Getting there: Prambanan is a 45-minute drive from town and you can arrive via the green 1A bus from Malioboro Street to Prambanan for Rp. 4,000, literally pennies.

To combine Prambanan and Borobudur into the same day, a tour is required if you don't have a vehicle since you can't reach Prambanan from Borodbur by public transport.
Afternoon – relax in Prawirotaman Street cafes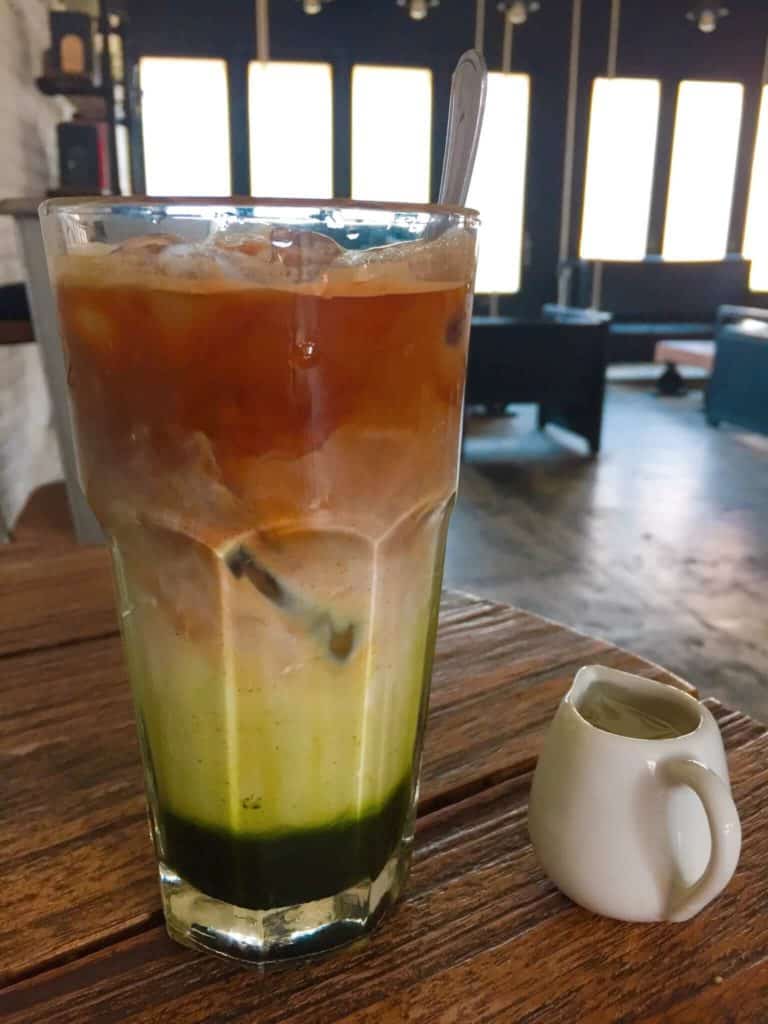 Since Prawirotaman Street was just around the corner from hostel (and because I live for coffee and aircon), I spent a lot of time here. It's not a spot for street food or local culture but it is a cool, hipster part of town.

Yogyakarta may be known for its ancient temples and colourful arts scene, but it's also becoming a fashionable, modern hub. My favourite cafe on Prawirotaman Street was ViaVia Jogja which serves amazing Javanese food and enormous sandwiches and cakes for very reasonable prices. In the evenings you'll also find live music and a vibey atmosphere.
Yogyakarta itinerary for 3 days
If you have more time in Yogyakarta, I would recommend a day touring the street art or street food depending on your preferences.

Note – you won't be able to fit both these tours into the same day so if you're keen to do both, why not shift one into another day of the trip? The street food tour includes a trip to Malioboro Night Market so you could take it during day one.
Explore the street art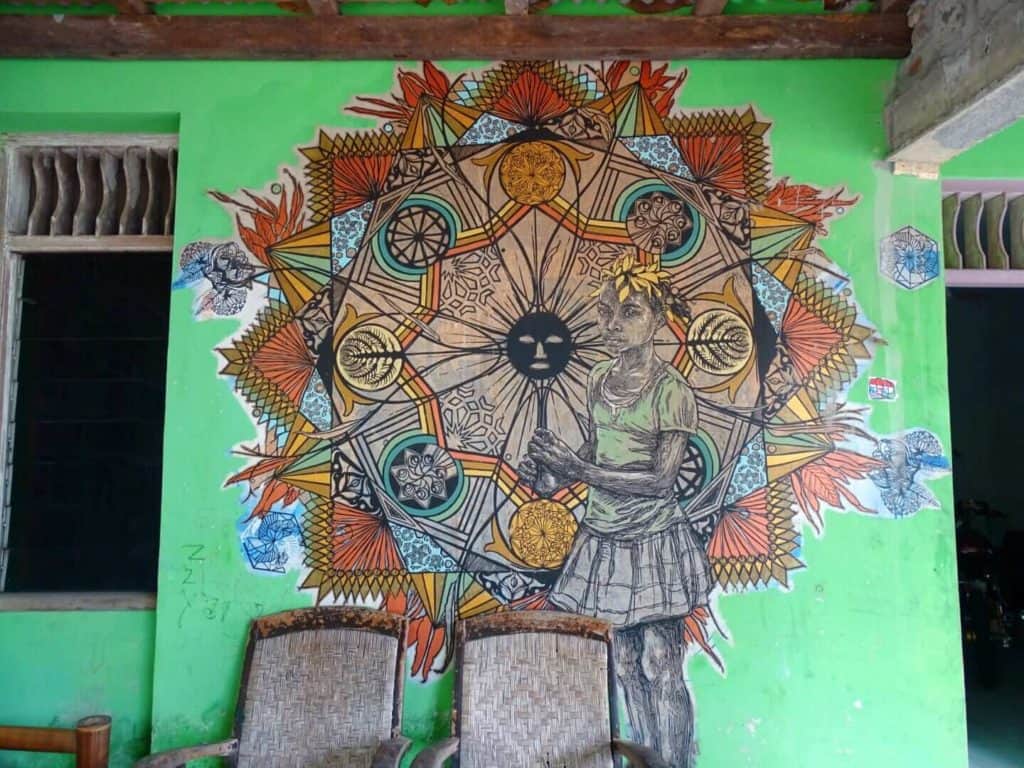 As the Indonesian centre of arts and culture, and the location of Indonesia Art Institute (a top creative university), Yogyakarta is alive with colour and urban art. Naturally, I couldn't have been happier there. You'll find street art splattered everywhere but if you're looking for an organised way to see it, take a street art tour.
Eat the street food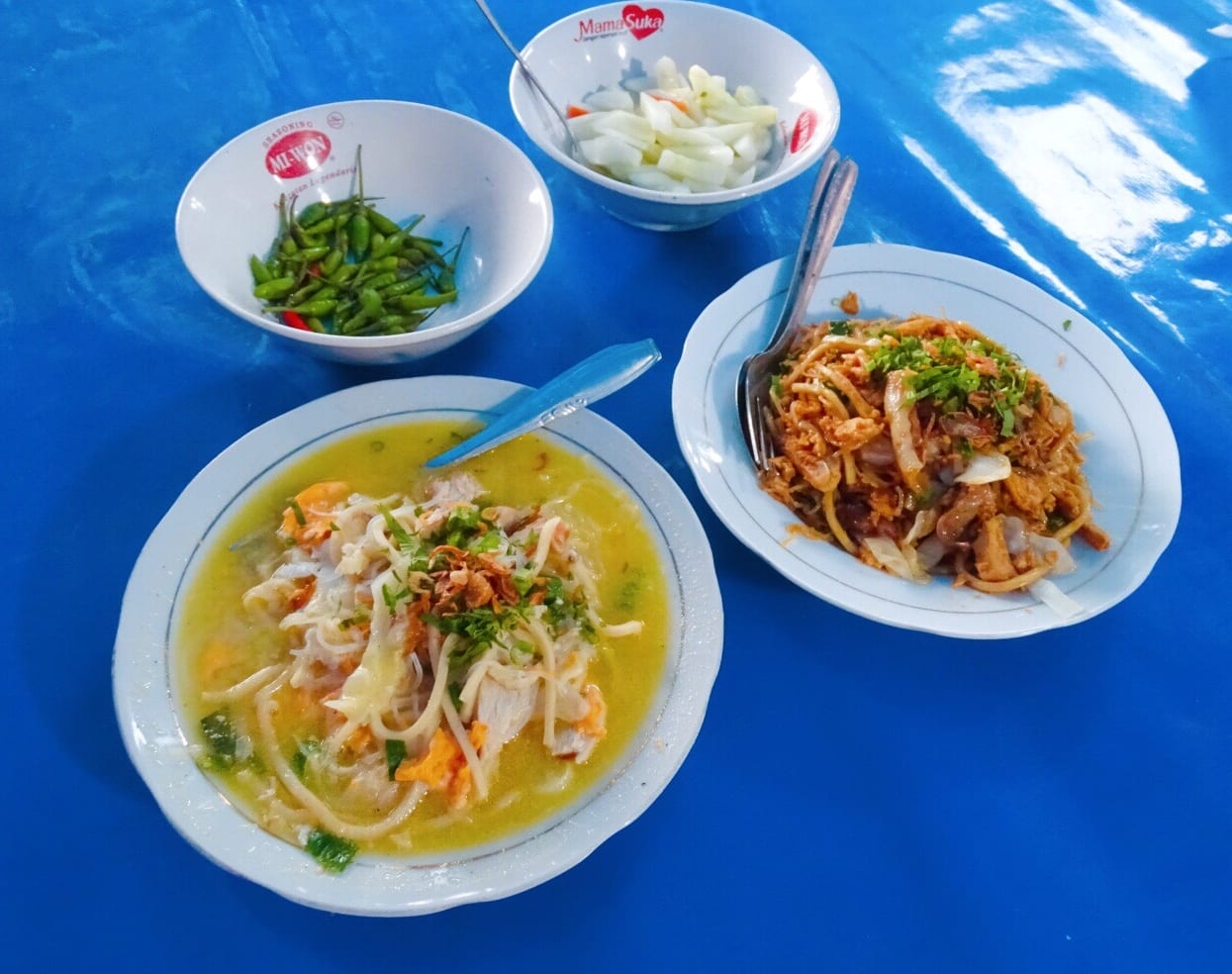 I didn't know anything about Javanese food before my visit. Afterwards, I'd safely say that exploring the street food is a must for a Yogyakarta itinerary – it was delicious!
Read next: Yogyakarta food guide: street eats + more
My favourite meal was gudeg, a jackfruit dish cooked with herbs and spices. The best place to try it is Gudeg Yu Djem, set up by the sultan's old chef.

You'll also enjoy the dishes pictured: bakmi goreng, a fried noodle dish and bakmi godog, a similar dish made from noodles in a flavoursome soup. Head to Special Bakmi den Nasi Goreng Pak Pele, an outdoor restaurant beside the Sultan's Palace, between 5pm and 7pm (it's open until 11pm but apparently the queues are huge later on).

I spent a really fun evening eating my way into a food coma an evening street food tour. This tour starts at 6.30pm daily and includes local foods, sweets non-alcoholic drinks and a rickshaw ride.
Yogyakarta itinerary for 4 days
If you have the time, why not do some hiking? After the city centre, ancient temples, street food and quirky street art, an impressive dose of nature will finish for itinerary for Jogja up perfectly.
Visit Mount Merapi – Indonesia's most active volcano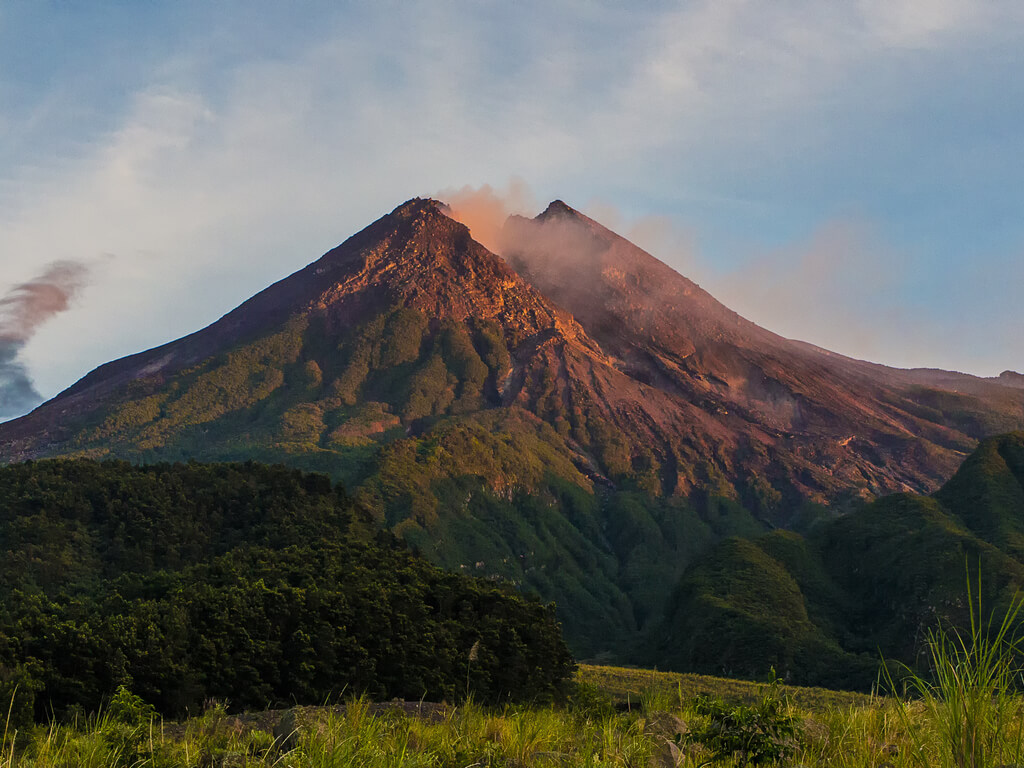 I don't usually list things I haven't done but I thought I'd make an exception here. After climbing Bali's Mount Batur for sunrise, I was a bit volcano-ed out. If that doesn't apply to you, visiting Mount Merapi from Yogyakarta could well be an unforgettable experience. It's Indonesia's most active volcano and typically erupts every 10-15 years.

The adventure option is the 4km sunrise hike from New Selo to the summit, starting at 11pm from Yogyakarta. After a two-hour drive to New Solo, the hike gets underway at 1am, arriving at the top in time for sunrise. It sounds difficult but it's the option for adventurists visiting Yogyakarta! Otherwise, you can take the non-hike option with a Jeep tour starting around 4am.

Your driver will take you to base camp for sunrise, then you'll explore other areas of interest like the Merapi Museum, telling the story of the 2010 eruption that killed 353 people.
Take a Mount Merapi tour from Jogja. To admire rather than climb, combine it with a Borobudur tour.
Where to stay in Yogyakarta?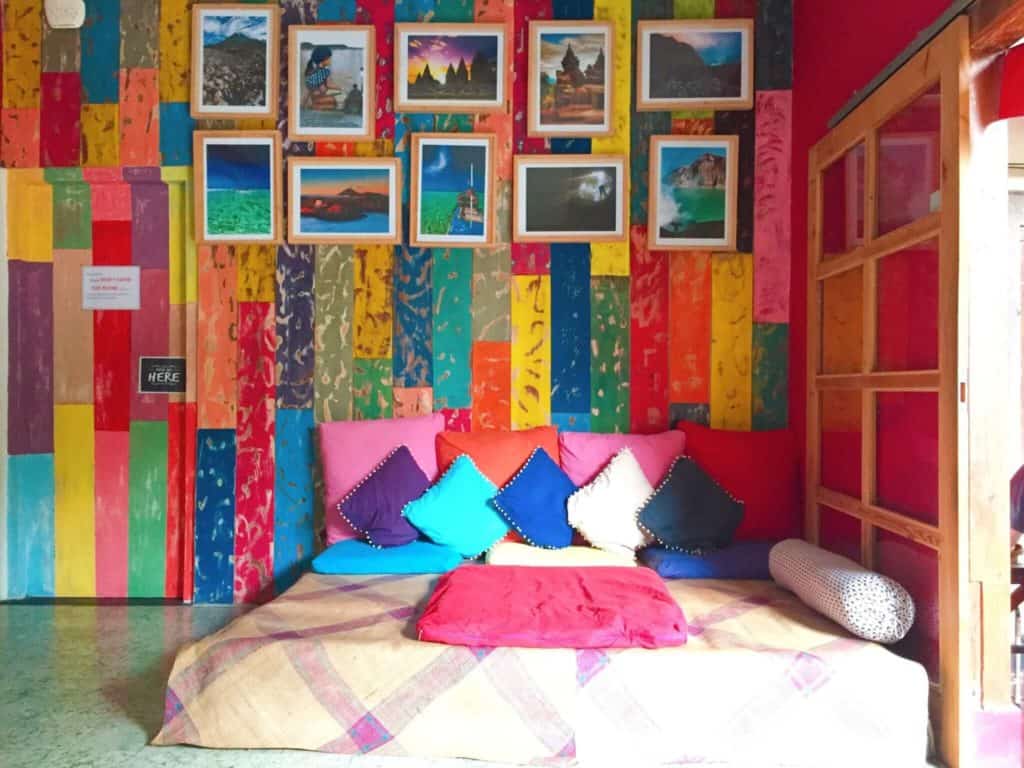 The best hostel in Yogyakarta is without doubt Good Karma!

This is well up there as one of my favourite hostels ever. The $5 a night rate includes a delicious breakfast that changes every day, from healthy veggie omelettes to creative pancake dishes (pina colada ones with coconut and pineapple were my favourite). They always come with a fresh fruit salad served on a banana leaf. Oh, and there's help-yourself tea and coffee.

The staff are so friendly and it's super colourful. I can't fault anything about it. Book Good Karma here.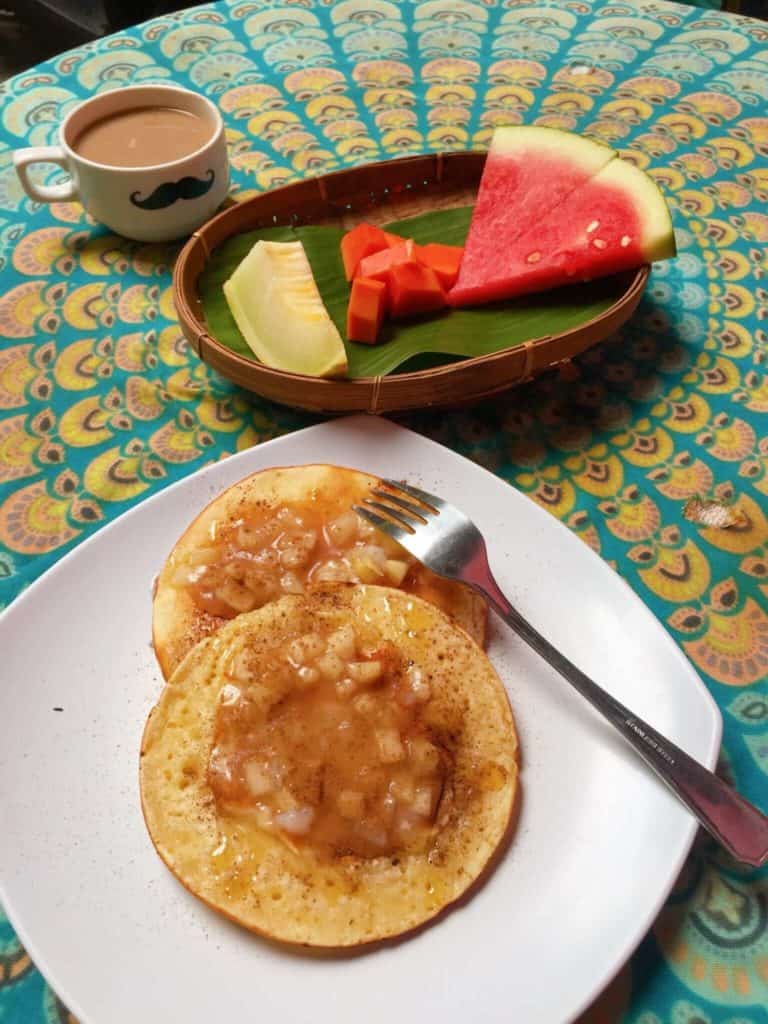 How to get around Yogyakarta
Yogyakarta is a fairly small city and much of it is walkable. Saying that, in the Southeast Asian heat I don't tend to walk as much as I do at home. Grab, Uber and GoJek are all in operation in Jogja and I used Grab whenever I needed to get anywhere.

A scooter ride saving me a 20-minute walk usually cost about Rp. 7,000 (and car rides aren't much more). There's just no debate, is there?
Where to book your tours in Yogyakarta
There are plenty of agencies in town. If you want somewhere to browse quality tours at your leisure with no pressure, visit ViaVia Jogja. This restaurant, bakery and shop is also a tour agency offering all your usual ones, as well as silver jewellery making, batik print workshops, and multi-day trips across the island.

I also take GetYourGuide and Viator tours around the world. They offer quality tours with decent prices.
Thanks for reading my Yogyakarta itinerary
Read my other Yogyakarta blogs:
See you next time for more adventures,
Rose
For more content, follow me on Instagram, Facebook, Twitter and YouTube.
Ps. Liked this itinerary for Yogyakarta? Pin it for later!